Out of all the rooms in the house, you probably saw and heard the least about the downstairs bathroom. With more urgent matters to attend to, it was left largely neglected until the final days, and I wasn't convinced it'd be anywhere near ready by the Open House.
But this little dark horse came out of nowhere and surprised us all. Click to watch the Before & After…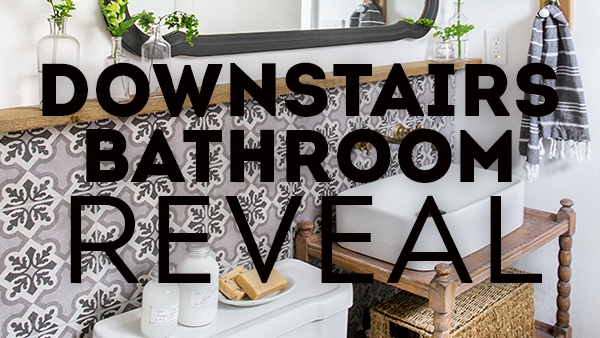 Pin
Based on the Before situation, this is one of the more drastic transformations: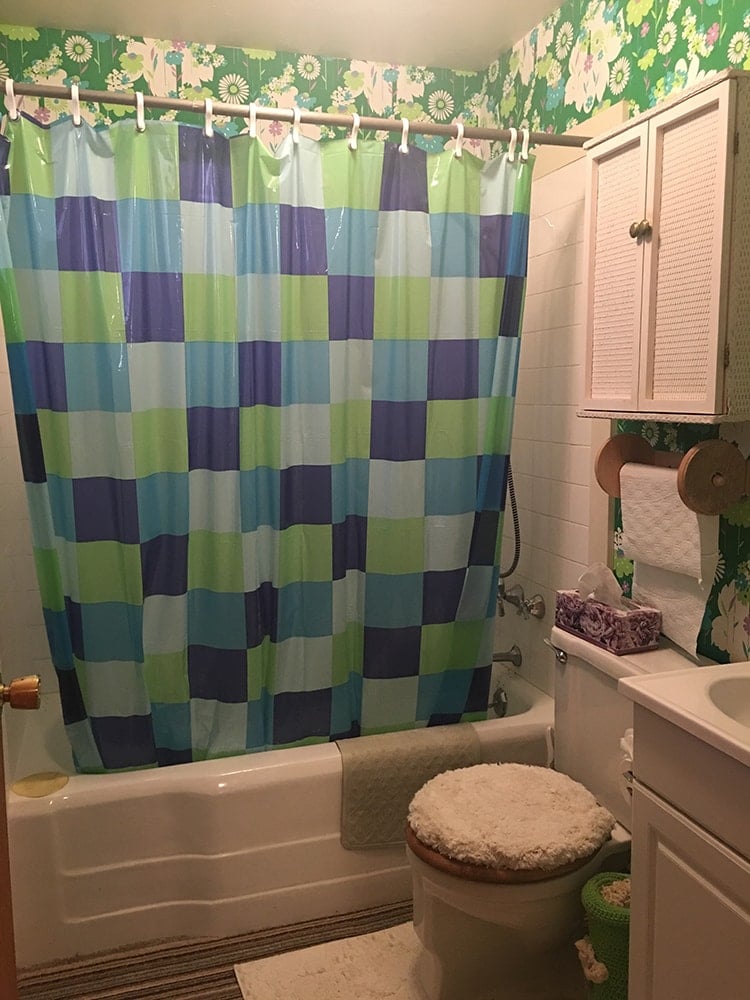 Pin
It was a tough decision to part with this wallpaper. I mean, how energized and refreshed would you feel waking up to this every morning?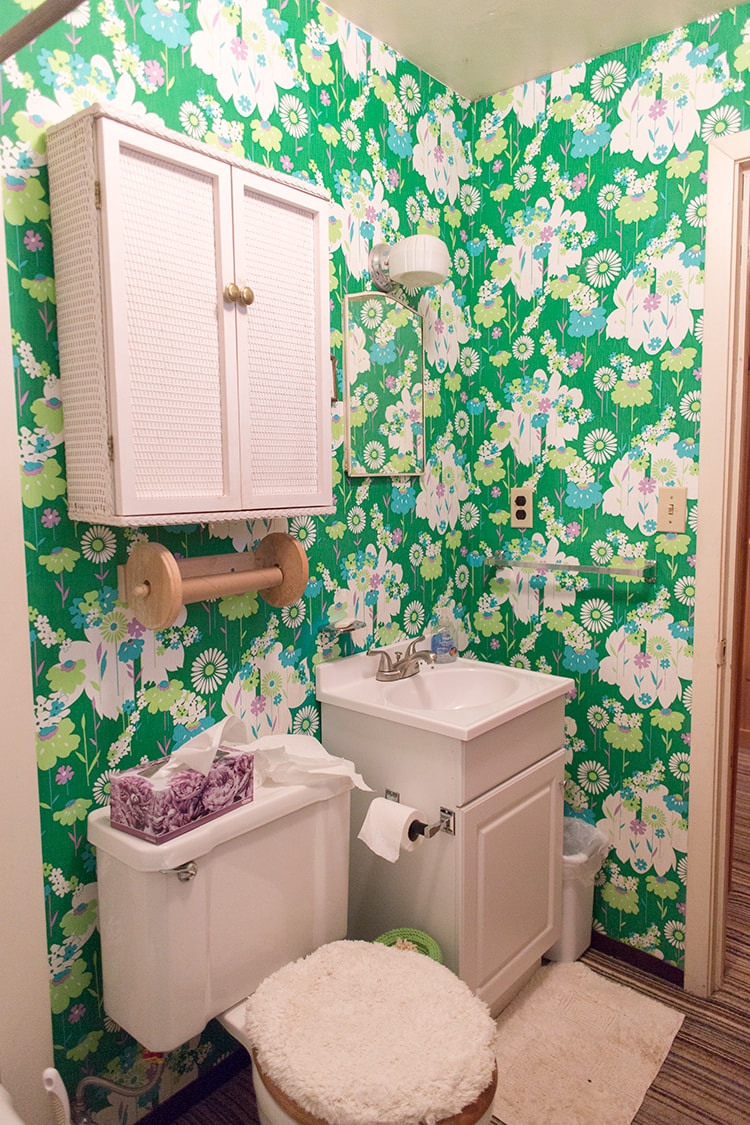 Pin
But in the end, I figured it had a good 50 year run, and I had to let go of the past. So this is what I came up with: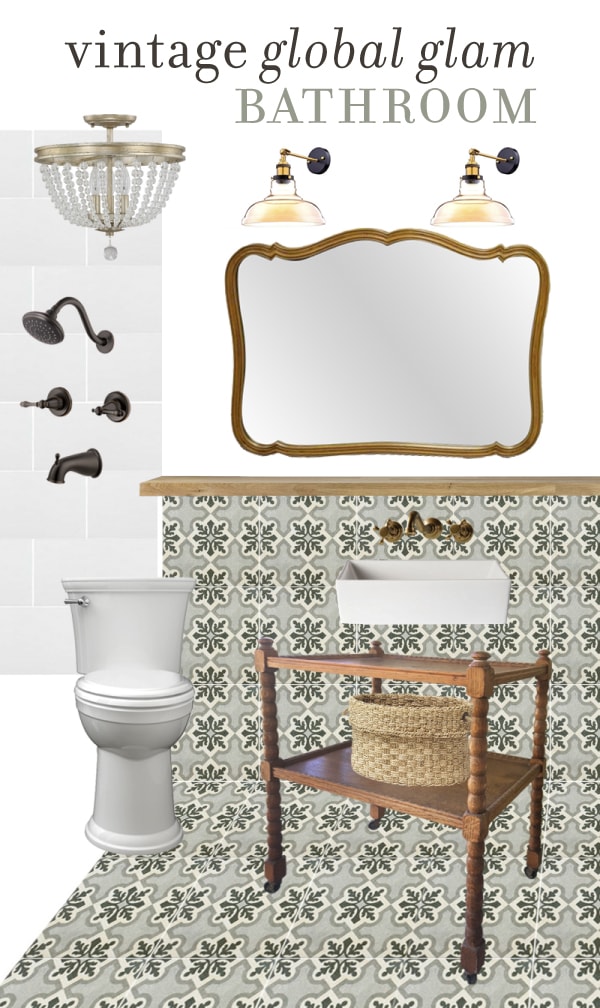 Pin
Starting with the carpet and shower tile removal…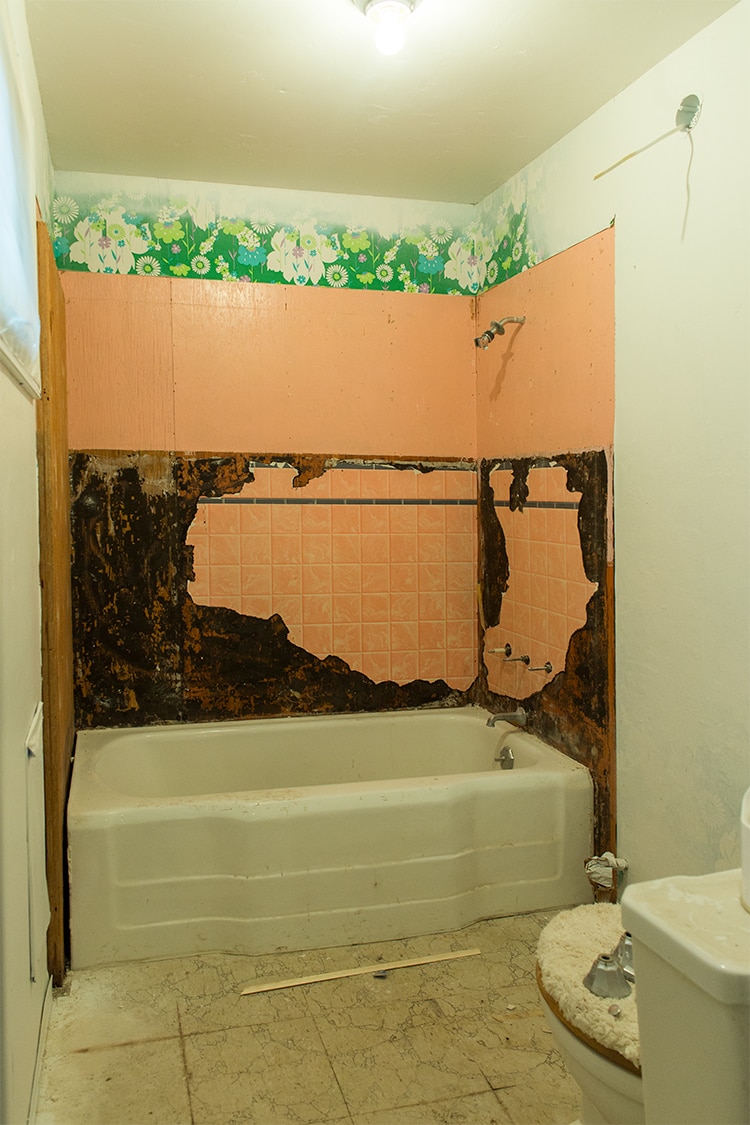 Pin
And the beginning of tile…
Pin
Some updated lighting…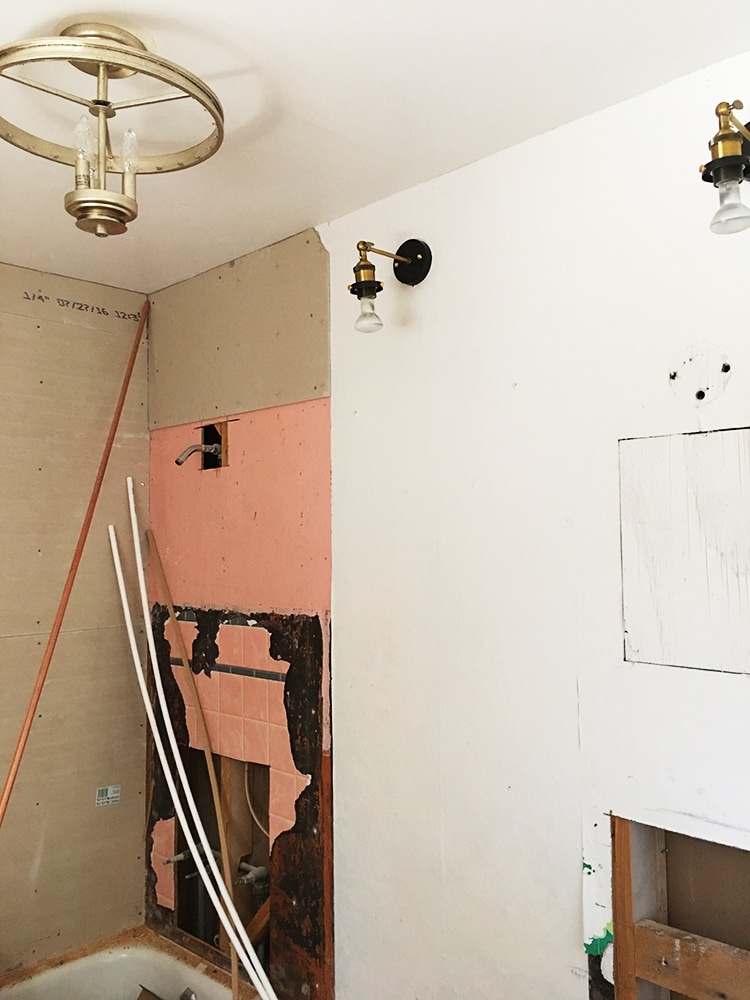 Pin
And then after a crazy one-week blitz of plumbing, finishing the tile, wall retexturing & accessorizing… we have our completed "Vintage Global Glam Bathroom"…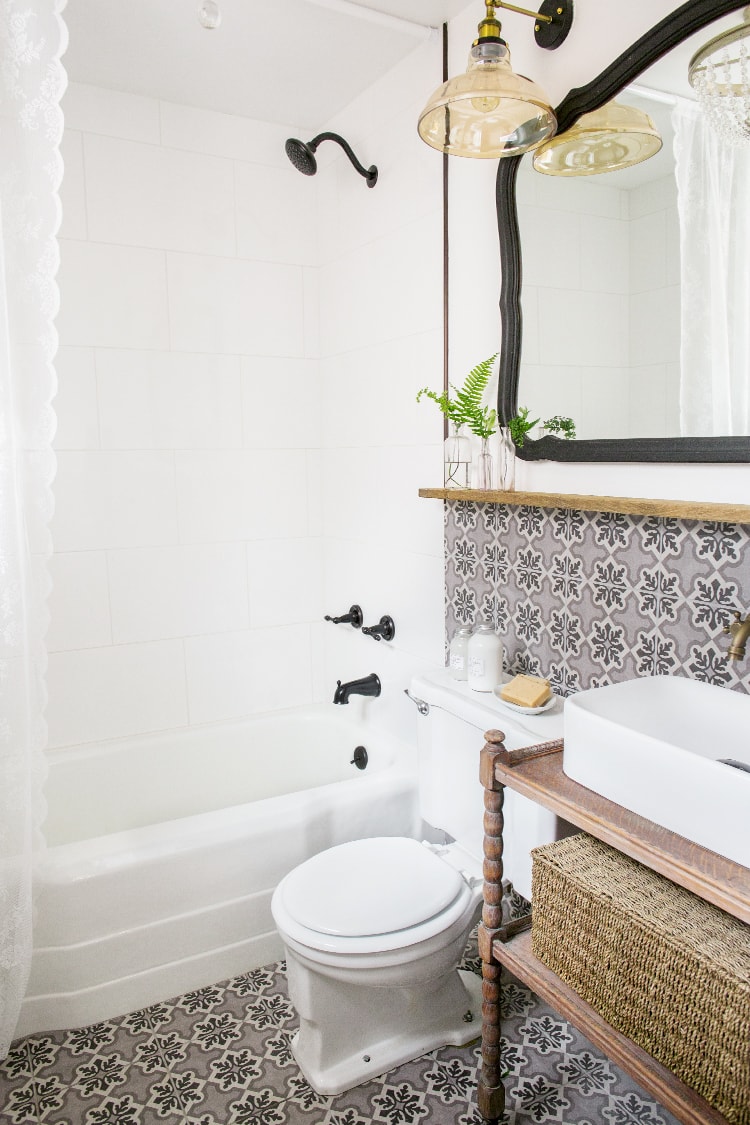 Pin
Sigh. In love.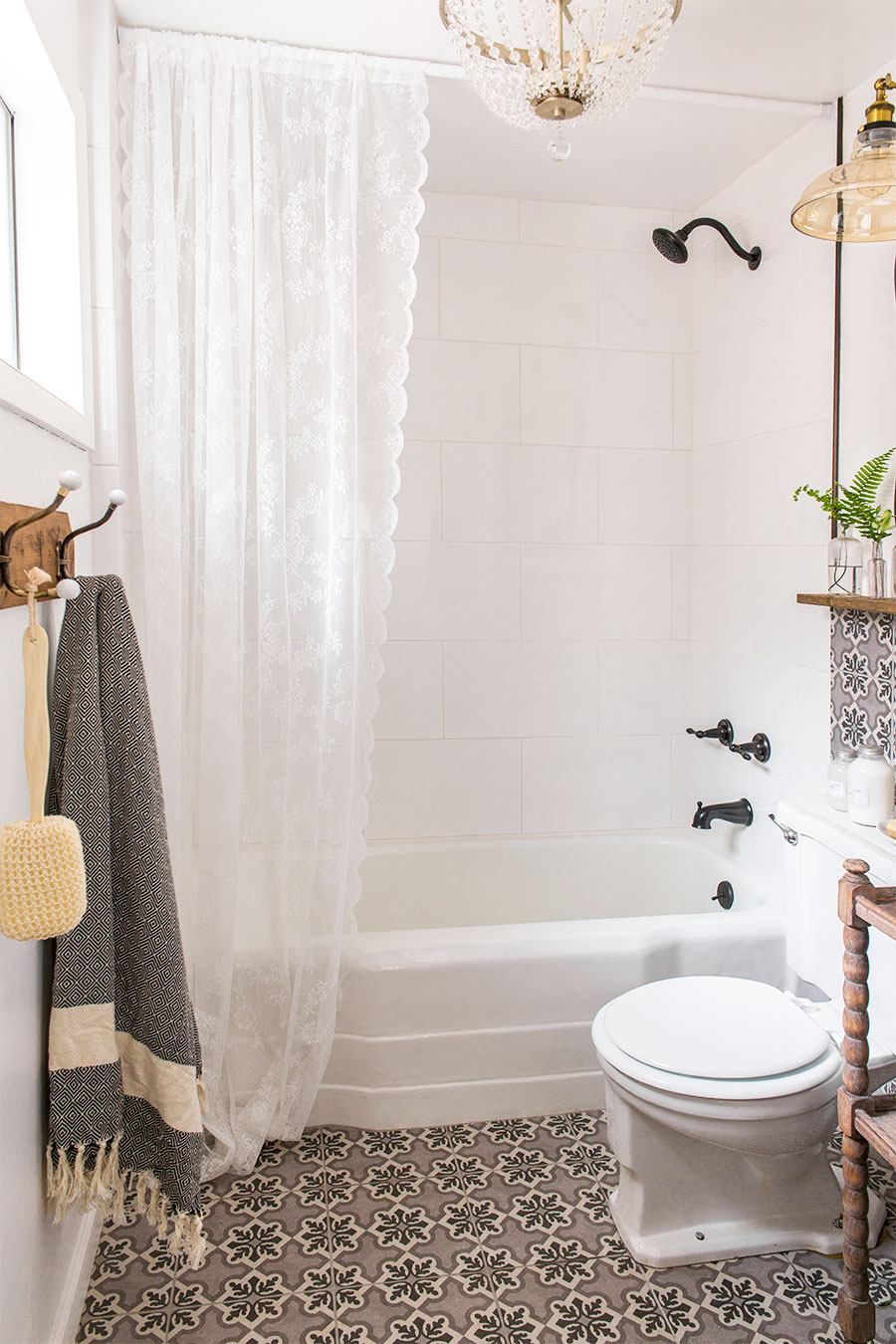 Pin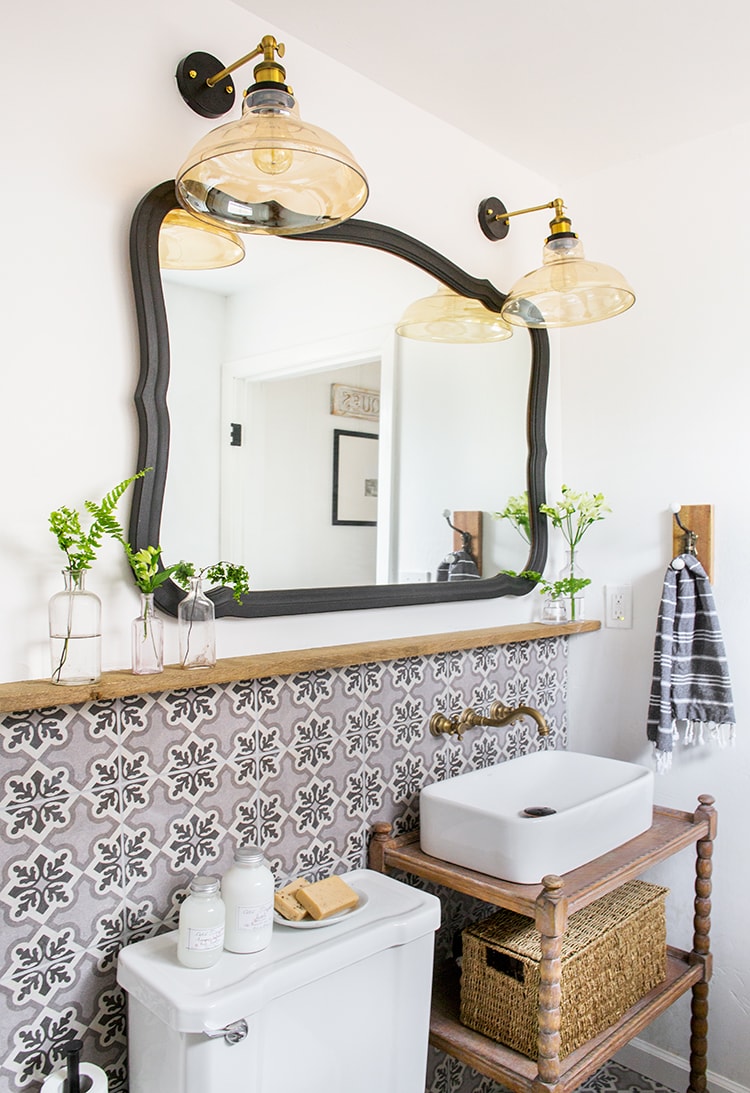 Pin
I was debating on vanity and mirror colors up until the very end. Do I paint? Leave natural wood? Whitewash? Stain? Distress?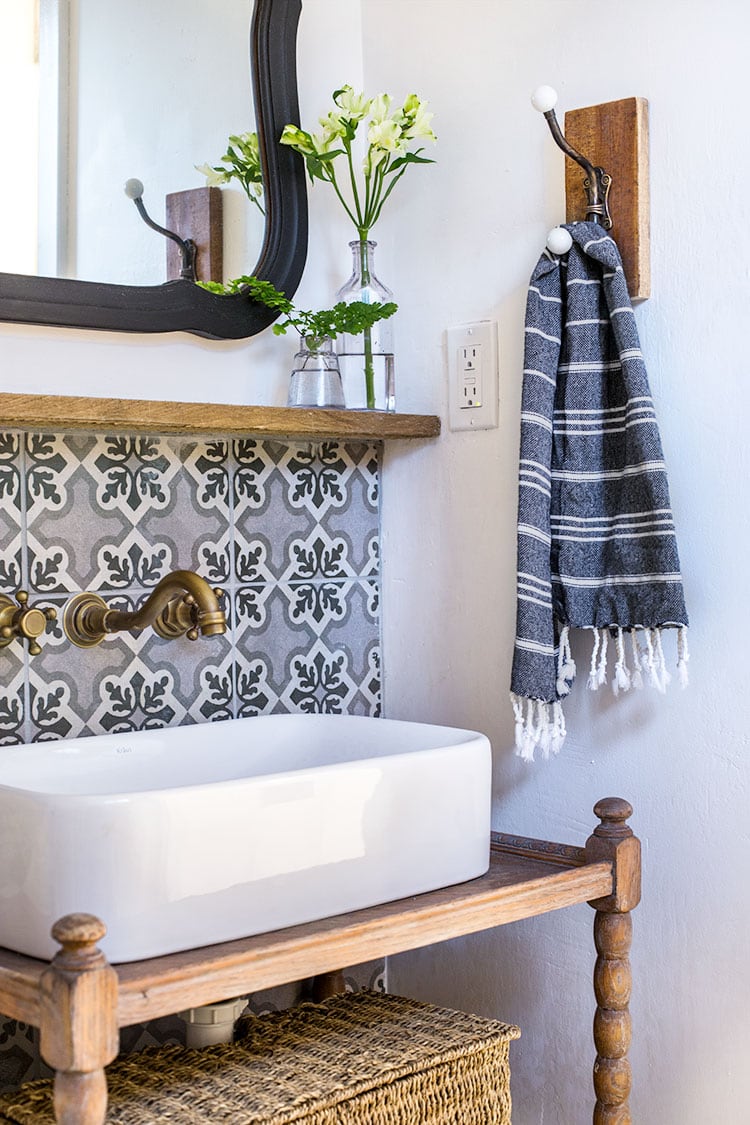 Pin
I wanted a balance of wood tones and paint, so I ended up giving the vanity a light sanding and white wash treatment for a gently aged look, then painted the mirror in a matte black shade (using Maison Blanche's wrought iron).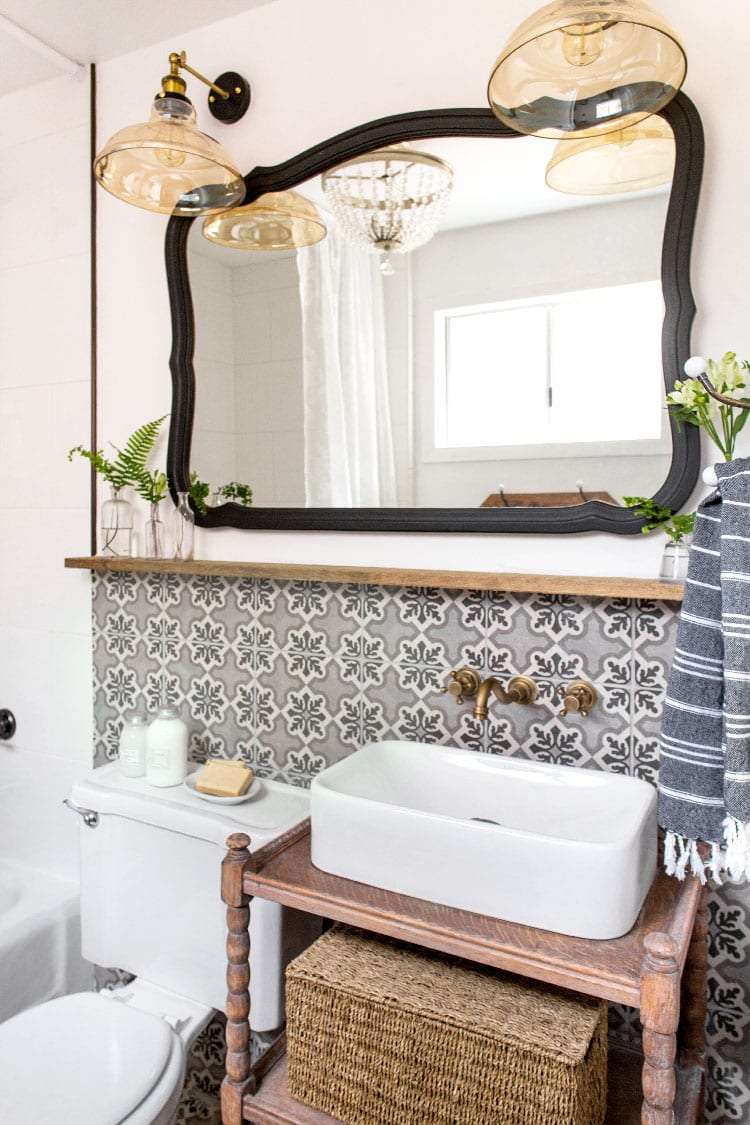 Pin
I could have done a number of various combinations with great results, but I'm digging the contrast here—and the way it turned out for the very limited time I had to work with.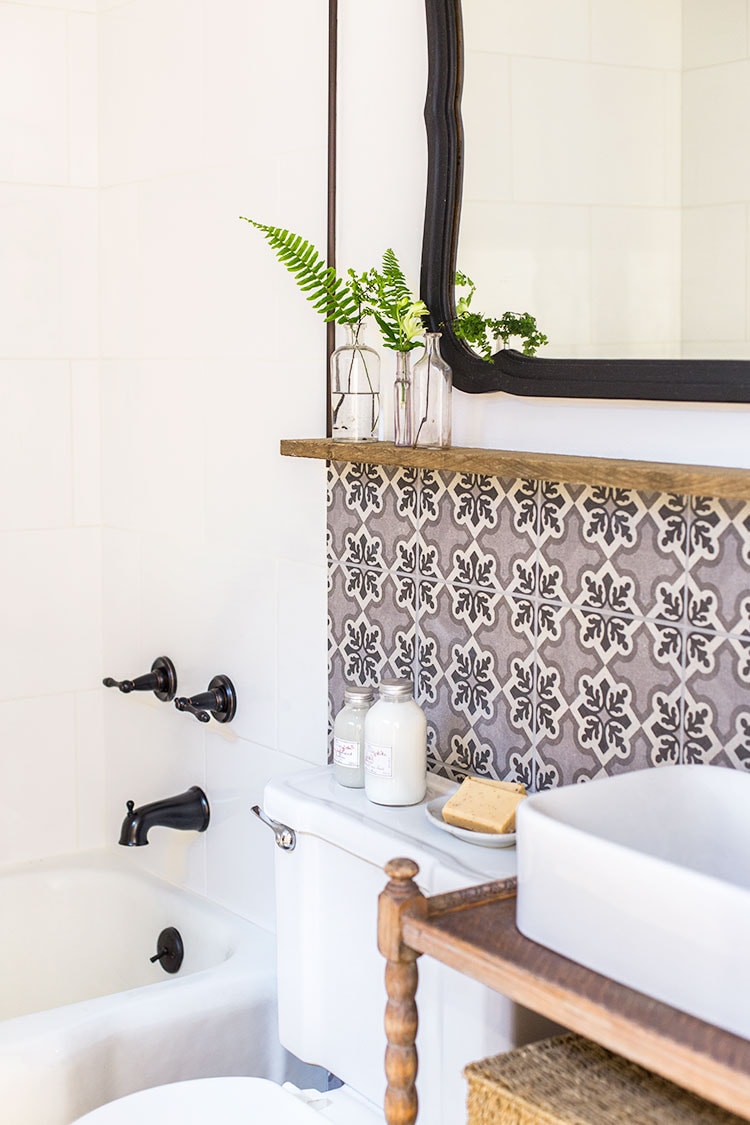 Pin
As usual, I took way more photos than necessary. As small as this space is, the details are so fun to capture.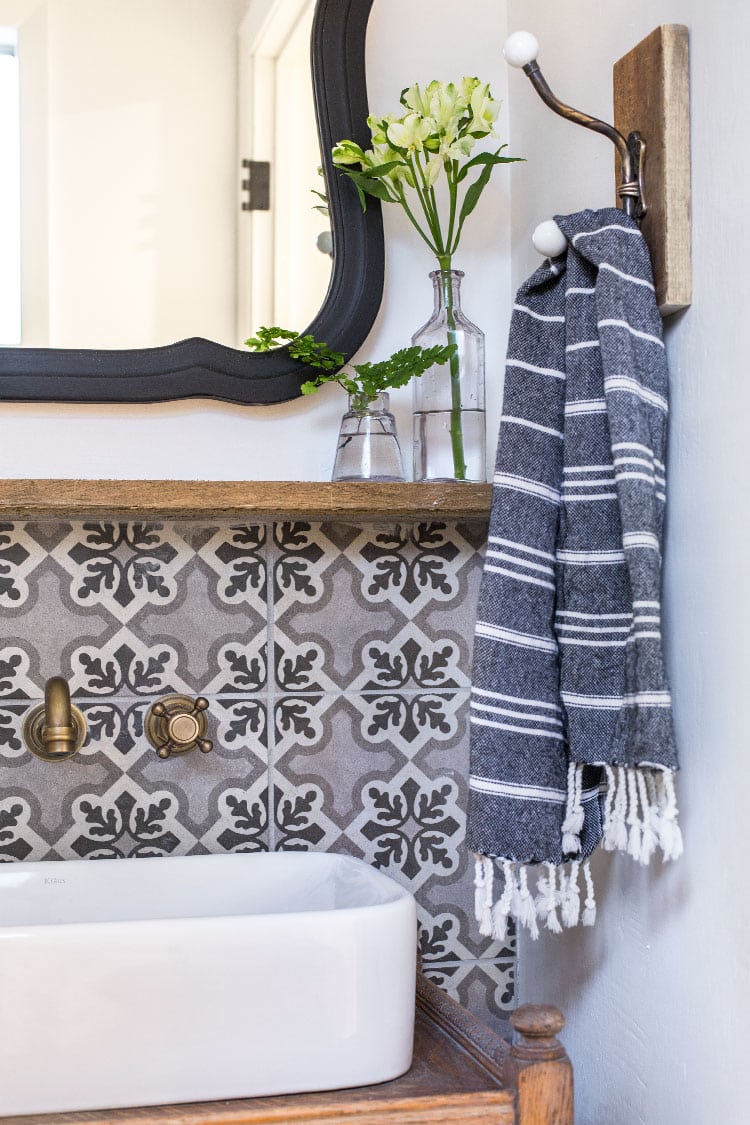 Pin
The amber glass sconces were a crazy inexpensive eBay find (similar here)…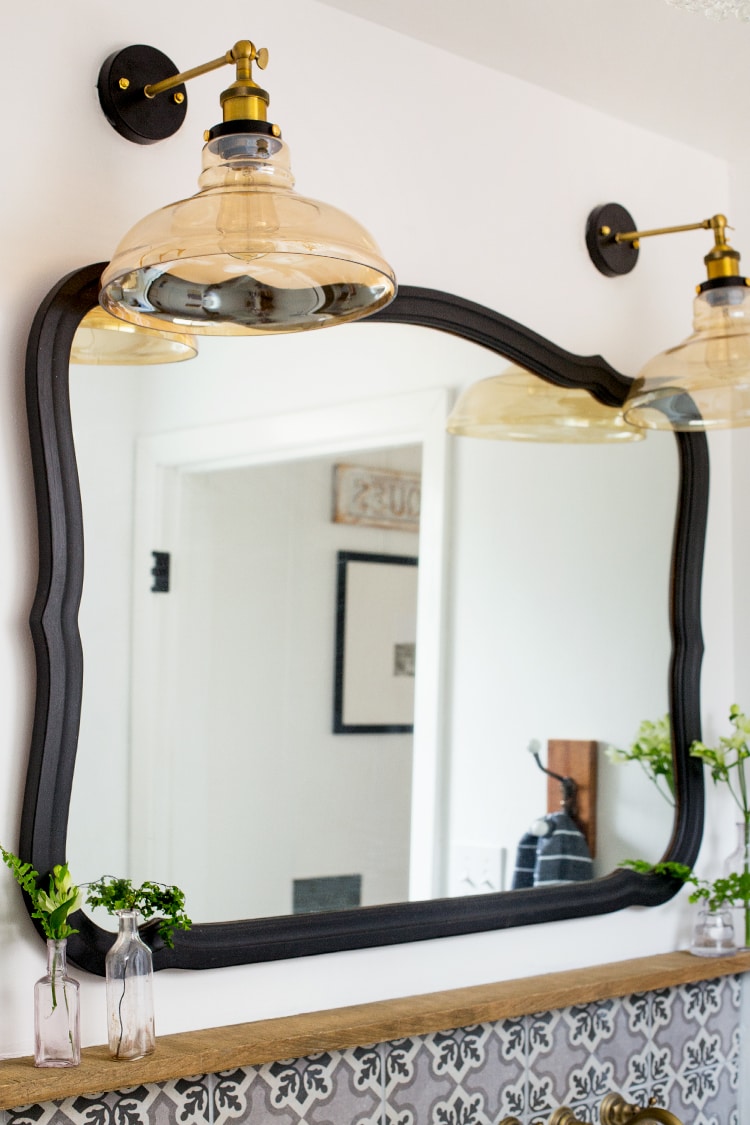 Pin
As was the faucet, which is also the same one I used in my last home (and in the upstairs bathroom… I may have a slight addiction).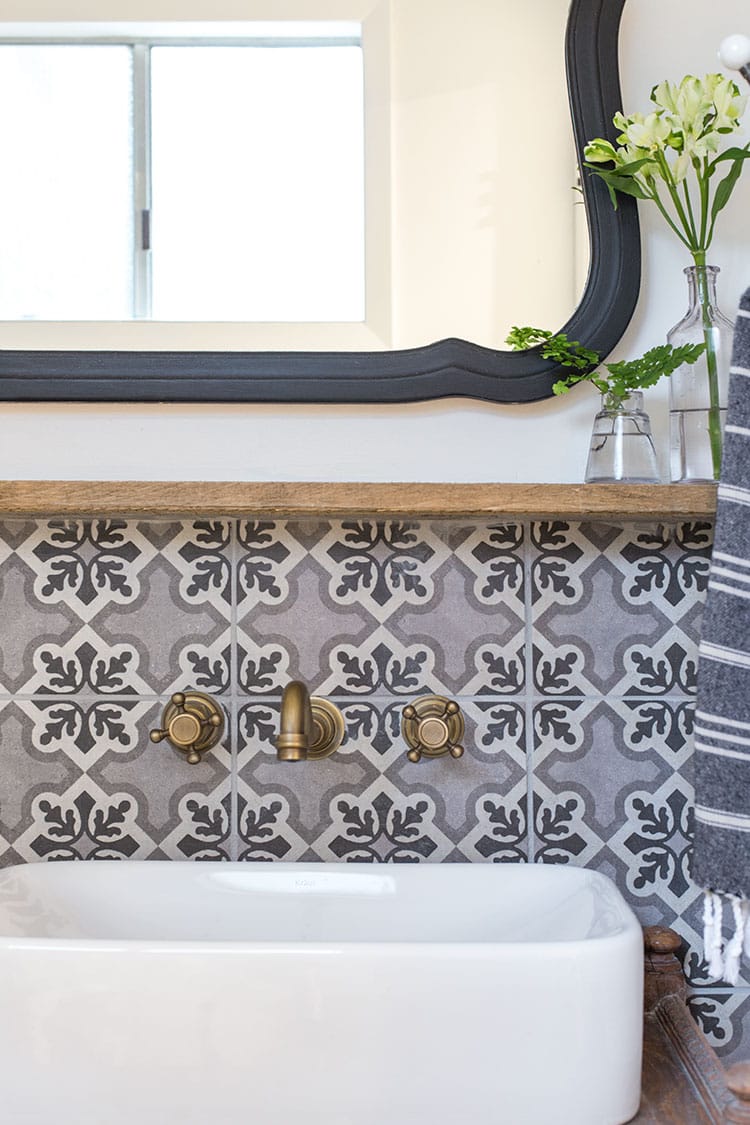 Pin
Fun fact: this coat hook was made from a scrap piece of wood found in my dads garage, just hours before the Open House. No second wasted!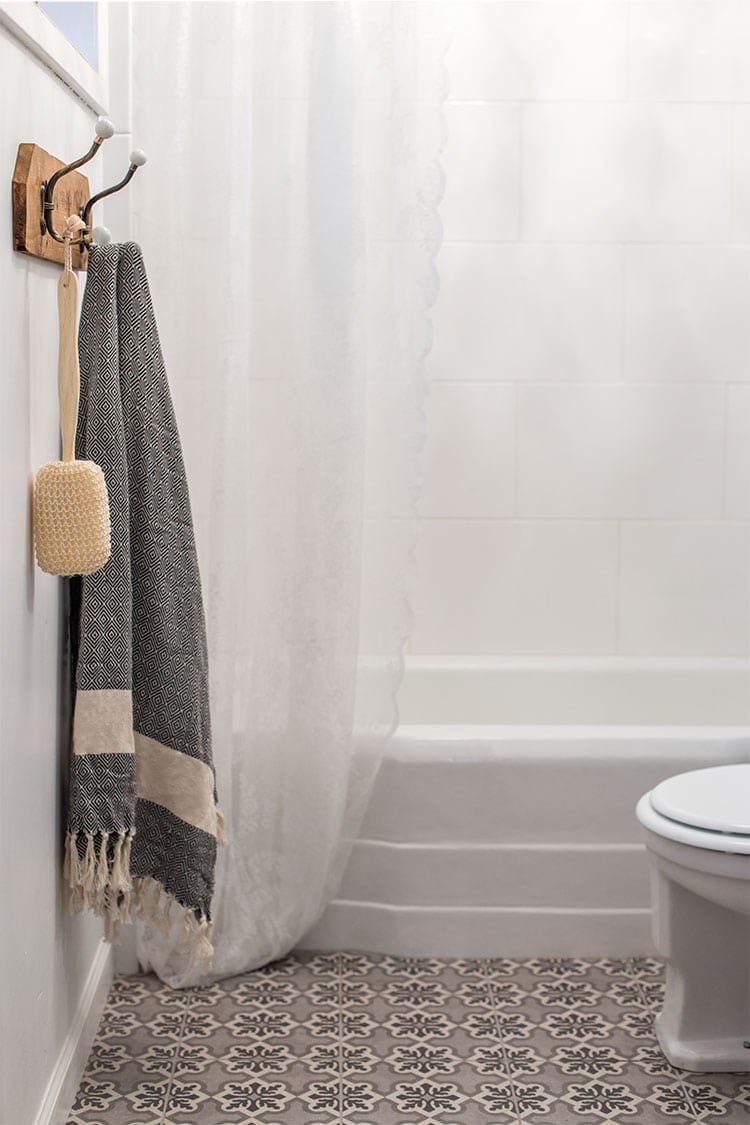 Pin
I'm a huge fan of this crystal chandelier (sadly no longer in stock on Wayfair!)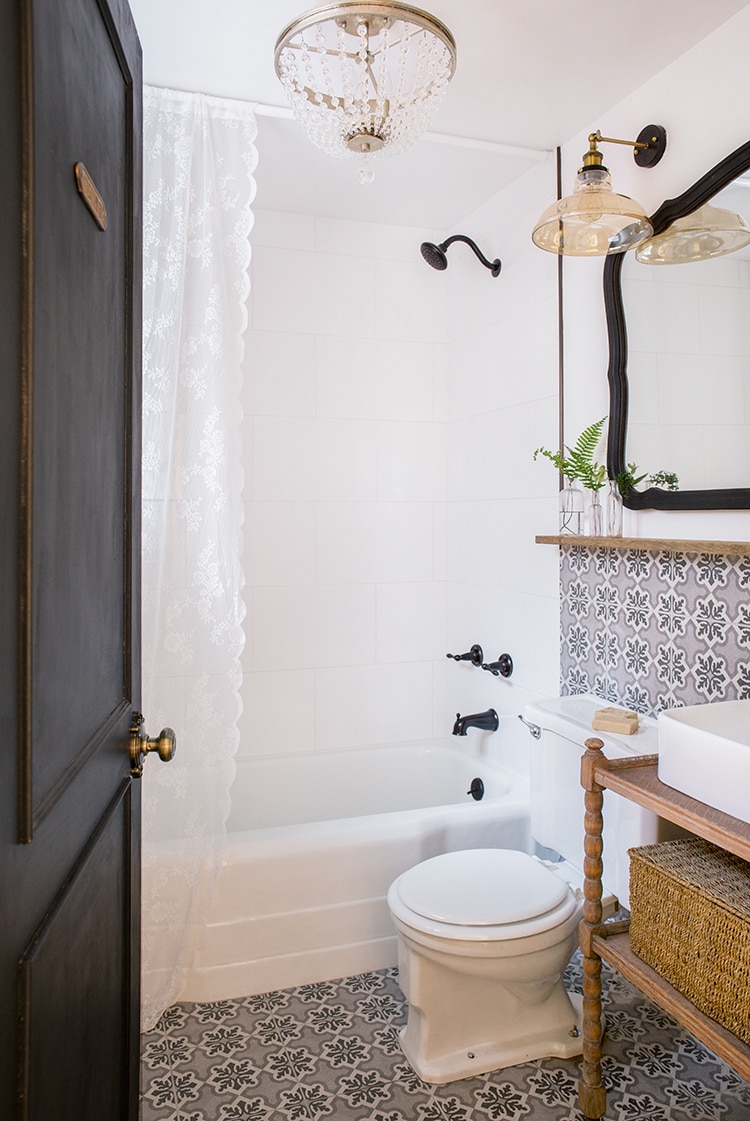 Pin
You can barely see the brass toilet sign on the door, but I just love that fun little touch. It matches the door handle too!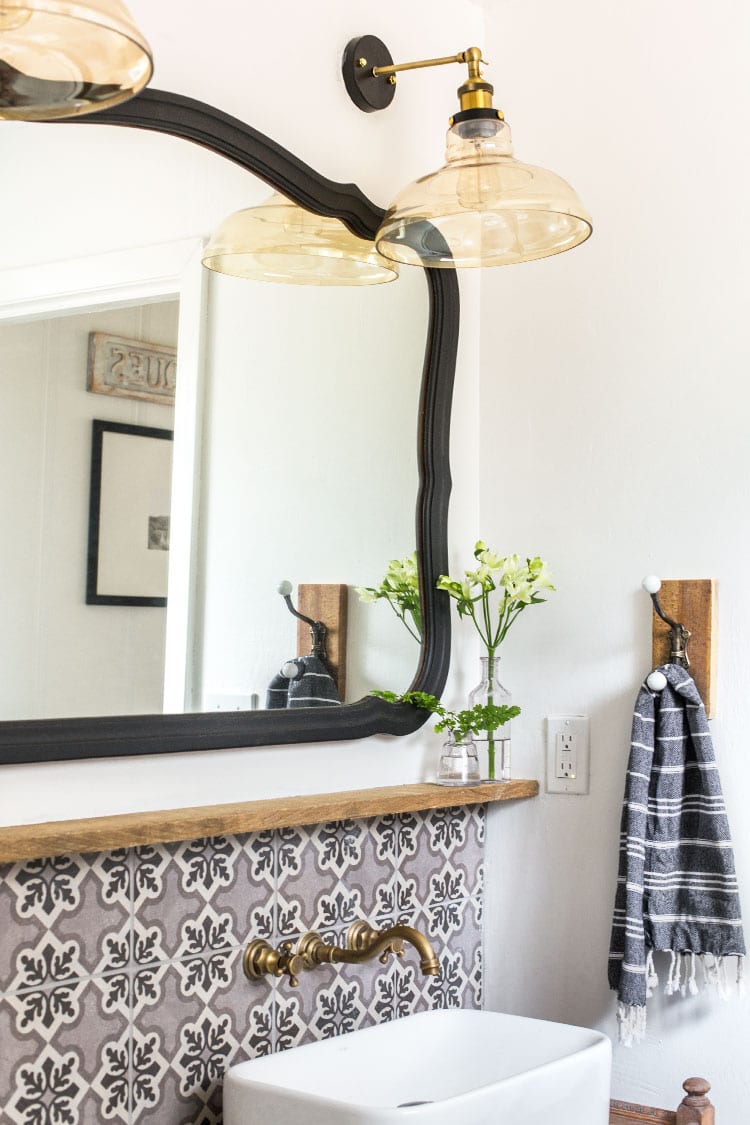 Pin
Patterned tile is the best, isn't it? Especially when it's affordable.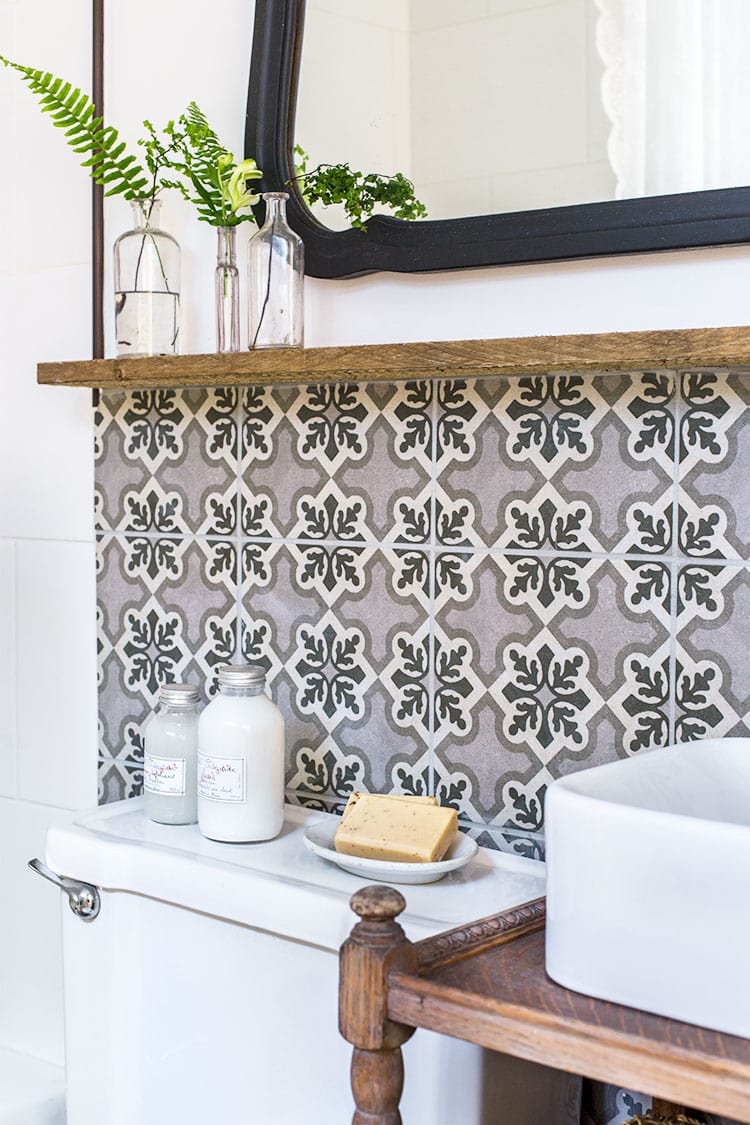 Pin
It does look greenish in the product photos but it's definitely more of a neutral gray.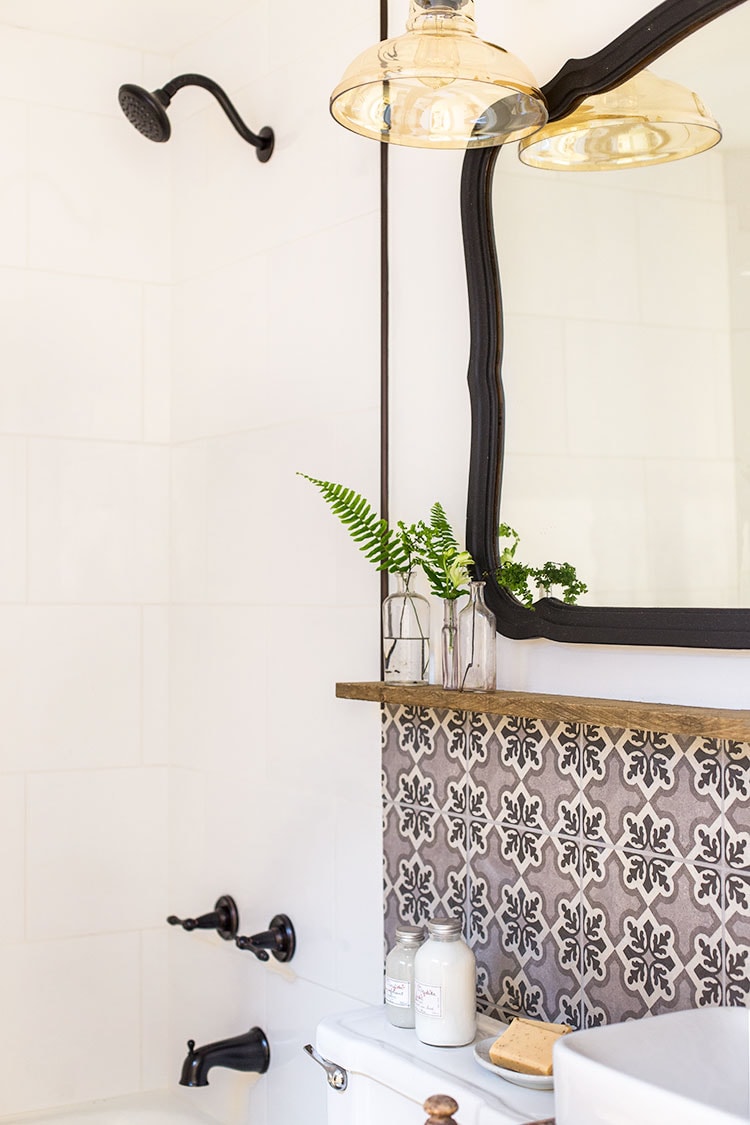 Pin
It's the smallest room in the house, but it sure does make an impact!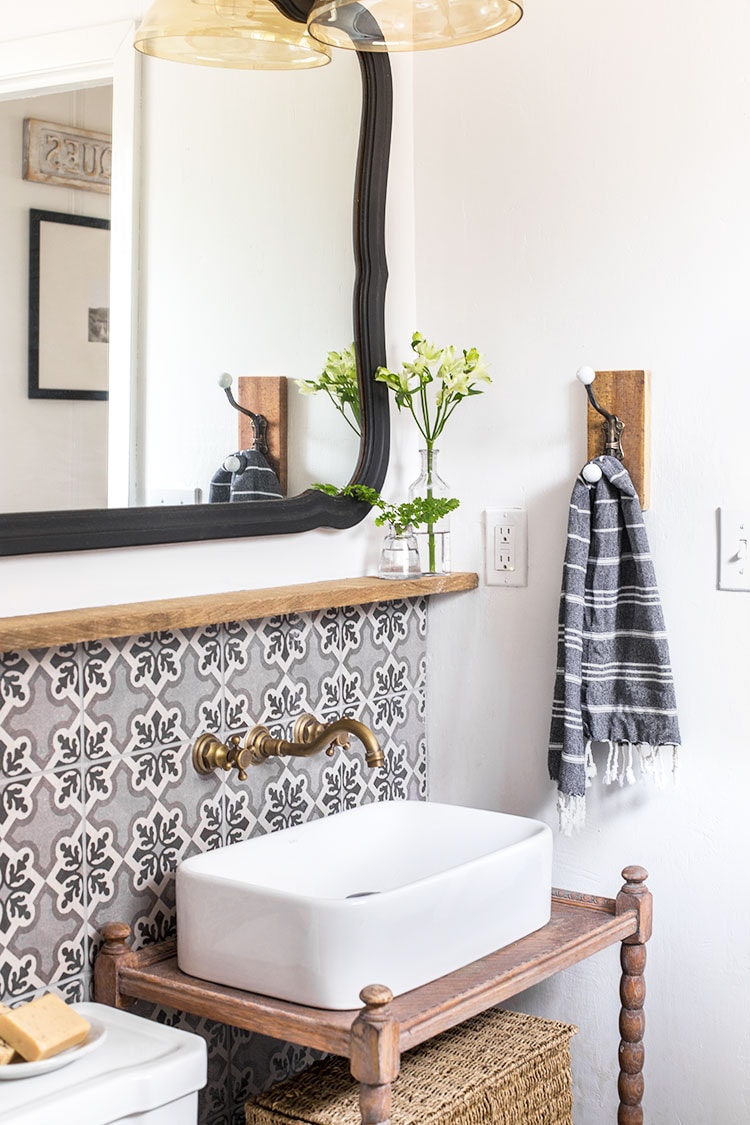 Pin
SOURCES
Shower wall tile
Sconces (sold out, similar here)
Chandelier (discontinued, similar here)
Mirror: Craigslist
Vanity: Thrift Store
Shower/tub faucet (no longer available)
Basket: already owned
Disclosure: Some of the products listed were provided via sponsorship—all of which I selected and fully approve of.
And that should cover everything! What do you think? Turned out almost identical to the Bathroom Plan photo, right? I'm just relieved we were able to pull it off in time at all! This was a fun space to plan, and I'll definitely be borrowing some design features in future remodels.
That's it for this week—don't forget to watch the Before & After video for the full experience, and come back next Tuesday for the first of the upstairs reveals! Lots more on the way…