Now that we've crossed the exterior, kitchen, living/dining and downstairs bathroom off the list, it's time to head upstairs!
On the top level we have six bedrooms, a bathroom and laundry room—all in an area of around 600 square feet. It's cozy up here 🙂
The bedrooms will come next week, and today we're focusing on the hallway and laundry room. Click the image below and join me on a virtual tour…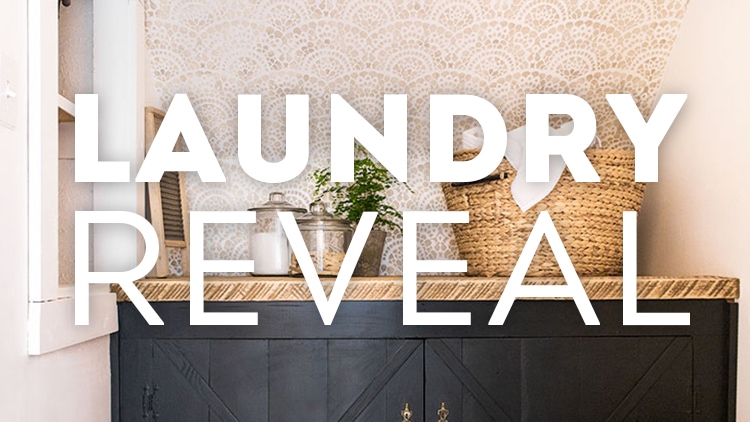 Pin
But first, let's be reminded of how this space looked a short four months ago…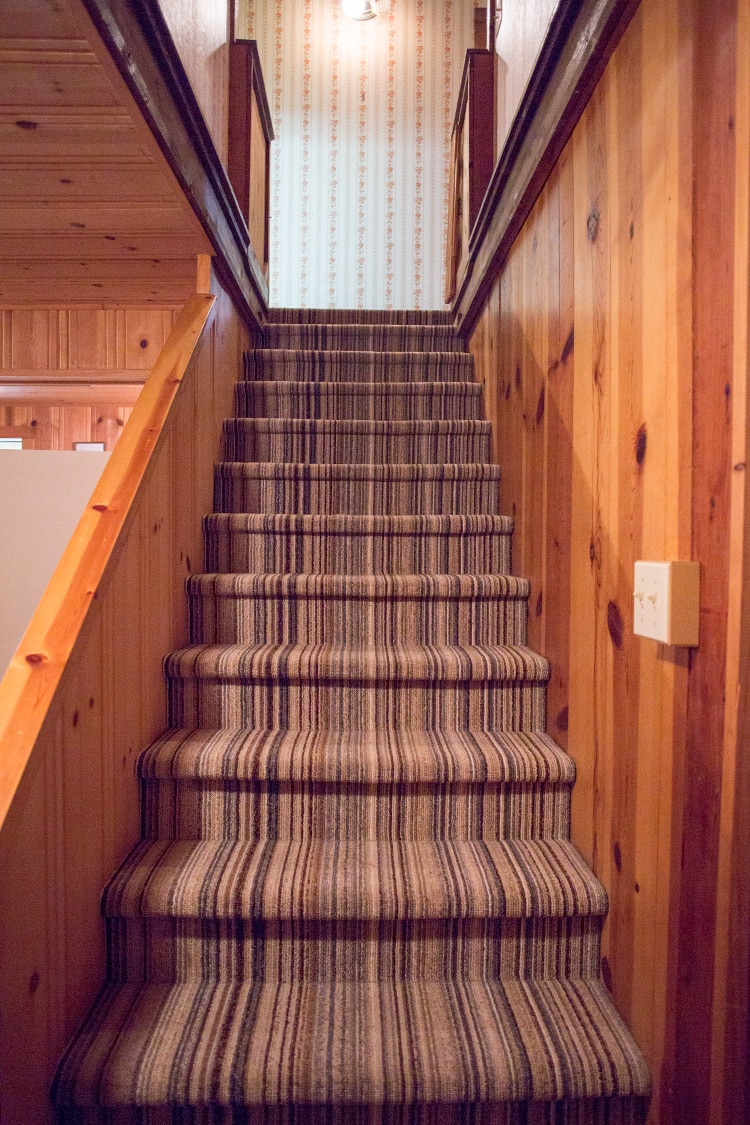 Pin
This carpet was actually in fantastic shape for being older than my parents.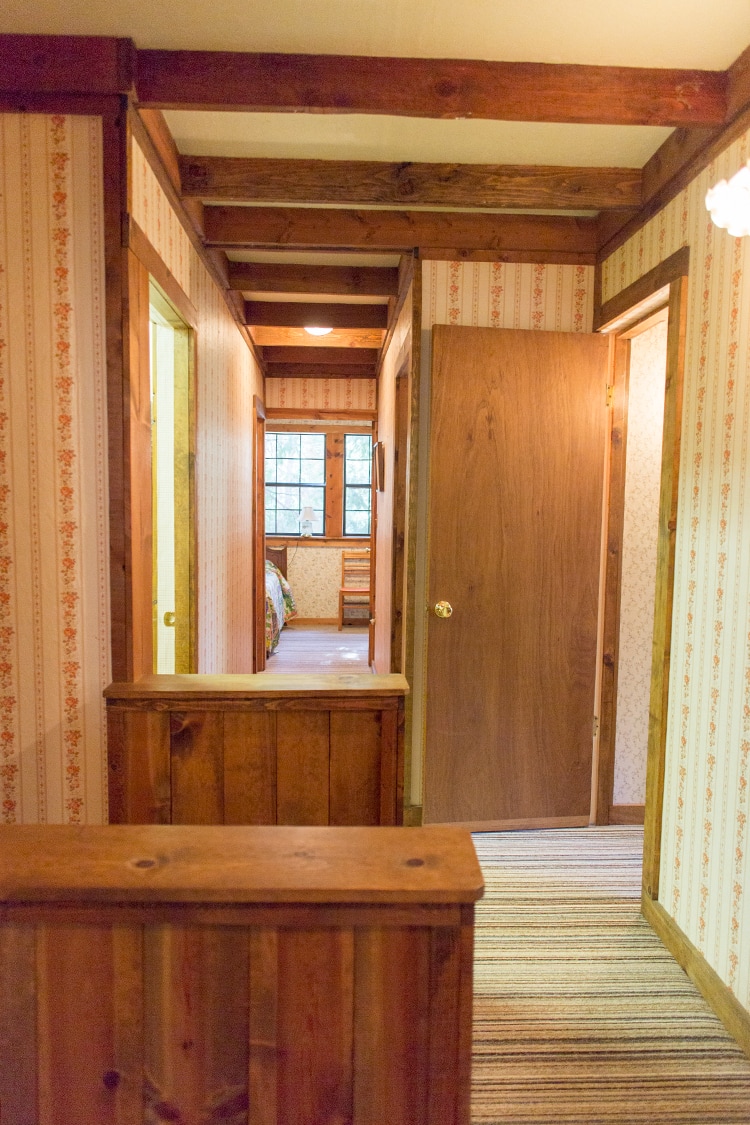 Pin
They sure loved the wood and wallpaper motif.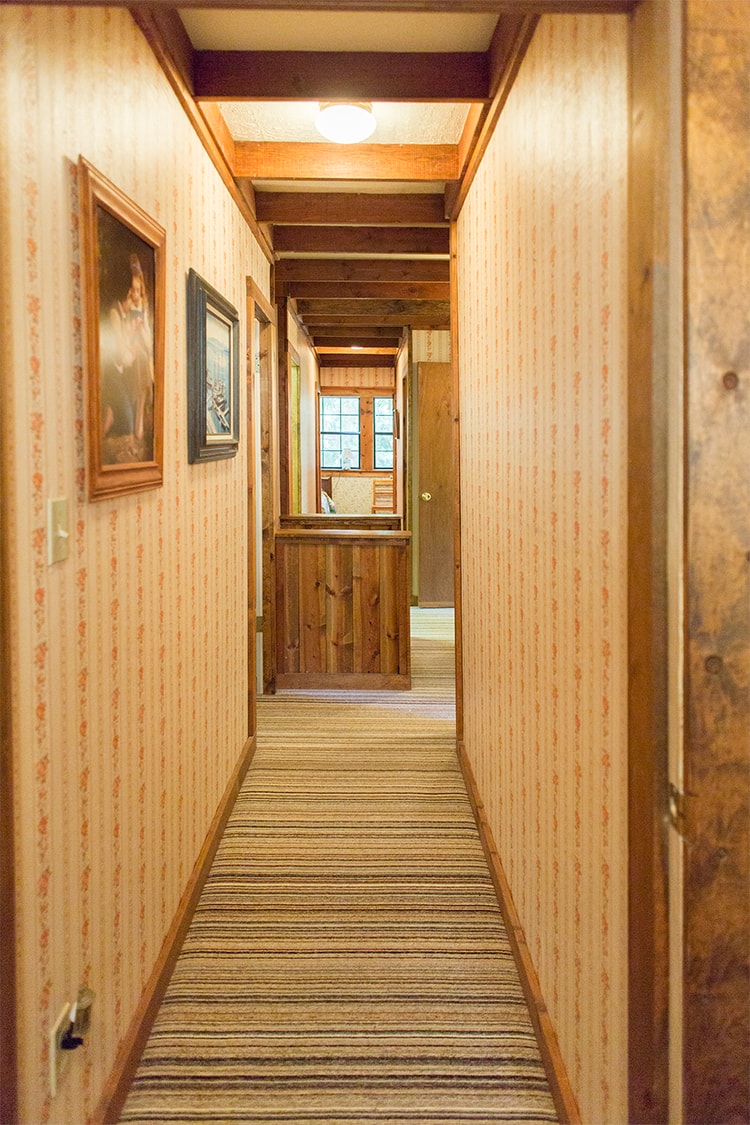 Pin
Every square inch was covered. Even in the laundry room.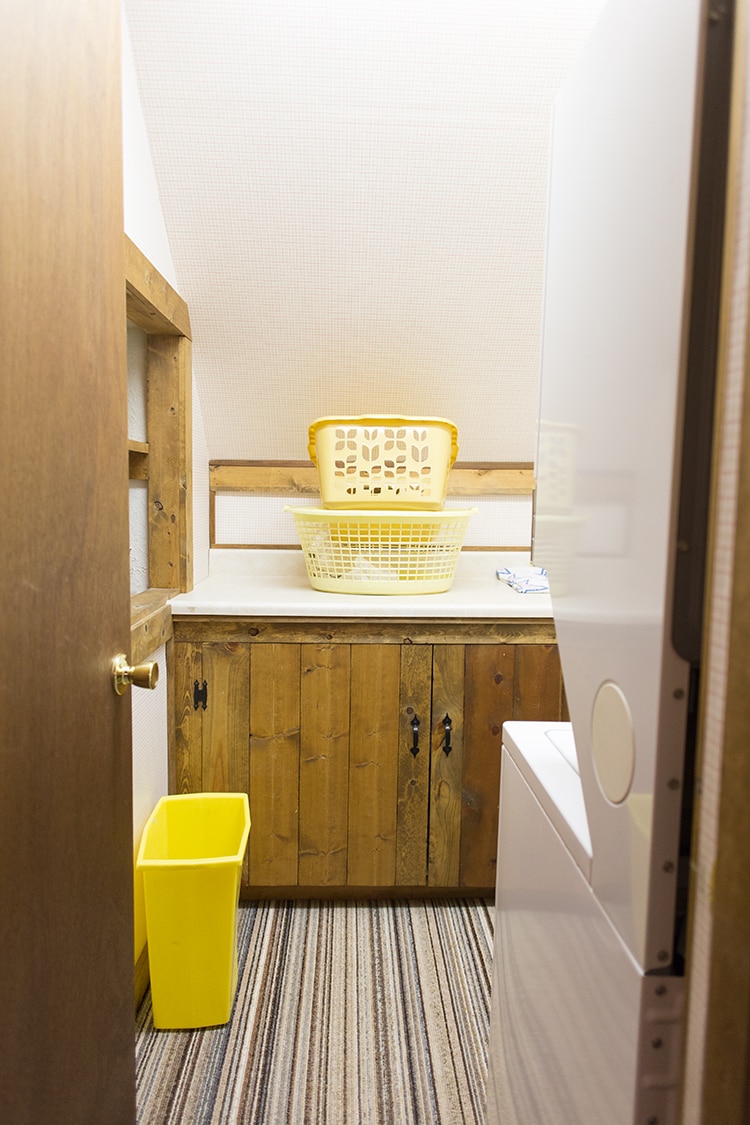 Pin
Until I transformed the doors with a little trim, paint and hardware…
Pin
Ripped out the carpet, patched & painted the walls…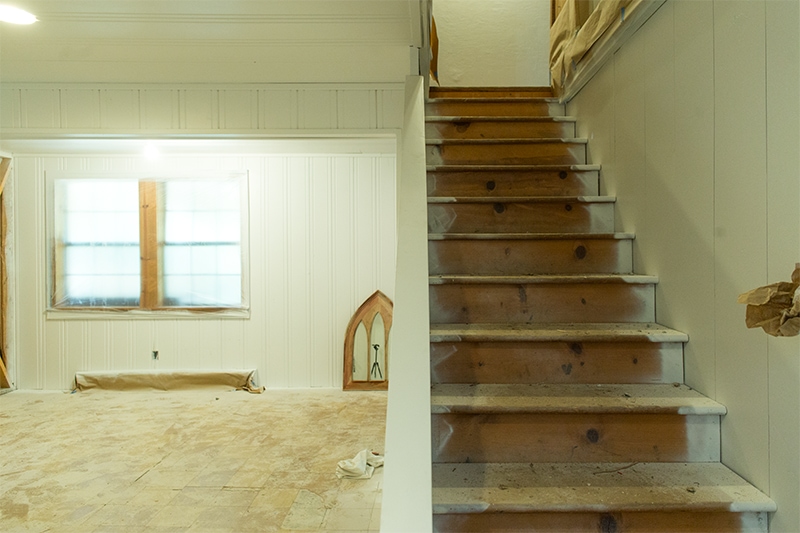 Pin
Gave the laundry room cabinet a DIY update…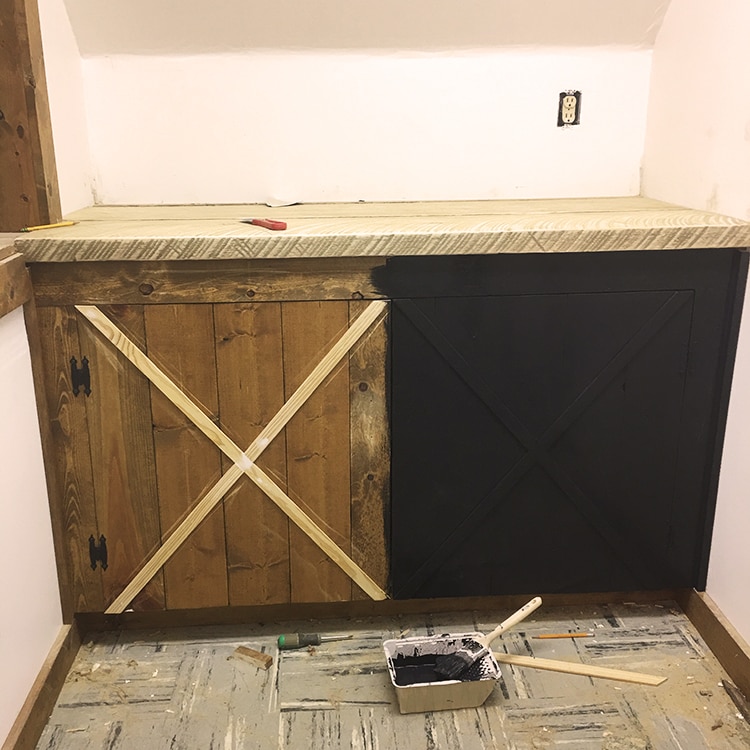 Pin
And some personality with a stencil and brick flooring…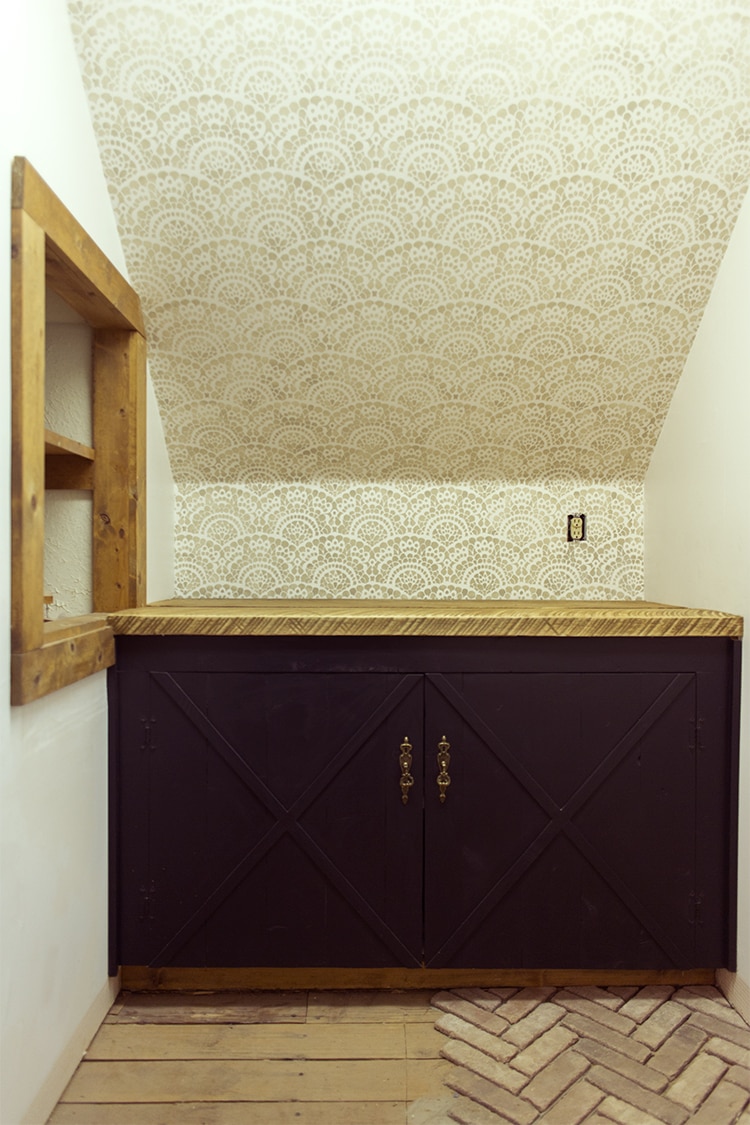 Pin
Which brings us to the present day. At the top of the landing, we have the right wing which leads to Bedrooms 1-3: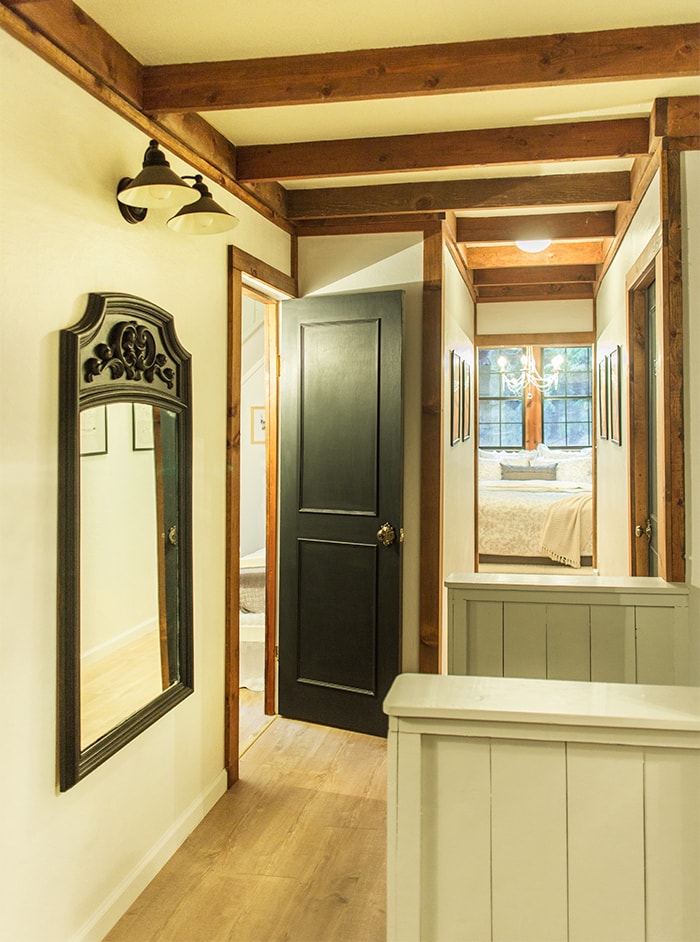 Pin
And on our left, corridor 2 which comprises Bedrooms 4-6, the bathroom and laundry room: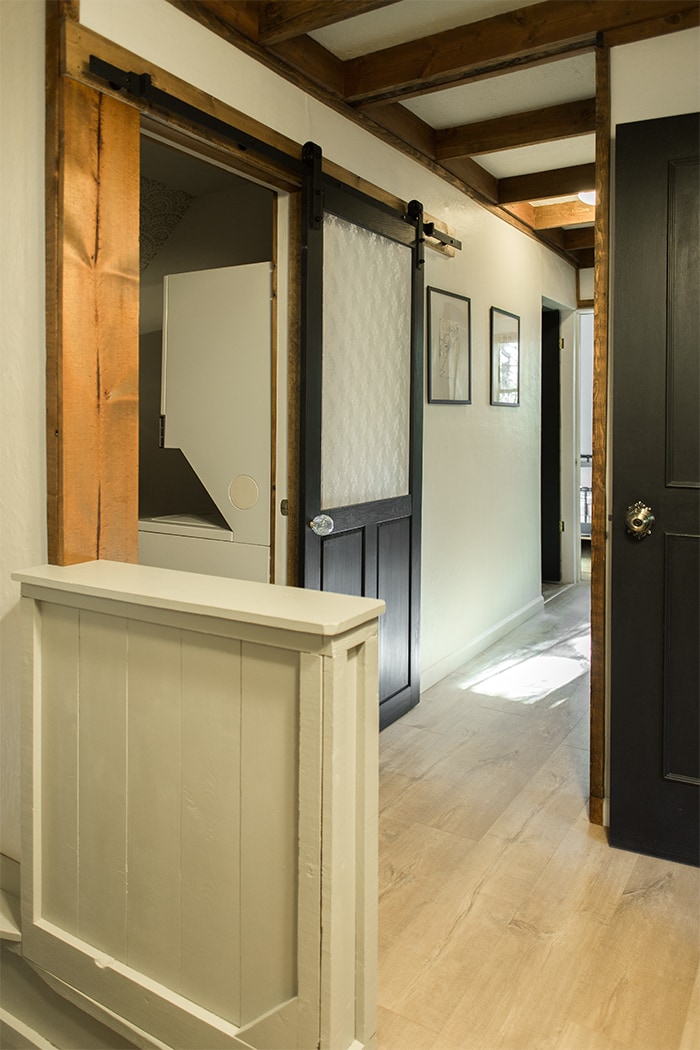 Pin
A closer look at the left wing: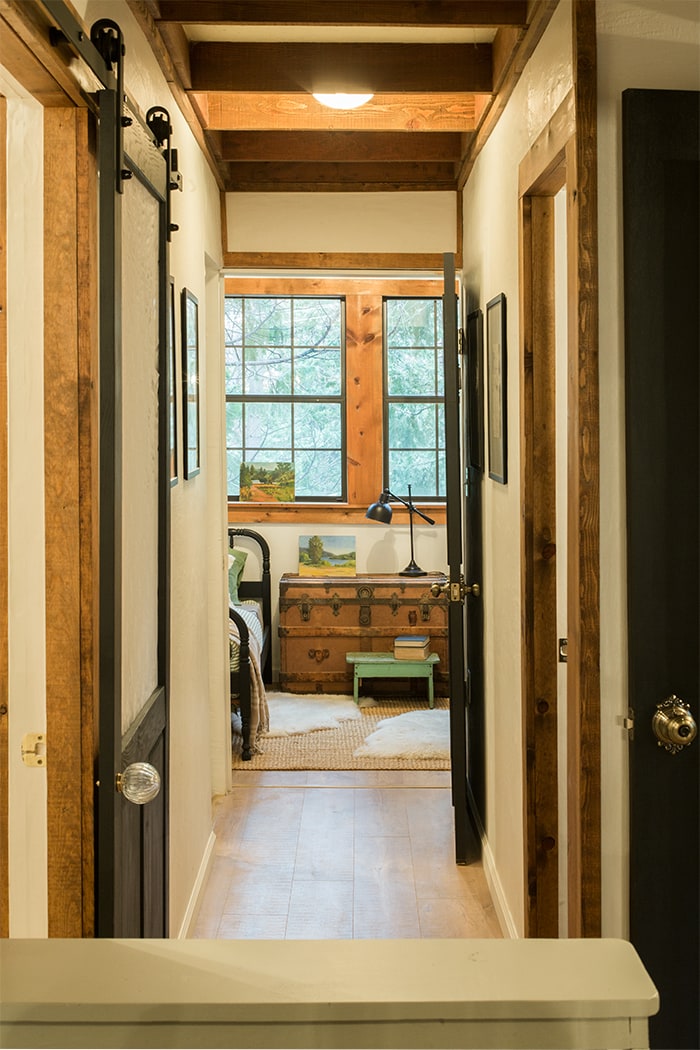 Pin
To dress up the walls, I took a large old map of the county I had found stashed in one of the closets, cut it into 8 pieces, and framed them in eight Ikea frames pulled from storage. Total cost = $0.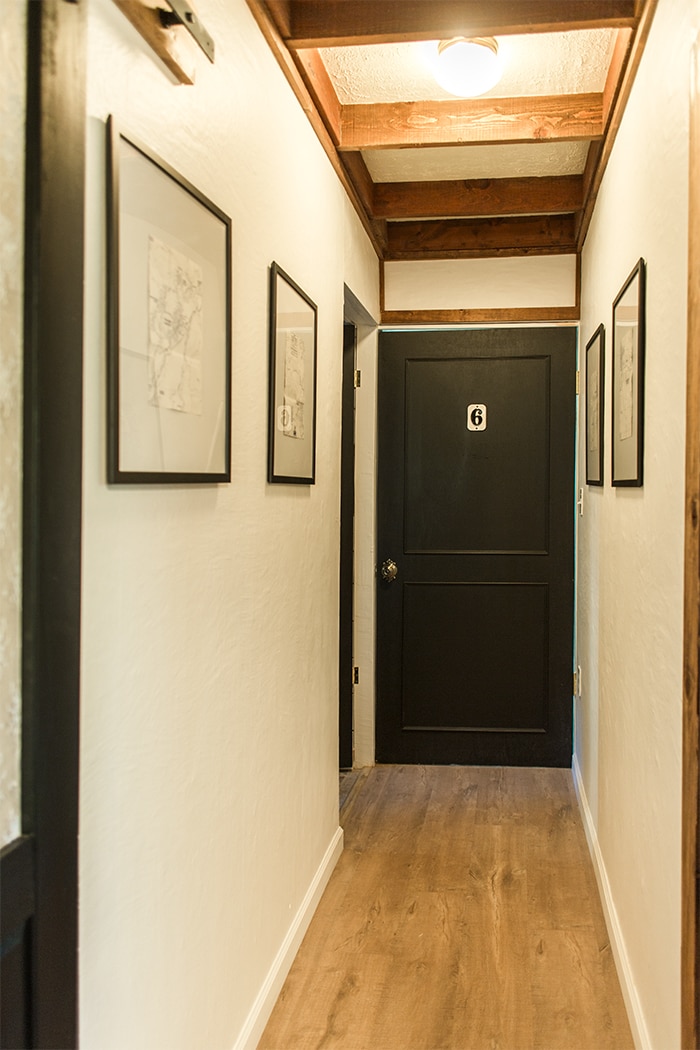 Pin
Since there are so many doors and rooms up here (and they each have their own personality), I thought it would be fun to number them. It proved quite useful when communicating with others during the final weeks of working on the house ("Bring this pillow to Bedroom 5", "Bedroom 2 needs touch up paint", etc). And it feels like a little bed and breakfast, which I love (and a lot of folks commented this feature on during the Open House).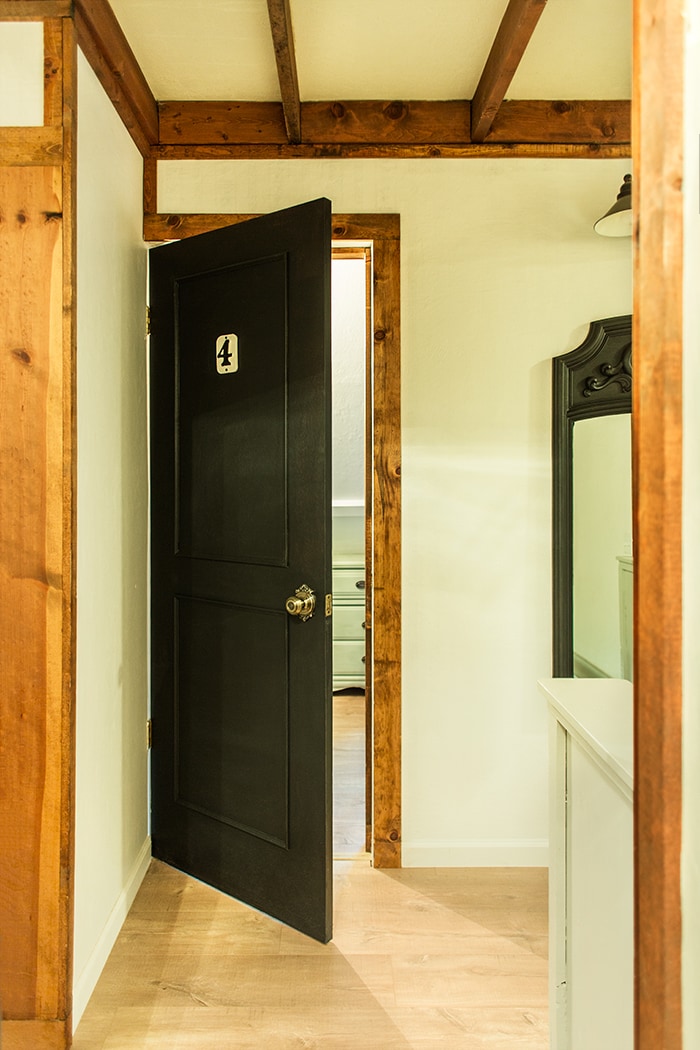 Pin
I took the approach of keeping the walkway feeling light, airy and neutral to allow the rooms to shine.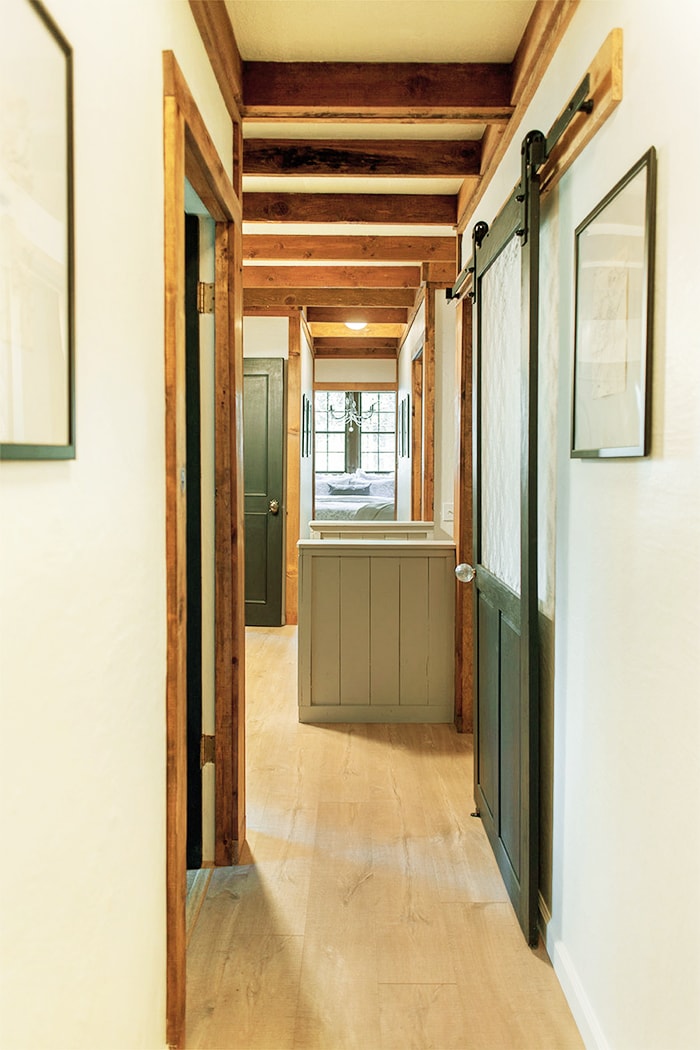 Pin
And now for the laundry room…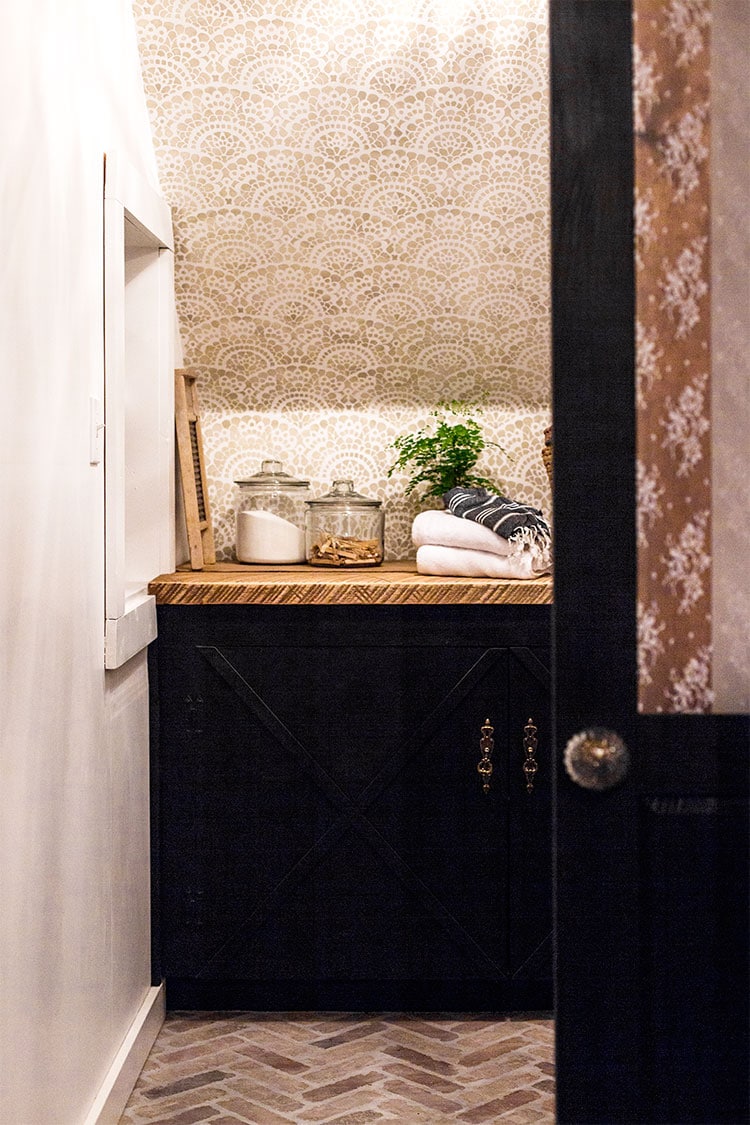 Pin
I like to think of it as a little pocket of pretty.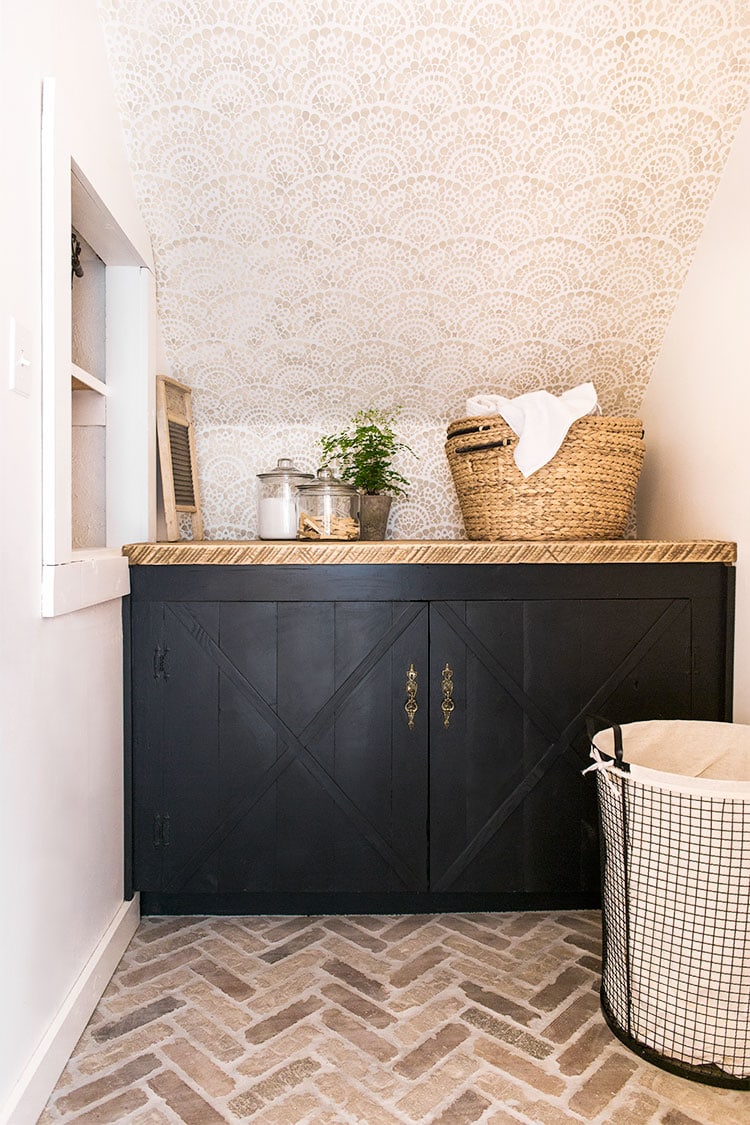 Pin
These floors are just made for doing laundry, wouldn't you agree?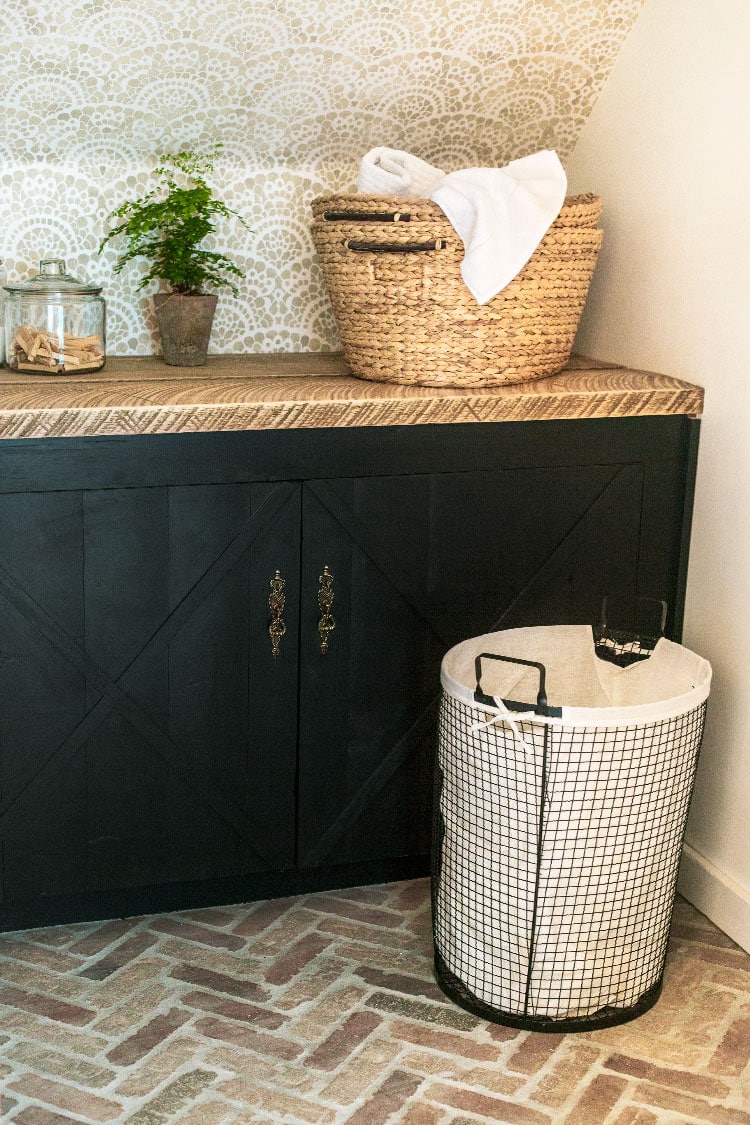 Pin
And the Spanish lace stencil gives it a romantic feel…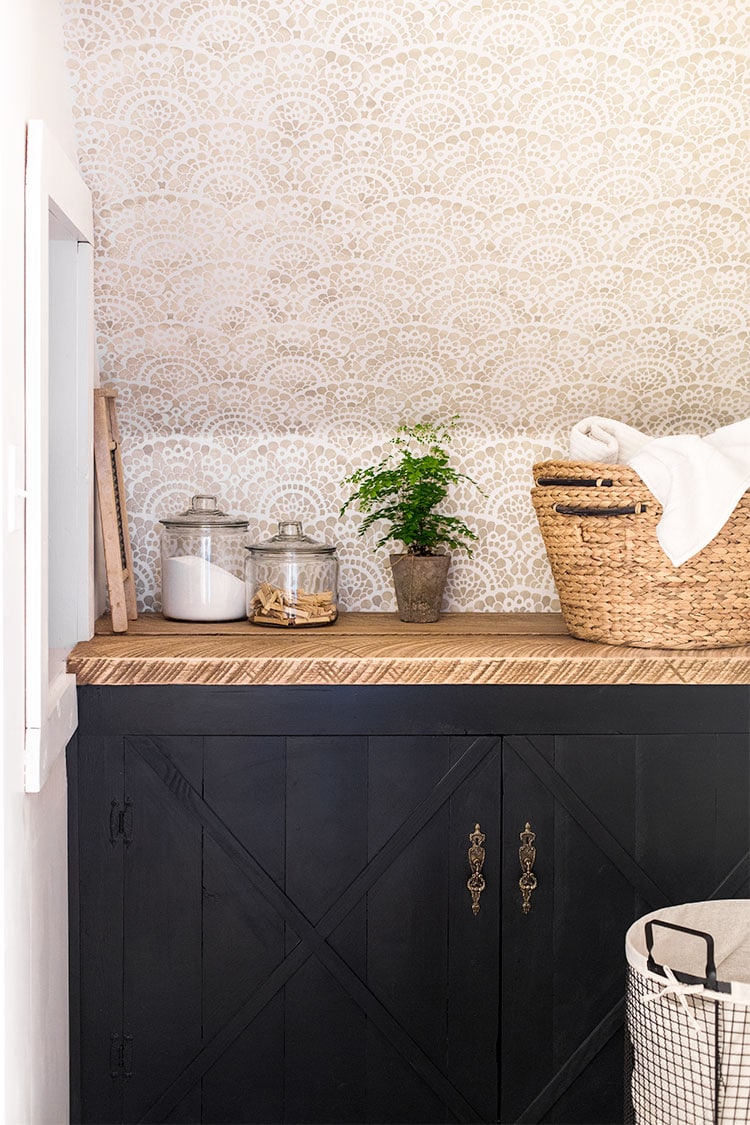 Pin
I wasn't intending for the paint application to be lighter/heavier in different areas, but it adds a dimensional quality that makes it so much more unique, and I love the contrast against the black doors, brass hardware and reclaimed wood.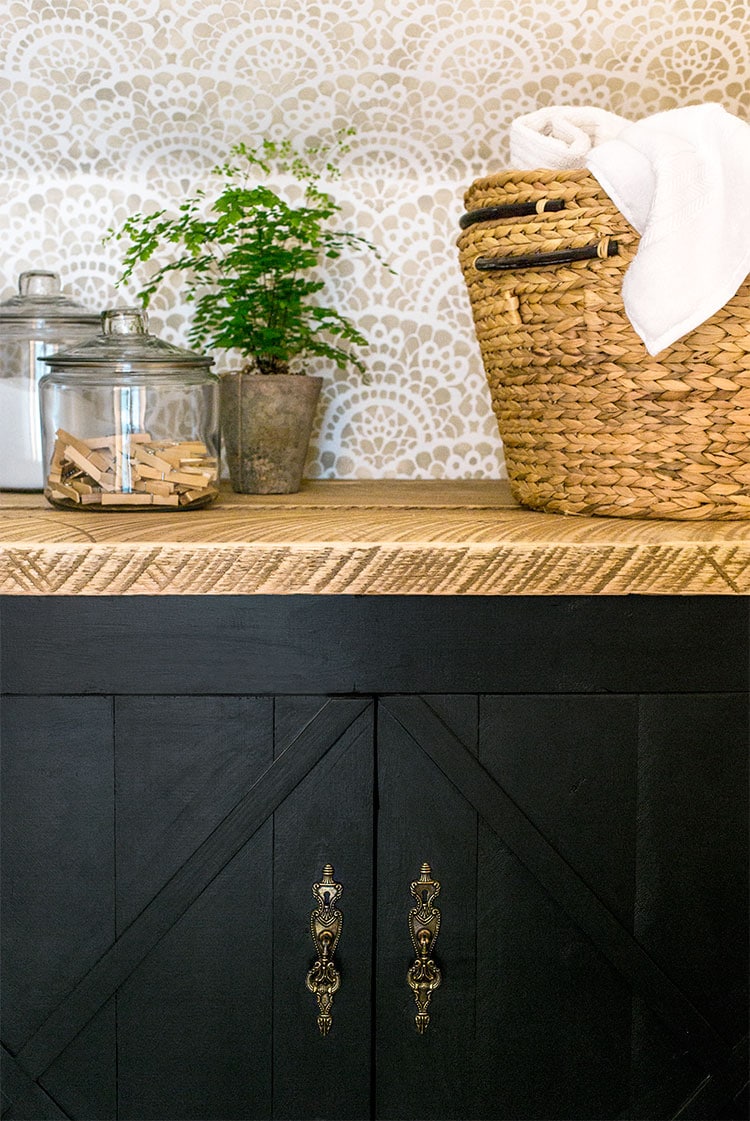 Pin
The woven and metal baskets were pulled from storage, the vintage washing board was left behind in one of the closets, and the rest are props courtesy of Country Living 🙂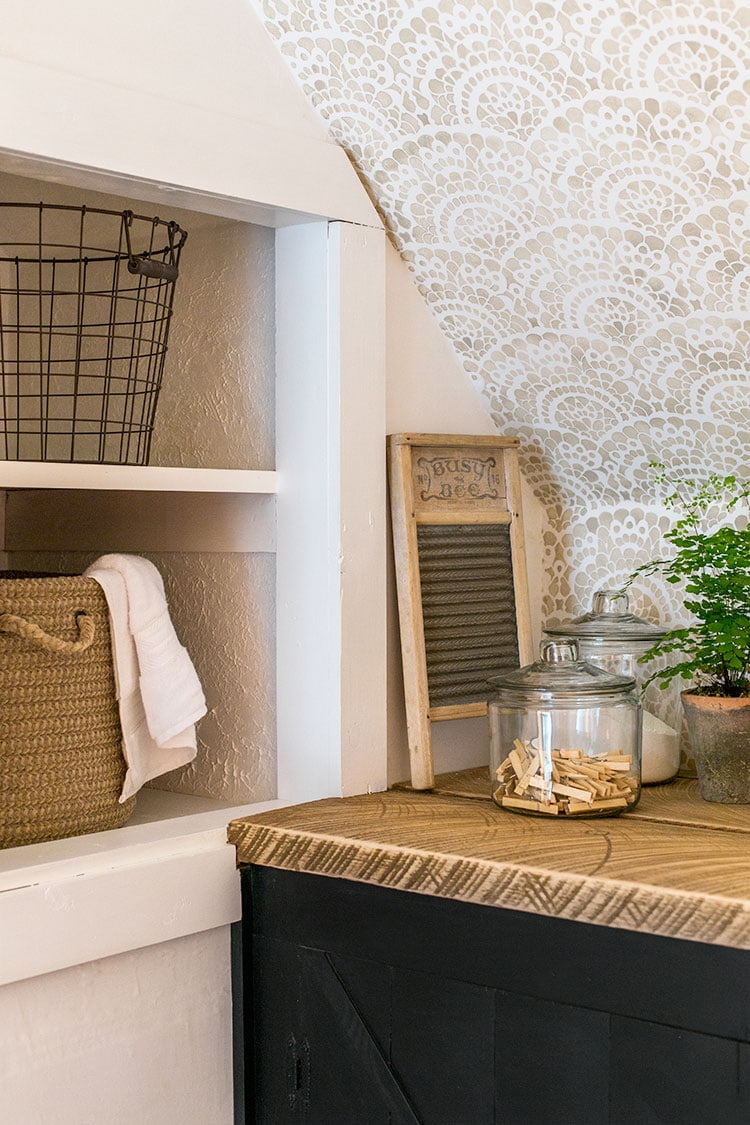 Pin
Can't forget the mood lighting…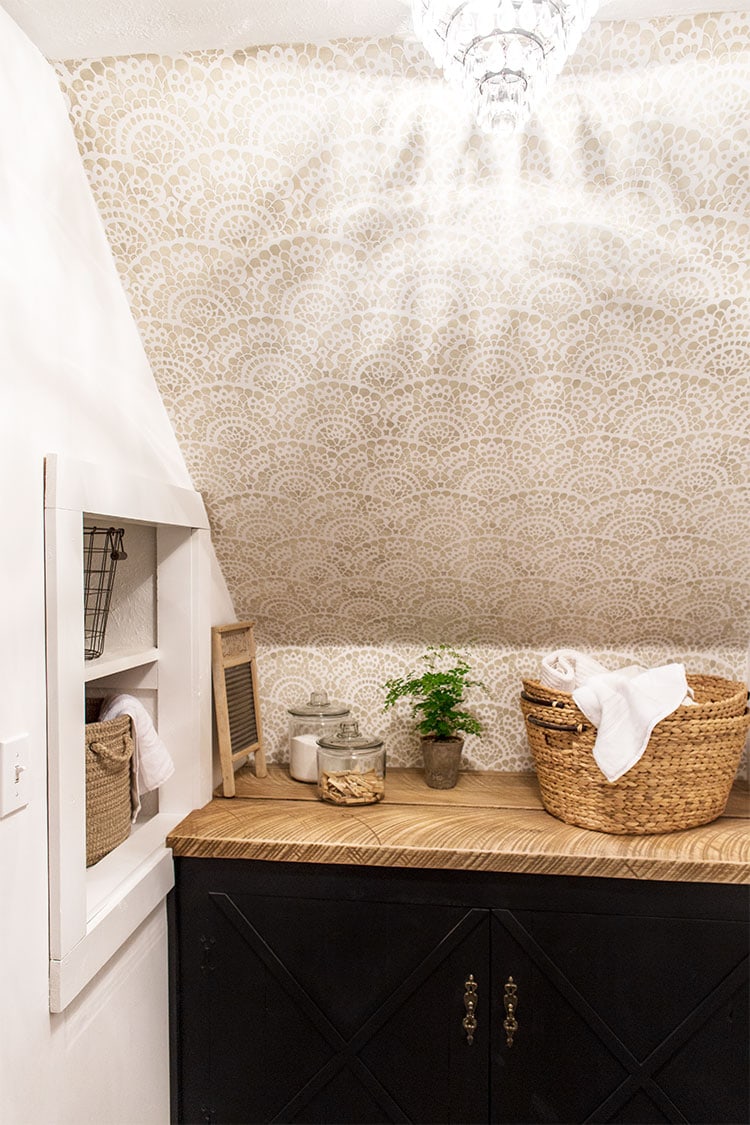 Pin
It's hard to capture the feeling with the light on, but it's the type of ambiance you'd expect during a romantic candlelit dinner or relaxing bubble bath. A bit fancy for a place meant for chores, but that's what makes it fun and unexpected. Here's a clearer shot of the ($80!) crystal chandelier: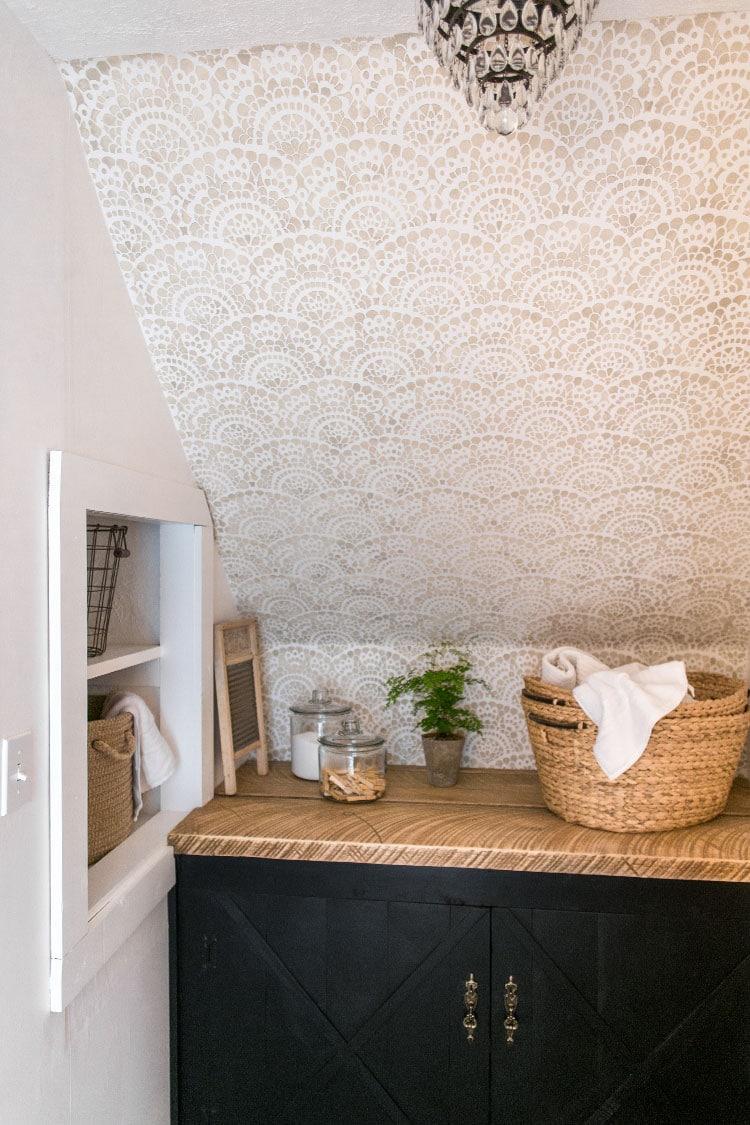 Pin
And we can't forget about the door…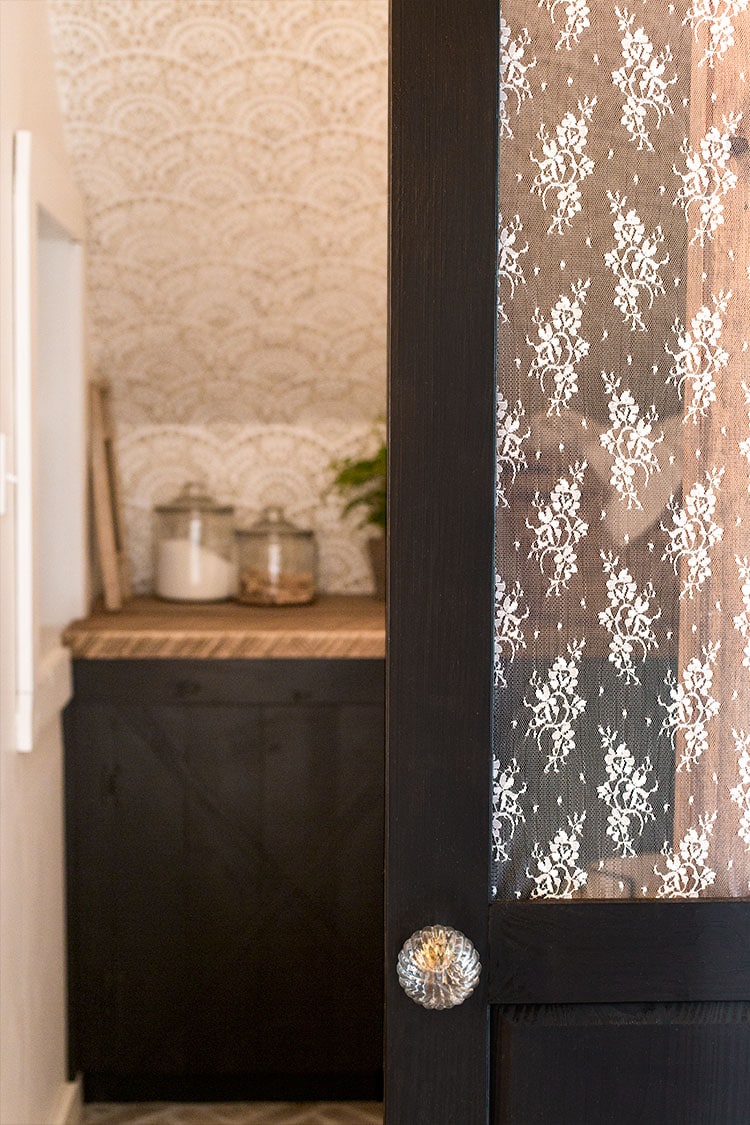 Pin
I took a basic screen door from Lowe's, painted it black, removed the screen, stapled lace fabric into place and topped it off with a crystal knob. It was one of those rare easy DIY's where nothing went wrong and it turned out just as lovely as I'd envisioned.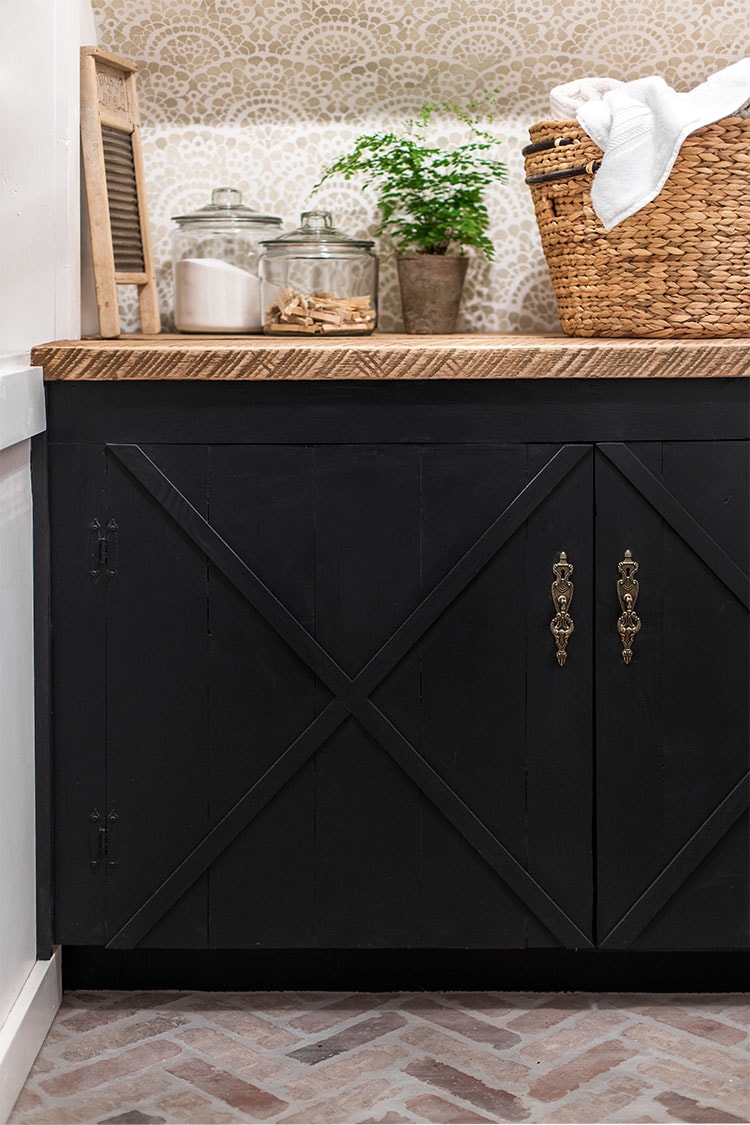 Pin
Interactive photo alert! Hover your mouse (or tap on mobile) for shoppable links to a few of the sources…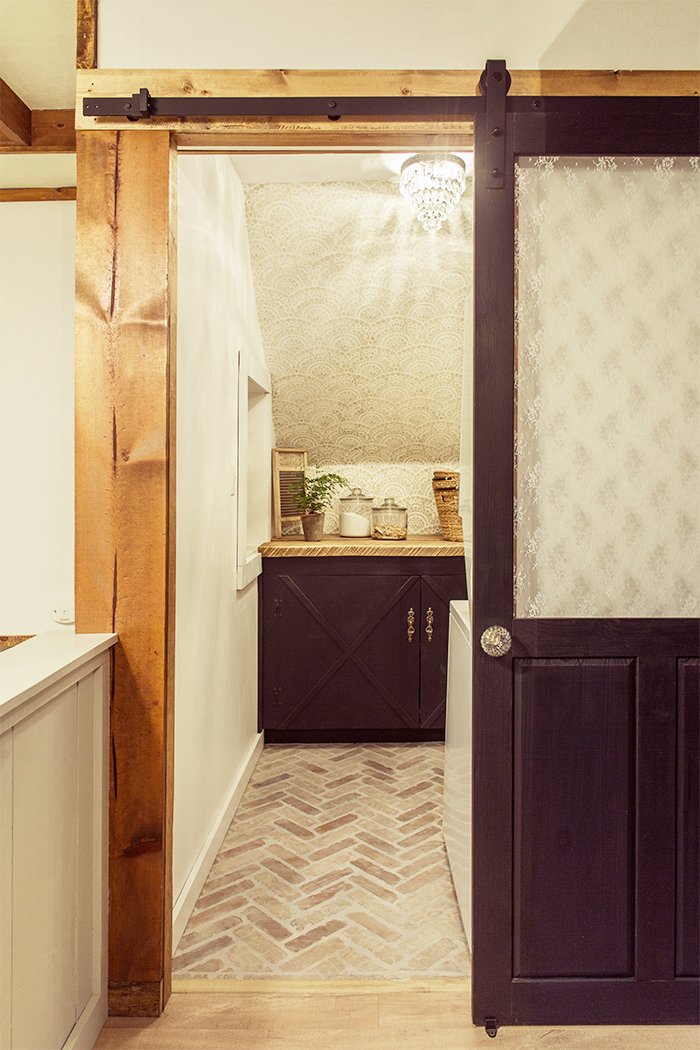 SOURCES
Wall color: Valspar's Bistro White
Black/door color: Valspar's Cracked Pepper
Gray trim color: Valspar's Woodlawn Colonial Gray
Pergo Flooring in Scottsdale Oak – discontinued color (Similar here)
Wood counter: reclaimed/local lumber yard
Hallway mirror: Craigslist (painted in Maison Blanche's wrought iron)
Hallway wall sconce
Screen door (+ DIY instructions)
Stencil paint (in Cobblestone)
Woven baskets
Wire basket: TJ Maxx
Disclosure: Some of the products listed were provided via sponsorship—all of which I selected and fully approve of.
And that should cover it for today's reveal! Make sure to check out the Before & After video to see the full transformation, and stay tuned for the next bathroom reveal on Thursday! It may be my favorite room ever… you won't want to miss this one!