We've reached the halfway point of this renovation and completed the single biggest update—the walls have been PAINTED! Watch the transformation & more in Episode 7:
In today's post I'll be covering the highlights, but make sure to watch the video for all of the updates!
I barely recognized the house when I walked in the door last Friday—let me show you the transformational power of paint.
Before: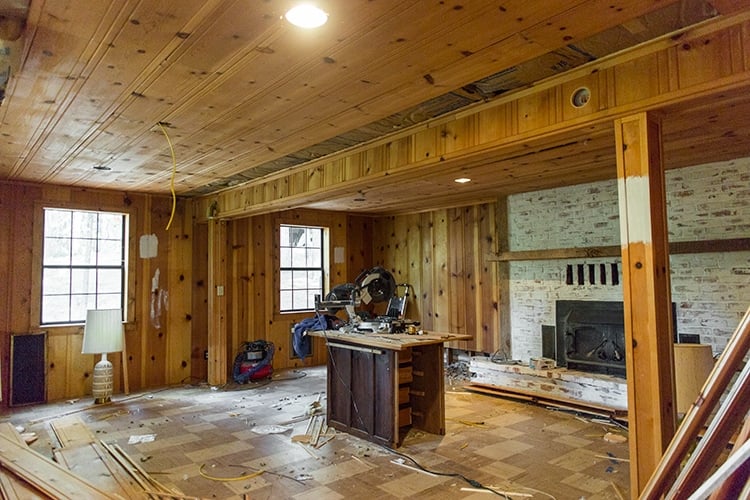 Pin
After: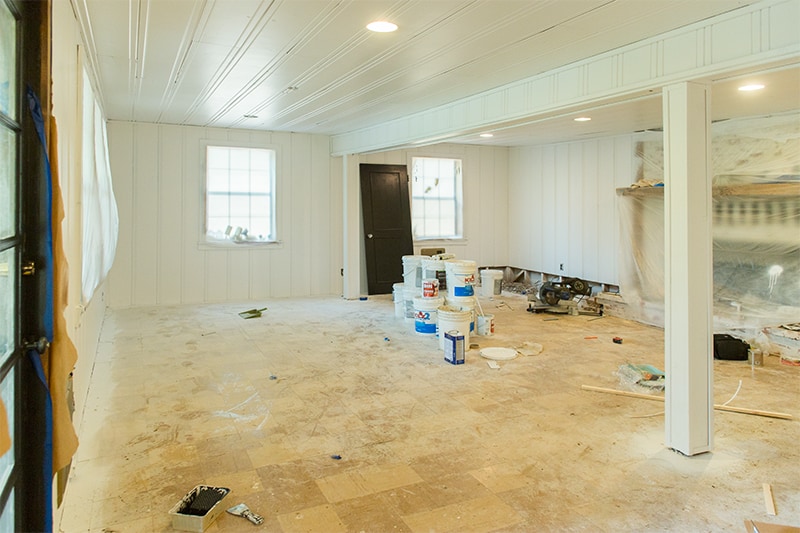 Pin
Before: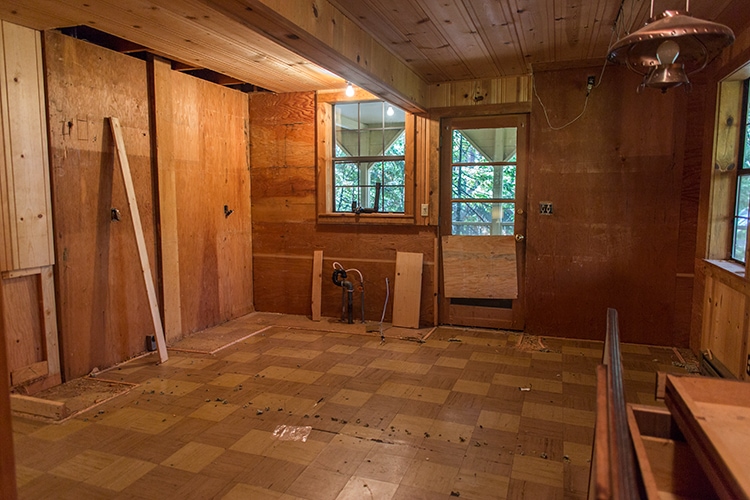 Pin
After: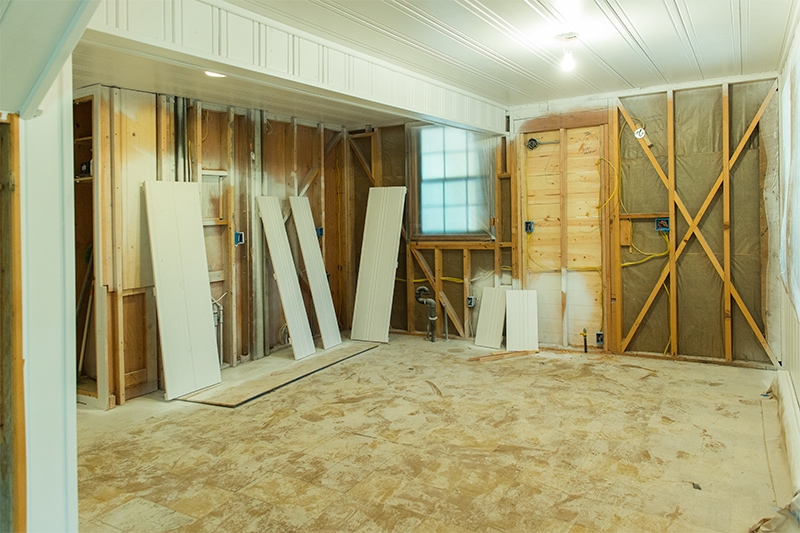 Pin
This house is shaded under a forest of pine trees and gets very little natural sunlight (especially now in winter) so I knew immediately that white walls were the best choice to make the space feel open and brighter.
After a lot of researching and hearing opinions from other bloggers, I went with Valspar's Bistro White which is a very neutral (neither warm nor cool) shade.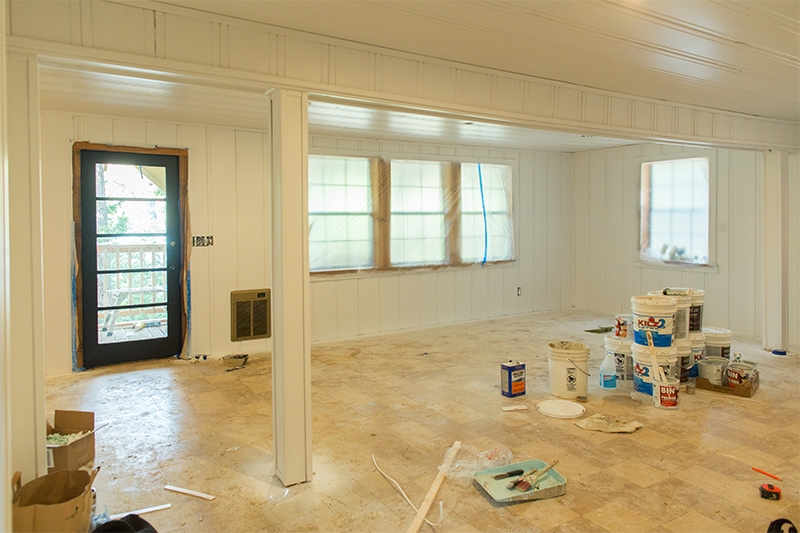 Pin
The heaviness of the orange wood has been lifted and the space feels so light and airy now.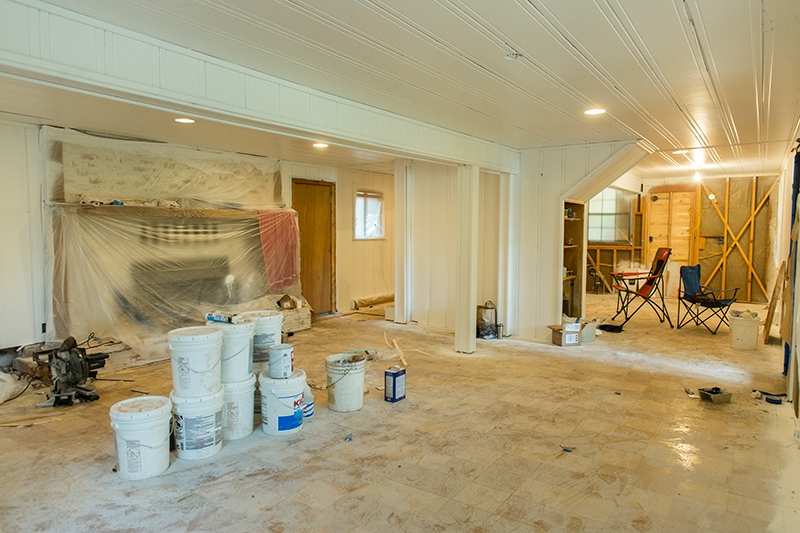 Pin
If you find it too stark just trust me, once the wood floors go down and I get all the furniture and accessories into place, the walls will fade into the background.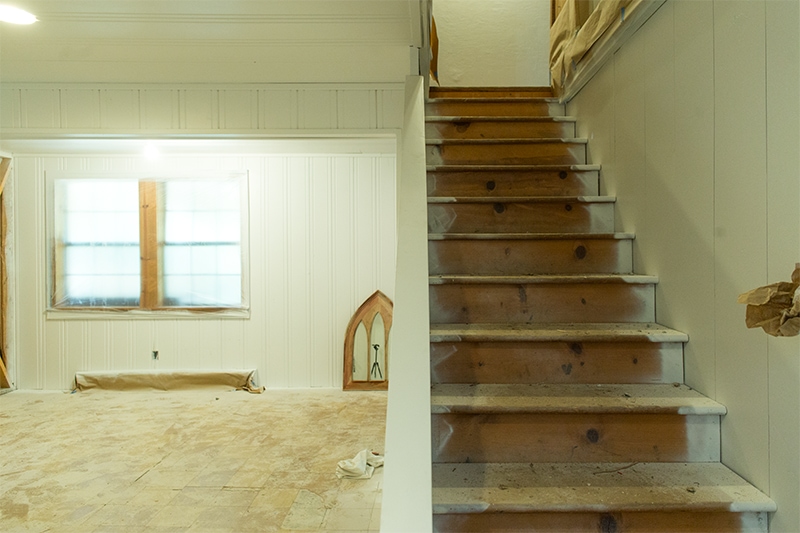 Pin
It's the perfect blank canvas for decorating and allowing all the wood trim to pop. I didn't unmask the windows because there's still some touchups that need to be made, but those should make an appearance on the blog next week.
Since I'm trying to keep this blog updated in as close to real time as possible, my contractor sent me a couple photos of the kitchen Monday afternoon: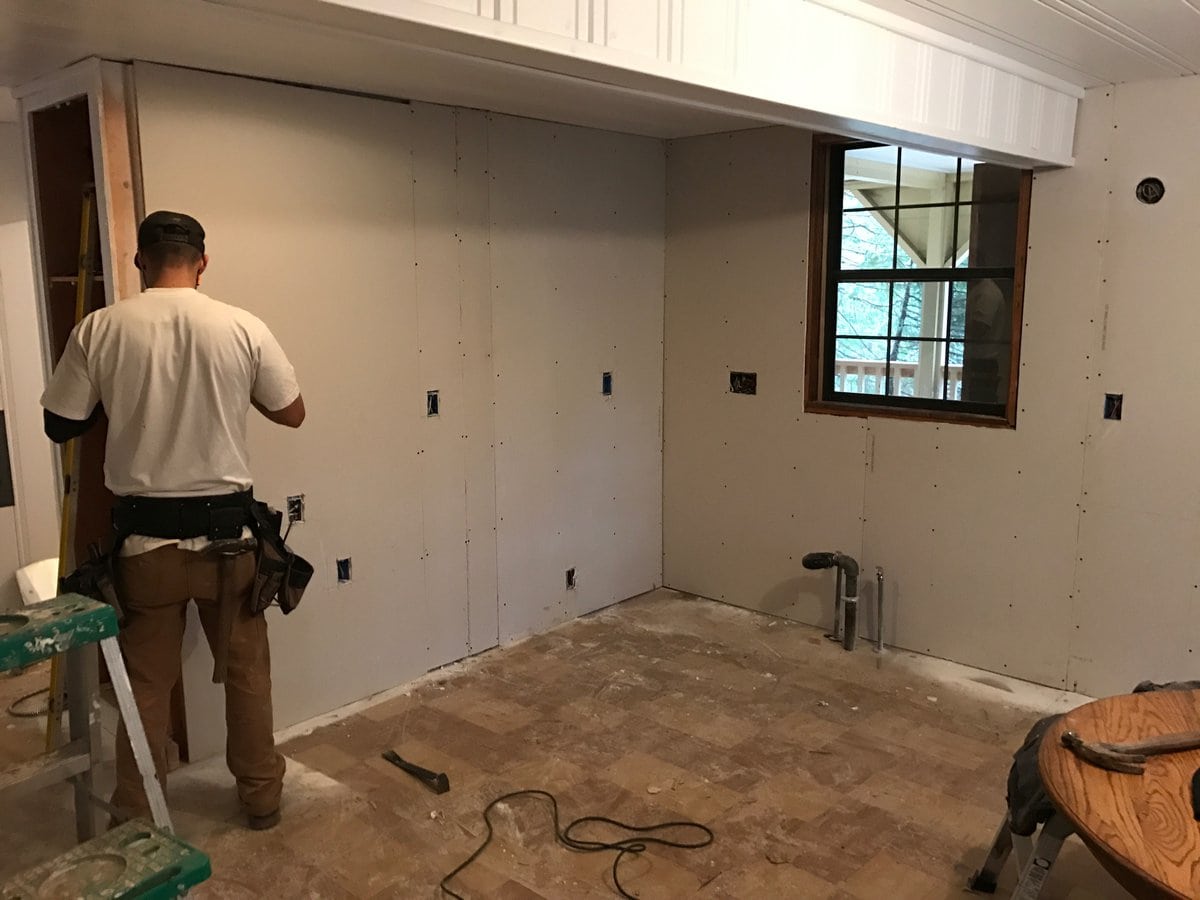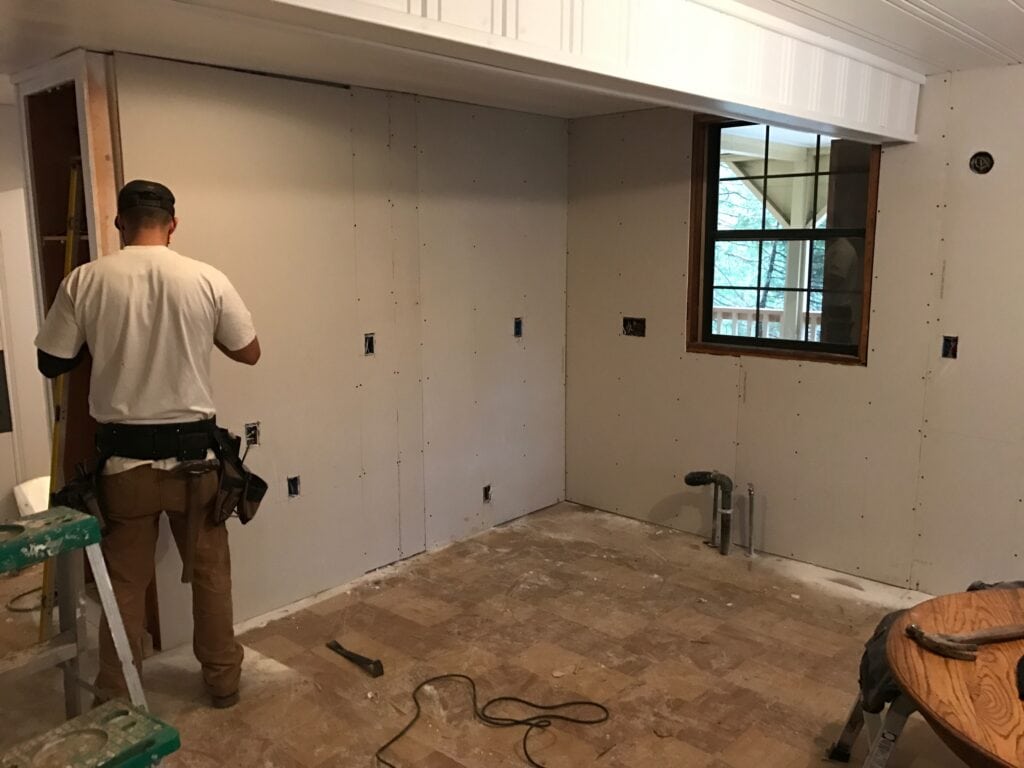 Pin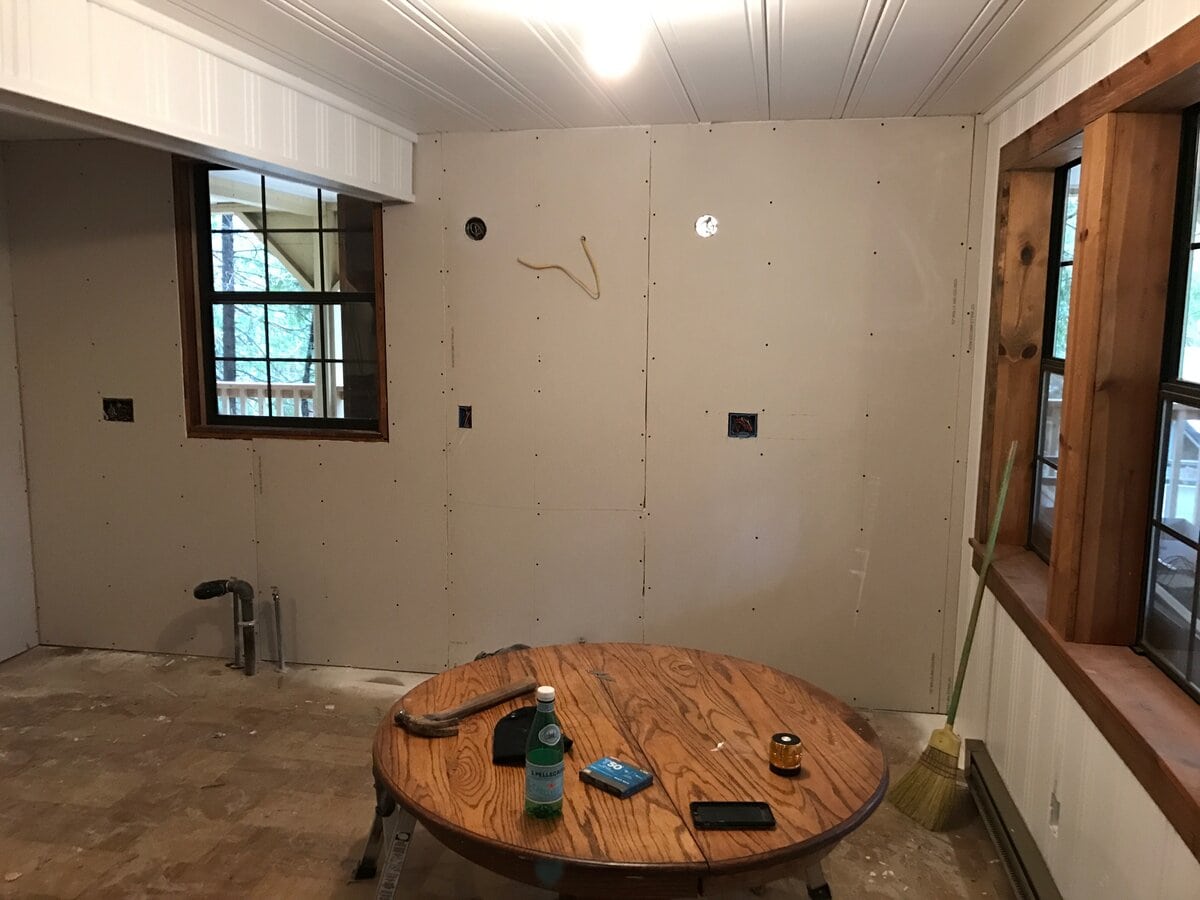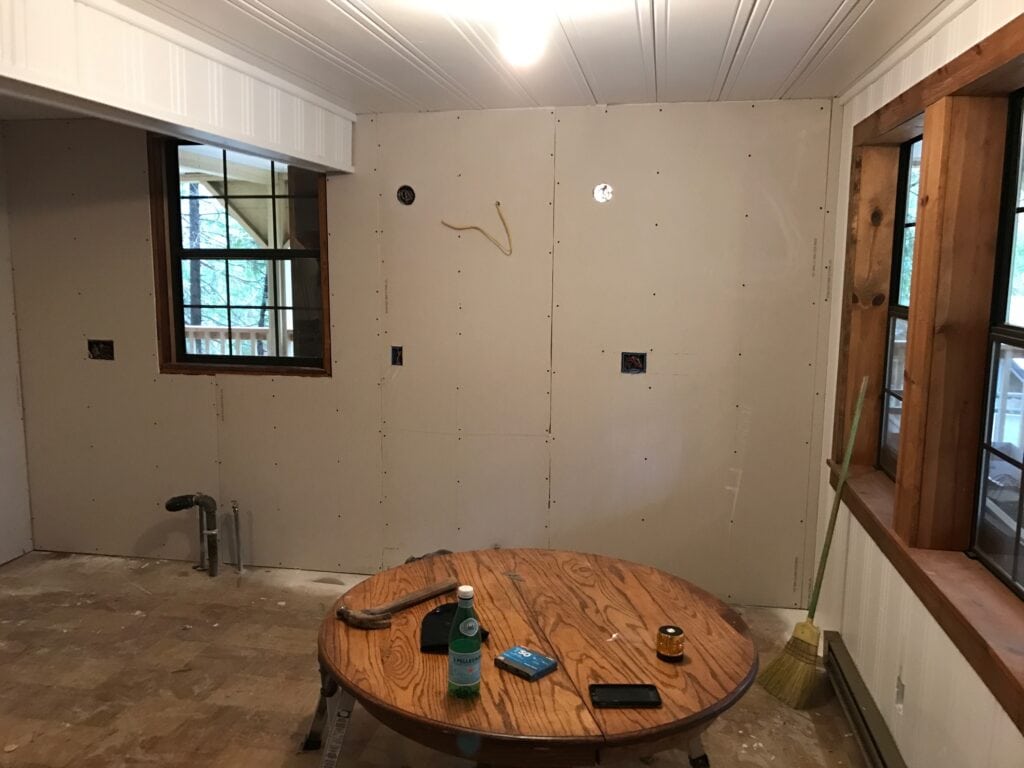 Pin
We finally have drywall! And look at that beautiful wood window!
After a 2 week delay, the cabinets were finally delivered Tuesday (!!!). They're scheduled to be installed Saturday, and I'll be there taking photos and videos and instagramming and snapchatting it up.
While we're still discussing the kitchen, I found this pedestal table on a local buy & sell Facebook group on Sunday and the sweet sellers offered to deliver it to me that day…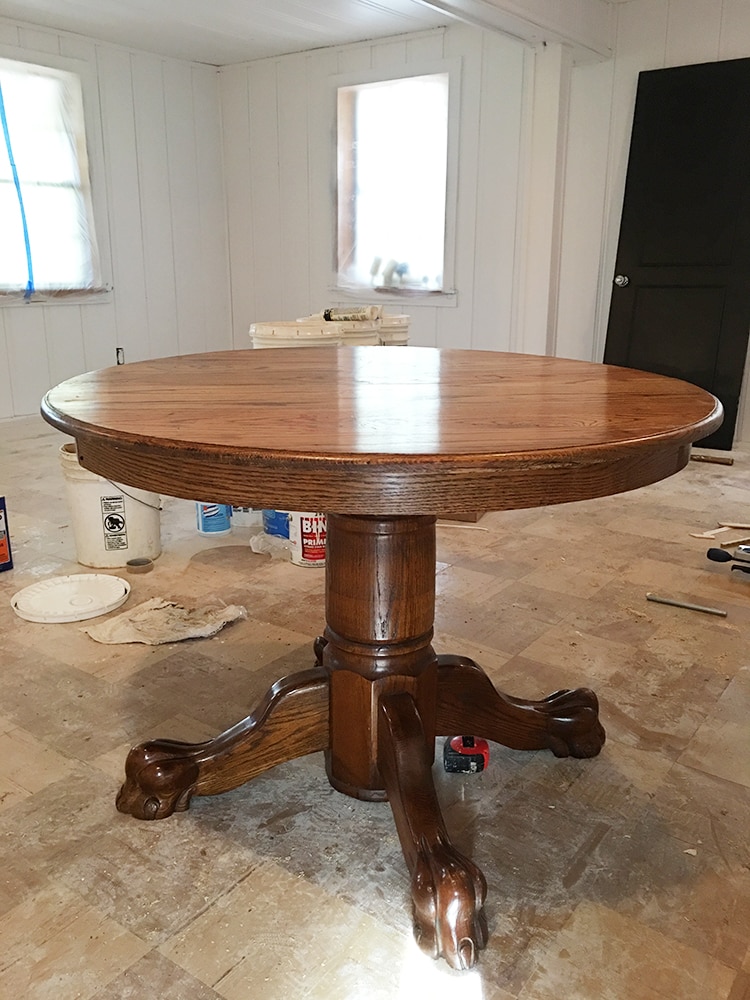 Pin
It cost me a grand total of $30 delivered. Thirty dollars! I'd been hunting for this exact size and style for a month. Major score. I plan to paint it a soft khaki or gray, and it will end up approximately in this location in the kitchen: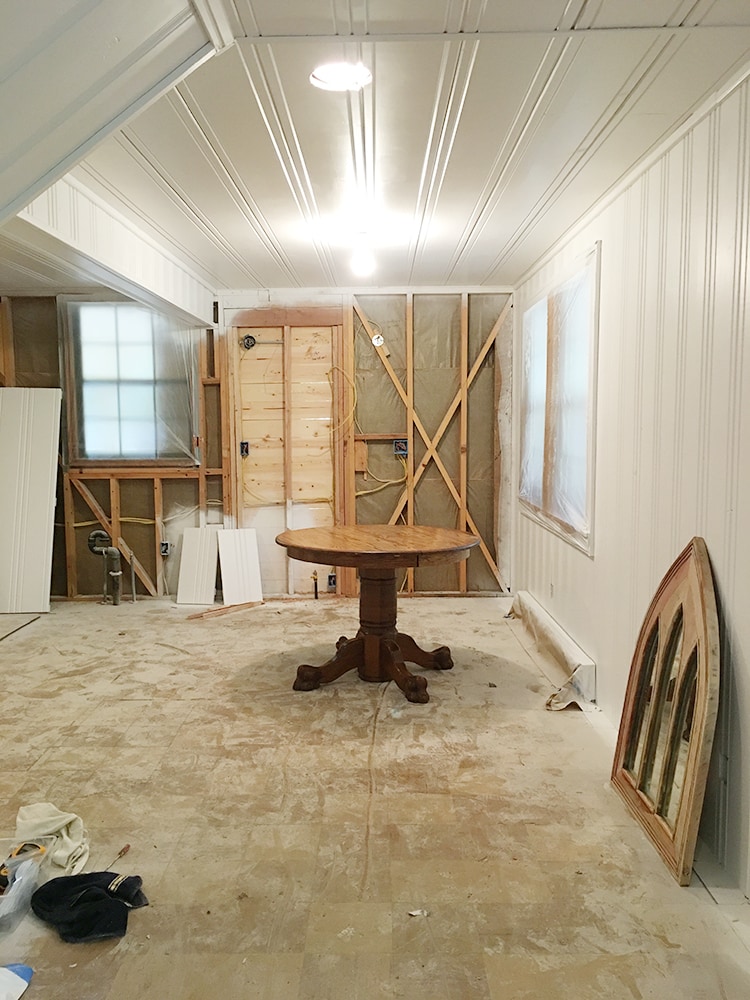 Pin
In front of the built in bench seating along the right wall. I'm hoping it won't be too crowded in there. Here's another angle: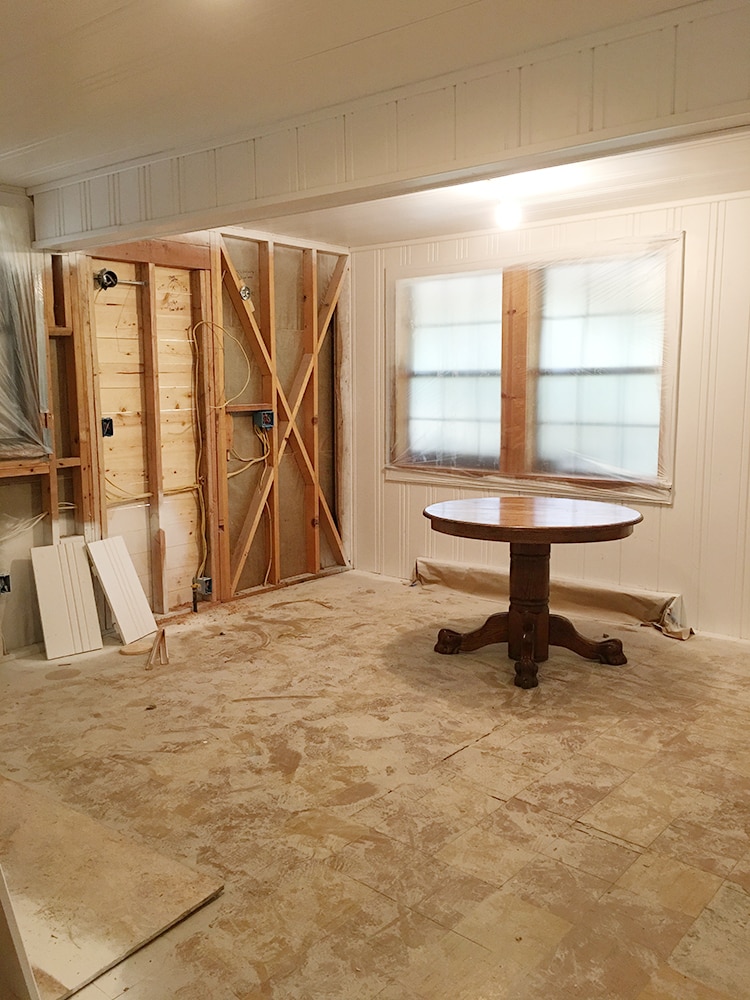 Pin
The tricky part about flipping on a crazy fast timeline is that you can't wait until something is in place to decide what will look good and what to buy next. You just have to visualize everything together, buy it all at once and hope it works out exactly the way you pictured in your head. Not the easiest thing to do, and I'm sure there will be some last minute changes so I'm giving myself a few weeks to arrange furniture and decorate (fingers crossed I'll even have that).
In other news, I painted the front door black (Valspar Cracked Pepper):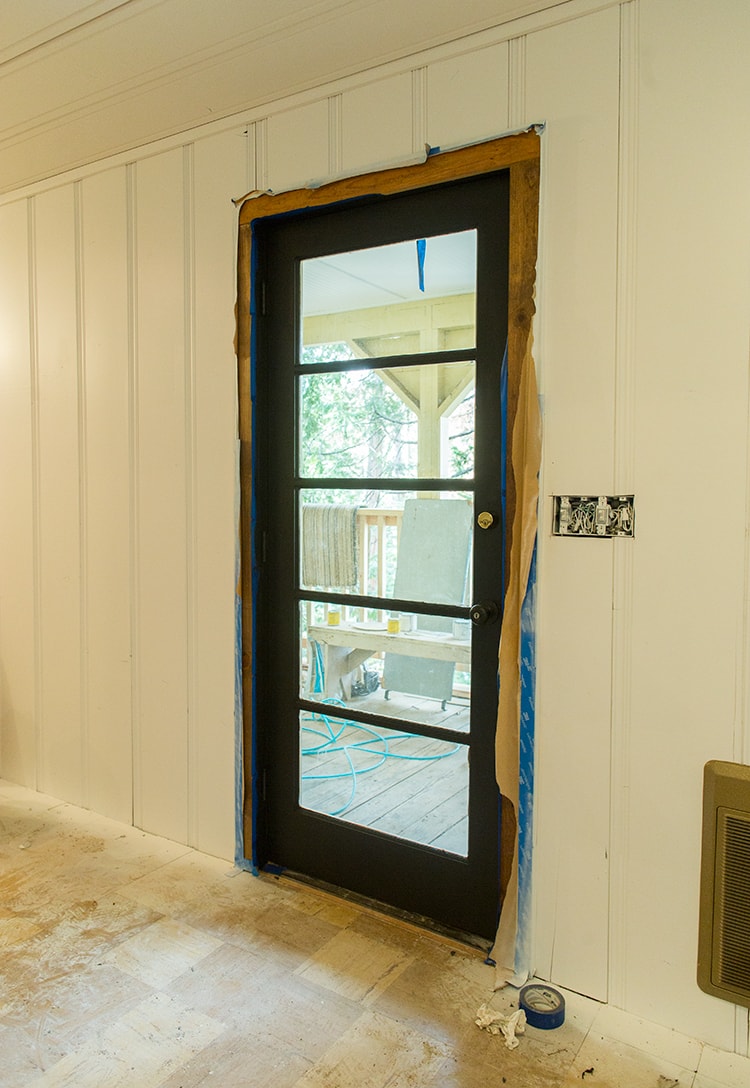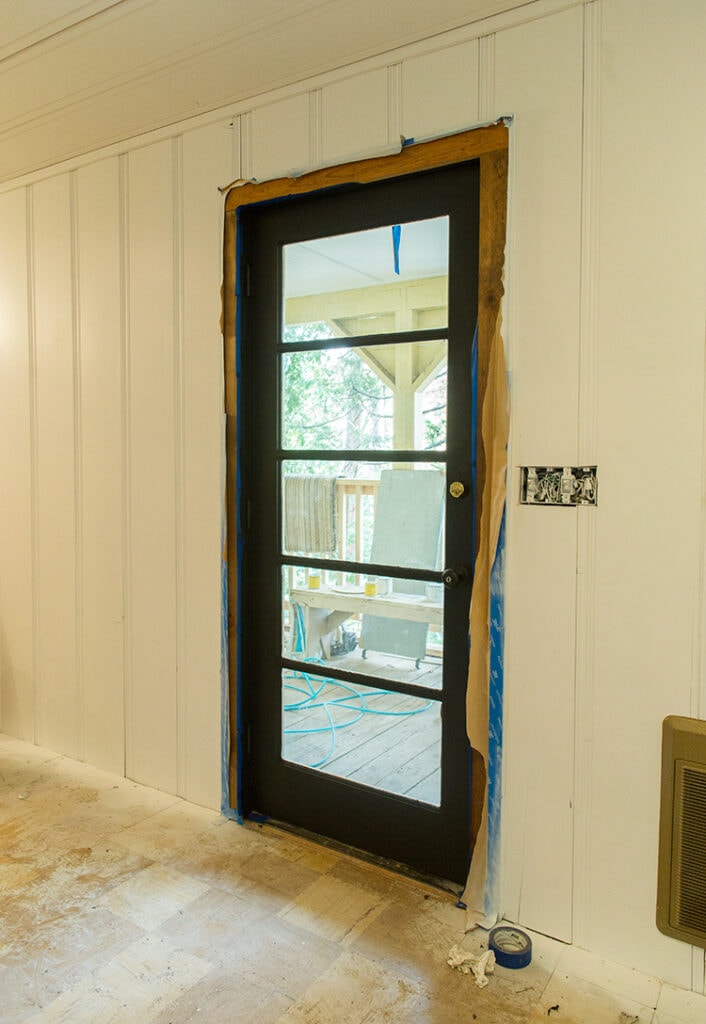 Pin
And the downstairs bathroom looks like this: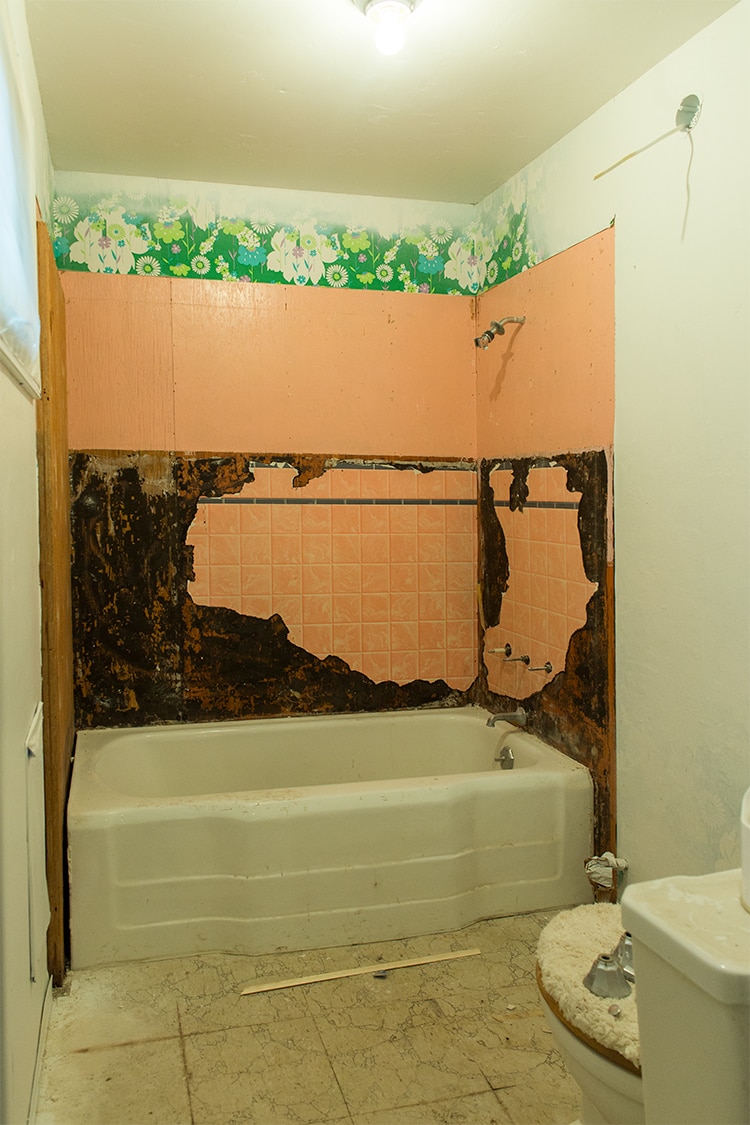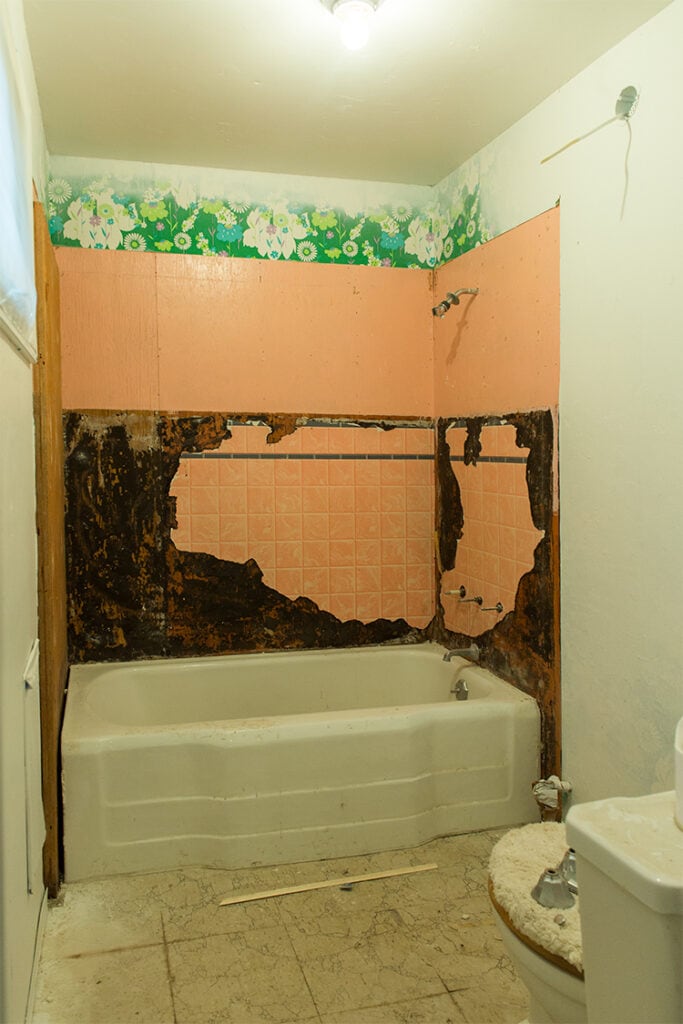 Pin
This might be the last room to be completed. My tile guy/plumber needs to finish the upstairs bathroom, then the laundry room next, then probably the kitchen before he can start in here. It'll be done sometime in January.
Speaking of the upstairs bathroom… holy moly: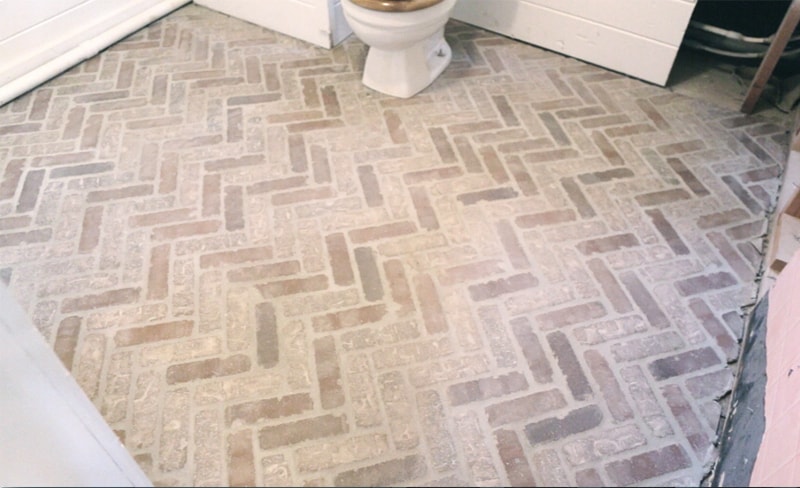 Pin
This screen shot does it absolutely no justice and I'm kicking myself because I forgot to take an actual photo… but these floors. Oh these floors. Lowe's wins all the awards for offering these. I chose TEC grout in Silverado which blends into them nicely. This only reaffirms my prediction that this bathroom will be my favorite room in the house.
If you've been paying close attention, you may remember me stating that this weekend I'd be stenciling a couple walls. I'd been trying to schedule that for the past few weeks, and this weekend was finally going to be the one—I had it all planned out and was ready to go.
Then an hour into my drive to the cottage, I realized I forgot the most important thing… the stencils. Horrible, I know. After pulling off the freeway and debating if I wanted to battle San Francisco traffic and add another 3 hours onto my already 3 hour drive, I ditched that plan and decided to figure out something else to do. That something else ended up being painting, which is all I can really do at this point.
My painter had finished painting the bedroom walls last week (goodbye floral mismatched wallpaper!) which made me question my paint color choice for the closet doors.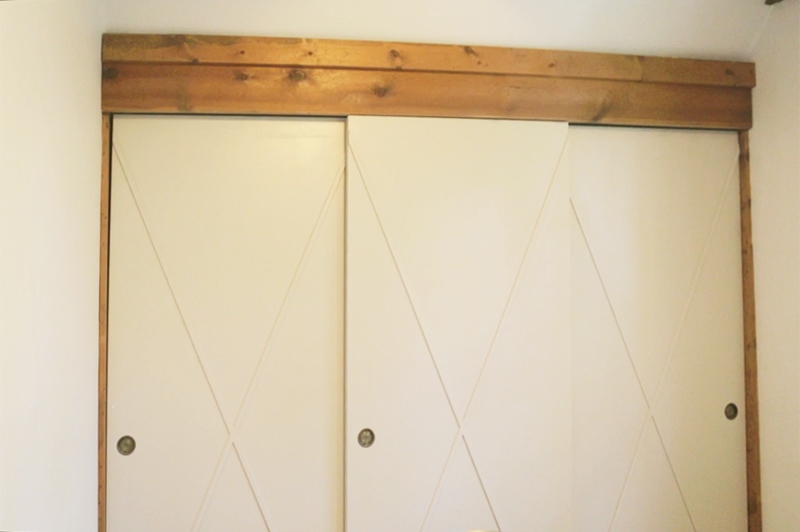 Pin
I was aiming for a soft, subtle gray and hoped the color would pop more once the walls were painted, but sadly they did not. Gray paint is so tricky.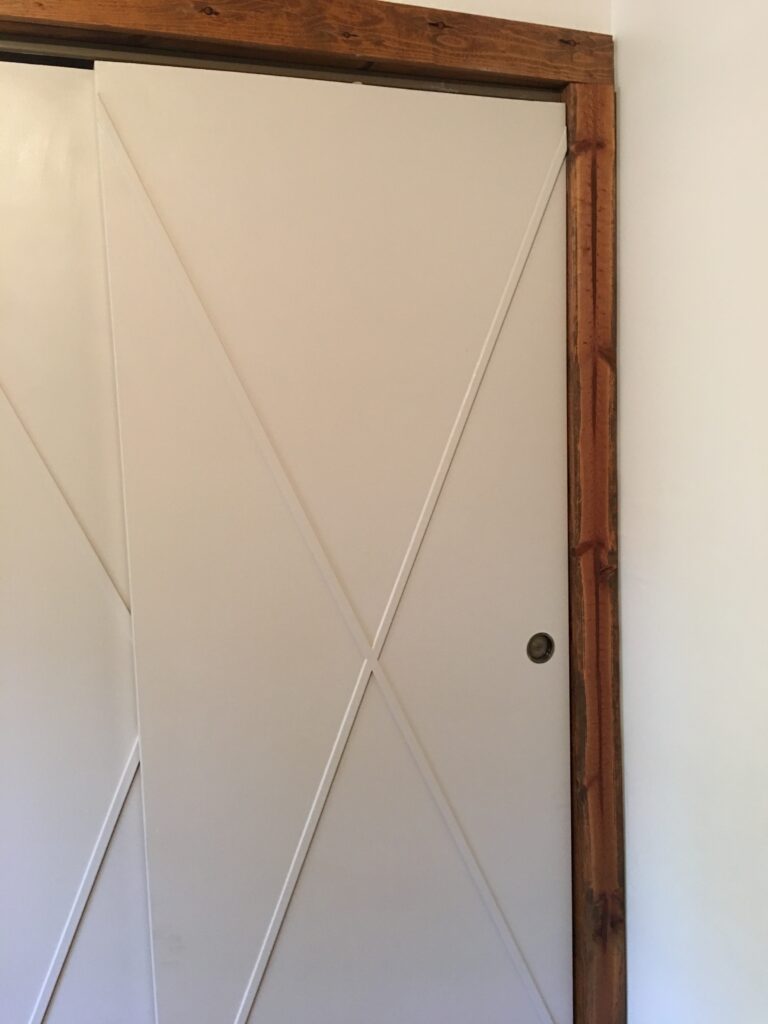 Pin
Modest Silver is a nice color on its own, but without much natural light, it was too similar to the walls. And it looked slightly too purple. Back to the drawing board.
Instead of starting over from scratch, I remembered that I had chosen another nice gray for the exterior—Valspar's Woodlawn Colonial Gray—shown below compared to the old door color:
Pin
The exterior hasn't been painted yet so I didn't get a chance to test it out, but with no time to spare I took a gamble and bought a gallon in eggshell.
Fortunately, the DIY gods took mercy on me, because this color is perfect.
Pin
I ended up painting the trim around the doors as well for a cleaner look. I only had time to do the two bigger bedrooms but plan on painting the doors and at least most of the paneling in the other rooms as well (who wants to come over and help?)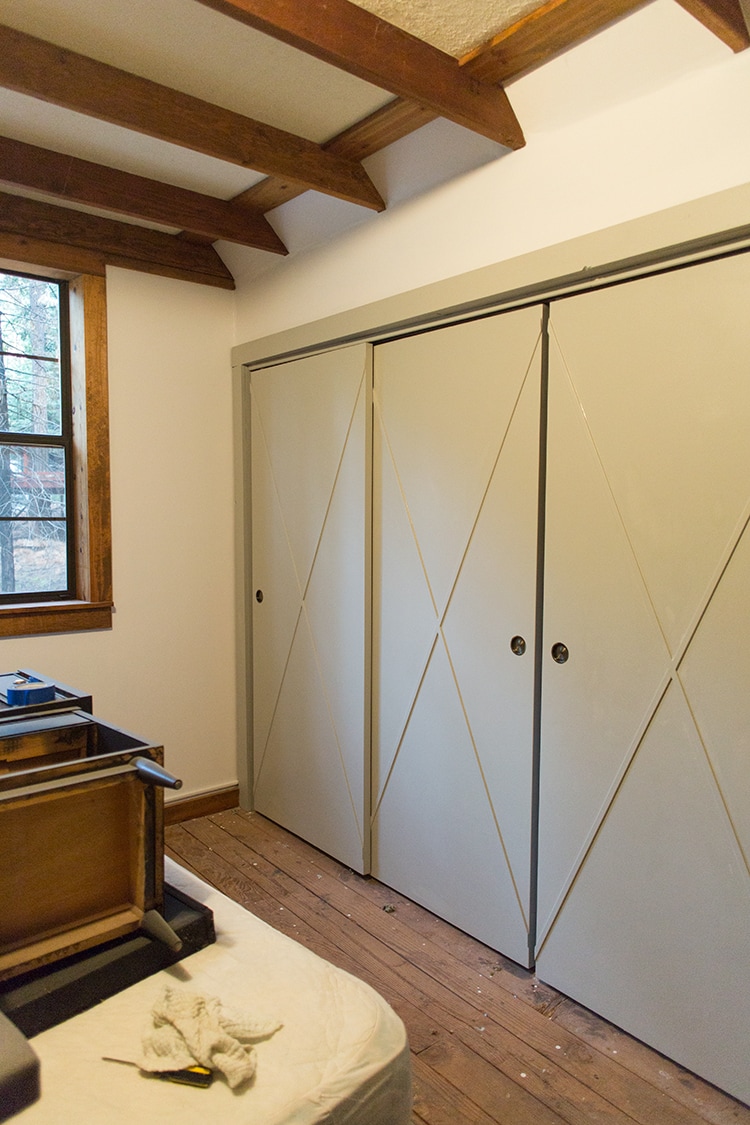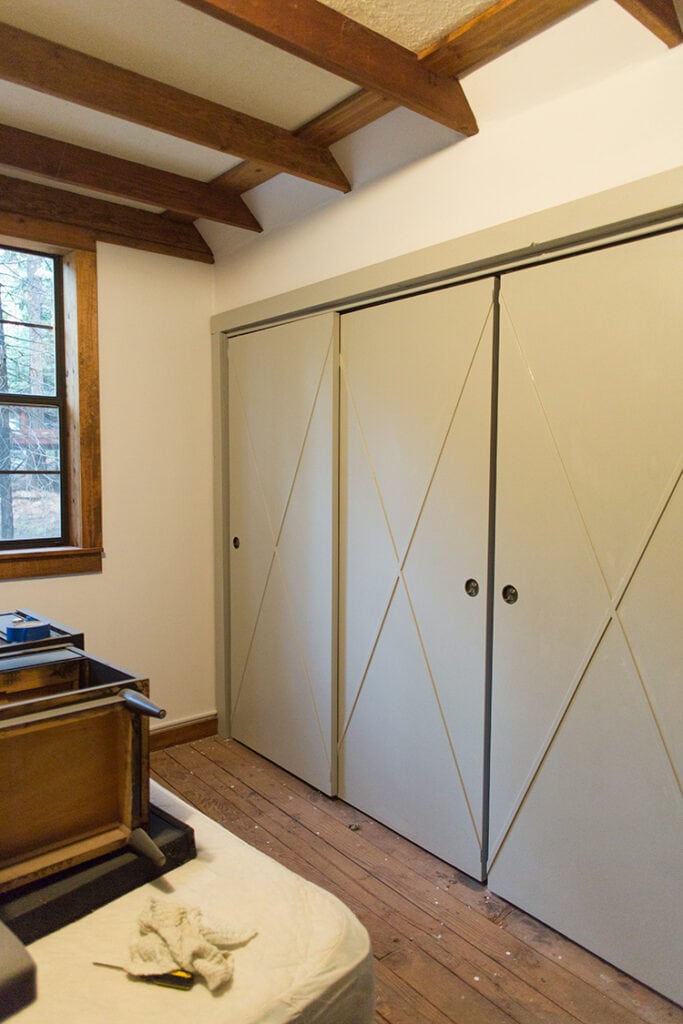 Pin
With that issue resolved, I had just enough hours to squeeze in a last minute DIY project in the laundry room. Here's an older photo after the laminate countertop was removed: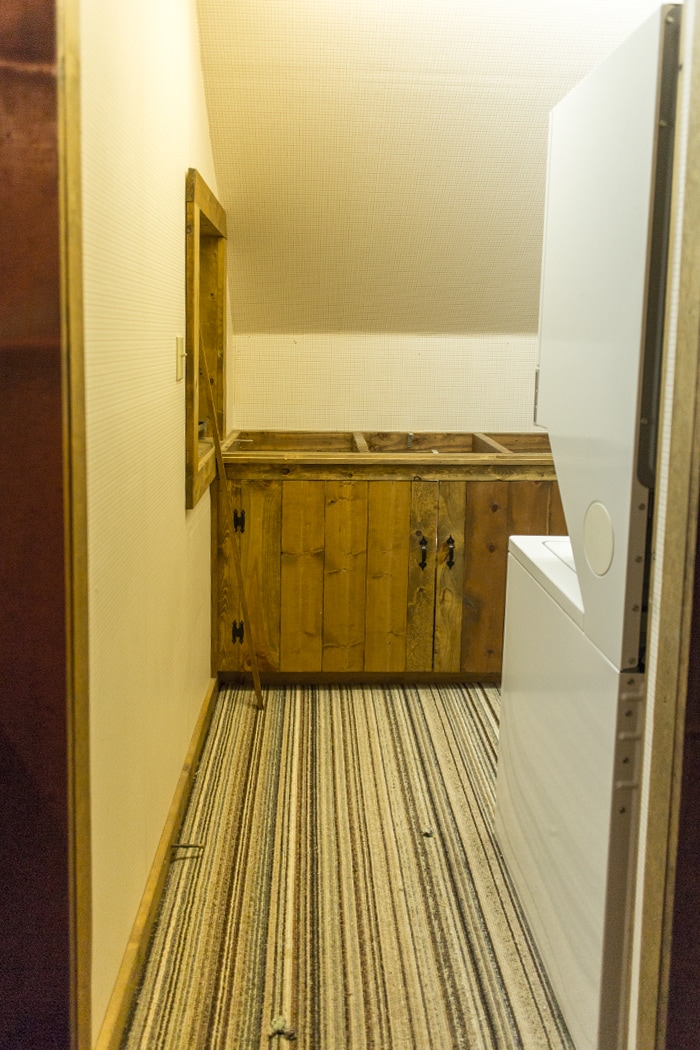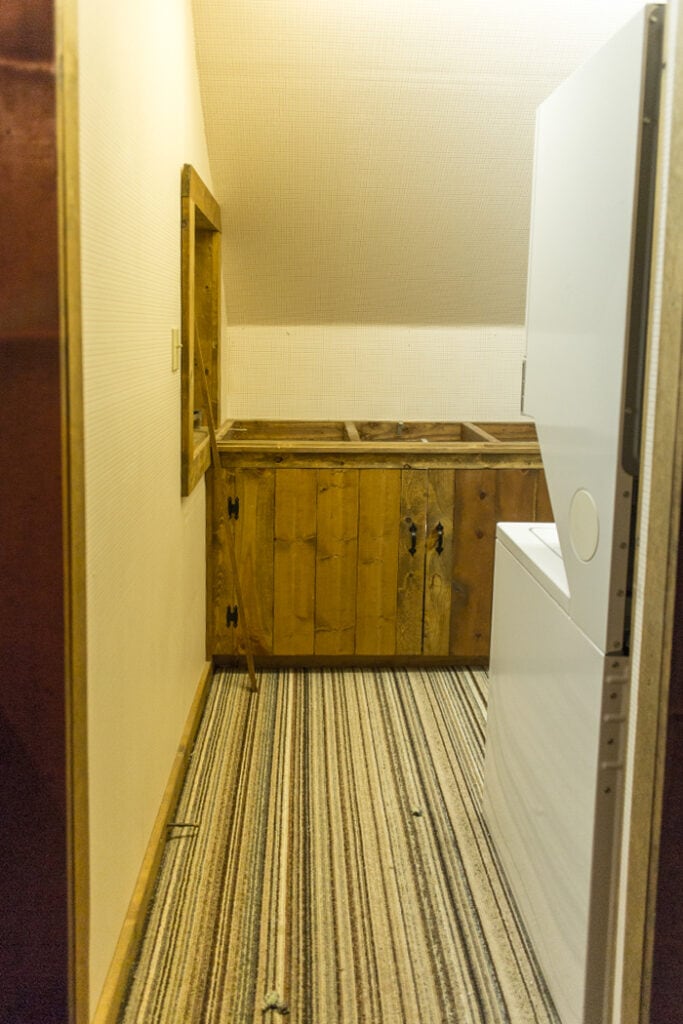 Pin
A chunky reclaimed wood counter would add a nice rustic touch while staying in budget, so I headed to the lumber yard and found a nice 2×12″ for a whopping $40: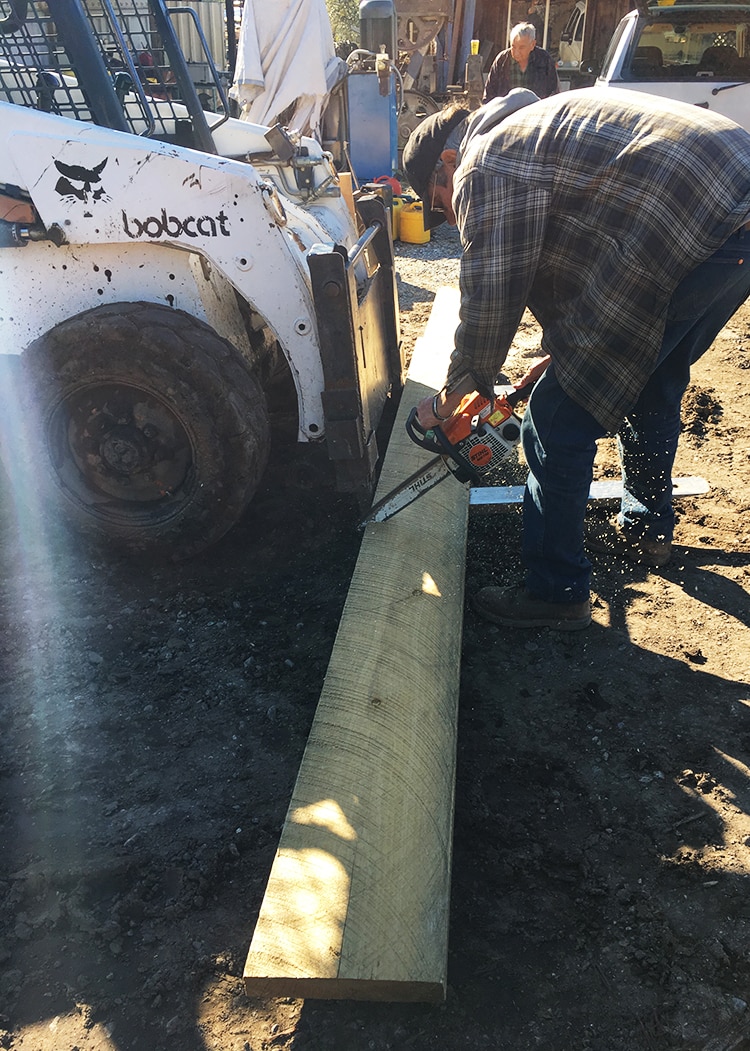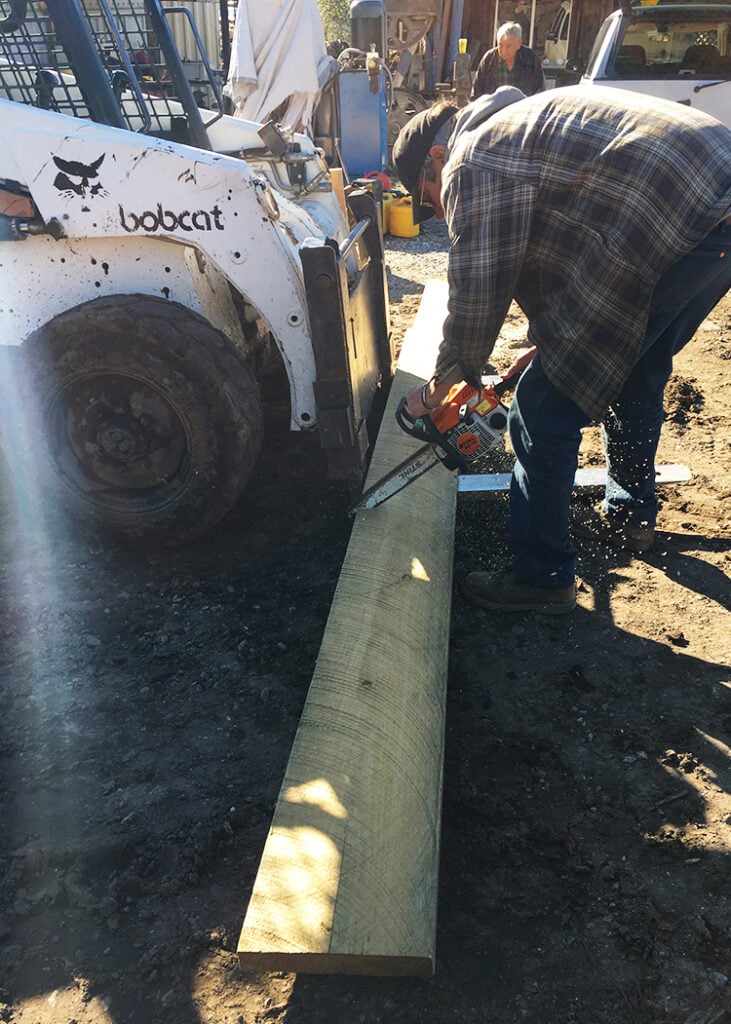 Pin
It was then cut down and secured into place: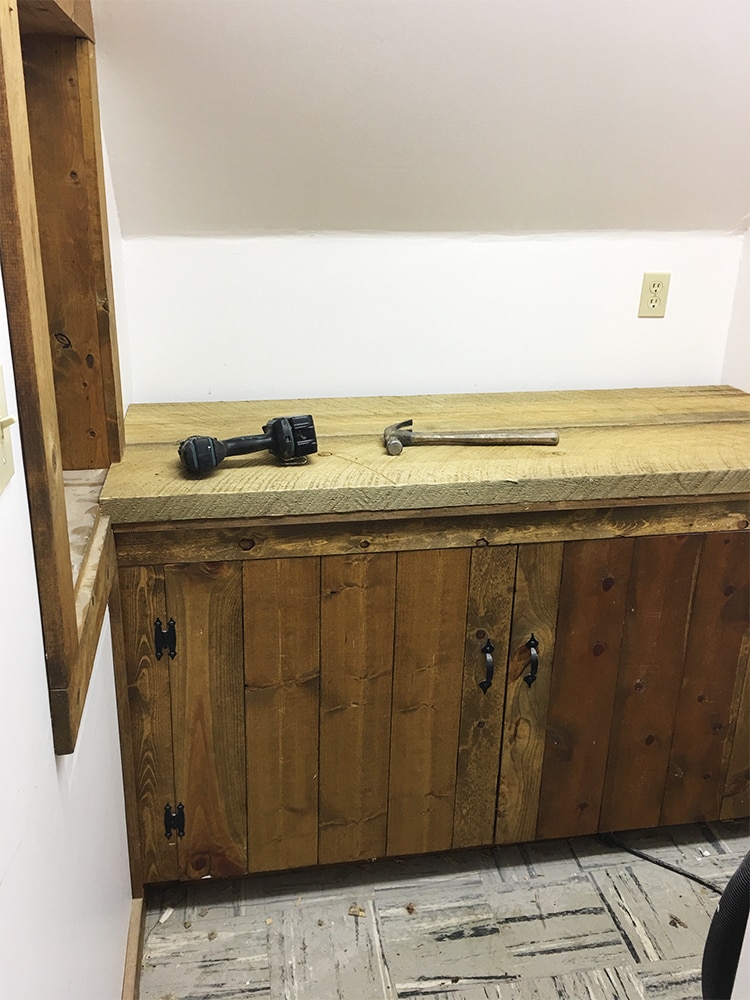 Pin
I sanded down the rough edges then turned my attention toward the cabinet. The plan was to paint it black but since I had a few extra hours, I decided to get a little fancy and add some trim, in the same style as my DIY closet doors.
This idea came to me on the drive there so I made a quick stop at Lowe's to pick up two pieces of 8′ lattice molding. Can't beat a $10 upgrade!
I posted a complete video & blog tutorial about this technique already, and this is essentially the same process so I'll keep it brief.
Starting with the first piece, I placed it diagonally across the door and positioned it on each end. Then I traced a line where the cut needed to be (a very non-technical procedure—professional carpenters shield your eyes):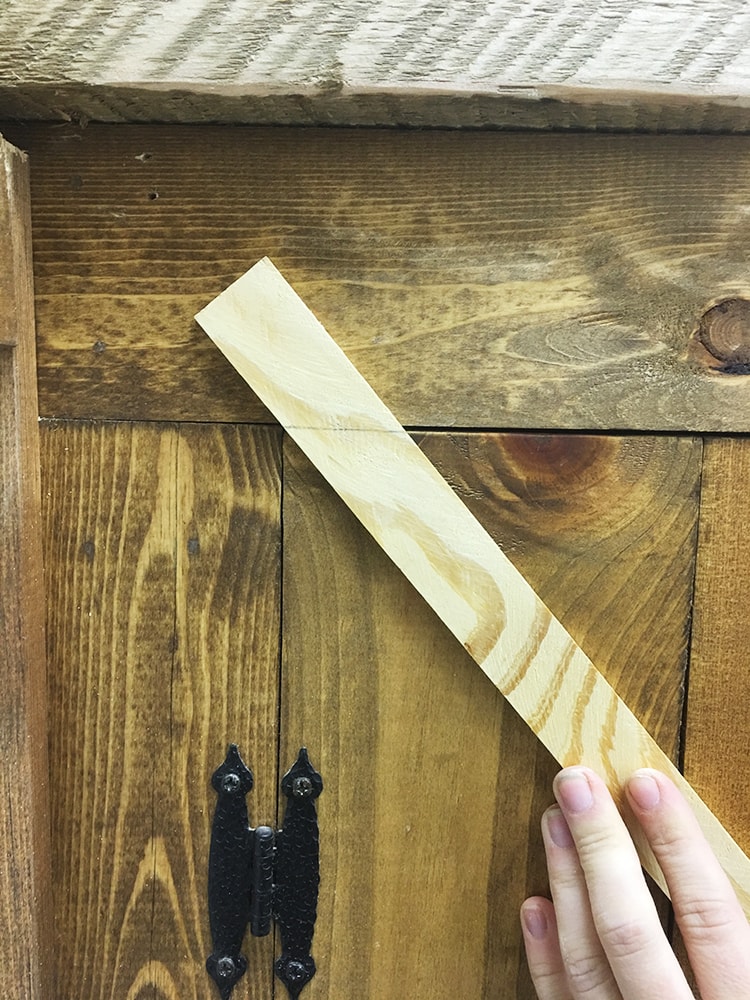 Pin
A line was also drawn at the bottom, then I used my miter saw to cut it down.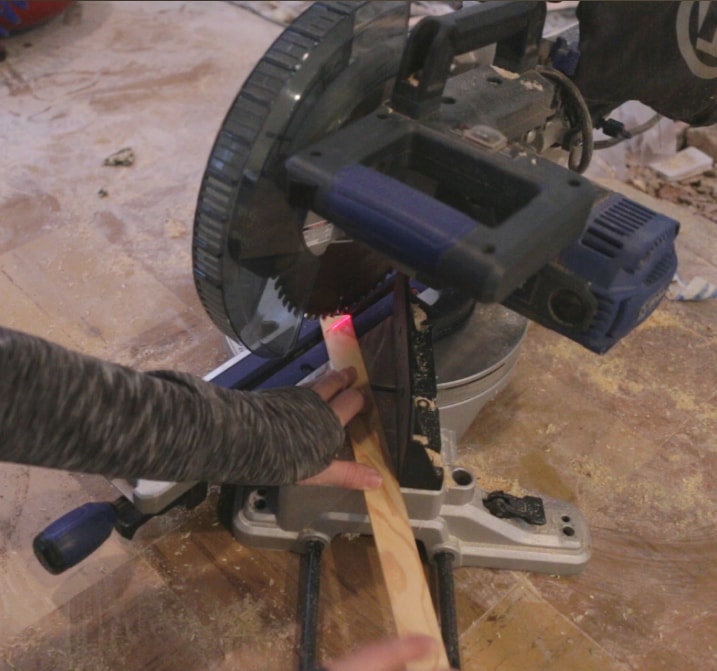 Pin
I repositioned the piece to make sure the cuts were correct, and applied a line of liquid nails to the back: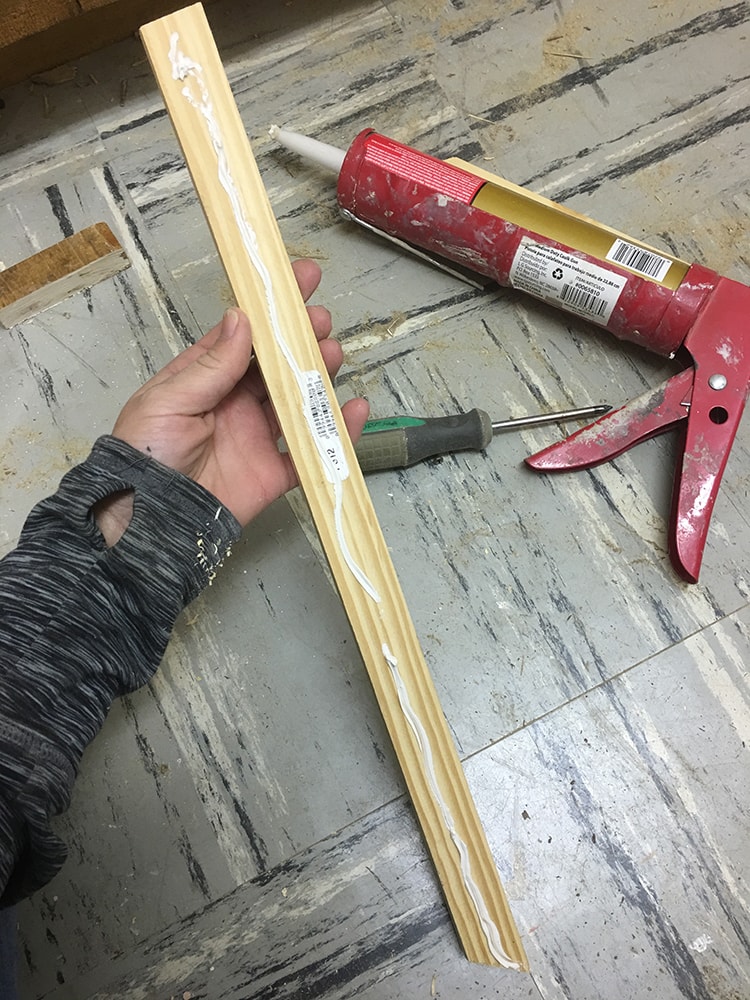 Pin
Then I held it back into place and secured it with finish nails.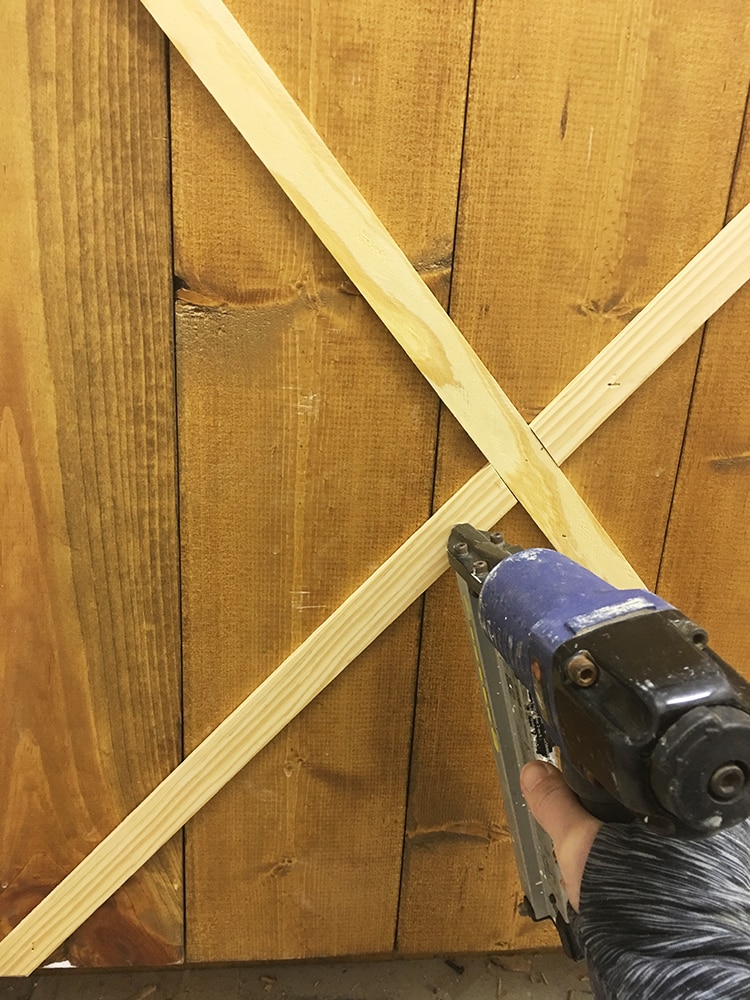 Pin
Done!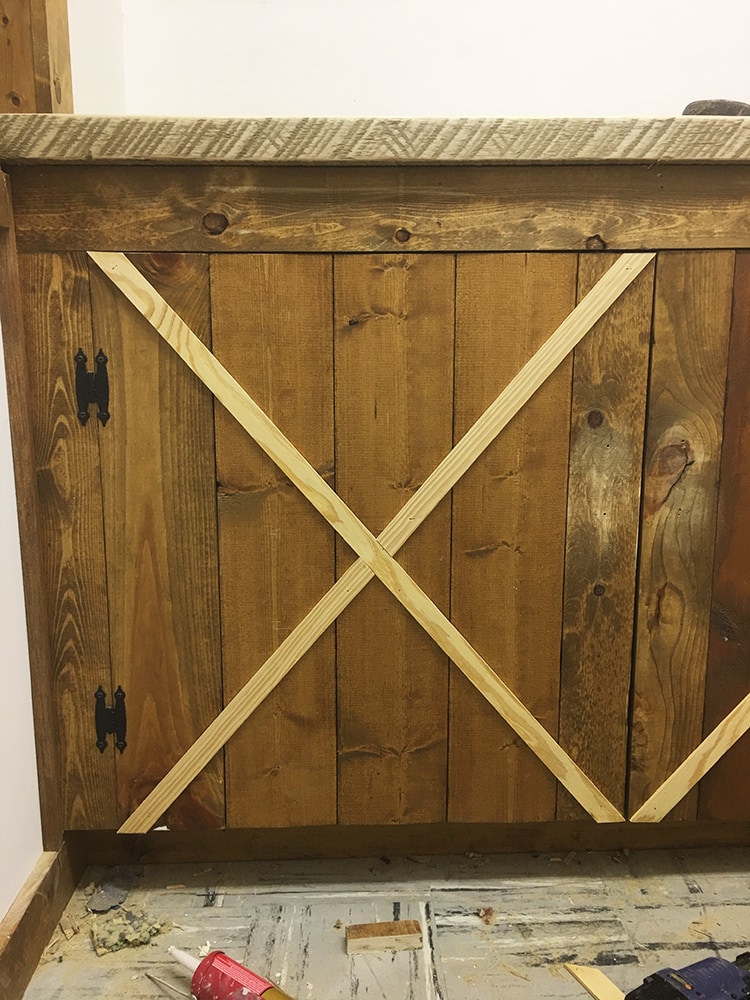 Pin
Time to putty those nail holes & seams…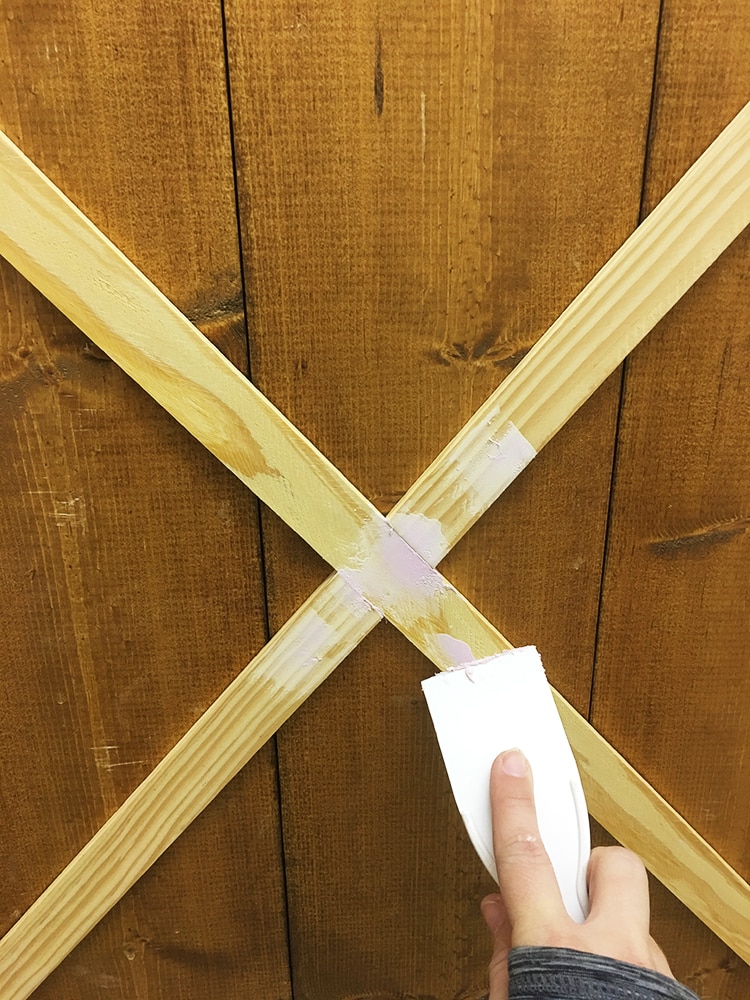 Pin
The putty was left to dry overnight.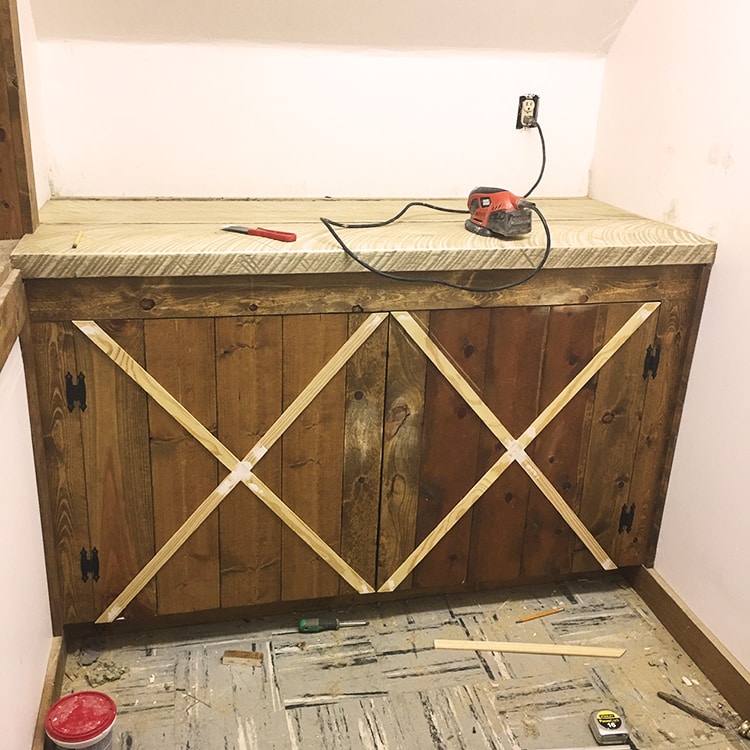 Pin
The next morning I sanded it down and gave it a coat of my favorite black paint (Valspar's Cracked Pepper again):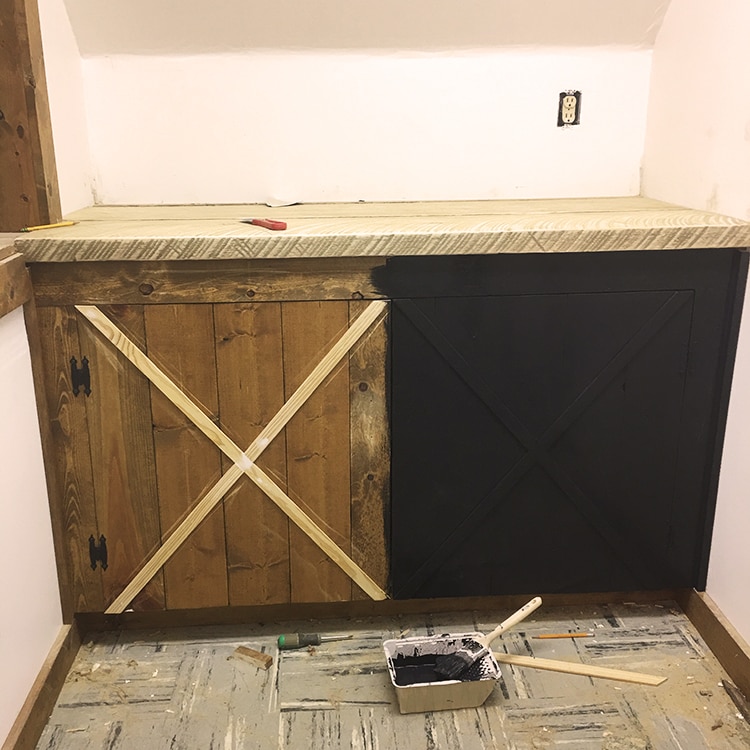 Pin
Then came the jewelry! I picked up these fun $3 vintage style brass pulls on Ebay: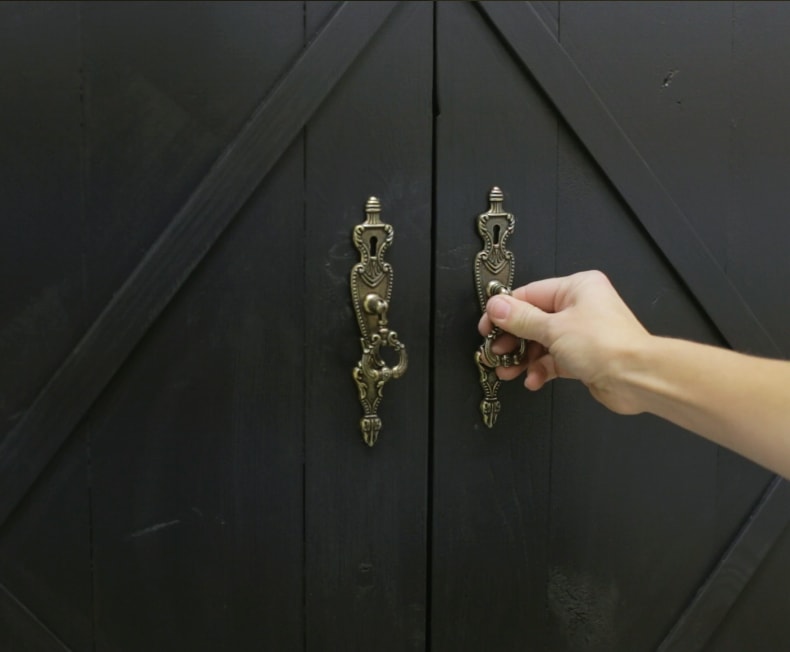 Pin
And that concludes Phase 1 of the laundry room update!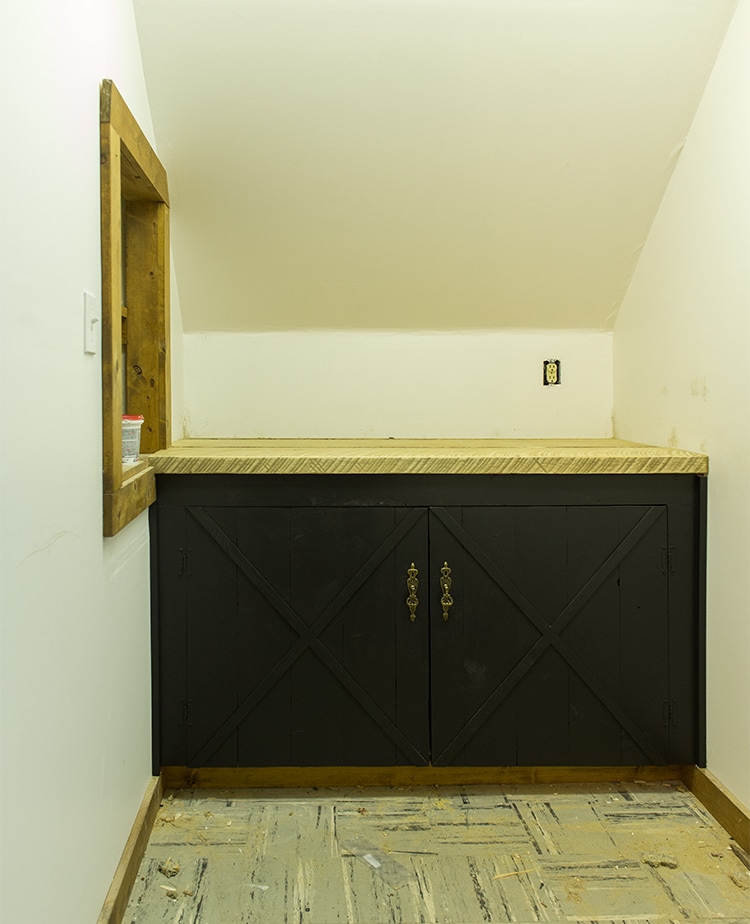 Pin
These photos make the trim design appear very subtle but you can see it quite clearly in person (and in the video):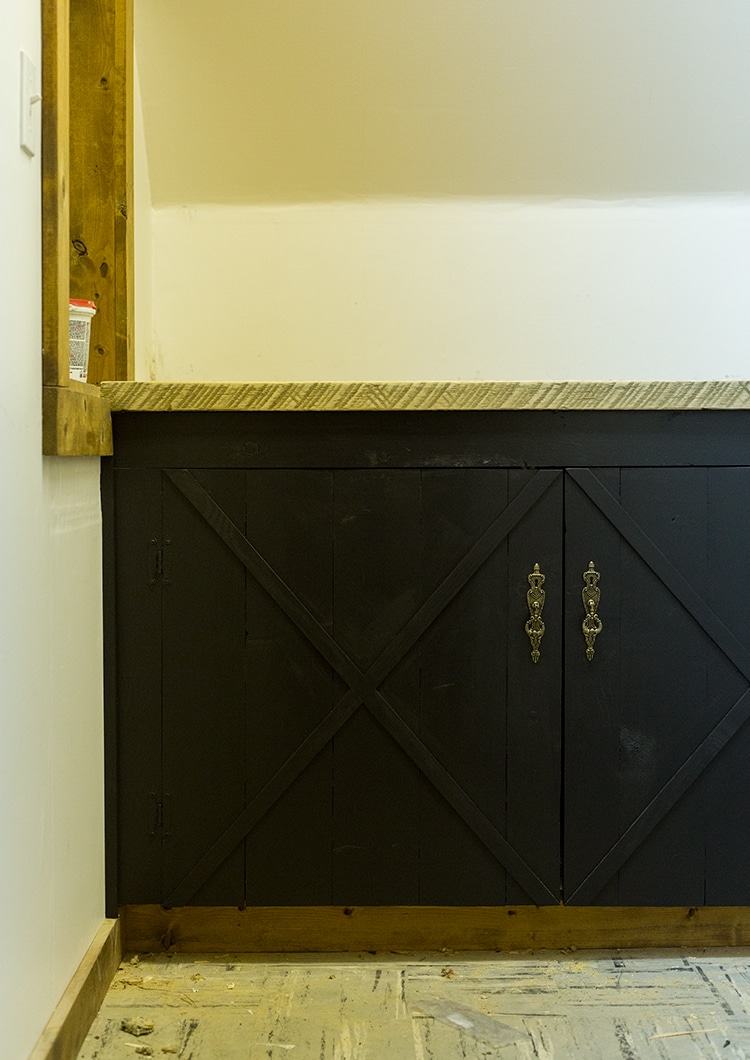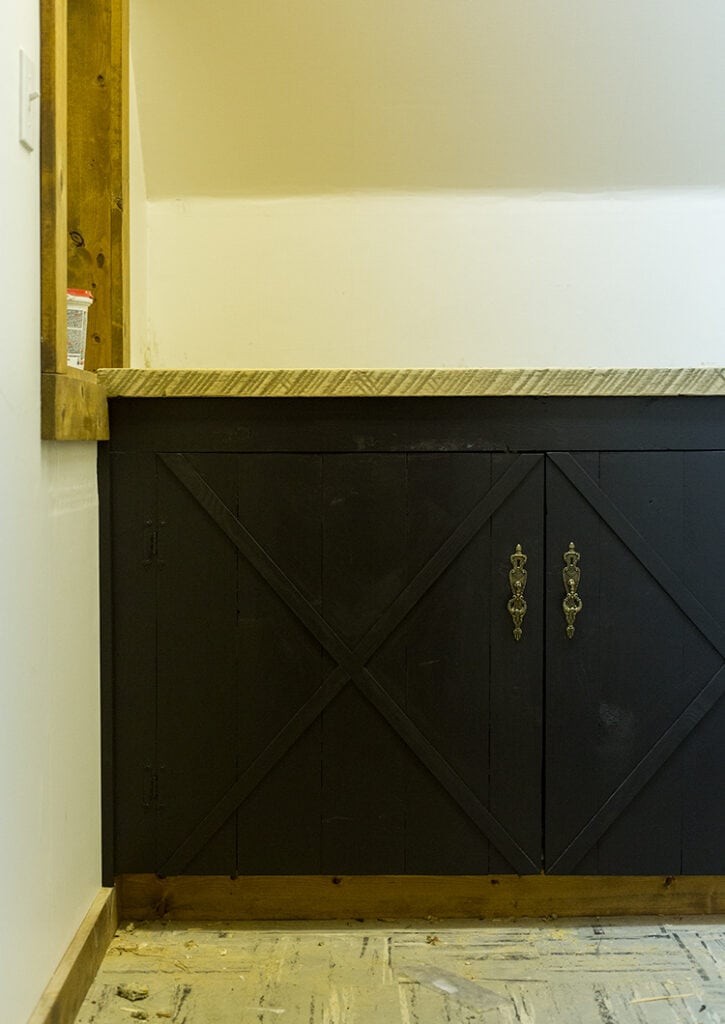 Pin
I think we're off to a good start in here…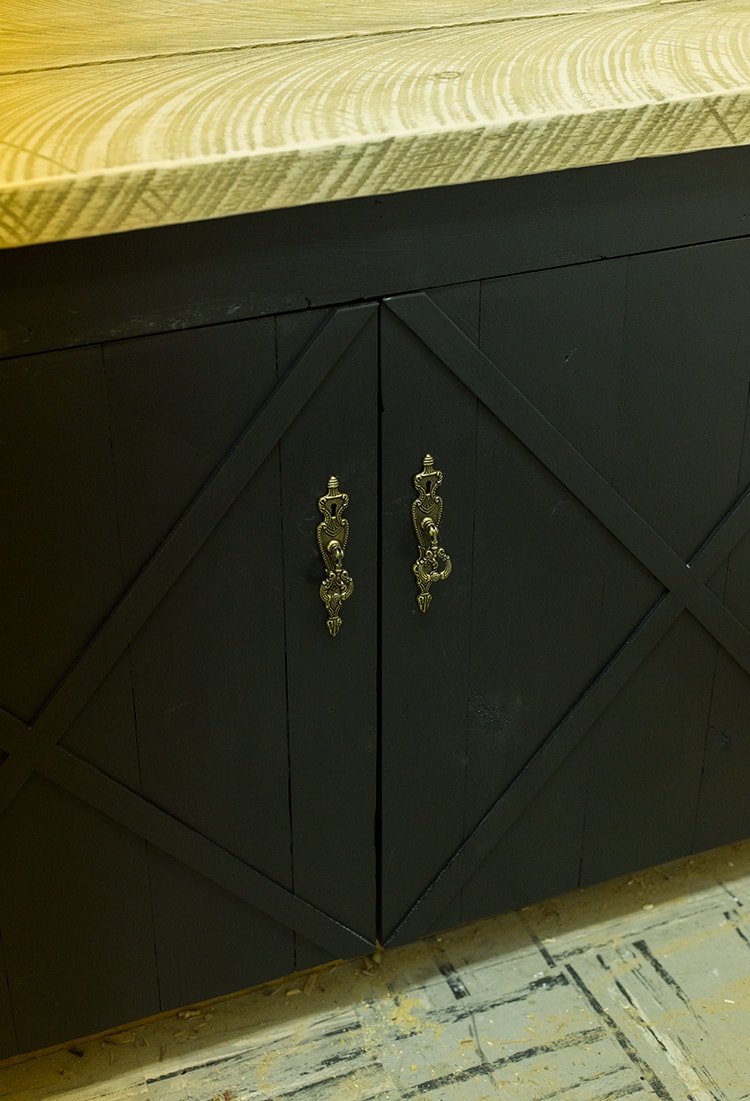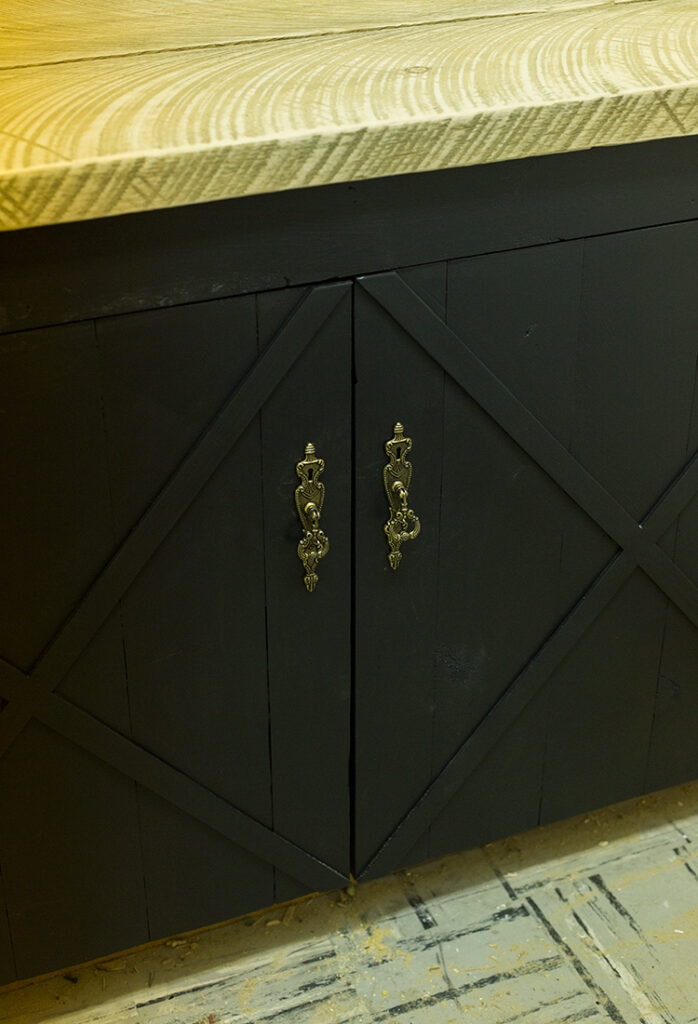 Pin
Next Saturday the floors will go down (using the same brick pavers as the bathroom) and I'll stencil that back accent wall. A new sliding door and a few touchups & accessories later, and this room will be complete! It's so close I can feel it.
I know my updates haven't been too terribly exciting for the past two months, but that's all about to change now that the demo/structural/behind the scenes work is almost done. You're about to be bombarded with a whirlwind of updates. Bring on all the pretty things!
And if you're wondering why there's now a specific deadline to complete this flip, I have a very important photoshoot scheduled for February 9th. I'll spill more details as the day gets closer, but that leaves me 2 months to get this place finished, furnished and decorated. I haven't started panicking just yet because I have a great team of contractors and supportive family & friends who I can count on to step in and help if needed, so I'm keeping the faith. Stress doesn't solve anything, right? 😉
Follow all the updates this weekend on my instagram stories and snapchat @jennasuedesign and watch as the kitchen comes together! Exciting times around the corner, my friends…
Disclosure: Some of the products listed were provided via sponsorship—all of which I selected and fully approve of.