Thank you all so much for the kind words regarding our engagement! It means everything to us—we are truly feeling the love and couldn't be happier or more excited for this next chapter <3 
Day 8-10: Ilha Grande, Brazil
A bus arrived at our hostel in the morning bound for the island of Ilha Grande, where we had booked a beachfront hostel for the next two nights. The driver spoke only Portuguese but we were told the trip would take just a few hours. We watched our location on our phones' GPS, confused as it continued to move farther in the opposite direction of our destination. I reached for my seatbelt as the bus came inches from the guard rail and was taken back to the days of wild rides through Southeast Asia. The driver maneuvered the bus like a formula 1 car, swerving around traffic with one hand on the wheel while texting with the other, to a soundtrack of 90's American rock ballads on repeat.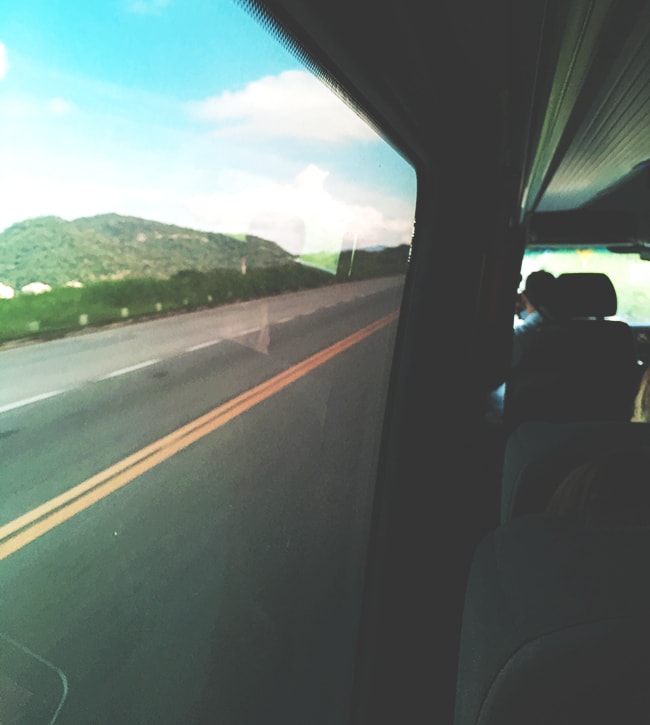 Pin
Fortunately, we made it in one piece and were led to a pier where we boarded a boat headed for the island. Thirty minutes later my feet hit the sand and I was instantly in love. With our backpacks in tow, we trekked along the shoreline past colorful weathered buildings, cafes with live music and lively crowds drinking cervejas. Our hostel was situated at the far end of the beach with a postcard worthy view of the entire bay and surrounding mountains covered in dense forest.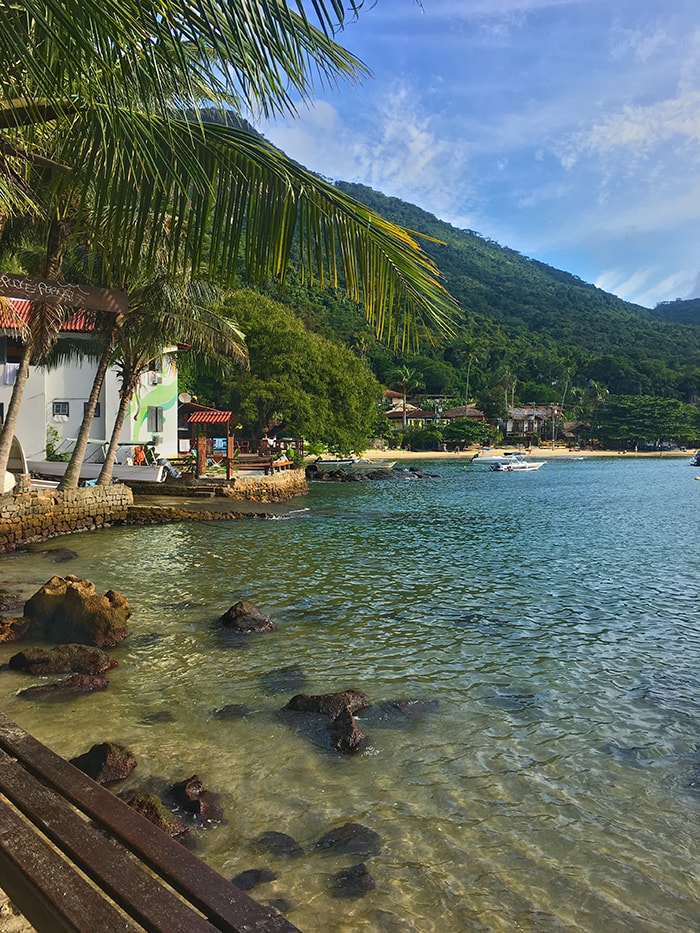 Pin
We dropped our belongings off in our dorm and set out to see as much of the island as possible in the remaining daylight hours. Moving away from town, a dirt trail led us along the rocky eastern coast through forests with glowing bugs, abandoned buildings and vine covered stone walls. At dusk, we found a quiet beach and watched the sun set over our new island paradise.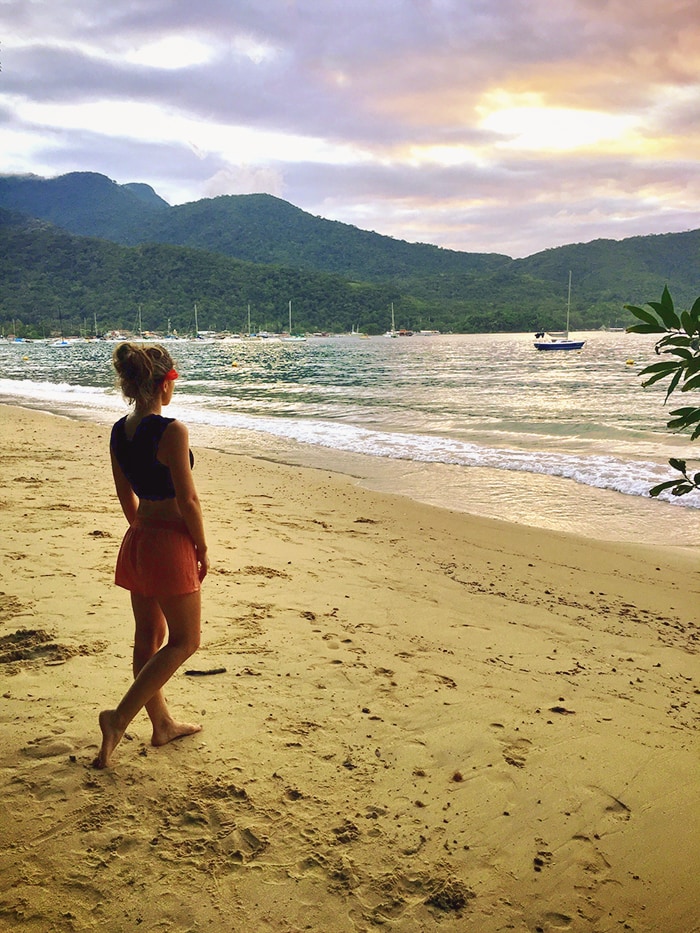 Pin
That night in our six bedroom shared dorm I got to relive the full backpacker experience. Up until that night we had stayed in a private room, but those are $100/night on this island and costs have been adding up quicker than expected. Instead we payed $30/night each for a twin bed in shared bunks. That same bed is $5/night in Cambodia, for reference. I knew Brazil wouldn't be as affordable as Southeast Asia, but Rio is not cheap by any standard. You can find some inexpensive street food and drinks, but we've found that restaurants and lodging are typical of average US prices.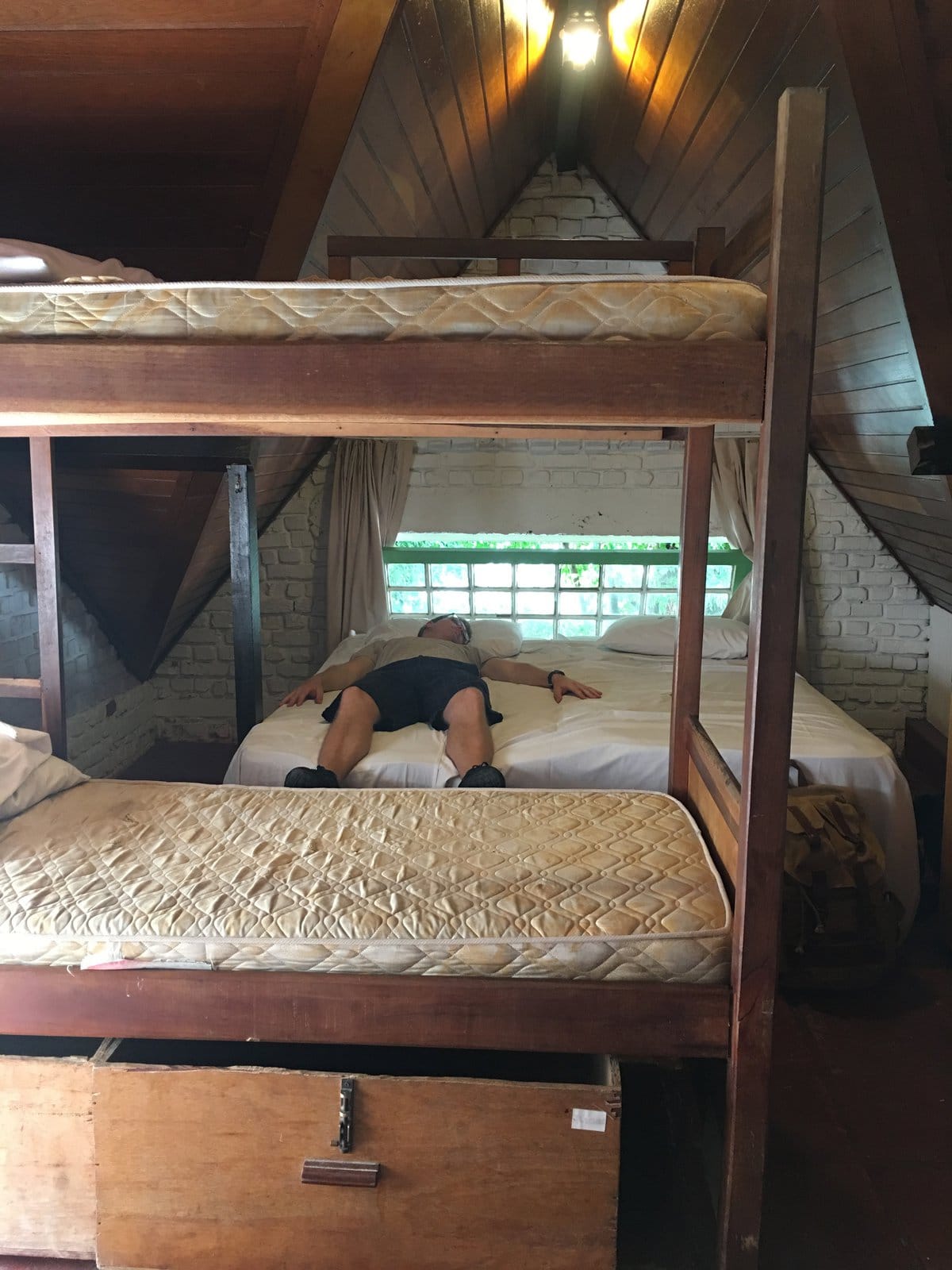 Pin
People often ask how we are able to afford to travel for months at a time, and apart from my shop/blog which I operate online, using credit card points for flights and saving up some cash, it's pretty simple: we don't get fancy. That means sacrificing luxurious accommodations and staying in hostels (bonus: you meet awesome people from around the world) and not dining at 5 star restaurants. We stray off the beaten path, take cheap overnight buses and use public transportation. For us, cold showers, sweaty dorms and no wi-fi are worth once in a lifetime experiences that we couldn't otherwise afford.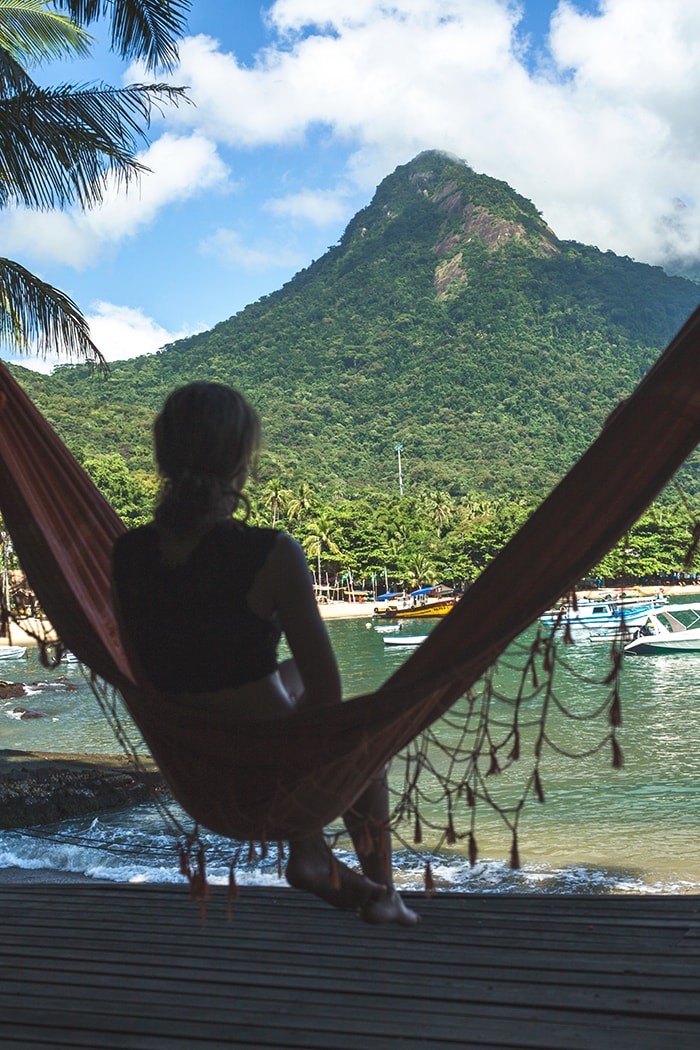 Pin
Don't get me wrong—we do splurge from time to time and we've planned for that in this trip (Europe is certainly not going to be this cheap). But I lived for $30/day in Southeast Asia and did everything I wanted without worrying about cost. Here in Brazil so far we've been living on around $110/day, not including our flight to Rio, and this is the most expensive city. To put things into perspective, our cost just to live in San Francisco was significantly higher—so we get to explore the most exotic locations in the world for less than the price of rent. Technically, we're actually saving money this way 😉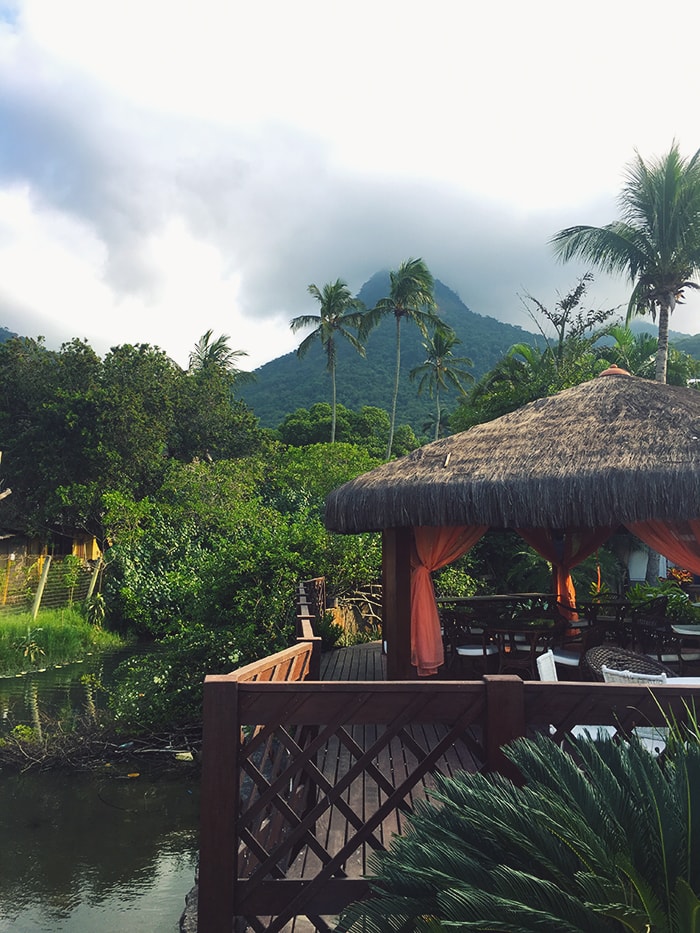 Pin
But these days of hostel living are numbered, I thought to myself as I woke up and removed my ear plugs—which failed to keep me from waking up at all hours of the night. The last two to get out of bed, we dragged ourselves to the deck and filled our plates with the exact same breakfast served by every hostel in Brazil (they must get a group discount?). After fighting off the bees, we dined on pineapple, watermelon, cake and stale Frosted Flakes while watching colorful boats fill the bay.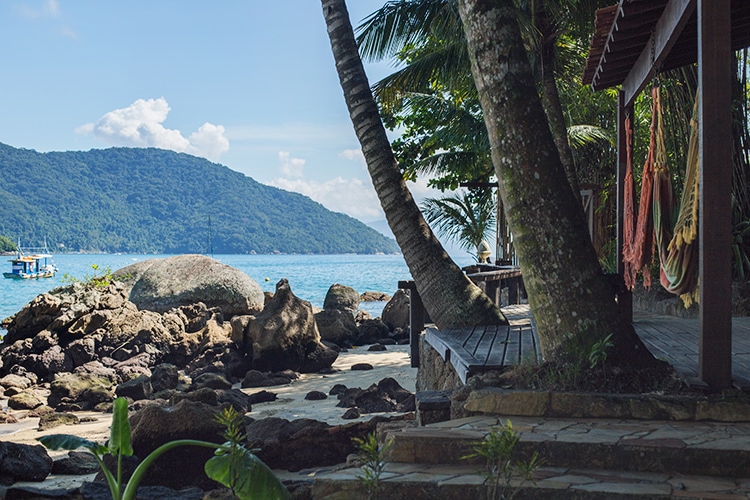 Pin
I counted the constellations of bug bites on my legs as we planned our route for a hike to a waterfall and beach, and made sure to lather on the bug spray and feet. Lucas had an impressive farmers tan and my legs were still peeling from a Florida sunburn a month ago.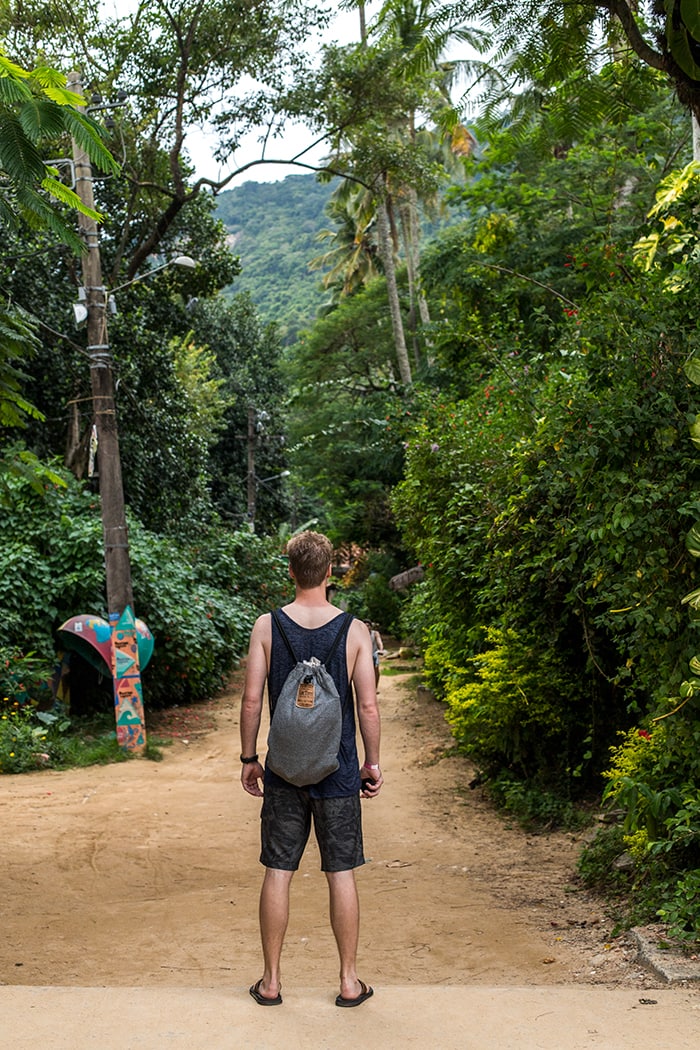 Pin
Weighed down by my camera equipment and thick humid air, our hike through the forest was slow and scenic. With Macchu Picchu planned in a couple weeks, we need all the training we can get.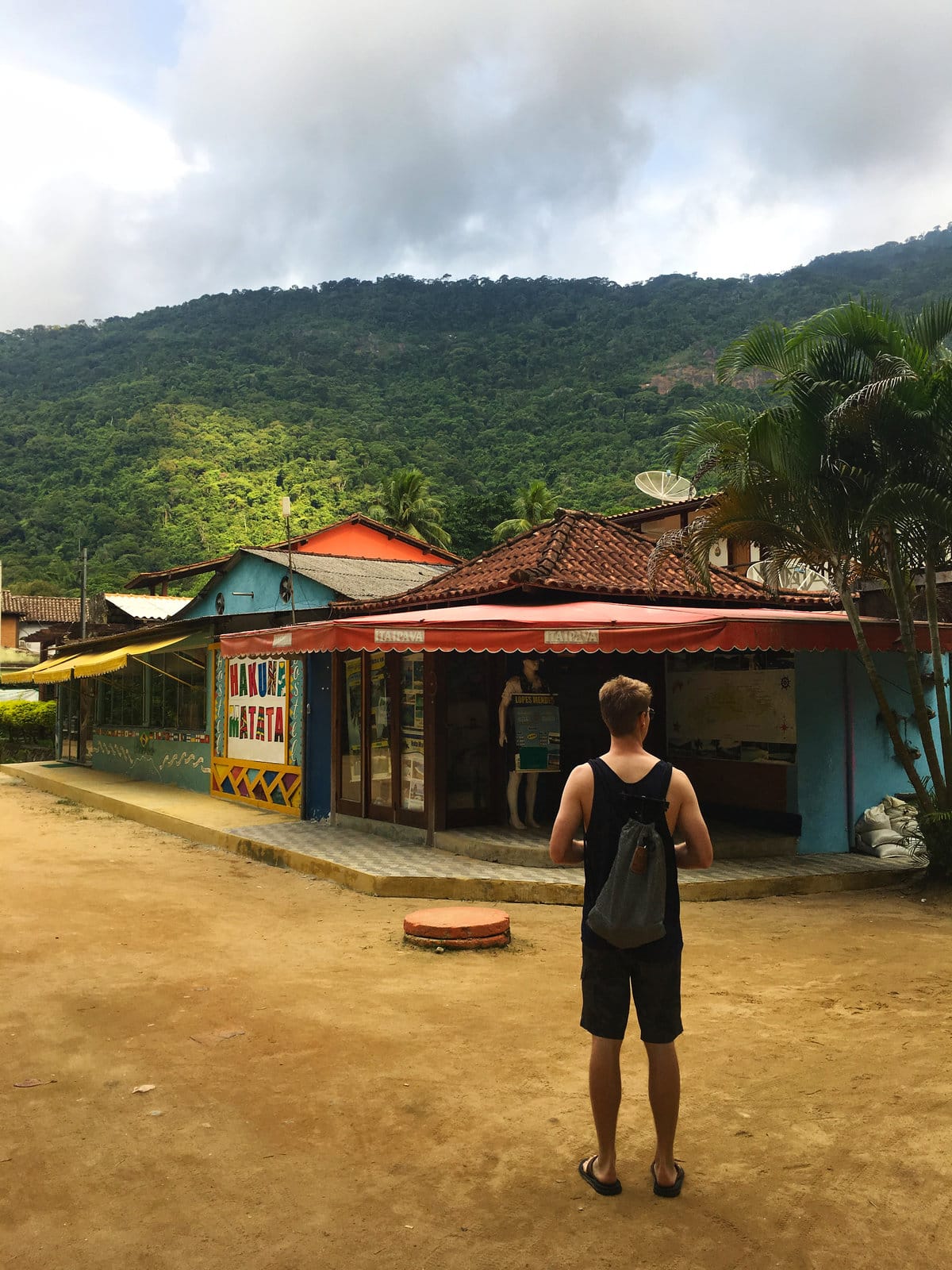 Pin
We cooled off in the waterfall and finally made it to the beach, where we spent an hour evening out our tans and enjoying açai (of course).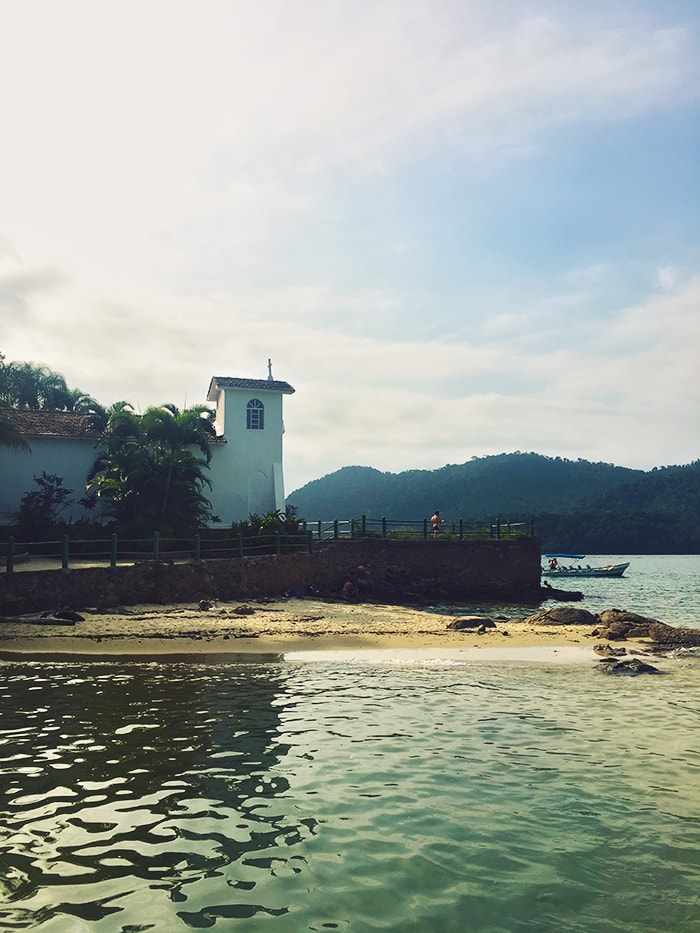 Pin
Night life is quiet on the small island with no cars or transportation, and our evenings consisted of card games and cervejas with an assortment of Dutch, German and British guys. We also stumbled upon a homemade Argentinian pasta restaurant, and it was hands down the best meal I've had in Brazil. Top ten in my life, and I'm not even a big pasta eater.
The best day of the trip so far was our boat tour of the surrounding islands. We stopped at six different locations, ranging from lagoons to sandy beaches to private islands.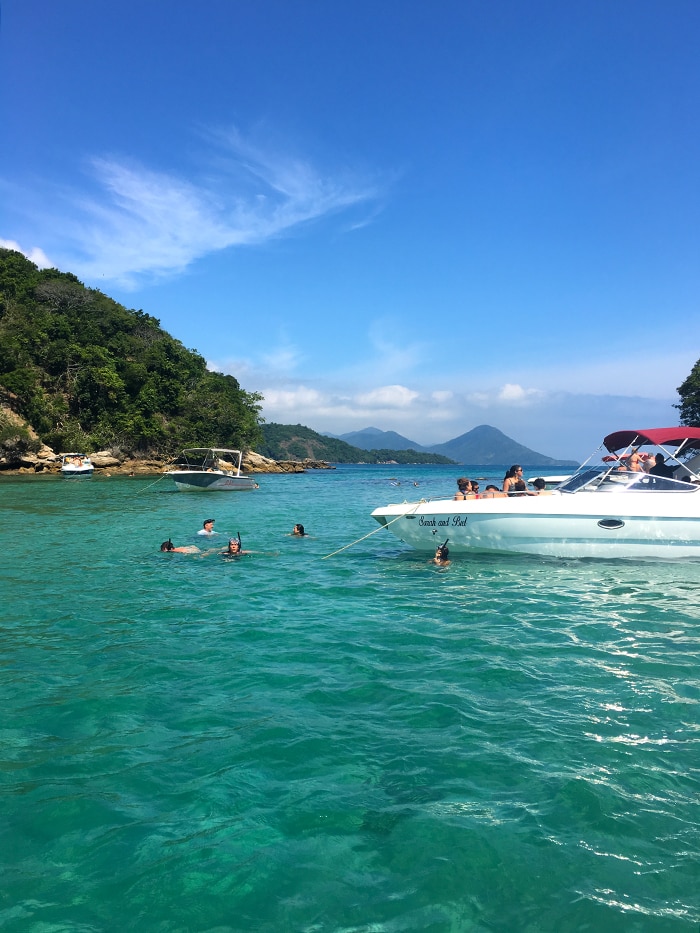 Pin
There we snorkeled in the reefs of turquoise waters, sipped on sake and ate bananas while practicing our Spanish with lawyers from Argentina.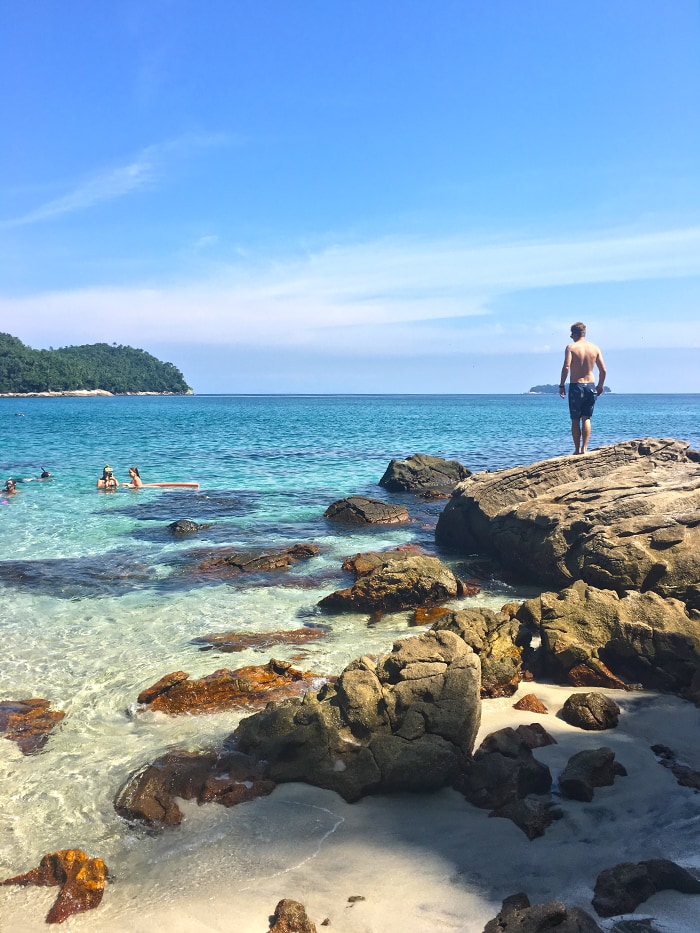 Pin
Halfway through our day the clouds rolled in and threatened our picture perfect beach day, but that didn't stop us from setting up some fun video shots with the GoPro (video coming soon!)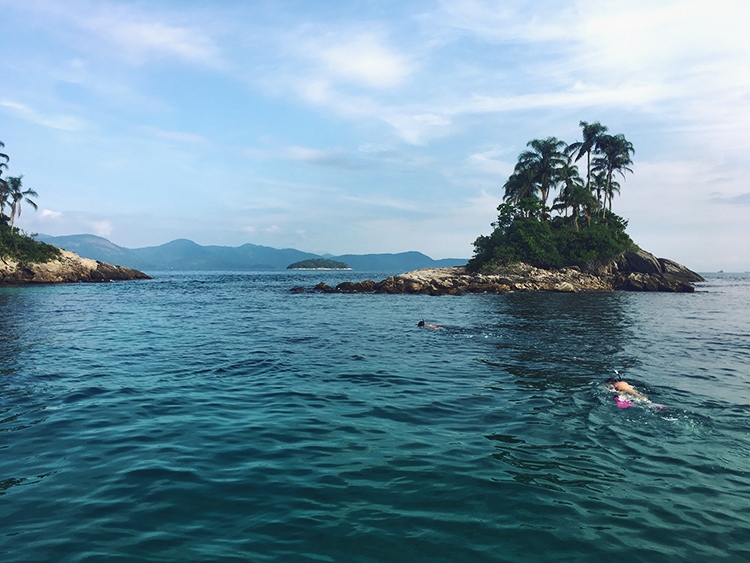 Pin
We also spotted and snorkeled with a big turtle at one stop, which completely made our trip. If you are coming to this area of Brazil, Ilha Grande is a must.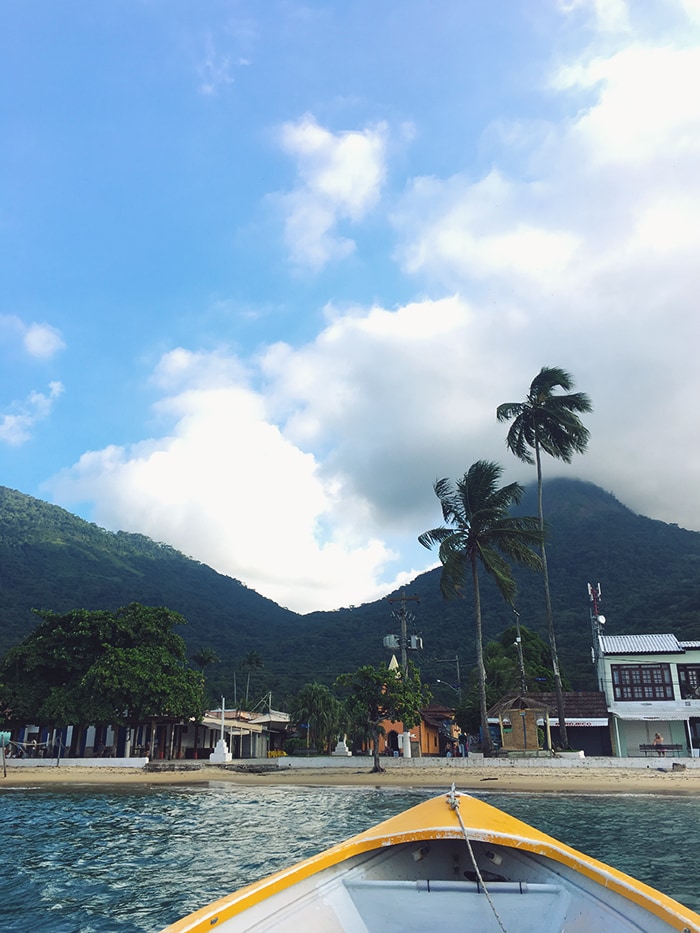 Pin
Day 11-12: Paraty, Brazil
The next morning we had an afternoon bus booked to Paraty, which is a charming colonial town a couple hours south of Ilha Grande. The sky had opened up and it was pouring rain as we boarded a taxi boat back to the mainland. There were no actual seats, and we squished along the sides of the boat with 50 other people and our bags piled around us, every surface drenched in water.
This boat was very different than the one we arrived on, slowed by the choppy seas and wind that began blowing the storm into the boat. Mothers shielded their babies and umbrellas were opened as the boat rocked and the ocean came in through the bottom of the floor (if you saw the video of this on instagram/snapchat, you'll remember how crazy it was).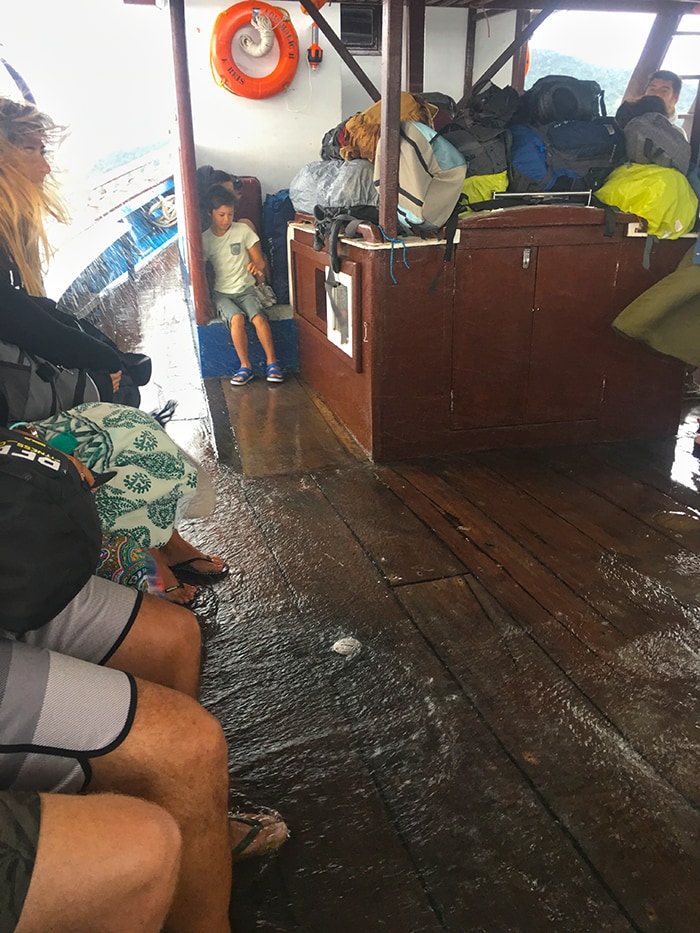 Pin
Sketchy transportation seems to be a recurring theme in Brazil.
But fortunately, again we survived, and two hours later we were safe and sound in the picturesque town of Paraty.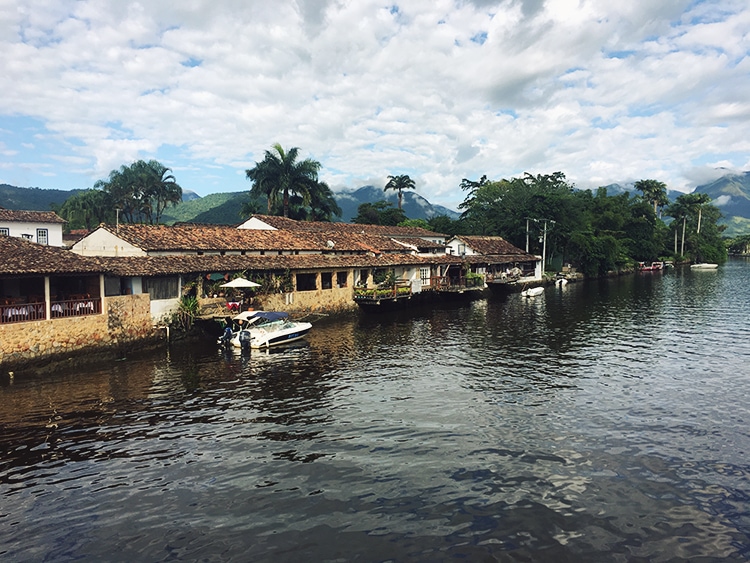 Pin
Our hostel was once again empty, so we spent the next two days enjoying each others company and exploring as much of the area as we could.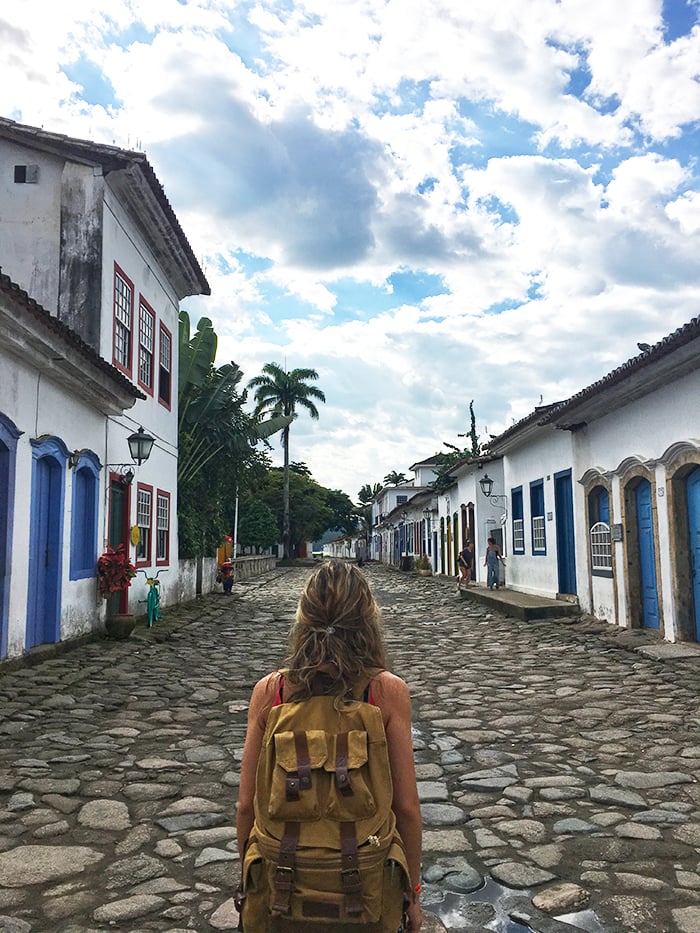 Pin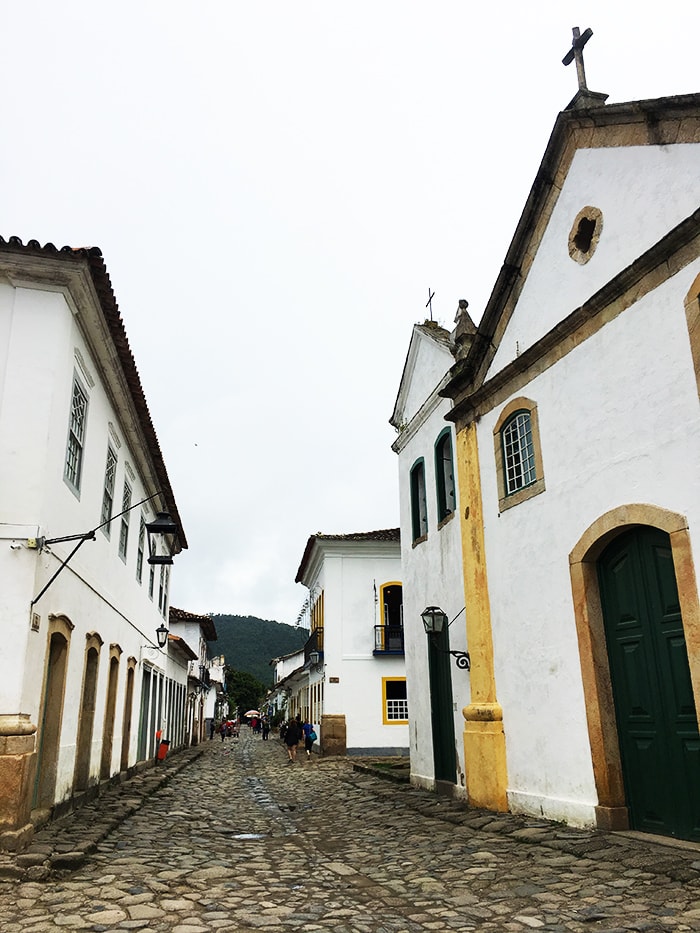 Pin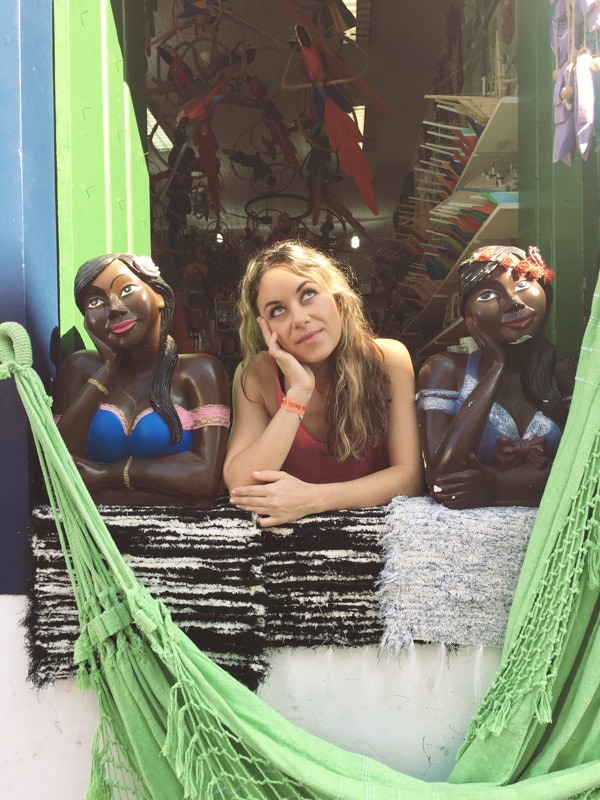 Pin
This place is an instagrammer's paradise if I've ever seen one. Rocky cobblestone streets and old buildings loaded with character.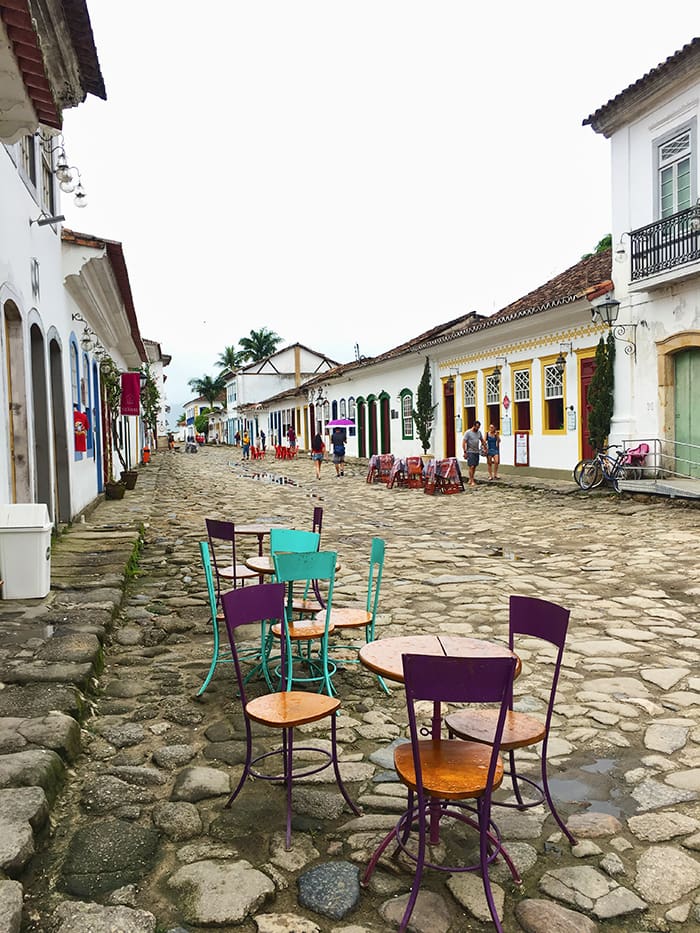 Pin
We stayed mostly in the old town where no cars are allowed, and walked down each street of cafes, ice cream and tourist shops. The centuries-old buildings are preserved with patches of history showing through, each with a unique style of colorful doors and windows.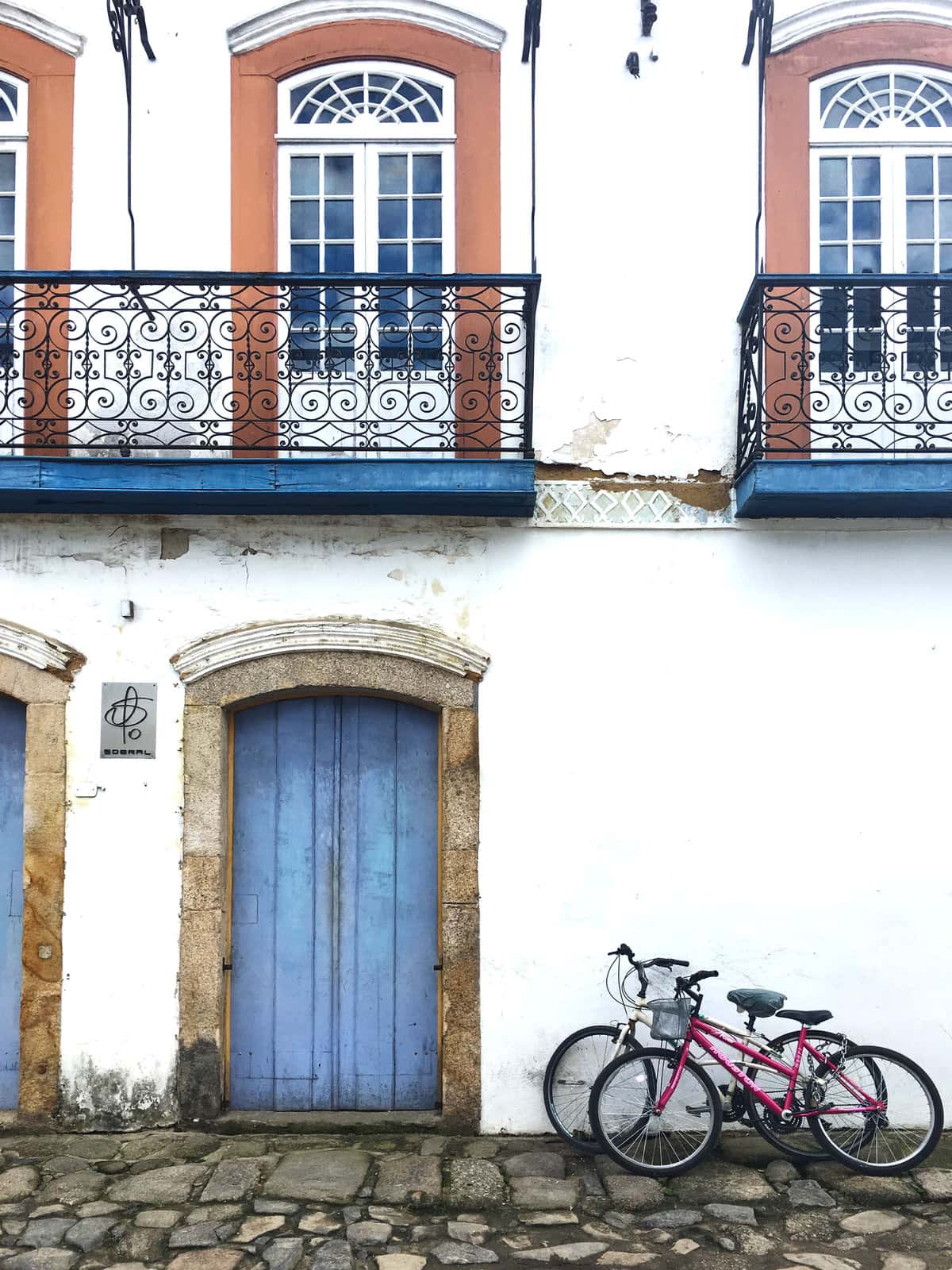 Pin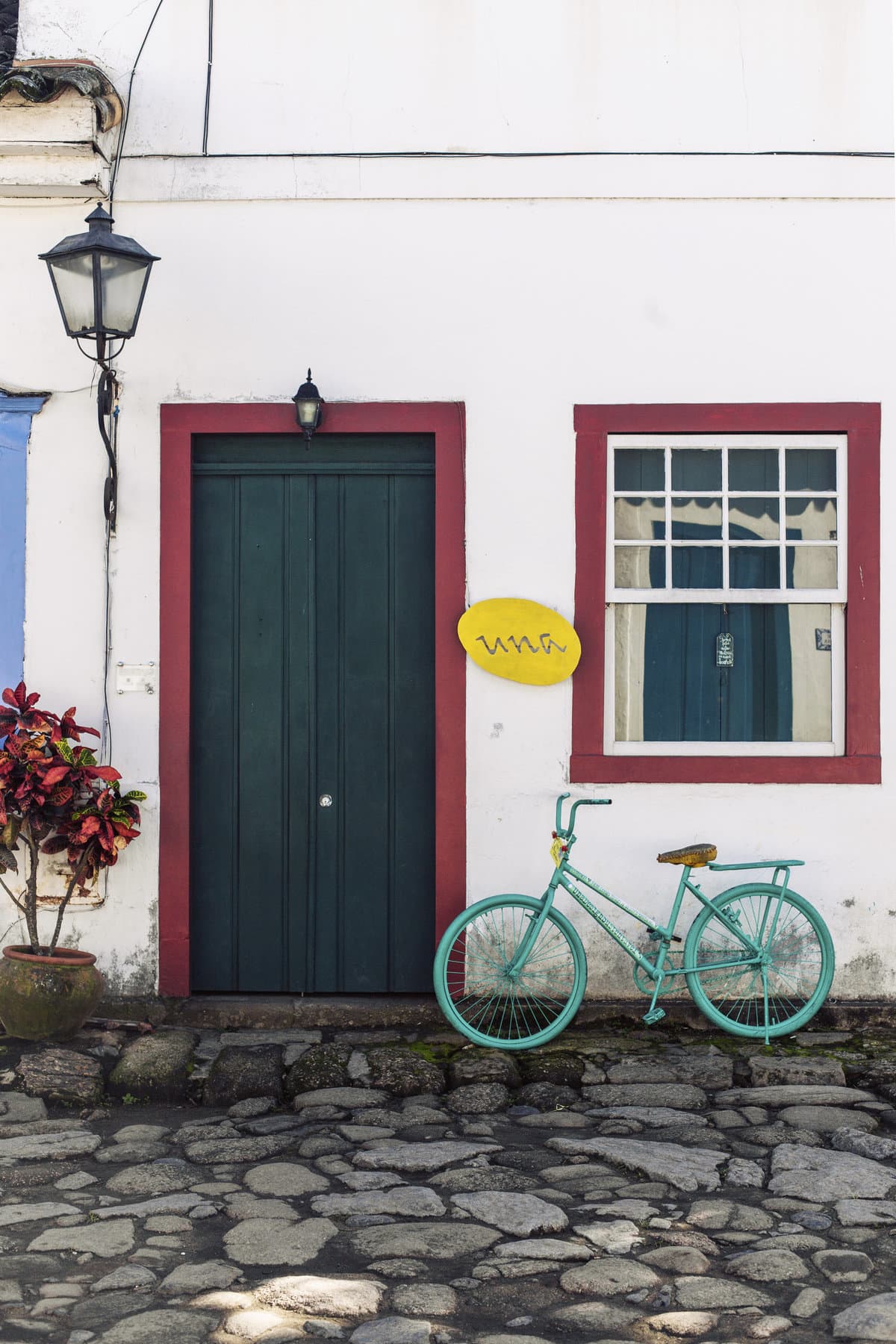 Pin
Rows of vibrant wooden boats line the river and bay surrounding the city center.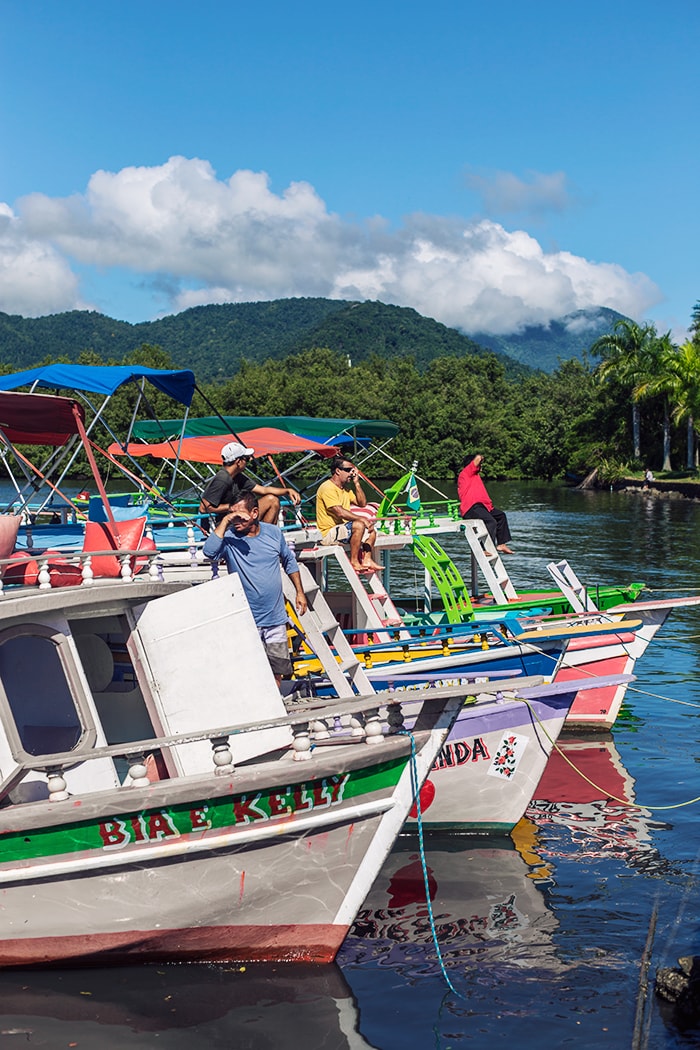 Pin
On the first night we ducked into a restaurant with live acoustic jazz and made friends with our waiter, Roberto, who used to live in New Jersey and has a wife and kids living in Florida. He rarely meets Americans and gave us free passion fruit and special cachaça. He had the most interesting Portuguese/Spanish/New Jersey accent.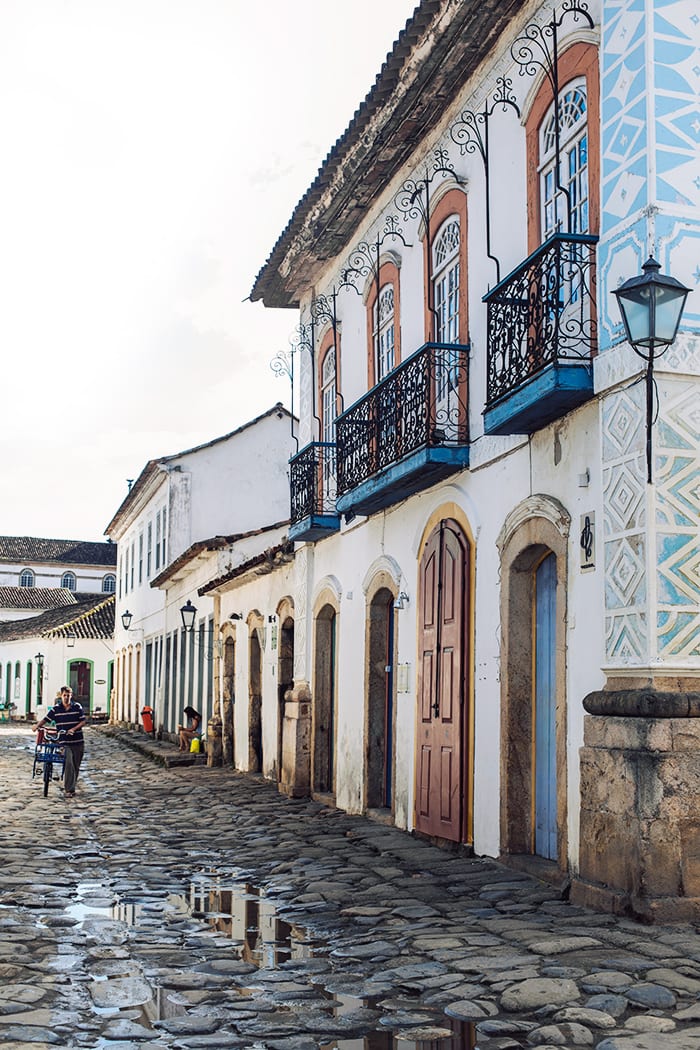 Pin
We also found a gourmet artesanal burger shop with one of the top 3 burgers I've ever tried (Brazil has treated me well in the food category) and stopped at a cachaçaria to buy a bottle of the flavored cachaça we tried the night before (this area of Brazil is known for their distilleries which make the specialty cachaças).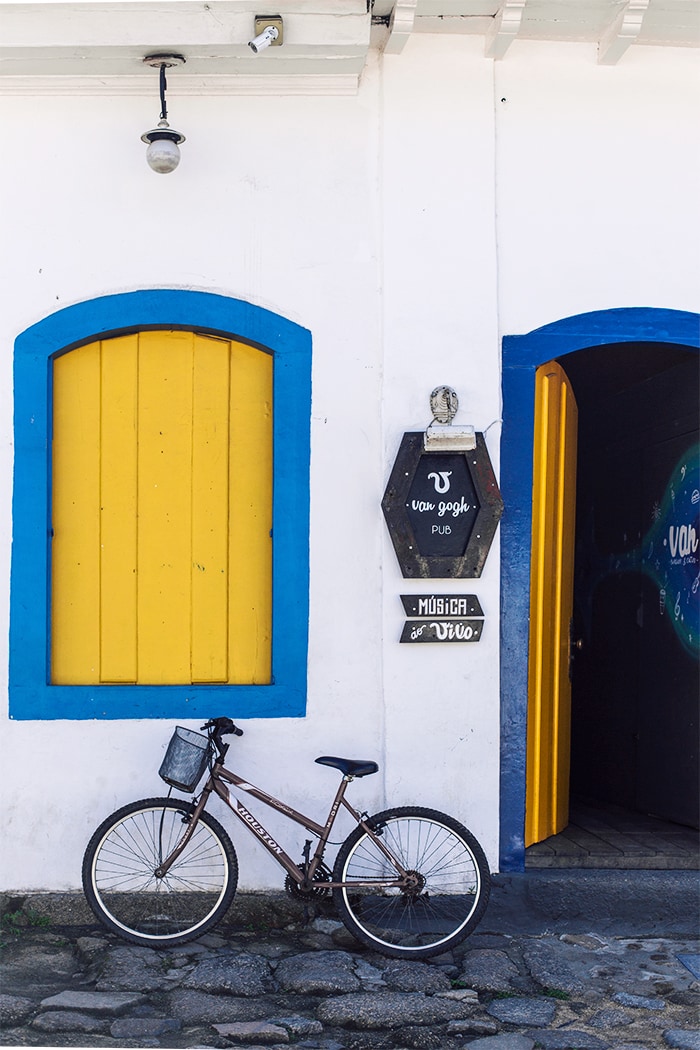 Pin
It rained the entire first day, but it was probably for the better as I was able to catch up on work (and write this post!)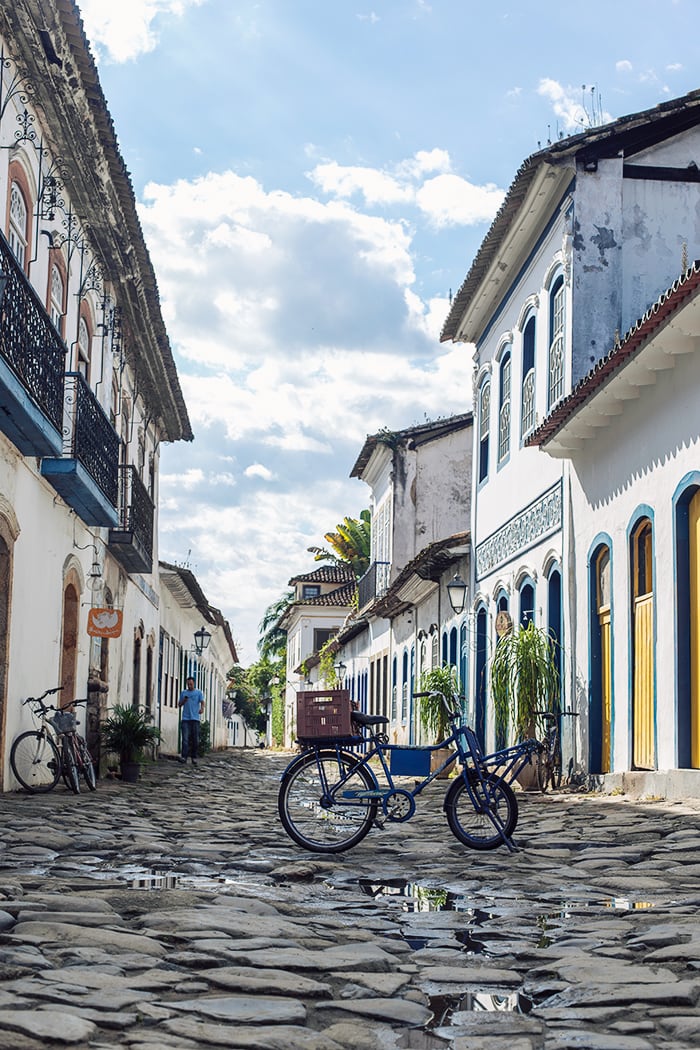 Pin
I would have loved to stay longer in Paraty, but what I didn't know then is that we were about to spend one last night in Rio that would change things forever.
Stories from Salvador, up next…