These days our focus has been on revamping the backyard at the Riverside Retreat before it gets too hot outside (yes… for the second time!) but last week we managed to pull all the finishing touches together for our In the Clouds bedroom.
As a reminder, here's how it looked before…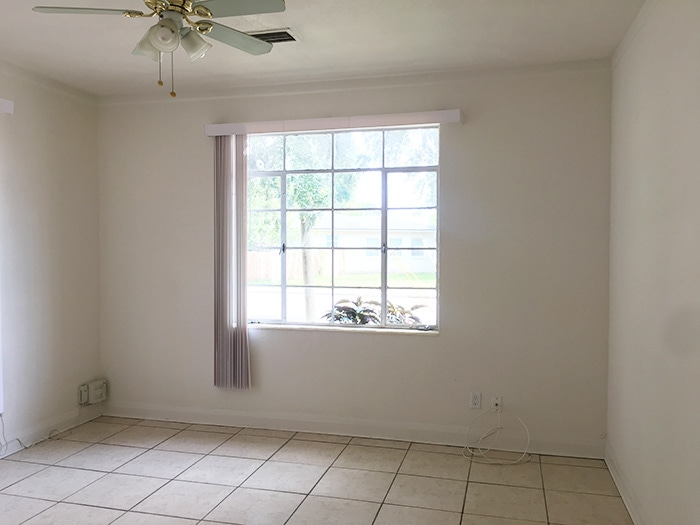 Pin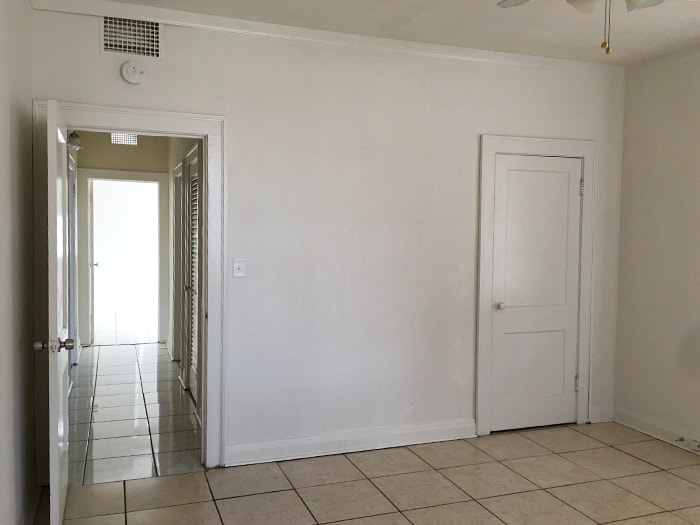 Pin
The tile floors were replaced with Pergo laminate, we hired a mural artist to paint an abstract ombre cloudscape on the walls, and last month Lucas DIY'd a hanging bed…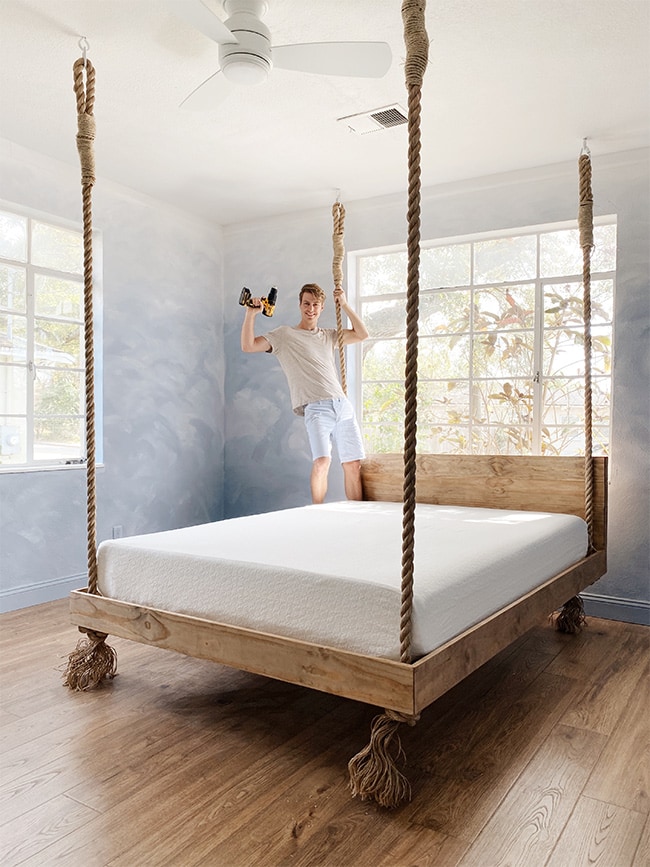 Pin
And with the wave of my magic wand, our peaceful dreamland is complete…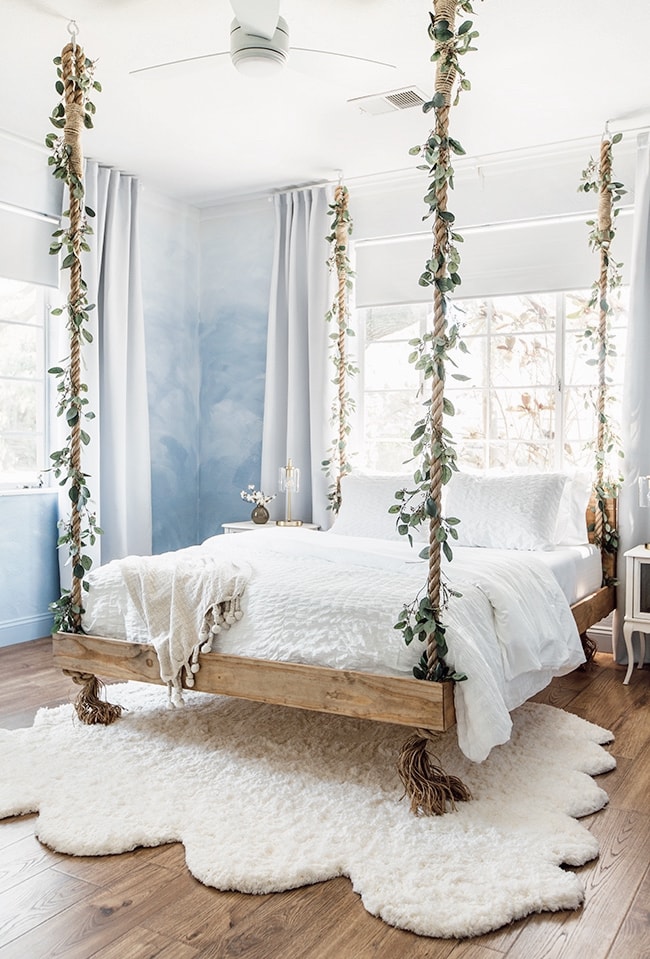 Pin
As with the rest of this soon-to-be vacation rental, the goal was to give this room a dramatic makeover on a budget. We accomplished that through a mix of DIY, secondhand and taking the time to source affordable pieces.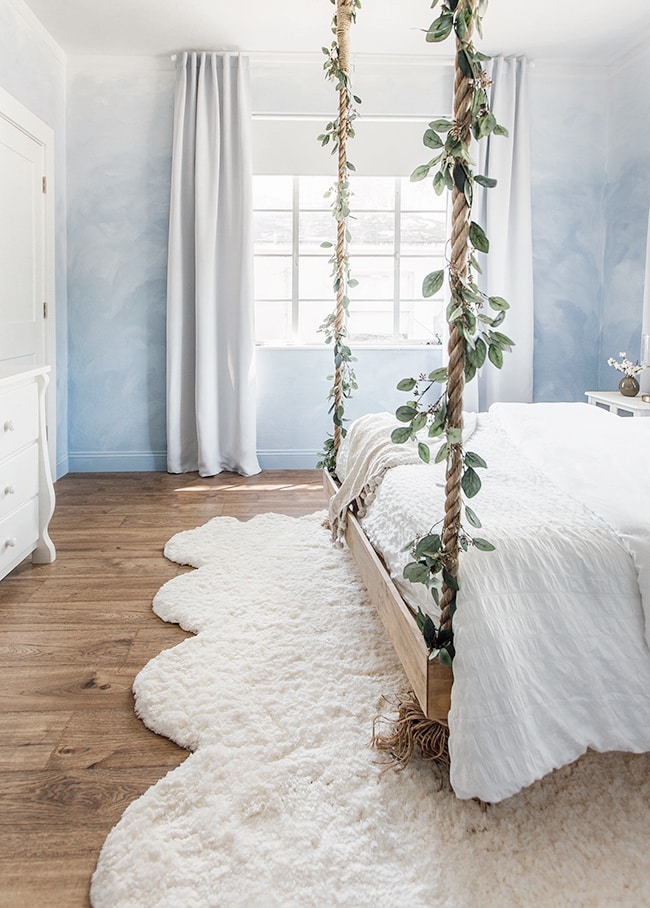 Pin
The night stands were a Facebook marketplace find (I refinished them a couple years ago). I was sold on these $32 brass lamps after learning they feature a built-in USB port and wireless charging hub (a huge bonus for guests!)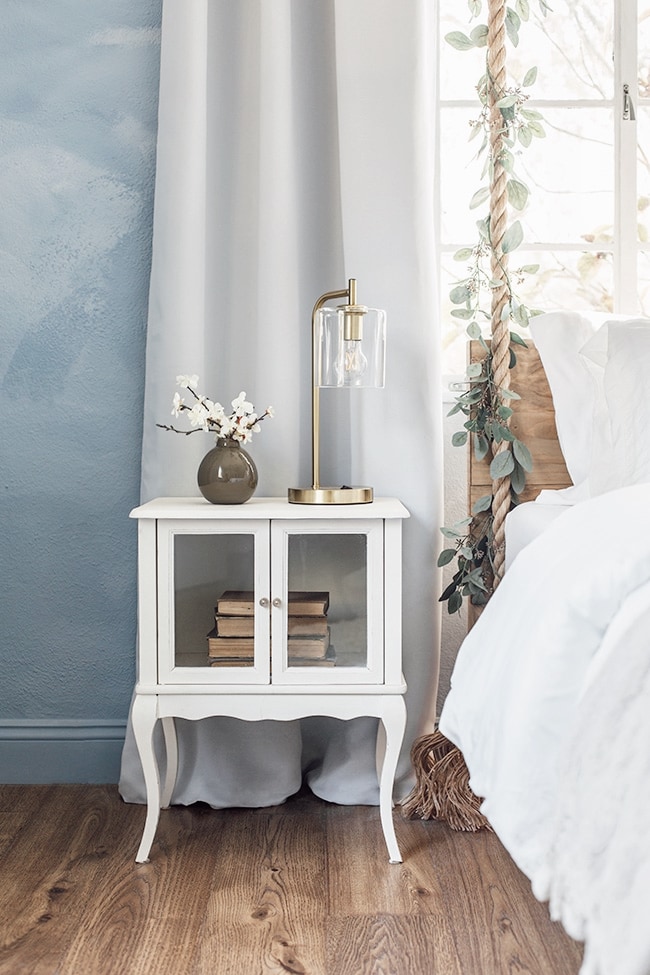 Pin
The dresser was another marketplace find, and the books and clock were pulled out of storage.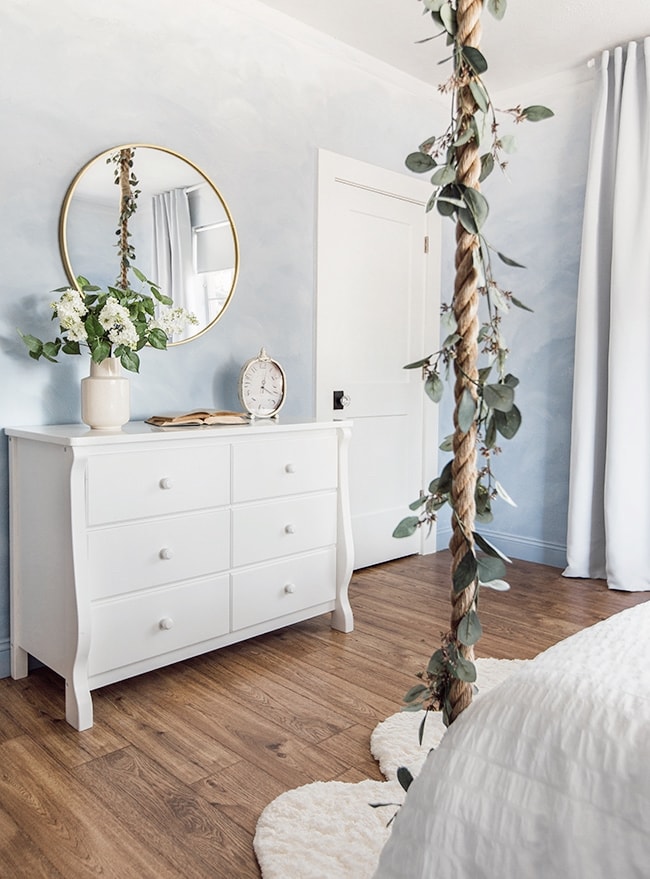 Pin
The inexpensive gold mirror was a last minute Amazon purchase (thank you, prime!) that we hung just in the nick of time.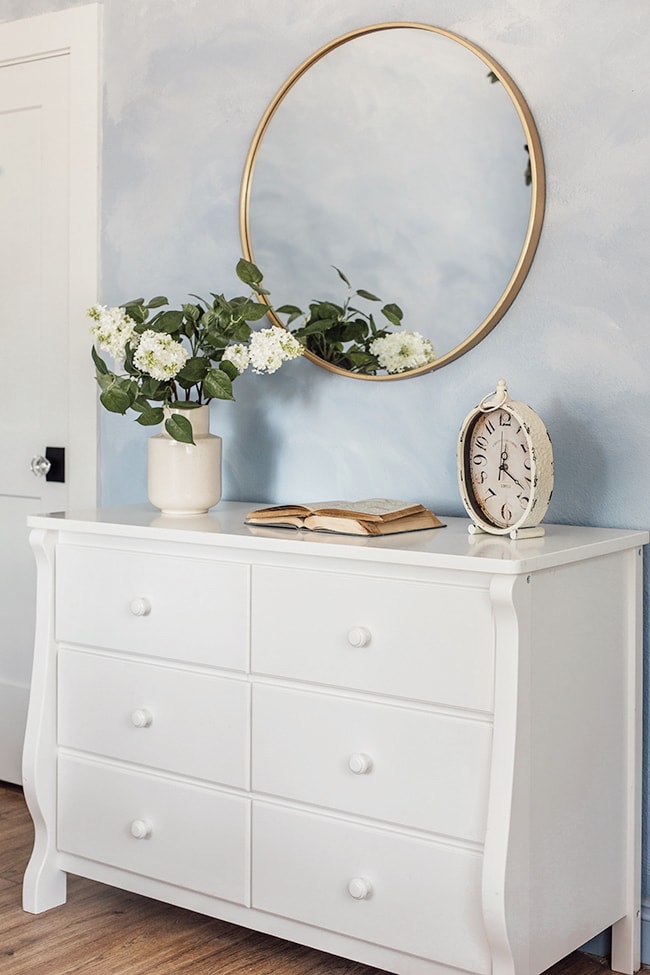 Pin
These pretty lilac blooms were sent to me from sponsor Afloral, and you wouldn't know at first glance they're not real. We have to use faux greenery since it's not practical to switch out the flowers and plants in every room during each guest turnover!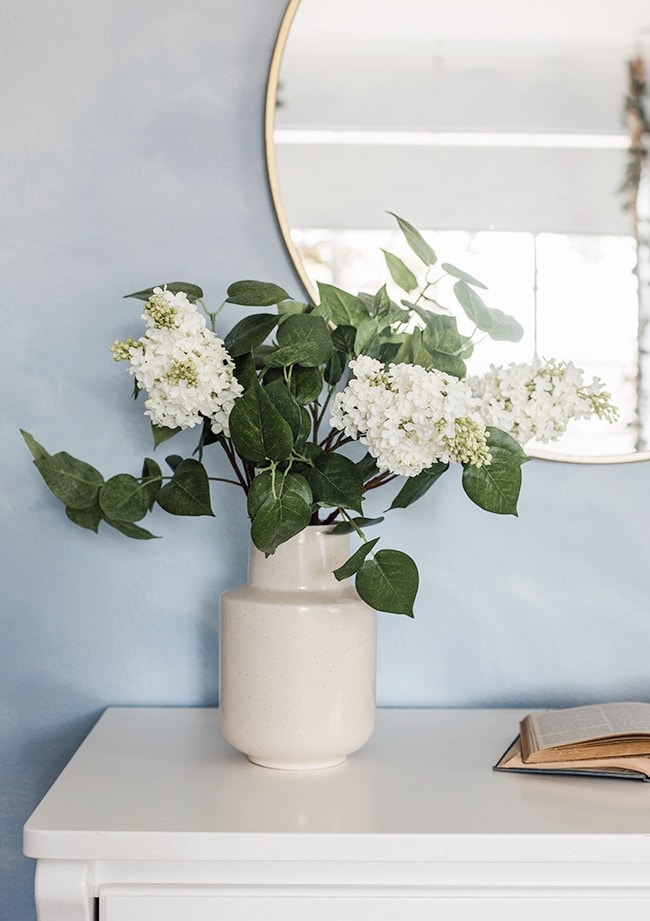 Pin
The eucalyptus garlands are also from Afloral, and I think they're such a fun touch to have wrapped around the ropes.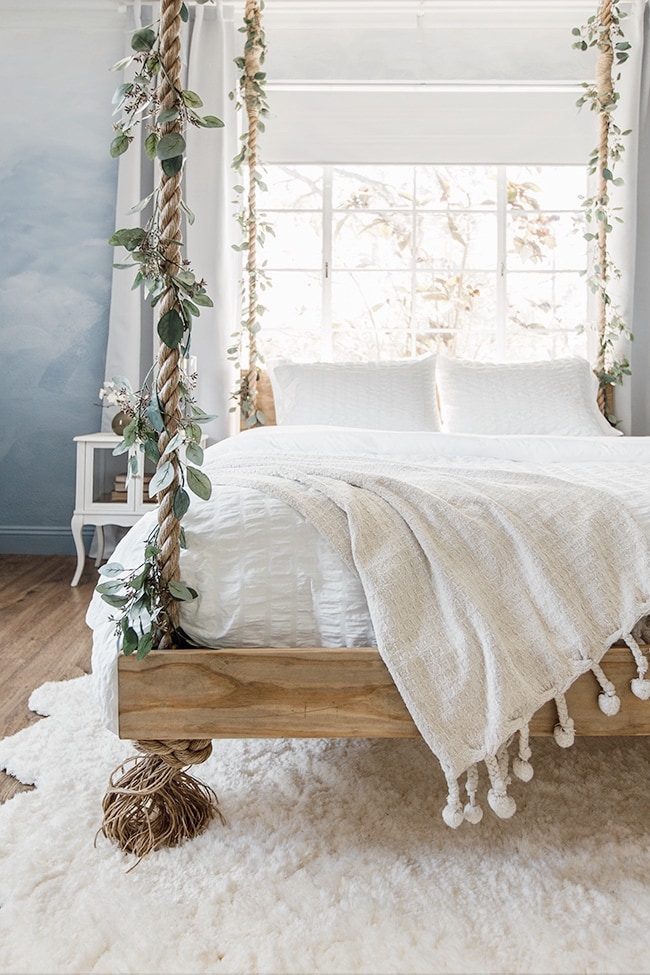 Pin
The little blue pitcher also came from Afloral: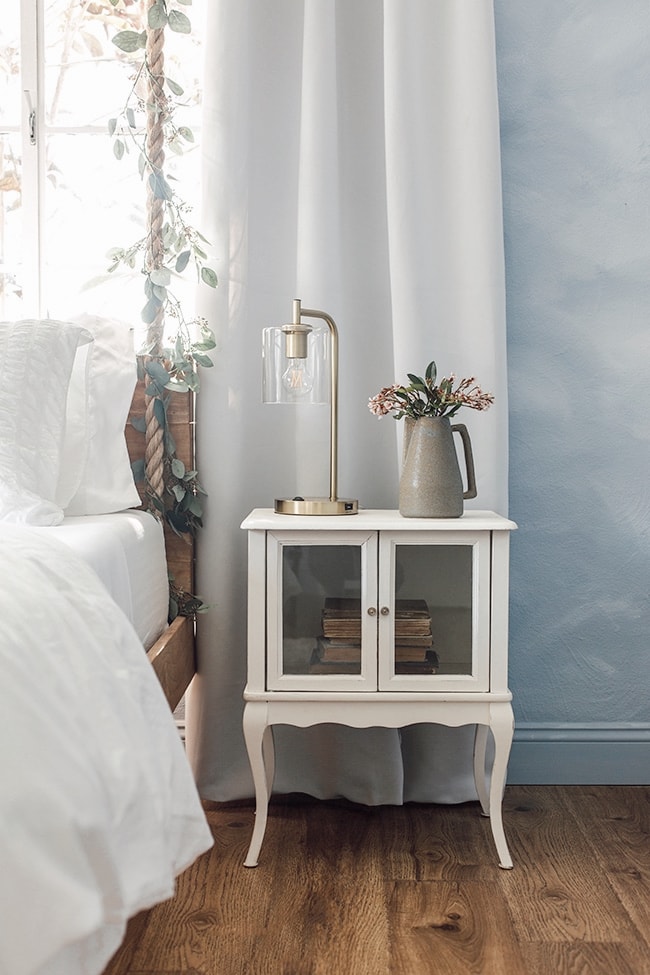 Pin
Let's talk about this bedding! We started with a plush 10″ memory foam mattress, and after lots of research, I chose this $30 sheet set (it has over 82,000 4.5 star reviews!)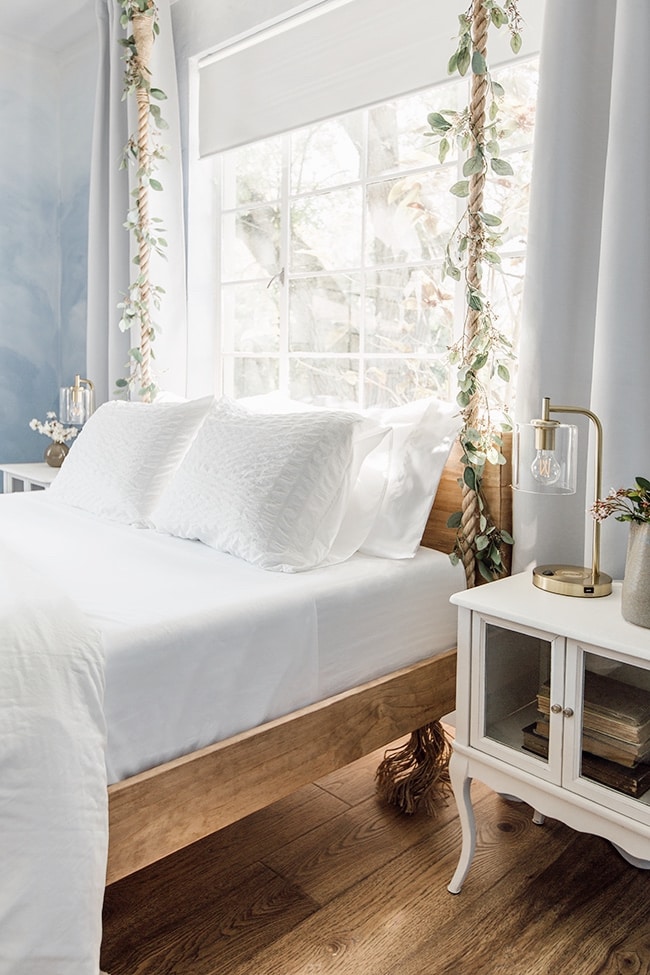 Pin
Then I ordered a fluffy lightweight comforter (it's the same one we're using in our Rainforest Room, and perfect for warm Florida nights).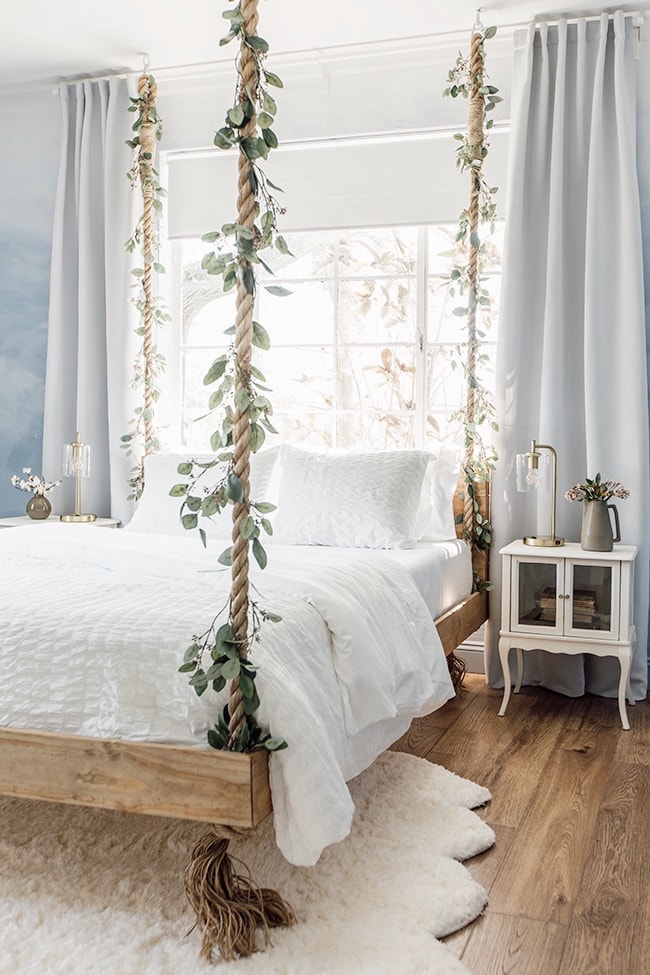 Pin
But my favorite discovery of all is this seersucker duvet cover set. Why? Because the texture hides wrinkles! There's no time to steam out wrinkles after every wash & dry between turnovers (and who would bother with that anyway?) so this is the perfect solution to ensure the bed is photo-ready for each guest. I'll definitely be ordering more of these (especially at this price!)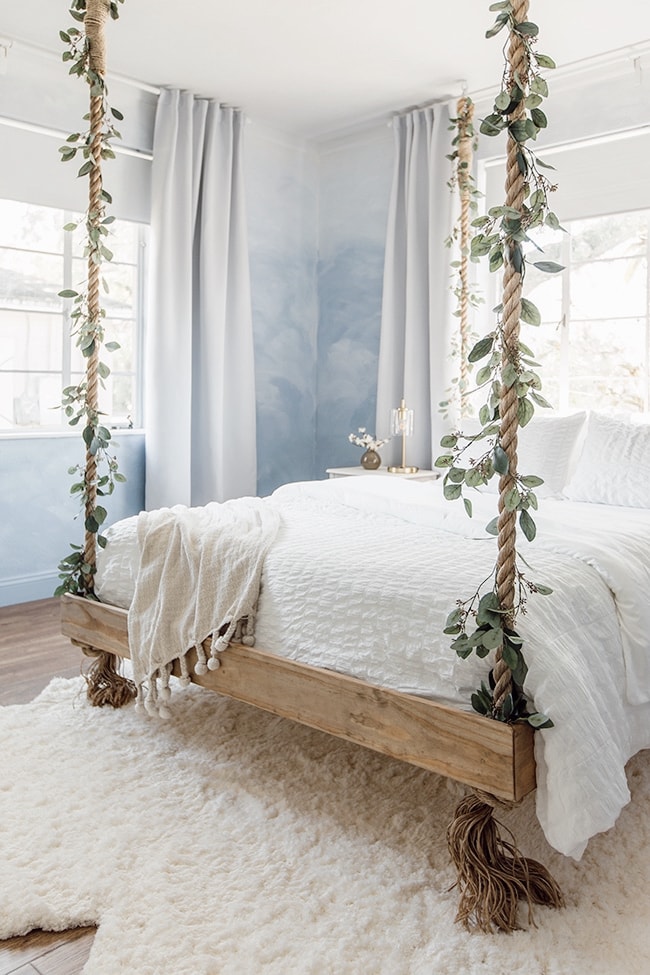 Pin
And this rug… so incredibly soft, so cloud-like. It was made for this room.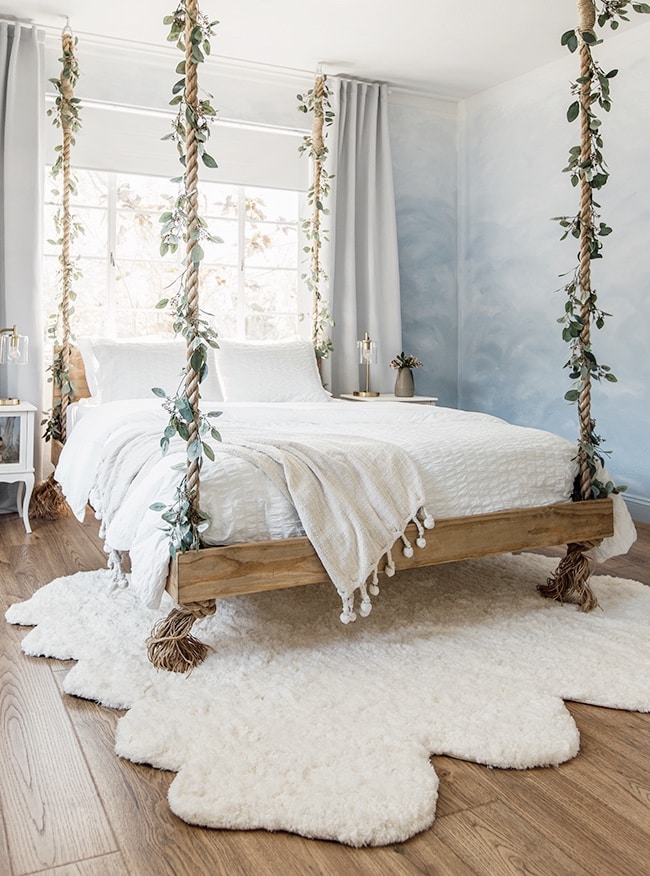 Pin
After an exhaustive search, I found (the most affordable!) simple white blackout roller shades to fit our large 68″ windows.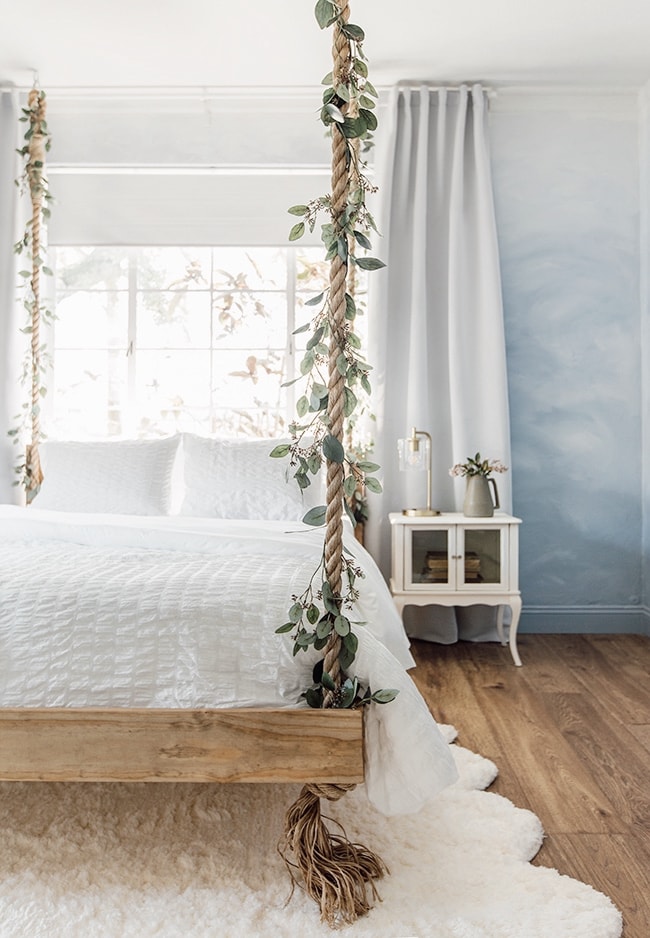 Pin
And to provide even more light and sound insulation, I grabbed two sets of these 9′ blackout curtains (in greyish white):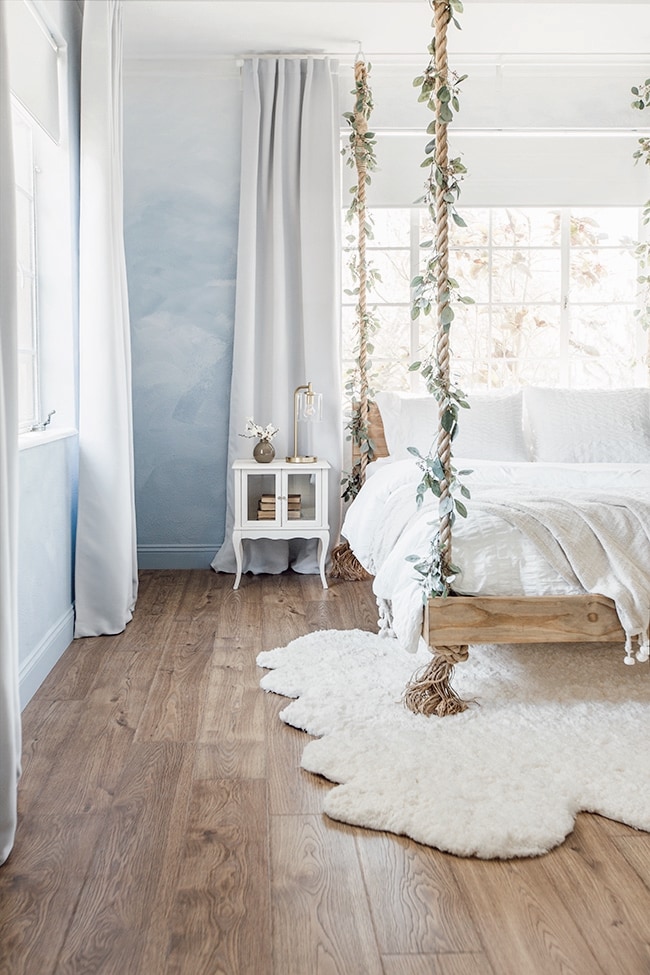 Pin
The doors and hardware were upgraded a couple weeks ago—here's the closet: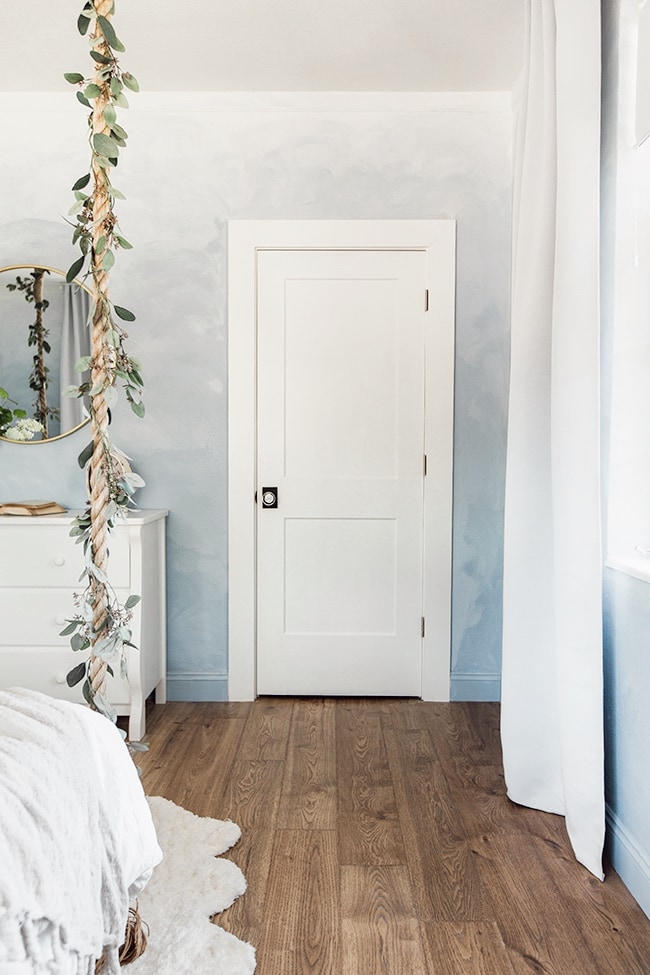 Pin
And the entrance from the hallway: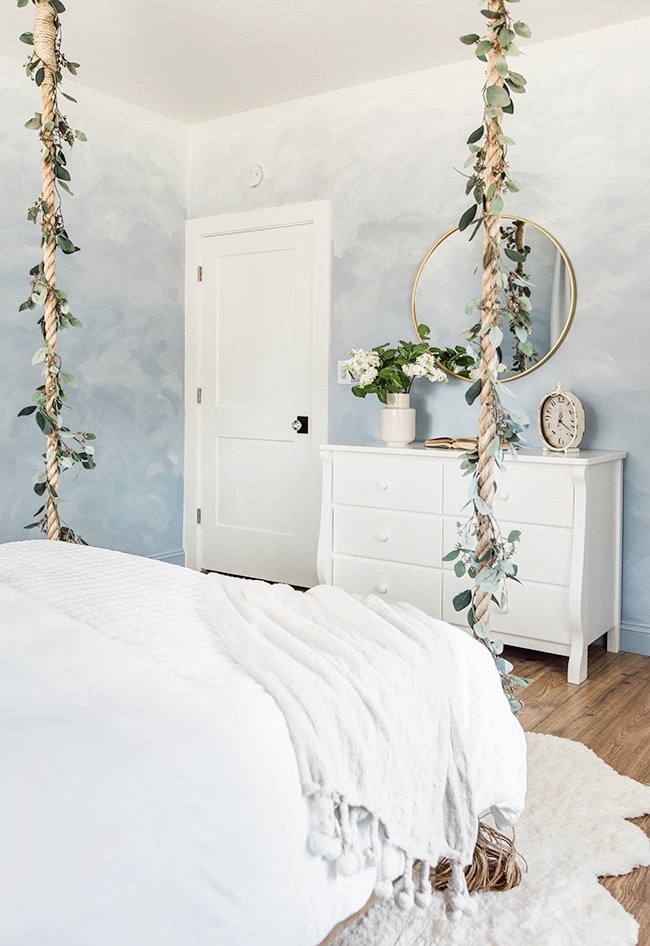 Pin
If you read the DIY hanging bed post,  we actually ended up tying the bed down to the floor in the center with a rope and eye bolts. The bed still swings, but this will just prevent anyone from getting too crazy and knocking over a night stand 😉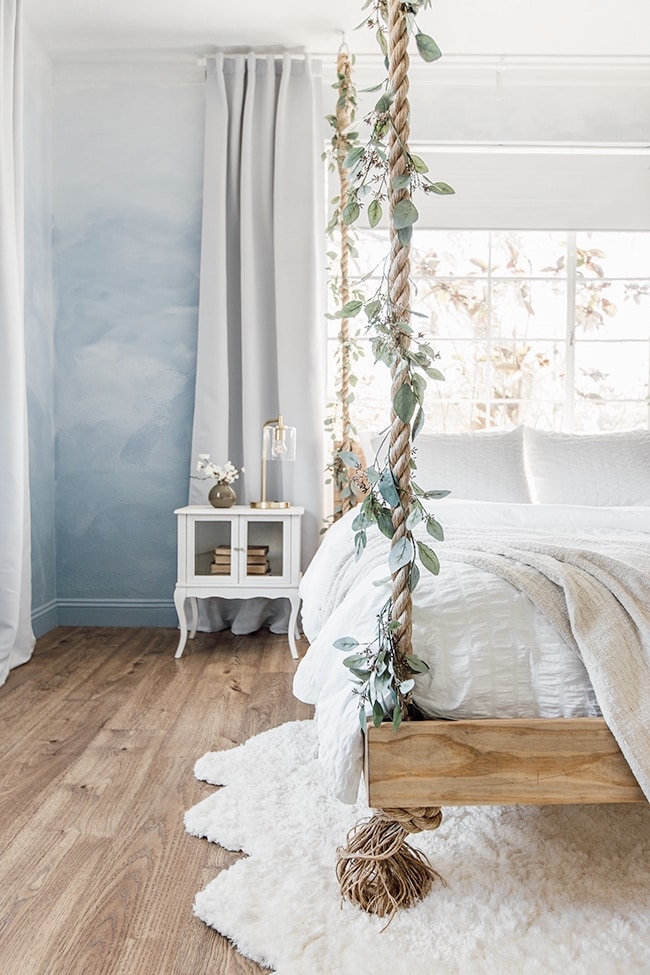 Pin
We're hoping everything goes smoothly and our guests love the unique experience! Would you be up for sleeping here?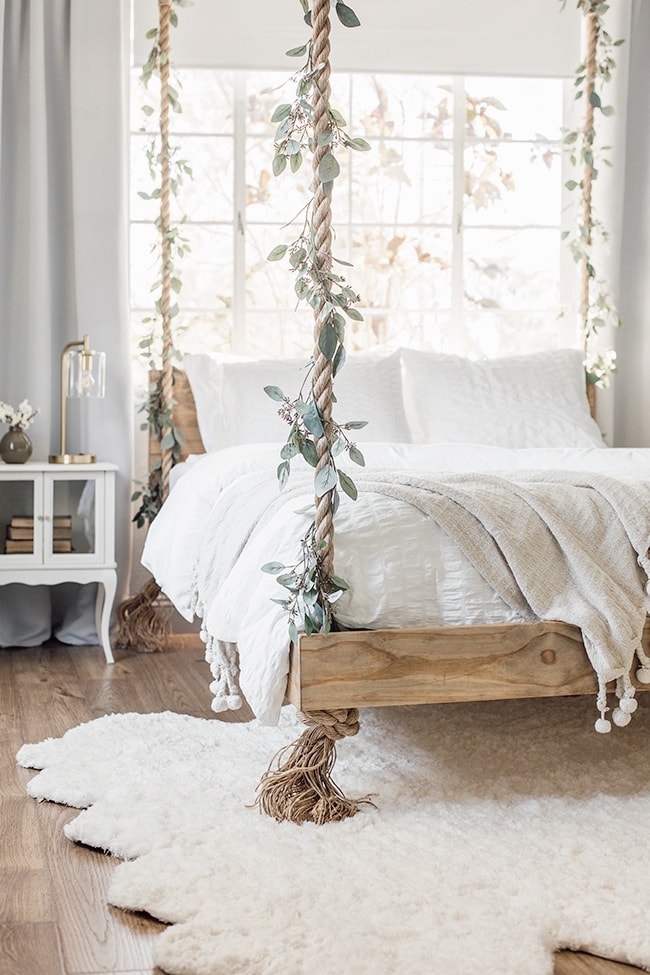 Pin
Sources
Walls: custom painted mural
White dresser (purchased secondhand)
Night stands: secondhand

Eucalyptus garlands

Faux lilac stems

Blue pitcher 
As I type this post, Lucas is burning the midnight oil trying to get the Tropical Oasis master bedroom finished by this weekend. There's still quite a few things to do and purchase, but I'm really hoping I can get it staged and photographed to reveal next week. You can follow along in my Instagram stories for updates, including with our big backyard plans coming soon…