This post is part of a paid collaboration with Lowe's Home Improvement. All opinions are my own.
When was the last time you thought about updating your doors, door/trim color and hardware? With so much of our focus on décor, doors tend to be an often overlooked part of the renovation process.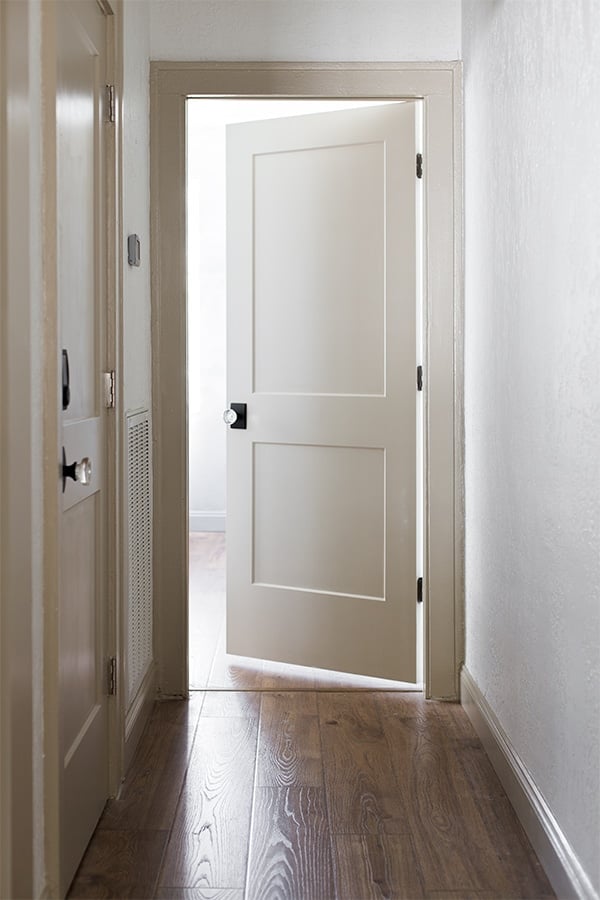 They may not be the first thing your eyes jump to when walking into a home, but doors certainly impact the overall look and feel of a space. They can instantly breathe new life into a home while making it feel unified and cohesive.
The doors at the Riverside Retreat were a hodgepodge of original and new, in various working conditions, collected over the past 70 years.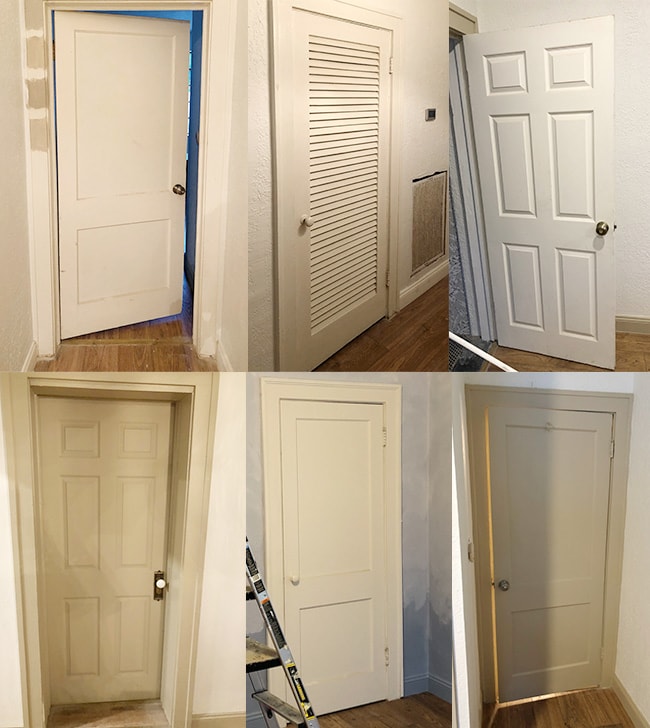 A few of them were replaced as we've updated the rooms, and I was pleasantly surprised to find an affordable solid-core Jeld-Wen replica of our original 1940's doors.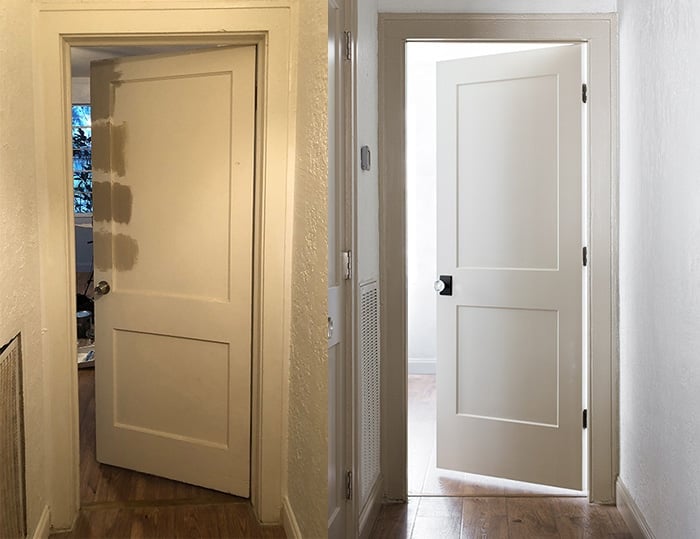 The door was available in a variety of standard sizes, so we were able to replace all of our swing doors with this style, along with matching vintage-style glass knobs.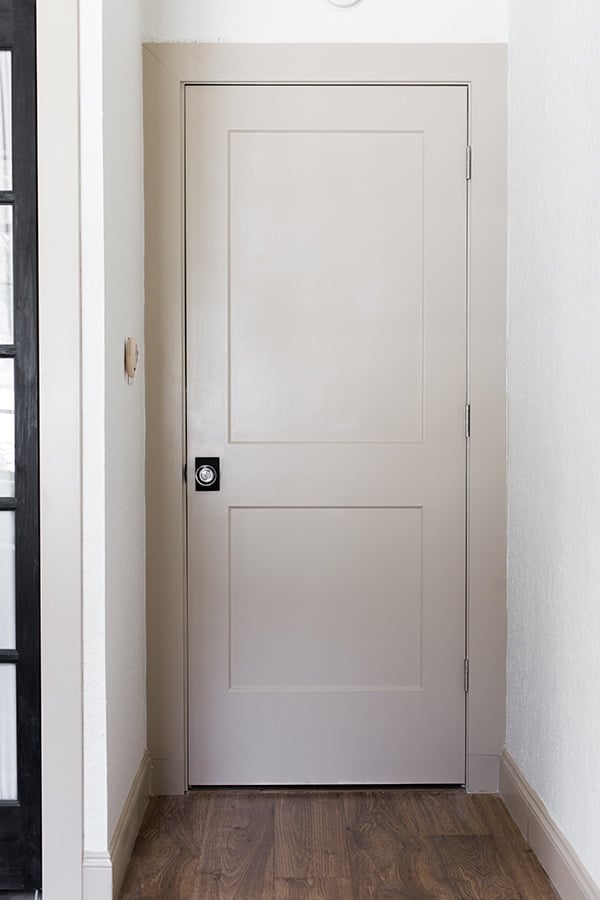 I've had experience selecting and installing every type of door over the years, and since it's a reader question that pops up a lot, I thought I'd organize all of my knowledge, tips and advice in one post to reference. If you're considering updating your door(s), I've broken down everything you need to know to get started, including round-ups of some of my favorite doors and hardware. Let's dive in!
Door Types
Swing doors: Standard everywhere in homes
Bi-fold: Commonly used for closets that don't need a lock, saves space
Pocket: Ideal in scenarios where there isn't enough room for a swinging door, requires a more involved installation
Barn/sliding: Used to make the door a design feature, best suited for spaces where privacy/sound control isn't critical
French doors: A popular double door choice for patios/exteriors, also a classic and elegant alternative for interior rooms
Saloon/cafe: These partial height bi-directional swinging doors allow for an easy hands-free passage between rooms
At the Riverside Retreat, we replaced all of the existing swing doors with matching replicas, preserving the original two panel style. Two of the bedroom closet doors use bi-folds (check out our custom "French door" bi-fold project from last year).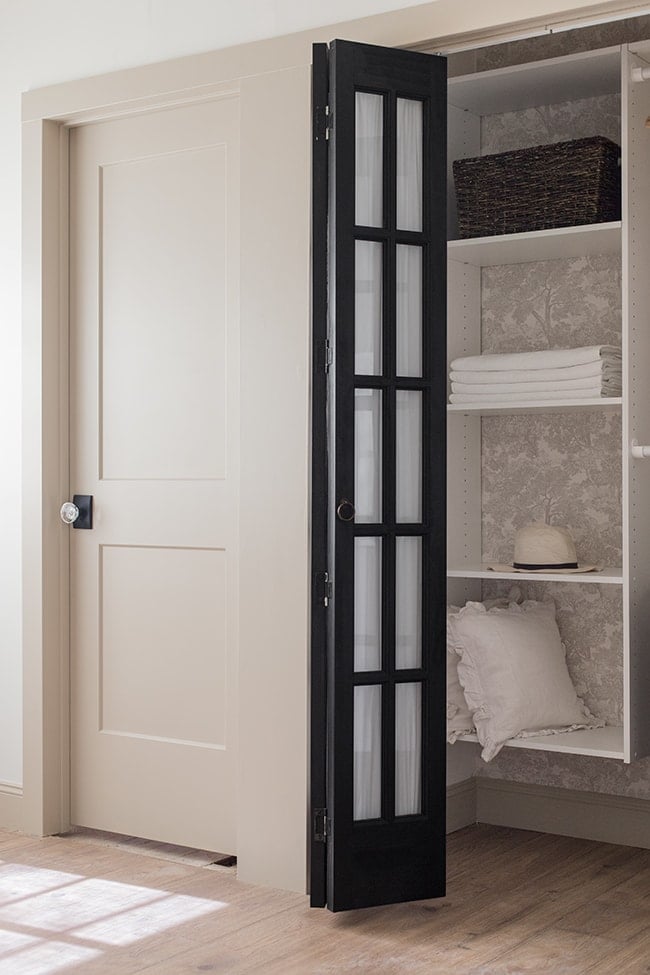 We also built custom sliding doors as a design feature in the living room, and decided to do something a little unexpected with the kitchen/laundry room passageway. Full privacy wasn't needed, but we wanted some separation from the laundry area and back door so we opted for café doors (which we painted Valspar Cracked Pepper).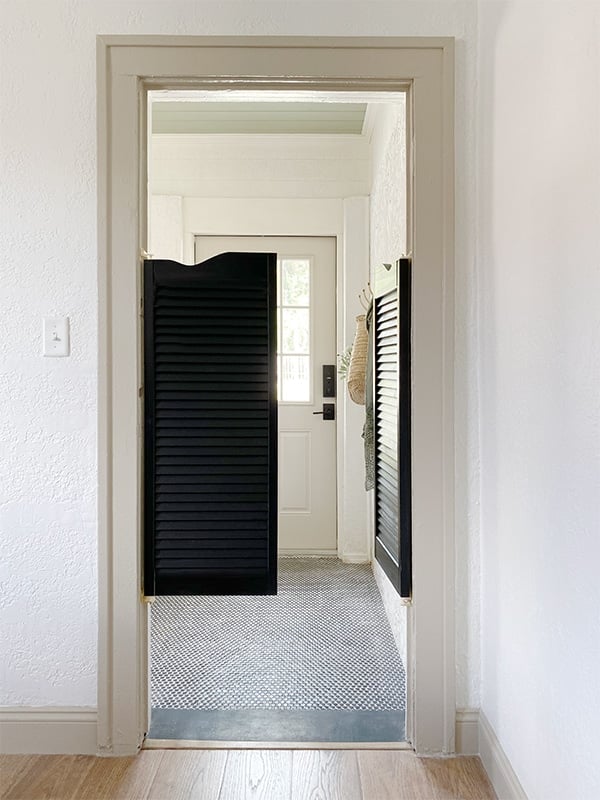 We're planning to hang a large chalkboard on the kitchen wall to the right of the door, and a standard swing door would hit/block the chalkboard, so these smaller swinging doors were a great solution.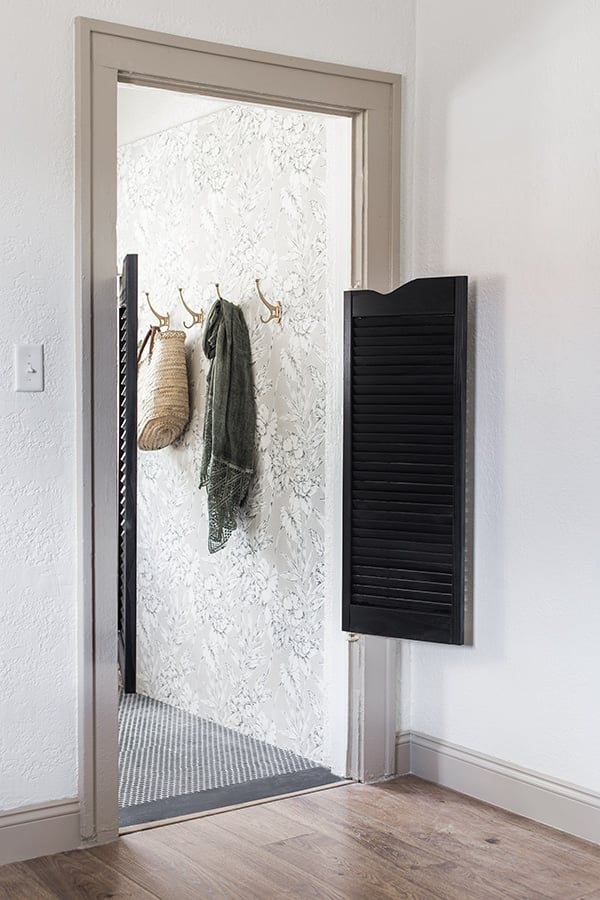 Slab vs Pre-hung
Slab doors are a more cost effective option if you are replacing an existing door and don't need a new frame or door trim. You'll want to make sure the new door is exactly the same size with the same hinge location/shape, and bore hole size/placement. On older houses especially, it can be tricky to get the new door to fit perfectly and operate smoothly. For this reason, I usually prefer spending a little extra on a pre-hung door—you can still try installing it without the frame, but it's there as a backup just in case.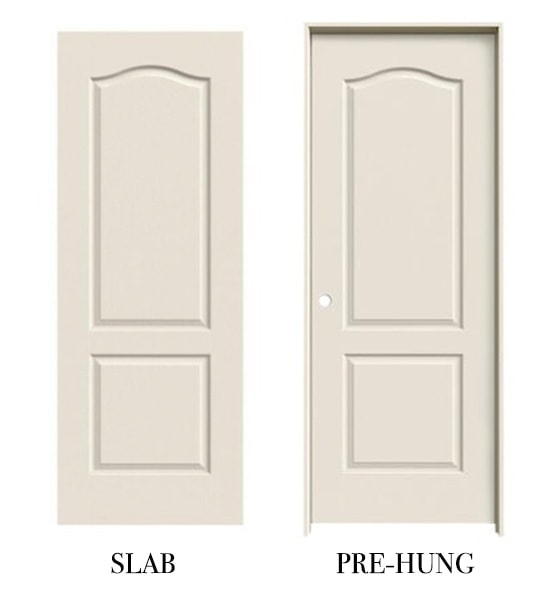 We attempted to replace just the doors to save on labor/materials, but our frames were so old and crooked that they all had to be replaced (and the hinge placements didn't match up). We also took this opportunity to update some of the original wood trim that was in bad shape after years of neglect.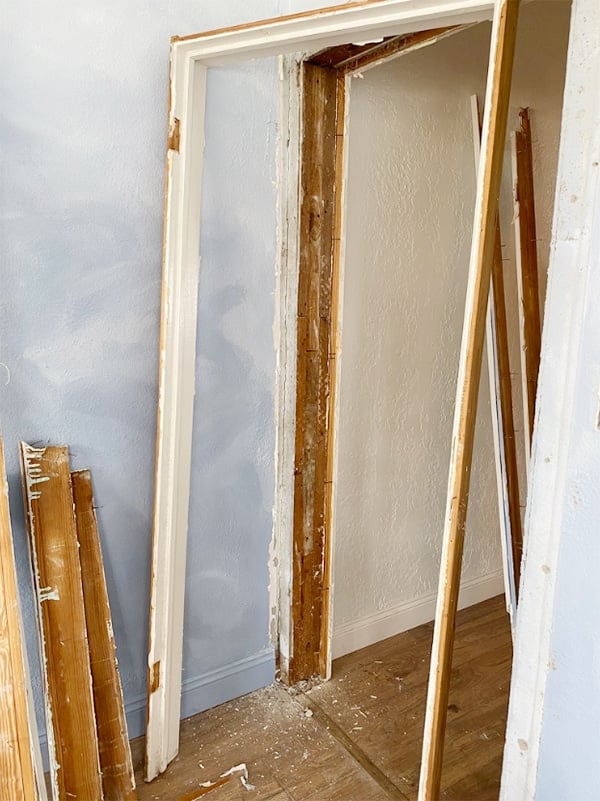 Door Style
There are many affordable style options to suit your home, from traditional to modern, craftsman to mid-century. I recommend choosing a design that matches the time period and style of the house.
For cohesiveness, make sure to use the same doors throughout the house, with the exception of any "feature" doors such as exterior, sliding/barn doors, closet and glass or partial glass doors (ie pantry or laundry).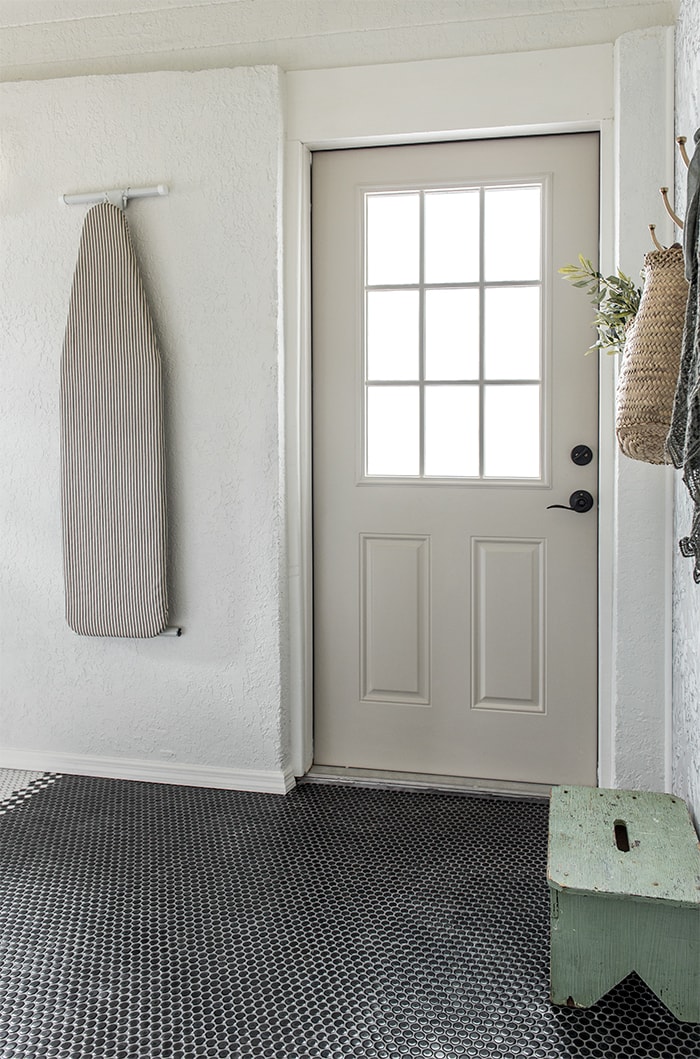 Lowe's carries a wide range of door options to suit a variety of different home styles. Here are some of my favorite interior doors—each come pre-hung, pre-drilled for hardware, primed and ready to install: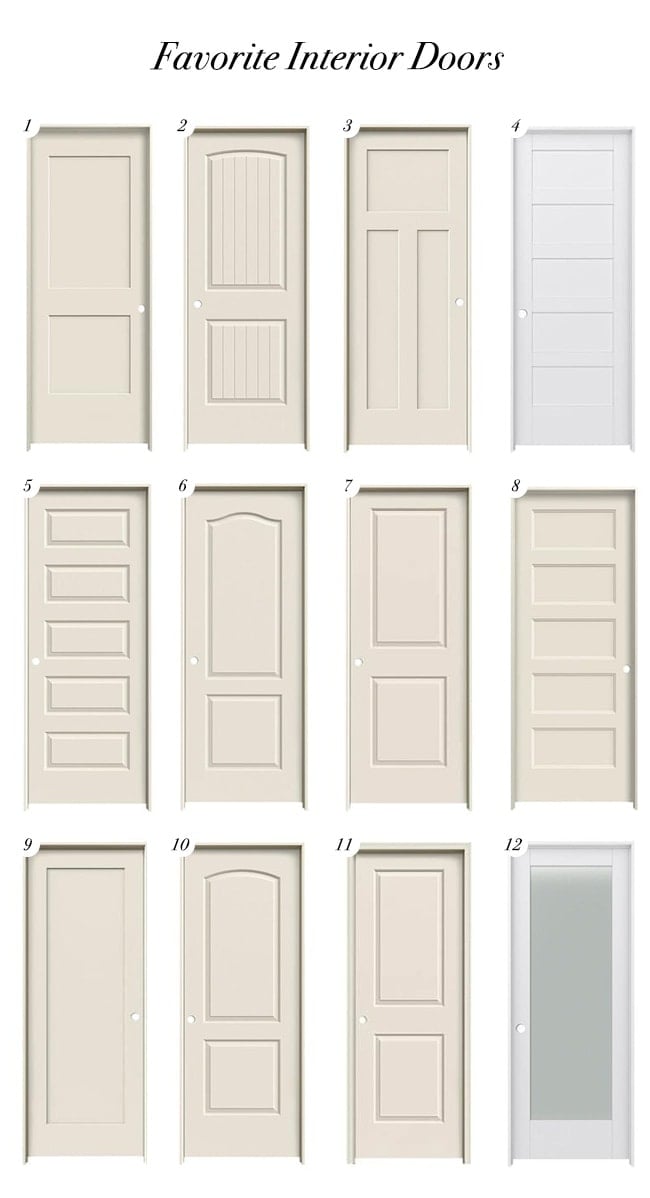 1 / 2 / 3 / 4 / 5 / 6 / 7 / 8 / 9 / 10 / 11 / 12
And if you're in the market for a new exterior door, here's a handful of those that caught my eye: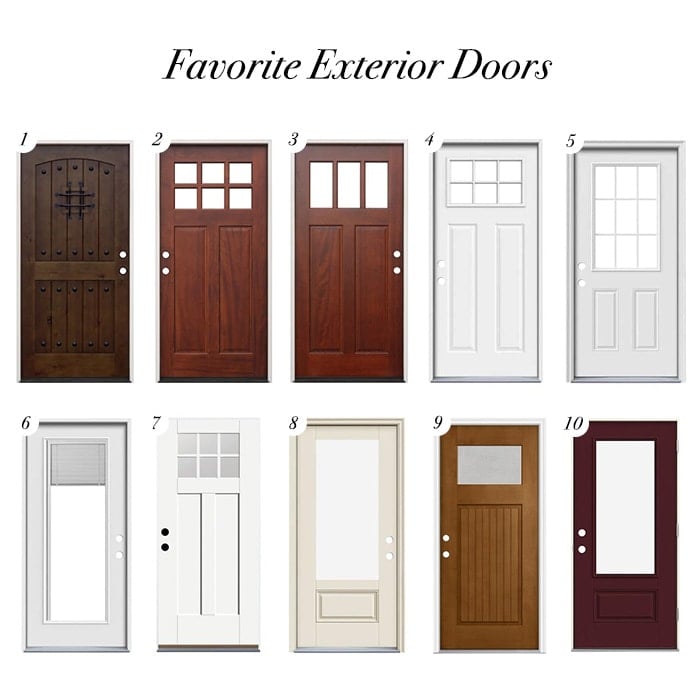 1 / 2 / 3 / 4 / 5 / 6 / 7 / 8 / 9 / 10
Door Material
For interior doors the most common options are wood, MDF, and particle board composite (either solid or hollow core). My personal favorite for most homes is solid core composite, as it provides sound protection, resists temperature/humidity shifts, and they're a cheaper alternative to wood.
Exterior doors are available in a wider range of materials such as fiberglass, aluminum, wood, glass, steel and iron. They range greatly by price, size and style, and each material has its own pros and cons. Fiberglass and steel are my top choices if you're looking for something low maintenance and budget friendly.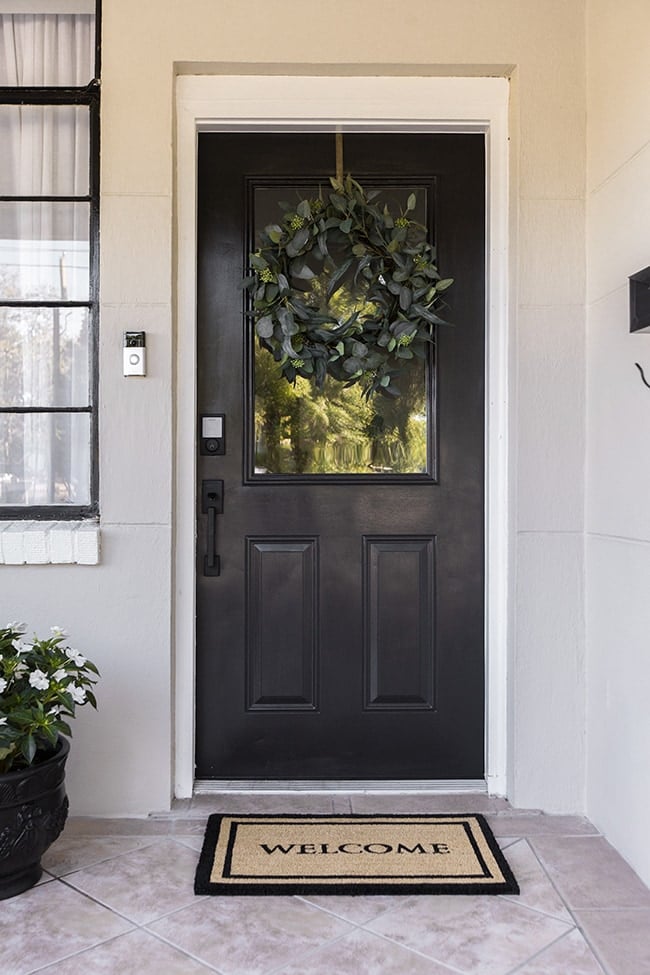 Paint color
While white doors and trim are still the default throughout homes in America, you don't have to follow the status quo! Paint is an easy way to make doors more than just a functional building element, but rather a way to enhance the design and style of your home. I've been painting my white interior doors since 2014 and it has always dramatically improved the look of my homes. White walls and contrasting trim/doors have become my signature, but you could just as easily keep the trim white and paint only the doors.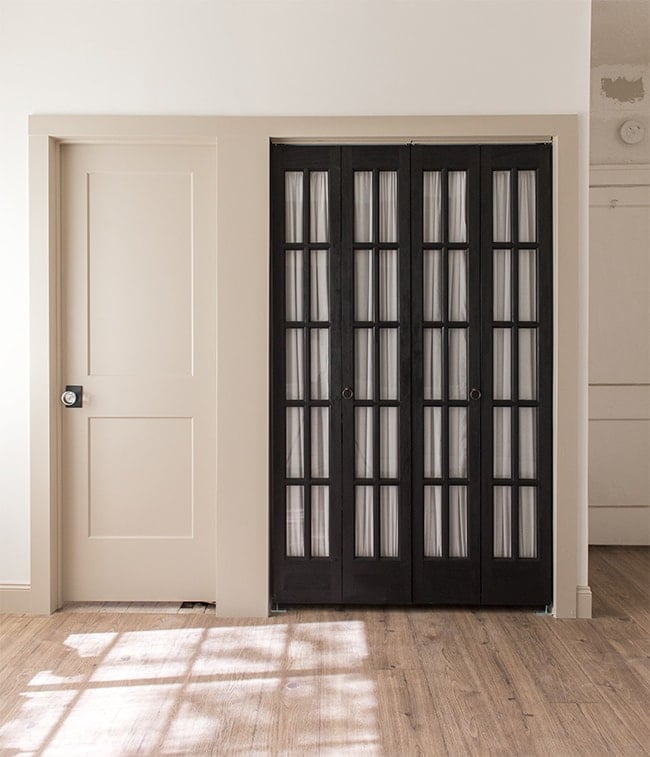 My general rule of thumb for door/trim color is to make sure they all match within the common areas, but anything goes for the interior of rooms. I treat each room separately with its own design concept and color palette, so it can be different than the trim and door color throughout the rest of the house.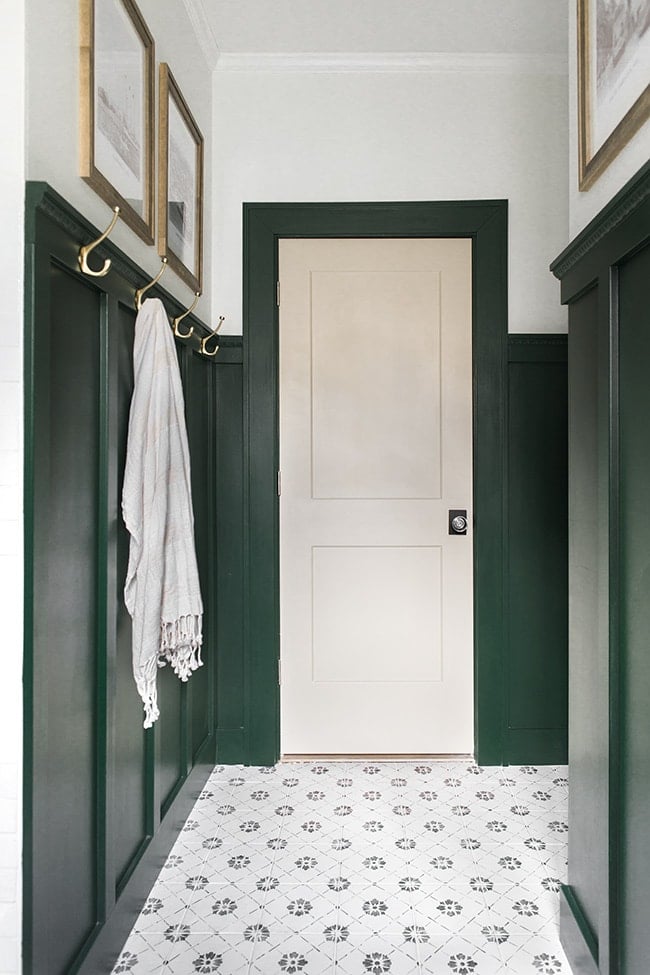 Doors that are a different style, like exterior doors and glass doors can also be a different color. I often go for rich black or a natural wood on these "feature doors".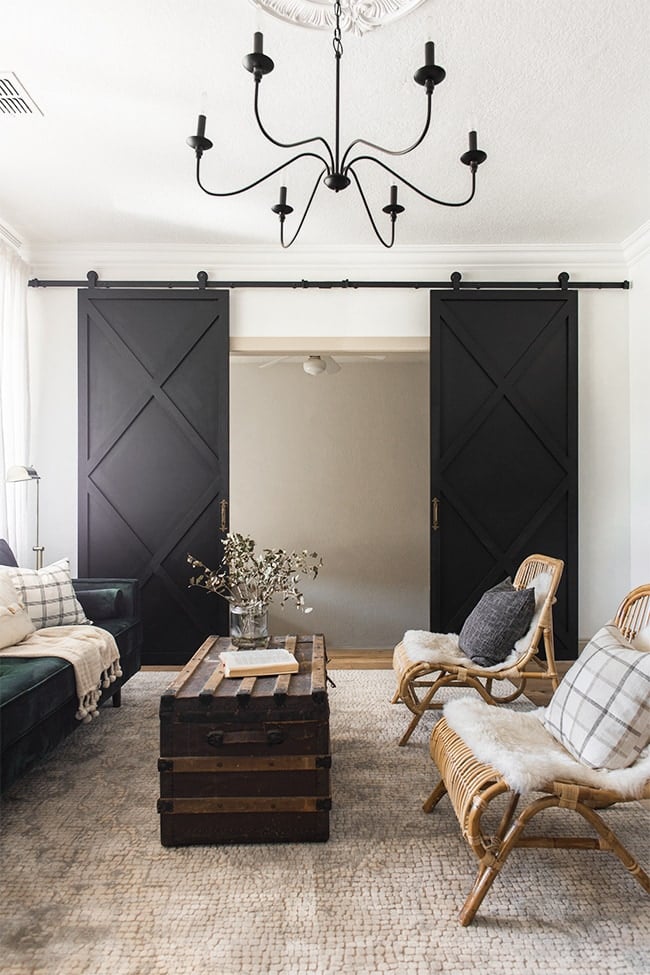 For this house, I chose Sherwin Williams Loggia for the main trim and door color. It's a warm mushroomy-beige that works well as a neutral backdrop for a wide range of shades found throughout the home. You can read more about the paint selection process in this post.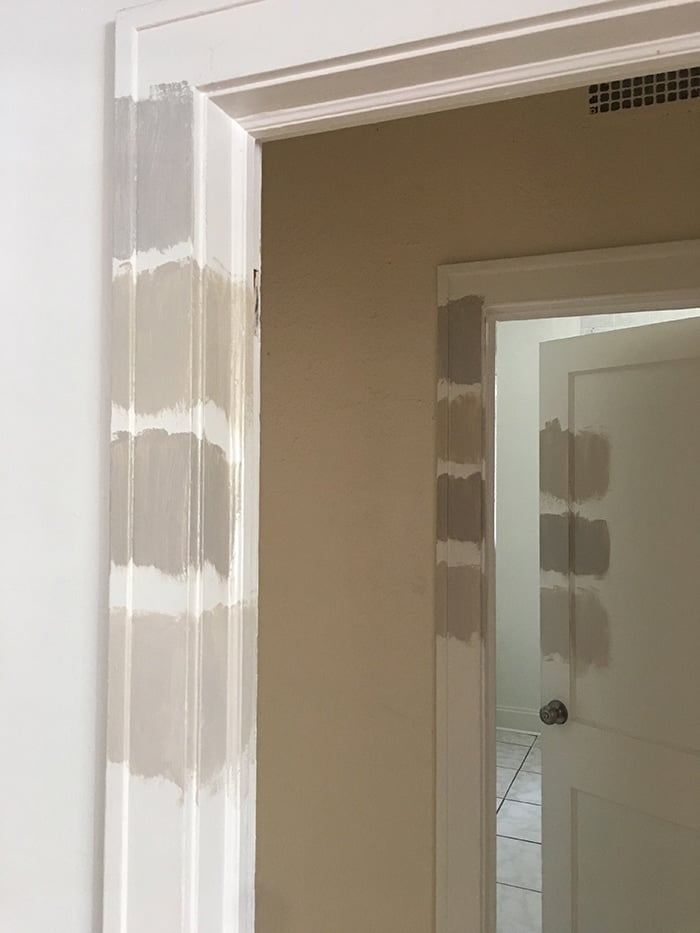 The interior doors and trim for both the Rainforest Room and the In the Clouds bedroom are painted white, since Loggia would have clashed next to the blue walls (when using contrasting trim, I recommend keeping the main wall color white).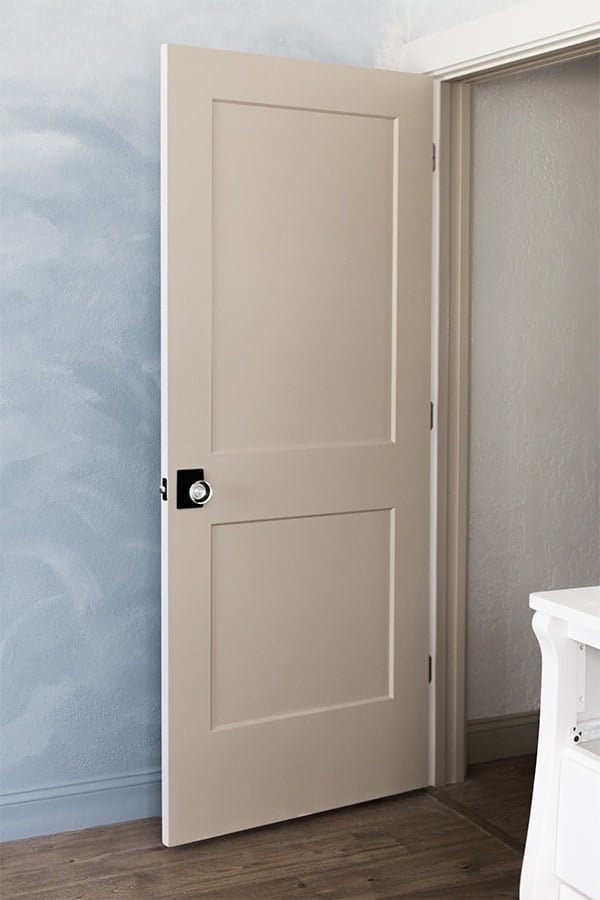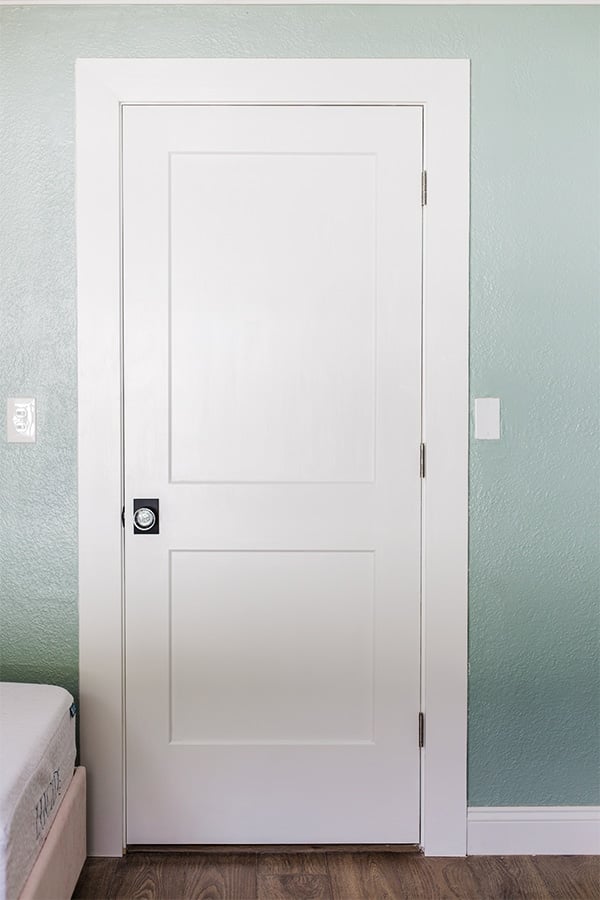 Paint sheen
A semi-gloss finish is the standard interior door choice for builders in my area due to its durability and ease of cleaning. I've also used satin in the past as I normally prefer the richer look of matte surfaces, but both of our current homes have semi-gloss on the main doors and trim, and we're happy with that choice.
If you're unsure, semi-gloss is a safe bet (especially if you have children or higher traffic rooms!) A high quality paint is important as well—my go-to's are Sherwin Williams Showcase and Valspar Signature. For exterior doors, you'll want to use exterior paint which is specially formulated to withstand the elements.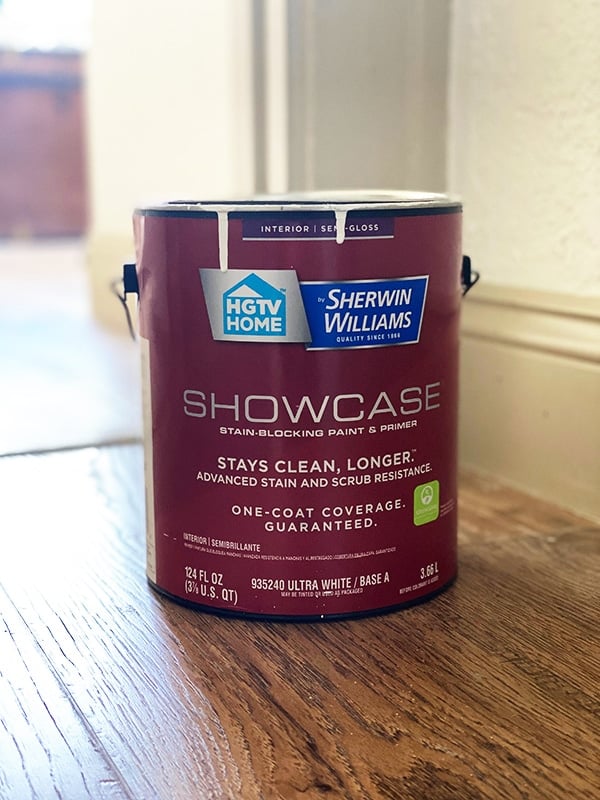 Our Jeld-Wen doors came primed and required 1-2 coats of Loggia paint. A fine woven paint roller (like Purdy's White Dove) makes quick work of the task and helps eliminate visible brush/roller marks. For the edges and trim, we skip the painter's tape and use a short handle angle brush for clean, straight lines.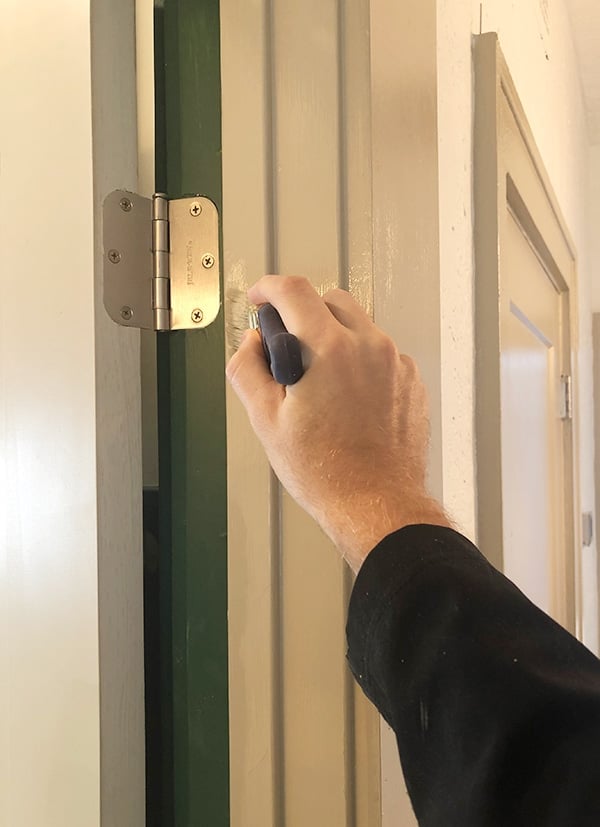 A question I'm often asked is how to manage the transition of two different door colors. If you look at the inside of the door frame, there is a natural dividing line along the door stop trim piece. When the door is closed, you won't be able to see the other color from either side. I use my angle brush to cut in along this line and it works like a charm!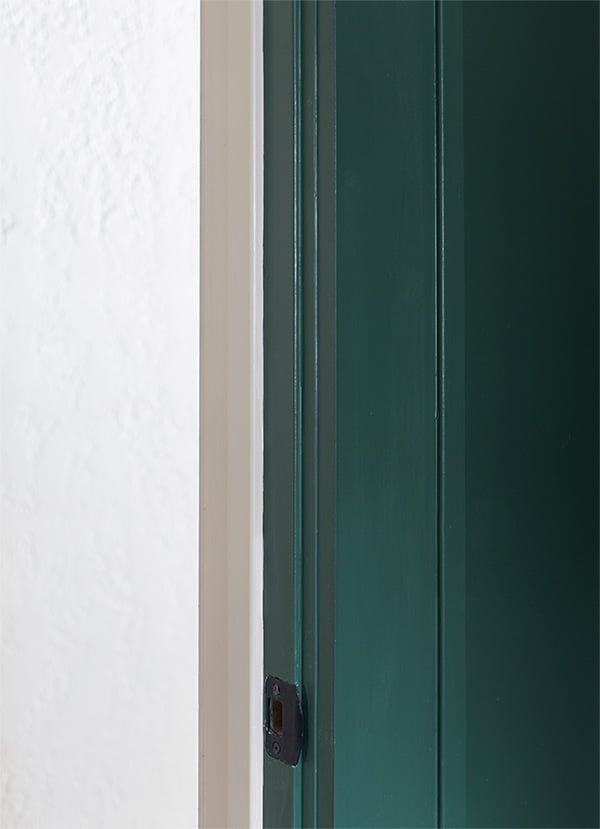 Hardware
Now for the fun part—choosing the 'jewelry' for your door! There are so many different options these days, and while hardware selection is a personal choice, there are a few guidelines I abide by.
First: consider the color of your doors. Your hardware should stand out, so if your doors are painted dark, choose a lighter colored metal when possible. The hardware style should be complementary to the style of the door—our vintage glass knobs with a classic matte black plate are a great match for our traditional doors.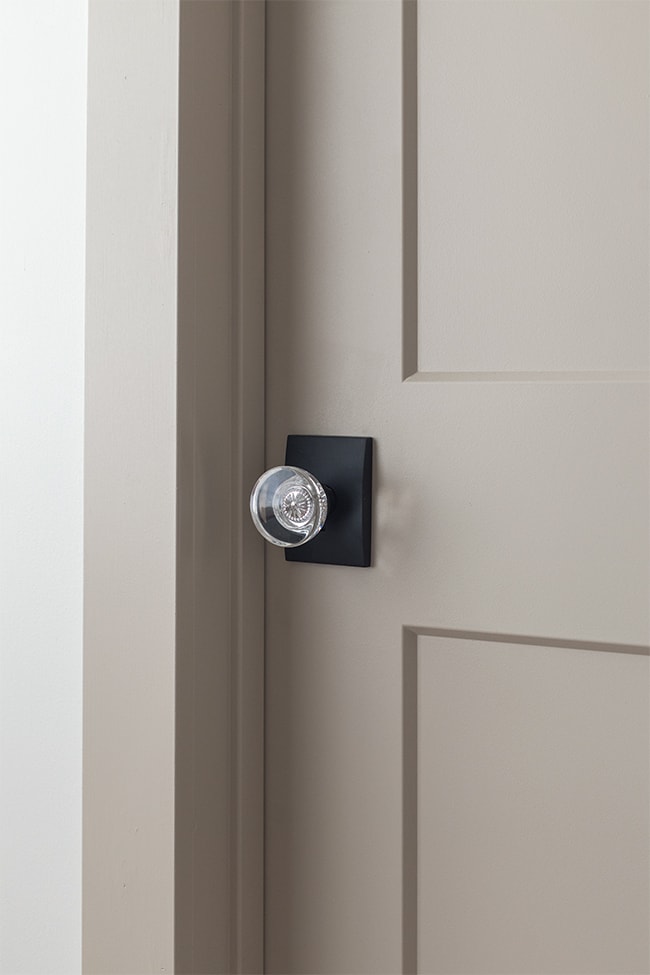 Knobs or levers can both look great, so think about function and if you'd have a reason to choose one over the other. Example—our cat figured out that she could open a door by jumping and pulling on the lever, so knobs would have been a better choice if we didn't want her trespassing in certain rooms!
Most hardware styles are available in privacy, passage and dummy forms. With the glass knob style we chose, the privacy handles have a little push pin on the inside to lock it. So much more aesthetically pleasing than a clunky turn lock in the middle of the knob, don't you think?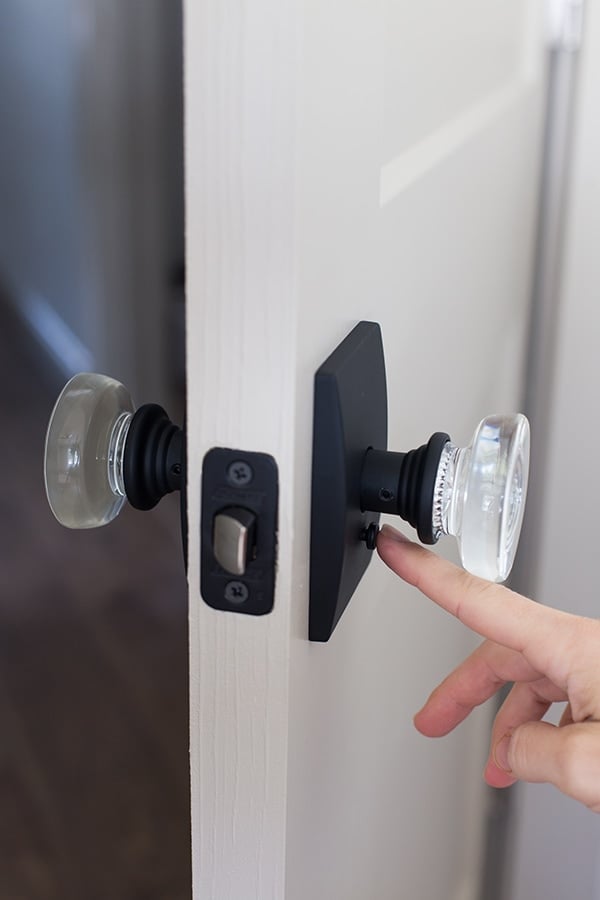 Schlage is a favorite brand as they have a huge product selection at a reasonable price point. I used their Georgian antique brass knobs throughout the Cottage House and they looked sharp against the black doors.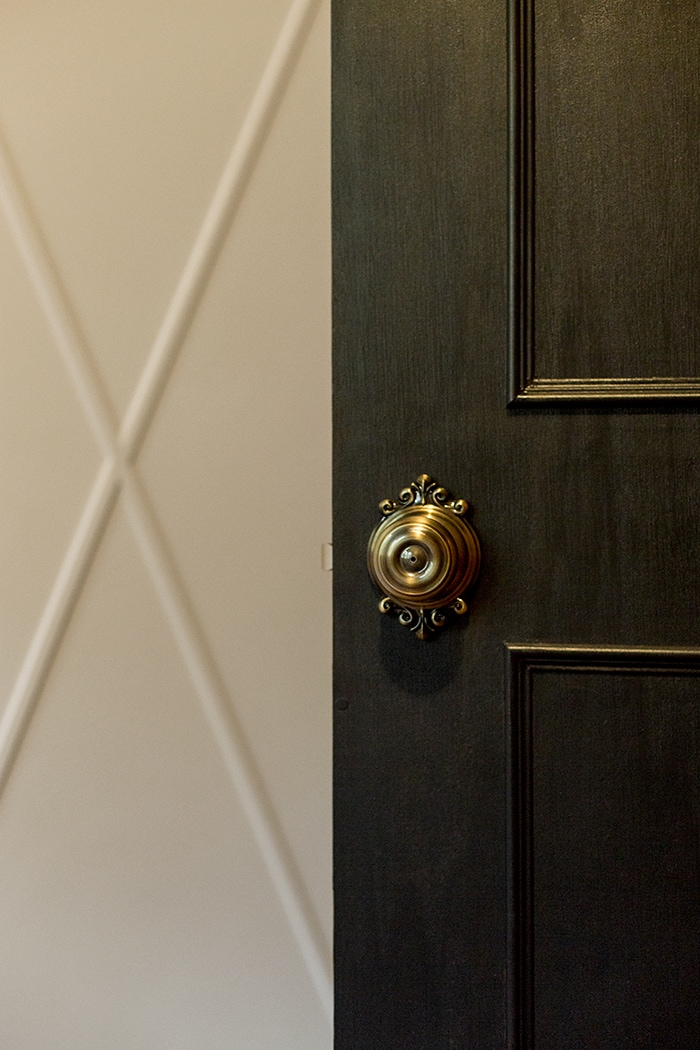 Most of Schlage's hardware sets are completely customizable, so you can choose any style knob or lever with any backplate, in any metal finish. I've rounded up some of my favorite combinations below: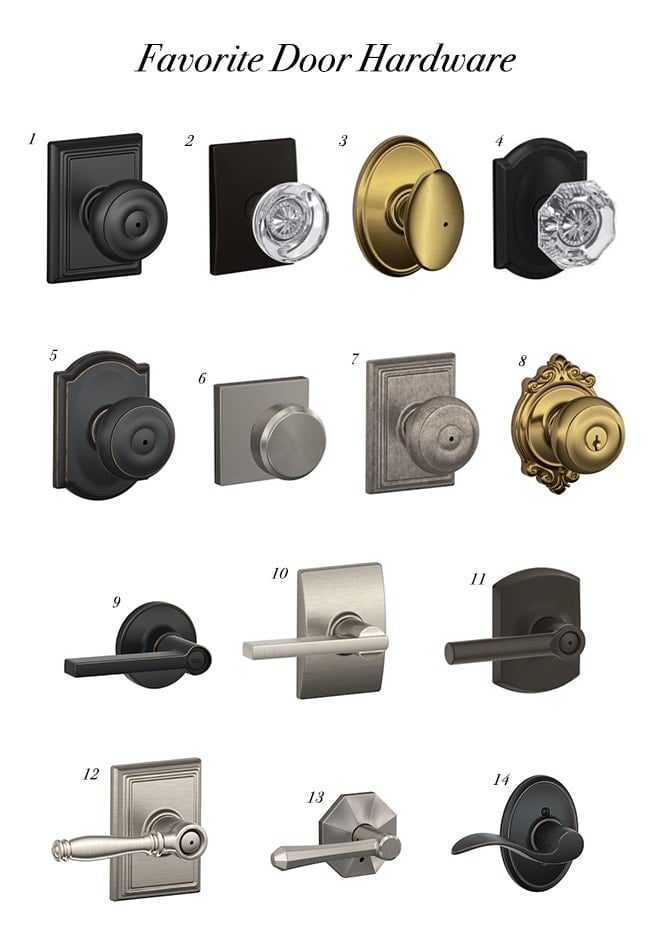 1 / 2 / 3 / 4 / 5 / 6 / 7 / 8 / 9 / 10 / 11 / 12 / 13 / 14
One of my favorite inventions in recent years is the keyless entry system—something I implement in every house now, and it's especially important for the Riverside Retreat as a vacation rental.
We updated both front and back doors with the Schlage Sense Smart Deadbolt with programmable codes for easy access. The smart technology connects to our phone so we can get notifications, check the status and lock/unlock the doors from anywhere (a backup key is also included in case of emergencies).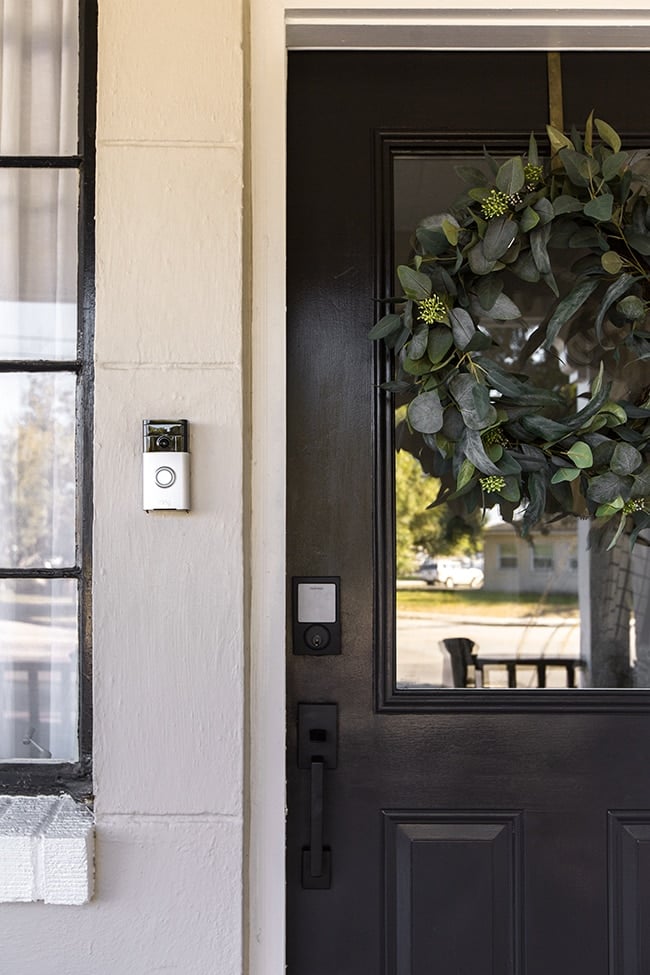 To make the house completely keyless and simplify the cleaning and turnover process, we also installed a smart deadbolt on the hallway closet designated for supplies.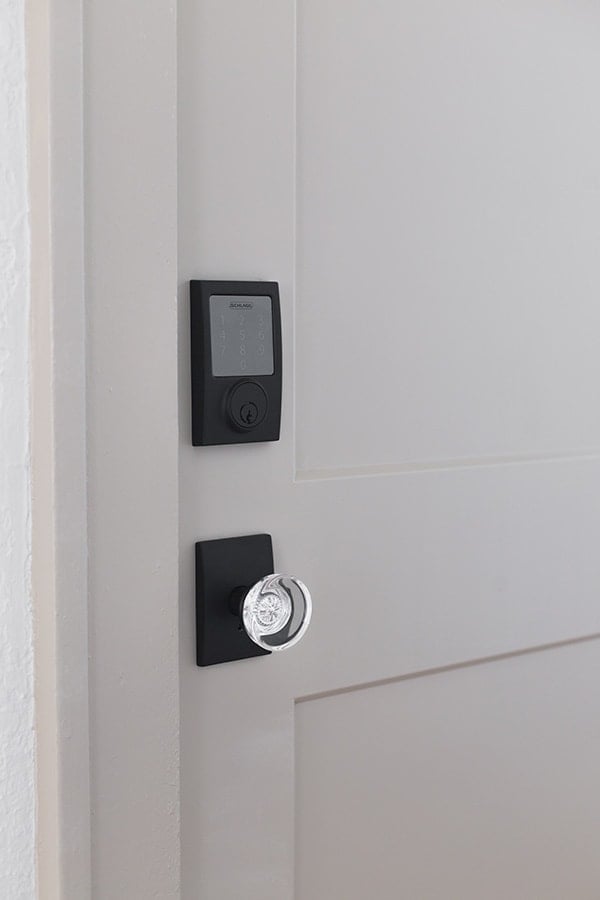 While the Riverside Retreat still has a long list of to-do's before it's ready to host our first guests, it feels much more finished now with matching painted doors, trim and hardware.
For many of us it's an afterthought, but doors are something we use multiple times per day, so I think it's one of the most important parts of a home. If you have quality solid doors and hardware that operates smoothly and provides sound protection, the attention to detail won't go unnoticed.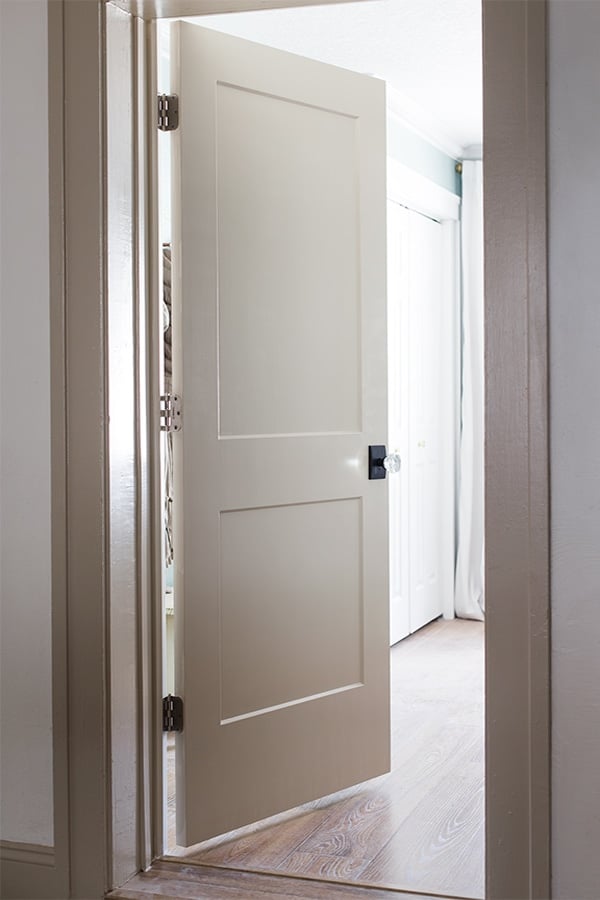 I think it's absolutely worth the investment, and worth taking the time to shop around and find the right door and hardware combination to suit your home.
I hope this guide has been helpful, and inspired you to look at your doors in a new way. Whether you're updating the hardware, changing the color or replacing the whole door, you'll be surprised at the impact these changes have on your home!
Next up: bedroom reveals at the Riverside Retreat!