This post is a paid collaboration with Lowe's Home Improvement. All opinions are my own.
If you've been following this blog for a while, you know my obsession for doors runs deep. I have more door tutorials on my Projects page than any other kind, and for good reason. Unique doors add instant character, it can be a simple and cost effective beginner/weekend DIY project, and there's a million ways to spruce up an existing plain door or build your own from scratch. Today we're tackling the latter—a custom X style sliding door made from just 1×3's and plywood: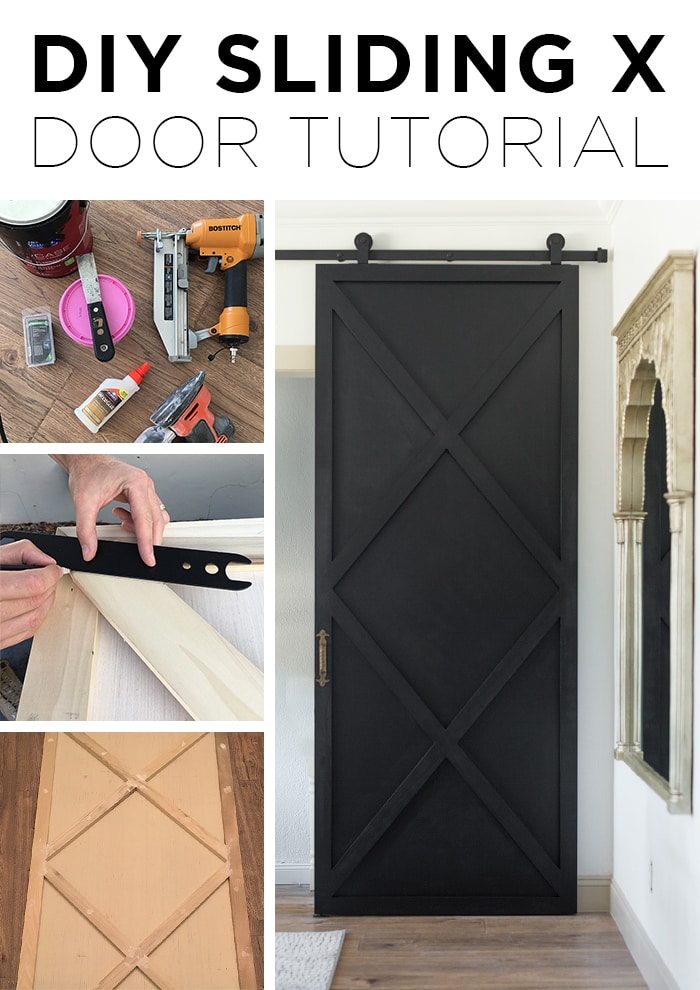 Pin
This is a weekend project that's beginner friendly and requires basic tools (we also used a router but that's not necessary, depending on how you want to hang your doors).
I came up with this project as a solution to the open entryway between the living room and downstairs bonus room here in The Riverside Retreat.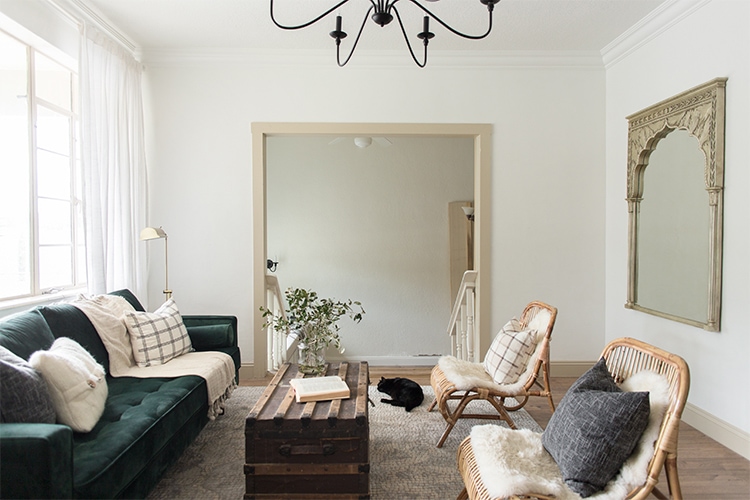 PinPin
We needed a way to separate the two spaces, since we'll be using the downstairs space as a TV/game room and sleeping area. Here's the view from downstairs: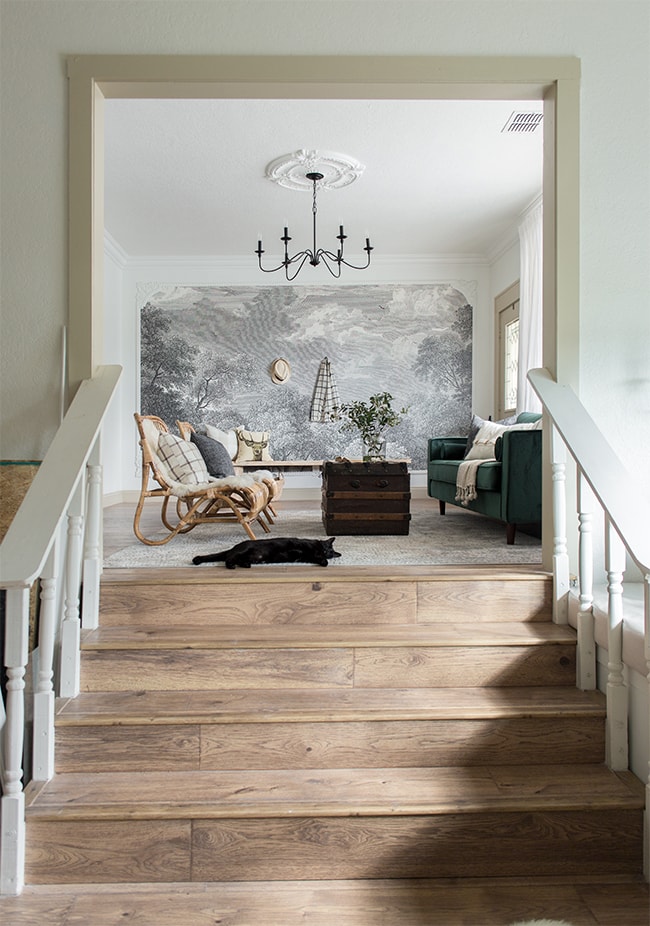 Pin
Plus, that empty wall was just calling out for something tall and dark to give this room a little drama!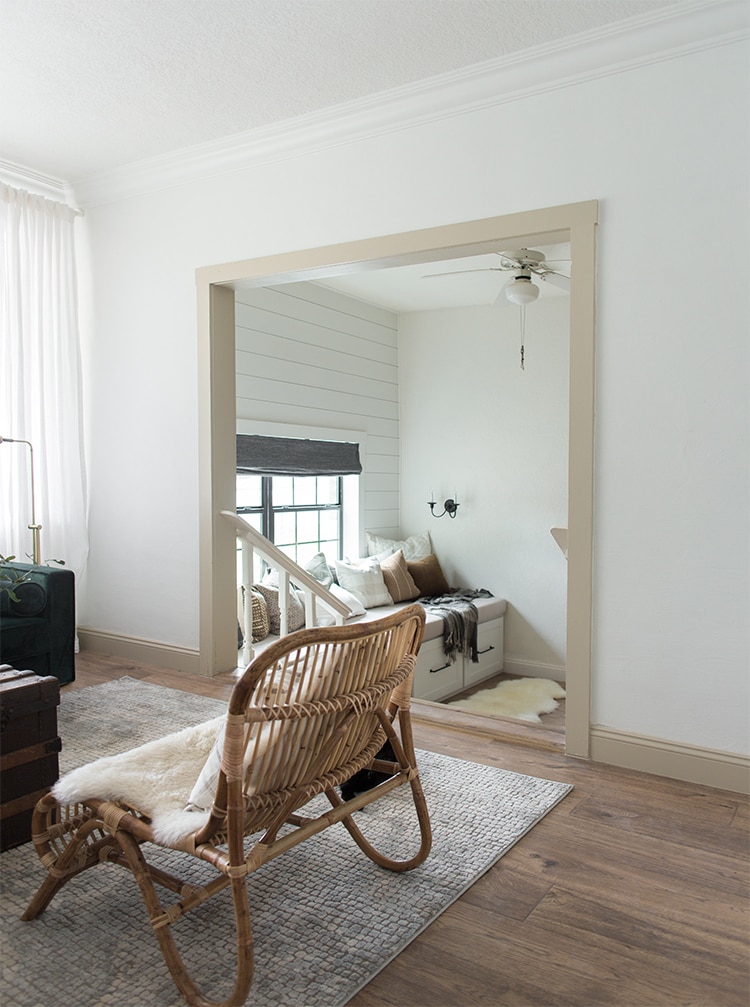 Pin
I already had a vision in my head of the perfect design, and spent some time working through my options. I used Illustrator to mock it up to scale, until I finally settled on the right look and dimensions.

Pin
If you look closely, you can see that there's a few different ways to overlap the X's, and I thought Option 3 looked the most balanced. We already had a couple 1x3x10's leftover from our window seat project, so I calculated the amount still needed based on our door size. This will vary depending on your opening/door size, of course, and you can get the 1×3's in any length that makes sense for you. We wanted our doors to have some overlap when closed, so we made them 38″ wide. And I love a tall door, so an 8′ height was just right for our 9′ ceilings.
Here's the materials list along with the tools you'll need for this project:
Materials
1×3's – We ended up using (6) 1x3x10's and (4) 1x3x8's to cover both doors. Spend a few bucks more and get a higher grade wood like poplar or oak, to ensure the boards are straight and free of knots/imperfections (I recommend selecting these in person so you can pick the best boards).
1/2″ 4×8′ stain/paint grade plywood – Quality matters here—you want a smooth, flat surface. We used top choice blondewood. Note: you can also use thicker 3/4″ plywood, but we preferred the lighter weight 1/2″.
Wood filler – Spackle can work in a pinch
Door handles – I picked out these really cool rustic iron handles for the front, and simple bronze recessed pulls for the back.
Paint or stain – I used Tricorn Black from HGTV Home by Sherwin Williams in a satin finish (the deepest black I know of)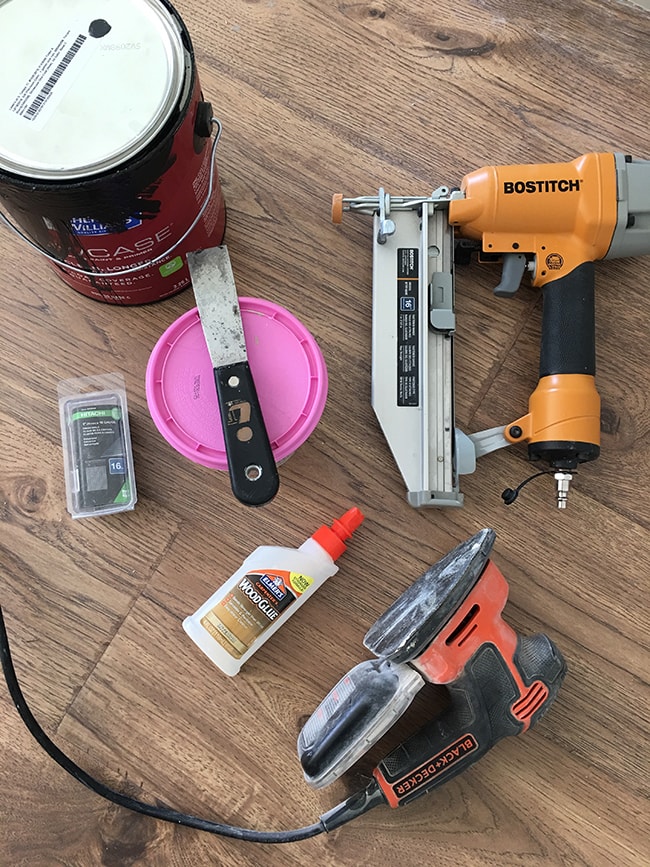 Pin
Tools
Miter saw – Can't say enough good things about our Dewalt 12″ miter saw
Nail gun – We used our 16 gauge Bostitch nailer and 1″ nails
Air compressor (for pneumatic nail guns) – We just replaced ours with this 6 gal Craftsman, easy to carry around and can't beat the price!
Detail sander – You can do this by hand but there's no reason not to pick up a $40 Mouse if you don't have one already!
Optional: 
Table saw – We used our 10″ Dewalt table saw to cut our plywood to size, but Lowe's can also do this for you.
Router – Lucas has been anxious to try routing, and we thought this project would be the perfect opportunity to learn a new skill. After a few uses, our Bosch fixed/plunge router has already become a favorite tool of his.
Clamps – to keep the wood pieces secured together when nailing
Let's get to building! 
First, you want to cut your sheet of plywood to the size of your door. This will be the entire backside of your door. Since our doors were 8′ tall and the plywood came in 8′ sheets, we only had to trim the width down to 38″.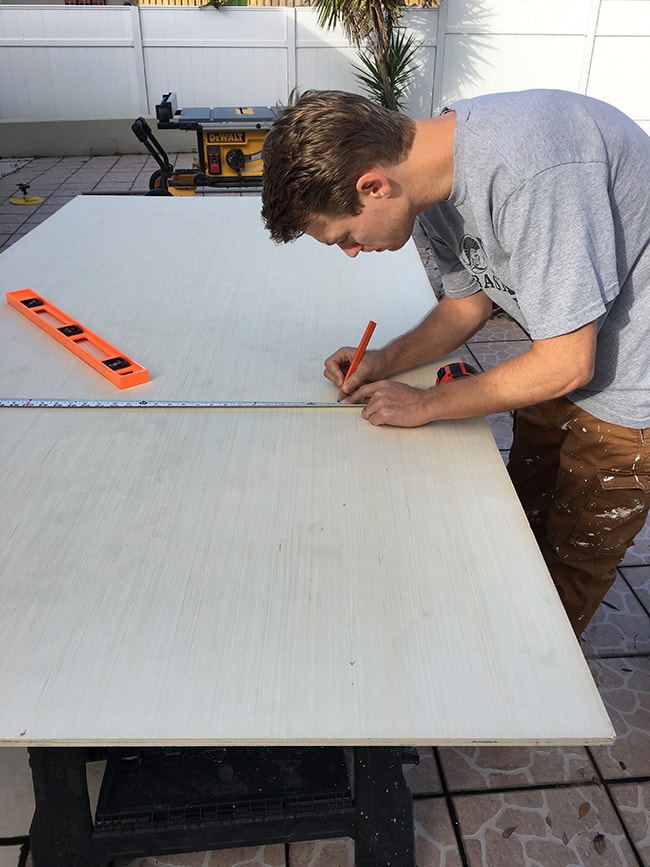 Pin
A couple passes with the table saw and voila! Half of both doors were done.
Pin
Now for the 1×3's. We attached our tall vertical sides first, and since we were using 8′ lengths for those, all we had to do was miter the edges to a 45° angle (note that a miter cut isn't necessary, but I think it looks a lot cleaner this way).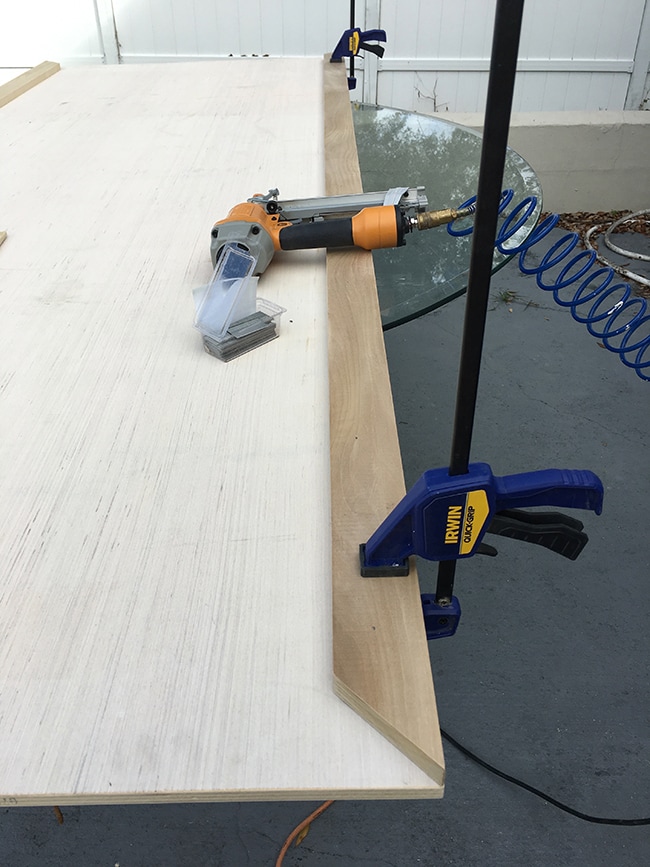 Pin
Using wood glue and clamps to secure the 1×3″ flush with the edge of the plywood, we nailed the board in place and moved onto the top and bottom pieces.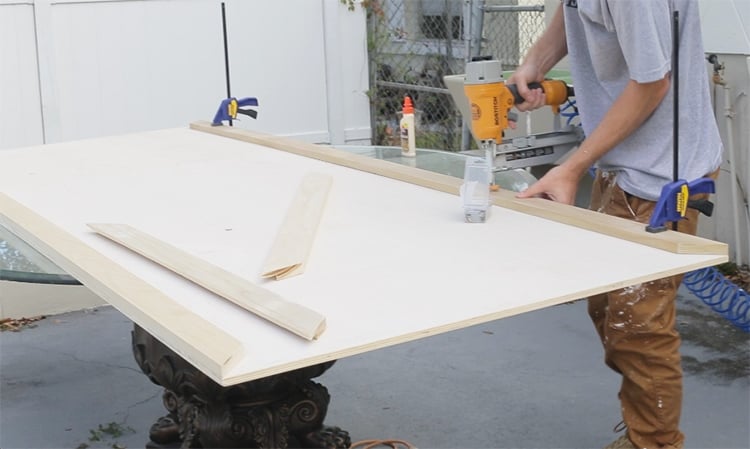 Pin
Lucas went ahead and routed a groove along the bottom edge before installing, which is where the floor guide would go.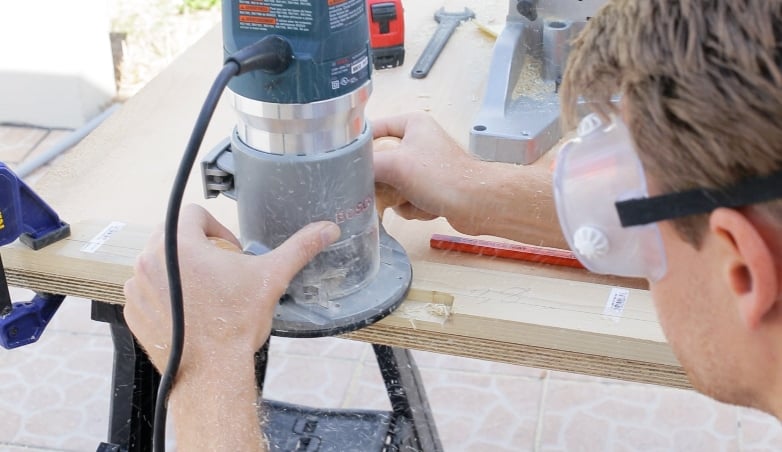 Pin
Depending on how you plan to install the doors, this isn't absolutely necessary (I've installed my fair share of barn doors without this) but it does prevent the door from wobbling which is important for us since this will be a rental.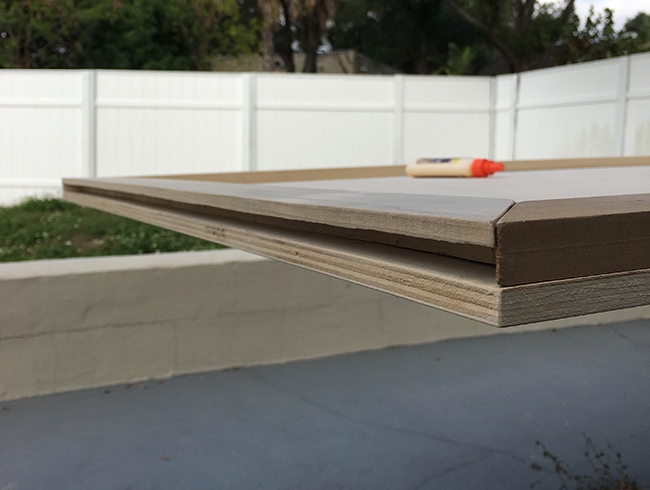 Pin
With the top and bottom pieces cut to size, we repeated the wood glue/clamp/nailing process for both.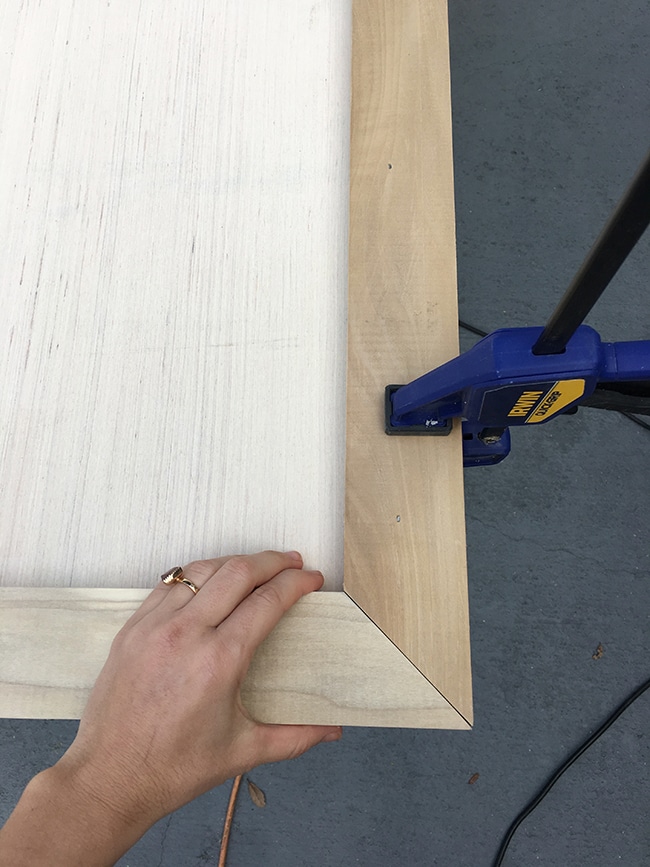 Pin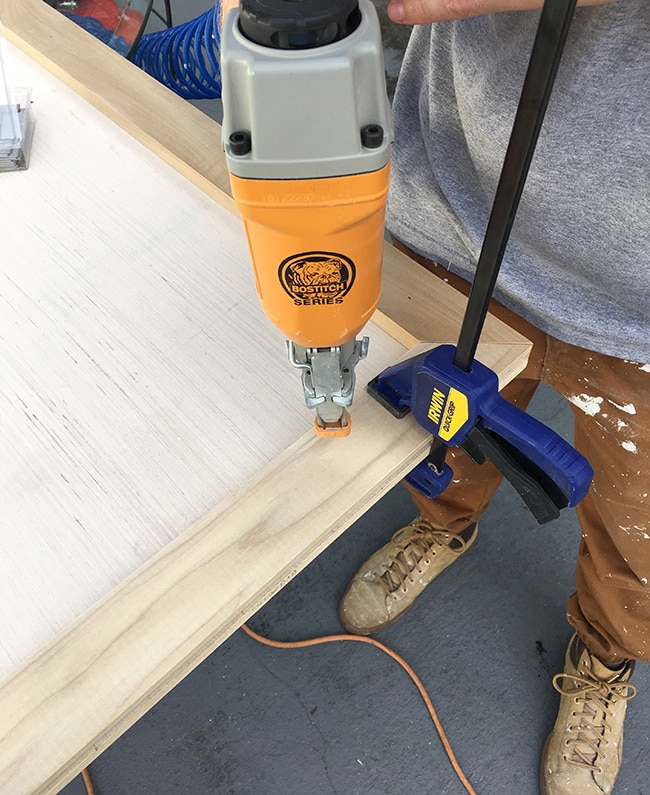 Pin
And the outside perimeter is complete!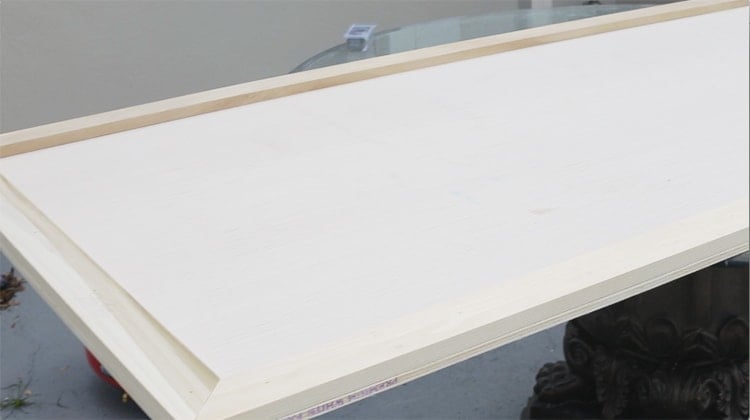 Pin
Now for the fun part—making the X's. Someone had commented on Instagram that I must be a math whiz to figure out all these angles—well guess what my friends, today is your lucky day! Would you believe that there is no math required whatsoever for this? It's all visual (fellow right-brainers rejoice!)
Here's how easy it is: first, measure and mark the center of the door height on the inside edge of your 1×3. Ours was 48″: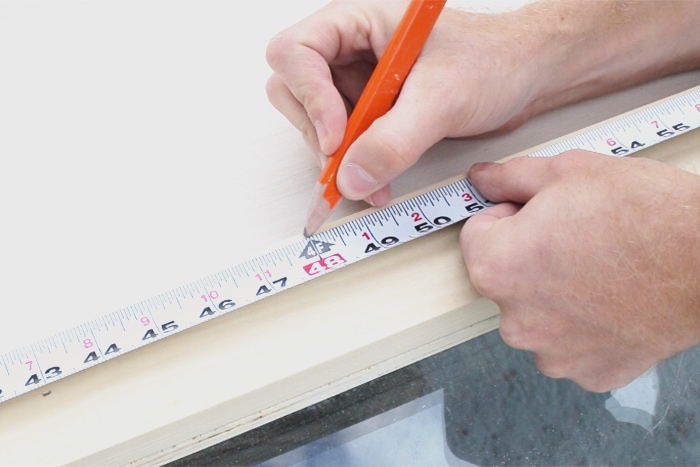 Pin
Then grab a 1×3″ and lay it diagonally across the top, as shown in the door mockup. The top should line up with the 90° corner, and the bottom should intersect with your center mark.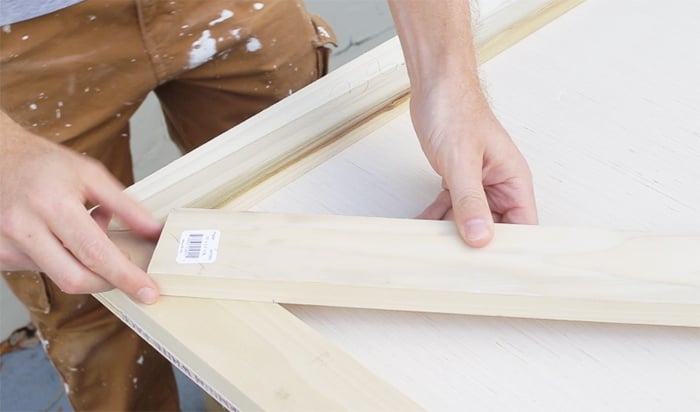 Pin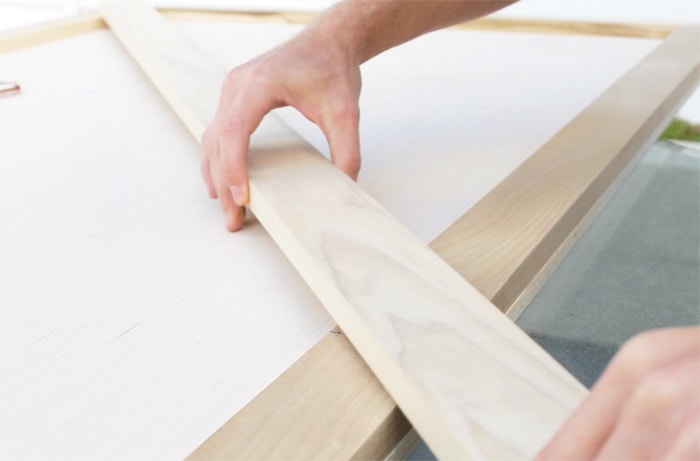 Pin
Once it's lined up, go ahead and put a pencil mark on the bottom edge of both sides of the 1×3, where it intersects the vertical piece.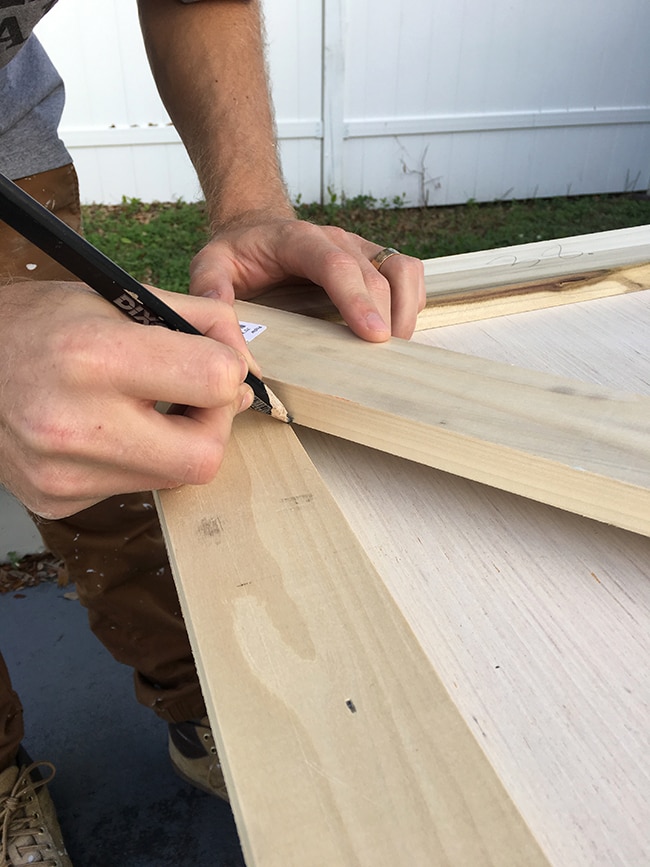 Pin
Once both sides are marked, you can flip the board over and draw a straight line connecting your two marks.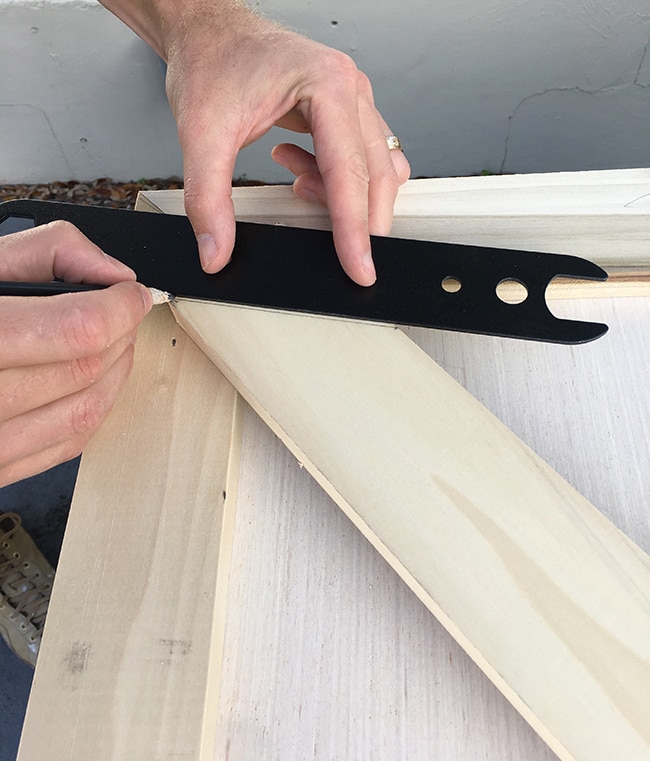 Pin
Then set your board down on the miter saw and line up the blade/laser level to the angle that matches up with your line (you can watch the video for a visual of this process):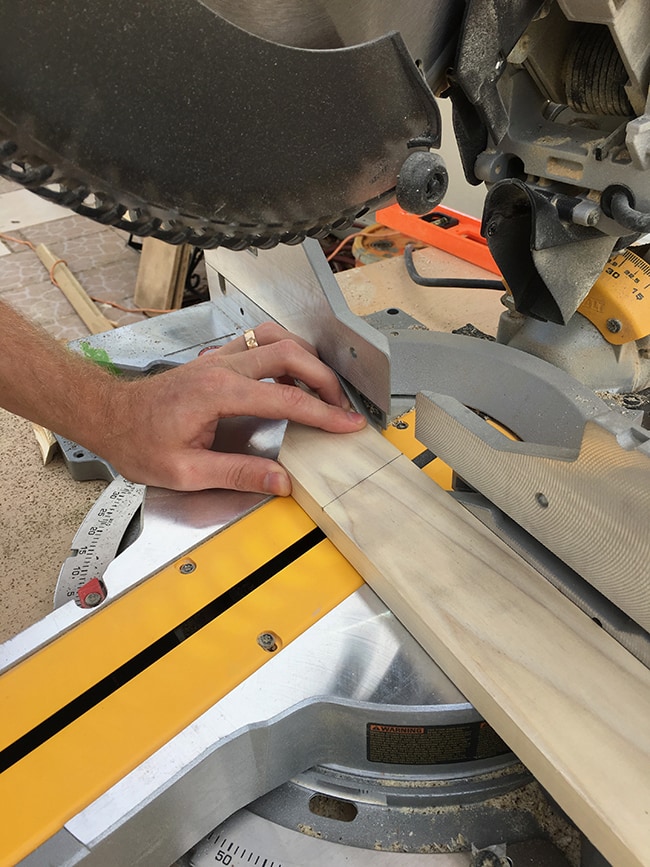 Pin
Look at those perfect angles! Shout out to Lucas for coming up with this method.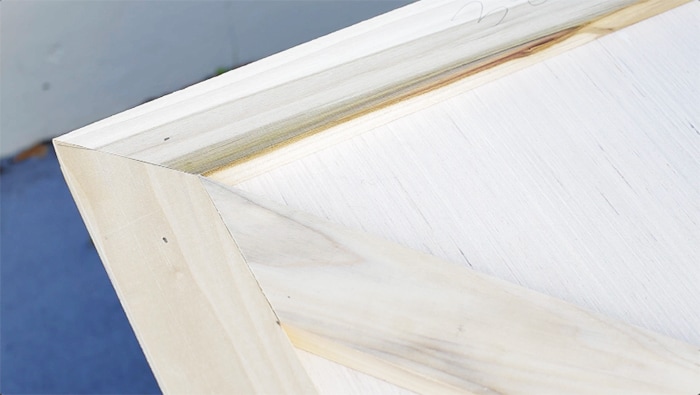 Pin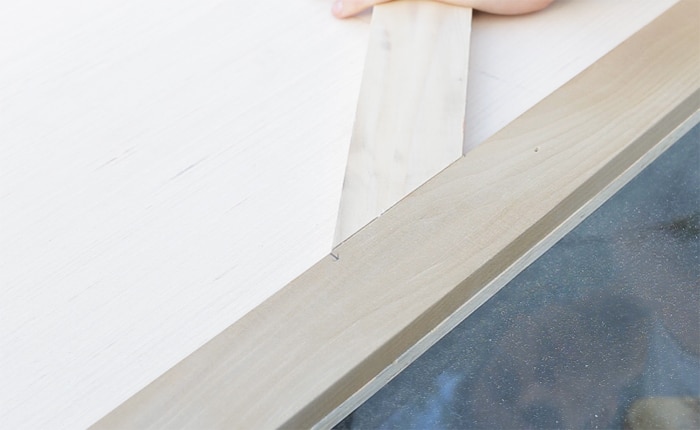 Pin
Once your first cross piece is in, it's time to repeat the process with your overlapping board. This one requires you to mark where the boards intersect in the center as well, since you'll need to cut two pieces this time.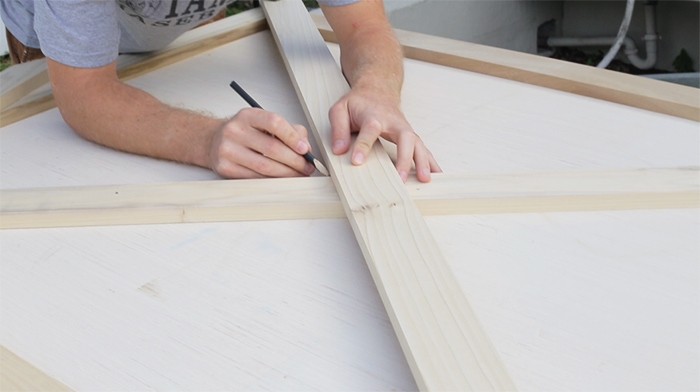 Pin
Same process, just two more cuts.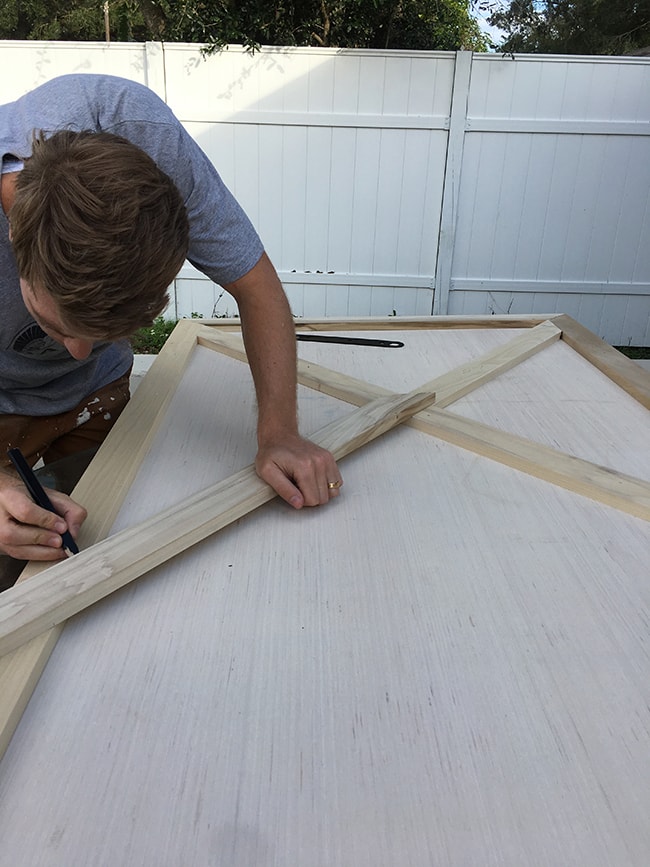 Pin
Before you know it, the first X is done!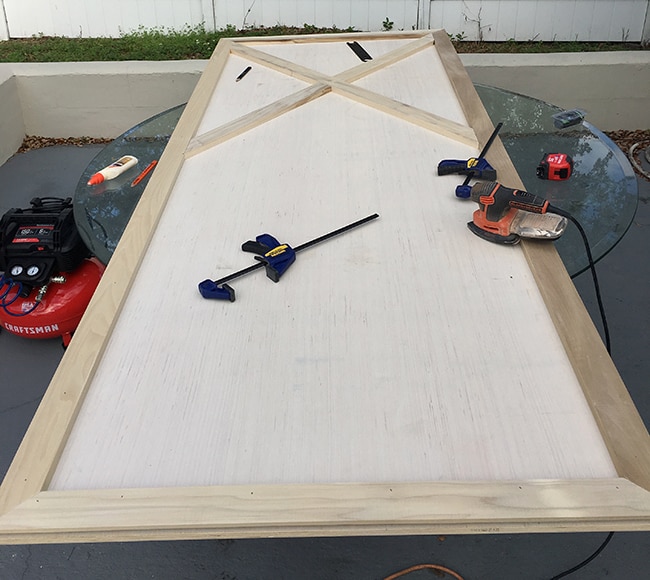 Pin
Now it's just rinse and repeat…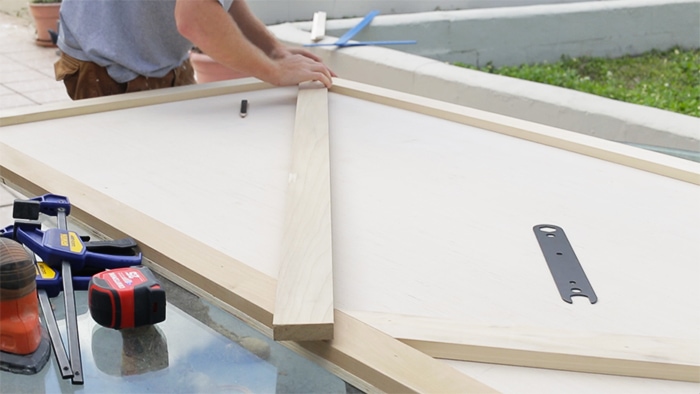 Pin
Until you end up with these: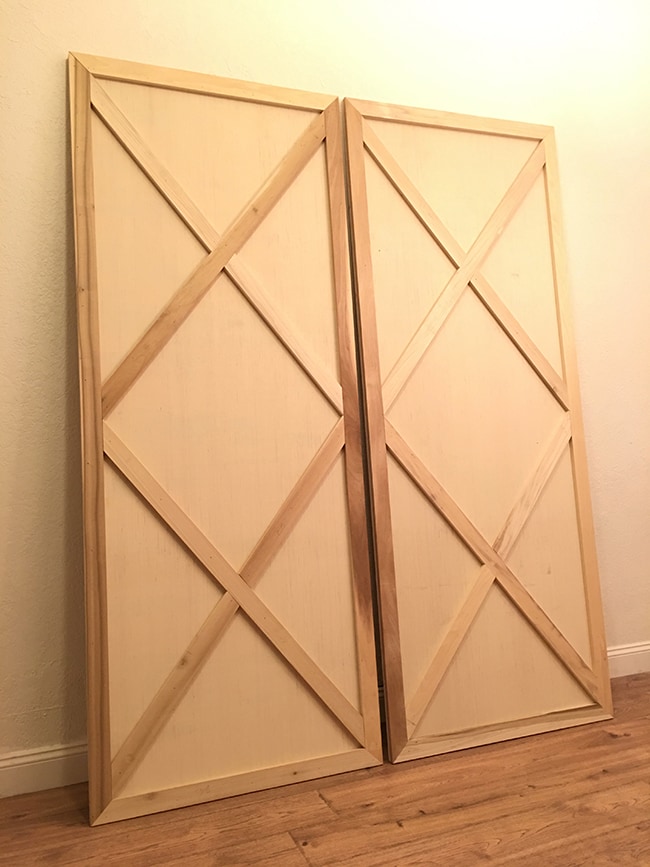 Pin
Next is the easy part, patching the nail holes and any gaps.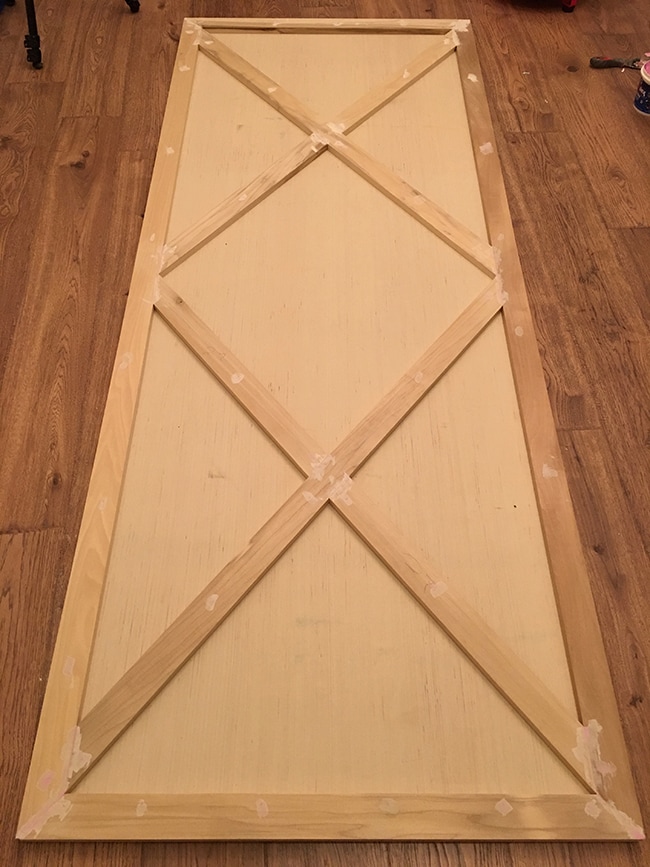 Pin
And putting the mouse to work, making sure all the edges are smooth (sidenote: I actually sanded the edges of my boards before installation as well, since they can be tricky to reach once they're attached).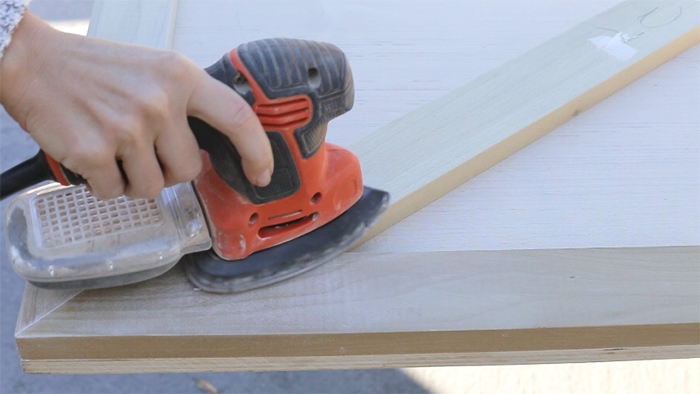 Pin
Lucas also used the router to notch out a section for the recessed pulls.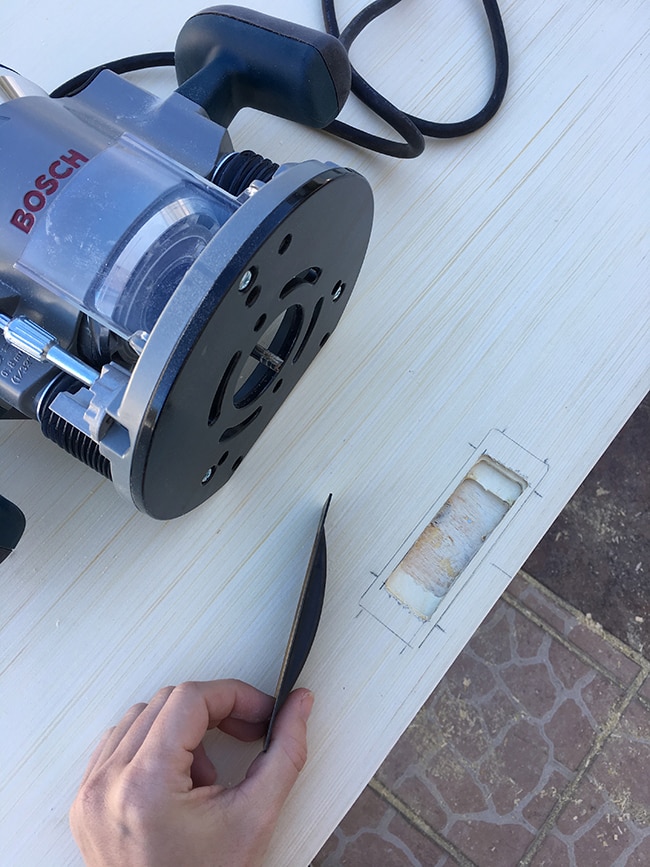 Pin
Last but not least, paint! You could choose to stain the doors, but I wanted a less rustic and more sophisticated look, so I gave it a couple coats of the richest black out there: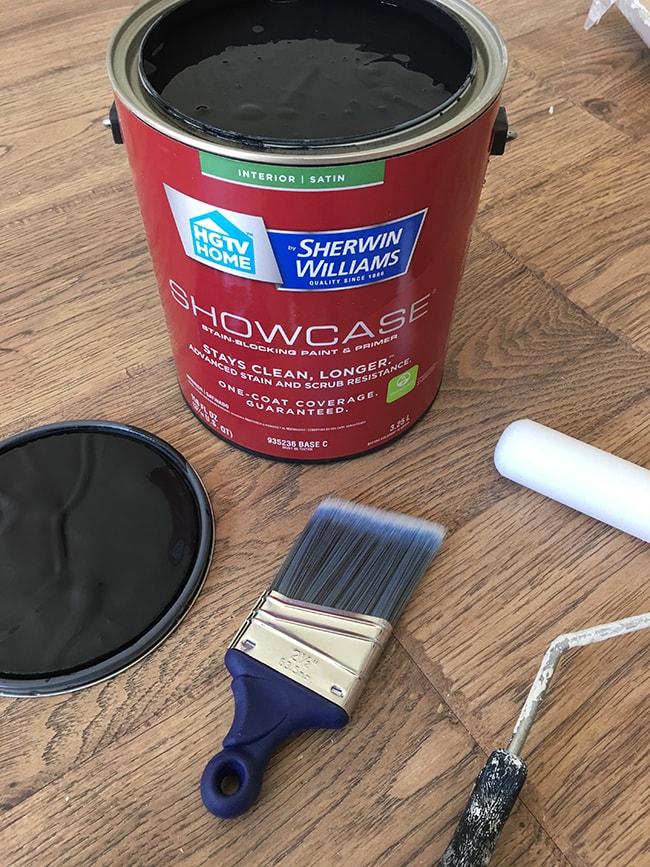 Pin
A smooth roller for the flat surfaces and (the best ever) short handled brush for the corners makes the job go by super quick: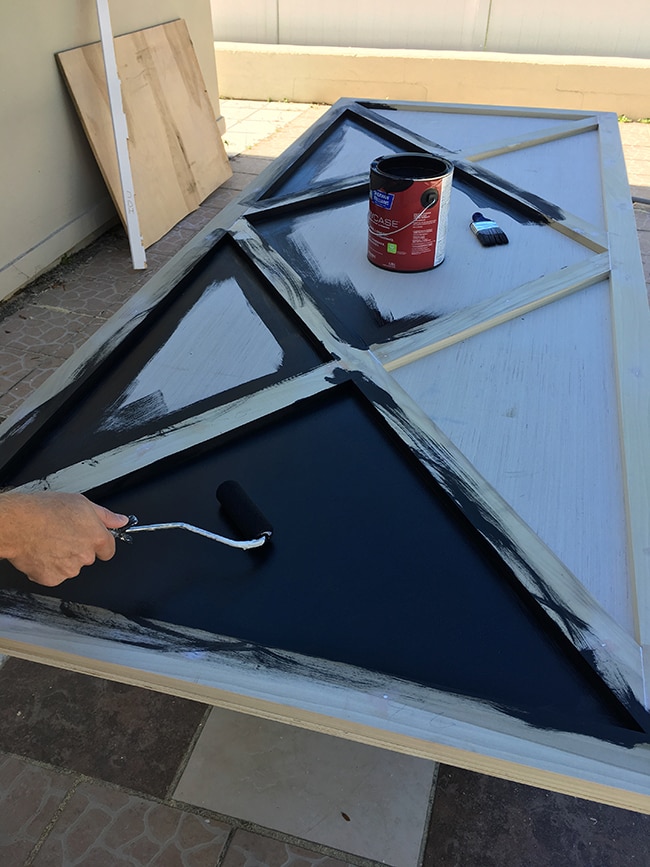 Pin
Finally the jewelry—how gorgeous is this hand forged antique iron pull?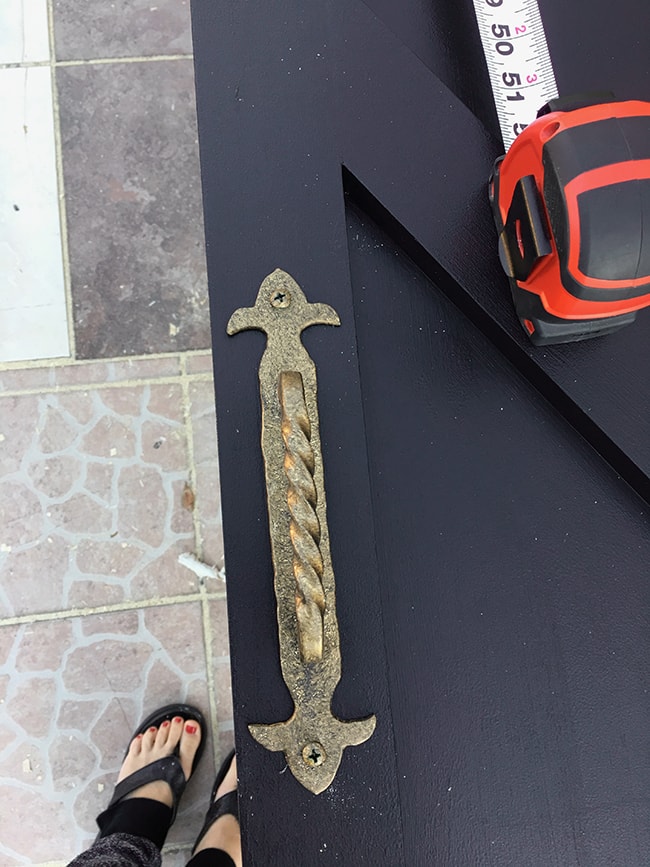 Pin
We used a 13′ double track to hang the doors, and followed the installation instructions: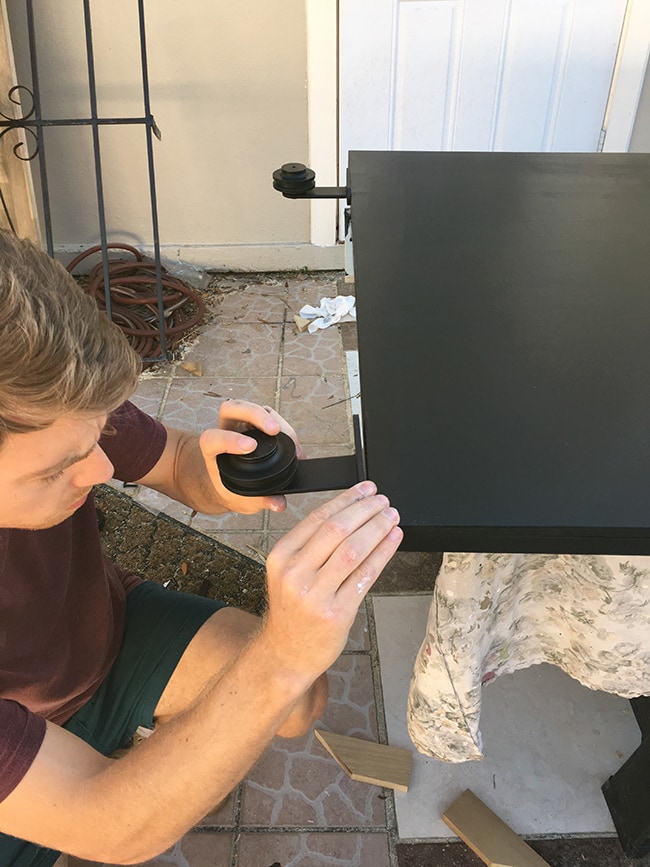 Pin
And we're ready to roll!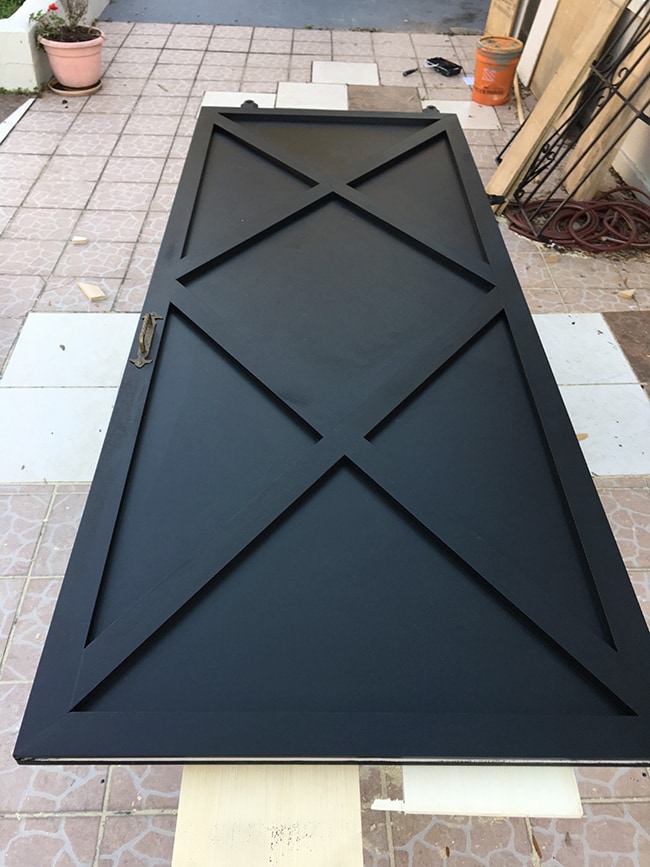 Pin
How about this Before + After?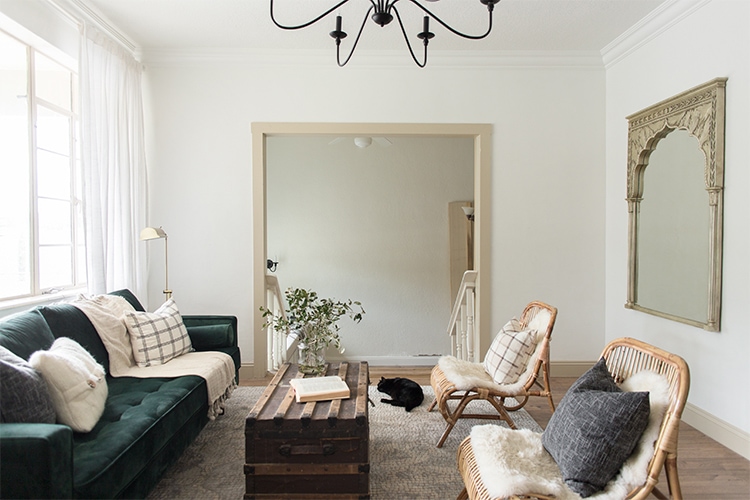 PinPin
Pin
Tall, dark and handsome has entered the room…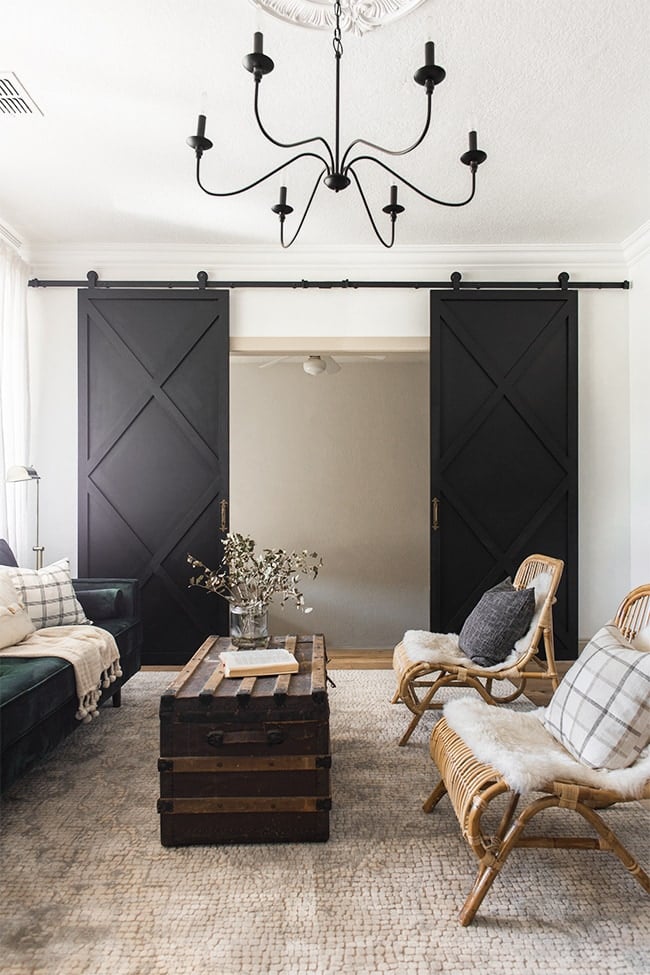 Pin
Good thing Lucas isn't the jealous type 😉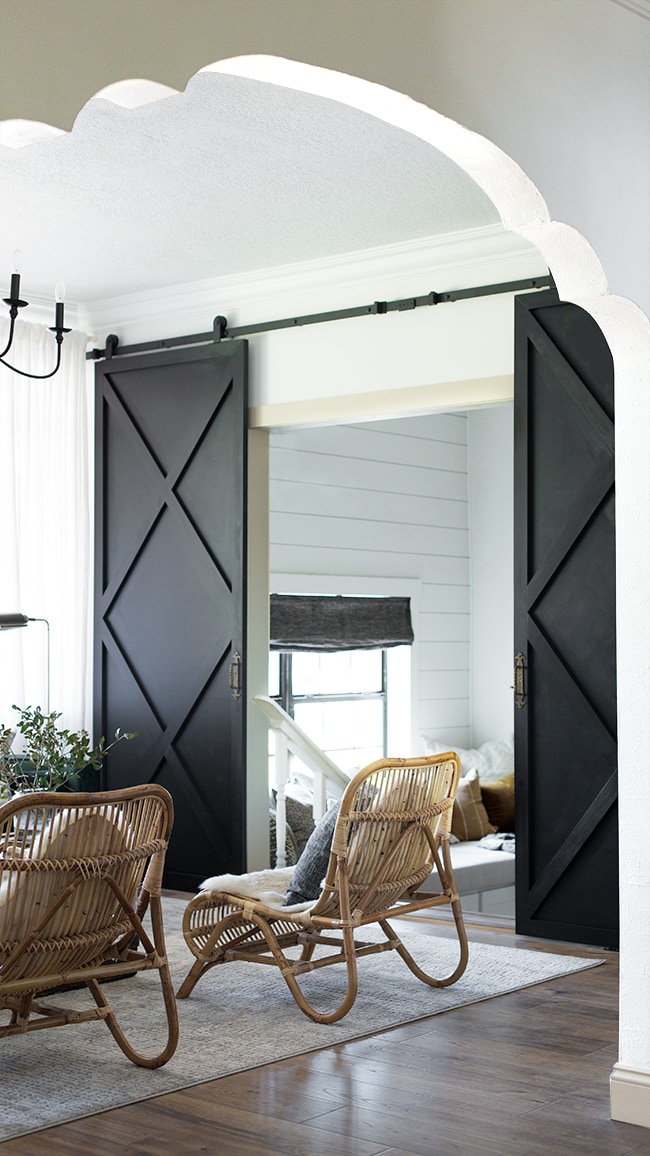 Pin
These doors just took this room to a whole new level. So much class and style.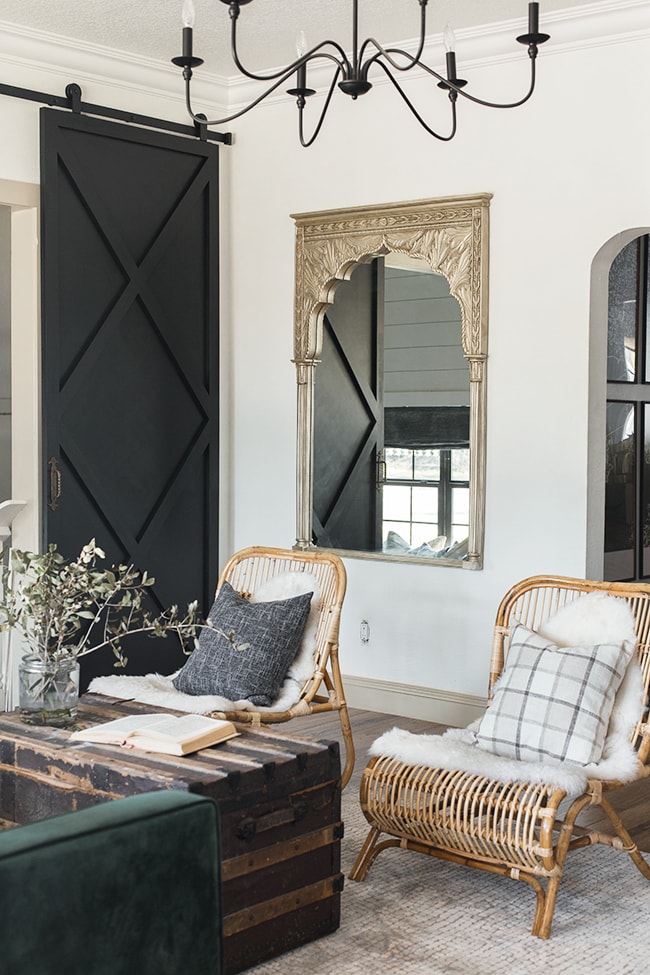 Pin
And best of all, the two rooms can finally be separated!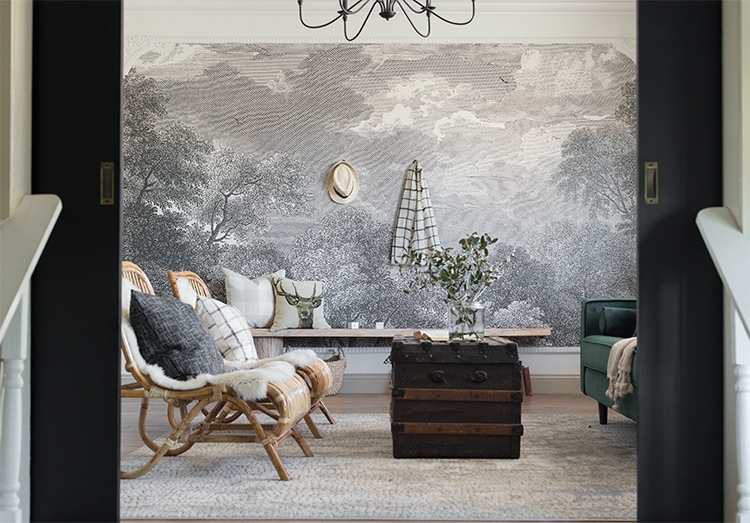 Pin
Gotta love these projects that are equal parts form and function.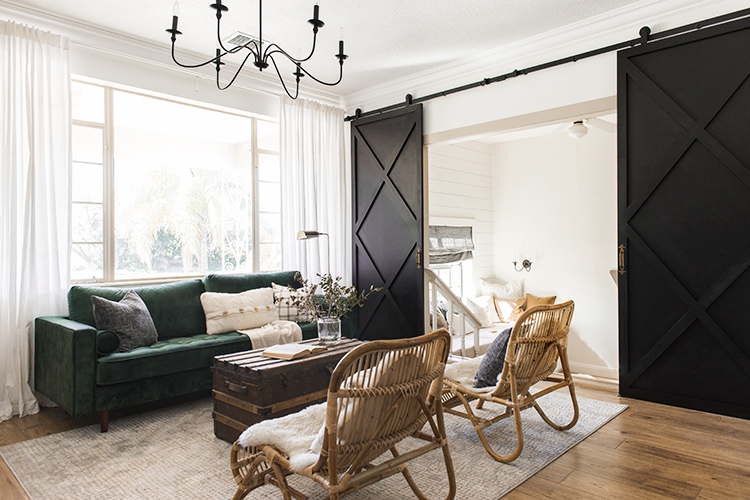 Pin
Loving the rich and earthy tones in here, what do you think?
Pin
And guess what—this was the last to-do item in the living room! This space is officially Done—well, with the exception of the perfect faux tree I'm still on the hunt for—but I'm calling this room finished and it feels great to cross another one off our list.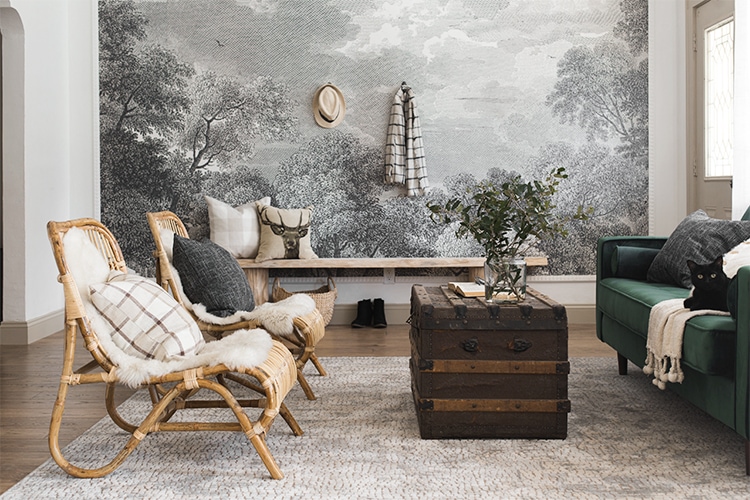 Pin
With the finish line in sight for our Heights House, we'll soon begin to shift our focus towards projects in that house (our builder is hoping to have it completed by March!) so you can expect some changes around here over the next couple months. I'll explain our new plans/timeline to complete the Riverside Retreat in an upcoming blog post and vlog, so stay tuned for some important updates on that shortly.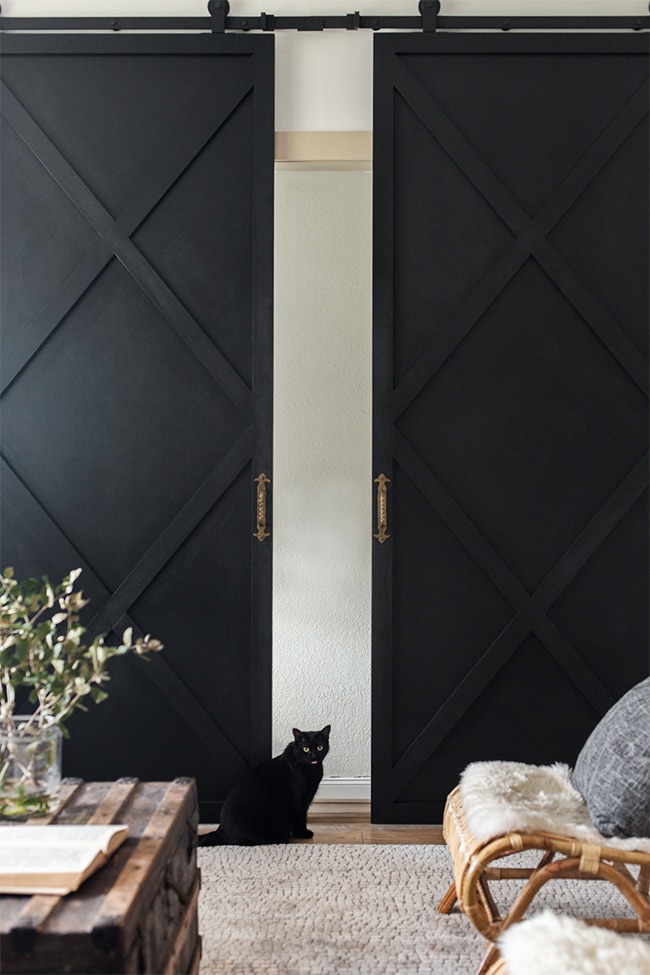 Pin
I hope you're enjoying these first days of 2019 (and sticking to those resolutions!)