Introducing our next project at The Riverside Retreat: the master bedroom! Here's how it looked when we moved in (July 2018):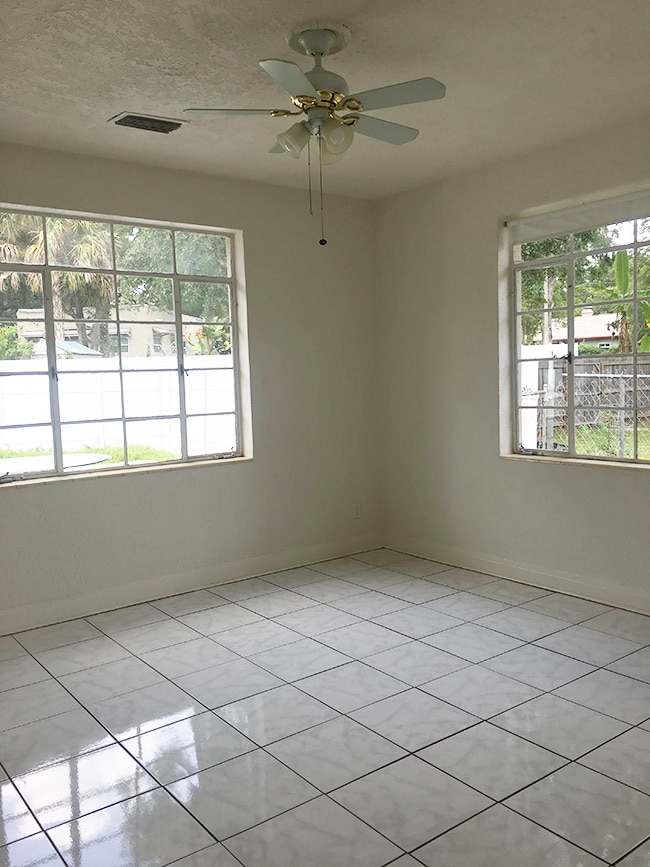 Pin
The only thing it had going for it is the 9′ ceilings, and it's a decent size at just over 13×13′.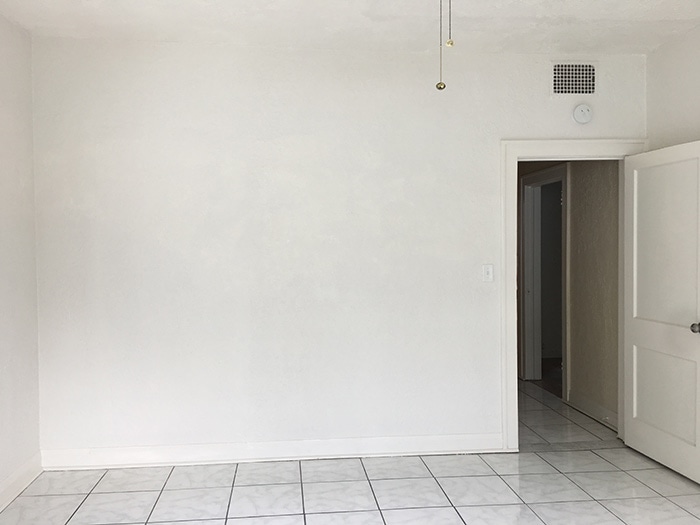 Pin
Originally there was a closet in the corner that was added on at some point.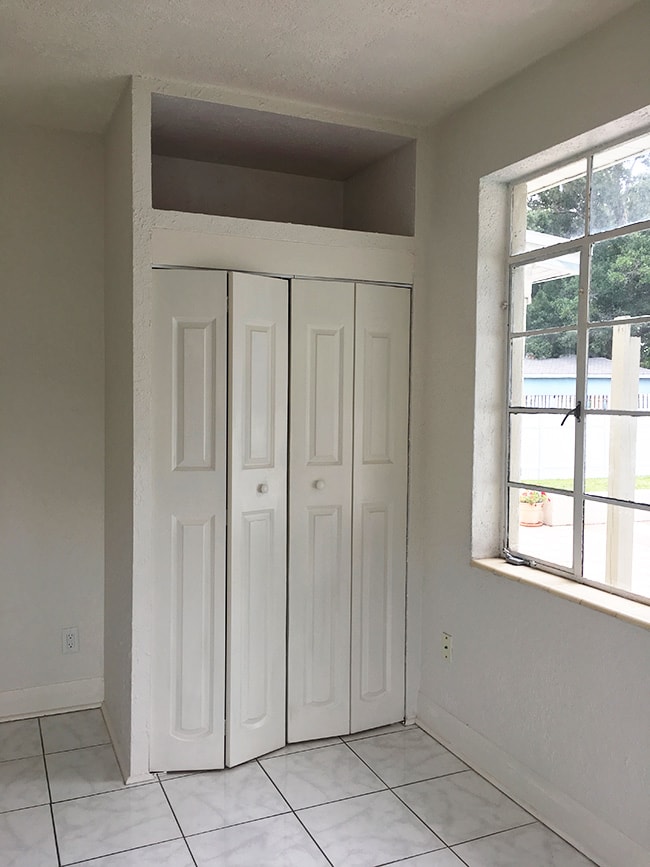 Pin
We added a few pieces of furniture to make it livable, but moved into one of the other bedrooms a few months later during the new floor install.
Pin
I ordered green velvet curtains and temporarily put them up—they were the first thing purchased and inspiration for the future room design…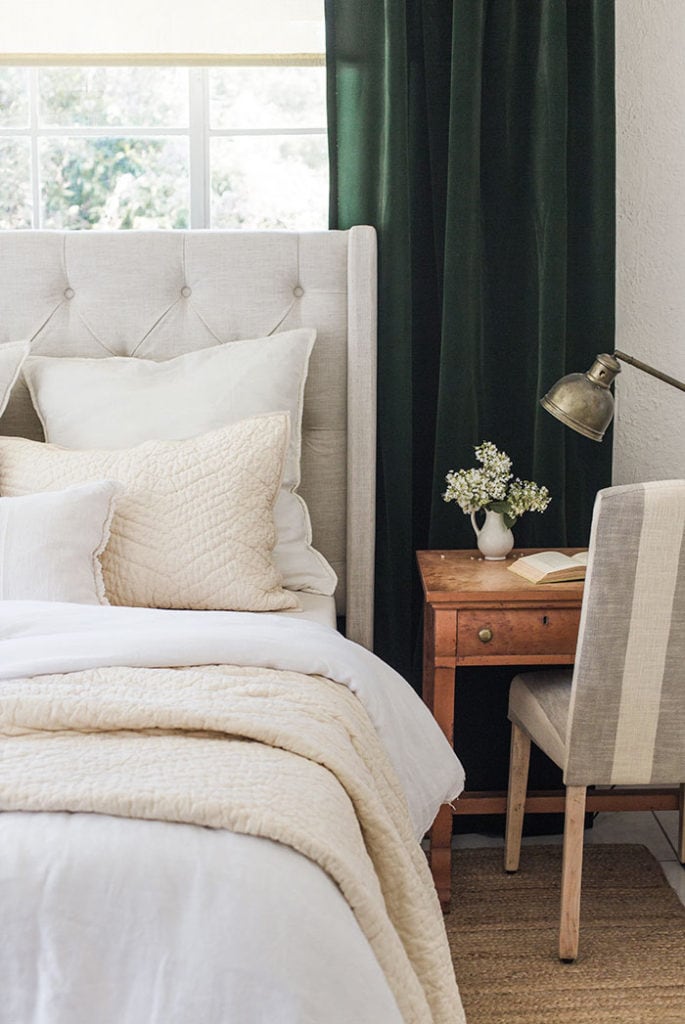 Pin
And now I finally get to bring this design to life! The concept is a luxurious, rustic resort somewhere in the jungle of Bali…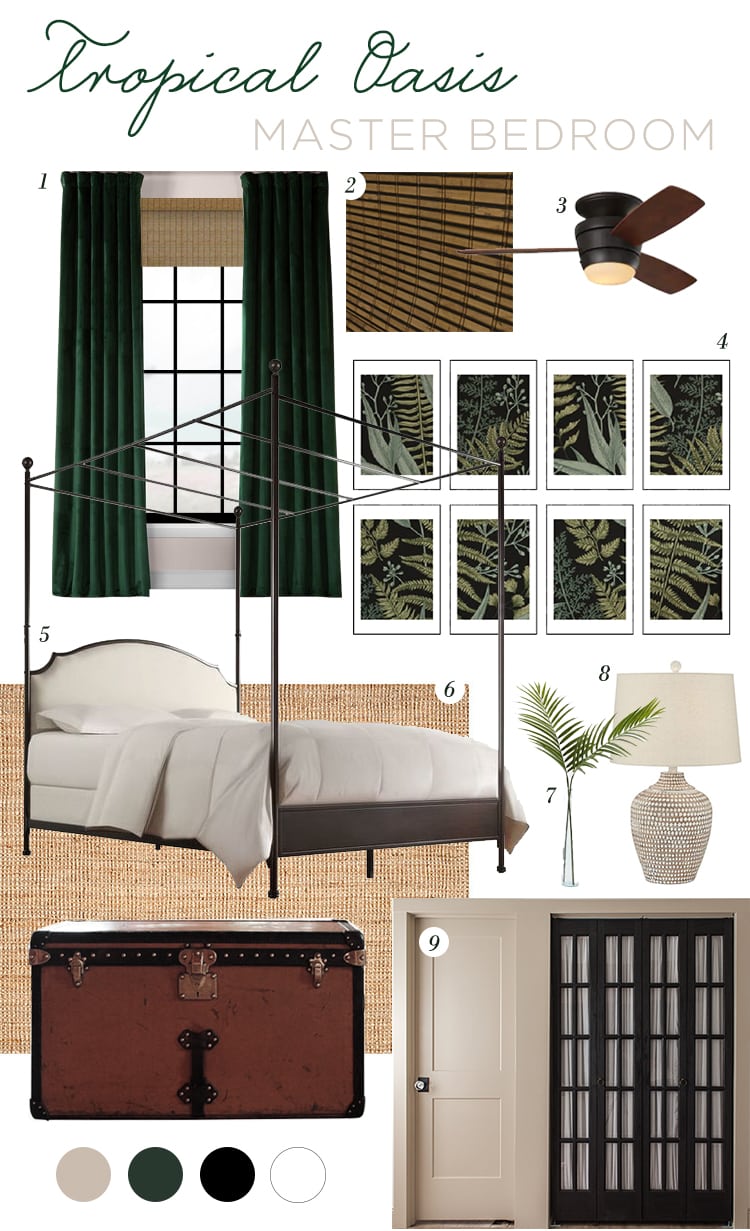 Pin
1 / 2 / 3 / 4 / 5 / 6 / 7 / 8 / 9
The style is more sophisticated (compared to our Rainforest Room and the "In the Clouds" theme I have planned for the third bedroom), appropriate for the master suite of the house. Like every room design, I made sure there was a mix of textures and tones, using new and vintage pieces. Earthy colors, natural fibers, cozy linens and varied materials will make you feel like you've been transported to a tropical oasis. It's going to be unlike any room I've designed before! (Check out my inspiration for the entire home via my Pinterest)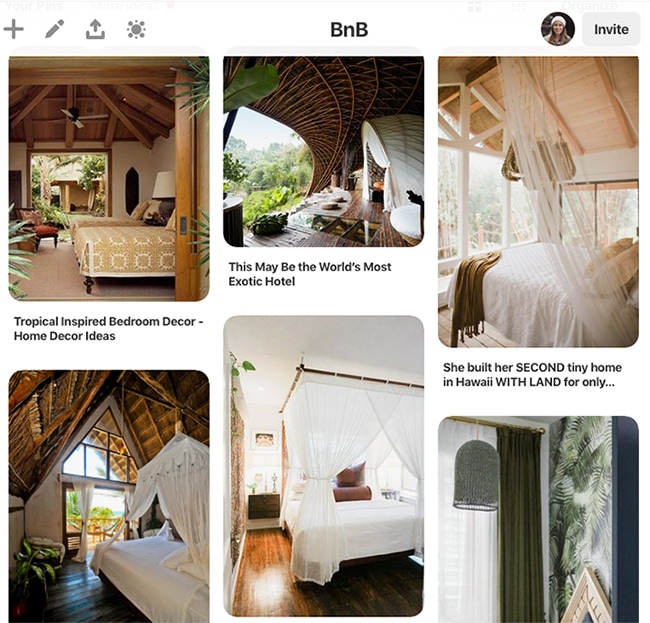 Pin
Here's what I chose: the deep green velvet curtains, which have been sitting in storage all year. I ordered four 6'x9′ panels in green, and you can see more photos and my review of them in this post (the coupon code LC15 still works!)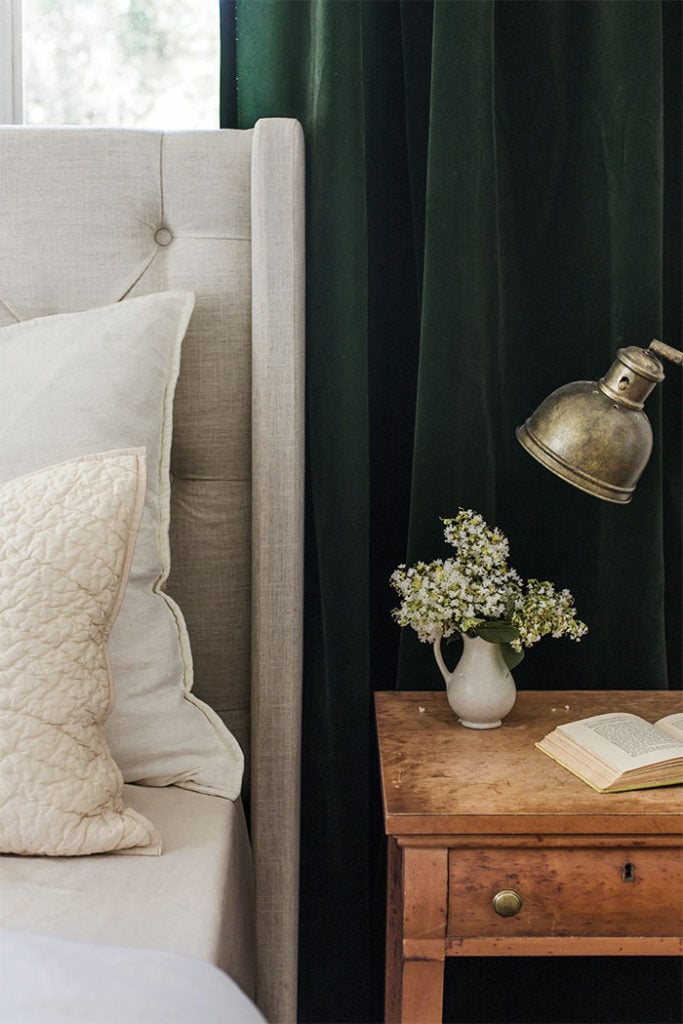 Pin
I already had the 8×10′ natural jute rug from a while back (it's one of the most affordable ones I've found!) and I'll be using a vintage trunk as a nightstand (similar to the one pictured above—still deciding if I want to use another chest for the second night stand).
Since the curtains are not 100% blackout and I love the look of layered window treatments, I partnered with BlindsGalore once again for custom shades. The plan was to bring in another woven wood texture, so I requested a handful of samples from their Natural Bamboo Shades line: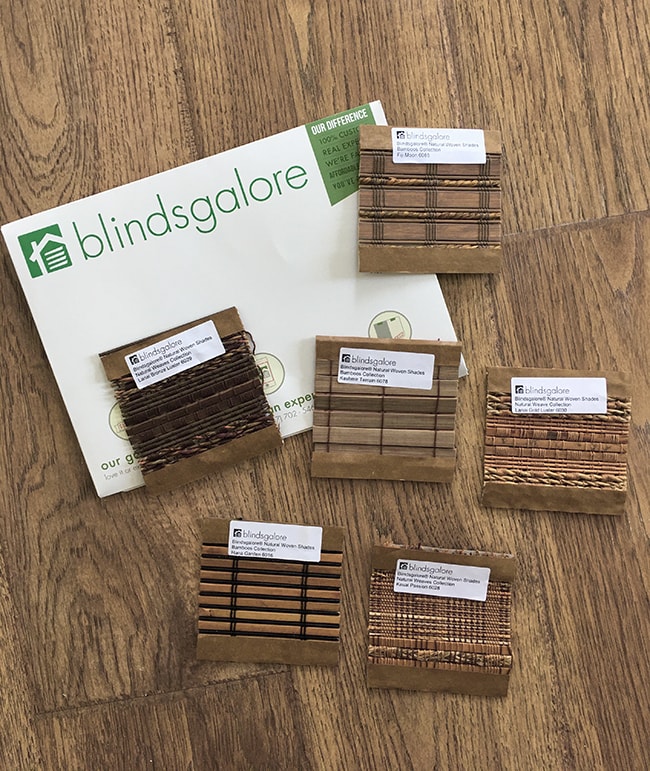 Pin
In the photo above they're displayed on the bedroom floor, which was important to see how they'd complement each other. It was a really tough call between the bottom two and middle swatch and in the end it was a toss up, but I was drawn to the black accents and threading in the Hana Garden, so that was the lucky winner!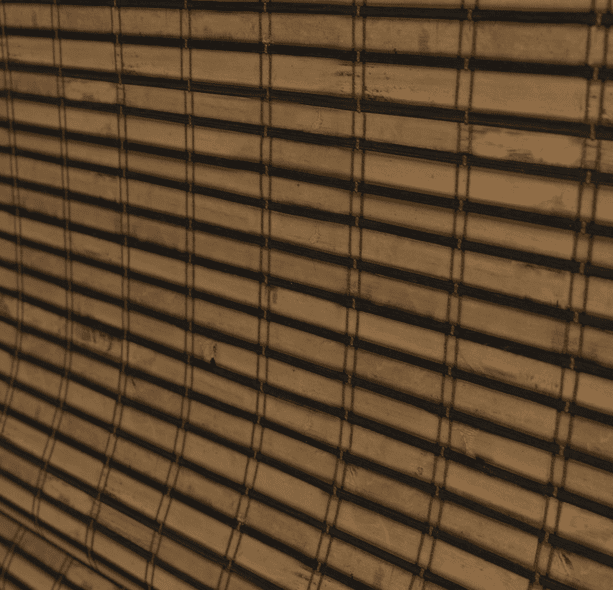 Pin
There's many customization options with these but the biggest decision was inside or outside mount. Inside mount installations look custom and tailored, and normally I would use this on an encased window with trim. I almost went that route, but in the end decided to go with an outside mount, to make the windows look larger and prevent light from coming through the sides. I also chose a blackout liner and continuous cord, which is recommended for larger/heavier shades. The final size of these is 76″w x 68″h, so they're pretty massive!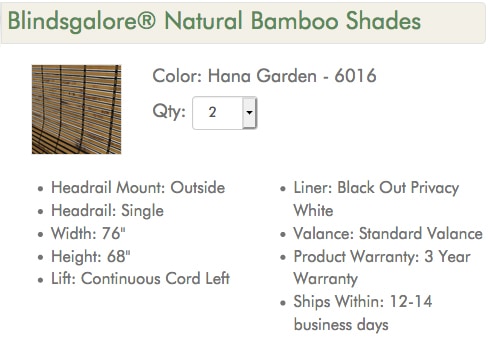 Pin
They'll take a couple weeks to arrive as they are custom made to order, but I'm excited to see how they look in the finished room!
Another update we made was swapping out the outdated fan with this sleeker 44″ model. The wood blades give it tropical, resort style vibe and the dark trim fits in with the rest of the black accents. It's also the perfect size for our room, and the price is right at $102!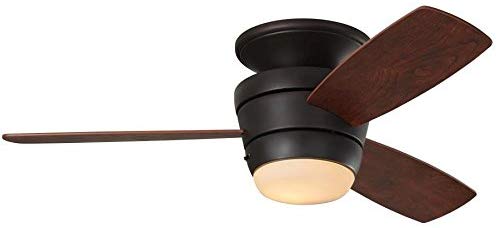 Pin
In a perfect world, there would be a large mural covering the entire empty wall on the left when you walk in. Unfortunately, because these walls are so obnoxiously textured and we didn't have the budget to skim coat or add new drywall, wallpaper was not an option. The next best thing? Framing a wall mural in a large gallery wall to disguise the texture!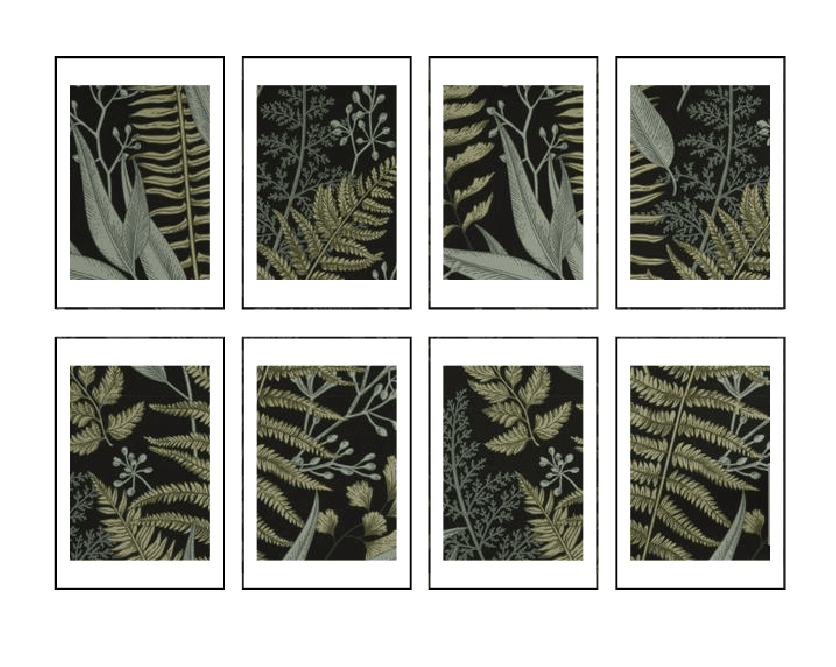 PinThis Botanical Bliss wall mural from Rocky Mountain Decals caught my eye, and the width works out so that I can just cut four panels in half and frame the 8 sections. I'll be using these inexpensive 24×36″ Ikea frames to fill the wall.
Next up, the centerpiece of the room—the bed! I spent so many hours hunting for the perfect tall dark metal canopy bed (that was budget friendly) and this one ended up at the top of my list. I haven't pulled the trigger quite yet, but I'm 99% sure I'm going for it.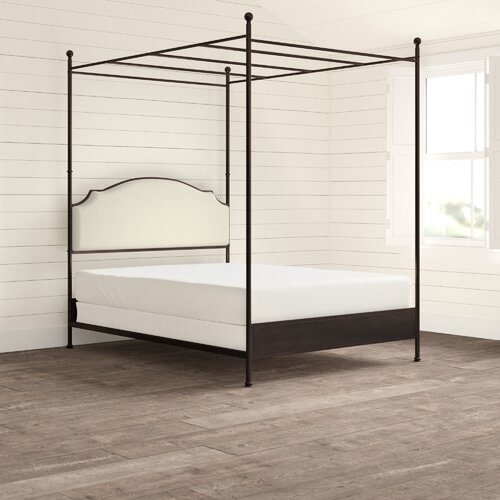 Pin
I picked up some inexpensive gauze, which I'll be cutting into two panels and draping over the canopy like so: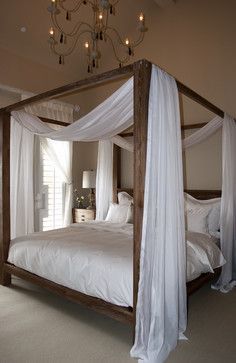 Pin
So romantic, isn't it?! Atop the antique chest night stand will sit these textured wood lamps (I've had them for a few years) and faux palms in a vase (can't use real greens in a vacation rental!)
The walls and trim will match the rest of the house—SW Pure White on the walls, and SW Loggia on the doors/trim. Valspar's Cracked Pepper will be used for the black accents (windows and closet doors). Ready to see the progress so far?
Last summer the old closet was removed, and we stole a couple feet of space from another wall to create a new closet and a small master bathroom: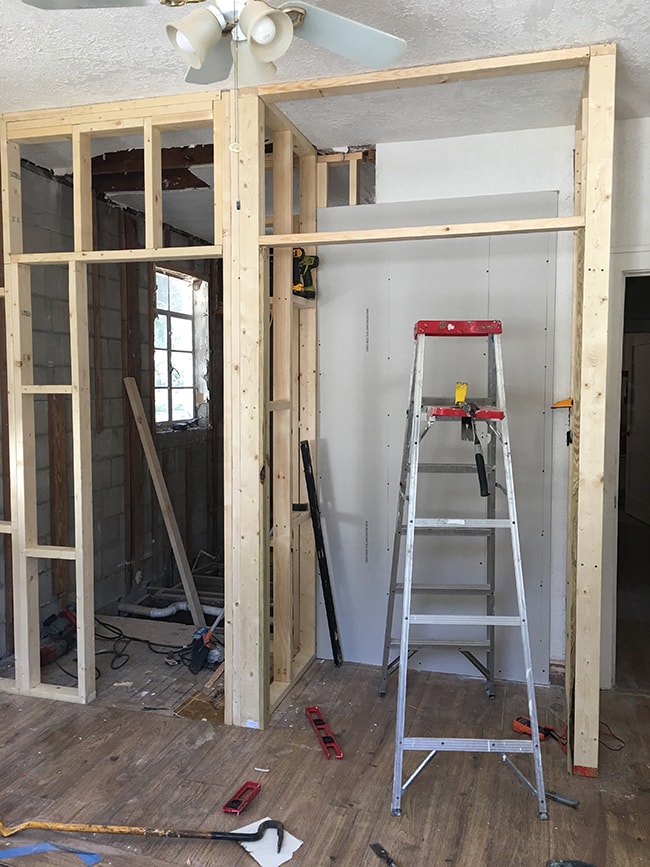 Pin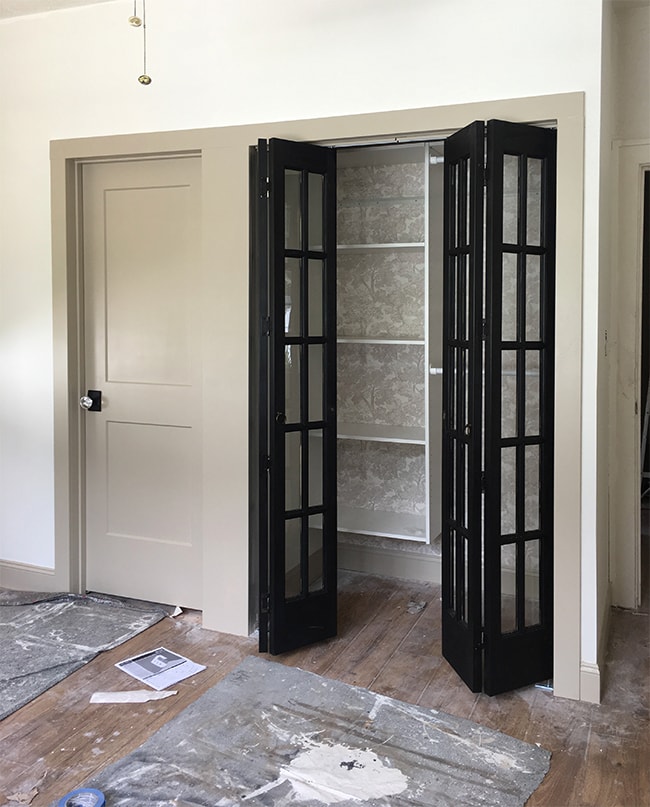 Pin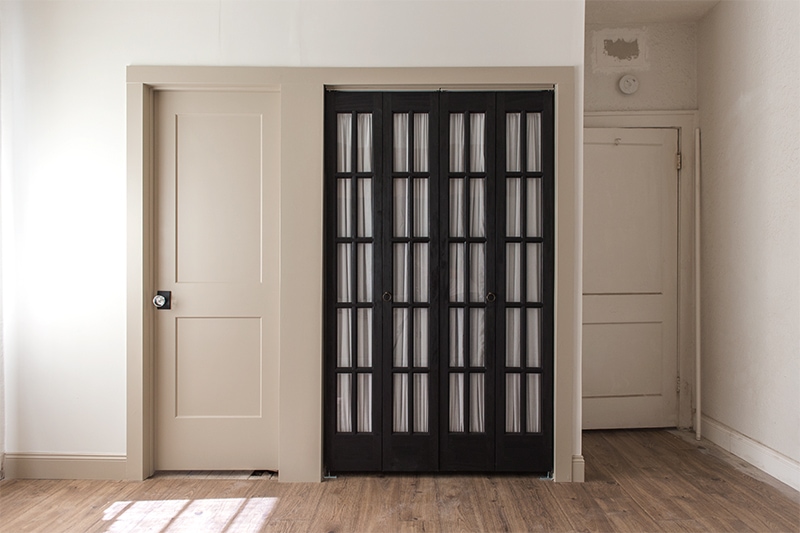 Pin
The room became a junk/tool/dust collector for months, until we finally got our act together just recently.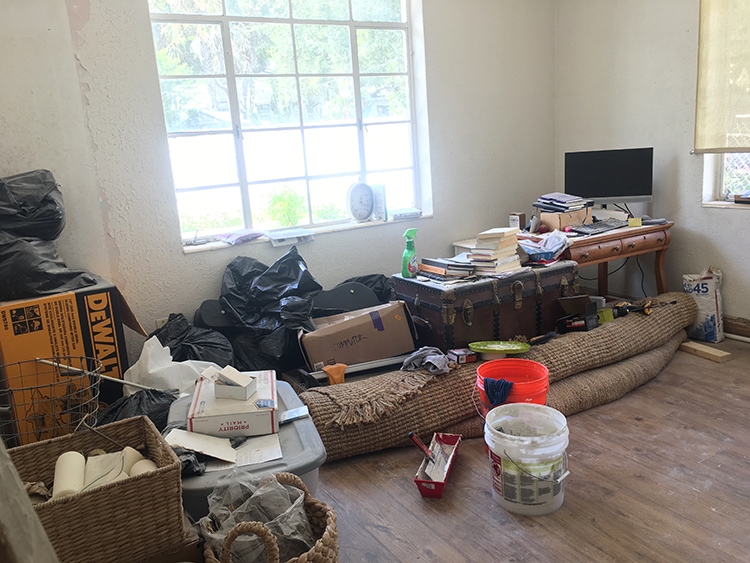 Pin
We recovered the sagging, cracking plaster ceiling with fresh drywall: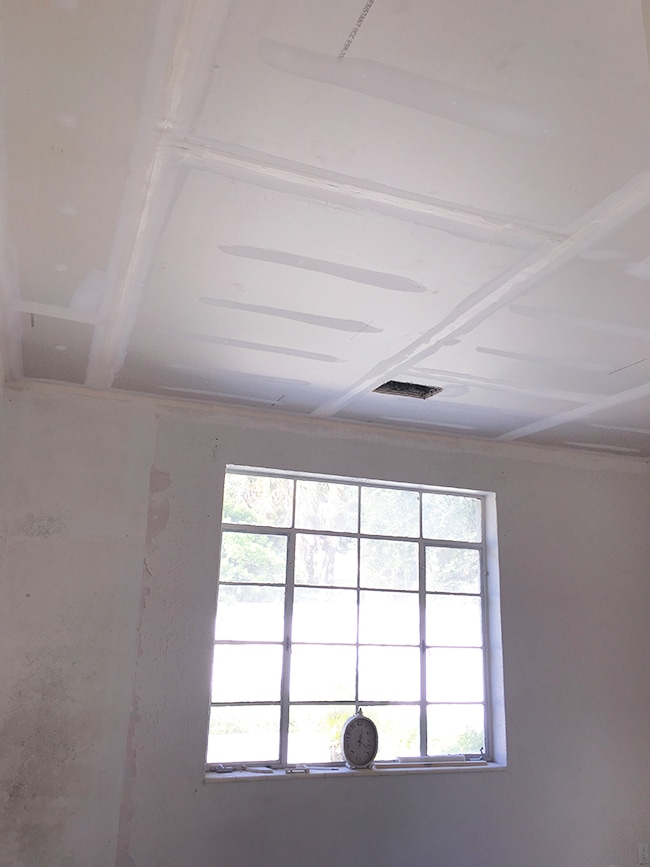 Pin
Then cleaned up and patched the walls (painted SW Pure White), painted the trim and baseboards, and used Loggia at 50% strength on the ceiling.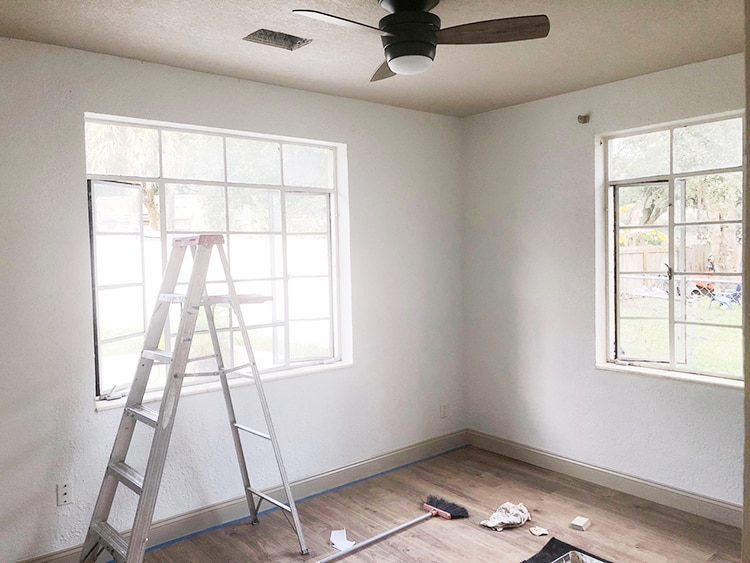 Pin
Originally we had planned to do an intricate wood/bamboo treatment on the ceiling, but we ran out of time and have to get this house finished! I'm hoping we'll get a chance one day to execute my plan when we have a free weekend. For now, a little color to keep things interesting is good enough.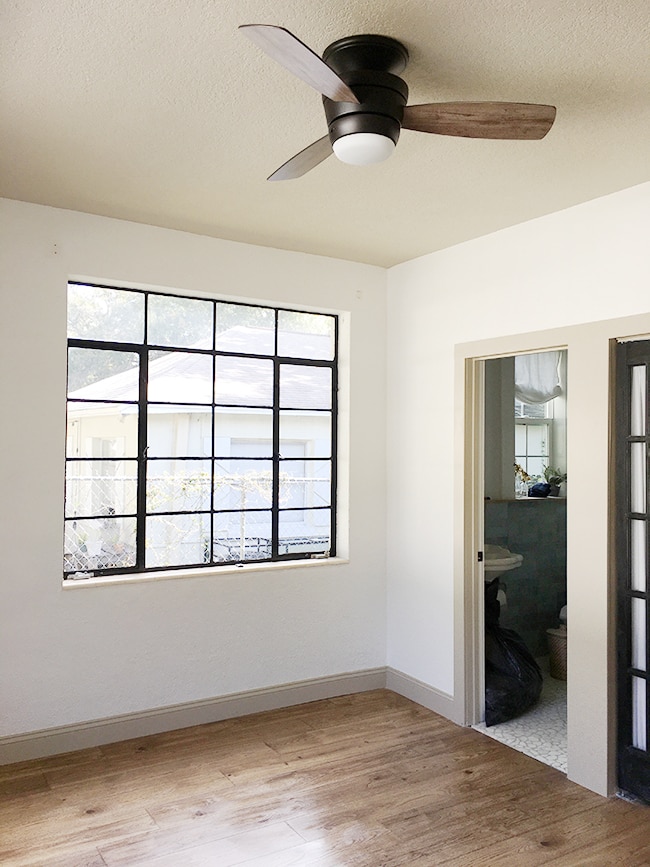 Pin
Lucas also just finished painting the windows black, and here's how it looks right this minute: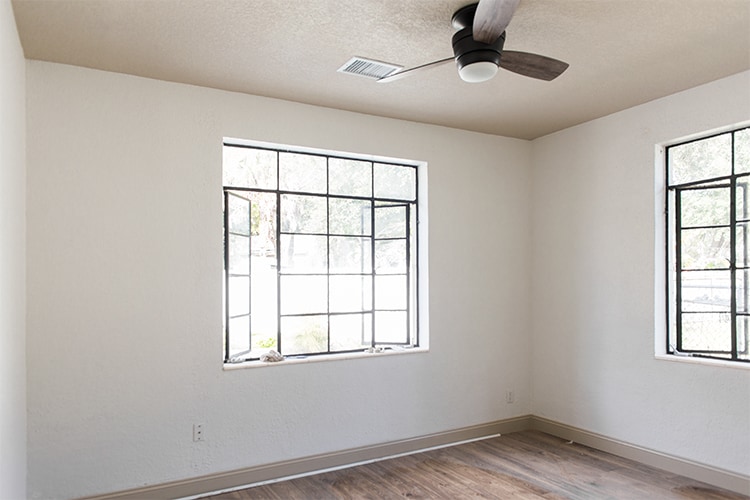 Pin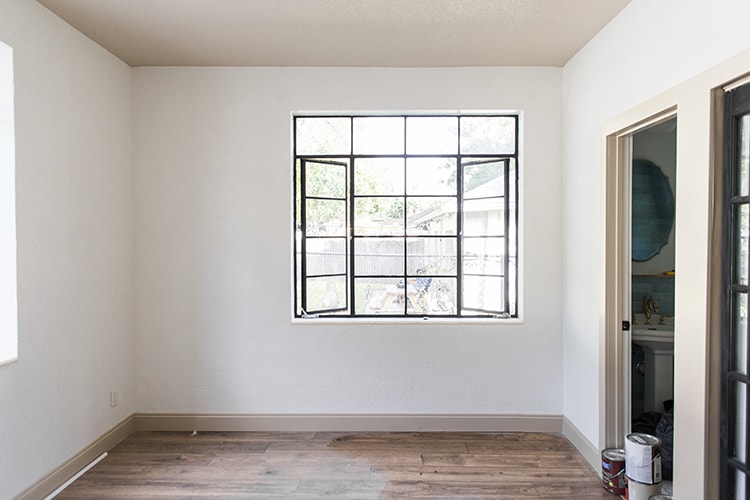 Pin
We still have a few paint touchups to do, and of course a very deep cleaning before we start bringing in the furniture and accessories.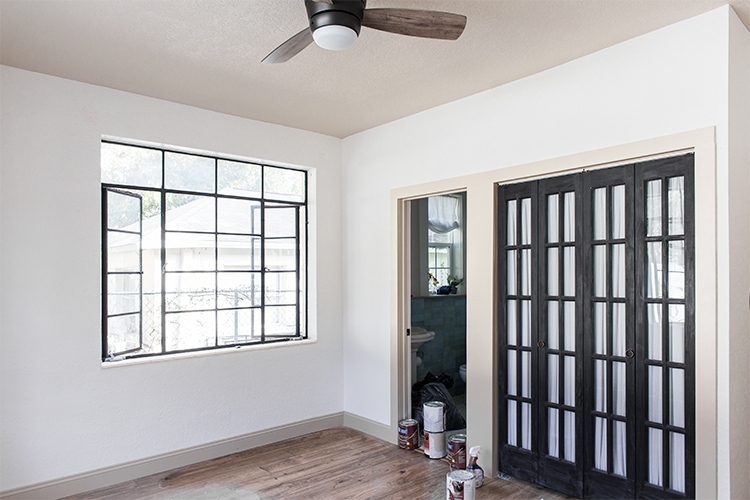 Pin
Fortunately the hardest part is over—now I just need to get everything ordered and assembled. I think the green velvet curtains and artwork will really make it come alive!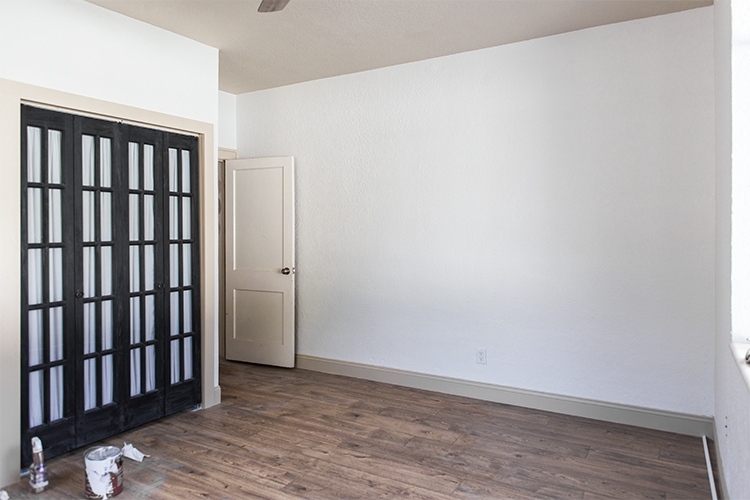 Pin
Can you picture the "After"?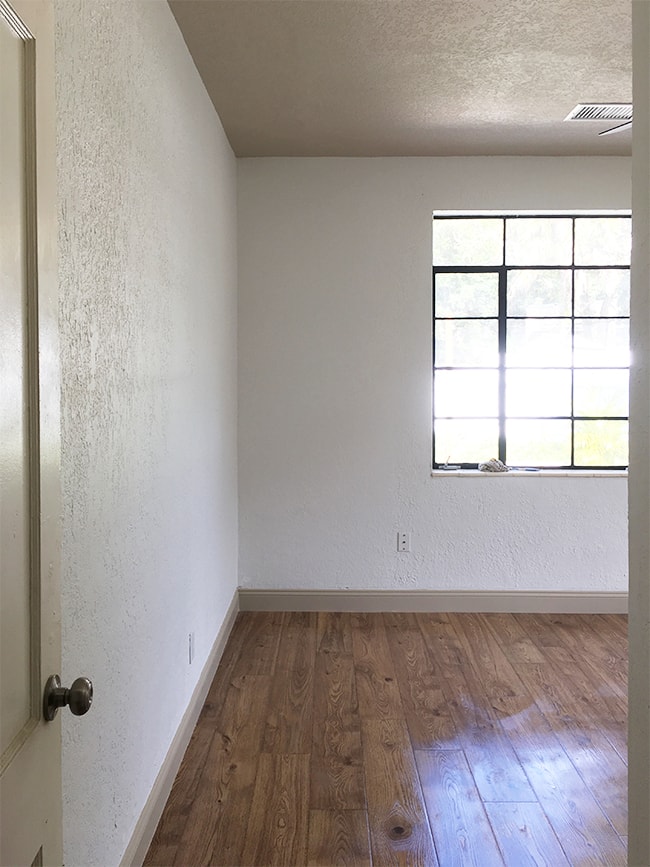 Pin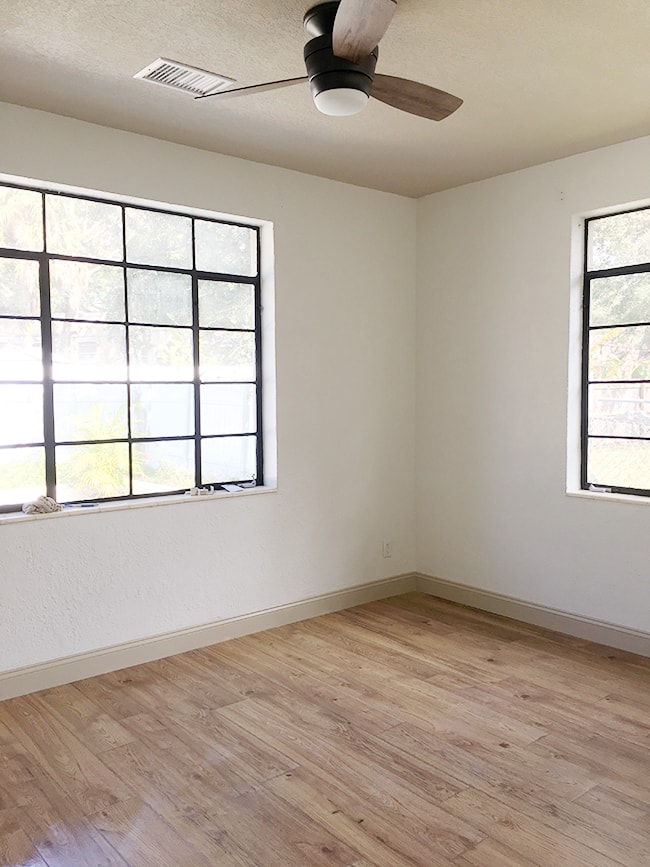 Pin
Soon, my friends! In the meantime, we have a downstairs bonus room to work on, a third bedroom to start on and a mile long punch list to get this house finished. I'll be sharing updates on Instagram so make sure you're following me there!