Day 216-220: Kochi, India
They say you either love India or you hate it.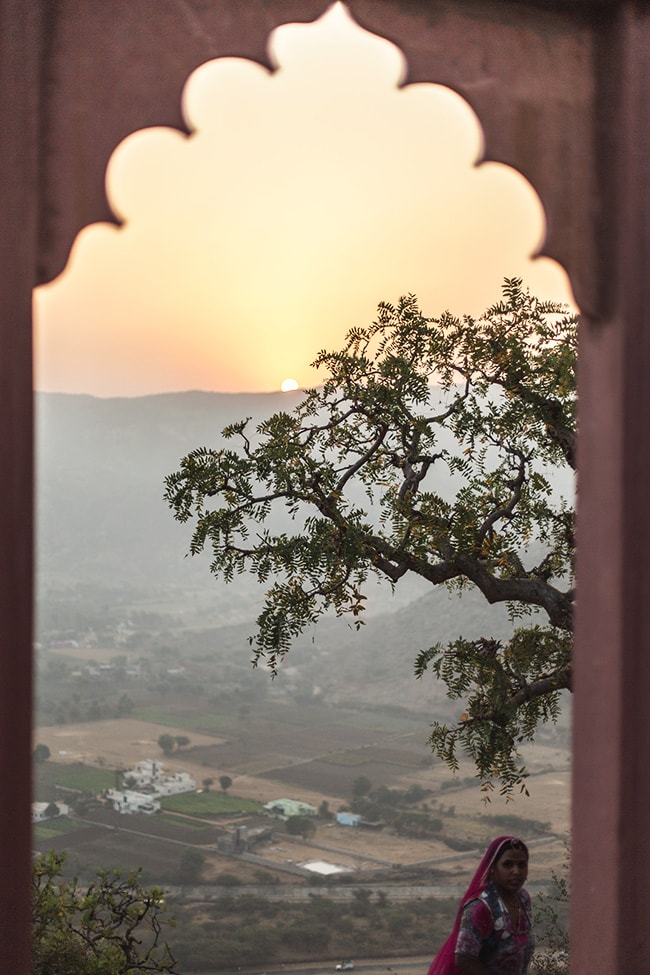 Pin
It's a place of opposites—a constant battle of extremes struggling to stay in balance. Chaos and peace, beauty and filth, life and death—all weaved together to form the fabric of a vibrant culture. Each day I feel like I'm walking the fine line between a nightmare and a dream.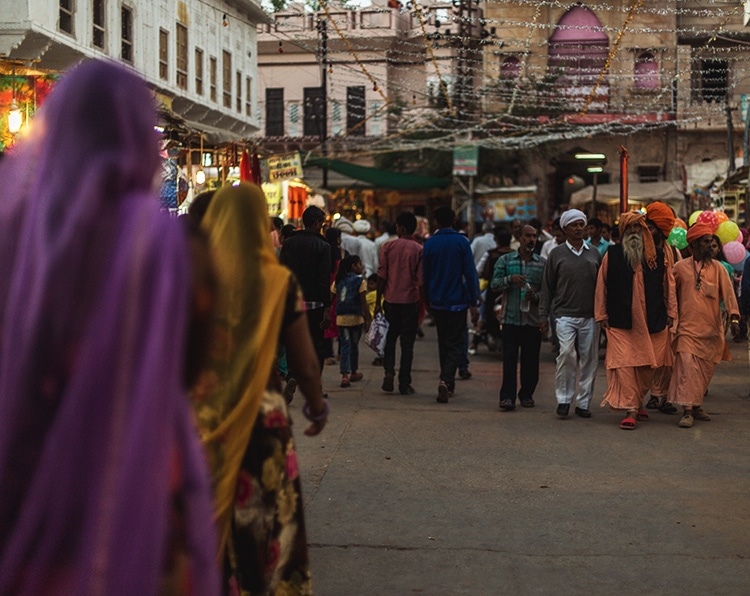 Pin
India is the one place that captivated me as a child. Thanks to movies like A Little Princess, The Secret Garden, and Aladdin (I now know that's not technically India, but still) I was mystified by this exotic land of jungles and elephants and ancient temples. I decorated my bedroom with jewel toned bedding and silk pillows, statues of Buddha surrounded by candles and incense, even covered my walls with a desert sunset mural. It was a phase that lasted years, and even when it passed, that sense of awe and wonder for India always remained.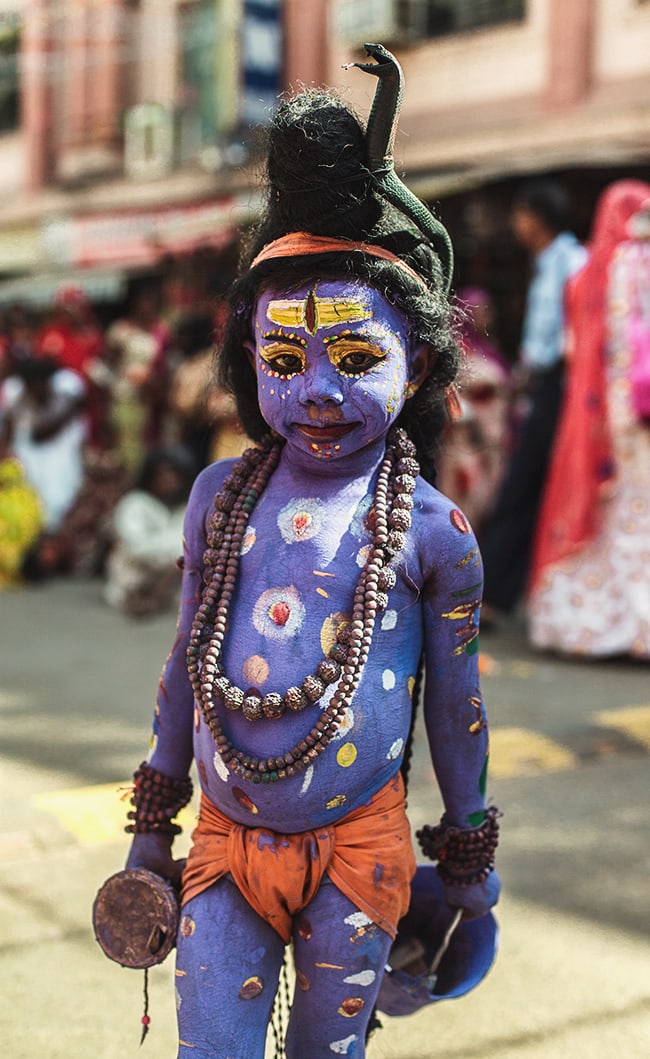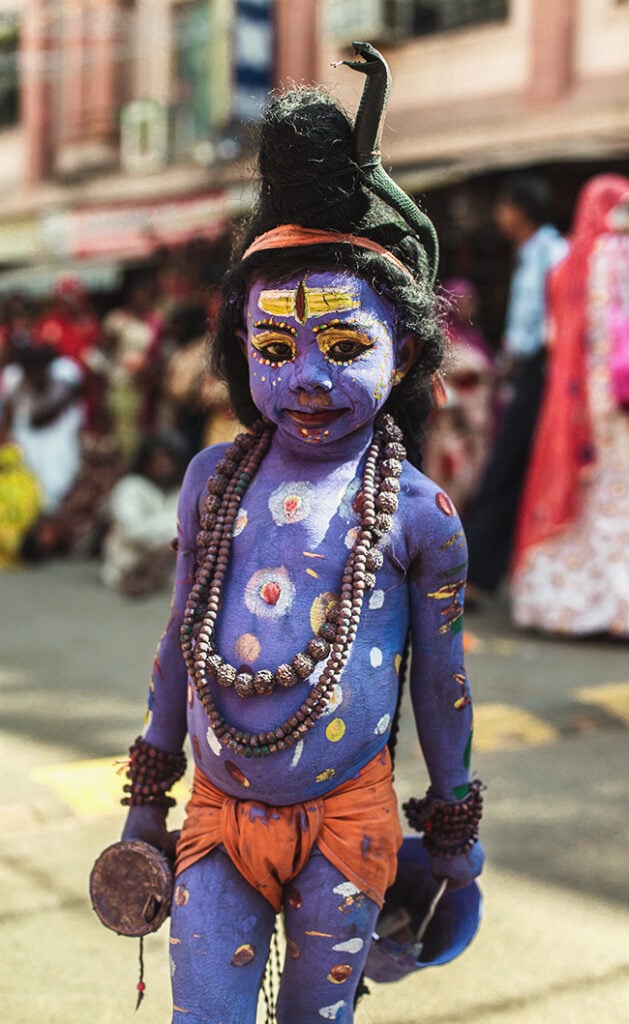 Pin
In recent years, that pedestal has been chipped away at with harrowing tales of illness, pollution and danger. Every word of advice from other travelers is preceded by a warning. It's certainly not for the faint of heart, they'd say, and the last place you'd travel to in search of a quiet, relaxing vacation.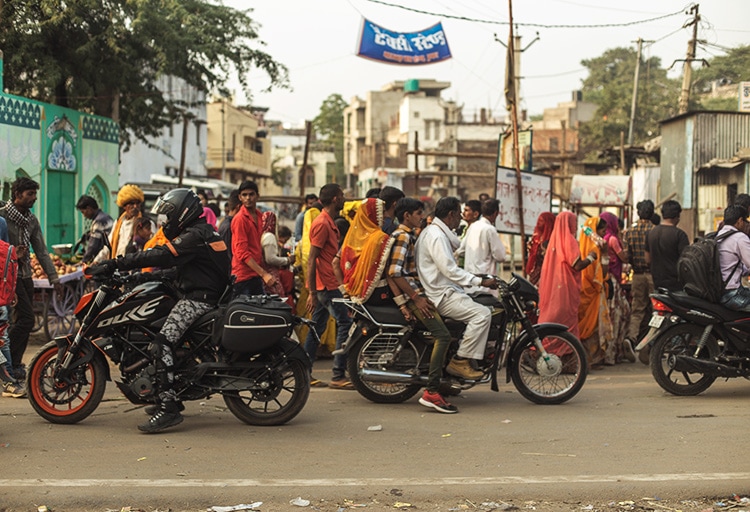 Pin
That made it the perfect place to end our eight month journey so we could go back with a true appreciation for the luxury and comfort of home.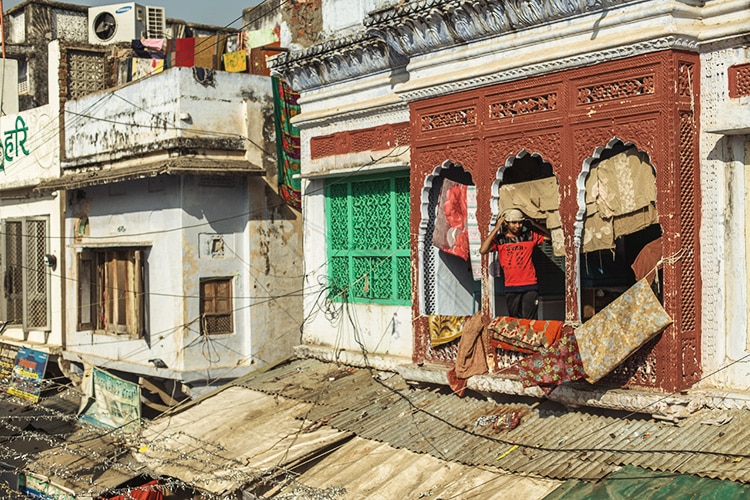 Pin
The first day upon arriving in a new country is always the most exciting, and even after 20 countries in eight months, it hasn't lost its thrill. We arrived in Kochi, trying to make sense of all the new sights and sounds and smells, which every country in Asia has in abundance.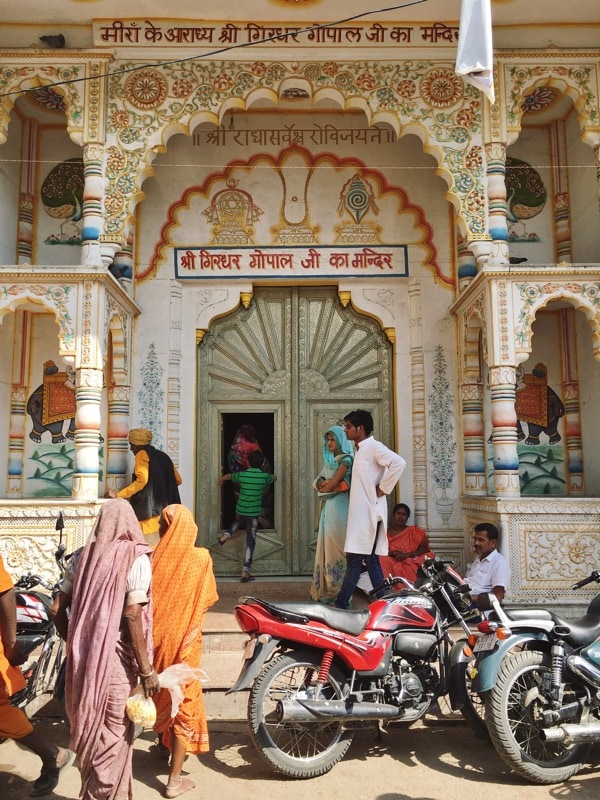 Pin
India is the world's second most populated country, just short of China, and even in the calmer south you can't escape the sheer volume of people. Drivers behave as if they're in a video game, weaving their way within inches of other cars and motorcycles, pedestrians and animals. The bigger the vehicle, the more right of way you have. Pedestrians are at the bottom of the food chain—cows are at the top.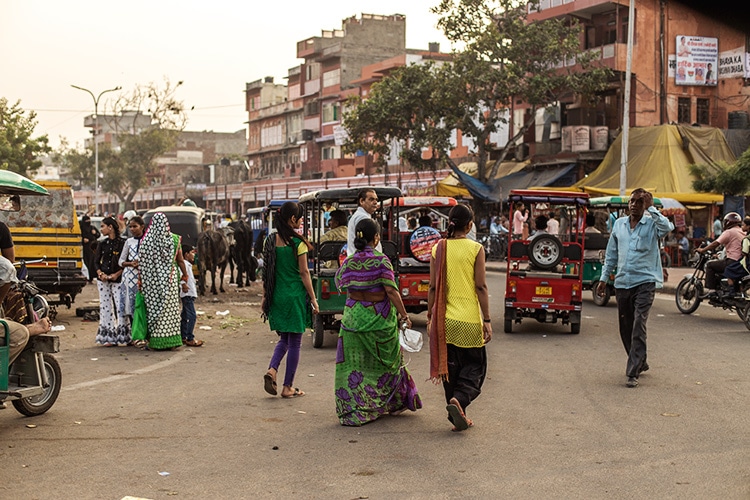 Pin
Trash, broken objects, people and animals lie motionless along the sides of every street. At first glance you assume there's been an accident, but after a few days you become desensitized and accept this new normal.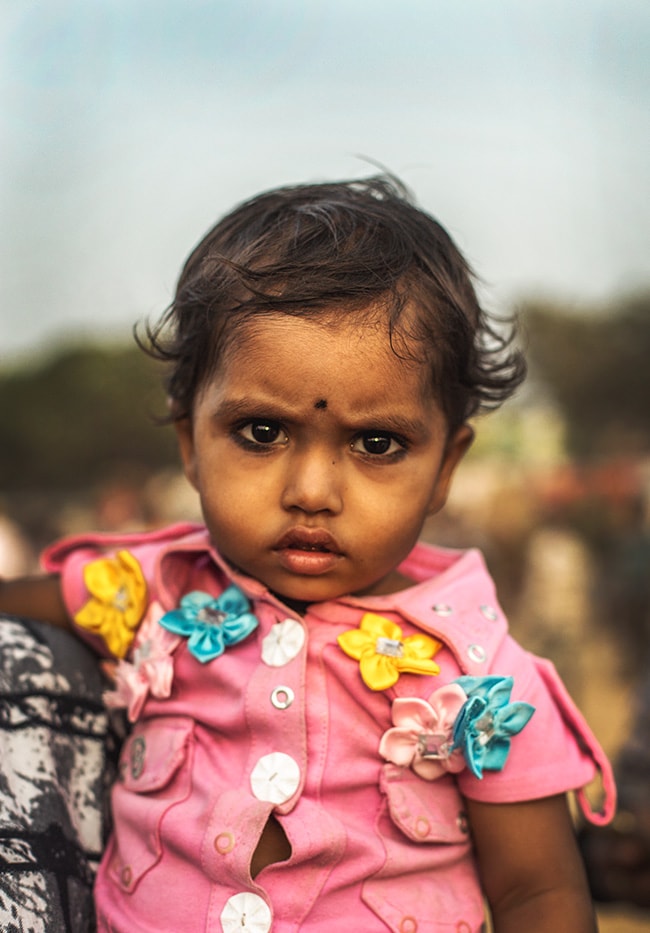 Pin
We began our three weeks in Kochi after learning about boat tours offered along the backwaters in India's southern state of Kerala.
A quick hour drive from town, we were packed in a van with other travelers and set out into the murky, stagnant river guided by a man with an oar who didn't speak much.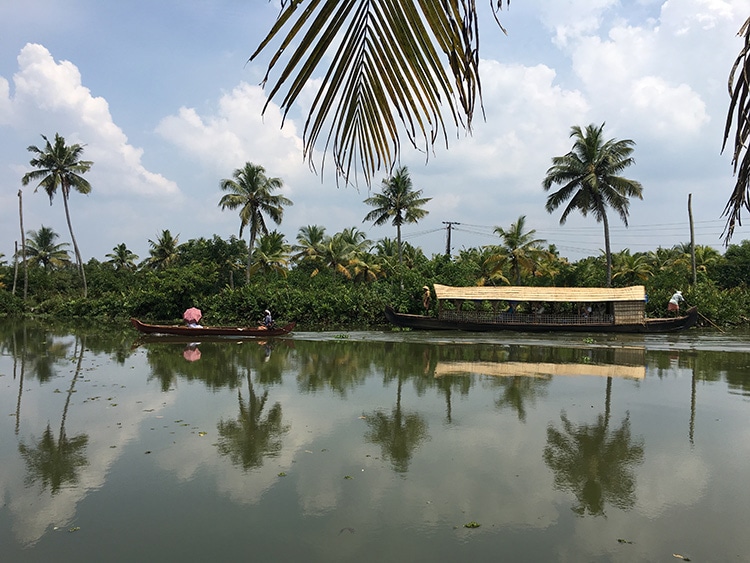 Pin
It was a swelteringly humid day, and we sipped on fermented palm leaves bought from a local as he rowed by, while exchanging stories with other travelers in our boat.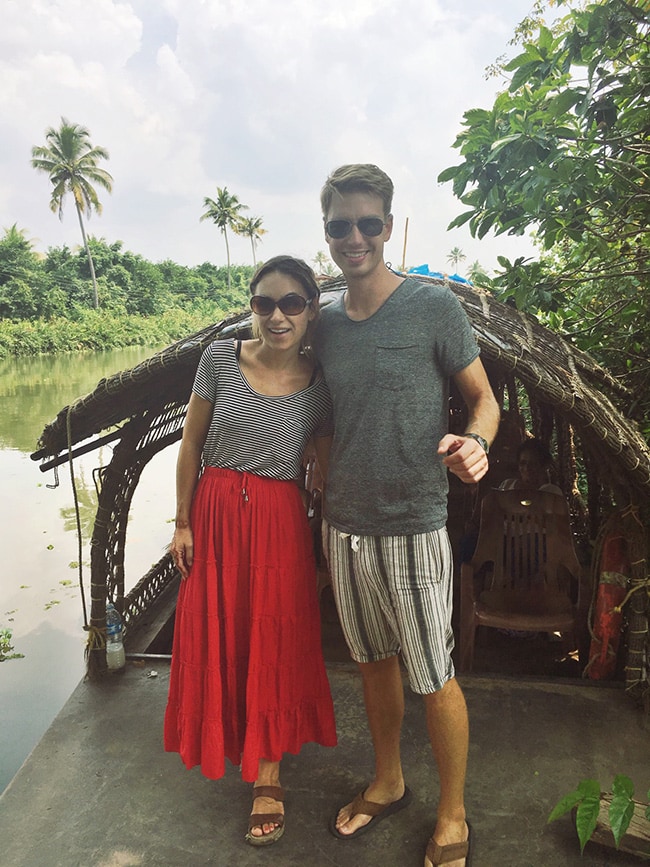 Pin
We stopped by the home of a family and watched as they made rope, and then gathered into a makeshift shelter where we were served a delicious lunch prepared by the villagers.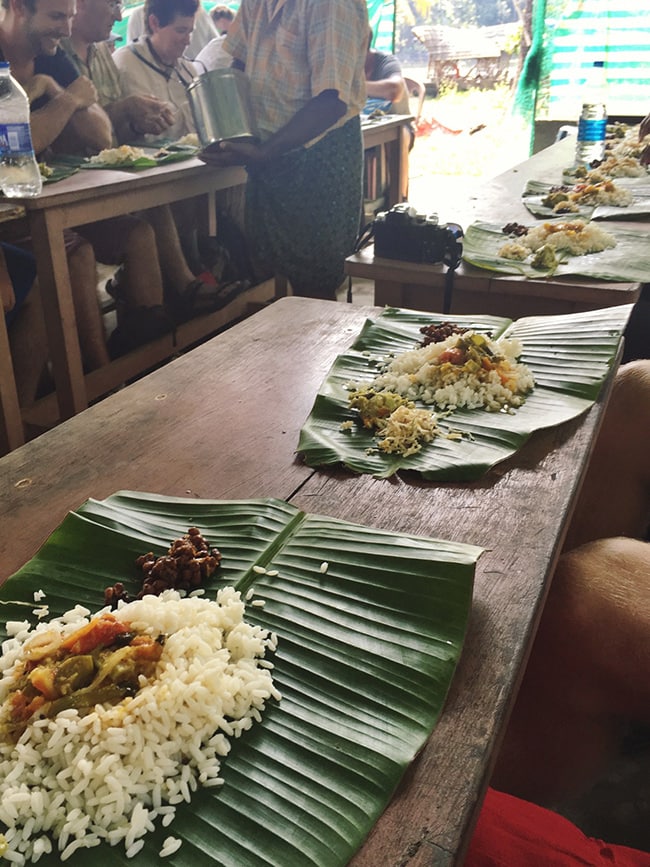 Pin
While we enjoyed our time, I can't say I'd recommend coming all the way to southern India just to experience the backwaters. On our last day in Kerala, we hired a driver to take us up to Athirapally Falls, which we found to be much more worthwhile.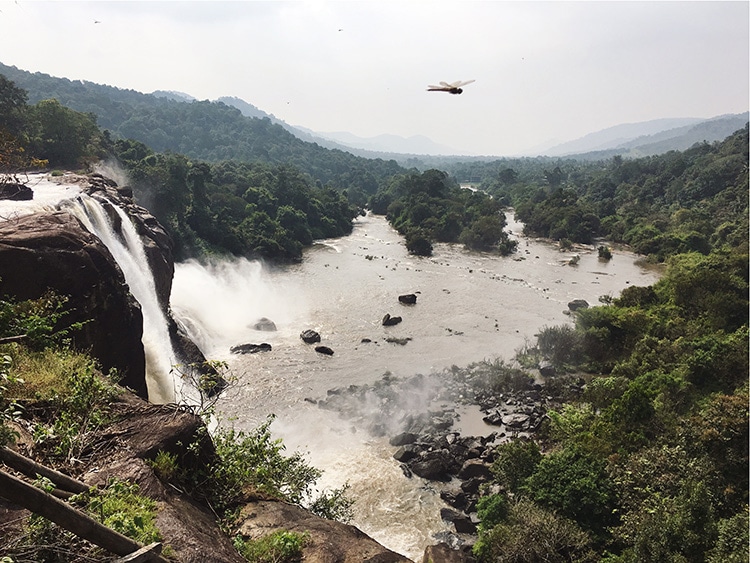 Pin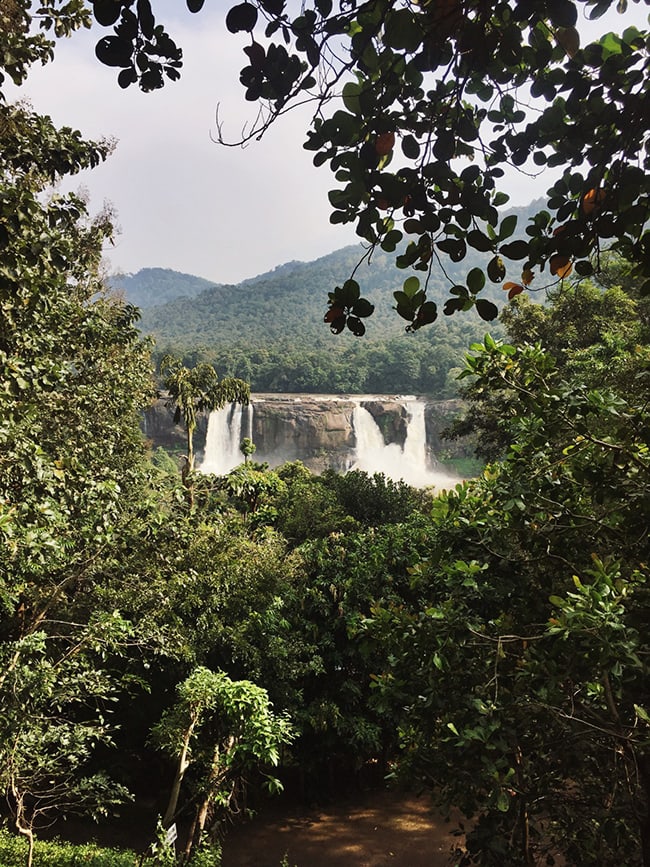 Pin
You have to watch out for the monkeys here, though—they're quite aggressive. We saw them go after a few terrified children, who probably have a complex now.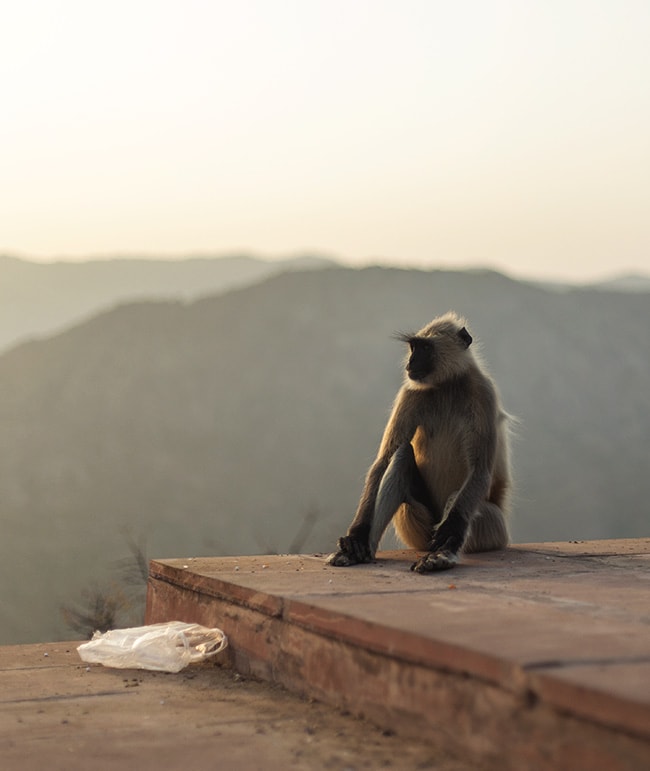 Pin
After getting stuck in Kochi for an extra day (thanks to Air India who canceled our tickets with no explanation), we finally found a last minute flight up north.
Day 221-224: Pushkar, India
While traveling, we always seek out local festivals/events in each country. Those experiences more often than not become the most memorable part of our trip, and the Pushkar Fair 2017 was no exception.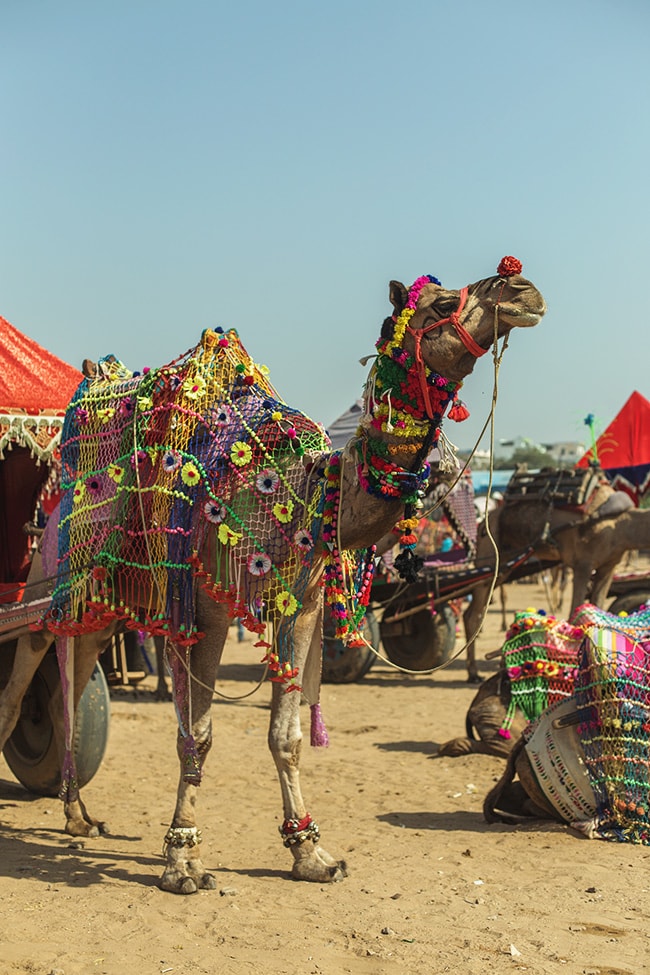 Pin
Pin
Originally the world's largest camel trading event, the Pushkar Fair is also home to a major religious celebration, with hundreds of thousands making the pilgrimage to Pushkar Lake, considered to be India's holiest.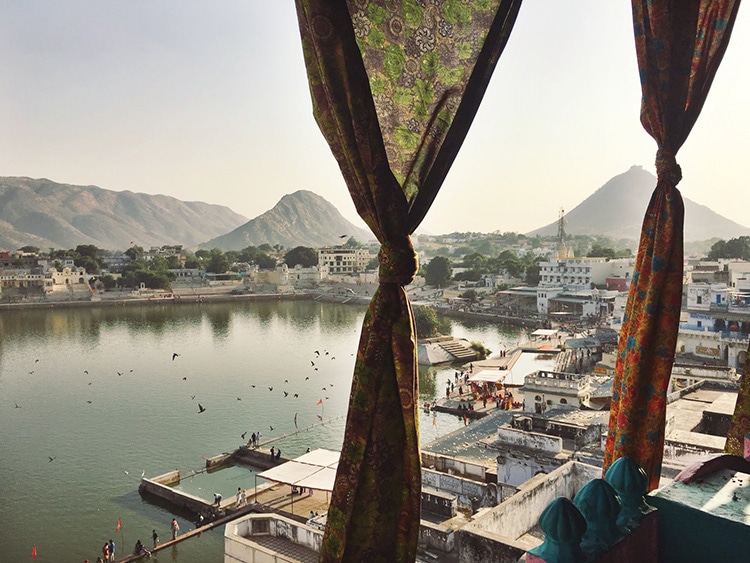 Pin
The week of activities also includes a fair with hot air balloon rides, concerts, games, competitions and cultural ceremonies. It has become one of India's most popular annual attractions.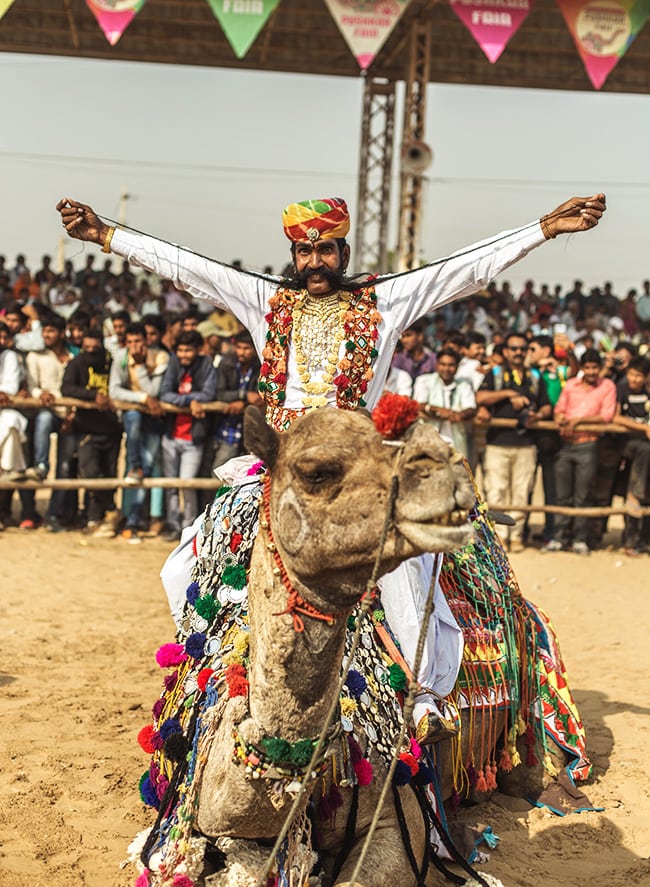 Pin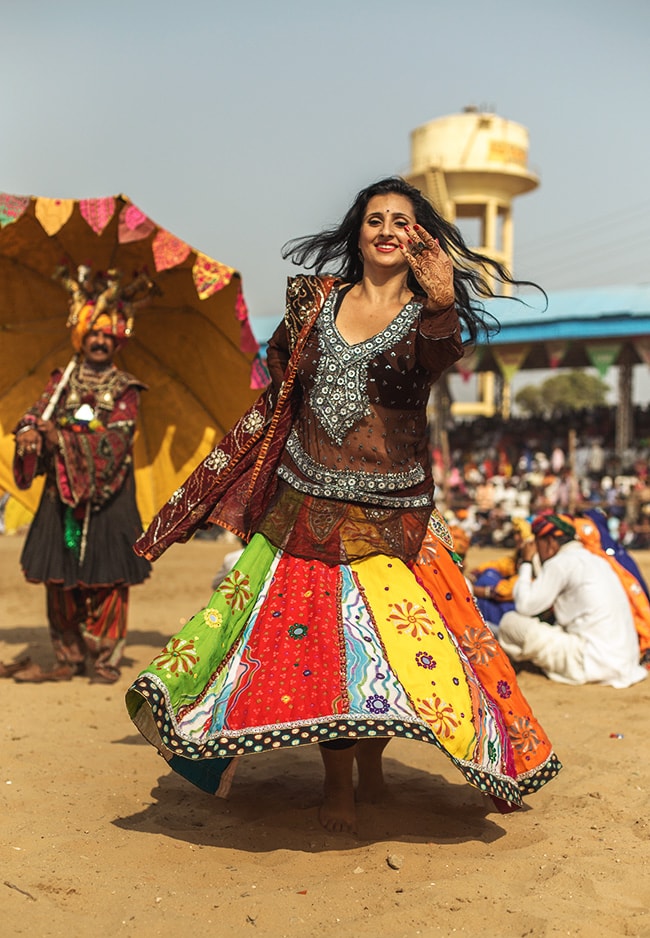 Pin
Pin
On the evening of our arrival, we wandered the streets of Pushkar, trying to absorb an entirely new level of chaos. The air was thick with smoke and dust, and the sun cast a pink glow onto the town, providing an ethereal backdrop for the characters of a movie-like scene we'd suddenly walked into.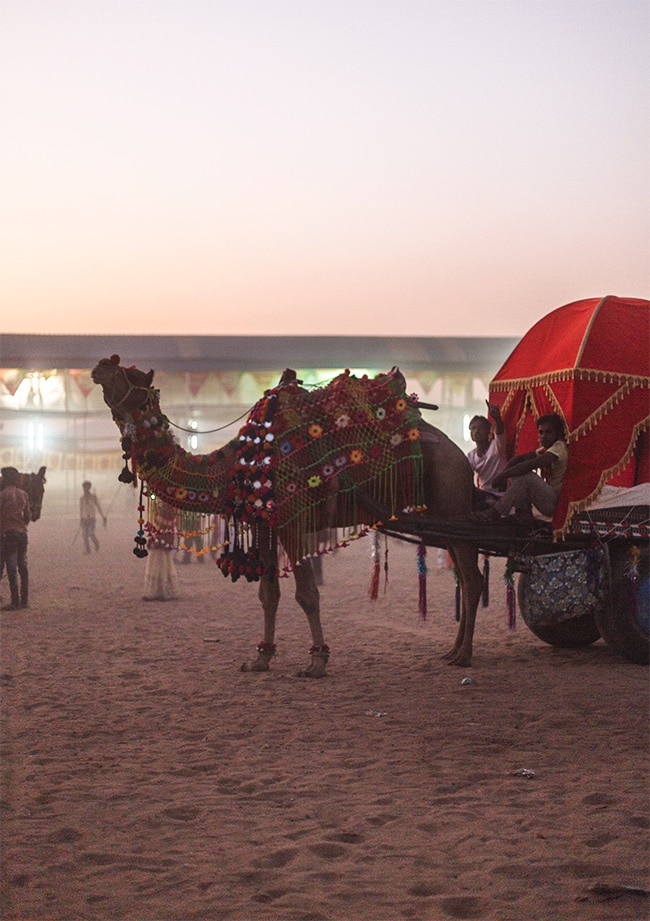 Pin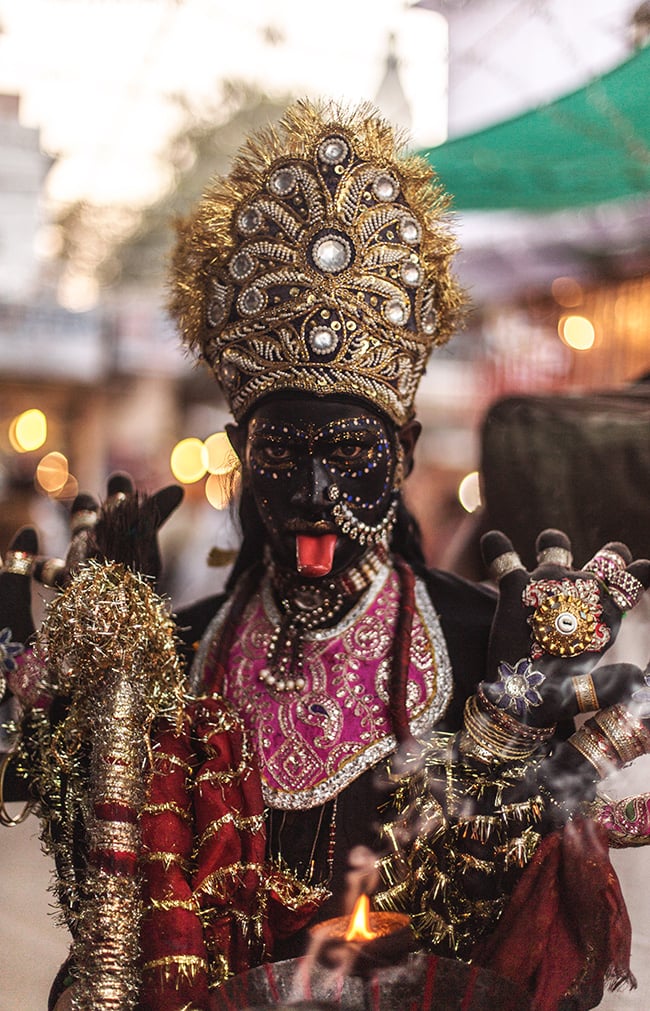 Pin
We were surrounded by camels decorated head to toe, children painted blue, cows with extra legs, men with moustaches that reached the ground and bands of gypsies who tried to corner me and force a henna tattoo.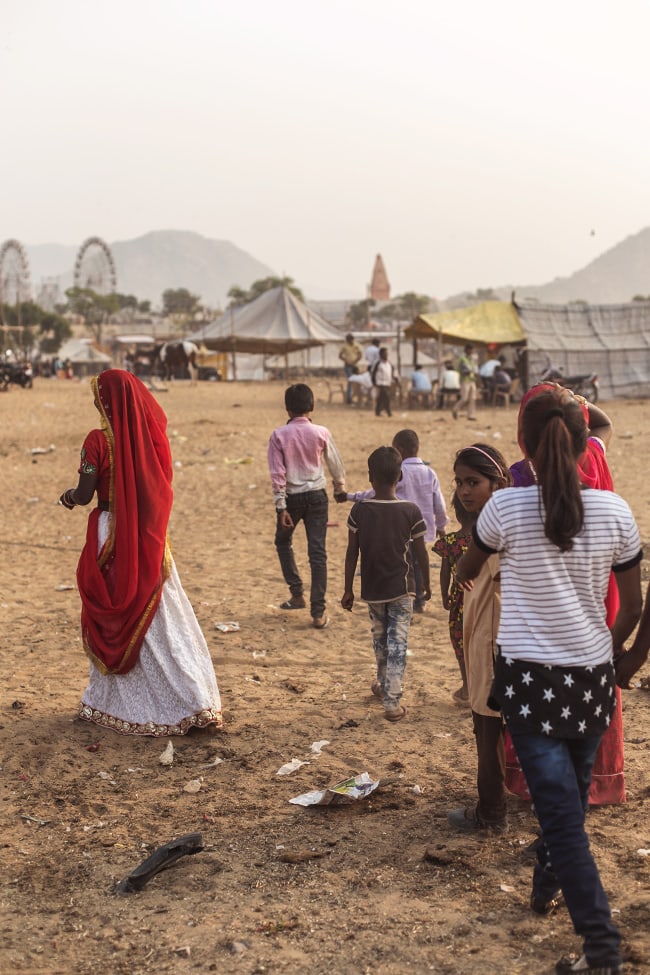 Pin
Pin
Every few steps revealed a new sight to behold… but apparently to everyone else, we were the main attraction. Families, groups of men and women followed us around, asking to take selfies. Flattered, we obliged. A photo was never just one photo though, as every person in the group needed their own, with ten different camera angles.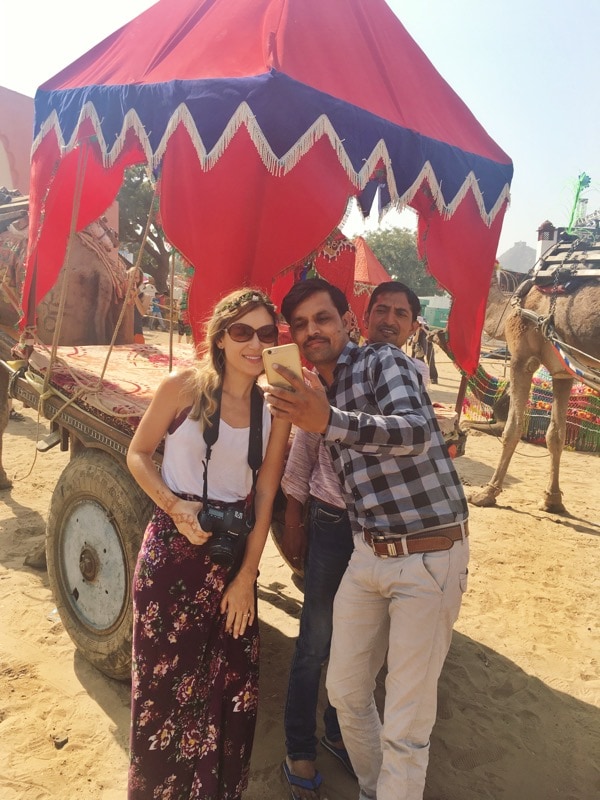 Pin
Mothers placed their babies in our arms as if we had healing properties, and pushed their confused children at us.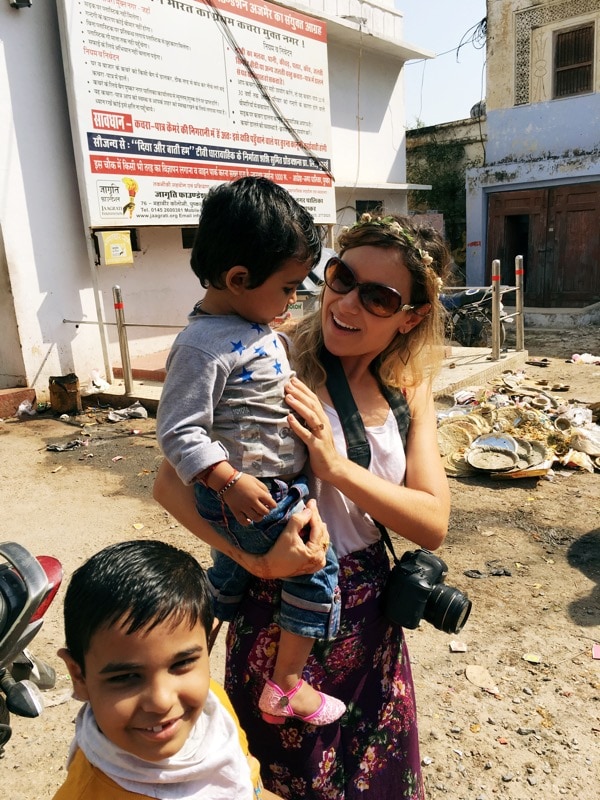 Pin
As westerners, we knew to expect this, though it was definitely much more than we had anticipated. In four days at Pushkar, there were more photos taken of me than in my 32 years on this earth combined. No joke.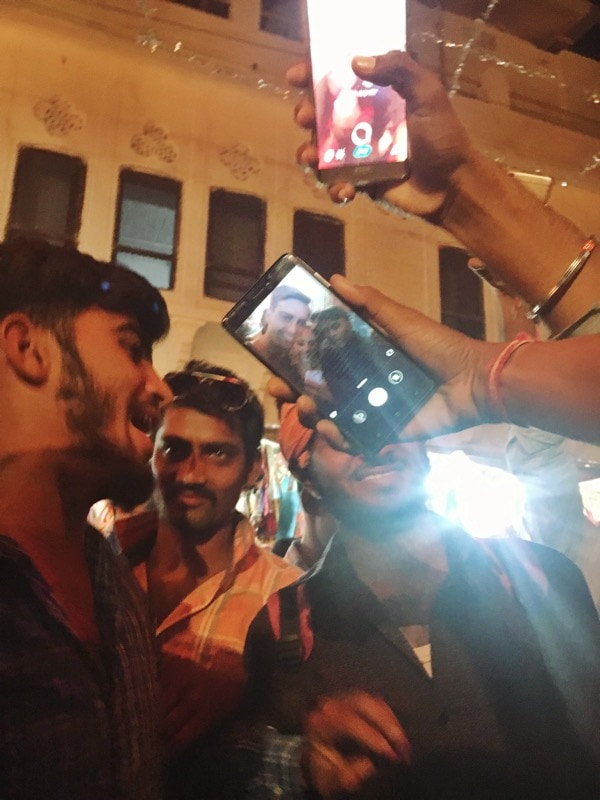 Pin
On Day 2, we made our way down to the lake to witness the religious bathing ceremony. This took place constantly all day and night, with the highest concentration of worshippers on the last night during the full moon.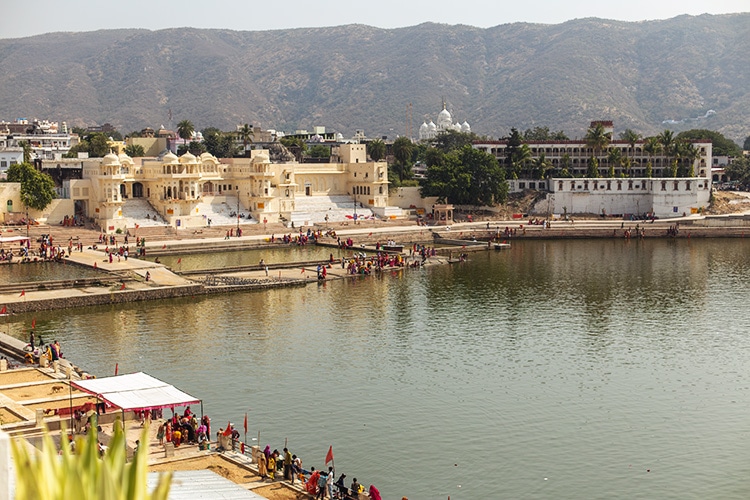 Pin
Before we knew it, we were separated and whisked away by priests, handing us a tray of flowers as we knelt with them on the steps. We did some chanting, threw our flowers into the lake, they marked our forehead with pigment and somehow got us to donate all of our money to avoid bad karma. An expensive lesson, but at least the money goes to a good cause (we hope).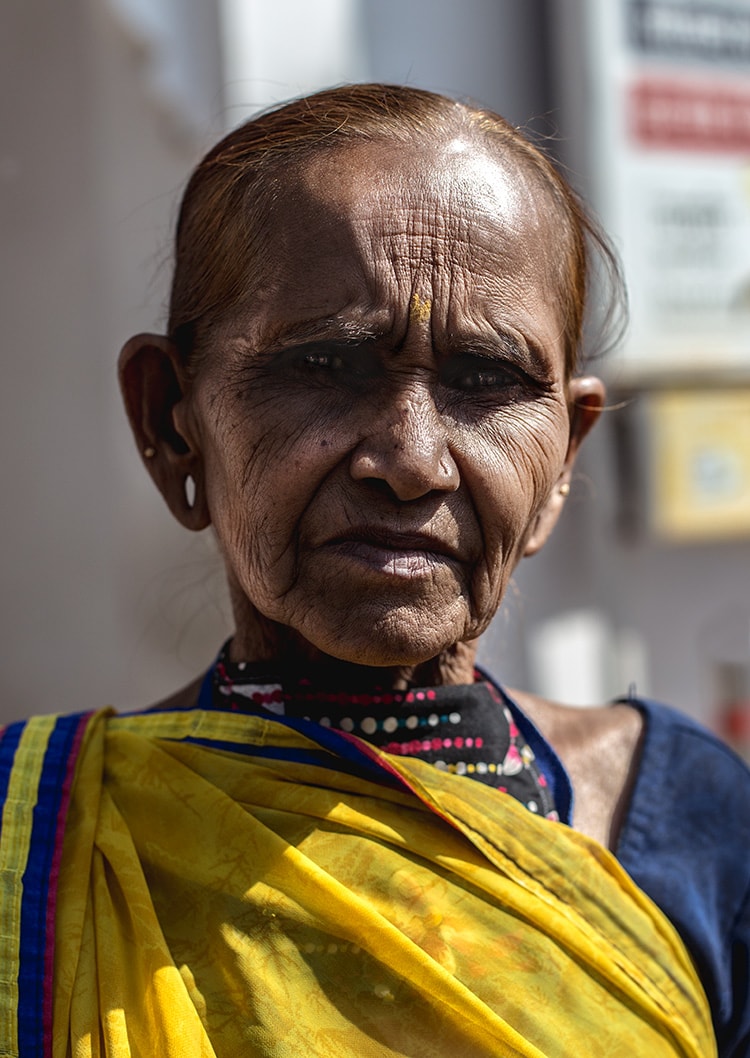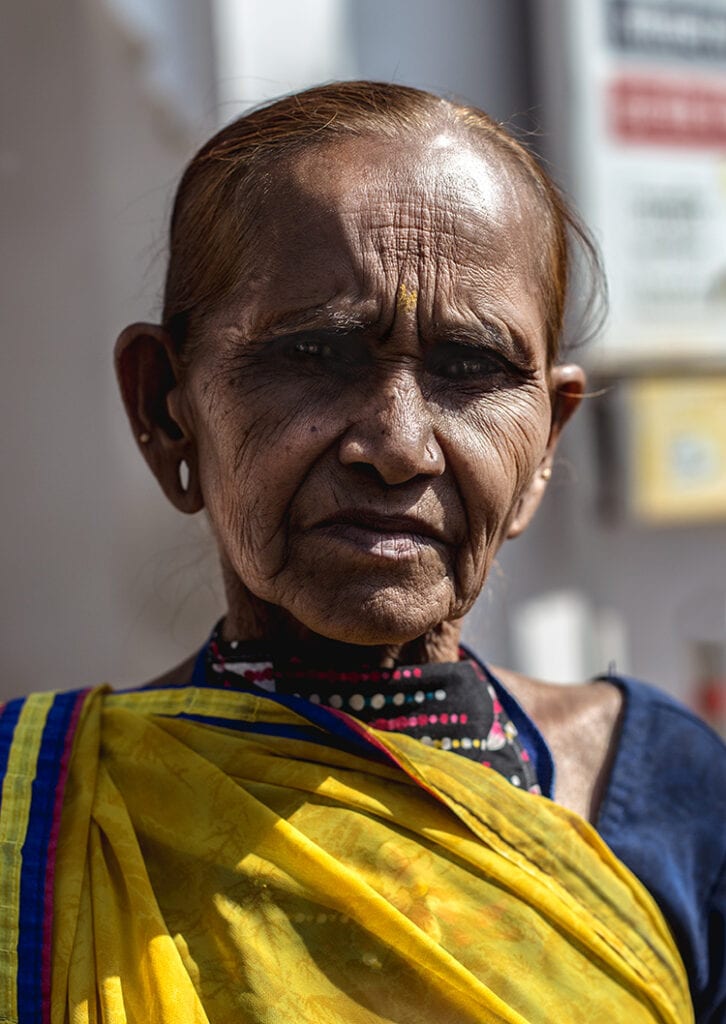 Pin
Later, were approached by a local asking us to participate in an Indian Bride and Groom competition. With no plans for the day, we decided "why not?", and showed up at a salon at 4:30 pm to get all dolled up by an enlisted glam squad.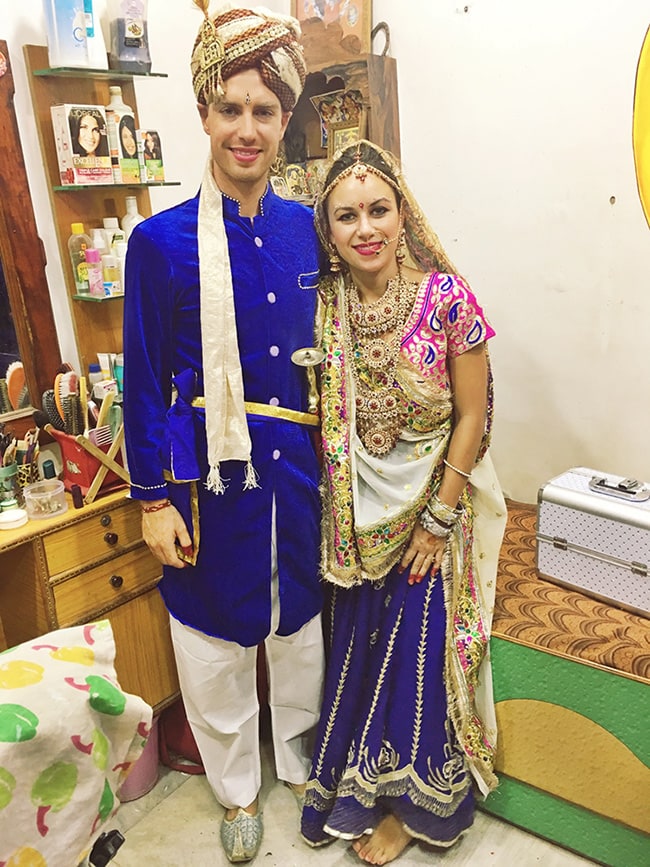 Pin
If you think American weddings take a lot of preparation… you've never been to India. We spent nearly five hours in that room, getting fitted with layers upon layers of clothing, jewelry and makeup. Running late, they rushed us backstage where we met 50+ other foreigners dressed in similar Indian attire, and equally as confused about what to expect.
Pin
The show began an hour late (nothing in India starts even remotely on time) and we were quickly instructed to just appear on stage and slowly walk/dance as an Indian bride would. Great, clear as mud.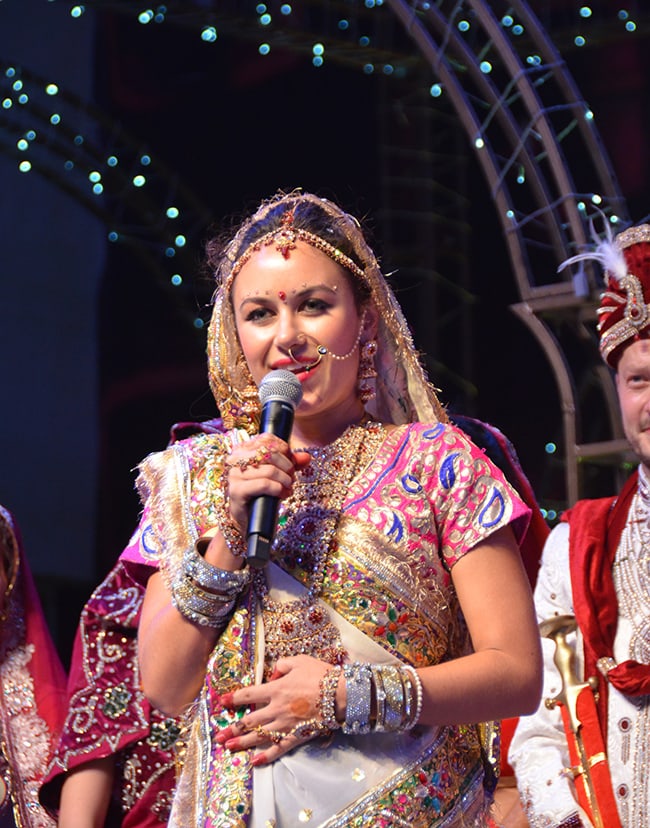 Pin
Apparently this competition is a pretty big deal in India. There were thousands of people in the audience, along with rows of TV cameras and photographers and a drone filming everything.
I hadn't brushed up on my Indian dance moves, so when it was my turn I had a little fun with it—strutting down the catwalk in my best Miss America impersonation.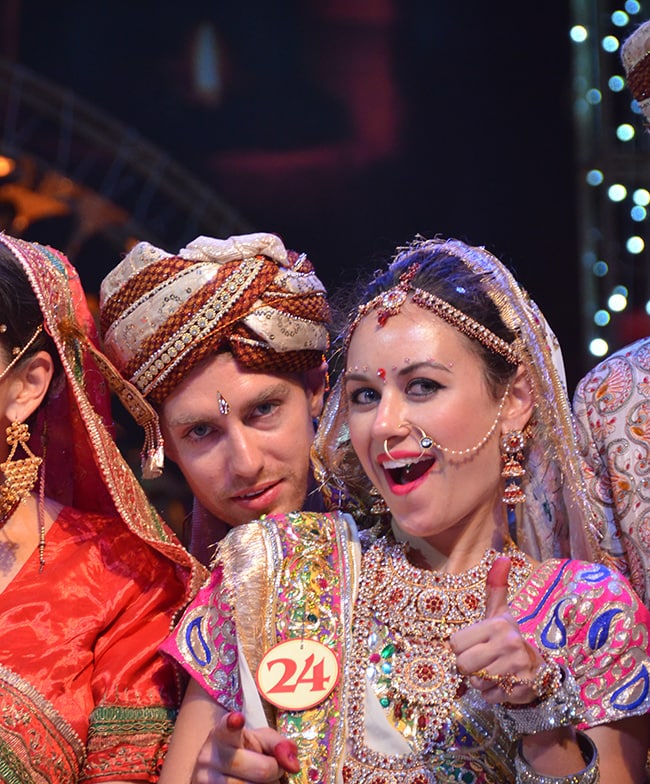 Pin
The rest of the competition was basically a blur—there was more dancing and I was called up to answer a question (I killed it, by the way 😉 ) and then it was time for crowning.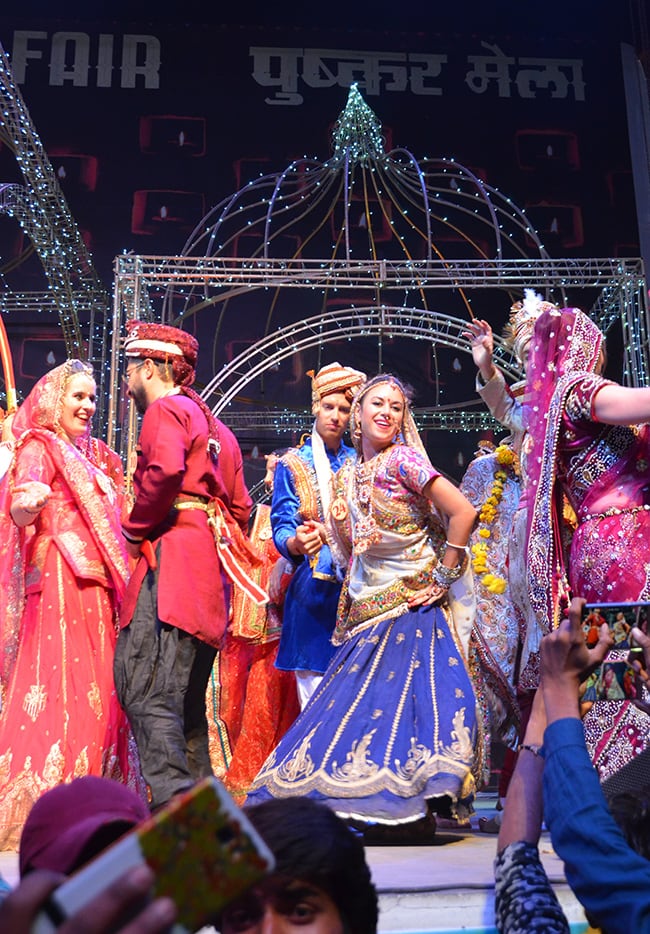 Pin
My stud in blue claimed the 3rd place Groom! So proud.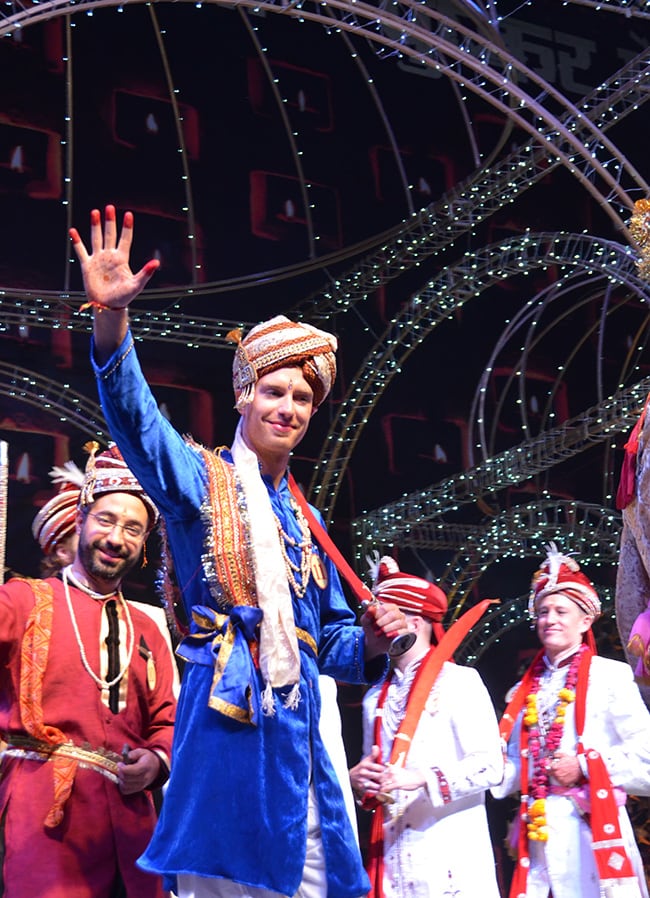 Pin
I was not as fortunate however—I think my dance moves were a little too bold for the judges.
We were then rushed off stage as a fight broke out, Lucas was interviewed by news cameras and our Indian glam squad grabbed us by the arms and shielded us from the unruly fans outside.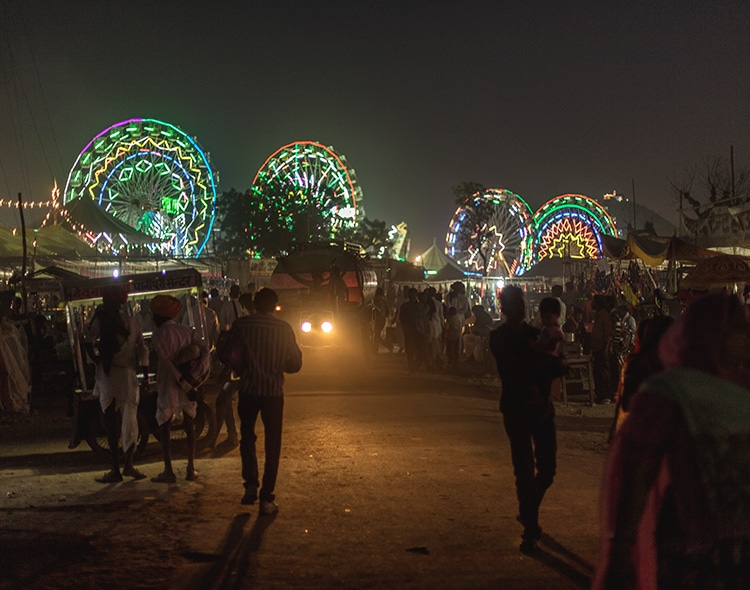 Pin
It was all over in the blink of an eye, and we laughed as we walked back to our hostel saying "wait, did that really just happen?"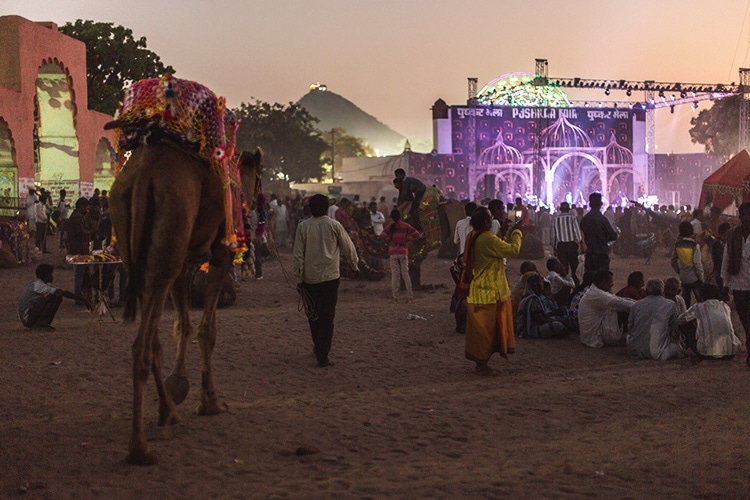 Pin
On the final day of the Pushkar Fair, there were supposed to be hot air balloons flying over the lake at sunrise. We wanted to make the most of our last day, so we decided to get up at 5:30am and walk to a temple on top of a hill to witness the event. The streets had been incessantly loud and hectic, so we were looking forward to a quiet walk with few people around.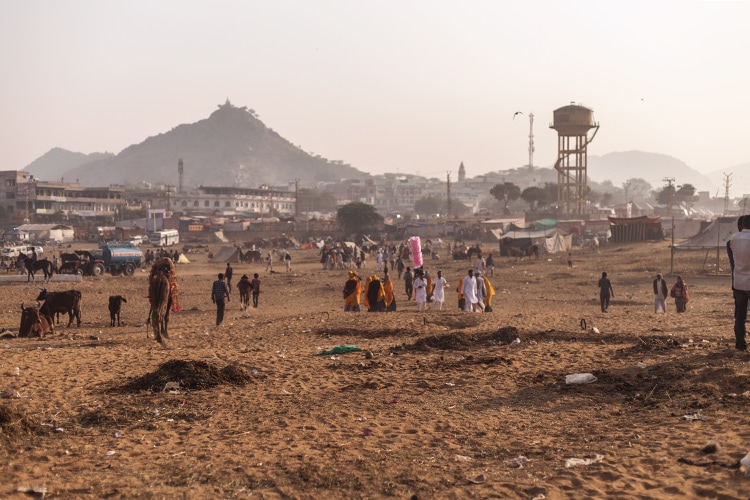 Pin
As we left our hostel in the dark, we were surprised to find it even more crowded than normal. It was the final day of the fair, and the most religious, when all of the pilgrims gather at the lake to bathe. We just didn't know they'd all come at once for sunrise.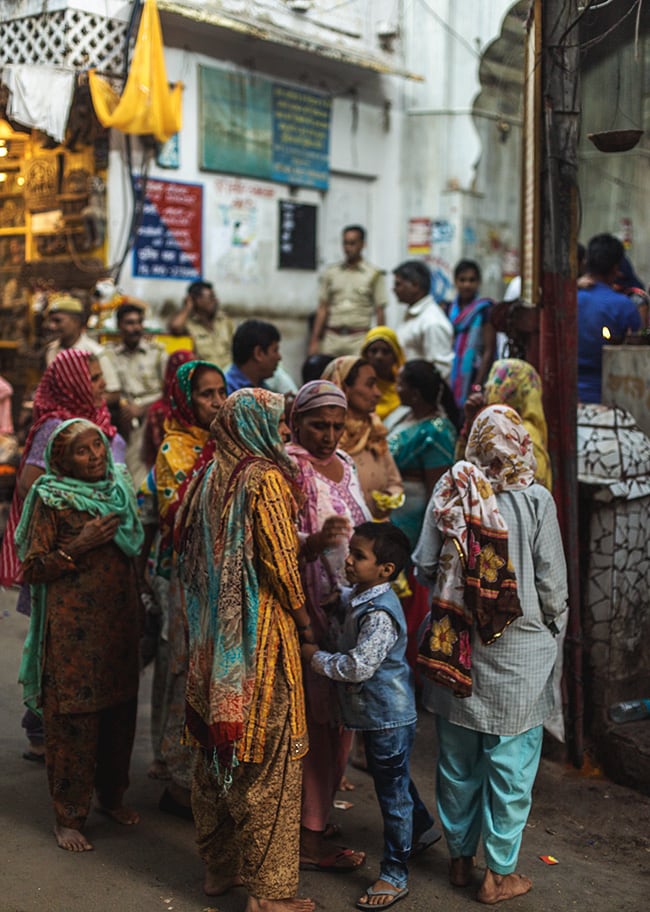 Pin
As we neared the lake, the crowds became more dense. I grabbed Lucas' hand tight so we wouldn't get separated. Soon we were at a complete standstill, with thousands of heads in front of us as far as the eye could see. We looked on our map to try to find a way out, but the roads had been blocked off. There was no escaping this.
Then came the pressure. Suddenly we were pushed into the people in front of us until we became one large mass of bodies. Everyone was yelling, my bag was getting ripped from my arm, screaming children and babies were thrown on tops of shoulders to avoid being crushed, and I yelled to Lucas in a panic "Get us out!" But there was nothing he could do.
I felt men's hands on my body, squeezing and groping me. "STOP!" I screamed, unable to move to see who was doing it. Finally I grabbed onto one of the mans' fingers, traced his hand back to his face and it took everything I had to not punch him, which would have resulted in getting trampled.
It was a nightmare, and instantly tarnished the way I felt about India.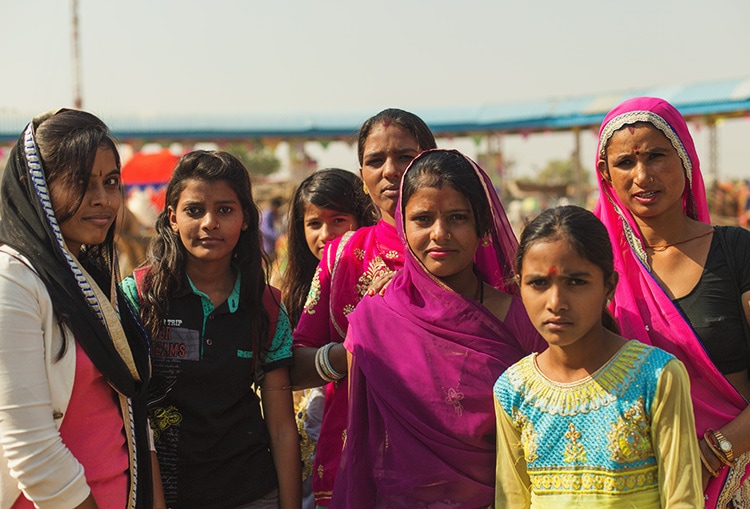 Pin
Eventually we managed to jump on top of a counter in a storefront as the mass continued to push forward. Shaken and on the verge of tears, we waited until there was an opening, and took the first side street to safety.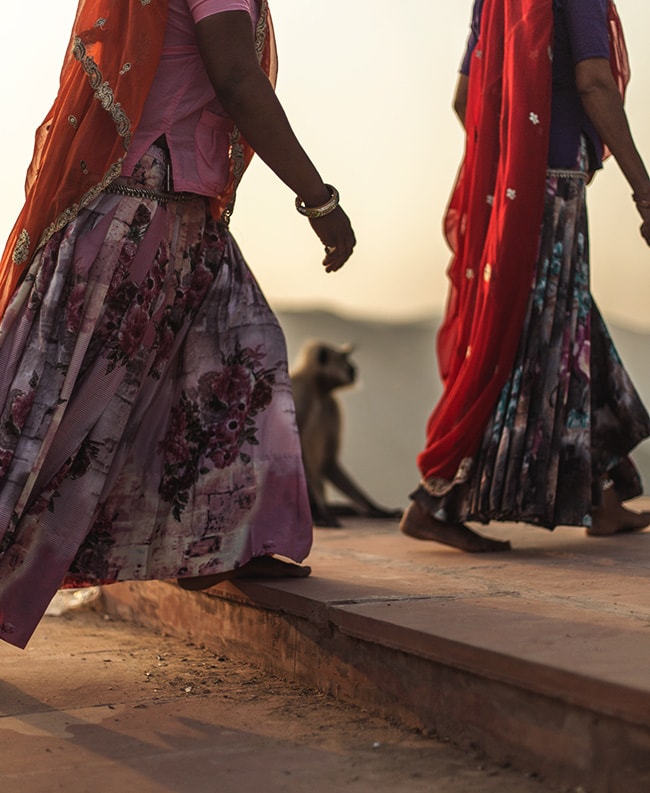 Pin
There never were hot air balloons that morning after all, and the lackluster sunrise was muddled by thick clouds of sand.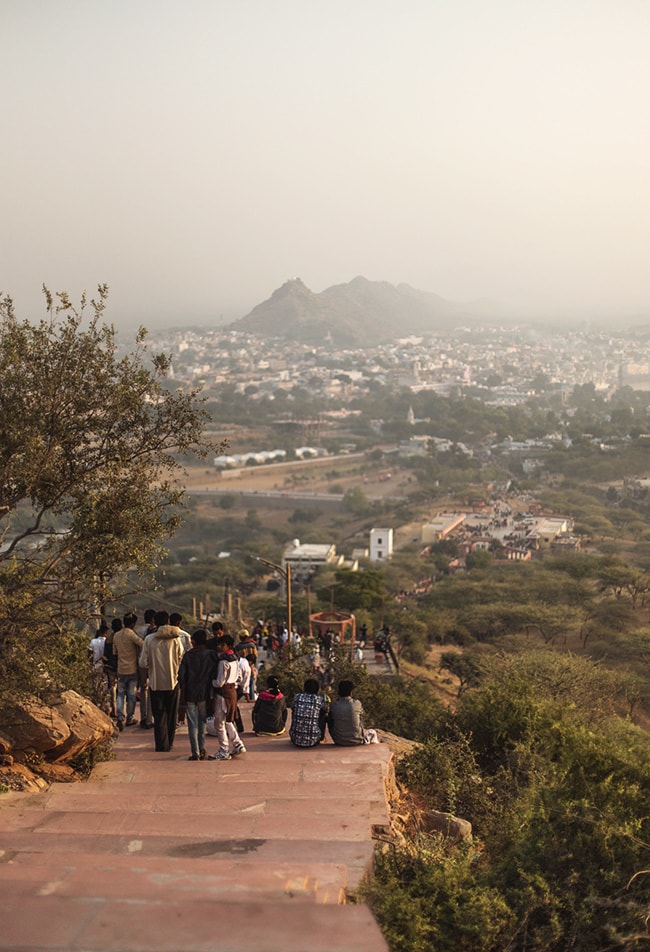 Pin
After four days in Pushkar, we were ready to get out. I woke up with the flu on the morning we left for Jaipur, bracing myself for the remaining two weeks in India. We were about to enter the worst of it—a constant barrage of pollution, noise, crowds and sickness that we couldn't hide from. We questioned our sanity in continuing down this path when we could simply hop on the next plane out… but we were committed to experiencing all of India, both the good and bad.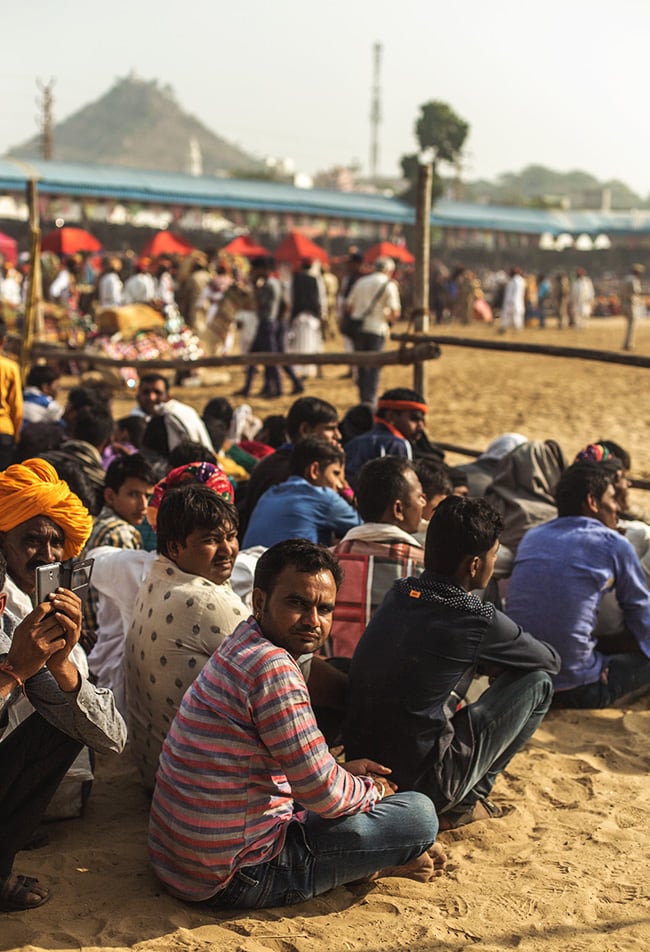 Pin
We have only two cities left, and I'm still sharing all of the crazy/shocking/beautiful pieces of each day over on my instagram stories. There isn't a dull moment, so feel free to follow along if you need a little spice in your life.
Part 2, coming soon…