Day 225-228: Jaipur
The sky in northern India is a deep shade of ivory.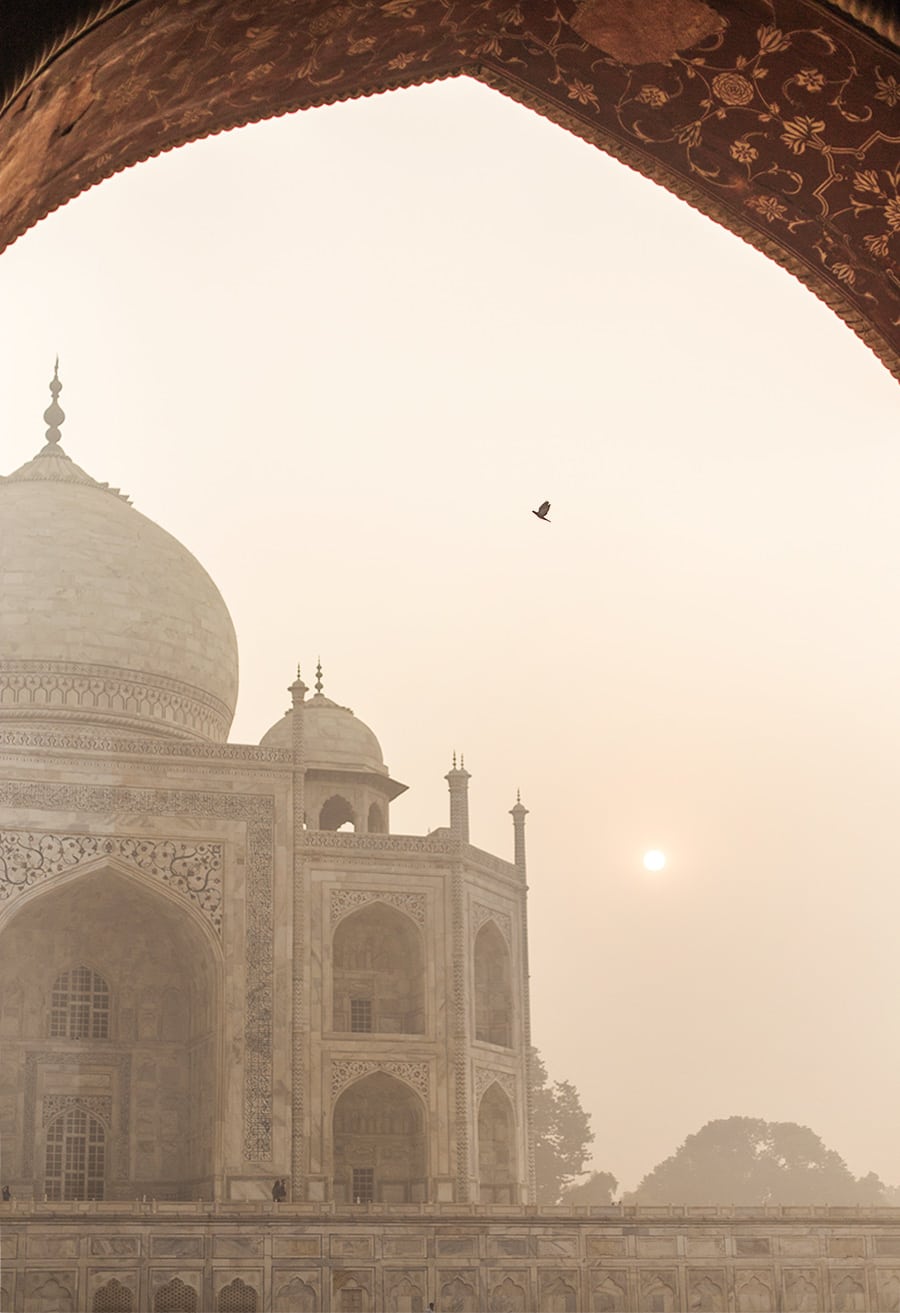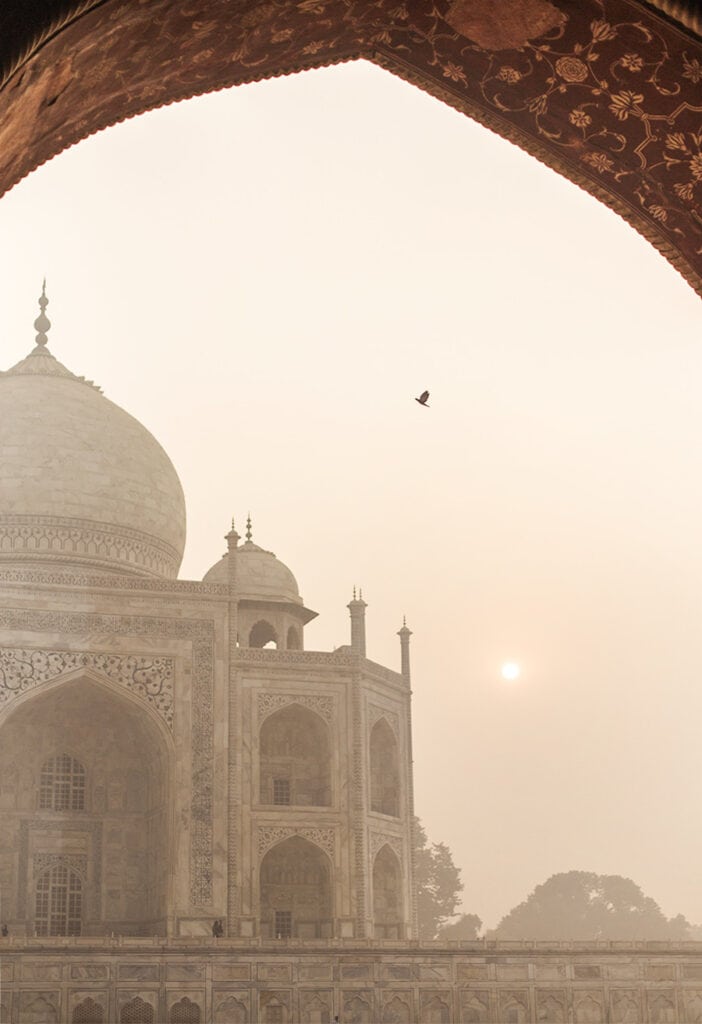 Pin
At 5pm, a red sun is extinguished by the thick layer of pollution far above the horizon, signaling the days end.
No one seems to notice, and time never slows down for the billions living in India, in a perpetual frenzy to get wherever they're going.
Pin
We left Pushkar by public bus—a bumpy four hour ride where I couldn't escape the unapologetic stares from local men.
I'd just become ill with the flu, and was praying for a comfortable bed and shower at our hostel in Jaipur.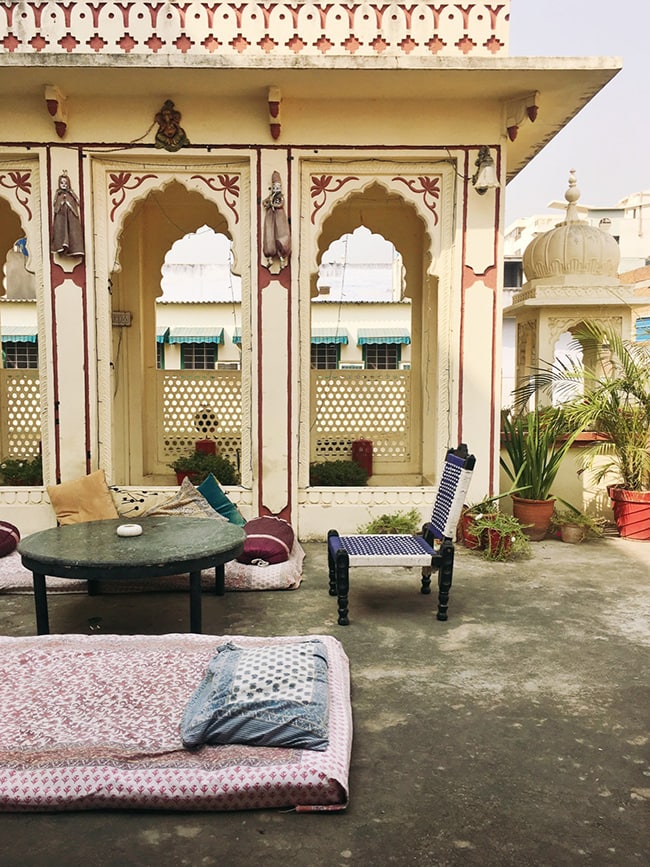 Pin
Jaipur is best known for handmade wares, jewelry and shopping. It's also home to several palaces and forts, and it's one corner of the "Golden Triangle" tourist route, along with Delhi and Agra.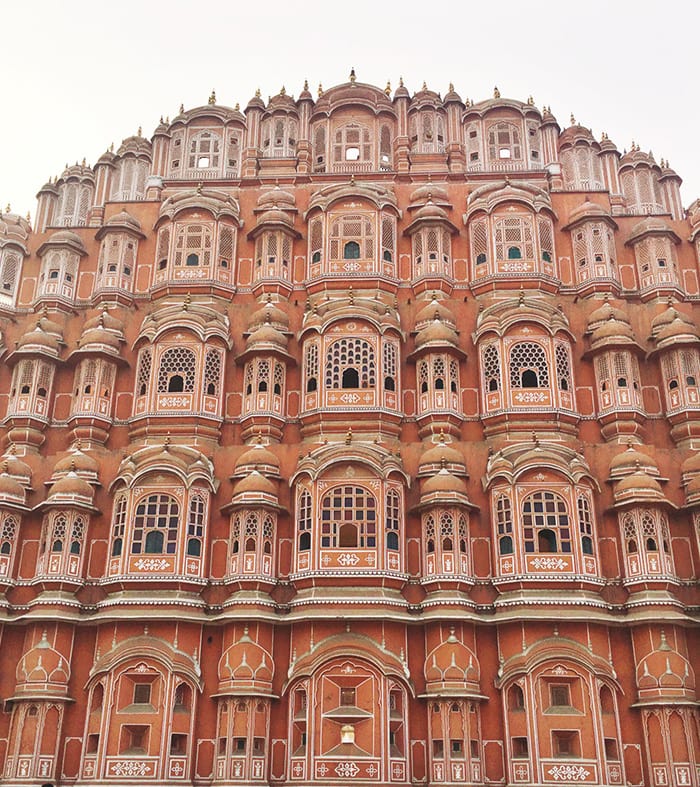 Pin
The city itself was the most congested we'd seen, with enough filth and trash to cover a landfill. The constant barrage of horns and yelling could be heard from every corner, including under the blanket from our bed. And this is supposed to be one of the nicer cities.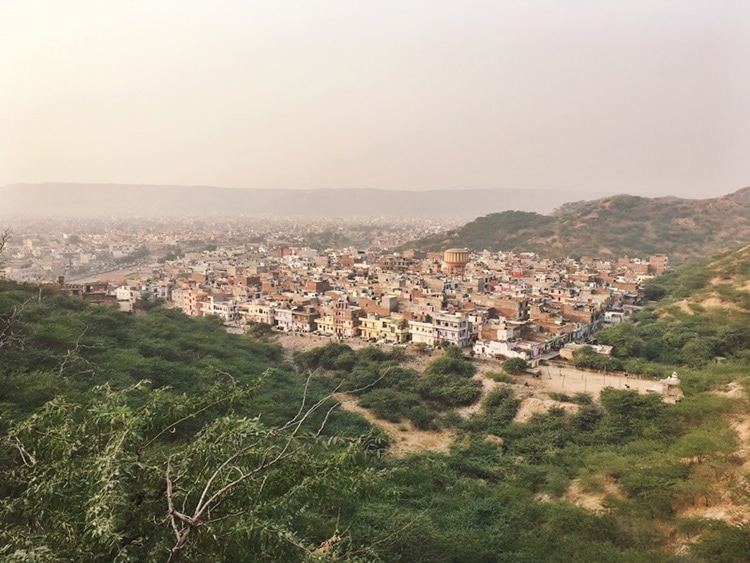 Pin
 As much as I wanted to hide under the covers and sleep for three days, we had come here on a mission: to buy Lucas' wedding band!
Back in April, we had my ring custom made in Brazil, and thought it would be neat to have his made on this trip as well. We settled on Jaipur with its reputation for the best jewelers.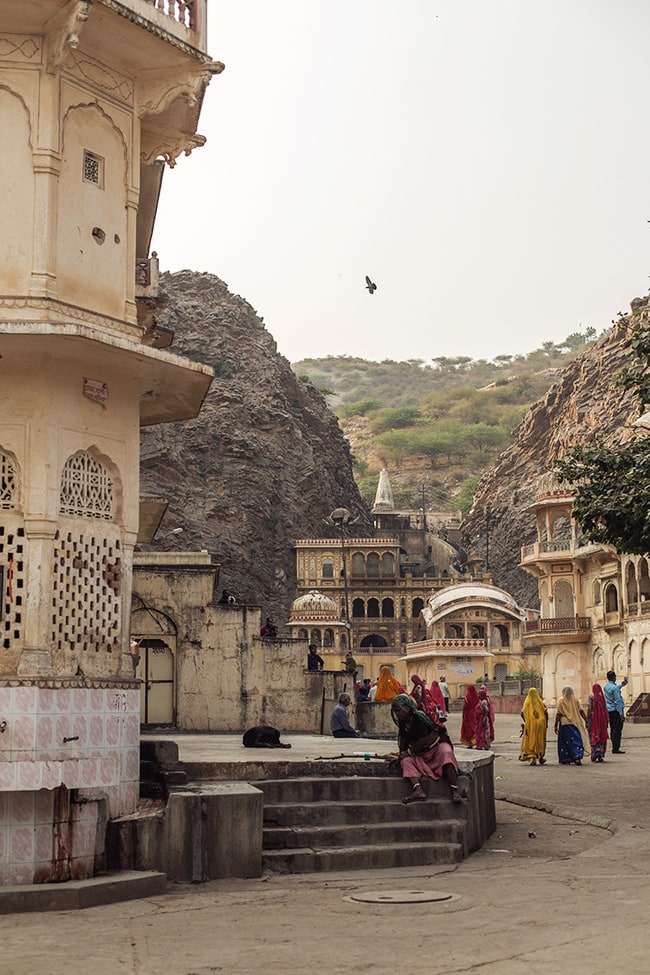 Pin
We found a trusted shop, the process was simple and painless, and we couldn't be happier with the way it turned out! We love that the stories and memories from this trip will always be wrapped around our finger.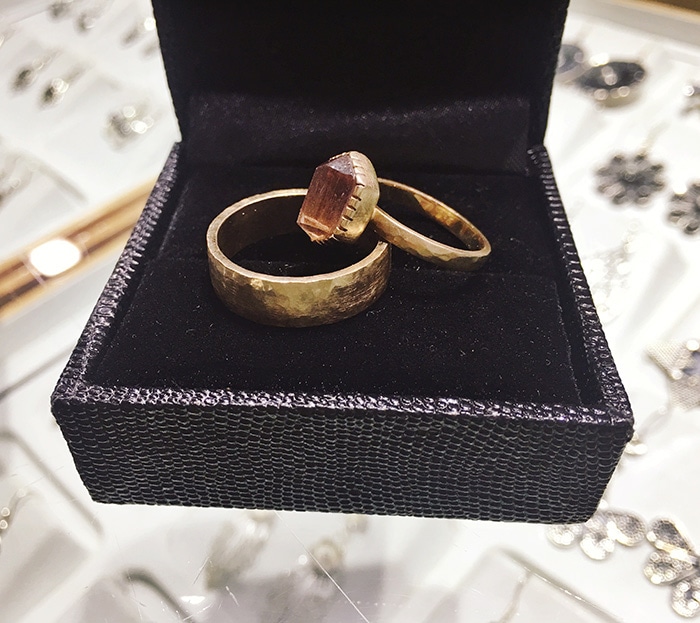 Pin
While the ring was a success, the rest of Jaipur was a disappointment when it came to shopping. We'd planned to finish all of our holiday gifts and souvenirs here, but we struggled to find anything worth taking home. They do have great fabrics and tailors, and I picked up a couple more items, but I'd never make a special trip to Jaipur for anything else.
There was one place we couldn't get enough of however—the Monkey Temple!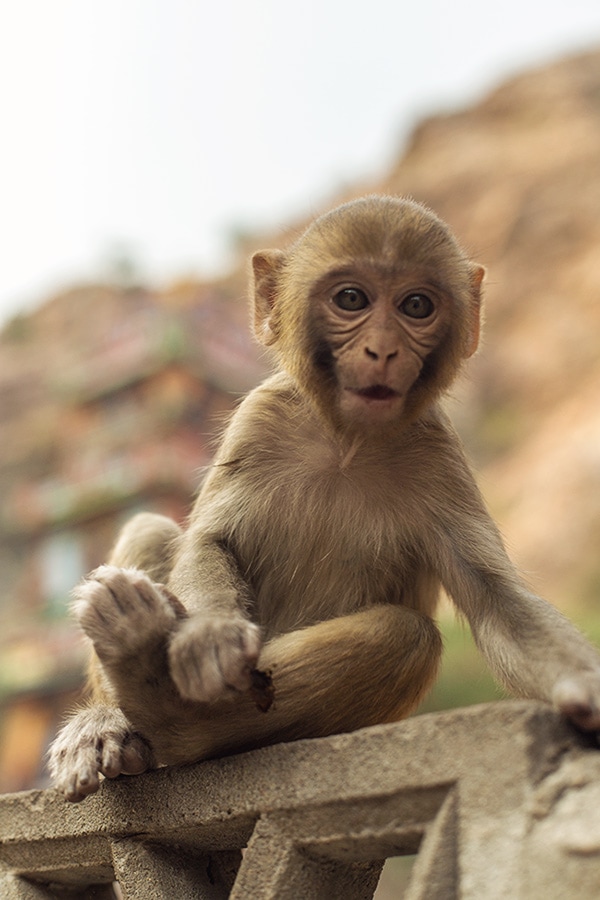 Pin
After climbing a winding mountain road past cows, goats, litters of pigs and wild gypsy children, you descend into a canyon  towards a hidden temple.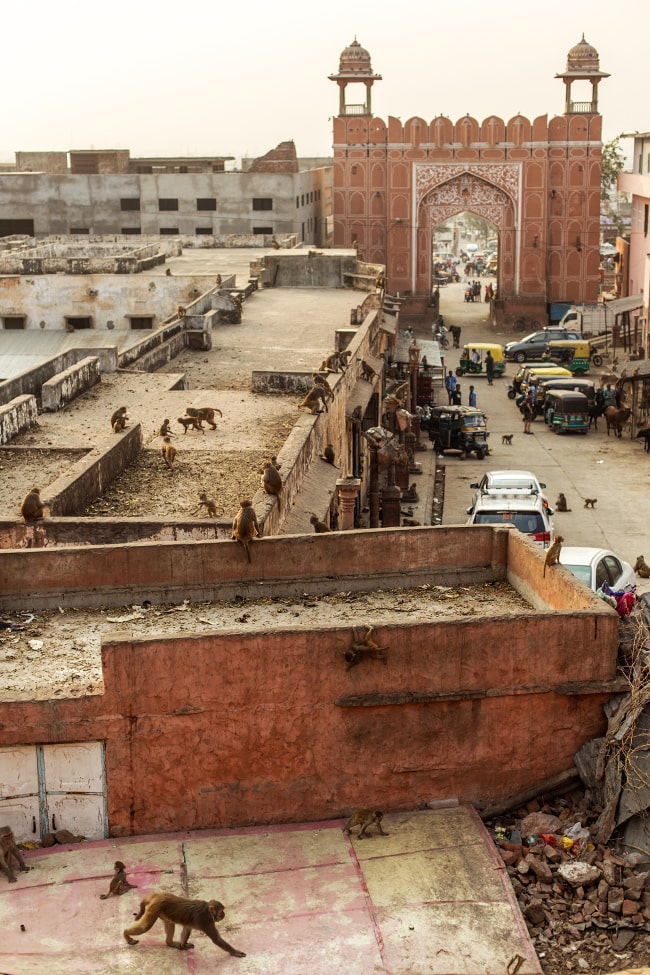 Pin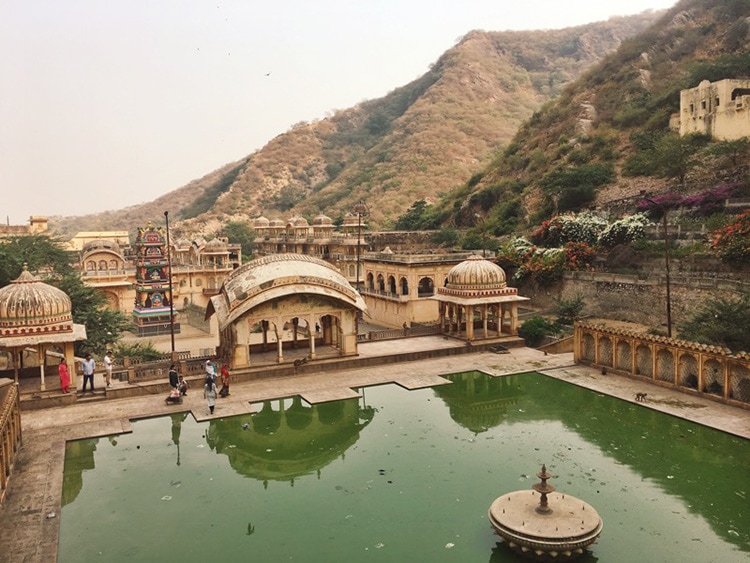 Pin
Meticulously built as if it were a grand and significant place of worship in its day, now it looks more like something out of Jumanji.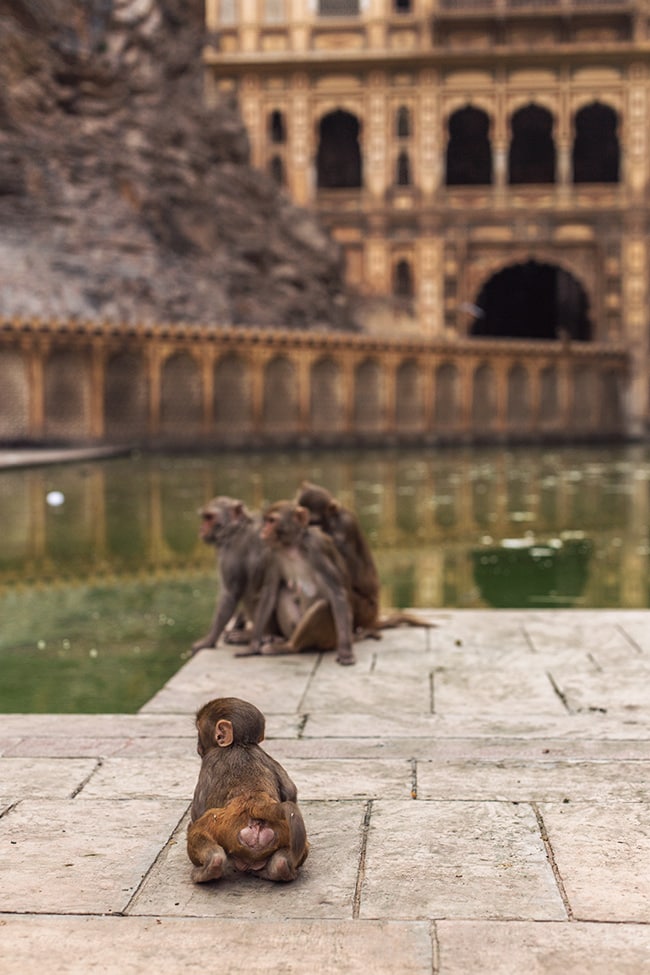 Pin
Tribes of monkeys run wild, scaling the walls and rooftops, chasing each other through empty corridors and jumping on tourists heads. They're precious and friendly monkeys though, and we could have stayed there and fed them peanuts all day. And showed them the latest iPhone apps.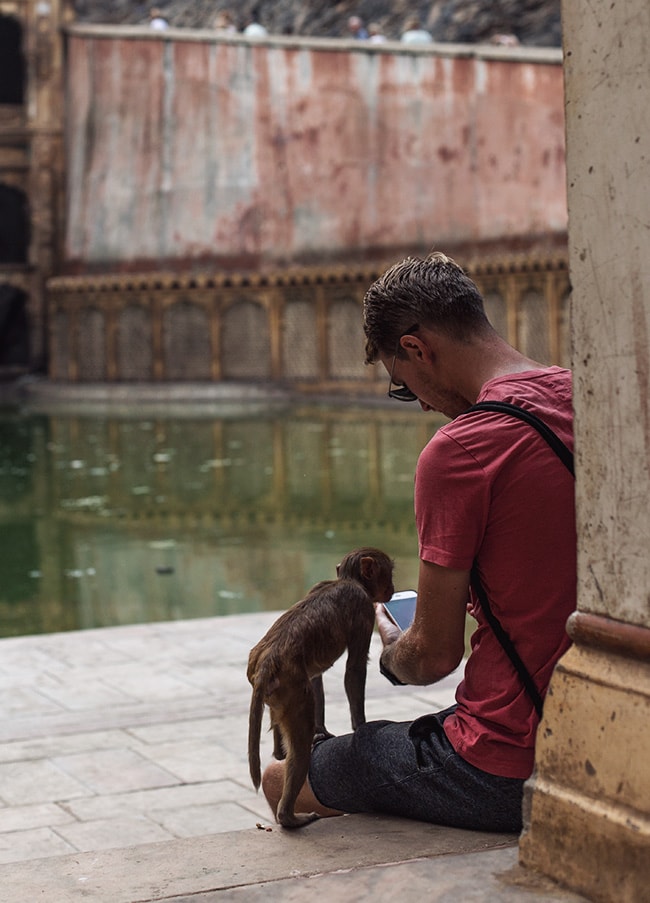 Pin
Apart from the ring, those monkeys were the highlight of our three days in Jaipur, and that afternoon we were on a train to Agra.
Day 229-230: Agra
Agra is famous as home to the Taj Mahal, and infamous as the city everyone loves to hate. Even locals say not to stay there longer than a day. When our train pulled in that night, we noticed how foggy it was, and then quickly realized it wasn't fog—it was pollution.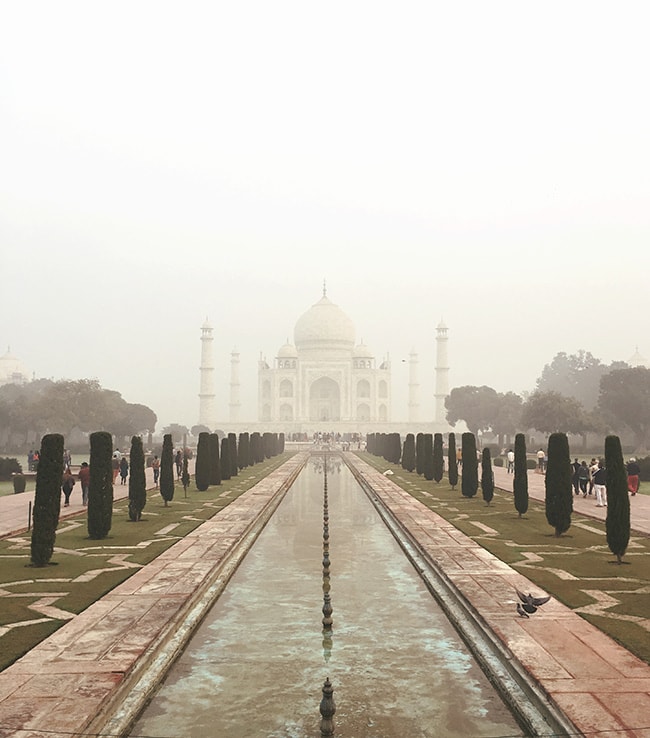 Pin
The thick air had a very specific stench that soaked into your skin and clothing. We stayed indoors as much as possible. From what we did see of the city though, I thought it was much nicer than Jaipur.
We were up at 5am in hopes of beating the crowds at the Taj Mahal. What we didn't realize was that the gates didn't even open until after 7am, so our hopes of a sunrise there were dashed.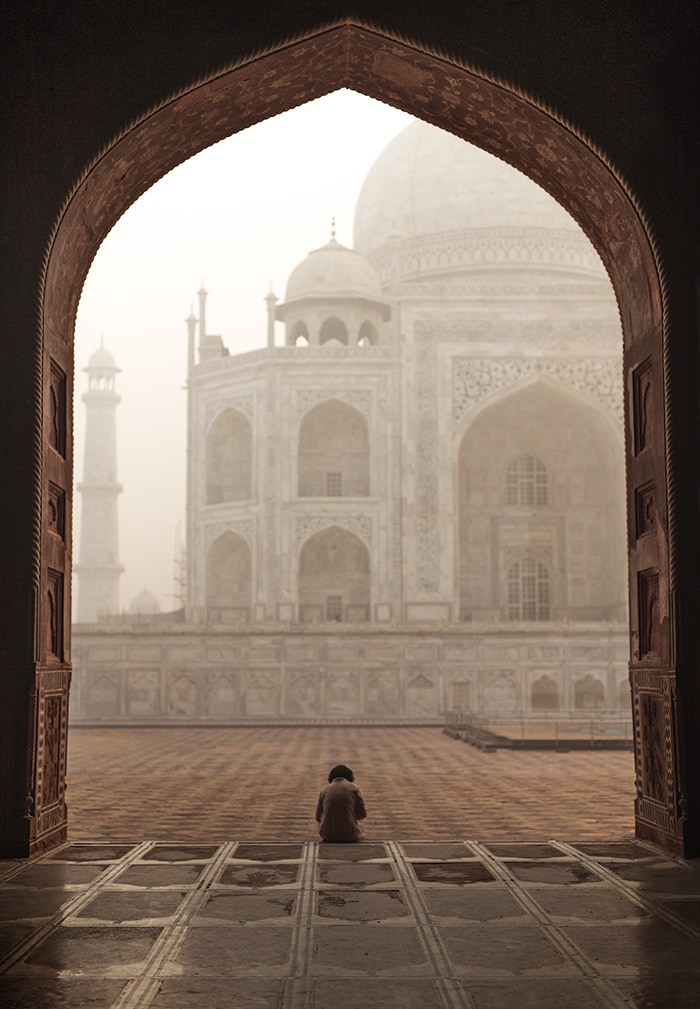 Pin
Still, the crowds were pretty light and there were plenty of nice photo ops.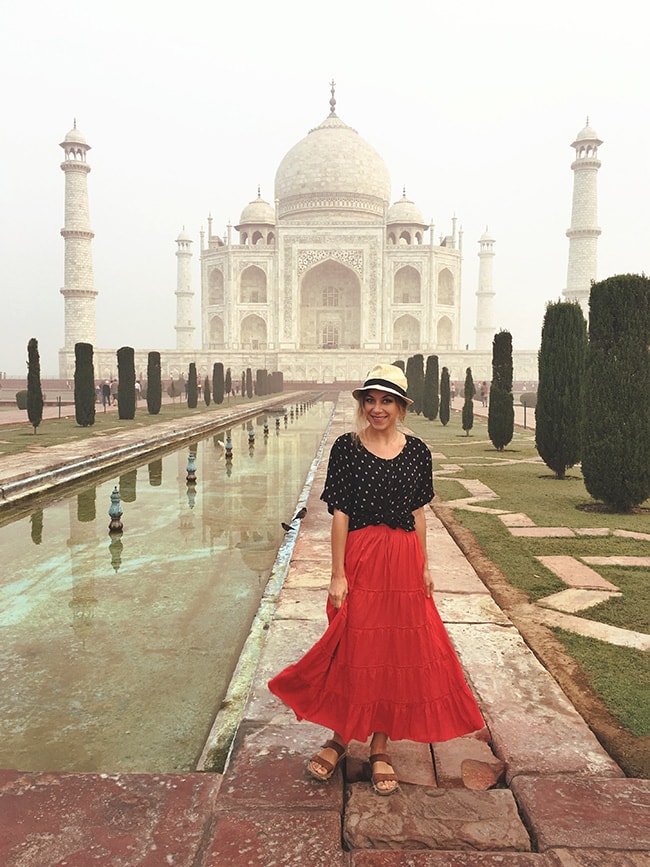 Pin
You can't see the sky in Agra, but the pollution actually gives a beautiful, ethereal quality. Always find the silver lining 🙂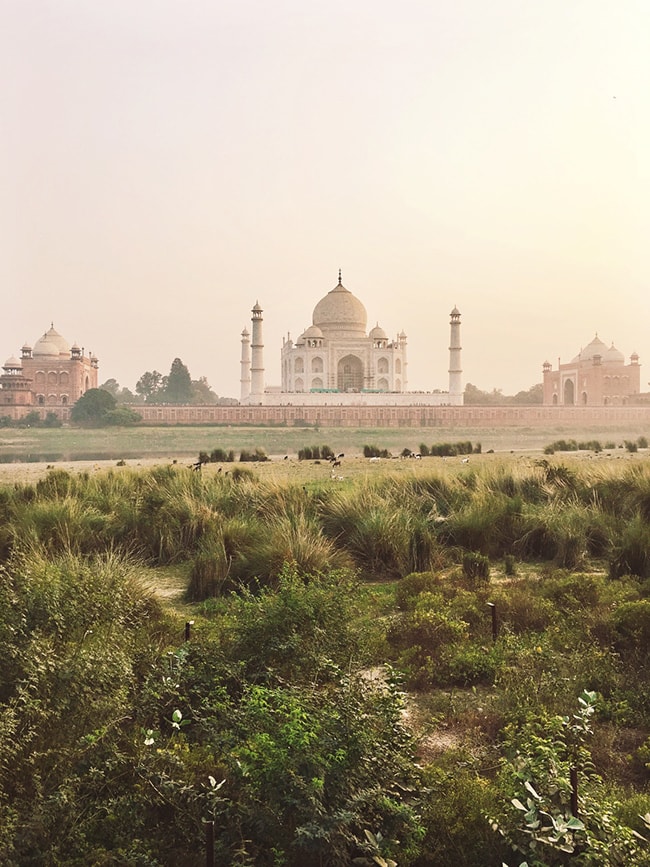 Pin
 For sunset, we found a viewpoint across the river to see the Taj from a different angle. It was quite a peaceful and serene setting. I'm not sure why everyone hates Agra so much…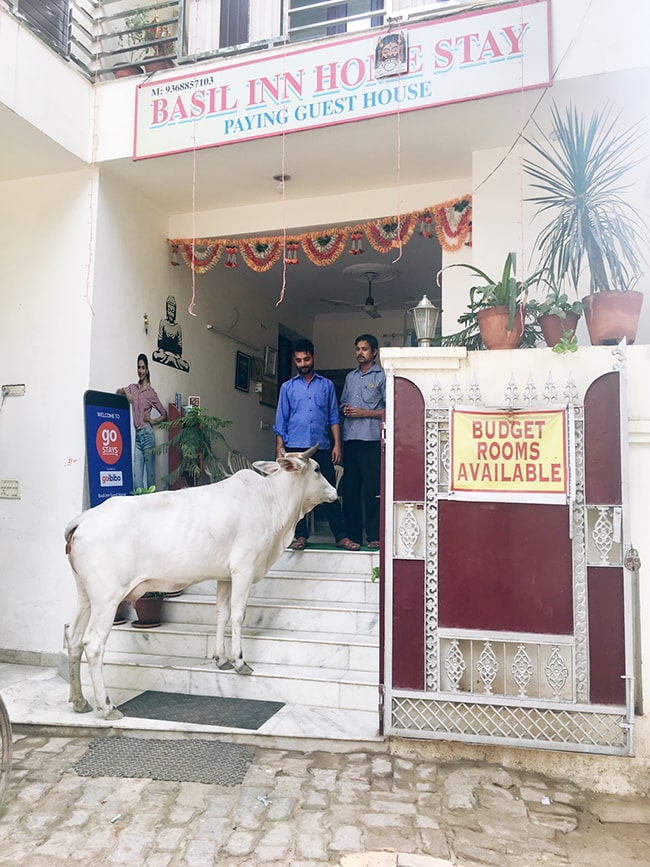 Pin
The next day we had an appointment to visit rescued elephants at the Wildlife SOS, just north of Agra. I'd been researching ethical sanctuaries in India, and this was the only one confirmed.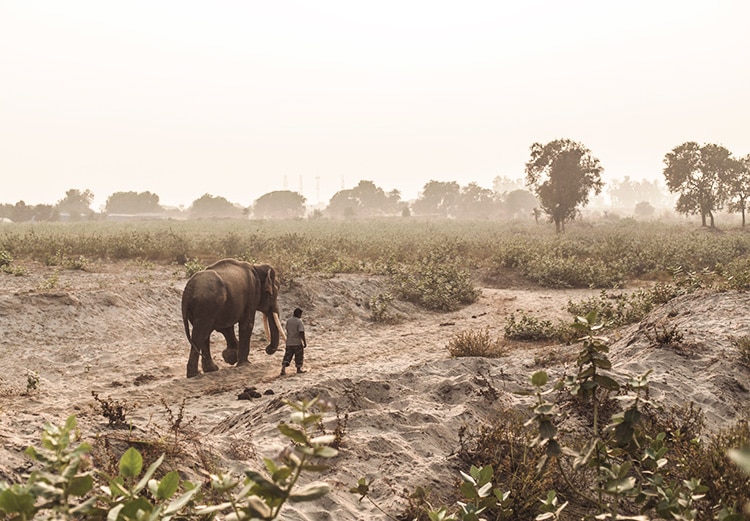 Pin
Two years ago in Thailand, I first learned about the shocking and cruel treatment to captive elephants, and fell in love with the sweet creatures during a visit to a sanctuary.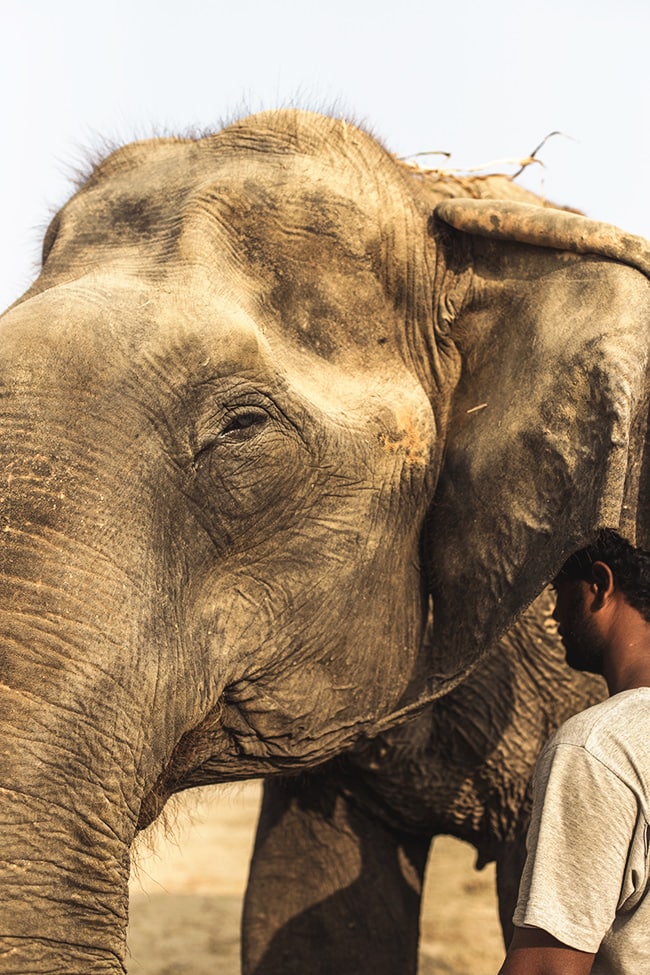 Pin
Unfortunately there are still hundreds of privately owned elephants in India today, used for everything from rides for tourists to religious/temple celebrations to begging on the street. The torture they put them through behind the scenes to domesticate and "break their spirit" is heartbreaking.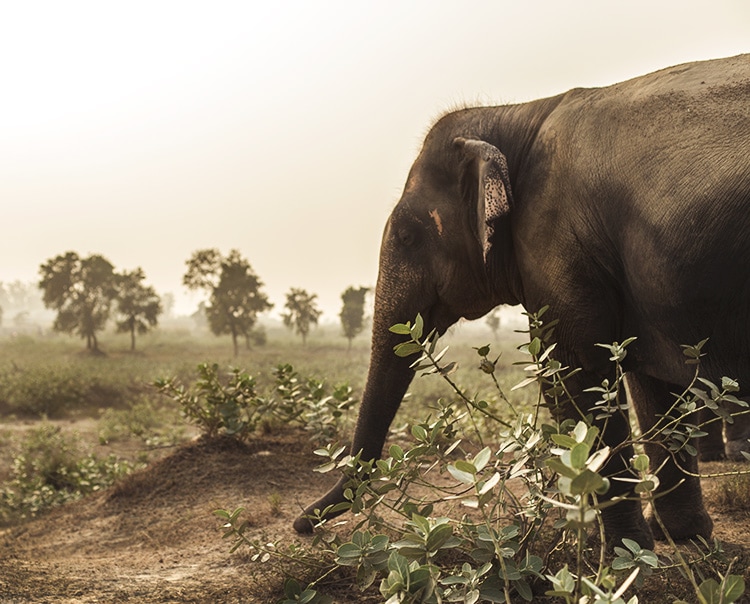 Pin
Many of the elephants were injured and blind, but they were so sweet and gentle. We learned their story, walked with them and fed them, and I didn't want to leave.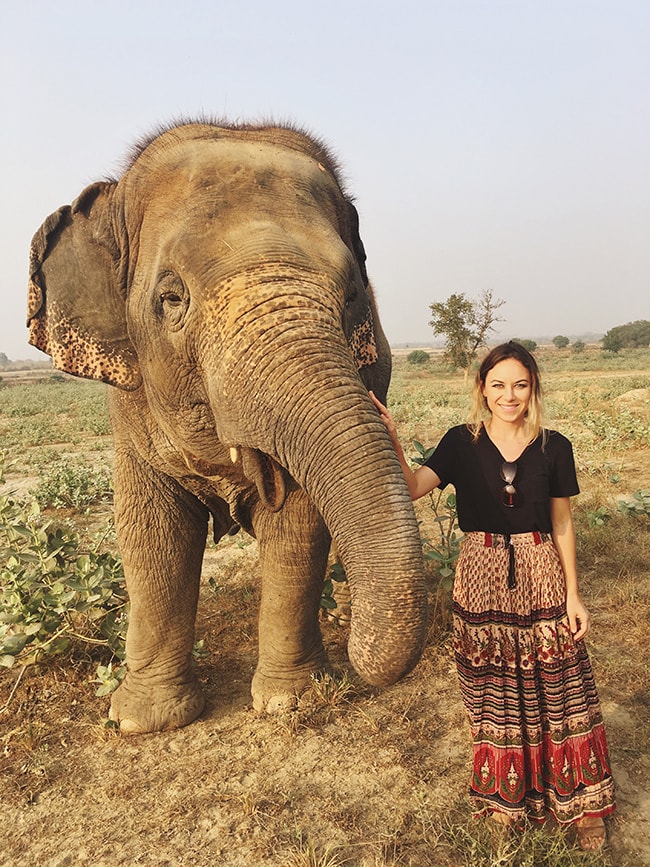 Pin
Wildlife SOS operates on volunteers and donations, is actively in the process of trying to rescue more animals, and we were happy to contribute to such an important cause.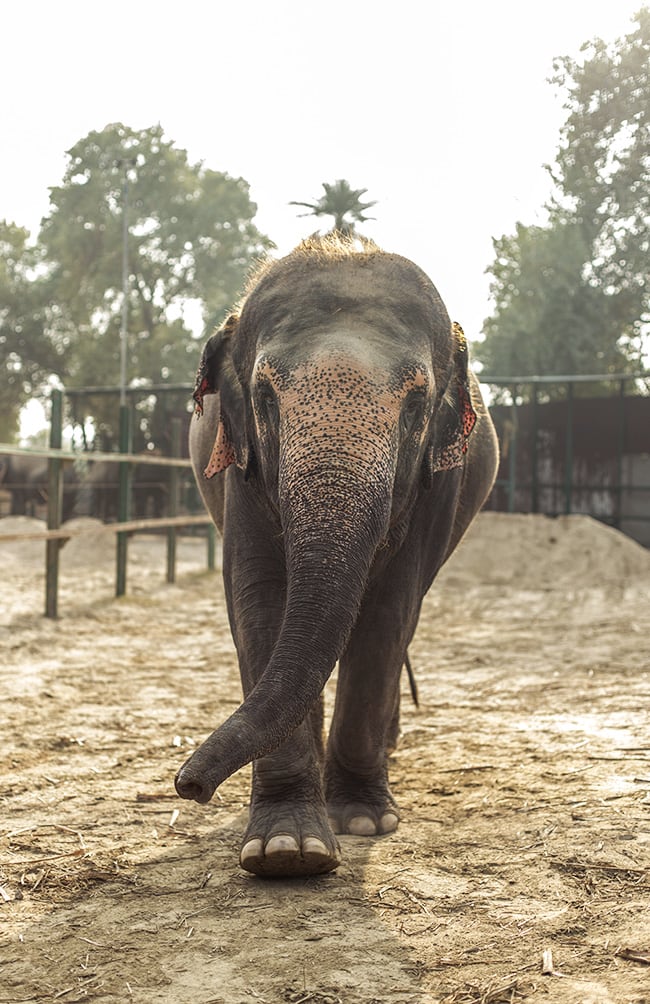 Pin
By that evening, we were on an overnight train to Khajuraho.
Day 231-234: Khajuraho
The sleeper train situation looks pretty awful, but it's actually nicer than many of the hostels in India. Even with screaming babies, snoring men two feet away from your face and squatty potties with no toilet paper. I feel like we should earn some sort of certificate for "Professional Traveler" after successfully completing four overnight trains in India.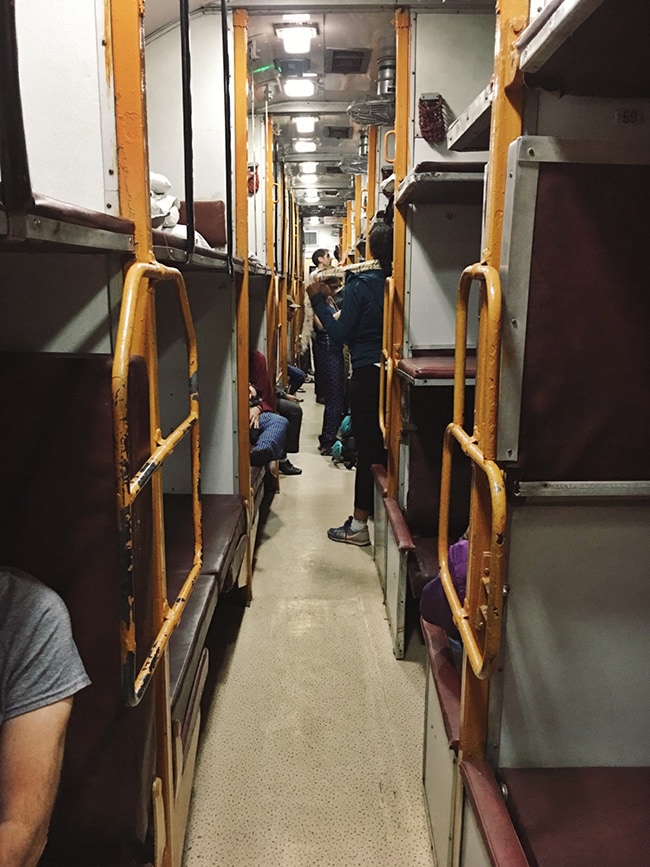 Pin
We arrived in Khajuraho, and it was like a breath of fresh (well, only halfway polluted) air.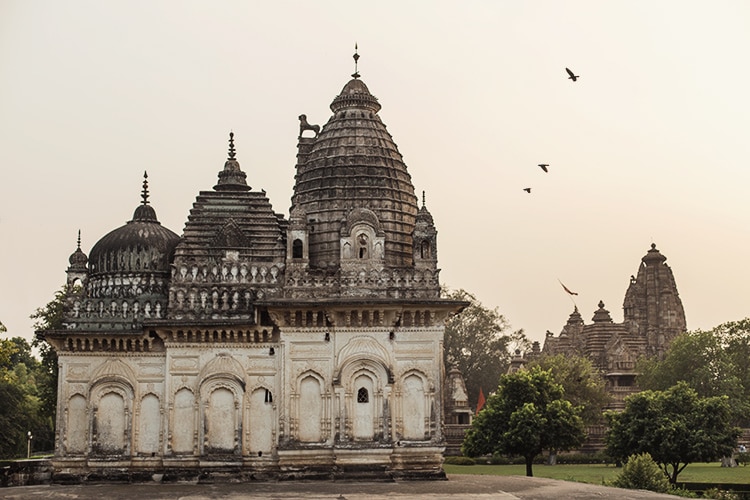 Pin
It's a small town out in the rural countryside, dotted with temples and very few cars.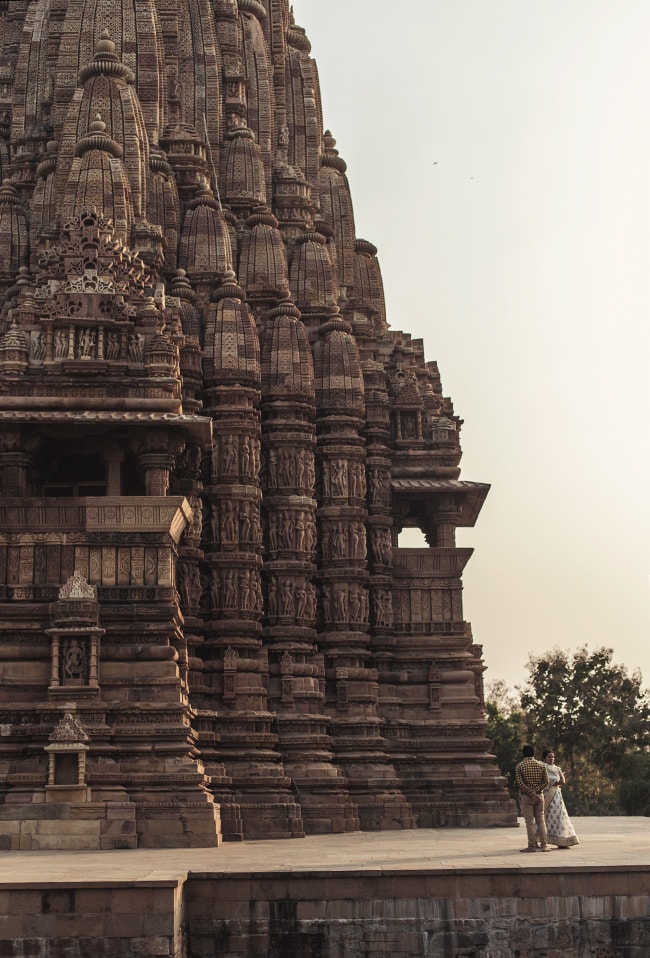 Pin
We found a yoga/meditation center and decided to stay for four days, giving ourselves a mini retreat from the chaos between cities.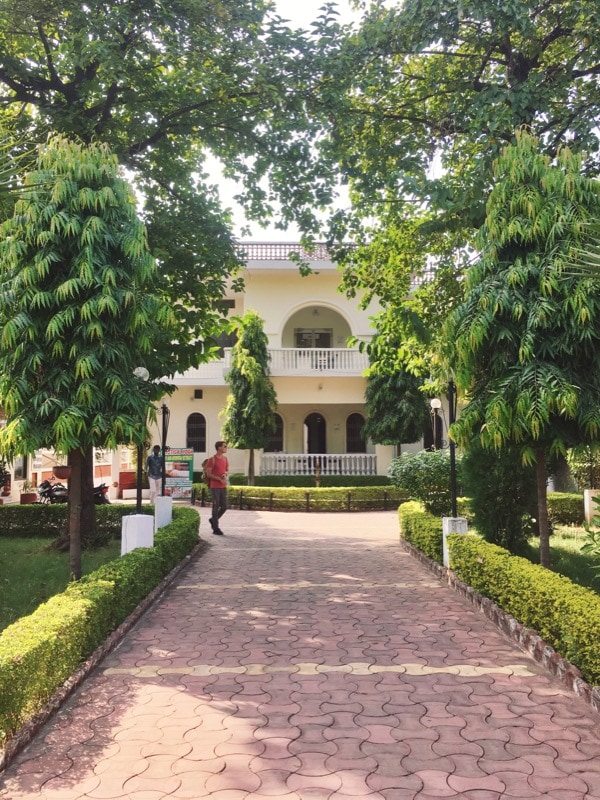 Pin
It was just the break we needed. We did yoga every morning, rode bicycles around the temples, I was treated by a holistic doctor and finally began to feel better by the time we left.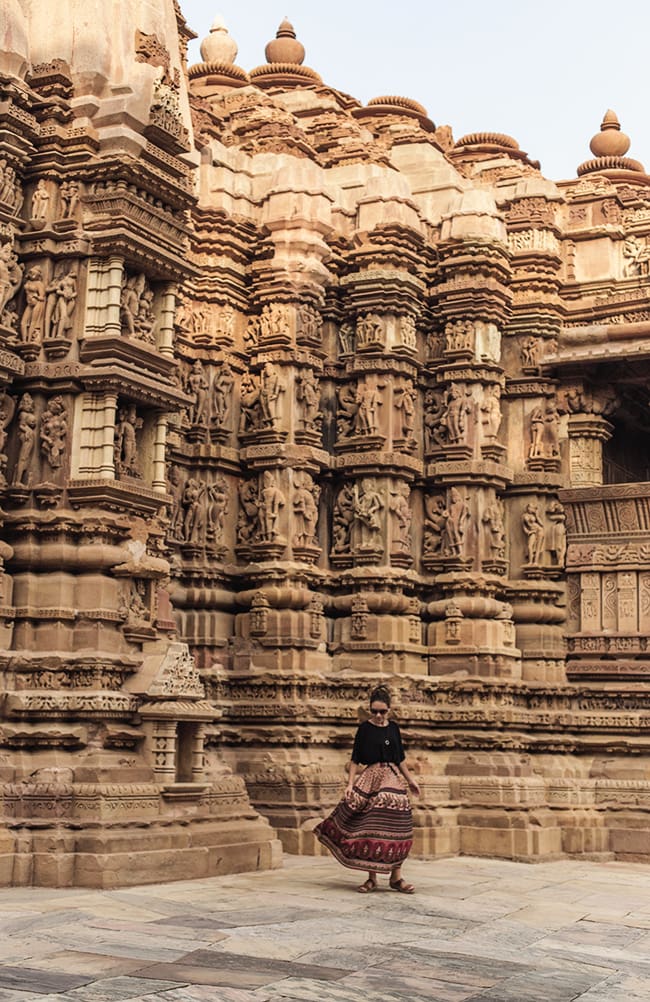 Pin
On our last night, we drove out to a house on the river in a forest of monkeys, with the owner of the hostel and a group of travelers from around the world. We watched the sunset and shared stories over a bonfire and homemade Indian food. That night we saw the stars for the first time in India, and I realized that despite what we've experienced here, our time is so precious, and there's nowhere else I want to be right now than in this moment. Soon, we're going to miss this.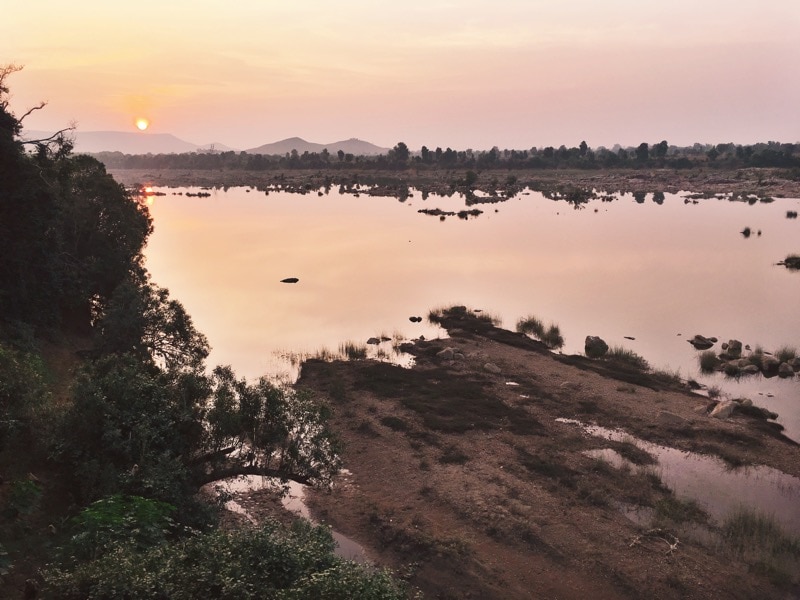 Pin
Day 235-236: Varanasi
The next day, we woke up on a 14 hour train to Varanasi. Considered to be the holiest city in India, Varanasi sits along the Ganges River where worshippers come to bathe, participate in religious ceremonies and cremate the dead.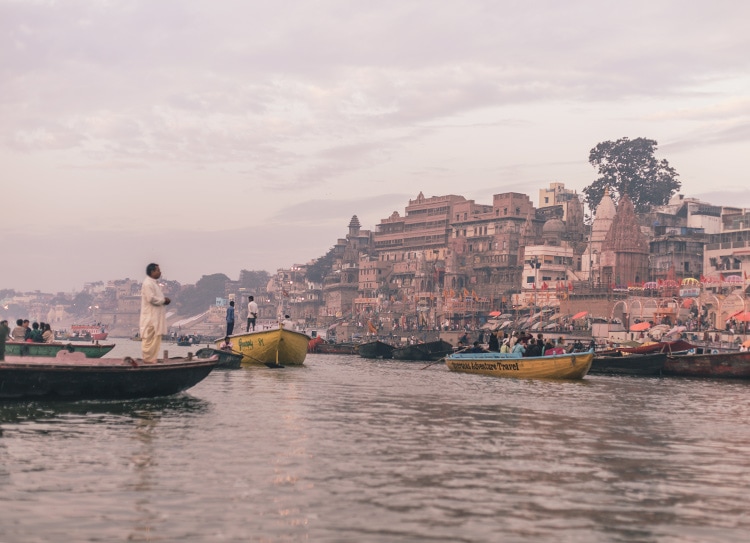 Pin
We knew going in that this would be the most intense place to experience Indian culture, and it sure lived up to its reputation.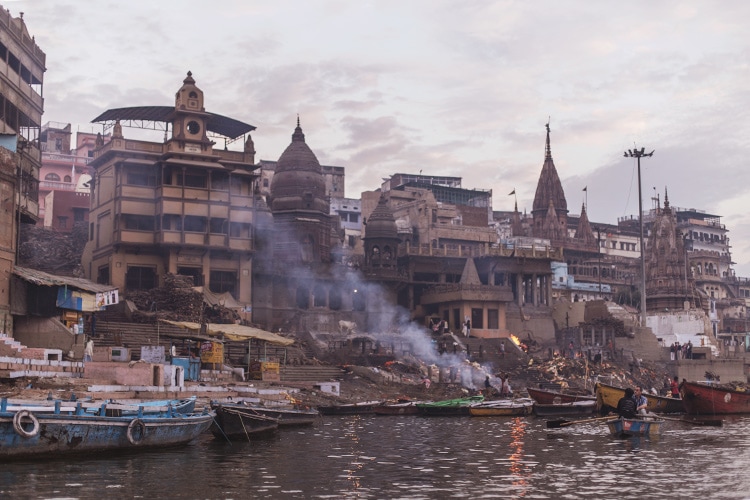 Pin
We arrived in the afternoon and immediately wandered along the riverfront, observing the activities at each ghat (wide staircases leading down to the river). After a few minutes we came across a crowded area with burn piles. It was one of the two "burning ghats", which is where the cremations happen.
Pin
In the Hindu religion, Varanasi is the most sought after final resting place, allowing your soul to enter directly into heaven after the sacred ritual. Worshippers travel here from all over India to secure the highest afterlife for their deceased loved ones. Children, holy men, pregnant women and those killed by a Cobra bite are exempt from cremation, and simply pushed out into the river.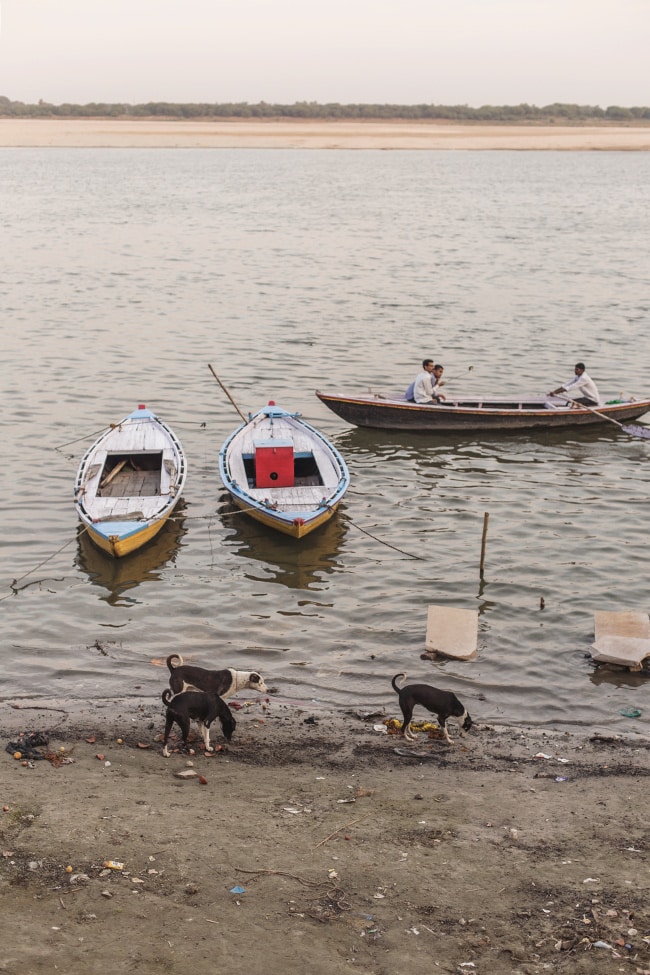 Pin
We sat on the steps for some time and watched the rituals—bodies carried through the streets by chanting men then dipped into the river; a man shaving his head before performing ceremonies with mourning families; logs stacked on bodies wrapped in blood soaked sheets and set on fire. Captivated, we tried to make sense of our surroundings as goats in t-shirts frolicked around us and old bearded men tried to take our money.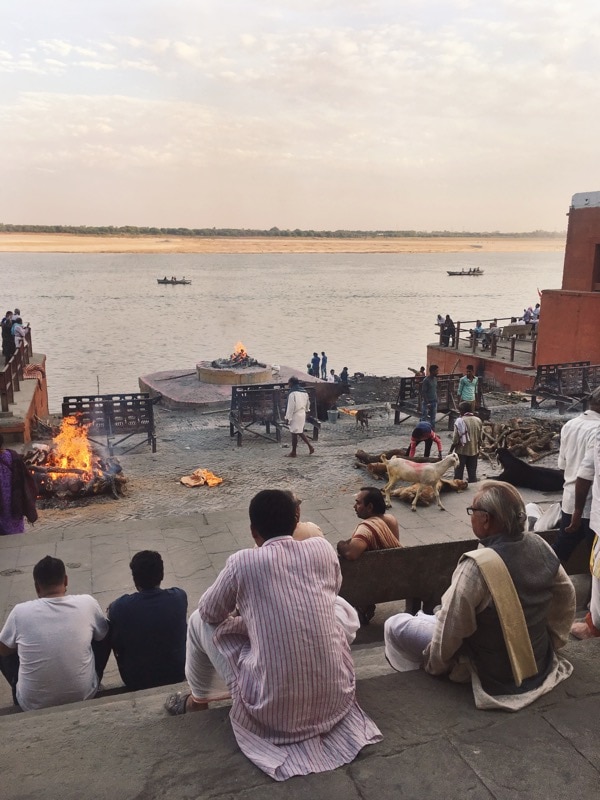 Pin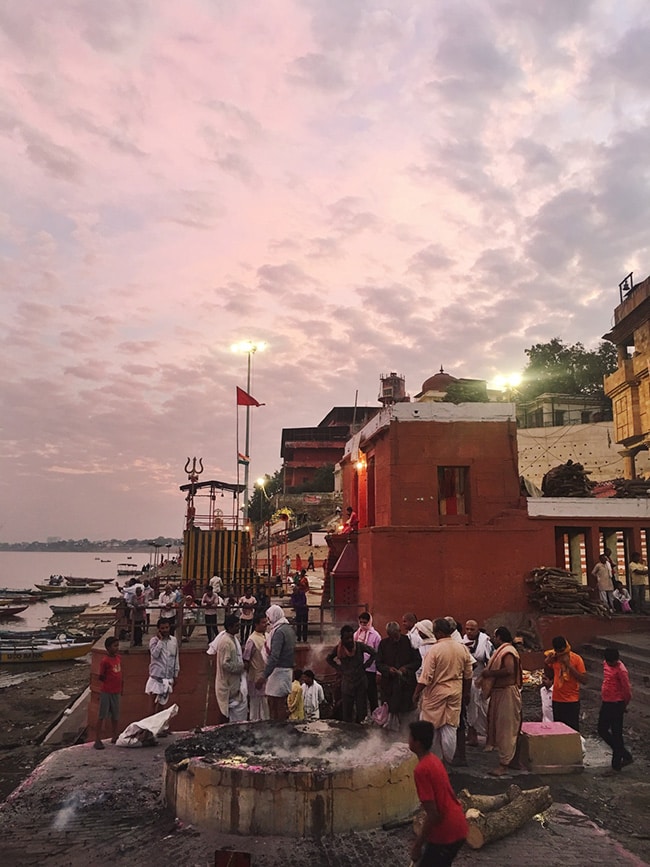 Pin
The Ganges river is filled with pollution, trash, ashes and corpses—yet because it's a 'holy' river, they believe it's clean. Twenty four hours a day they come to bathe, wash their laundry, even brush their teeth in the murky water.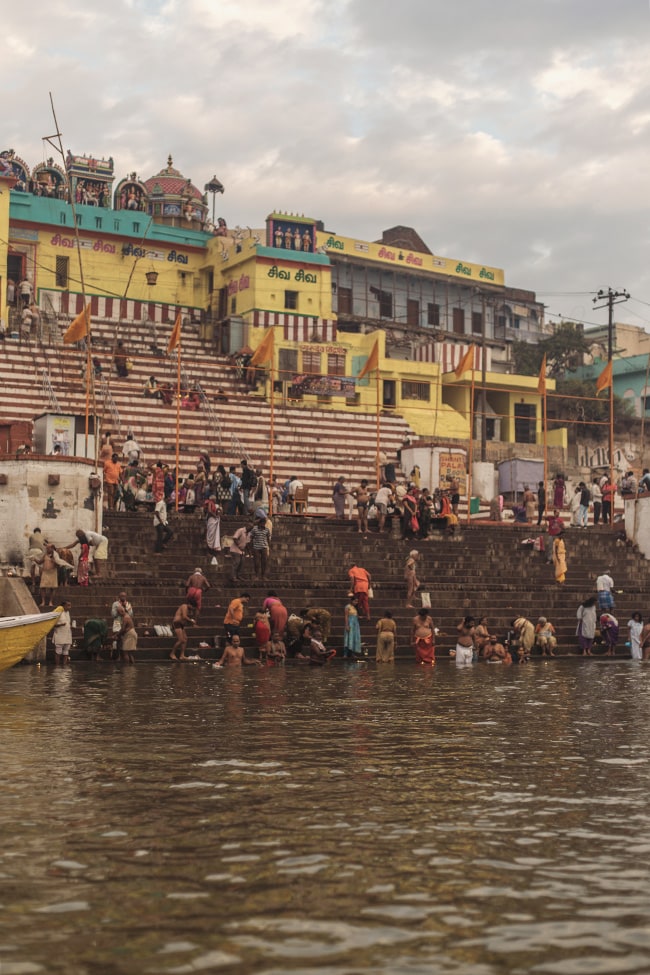 Pin
When you realize that this river, filled with matter in all stages of decomposition is actually the cleanest place to be in Varanasi—then you begin to understand just how filthy this place is.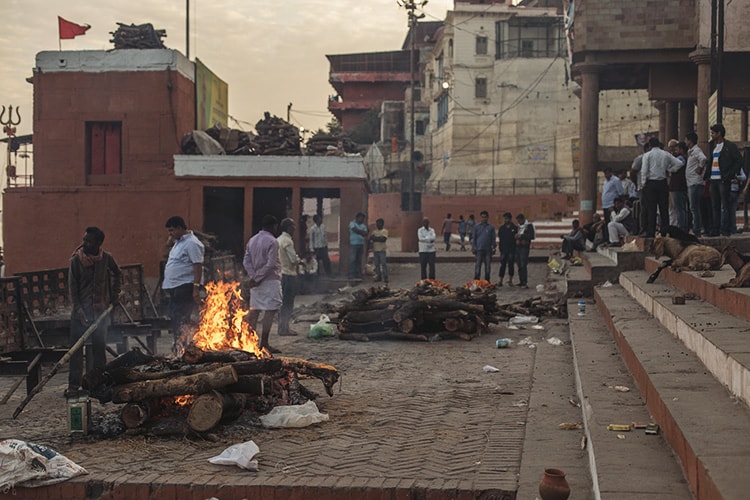 Pin
The streets are like a war zone, where every step is a careful maneuver around cow dung, tobacco-filled spit, rotting food, bits of ceremonial waste and oncoming traffic. You learn real quick to only breathe through your mouth.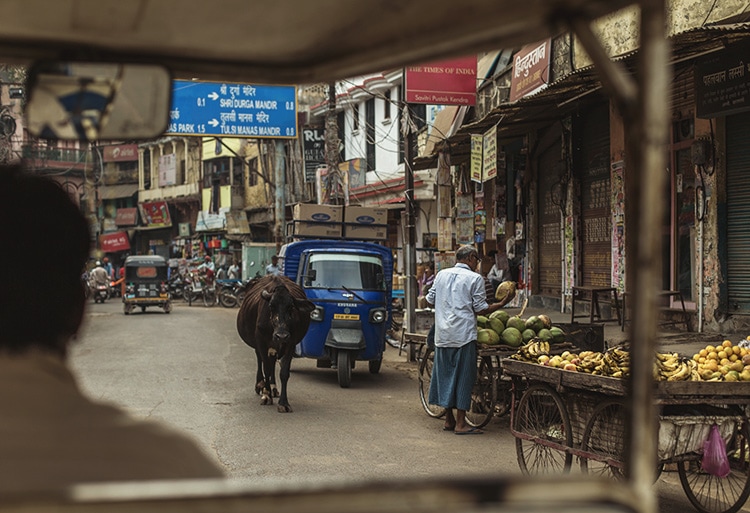 Pin
We set our alarms for 5am to watch the sunrise over the Ganges by boat. This is without a doubt the best way to see Varanasi.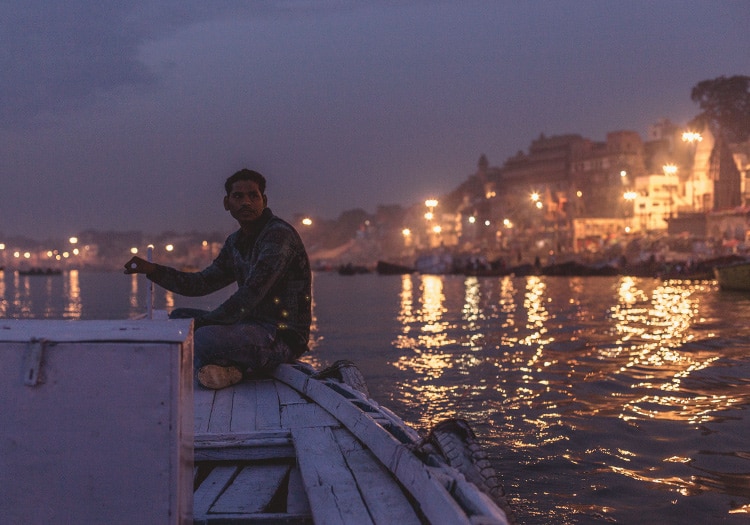 Pin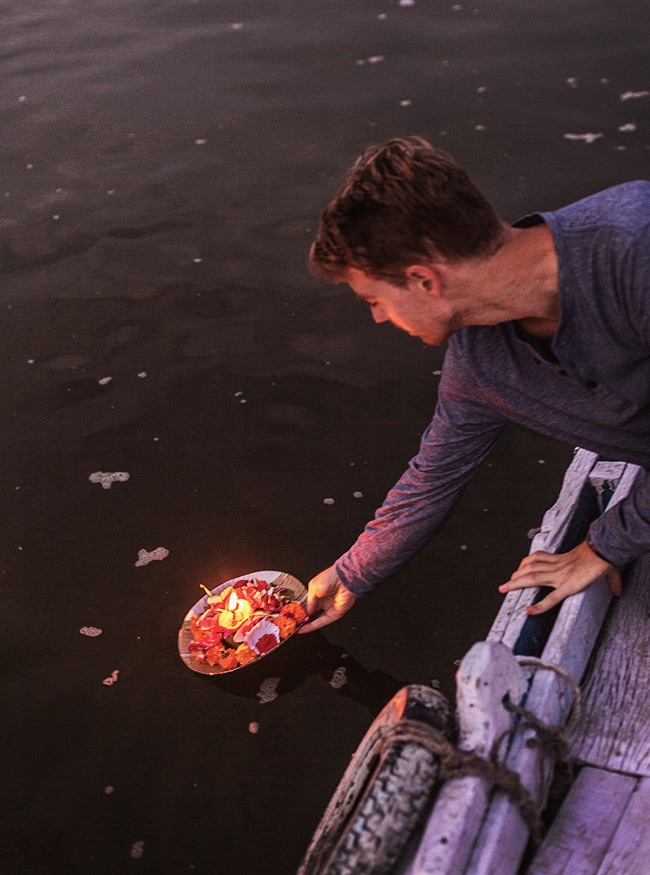 Pin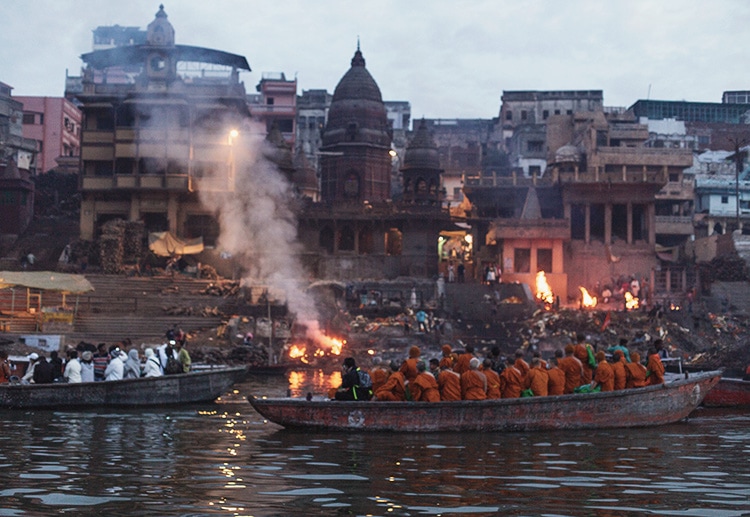 Pin
The smoke from the constant cremations forms a thick layer above the river, creating a dreamy setting to witness this holy final resting place change color as the sun rises.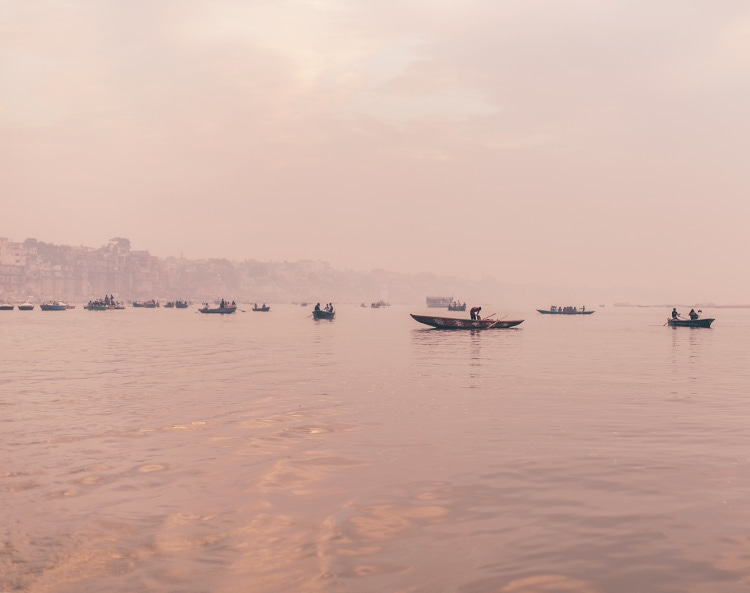 Pin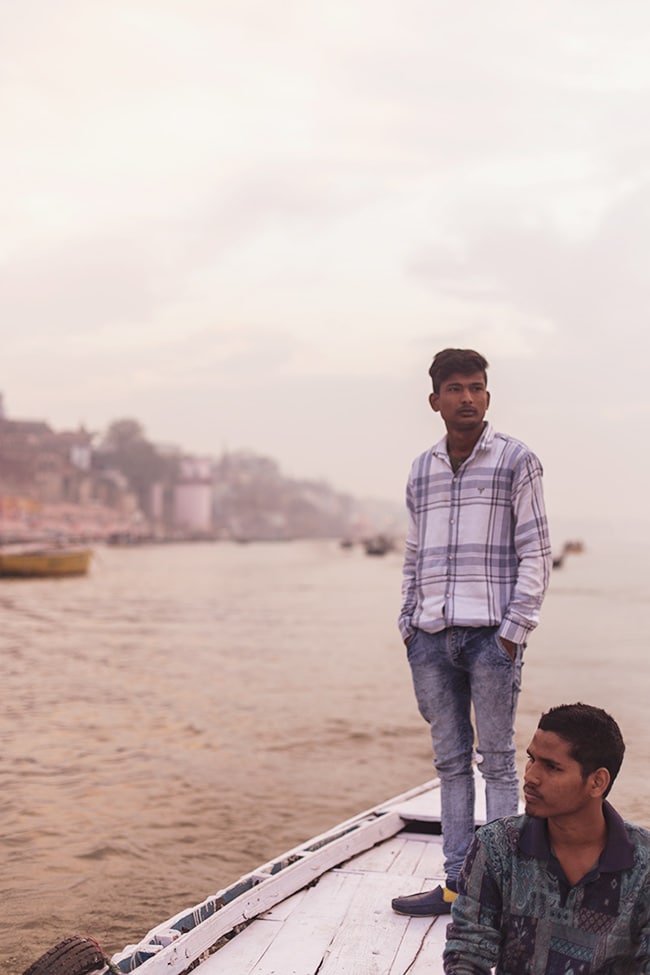 Pin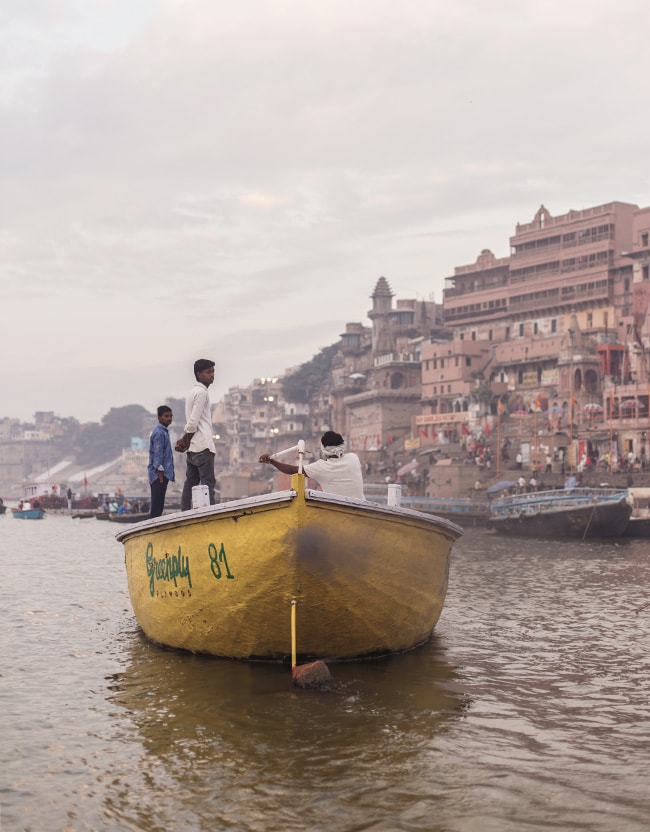 Pin
That morning, we withstood the chaos on the streets for as long as we could stand it, then retreated back to our hostel to wait for our night train. One day was more than enough time to spend in Varanasi.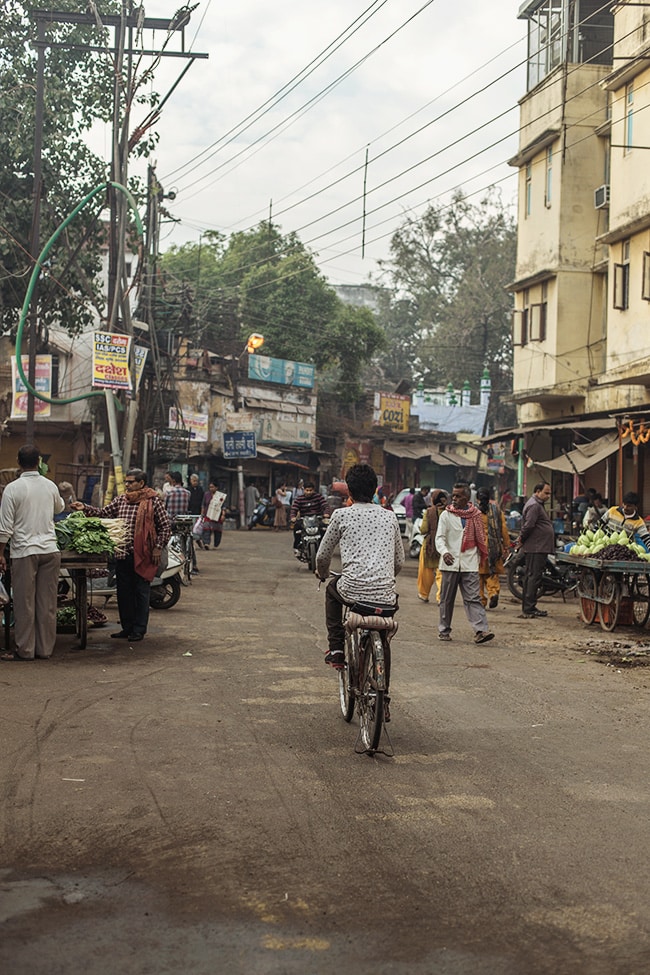 Pin
Day 237-240: New Delhi
After sixteen hours in a delayed train, we had arrived to our last and final stop. It was a bittersweet realization, but one we had both been looking forward to.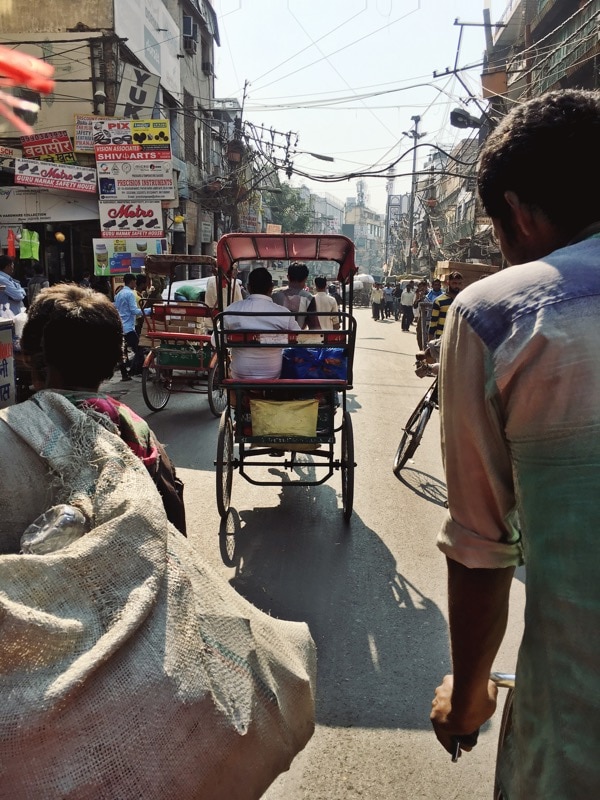 Pin
New Delhi is India's capital city, with 26 million inhabitants in the metro area. At this point in our trip, we were thrilled to see taller buildings and neon signs which signaled a more developed civilization.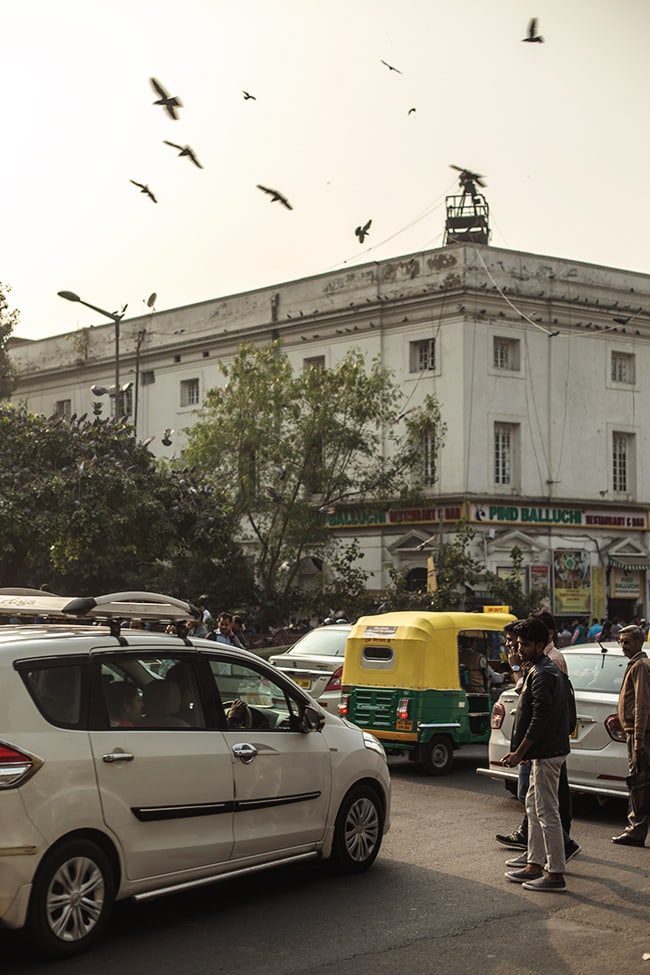 Pin
The neighborhood we stayed in had a main bazaar road, and reminded us a bit of Bangkok (without all the backpackers). We were pleased to find great shopping here, and stocked up on souvenirs and Christmas gifts.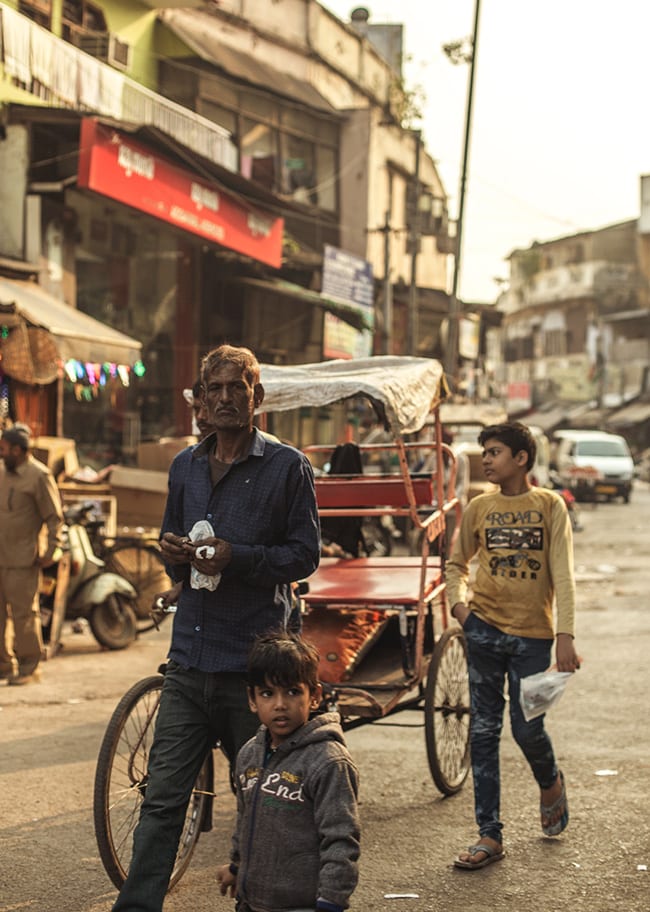 Pin
One thing we'd been wanting to try during this trip was a cooking class, and with Indian food being one of our favorite cuisines, Delhi was the perfect place to make it happen.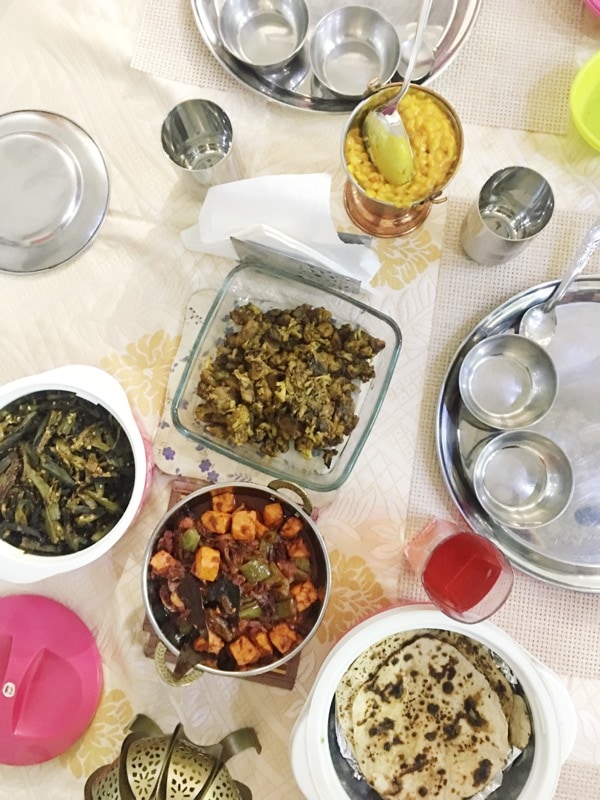 Pin
We found a lady offering private classes in her home, and took the metro across town to meet her one evening.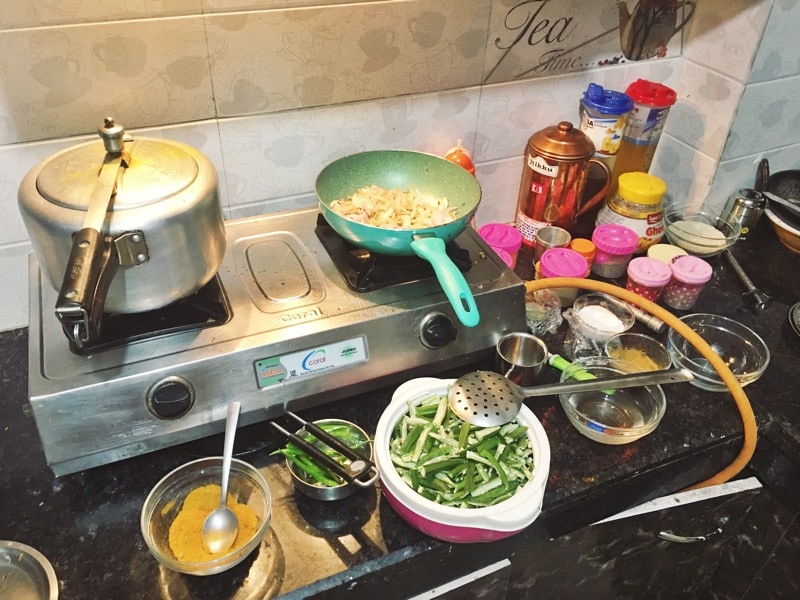 Pin
The class took several hours (Indian food is complicated!) and we made four dishes, which were easily the most delicious we'd had in all of India (and a contender for best on this entire trip!). She sent us home with boxes of spices, and we're looking forward to recreating them for our friends and family at home.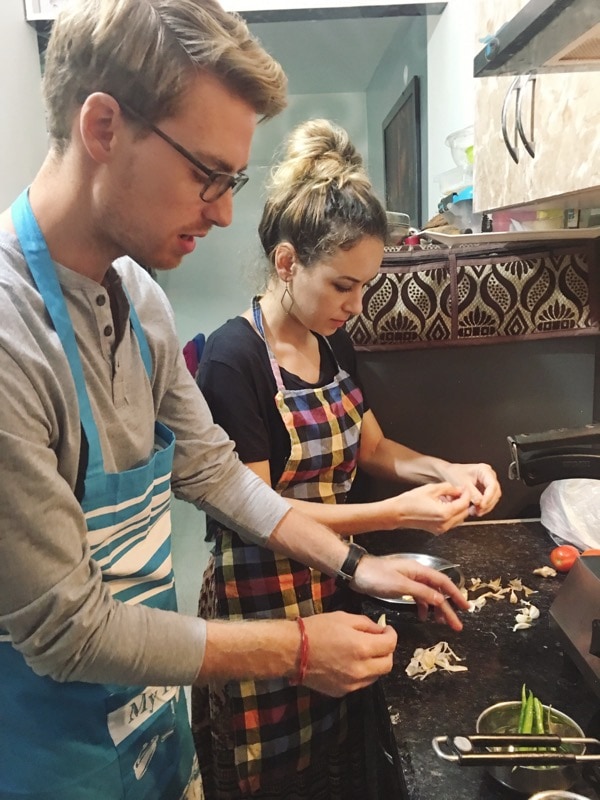 Pin
As we were approaching our last day, the idea of getting tattoos came up. At first it was a joke, but then it somehow morphed into a good idea, and the next day we were in a tattoo shop.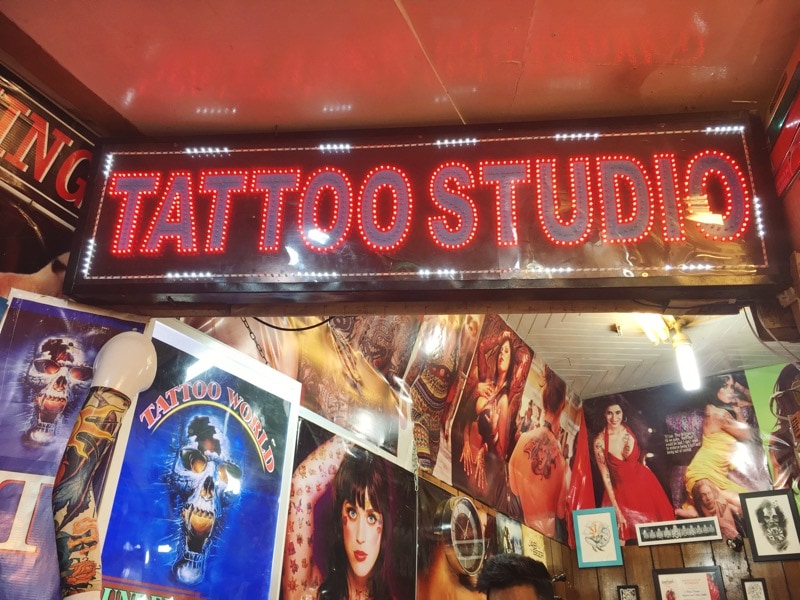 Pin
I've always said I'd never get a tattoo, but in this moment, something inside me changed. After such a momentous year for us, we felt the need to memorialize this trip in a permanent way—and a tattoo seemed like the best way to do that.
I decided on the word 'Gratitude' written in Arabic.
Pin
Gratitude is the one thing I've gained most from this trip. Experiencing cultures from all corners of the world and walking in their shoes is incredibly humbling, and puts life into perspective. You can't help but shift into a more grateful state of mind, and with gratitude there is no fear, no hate, no negativity. It's essential for living a good life, and this small reminder will now always be with me. I think Arabic is the most beautiful written language on earth, and am in love with the way it turned out.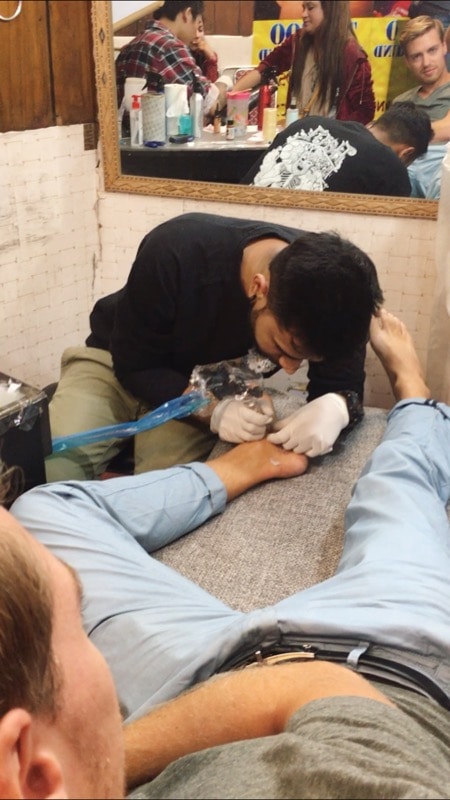 Pin
Lucas came up with the idea of two camels being led by a shepherd. The camels represent both of us, and the shepherd represents our purpose that is guiding us—our what or why in life. Our purpose may change through the different seasons of life, but it's a reminder to follow what's true and not stray from it.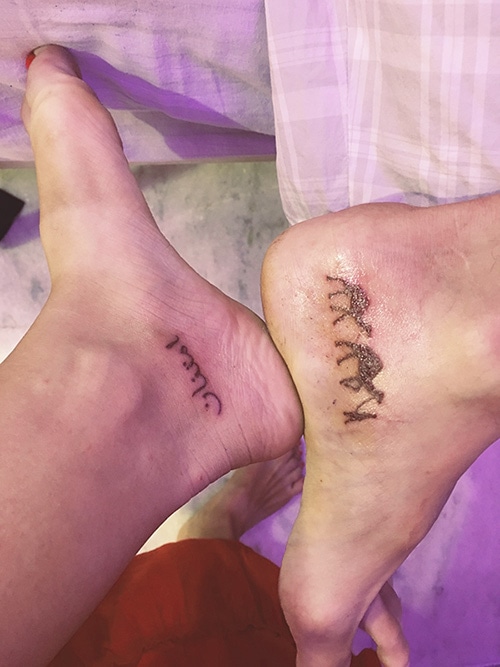 Pin
You'll have to excuse the swollen and scabbed appearance in these photos—they're still healing and will look quite different in a couple weeks. The ink is actually a medium brown which will look more like a henna once it's healed. We absolutely love them and what they represent. Oh, and here's how my infamous travel sandals look after 8 months and approximately 970 miles across 5 continents later… I need to preserve these things forever 😉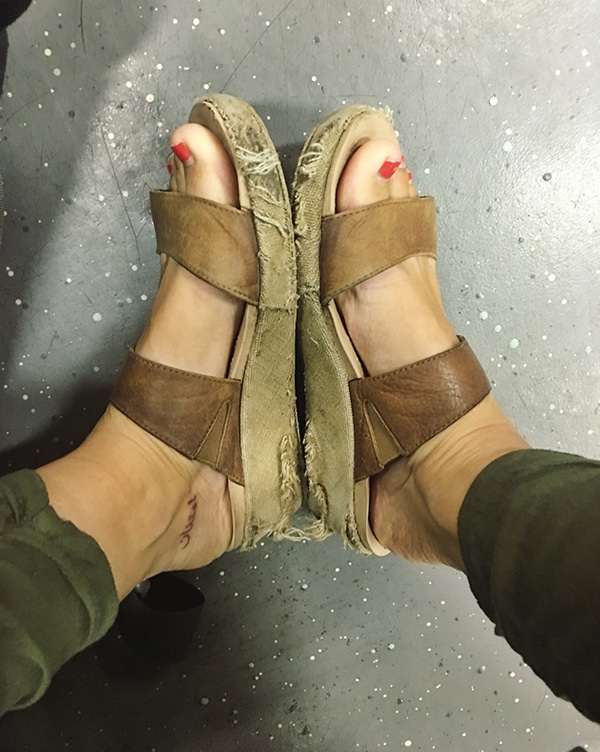 Pin
What have I learned from the past eight months?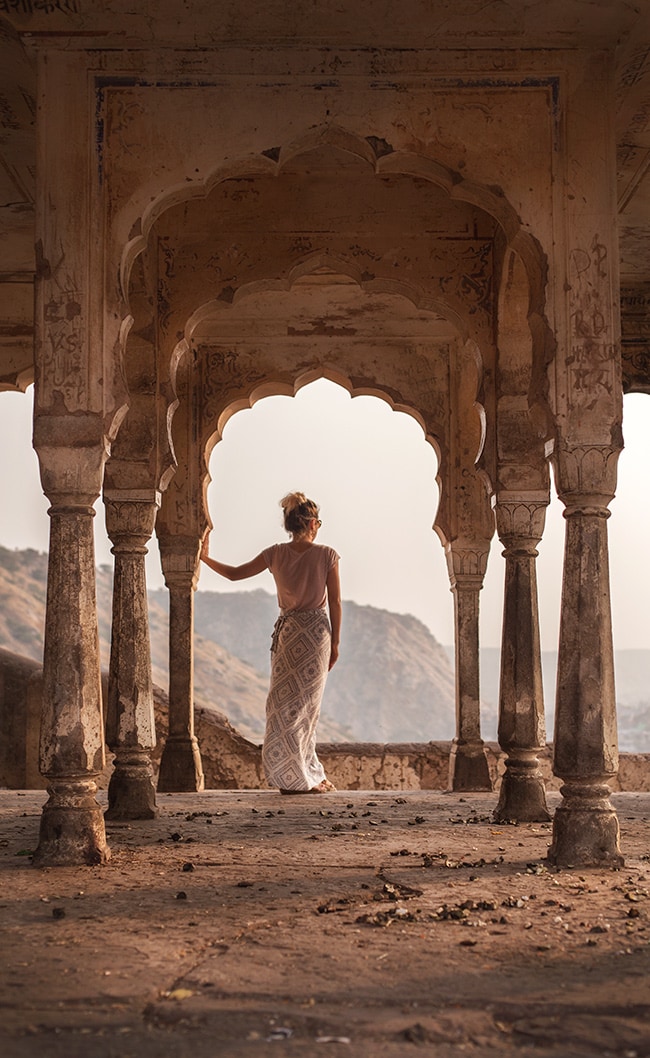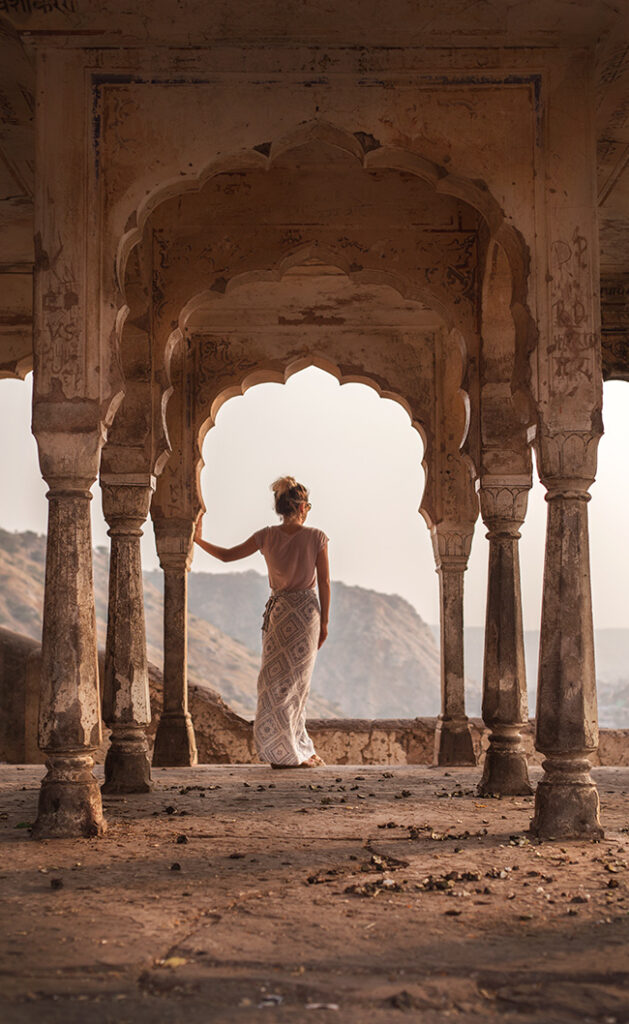 Pin
That there is an incredible amount of beauty in the world, and so much more good than there is bad. It may not seem that way right now, because those who are negative are the loudest. Negativity is a cancer that can spread like wildfire when left unchecked, and only positivity and love can stop it. The majority of us are fighting the good fight and we can't forget to speak up.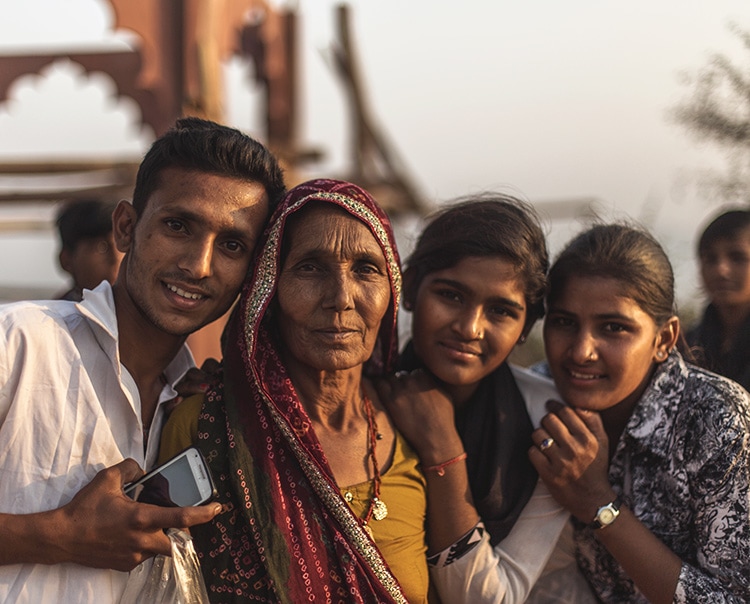 Pin
Never forget how fortunate you are to have your freedom. Use that freedom to choose happiness, to travel the world and see the beauty that exists. It's all around us, you just have be looking for it.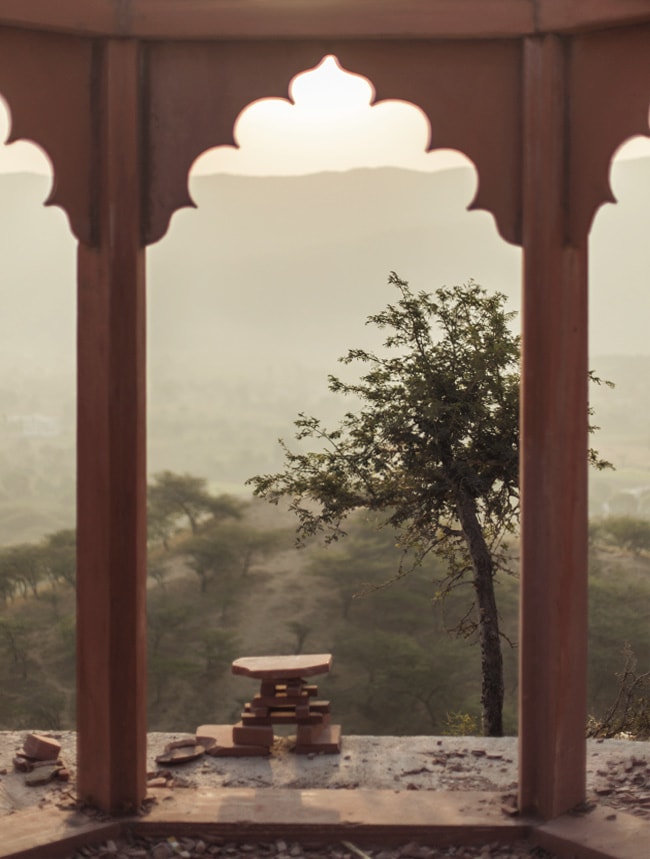 Pin
Time isn't measured by minutes, but rather in the richness of moments. Fill those moments with gratitude and you'll live wealthier than you could ever imagine.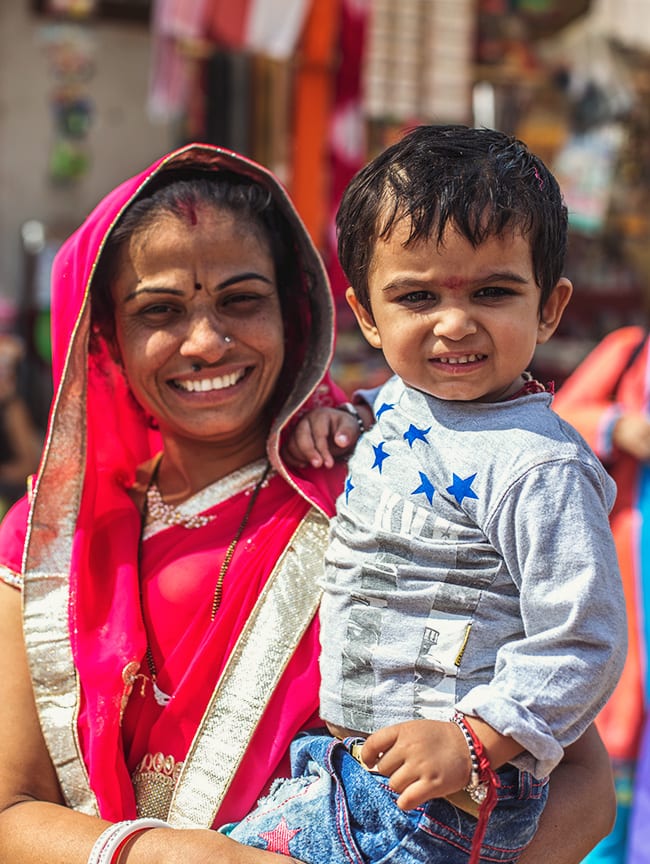 Pin
Thank you for following us on this journey around the globe. Now we turn the page to end this chapter as we prepare to begin our longest, and hopefully most rewarding one yet.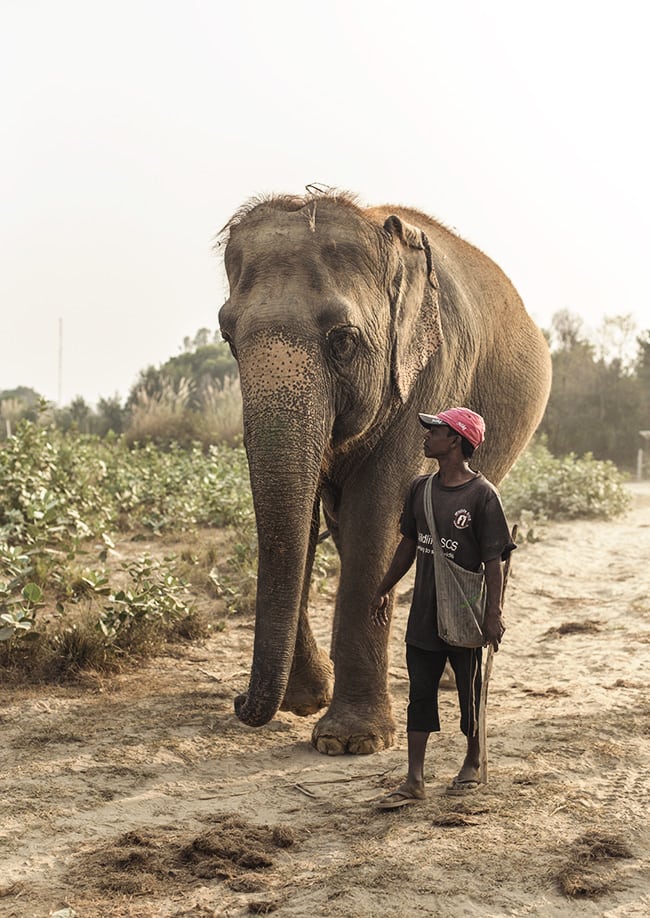 Pin
Stay tuned for the final piece of our travels—the India vlog!