Did Christmas creep up on you this year? Did you just realize you forgot to shop for stocking stuffers? Not to worry! There's still time to get gifts for everyone on your list (thank you, Amazon prime!) without having to brave the cold, crowds and Covid.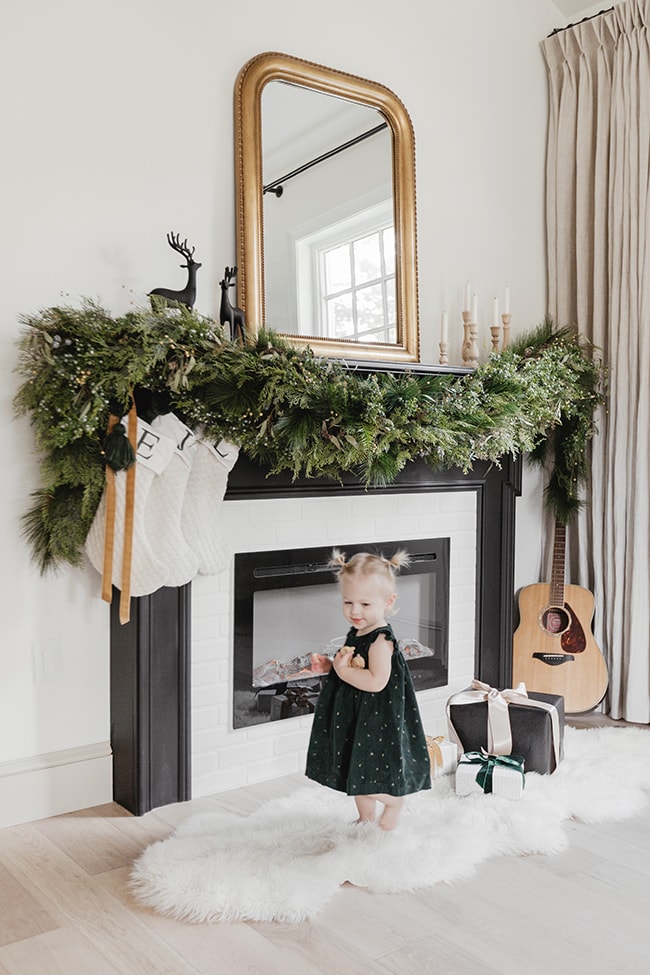 In our family we do a Secret Santa gift exchange for one couple, but stockings are fair game for all. I love shopping for small and thoughtful gifts for everyone in the group, and best of all—these are all under $30 and will arrive before Christmas (if you hurry!)
You can click/tap on the photo to shop each item directly, or see below for why they made the cut:
1. Gratitude journal // Cultivating gratitude is one of the most important things you can do in life, and even more important during this time. This journal makes it easy to build this practice into your daily routine through prompts and short form writing.
2. Desktop calendar set // Nothing says goodbye and good riddance to 2020 by celebrating a fresh new year with this pretty desktop calendar (and it's 30% off!)
3. Batiste dry shampoo // This is the only dry shampoo I've used for years and I can't go two days without it. How did we survive before this invention? Any gal would love this in their stocking.
4. Bananagrams // One of our favorite new games for two people or a group! It's a fun and fast paced twist on traditional Scrabble that keeps your on the tip of your chair (or wearing a banana hat) the whole game.
5. Portable bluetooth speaker // We have a whole collection of these because we take them wherever we go and anytime we're working on a project (I refuse to DIY without music!) This one in particular has over 19,000 4.5 star reviews so you can't go wrong.
6. Hammer multi-tool // Extremely useful tool to take with you camping or have around the house. Whether you need to open a bottle, hammer in a nail or cut some rope, this tool has it all.
7. Wooster brush // Best. Brush. Ever. I use this for everything from trim to furniture, and the short angle makes it a breeze to cut a perfectly straight line without tape.
8. Acrylic paint set // I bought this set last year and used it for both of my landscape painting DIYs. It's perfect for beginners, nice quality paints and it's a great hobby to pass the time and relieve stress.
9. Spring punch tool // This handy nail spring tool marks your workpiece with a dimple to give you a starting point that prevents screws and drills from wandering.
10. Washable cloth masks // We've all gotta wear them so why not make it stylish? I love these winter themed designs (especially the fun reindeer and snowman!) They're on sale for only $7 right now.
11. Embossed rolling pin // I'm not much of a baker, but I'd love to make cookies with this embossed rolling pin! Such a neat idea, and perfect for Christmas cookie lovers.
12. The Power of Now // This is a must read/must own for everyone. It changed my life and I revisit it every year. I can't recommend this book enough.
13. The StudBuddy // We finally had enough of the misreadings from our electronic stud finders and picked up a magnetic one. There's no guessing here since it's magnetic, it never runs out of batteries, and stays on the wall so your hands are free to work. A must have for every toolbox!
14. USB candle lighter // Sick of lighting matches or running out of lighter fluid? Me too. That's why I gifted myself this rechargeable candle lighter that is flexible enough to reach anywhere. Such a cool find!
15. Honest Sanitizer Spray // You can never stash too many sanitizers in your car, purse and around the home. I love that this one is plant-based and smells like the ocean—perfect to fight off those winter blues!
---
I hope this roundup was helpful and you were able to find at least one gift for someone on your list! This will be my last post before Christmas, but I have one more coming for you before the new year to spill all the details about what to expect from this blog in 2021. In the meantime, catch me over on Instagram for daily updates.
Have a very merry Christmas, everyone!