Since finishing up the Cottage House Flip this past February, I haven't been able to work on a single house project in nine months—the longest break from DIY/rehabbing since I bought my first home in 2008!
Fortunately, my parents took on a project of their own during this time and I think it turned out pretty amazing—so amazing that I just had to share it with you guys. Their bathroom needed a makeover in a major way, and after two months of work, the final result was unrecognizable.
I wish I could take credit for this one, but the extent of my help was limited to opinions on tile and placing a few orders. Even though our styles aren't exactly the same, I can always appreciate design with unique and personal touches, and that's what this bathroom has.
They lived with the Before like this for quite some time…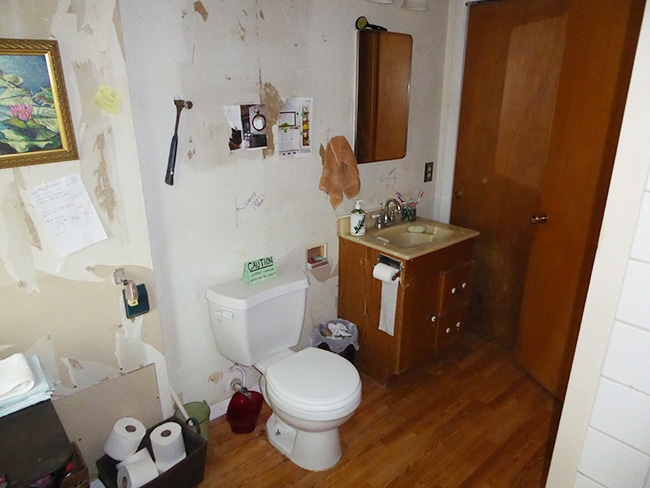 Pin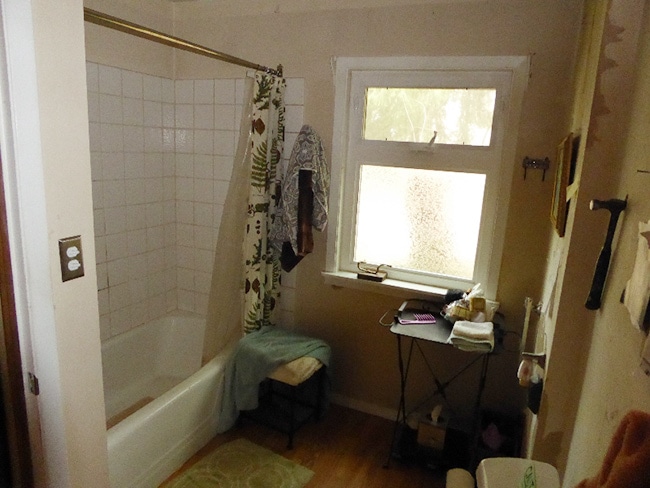 Pin
Then came demo day, and putting it back together…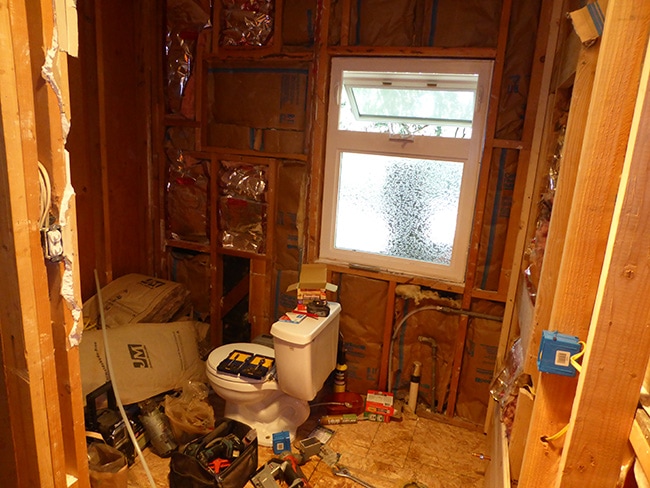 Pin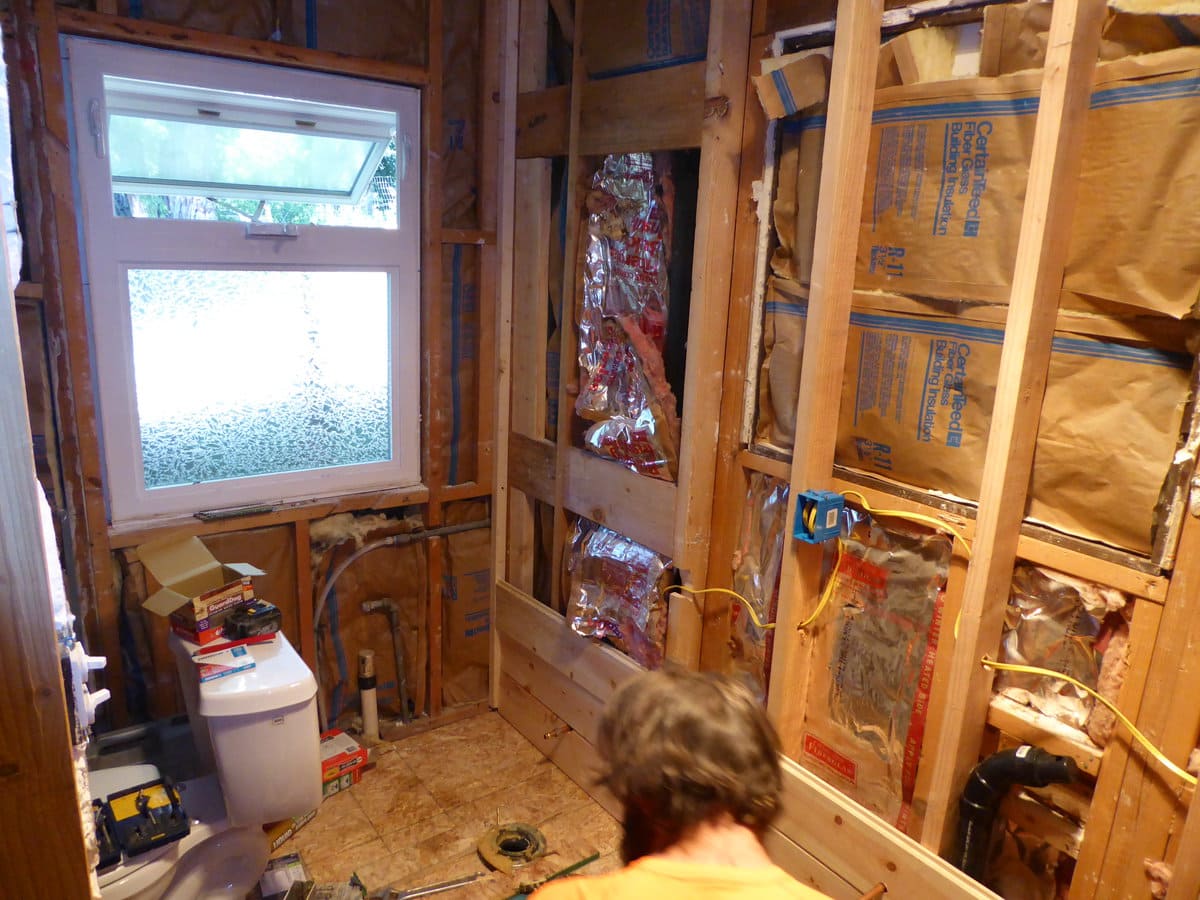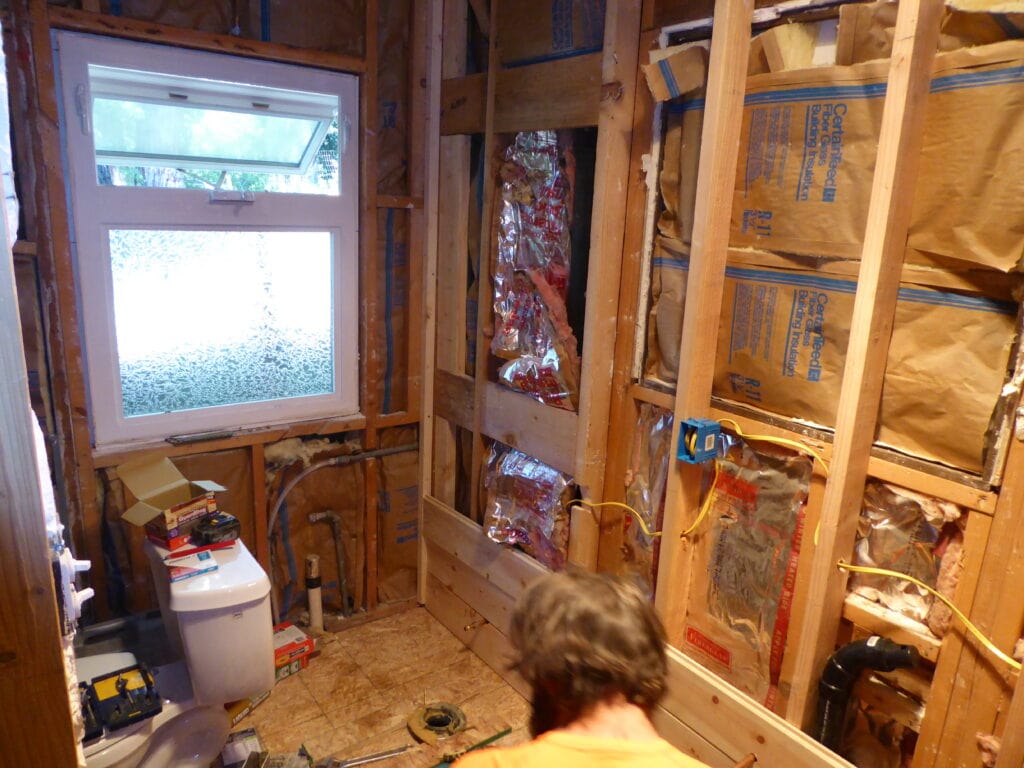 Pin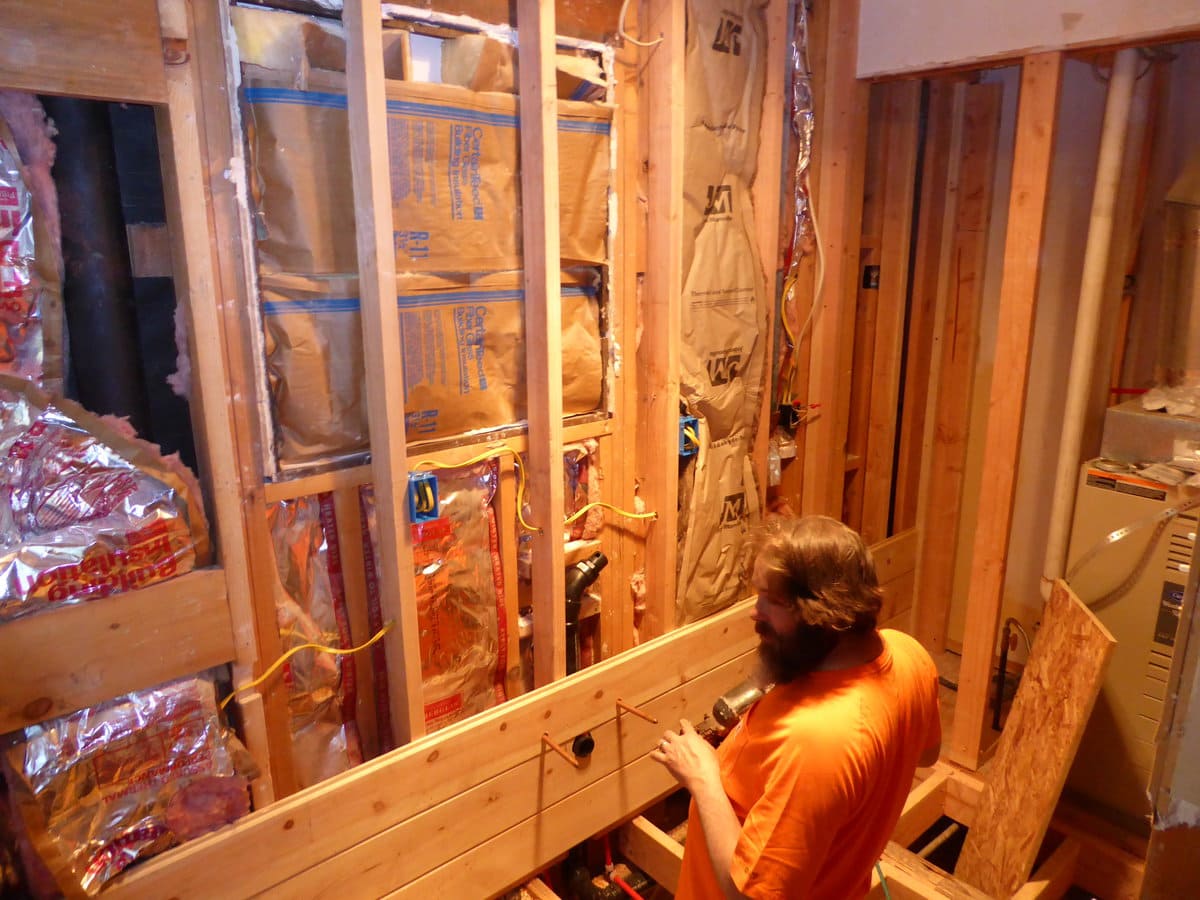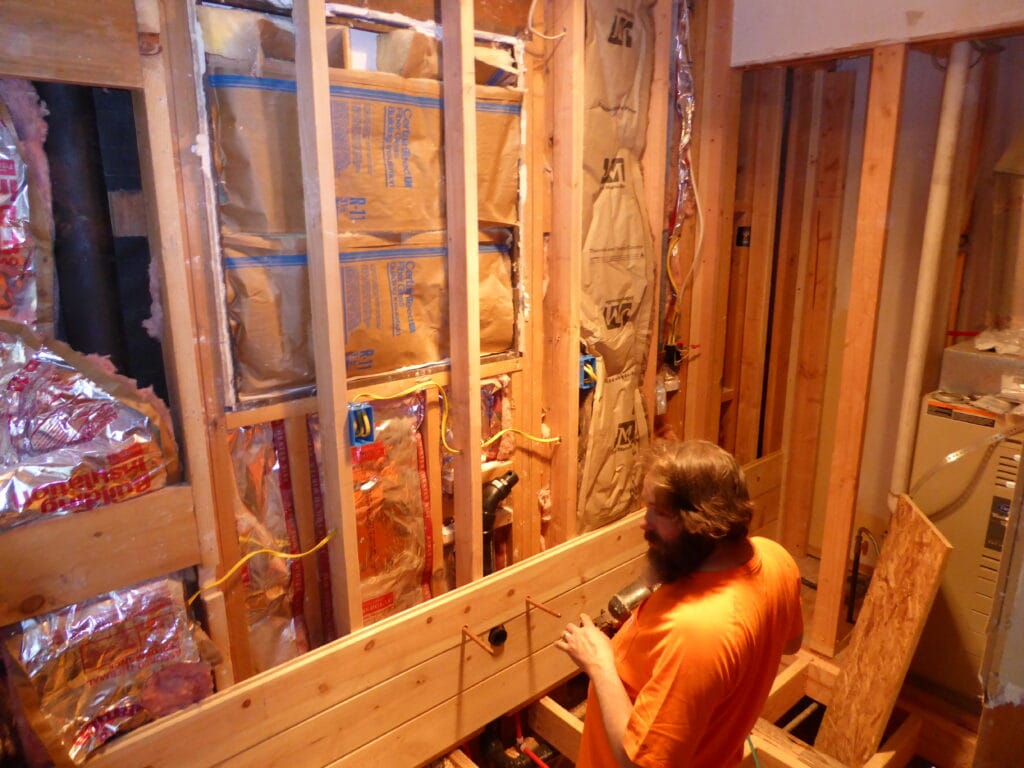 Pin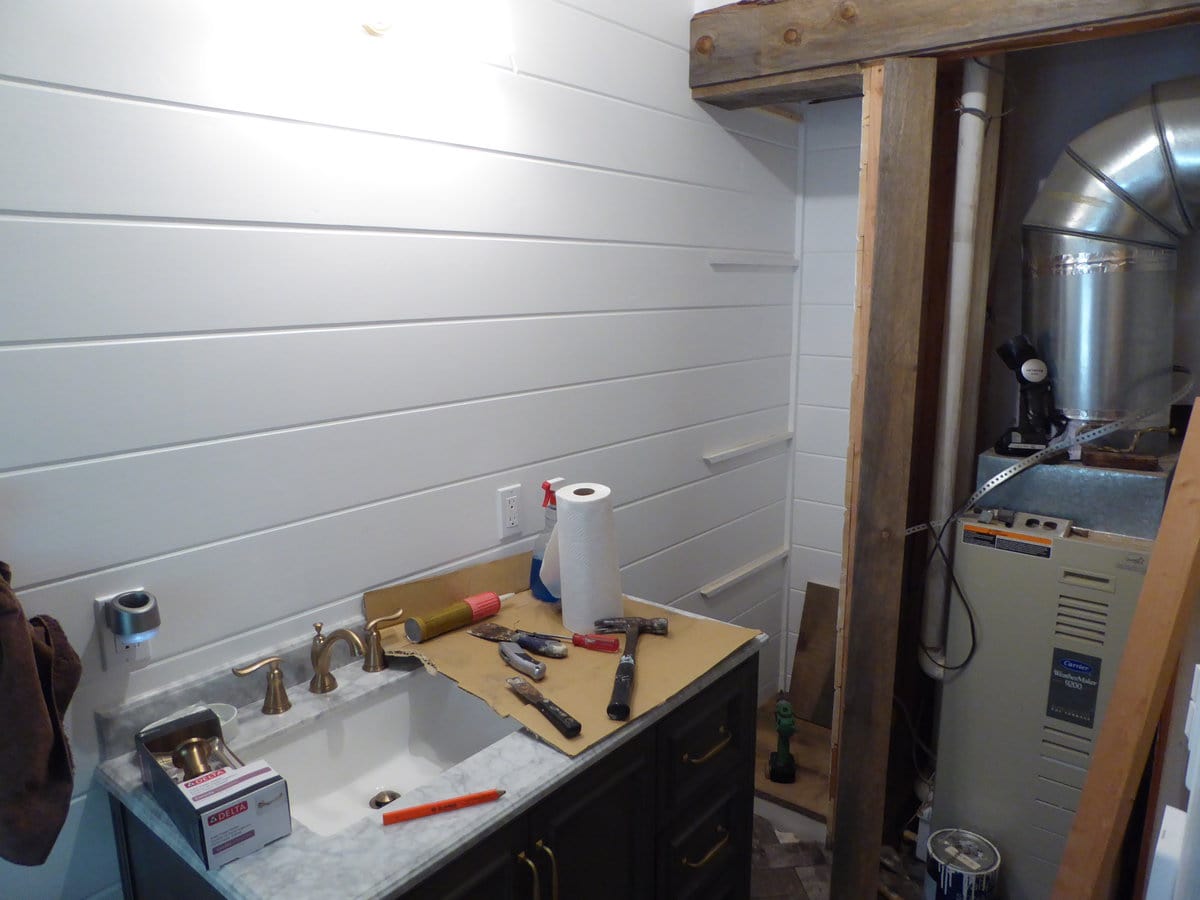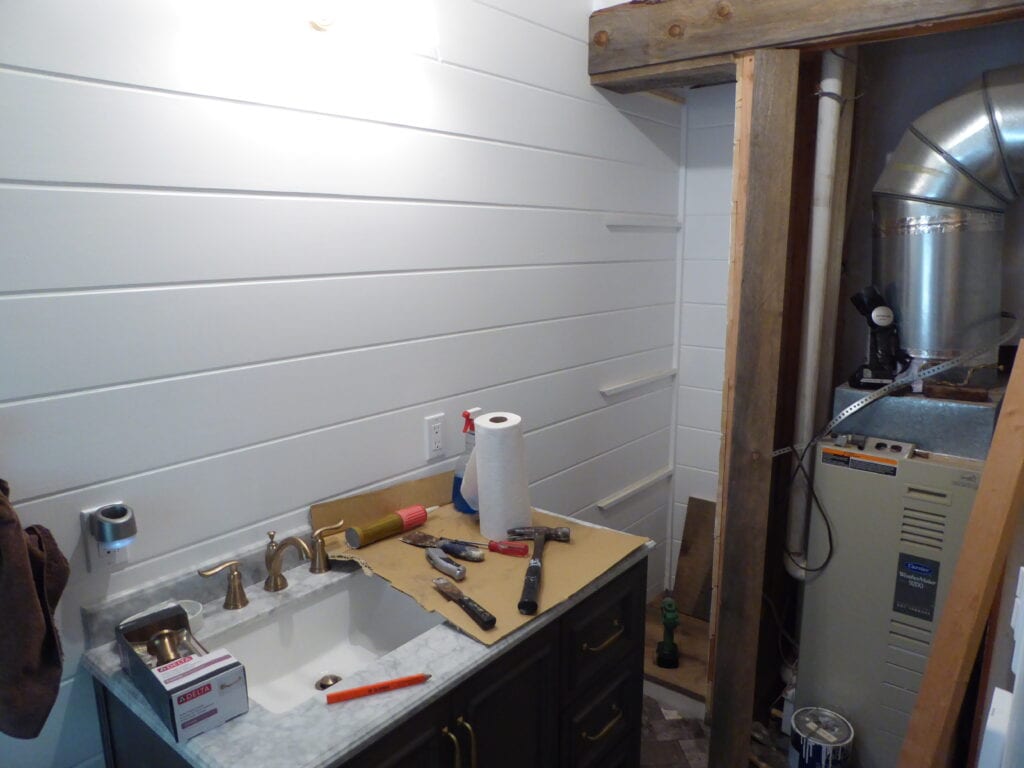 Pin
And here's what it looks like today: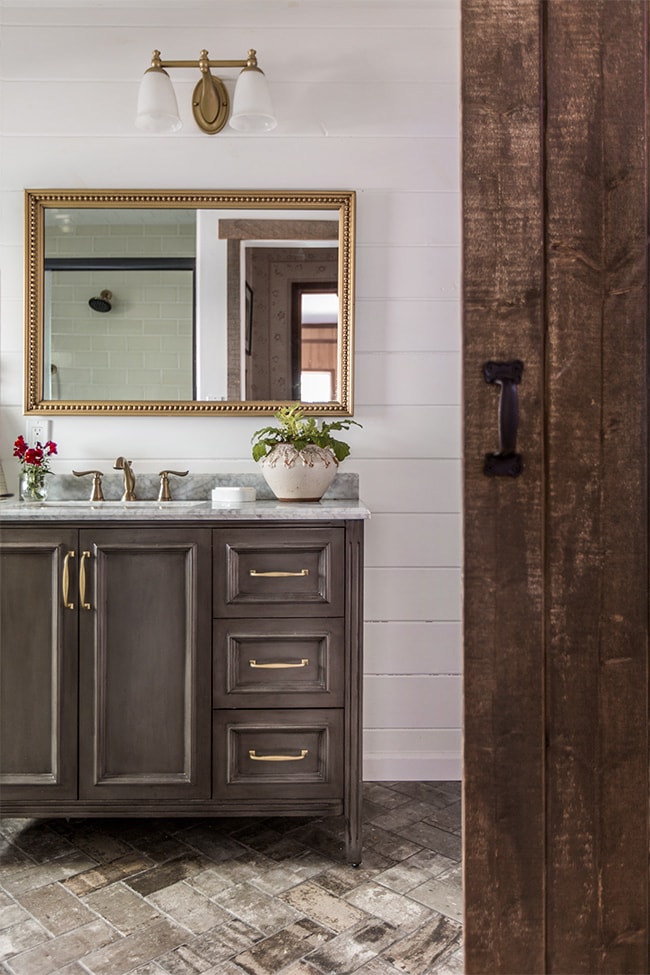 Pin
To help with their small space problem, my dad built a sliding barn door from tongue & groove boards he purchased from Lowe's (then stained and distressed).
More white tongue & groove boards cover the walls and ceiling, helping the space to feel bright and open.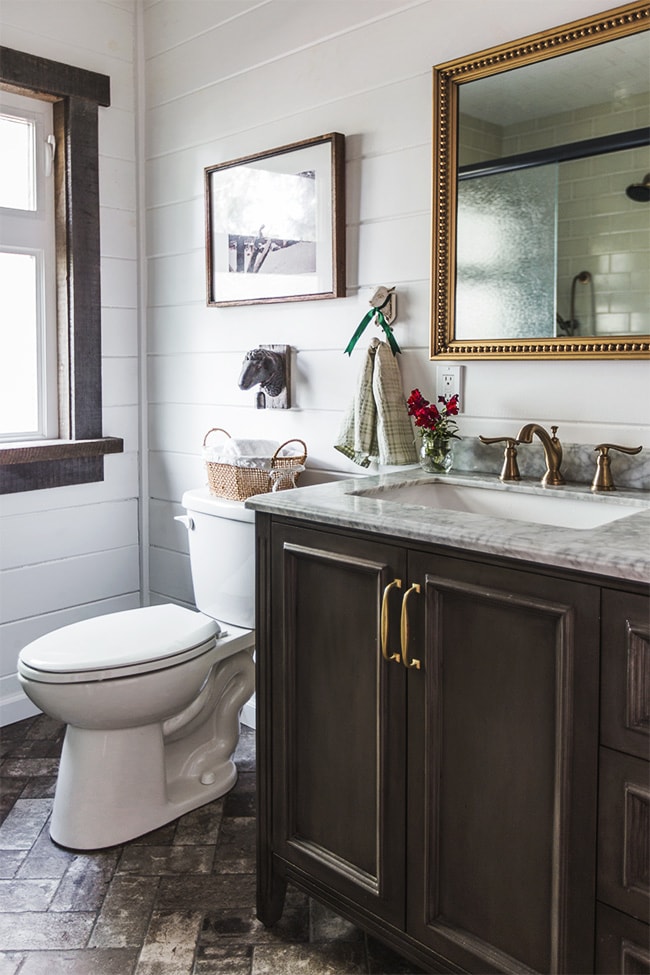 Pin
Dark gray tile set in a herringbone pattern continue the rustic theme, while radiant heat flooring underneath keep bare feet warm on those cold winter days.
A window surround built by my dad from barn wood replaces standard white trim, and ties in with the vanity and flooring.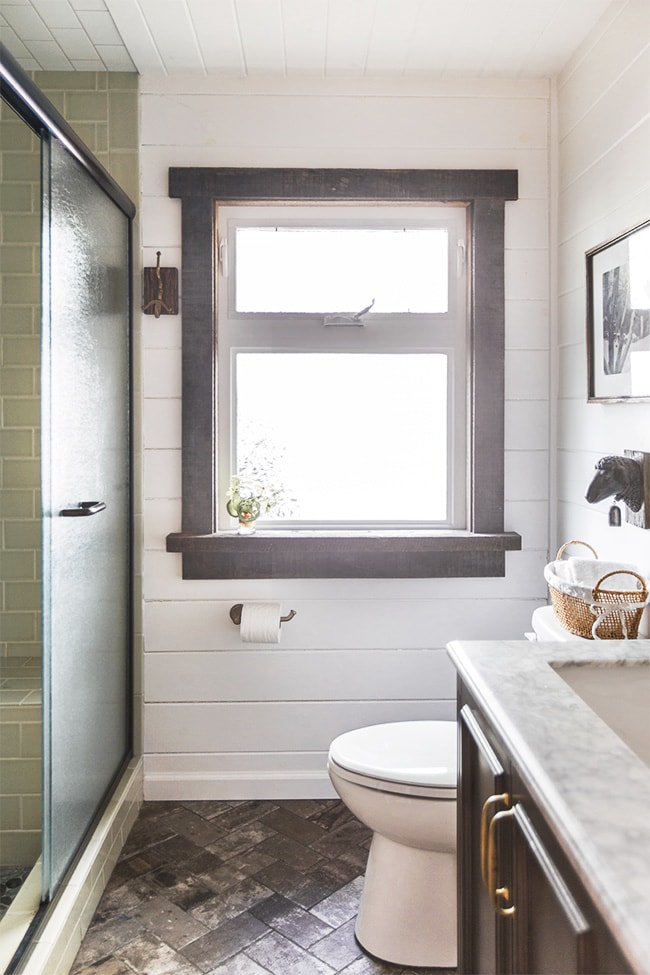 Pin
Sweet farmhouse touches like metal sheep heads and vintage photos show off their mountain-country style.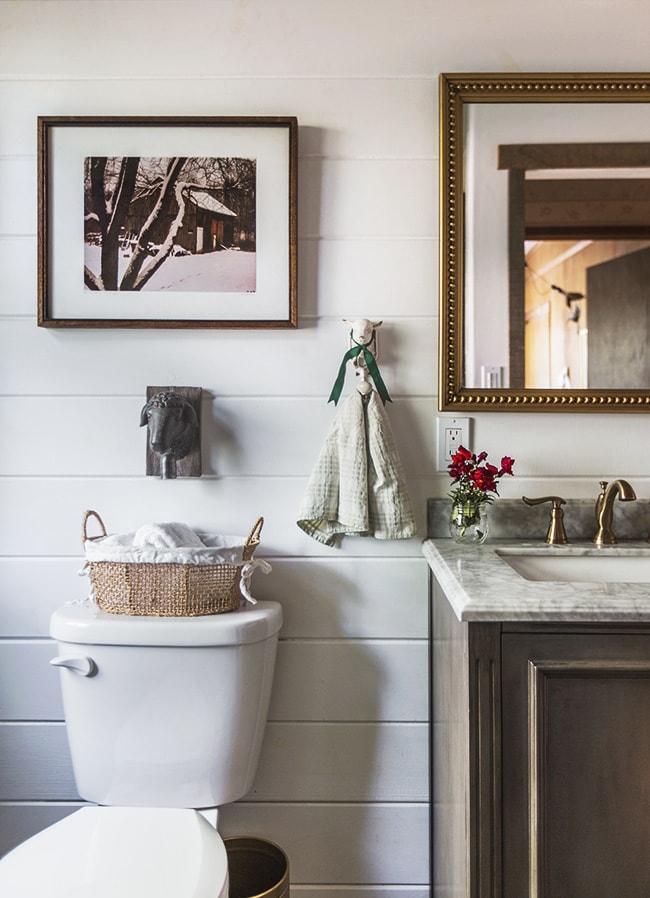 Pin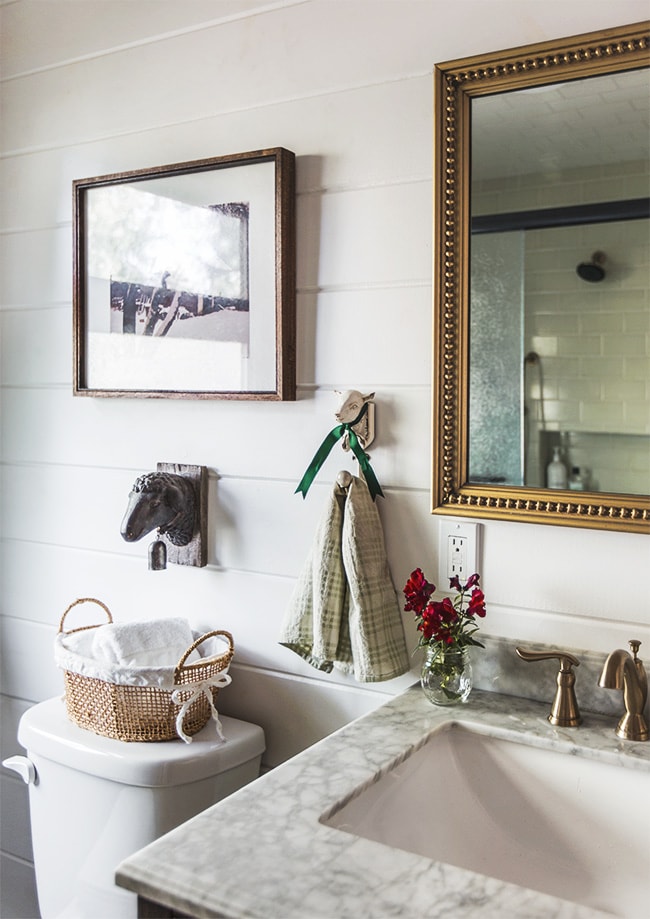 Pin
My mom purchased a vanity online complete with a marble top, and spray painted the handles to match the champagne bronze faucet. The mirror was a $20 thrift store find she painted gold.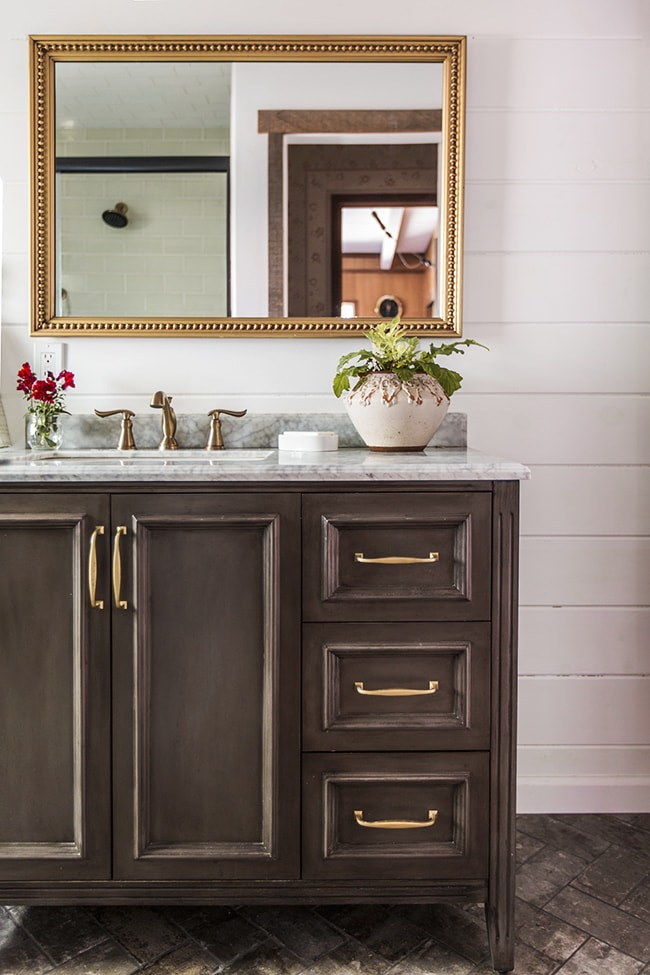 Pin
The old bathroom had no storage space at all, so they relocated a water heater to the garage and freed up space for custom open shelving.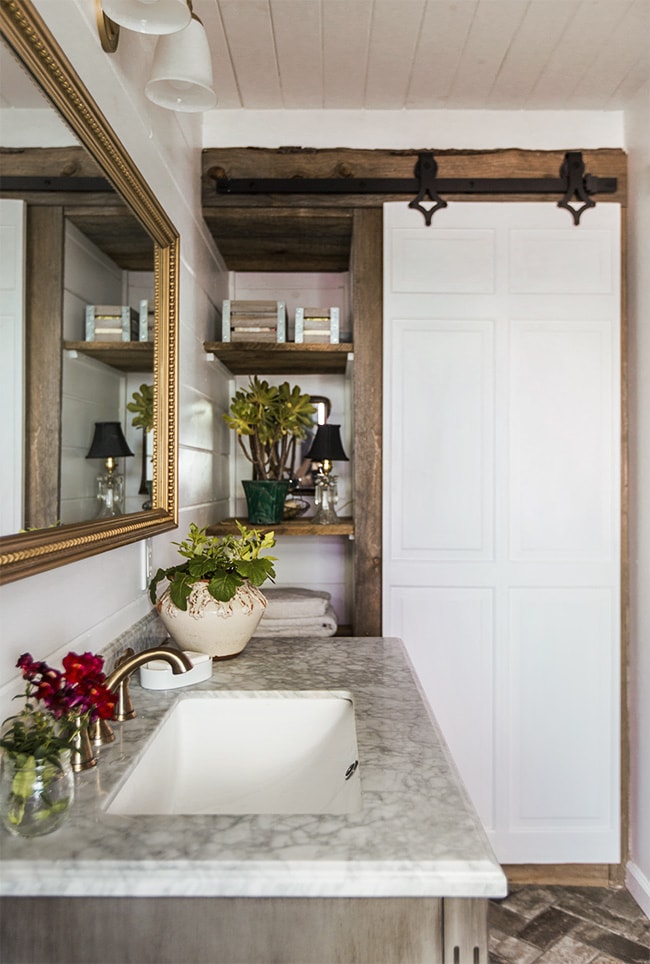 Pin
A furnace still lives to the right of the shelving, and my dad built a custom sliding barn door to keep it hidden yet still easily accessible.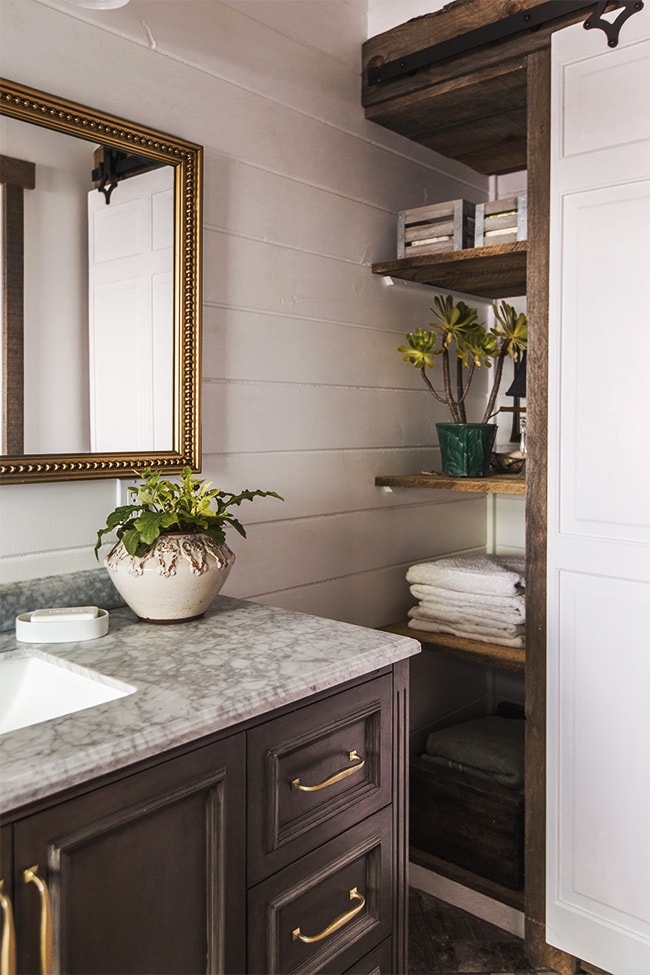 Pin
My mom loves color, so she had fun picking out tile for the shower. Classic subway tile set in a celadon green play nicely with flat river rock in varying shades of green, gray and brown.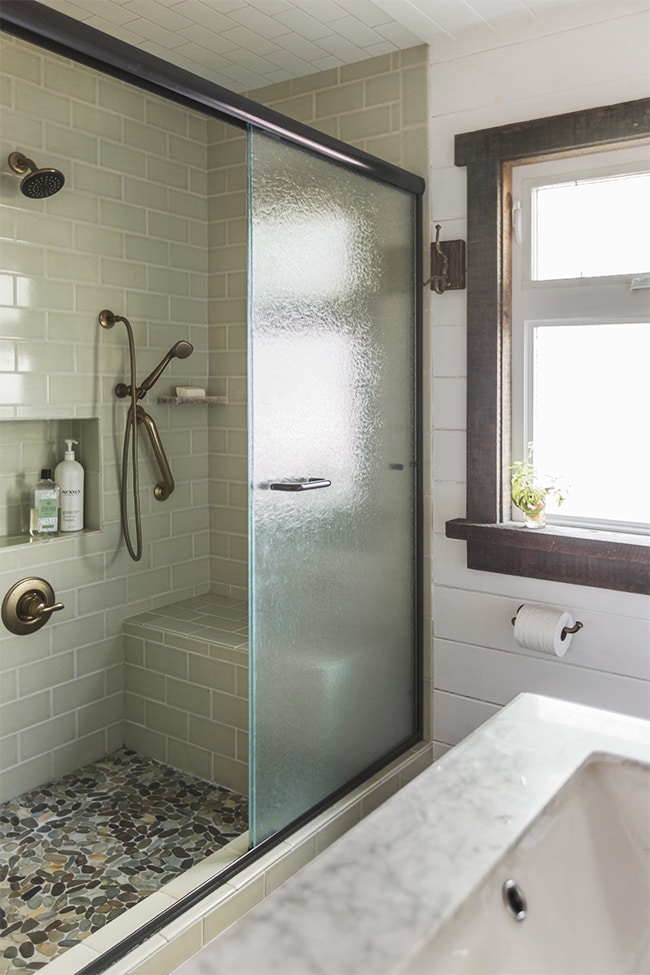 Pin
The old, cramped tub was ditched in favor of a large shower with a wide seat.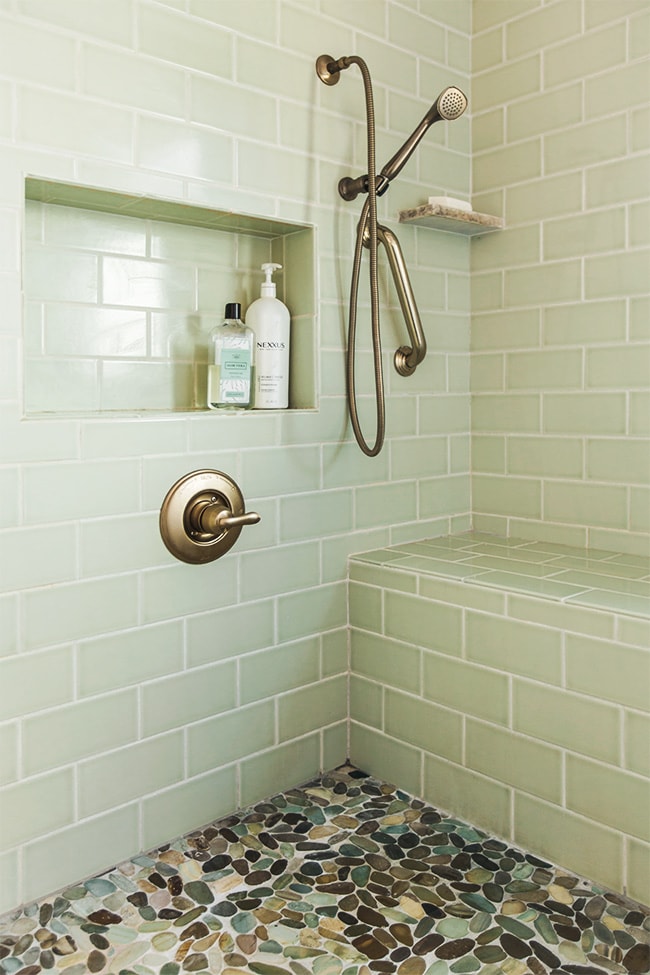 Pin
Champagne bronze hardware keep the color palette warm and tie into the metals on the sink. Tempered glass doors allow for privacy while still allowing the room to feel open.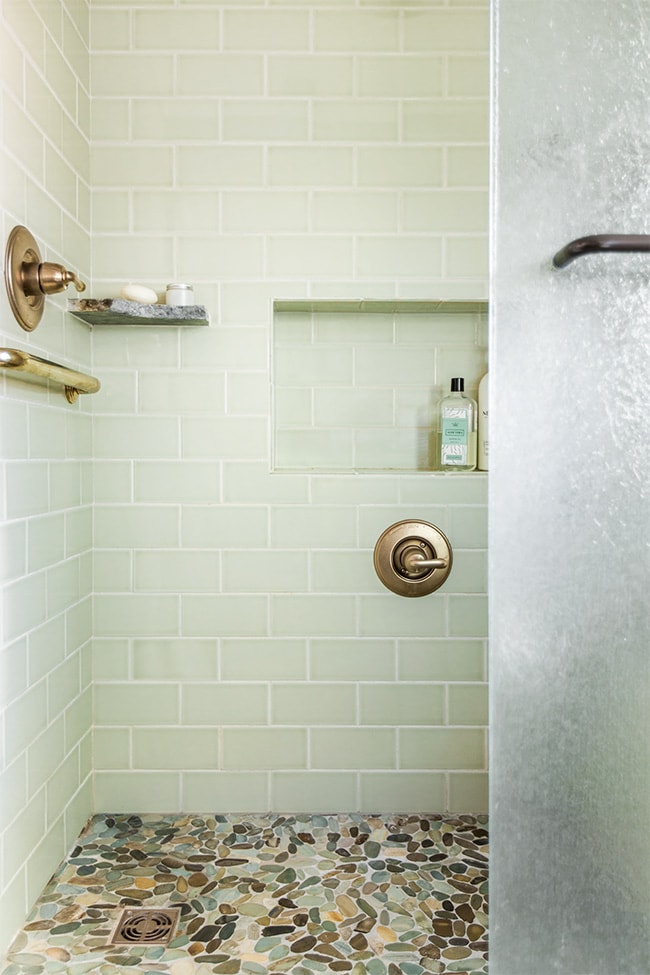 Pin
I'm such a fan of the way it turned out—how about you?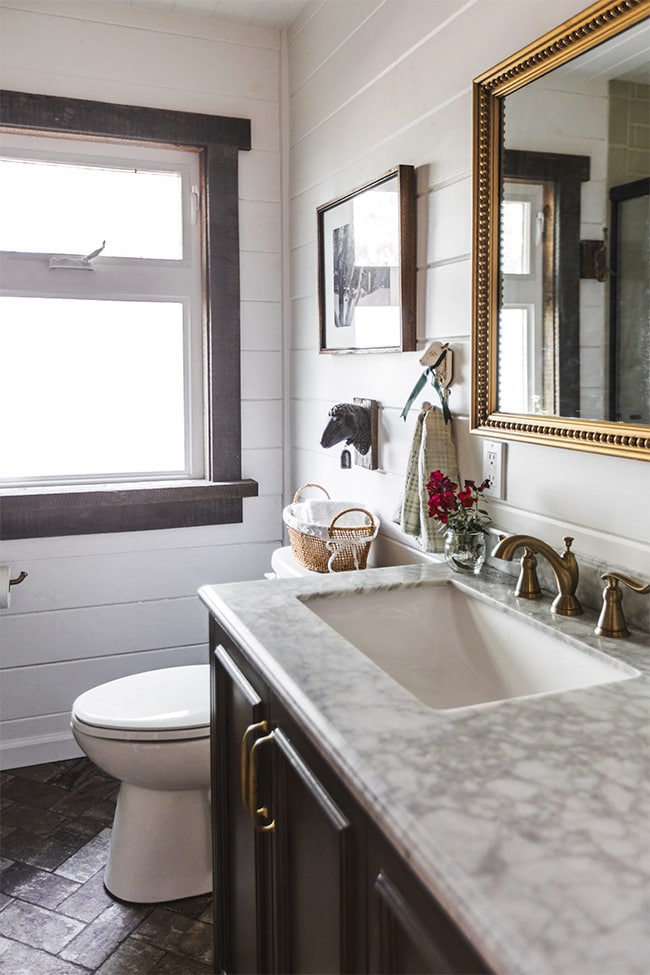 Pin
Thanks Mom & Dad for letting me take over your bathroom for an afternoon!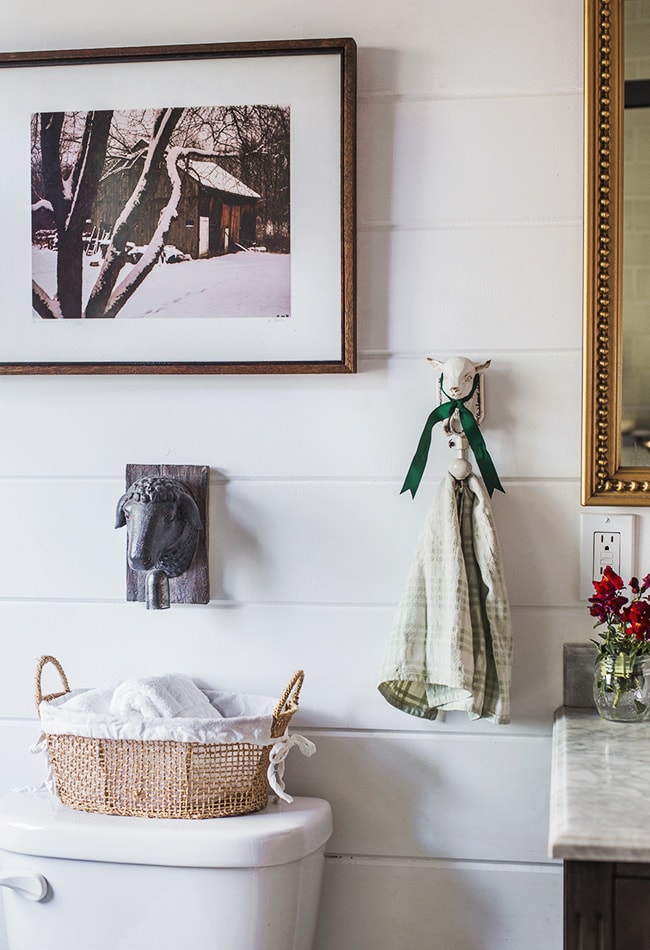 Pin
They've even offered to share all of their sources and costs (okay so I convinced them to… I do it all for you guys! <3)
Paint: Valspar Bistro White
All tile from a local store, not found online unfortunately 🙁
Vanity: Jude 42″ French Vanity in Gray (it is more gray in person than these photos show!)
Sink faucet: Delta Linden in Champagne Bronze
Vanity light: Spray painted existing fixture
Delta Linden Faucet & shower head
And now for the costs!
Tile: $1850
Toilet: $200
Shower doors: $1300
Radiant heat flooring: $820
Building materials: $2660
Vanity: $1100
Hardware/fixtures: $1500
Labor: $14,700
Total: $24,130
I won't lie, I was pretty shocked running through the numbers… those labor costs are killer! Apparently they ran into dry rot/framing issues that had to be completely redone, along with all new plumbing which ate up a lot of time and money.  Even still, I've averaged around $5k in most of my bathroom remodels and am hoping to spend less than this on kitchens in future rehabs! How does it compare to your experience and prices in your area?
I hope you enjoyed this post—it feels great to be back on the Home Blogging scene, and it's just a taste of what's to come in 2018! Lucas and I have some big plans and exciting updates to share in the new year, which is coming up fast. On January 9th we'll land in Tampa to start our new lives together, and we'll be documenting the process of moving across the country & settling in over on Instagram & Facebook if you want to follow along!
But for now, we're enjoying the final days with our friends and family here in California before we say goodbye. I hope you have a wonderful and gratitude-filled holiday season with your loved ones this year. Happy holidays and we'll see you back here next year!