It feels like it's been a month since my post last week… so much has happened in this room!
For the past 7 days we've had our contractor, plumber, HVAC, electrician, cabinet guy and drywall crew (along with us) working in there from sunrise to sunset. Needless to say, it's the fastest progress we've ever made on a remodel.
Let's revisit how this place looked last Tuesday….
The floor was gone and it was time for some demo. Our contractor Dave is lightning fast and had the dirt cleared, floor joists rebuilt, plywood in, AC vent removed and the back wall up within hours:
He also straightened the horizontal braces between the joists which looks so much better. We installed a new AC system last week so all of the old vents were able to be removed.
Next it was time for the new wall to go up! If you are just tuning in to this project, the back area will be a storage room.
On the right wall, Dave cut out a hole (around 55″ wide) which is where we'll recess our washer and dryer. Before building the enclosure, he had to dig out a good amount of the hillside to make room. The space behind the wall is enclosed underneath the house so nothing can get in (there's concrete walls and insulation beneath the ceiling).
We decided to keep our existing ceiling fixtures and mount them in the center of the room to minimize the wiring. Our electrician ran conduit across the joists in a few locations (conduit is needed for exposed ceilings under 8′ tall) which carry all of the wiring for the ceiling lights and lamps each side of the room. They're only visible when standing in the back of the room (see below), and once the ceiling is painted it should all blend in pretty well.
Here's the two wall lamp locations above what will be the cabinet/sink wall:
And another centered over the washer/dryer—and more progress on the washer/dryer enclosure:
We also added a second switch (one for the ceiling lights, one for the wall lamps) and put everything on dimmers.
We needed a door leading underneath the house to have access to the back of the washer/dryer, and I was able to find this pocket door assembly for just $20 at Habitat for Humanity Restore! I also picked up a used $10 door and gave it a makeover (more on that in a few days).
Here's the pocket door assembly installation in action—you can get a good view of the space back there—not very warm and inviting!
Next came the most exciting part—drywall! We've never done drywall before (and frankly don't have the time/energy/confidence to tackle it this time) so Dave knocked it all out in one afternoon.
And we now have a storage room!
This was completed Friday night and the drywallers were coming Saturday, but Dave had to take off early and couldn't finish so we spent our Friday night patching all the holes and attempting to figure it out.
We had to fill all these gaps between the joists…
But our box cutter blade was dull so it took a while.
At around 11pm we retired for the night and let the drywall guys finish the job. They're about 100x faster than us so it worked out better.
They spent all day Saturday mudding… already it was looking so much better!
You instagrammers already saw this, right? 😉
Witness the magic of drywall mud… before:
And after: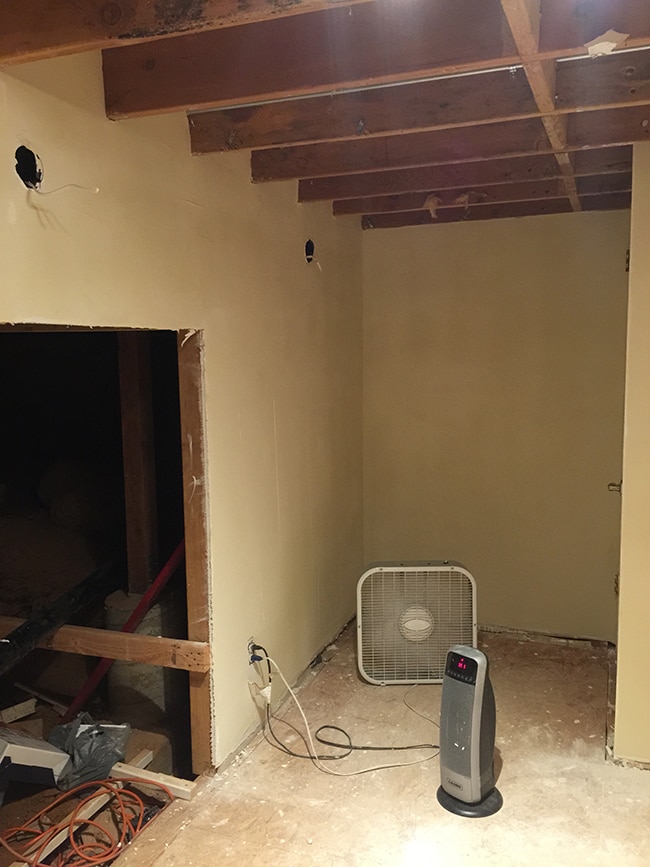 Pin
On Sunday they came back and sanded it all down perfectly smooth which was the highlight of this project so far. I just love a good smooth wall—such an improvement over the sloppy texture that was in there!
Don't worry, all the drywall edges will be covered with trim!
I'm also loving the way it looks with the ceiling joists. I have to admit, I was nervous about the whole exposed ceiling look being a little too rustic and out of my comfort zone, but now that the drywall is complete I can picture the end result and think it will be one of my favorite feaures. We only went this route because the ceilings are so low but even if they were standard height, it has a lot more character than drywall.
Here's a peek at the inside of the storage room…
 I just came up with a new plan for this space last night and I'm anxious to get started!
Here's looking towards the entrance after I crawled inside the washer/dryer box for a better view (the black french door leads up the stairs to the living room):
And here's looking straight ahead to the future cabinet/sink/tile wall:
And then to the right at the storage room wall:
Today, Dave is scheduled to install both the pocket door and main entrance door and hopefully build out the washer/dryer box (depending on how far the plumber gets).
As you can imagine, it has been a bit crazy around here with trying to schedule all these workers around each other and make sure everything is done in the right order! There have been a few hiccups but fortunately no huge mistakes so far and we've been very pleased with the progress.
After this week, it will slow down a bit since we'll be taking over with the DIY side of things—paint, trim, floor tile (possibly), wrapping up electrical, finishing the storage room, building a storage drawer and barn door. The cabinets are ordered and won't arrive for another 4+ weeks so we'll have to do everything else in that time.
If all goes as planned, I'll have another post up in a few days with our new entrance & pocket doors. I love the way these turned out so make sure to check back on Friday!