Is it Monday already? I'm dragging this morning after a little too much of everything on a family trip to Sonoma Valley this weekend…
It's only a three hour drive but it was my first time in wine country—and it was beautiful. On the way home we stopped at a Barnes and Noble where I grabbed a copy of the latest issue of Cottages & Bungalows…
Anyone remember this room?
I was honored to receive a four page spread about the sunroom in our Florida house! (Special thanks to my girl Shayna @ The Wood Grain Cottage for showing me a sneak peek of the article before I could get my hands on a copy!)

Now that the weekend is over, it's back to reality—work and house projects. In between kitchen projects last week, we made time to spruce up the living room with a fresh paint job.
Here's how it looked in the very beginning:
And then after moving in, still very beige: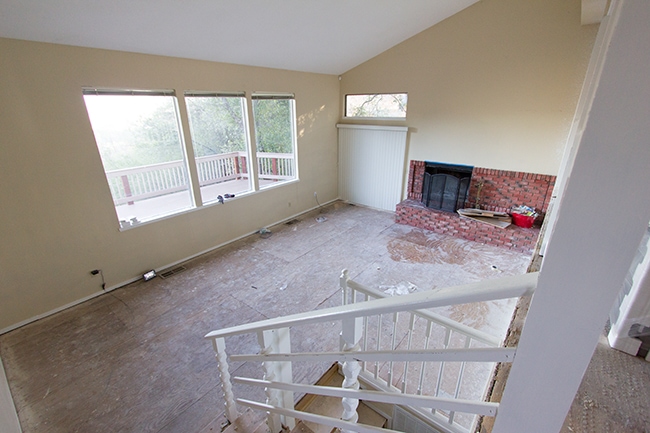 Pin
I decided to keep things open and airy so I used the same barely there gray I chose for the top half of the studio walls—Valspar's Montpelier Madison White.
We were going to tackle it ourselves, but this room has some seriously high ceilings—some of them directly over a staircase, and there was just no possible way we could do it. We found a local reputable painter (my parents use him all the time) and he made us an offer we couldn't refuse so we went for it.
And now it's like a whole new room.
Don't mind the random tv placement—we need to figure out how to move the cable box to the fireplace, so it's hanging out there for now.
The stair risers will be painted this week!
The paint was a huge improvement, but there was still a big eyesore…
This dingy red fireplace had to go.

My ultimate vision is stacked stone all the way up to the ceiling (maybe the same stone we used for our bar wall?) But this requires quite a bit of time/effort/money, none of which we're willing or able to dedicate right now.
So we went with the easy temporary fix—paint.
First I had to clean it up a bit and address some of the issues… like this:
And this:
It wasn't going to be perfect, but there were some obvious cracked/missing bricks that I thought could benefit from patching. I used "Presto Patch" which is a powder you mix with water and it forms a cement-like putty that dries and hardens rapidly.
It worked pretty well in areas like this:
The larger areas usually needed a few coats, so it took a little while to do the job. And it was a messy job.
I didn't go over every spot as it would have taken all day—I don't mind a little roughness. It's just temporary, remember.
I also had to prepare the tile surface by scraping and scrubbing off this sticky tape all the way around it…
After a few hours of prep, it was time to paint!
To keep the grays consistent, I pulled another color from the studio (we used it on our plank walls)—Valspar's Ocean Storm.
I didn't know what to expect as this was our first time painting brick, but it was not fun.
It took a lot longer than expected. The flat surfaces of the bricks weren't all that bad—just a couple passes with a roller brush. The grout was an entirely different story. It was difficult to get into every single nook and cranny.
We were up for a good part of the night just trying to get it covered. There are still a lot of small touch ups we need to make, but we're happy to call this project Done (for now).
Much better, right?
For a $40 gallon of paint, you can't beat it.
I haven't decided when I'll go ahead and pull the trigger on the stacked stone—we're going to live with it like this for a little while and see how the other projects pan out. I can't wait to build a nice chunky mantel for it!
For now, I'm just enjoying the fact that the red is gone and the living room feels a lot calmer.
I think this week we'll be focusing on the stair railing—it's an issue we've been putting off for a while now and it's a safety hazard that needs to be addressed. Check back later to see how things are coming along!