Welcome to Week 2 of the One Room Challenge! If you missed the big announcement, I've signed on to renovate our guest bathroom in six short weeks along with 19 other bloggers. Each Wednesday we'll document our progress, with the final reveals on May 6th (mark your calendars!)
Last week I shared the Before pics of our guest bathroom along with inspiration and design boards. Since we're on a tight timeline, we got straight to demolition!
First to go was this awful fiberglass tub/shower…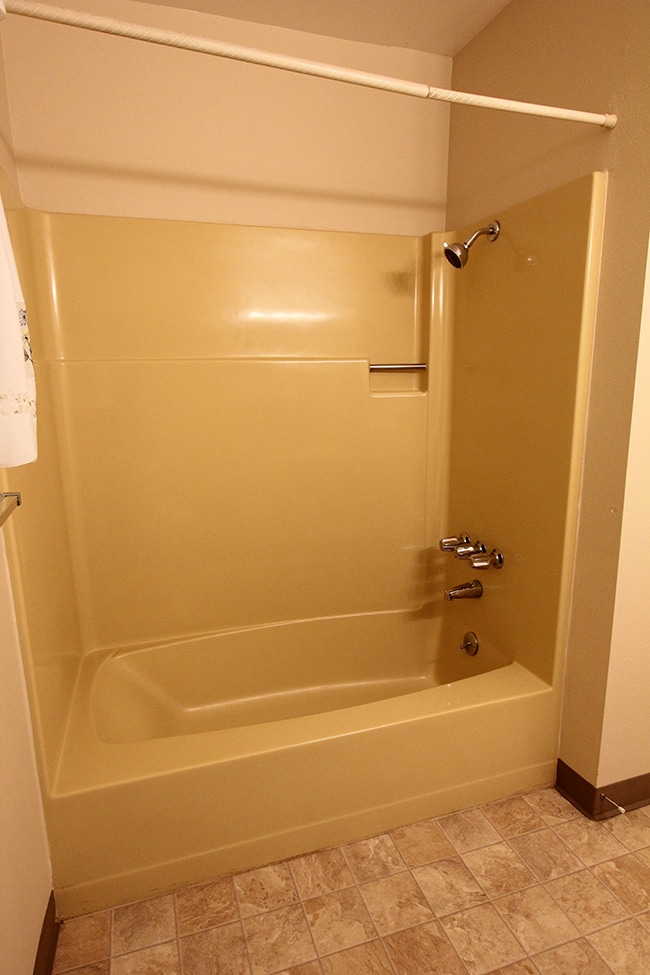 Pin
We've never dealt with something like this before, so Brad used a reciprocating saw to cut it out in pieces…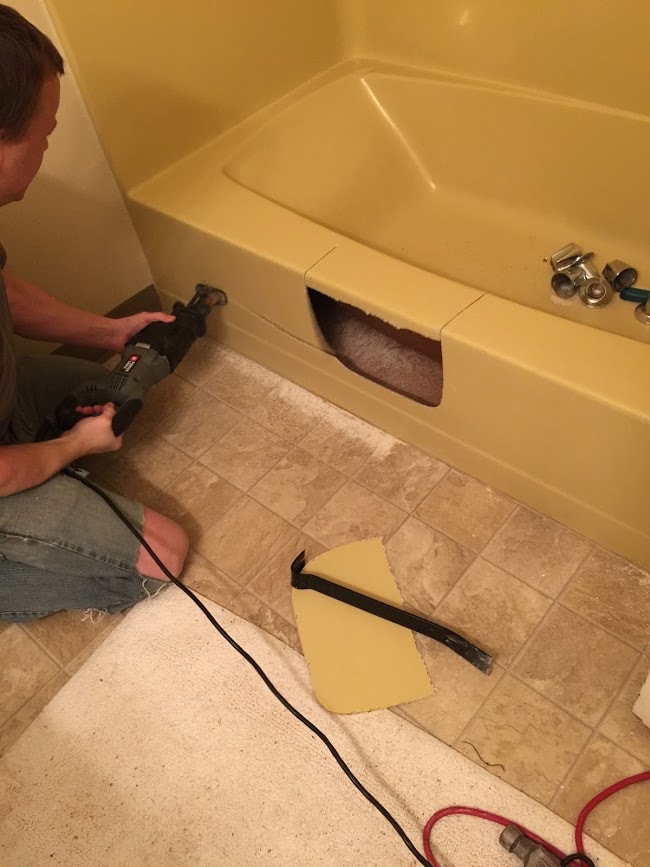 Pin
After a couple hours of hard work (Brad was on his own for this one), the harvest gold was gone!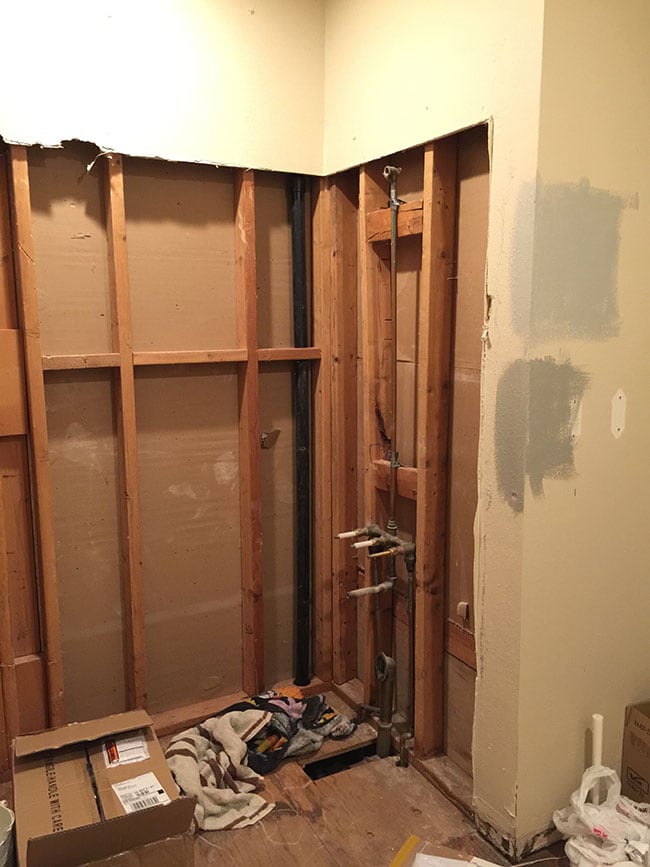 Pin
Next up was the vanity. So glad to see this thing go!
Pin
Making progress…
Pin
The linoleum floor, mirror and lights were last ones out…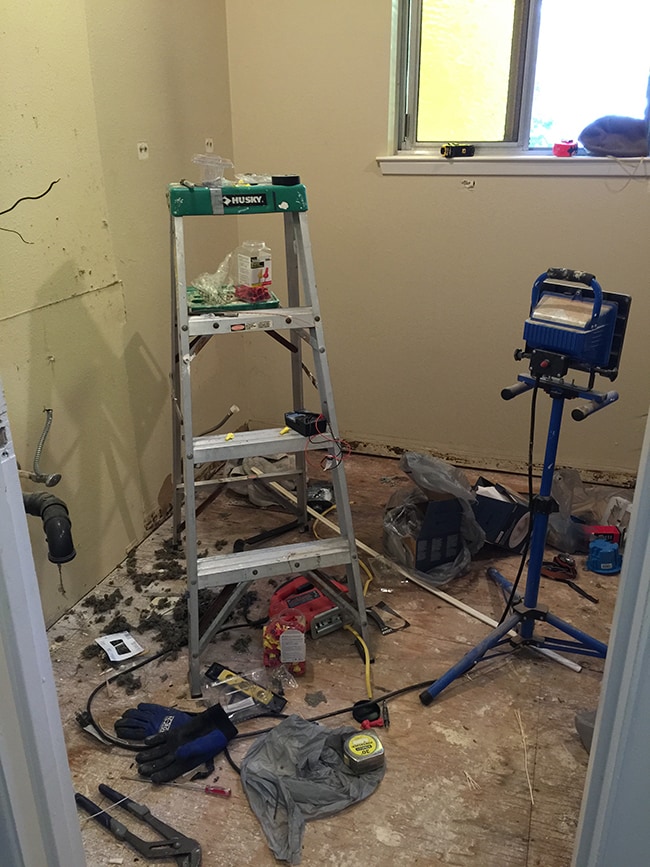 Pin
And we had ourselves a blank slate! Brad wasted no time starting on the electrical. He had installed a couple ceiling speakers a while back but the only light source was the outdated vanity lighting. There's a good sized window in there which is great for natural light, but more light options are always better—especially in a bathroom!
We used two of these 5″ recessed ceiling lights from Lowe's (same as in our bedroom which we're super happy with, and they're only $14 a piece). Brad drilled the holes using a 5″ arbor bit and ran the wires in the attic.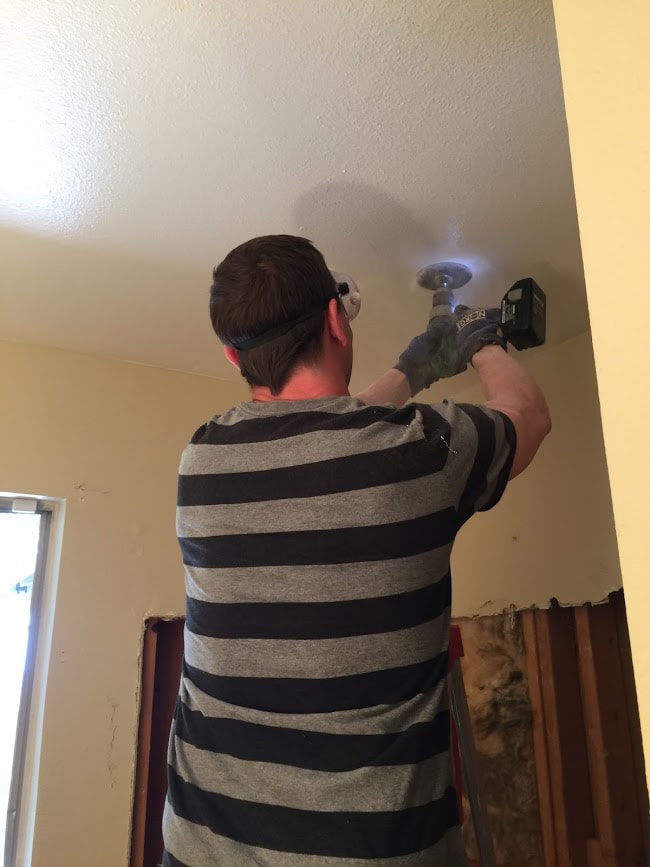 Pin
One above the shower and one above the vanity area.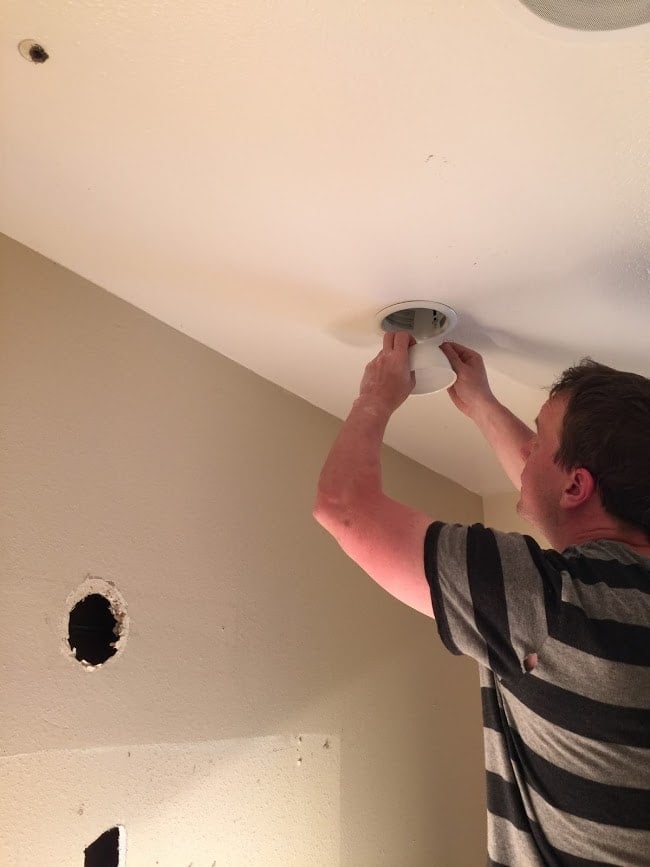 Pin
I also wanted a wall sconce on either side of mirror above the vanity, so Brad cut a couple holes and ran some wiring to those locations.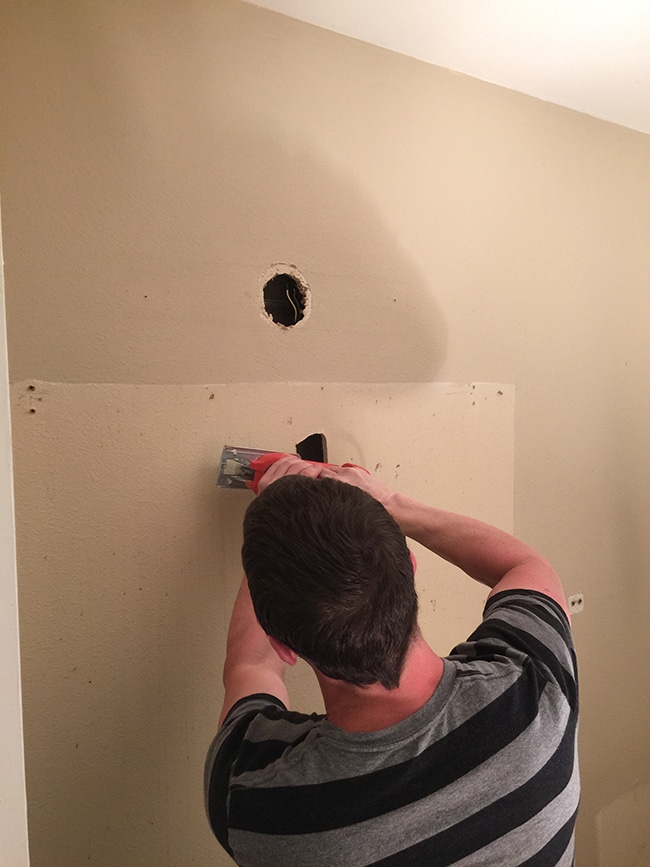 Pin
The ceiling lights and wall sconces are on their own circuits, and on dimmers (which I believe is entirely necessary for bath taking!)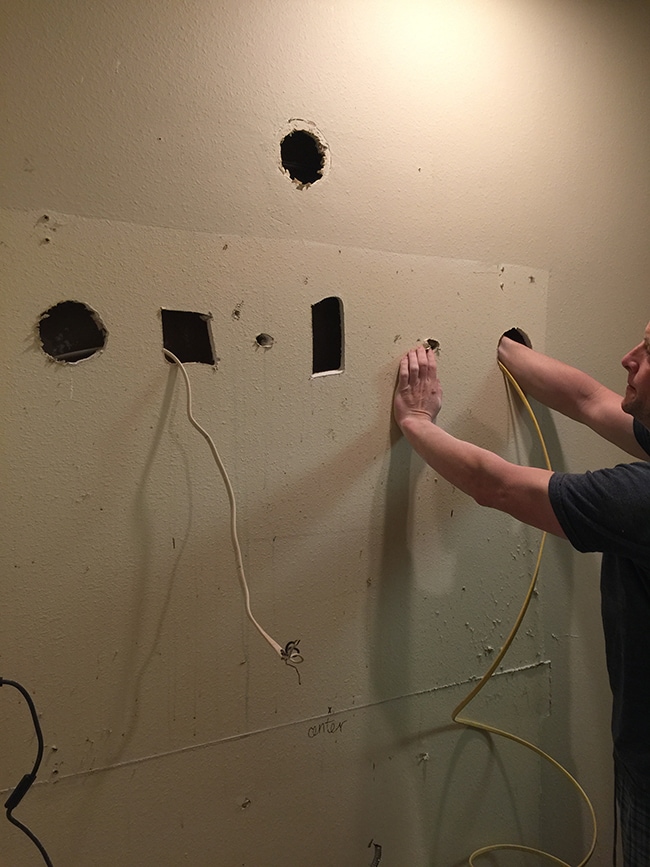 Pin
Okay, now that we have that out of the way, let's get to the fun stuff—what I've been buying!
I received my floor tile samples in the mail from the Cement Tile Shop (Agadir White and Agadir styles) and was stuck on what to do, so I asked for some help on instagram…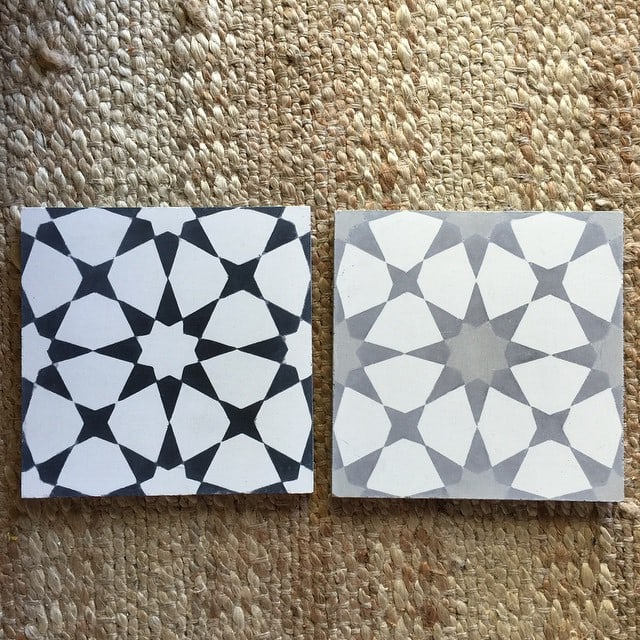 Pin
I was trying to decide between the black & white tile and a white tub, or the gray tile and a black tub. There were some pretty strong opinions in favor of both options, but I've finally reached a decision!
The winner is…….
Black and white tile, BUT with a custom warm gray tub. Yep, I switched things up at the last minute. Before I share the gray color I picked, here's the tub I ordered: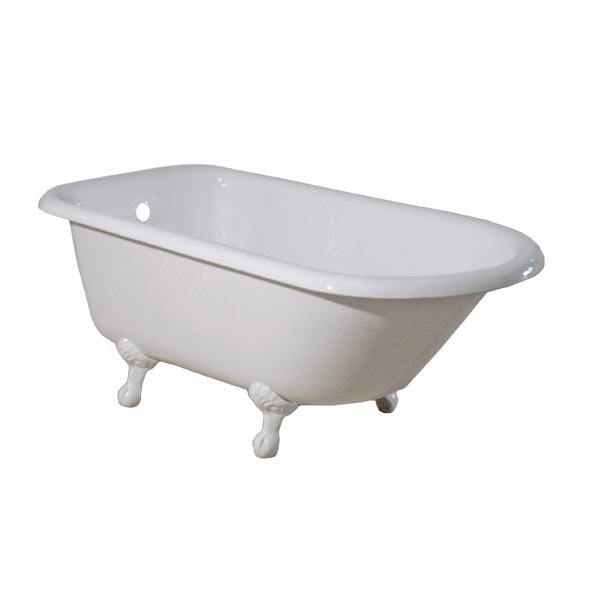 Pin
I'll be painting the feet either black or an antique gold-ish color (to be decided). There's going to be literally zero clearance on either side of the tub after we tile the shower walls so I'm super nervous about it fitting. We'll have to make it work one way or another!
So, I'll be painting the outside of the tub a warm gray tone, and made my color decision after ordering a couple Valspar sample pots (I usually just go by the paint swatches but haven't always had the best luck with that method—so glad I tested these out first!)
It was between Gray Silt and Frappe…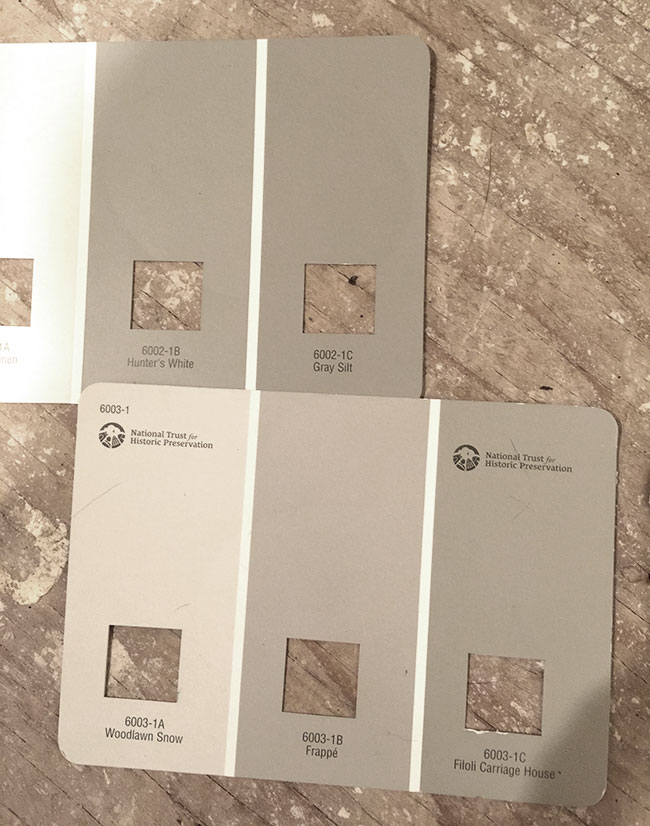 Pin
I really thought Frappe would be the winner, but after getting them on the wall, it was a much cooler gray than I had hoped. You can see Gray Silt on top and Frappe on the bottom here (and again on the right wall). Keep in mind this is under artificial light so the colors are cooler during the day.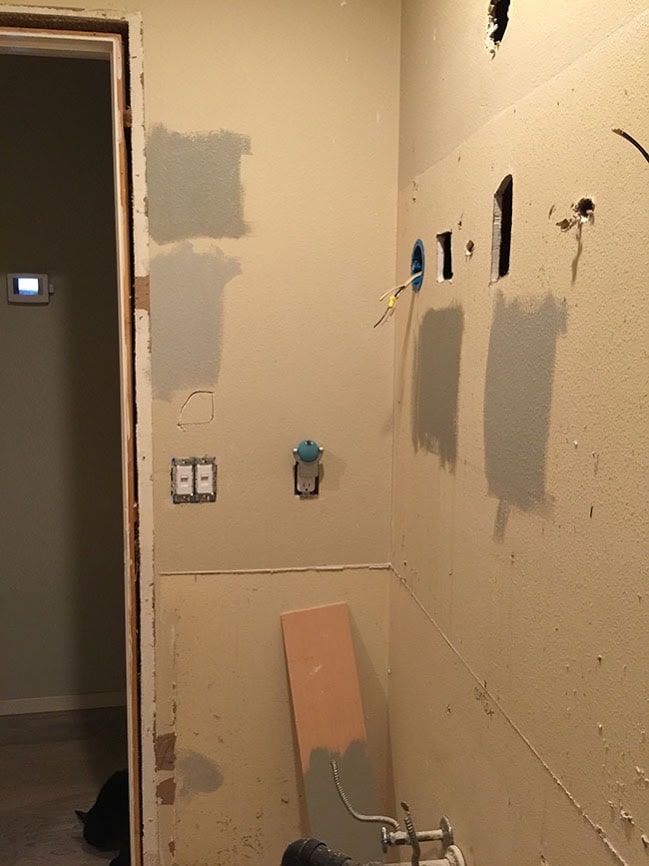 Pin
Another angle… Frappe on top and Gray Silt below: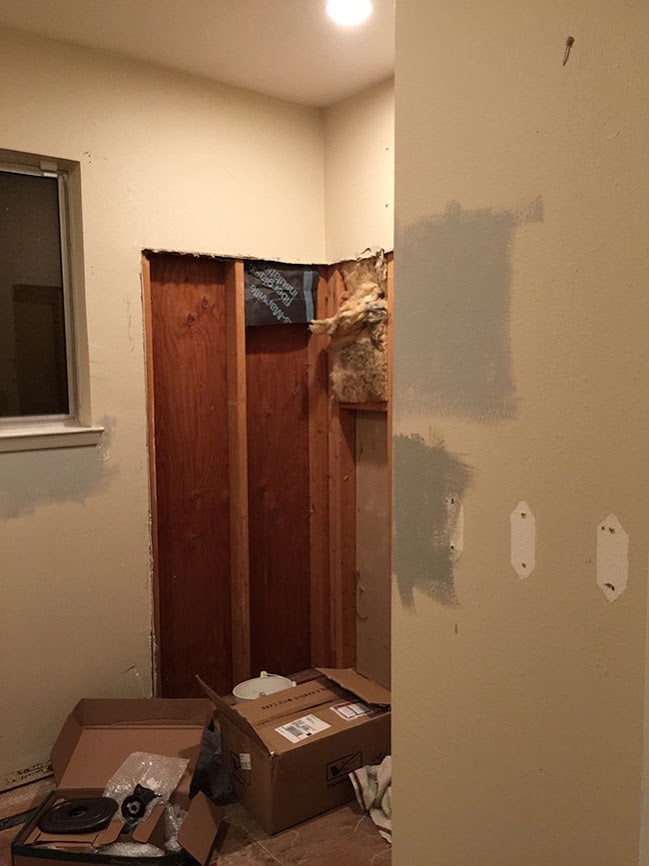 Pin
The walls were also going to be gray, but I didn't want them to match the tub (I think that would be too much) so I'm still in the process of deciding on a color for that.
Here's the sample tiles in the space, along with the paint tests (and two kissing kitties photobombing in the hallway):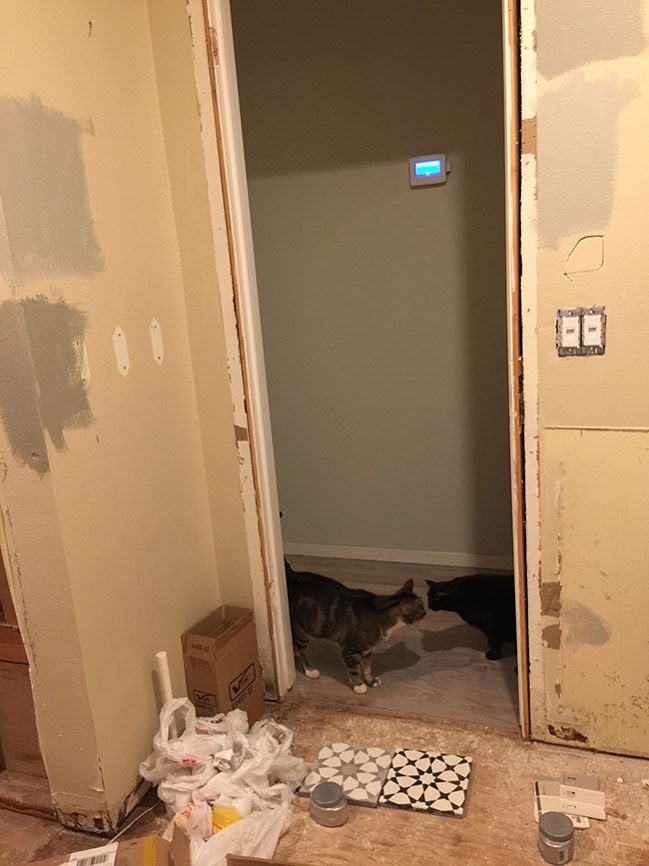 Pin
In other news, our sink faucet has arrived: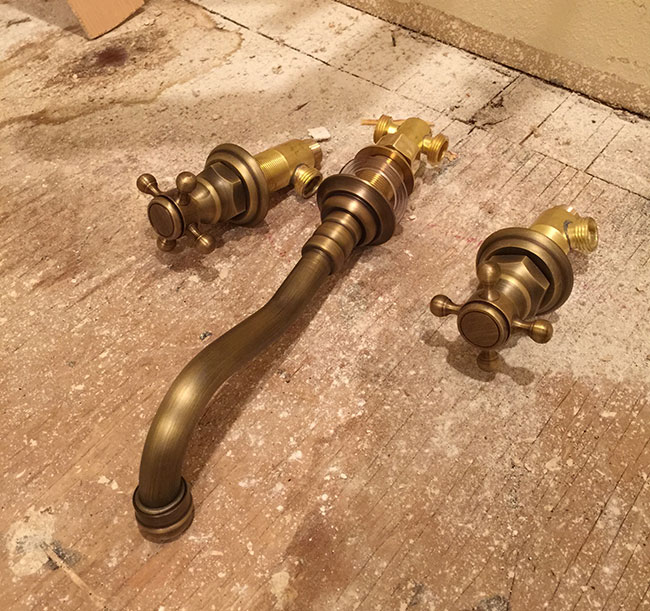 Pin
Isn't it lovely? And for only $72 shipped… seriously, what a bargain. Ordering overseas from Ebay is always a bit of a gamble but I've had good luck in the past and the pieces are heavy and look/feel solid.
Just above the faucet will be this beautiful mirror I ordered a few days ago…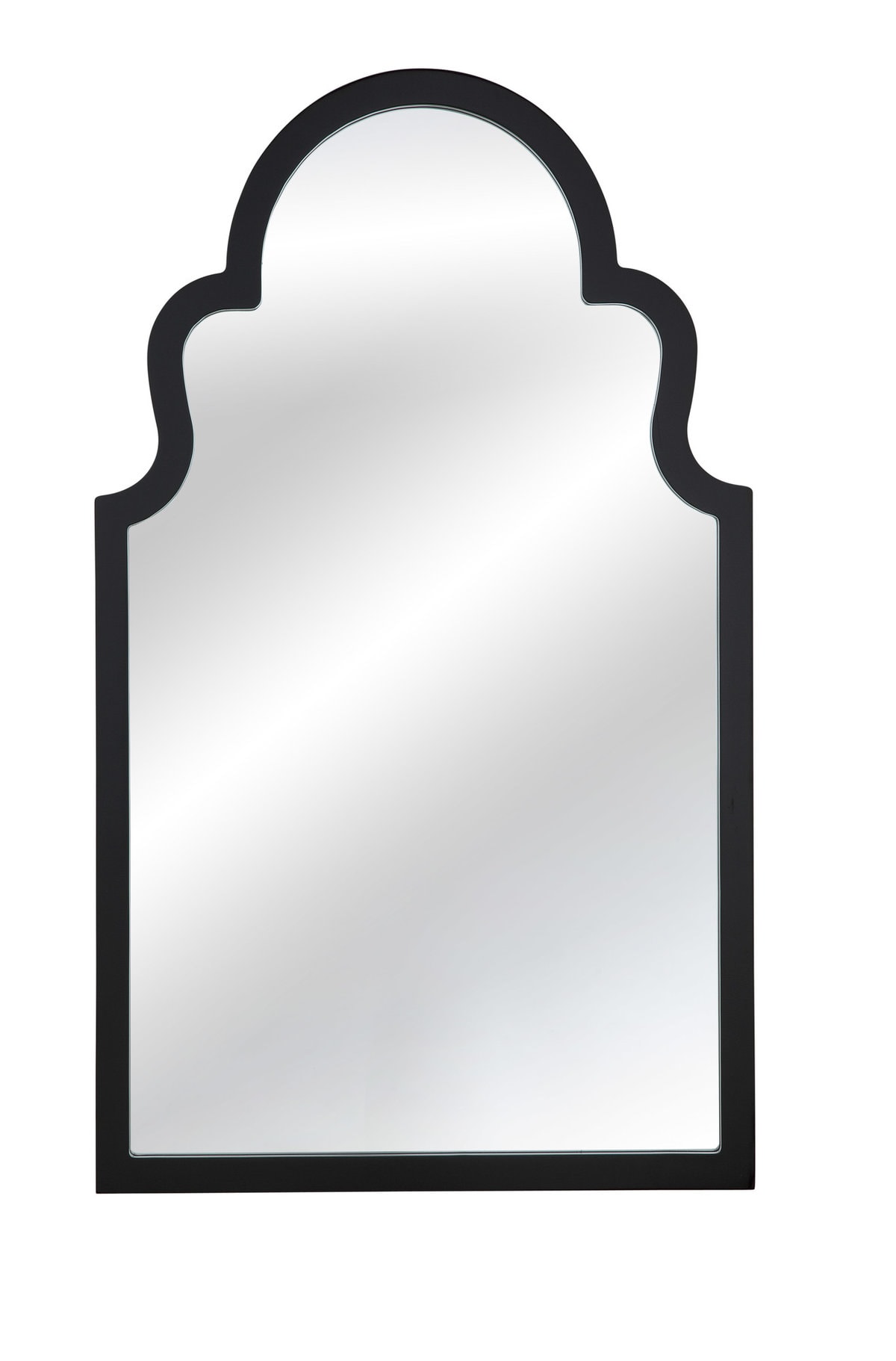 PinI originally spotted it on Wayfair and unfortunately it's out of stock right now, but luckily I was able to find and order it here.
I also ordered our sink so that should be arriving soon: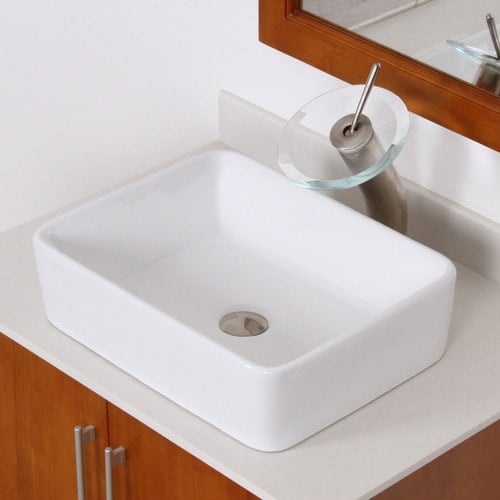 Pin
And yesterday I placed an order for this shower/tub faucet set: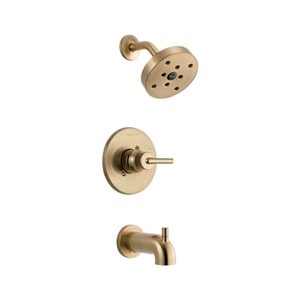 Pin
This weekend I'm hoping to road trip to pick up the tile for our shower. I went with simple 12×24″ white ceramic planks to let the floor and tub shine as the focal points. We also bought a new frosted window to replace the old aluminum and yellow speckled glass window. And a plumber came by to give an estimate (which was way too high) so we have another coming tomorrow who is hopefully a bit more reasonable. We'll need to get that started ASAP to finish on time!
This weekend Brad and a friend will be installing our window, I'd like to paint the ceiling and possibly start on the wall planks, and hopefully we can get some plumbing done. I'll be back with a full update next Wednesday, but as always you can check the real-time status over on instagram!
Now I'm off to see how things are coming along for the other bloggers in this challenge…
The Pursuit of Style
Savvy Home
Trademarked by Calling it Home
Who else is joining in on the fun with us? Have you linked your room up to the event on Linda's blog? I'd love to hear what you're tackling and how things are going!
Be back Monday with a laundry room tile update… last post before the big reveal!