When I left off last, we had installed our reclaimed wood floating shelf and the wall looked like this: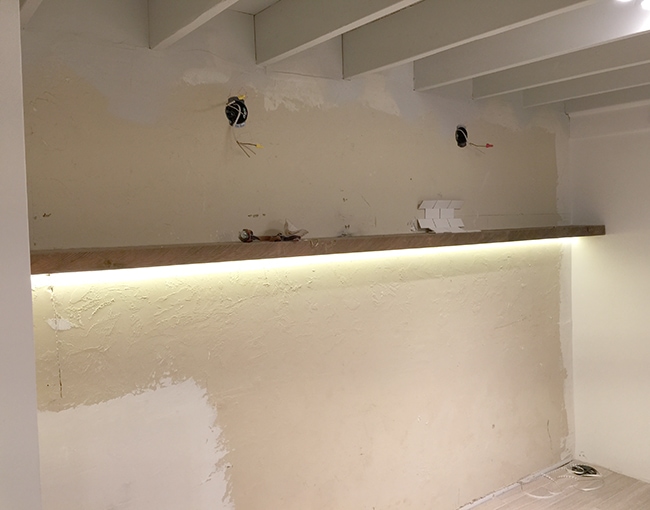 Pin
And finally, after TEN LONG WEEKS, our custom cabinets arrived at Lowe's (Diamond's Hanson style in Cloud). We happened to be in Florida last week but we were still able to schedule our install during that time. A friend went to check on the house and sent us this photo: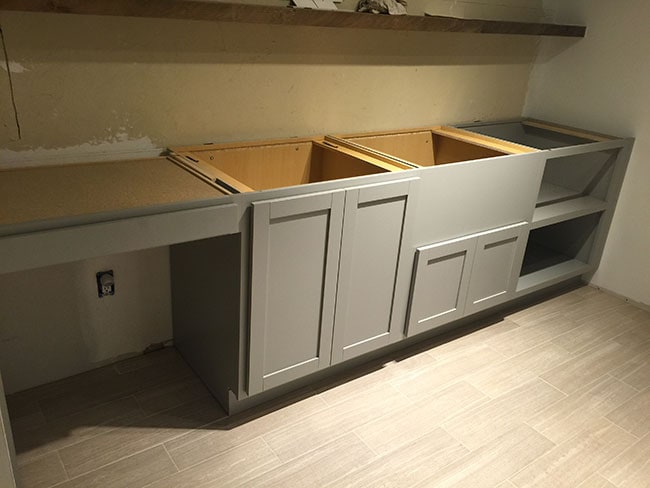 Pin
Can I get an Amen? These ten weeks have felt like ten months! We were so happy to have them taken care of when we returned. But there was no time to celebrate because the next day we had to install the counters. Now, we've had our fair share of bad luck/DIY struggles in this room, but these counters turned out even better than I had hoped and I'm so so glad I went this route.
In the interest of saving money, and also because I just love a nice wood countertop (which Brad vetoed for the kitchen), I came across the Ikea Akerby butcher block for only $99.
Here's the counter, straight from the factory: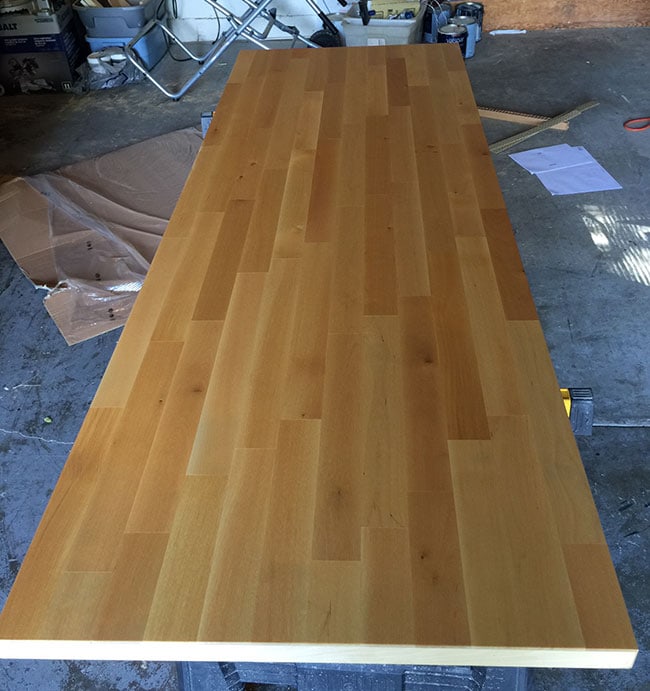 Pin
Nice enough but not quite what I was going for. I wanted something more rustic and with that "aged wood" coloring that would match the reclaimed wood shelf. So I started sanding with 120 grit…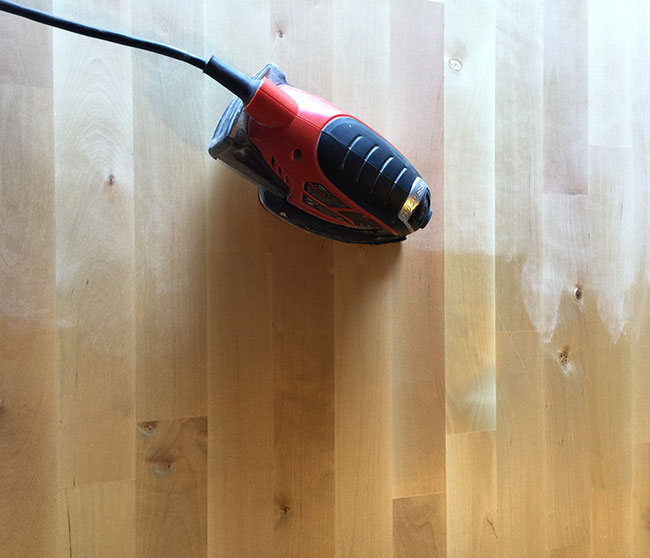 Pin
After removing what I thought was the top layer of wax, I mixed up a concontion of approximately 2/3 Minwax Provincial and 1/3 Rustoleum Weathered Gray and stirred it up…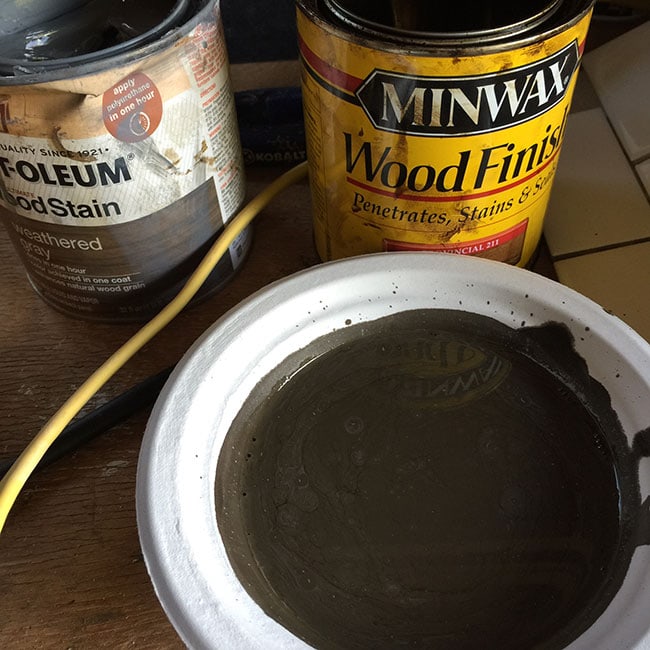 Pin
Then applied the stain with a rag: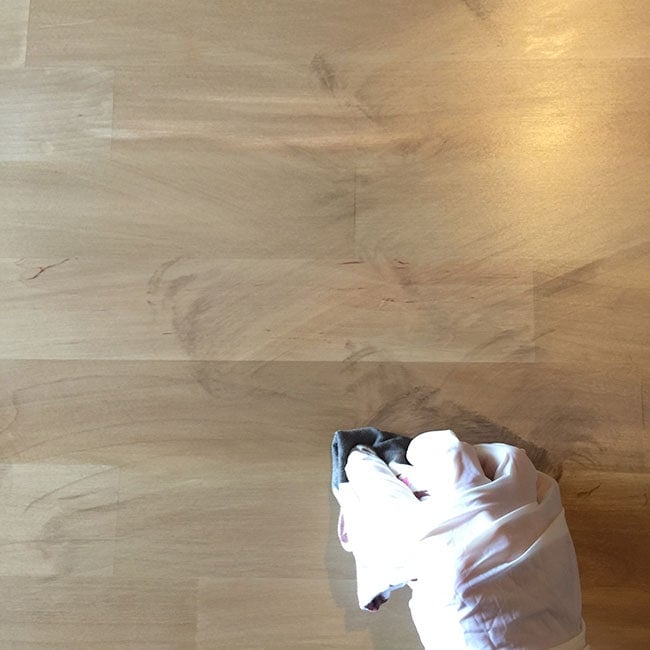 Pin
Immediately I knew that I hadn't sanded enough—the stain went on too smoothly and seemed to just sit on the surface. I stuck it out though to see if it might improve once dried…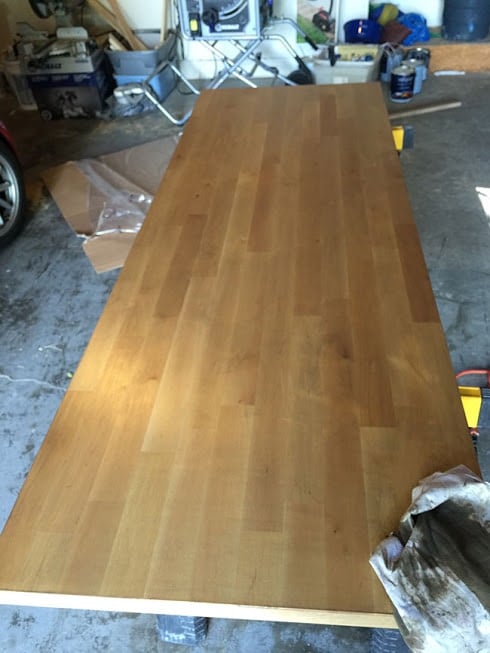 Pin
Nope. Time to bust out the big boy. I broke my dad's belt sander (it was older than me… time for an upgrade) and after reading a bunch of reviews, I chose this Hitachi belt sander for $149:
Pin
Holy crap… what a difference!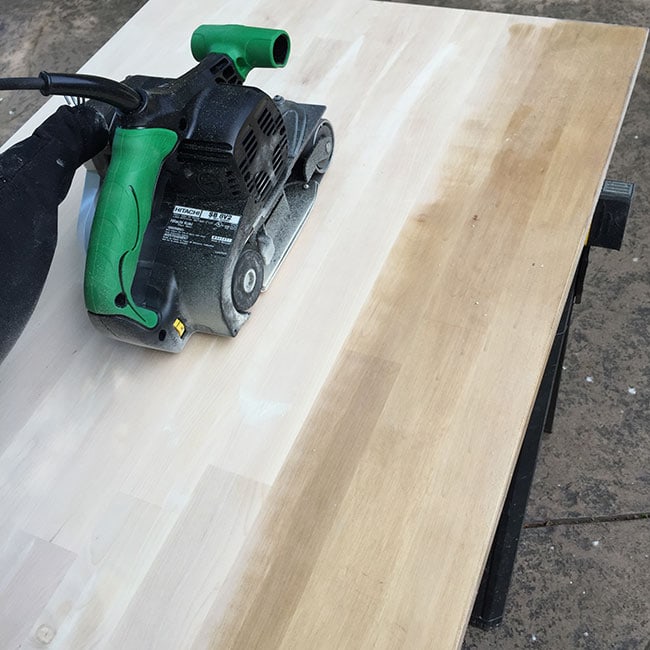 Pin
In 5 minutes flat the entire counter was sanded down to the bare wood. So easy. Worth every penny, and now I can't live without this tool.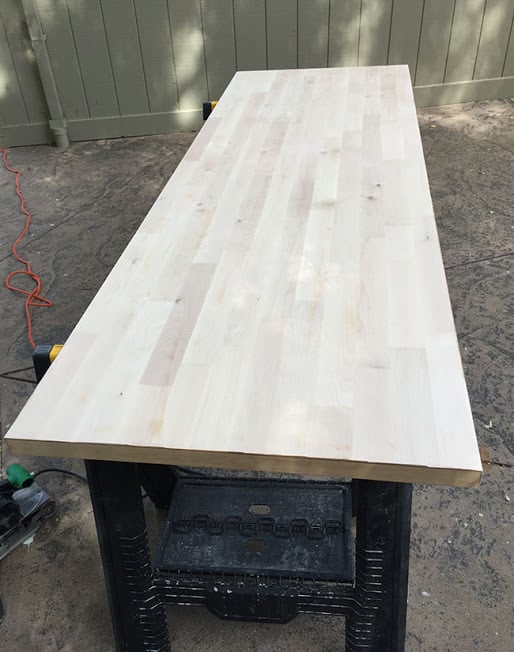 Pin
Since I was going for a more rustic/rough look, I skipped any wood conditioner and went straight to staining. The light colored bare wood absorbed it beautifully.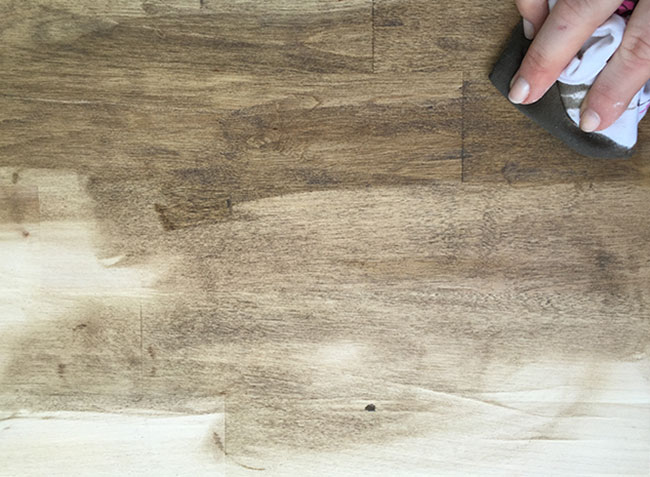 Pin
I had to buy two counters since our cabinets were a couple feet too long—so for the second shorter piece I only sanded & stained as much as I needed to save time.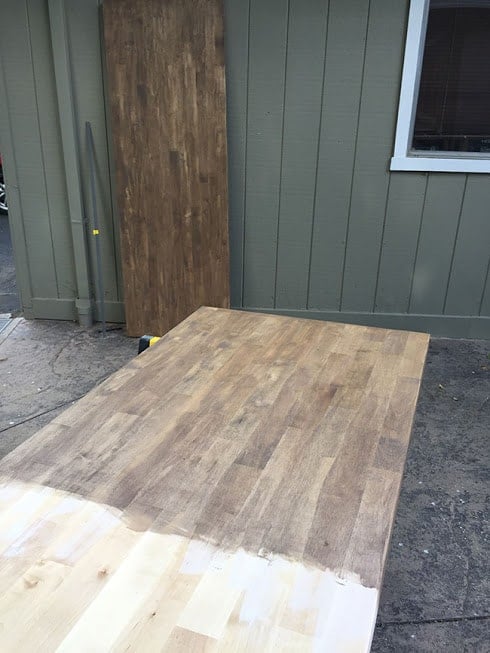 Pin
After letting them dry overnight, they were ready for a protective coating. I used my go-to water based poly, Rustoleum brand in matte. Love this stuff.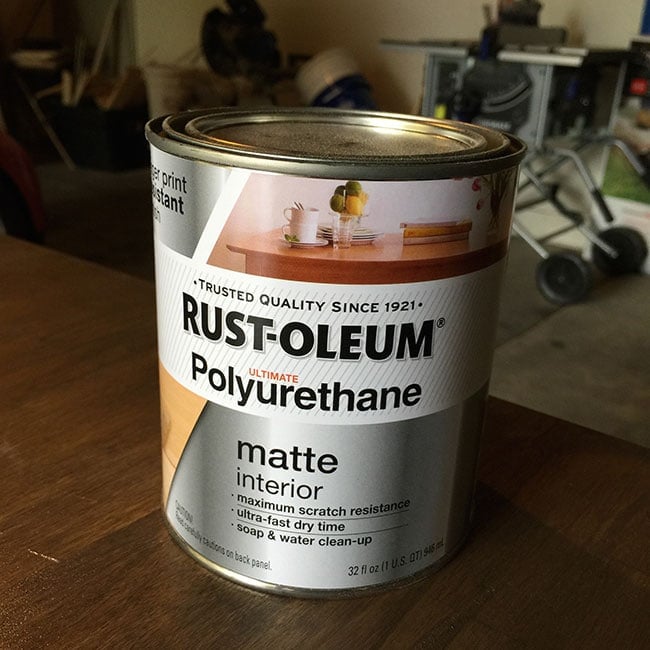 Pin
It goes on a opaque-milky white but dries clear.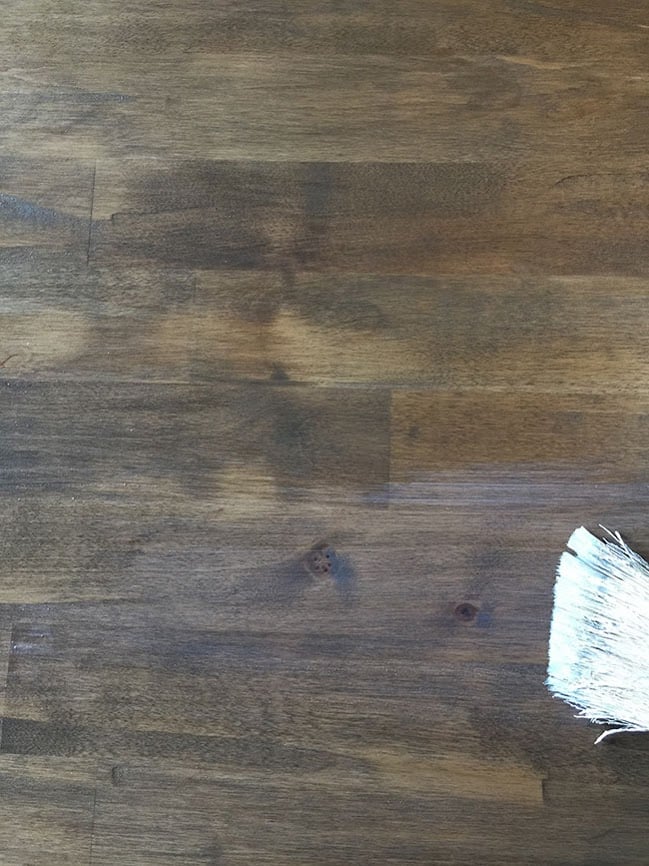 Pin
I used the recommended three coats and let it cure for a week, then they were ready to be fitted and cut!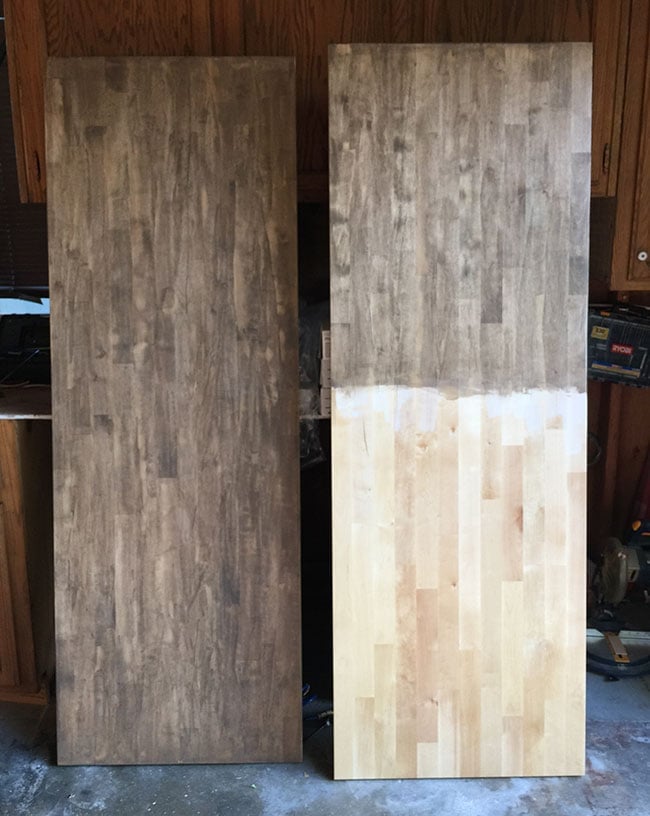 Pin
The measuring part was easy since the cabinets were already in place and we knew where the sink was going. Once I made my mark, we clamped a straight edge down as a guide to keep the circular saw straight. This really wasn't even needed since the edges would be hidden under the sink lip, but it never hurts!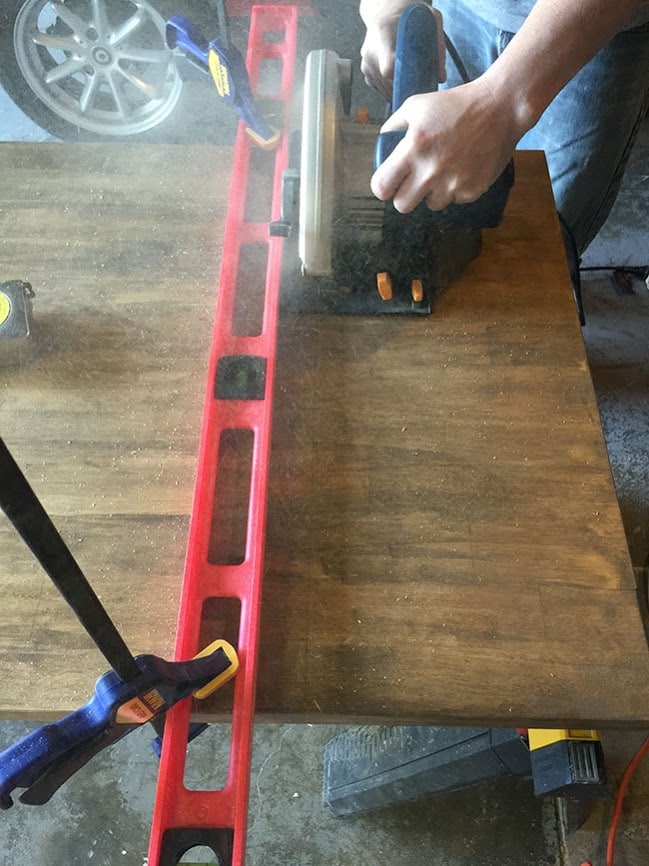 Pin
With the way our sink is designed, the front corners also needed to be notched out, which we did with a jigsaw: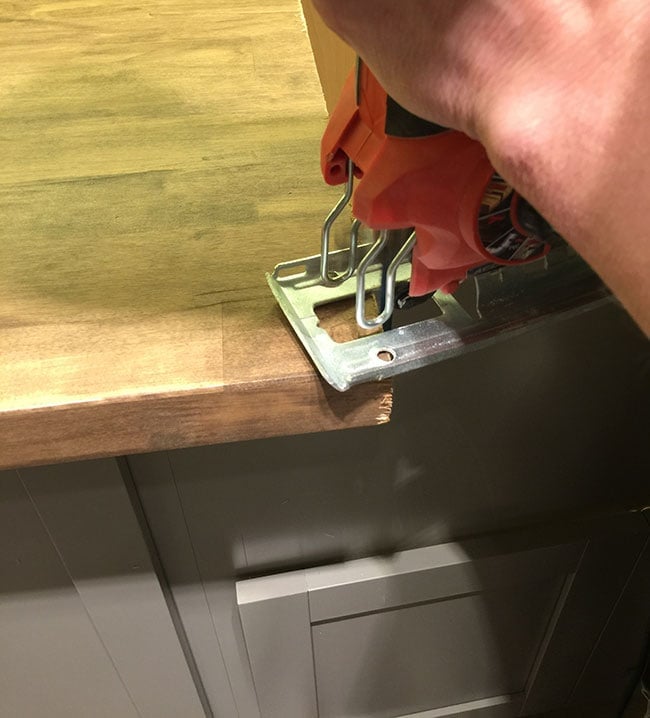 Pin
For the sink, I knew right away I wanted a farmhouse style (the sink in our kitchen is one of my favorite things in the room!). Since we didn't need an undermount in this space, the Ikea Domsjo was the best and most cost effective option. I bought the single bowl—if you follow me on instagram, you already saw it a few days ago…
Pin
We'd never installed a sink before so it was brand new territory here, but fortunately there's a lip around both the top bottom so all of our cuts would be hidden. Whew! Our former-carpenter-neighbor also stopped by for a few minutes to help.
After hoisting the sink up onto the top of the cabinet, we marked where the cuts needed to go. We had about an inch of buffer space here where the sink overlapped so it didn't have to be exact.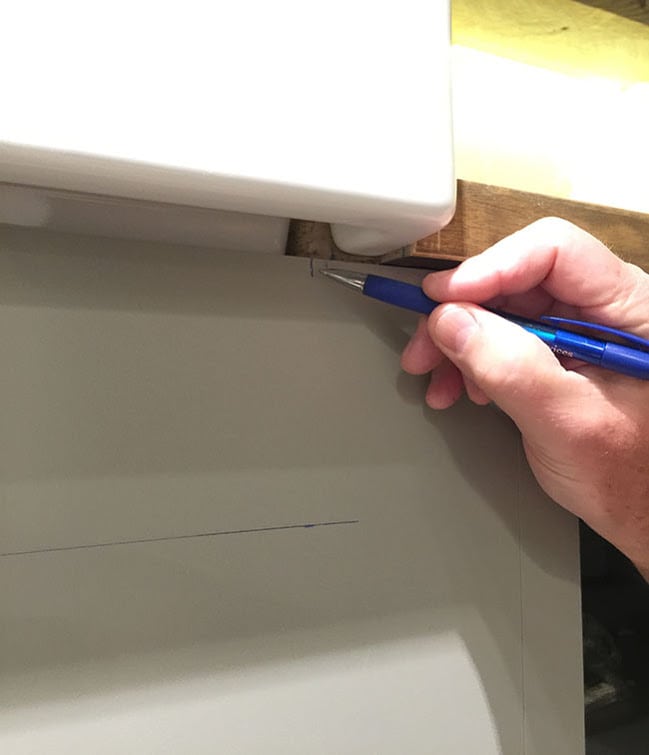 Pin
Using a squared straight edge we connected our lines…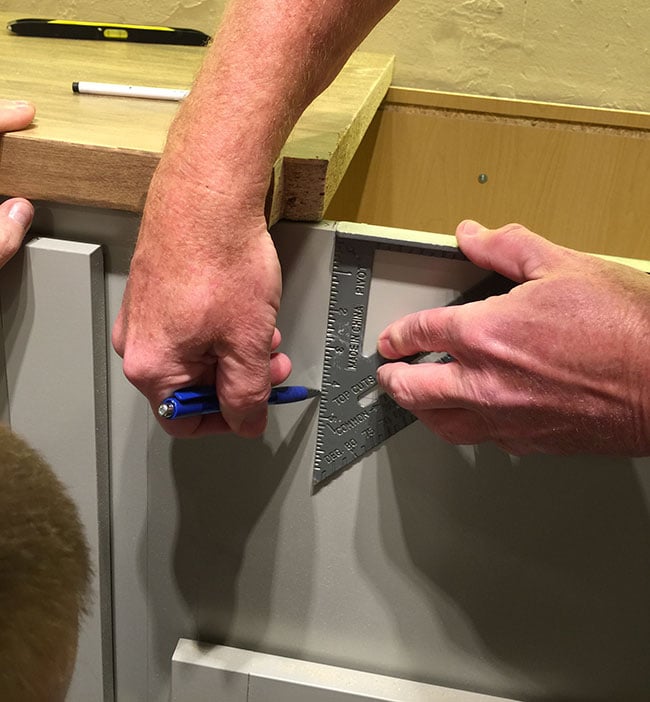 Pin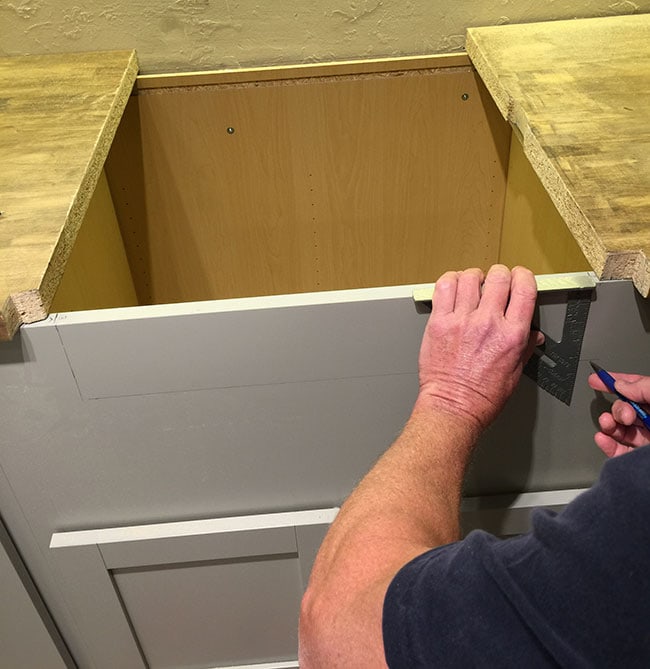 Pin
Our neighbor offered to make the cuts and used a circular saw to get the straightest lines. We also taped around the edges so the saw guard wouldn't scratch the cabinets.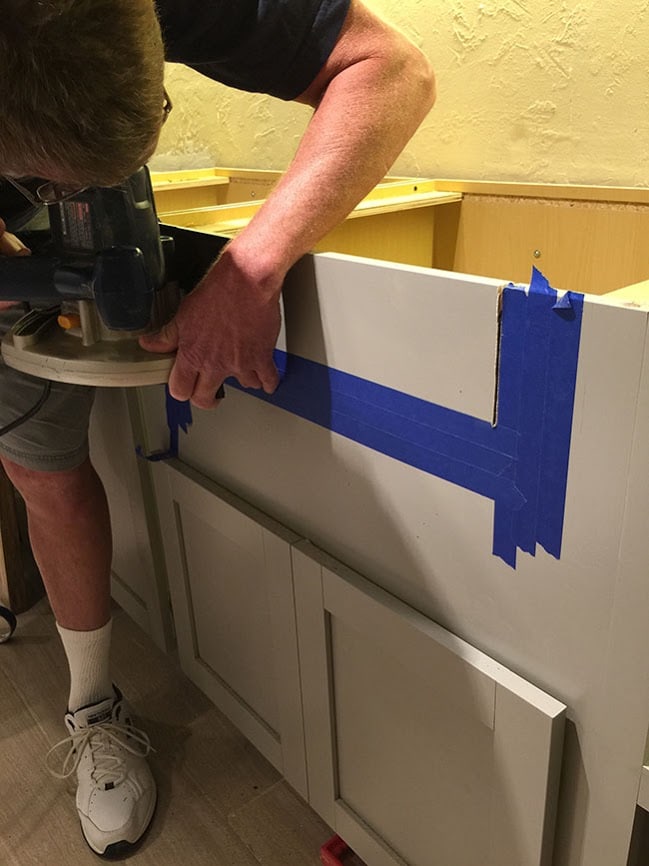 Pin
Once the piece was cut we did our first test fit…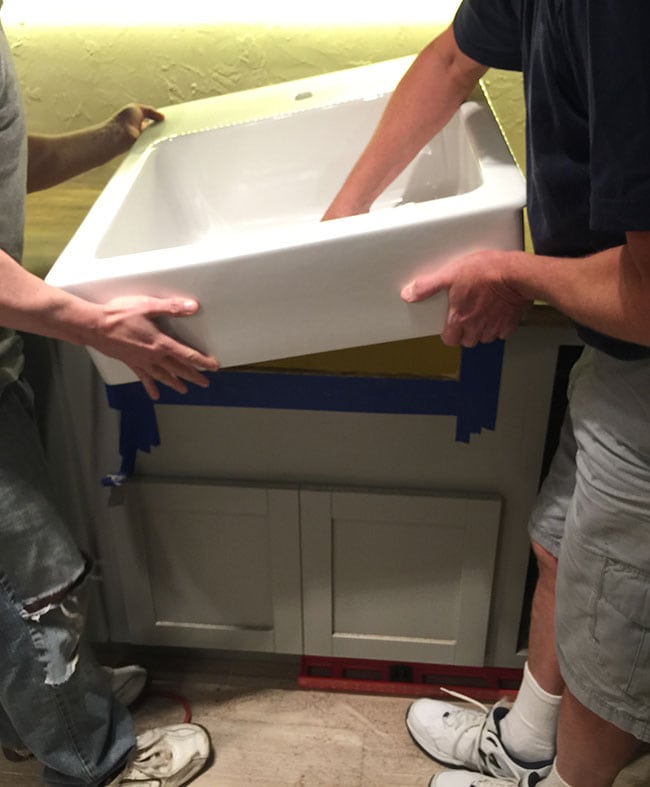 Pin
Totally did not fit. Sigh. This is why: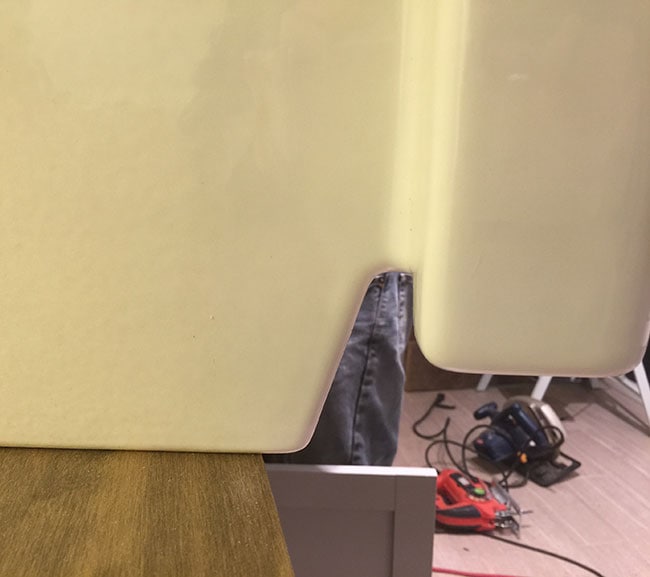 Pin
With Ikea cabinets, the sink is held up by brackets from underneath and rests along a thin metal piece across the top but our cabinet is wider than the sink so we couldn't use the brackets. Instead we spent about an hour modifying the opening to get it to rest properly on the cabinet.
There were a lot of spots where the opening was a little tight, so we slimmed down the sides and parts of the counter with a jigsaw…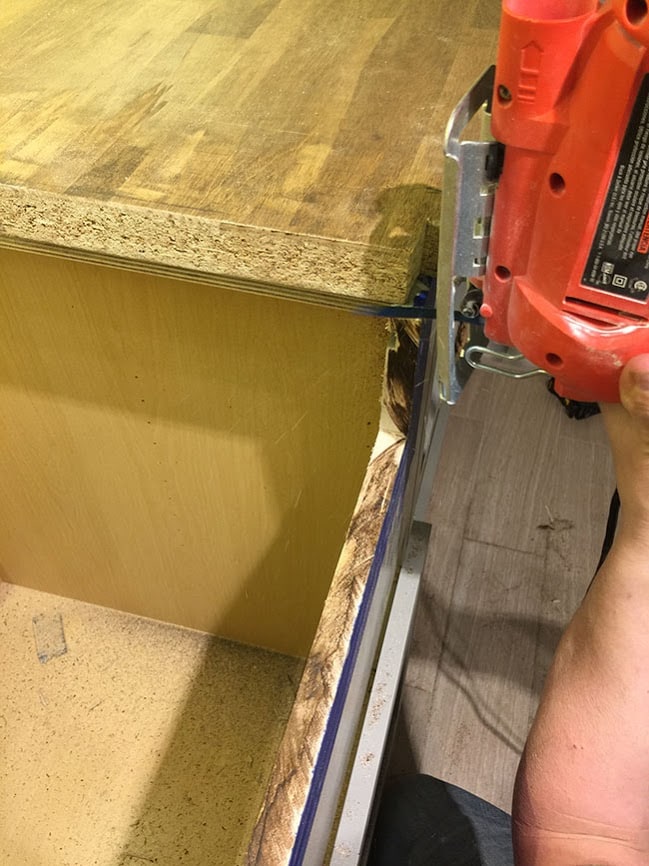 Pin
But the biggest obstacle was having to taper down the edge to fit that angle underneath the sink…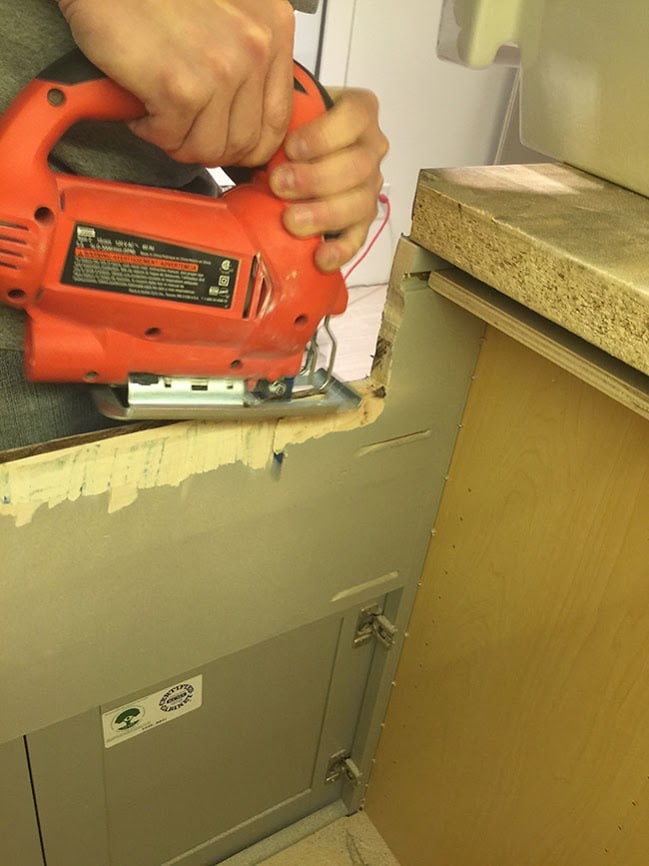 Pin
We jigsaw'd and sanded and dremel'd…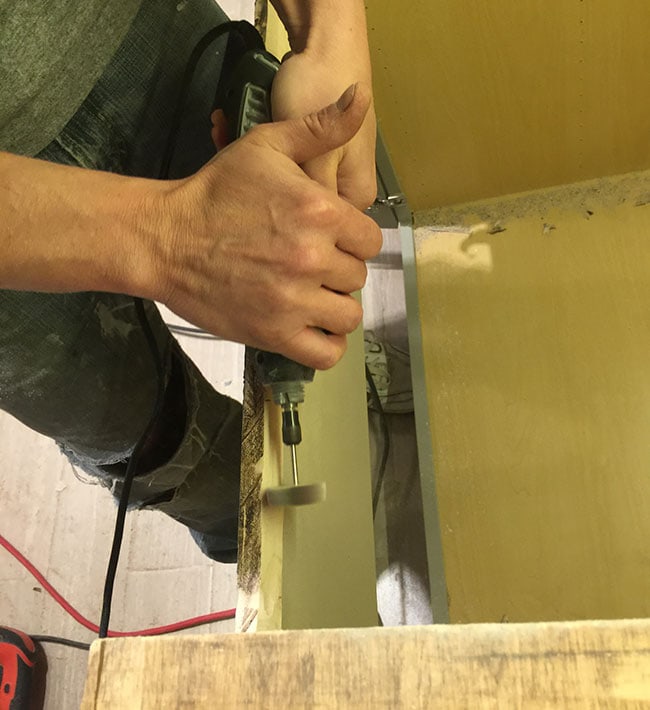 Pin
Once I grabbed the belt sander and switched to 80 grit, the wood tapered down in no time.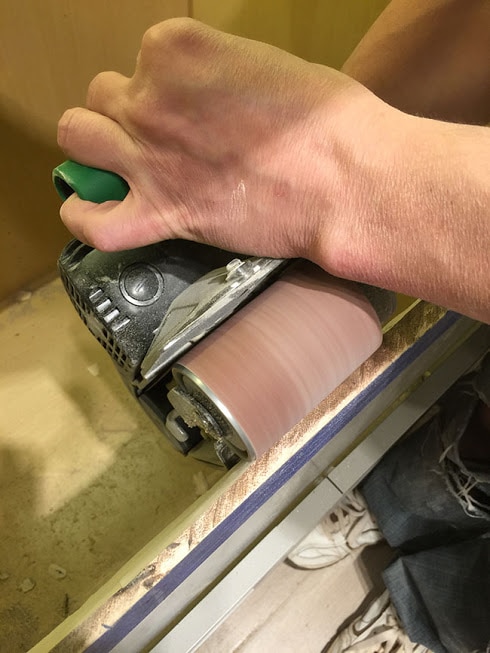 Pin
We finally got it just right.
Pin
Success!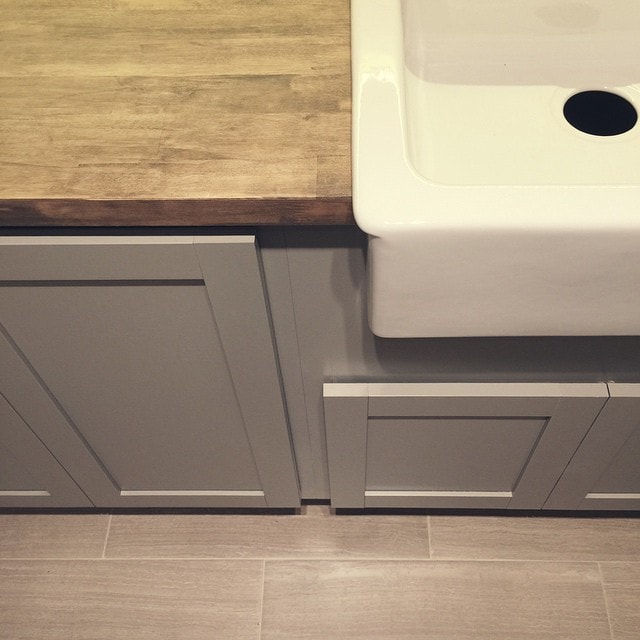 Pin
Because this room was just thrown together as an afterthought and the walls/floors weren't square, the cabinet installers had to move everything forward so it could be level but that left us with a bit of a gap behind the sink and counters. It will mostly be covered by tile and grout, but I still thought we should put a small piece of trim against the wall so nothing could fall back there.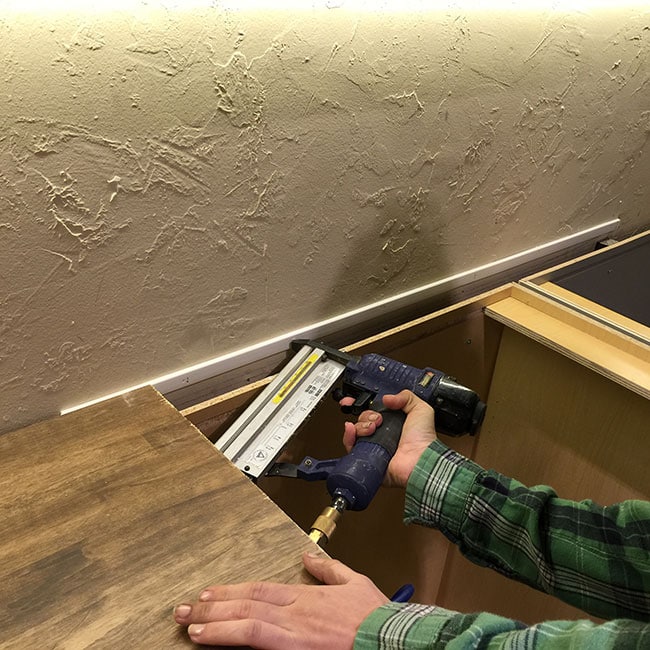 Pin
Once that was up, we could secure out counters and sink. After a bit of research we decided that liquid nails would work just fine for everything. There are lots of contact points along the underside of the (heavy) counters, plus the (also heavy) sink which is sitting on top and holding it. I ran a thick bead along every piece that would touch the counters, front back and sides…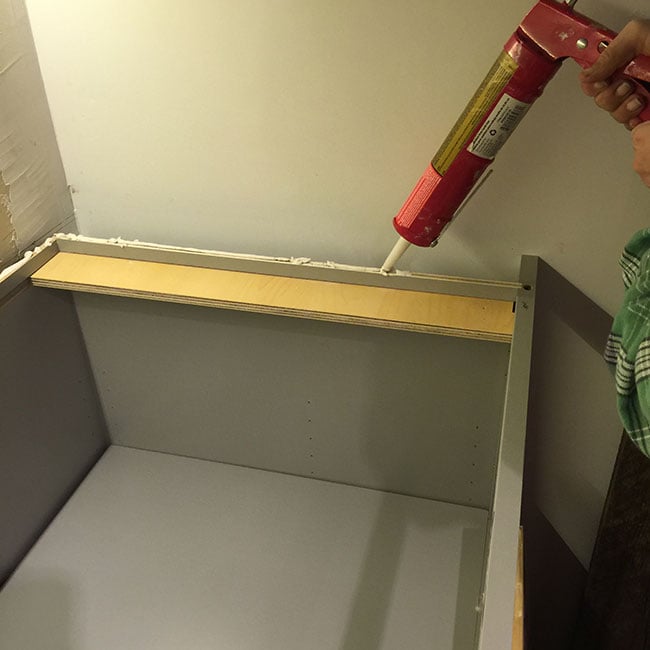 Pin
Then once the counters were set, I ran it along the edges where the sink lip would sit.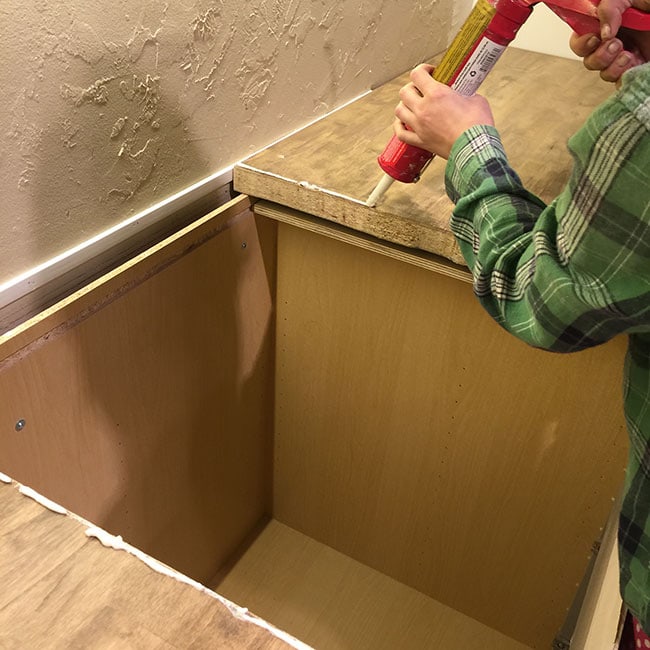 Pin
Brad also used it all along the base of the sink underneath the cabinet. They aren't going anywhere!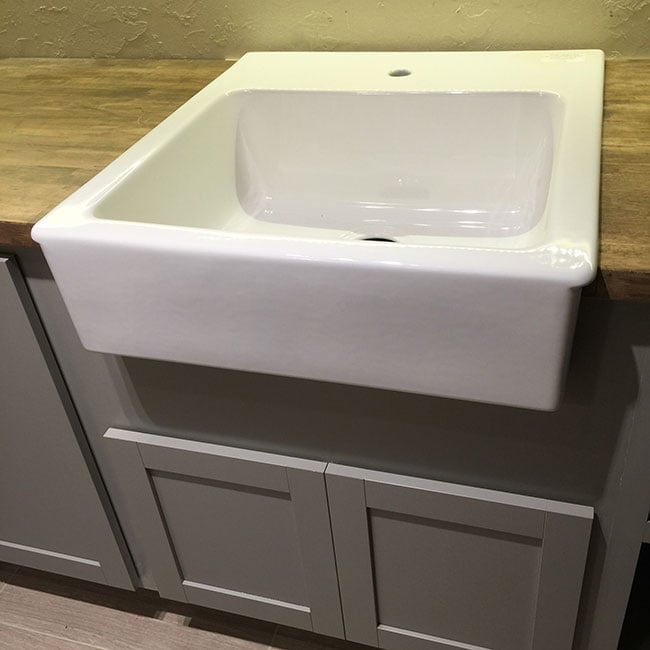 Pin
One last matter of business… because these cabinets were shimmed like crazy to get them level, we ended up with some unsightly, quite visible shims on the left side: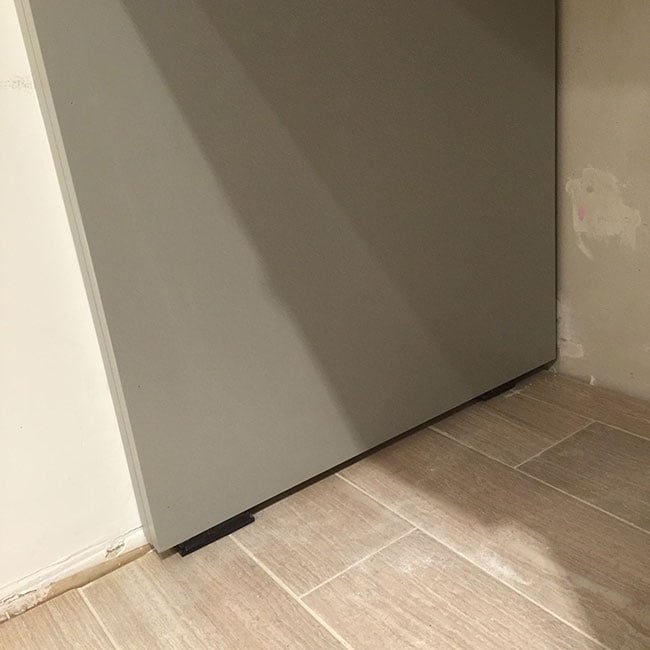 Pin
At first we were going to add trim but a special color matched piece would take weeks to get in, be an added cost and make it stand out even more… so we improvised. I found this scrap wood piece in the garage that happened to be the exact same size as the shiims: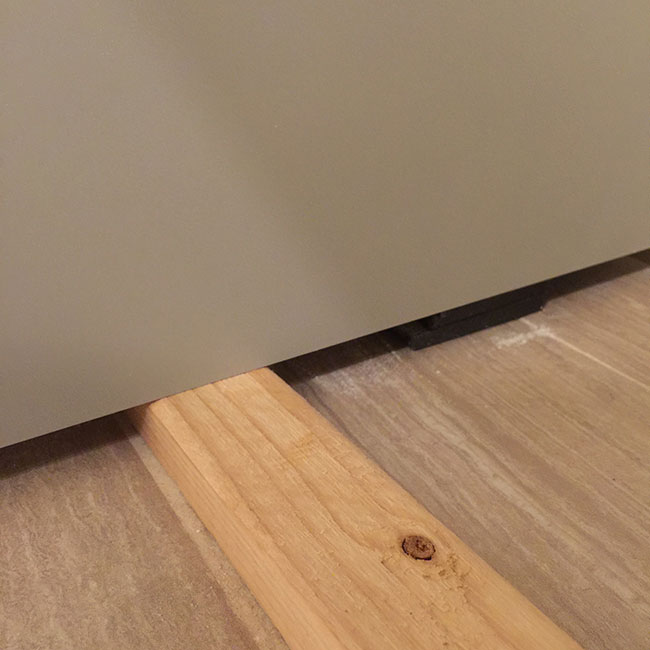 Pin
I used an arbor to drill out a couple perfectly sized holes and colored them using the touch up crayon that came with the cabinets. Now we have little feet that look like they're just part of the design.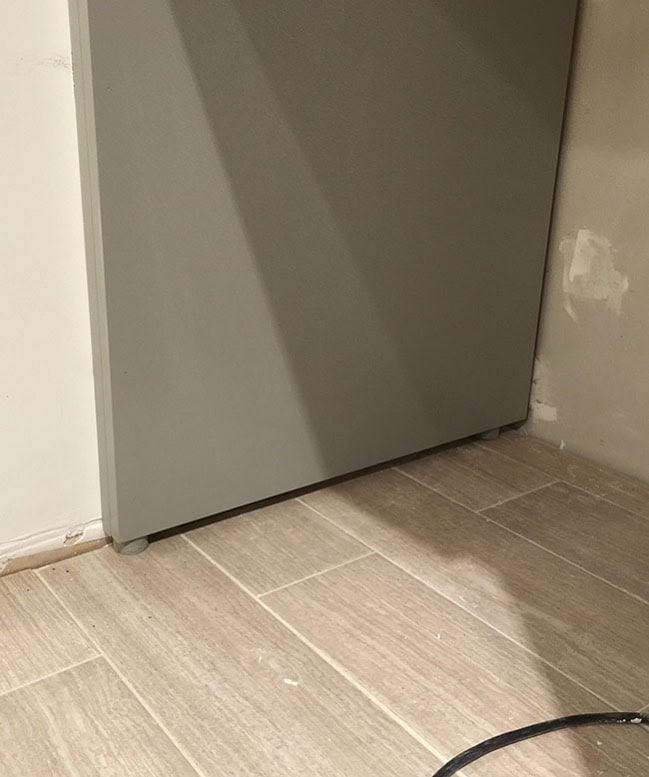 Pin
Can't even tell when you're standing.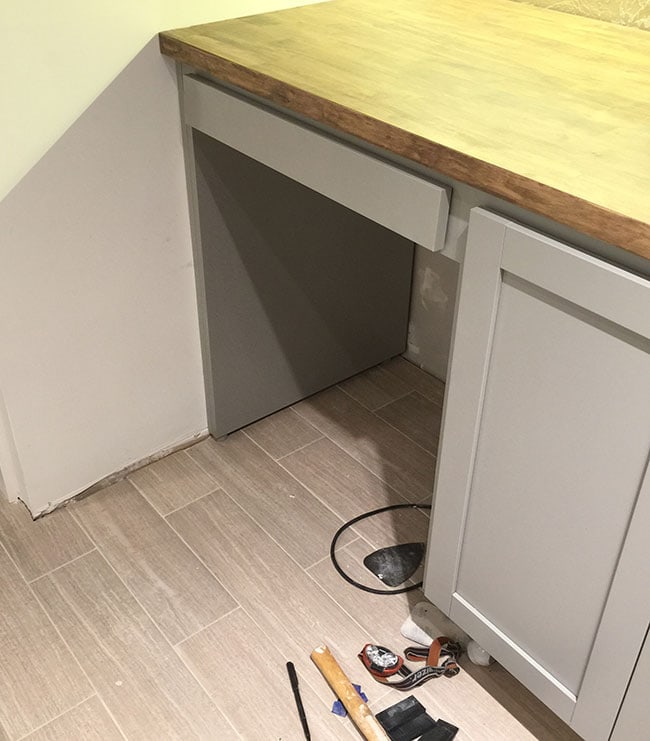 Pin
And there you have it… custom cabinets, counters and Ikea farmhouse sink! I've waited so long for this post.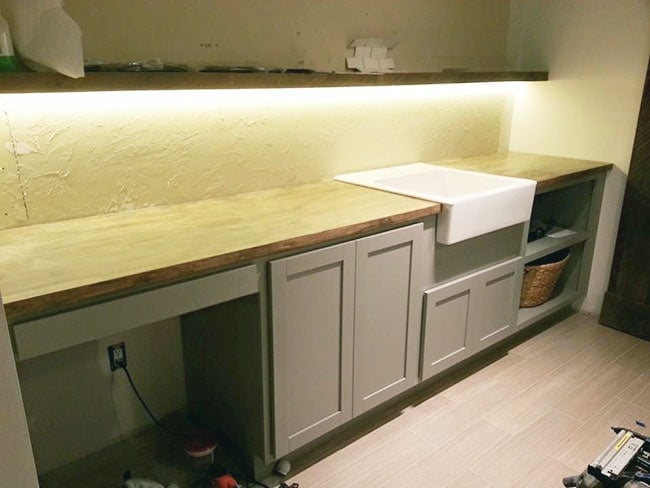 Pin
Here's some handy pinn-able recaps for reference…

Pin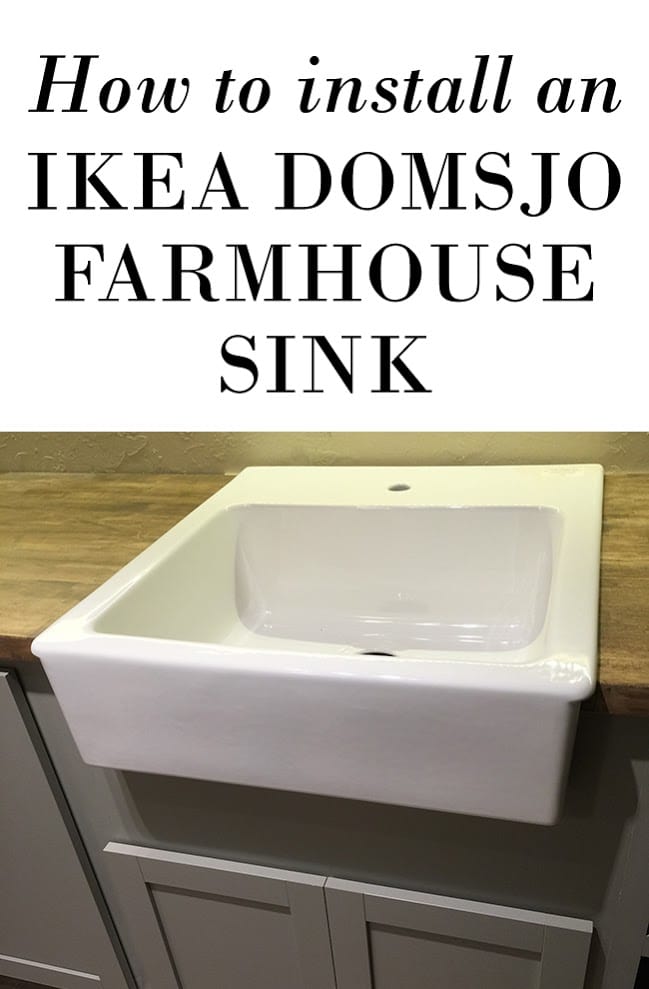 Pin
We've already installed the door pulls, finished most of the baseboards and tiled the back wall but I'll save that for next time! Tonight night we'll be grouting, Tuesday and Wednesday are the finishing touches, and Thursday will be our photoshoot. And hopefully we can get a plumber in there to hook up the sink during that time. THREE DAYS UNTIL THIS ROOM IS DONE FOREVER!!! I hope you're excited too.
I'll be back on Wednesday for a One Room Challenge update on our guest bath makeover. It's already an entirely different room, so make sure to check back in a couple days to see what's been going on. And as always, you can catch me on instagram for real-time updates!