This post is a paid collaboration with Lowe's Home Improvement. All opinions are my own.
Let me start by saying that ten days ago while consumed with trying to finish our reading nook project, I wasn't even thinking about Christmas decor. I had given up any hope that I'd be able to pull it off this year with no budget, time or energy.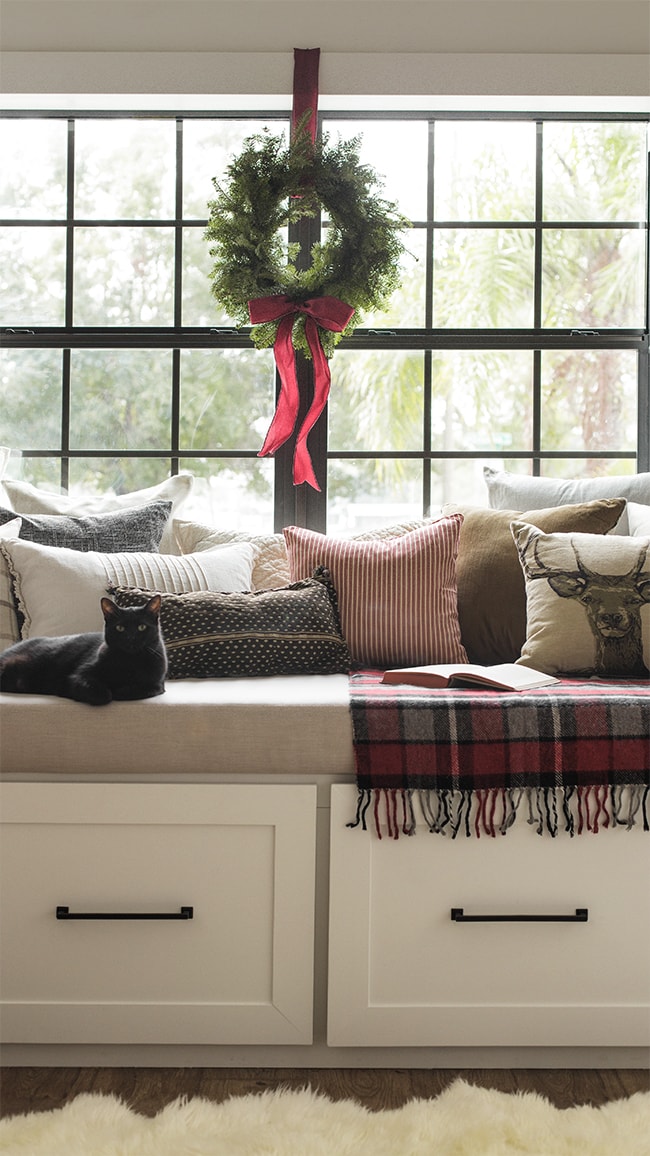 Pin
But then Lowe's reached out, asking if I'd like to share some easy, last minute holiday decorating ideas. And I thought about all the folks in my position, who can't/don't want to go all out on holiday decorating this year but still want a festive, cozy home.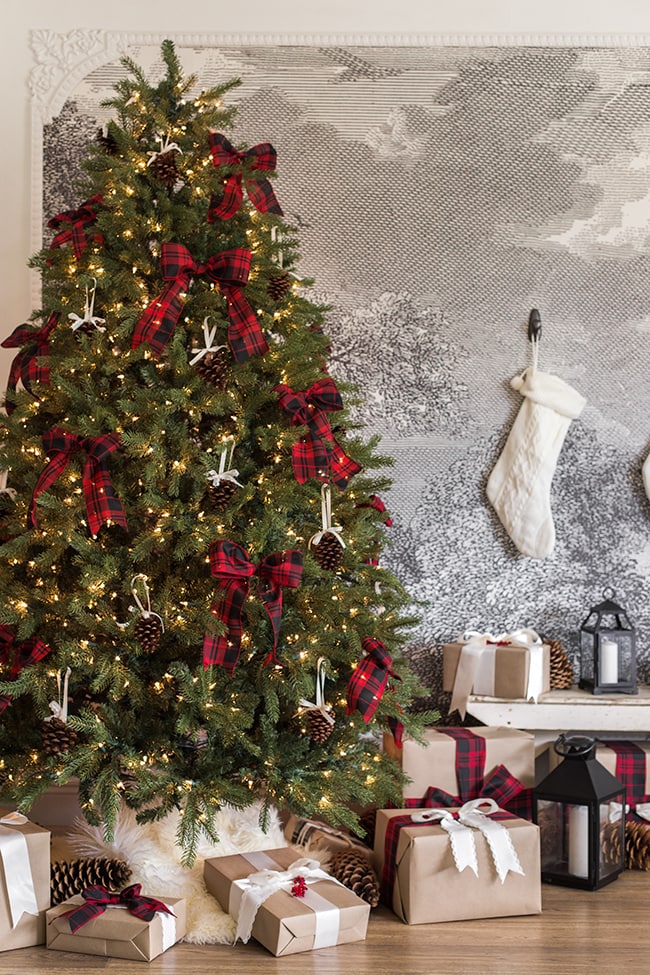 Pin
I see you and I'm here for you, friends.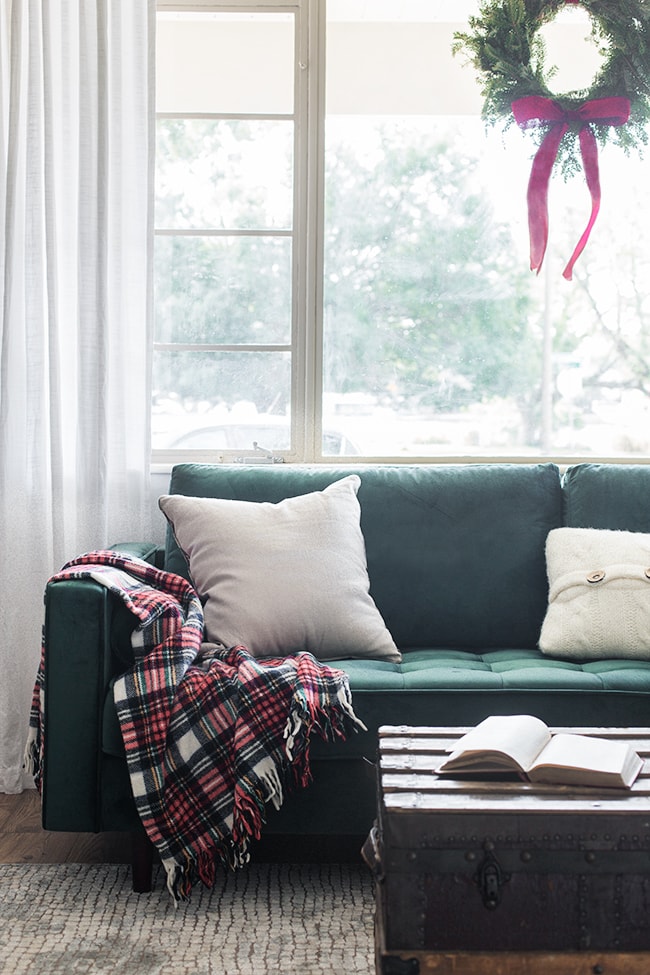 Pin
This year, I pulled my Christmas bin from storage and everything else needed was purchased in one quick shopping trip, and I spent just one day decorating. I played Christmas jazz, drank some egg nog and thoroughly enjoyed every minute.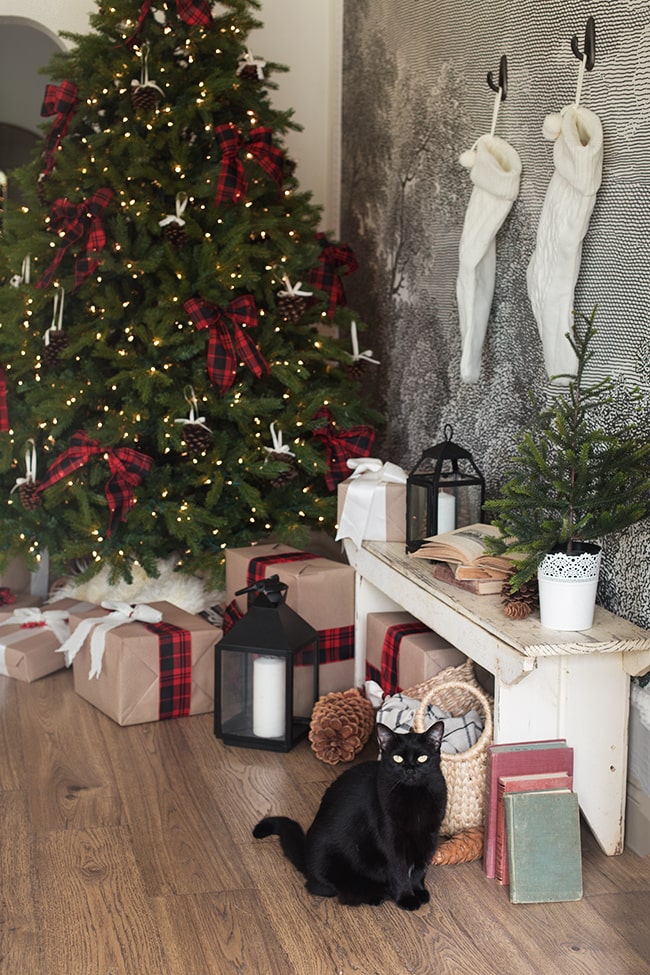 Pin
Growing up in a home where Christmas was truly the most special and memorable time of the year, it just doesn't feel like Christmas to me unless there's at least some decorations in the house.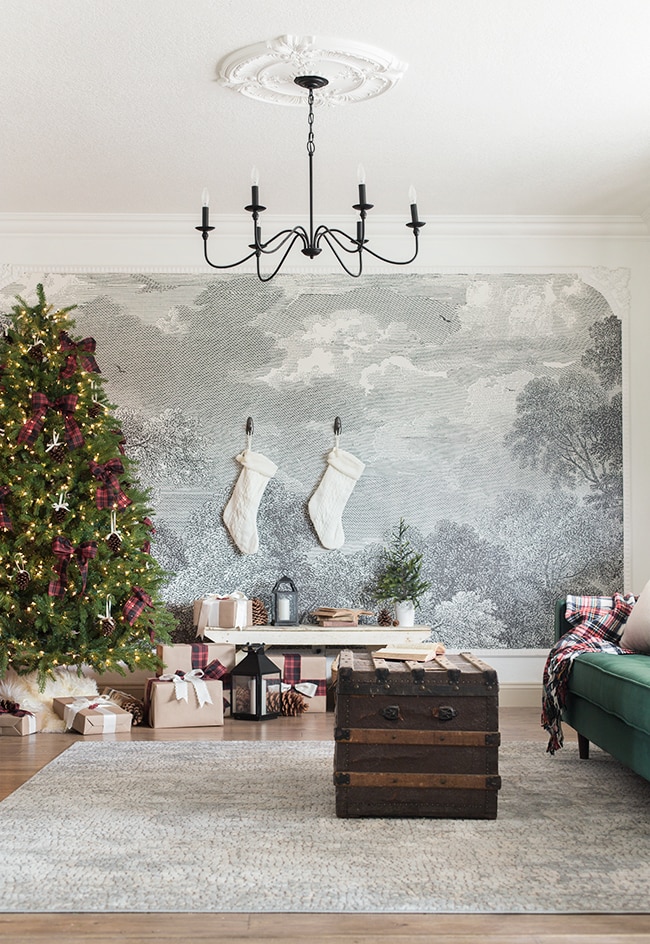 Pin
Even with our house nowhere near 'completed', I was able to easily add festive touches to the finished areas (living room, dining room and reading nook) and now I can't help but smile when I walk into them.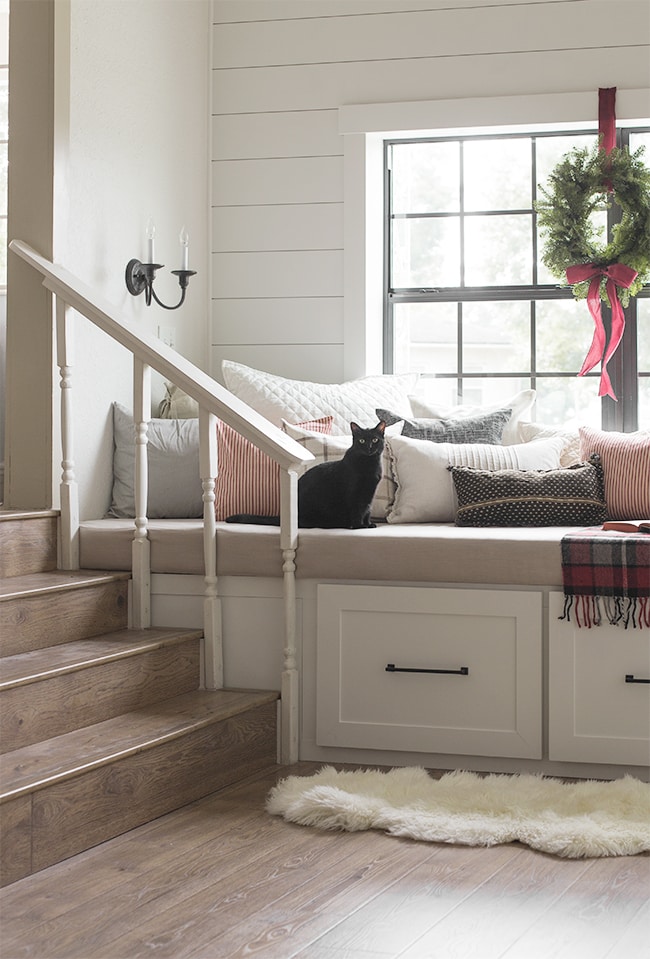 Pin
These ideas are something that can be easily recreated with little time, money and effort (even if you haven't started yet!) and in the end I think it's so worthwhile.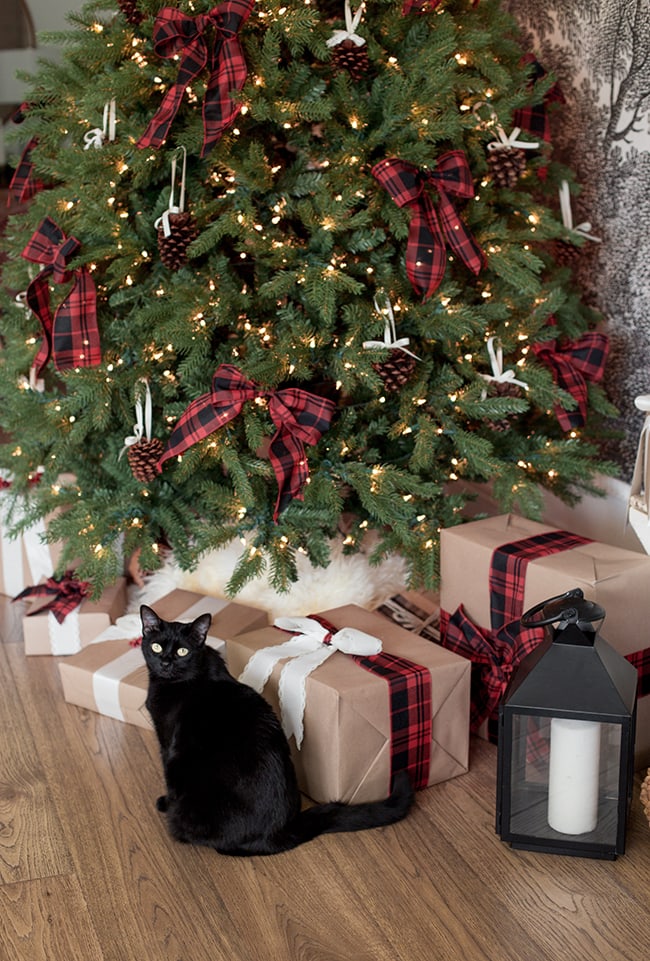 Pin
Let's start with the tree. The star of the show in any holiday display…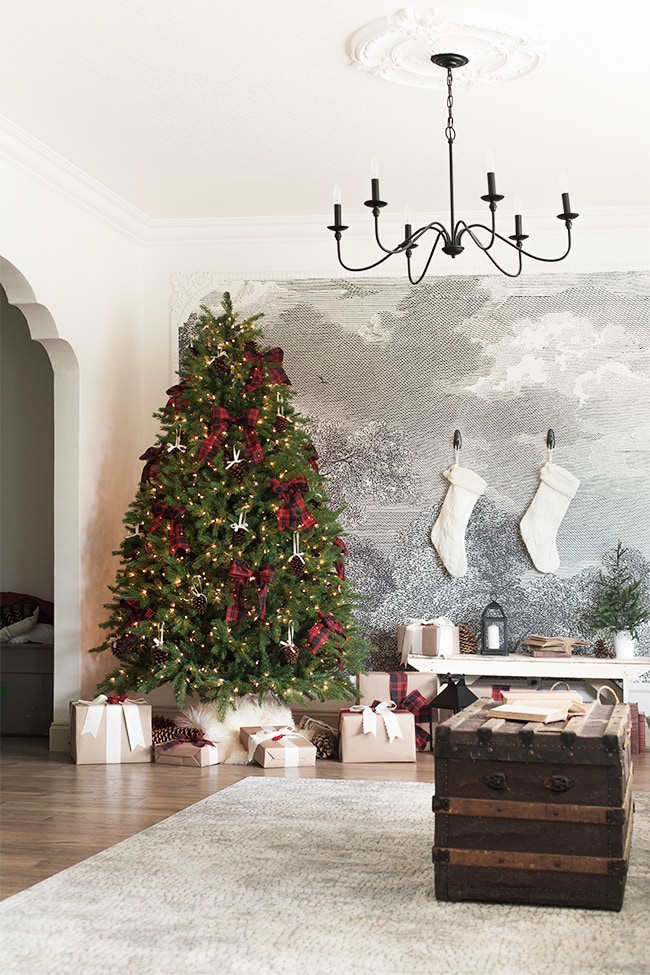 Pin
I chose this 7.5′ GE pre-lit tree after visiting my local Lowe's and seeing it in person.  A pre-lit tree is a must for me (because who has time to unravel and perfectly place all those string lights?) and as you can imagine, I'm a little paranoid about the fire risk of a real tree.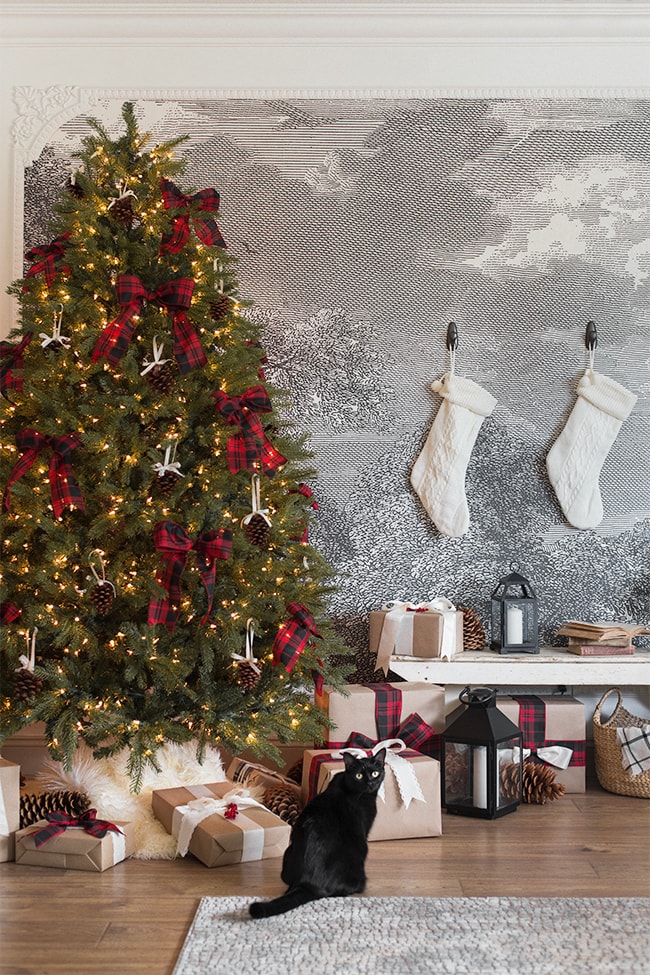 Pin
The pine needles look and feel incredibly real, and it was easy to transport and set up (it comes in 3 sections). Another benefit of faux trees—the branches are pliable so you can arrange them to your desired fullness!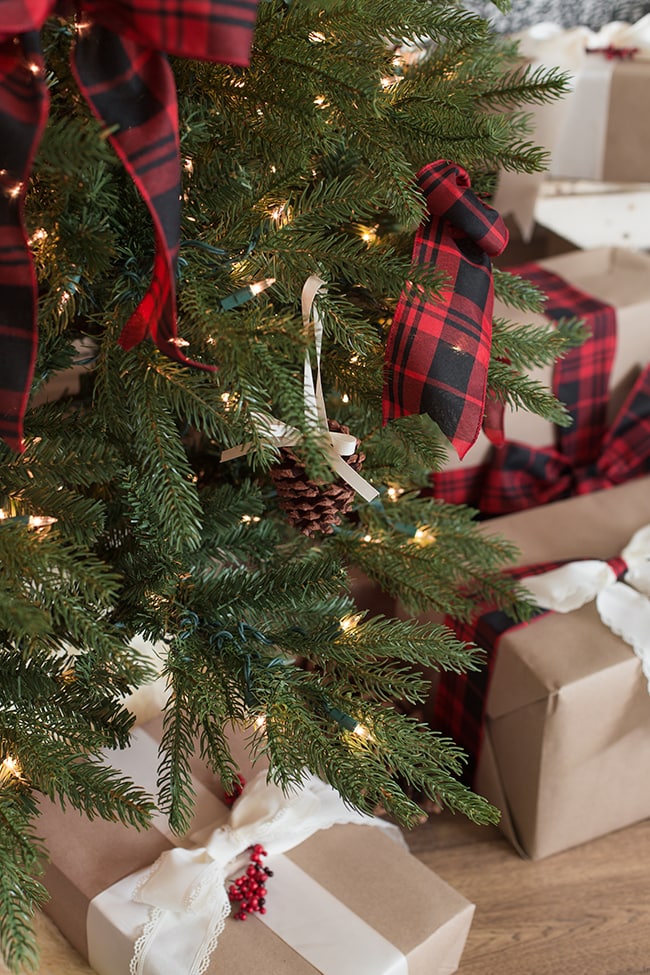 Pin
It went on sale for Black Friday and now it's on clearance for another week—highly recommend checking this one out if you don't have a tree yet! It looks lovely with the lights off too.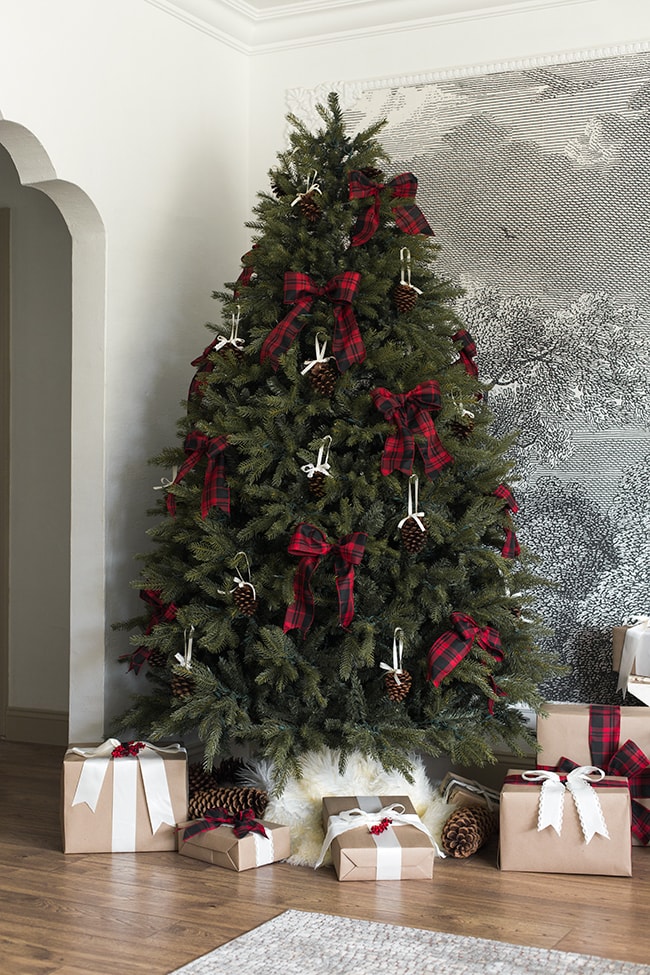 Pin
The ornaments were made using just two materials: ribbon and pinecones.
Pin
I used a few spools of ribbon (Lowe's carries a similar style here) and followed a 'how to make a perfect bow' diagram on Pinterest. It's easier than it looks! The pinecone ornaments were pulled from storage—they're cinnamon scented with ribbon glued and tied into bows. Super simple and still smells wonderful after a few years…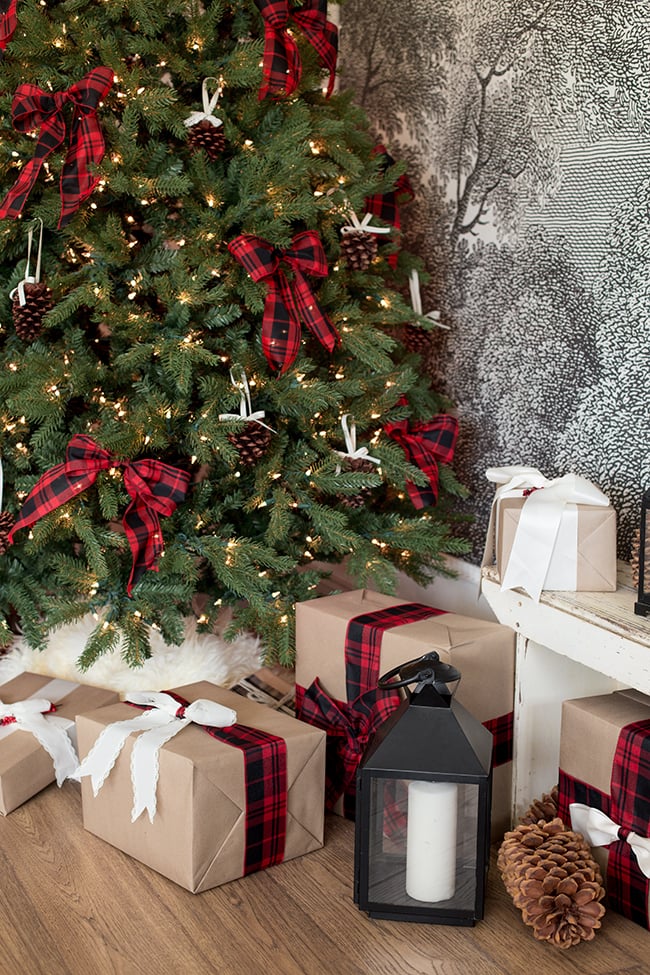 Pin
For the gift wrap, I picked up a large roll of builder's paper (aka painters paper aka kraft paper) and used leftover ribbon to dress them up, along with a clearance $3 faux berry stem.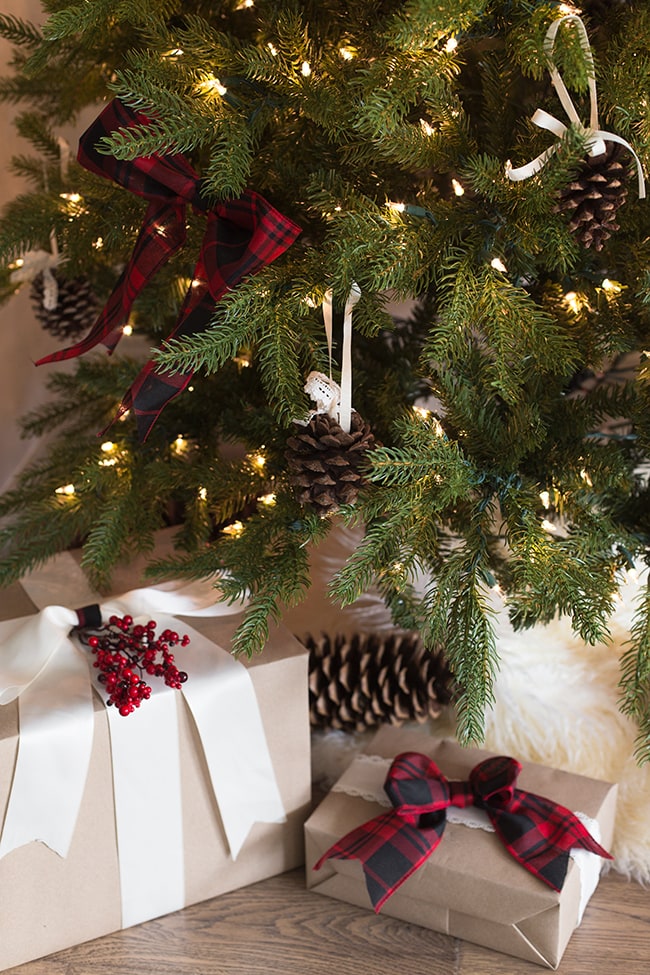 Pin
I love how simple and classic this look is—you don't need to go crazy with wrapping paper for beautiful results.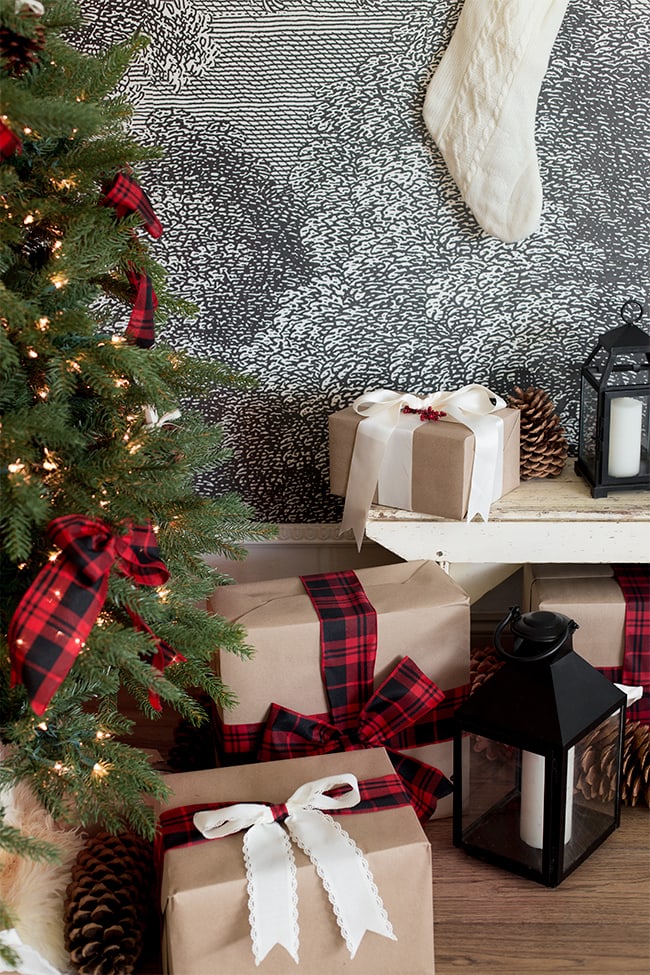 Pin
See those huge pinecones? Those were collected near my hometown in California, where the biggest trees in the world live. I hauled a bag of them all the way to Florida, and now I have a piece of California with me for the holidays.
With no fireplace to hang stockings, these heavy duty command hooks were the perfect solution: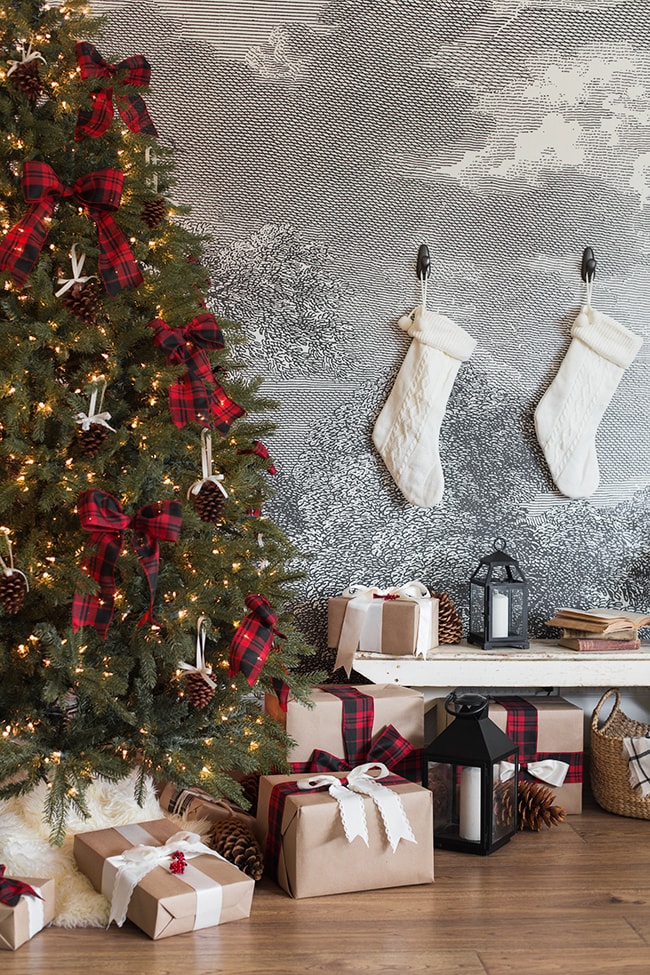 Pin
I've been wanting to add real hooks on this wall but am hesitant to put holes in the mural. I was super excited to find these ones that look nice and can hold up to 5 pounds, so I may just get a few more and keep them there permanently.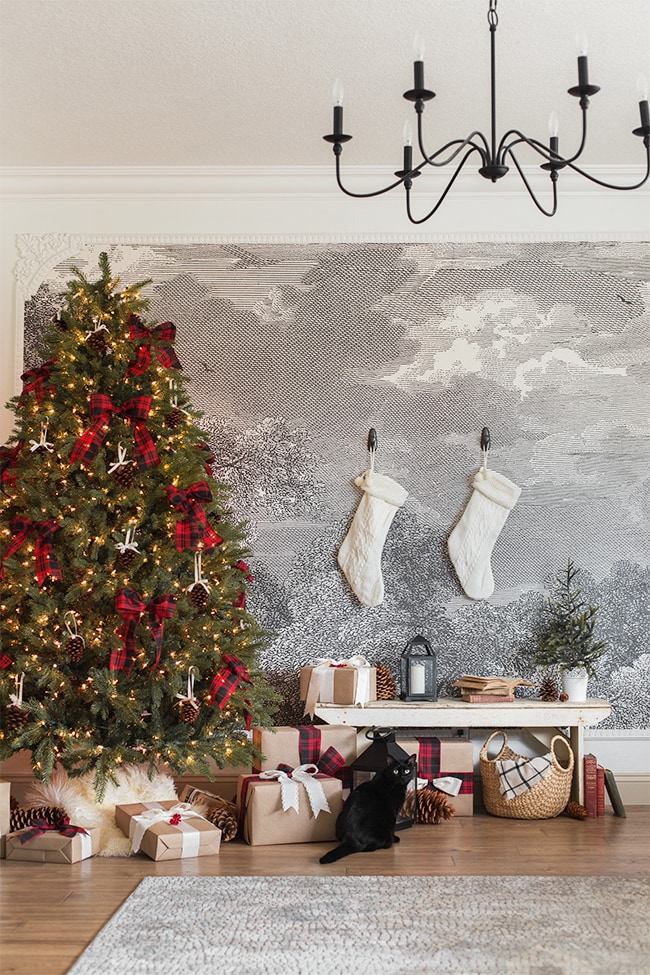 Pin
I've had those stockings for years (not sure of the source) but I love these sweater knit + fur stockings from Lowe's (for only $13!)
I haven't shown much (at all) of our living room on the blog, but it's slowly coming together! In the past week I added a rug, coffee table, lamp and mirror, and two chairs are scheduled to be delivered today.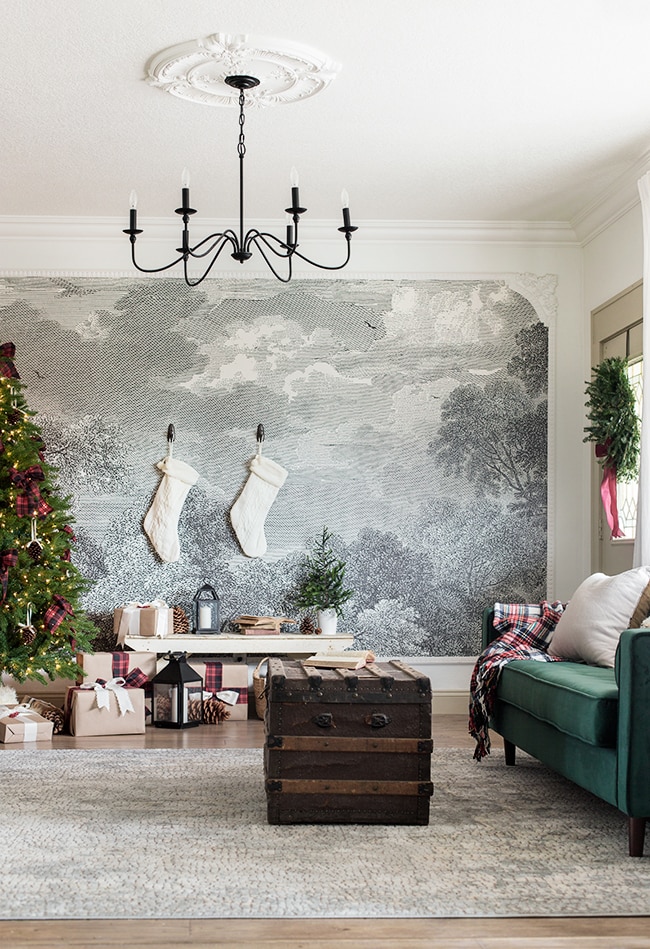 Pin
I'll do a post next week sharing all the sources and the design plan once the chairs arrive—stay tuned!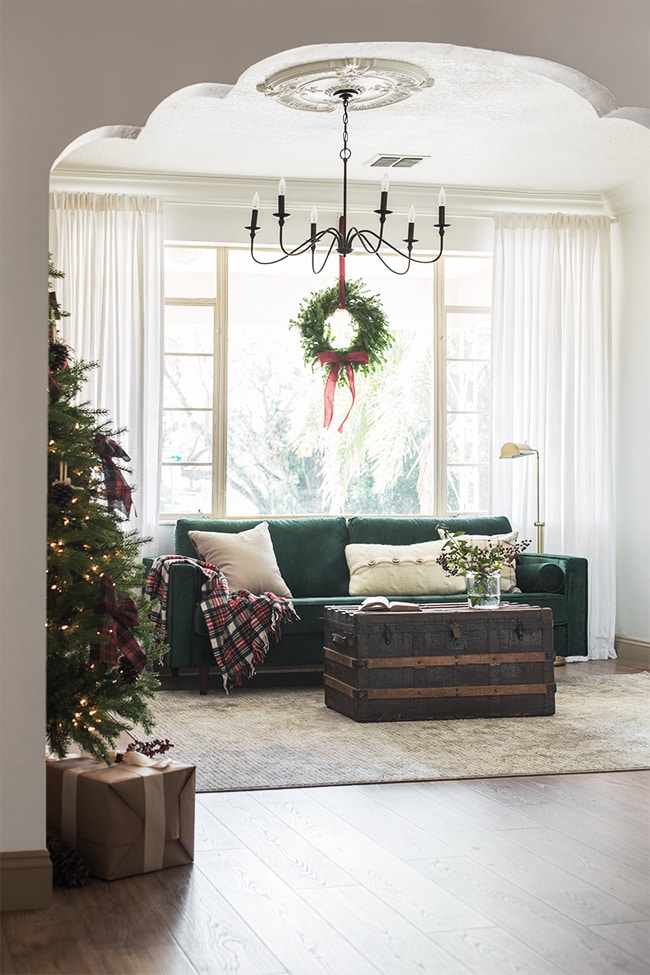 Pin
Adding wreaths to doors and windows are a must in my holiday decorating book, and these fresh wreaths are only $11: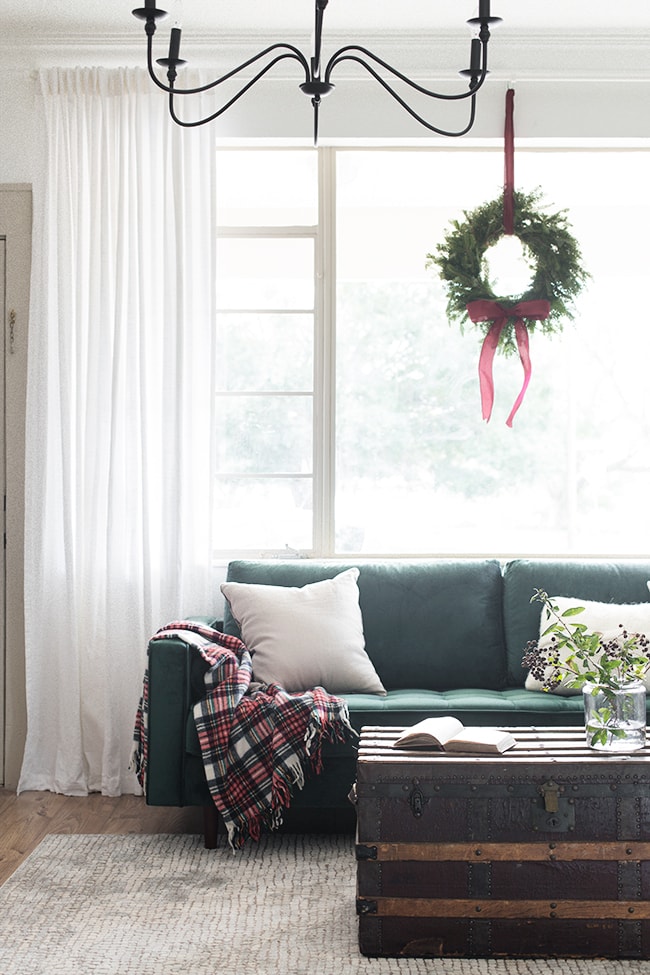 Pin
I picked one up for the front door, living room window and reading nook window, and added my own red velvet ribbon.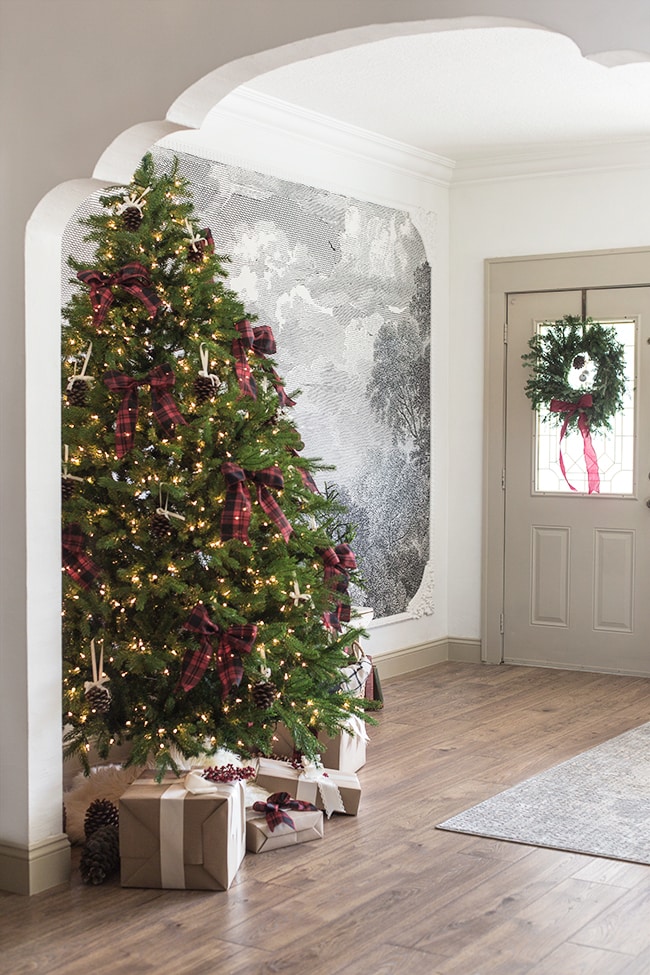 Pin
Velvet has been the MVP of 2018 for me. Between ribbon, curtains, pillows, chairs and couches, I just can't stop myself. Give me ALL THE VELVETS!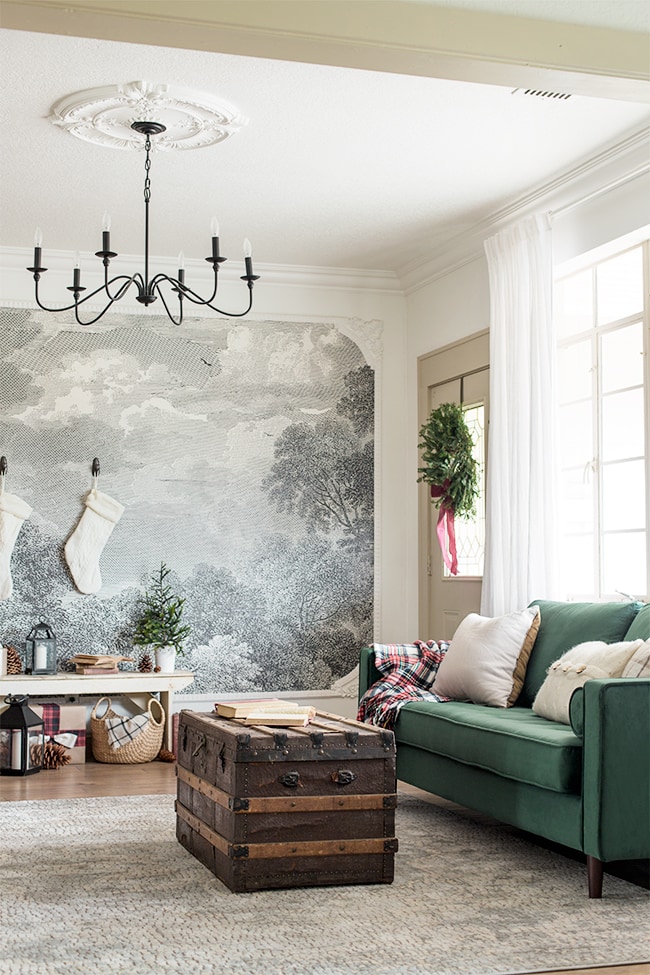 Pin
I mean, how perfect is this couch? (psst, you can check out my IG stories for some sources if you don't want to wait for the next blog post!)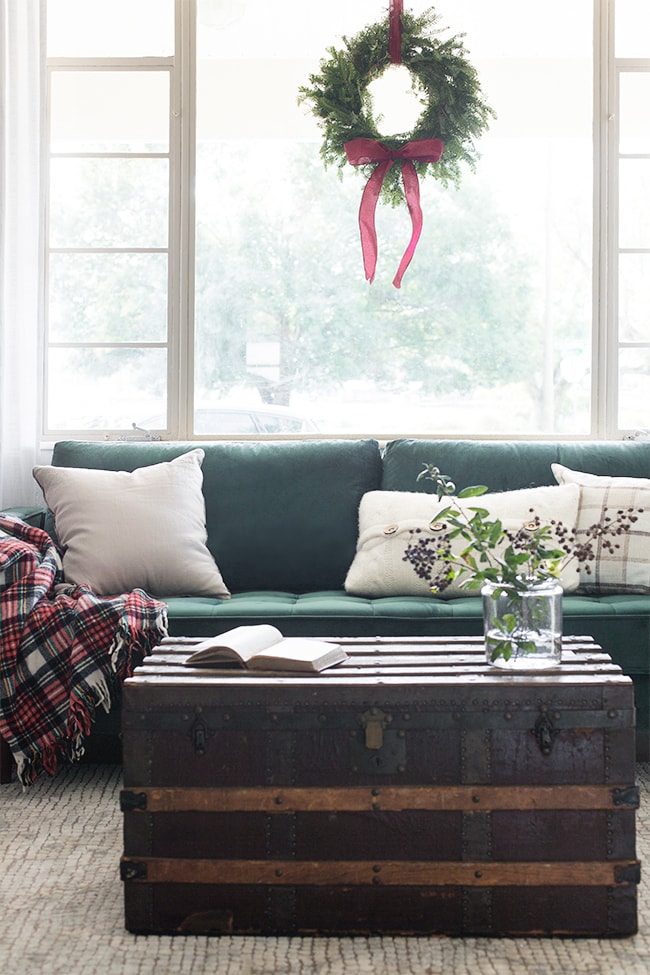 Pin
Neutral pillows + wreath + plaid throw = all you need for the living room.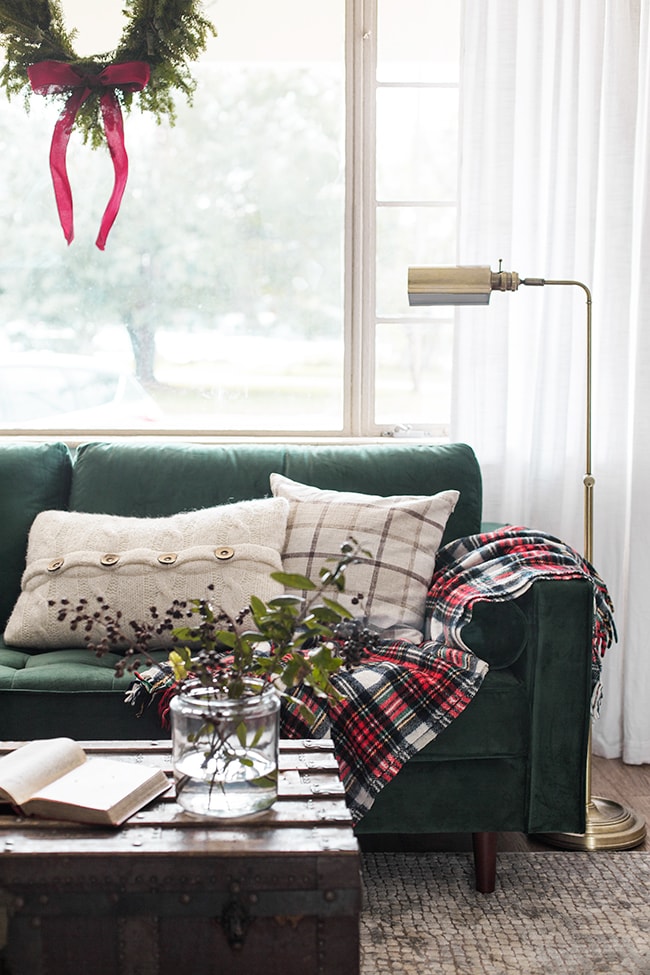 Pin
A little brass won't hurt either!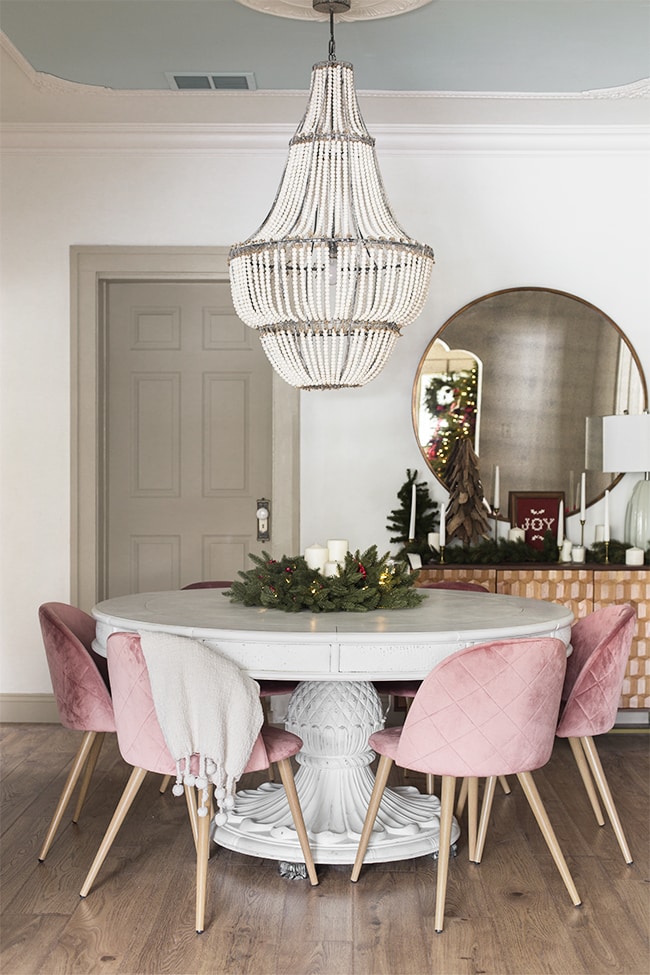 Pin
In the dining room, I made a centerpiece using a pre-lit wreath (pulled from storage) and a few white pillar candles. Easy peasy.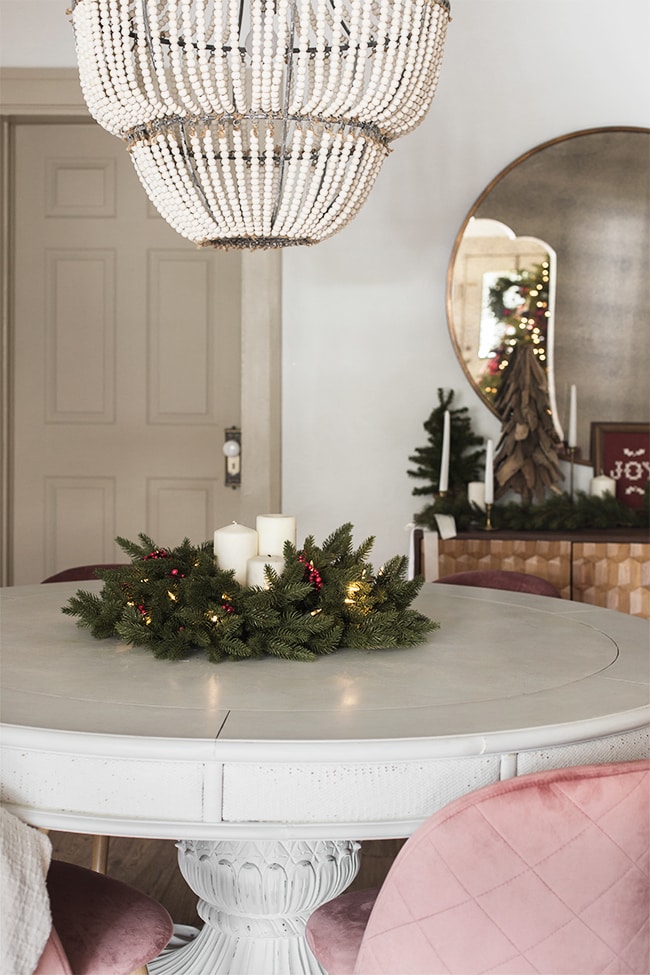 Pin
Who said you can't make a mid-century tropical room feel like Christmas?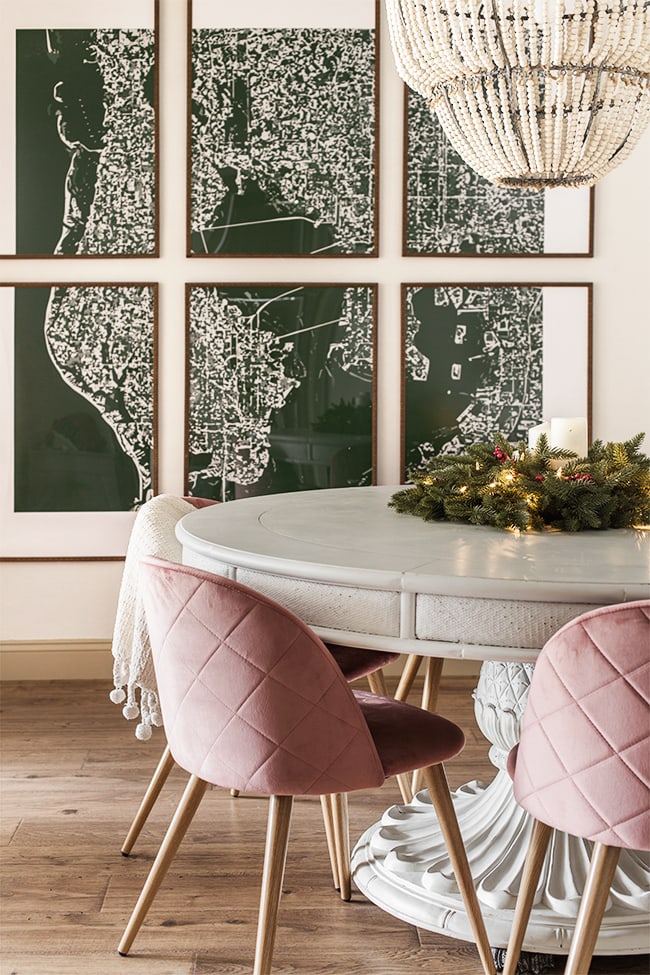 Pin
Sideboards are always fun to decorate. I pulled another faux garland out of storage, along with a couple trees, candles and brass candlesticks. Not sure of the original sources on these but I found this cute wooden tree set from Lowe's, and a realistic looking 9′ pre-lit garland (I wish mine had lights!)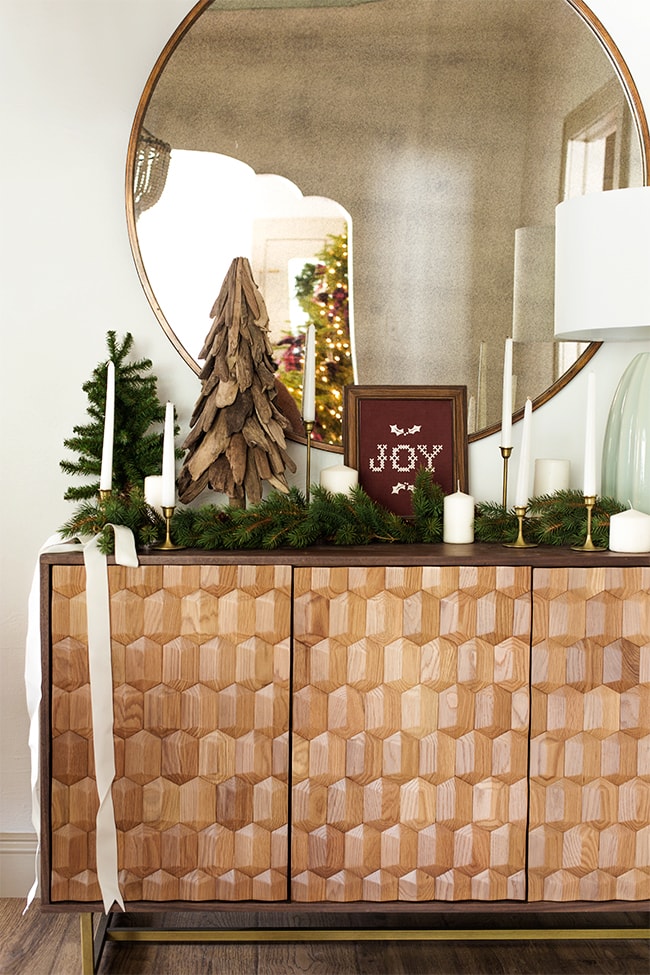 Pin
There's also a super budget-friendly version for just $5—such a bargain! PS—you can download the JOY printable for free here.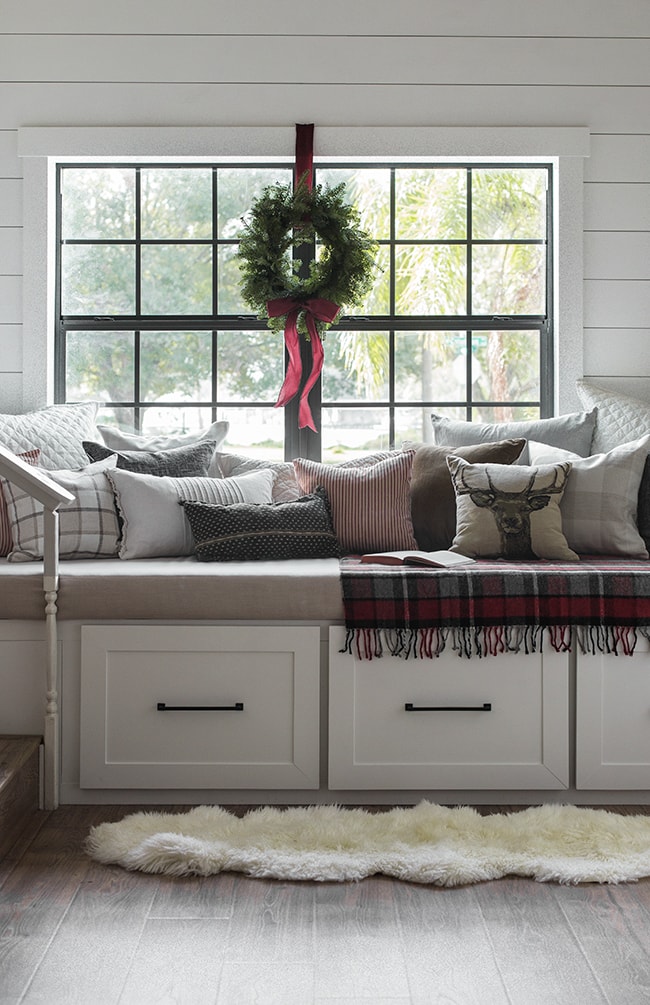 Pin
The reading nook was updated with a window wreath, a few festive pillows + blanket, and a cozy sheepskin. The deer pillow is from years back and I don't think they make it anymore, but you can pick up a similar one at Lowe's.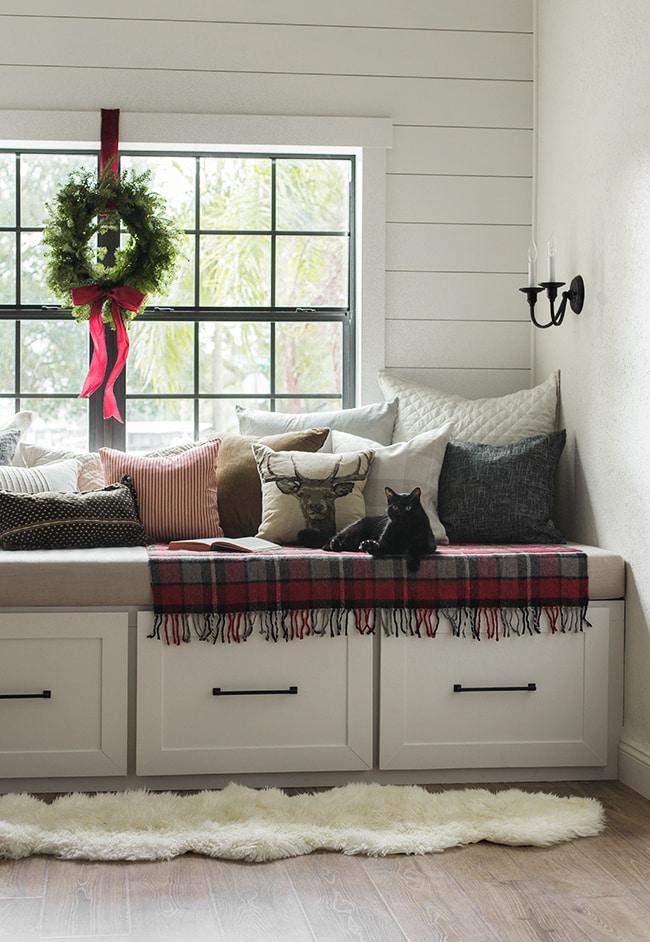 Pin
And can't forget the cat. Christmas is not complete without Susie! She's studying for her MBC (Master of Black Cats).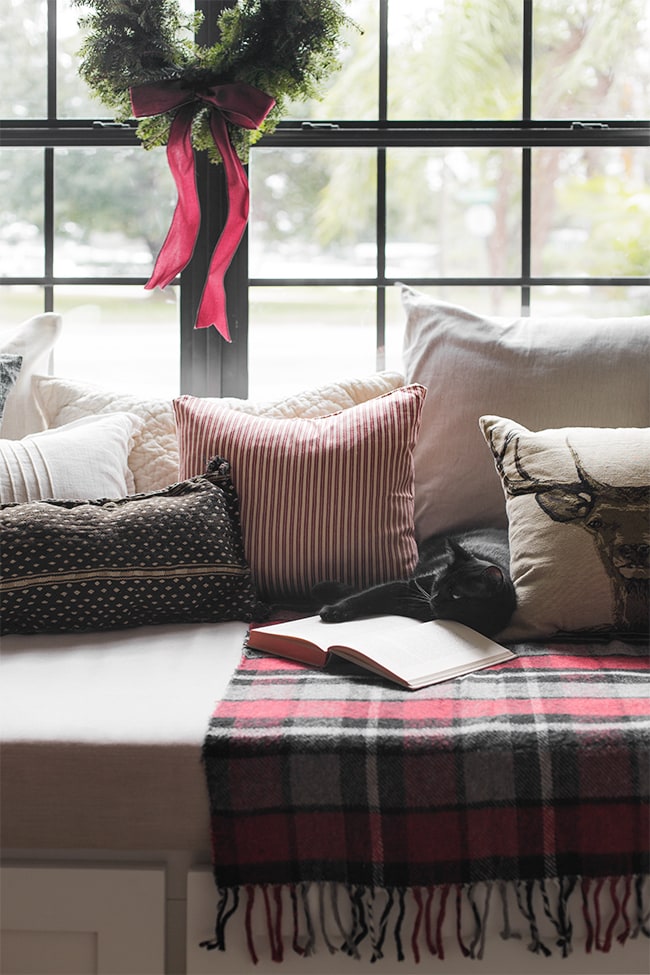 Pin
And there you have it—budget-friendly, DIY holiday decorating done in a day!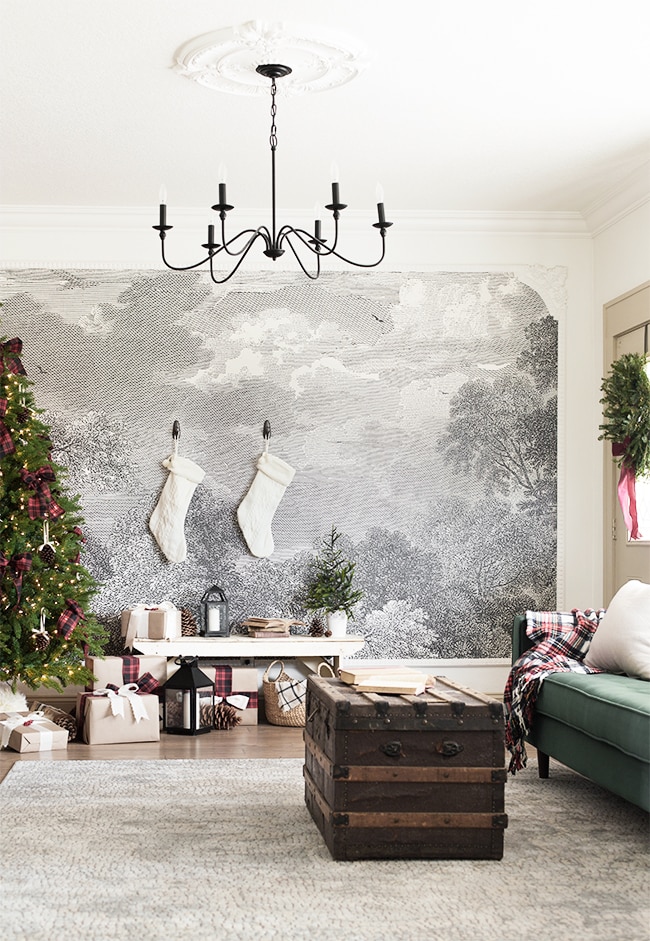 Pin
It's very doable, right? Hopefully this is encouraging to others in my situation this year. Even if your house is a still a work in progress, you can have a big impact with minimal effort, and enjoy the process too.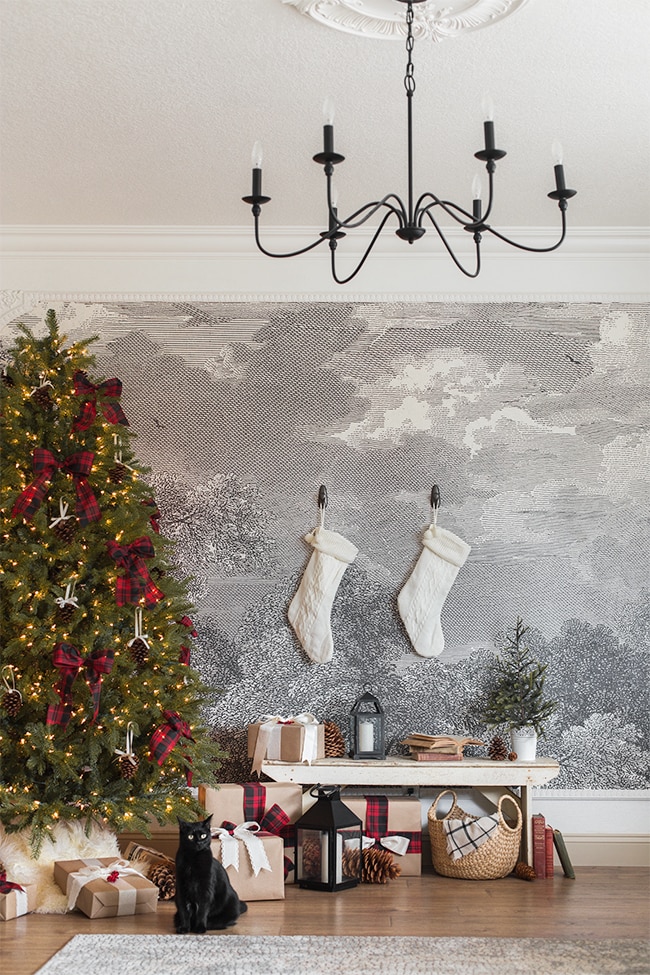 Pin
Happy December, and cheers to a wonderful holiday season!