Another week, another room reveal! This one comes just in time for the holiday festivities, where I'll be hosting Thanksgiving dinner this year (my first time since 2014!) and going non-traditional with a vegan feast and a tropical Florida setting. Variety is the spice of life, right?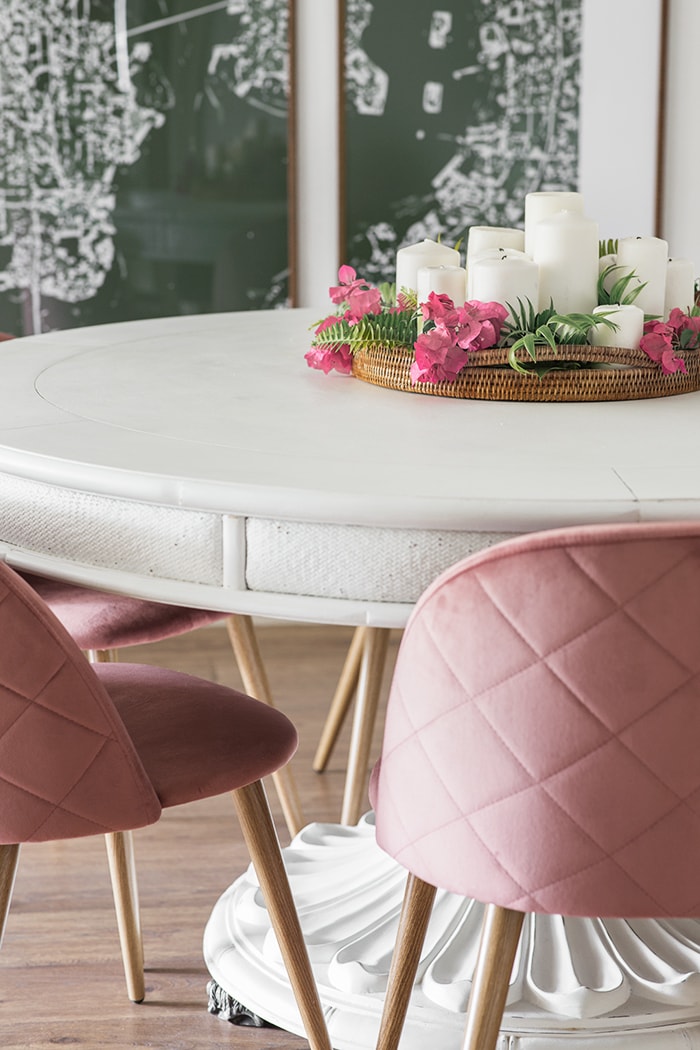 Pin
If you missed the Dining Room plans post a couple weeks ago, make sure to get caught up on those details first. We decided to keep things fresh and fun in here, with a unique mix of mid-century, vintage and tropical style (you can read all about our plans to turn this house into a vacation rental here if you're just joining the party):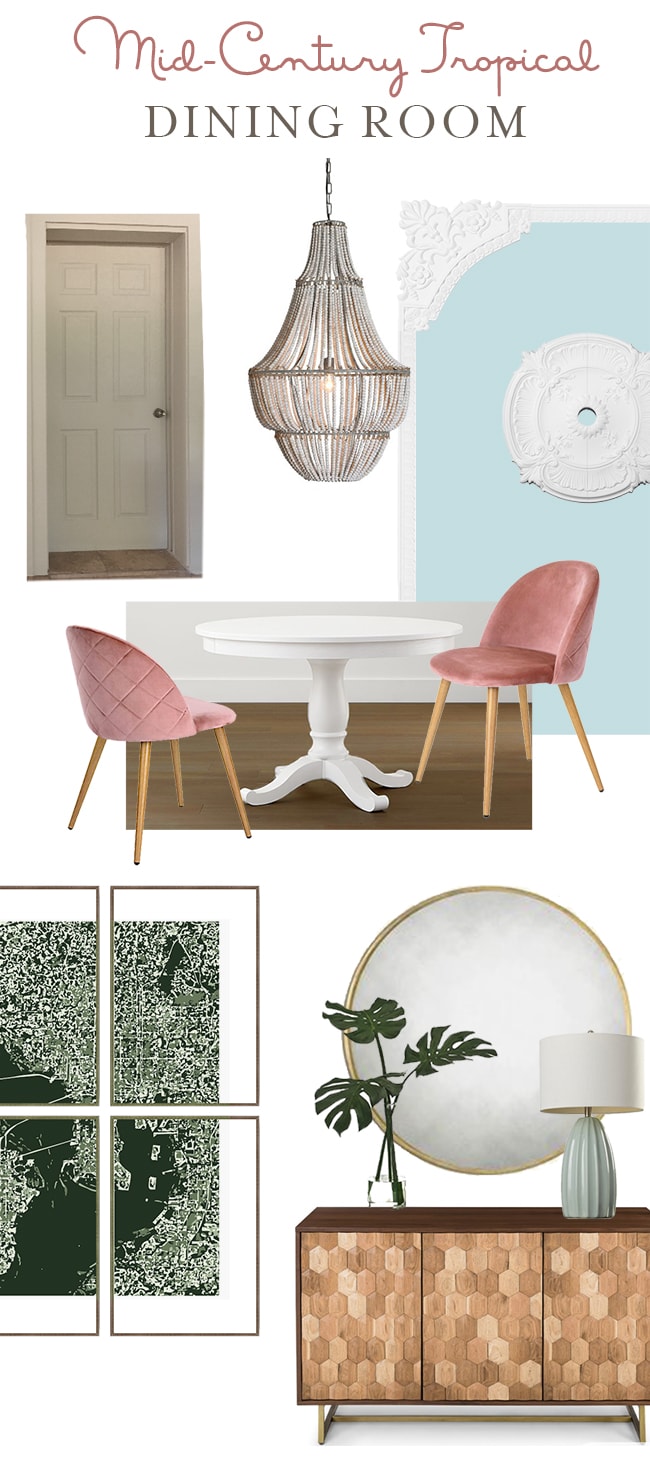 Pin
Here's how the room looked when we first moved in this summer: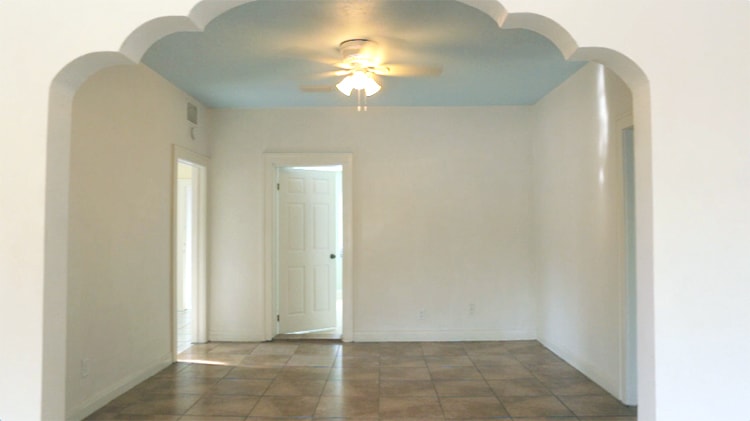 Pin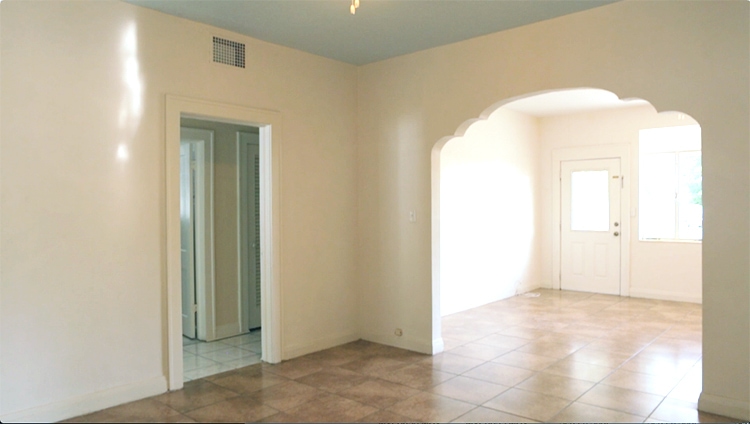 Pin
And now with a wave of my magic wand…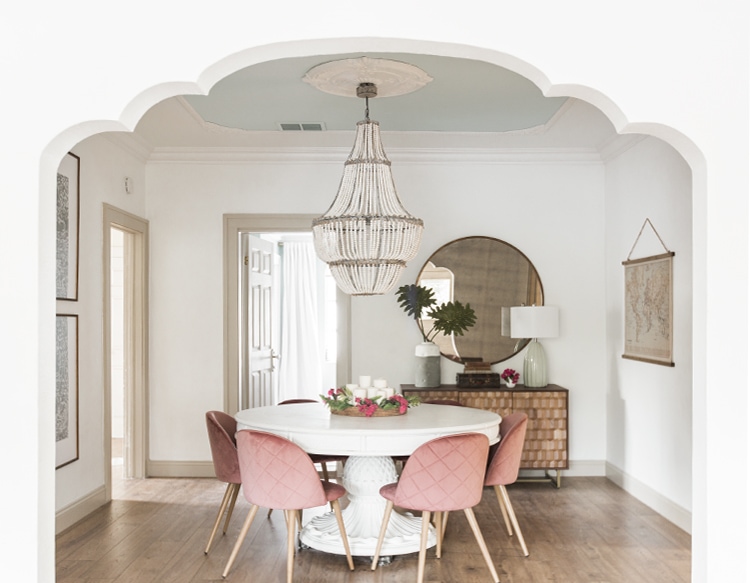 Pin
I bought this house for that archway… can you blame me?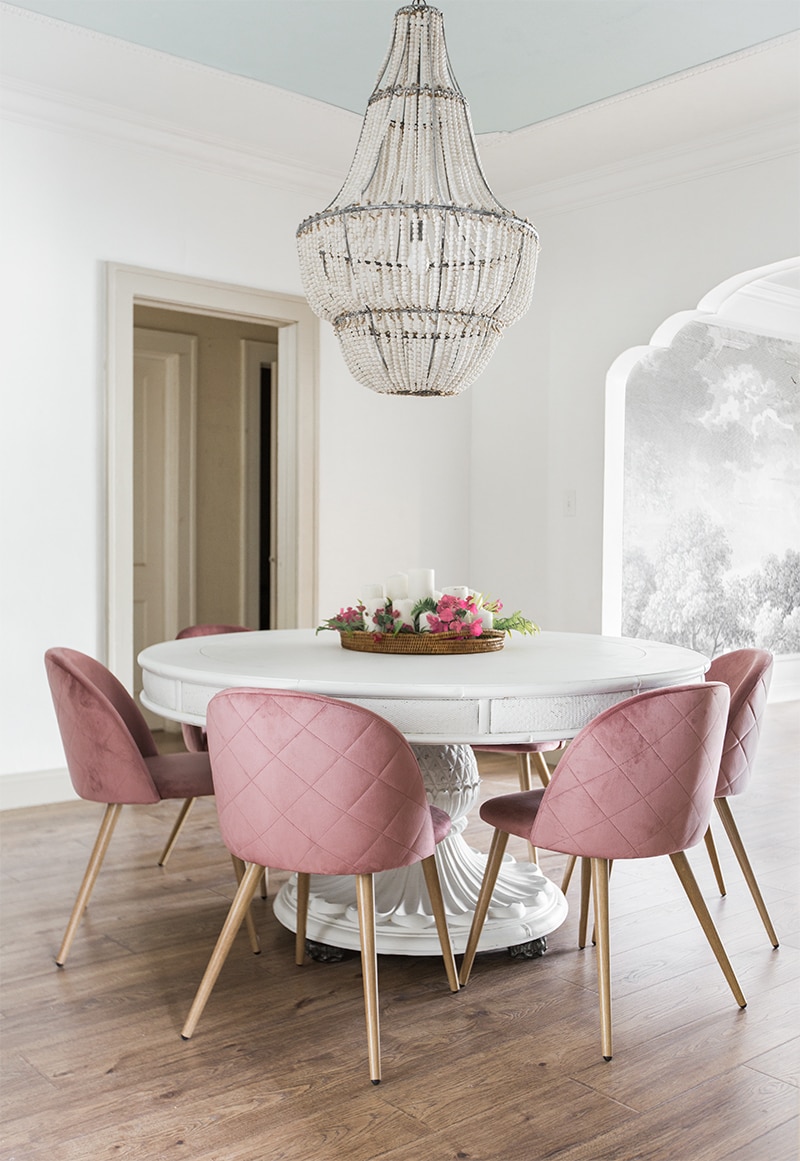 Pin
Where to start!? How about that stunner statement piece chandelier…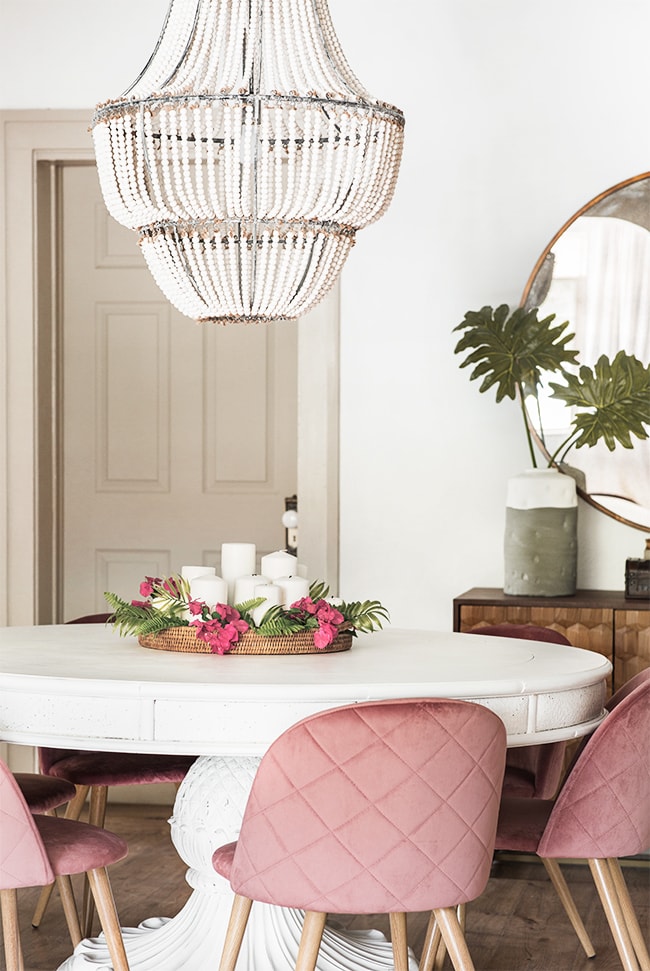 Pin
It took us a few days to come around to the size, but now it feels like it was meant for this space. The perfect mix of beachy and elegant—so happy I found it!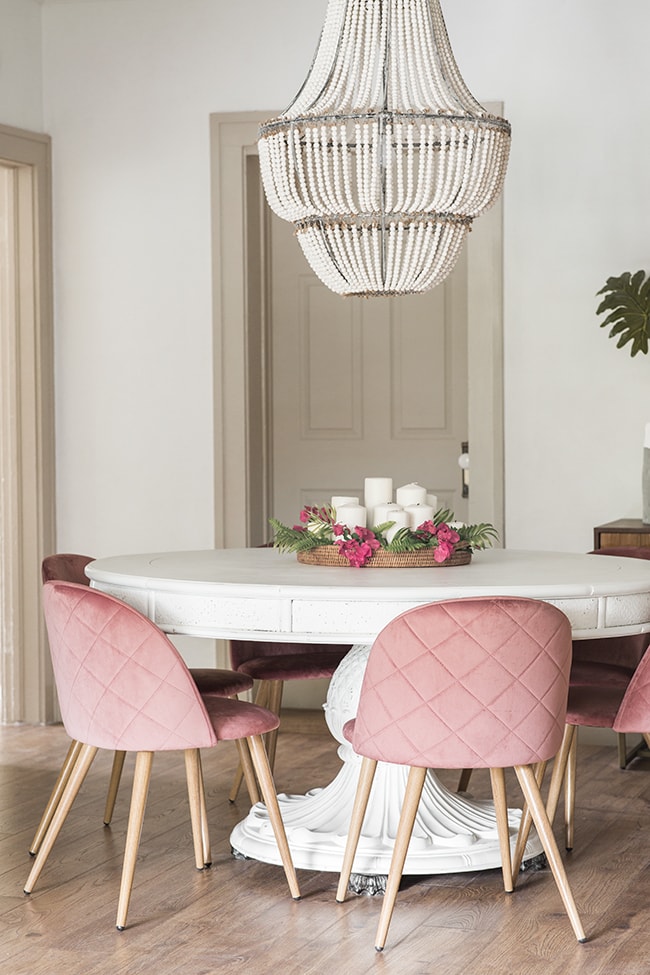 Pin
It only has one bulb but it was plenty of light for our most recent dinner party. I'm actually planning to put it on a dimmer so we can turn it down just a bit to control the ambiance.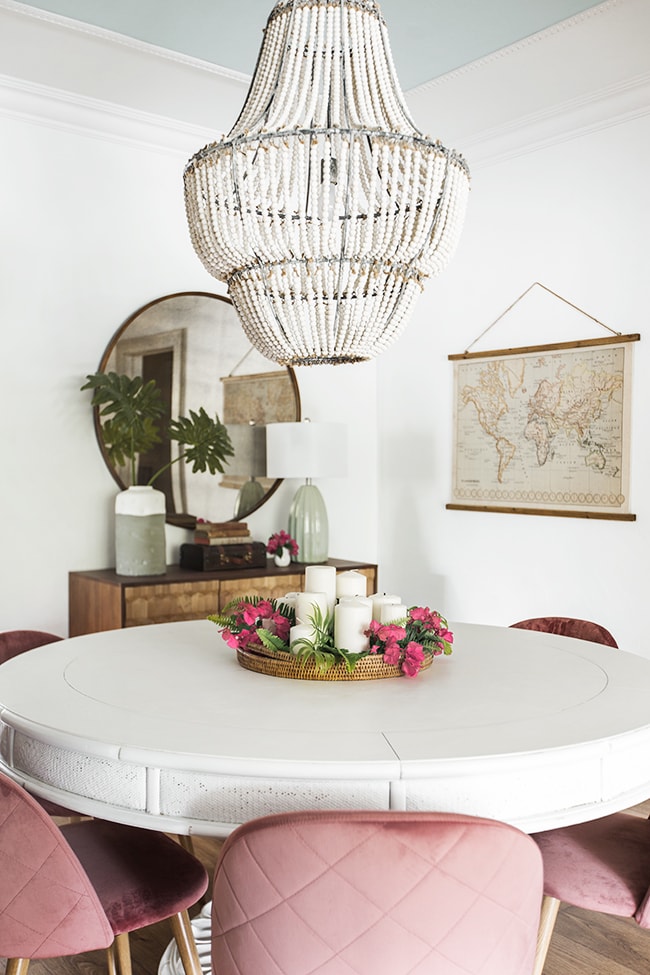 Pin
And how about these luscious pink velvet chairs?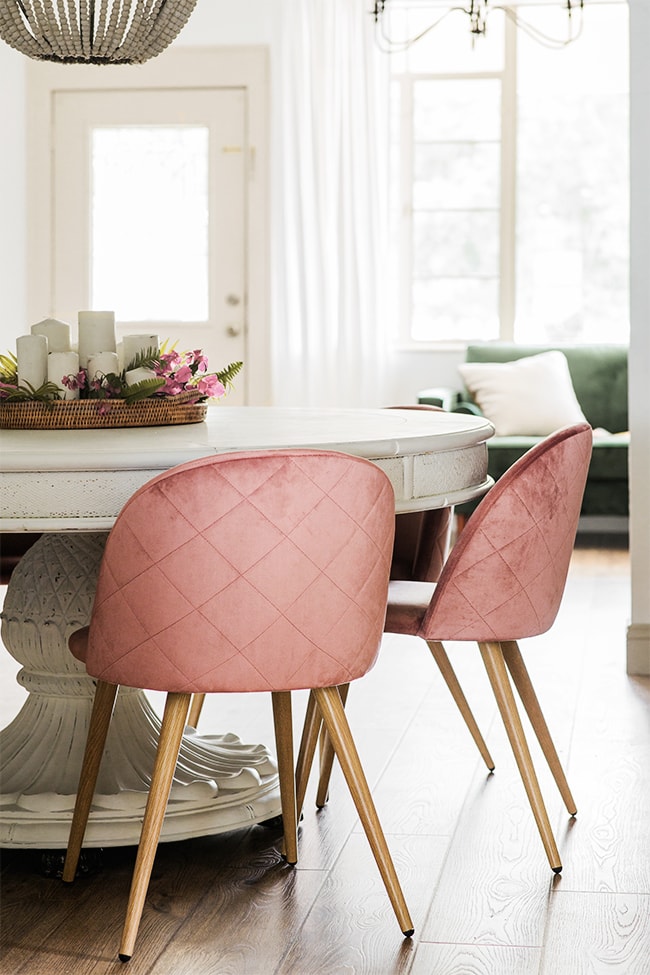 Pin
They were a last minute switch in the design plan, and completely set the tone for the room. They're comfortable, durable/easy to clean, and an absolute steal at $50/ea. Zero complaints here.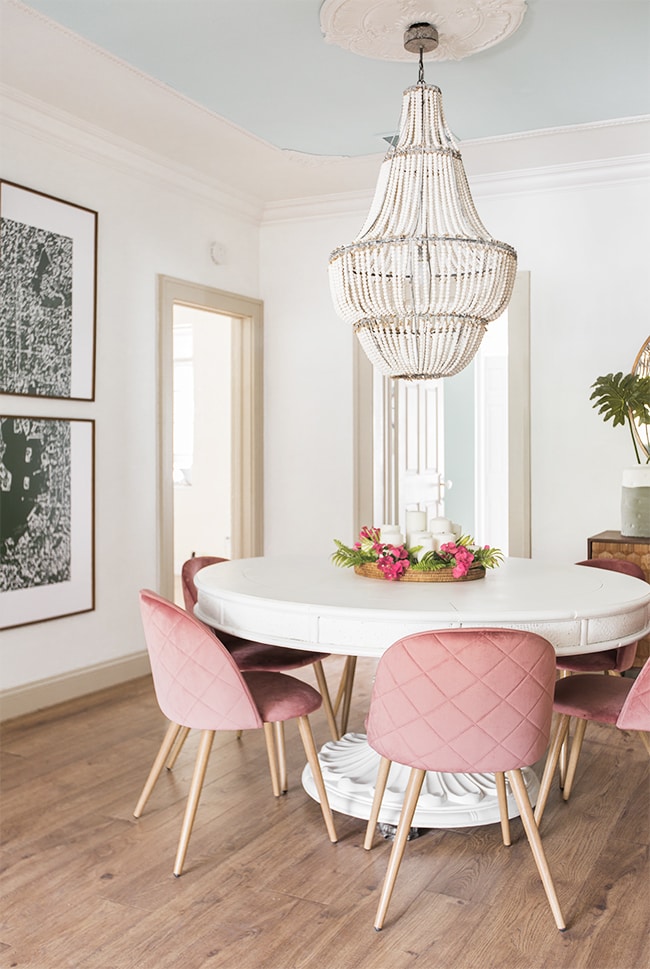 Pin
Everyone who has stopped by immediately comments on the map wall and tries to identify where they live. Gotta love these statement pieces!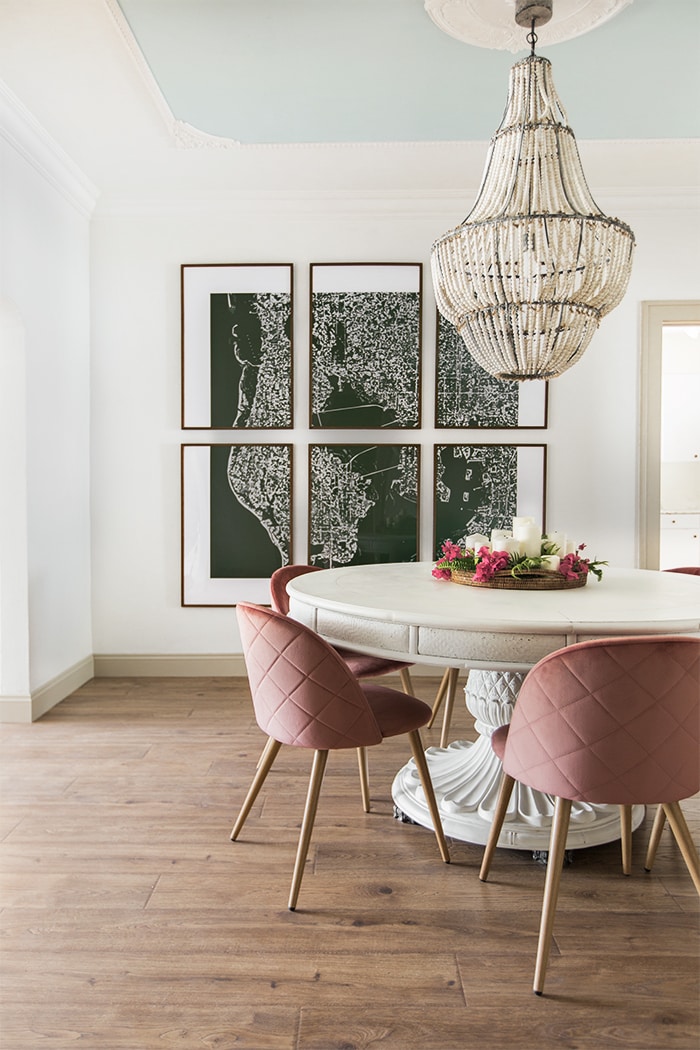 Pin
The copper frames ended up being perfect with the tones of the wood & pink (PS—Art To Frames is offering my readers 15% off all orders with the code JENNA15)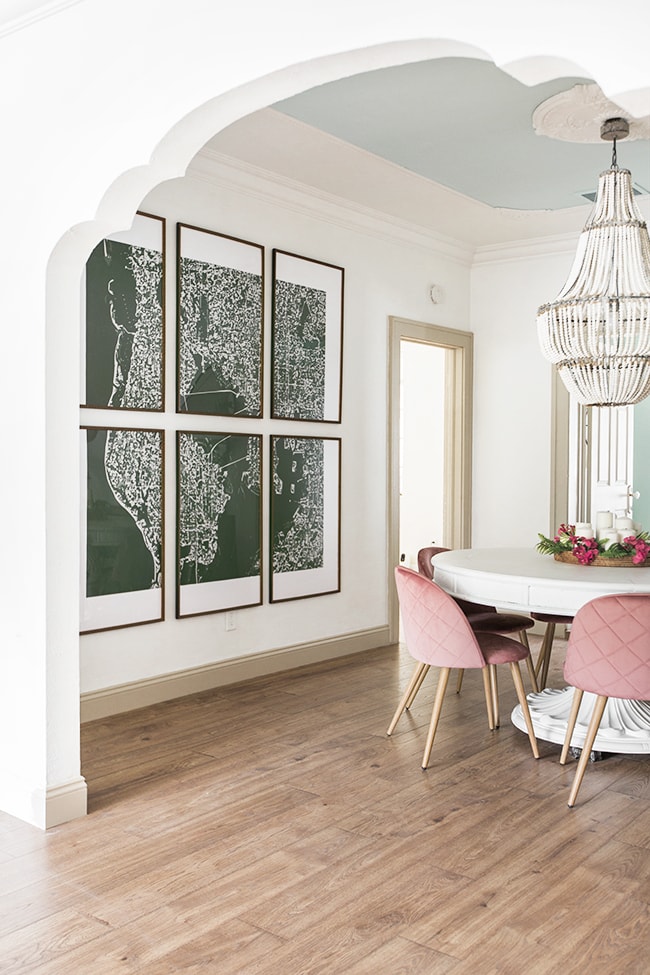 Pin
Several of you have also reached out regarding the maps—I make them custom for any city, size & color and you can order those here 🙂
Let's talk about the centerpiece of the room—this table!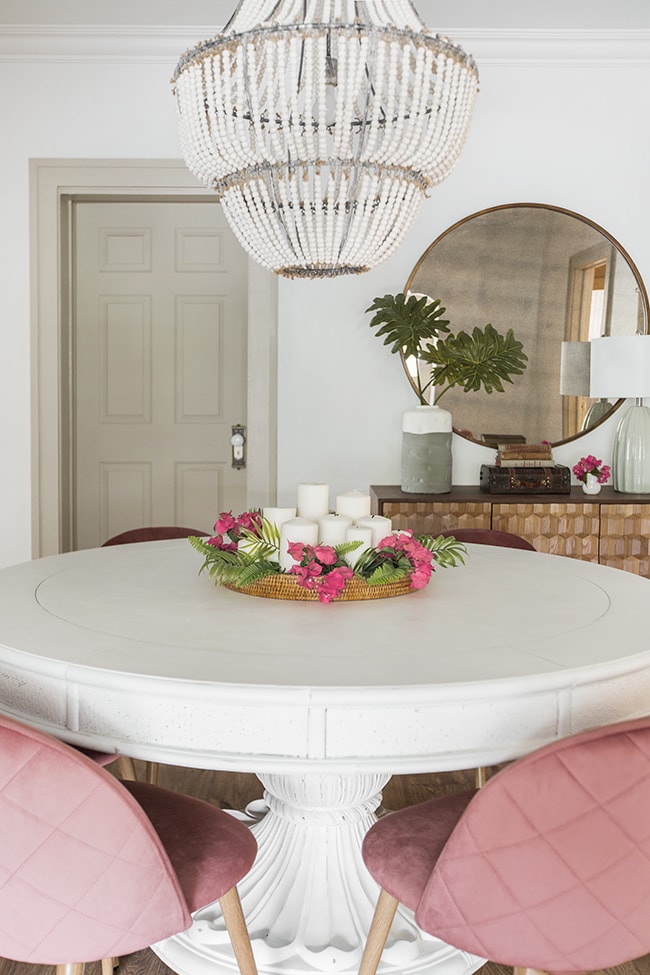 Pin
I spent months looking for a 60″ round table (not easy to find) and had delivered all the way from Orlando. It was painted with a mix of Maison Blanche Paint Company's Maison White + Ivory furniture paint. I gave it a light distressing to let some of the detail show through, and then sealed it with their matte varnish (I use that stuff on all my furniture, it's the best!)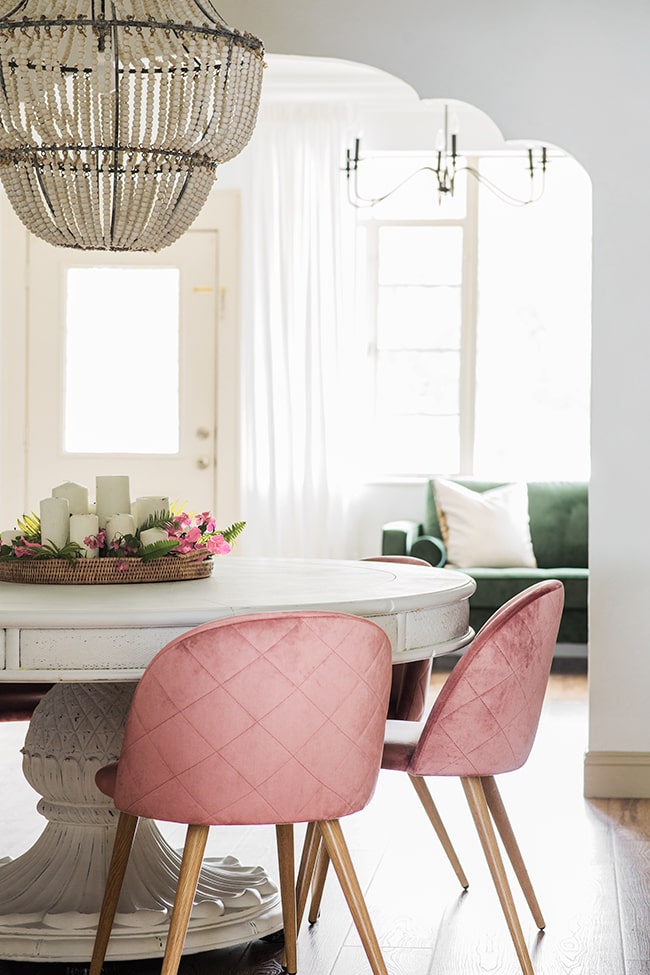 Pin
Speaking of paint—the walls are Sherwin Williams Pure White, and the trim is Sherwin Williams Loggia. Loggia is a tricky shade because there's so much variation—it reads anywhere from a beige to taupe to gray, and medium to light depending on the lighting. I'm still very happy with my choice—it makes the rooms feel warm and earthy!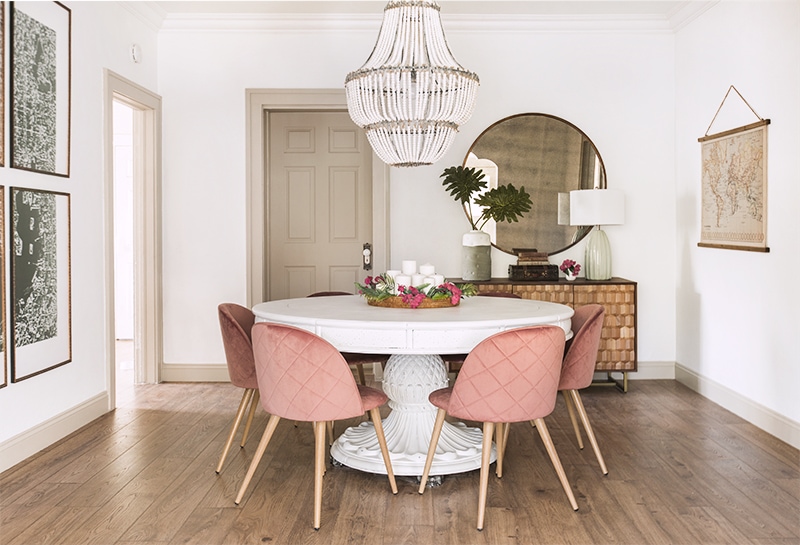 Pin
To balance all the warm tones, we painted the ceiling a soft blue (SW Pristine Skies) and added fancy molding around it to make the 9′ ceilings feel even taller. A large medallion was also added to emphasize the chandelier. These details really make all the difference!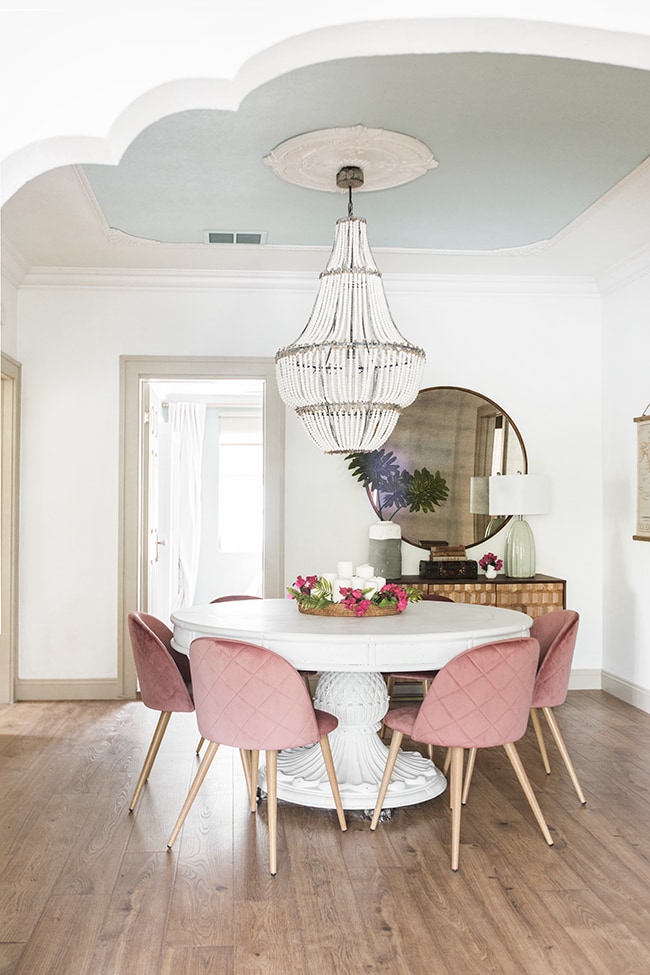 Pin
This is the same molding used in the adjacent living room, so the spaces feel cohesive even with different color themes.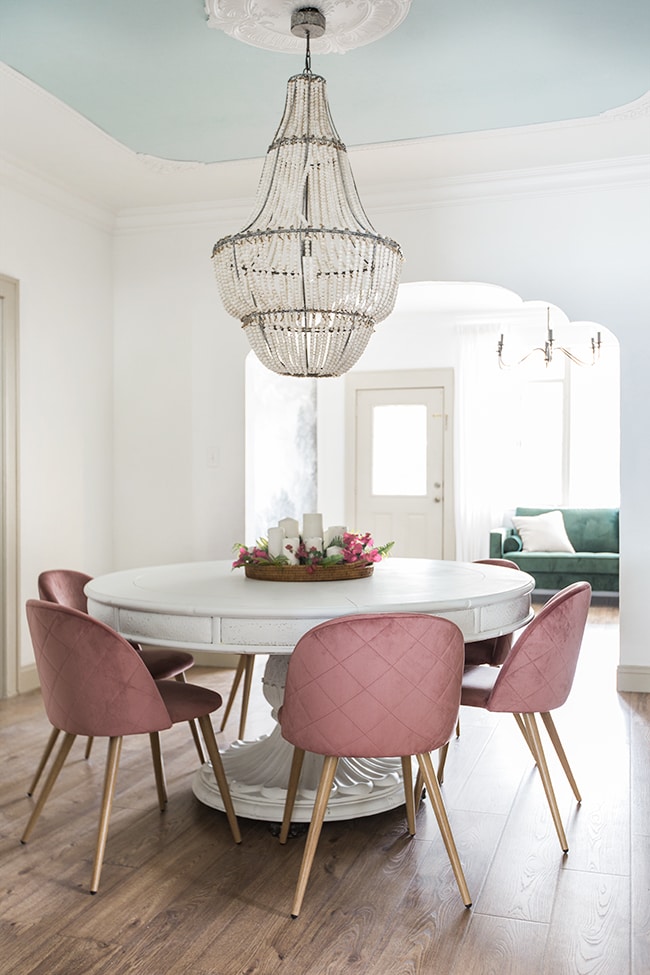 Pin
Of course, swapping out the old tile floors with wood (ahem, Pergo laminate that looks and feels like wood) was a massive upgrade and changed the whole feel of the house.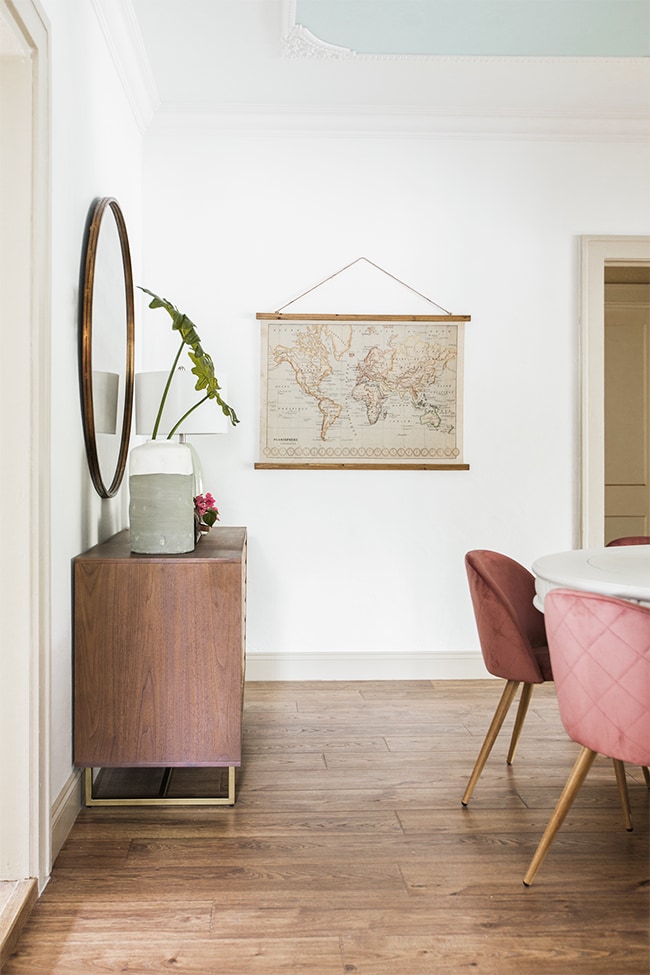 Pin
On the back wall, we've got that gorgeous Geome sideboard from Article…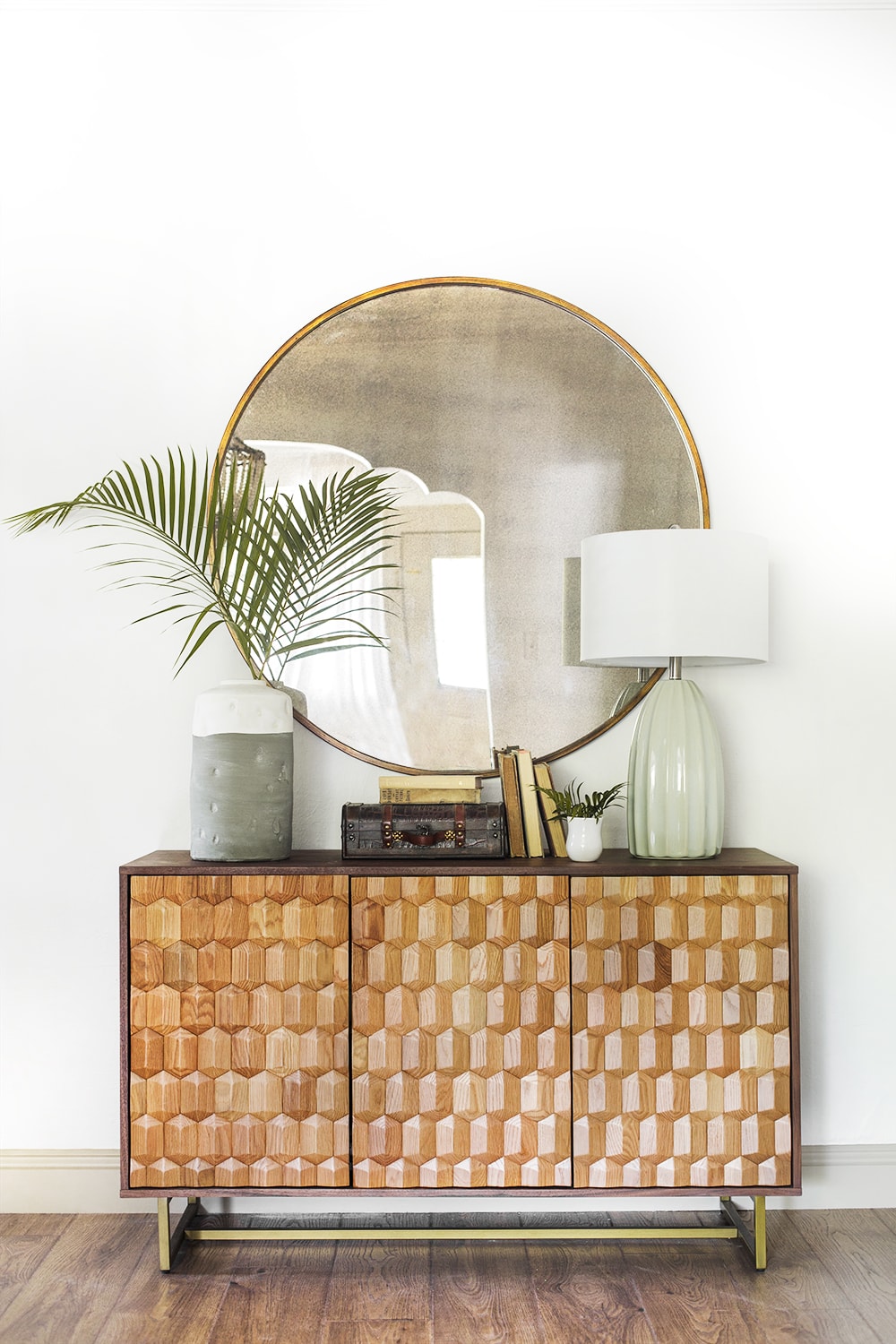 Pin
And above it, I found the perfect round gold mirror from Wayfair…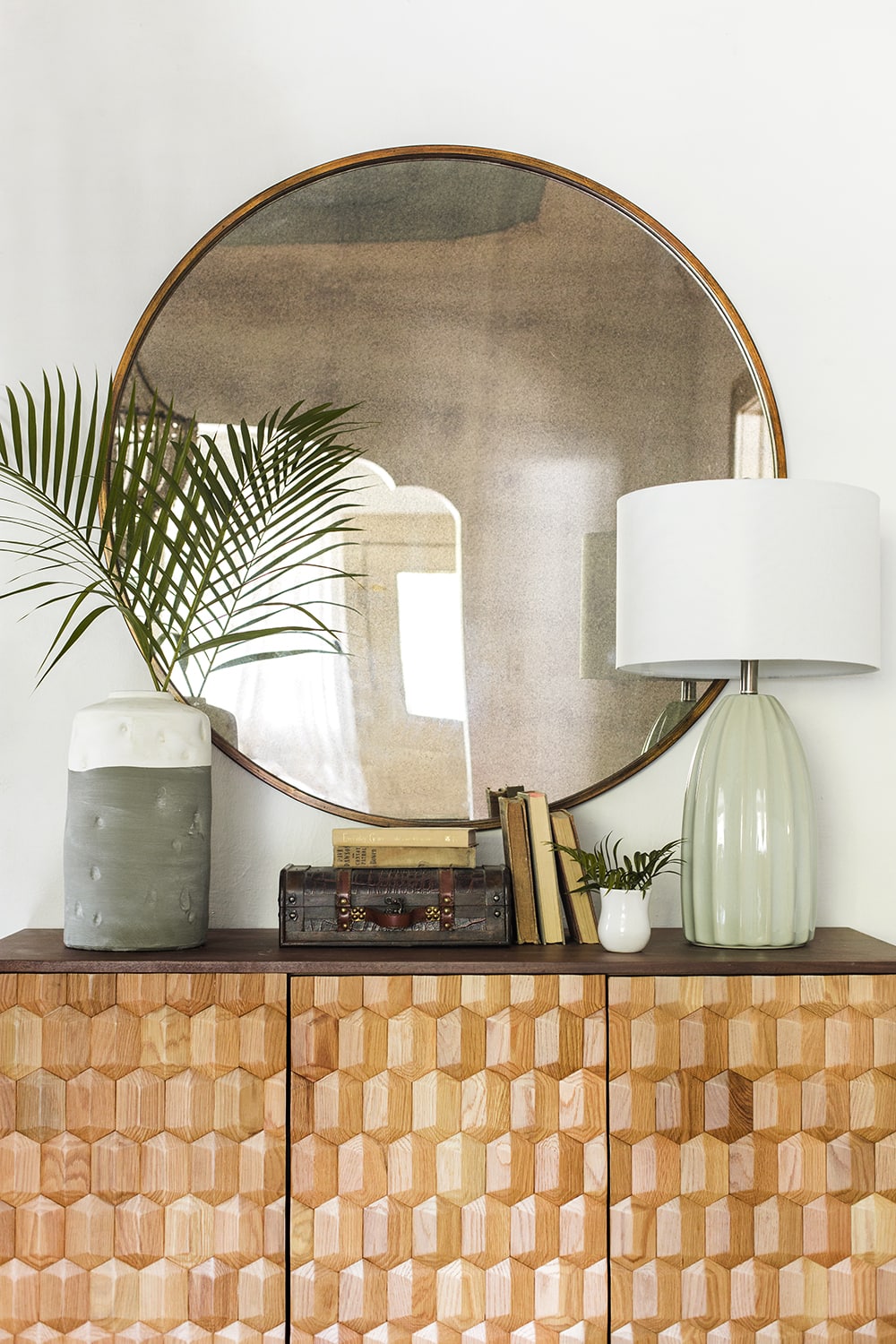 Pin
It has a light patina/aged effect which you can see in the photo above. The lamp is only $88 and came from Wayfair as well.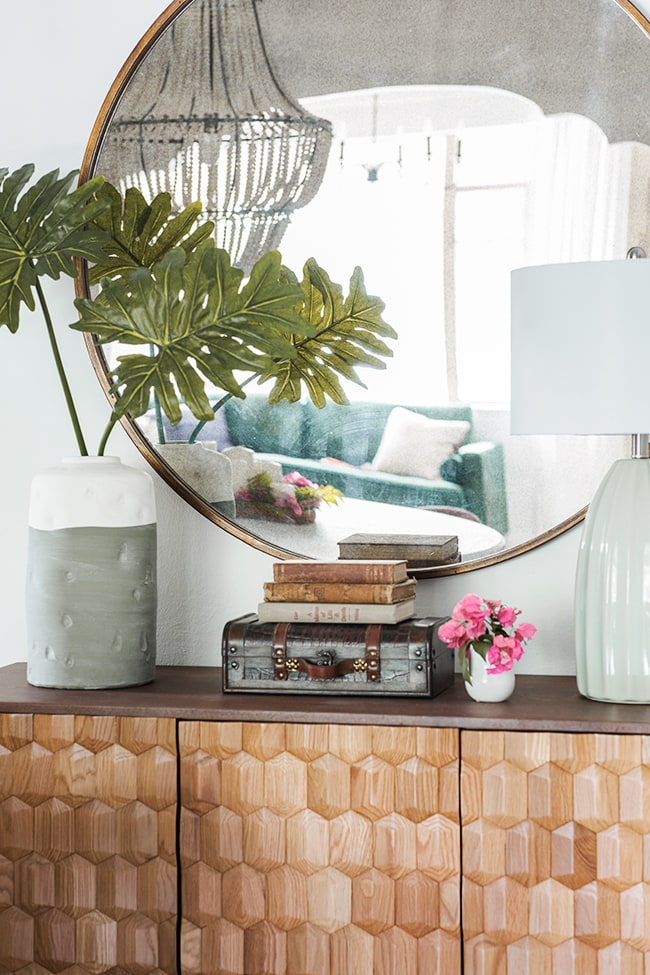 Pin
During the shoot I swapped the palm leaf for these monstera stems (borrowed from the guest bedroom). It's fun playing with different arrangements for the sideboard décor, and I'll be changing it again soon for the holidays!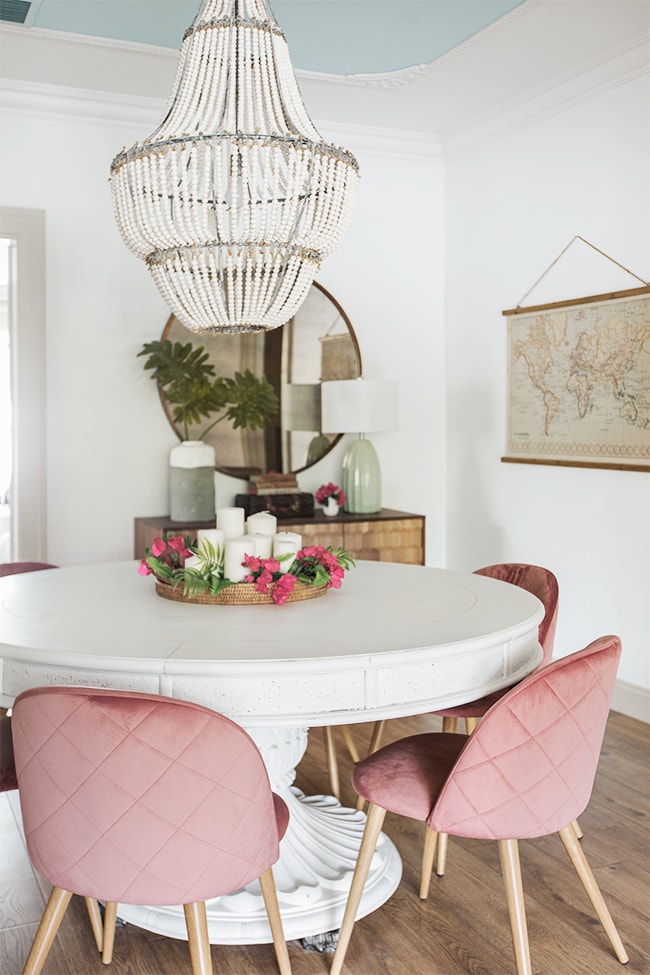 Pin
That vintage hanging map is a super bargain I found months ago, and fits perfectly with the colors & style of the room. Susie says hi…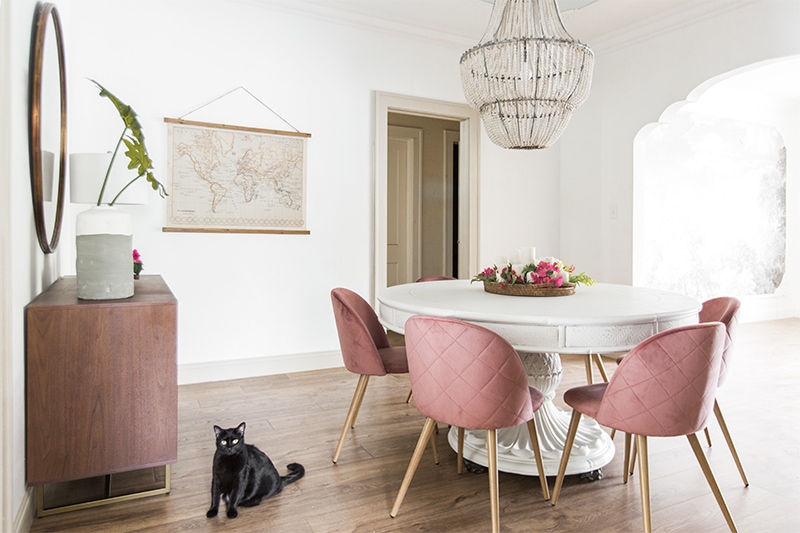 Pin
Can you spot the vintage hardware?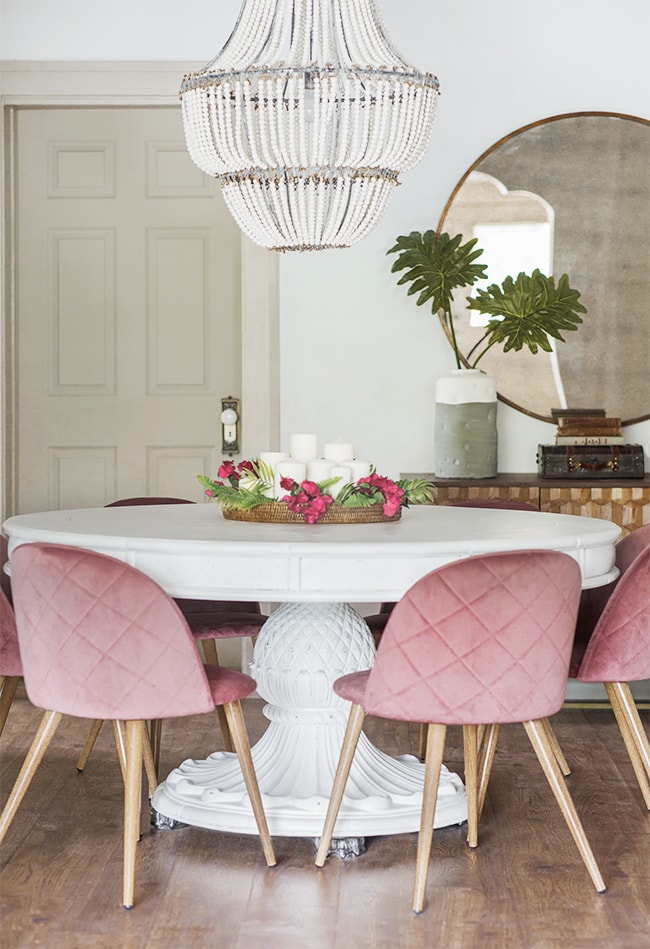 Pin
If you were around for my last One Room Challenge reveal, you may remember these brass handles from Nostalgic Hardware! Of course we took them with us when we moved out—I swapped this one out temporarily but the plan is to hopefully use them on all the doors in the Heights House.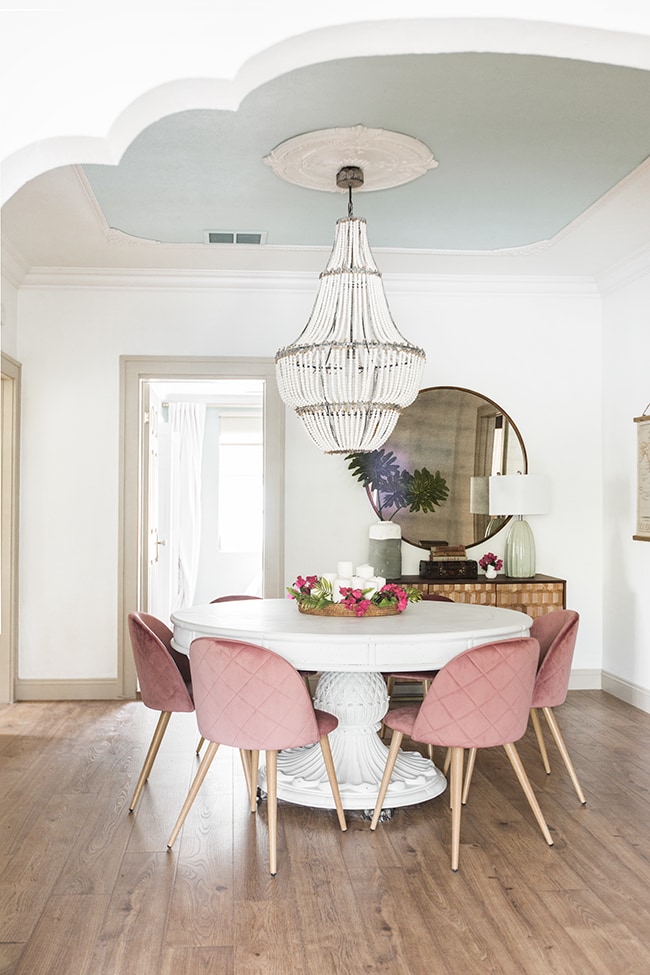 Pin
Sorry, I took a million photos of this space. I didn't know when to stop!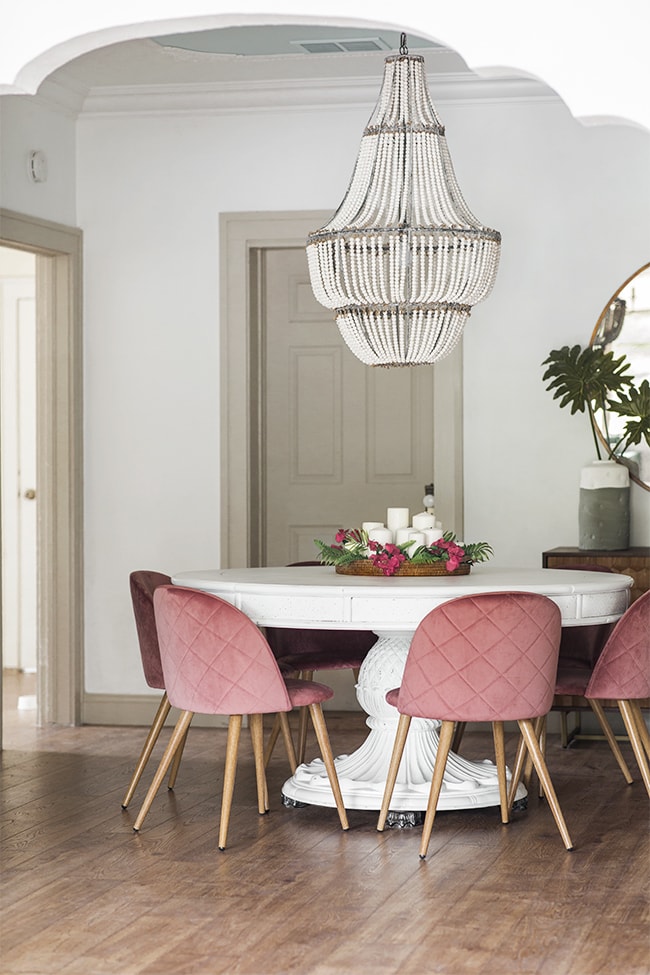 Pin
My photographer sister let me borrow her good camera and fancy 85mm lens for some of these shots. Can you tell the difference? (Christmas gift hint for any family members reading… 😉 )
A rare glimpse into the kitchen… probably one of the last rooms we'll tackle in this house: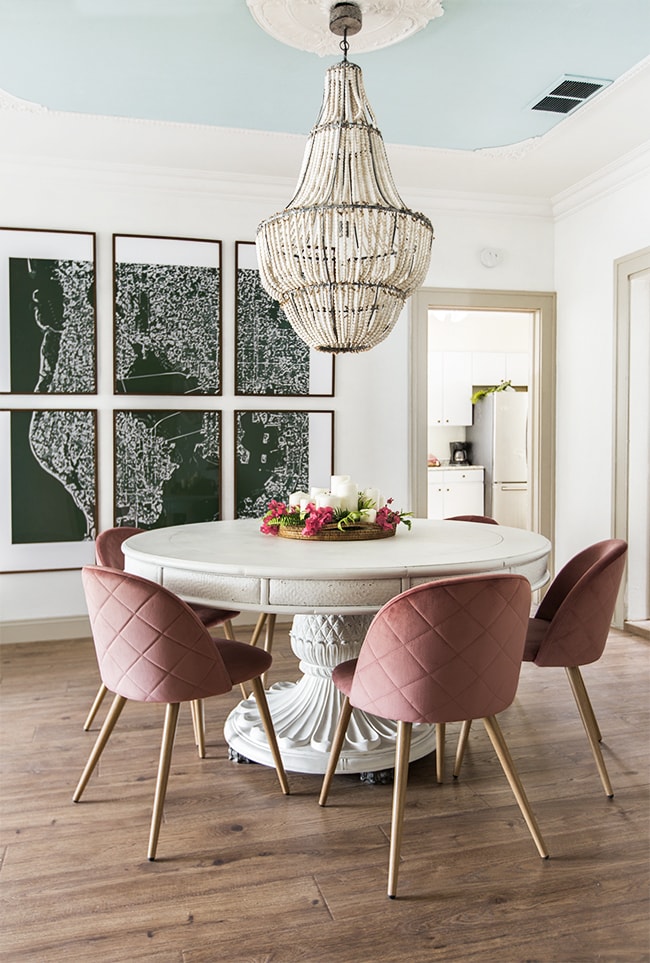 Pin
I ran out of time to shoot a video reveal, but there's an 87% chance I'll make one and post it on YouTube within the next couple weeks…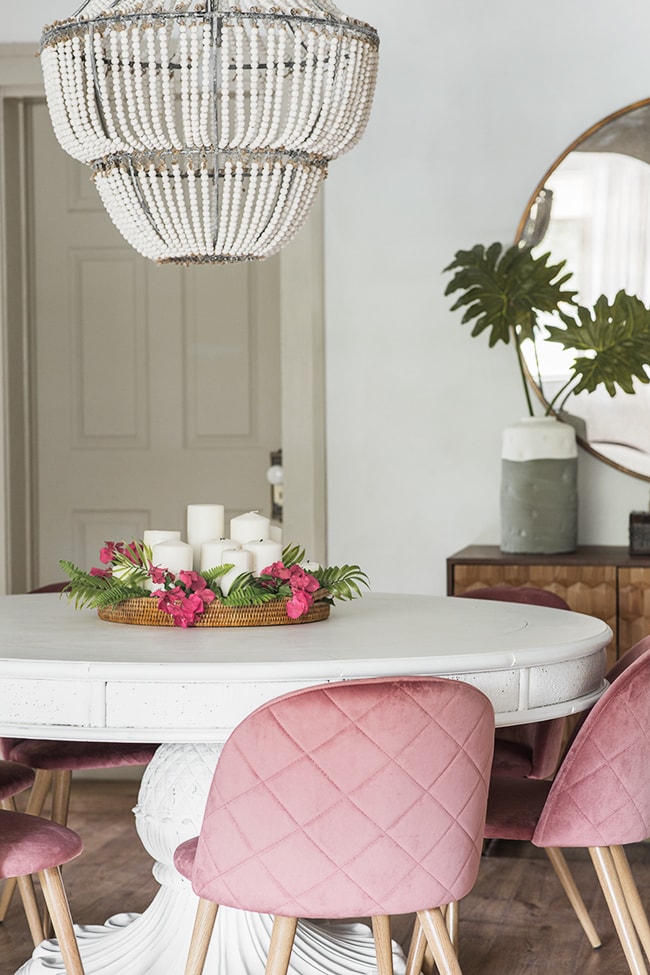 Pin
We're working on a few other projects right now on a tight deadline, so we'll see how things go!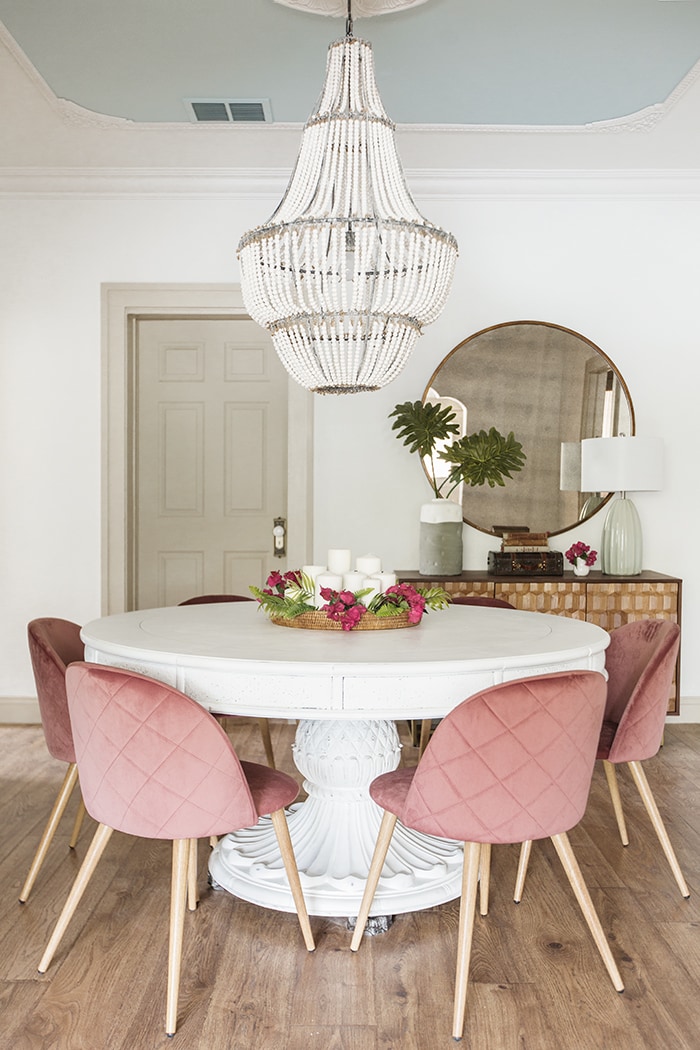 Pin
I hope you've enjoyed this reveal, and a completely different style from me! Expect this house to be full of surprises, and we're just getting started.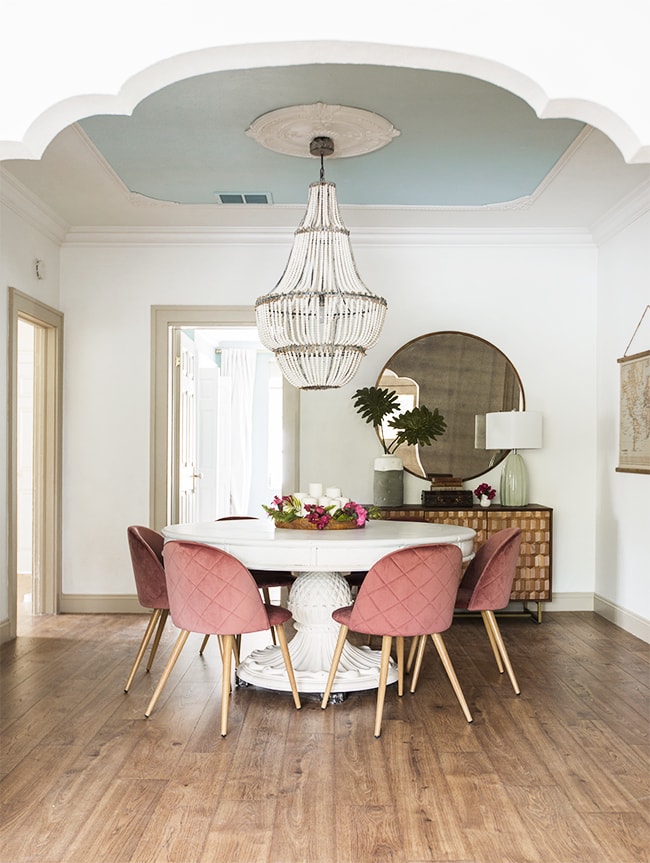 Pin
And with that, a very happy Thanksgiving to you! I am eternally thankful for all of you reading this right now. Wherever and whoever you celebrate with this year, I hope it's full of gratitude. And pink velvet.