While we patiently await the arrival of our furniture & accessories to complete the Rainforest Room, we've been hard at work on our new dining room. Take a look at this week's vlog episode to watch the progress unfold—and get a Heights House update too!
Before I dive into the Dining Room Design Plan, I have to give you a quick update on our new build. You guys, this progress is INSANE.
Just 10 days ago the house looked like this…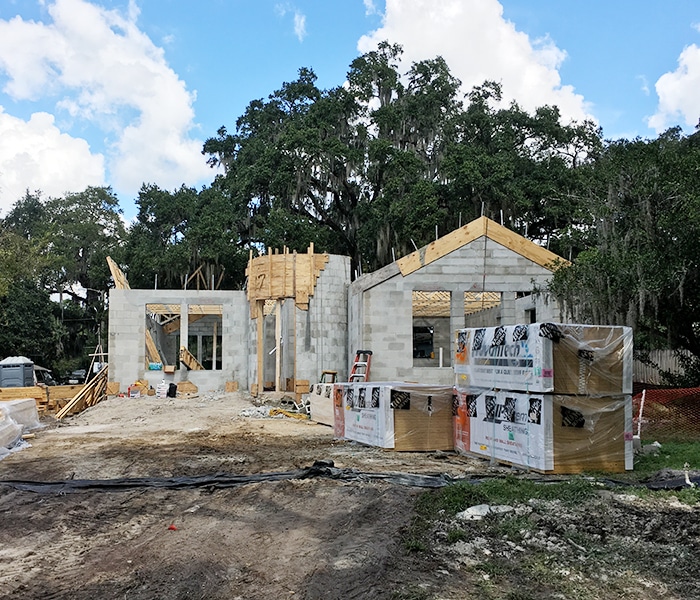 Pin
And now it's basically move-in ready: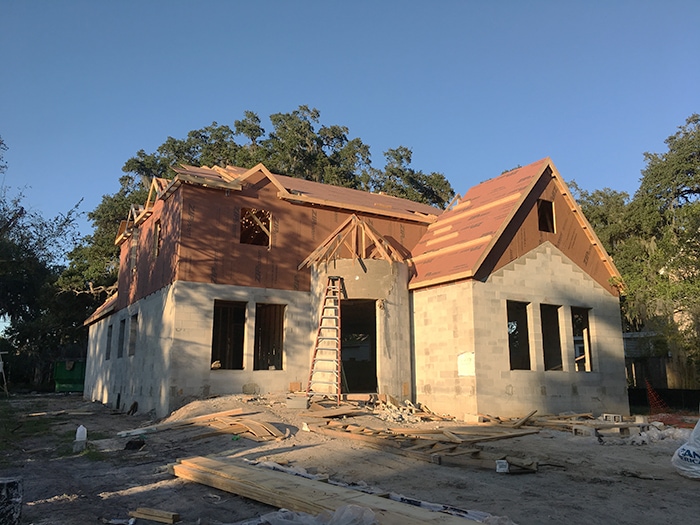 Pin
I can't explain the level of excitement this process has been, especially the past week as we've started talking details with our builder (custom archways, antique pocket doors, stone facade and custom window details). There's a lot more to share, and I'll put it all together in a blog update for you in a couple weeks!
But for now, let's talk about the topic of the day—our new dining room. This room is situated directly in the center of the house, and our goal is to make it truly feel like the heart of the home—the main gathering space. Here's the floor plan, for reference: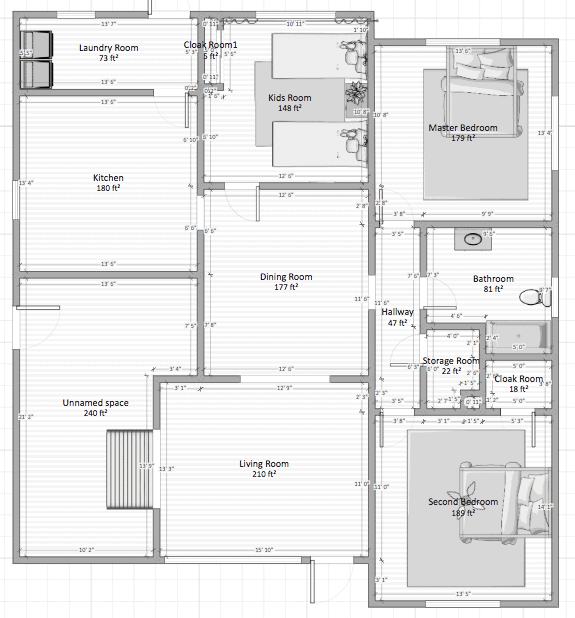 Pin
You may remember it looked like this when we moved in a few months ago: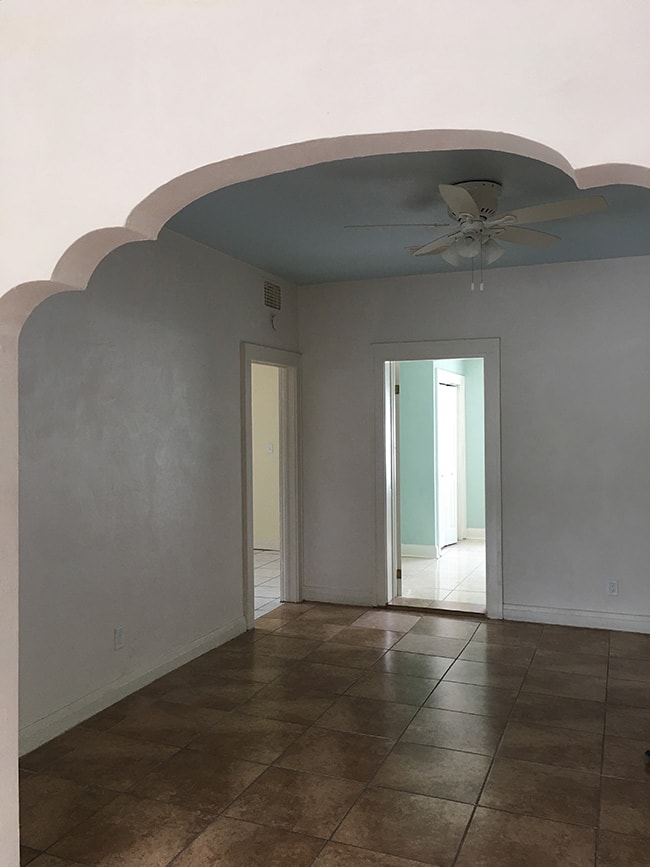 Pin
In came the new floors and fresh paint: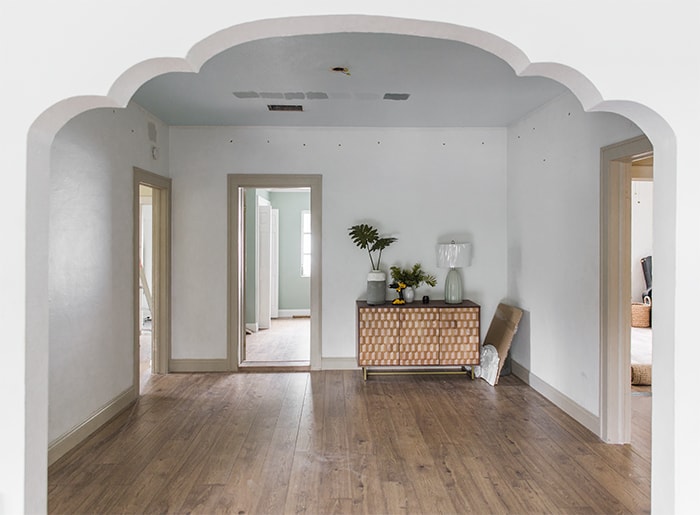 Pin
Standing at the kitchen doorway, looking back towards the living room: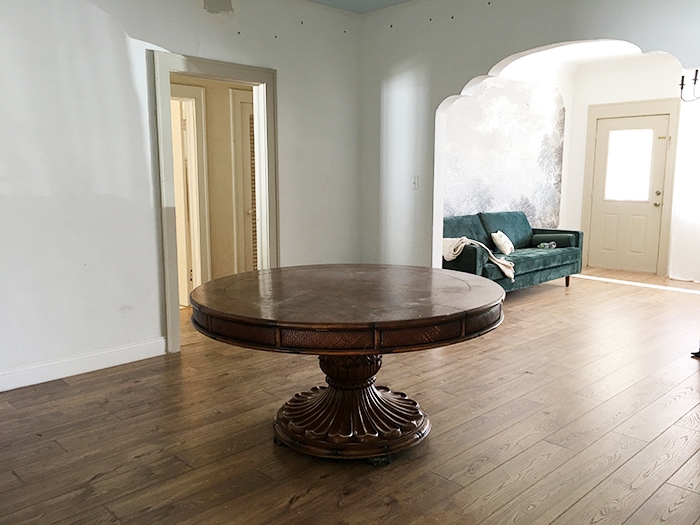 Pin
As you know, we're renovating this house to use as a vacation rental so we're making a point to go bold with the design (at least compared to my usual style) and give our guests a fun Florida-esque experience. Each room will have its own style, but all in keeping with the overall tropical/jungle/nature/resort vibe.
Here's what I came up with for the dining room: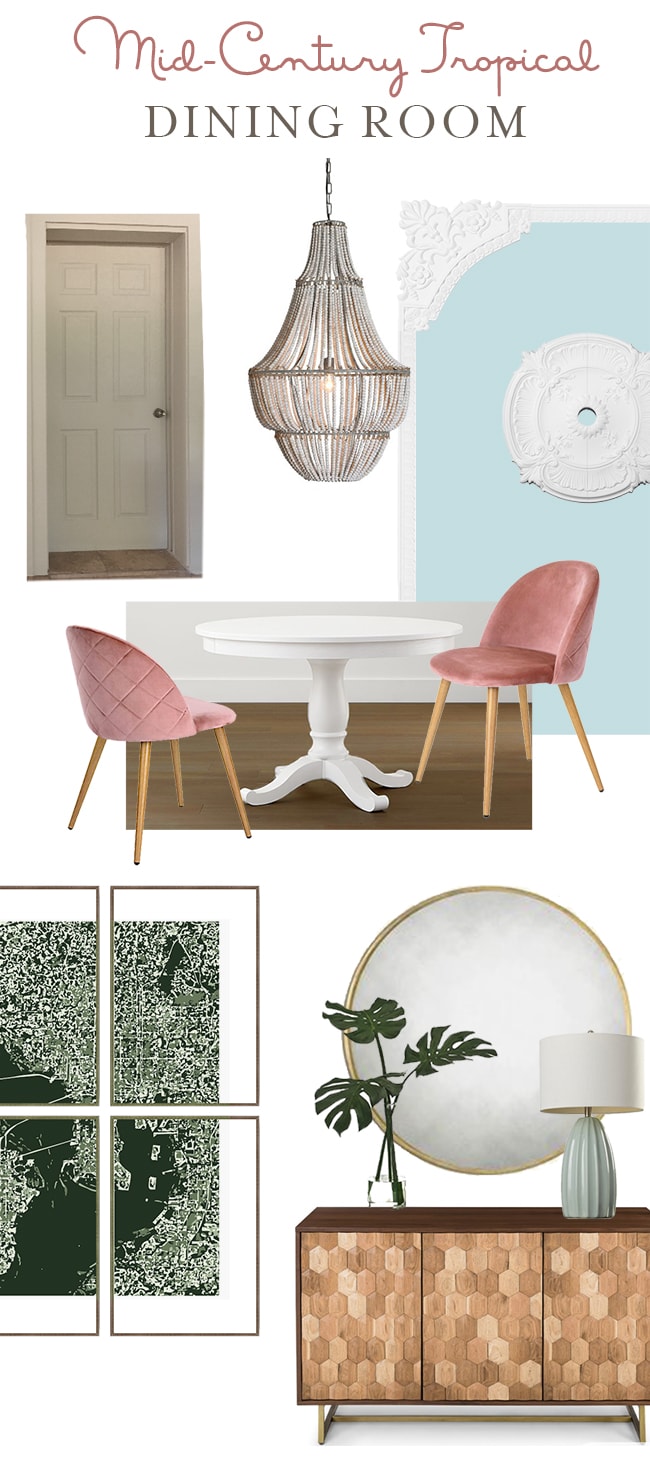 Pin
It took a few iterations to get here, so let me share a bit more about the evolution of this plan.
The first requirement was a large round table, which I spent weeks scouring the internet for (Facebook marketplace, Craigslist, OfferUp, Letgo). It's surprisingly difficult to find a 60″ round table, by the way. Eventually I found this beauty in Orlando and hired someone off Craigslist to transport it 2 hours to me: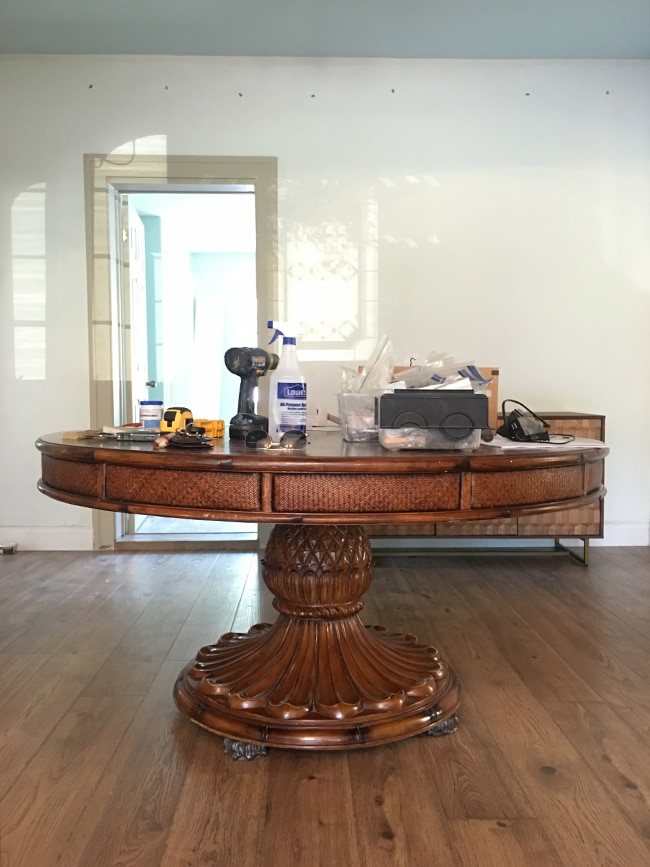 Pin
Did you know that pineapples are a symbol of southern hospitality? It was meant to be! (this won't be the last pineapple, fyi).
I'll be painting the table white this week (sorry wood purists, there's no way I'd keep all these different wood tones in this room).
The next piece I found was this Geome sideboard from Article: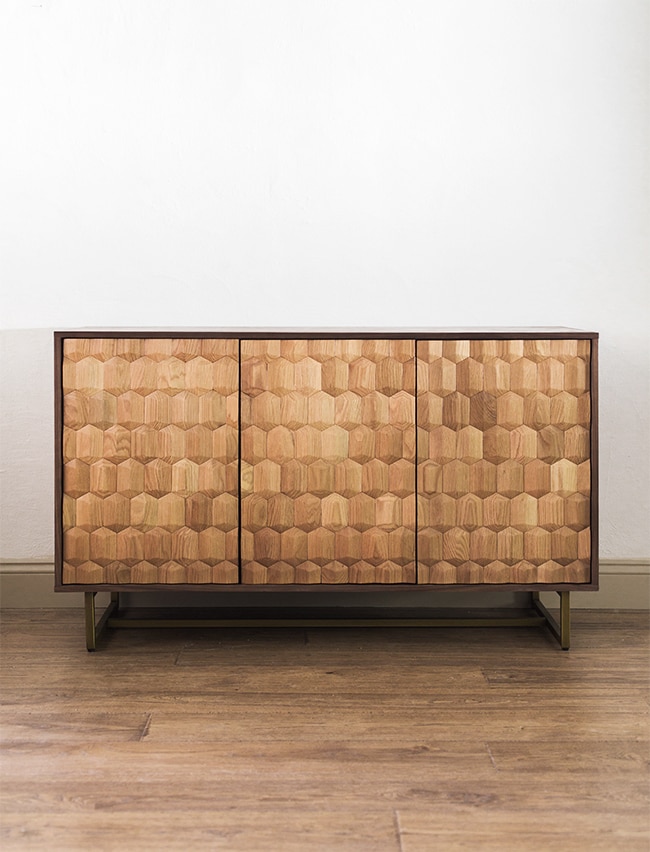 Pin
I was captivated by that geometric texture and wood tones—seriously how gorgeous is the craftsmanship here?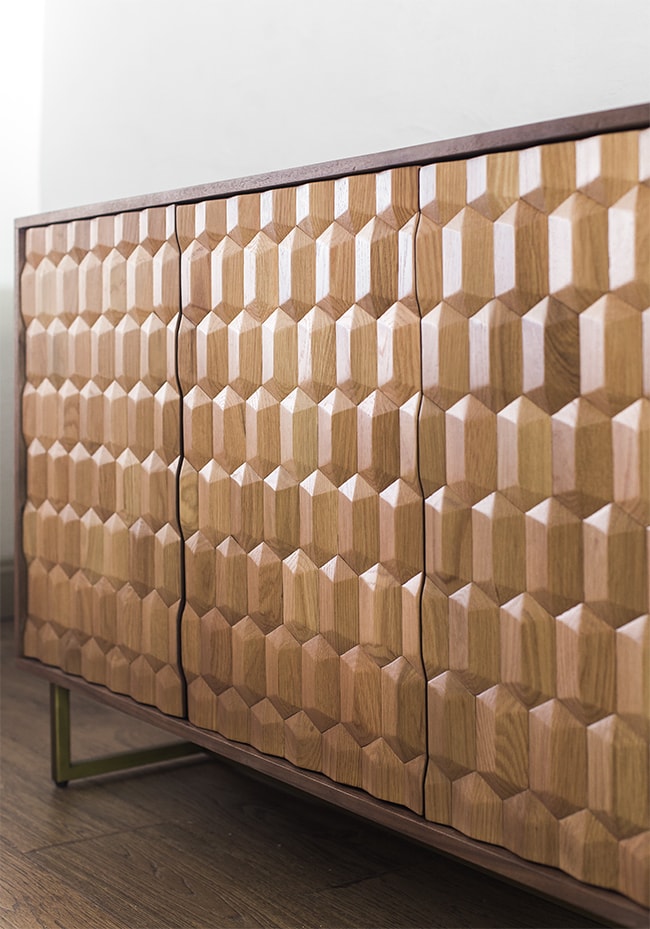 Pin
It brings such a nice earthy element to ground the space and contrast with the lighter tones and pastel colors.
Next came the chairs. Originally I was thinking I'd do a wicker/rattan style for texture, and had it narrowed down to these three options (click for the sources):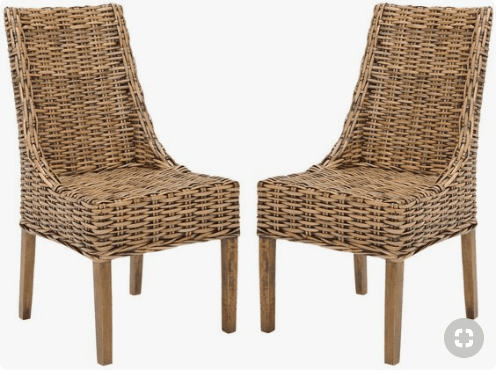 Pin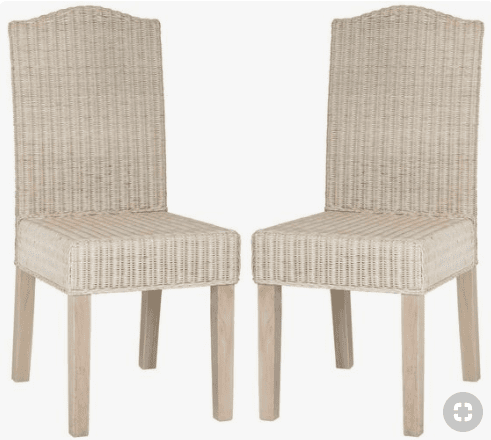 Pin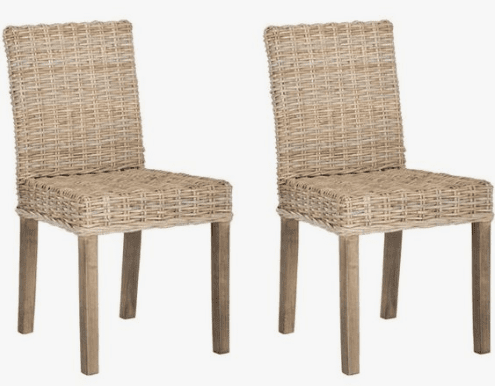 Pin
But then, right as I was I was about to make my final decision, these pink velvet beauties came out of nowhere…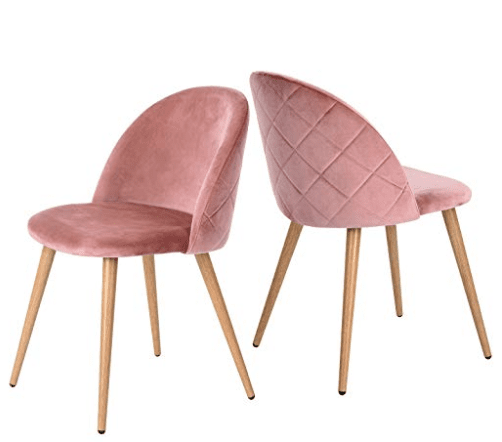 Pin
Pink was not even on my radar, but these were speaking to me and I couldn't ignore it. So I switched up the design plan to make them work. NO REGRETS.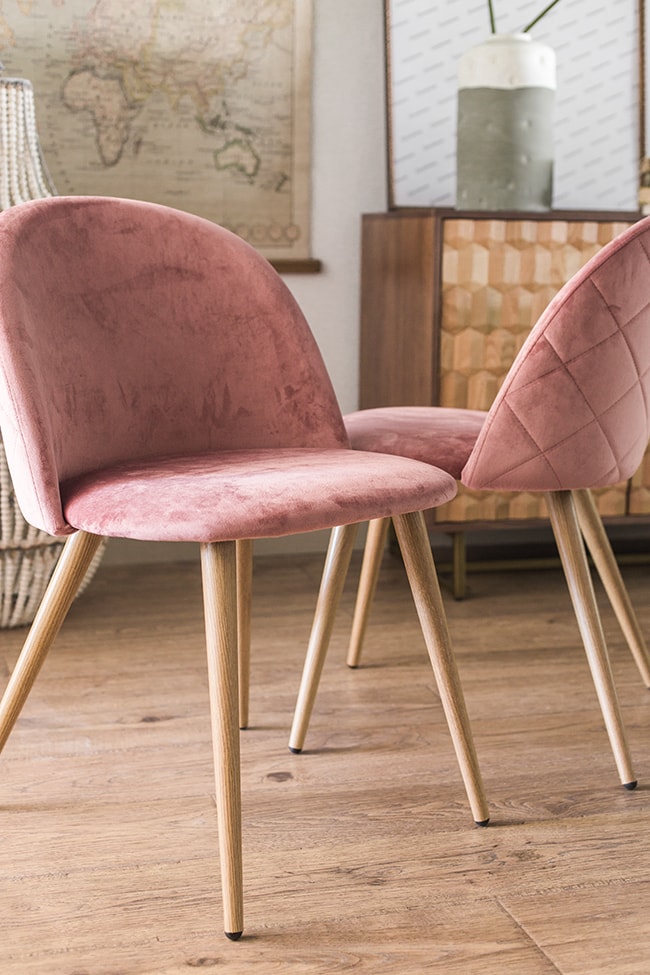 Pin
Next up: the ever important chandelier. It needed to be eye-catching, statement making, and give off a tropical yet elegant feel. Wood beads were the solution.
I spotted this one months ago, and thought it was on the small side, but I couldn't find anything else similar (and it's a good price!) so I was ready to place my order: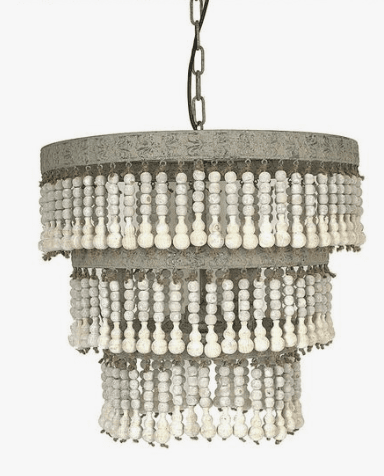 Pin
Before pulling the trigger, I did one last internet deep dive looking for possible alternatives, and then I found it…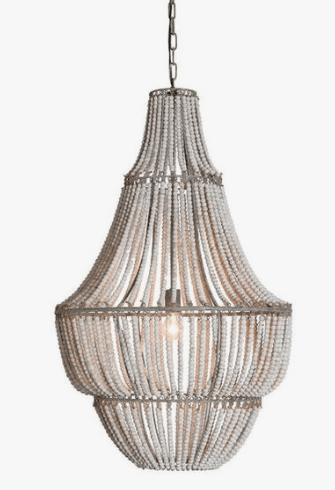 Pin
It was larger, more elegant, and certainly more of a statement maker. I worried it may have even been too large, but I'd much rather err on the side of oversized than undersized.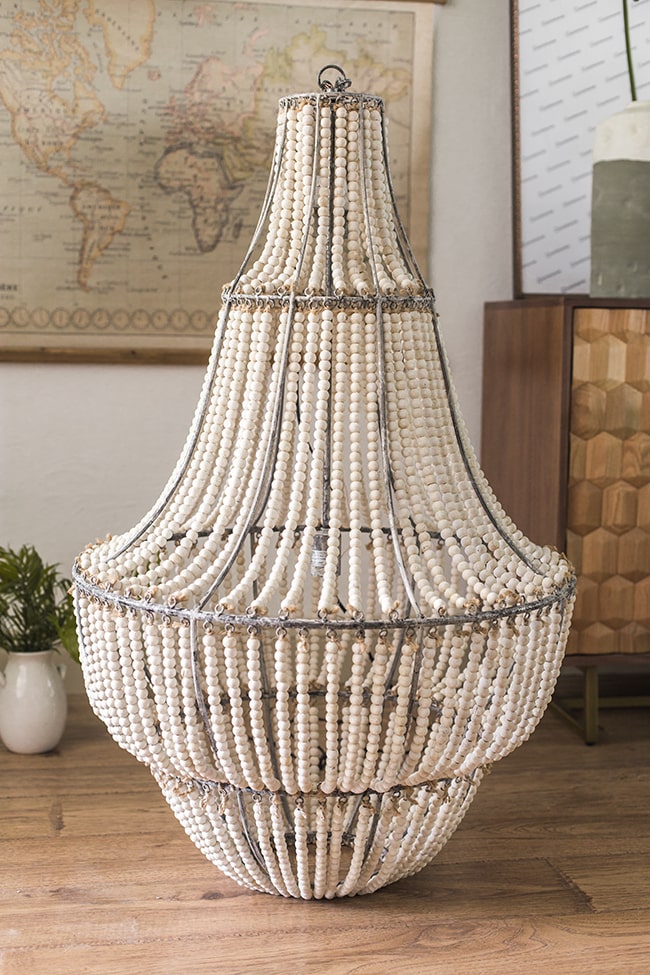 Pin
It's worth mentioning that I found this chandelier after I had already placed my order, and was a little heartbroken because I had been looking for one just like this but couldn't find it (somehow it never came up in the 80 hours I spent looking through every option on Wayfair):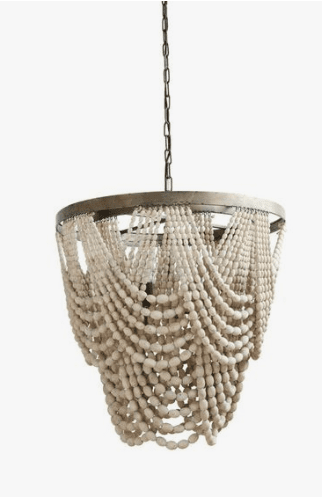 Pin
At least now you have the chance to get it! You're welcome 🙂
Our goods have been arriving and I'm LOVING how well they're getting along…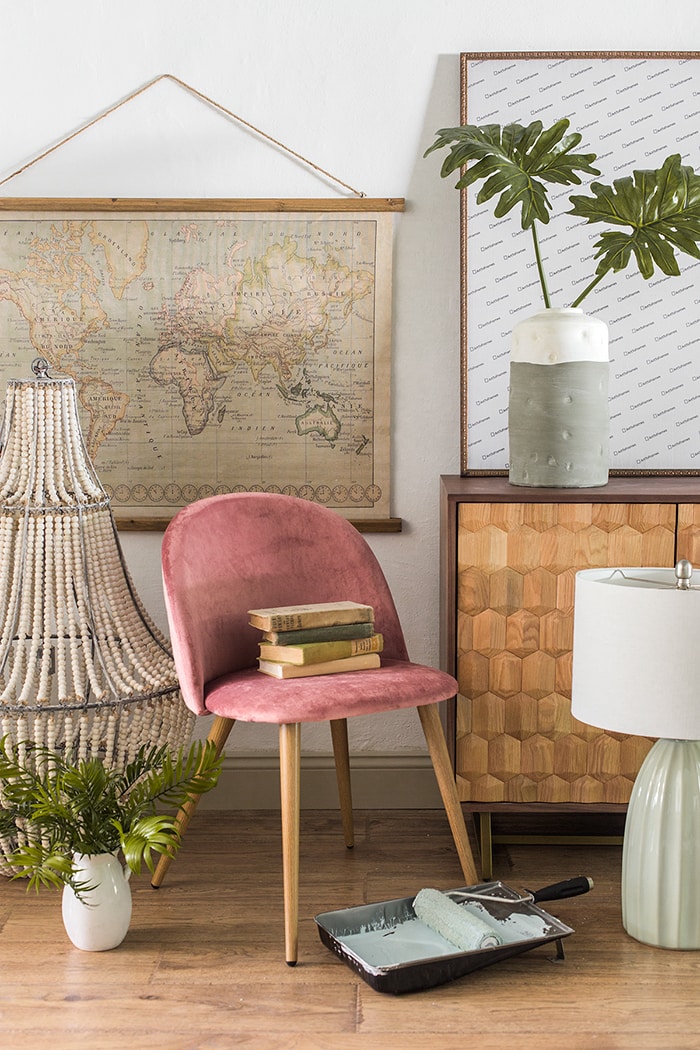 Pin
The vintage map is something I picked up earlier this year (it's such a bargain!) and so is the vase, and I chose this pretty light aqua lamp to sit atop the sideboard:
Pin
I love the way the curves play off the hard lines of the sideboard: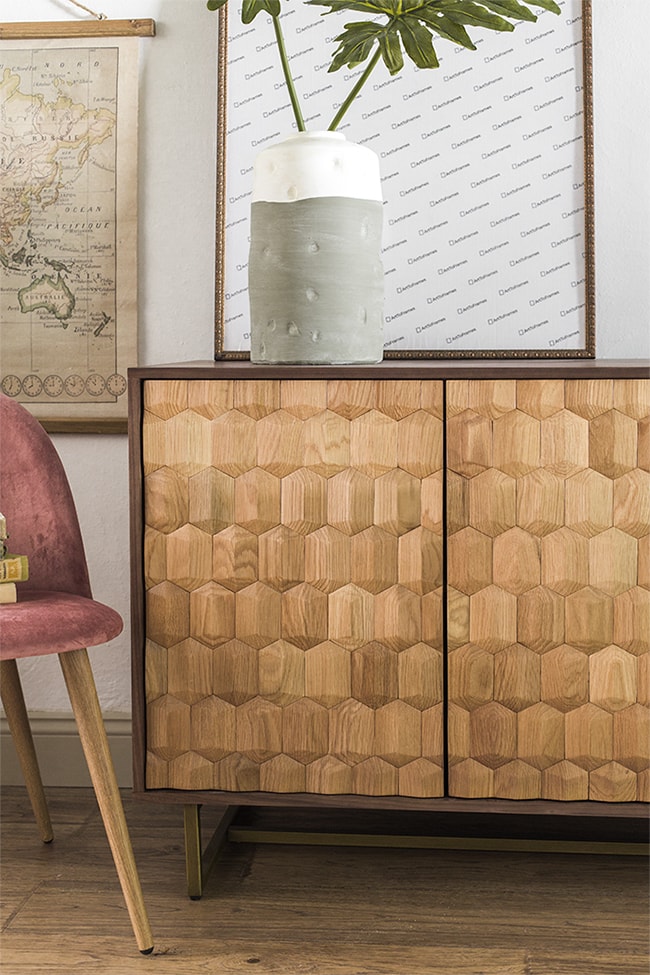 Pin
Above the sideboard I found this large round gold mirror: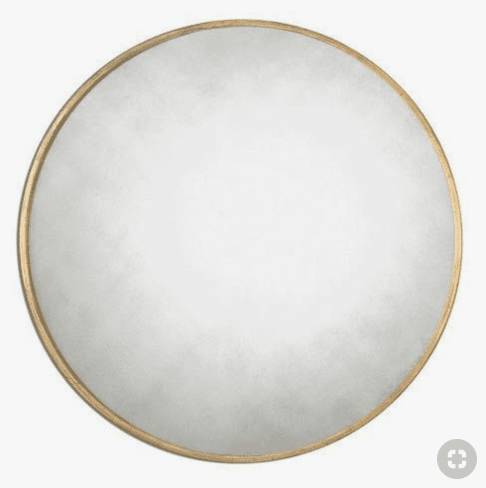 Pin
We needed something simple to let the sideboard shine, and round to contrast with the geometric shapes. This mirror fit the bill, and bonus points for the unique aged/patina finish. I haven't unboxed it yet but I'm looking forward to getting it on the wall!
And finally… what to do with this giant 10′ blank wall?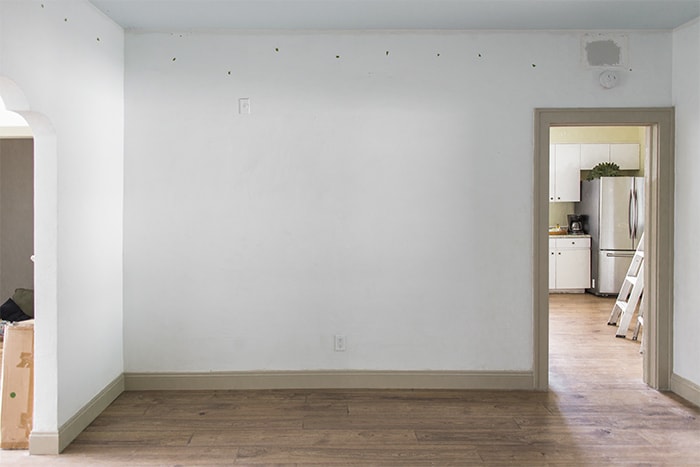 Pin
There wasn't room for furniture (or a need for it) and we already had a big mirror on one wall, so large scale art was the answer!
Most people make the mistake of displaying undersized art, so I always recommend going larger when in doubt. I measured the wall and decided that a total size of somewhere around 6′ x 6′ would be sufficient.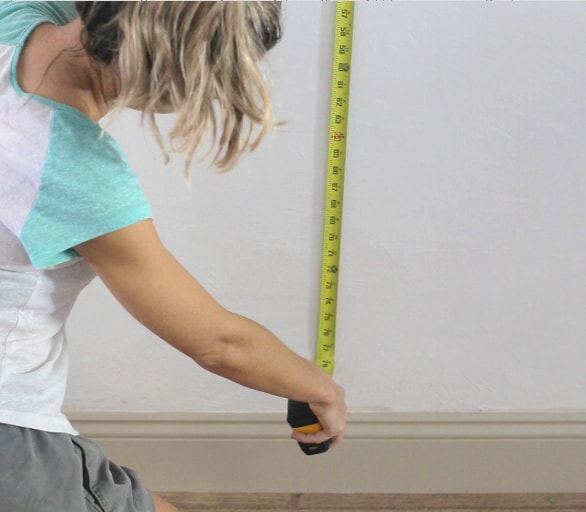 Pin
One tip to save on expensive framing is to have your artwork enlarged and split up into multiple standard sized frames (or just hang several pieces of art in a grid). There are a handful of standard sized frames that will always be cheaper than going with a custom size. With my wall, six 24×36″ frames (a standard poster size) displayed in a grid was my best option to fill the space.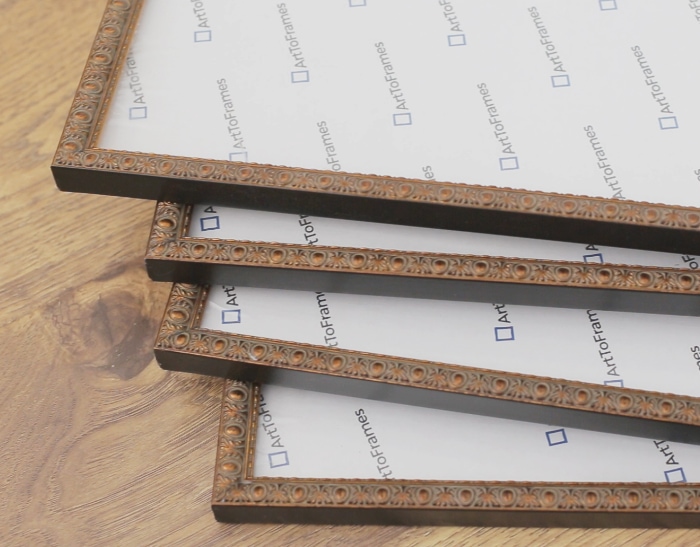 Pin
I chose to partner with Art To Frames for this project, because they have the widest range of customization options at the best prices I could find online. They had a lot of styles to choose from in my size, and I settled on these lovelies: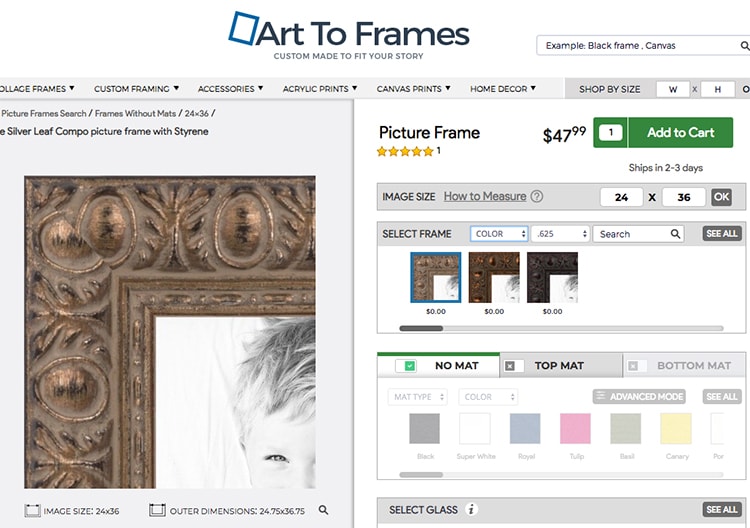 Pin
It's hard to find slim profile frames and these are just what I was looking for, at only .625″ thick. The warm gold ties in with the wood tones in the room, and the egg and dart pattern coordinates with the ceiling trim. Perfect!
Now for the artwork. I wanted something with a local flavor for this space, especially since this will be a temporary home to out of town guests. It's important to represent the area within the home, and you can never go wrong with maps as art. So I designed this abstract aerial cityscape of Tampa Bay: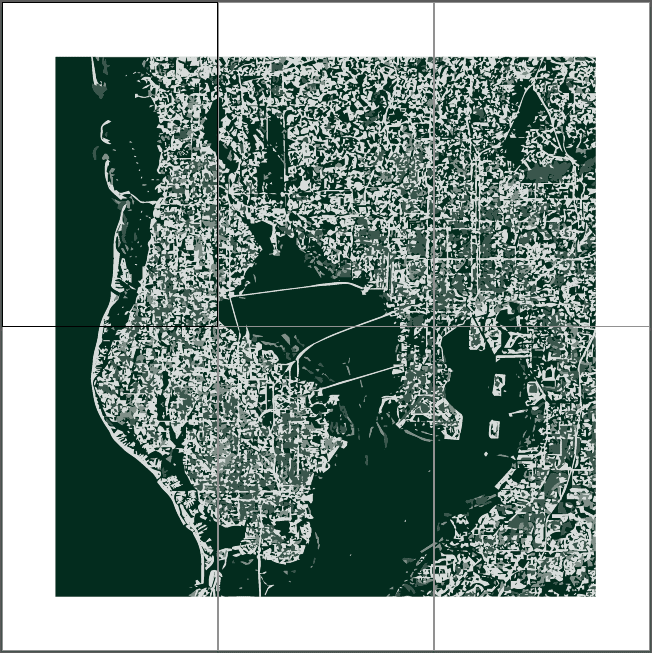 Pin
Here's another trick to save on framing costs—faux mats. I think art looks so much better framed with mats (the white space around the artwork), it's a more classic and professional look. However, mats can be expensive. If you don't have the budget for one, consider having your artwork printed with a white border around it instead. It'll mimic the look of a mat and save you lots of moolah.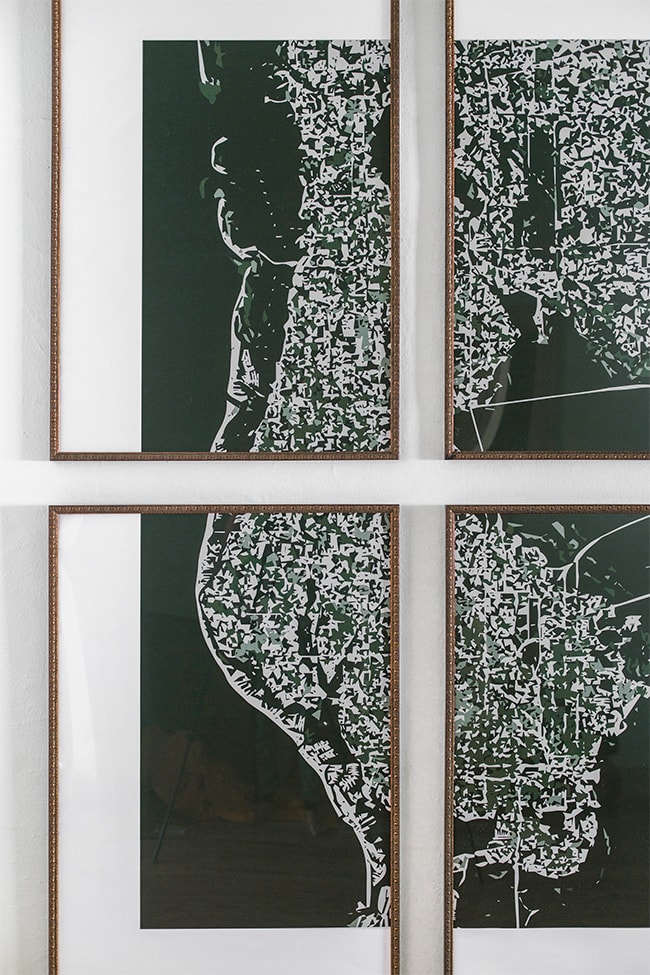 Pin
Since I was splitting up one larger piece of art, I designed the white border around the edge of the entire design instead of inside the individual frames. It gives it a more interesting look, don't you think?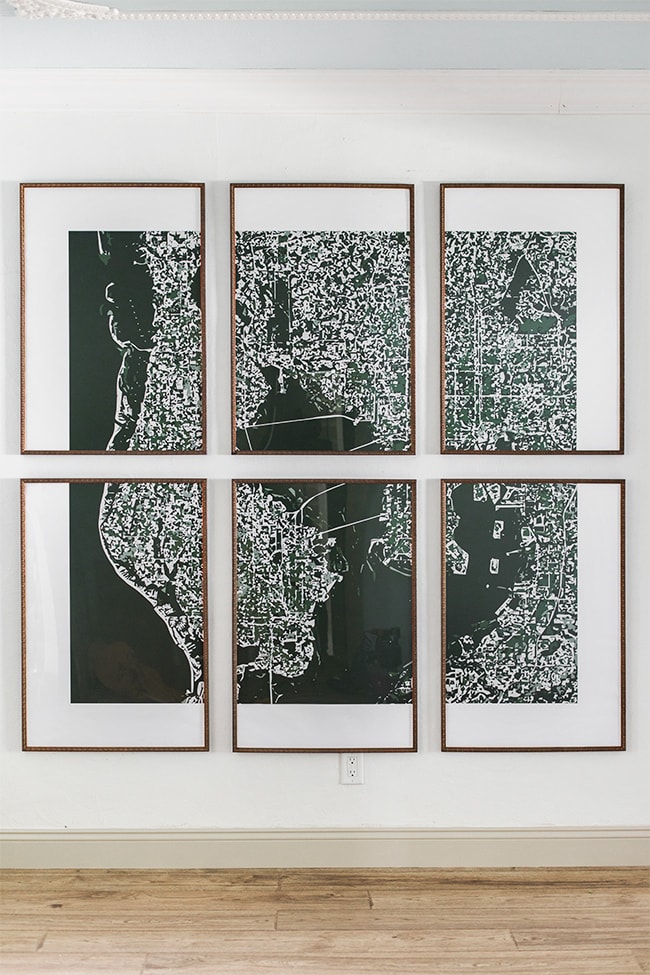 Pin
Of course if you have the budget, go for the mat! Art to Frames allows you to completely customize your mat color, size, even add multiple mats. And you can preview it before ordering: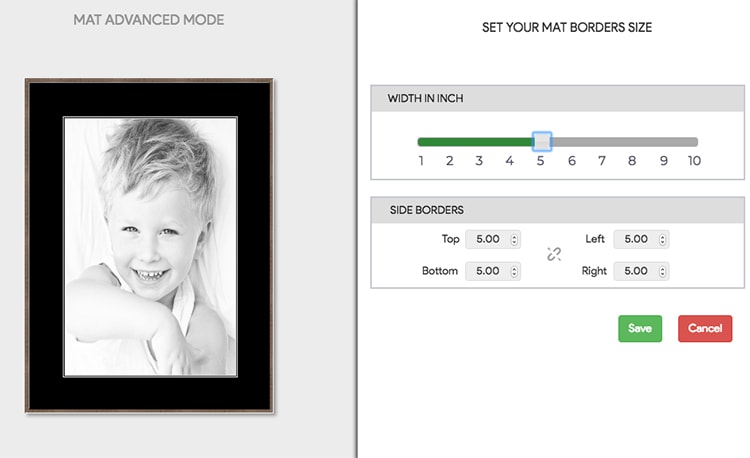 Pin
That's actually one of my favorite parts about the website—you can upload your art, play around with different frame styles & sizes, and see exactly what your finished result will look like before ordering (you can even see it mocked up in a room at scale):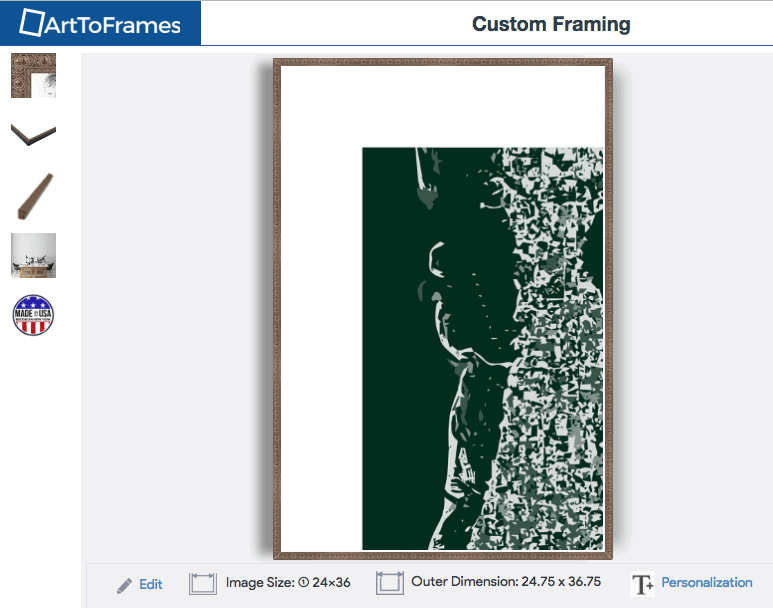 Pin
I also pulled my previews into my design plan in Photoshop just to make sure before ordering: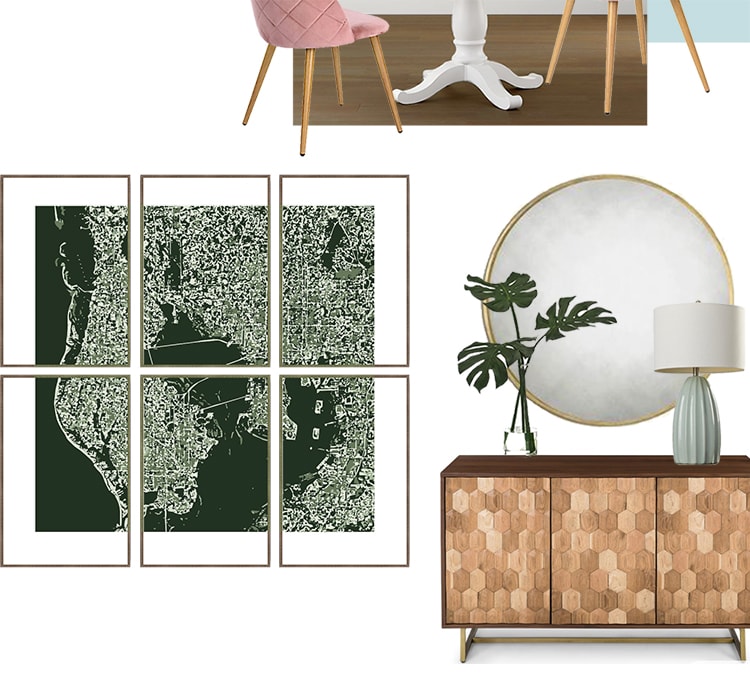 Pin
Art to Frames is a full service shop too, so they can print your design and have it delivered to you framed and ready to hang. I used my own printer, but it's nice to have that option and save a step!
My frames arrived in just 3 days and the they look much more expensive in person!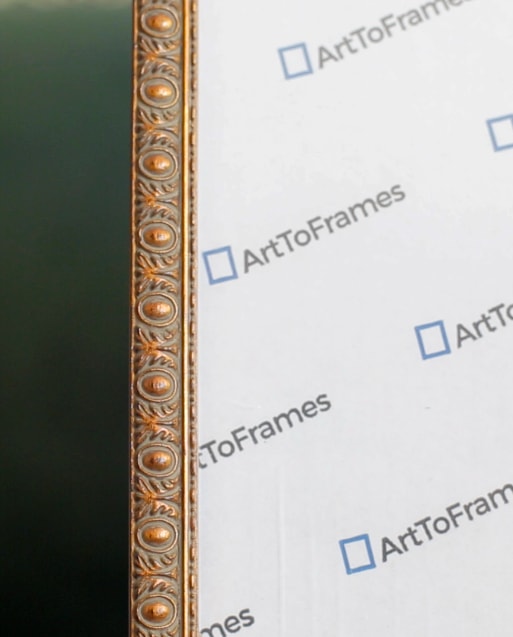 Pin
I opted for the non-glare plexiglass since the wall has light hitting it at weird angles, and I wanted to help reduce the reflections. If you aren't planning on doing photo/video shoots in the space though, that's not as important 😉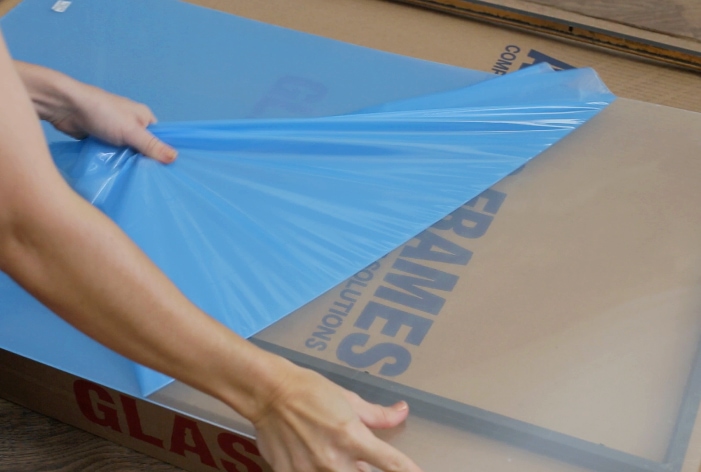 Pin
I love love love the way it came together! It's bold, beautiful, and a nice dark contrast against the white walls and light accessories.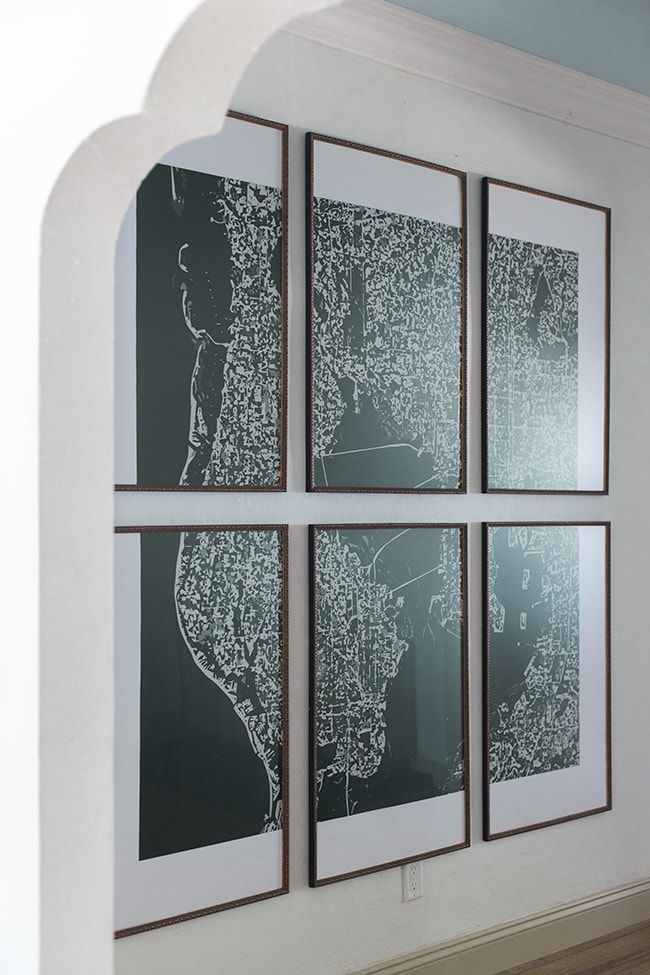 Pin
I also love the abstract nature and that you don't immediately recognize what it is. It's a great way to represent the area and I think it'll be a fun addition for our guests 🙂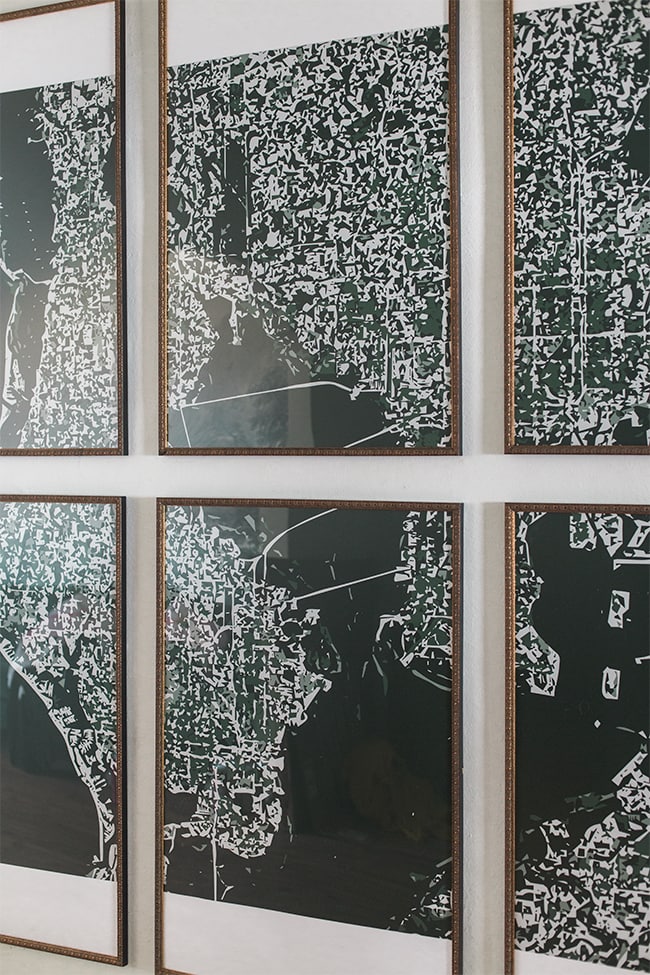 Pin
Friendly reminder: if you've never noticed the 'Shop' section of this website, I have hundreds of abstract city maps and I'd love to design something custom for your home too! Just send me a photo of your space and we can come up with the perfect solution.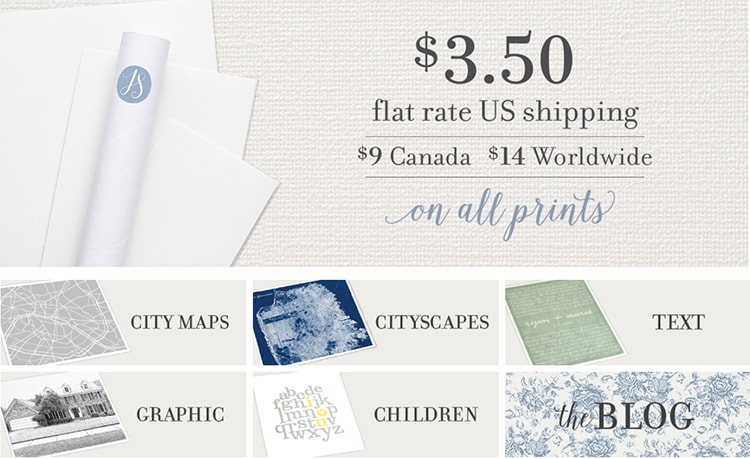 Pin
OK—with all the walls addressed, I couldn't forget about the 5th and arguably the most important wall in this design… the ceiling!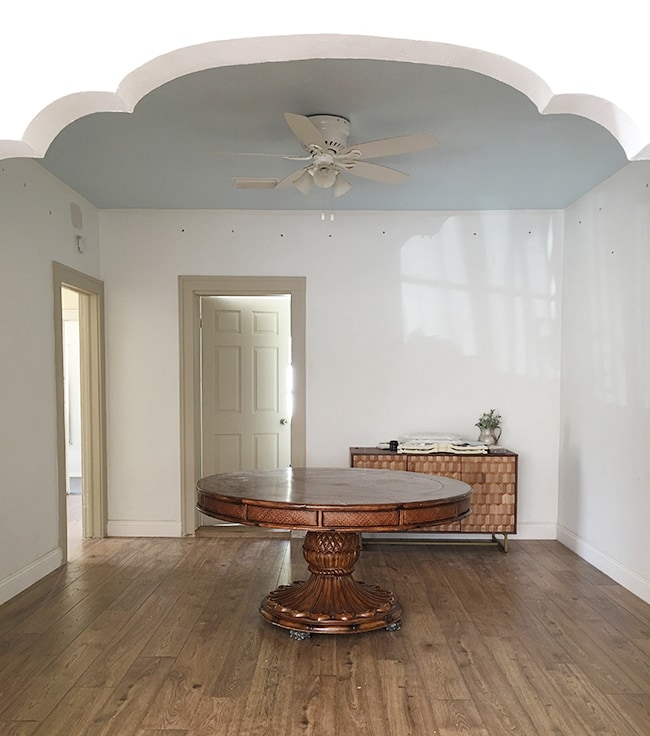 Pin
It was painted blue when we moved in, and I decided to keep it blue (to represent the sky) but paint alone wasn't enough of a wow factor. Enter fancy molding: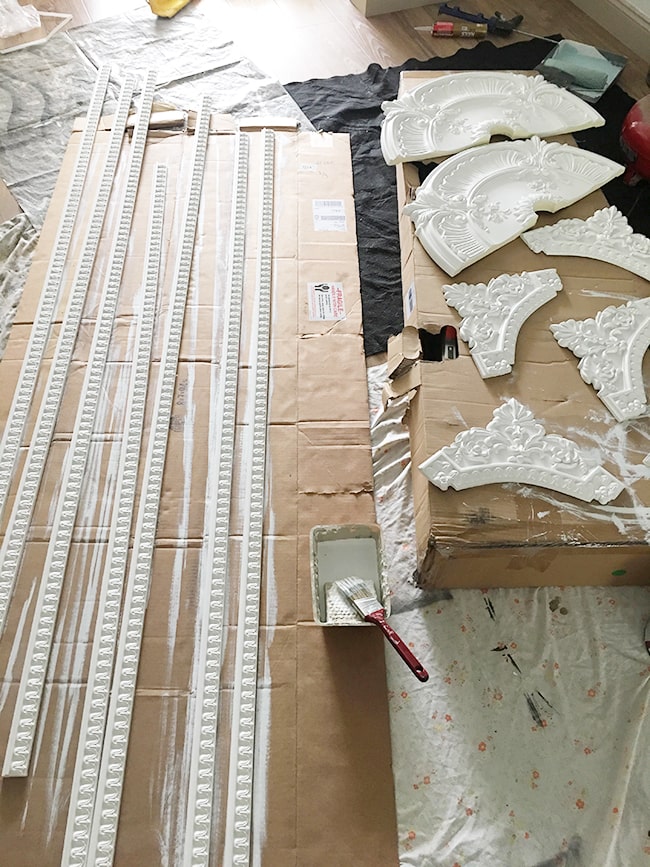 Pin
Look familiar? This is the same molding we used in the adjacent living room a couple months back: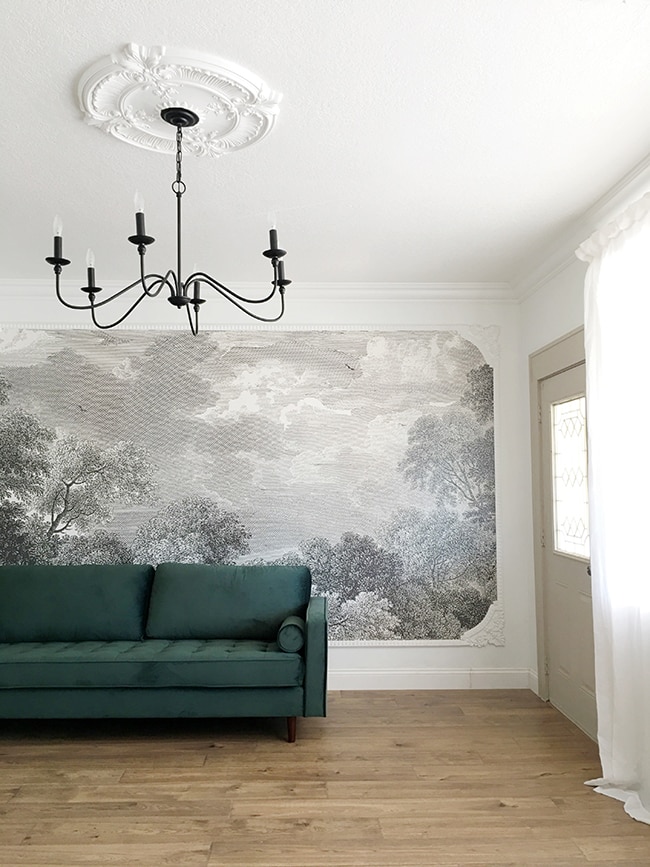 Pin
Except this time instead of attaching it to the wall to frame a mural, we decided to replicate the same design on the ceiling around our blue accent color. We chose a slightly different blue (SW Pristine Skies) and installed the same crown molding first: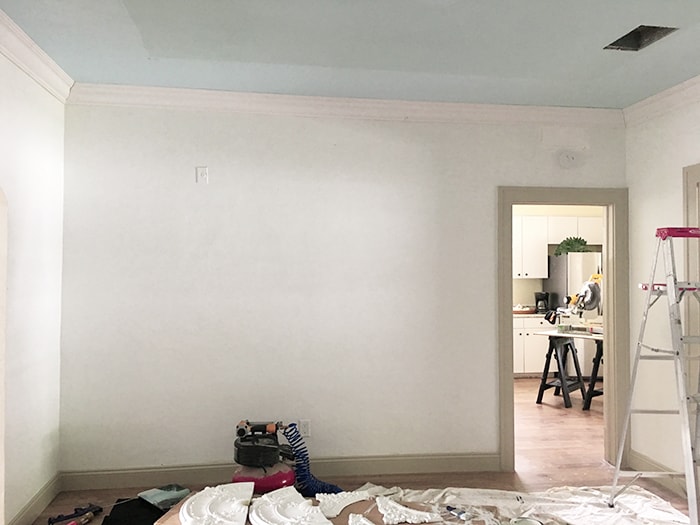 Pin
Then we attached our ceiling medallion and molding pieces. It was so much quicker and easier this time around! (get the tutorial here if you missed it).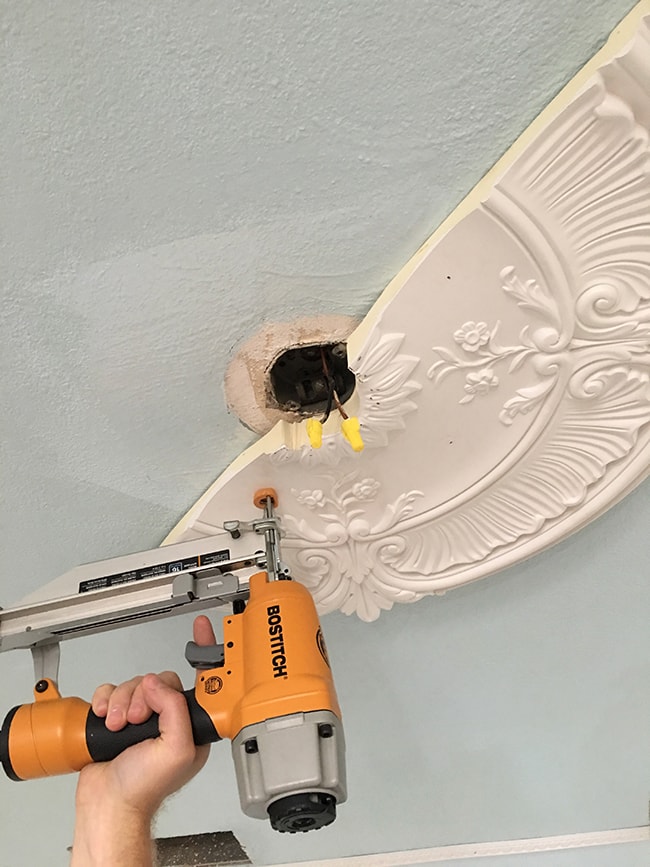 Pin
The blue ceiling portion will only be inside of the molding design, as we plan to paint the outside perimeter white (between the crown and outside of the fancy molding).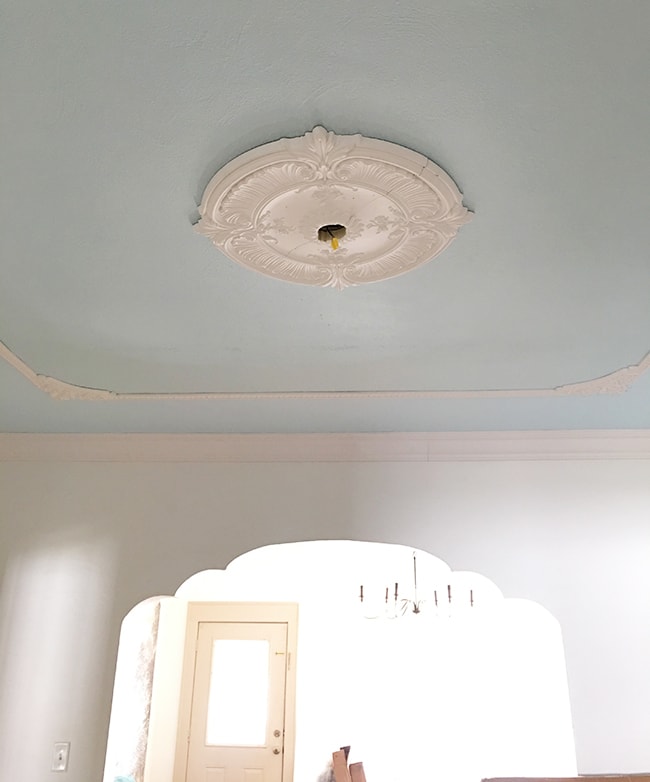 Pin
It has already made our 9′ ceilings feel so much taller by drawing your attention upwards, and I think it's the perfect way to balance the large chandelier.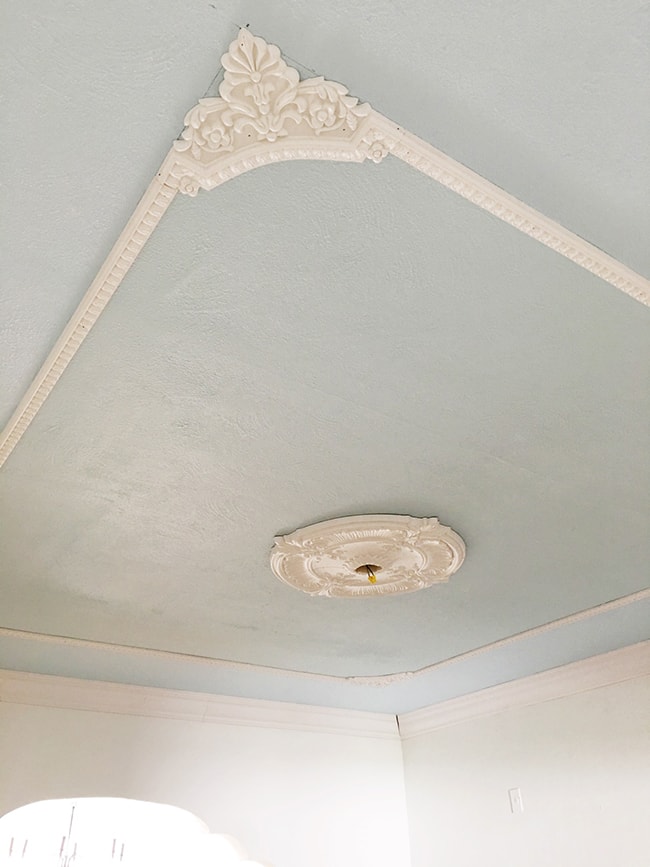 Pin
We still have to caulk, spackle & paint, and I can't wait to show you the end result! There's a lot of moving parts to this design and a lot of different styles to balance, which has made piecing this puzzle together that much more fun.
Before we get to that, I've got a bedroom reveal to share… that's coming next!