Our living room transformation hasn't been shared much and hasn't followed my typical 'one room at a time' approach. It has been a slow evolution (a few months, that's slow for me!) partly because we've been so preoccupied with other projects, but also because I've gone back and forth on the design.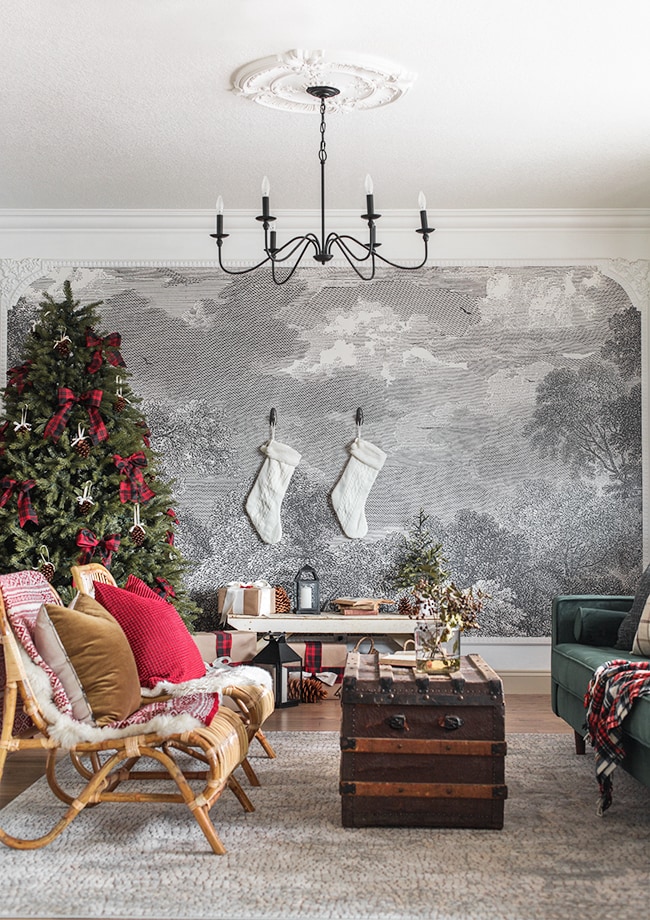 Pin
I was fortunate enough to work with a few great sponsors (Lowe's, Wayfair + Inmod) who helped bring this space to life and as always, I genuinely appreciate your support which allows me to continue sharing these projects 🙂
Early on I began collecting inspiration for this home on Pinterest, and was struck by this image I found…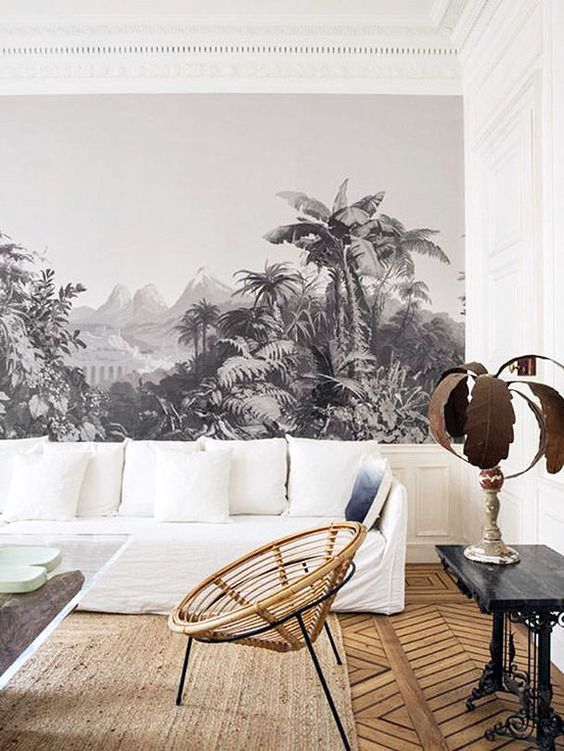 Pin
And decided I'd give our living room my own earthy-oasis meets mid-century-modern meets sophisticated Victorian. There's a combination you probably never thought you'd see together!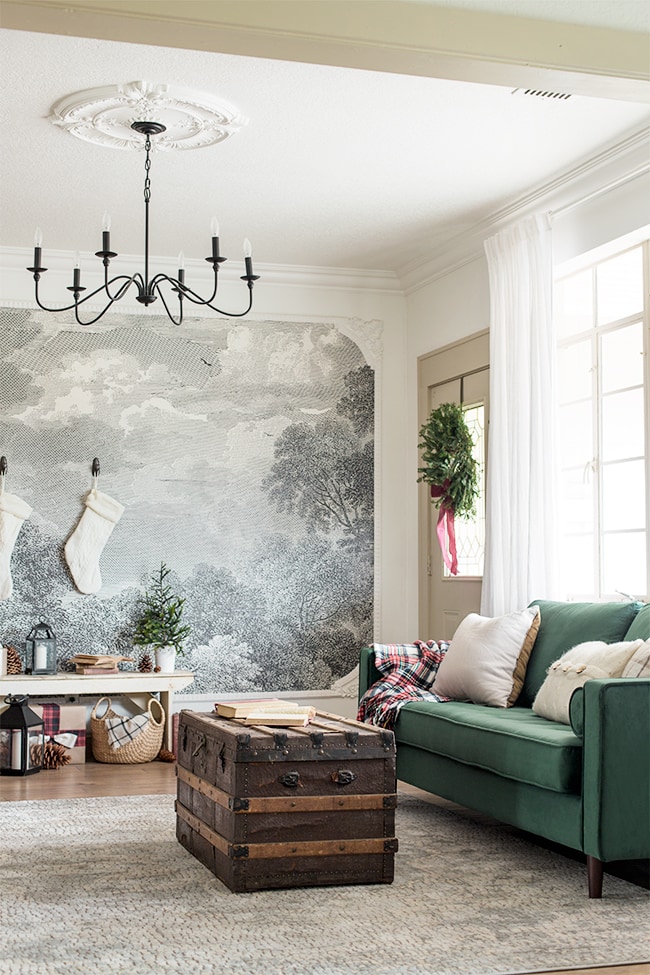 Pin
With plans to turn this house into a vacation rental, I keep having to remind myself to take more risks and make it one of a kind. This creative opportunity doesn't come around very often so I'm enjoying it while it lasts!
Pin
There's still a few things left to do in here, but I'm happy to say that most of the pieces are in place and it should be 100% complete by the new year (fingers crossed!)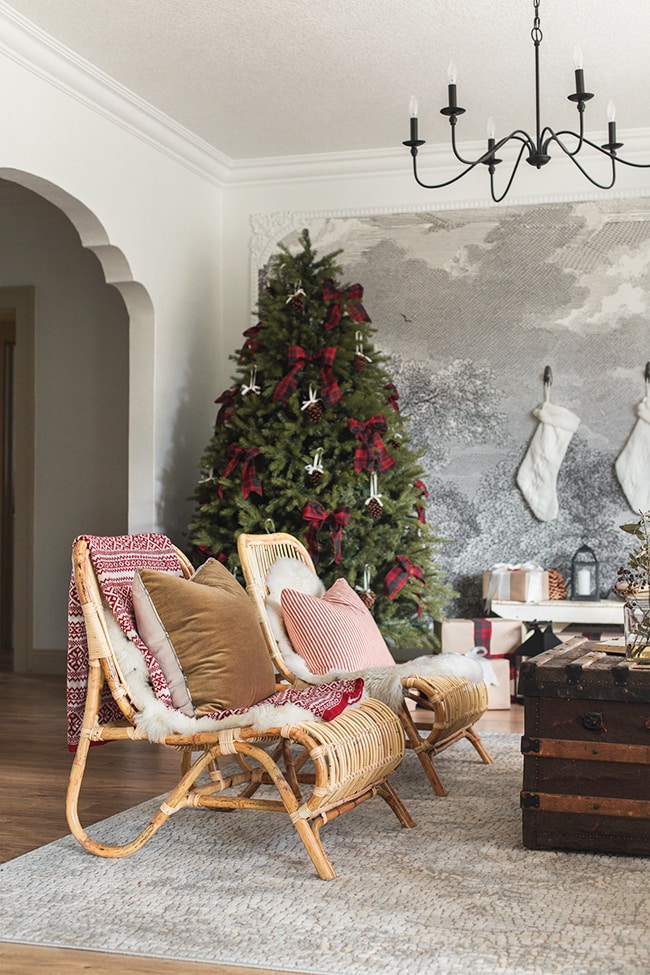 Pin
While some of the details were last minute decisions, there were a few things I was absolutely sure on from the beginning.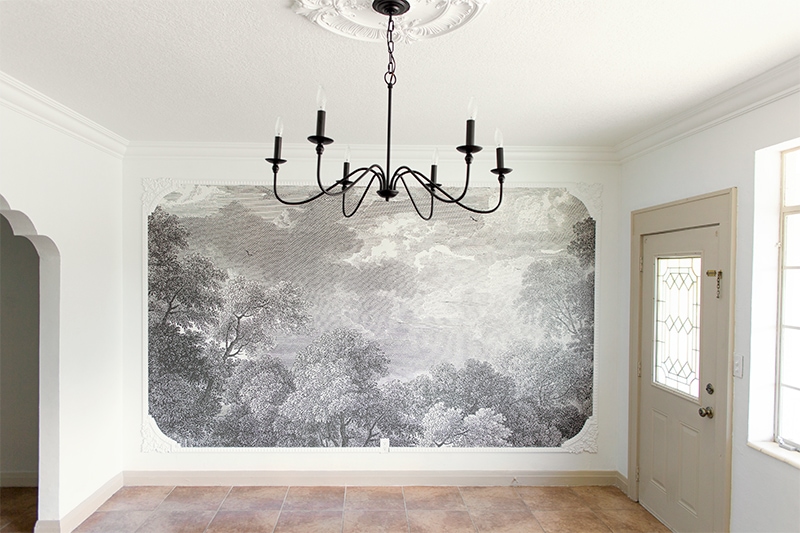 Pin
Like this wall mural, of course. This was one of the first projects we did, and I'm just as in love with it as ever. Same goes for the gorgeous molding and ceiling medallion.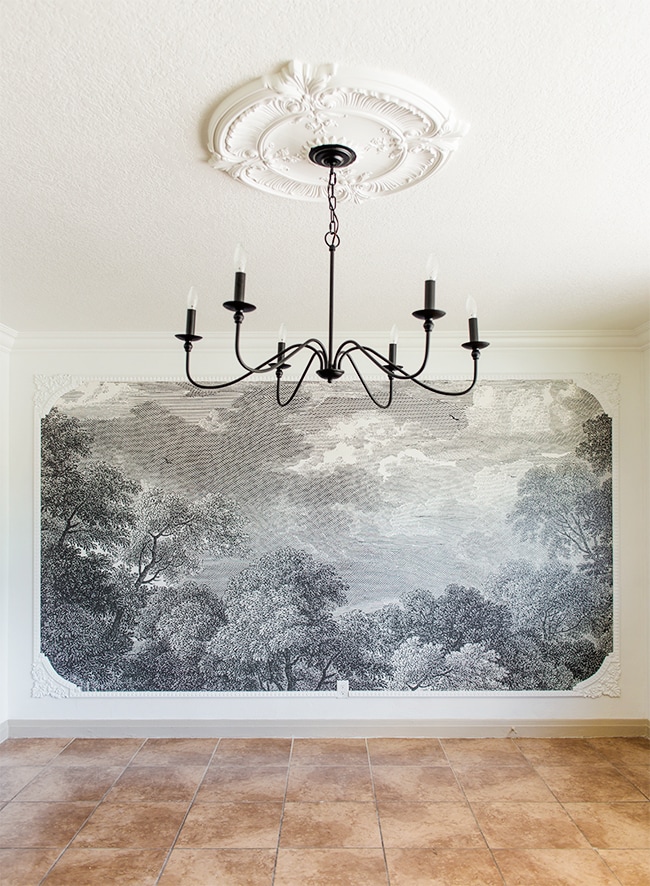 Pin
And that dramatic chandelier… as soon as I saw the price tag I scooped it up (Wayfair dropped the price even more now!)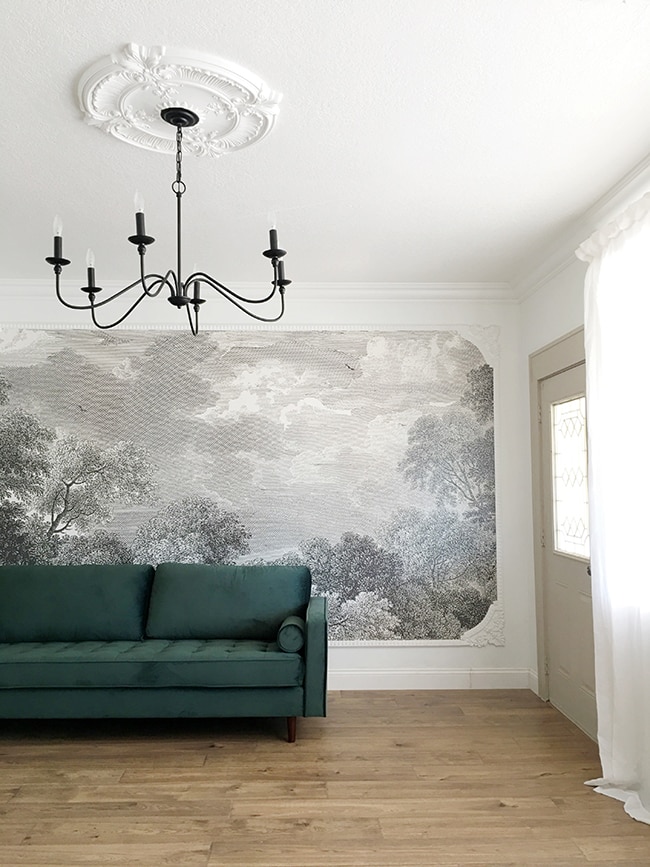 Pin
From the beginning, I also knew I wanted a green velvet sofa. There's a few different options for these online (all within the ~$1k price range) and it was a tough call, but in the end the Matilde sofa from Inmod in deep emerald green won me over (just saw that it's on sale for $899 right now, if you're in the market):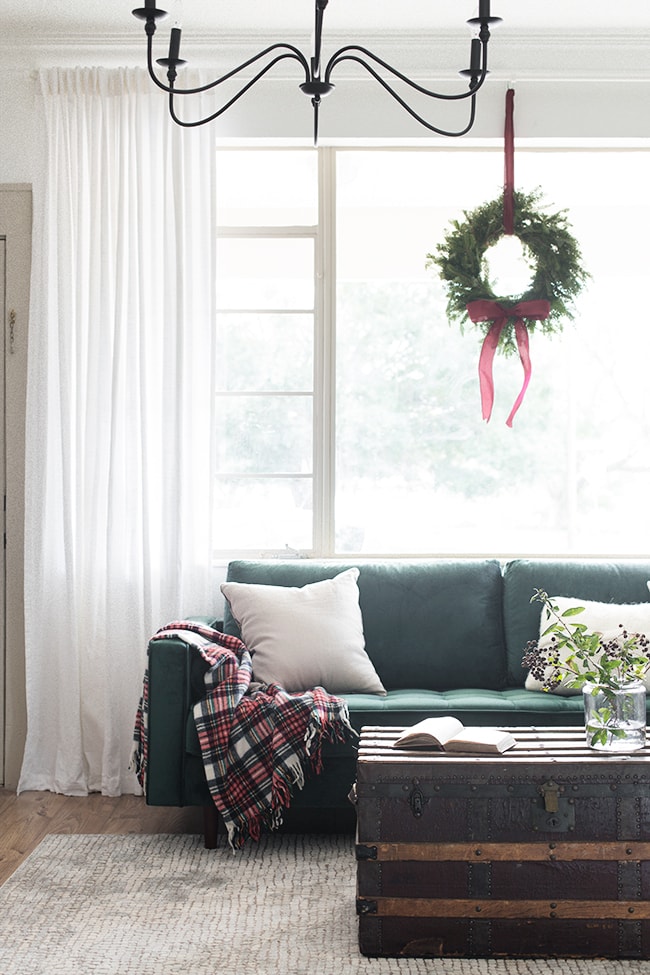 Pin
It's absolutely stunning in person, the velvet is so rich and soft. It's on the firmer side, but it's still comfortable enough to curl up with pillows and a blanket for long stretches. It's about as cushy as our reading nook.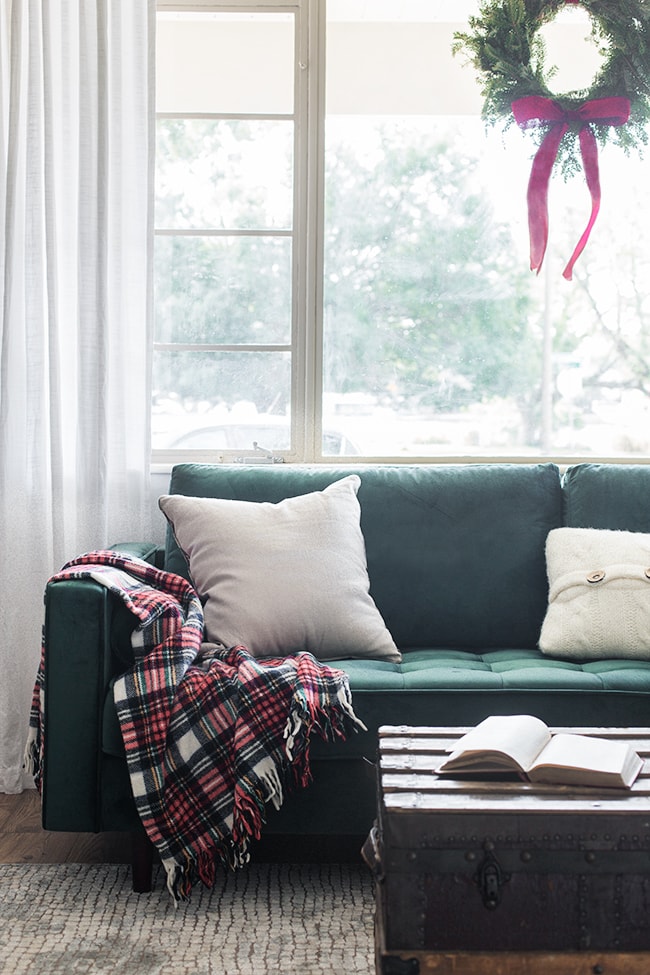 Pin
For the past couple months, our living room has had nothing but that couch (okay, and a bunch of boxes and tools and sawdust) but a few weeks ago I decided to finally get serious about coming up with a plan and crossing this room off our to-do list!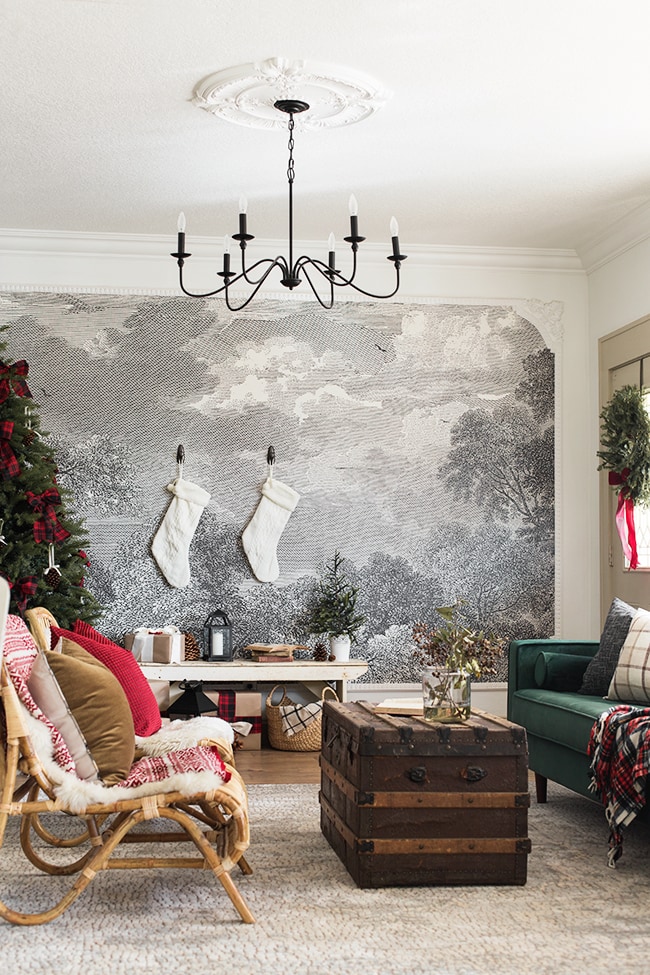 Pin
Usually that first involves drawing up a mood board in Photoshop. Exhibit A: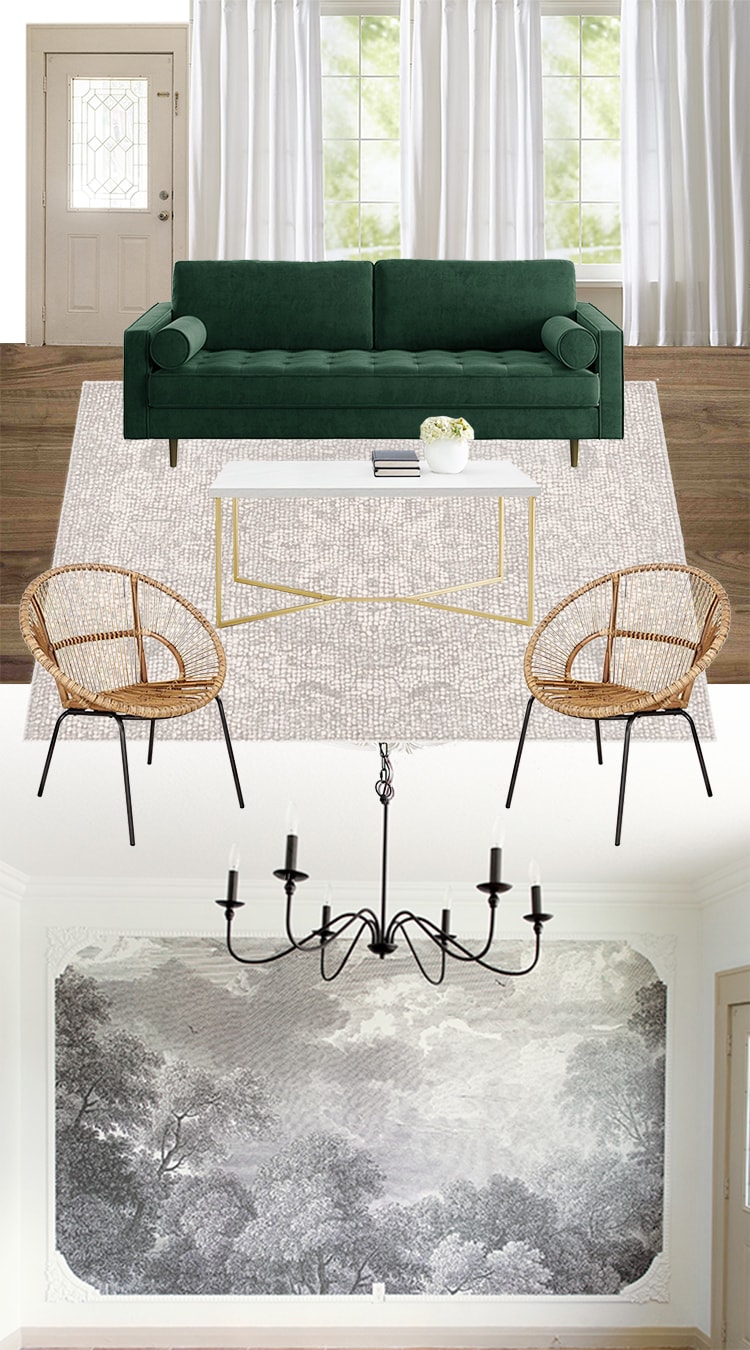 Pin
I spotted those papasan chairs on Wayfair and they reminded me of my inspiration photo, but sadly they went out of stock. Then I found these, which I liked just as much (along with their 5 star reviews)…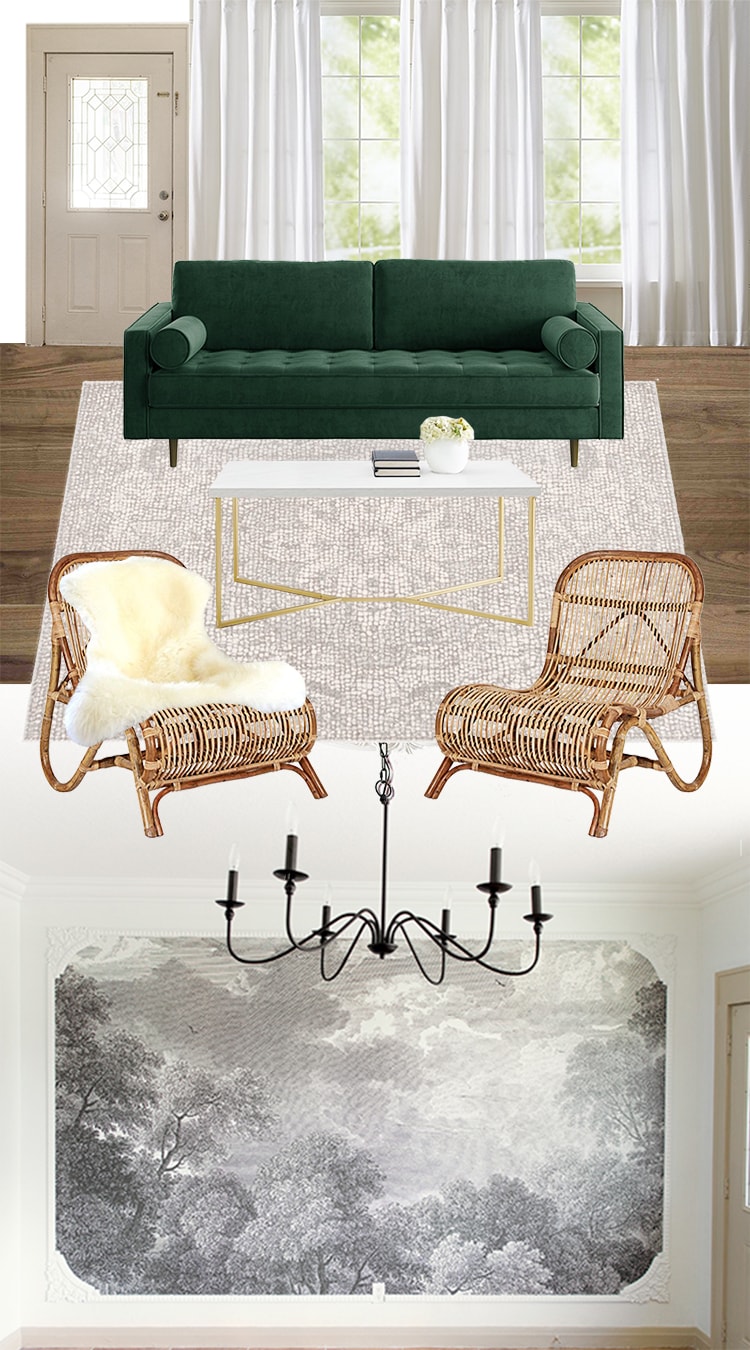 Pin
They're actually quite comfy draped with a sheepskin. I was also debating between this taller rattan armchair, but went with the more budget-friendly option.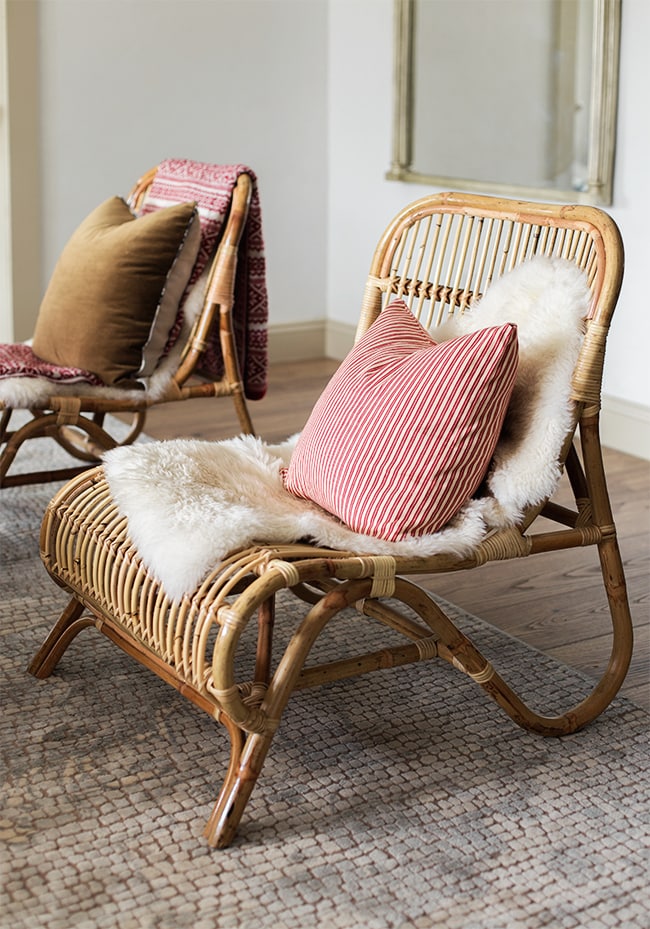 Pin
My original plan was to use a marble + gold coffee table (love this design and only $105!) but after pulling an old trunk out of storage for our Rainforest Room, I realized it would make a perfect coffee table because it's unique and has a story, and the antique/weathered appearance contrasts nicely with the polished green velvet. Also, anything travel-related is so fitting for a vacation home! I spent weeks looking for one in the right size and finally found mine at a local consignment store (for $95).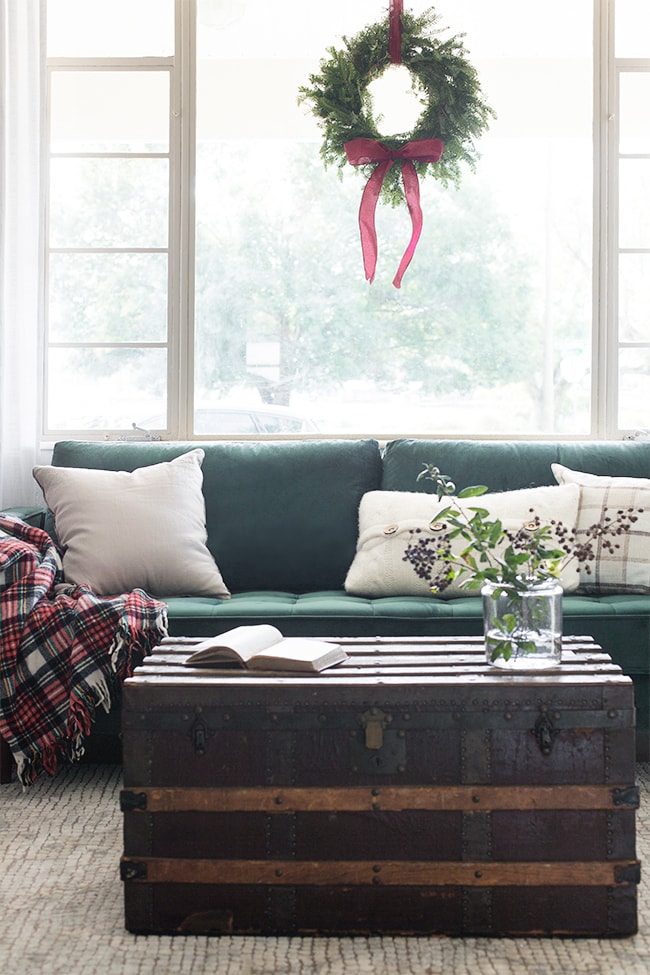 Pin
The most difficult decision for me was the rug. I had my heart set on a nice quality rug with a variety of colors in a beautifully detailed pattern, and narrowed it down to a handful of options, including this one from Wayfair (I love the hand-woven texture of this, and only $244!)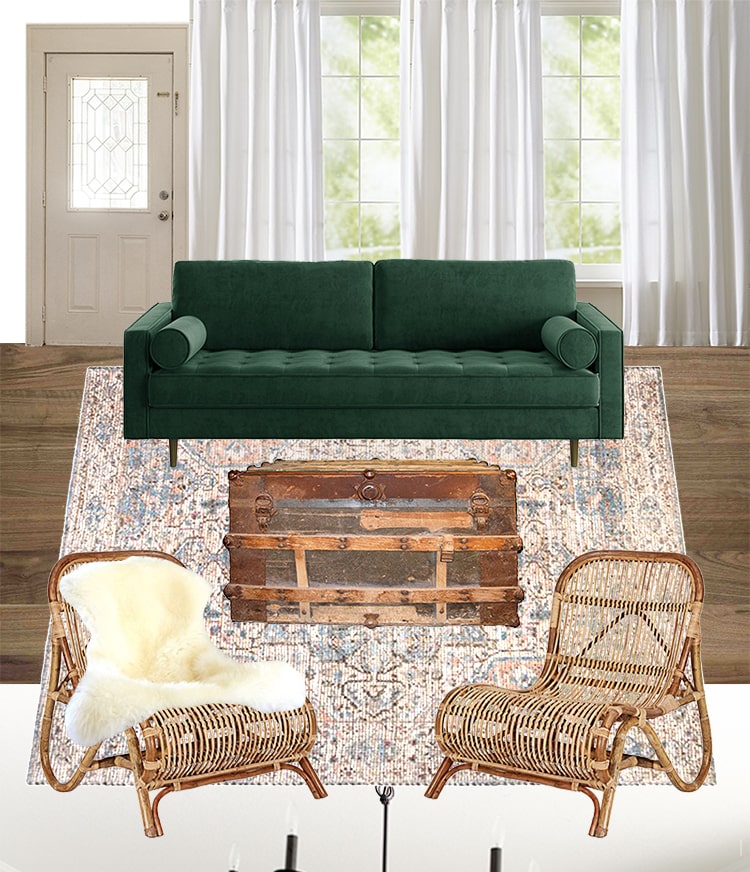 Pin
I also loved the warm colors and subtler design of this rug (also under $300):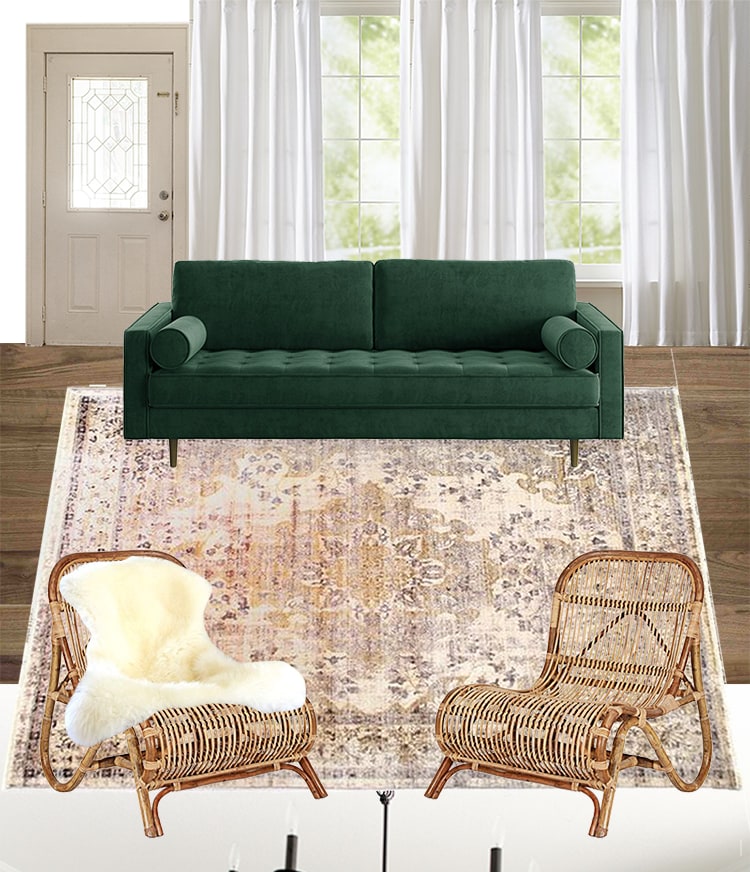 Pin
And then I fell in love with this one, but the single bad review made me nervous…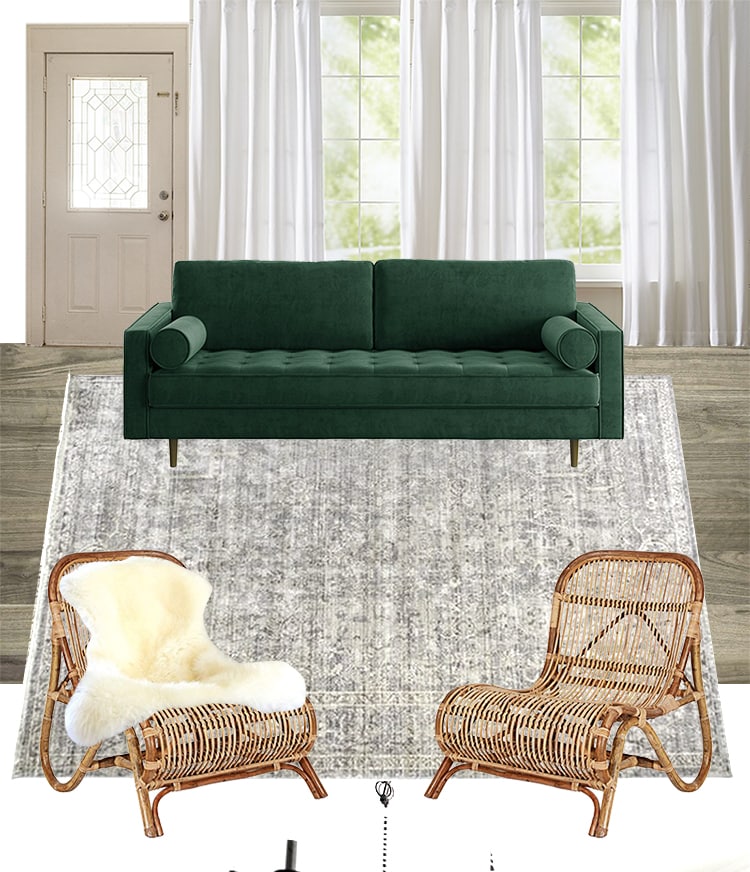 Pin
And the last contender, which was also the most affordable at $214 (for an 8×10!):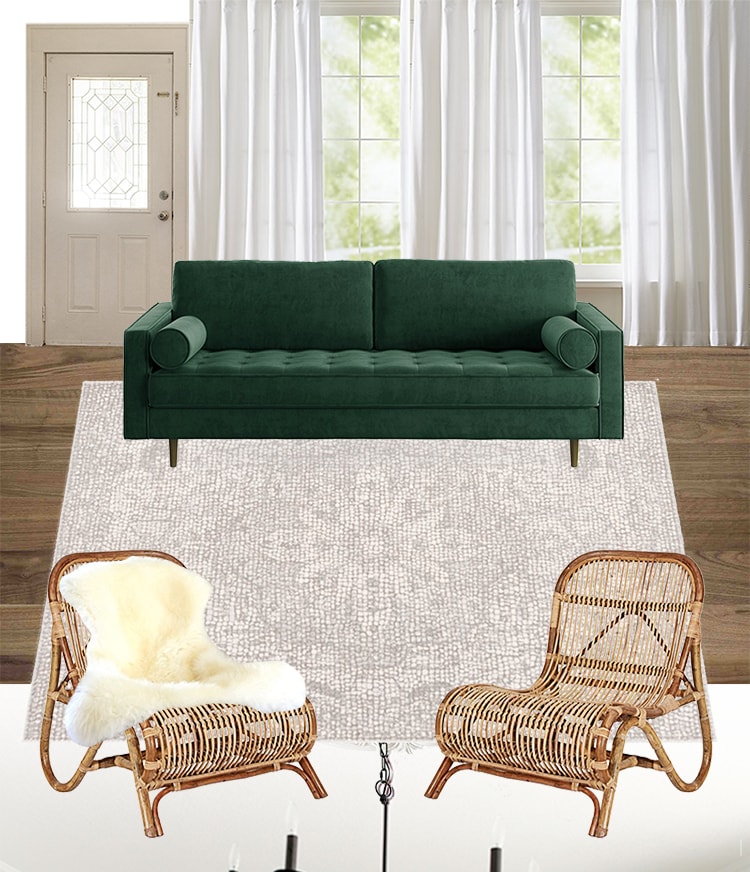 Pin
In the end, I decided to go with the most neutral option because I didn't want it to compete with the mural. That work of art should remain the focus of the room (okay, the sofa is allowed to steal some of the spotlight) but I think having a colorful busy rug would be too overwhelming (even though I preferred the design of the first 3 rugs).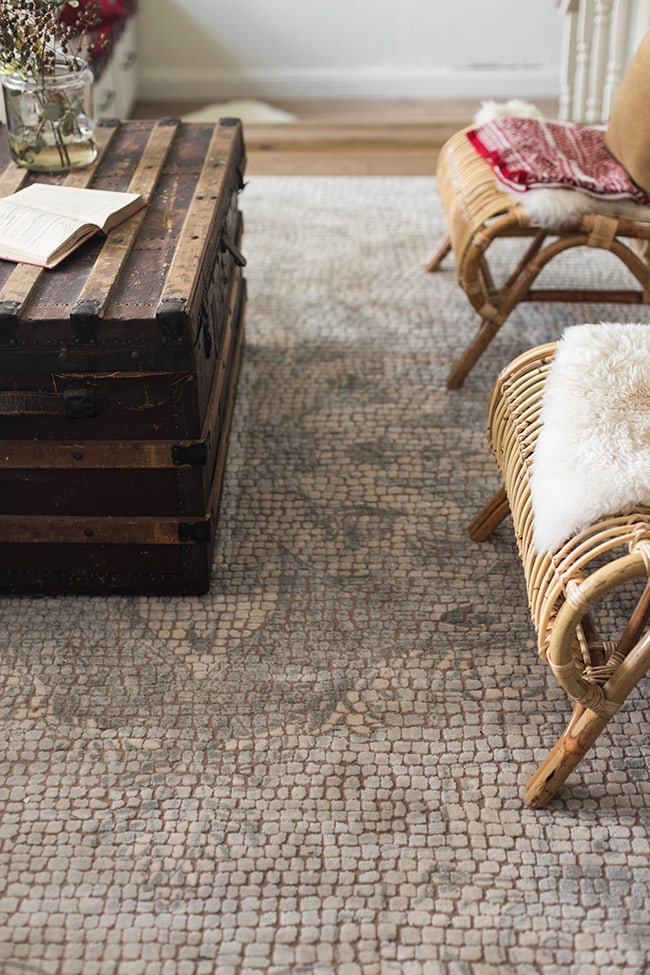 Pin
Rug shopping online is tough! They're hard to fully capture in photos online. Real customer reviews are critical to the decision making process and it was hard to commit without seeing any actual photos of it beforehand. Fortunately, this one was well represented in the manufacturers' photos so there were no surprises.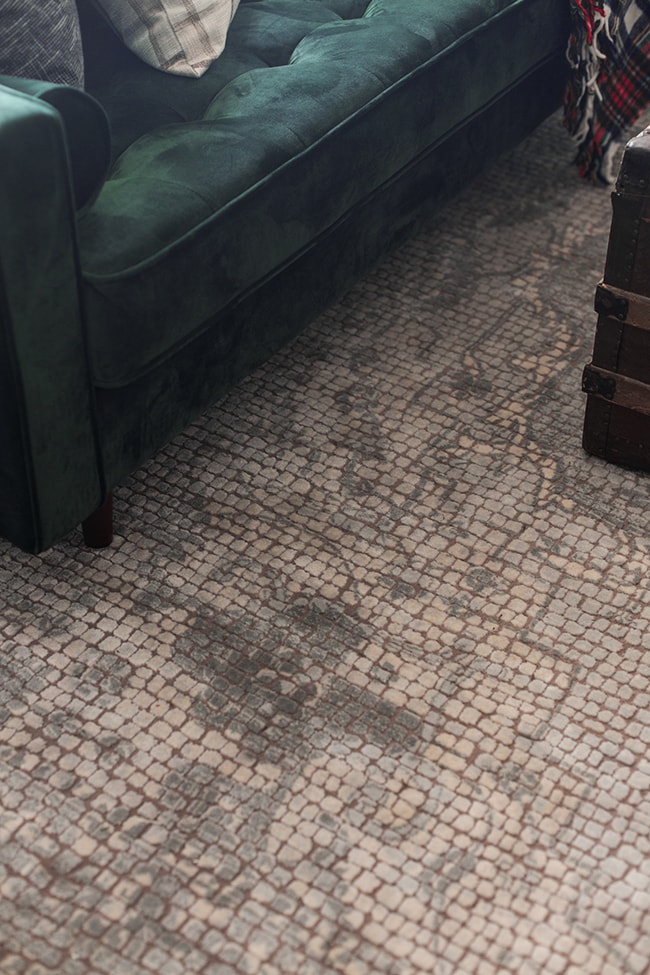 Pin
The gray tones tie in nicely with the mural and the warm beige/brown tones with the trim and floor color. It's on the thinner side, but it's still comfy underfoot and I love the raised texture. It seems durable and easy to clean, and you honestly can't beat the price! I think it's a solid choice for a rental.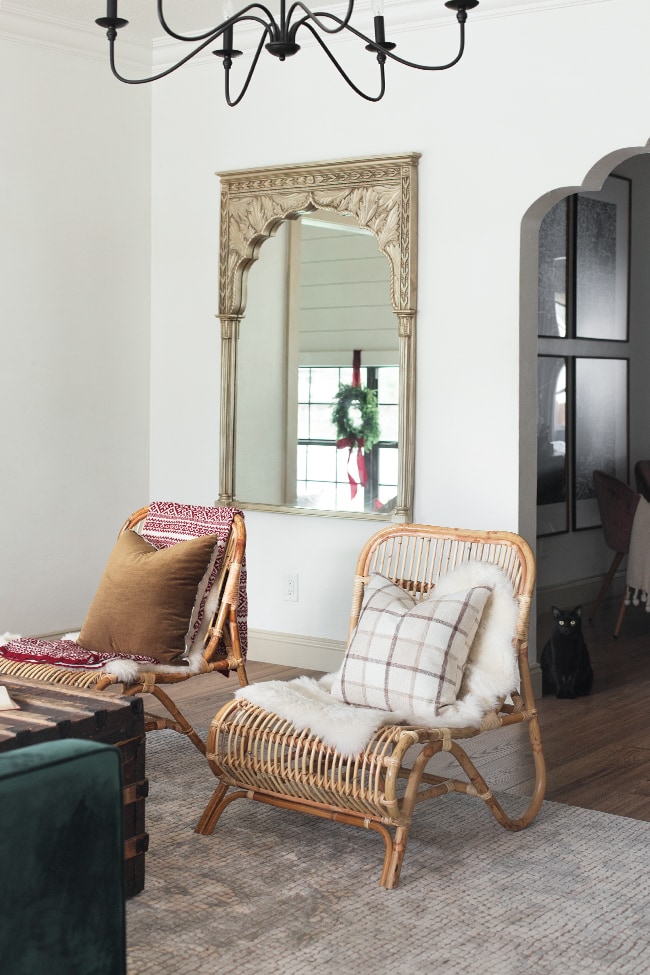 Pin
Can we talk about this amazing mirror?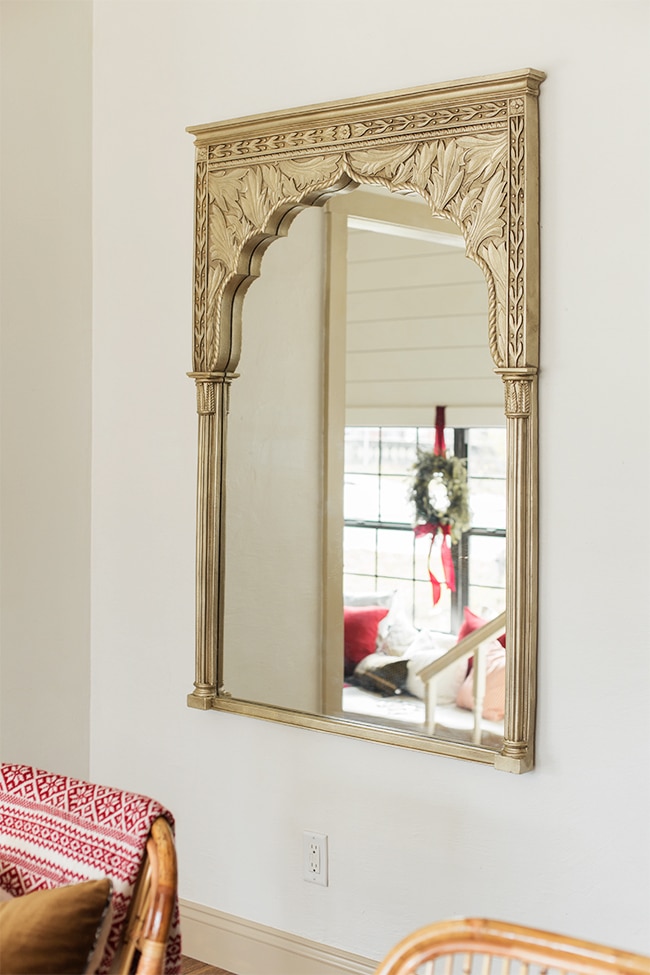 Pin
A friend spotted it for me on Facebook Marketplace, and I was able to talk the guy down to $100. It actually looked a little different when it first came home: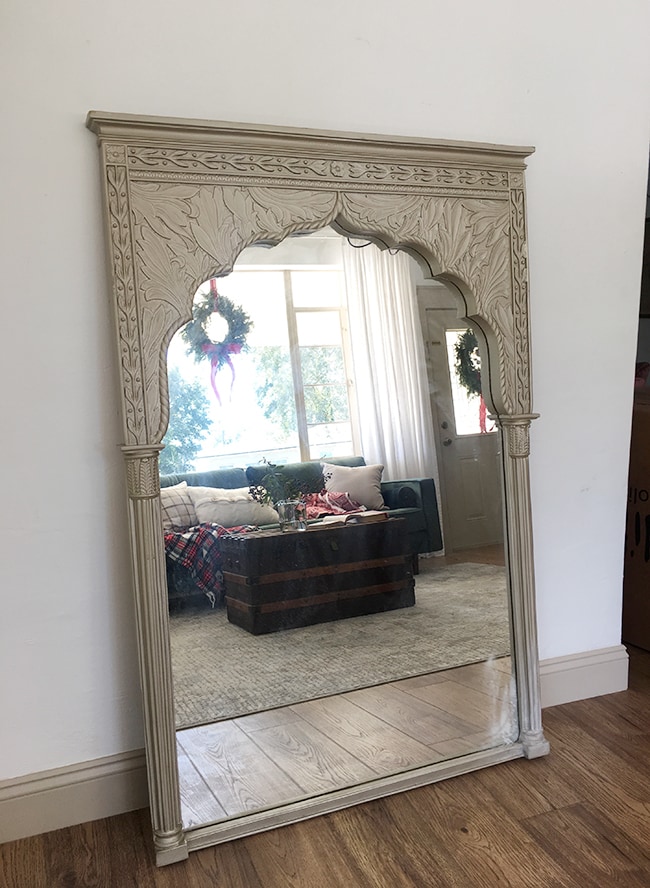 Pin
It had a nice silvery-gold finish, but I wanted a warmer gold and to bring some of the details out. I started by applying a couple light coats of Maison Blanche's Metallique paint in Champagne (this process was documented live in my IG stories—all the action happens there!)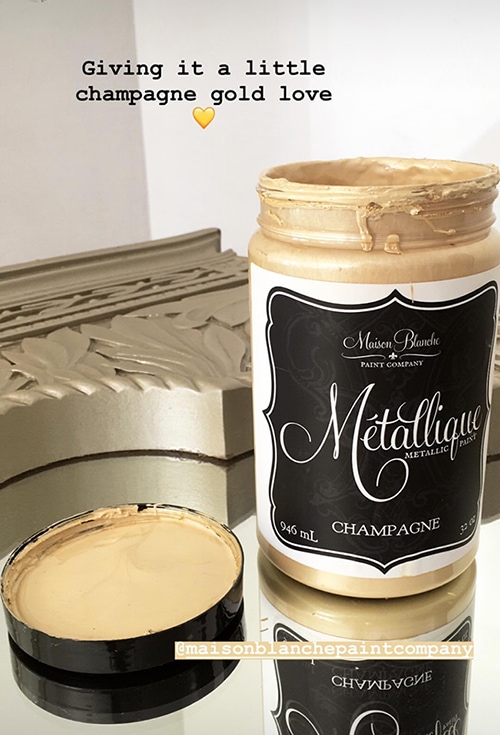 Pin
I was pretty subtle, but gave it a warmer/lighter tone (I also stippled the brush to give it an imperfect/aged look rather than smooth, even coverage):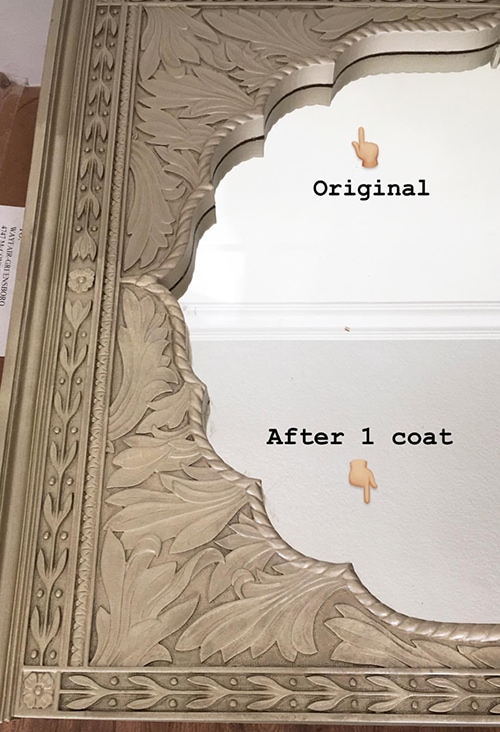 Pin
After it dried, I took a brush and dabbed on a mix of Maison Blanche's dark brown antique was and black chalk lime wax.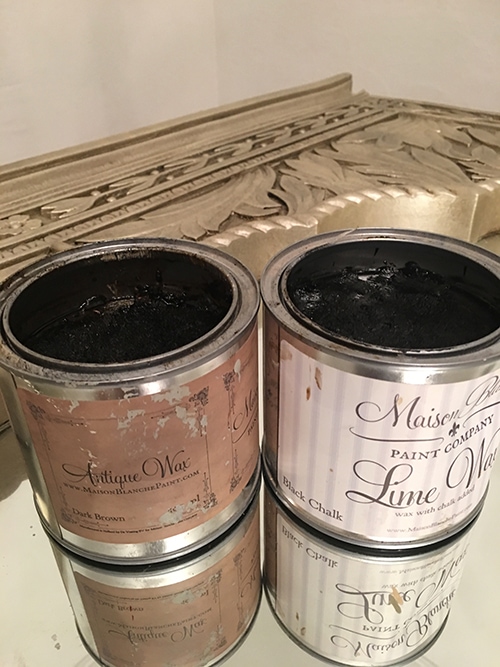 Pin
It was all random and experimental, but the wax settled nicely into the grooves and I gently wiped off the raised areas to give it depth.
Pin
It took less than an hour, and I'm so pleased with the results! Looks like it could be a real antique, right?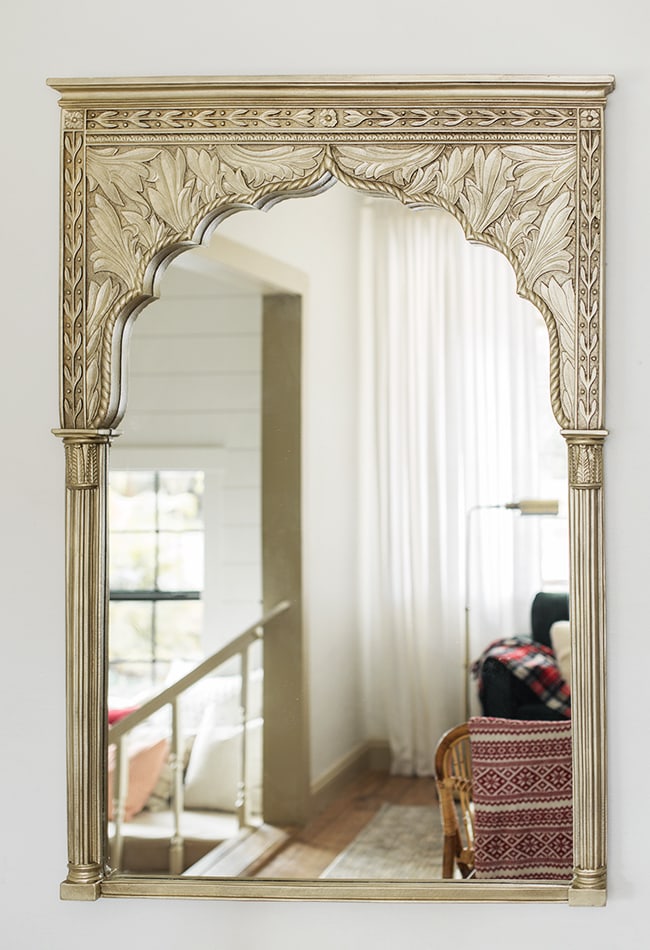 Pin
The finish also goes beautifully with my new brass floor lamp. I have a love affair with pharmacy lamps (brass ones, in particular) and this is the best deal I've been able to find on one (it's also on sale right now for $85!)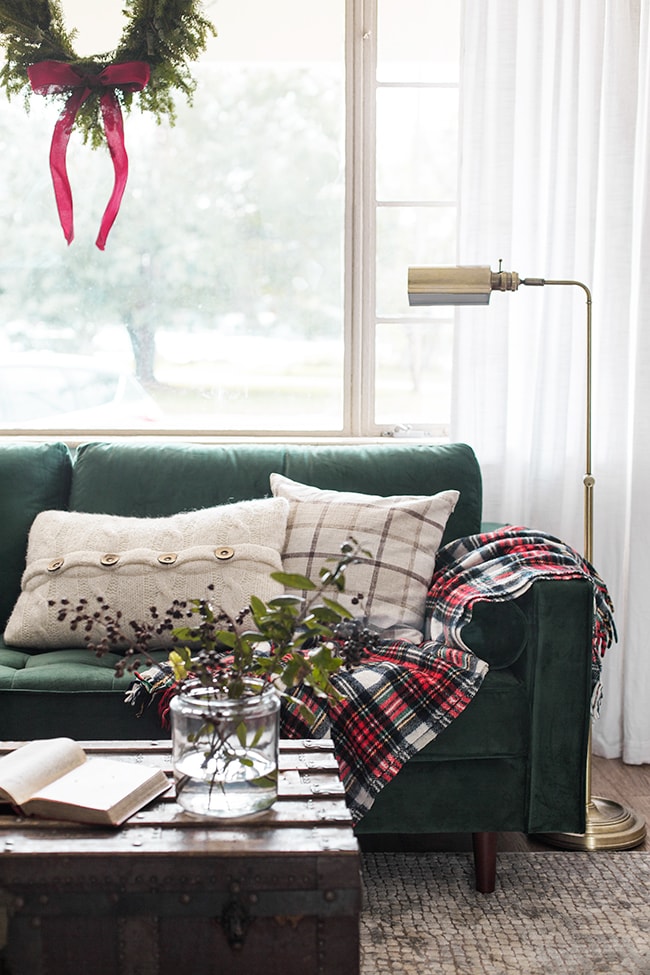 Pin
The pillows you see in the photo above are from Ikea (knit) and Amazon (striped)—I'll be doing a big pillow sources + round up post next on the blog so stay tuned! The curtains were purchased a couple months ago on Amazon.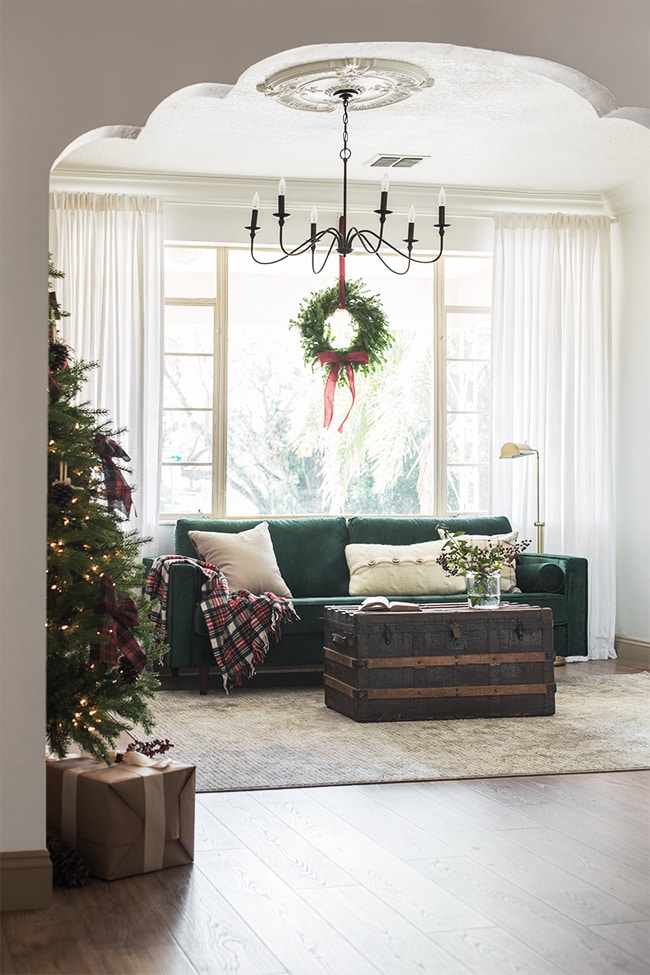 Pin
It was a tough task to find curtains that were not only 9′ tall, but a nice quality fabric and affordable. These are labeled as "cotton duck" fabric but they have a woven linen-like texture and tabs on the back for hanging which is a requirement in my book. The trickiest part is, I technically needed them to be around 8.5′ tall since I had to mount them underneath our crown molding, but of course that isn't a standard size (and I don't sew). Fortunately, I was able to shrink them in the dryer (they actually shrunk close to a foot(!) and I had to rewash them, stretch them out and let them air dry. Thankfully I was able to easily manipulate them to just the right size.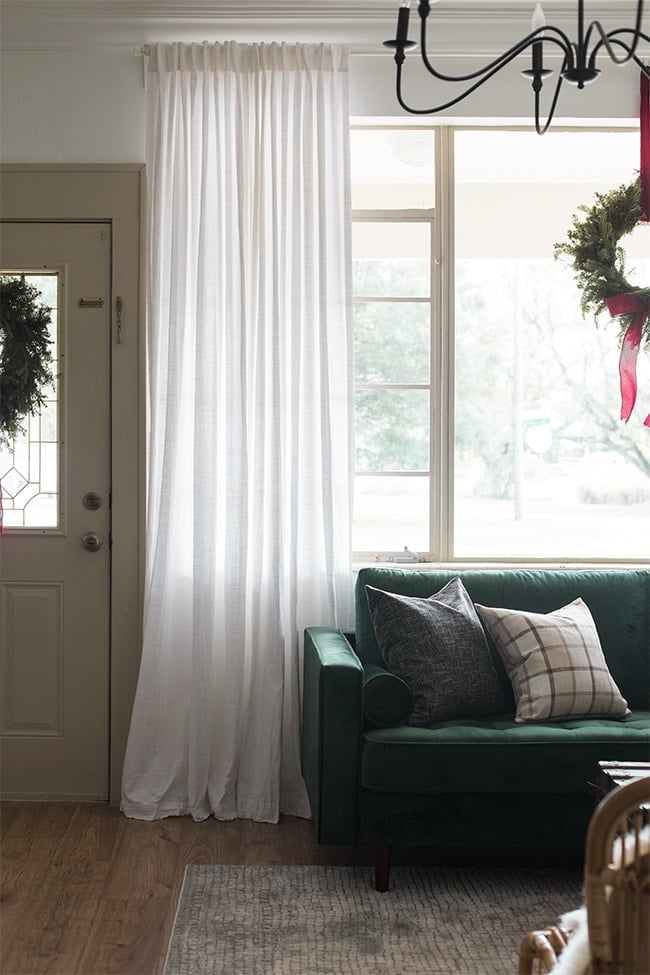 Pin
I purchased 4 panels to fill them out (I try to double the width of my window for a nice, full look). At just $40/pair though, they're still a bargain!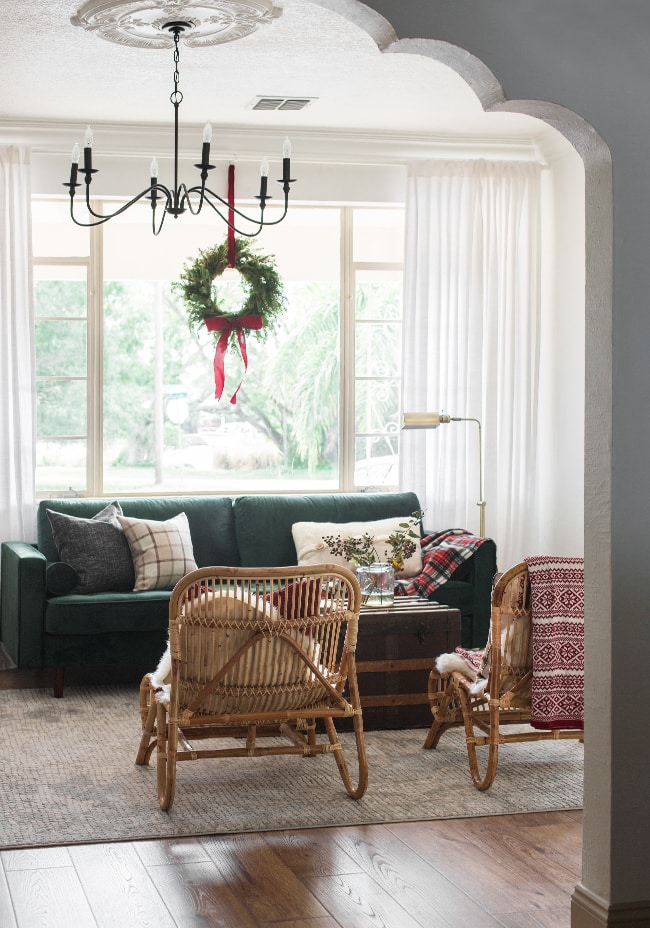 Pin
Our next DIY project will be building custom double sliding doors for the entrance (shown below) down to the bonus room. I've drawn up the plans and can't wait to share our tutorial! We're starting that this week, and I'll be sharing all the details in my Instagram stories (I told you that's where all the good stuff is!)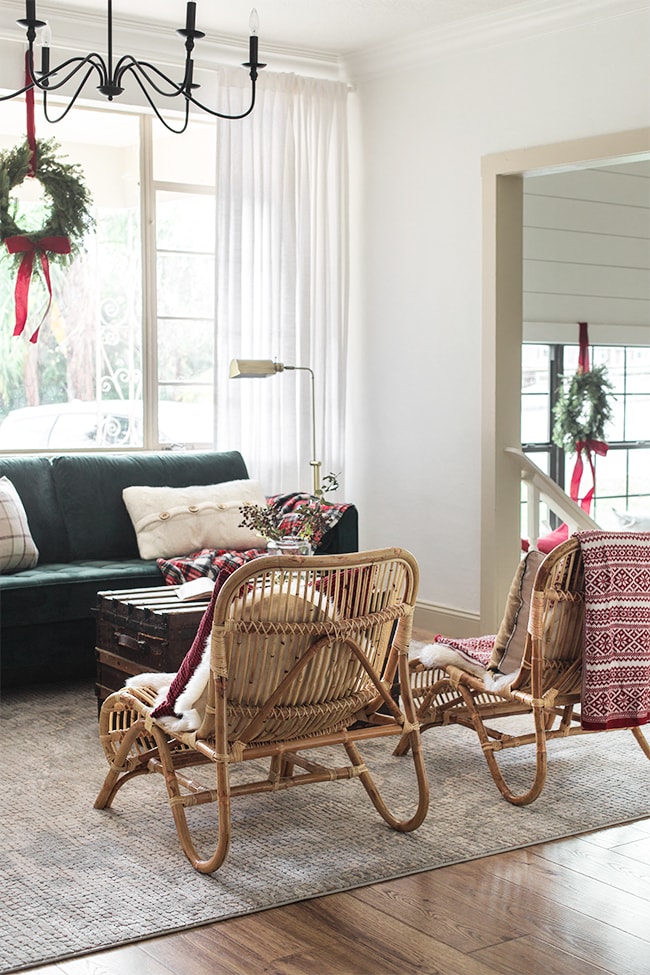 Pin
And now for the best part of every post, a few Susie outtakes…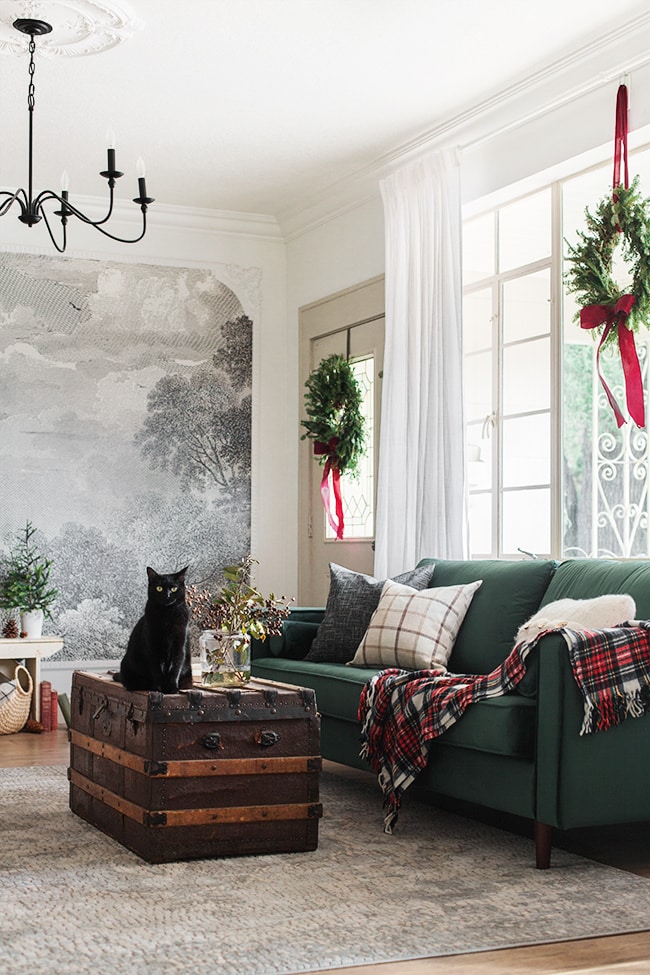 Pin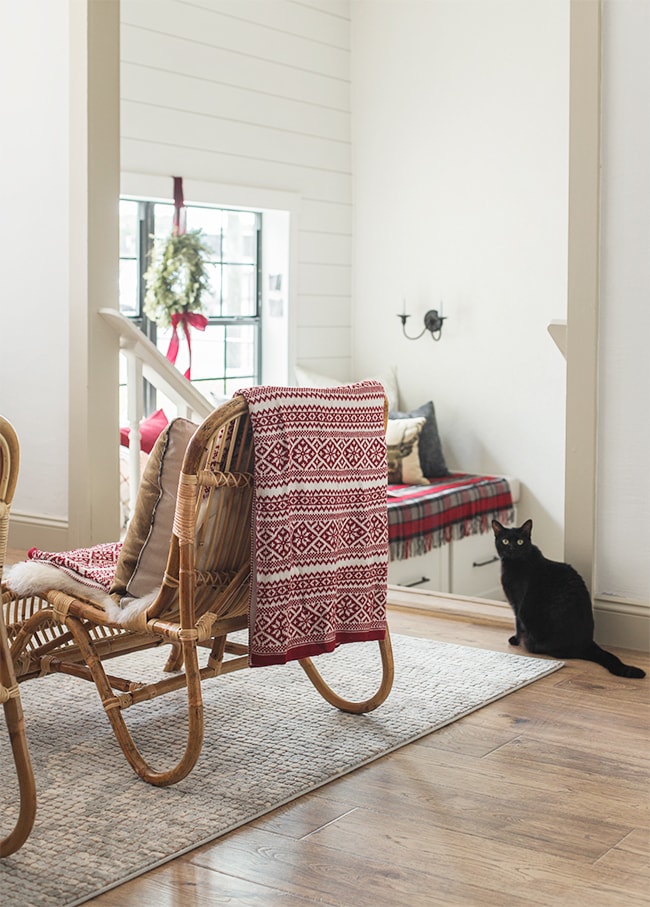 Pin
Photobomb!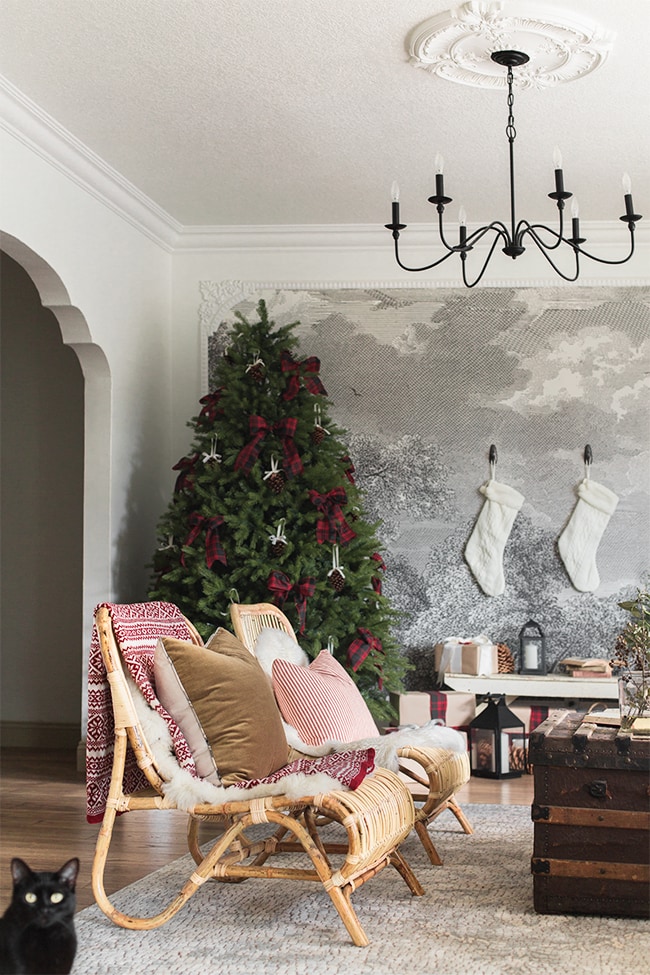 Pin
I'm loving how festive this room looks, but I'm also looking forward to "undecorating" after the holidays and getting this room back to its' original, intended design style. There's a lot going on right now but I know it's all temporary, so I'm enjoying it while it lasts!
If you missed any of the earlier living room progress posts, you can get caught up here:
Just a couple more projects and this baby will be a wrap! Stay tuned for a final shoot in January.
Next up: we're talking pillows!