Before we get into pillow talk, we are long overdue for a vlog update!
After the past few months of constant DIY/work/wedding things, we've made a conscious effort to slow down this month and enjoy the holidays. It's our first Christmas in Florida and as a married couple, and it's hard to believe this monumental year is already coming to an end. This phase of life will soon be over, and it's easy to forget that the memories we create each day are the foundation of our lives. Cheers to a 2018 filled with positive change, and to an even brighter 2019 ?
Okay, let's get onto the topic of the day!
My love affair with pillows has recently been rekindled, prompted by the completion of our reading nook and my passion for holiday decorating (and it's also partly Amazon's fault).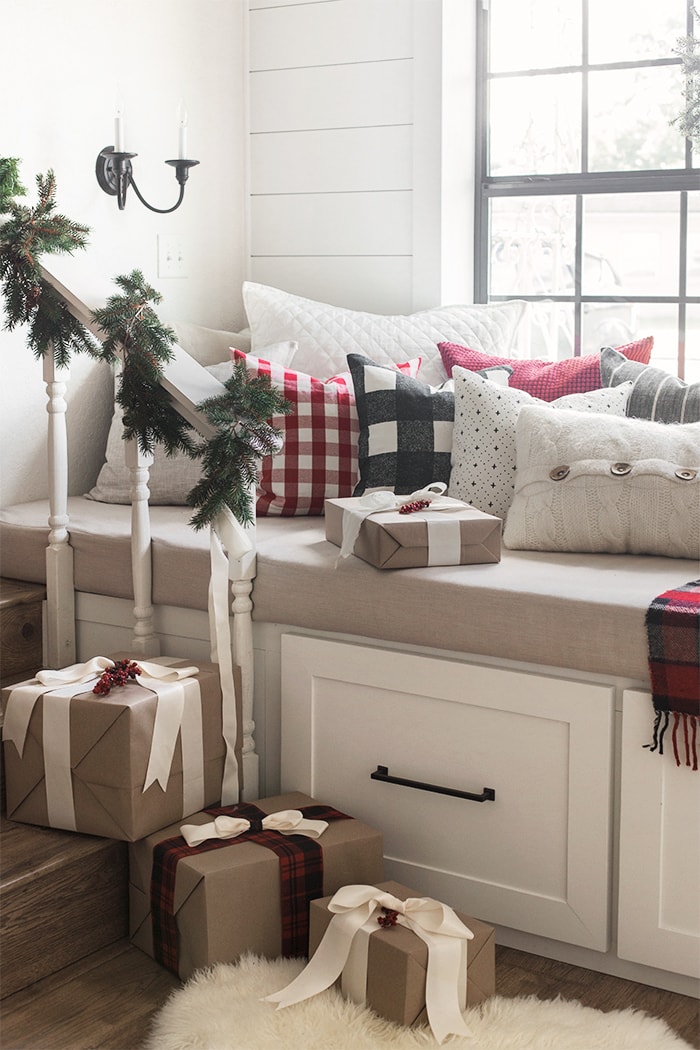 Pin
I've amassed a sizable collection of throw pillows over the years, and while most have been sitting in storage for a long time, I've recently jumped back into the pillow game and have been found some great new sources. I've also become more selective about what I buy as I want them to be versatile enough to live in different rooms, and the quality to stand the test of time.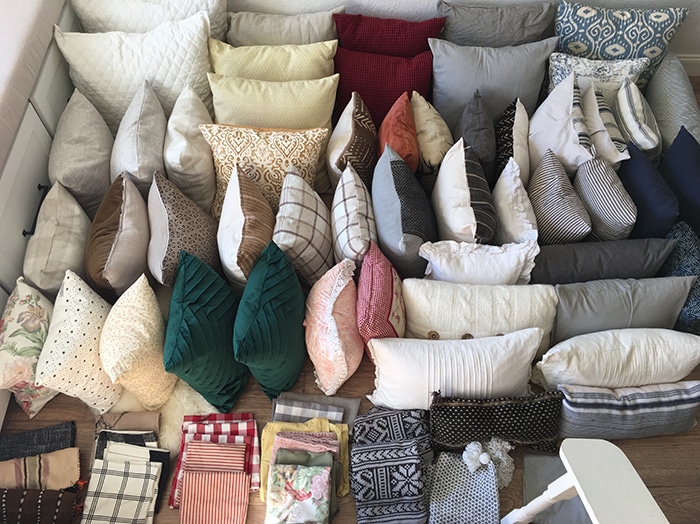 Pin
My pillow catalog now consists of everything from inexpensive staples, to quality designer fabrics, to vintage handmade pieces picked up during our travels. When you have this many pillows, you need a way to keep track of and organize them—so I decided to lay them all out in one room and take inventory of what I had, what was missing and what I no longer want/need.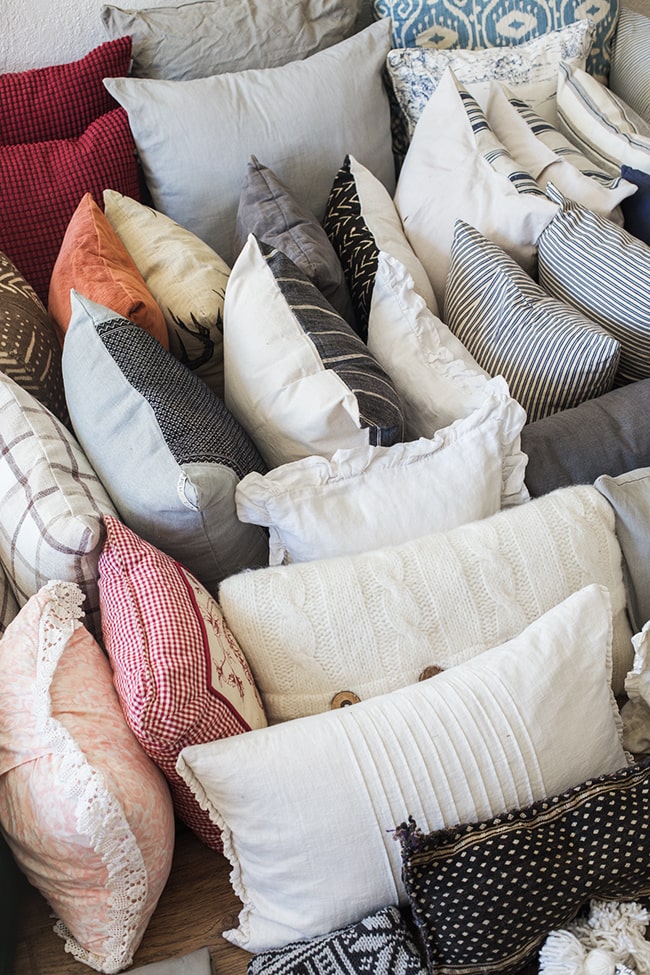 Pin
I counted 77 pillow covers and then remembered there's even more bags of these in storage. Luckily, we have a lot of rooms to fill over the next several months so most will have a place to live.
I thought it'd be fun to style our reading nook with different combinations based on color/theme and snap a few photos. I also figured I'd take this opportunity to share with you my thoughts on sizing, types of cushions, and my favorite pillow sources.
Combinations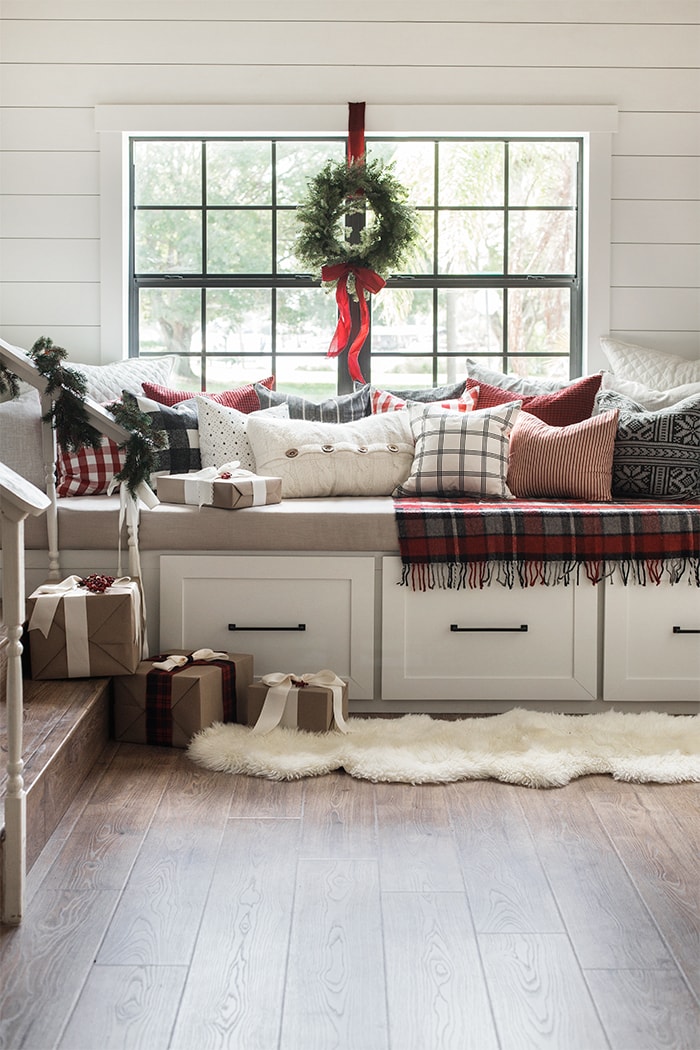 Pin
For this holiday look I went with a classic black, white and red Christmas theme with high contrast. It's important to have a neutral foundation (white walls + bench, warm wood floors and beige cushion) so you can layer on the color and pattern without looking too busy.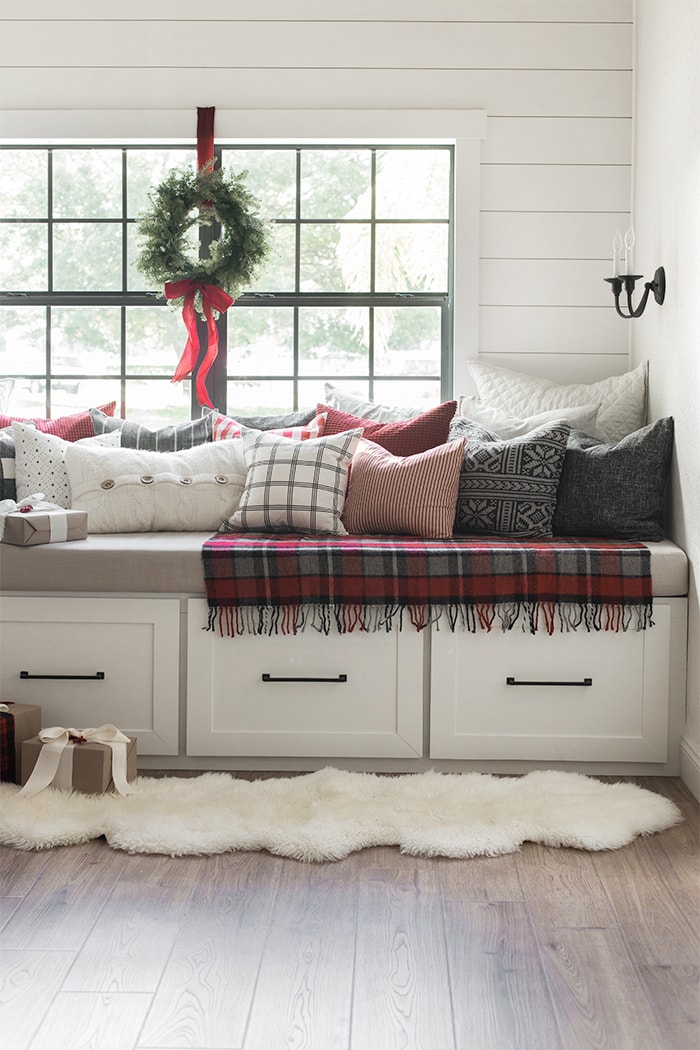 Pin
Blankets are just as important as pillows! You can even get creative and use a scarf, tablecloth or any fabric of your choice (I pulled this one out of storage).
Pillow sources left to right: cable knit lumbar: Ikea / Black + white plaid: Set of 4 from Woven Nook / Red buffalo check: Ikea (discontinued, similar here) / Red corduroy: Amazon / Red ticking stripe: custom / Black/gray patterned: Pottery barn (discontinued) / Black linen: Amazon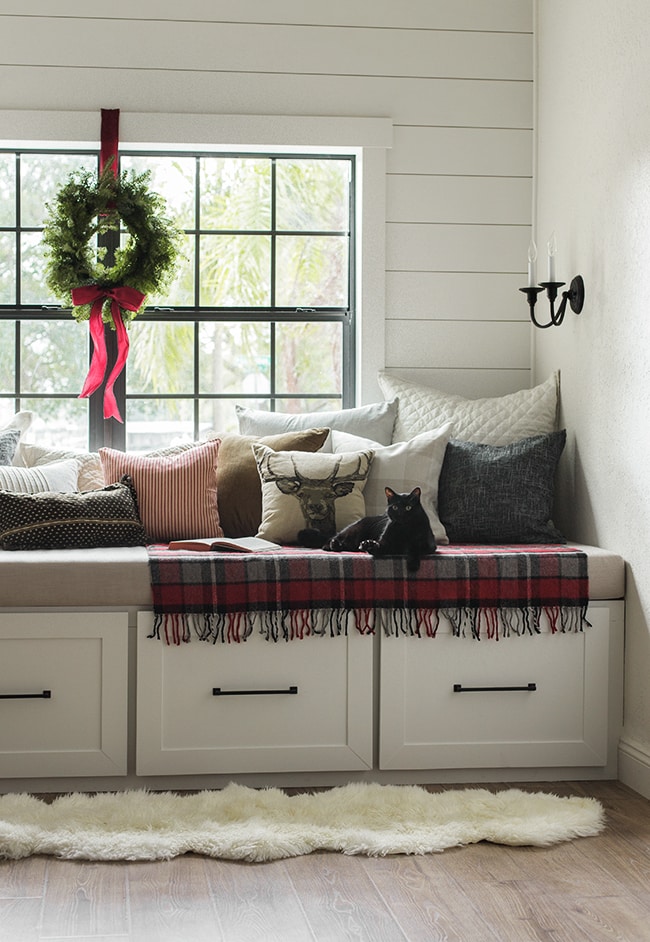 Pin
You may remember this image from my Christmas tour last week, and I love this one because it's mostly neutrals with a few pops of red. It doesn't take much of that color to make a space feel festive!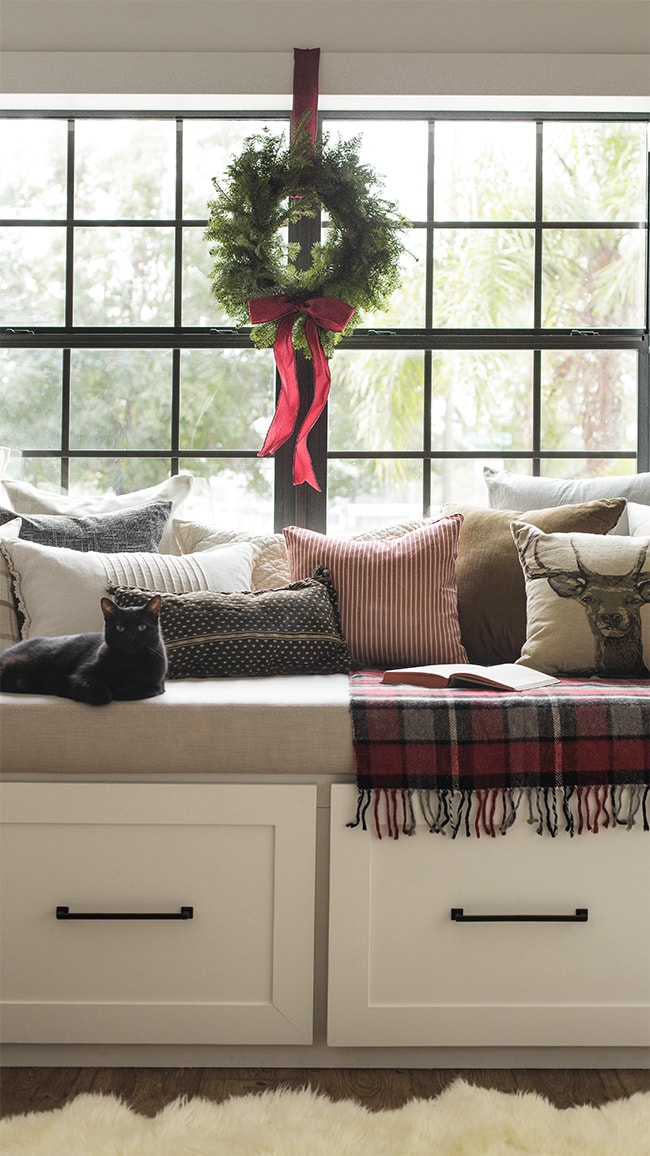 Pin
The black lumbar is a handmade piece I picked up in Morocco and the deer pillow is from Ebay years ago (discontinued). The large quilted euro shams are from Pom Pom at Home—I've been using them on our bed but they're the perfect size for this bench!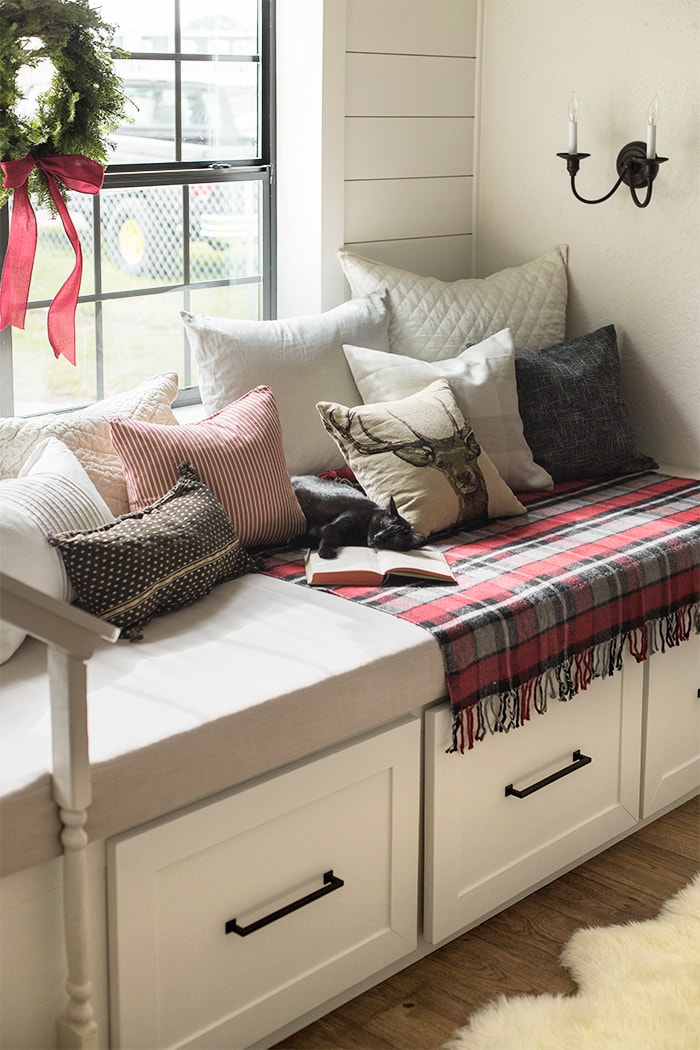 Pin
Next up is a neutral look…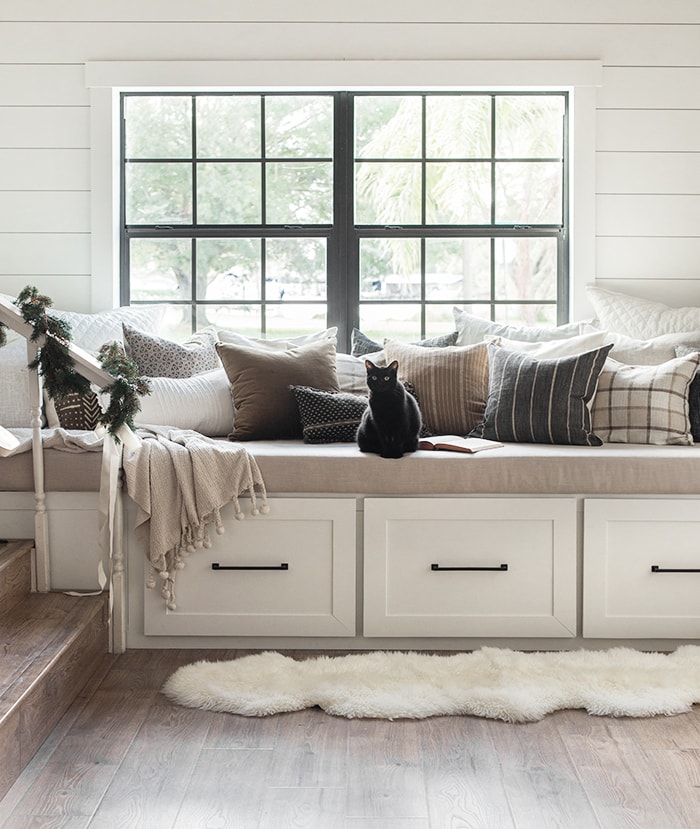 Pin
This mix of black, brown and beige and simple patterns can work all year round. You can easily swap or add a couple florals/pastels for Spring, blue for summer, jewel tones for fall and red/green for Christmas.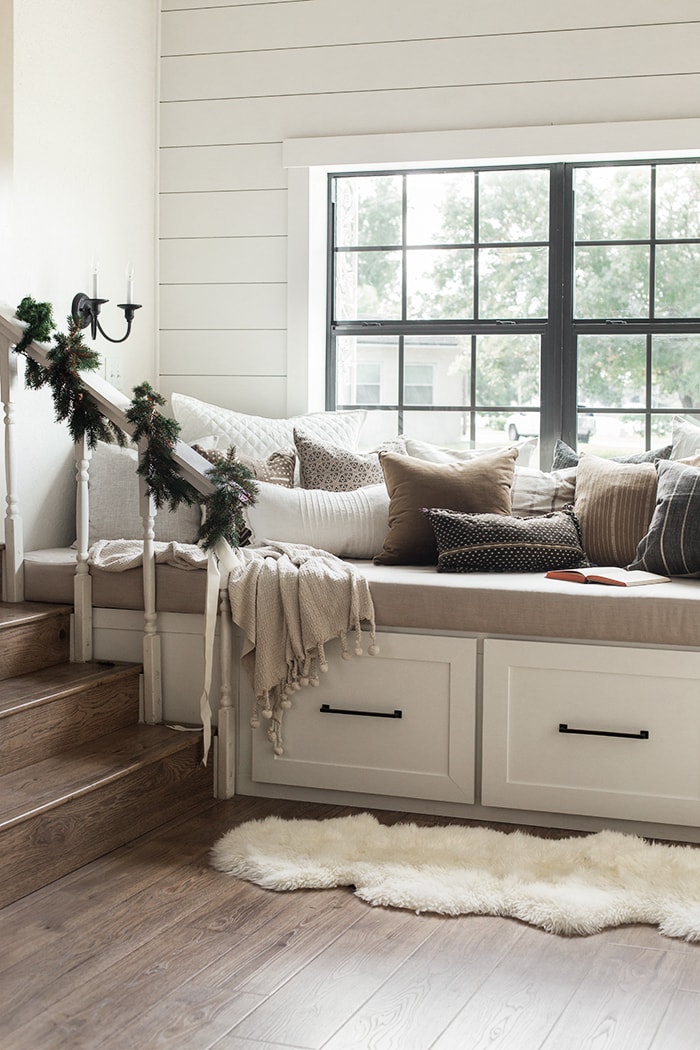 Pin
Or stick with the neutrals and just add a garland. Notice the mix of textures — when working with all neutrals, you want a nice variety so it doesn't fall flat.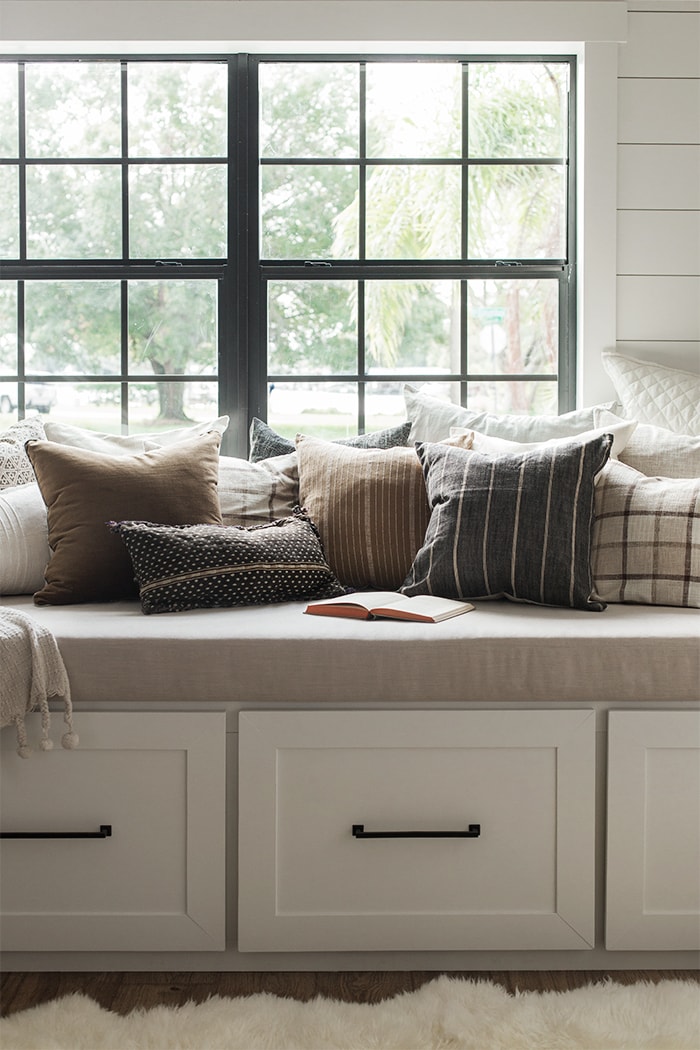 Pin
Here we have a mix of velvet, linen, wool and cotton with a range of thickness and texture. The velvet pillow on the left is the Arthur from the RR x Tonic Living collection and the brown & black striped are from The Ivory Gull. The brown plaid came from Amazon.
Another neutral look, slightly bolder: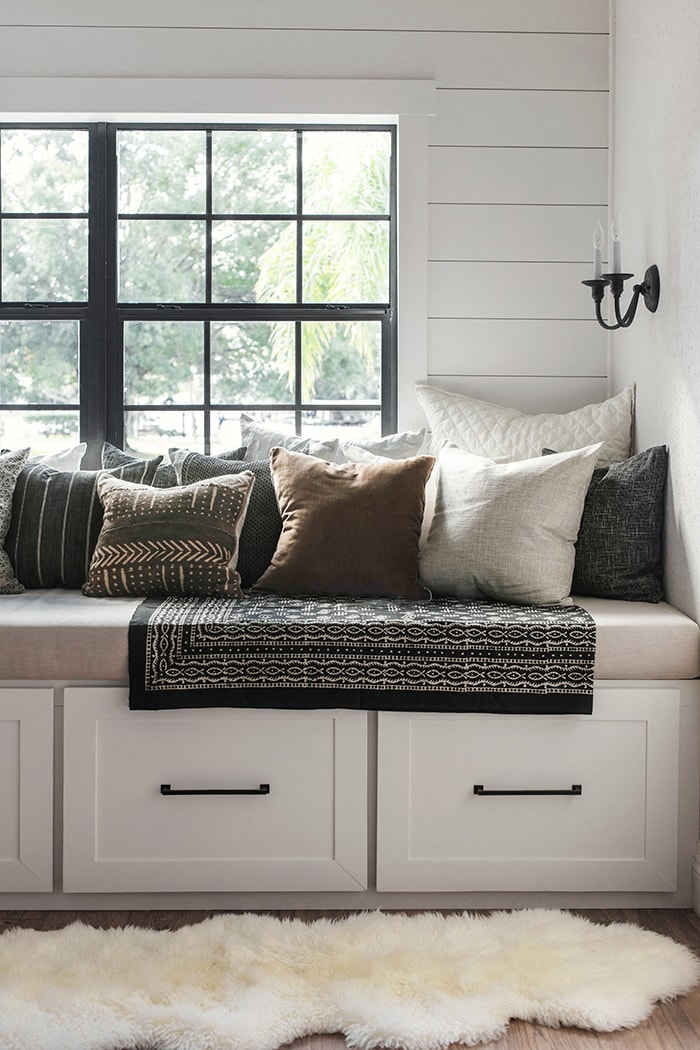 Pin
I picked up this black & white block print fabric in India last year. There's so many uses for it—a tablecloth, folded over the end of a bed, draped over couch cushions or an ottoman, or a bench seat accent!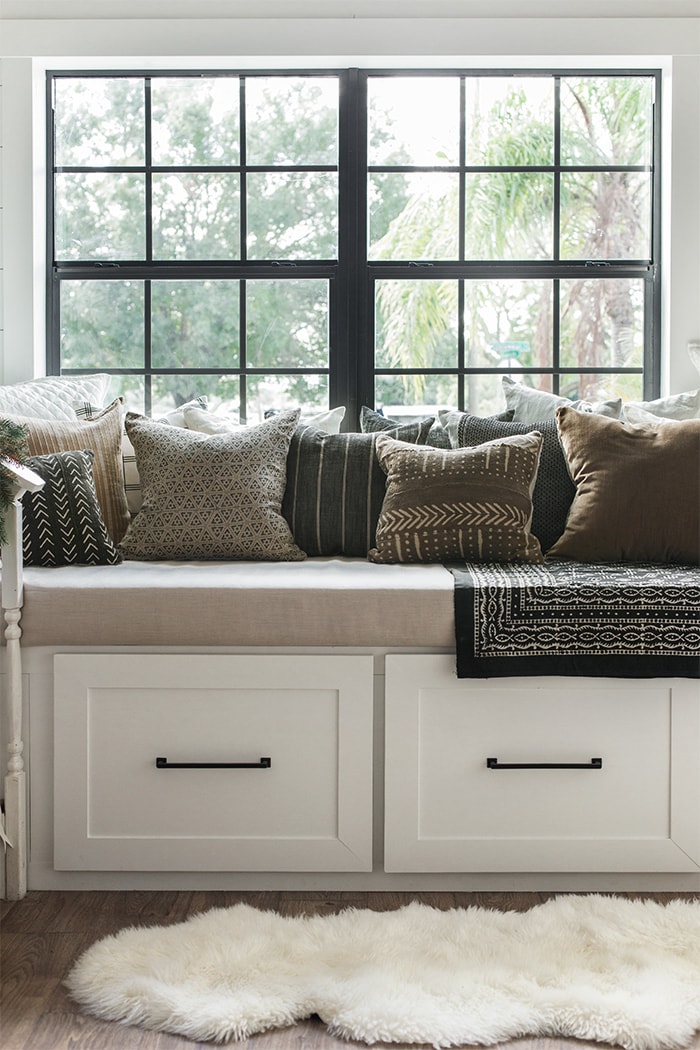 Pin
The smaller mudcloth pillows are from Pure Home LA, same goes for the tan & black patterned block print in the front left (and the black/gray peeking through in the back). This is one of my favorite shops for vintage & handmade pillows.
And now for the blues…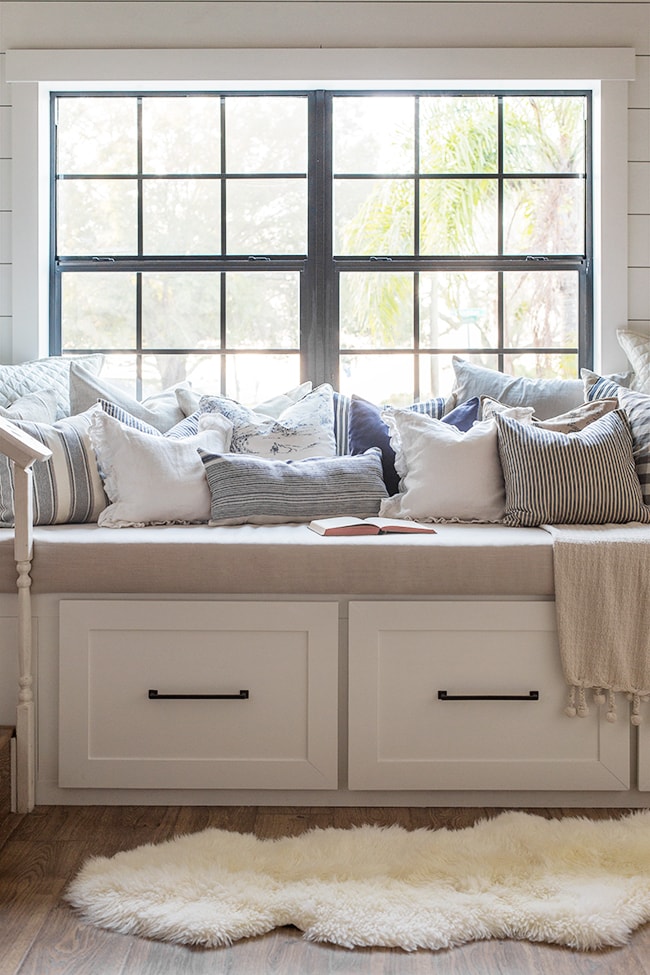 Pin
This is a great summer look as the navy & white theme hints to nautical without being too over-the-top. And of course, there's lots of warm tones to help balance out the cool colors.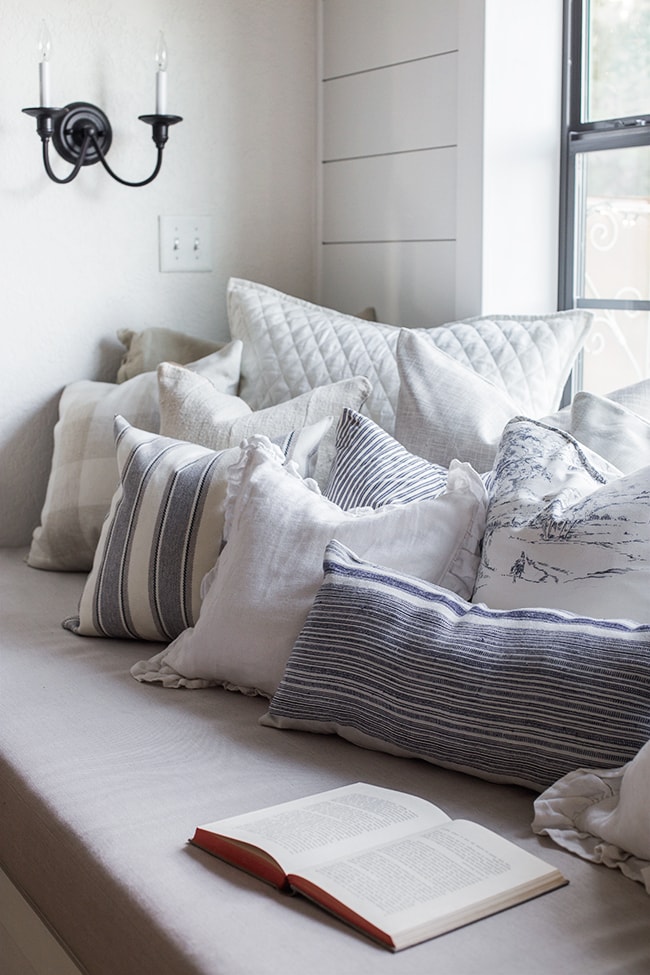 Pin
Most of these pillows I've had for a while like the white ruffle from H&M (discontinued) and the navy/white toile from Ikea. The blue gray + ivory vertical stripe on the left is a new addition from Amazon, and the navy stripe lumbar is from Julie Cowan on Etsy.
Size
Whether it's a bench seat, a sofa or a bed, you want to aim for a variety of shapes and sizes (just like texture and color, variety is the spice of life!)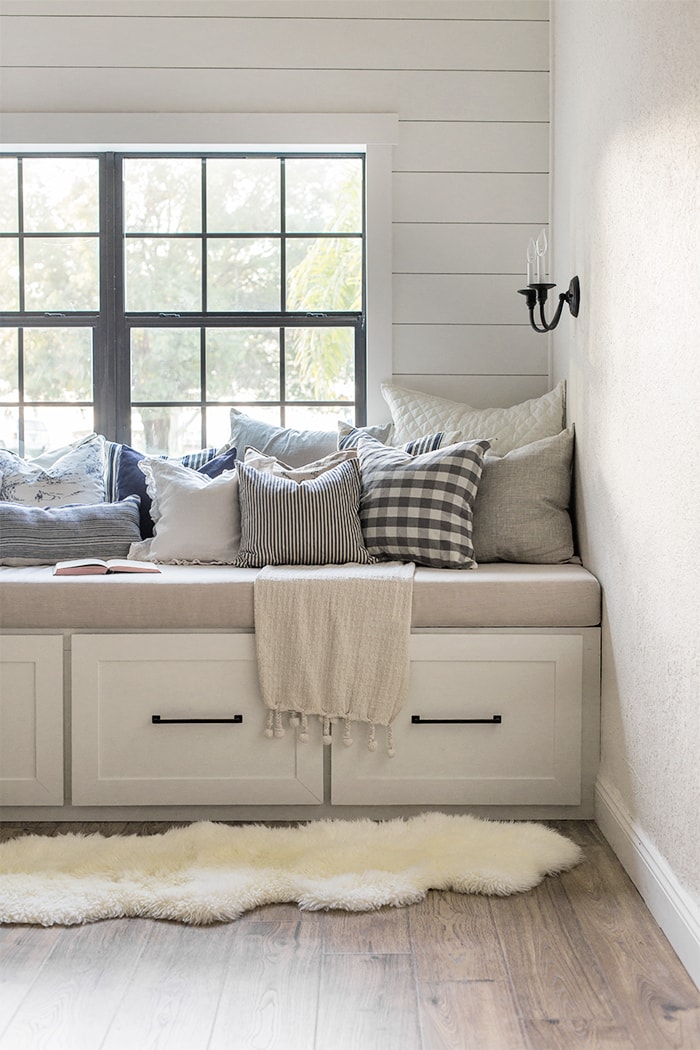 Pin
Generally, you'll want to arrange the larger pillows in the back and on the outsides, and taper the smaller pillows towards the front and center. In the example above, I started with a euro pillow (26×26") in each corner, mixed in a few 22×22's and 20×20's, and finished with my 18×18's and lumbar in the center.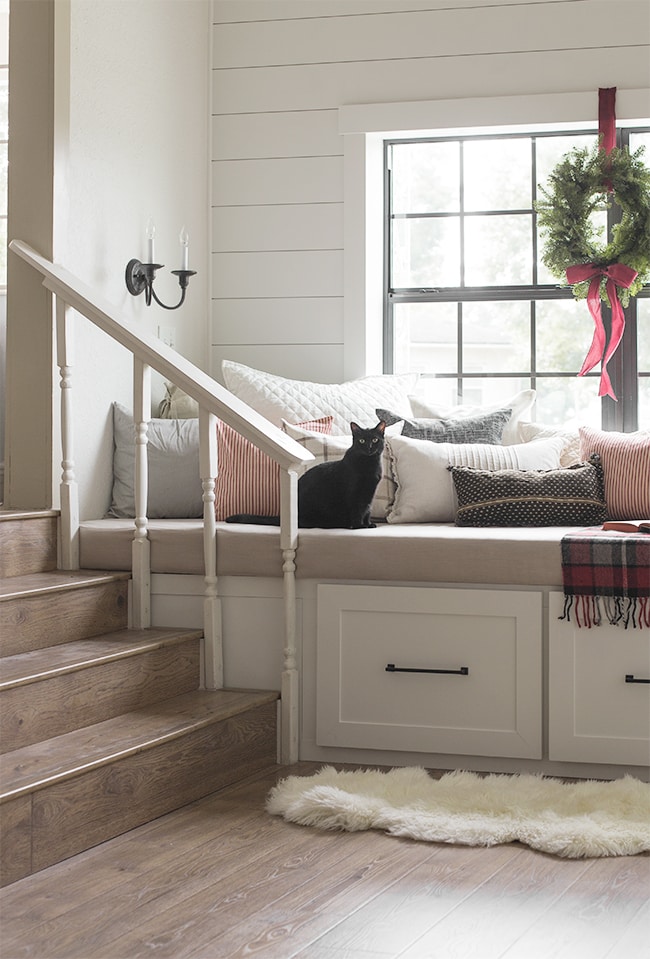 Pin
The sizes you need will vary depending on the size of your sofa/bed/seat, but in general, I prefer to use mostly 20×20's with some 22×22's and 18×18's on sofas. My bench seat is the size of a twin bed so I needed a few 24×24's and 26×26's to help fill it out. Speaking of beds, I like using euro shams against the headboard, and 2-3 22×22's or 24×24's in the front, along with a lumbar. Lumbars are great for breaking up all the repetitive square shapes, so I always try to fit them in somewhere!
When it comes to quantity, you don't need to overdo it—sometimes less is more. My general rule of thumb is between 3 and 5 on a couch or bed (apart from the standard sleeping pillows). For these pillow combination shots I added more, but I also love a more minimal look as well.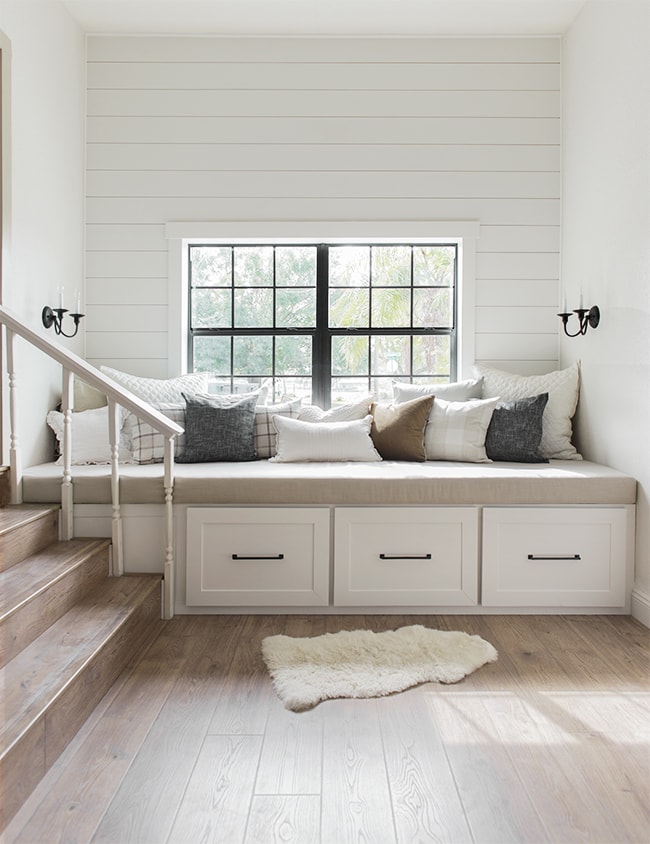 Pin
Inserts
Your pillow inserts are almost (or perhaps even just as) important as the pillow cover itself! This was confirmed to me recently when I pulled my old polyester inserts out of storage only to find sad, lumpy masses.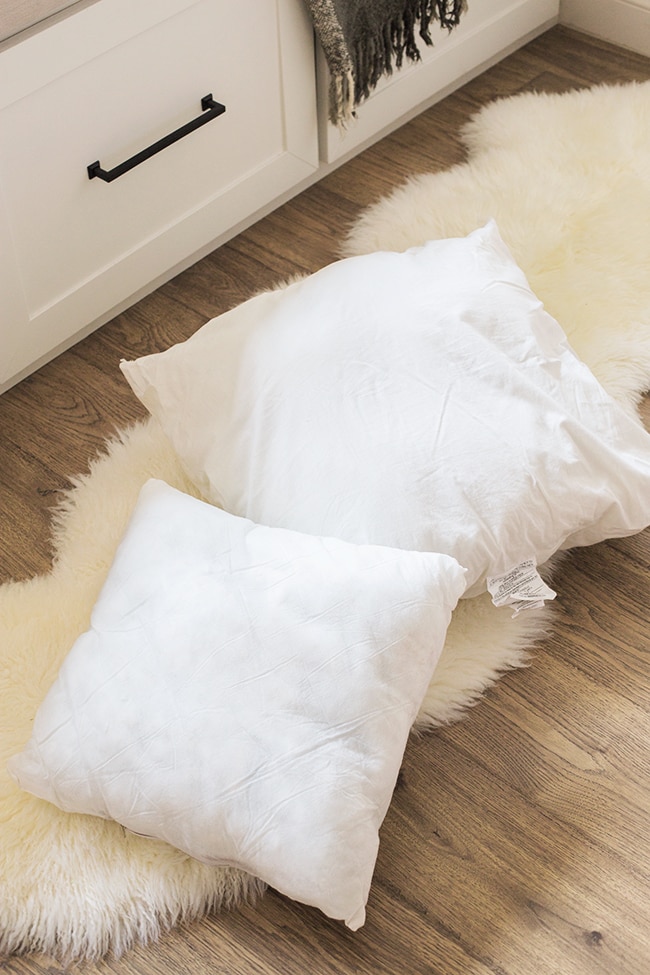 Pin
They look even worse stuffed into a pillow, and in fact, all of my polyester-filled inserts are now unusable. Below you can see the difference between a feather insert (left) and poly insert (right):
Pin
The poly is much flatter, and it doesn't hold any form so you can't manipulate it to look fuller (or karate chop if that's your thing). Poly inserts are cheap, but after having to toss and replace mine, I can't bring myself to buy them again. Down/feather only for me! The best price & quality I could find were these on Amazon. I bought them in 24×24 and 22×22 and they're perfect — I'll be using this source for future pillows.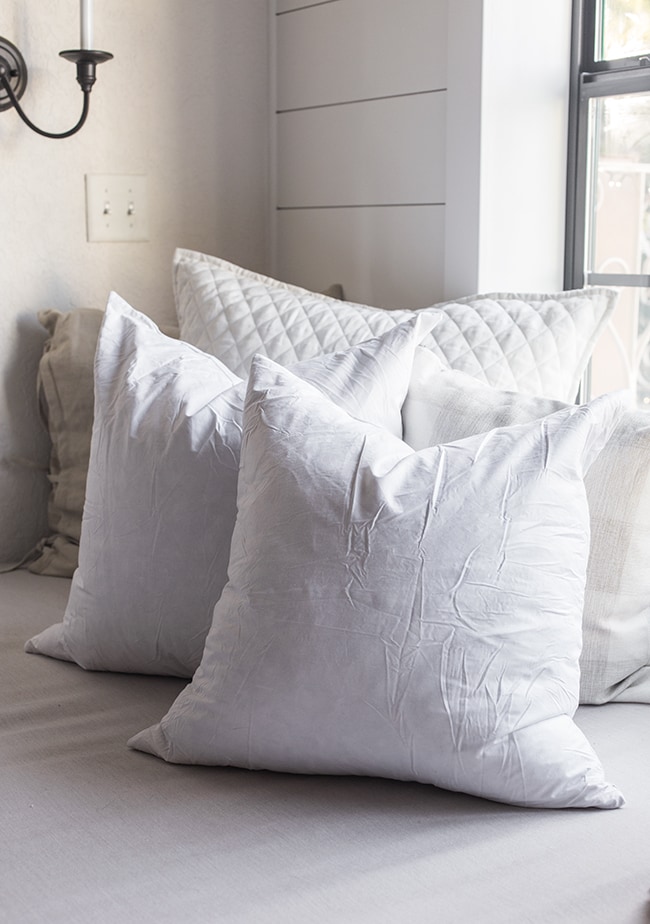 Pin
I should also mention that this pillow from Tonic Living came with a microfiber insert that has the heavier weight of a down feather and it's super soft and pliable. I actually like it even more than the feather inserts.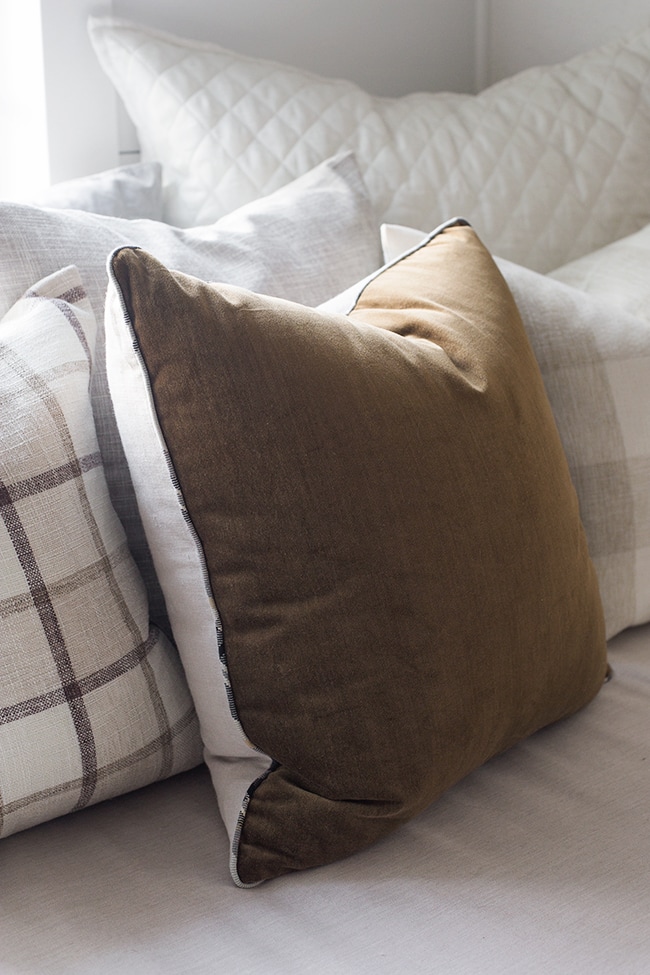 Pin
I wish you could see and feel the quality through your screen, but this velvet is so rich and the color is perfect—the depth ranges from a golden orange to an olive green in certain lighting. This will be a pillow I move around from room to room!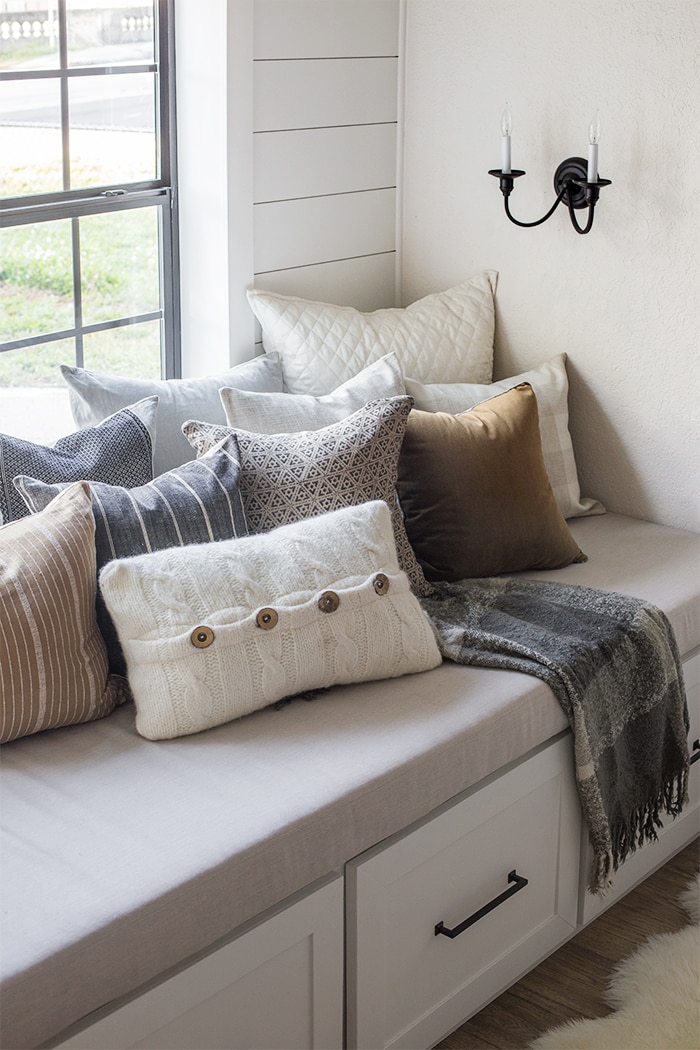 Pin
One more thing to note on inserts — I recommend going up a size larger than your pillow (i.e. ordering a 22×22" insert for a 20×20"). This can depend on the quality of your insert and how full you like your pillows to be, but I've never gone wrong going up a size. Case in point, take a look at the black and gold striped pillows. The black one has a 22×22 insert while the gold has a 20×20"—both 20×20" covers.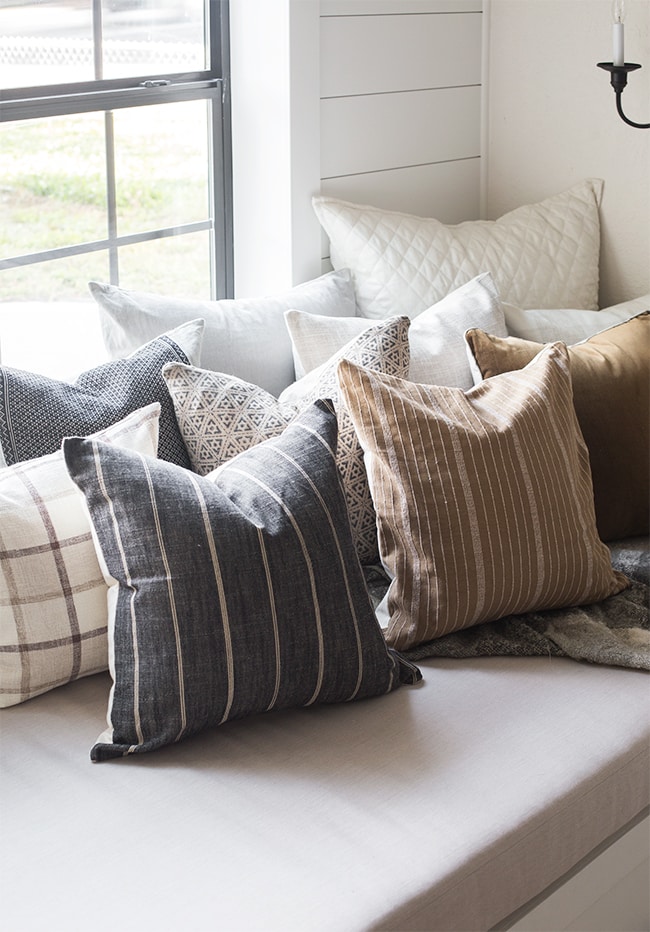 Pin
See the difference?
Sources
We are spoiled for choice these days, and I've traveled far and wide (online and on foot) hunting for pillows. In my early blogging days, most of them came from Ikea—you really can't beat their prices and they do have some great staples.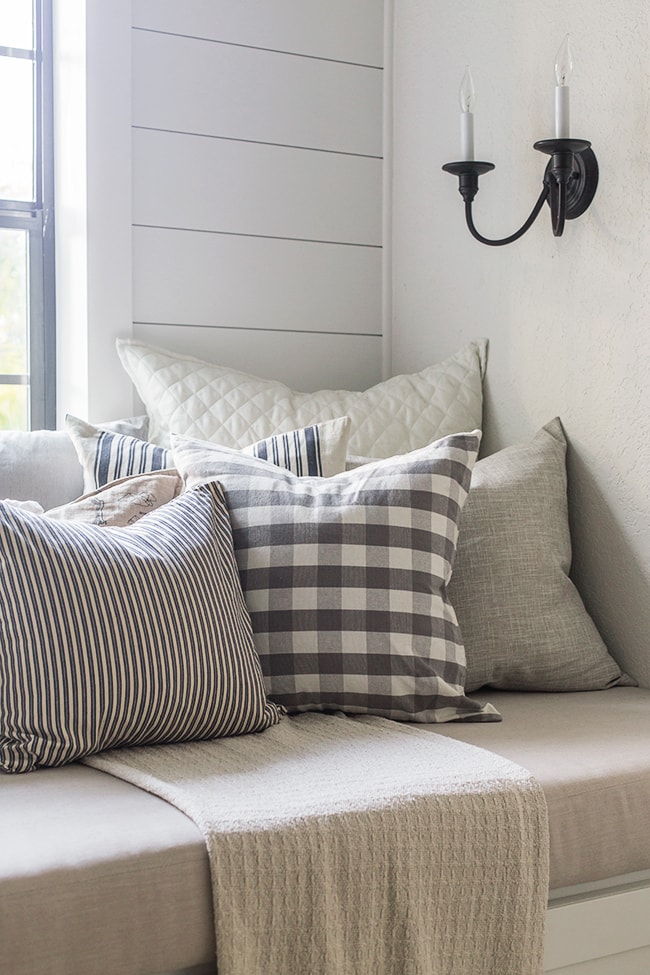 Pin
At this stage in life, my horizons have been expanded and I like to include a mix of higher end, handmade and unique pieces. I've been introduced to so many makers and curators in the home decor space and that has also influenced my style.
Being a small business owner myself, I love discovering other shops in the community and sharing them with you. Some of these (shown in this post) include Pure Home LA, Tonic Living, The Ivory Gull, Woven Nook and Julie Cowan—all of which are part of my own collection and come highly recommended.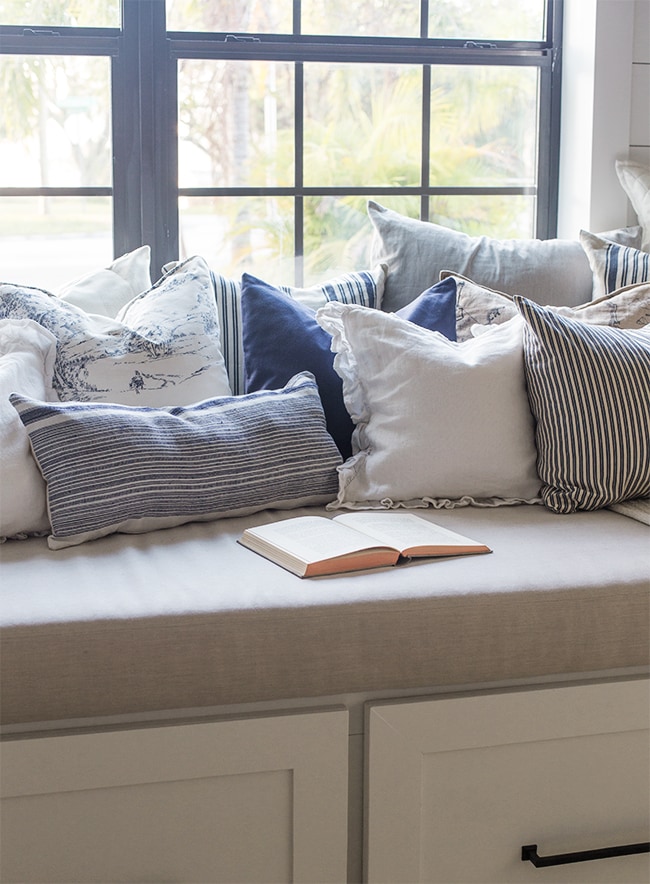 Pin
My favorite source for bargain pillows lately has been Amazon. I've spent a considerable amount of time over the past couple months digging through pages of search results and customer reviews. While they don't have much in the way of high quality/handmade items, you simply can't beat them for basic staples.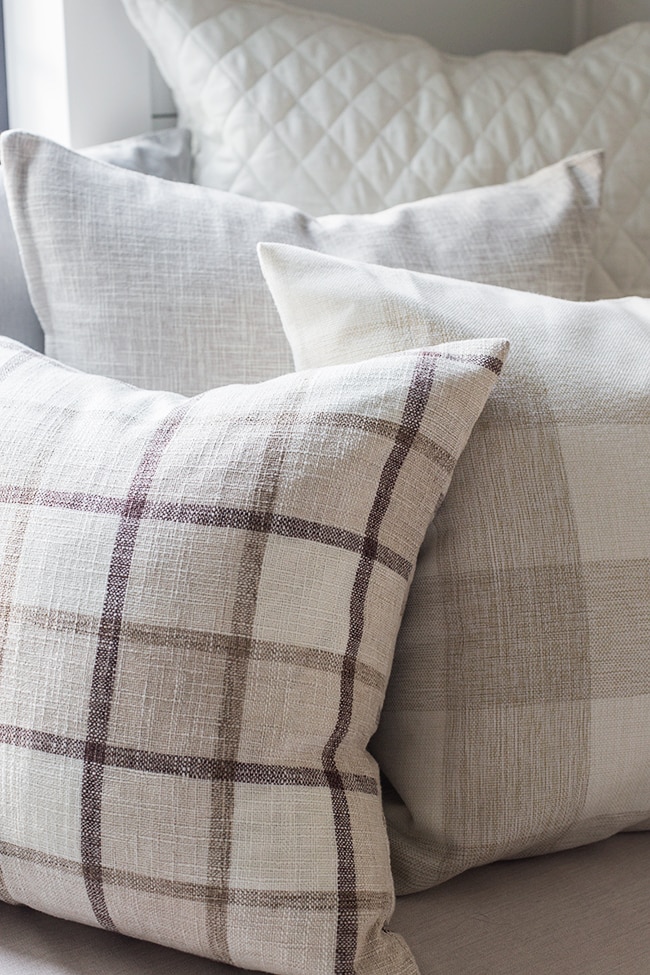 Pin
The faux linen material is nice and thick, has a great texture and looks/feels like quality (even though it's machine-made). I have them in black, creamy-white, plaid and buffalo check — all from different sellers but very similar fabric and crazy low prices.
Unfortunately I don't have the space or budget to buy them all, but I've added a bunch to my wish list (and Christmas list) if you want to see what else I've found.
And of course, there's always the go-to home decor sites like Wayfair and Overstock that offer a ton of options in the affordable range, TJMaxx and Home Goods for in-store shopping, and Etsy for the handmade, rare/vintage and custom items. If you have any other favorite sources, please let me know! I'm always in search of more 🙂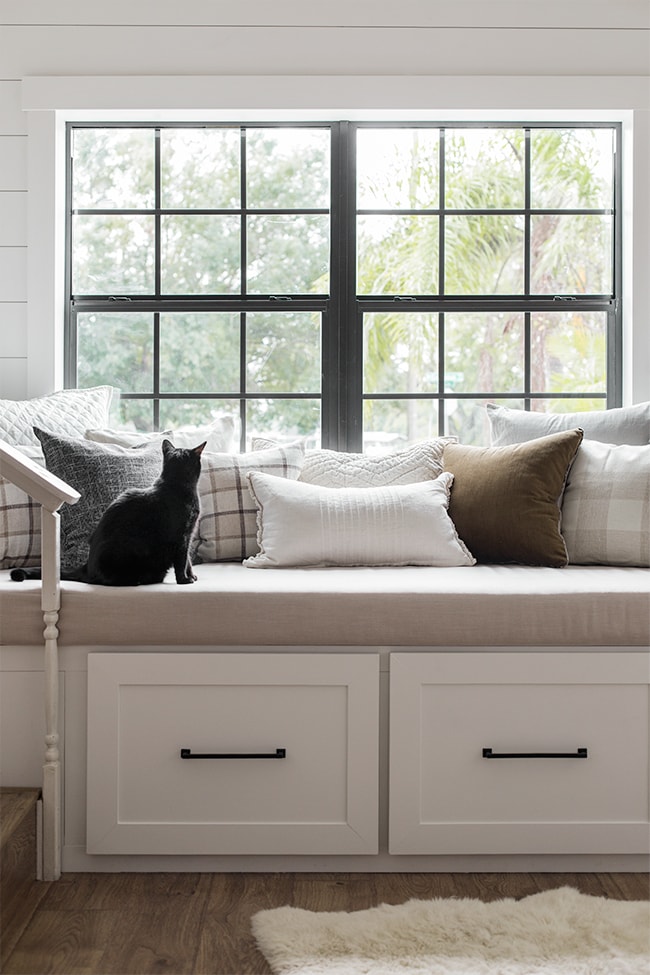 Pin
Tell me, what's your favorite look? Are you a believer of less is more, or do you like lots of interesting and colorful patterns? I always go back and forth and switch things up when the mood strikes. Gotta keep things fresh!
I'll be back to the blog soon with our next project, and in the meantime you can find me on Instagram & Facebook (or see what I've been inspired by lately on Pinterest!)
Have a very Merry Christmas, and may Santa bring you bags of throw pillows…