Welcome to Part 2 of our Holiday Home Tour! Last week I shared our living room all decorated for Christmas, which is the heart of our home and where we currently spend most of our time.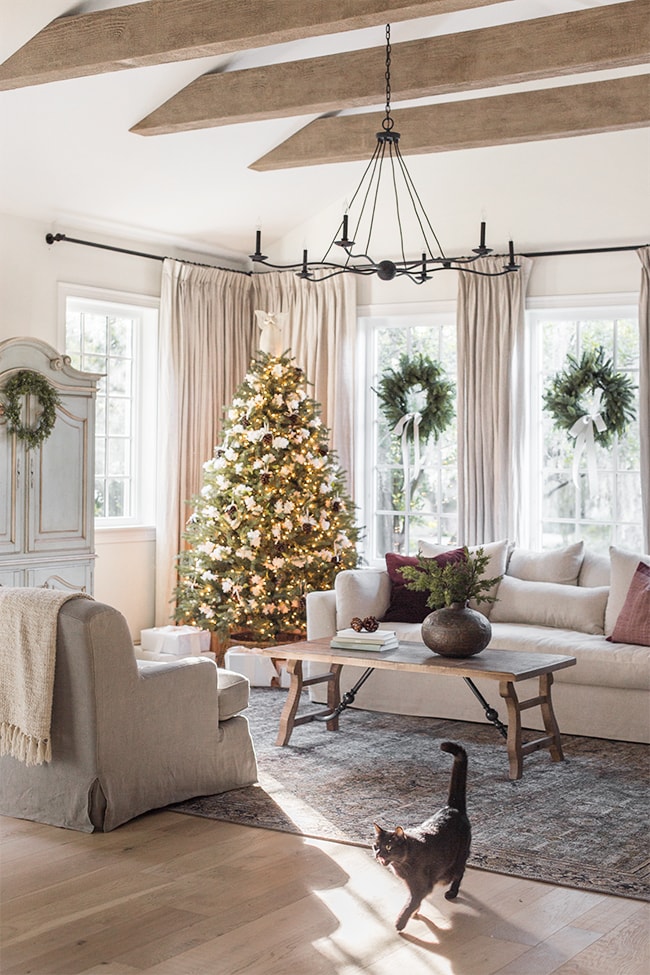 Pin
If you're joining from the blogger holiday home tour and new here, it's nice to meet you! My husband and I designed and built this home over the past year, moved in in June and had our first child in August. Needless to say we've had our hands full over the past few months, but we've been trying to settle in and make this house feel like a home in time for baby's first Christmas.
Pin
We're also hosting both of our families this year, so I've been slowly decking the halls to make our home feel extra special. Holiday decorating is my absolute favorite, and while the house is far from finished, we've done our best to make it feel cozy and inviting.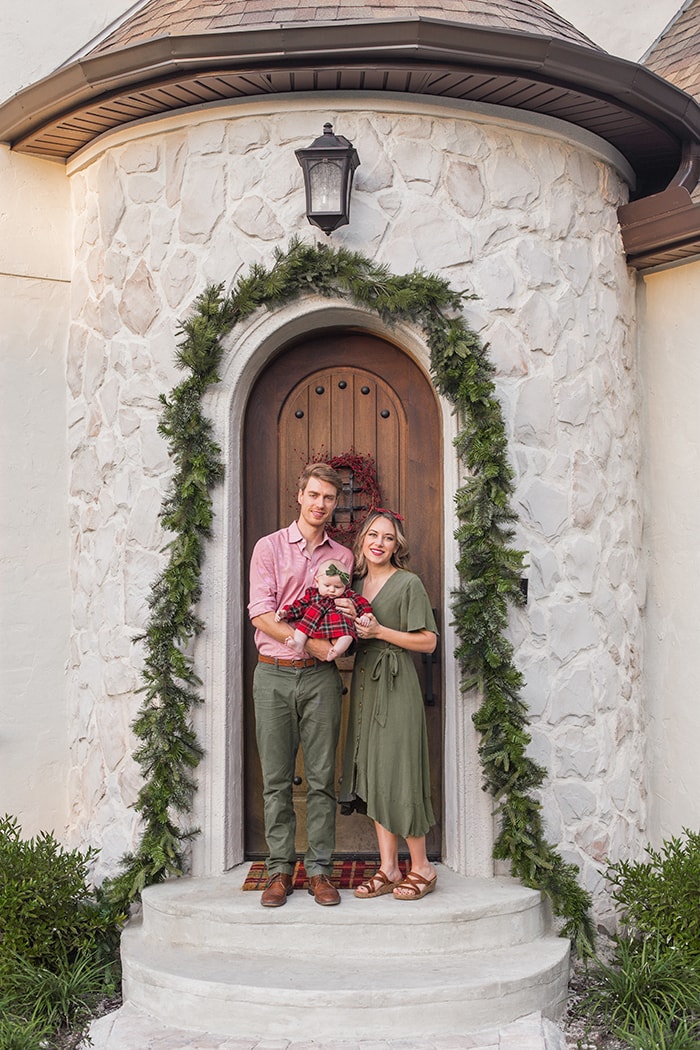 Pin
Real pine garland doesn't do so well in the Florida heat, so I found these affordable 9′ garlands and draped two around our front door.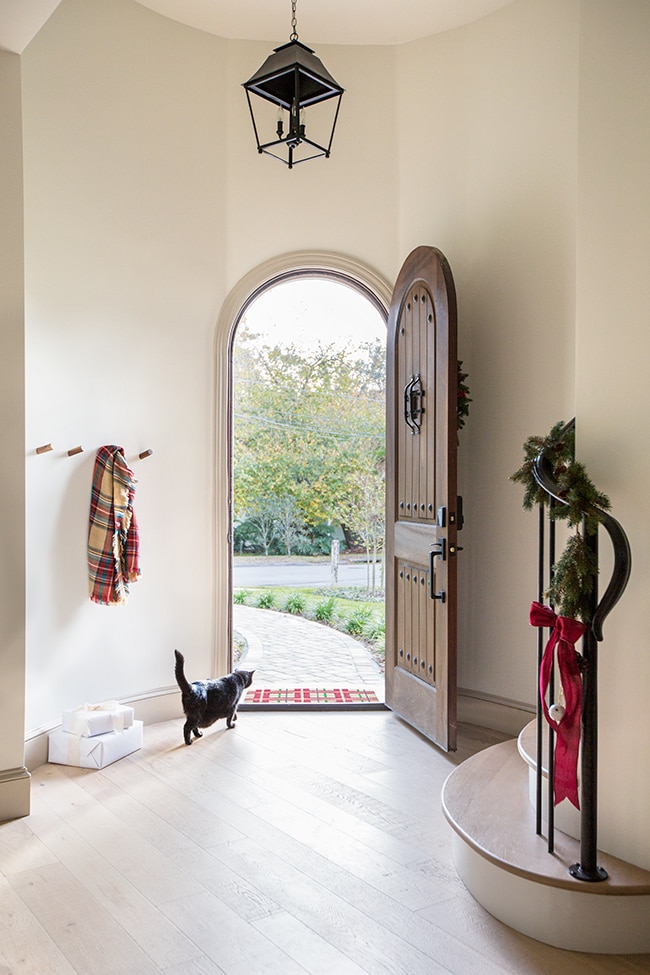 Pin
Inside the foyer, I wrapped another faux garland over the stair railing and adorned it with a red velvet bow and bells. The lantern pendant is a Wayfair find (on sale!).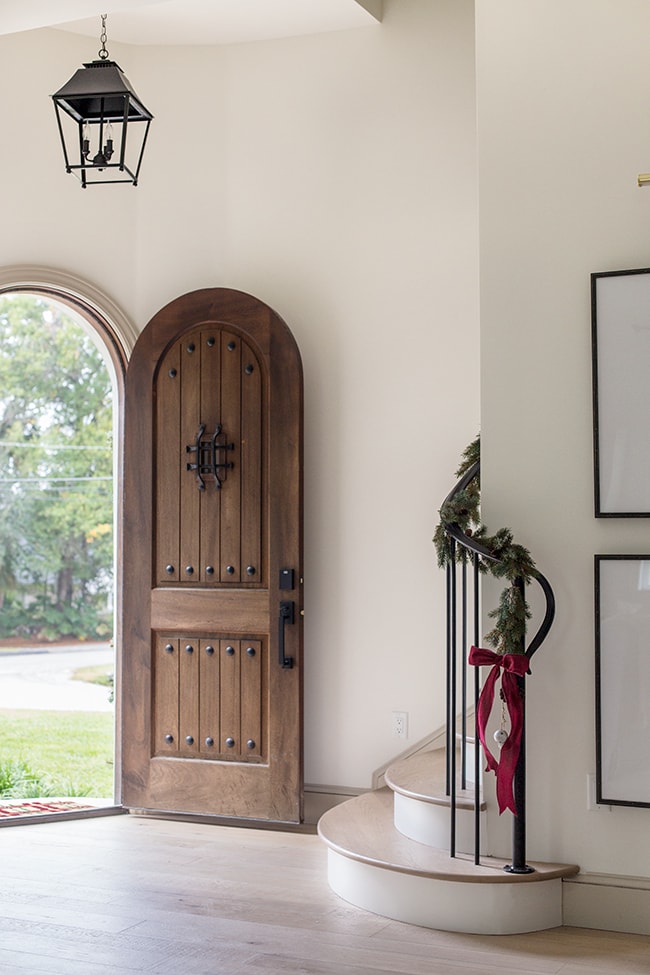 Pin
We also installed these simple wood coat hooks that match the stain of our front door and fit the style of the home perfectly. These are such a great deal and easy to install: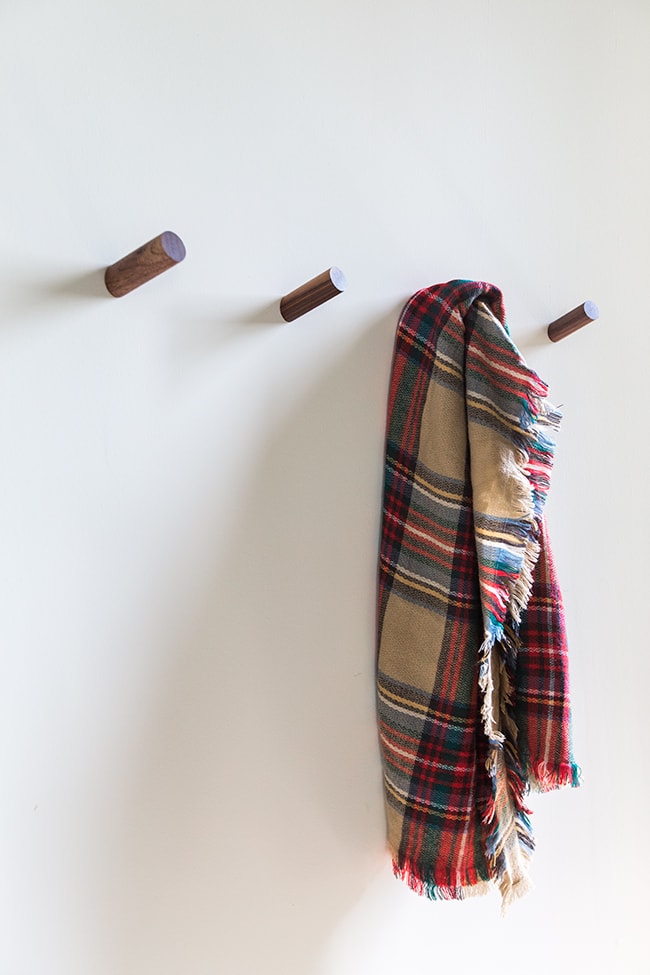 Pin
The entryway opens up to our living room and dining area.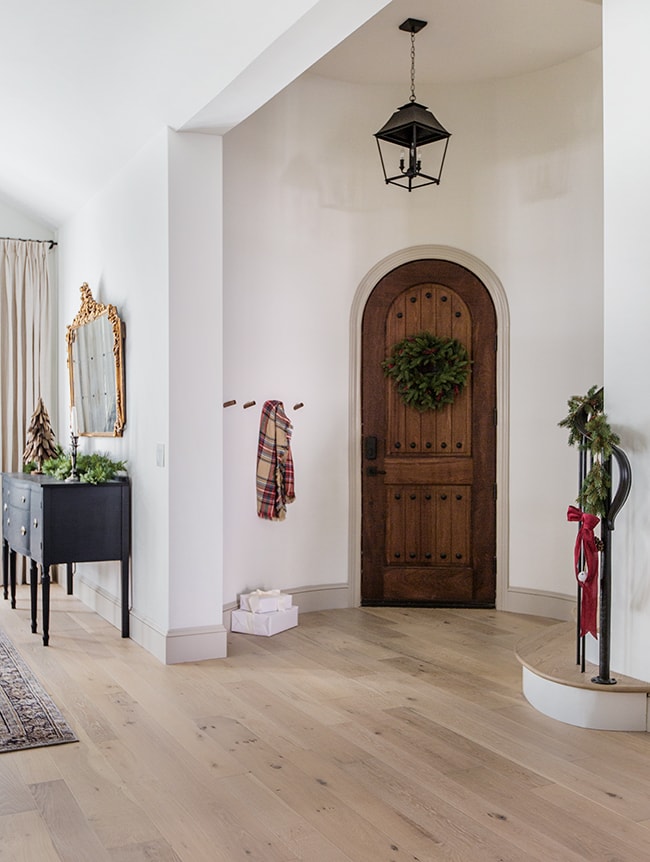 Pin
We've been using three different sets of mismatched dining chairs since moving in, and last week I finally replaced them all with a matching set of parsons chairs. I spent months searching for the right ones, and I'm glad I took my time because these are so perfect!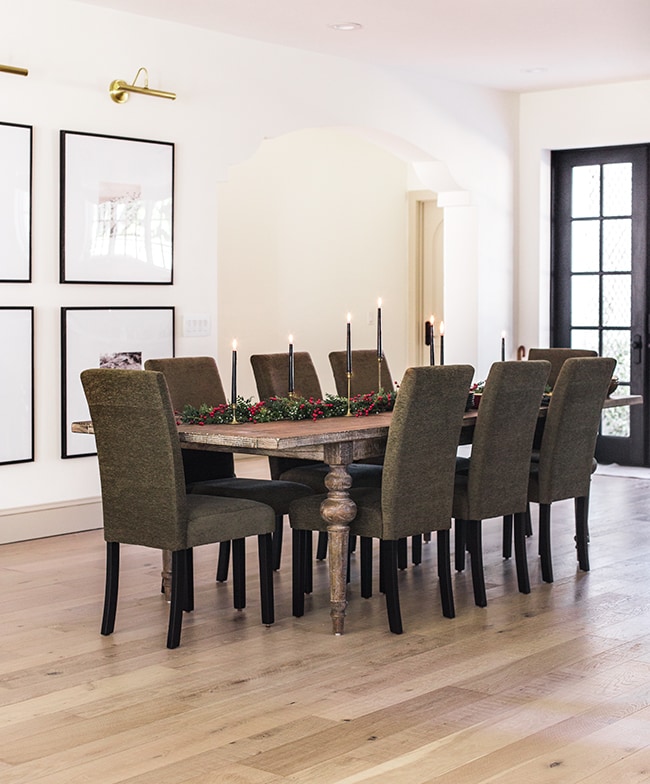 Pin
They're available in several colors and I ordered the moss green, which is a beautiful deep earthy tone. Everything else in the house is neutral, so I wanted to pull in a new color (dark green is my favorite lately). The fabric is soft and textured (it feels almost like a woven velvet) so it's durable and kid-friendly. The biggest selling point for me was the price point though—only $55/chair shipped! Can't recommend these enough if you're shopping on a budget.
Pin
The large dining table was a wedding gift from Lucas' parents and is one of our favorite and most used pieces in the house. We keep it fully extended to 9′ and it has already hosted more dinner parties and game nights than we can count. Psst—it's on sale right now and $200 off, such a good investment!)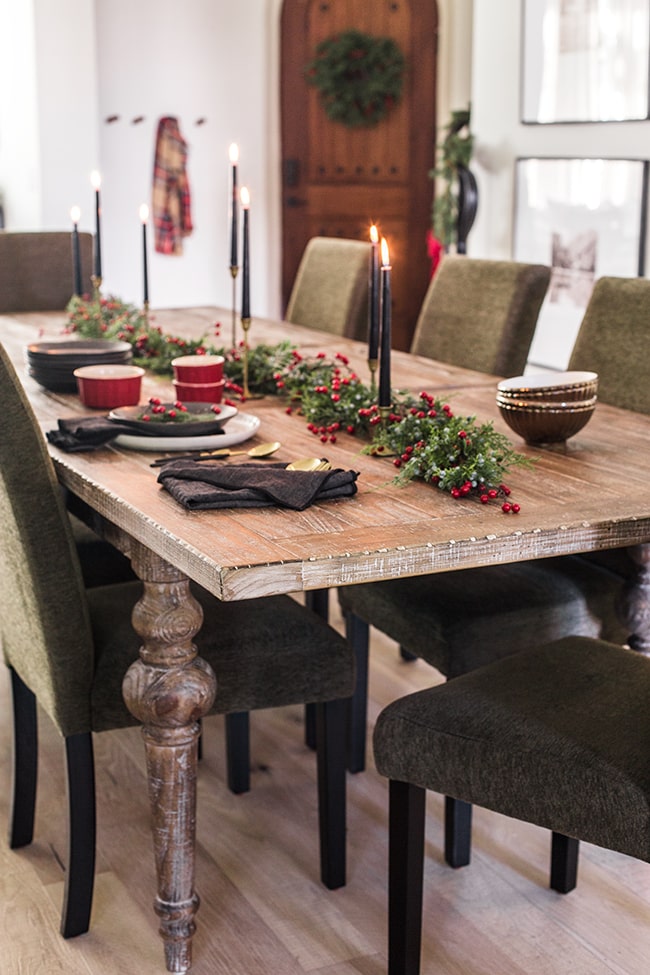 Pin
We're hosting Christmas dinner at this table so I've started unpacking my festive dishes and decor. I grabbed a couple of these juniper garlands and added faux berries for the centerpiece, and brought out my vintage brass candlestick holders & black tapered candles for a moodier look.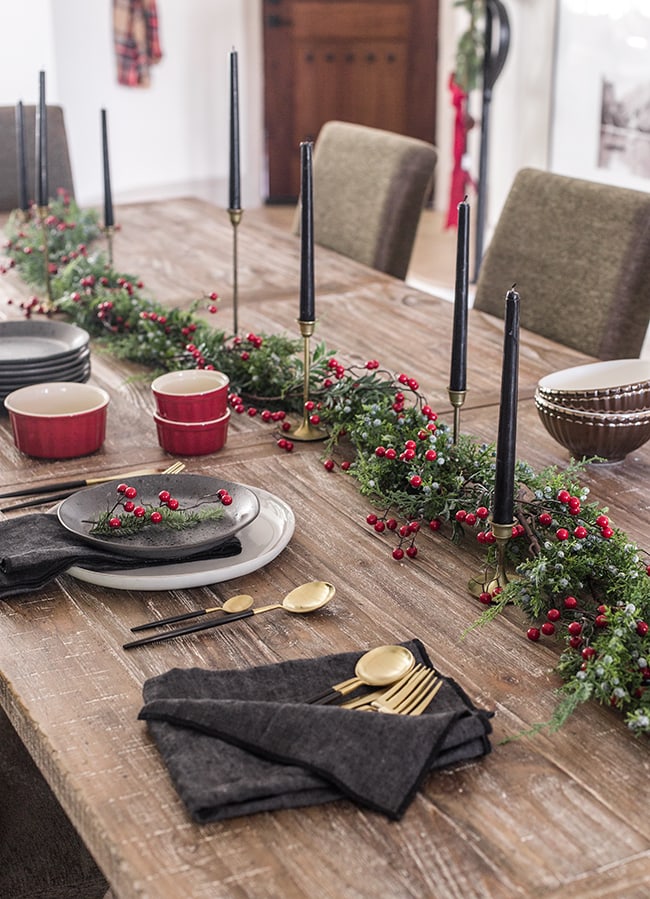 Pin
The black linen napkins are a Target clearance find, and the black and gold flatware was a Christmas gift last year (found here on Amazon). They feel so fancy and I love entertaining with them!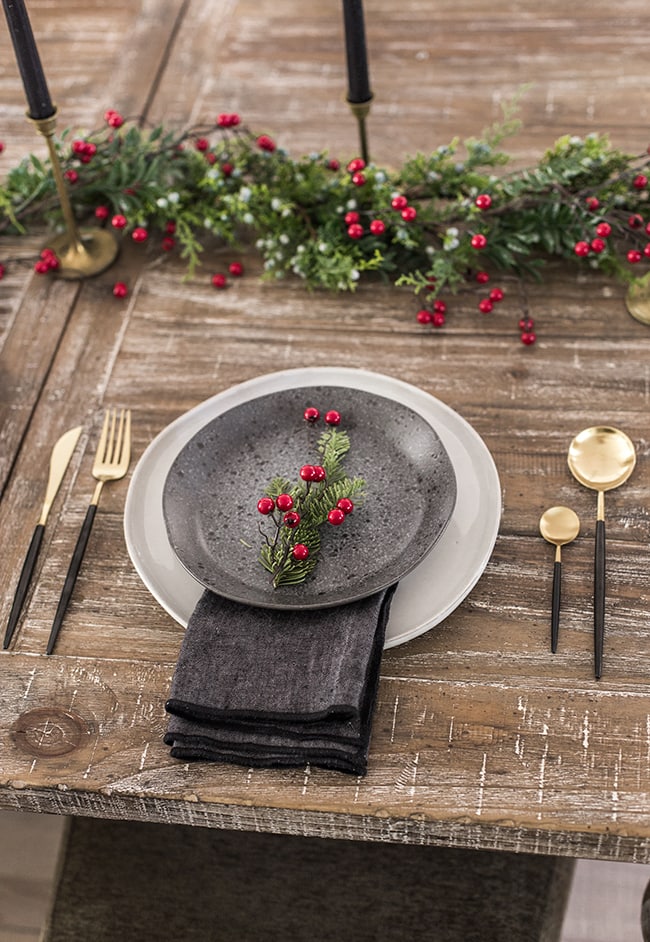 Pin
I also picked up a couple sets of these stoneware salad plates, which have a cool handmade look. I'm all about mixing styles, so we've got a traditional-rustic-glam theme this year 🙂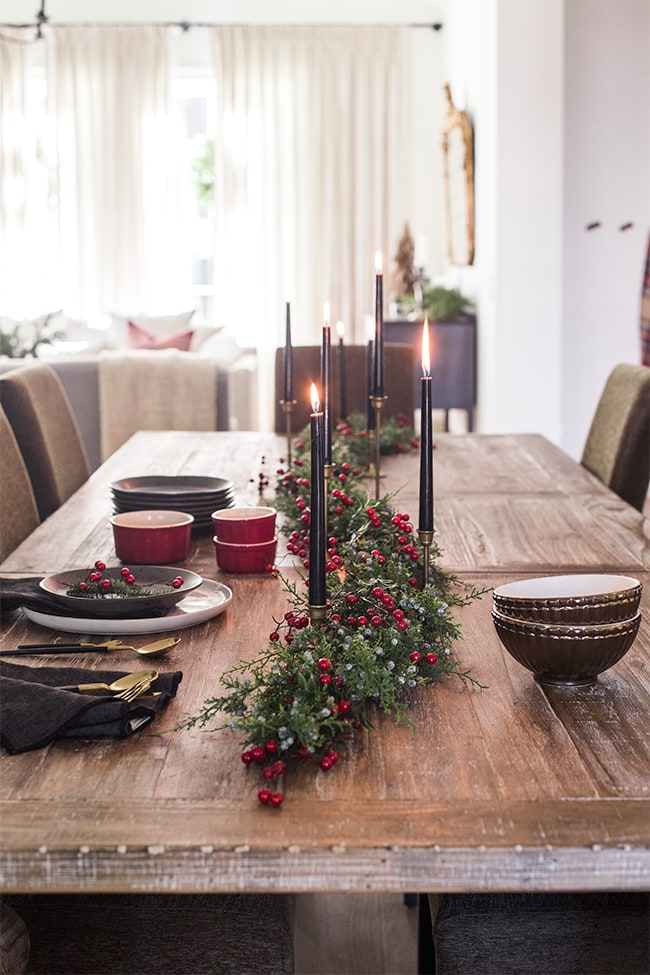 Pin
Our gallery wall was installed just last month and displays a handful of photos taken from our travels. The wall is right in the center of our home and can be seen from the living, dining room and kitchen. It's personal touches like these, meaningful objects and mementos that tell a story, that are the most special part of any home.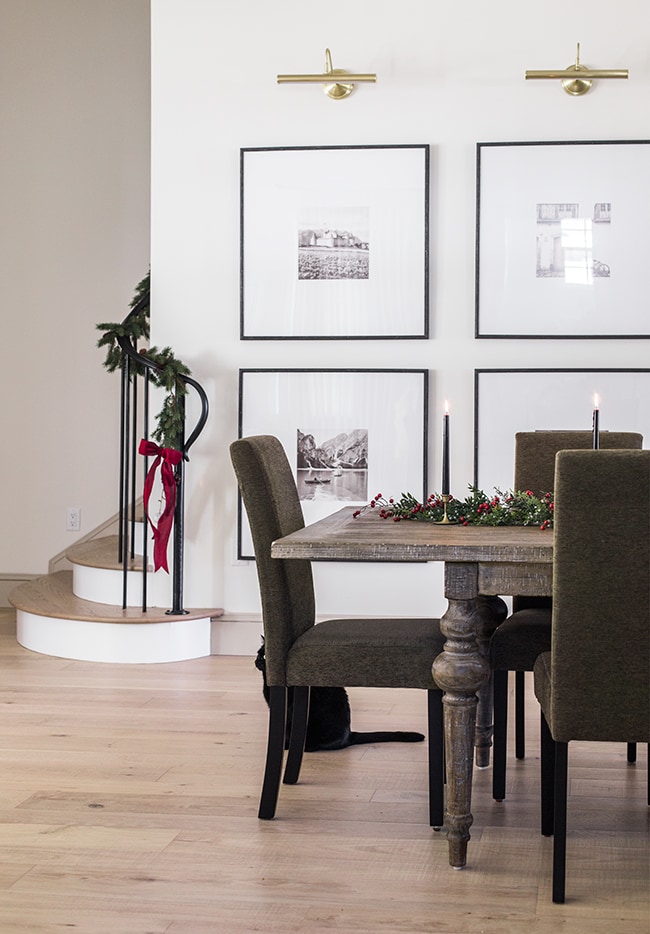 Pin
Our new fireplace mantel is just steps away from the dining room. We plan on finishing it with an electric fireplace insert soon so we can enjoy it this winter (if it ever drops below 70° again!)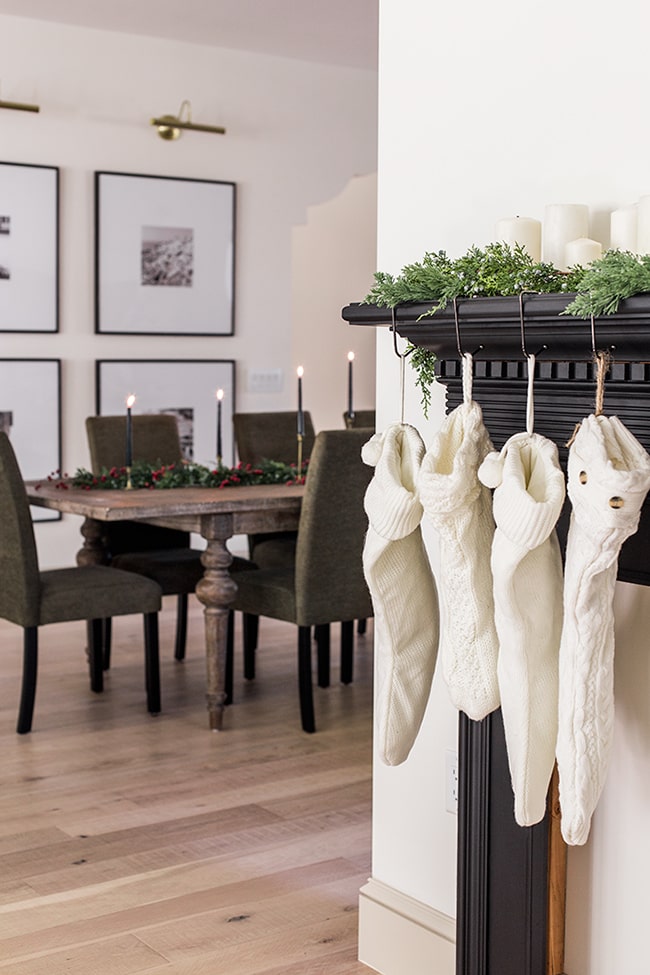 Pin
Just a few more small touches of Christmas around the house, like this tree and green hand towel in the powder bath (tree is from Ikea years ago).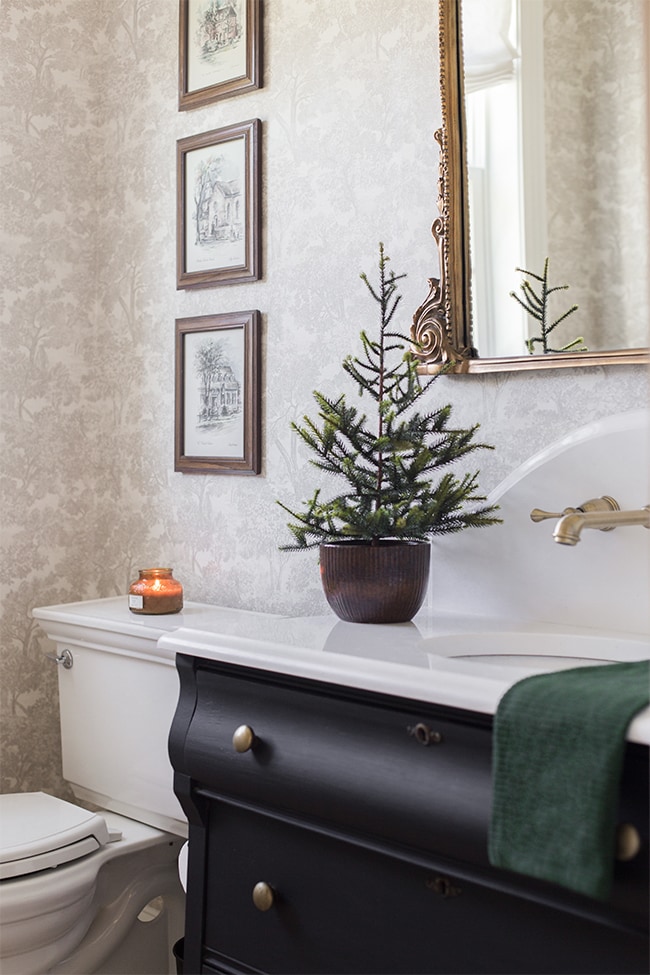 Pin
And one of my favorite things to do each year to get in the spirit—we changed out our bed sheets for festive plaid (sheet set from HomeCentric).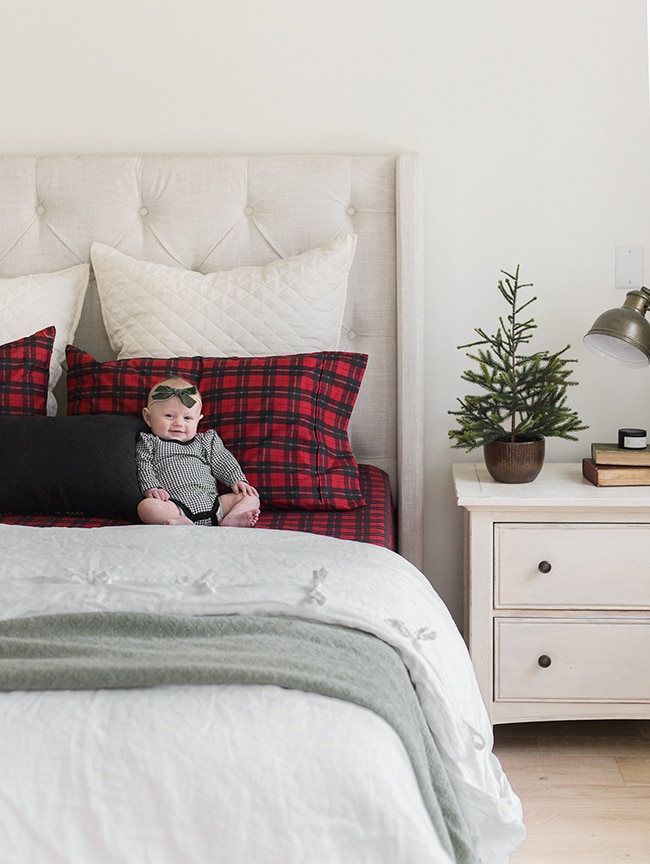 Pin
And that wraps our 2019 holiday home tour! Something tells me this will be the best Christmas yet…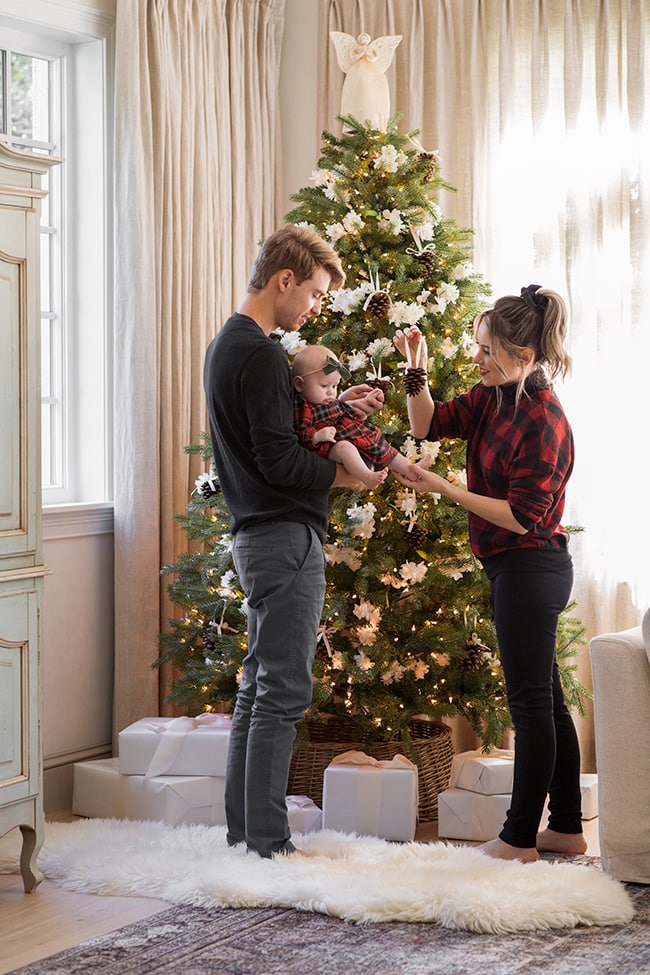 Pin
I hope you enjoy the season with the ones you love most! Merry Christmas and thanks for stopping by 🙂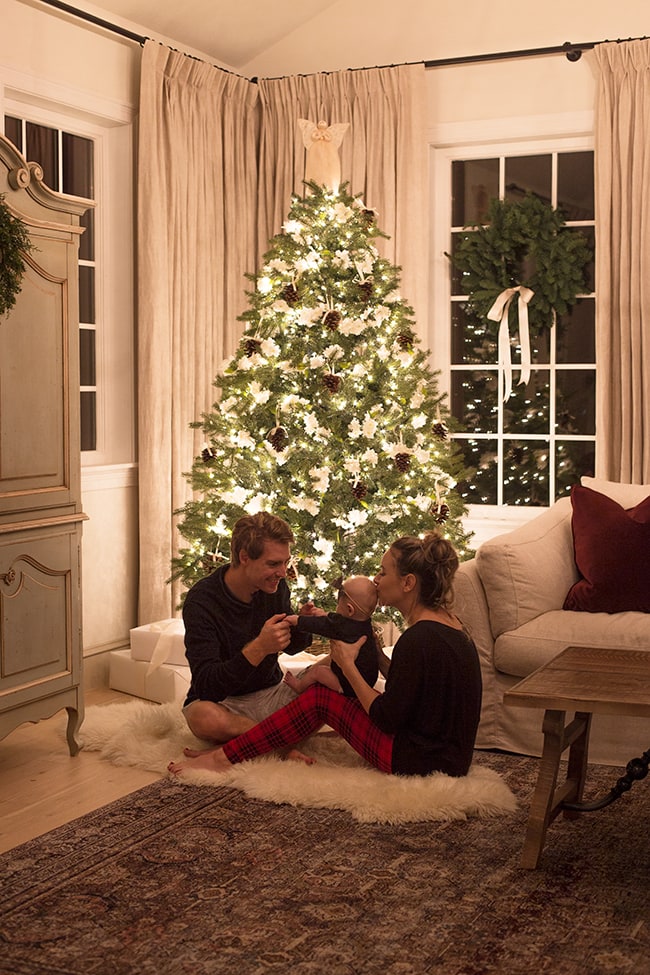 Pin
Make sure to pay a visit to the other inspiring homes on the tour with me today!