See the rest of our Christmas Home in this post
'Tis the season to wait til the last minute and then do a Christmas decorating blitz because you're juggling too many projects and a newborn… it's the most busy wonderful time of the year!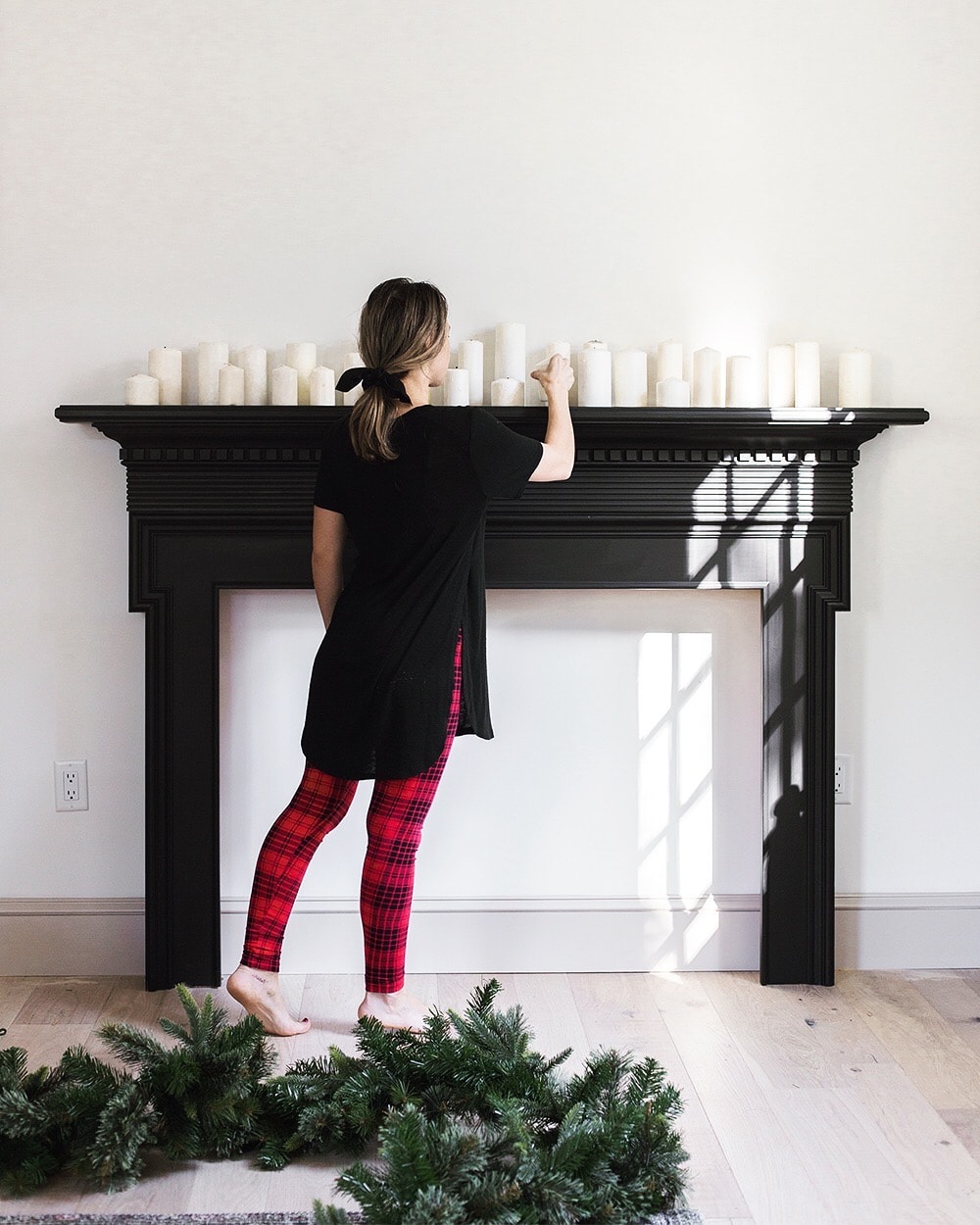 Pin
I picked up this mantel on Facebook Marketplace last week on a whim to have somewhere to hang our stockings, and fell in love with the idea of a fireplace in our living room after refinishing it (using Maison Blanche's Wrought Iron and matte varnish).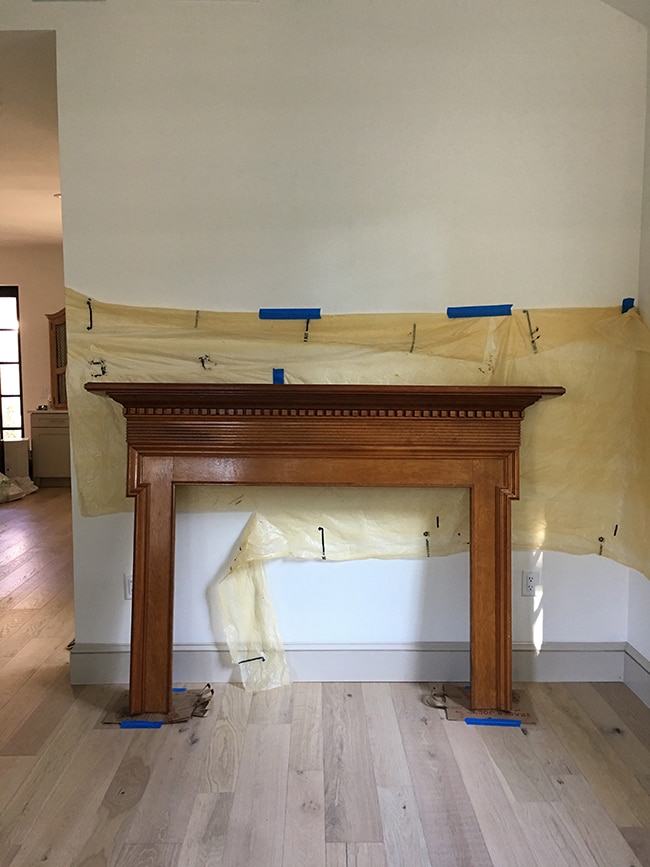 Pin
We'll get an electric insert and make it a permanent fixture soon!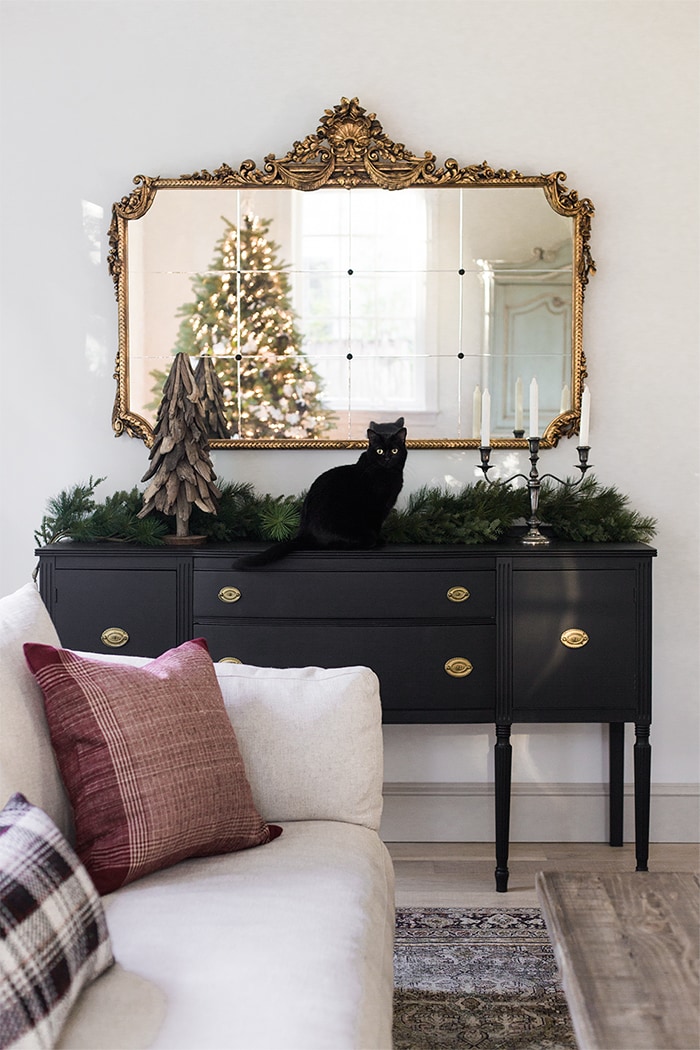 Pin
When I last posted about our living room, I was just about to paint this antique sideboard black (the same color as the fireplace). Isn't it lovely? The cat found her place in the room as the accessory I didn't know I needed.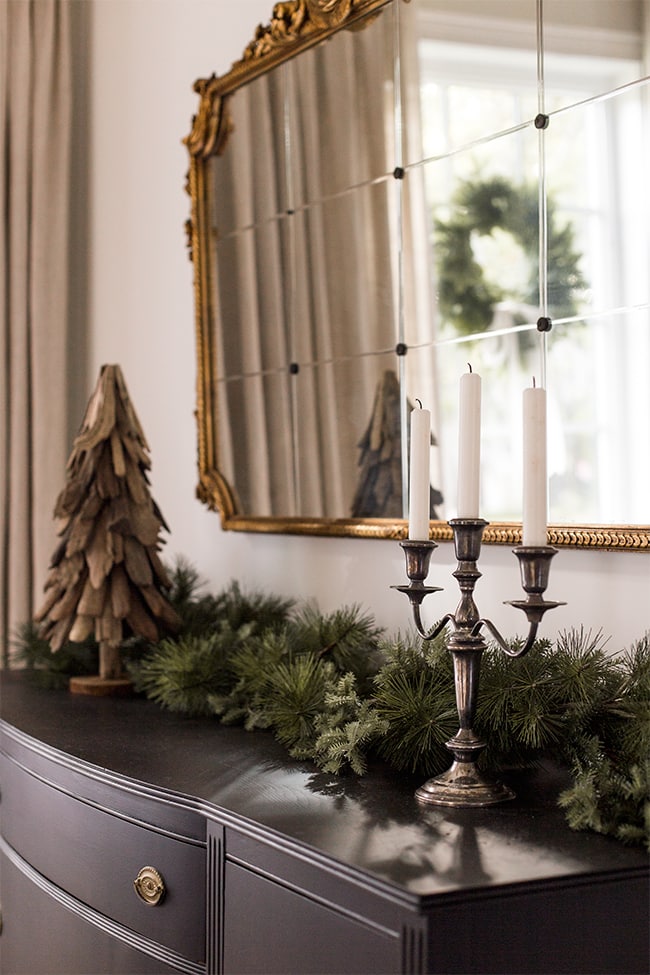 Pin
The gilded mirror and candelabra are also secondhand finds. Every room needs something vintage.
And now for my favorite corner of the room…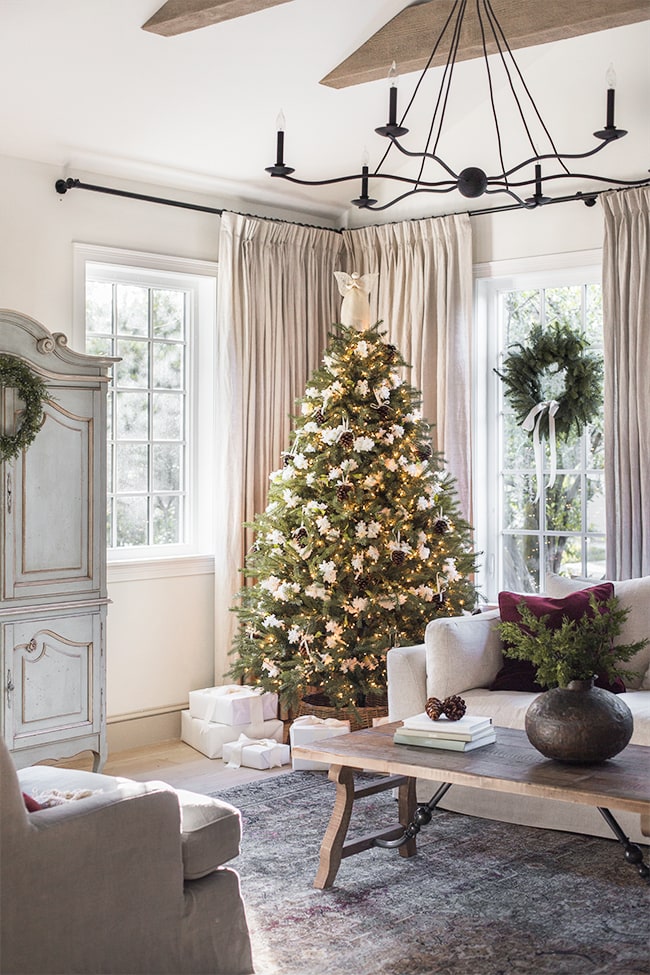 Pin
This was the tree we had last year, a bit small for this space but wasn't worth the trouble of getting a new one (next year I'll have more time to prepare!)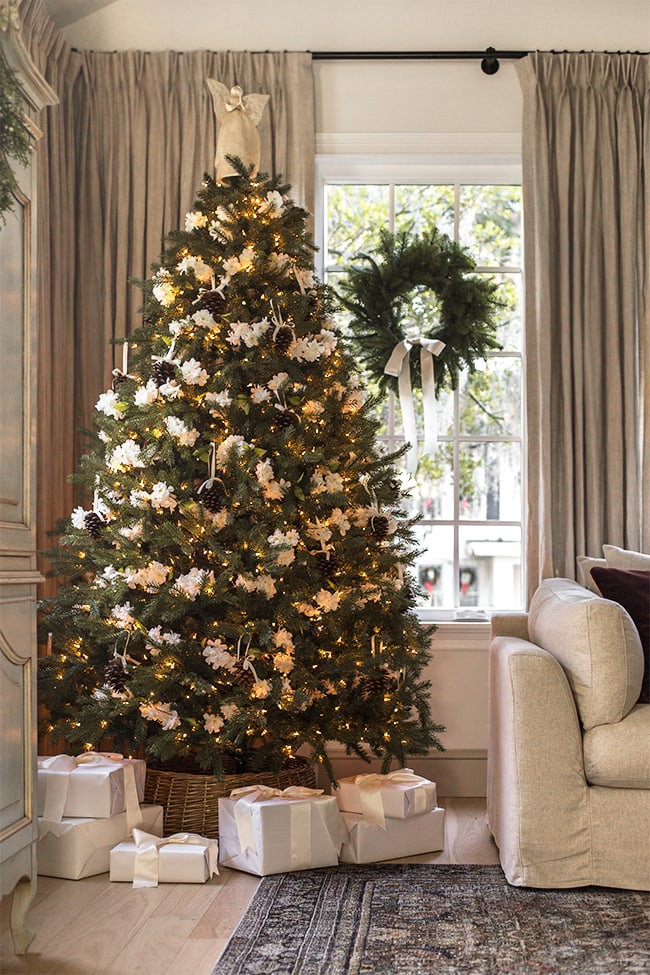 Pin
I wanted to try something different this year, inspired by the arrival of our sweet little Esmé Rose. I found these inexpensive flower garlands on Amazon (Black Friday sale, woohoo!) and strung six of them throughout the branches. The woven tree collar is from Target, pinecones & ribbons were DIY ornaments I've had for a long time and they continue the natural, feminine theme of the tree.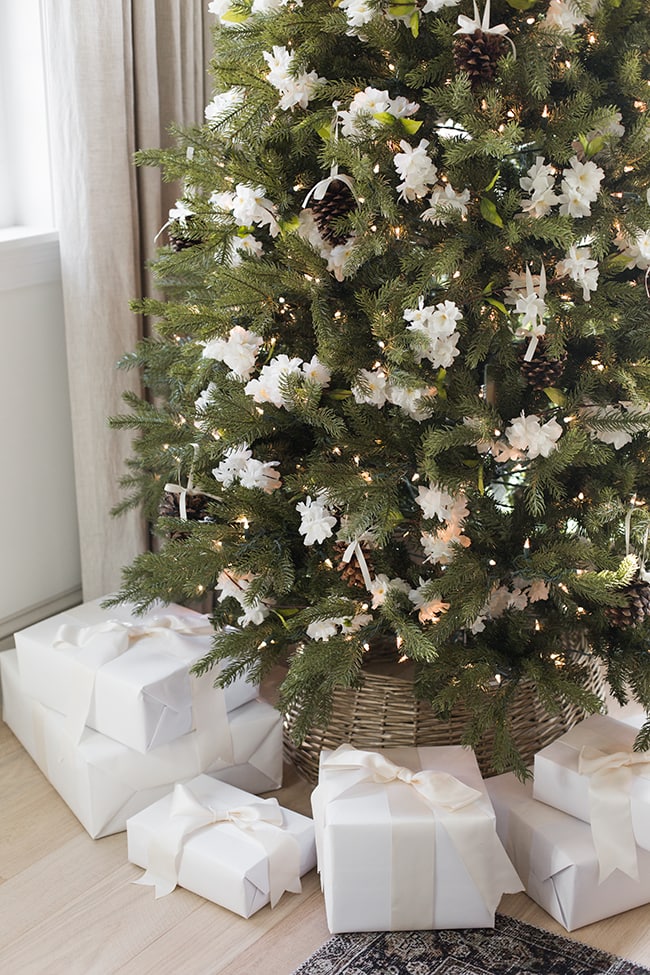 Pin
I also found this handcrafted angel topper on Amazon and thought it was the perfect way to represent our little angel. We'll tell her how we bought it for her first Christmas, and she'll be able to hang onto it as a keepsake (it will be pretty as tabletop decor if/when we no longer use it on the tree).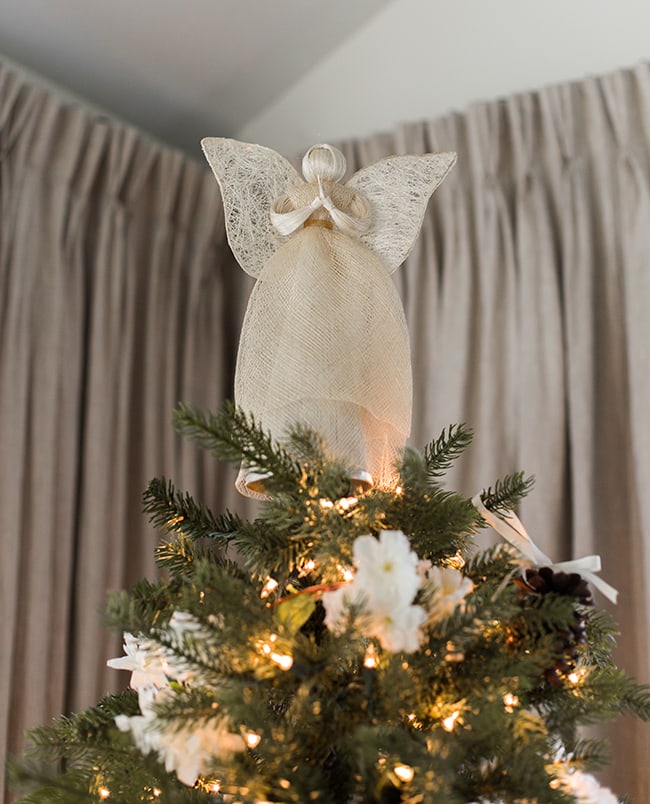 Pin
She won't remember this Christmas, but it's the one I've been looking forward to my entire life. I love that she'll have these photos forever.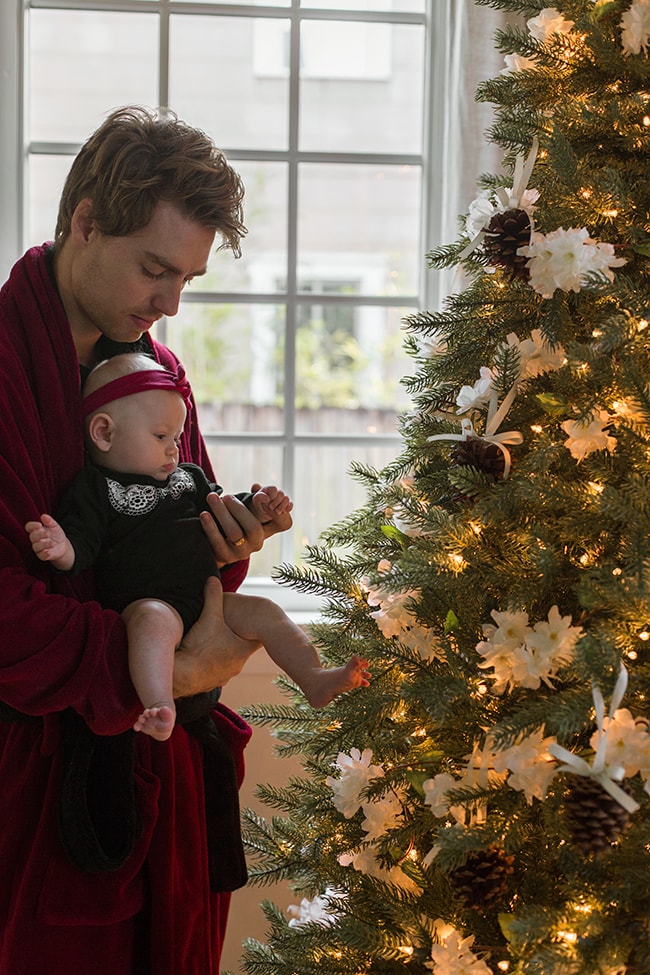 Pin
A softer, natural look was the approach I took for the entire room. Lots of greenery, simple whites and ivory ribbon.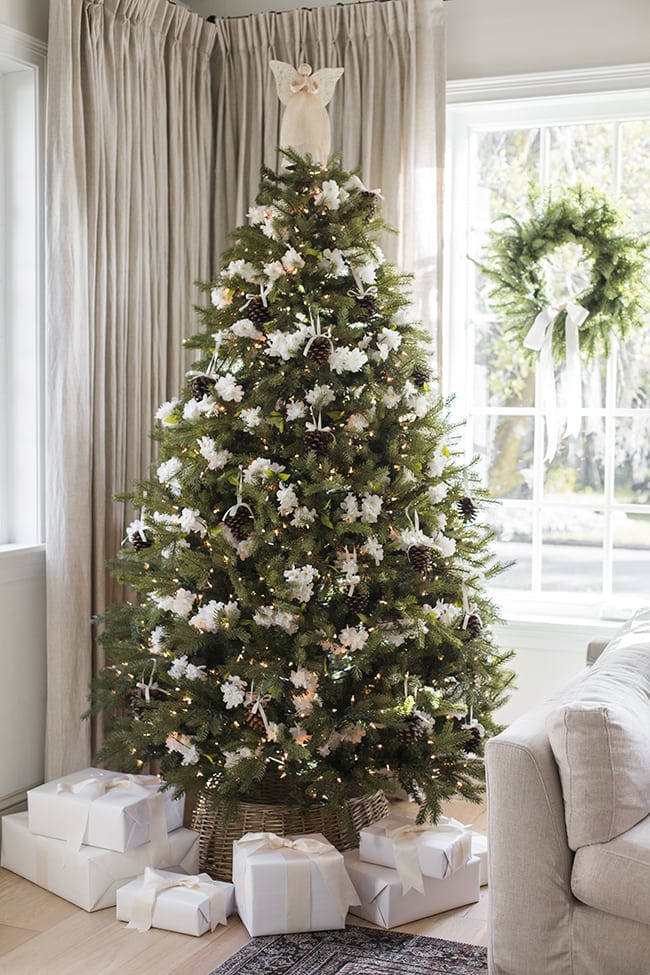 Pin
You may have also noticed a new addition to this room—we finally have curtains! Lucas and I hung them just a few days ago. They're custom made from Barn & Willow—Belgian flax linen in natural.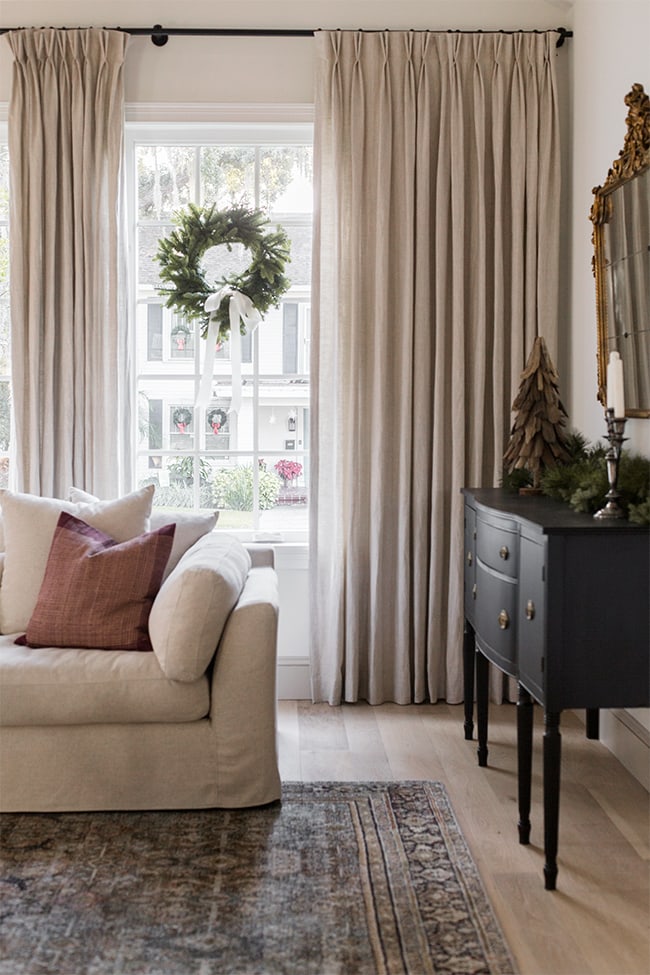 Pin
Oh my, I've never had curtains this luxurious before. I went with the two pinch pleat for a crisp, tailored look and skipped the lining so they're soft and flowy. There are four panels for the three large windows, and one panel for each window flanking the armoire (I hung them with Ikea curtain rods).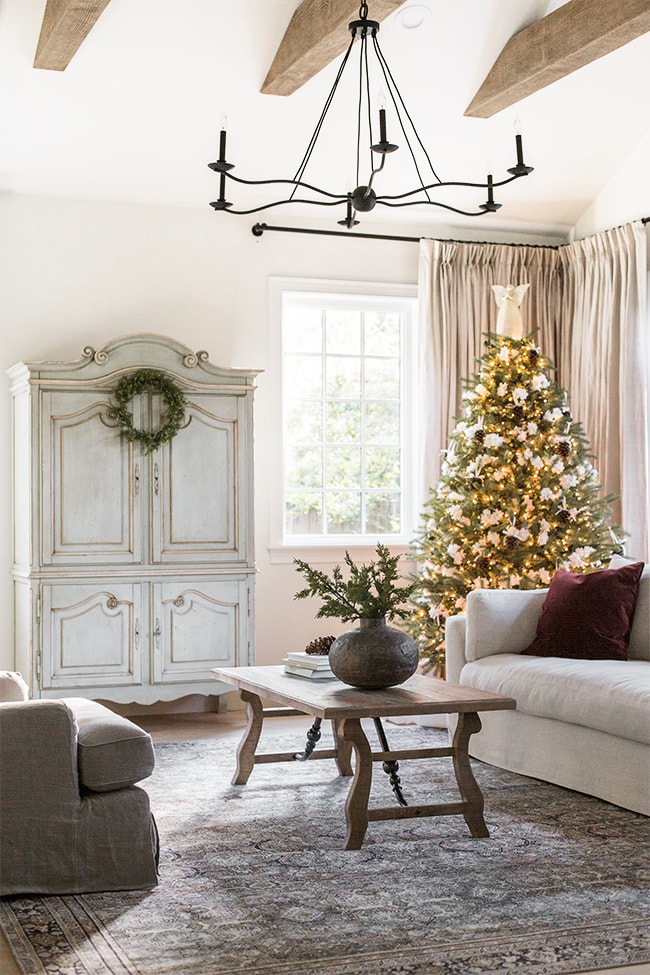 Pin
Psst—my favorite rug of all time is back in stock on Amazon and the price dropped! Jump on it now before it sells out again.
The room still isn't 100% complete, but these drapes certainly make it feel finished and much cozier. What are we still waiting for, you ask?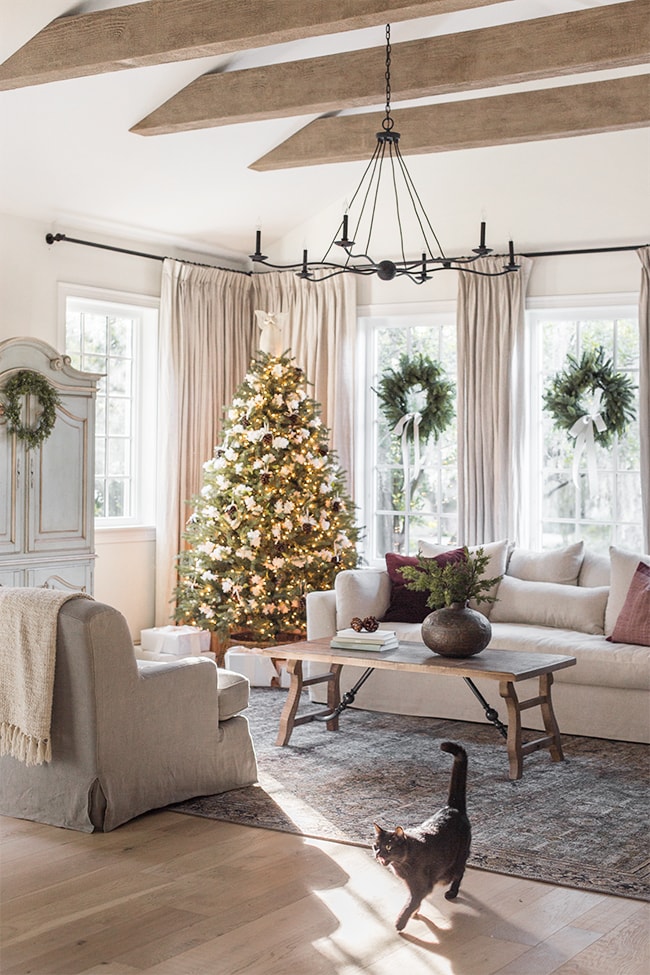 Pin
One of our chairs arrived from Six Penny (it's perfect!) but the other is MIA, so we're still waiting on it to arrive. I'll share more about them in a future update once they're both here. Hopefully it makes it by Christmas so there's room for the whole family to gather…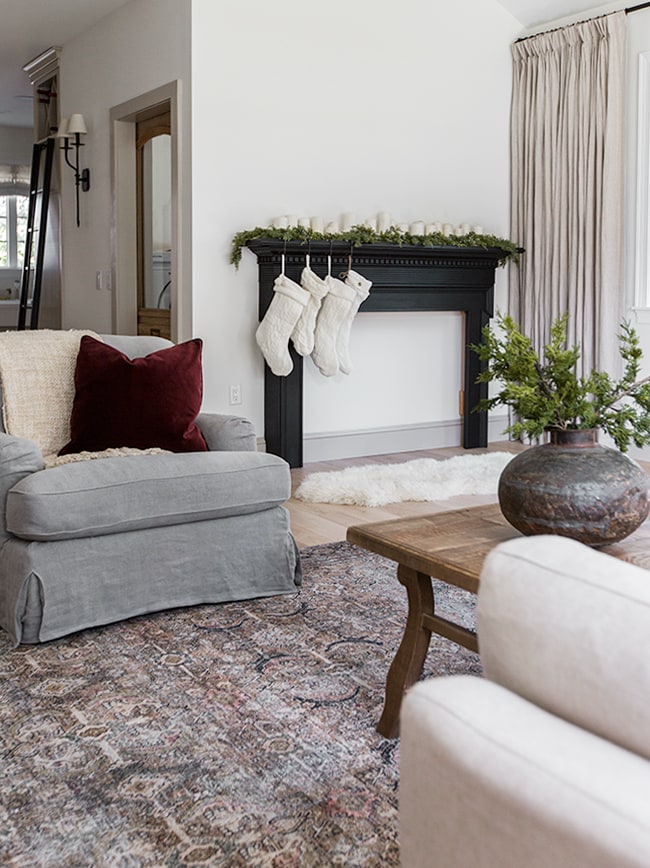 Pin
This mantel, though—the most perfect happy accident. So glad I came across it!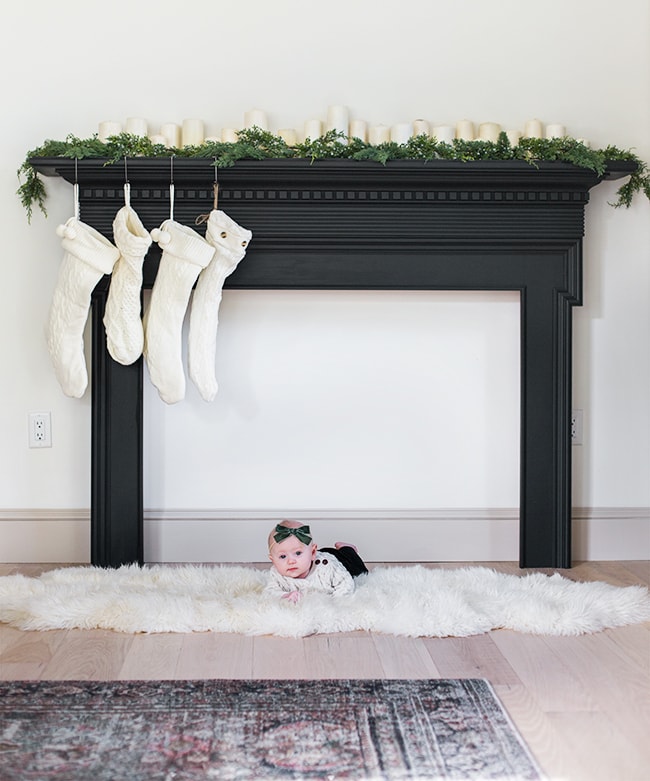 Pin
Soon there will be a fireplace insert, and something hanging above it on the wall, but a cute baby will do for now. It actually makes a great spot for a photoshoot (complete with outfit changes, of course).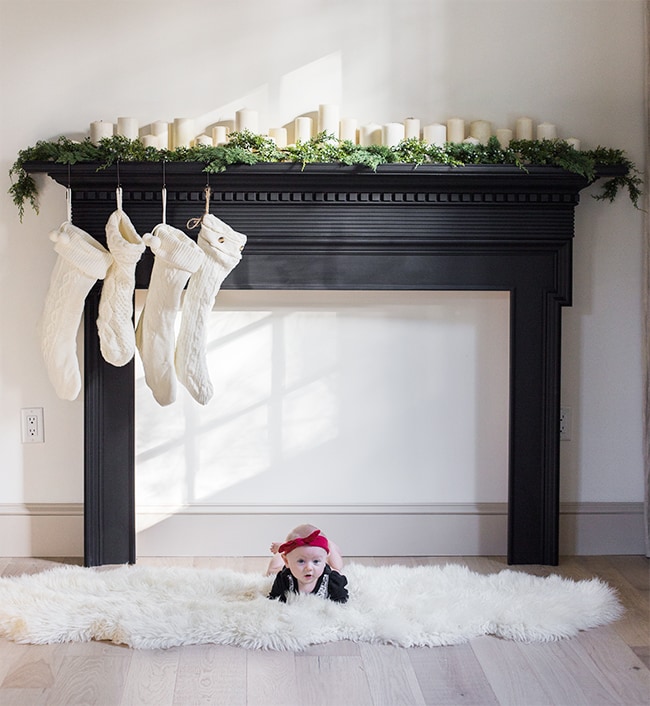 Pin
I don't even have to train the cat anymore, she just takes notice when the camera comes out and knows what to do.
Pin
This sheepskin rug from Article also makes a great backdrop for cute babies…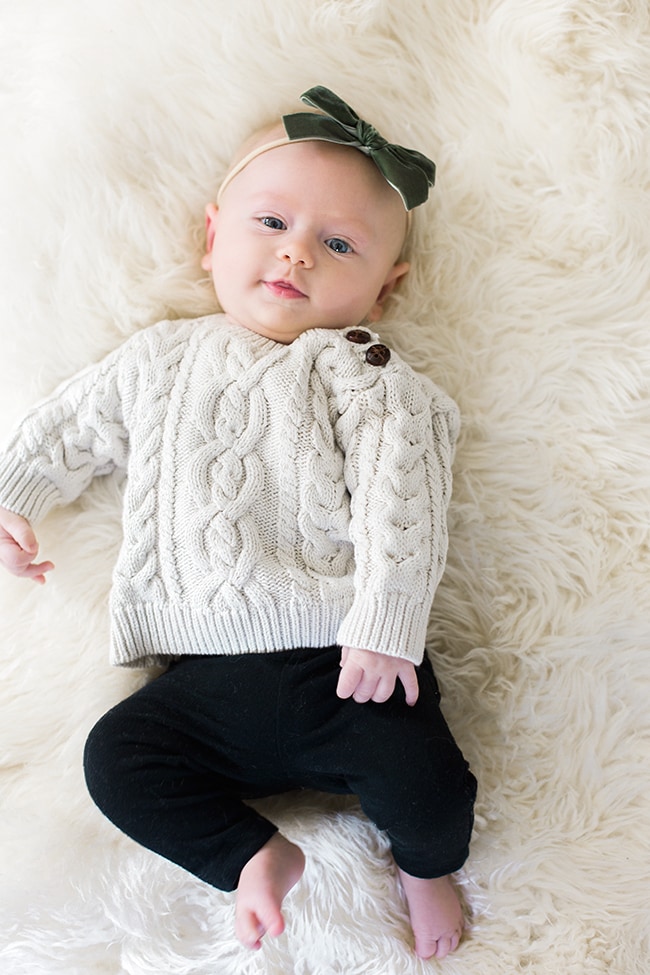 Pin
Sorry can't help myself. IT'S HER FIRST CHRISTMAS!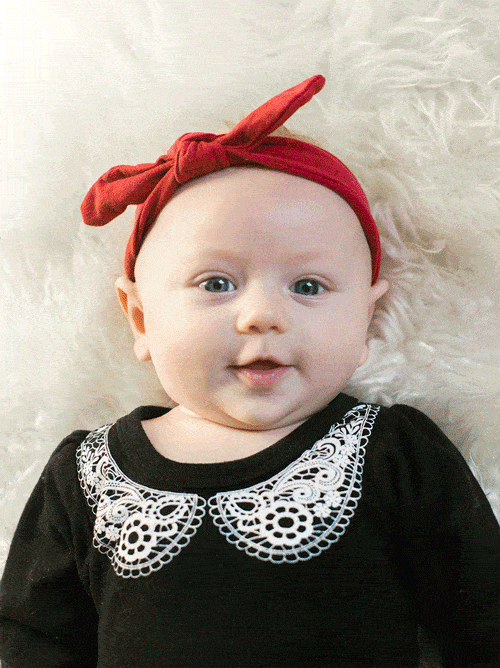 Pin
Not sure how to follow up that last one so here's a few more with the early morning Christmas tree glow… my favorite time of day.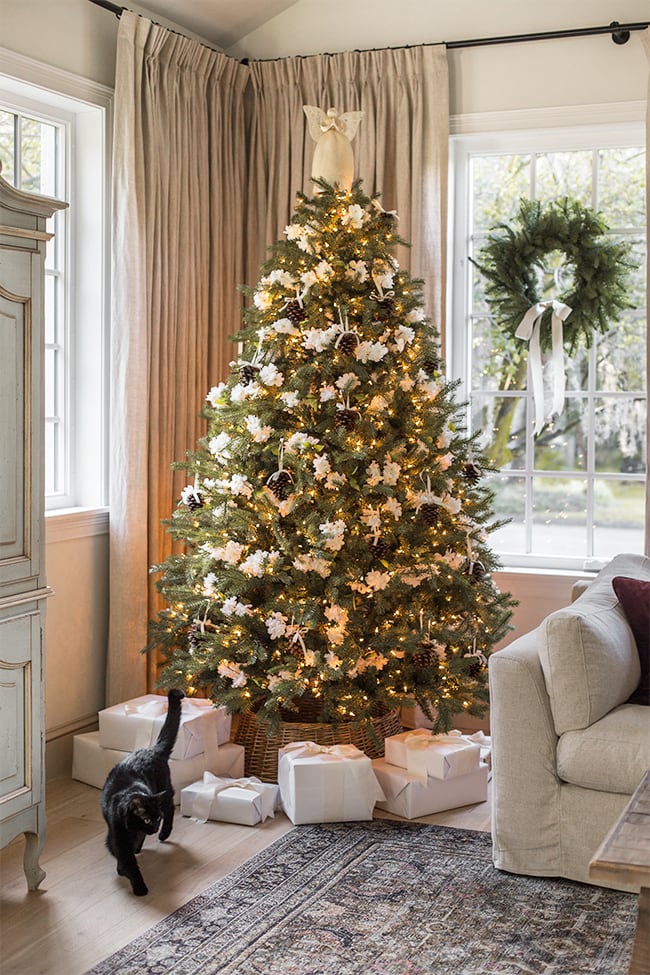 Pin
This room gets the best morning light.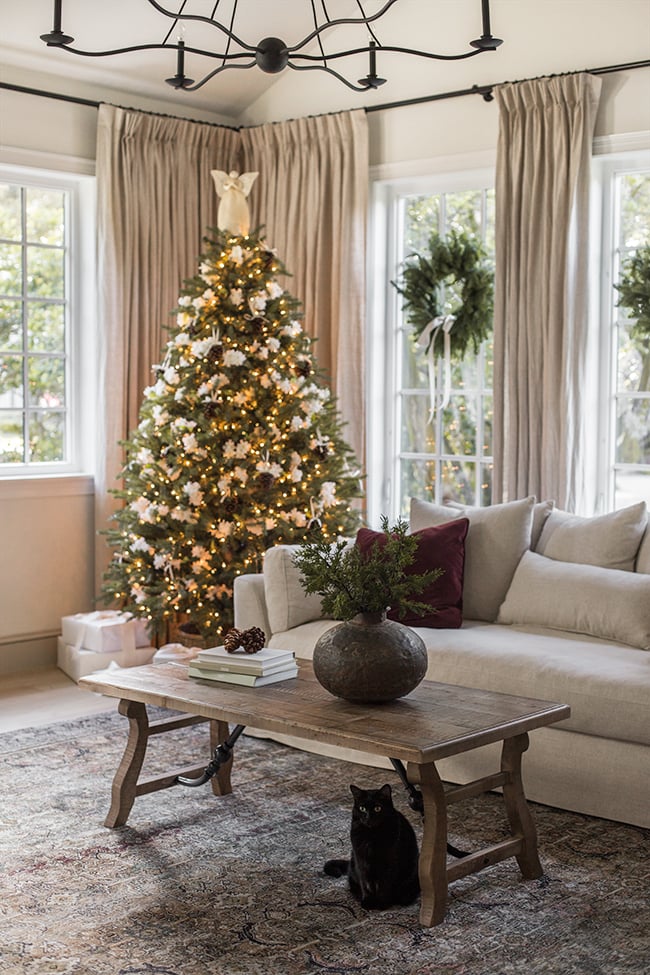 Pin
I swear I didn't pose her under here, she saw the camera come out and stayed for like 20 minutes. PS—those juniper stems are faux!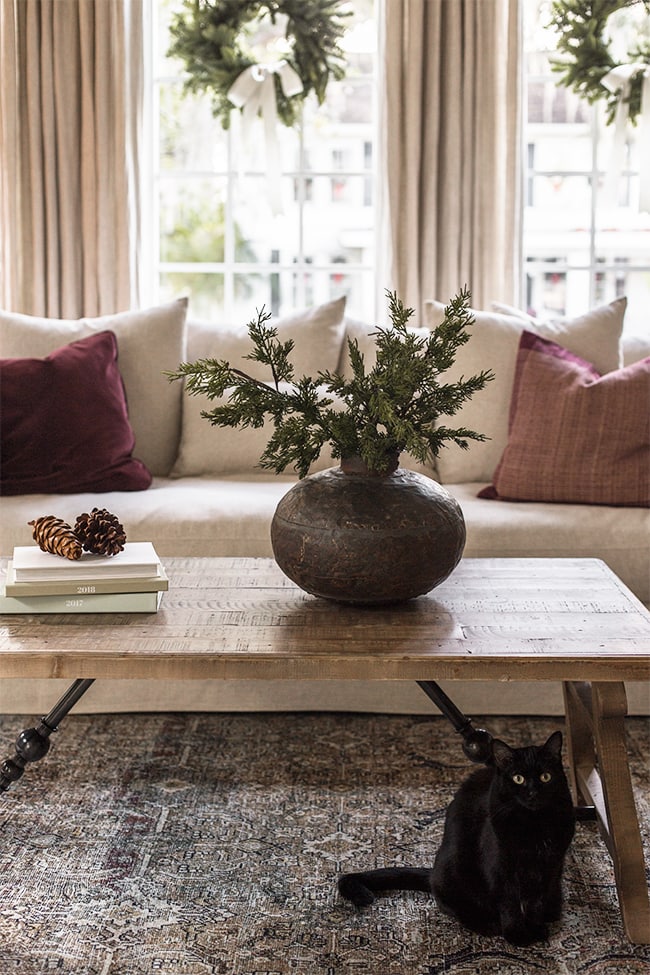 Pin
The tree and garlands are faux too, but the window wreaths are real (I grabbed them last minute from the grocery store). Nothing like the smell of fresh pine to make it feel like Christmas (even in Florida!)
Pin
The garnet red velvet cushions are from Article and they coordinate so well with my McGee & Co pillow. Loving the deep reds & greens right now, especially this time of year.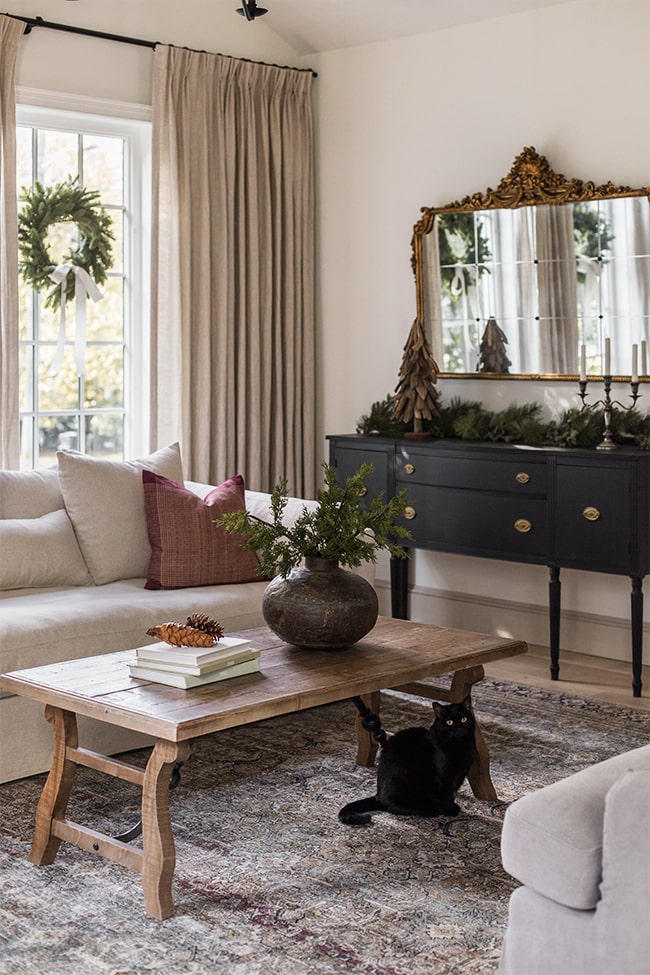 Pin
And that just about does it for our Christmas living room tour (if you missed any sources, you can find them all in this post). I really love the way the space is coming together, and just in time for this special season.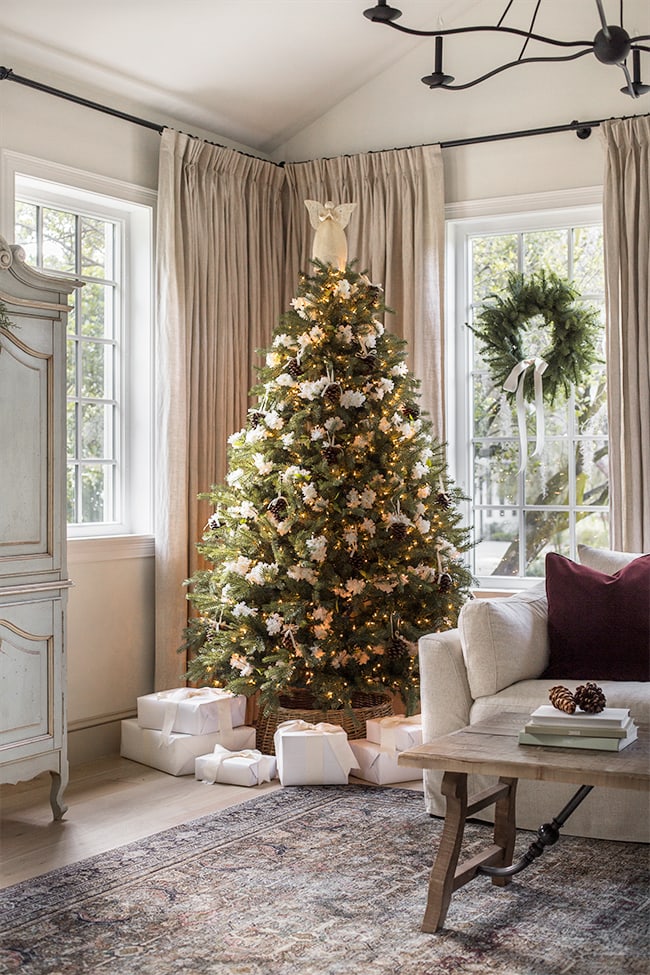 Pin
Feeling present and grateful a little more this year. We are so incredibly blessed.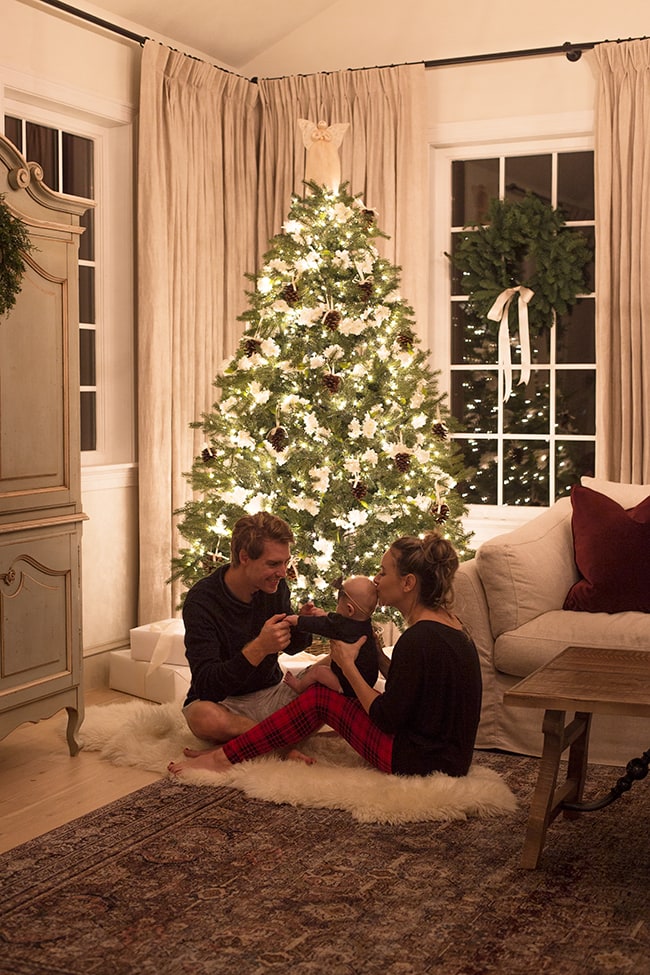 Pin
More holiday decor, coming up next!