My grandmother would have been 100 years old on Saturday, and I know her spirit was there, shining through the clouds as Lucas got on one knee and asked me to marry him as the sun set over Rio de Janeiro. This trip suddenly has a whole new meaning.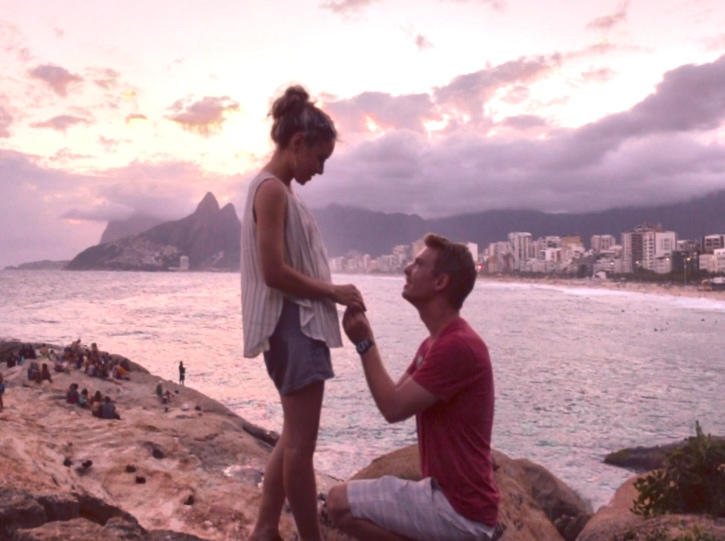 Pin
I was finishing up my post about our second week in Brazil, but after the announcement, I can't leave you hanging! I'll be back soon with our regularly scheduled content.
We had returned from the south coast of Brazil for two more nights in Rio before heading up north to Salvador, and after a quiet week of relaxing on the beach we were ready for something a bit more lively.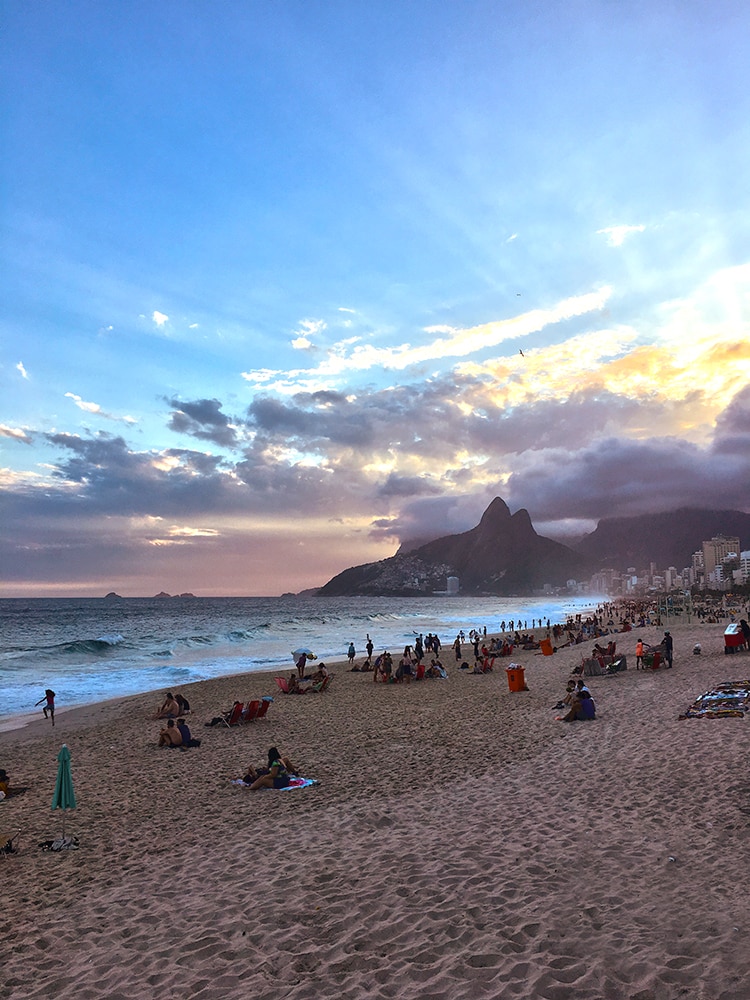 Pin
Our new hostel was known for its parties, and we booked $11 beds in a shared dorm. A complete 180° from every previous hostel, this one was packed with folks (who spoke English) and we quickly made friends with our French and Swedish roommates. It was a Friday night which meant street party in Lapa—our second time going, but it was even more crowded this week as there was no rain.
No details needed, but it was easily the most memorable night of our trip and one that will be hard to beat.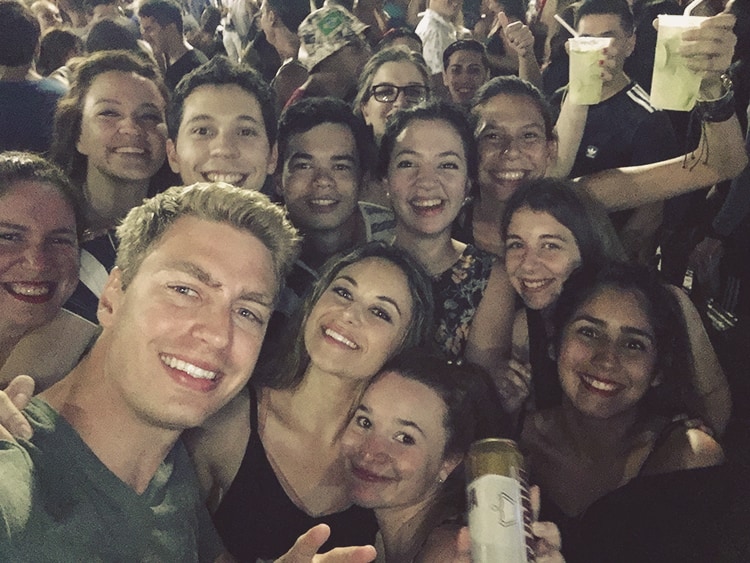 Pin
Feeling quite groggy the next morning after lack of sleep, we were determined to spend our last day visiting Christ the Redeemer and watching the sun set at Arpoador rock.
Pin
After a long and confusing bus ride/transfer service, we finally arrived at Cristo Redentor. Tip: never go on a Saturday during good weather after a week of rain, especially the day before Easter (especially if you have claustrophobia).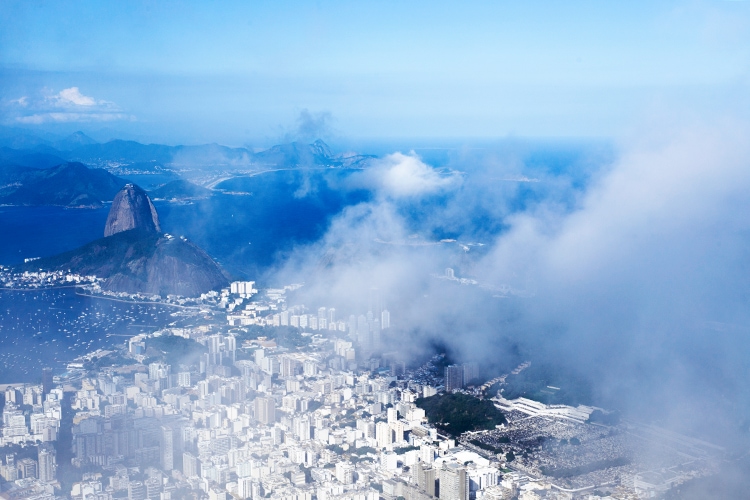 Pin
It was a zoo, and we were herded like cattle to the viewing platform, fighting our way to the edge to try and get a photo each time the clouds cleared. It took about 2 hours to get these photos, but very worth it. And the ever changing mix of blue sky and clouds swirling around Christ—magical.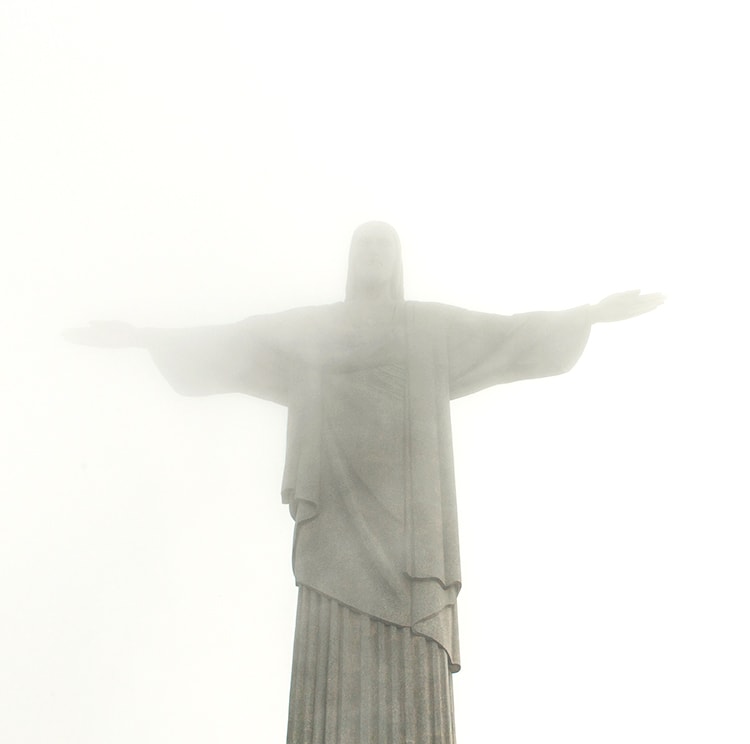 Pin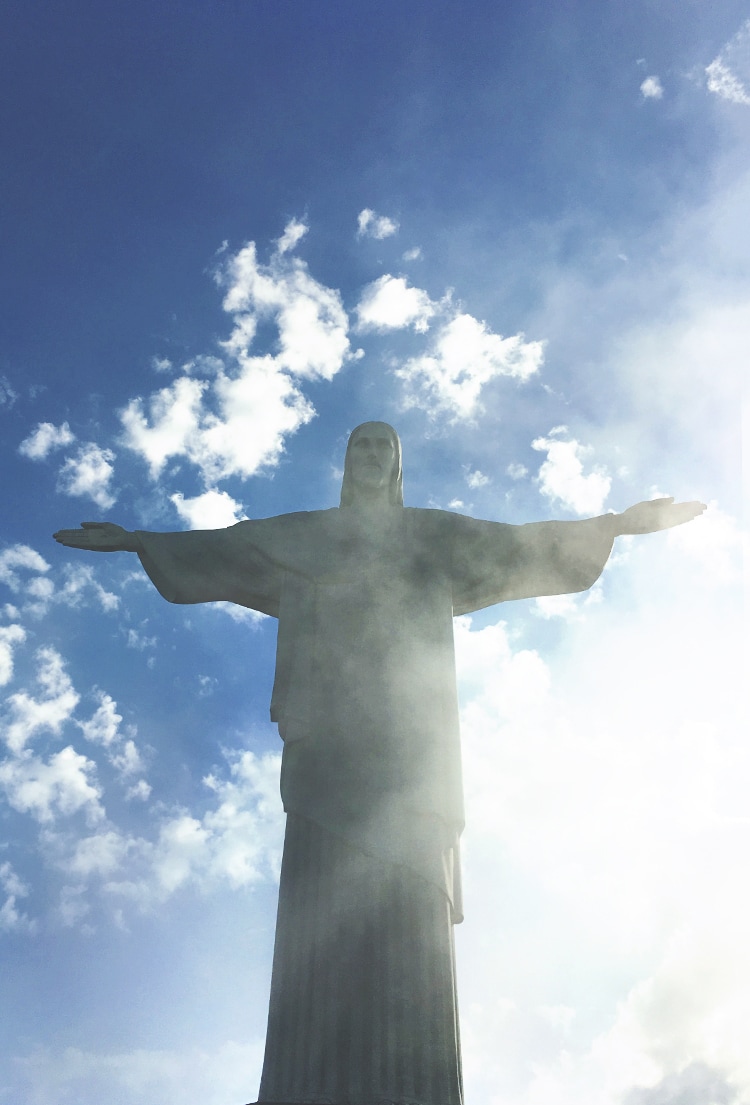 Pin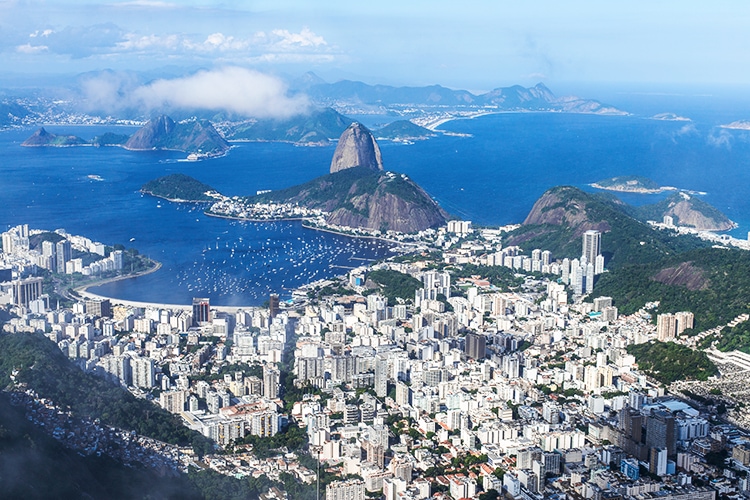 Pin
By the time we got our photos a few hours later than planned, we had to rush to Copacabana before the sun set. The metro dropped us off just in time and the sky began to change colors as we ran down the boardwalk towards the rock. Just before the end of the beach, Lucas stopped me and told me to wait there while he grabbed something. Thinking nothing of it, I paused to take a quick video, and a few minutes later we were back on the run.
We climbed past the crowd to the back of the rock, where I found a clearing to set my camera down to record a time lapse of the sunset (or so I thought). Making sure we were visible in the frame, Lucas turned me towards him, said that we had made some amazing memories together so far and we're about to make so many more, and kneeled down with a ring. I was legitimately shocked, to the point of asking him if this was real (several times). The crowd took notice and began to clap, and of course I said yes and spent the next five minutes trying to comprehend what had just happened.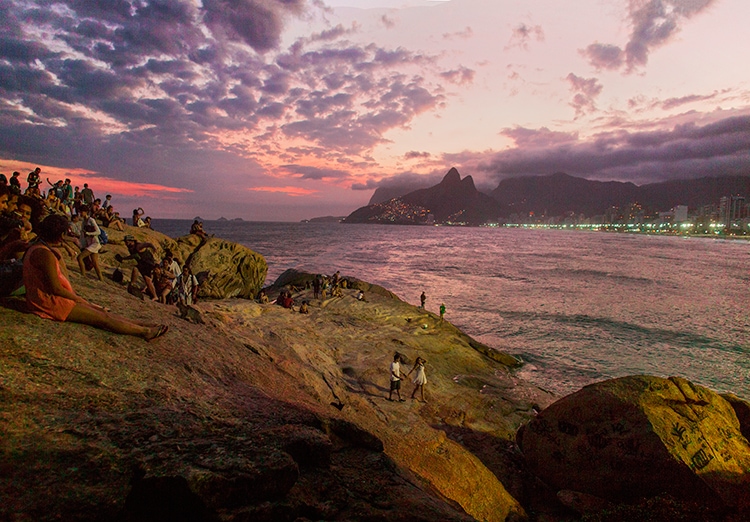 Pin
Sidenote: Funny(ish) story… an hour before the proposal, Lucas realized he had lost the ring (as in, not misplaced it or left it in the hostel, but it was gone forever somewhere in the streets of Rio). Needing a Plan B quick, he bought one off a street vendor along the beach for $3 as we were rushing to catch the sunset—hence the reason he told me to stop and wait there.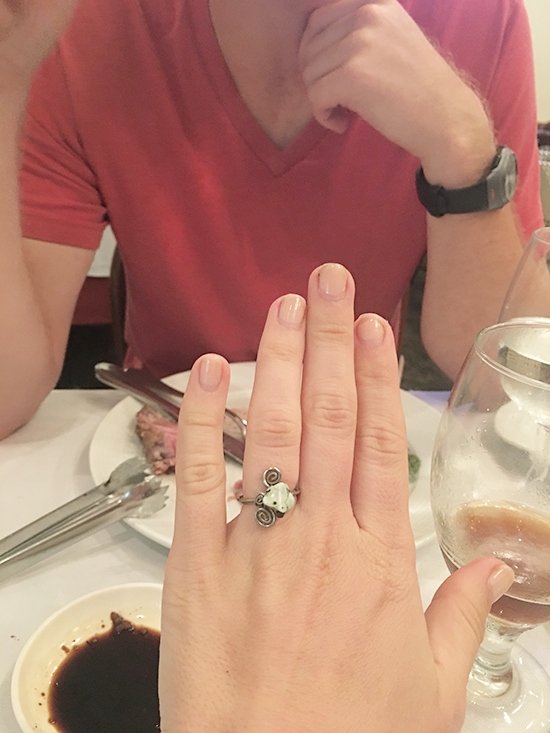 Pin
We both agree it actually worked out for the better though, because now we get to go find one together on this trip, and the story behind it is much better than the jewel itself. I've heard Brazil is known for their gemstones so I can't wait to find the one 😉
Back to the story. After the initial shock wore off, it was pure elation as we found an all you can eat Brazilian BBQ, splurged on a fancy dinner and stuffed ourselves with steak and caipirinhas.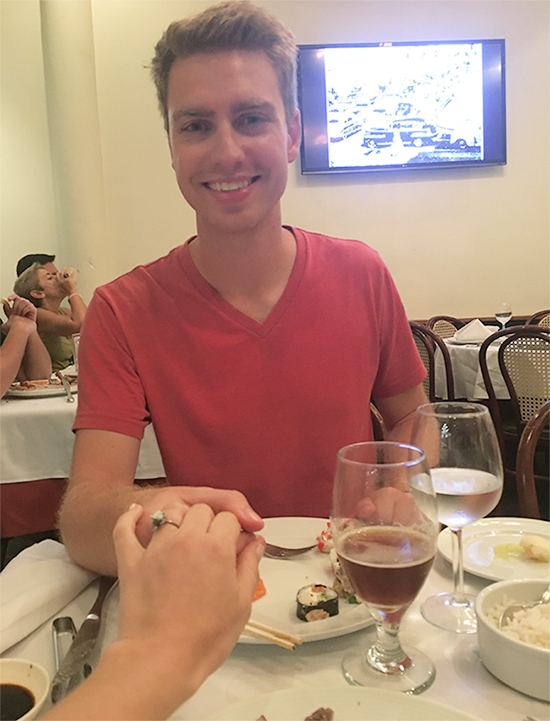 Pin
That night we ditched our sweaty hostel dorm and stayed in a hotel across the street, enjoying our first hot shower and uninterrupted night of sleep in a week.
As I write this now from 30,000 feet in the air, I'm looking to my left at a beautiful man fast asleep, tears welling up as it hits me that I get to wake up to him forever. Memorizing the markings on his tanned skin, smell of his hair, color of his lips and the shape of his hands so I'll never forget what our love was like in the beginning. Wishing I could freeze this moment and equally anticipating growing old together. These are the best days of our lives…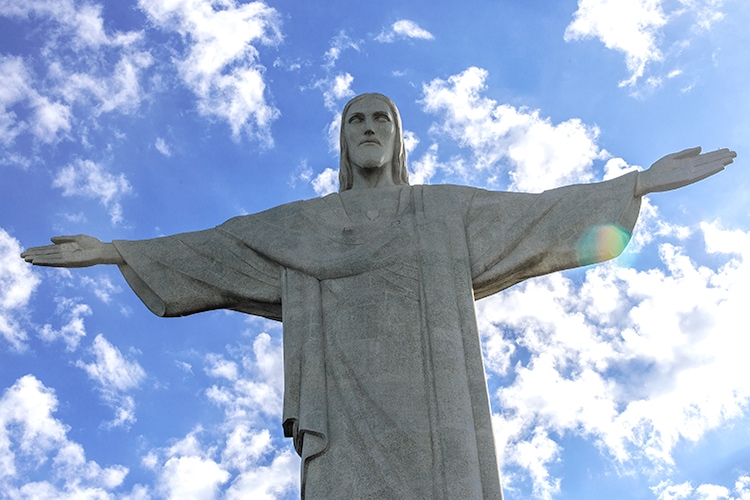 Pin
More stories from Brazil on the way.