The time has finally arrived to discuss my favorite part of this bathroom—the tile!
Before any of this room was planned, I knew pebble tile would be the main feature. My Pinterest board was filled with stunning river rock bathrooms and I actually almost used it for my One Room Challenge makeover, but decided to save it for the master bath instead. So I've been waiting an entire year for this moment and it feels so nice to finally be able to see my vision come to life!
I found my dream tile at The Tile Shop—12×12″ sheets of white pebbles: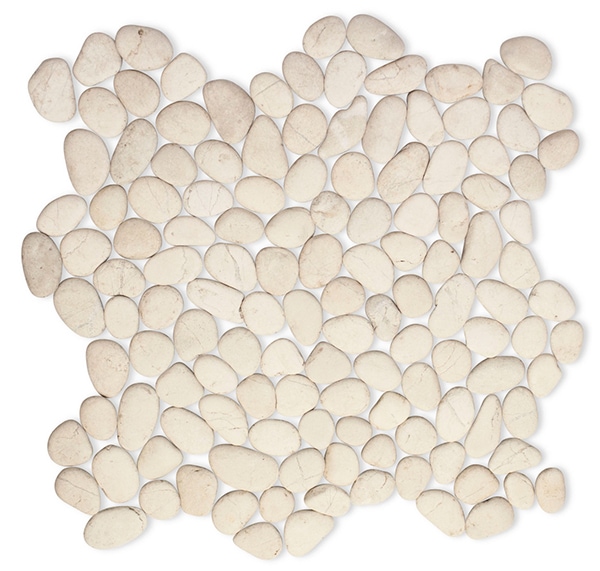 Pin
Once installed/grouted/sealed, the coloring ends up a bit more varied with some natural golden hues (which I was hoping for!) and it ends up being the perfect light monochromatic scheme for a light and airy spa-like feel.
When I approached The Tile Shop with my design mockup and plan for the space, they were super excited and offered to partner with me on this project, and make sure the ordering process went as smoothly as possible from start to finish.
I ended up ordering around 130 sq ft of pebble tile to cover the floor and back of the shower wall, and they also worked with me to find the perfect shower wall tile and trim. I also picked up around 60 sq ft of the Imperial Bianco 12×24″ ceramic tiles and coordinating bullnose tile for the two shower side walls. The simple white finish from floor to ceiling makes the room appear larger and allow the pebbles to really stand out.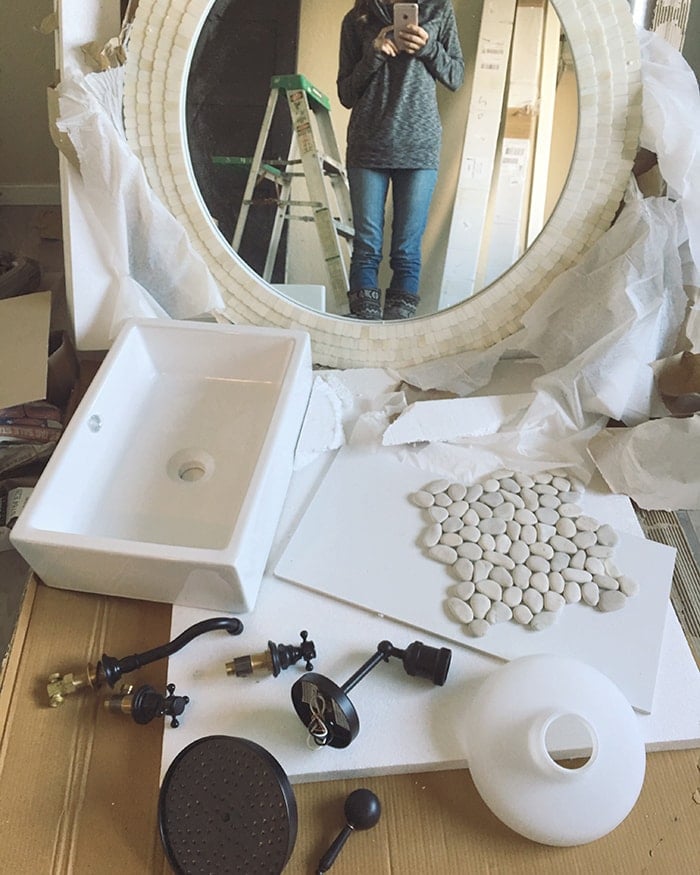 Pin
Knowing I'm on a tight schedule, my customer service rep took care of all of the installation materials and made sure to include thinset, caulk, grout, admixture and sealer with the tile delivery so my installer could get right to work.
Speaking of—my tile guy suggested using a linear shower drain which not only makes draining more efficient by increasing the surface area, but allows the floor to be sloped in a single direction rather than multiple planes when using a standard center drain.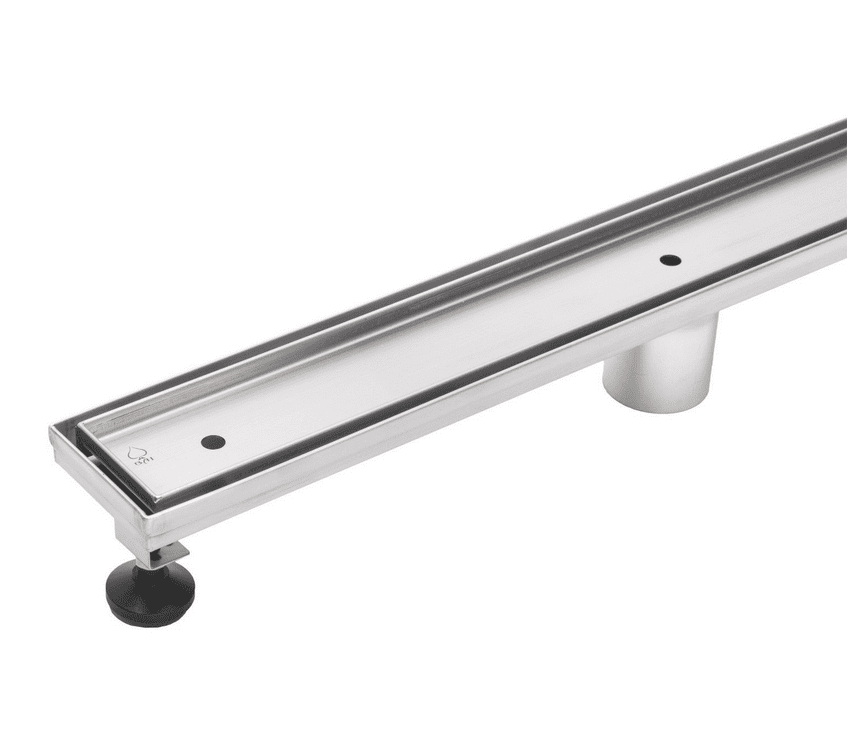 Pin
By using the tile insert design above, we're able to fill the channel with stones once installation is complete so that it all blends together and I'm able to avoid an unsightly metal grate in the middle of the floor. I shopped around for the best price and ended up with this 48″ model from Ebay.
Now that my plan was set, it was time to get started! Just for fun, here's an original throwback photo…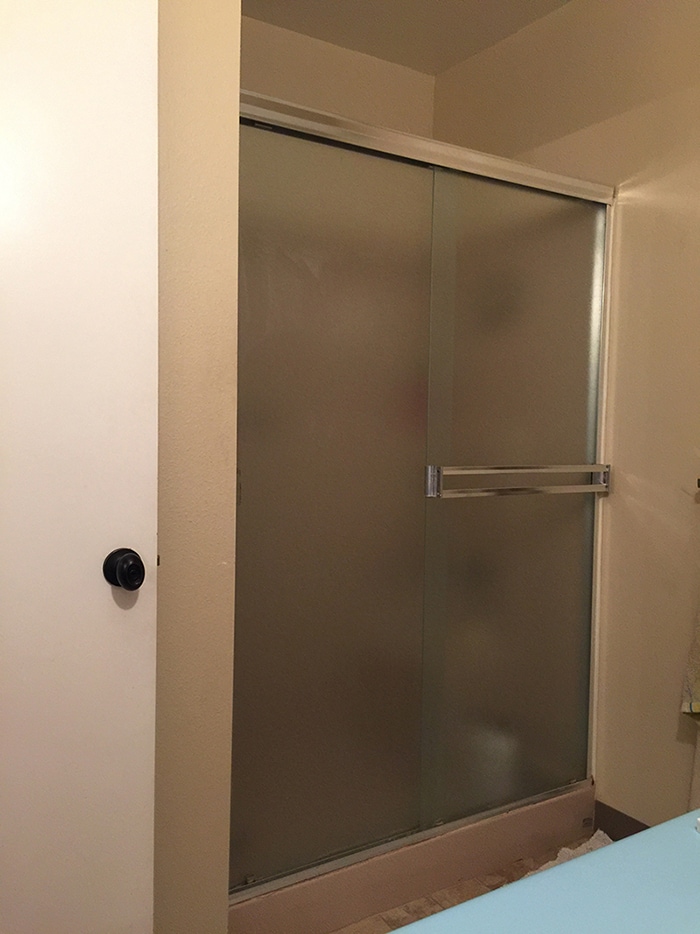 Pin
During demo, the adjacent linen closet was removed to open up the space. Bonus video time!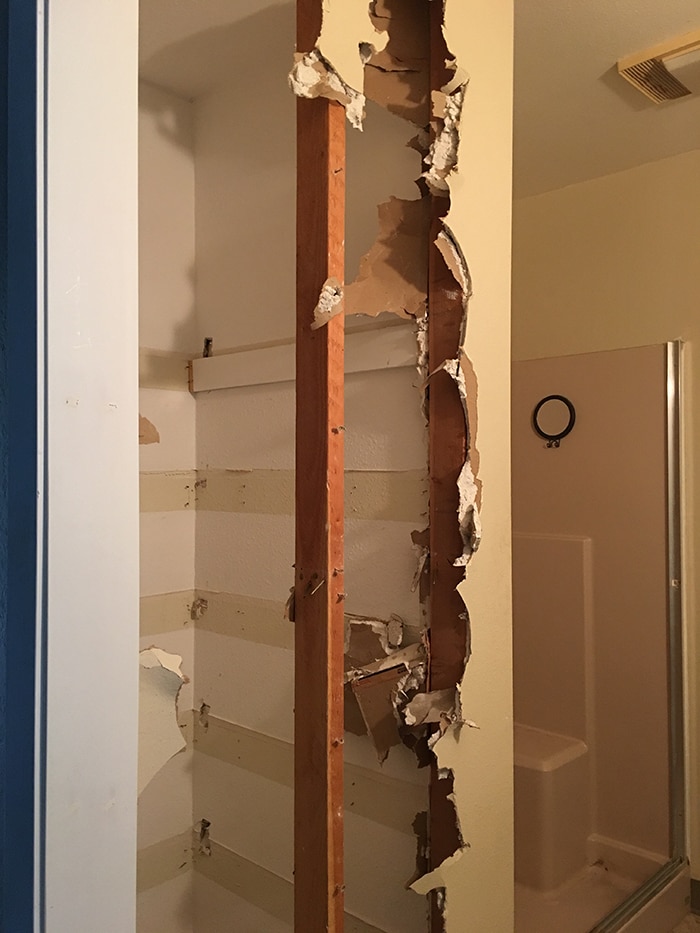 Pin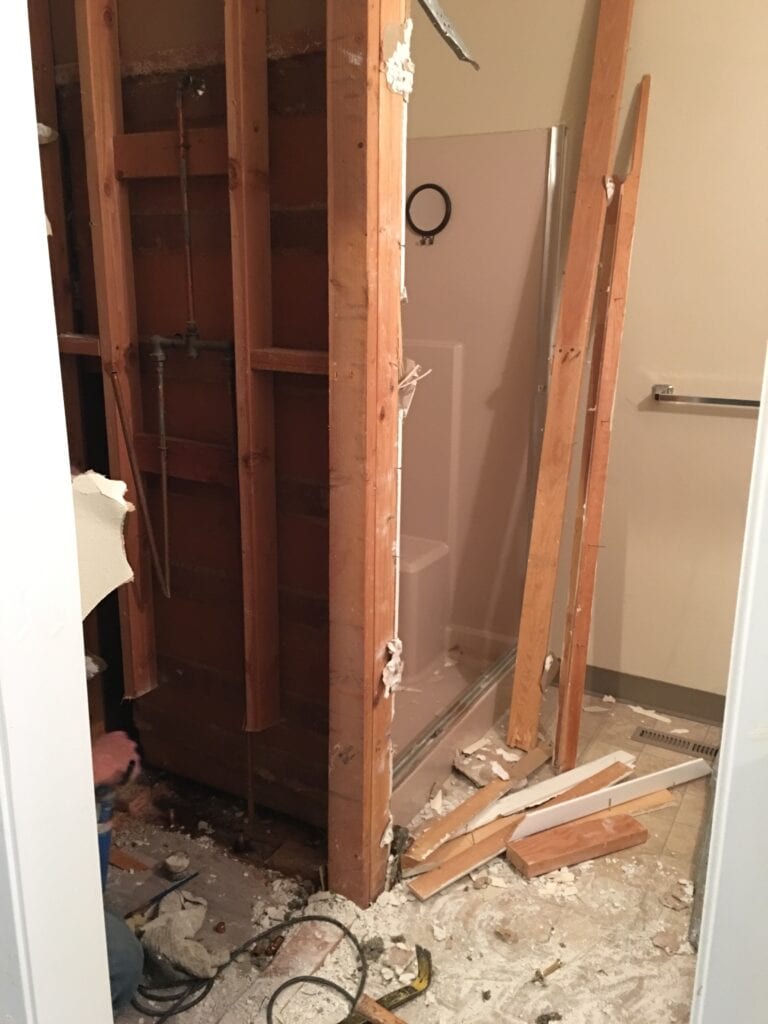 Pin
Once the drywall was out, subfloor gone and the plumbing re-routed, it was time to start putting it all back together: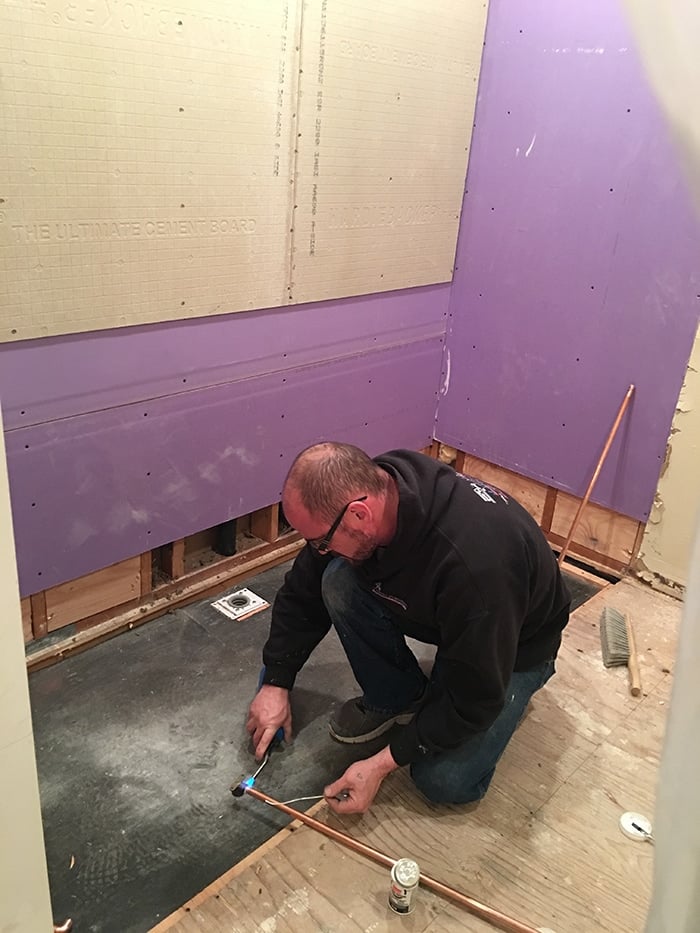 Pin
My tile guy (Matt) rebuilt the flooring on a slope leading to the linear drain: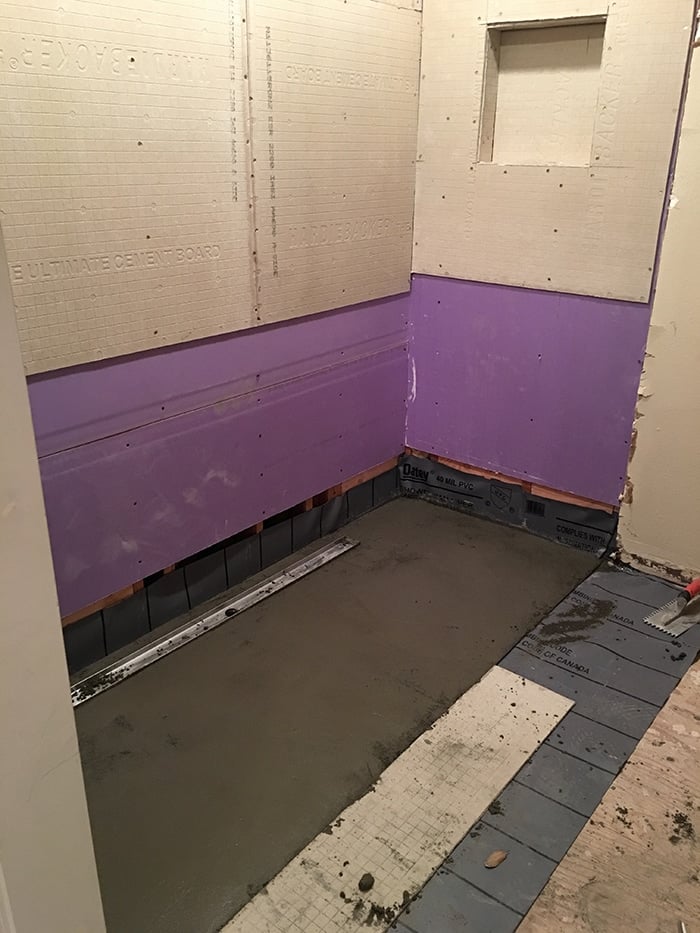 Pin
Then the cement board went down in preparation of the tile (psst, if you've been watching my weekly vlogs you've seen all of this before!)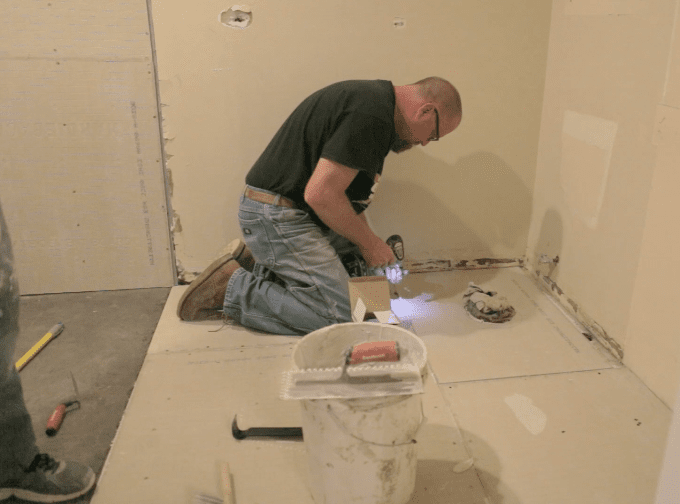 Pin
And finally, the tile installation: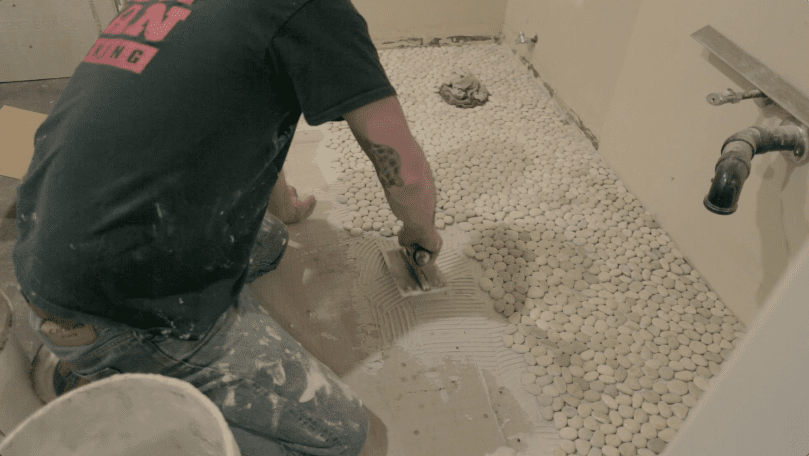 Pin
I've tiled a few walls and floors in my day and honestly, if you've never tiled and want a good beginner project to start—pebble tiles are the best. Because of their imperfect nature, you don't have to worry about straight lines or spacers or perfectly even flooring/walls. As long as your surface is level enough, it will look great.
I almost wish I had the time to do this whole job by myself, but I managed to get involved by letting my perfectionist side come out and make adjustments.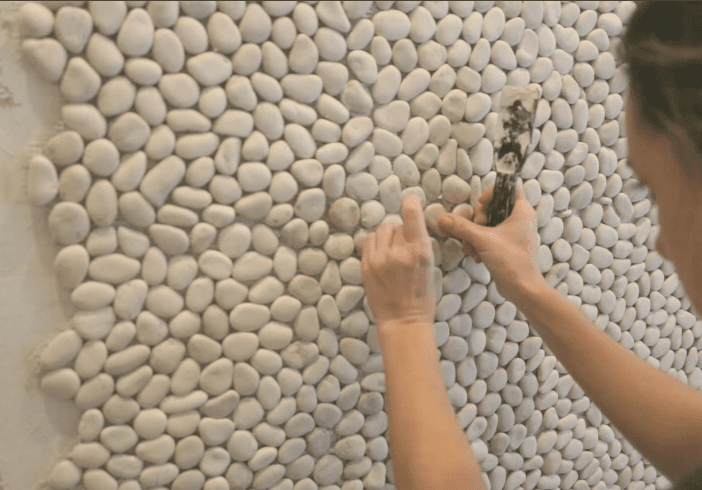 Pin
The pebbles are glued to the backing, but you can easily pop them off individually and move them around if desired.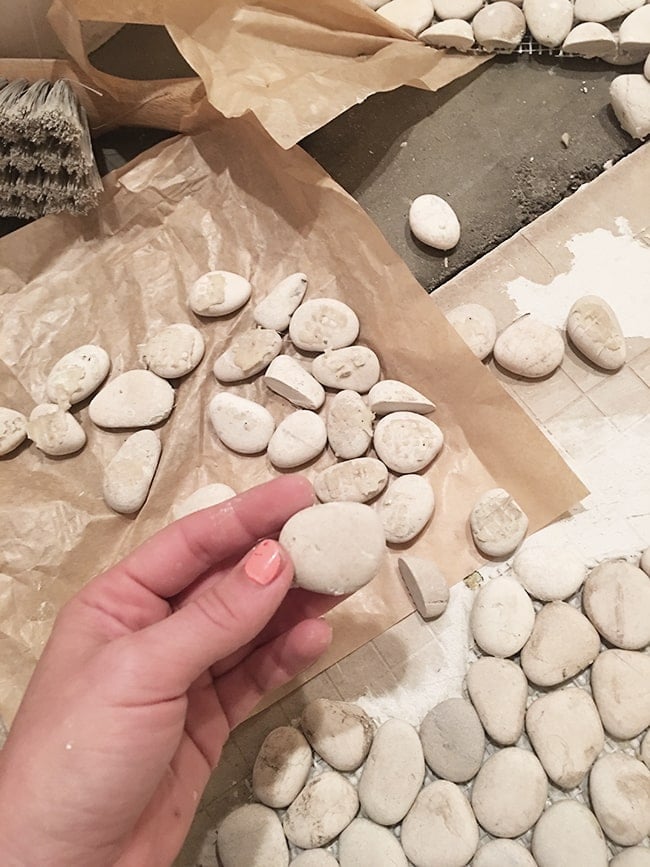 Pin
Like this area with a noticeably larger gap: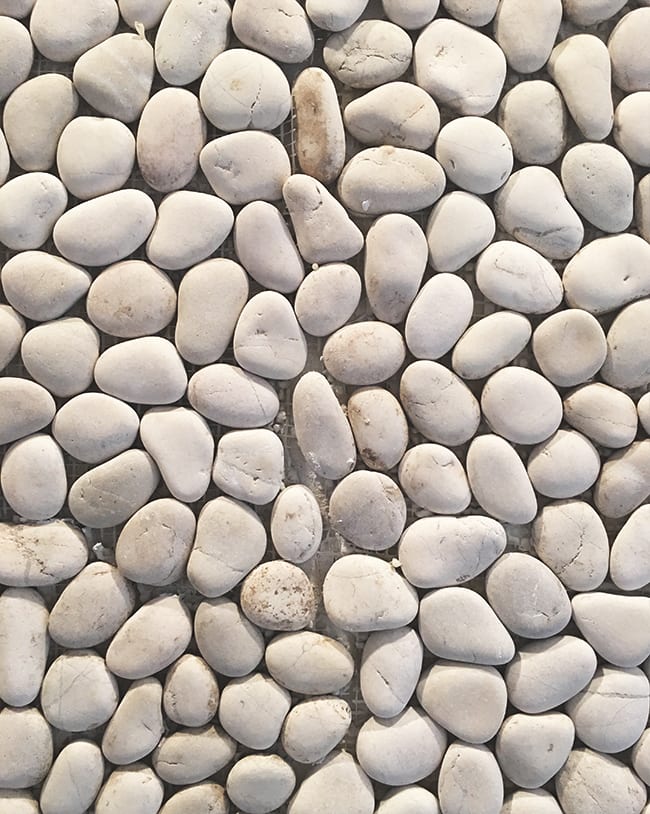 Pin
A few swapped/rearranged pebbles later and problem solved…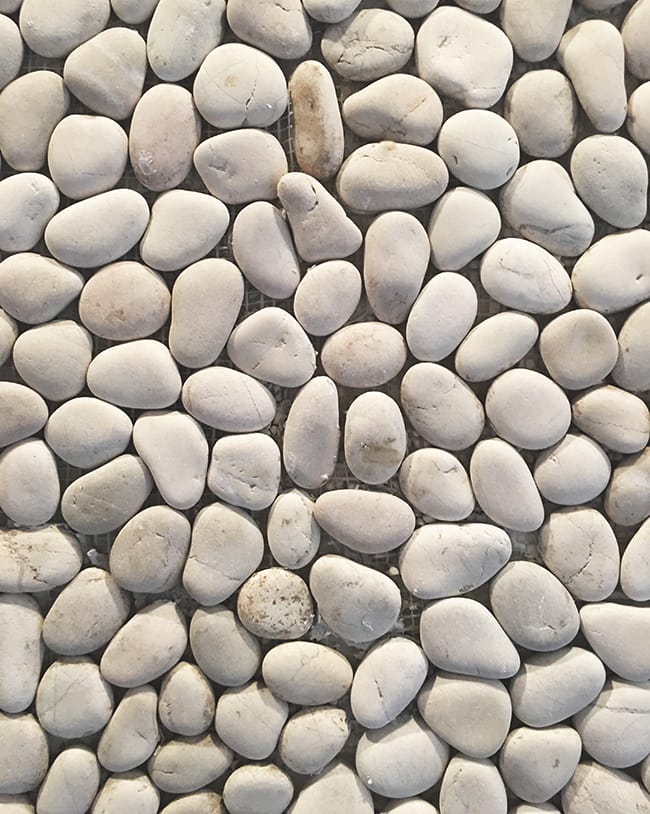 Pin
So, that part was fun for me. There's something oddly therapeutic about working on little details… just me? Anyway, I later learned that as obvious as the gaps and inconsistencies may be after the tile is set, it pretty much all goes away once grouted so there's no need to try and make everything too perfect. After all, real life rocks are random in nature!
I could barely hold my excitement in watching it all come together.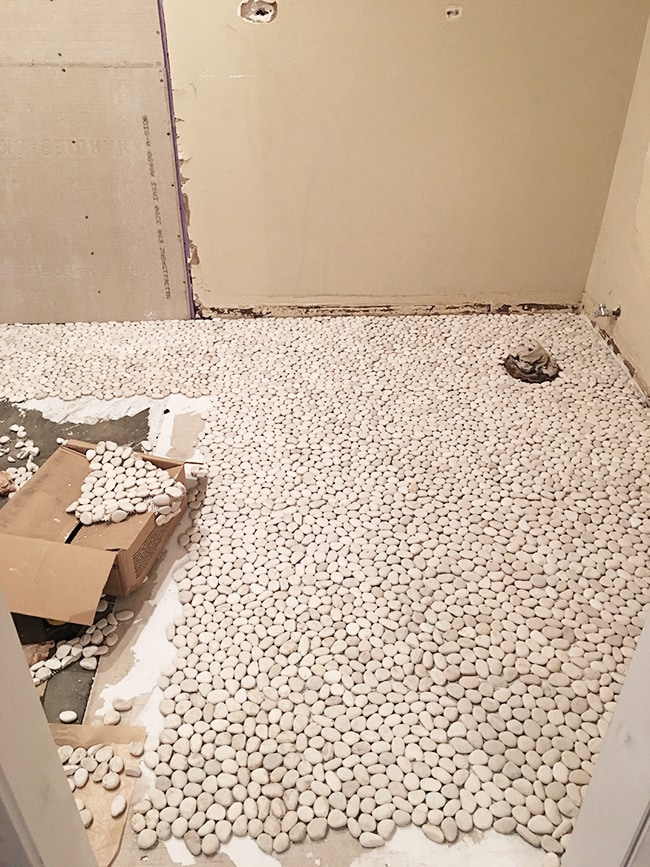 Pin
Speaking of watching, here's more video installation action:
Moving along. The side walls were also built up at the same time…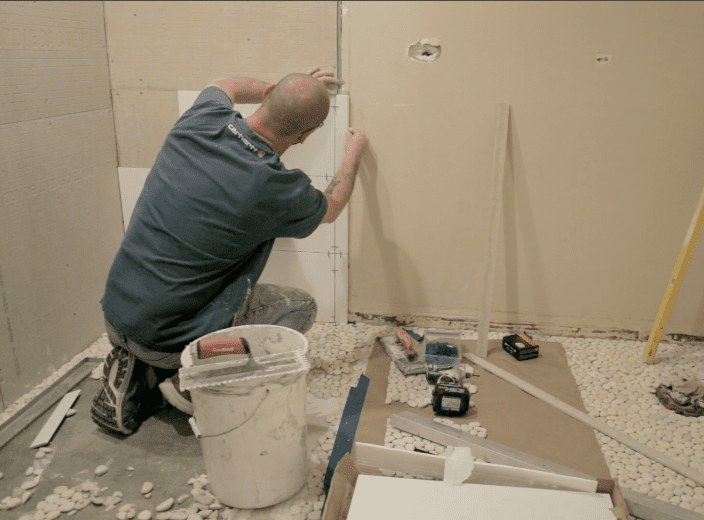 Pin
Oh so pretty…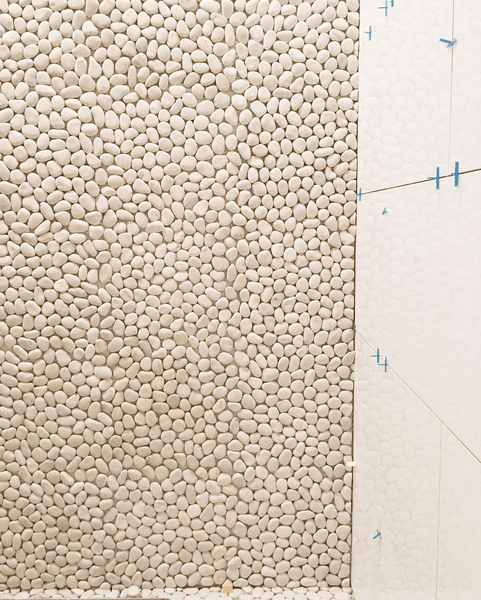 Pin
I was out of town when phase 1 of the tile was finished, but Matt sent me this photo after completion: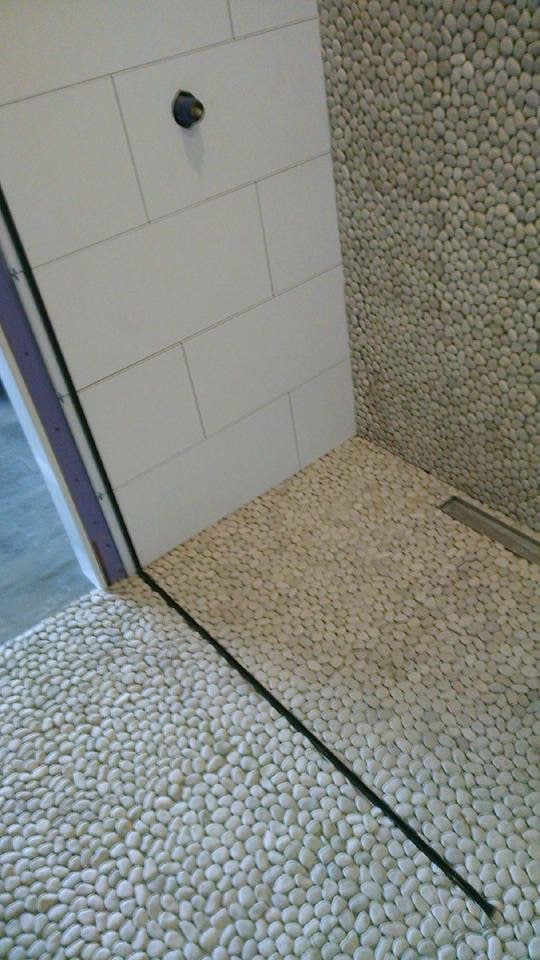 Pin
You may be wondering what that black channel is all about. Rather than order a glass shower wall and door kit which can cost thousands of dollars, I decided to keep a more open layout and have a 7'h x 4'w fixed glass wall panel to divide the shower area. Not only does this make the room feel larger and more spa-like, but the total cost was only around $700 (from a local glass company) and I think it looks so much nicer! That will be the final step, installed next week.
On Tuesday, the grout was installed and I was on pins and needles as he began…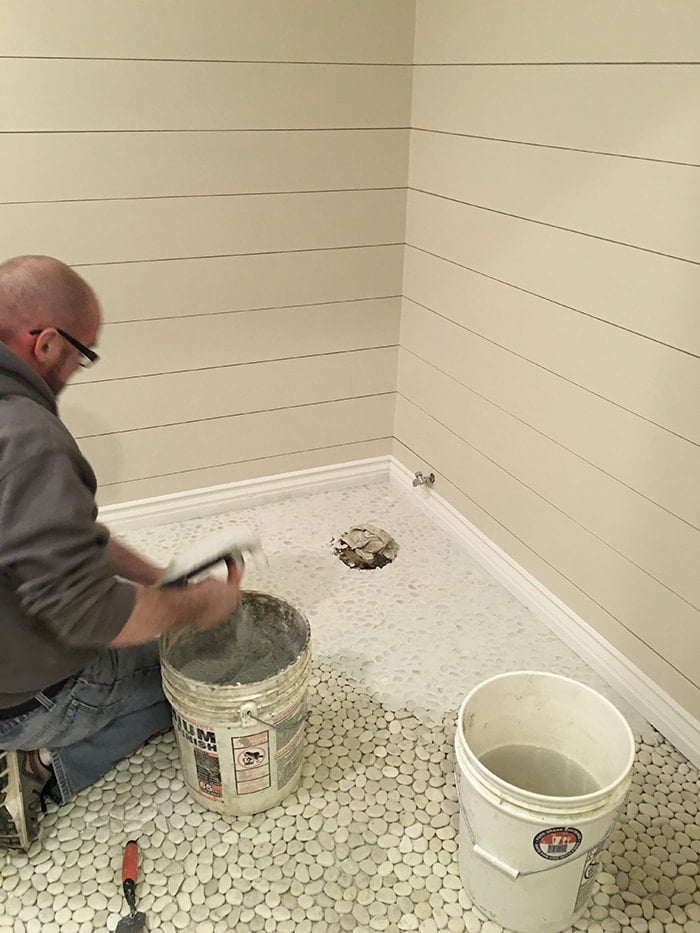 Pin
Lots and lots of (sanded) grout is needed for this tile—more than we'd planned for—so make sure to buy extra if you're using pebble tile!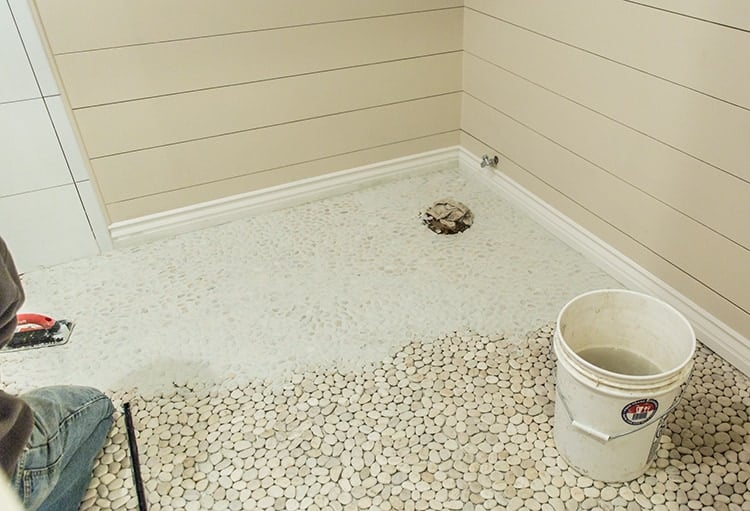 Pin
When the excess was wiped off, it was everything I had ever hoped for. Perhaps more.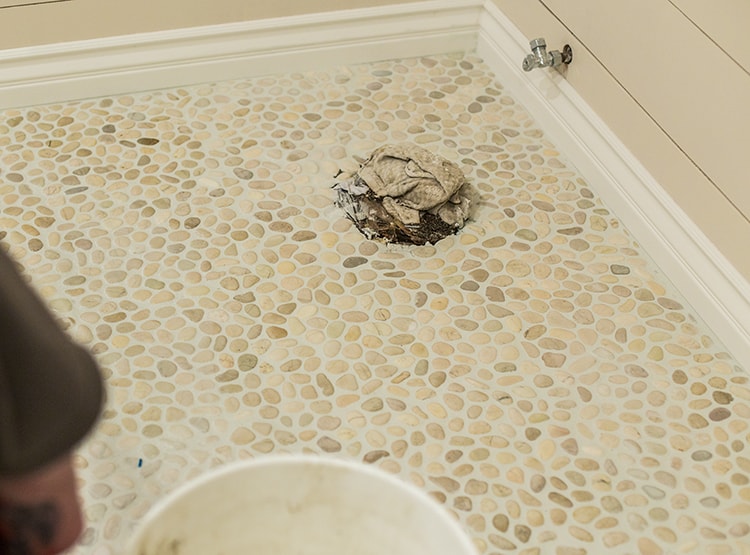 Pin
See how big a difference grout makes?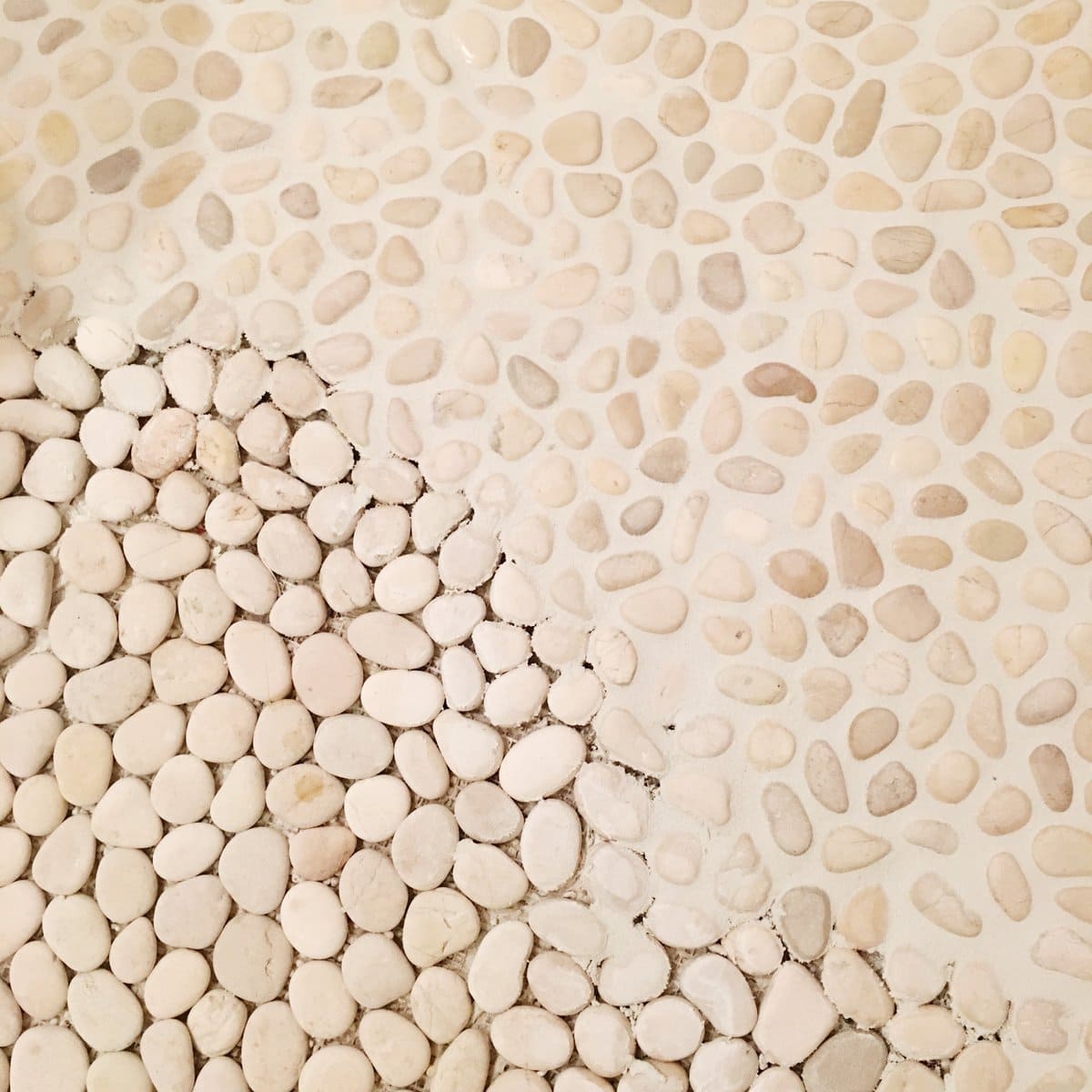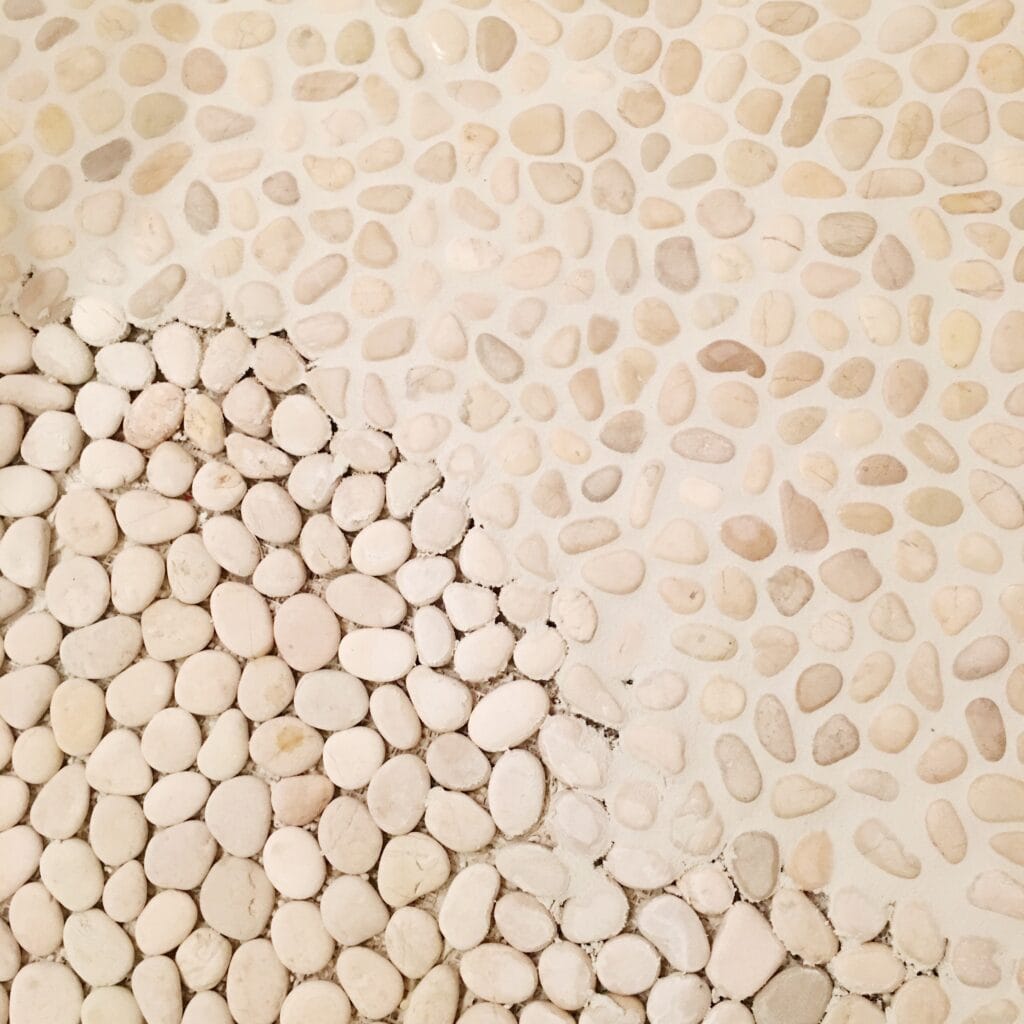 Pin
Any gaps or imperfections I was worried about had all disappeared.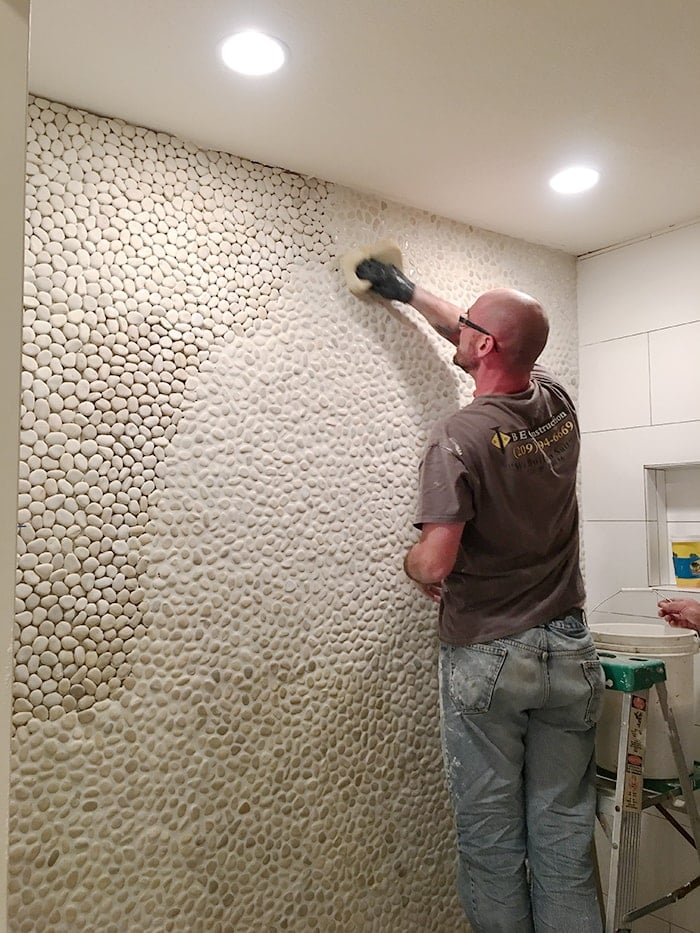 Pin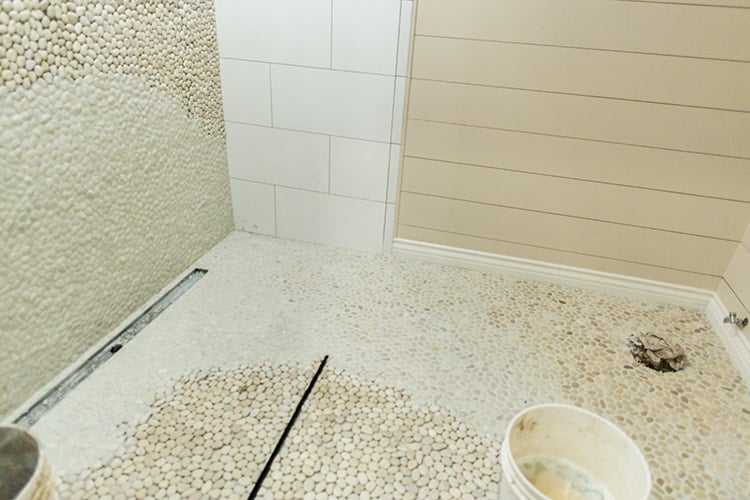 Pin
Close up shot of the drain which will be filled with rocks soon. Can't wait to see how that turns out!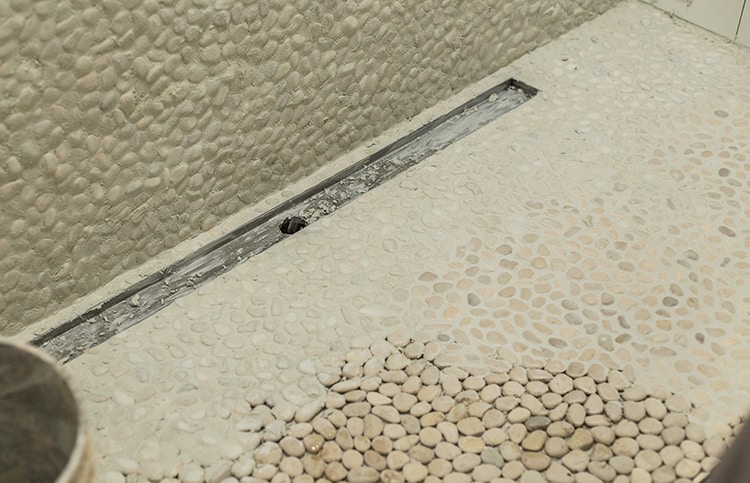 Pin
Thursday morning I sealed the tile using this natural stone sealer from The Tile Shop: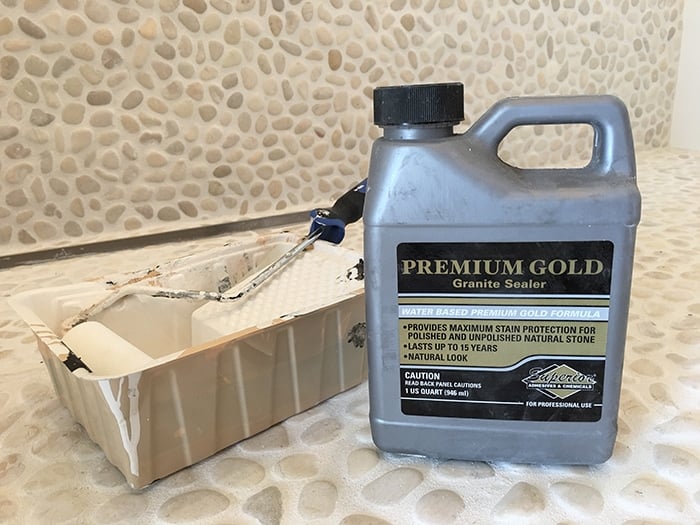 Pin
I used a smooth foam roller to speed up the process, and the porous stone and grout surface soaked it all right up so no wiping was needed. The colors will darken a bit during this process but it goes right back to normal once dry.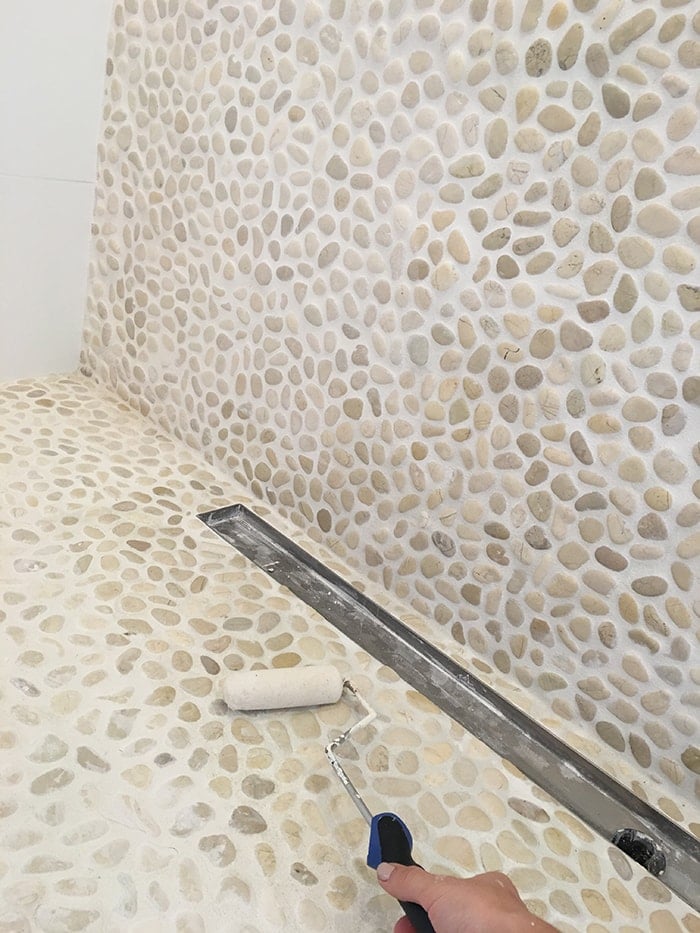 Pin
I applied two thick layers ~30 minutes apart, and by the second layer noticed that the surface was already be coming water resistant so it's doing its job! Hopefully it will protect against staining and make cleaning & upkeep as easy as possible.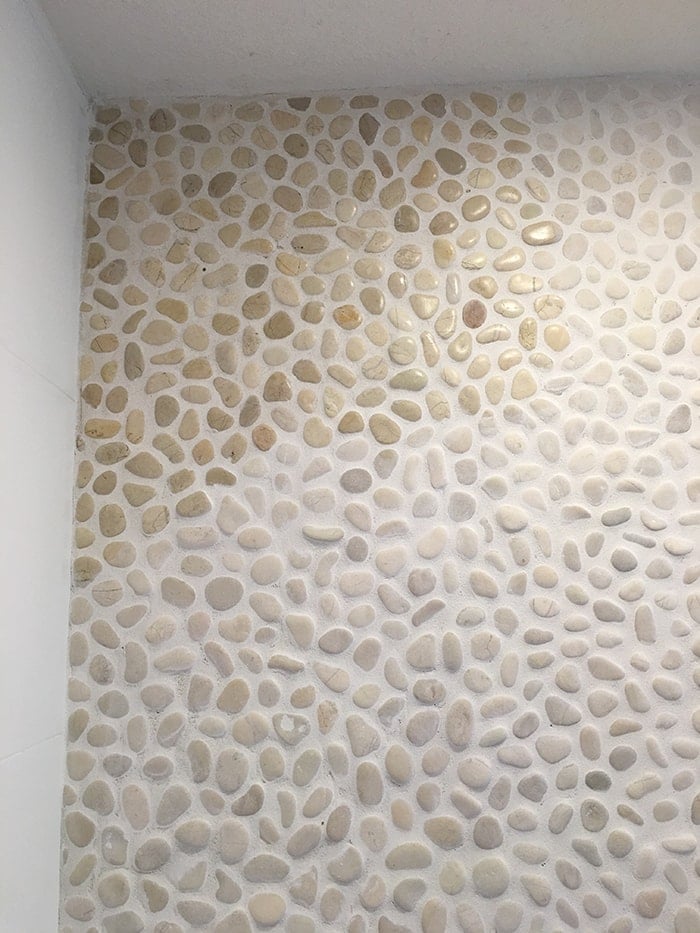 Pin
As of the time this post was written (Thursday afternoon), here's how the bathroom looks: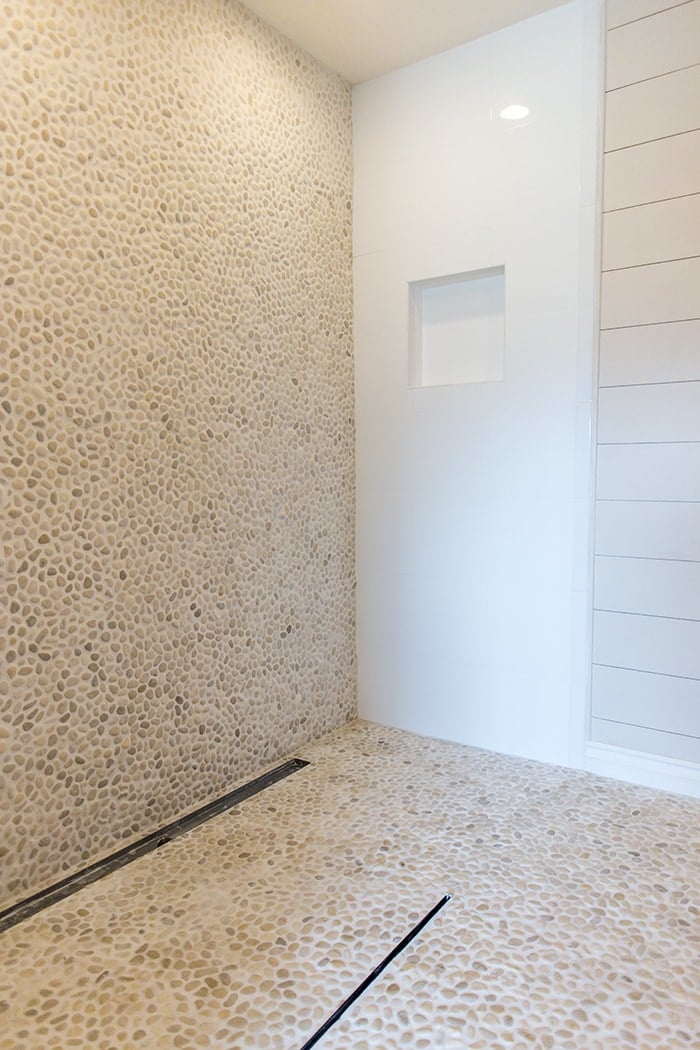 Pin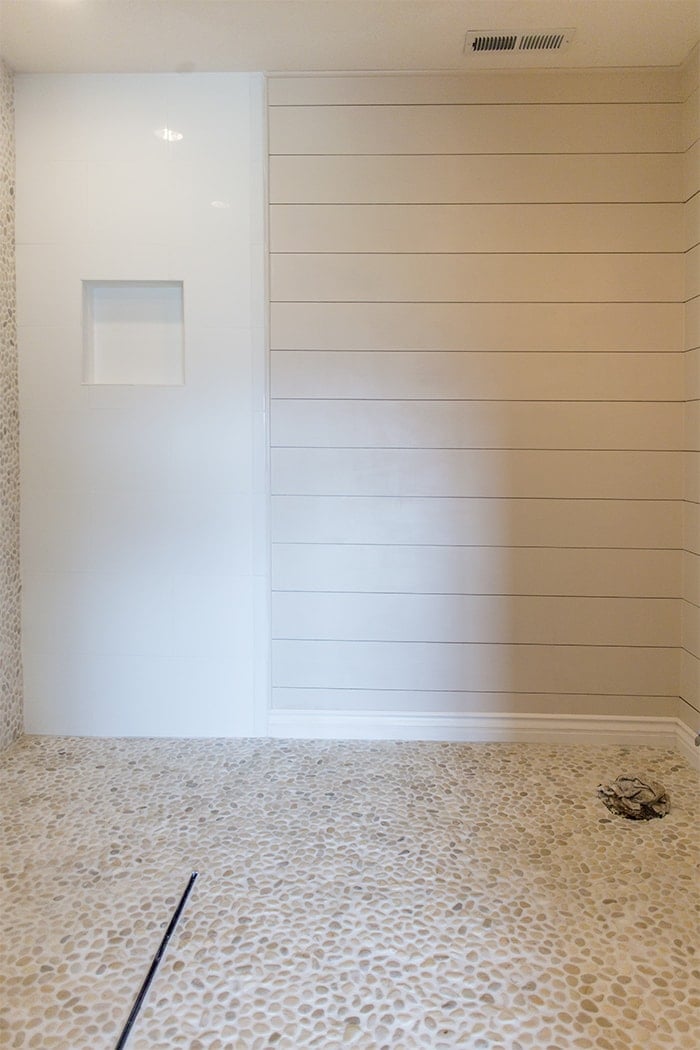 Pin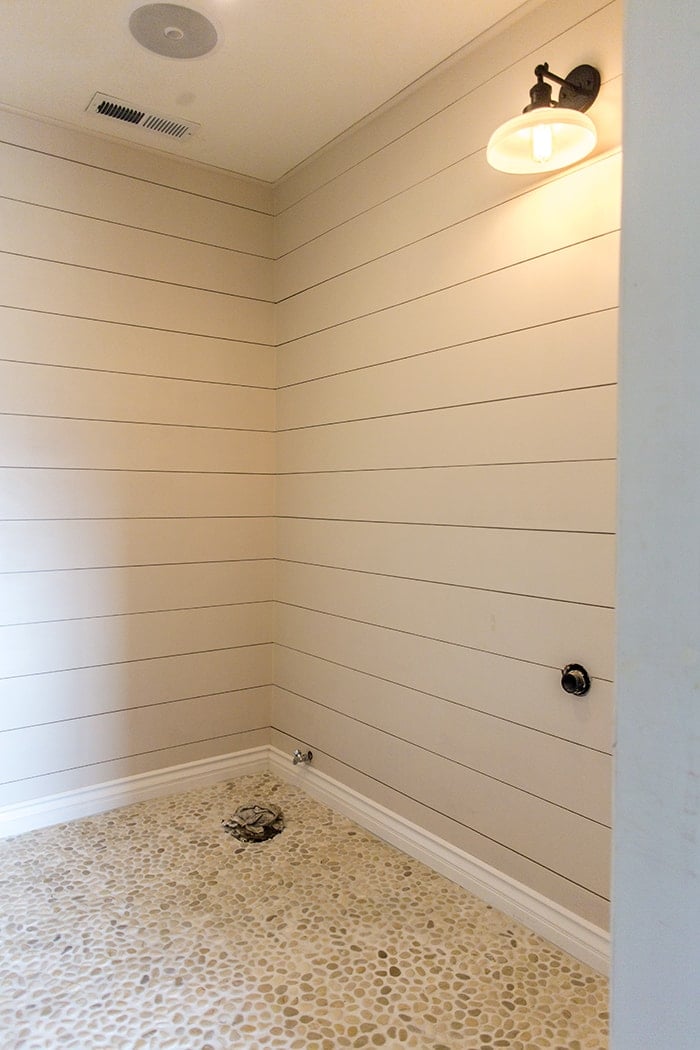 Pin
Now that the tiling is officially complete, I'm super happy with my wall color choice (Valspar's Coconut Milk) and love how it pulls from the tones of the pebbles to create a cohesive look.
Two of my contractors are scheduled to show up any minute to install the toilet, vanity, sink & faucet, shower faucet, mirror, and help me with some wall shelves if time allows. Hopefully by the time you read this post Friday, the bathroom will be 90% done—and all that's left to do is install the shower glass and accessorize—just in time for my open house next Saturday! EEK!
I have a fun and free Spring inspired DIY project planned for the bathroom wall and guess what? I've decided to do another video tutorial for you guys! I'll have that ready next week, along with Vlog Episode 10, and—if time allows—DIY barn door plans and/or DIY industrial desk and/or wood bench projects… I'm functioning on 5 hours of sleep and can barely keep track of it all right now. If you feel like jumping on board this crazy train with me, follow me on snapchat @ jennasuedesign for constant live updates!
Hope your weekend is more restful than mine…