Well my friends, the moment we've all been waiting for is finally upon us. It's ORC Reveal day.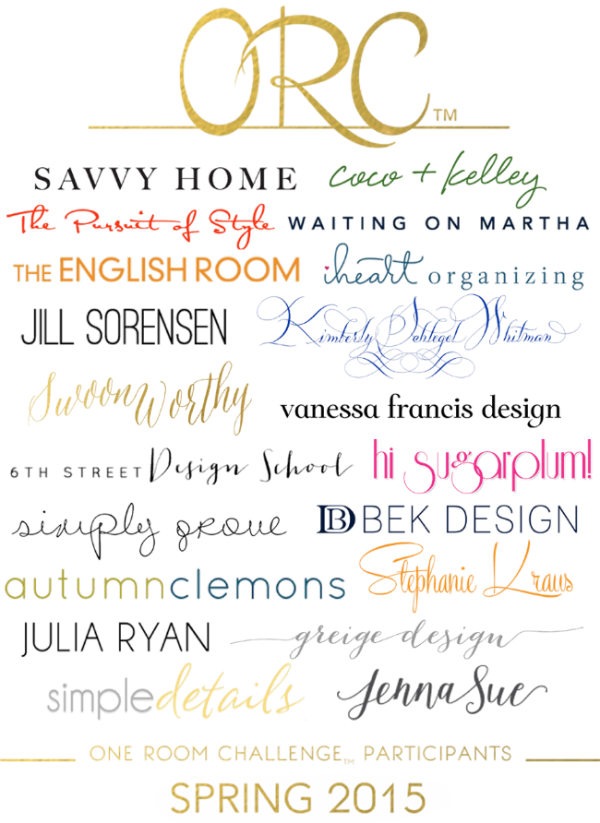 Pin
If this is your first visit, here's the weekly recaps:
Week 1: Introduction & Inspiration
Week 2: Demolition & Design plan
Week 4: Tile & Shower
Week 5: Walls & paint
And here we are in Week 6—the process seemed to move really slow during the first five weeks but there was a lot going on behind the scenes, and it all came together literally in the last few days (just in time!). I was somewhat on the fence about participating in this challenge in the beginning because I know how stressful renovations can be, especially when you're DIY'ing most of it, and especially when there's a time constraint, so I'm overjoyed that we were able to pull this off. And I have to admit—I am more proud of this renovation than anything I've ever taken on. I challenged and pushed myself as designer and DIY'er and I hope it translates through these photos.
Now let's get down to business!
Six short weeks ago, we were living with "that 70's bathroom"…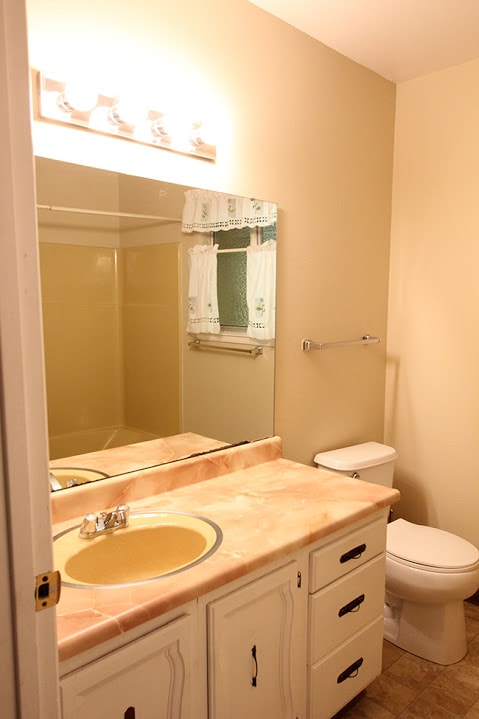 Pin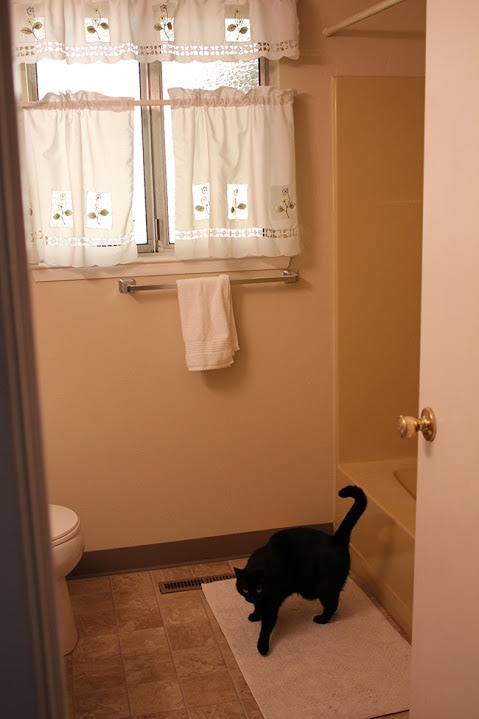 Pin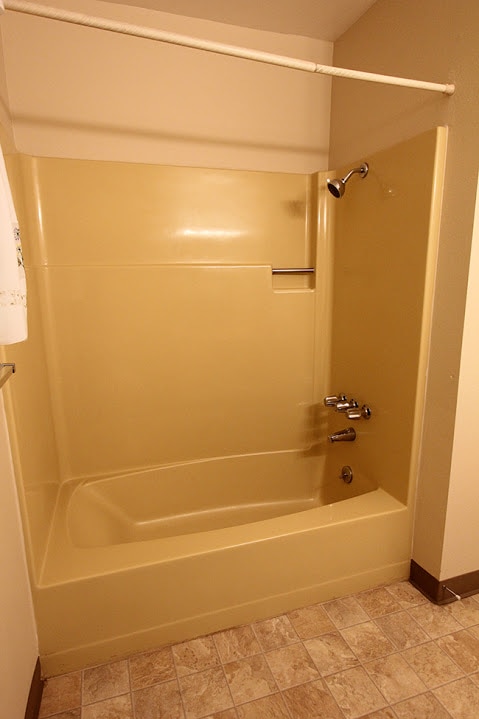 Pin
After many long days and nights of shedding blood, sweat and tears, I present to you our new guest bathroom: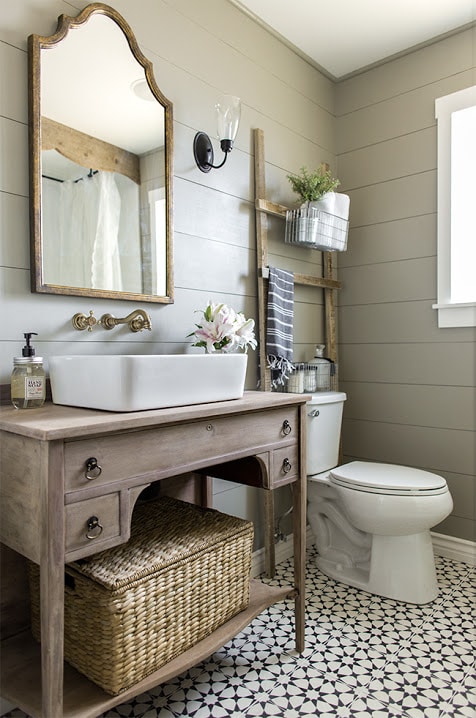 Pin
In the initial stages of my renovations I like to choose a handful of adjectives to describe the style/atmosphere I hope to achieve with the end result. It helps me stay on track when looking for inspiration and planning the details. For this room, I went with "natural romantic vintage boho"—a bit riskier (design-wise) than my traditional modern farmhouse look.
Pin
But I figured if I'm going to experiment, why not in a guest bathroom?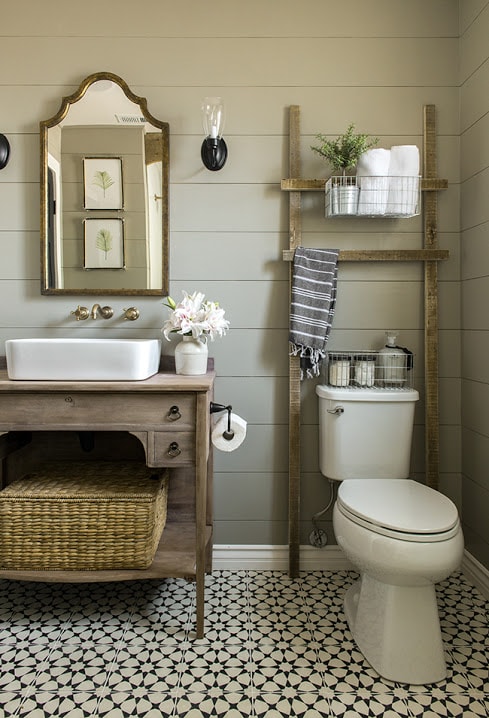 Pin
I find that you can blend nearly any style as long as there is some element of consistency and cohesiveness to tie it all together.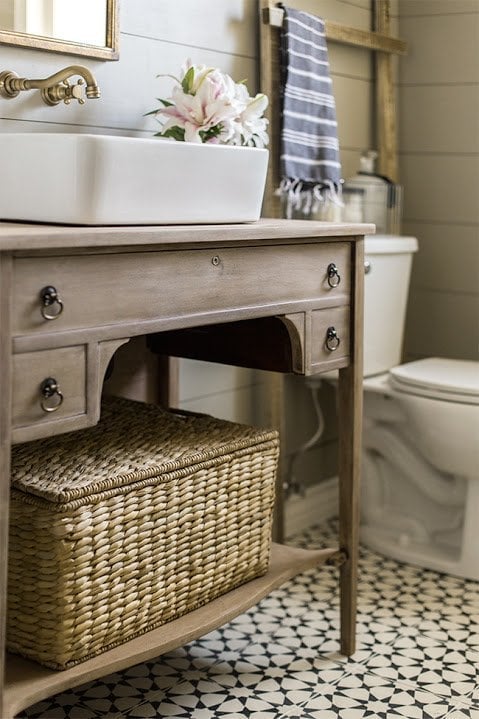 Pin
Mixing metals, bold patterns and playing with tone-on-tones makes for a layered effect with lots of interest packed into a tiny space… I see more design risks in my future.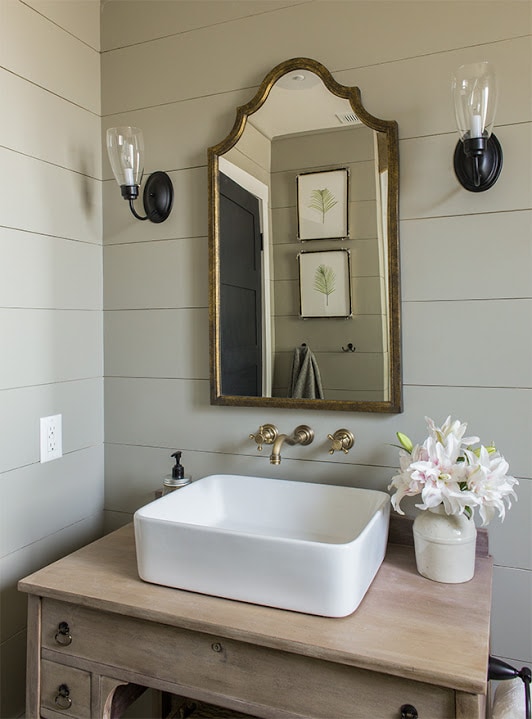 Pin
And this nook…. swoon.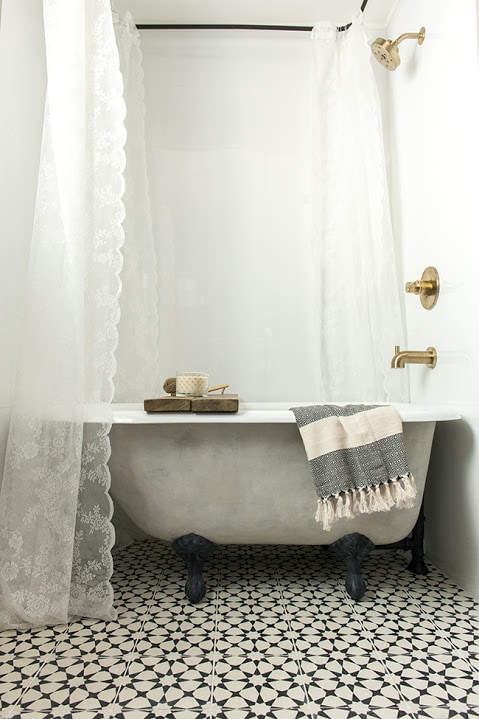 Pin
I treated myself to a new camera before this shoot (Canon 6D) and wow, wish I would have upgraded sooner.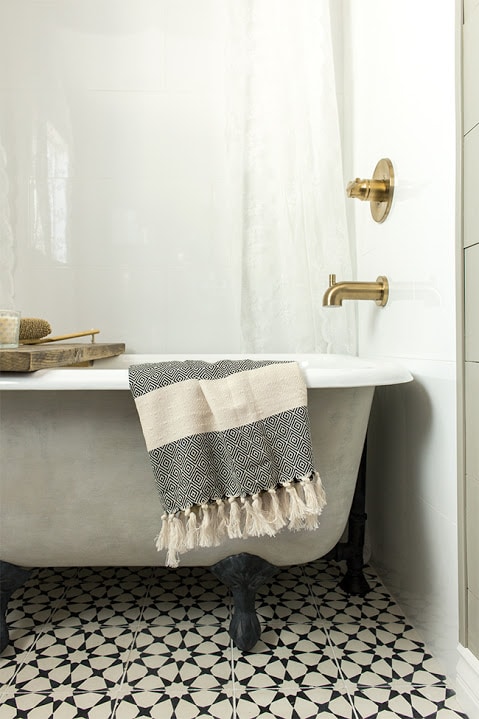 Pin
It captures the details and atmosphere beautifully…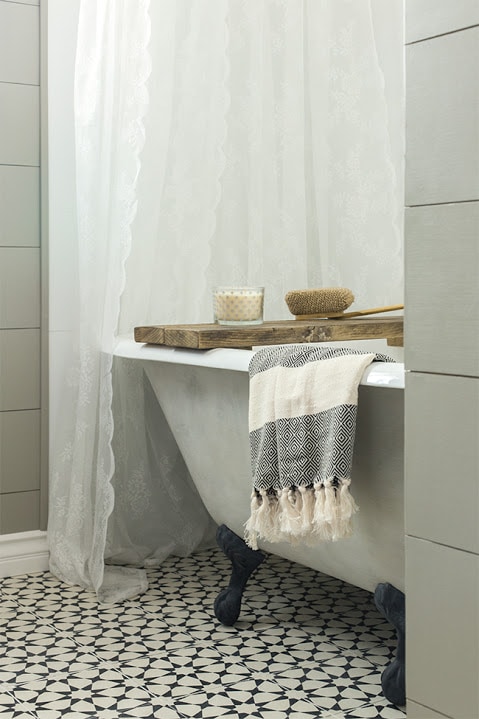 Pin
It also makes the room appear a bit larger. It's still a small 7′ x 8′ space, but when it's filled with pretty details and moments, you tend to focus on those instead…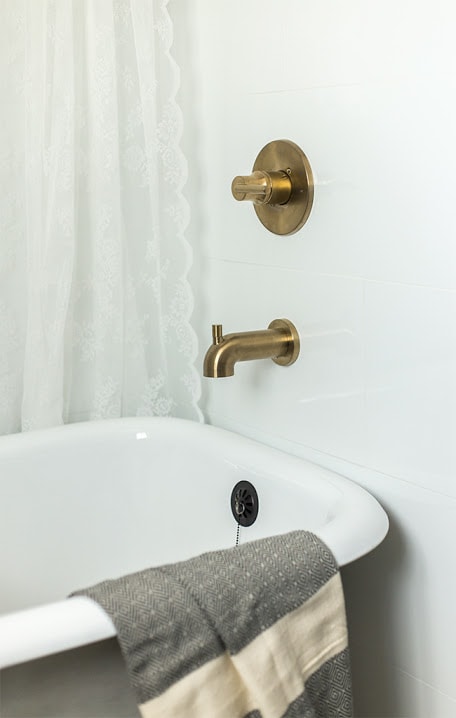 Pin
So glad I took the time to add a patina on this tub. It's subtle but adds so much to the room. You can read the full tutorial on that here.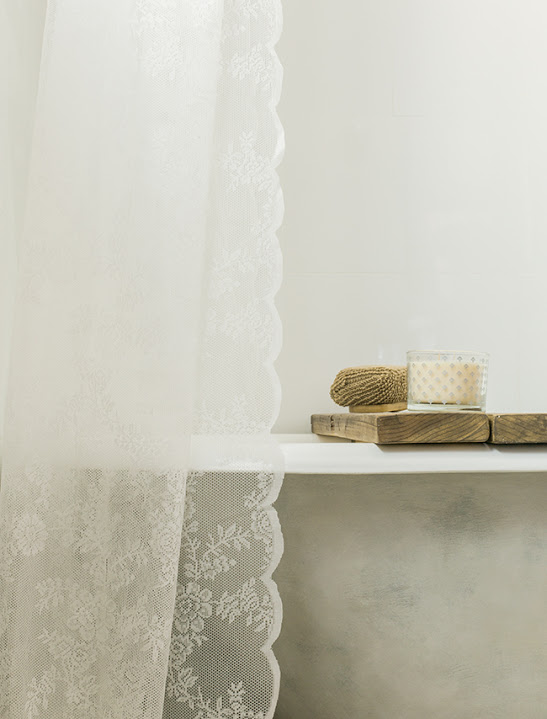 Pin
I made this valance in about 30 minutes from a piece of reclaimed wood (leftover from our laundry room barn door) and a jigsaw (tutorial to follow).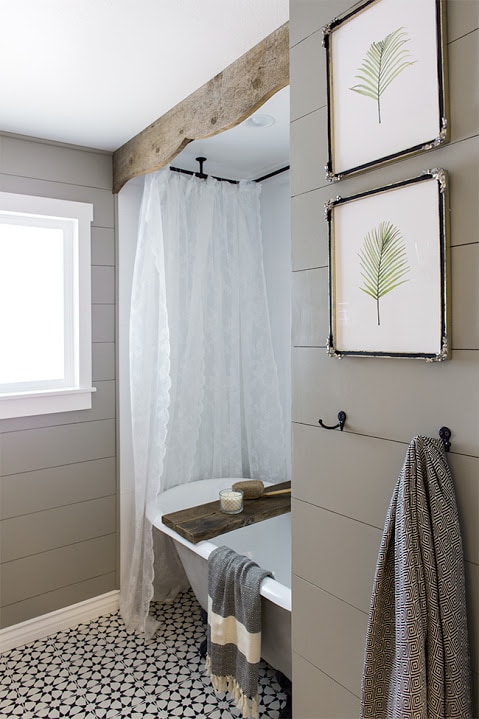 Pin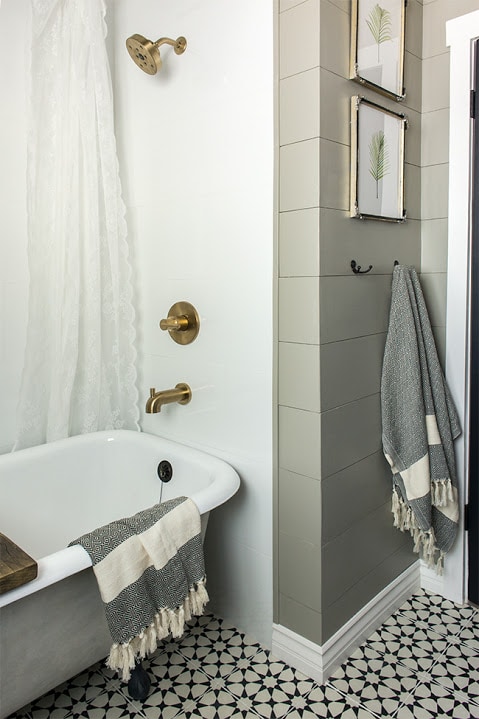 Pin
Every single detail, like this DIY paneled door, was very thought out. Planning is the most important part.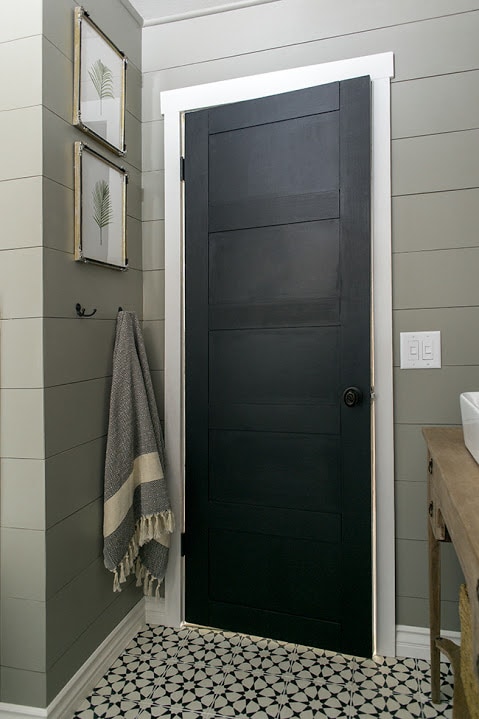 Pin
Lighting is also critical, especially in a space where the mood is essential. These candelabra bulbs on dimmers will make the perfect glow for evening bubble baths.
Pin
An easy DIY ladder made from reclaimed wood is a fun way to utilize the wall space for extra storage.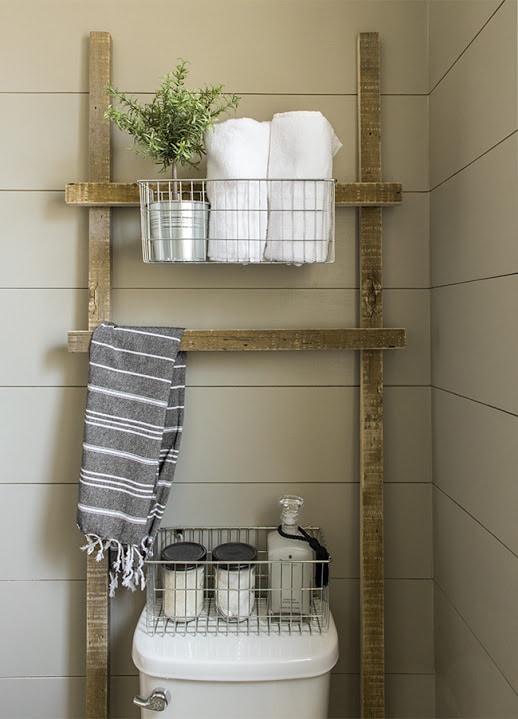 Pin
This vintage buffet-turned-vanity (a repurposed Craigslist find) is one of my favorite parts of this room.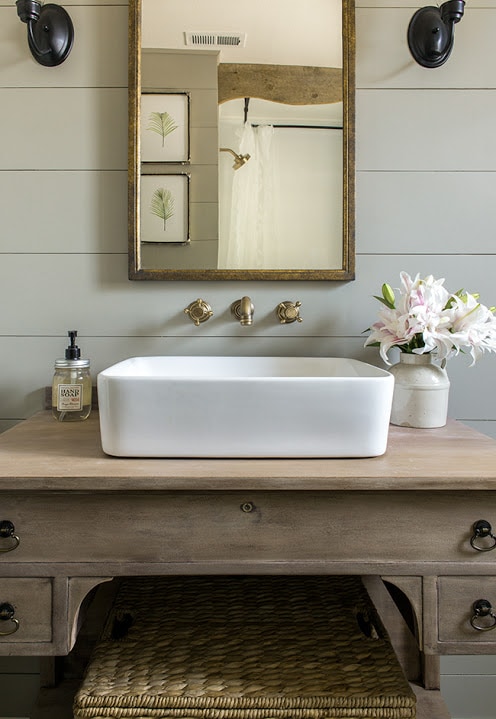 Pin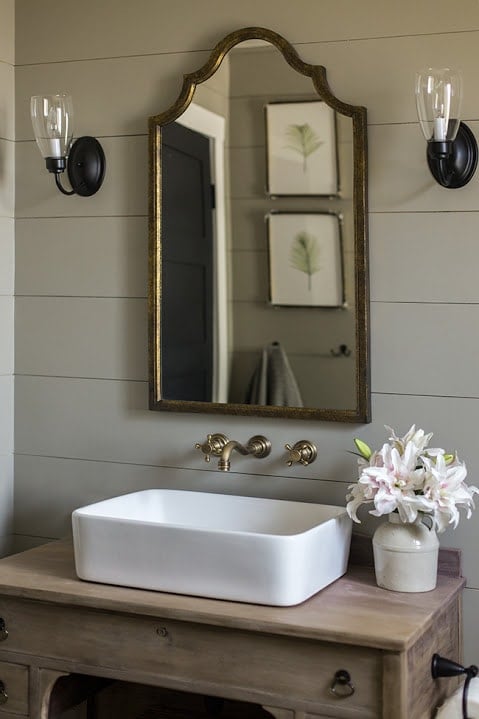 Pin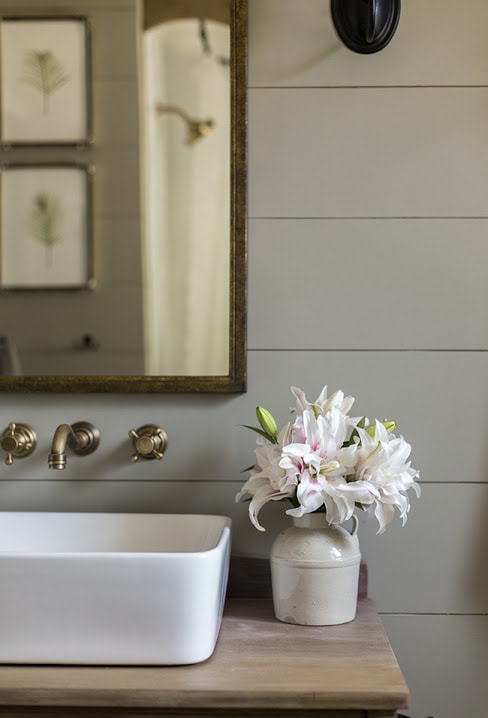 Pin
Sources
Floor tile: Cement Tile Shop
Wall color: Valspar's Gray Silt (satin)
Door color: Valspar's Dark Kettle Black (satin)
Trim & ceiling color: Kelly Moore's Swiss Coffee
Vanity: Craigslist (DIY refinish tutorial)
Vanity knobs: Ebay
Mirror: Discontinued, similar here
Sink: Wayfair
Sink Faucet: Amazon
Sconces: Discontinued, similar here
Woven basket: Pottery Barn
Metal wire baskets: Overstock
Plush white towels: Mark & Graham
Turkish bath & hand towels: Etsy
Artwork: Minted
$6 Door knobs: Ebay
Clawfoot tub: Vintage Tub (custom paint tutorial here)
Lace curtains: Ikea
Toilet: Lowe's
Shower faucet: Amazon
Shower wall tile: Floor & Decor
And now I'm ready to pop open a bottle of champagne and take a nice, long bubble bath to celebrate and soak it all in. I haven't taken a single bath in this home since we've lived here so it's about time!
Because this renovation moved a lot faster than my normal process, I want to take some time next week to go more in depth about the design process and finishes/products I chose, the costs, and tips/advice for those of you looking to recreate this look. If you have any questions, please leave them below in the comments and I'll cover them next week. A huge thank you to those who have been following along with me on this journey since the beginning! Your encouragement (both on this blog and instagram) has been so helpful in motivating me to push through those tough days and end up with a result I truly love and hope my guests will enjoy for years to come.
I'm so excited to see how the other participants rooms turned out! Let's go find out:
The Pursuit of Style
Savvy Home
Trademarked by Calling it Home
I'll be sharing more on instagram if you can't wait another week! Don't forget to check back then for more on this renovation and to find out what's next for this blog (hint: big changes are coming…)