Can you believe it's already Week 3? The pressure is definitely on…
If you've missed any of the action, make sure get caught up on Week 1 and Week 2.
A couple days ago I freaked a little when I figured out we're almost halfway through this thing, so I sat down with my calendar to get a solid project schedule in place. I didn't realize just how much was left to be done, and ended up filling the entire calendar—every single day—until May 6th with something we have to do in order to finish in time. We're DYI'ing 90% of this ourselves and there's no room for error. Gulp. Let's hope it goes faster than our laundry room makeover! Please send all your positive DIY vibes out into the universe for us.
Here's how the room looked last week: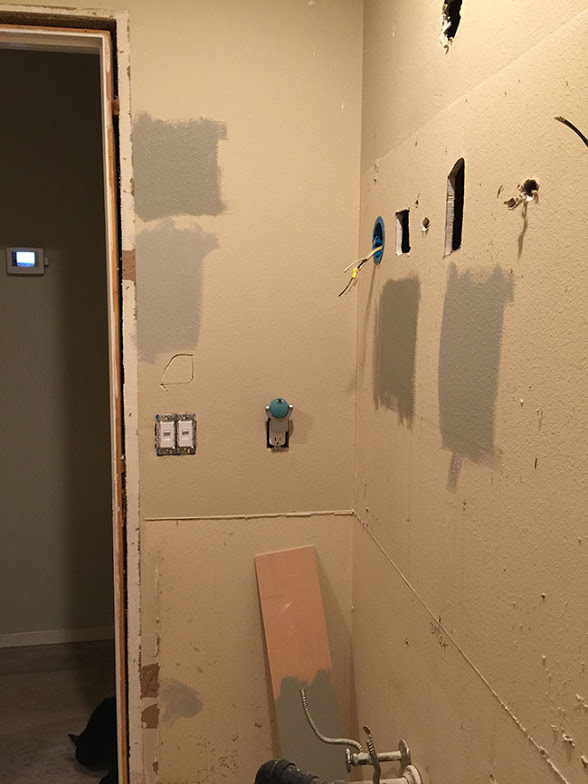 Pin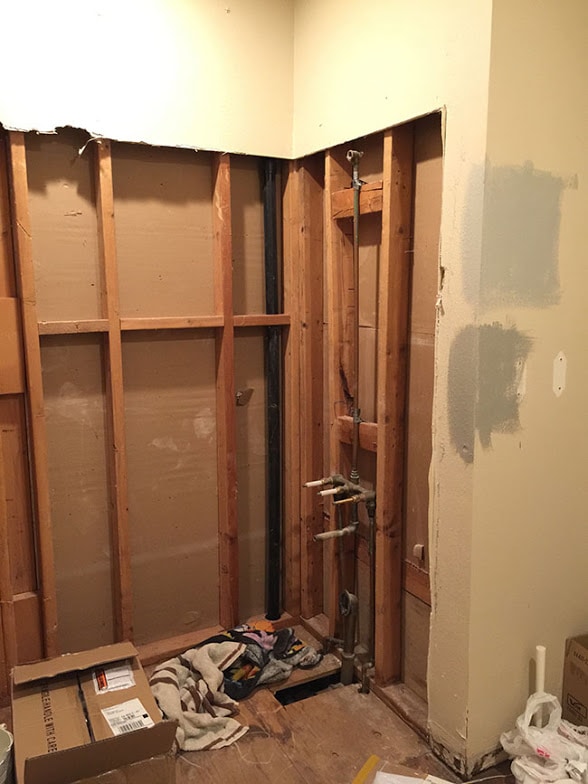 Pin
The shower tile will extend to the ceiling so we had to remove the rest of the old drywall above the old enclosure area. Brad took care of that Friday night—first by cutting out every last bit of the old fiberglass shower nailed to the studs: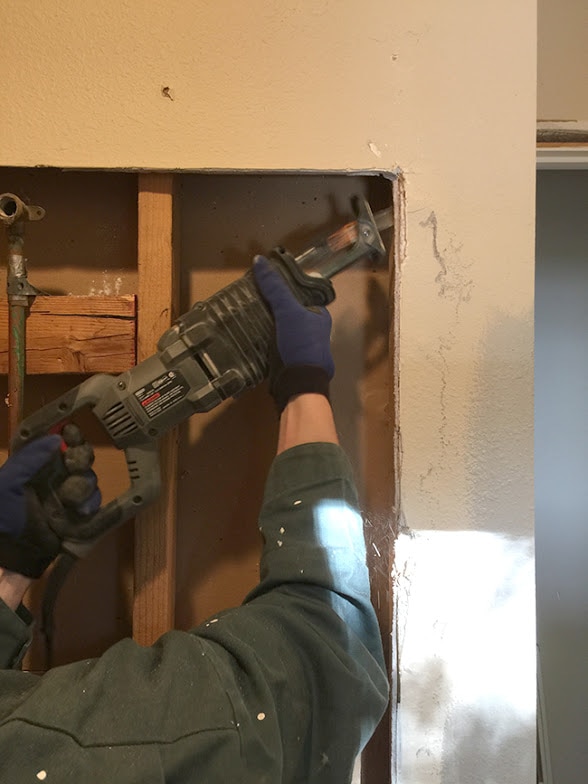 Pin
Then he scored and cut the drywall out: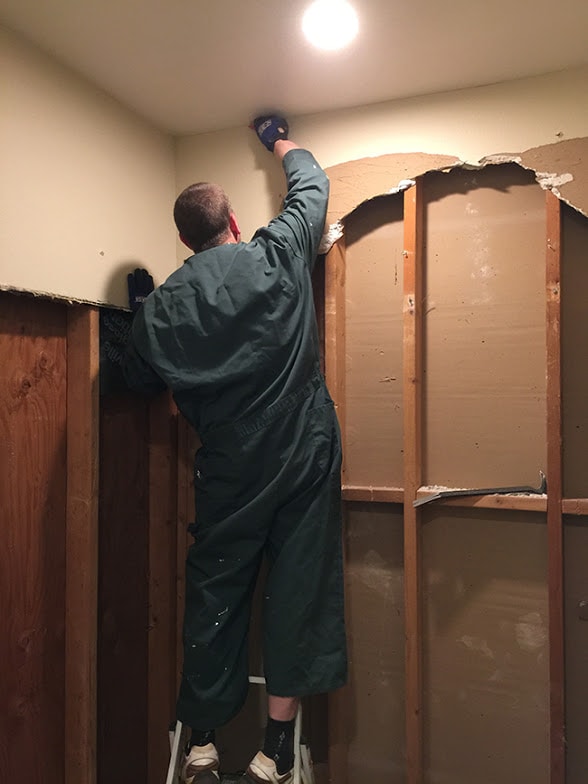 Pin
Eventually we were left with a nice, clean slate. It's amazing how much larger rooms feel when walls aren't divided horizontally by two different surfaces (it's why I always extend my cabinets, tile, stone, planks, etc up to the ceiling—it makes all the difference!)
Next to go was this old window: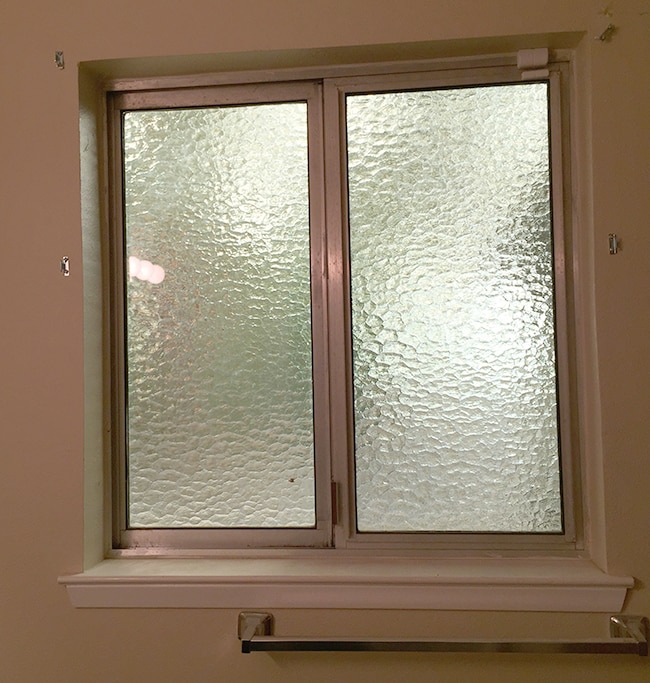 Pin
You can't really tell how obnoxious it is from this shot, but it was such an eyesore from the outside of our house (as seen in our fall porch post):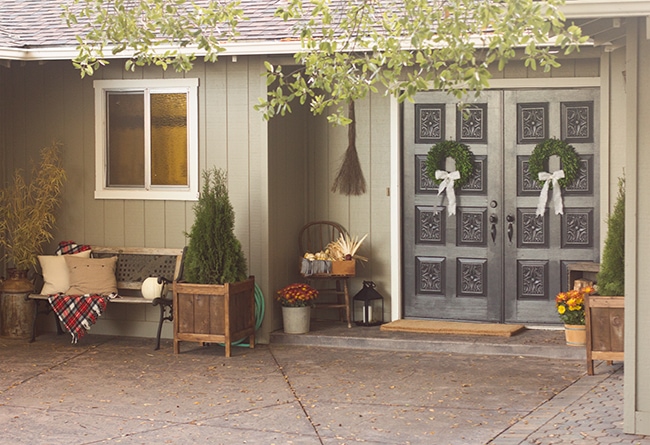 Pin
Brad's friend came over Saturday morning to help out. I wasn't home for the first hour so I didn't get a play-by-play, but fortunately the new window we bought from a local glass company fit perfectly so no modifications were needed. They pretty much just popped the old window out and removed the surrounding drywall…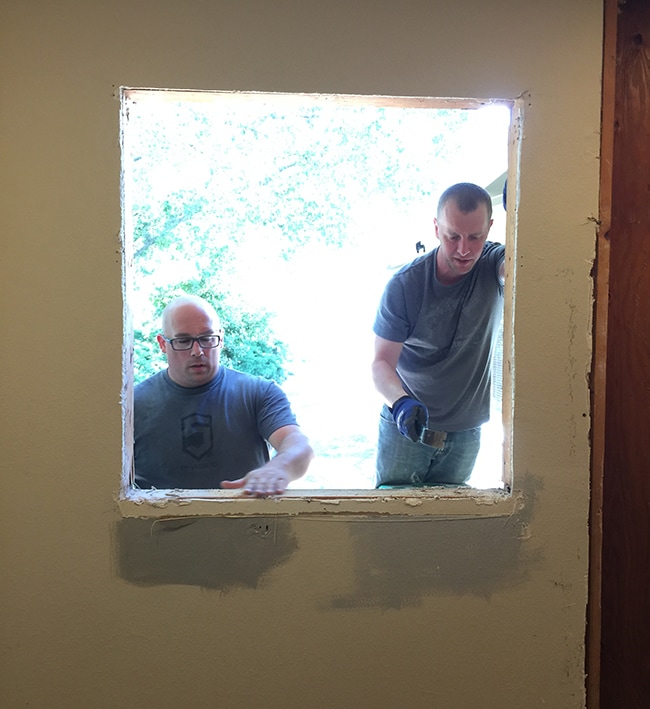 Pin
Removed the old frame/trim…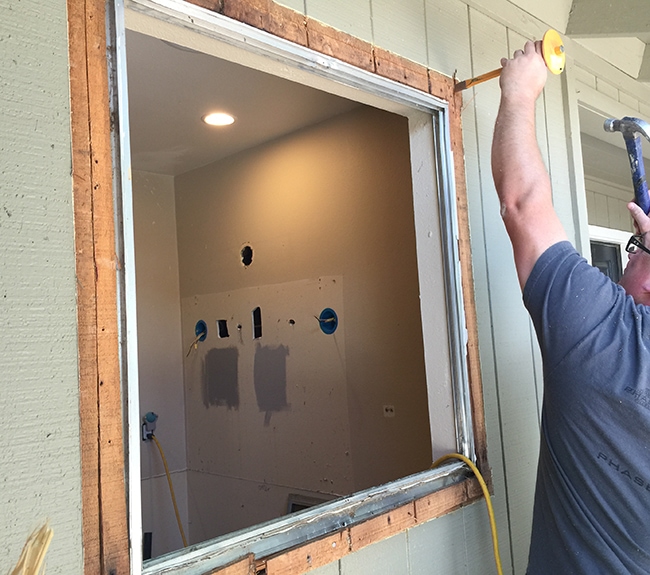 Pin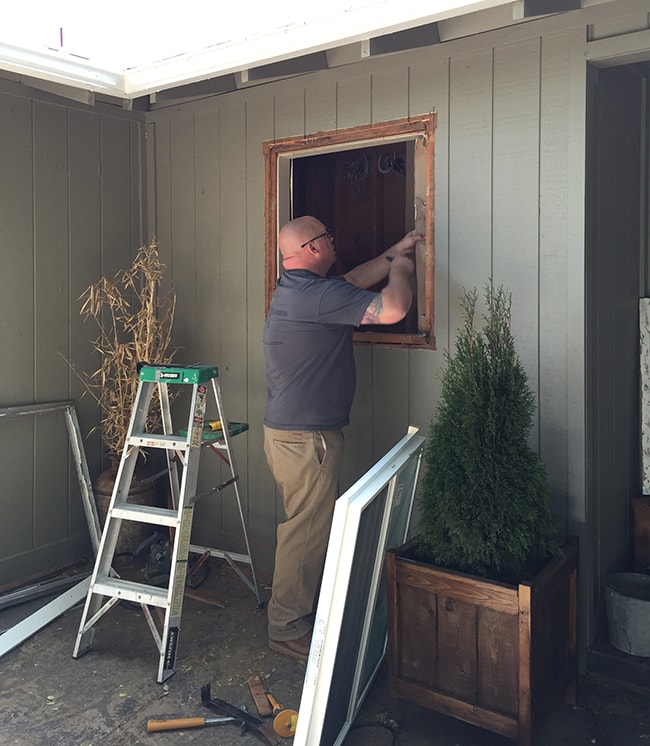 Pin
And attached the new one in its place.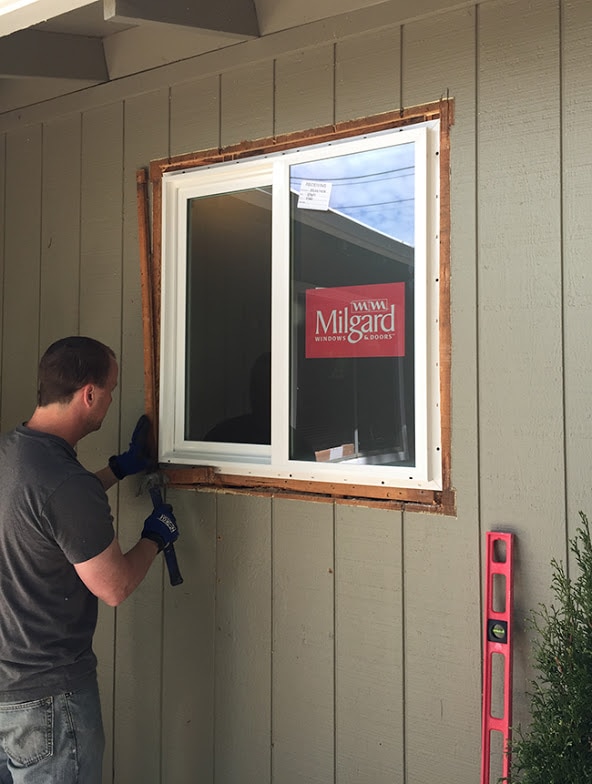 Pin
SO MUCH BETTER. We've waited a long time for this.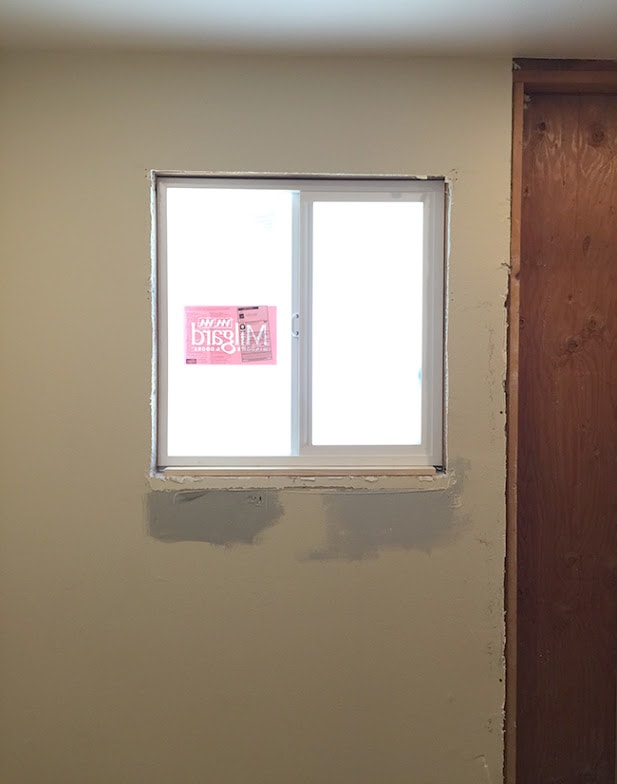 Pin
It's frosted for privacy and simple so that it doesn't draw attention away from anything else in the bathroom.
Once it was in place, I cut, painted and caulked new trim in from the outside to match with the rest of the house.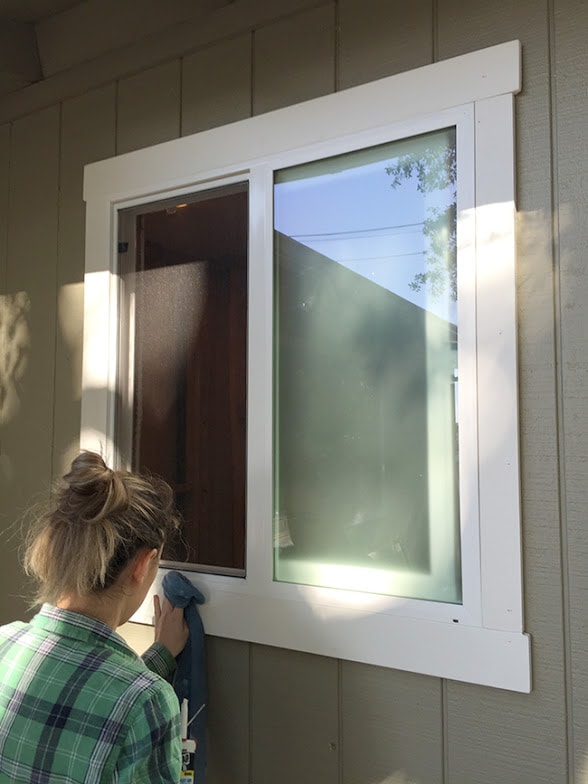 Pin
I left the inside alone for now since I'll be planking the walls first.
As we were finishing up with the window, our plumber arrived and started on the sink faucet. It had to be completely redone since I'm using an in-wall system and the placement is different. Those two gold plates are where the hot/cold handles are, with a hole in the center for the faucet.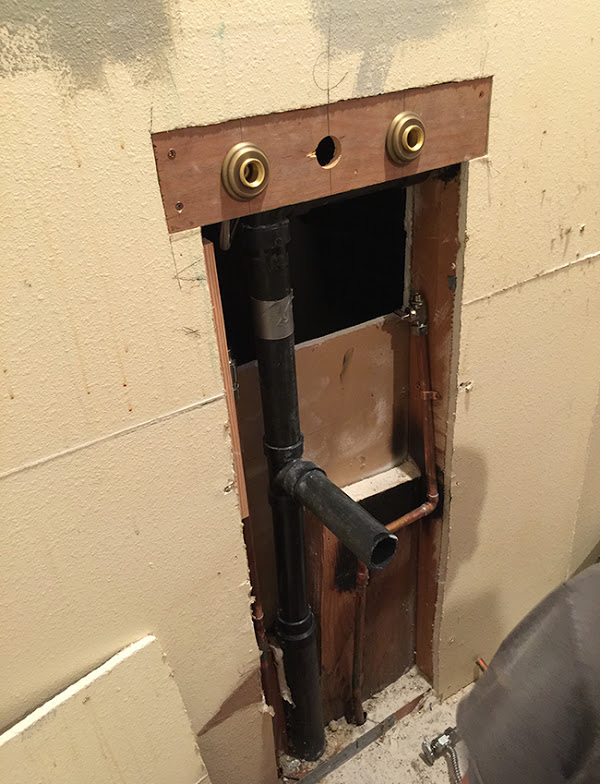 Pin
Behind this wall is our foyer coat closet, so he was able to cut an access panel behind it to finish hooking it up after our plank wall is in (lucky for us!).
Here's how it looks with the drywall back on: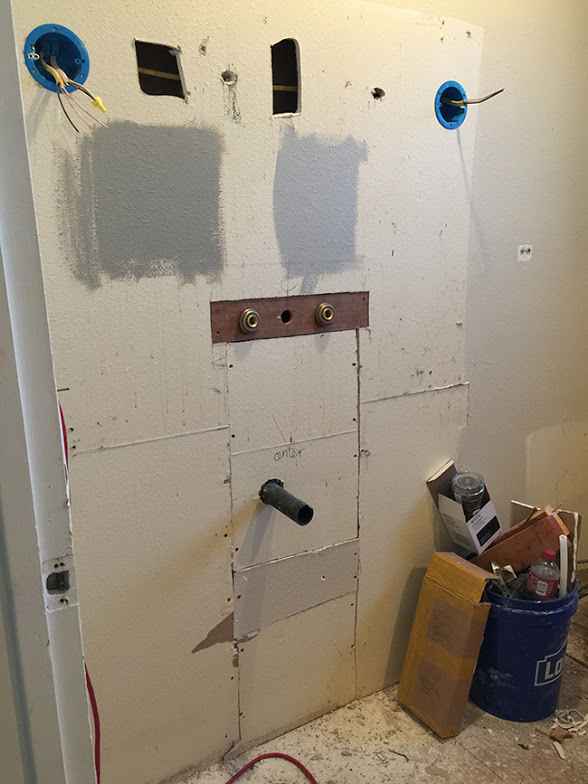 Pin
On Monday he came back to redo our shower plumbing. Same situation here—completely different layout than the original.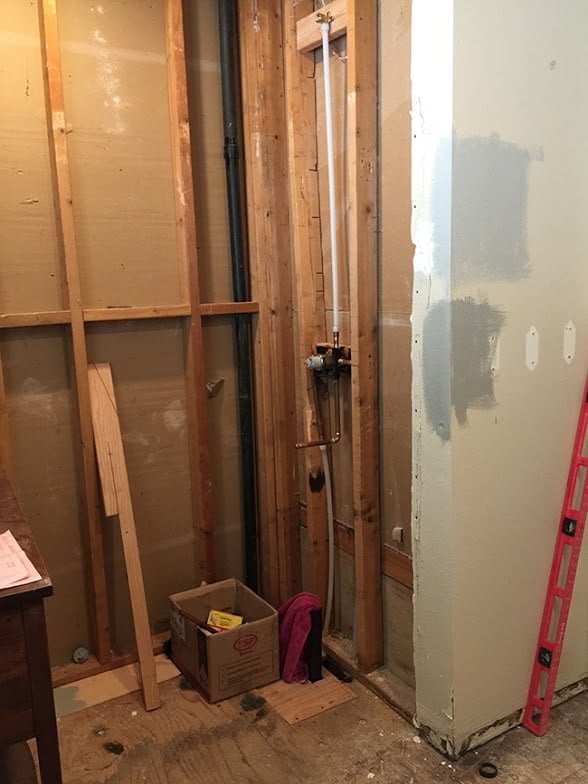 Pin
It took him around 8 hours for everything, and of course he'll need to come back to install everything once we're ready.
Our shower fixtures also arrived… isn't it pretty?!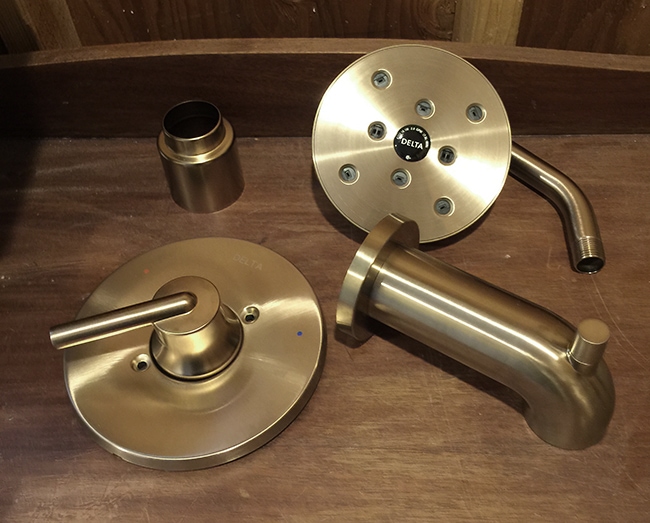 Pin
I think it will look so clean against the glossy white wall tile.
And, hello, look at this beauty in the garage: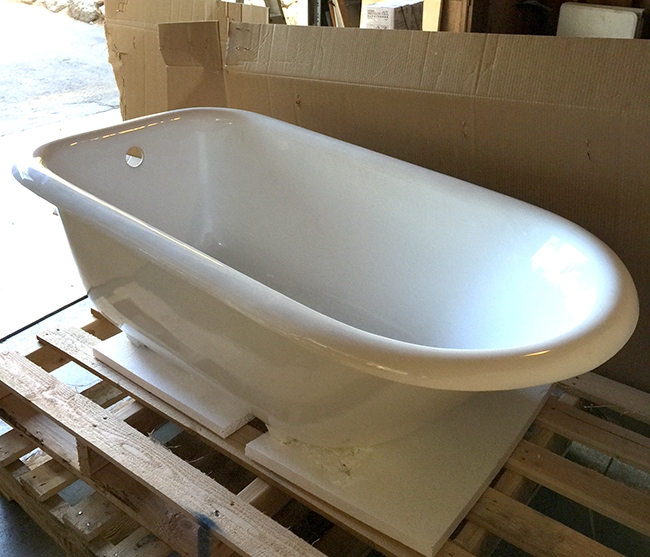 Pin
My first clawtub… it's everything I ever dreamed of.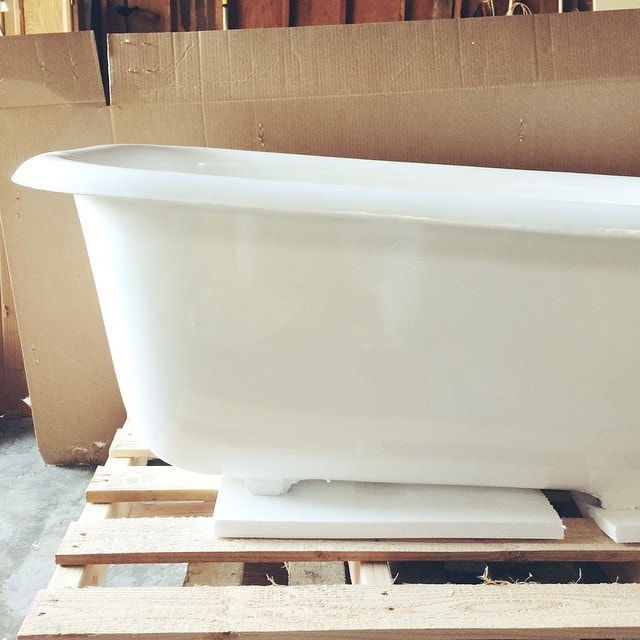 Pin
I ordered the feet in white to save some money…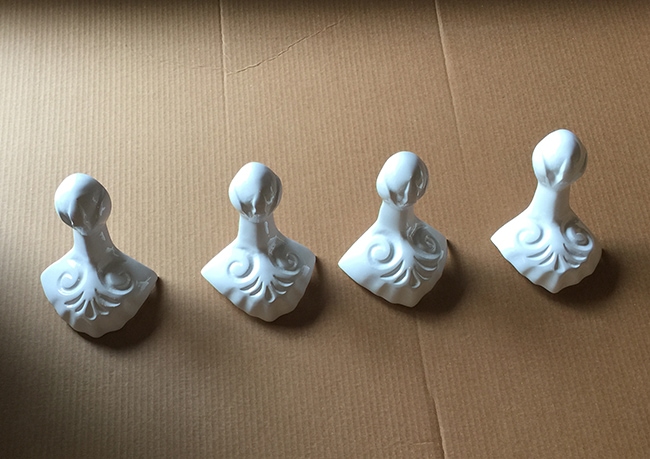 Pin
Then used Rustoleum primer, and paint in satin black. I was considering gold but I love the way they look black so I think I'll stick with it (I'll add a layer of varnish for protection):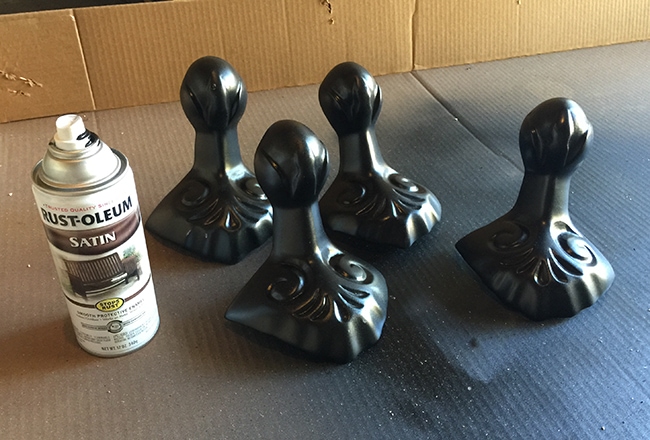 Pin
We have a lot to accomplish by next Wednesday to stay on track. Here's the complete Week 1–Week 3 to-do list broken down (not including any item purchasing/ordering!)
Demo shower, tub, vanity, flooring
Install recessed ceiling lights
Add second switch for vanity sconces
New ink area plumbing
New shower/tub plumbing
Install new window
Paint ceiling
Prep floor/tile underlayment
Tile & seal floor
Grout & seal floor
Prep shower walls for tile
Tile & Grout shower walls
Convert/makeover antique buffet for vanity
Panel/paint entrance door
Paint & varnish bathtub & feet
So… everything that isn't crossed off this list above, we have one week to do it. And photograph/post about it. While working only nights/weekends. I sense some all-nighters in our future… hopefully the other bloggers are on schedule! See them all here:
Hi Sugarplum
The Pursuit of Style
Savvy Home
Trademarked by Calling it Home
On a lighter note, I wanted to share my new favorite addition to our house!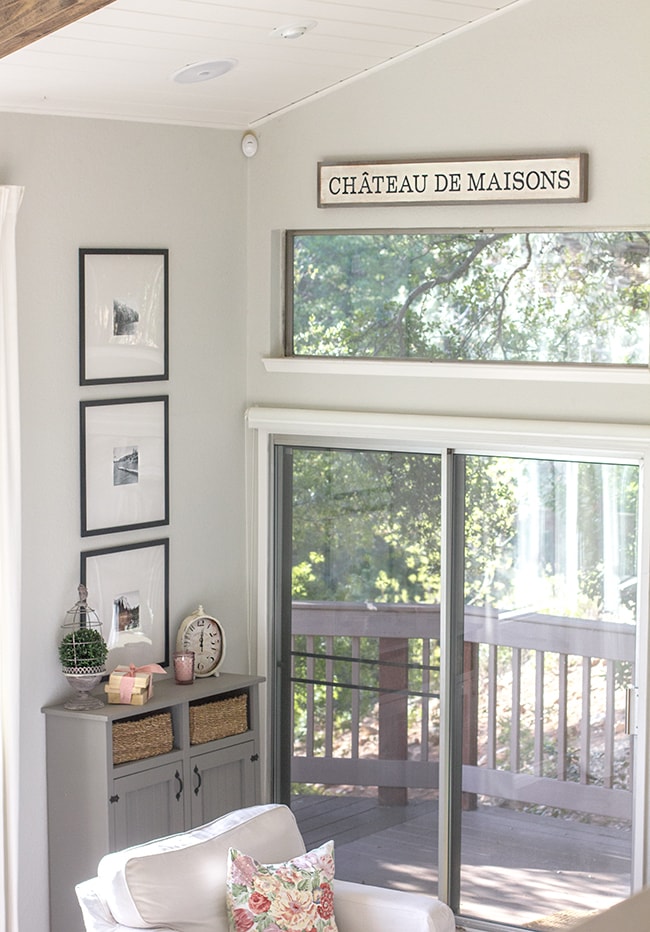 Pin
Did your eyes go immediately to that sign? Mine do—I just hung it up yesterday and can't stop staring!
I've always wanted to put something above that empty space but everything I found was either too big, the wrong shape or just not a good fit for that wall. Then I was introduced to Andy & Tara from Between You and Me Signs (you've probably heard of them before—their handmade wood signs are all over the blogosphere!) and knew I had found the perfect solution.
Pin
They have a ton of great pre-made designs to choose from, but they can also make anything you can think of from scratch. I'm all about personalization so I sent them the text along with a few inspiration photos and they executed it perfectly.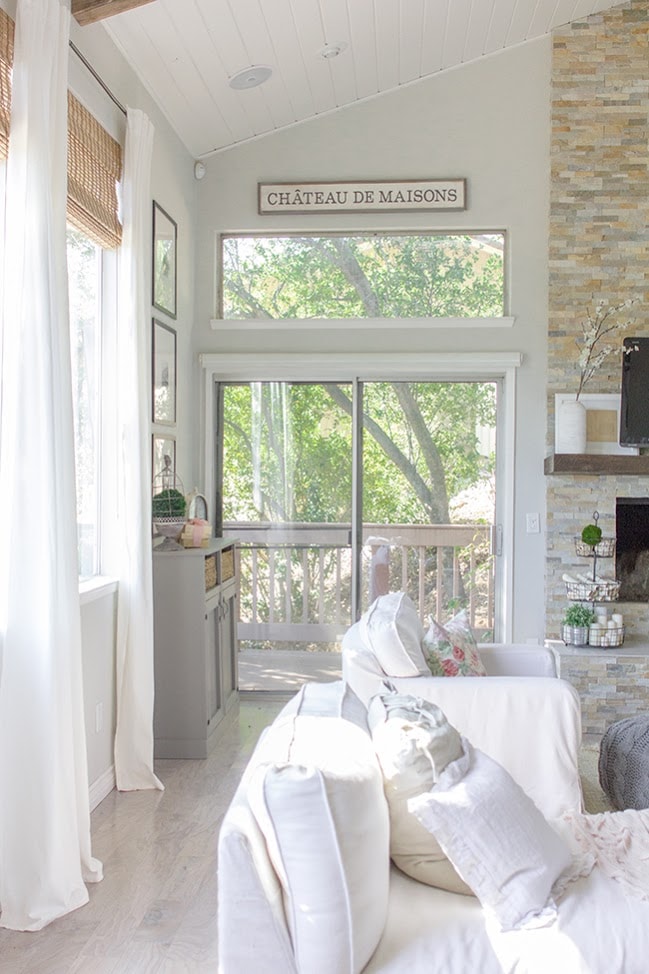 Pin
It's actually the name of a real château in France, and a lot of my inspiration comes from the french country style so it feels right at home.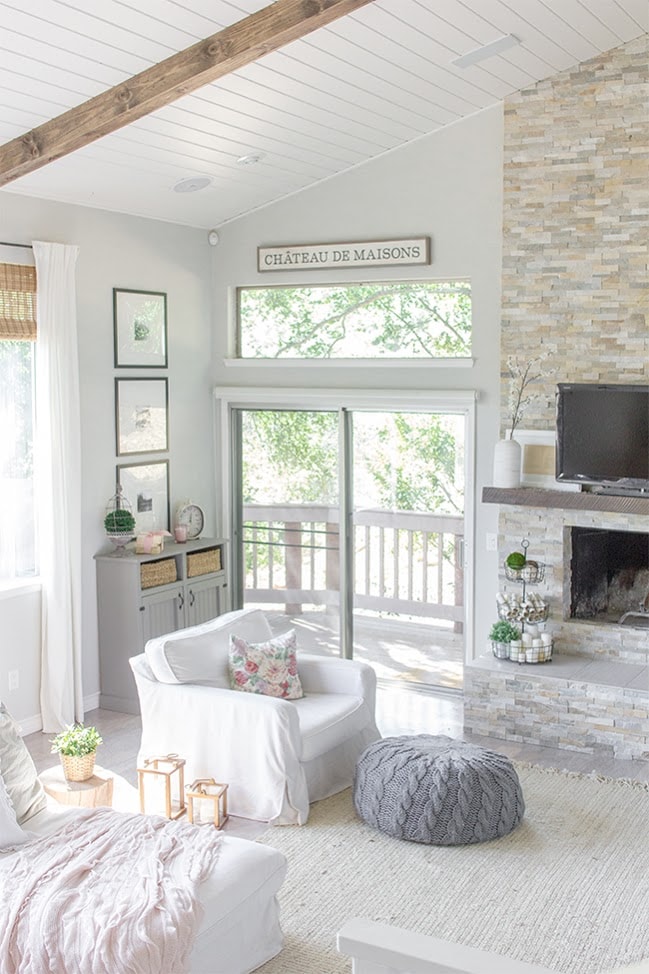 Pin
Andy & Tara were kind enough to extend a discount to my readers throughout the month of April! Perfect for sprucing up your walls for spring. Just use the code JENNASUEDESIGN15 at checkout on any pre-designed (non custom) signs their Etsy shop. (and for more Spring home decor inspiration, take my full spring tour here!)
This is the last post before the big laundry room reveal on Monday! I don't think I've ever been so excited to share anything with you guys. I hope you're ready for this before and after!