Another space has been marked off the to-do list…
This was one of the first rooms we started on after buying the house because it needed to be fully functional before we moved in a few months ago.
I ignored it for a while to focus on the kitchen, but now that that's out of the way it was time to add the finishing touches.
Let's take it way back to the beginning with the first photo we ever took in the house…
The room greets you right when you walk through the front door, and it was used as a library/sitting area (I assume?) with built in bookshelves…
The built ins were nice but they took up about 15″ of space that I desperately needed if I was going to convert this into my work area…
It also had a closet which was the perfect place for my shipping supplies.
Here's a view looking back at the front door.
We ripped out the built ins, carpeting and gutted the closet…
Added some much needed lighting and window trim…
Built a half wall over the open stair railing and began planking…
And more planking…
Added trim, paint and lighting…
Set up the desks and equipment…
Maximized the storage space inside the closet…
Added shelves & artwork…
Finished off the desk with fabric for hidden storage, and built a large crate for bulky shipping supplies…
And finally, built this storage crate wall for smaller organization.
And now she's ready for her big debut! Welcome to the Jenna Sue Design Co. studio…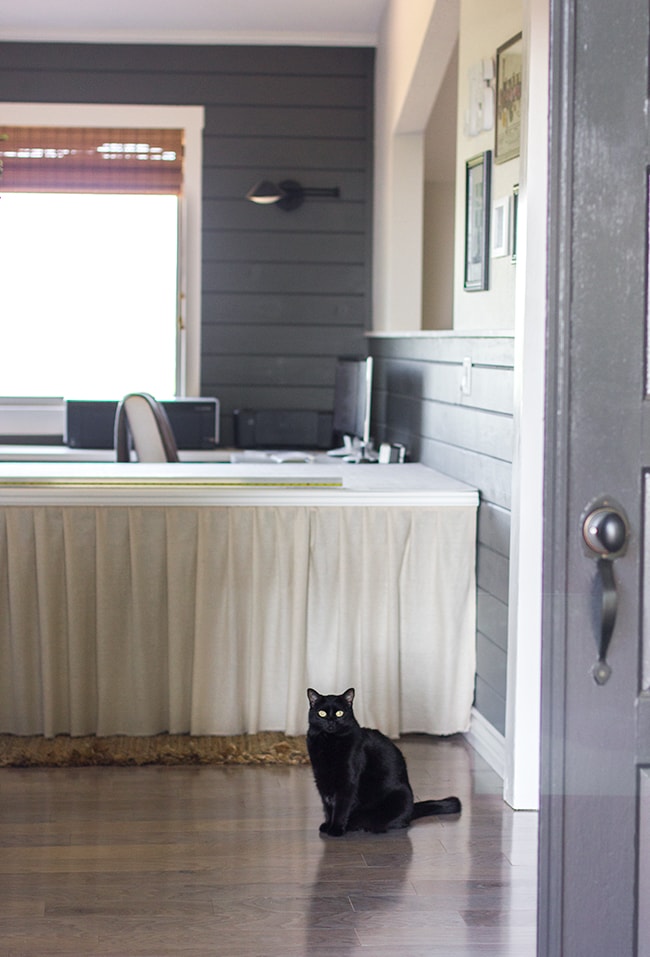 You'll have to make it past our kitty guard first.
I was inspired by these and made my own a couple days ago to replace the junky cardboard boxes that were there: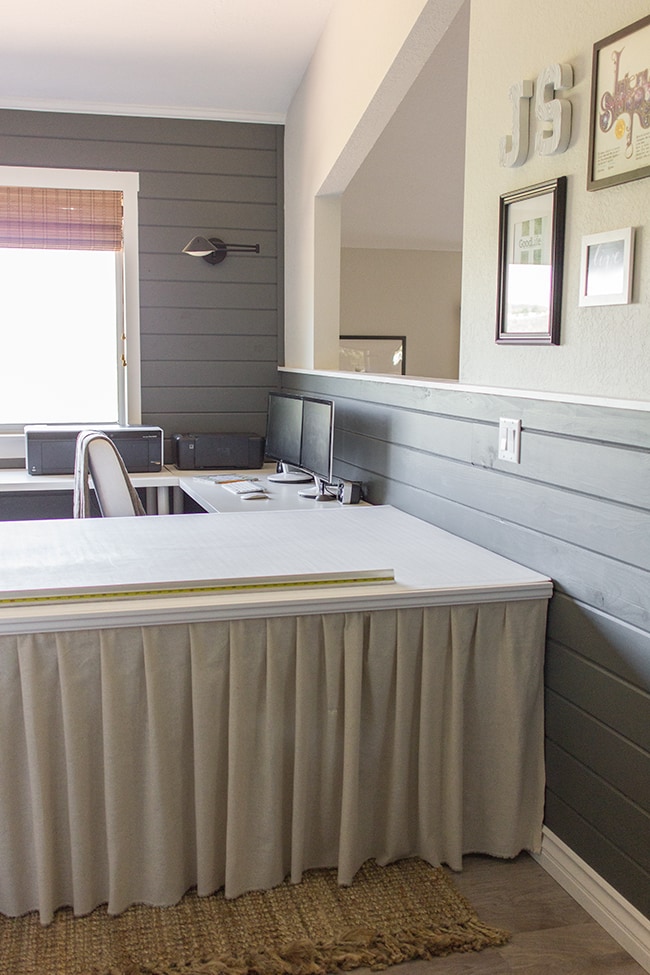 Pin
I love the softness the fabric brings to the space—it really helps to balance out all the hard lines and surfaces of the electronics.
But my absolute most favorite part about this space is what's outside the window…
It's such a nice space to spend the day in (and sometimes nights).
And that's my studio!
So, what do you think? It was definitely a challenge to go from my last studio—a larger area where I could spread out—to a room about half the size. I was worried I wouldn't be able to make it work, but it just forced me to get creative with the layout and storage solutions. So far it's working out just fine!
If you missed any of the progress, here's a project roundup:
Adding window trim
Planking, adding trim & lighting, painting
Setting up the workspace & adding ledges
New art & DIY floating shelves
DIY wood crate & hidden desk storage
Rustic crate storage wall
File organization
And there you have it, our second "finished" space. By Monday I hope to cross a third off our list—the foyer. You thought it was done already, didn't you? Turns out I have two more projects planned for this weekend, one is something I've never attempted before and I'm nervous/excited about it—you'll have to check in next week to see what it is!