While we're just getting into Thanksgiving prep-mode (8 days to go!) I've also spent the last month planning our holiday décor and even starting to deck the halls.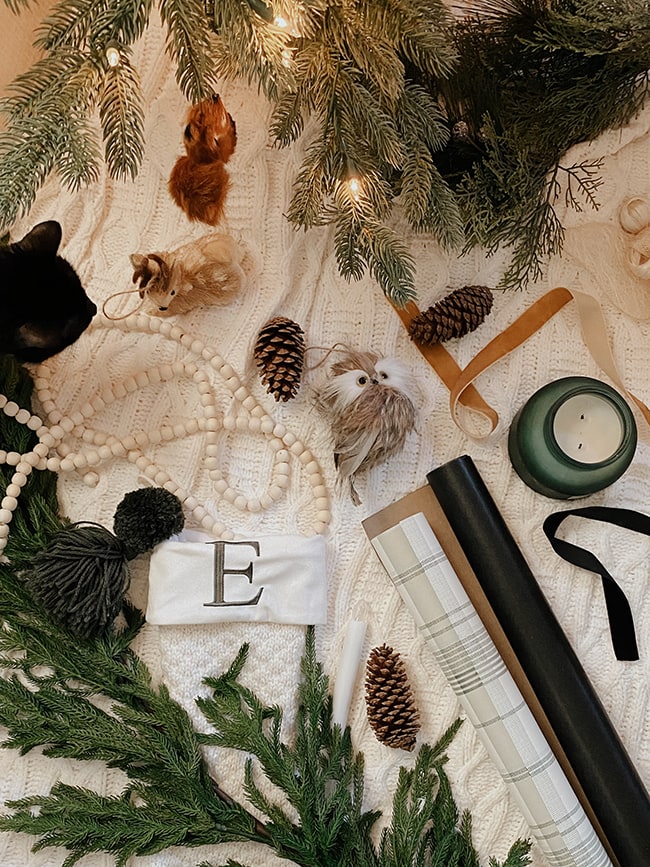 You all know I love a good theme, and this year I'm carrying our 'harvest chic' look from Thanksgiving over to a 'warm woodland' holiday décor style.
Think lots of natural greenery, wood accents, vintage brass touches, velvet and fur, rich gold and black tones—and of course, fuzzy woodland creatures for our little animal lover.
For the past few weeks I've been slowly decorating and sharing my tips and finds in my Instagram stories—I hope you've been following me there because most of what I've shared have already sold out! People are decorating earlier than ever this year, and craving even more joy and festivity in their homes (guilty!) so many of you have been on the hunt for beautiful and budget-friendly holiday décor.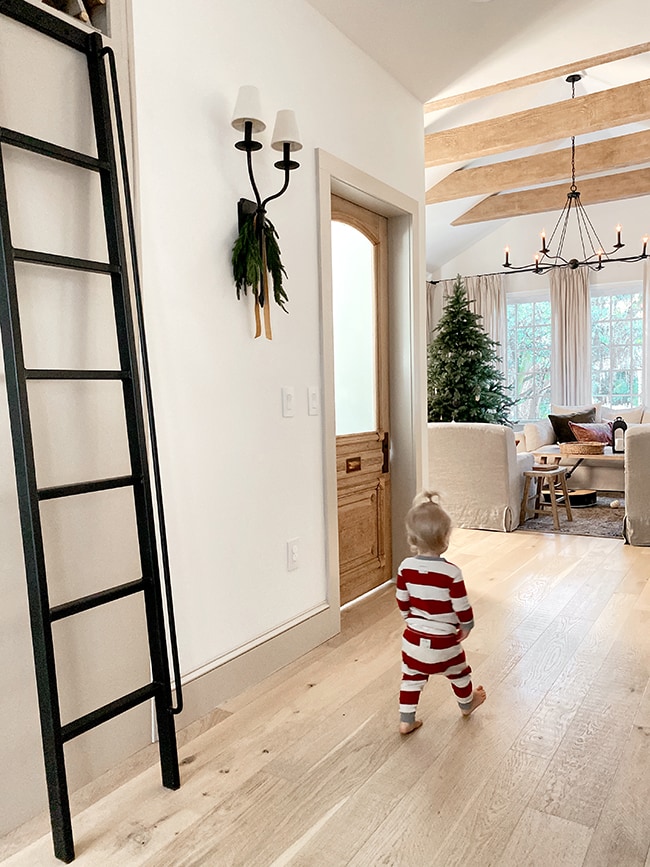 I have spent countless hours sifting through the best finds on the internet, and have rounded up my picks for 'warm woodland' inspired décor in three different categories—including what I'm using in my own home this year: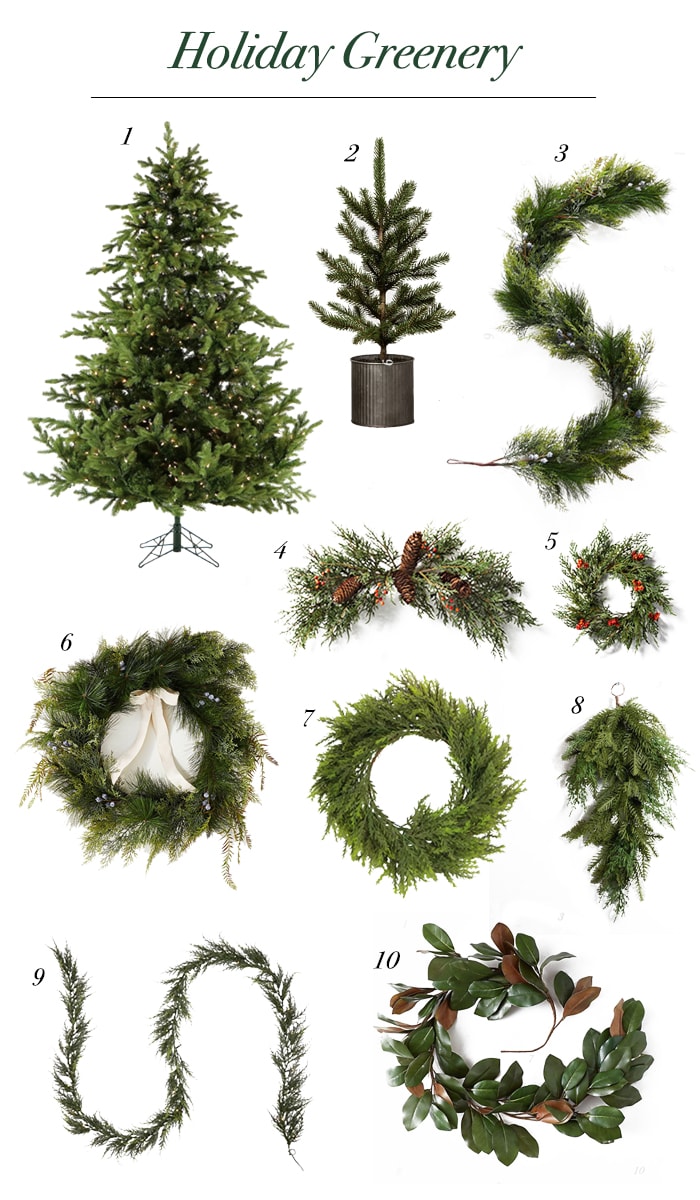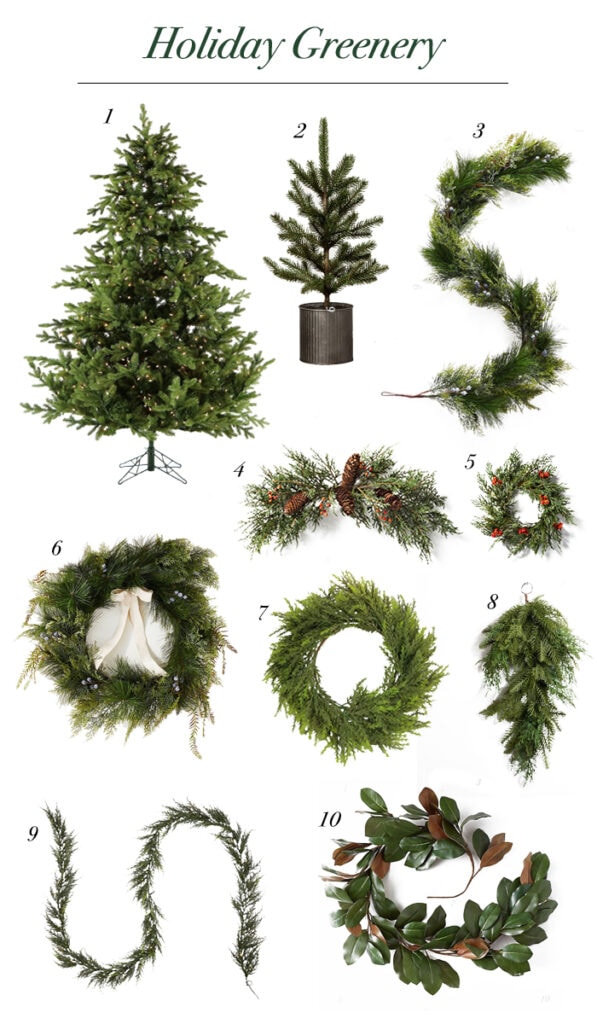 1 / 2 / 3 / 4 / 5 / 6 / 7 / 8 / 9 / 10
1. Foxtail Pine Tree / $484 – I purchased this tree in the 9′ size (with clear lights) this year and LOVE IT. It is truly my dream tree and looks/feels so realistic. The 9′ size with clear lights has sold out, but you can still get it unlit, or in the 7.5′ size if you have standard ceilings.
More favorite trees: 7.5′ Washington Spruce, 7.5′ Frasier Grande, 9′ Colorado Green Fir
2. 22″ Potted Mini Tree / $15 – I have a similar mini tree that I love to display on the bathroom sink, nightstand, dresser or any tabletop. It comes with the metal pot and you can't beat the price!
More tabletop trees: 24″ potted tree, 36″ Norwegian seedling, 13″ mini Cypress
3. 6′ Mixed Garland / $30 – I bought two of these (from Studio McGee's Target line) intending to use around our front door exterior, but we'll see where they end up! It looks very realistic in person.
Similar garland: 6′ long needle eucalyptus & berry
4. Cedar, pinecone & berry swag / $15 – I bought this to hang on a bathroom mirror but ended up using it on our range hood in the kitchen instead! Swags are so versatile and my favorite simple way to dress up anything—keep reading for my swag tutorial + tips!
5. 12.5″ Cypress & berry wreath / $10 – The price was too good to pass this up, so I grabbed four of them to hang on all of the doors downstairs! Check out my tutorial at the end of this post.
6. 28″ Studio McGee ribbon wreath / $35 – This wreath matches my garland and looks so classy with the bow. It's a great price for this size too!
7. 25″ Cedar wreath / $36 – I was going to share these wreaths I ordered for our back door, but those are now sold out until Christmas and this was my backup choice! I just love the look of cedar and it's very difficult to find any at this price point.
More cedar wreaths: 20″ on Etsy (I bought 7 of these for our exterior windows), 24″ on Amazon (the most realistic I've seen), 24″ Pre-lit on Amazon
8. Cedar, cypress & pine swag / $39 – IMO, you can never have too many swags! These can be hung anywhere or added to garlands to make them extra full. This one looks like the real deal.
9. Pre-lit 9′ cedar garland / $60 – Cedar garlands are in high demand this year, and while the best ones are already gone, this is a great option if you're looking for a pre-lit garland.
Similar budget option: 72″ unlit cedar garland
10. 6′ Magnolia Garland / $128 – Not the cheapest, but certainly the most realistic looking magnolia garland I've ever seen. I plan to use a couple magnolia garlands on my fireplace mantel this year.
Budget options: Target, Michael's, Walmart
---
I've had the most fun planning our tree ornaments and gift wrap this year—especially watching the wonder and excitement in Esmé's face every time she sees the tree lit up. There's nothing like it! Here are my top cozy-chic woodland finds: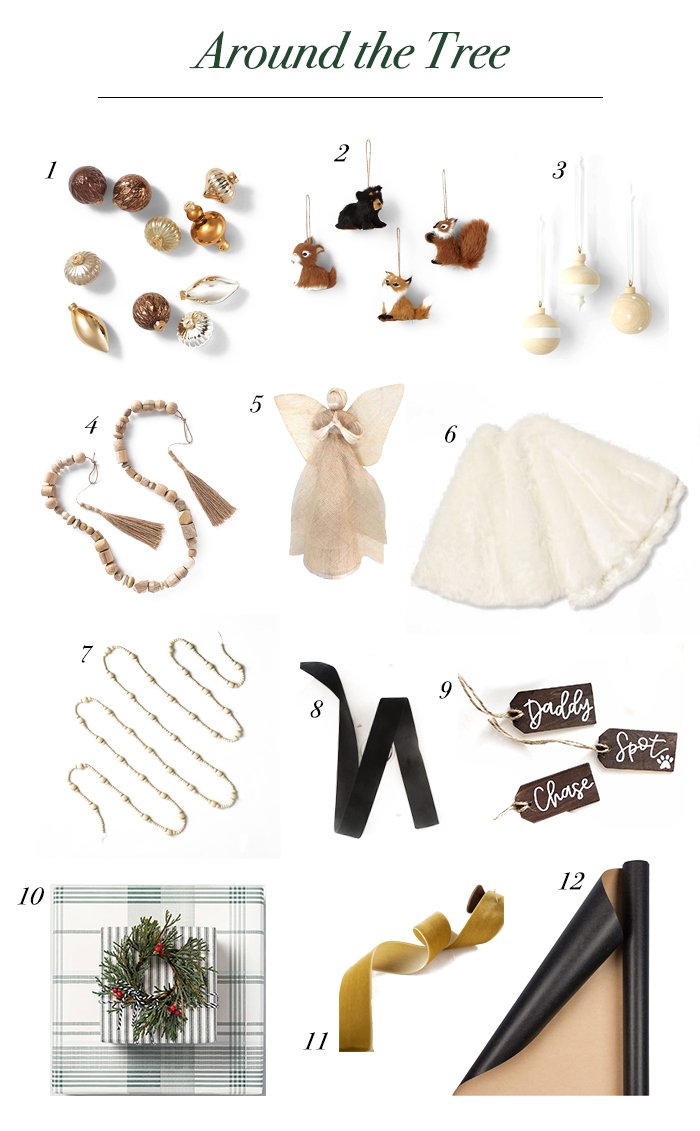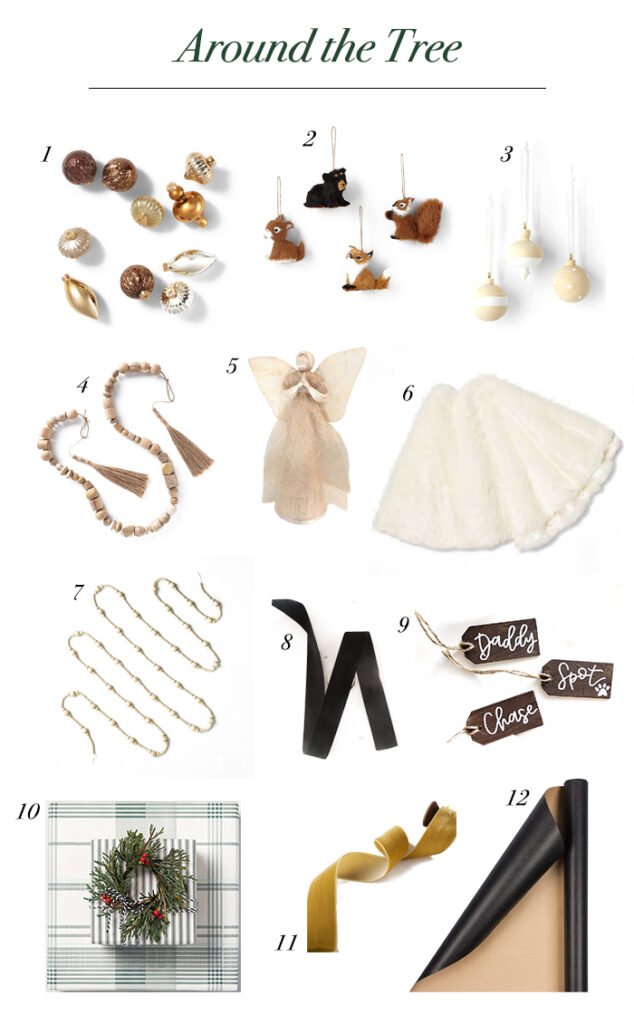 1 / 2 / 3 / 4 / 5 / 6 / 7 / 8 / 9 / 10 / 11 / 12
1. Mixed Metal Ornaments / $25 – The prettiest ornaments in all the land! I'm actually going the DIY route and painting my old ornaments to try and recreate this look, but I am in love with the color, shape and texture of these.
Similar options: 50ct assorted gold, 70ct champagne gold, 8pc finial set
2. 4pc furry animal set / $12 – The woodland animals shown above just sold out, but you can still order the deer set linked. Our animal-obsessed baby might have influenced this decision, but our tree is full of them this year!
Similar options: 4pc plush animal set, 4pc buri woodland set, Enchanted Woods mix & match (I bought several of these for our tree)
3. 3ct Wooden Ornaments / $4 – Love the simple look and delicate shape of these wooden ornaments, and especially the price point!
4. 96″ Beaded tassel garland / $25 – Studio McGee can do no wrong! There's quite a few beaded garlands out there, but I think this is the most interesting and stylish of them all. Drape a few of these around your tree, mantel, or styled in a tray/vessel.
5. Woven angel tree topper / $24 – I bought this last year to commemorate the birth of our sweet fair-haired angel baby, and it has become one of our favorite Christmas decor pieces (Esmé loves to point to it and say "Ayyyng!") It's handmade & ethically sourced, and can also be used as tabletop decor. This will be kept for generations!
6. Faux fur tree skirt / $45 – I don't think you can ever go wrong with a classic, white fur skirt underneath the tree. This one is the standard 48″ size which is too small for our wide 9′ tree but it should work for most trees.
Similar options: 60″ white fur (this is the one I bought), 52-72″ gold or silver foil fur, 48″ brown fur
7. 12′ Beaded garland / $13 – I bought wooden beads to DIY my own garlands but now I'm kicking myself because this one costs half as much! It's sold out in most stores already, so if you can find one in stock near you, grab it ASAP!!
More options: 72″ wood garland, 72″ red/natural wood garland, 16′ dark wood garland
8. 1″ Black velvet ribbon / $17/25 yds – I used this ribbon to make bows for our door wreaths and will use them for gift wrap as well. Black velvet is so classic and elegant, I can't get enough of it!
9. Personalized wooden name tags / $5 – It's all in the details! Use these custom gift tags to complete your wrapped gifts or hang them on your stockings.
10. Green/white plaid gift wrap / $5 – I added a roll to my cart as soon as I found this paper in fear of it selling out! You can't go wrong with classic plaid in these colors and it will be the perfect pop of pattern under our tree.
11. 1″ Vintage khaki velvet ribbon / $17/25 yds – This ribbon sold out within hours after sharing it on my Instagram stories, but it looks like it will be back in stock Nov 27th and you can pre-order it now. If you missed it the first time, don't wait! I used this ribbon on my wreaths and swags and the antique brown-gold color is just gorgeous (see more at the bottom of this post). I also ordered it in dark green for gift wrap.
Similar option: Camel velvet ribbon
12. Black/natural kraft gift wrap / $18/50 sf – I love this paper because it's double sided, so I didn't have to buy black and kraft paper separately. You can't go wrong with the crisp look of black gift boxes contrasted with natural kraft paper, and they're the perfect canvas to dress up with fun ribbon and embellishments.
---
Onto everyone's favorite—the décor!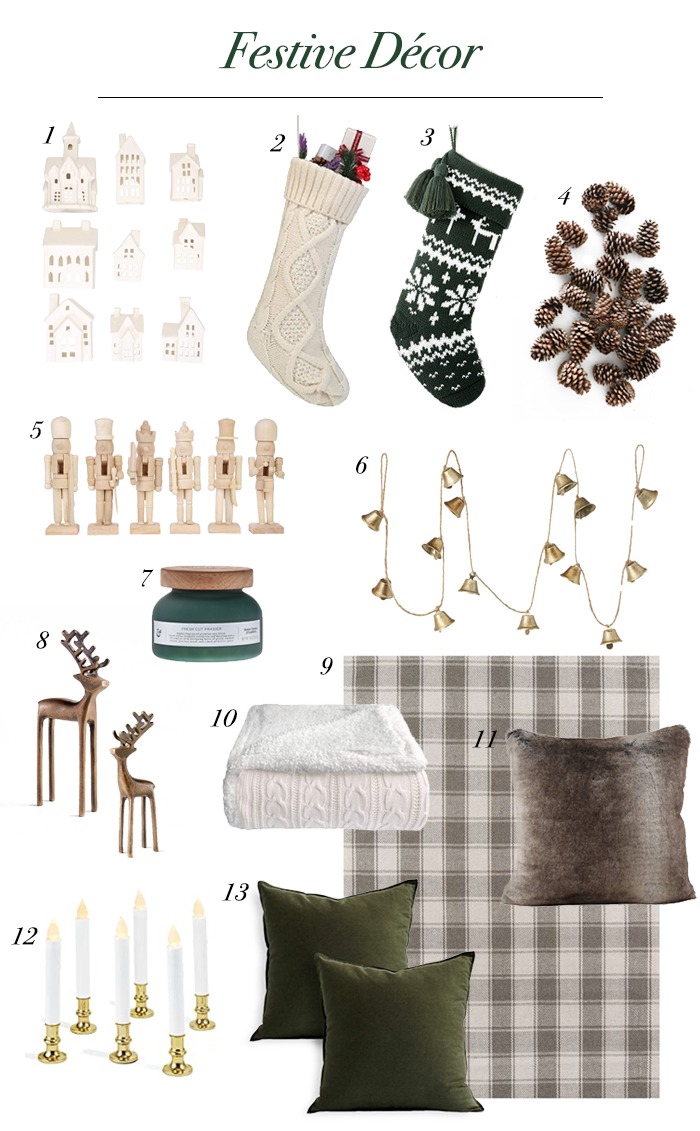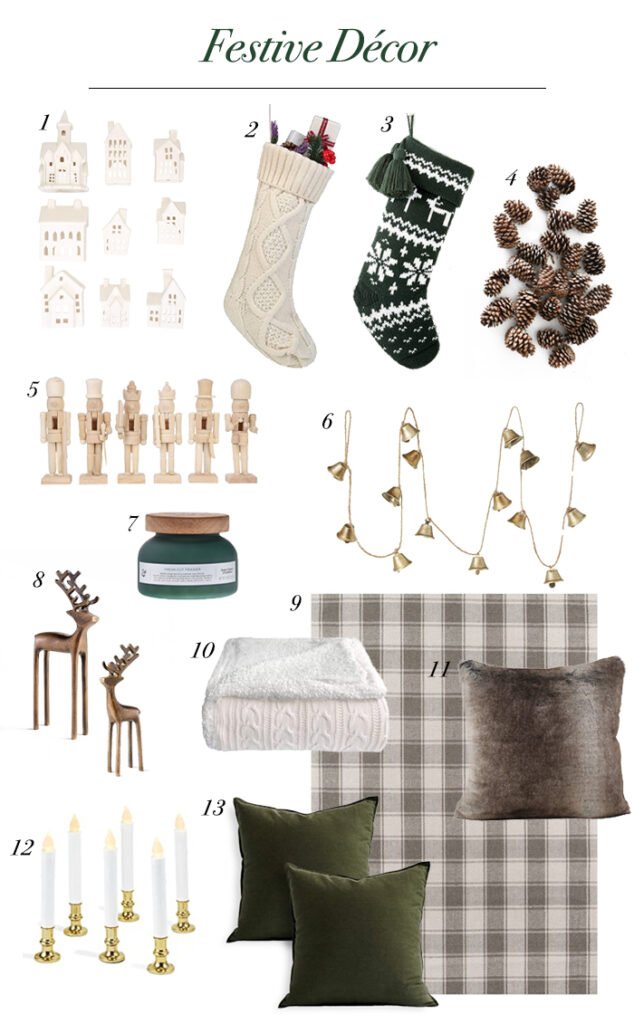 1 / 2 / 3 / 4 / 5 / 6 / 7 / 8 / 9 / 10 / 11 / 12 / 13
1. Porcelain Winter Village / $100 – We had one of these growing up and always wanted one for my own family—this is the year! I found this complete 31pc set (including bottle brush trees & tea lights) and loved the simplicity of it. I can't wait to set it up and show our girl!
Budget option: White ceramic 4pc set
2. White knit stocking / $15/2 – I've collected a handful of white knit stockings I reuse every year because they never go out of style. These ones are super affordable and come in different colors and styles. Amazon tends to have the best prices for these.
Similar options: Ivory knit set of 4-6, Ivory set of 4, set of 3 with poms, set of 3 multi-color, monogrammed knit stocking
3. Fair Isle knit stocking / $15 – This classic pattern will always have my heart (we have matching fair isle green/white Christmas pajamas this year!) and this one is a great price. This probably won't be around next year so get it while it's hot!
4. Bag of 25 pinecones / $12 – I love using pinecones for decor throughout holiday season/winter. You can use these pretty much anywhere—in a jar/basket/vessel, on a tablescape, stuffed in wreaths and garlands, made into ornaments. Bonus points if they're cinnamon scented!
Similar options: 12ct mixed bag, 12ct scented bag, 10ct bag, scented bag
5. Mini wood nutcracker set of 6 / $19 – These look chic and simple au natural, but they would be so much fun as a holiday craft project with littles! If Esmé was old enough to not eat the paint, I'd grab these in a heartbeat.
Also available here, here, here, 4pc here
6. Brass bell garland / $12 – Vintage looking brass bells are not easy to find—especially ones this affordable! I looked everywhere and ended up finding some on Etsy (now sold out), but these are a better deal at just 80 cents per bell(!). Cut them off the garland and hang them from wreaths, swags, on your door, or use them as ornaments. These won't last long!
7. Fresh cut Frasier candle / $12 – This highly scented candle is Christmas tree farm heaven in a jar and my must-have candle to burn all season long. It brings back all the childhood Christmas memories (you know, when we had real trees) and anyone who walks in your door will believe your greenery was real.
Another favorite: Jaci Daily sent me her new tree farm candle and it is divine—I placed it with the lid off in our guest bathroom and the scent fills the room even when it's not lit!
8. Brass reindeer – large & small / $13-$17 – These reindeer figurines have an elegant look that is timeless and will work with any décor style. Display them on your mantel, in your foyer, on a shelf, dining table, dresser, cabinet—anywhere!
Other options: Black set of two (I have these!), small white set of two, brass set of three
9. Plaid woven wool rug / $30+ – The perfect classic neutral plaid that will work all fall and winter. This is a pretty inexpensive way to completely change the look of a room, especially if you use one of the smaller sizes or runners in an entryway, mudroom or kitchen. This rug looks much more expensive than it really is, and I'm trying to think of a spot right now where I can use it…
10. Cable knit sherpa throw / $33 – The throw that's just as cute as it is cozy—we keep ours spread out beside the tree and cuddle on it every morning. The sherpa lining is ultra soft and warm, and the cable knit design is always a favorite. Comes in several colors too!
11. Faux fur pillow / $20 – I'm all about the fur this year, and I love how realistic this one looks. Great price for the pillow plus insert (with a removable zippered cover!)
Similar options: Set of 2/$34, 20×20″ light brown
12. LED remote operated candles / $48 for 12 – These are one of my favorite finds this year. They're battery operated candles that you can place in your window (we are using one in each window) and control them via remote or on a timer. They glow and flicker like real flames and look beautiful from outside the house. I shared them in action in my stories and will have to share again once they are all set up in each window!
Similar options: Set of 14 for $40, Set of 6 for $40, Set of 8 for $42
13. Set of 2 20×20″ pillow covers / $20 – I'm digging the more muted olive green tone in lieu of the classic Christmas green. The fabric looks nice, it has great ratings, and only $10 per cover! I would keep these out all year (and I actually am keeping my olive green pillows out this Christmas).
Similar options: $13 for two 18×18″ covers, $15 for two 20×20″ covers, $16 for two 20×20″ covers
---
Now that you've got your Christmas décor shopping list all set, let me share a few tips for adding simple touches of greenery to any room! I shared all the details in my Instagram stories (saved under my Christmas highlight) but here's a quick recap.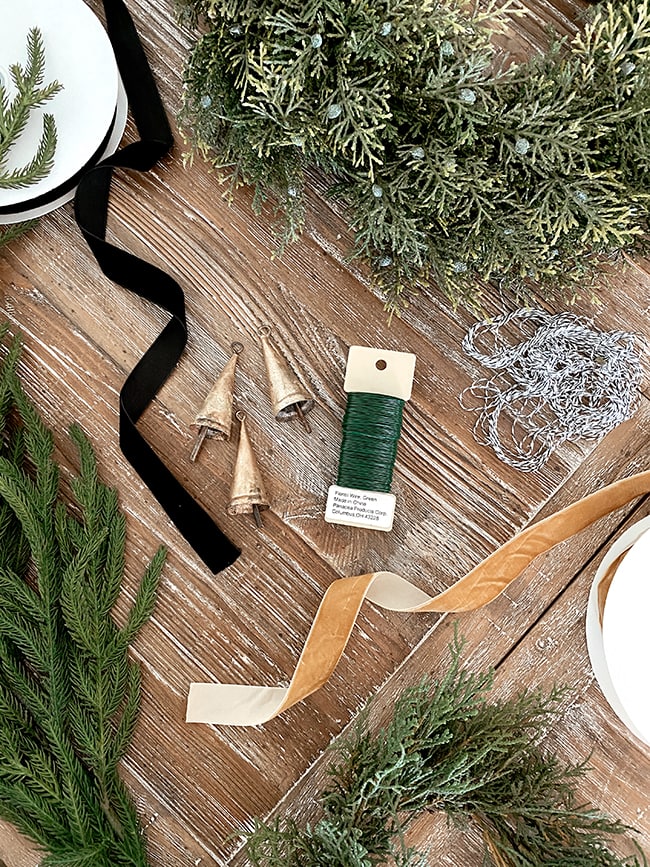 Swags
You can hang these on any vertical surface—my personal favorites are around wall sconces, mirrors, and artwork. Use it in any room for an instant festive look! You can buy a pre-made swag or make your own from any branch or two. I used one Norfolk pine branch, cut it in half and connected the two ends together (these branches are no longer available):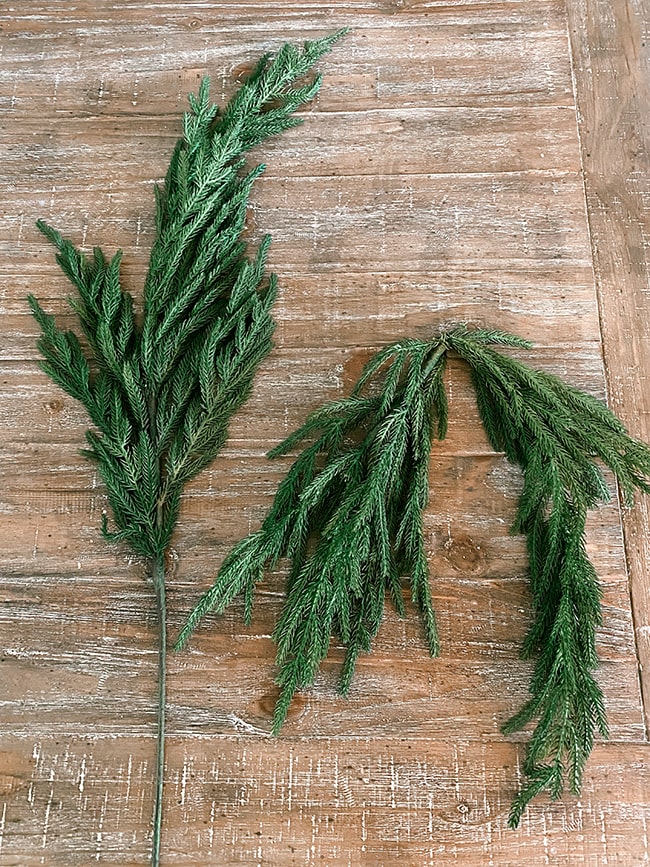 Use a wire cutter to cut the branch, and pliers to bend the stem.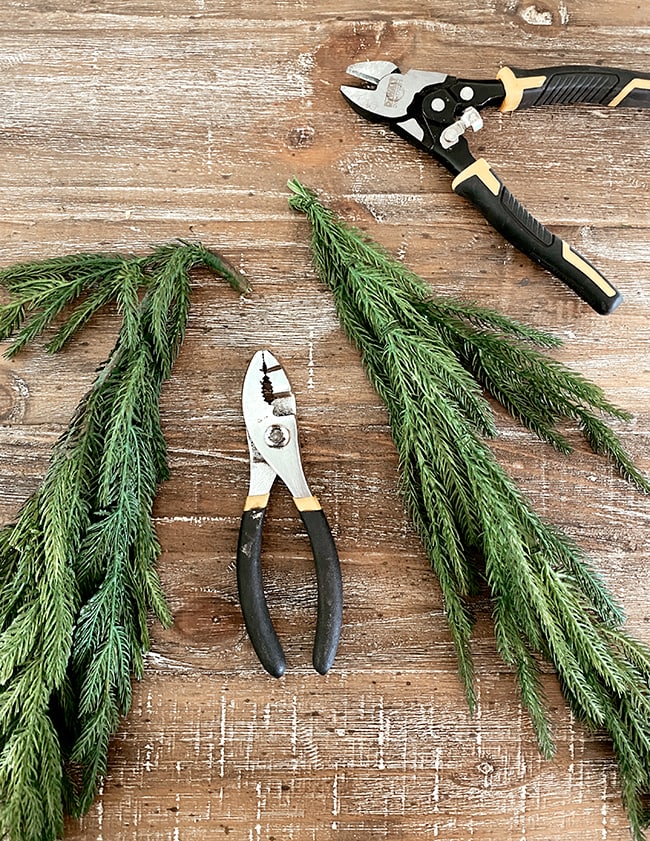 Then wrap the ends in green florist wire to connect the two pieces.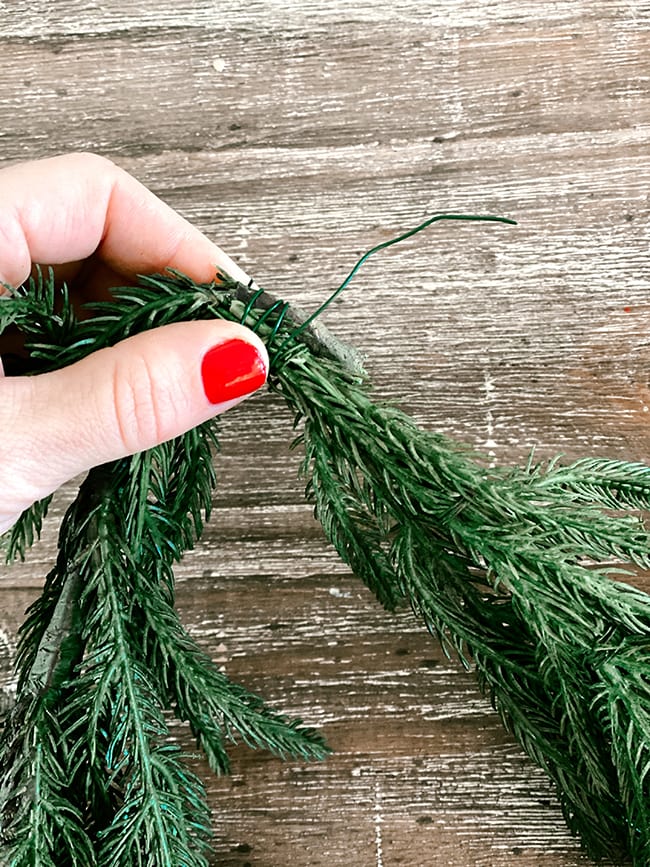 Next, cut a strip of ribbon long enough to hang below the swag (I used the antique khaki velvet ribbon linked above, cut to 36″). Tie the ribbon around the center of the swag: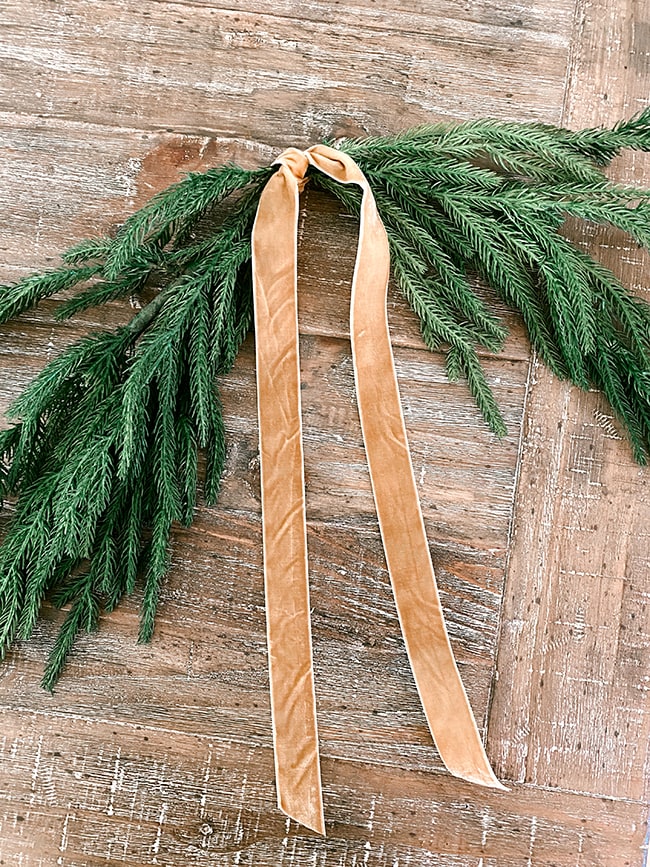 Or if the center won't be visible, you can simply hang the ribbon in front of the swag like I did (this will save you a few inches of ribbon!)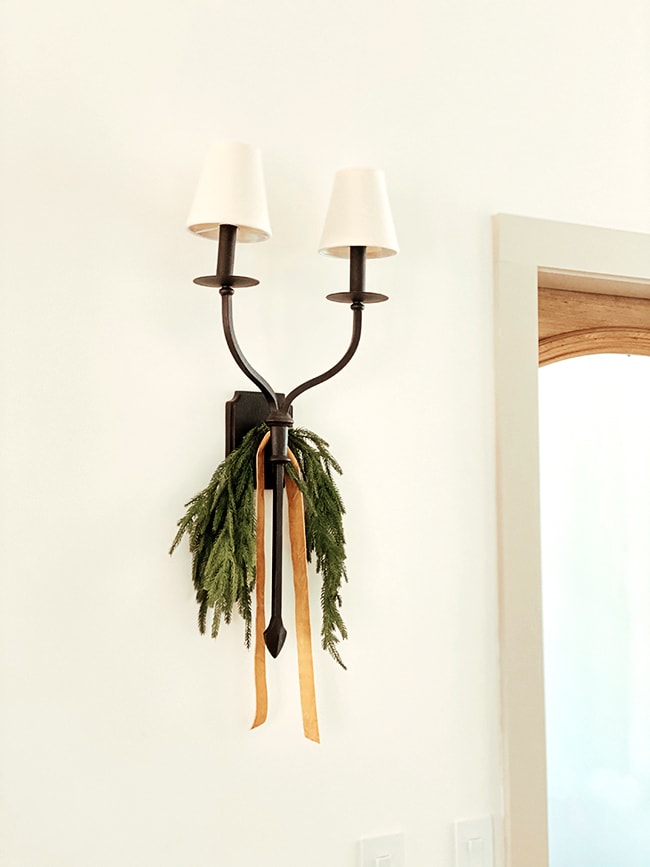 I made one swag for each sconce in the dining room. They make it feel so polished!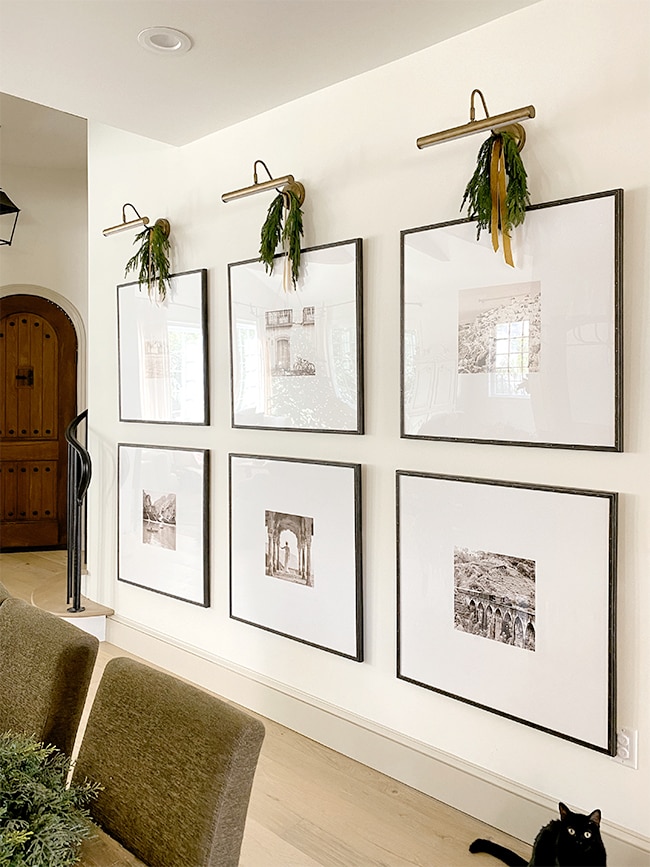 You'll have to excuse these bad iphone photos… the real ones are coming soon!
Ribbon and Bell Wreaths
These are great to hang on doors, in front of a large mirror or above a fireplace. I used two 18″ cedar wreaths (sold out) for our back french doors and four of these Noah bells (sold out, but similar here).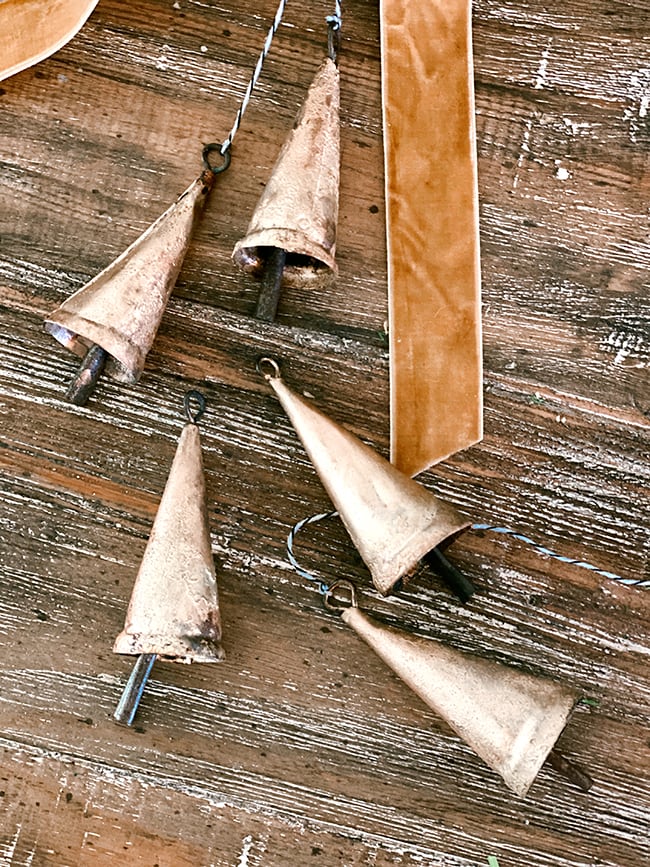 I used the same gold ribbon, cut to 30″ (make sure to angle the ends of your cut for a cleaner look!) and tied a bell onto each end of some twine.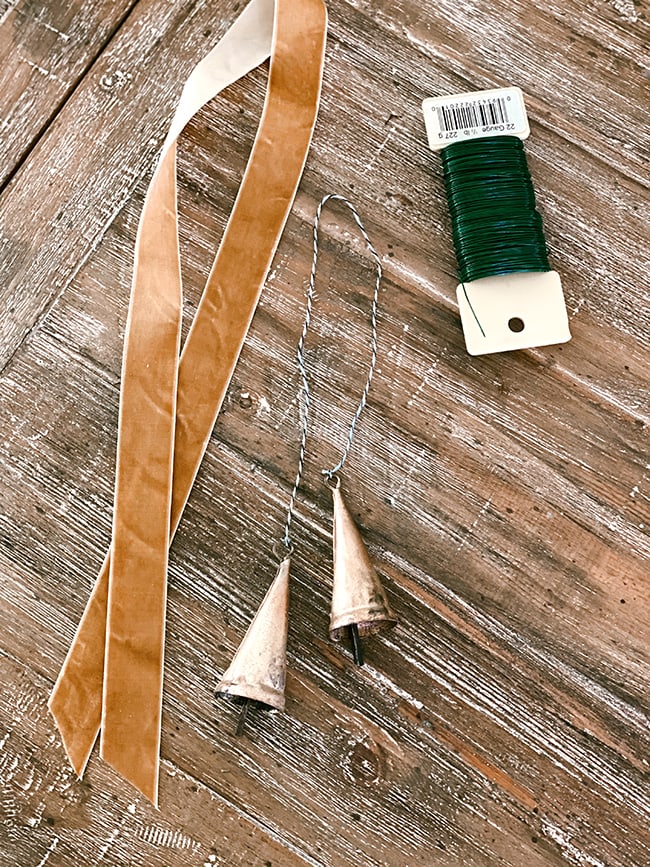 Then I wrapped the ribbon and twine together with my florist wire.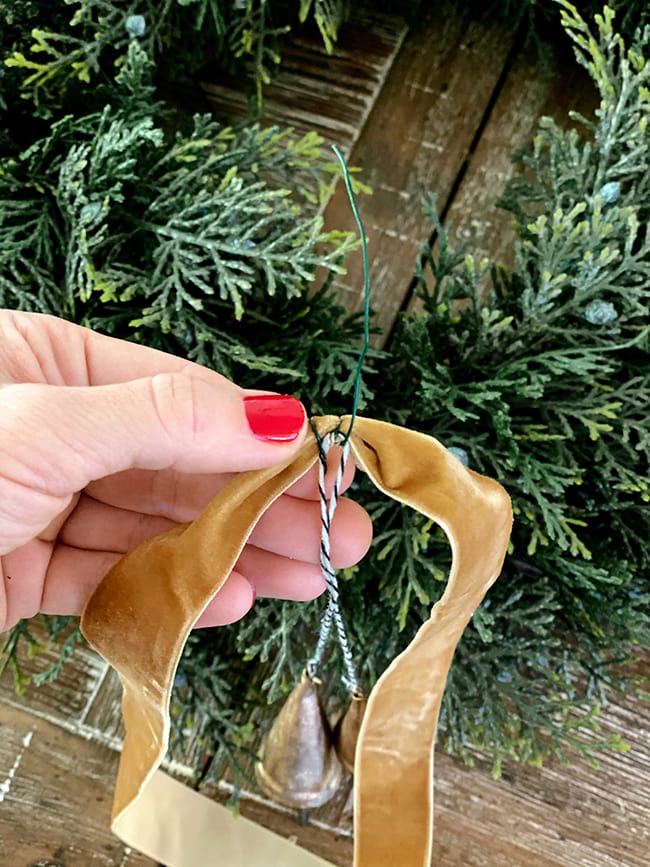 Finally, the wire was looped to the back of the wreath and ta-da!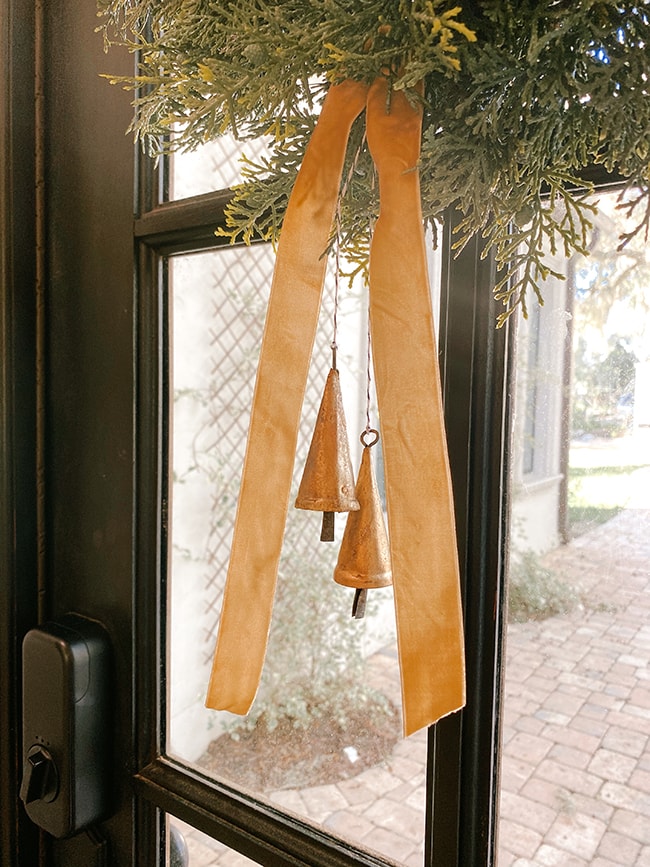 I chose to hang these on the inside of our door instead of the outside so we get a good view of them.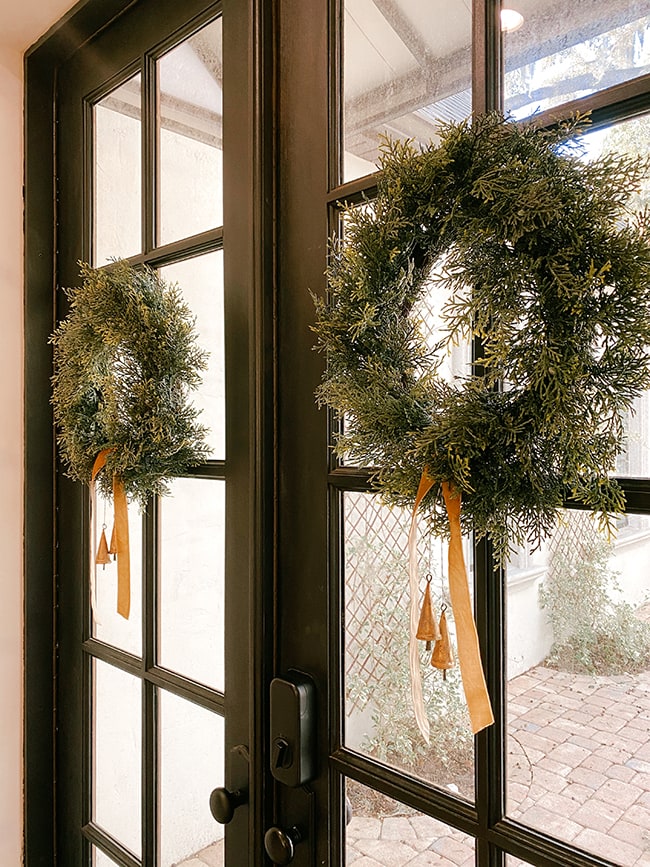 Once again—better photos coming soon!
Bedroom door wreaths
This is a fun, simple and inexpensive addition that really makes an impact. I started with these $10 Target wreaths and removed the berries. Then I cut two pieces of this black velvet ribbon, looping the top piece and cinching both together: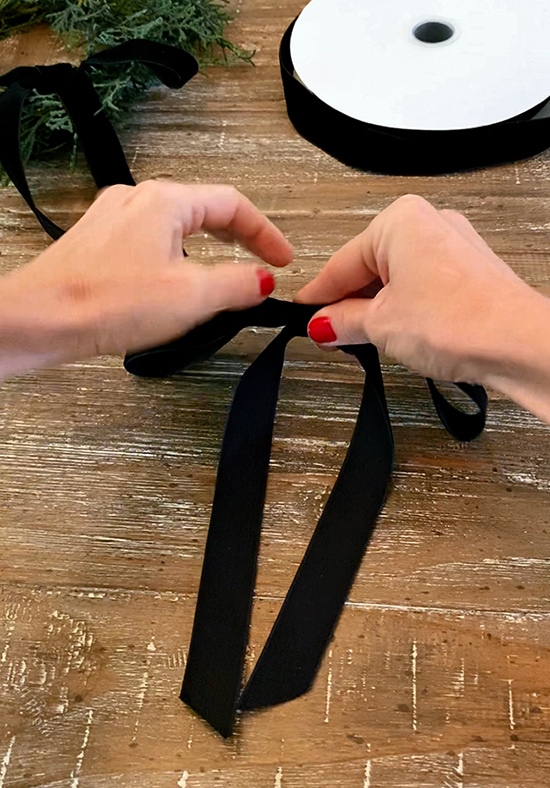 Doing it this way gives you a perfect bow, with both loops laying flat and even. Next, wrap both pieces with florist wire.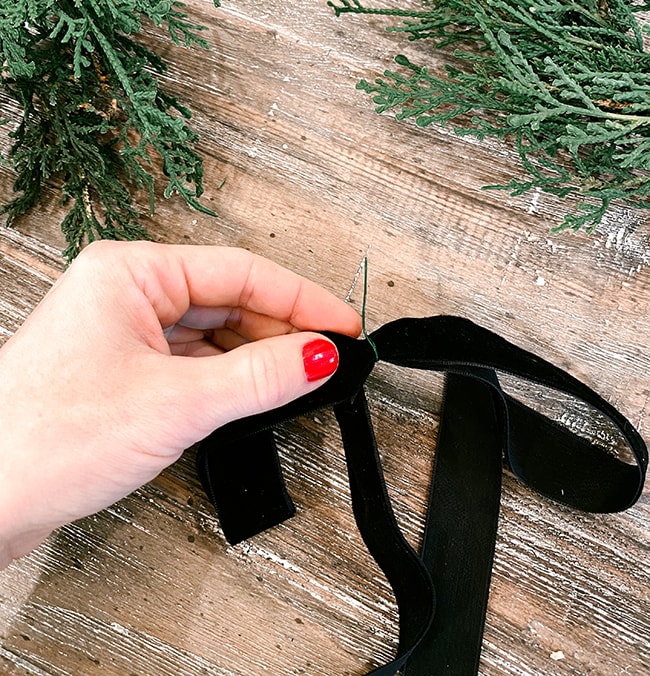 Then cut a small section of ribbon to wrap around the center and hide your wire. I attached mine with glue dots, but you can use hot glue or any instant adhesive.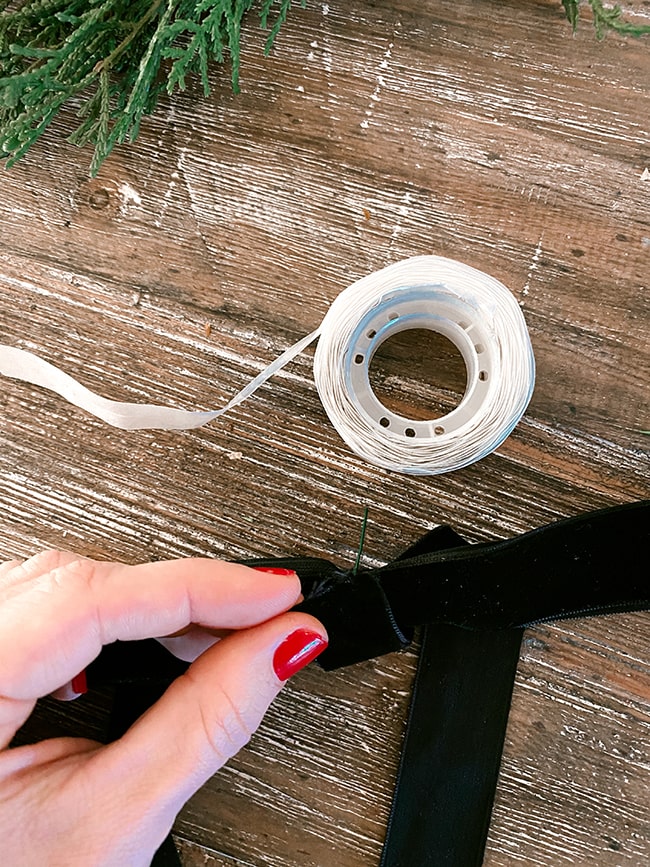 The wire is then looped to the wreath, and voila!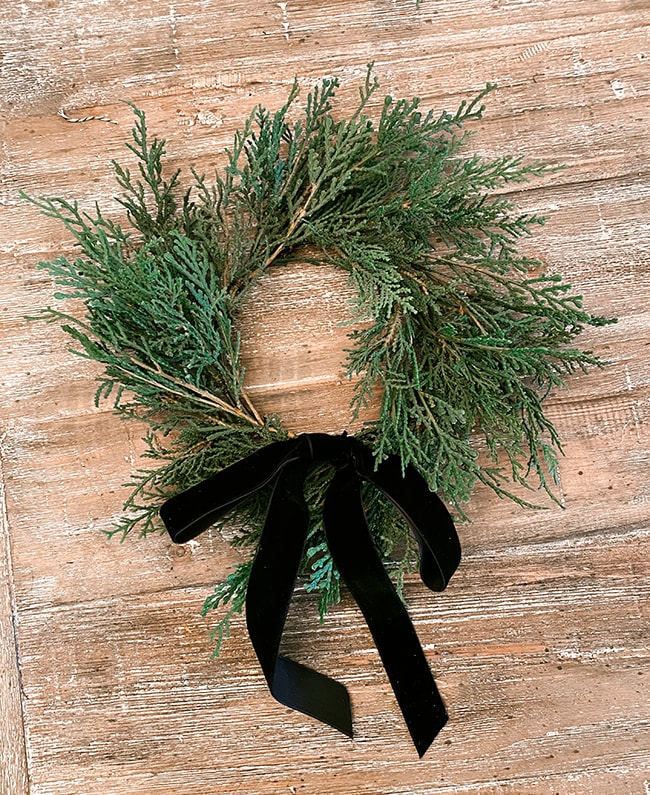 I hung them to the door with lightweight command hooks. These little cuties are my favorite and spark so much joy! If you're wondering—these doors lead to a storage closet, the nursery, and powder bath (left to right). We also have on on our bedroom door which is off to the right of this photo.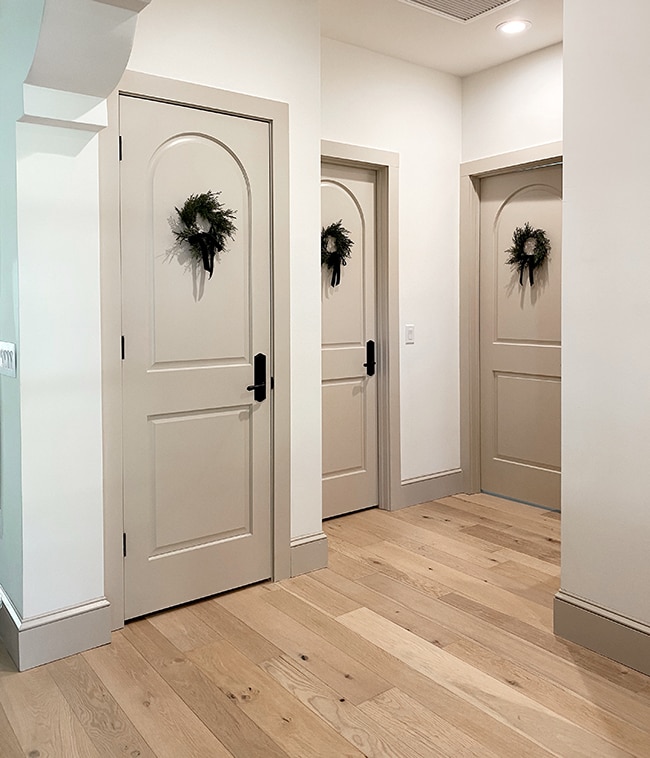 Whew—this post took a lot more hours than expected! I hope it was helpful to you and gave you a few Christmas decorating & shopping ideas. The holidays are easily my favorite time of year and favorite season to decorate, especially now with a little one.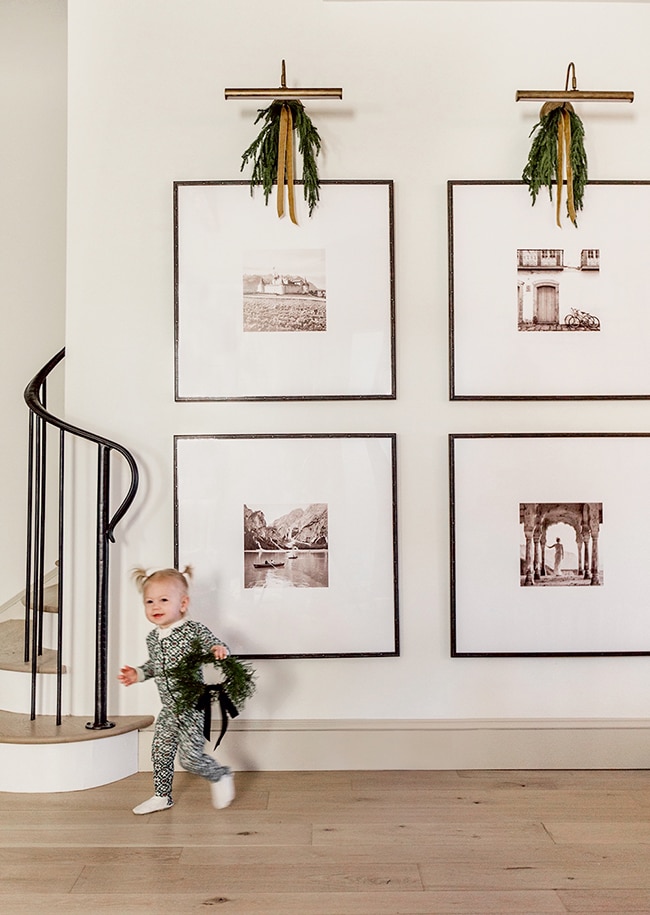 Have you already decked the halls or are you still in fall mode? I'm fully enjoying both right now. Happy Thanksmas to all!