Today I'm excited to share a bonus post featuring a holiday refresh at the Riverside Retreat! This month's BHG Live Better decorating challenge asked us to show how we get our home guest-ready for the holidays, using our favorite Better Homes & Gardens products at Walmart.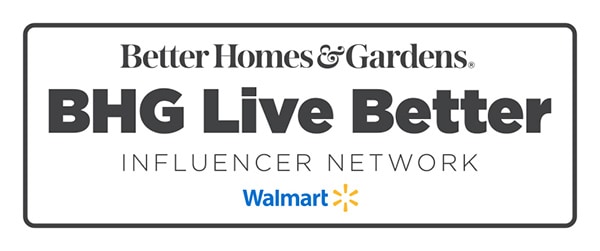 I've always loved hosting because it allows you to set the stage and create an environment that will foster those priceless holiday memories. This year we're hosting my parents for Christmas (who I haven't seen in a year due to this pandemic!) and I plan on making every detail extra special for them.
For this assignment, I thought it would be fun to dress up our Riverside Retreat vacation rental which has been hosting guests since July. We've learned a few hospitality tricks along the way, and I'm here to share my top 5 tips to make your guests feel right at home.
---
1. Create a restful night's sleep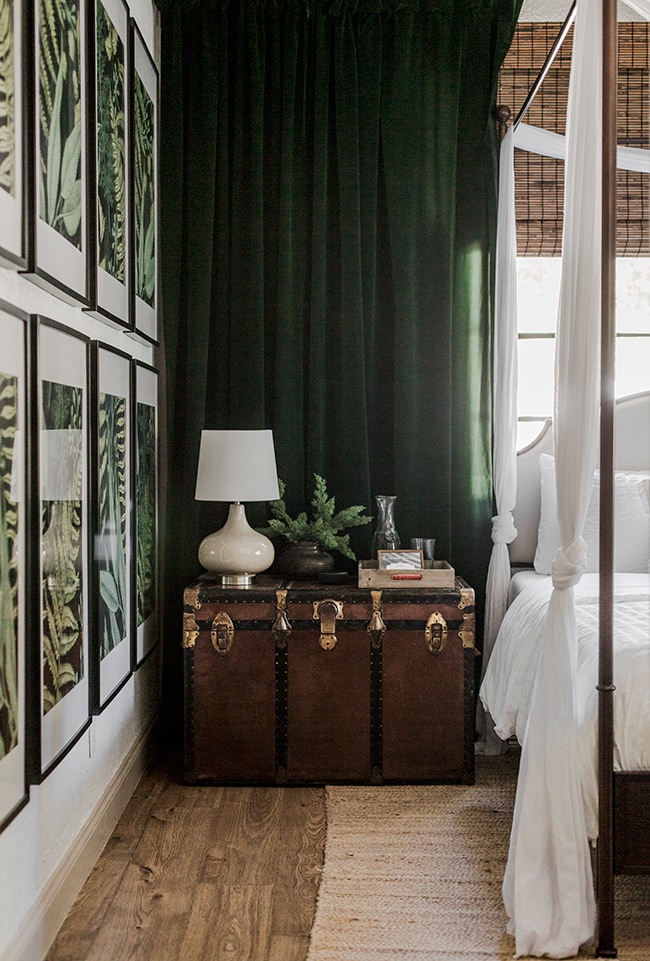 Your guests may be adjusting to a time/climate/elevation change along with sleeping in an unfamiliar space, and a good night's rest is critical to feeling their best during the day.
Prepare in advance to ensure they have everything they need to feel comfortable, including quality bed linens/pillows, a luggage rack/closet space to hang their clothing, and night stand essentials.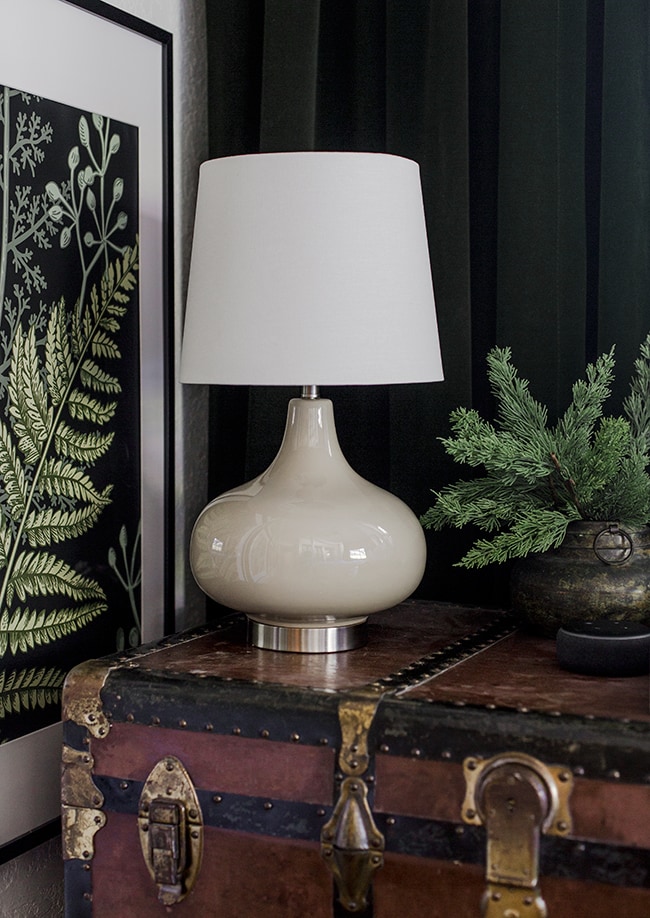 A reading lamp is one of my must-haves (this pretty ceramic lamp will fit in tight spaces and is only $33). I always include something from nature, and seasonal greenery is even better.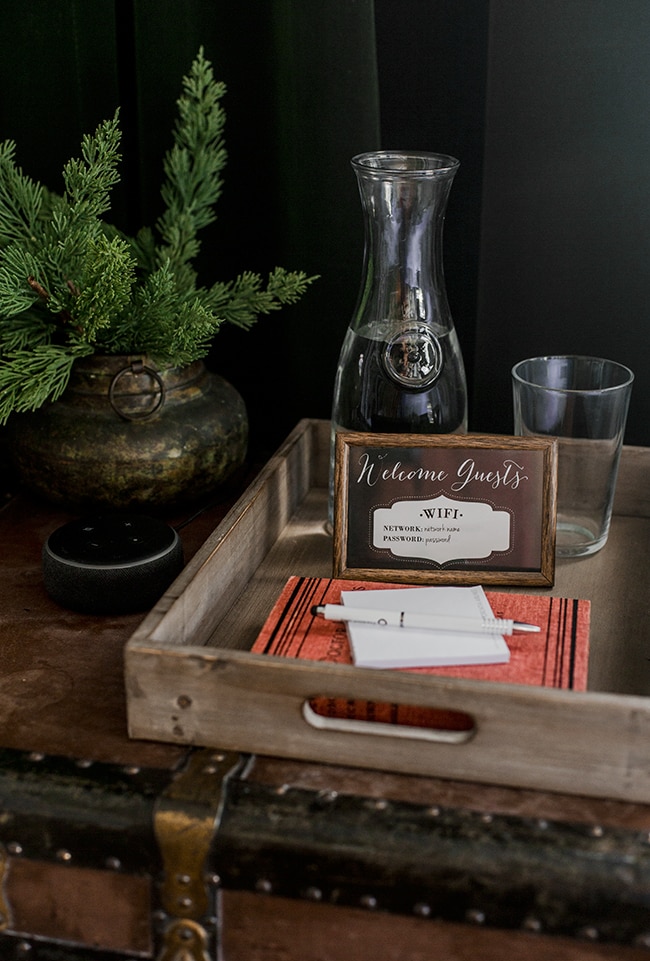 This simple wooden tray corrals smaller objects like a carafe/water glass, a book/journal and notepad, and printed wifi information. Your guests will appreciate you providing this so they won't have to ask! White noise is also great to have (I can't sleep without it) whether it's a white noise machine or an Alexa device.
I first shared this wifi printable on the blog six years ago, and still love using it for our guests. You can download it for free below by subscribing to get post updates:
[convertkit form=1808968]
Guest bedroom checklist:
Fresh/clean linens and multiple bed pillows (ideally with a different firmness)
Extra blankets
Blackout blinds/curtains and/or an eye mask
A luggage rack and closet space with hangers
Reading lamp
Carafe/water glass or bottled water
White noise (dedicated machine or smart device)
Books/journal/notepad and pen
Wifi information
An easily accessible outlet near the bed
Nice to have: tissue paper, phone charger (typically a lightning cable for iPhones)
Shop the look by clicking on the products below:
---
2. Stock up on bathroom essentials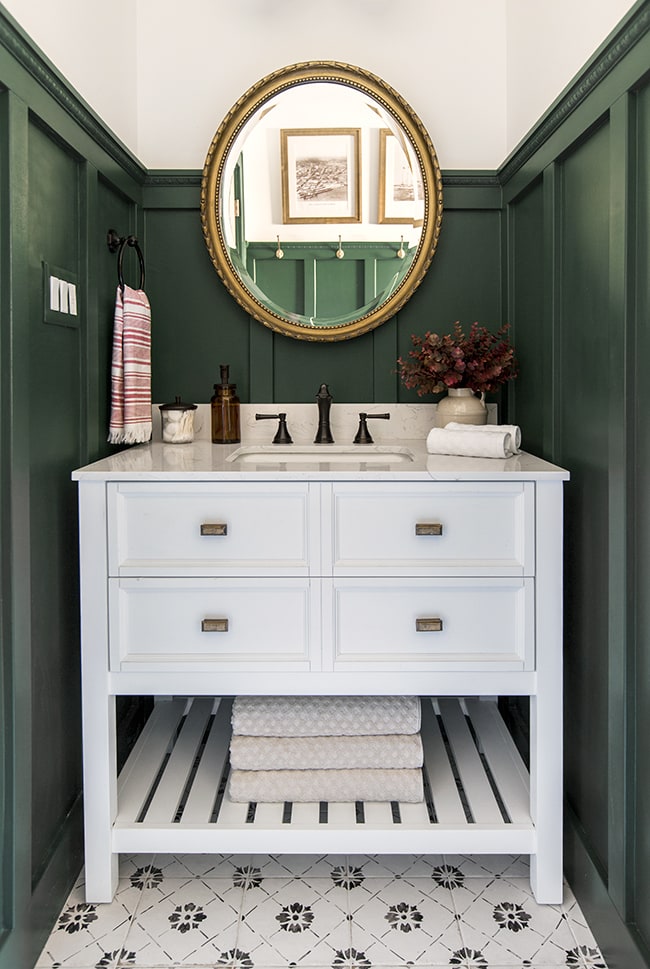 Your guests probably didn't pack an entire assortment of their favorite toiletries and personal care products, so surprise them with a few small luxuries and they'll feel like they're staying at a fancy hotel!
Use a fun decorative hand towel, provide Q-tips and cotton balls in a small jar, and fill a pretty glass dispenser with seasonally scented hand soap: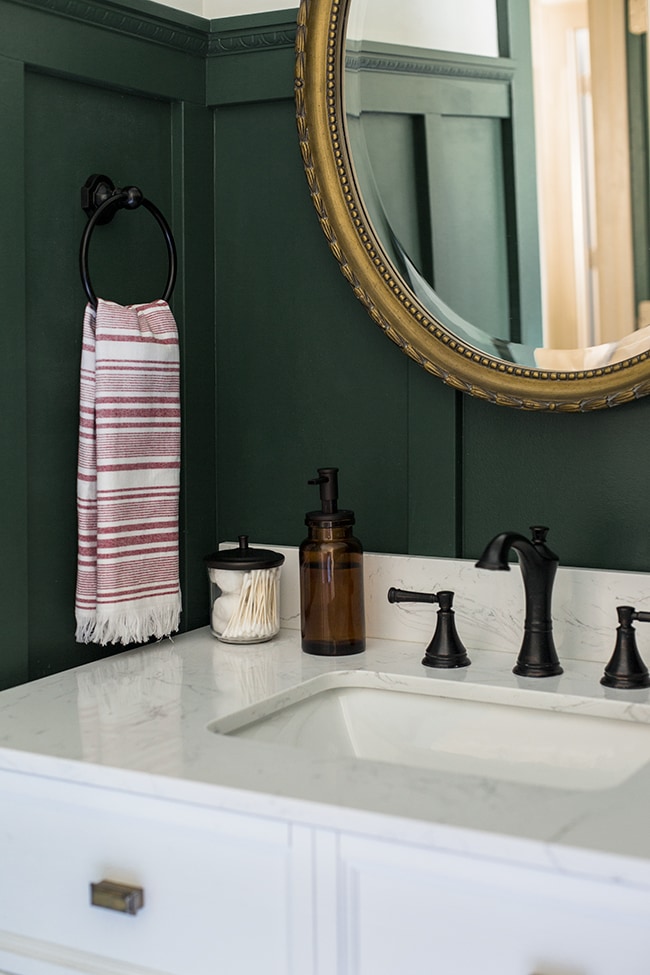 I also make sure to include a few florals or stems in a vase (real or faux!) and set out extra plush washcloths and bath towels.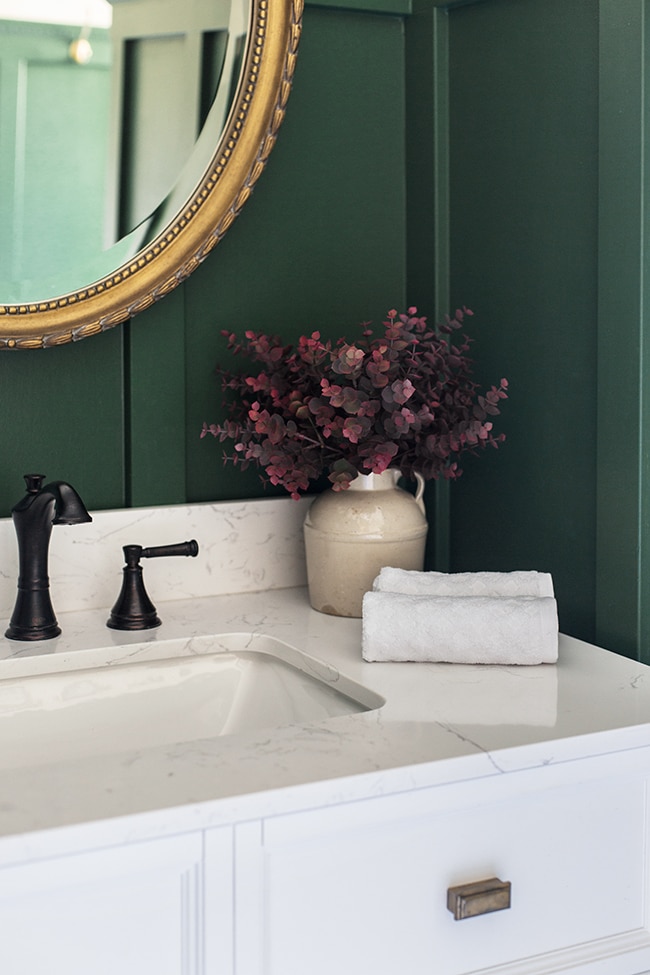 These are the little details that will make your guests' stay that much more special and memorable.
Guest bathroom checklist:
Extra set of quality towels/wash cloths
Festive hand towel
Hand soap in a pretty bottle (bonus points for holiday scented!)
Q-tips and cotton balls in a jar
Greenery in a vase
Shampoo, soap and conditioner, lotion
Toothpaste, floss, spare toothbrush
Plenty of toilet paper
Hair dryer
Nice to have: extras like aspirin, sunscreen, personal hygiene products
Shop the look:
---
3. Set up a beverage station
Create your own mini-Starbucks and encourage guests to help themselves to an assortment of coffee, tea and hot cocoa: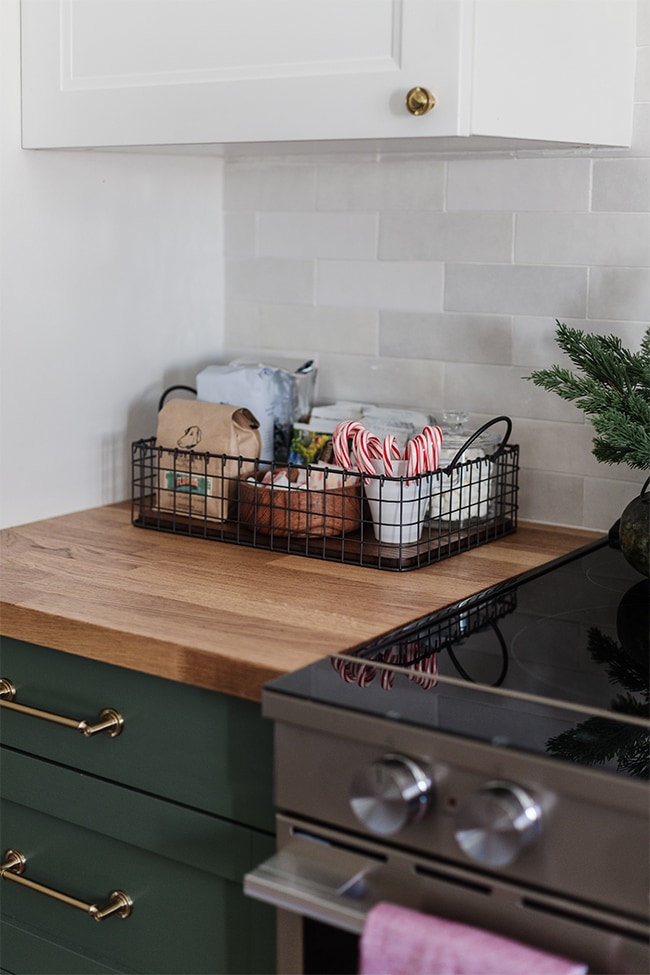 I like to include at least one local specialty coffee, especially for out-of-town guests. Make sure the coffee pot, grinder and filters are set out or somewhere easy to find.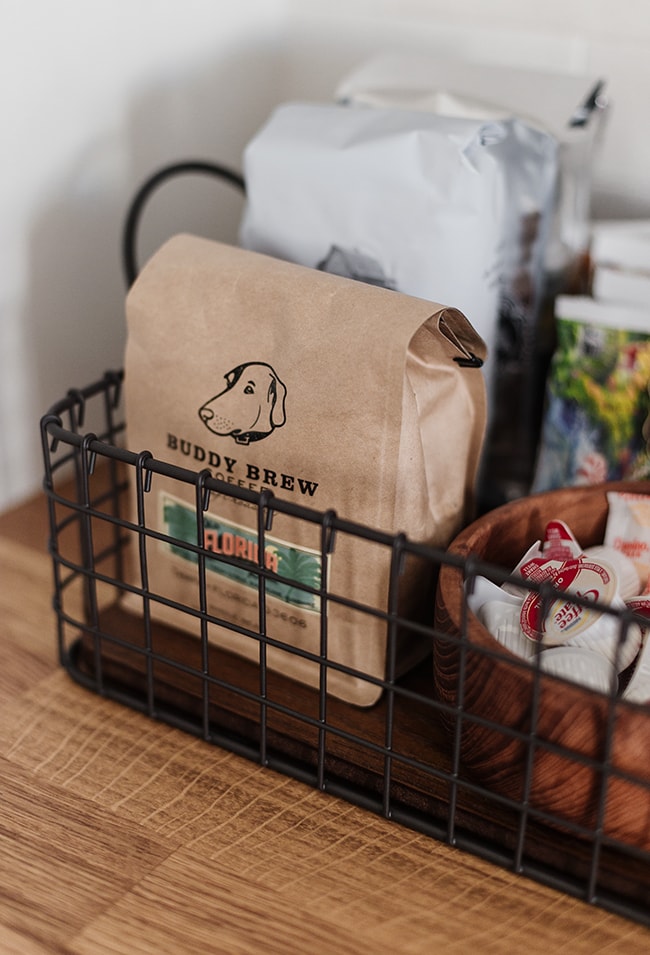 Use a glass jar to store add-ons like marshmallows, and cups & bowls for sugar, creamer and candy cane stirrers. Keep it nice and tidy by grouping everything together in a large tray or wire basket.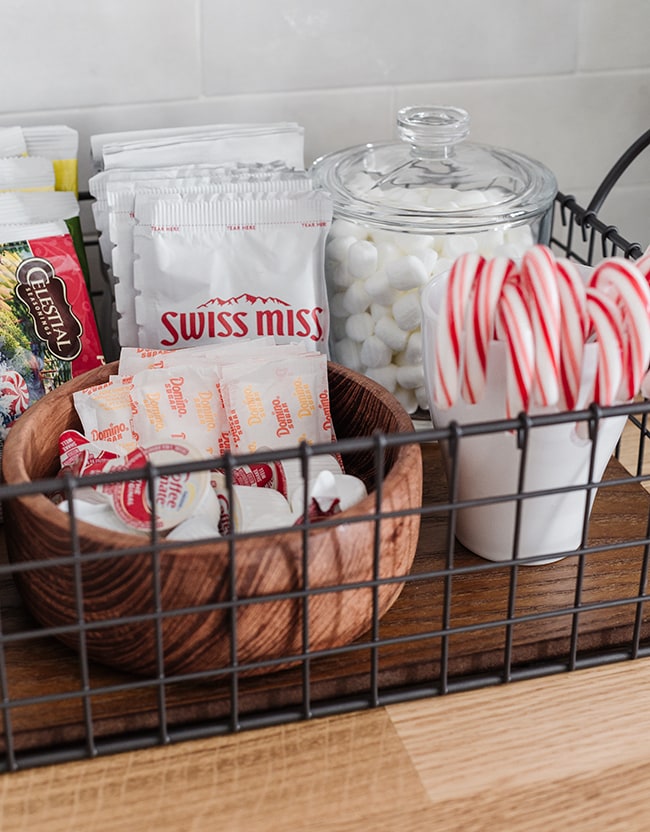 Beverage station checklist:
Variety of coffees (including local specialties)
Variety of teas
Hot cocoa/chocolate
Creamer, sugar and alternative sweeteners
Add-ins like cinnamon, pumpkin-pie spice, nutmeg, etc
Marshmallows
Candy canes
Spoons for stirring
Easily accessible coffee maker, grinder, filters, tea kettle
Coffee cups and mugs
Large tray or basket to hold smaller items
Shop the look:
---
4. Prepare games and activities
Friends, this is an important one. It's all too easy to waste the day away scrolling on our phones rather than being fully present with our friends/family members. The holidays are the time to be more intentional about memory-making—especially this year, and if we're with loved ones we don't get to see often.
Games and holiday activities/traditions are a big part of our household—something I gift every Christmas and plan for in advance.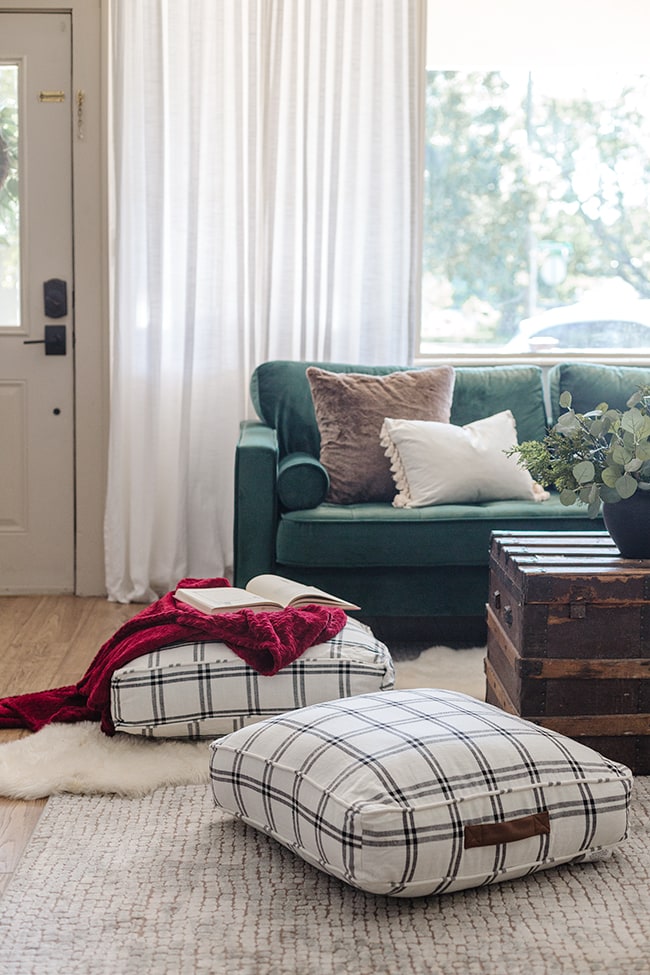 We usually gather in the living room, spreading out soft blankets and oversized cushions for extra seating.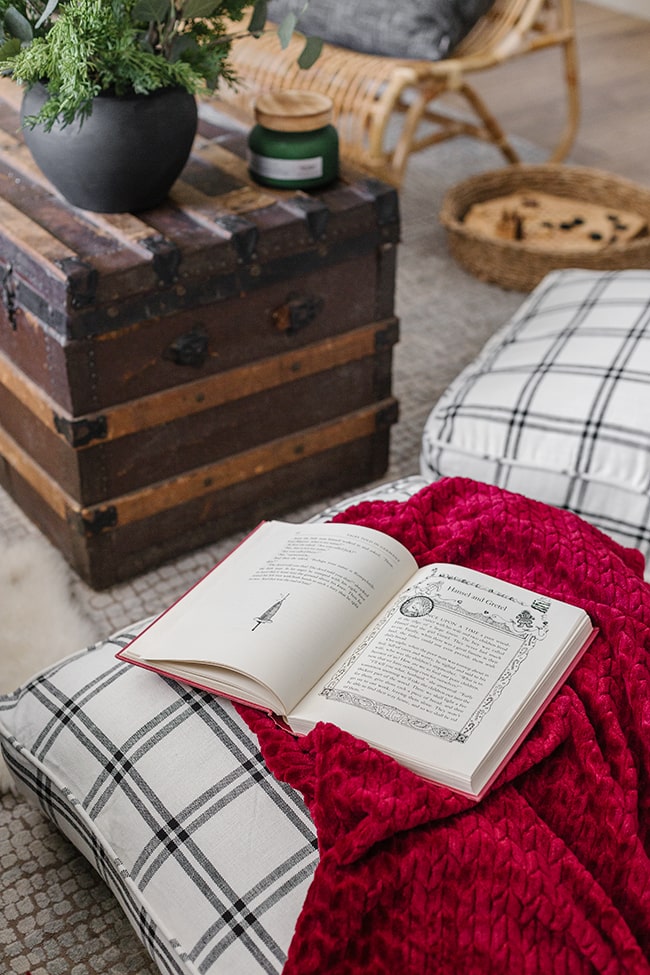 This past year our life has revolved around story telling thanks to our little book lover, and I can't wait until she's old enough to take interest in traditional Christmas stories. We also keep our vacation rentals and our own home stocked with a wide variety of games for kids and adults alike—these are some of my favorite family holiday memories!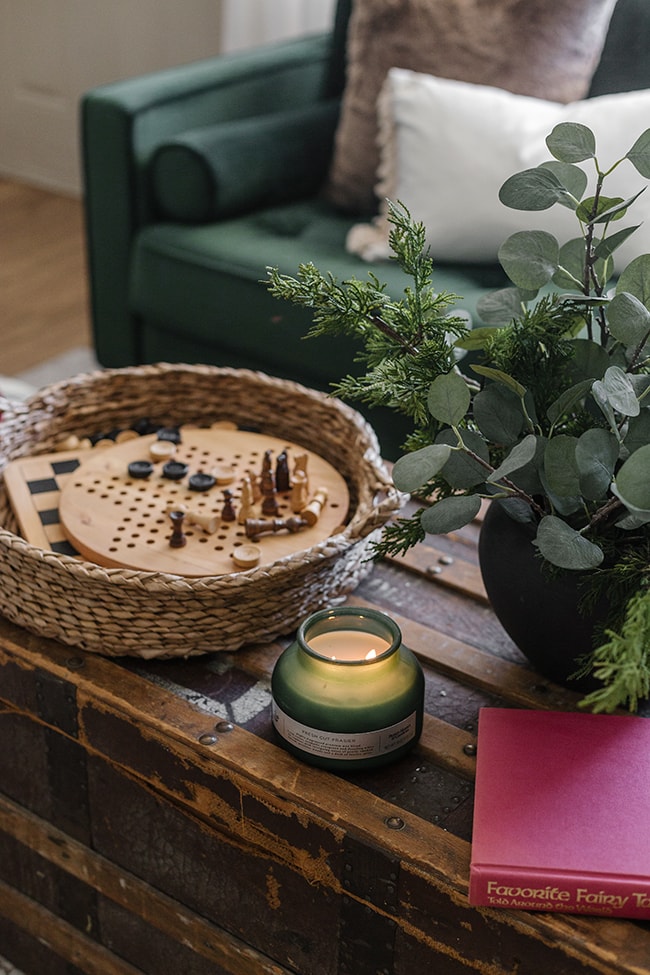 This Fresh Cut Frasier candle is my favorite scent right now. We aren't using real greenery indoors this year but this slice of heaven in a jar certainly makes up for it! If you want your home to smell like a Christmas tree farm, do yourself a favor and pick one up ASAP.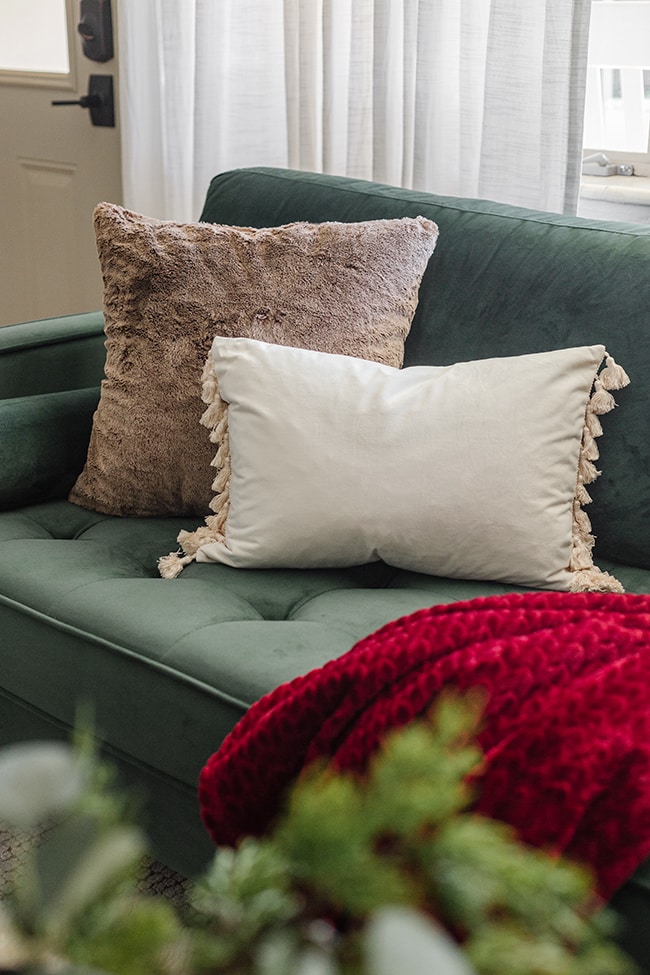 I'm all about the velvet and fur lately—it doesn't get any cozier than this. Loving this tassled ivory lumbar pillow and brown faux fur with our emerald green sofa. This house really is the perfect canvas to decorate for the holidays 🙂
Fun & games at home checklist:
Variety of board games, puzzles, deck of cards
Christmas books/stories (for the littles)
Holiday movies
Christmas traditions: gingerbread house, decorating ornaments, trimming the tree, holiday crafts
Musical instruments, Christmas sheet music
Plenty of seating (floor cushions)
Cozy pillows and blankets
Shop the look:
---
5. Engage the senses
Memories have strong ties to your senses, so be thoughtful about how you can engage each one. Create an environment that captures the spirit of the holidays and recalls your favorite memories from Christmases past.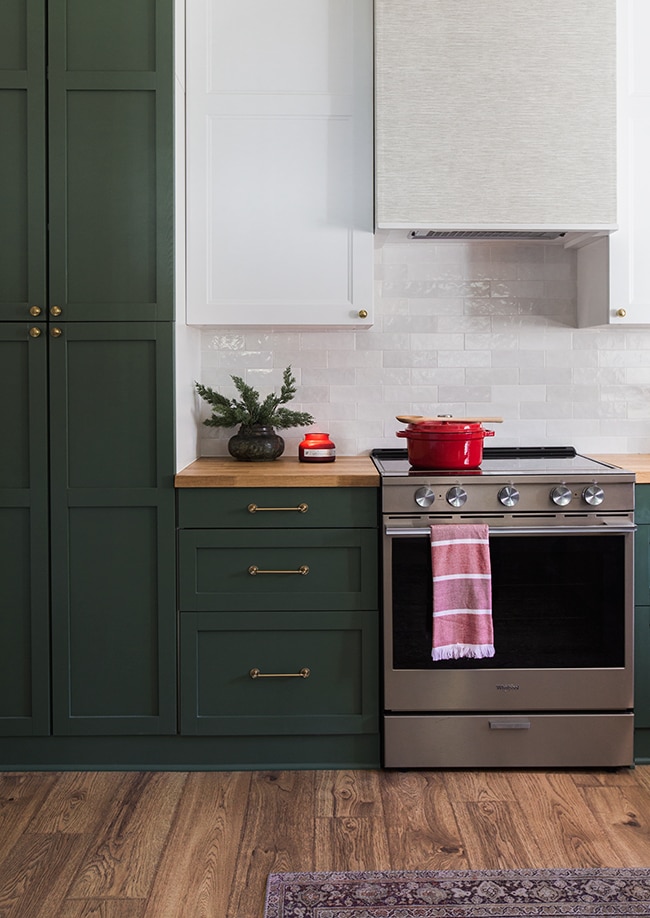 Scents, in particular, trigger strong memories and have a powerful effect on mood and emotions. My favorite way to create that warm, fuzzy feeling of home and instill the excitement of the holidays is by simmering mulled cider on the stove (bonus points if it's in a colorful dutch oven).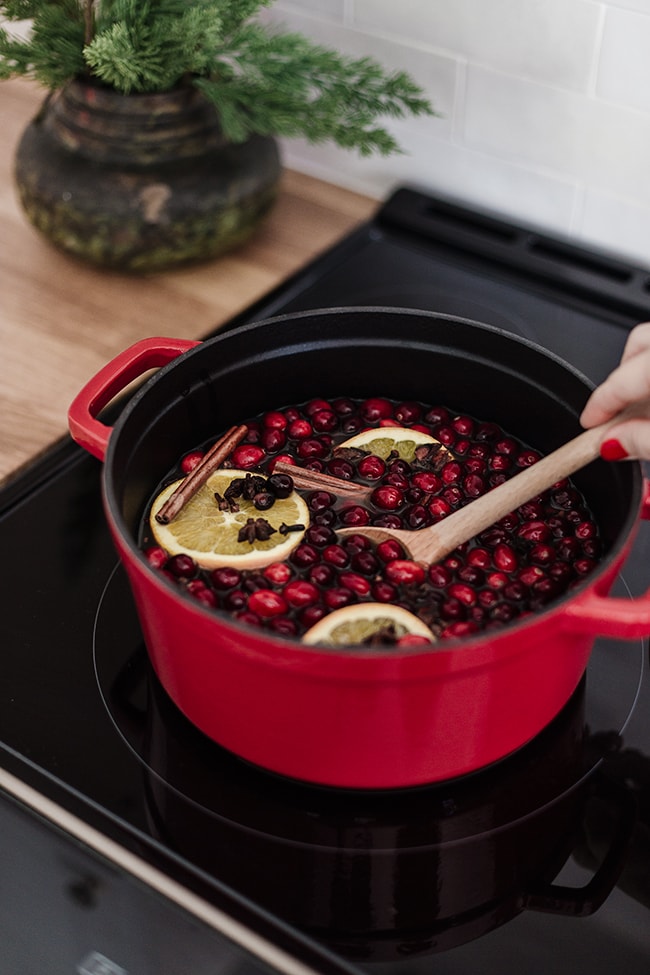 It's easy to make (I use this recipe), lasts for days, and you can sip on it too (spiked or not ?)
Scented candles are another great way to tap into your sense of smell, like this Red Oak & Berry candle I've been burning all November long: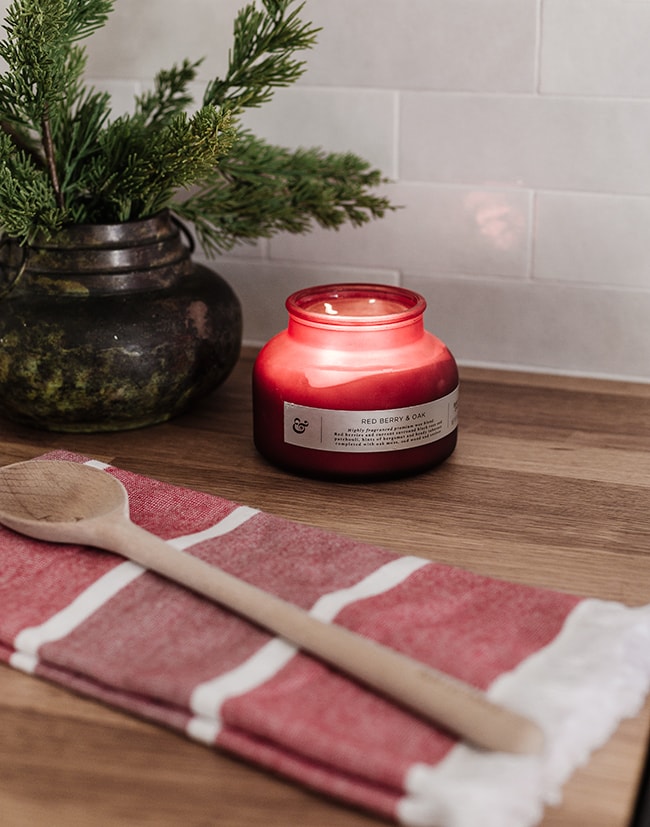 Another must-have around here is music. We keep ours playing throughout our home day and night, rotating through different Spotify Christmas playlists. To me, a house feels empty without music, especially this time of year. It's an instant mood booster and the quickest way to get the whole crowd in the holiday spirit.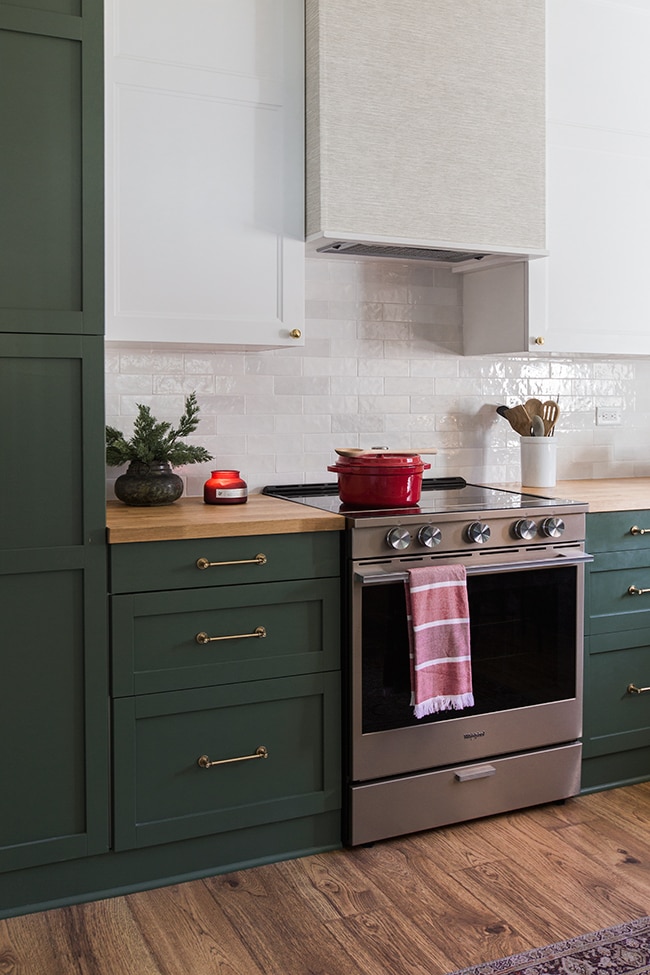 It goes without saying you'll want to have lots of yummy treats around to satisfy those taste buds, and hopefully you've found some decorating inspiration to ensure your home looks just as festive as it feels.
Engage the senses checklist:
Smell: Mulled cider, baked goods, scented candles, soaps, fresh greenery
Sound: Holiday music (Spotify is my favorite), musical instruments
Sight: Touches of festive decor in every room (even if it's just a vase with pine stems!)
Taste: My personal favorites are eggnog, pumpkin, mulled cider and Christmas cookies
Touch: Soft fabrics like velvet and fur, warm blankets, crisp bed sheets and fresh bath towels
Shop the look:
I think that covers it! Are there any other tips or tricks you can share? If you have photos of your home holiday-ready with Better Homes & Gardens products, make sure to share it with me on Instagram and use the tag #bhglivebetter (they just might repost it!)