Tis the season of giving! Giving thanks and showing gratitude (it's 2020 and we're still alive!) and giving gifts to show our appreciation for friends and family. Gift giving will look different for many this year, with most of us doing our shopping online.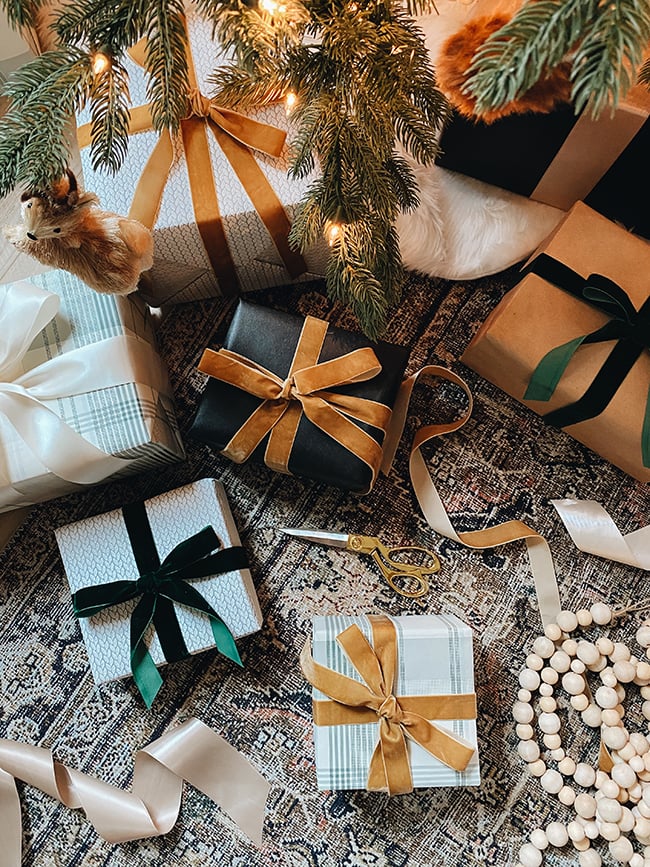 Each year I like to roundup my favorite gift recommendations based on products we personally use and love, plan to gift, and items on our wishlist. Of course, I also encourage alternative options like handmade gifts, thrifting/secondhand shopping, or gifting 'experiences' vs products (my personal favorite!)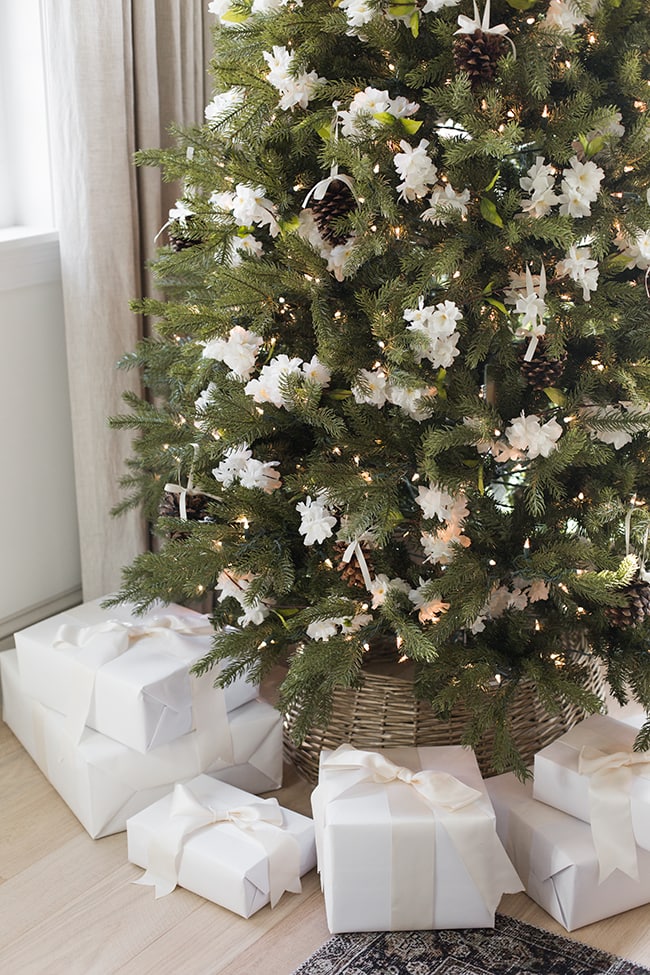 But if you're looking for gift inspiration as part of your online shopping, I've compiled our favorites into three different lists—Lucas, Jenna, and Esmé's picks (Esmé had a little help from mom ?) These include products from small businesses, makers and authors to the big name stores. I put many hours into thoughtfully curating these selections and I hope it helps you find a unique gift for someone on your list!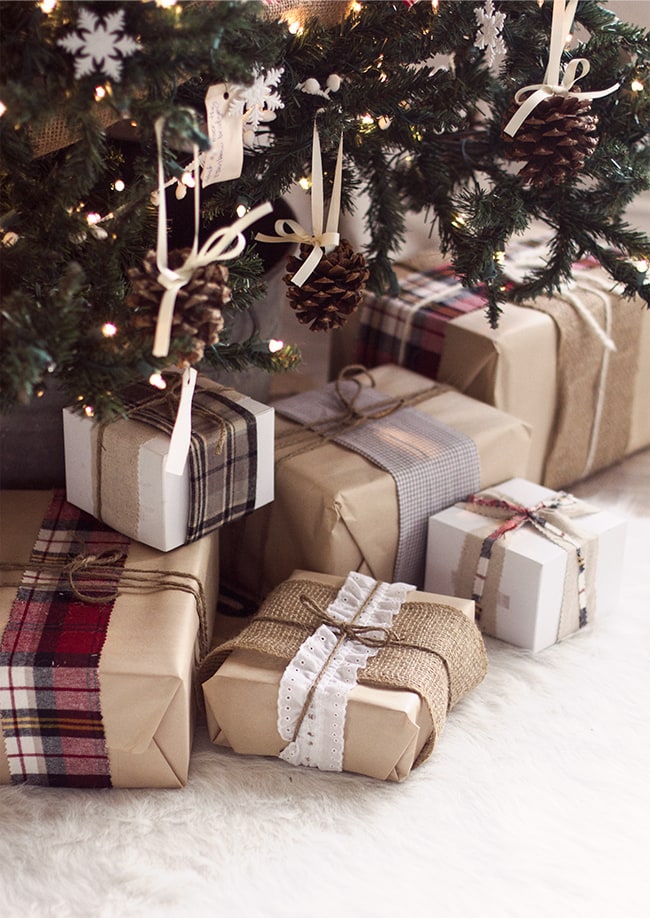 This year, I've made it easier than ever to shop each product by simply clicking/tapping on the photo of it. I've also linked them below, along with why they made the cut—kicking things off first with my picks: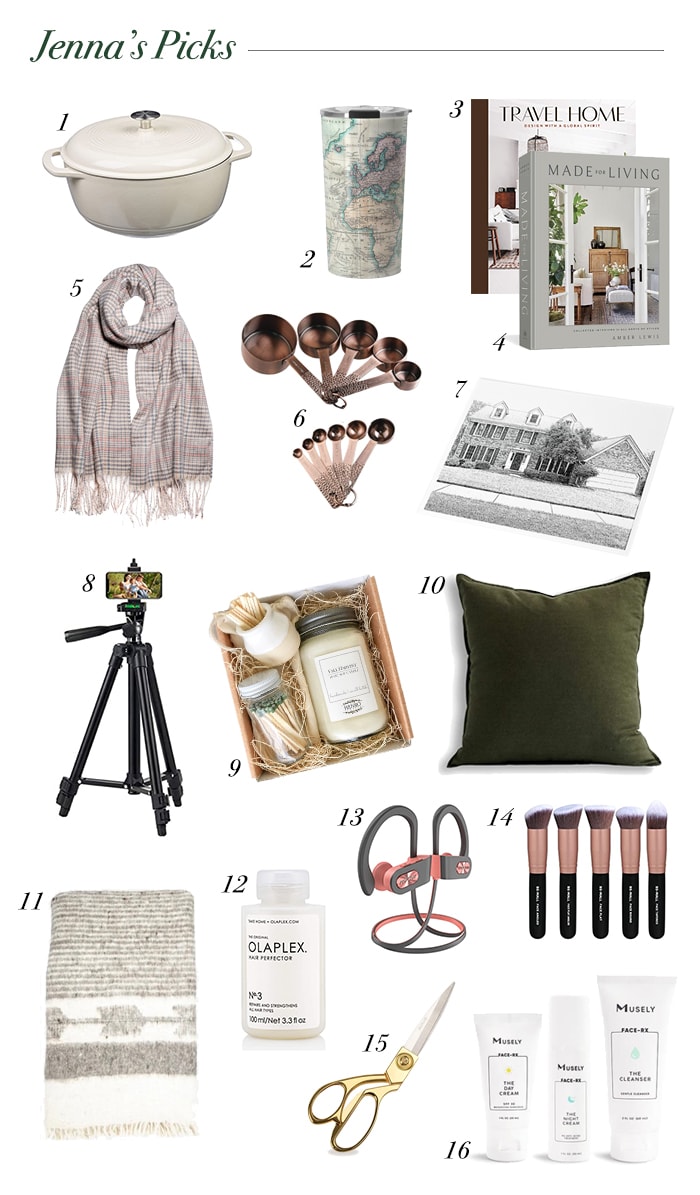 1. Cast Iron Dutch oven // One of my favorite kitchen purchases of 2020. Why spend $360 on a Le Creuset when you can have this bad boy for $300 less?! The nearly 14k positive reviews speak for themselves.
2. Insulated world travel mug // If we can't travel, we can at least dream about it… right? I'll never have too many of these insulated mugs (I sip my coffee in these every morning) and these really come in handy to keep drinks hot on the go during these winter months.
3. Travel Home // As an avid travel lover, this is the next coffee table book on my must-have list! (hint for any friends/family members reading…)
4. Made for Living // Amber Interiors is my dream designer (I know I'm not alone) and this book is on my Christmas gift list for our family exchange.
5. Plaid Scarf // This is the same brand scarf I used for our Thanksgiving table (slightly different design) and they're the softest things ever. You can never have too many scarves to wear, use as tablecloths or style in your home—plus they make great inexpensive gifts!
6. Measuring cup/spoon set // I couldn't pass up buying this set to replace our old mismatched measuring cups/spoons—especially after reading the reviews! They still look good as new after very frequent use.
7. Custom home sketch // Did you know I custom make and sell these home sketches in my shop? Just send me a photo of any house/building you'd like and I'll turn it into a personalized sketch! This is the most popular item in my shop, especially for gift giving.
8. Phone Tripod // This is the tripod I use when shooting time lapses and other Instagram videos. It's inexpensive and it works! And I love that it comes with a remote so you can control it without being near the phone.
9. Candle match/striker gift set // I received this stylish gift box set as part of @jaci.daily's candle collab and fell in love! Her Tree Farm candle is divine, and these cute match + striker sets are perfect for gift giving.
10. Olive green pillow cover // I found this pretty pillow cover during my holiday decor search and can't get over the price—$10!! It's the perfect shade of forest-olive green and work in any season. I would buy it but I already have three olive green pillows… I'll still probably do it anyway though 😉
11. Wool Chamarra throw // This one's a splurge, but if you're feeling generous, this luxurious handmade throw will certainly be cherished for years. I'm eyeing it for our bonus room…
12. Olaplex // This is my holy grail hair care line. My stylist uses Olaplex at the salon, and it has been so nice to get that same new-hair feeling at home. Of course it's on the pricier end, but not crazy for luxury haircare, and a little goes a very long way.
13. Wireless headphones // It took me way too long to make the switch over to wireless headphones after struggling with tangled cords on my stroller walks! Never again. I love these headphones (almost 13k ratings!) plus they're affordable + cute to boot.
14. Makeup brush set // I've been using these for 1.5 years now going strong. The set comes with more than enough brushes, so I use the spares for my Rub n Buff projects 🙂
15. Gold scissors // I just treated myself to these pretty gold scissors to make daily household tasks a little more cheerful. It's the little things!
16. Musely Skincare // I turned 35 this year and finally decided to take care of my skin after pregnancy + sun exposure took its toll. This is a prescription formula that erases hyper pigmentation, and the nightly regeneration cream contains tretinoin which is the gold standard for anti-aging. My skin looks like it did in my 20's after starting treatment this past summer. If you want to try it with 30% off, you can use my referral code JL1687 (the discount is limited to 10 referrals so get it while it lasts!)
---
I asked Lucas to compile a list of his favorites this year, including products he uses regularly and items on his wishlist. Here's what he came up with, along with why he chose them in his own words below (click/tap on the item directly to shop):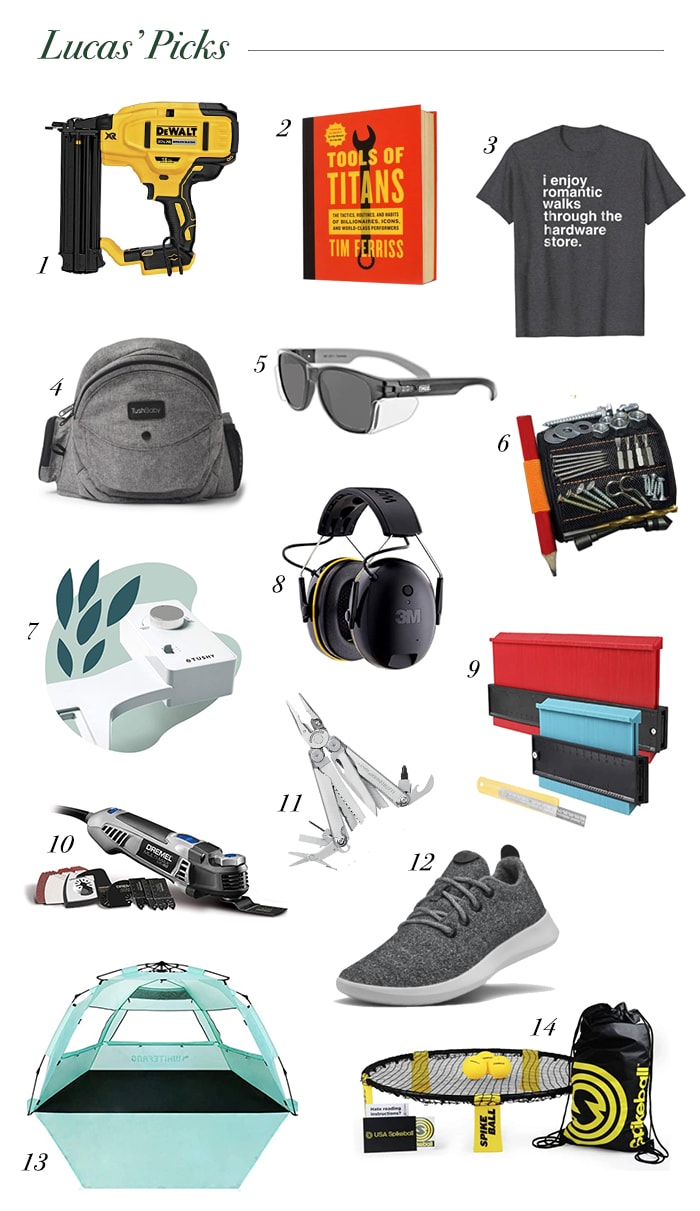 1. Cordless Brad Nailer // This is on my wish list to replace our current finish nailer. We are trying to move to as many cordless tools as possible.
2. Tools of Titans // I'm a huge fan of Tim Ferriss, and this book is a great compilation of the highlights from his interviews with top performers in every aspect of life.
3. Funny t-shirt // One of my favorite new "work" shirts 🙂
4. Tushbaby Hip Carrier // This carrier is a lifesaver for when a stroller would be too much but you want to save your back/arms/hips while carrying a child. We've used it from walking on the beach, to touring open houses (pre-Covid), to walks in the neighborhood.
5. Safety Glasses // PPE is essential for any DIYer and these are a great addition for anyone working out in the sun.
6. Magnetic wristband // I can't count the number of times I've had to climb down the ladder to get a screw I've dropped or to change drill bits. This wristband eliminates those issues.
7. Tushy bidet // It took the great Toilet Paper Shortage of 2020 for us to finally get one of these, and now we wonder how we ever lived without it. Not using it just feels wrong! This bidet is super easy to install and should be standard in every bathroom in this country.
8. 3M work tunes // Another PPE recommendation for anyone using loud power tools, but still wants to be able to listen to podcasts or musics. These headphones connect via bluetooth with amazing sound quality and protection.
9. Contour gauge // Have you ever had a pesky corner you need to cut trim or tile around? This tool helps you get that exact fit you need to get a professional look around tough edges.
10. Dremel multimax // This is a must have in your toolbox. It can make cuts no other tool can. I've used it on countless projects from our custom cabinet trim, to baseboard install, to retrofitting dressers into vanities. We have a variety of bits for it, but the carbide bit has been extremely useful to cut metal and other hard objects.
11. Leatherman Multitool // I've owned this tool for over a decade and it's the first thing I reach for to take care of quick needs around the house.
12. Allbirds // The most comfortable shoes I've ever owned. They are extremely durable (the only shoes I had while backpacking around the world for five months), but also great for casual wear. Can't recommend these shoes enough!
13. Beach tent // We don't go to the beach without this tent, and would take it anywhere we plan to sit out in the sun for an extended period of time. Very easy to set up and provides shade for us and the baby while allowing airflow.
14. Spikeball // My favorite backyard/beach game of all time. If you know, you know.
---
Below you'll find gifts for younger tots (mostly 1-4 yrs) including Esmé's current favorites, gifts we purchased for her this year and a few on our list for next year. Click or tap the product to shop or read more about each one below: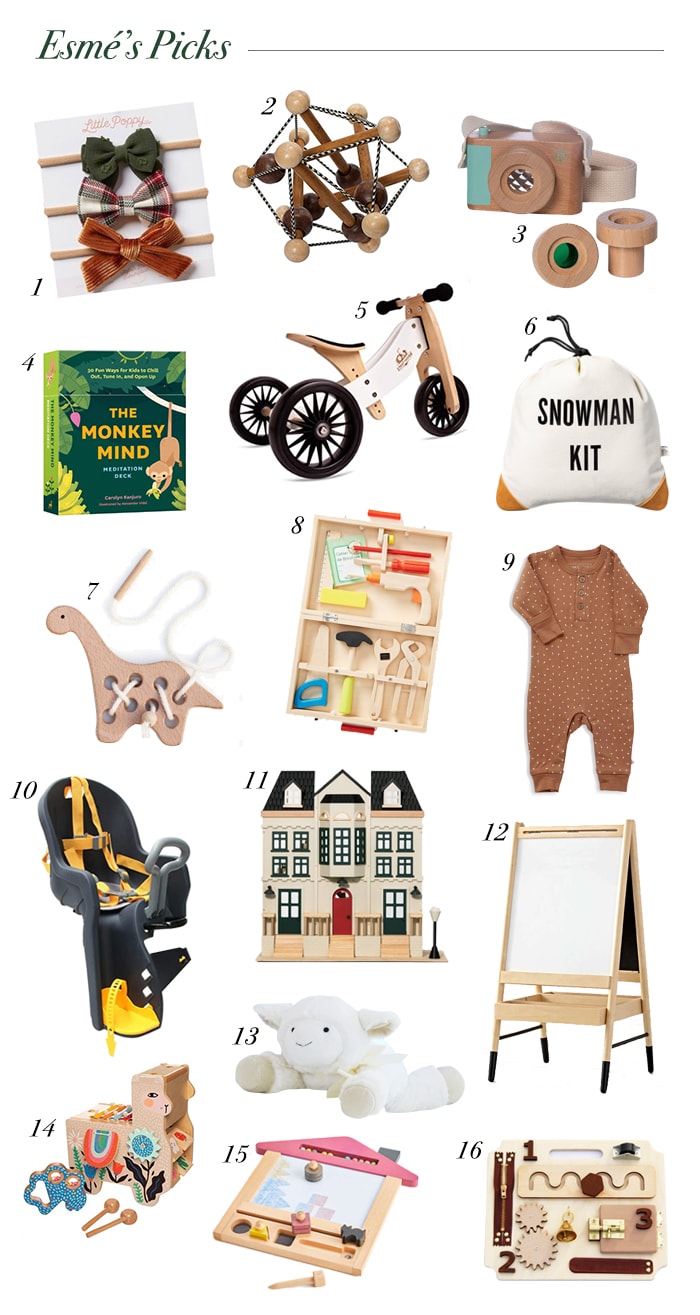 1. Little Poppy Co bows // We were gifted this bow subscription and it has been so fun to open a package of new seasonally-inspired bows each month (they even include matching scrunches/headbands for mama!)
2. Sensory rattle/teether toy // This sensory rattle/teether has 5-star reviews and aids baby's development (without being an eye sore!). It's also heirloom quality so it can be passed down to future kiddos.
3. Wooden camera set // I bought this as a gift for Esmé and can't wait for her to open it. I can just picture it strapped to her carrying around the house, looking in the viewfinder trying to copy mama. It comes with a few different lenses and it's something she'll be able to grow into as well.
4. The Monkey Mind meditation deck // This one's for kiddos a bit older than Esmé but I absolutely love the concept. The world is getting crazier by the day and it's so important for us to raise a more mindful generation.
5. Balance bike // This will be Esme's big present under the tree this year! It's suited for kids 18mo-4 years, converts from a trike to a two-wheeler so she'll grow into it nicely and use it both indoors and out. She loves our family bike rides so I think she'll really love this!
6. Build a snowman kit // How fun is this snowman-in-a-bag kit? I love that it's an activity the whole family can do together. It *almost* makes me want to live somewhere cold… 😉
7. Wood dinosaur lacing toy // Love the design and simplicity of this sweet dino activity toy. Esmé would spend a lot of time carefully lacing!
8. Wood tool set // A tool set was the first gift Esmé ever received (actually our wedding present, ha) which is very appropriate for a DIY household! I'm loving this complete wooden set with a cute storage box.
9. Organic unisex sleep/play wear // This is a local shop carrying organic, heirloom quality baby clothing, bedding and essentials. I love their minimalist, unisex designs and super soft sleep/play wear. You might also see Esmé modeling their newest line soon 😉
10. Baby bike seat // This bike seat has brought us so much joy! Family bike rides are something the three of us really look forward to a few evenings a week. This was one of the best budget front-mount seats on Amazon and it has been one of our most rewarding purchases of 2020.
11. Wooden Dollhouse // This far surpasses the Barbie dream house I grew up with! Perfect for your little aspiring interior designer. I also might copy it exactly for the next house we build…
12. Wooden Art Easel // I was tempted to get this as her big gift but I think we're still a few years out. I can just picture our little artist in training in the corner of the playroom, painting and drawing her masterpieces. This is one of my must-haves for the kiddos!
13. Twilight buddies lamb // I bought this for her on sale a couple weeks ago and now her "amb" never leaves her side. She's mesmerized by the stars & moon projection and we leave it in her crib at night so she can watch the display before falling asleep. Super soft and plush too.
14. Musical llama // We have a thing for llamas around here (Llama Llama Red Pajama is a favorite book!) and this musical llama is so fun. We really encourage music around here and there's many sounds to experiment with.
15. Magic Drawing board // This is way cooler than the Etch-a-sketch I grew up with! I remember loving that toy, and it's the perfect way for littles to practice their drawing skills without any mess.
16. Handmade Busy board // This Montessori-style busy board includes Esmé's favorite activities—zipping, opening and closing, locking and snapping. Perfect to develop those motor skills!
---
And there you have it, 46 gift ideas for the men, women and littles in your life—I hope you found something new to add to your list this year!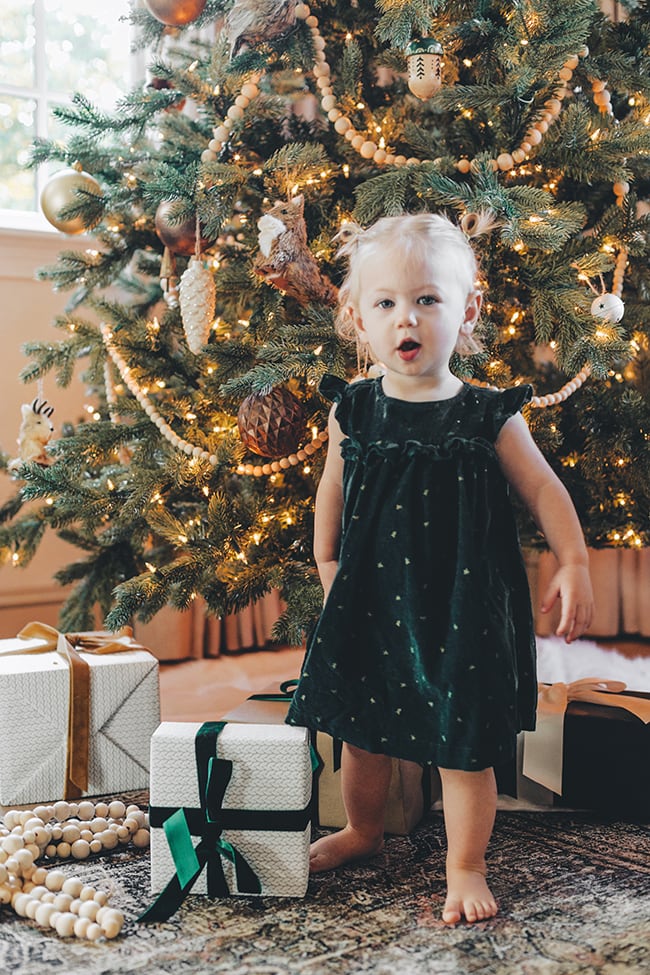 Have you already began shopping or are you waiting for Black Friday/Cyber Monday? I'll be monitoring the sales closely this weekend and sharing my best finds on my Instagram stories if you're deal hunting too. I'm also debating making another blog post with the weekend's best deals… is that something you'd want to see? Let me know in the comments below, and have a wonderful Thanksgiving!