Today's post is a fun bonus amidst all the room reveals and house tour posts, thanks to a collaboration with Shutterfly.
It's a different feeling for this house, after working so hard for months and putting your heart and soul into creating a home, then doing one big photoshoot and it's all over, forever. In my last home, I loved being able to decorate for different seasons and switch up the décor and style every so often. That's what I enjoy most about this whole home renovation thing—getting to be creative and focus on the little details that make a space unique.
So when the opportunity came for me to exercise that creativity and take advantage of one last photoshoot in this house, I was all over it. Styled photoshoots? I could do this all day. Forget flipping. (Not really, I still need the money…) but this project was honestly my favorite part of the entire process. I was on such a tight deadline with the Open House that I wasn't able to put as much into staging/decorating/photos as I wanted, but for this shoot I was able to take my time, play some music, throw a little party for one and be in my happy place.
Okay, enough rambling—onto the photos!
Shutterfly recently launched a new line of personalized home decor and gifting products. When they asked me to create custom products of my own and share them with you, I was so excited and inspired – and I hope you will be too. After careful consideration, I decided to personalize a few different items.
First up—a personalized canvas set: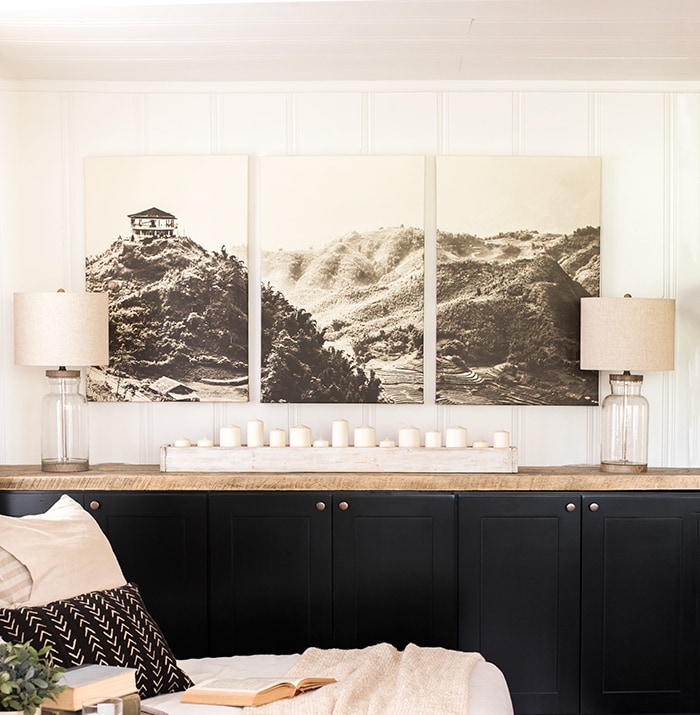 Pin
This particular photo is deeply significant to me, because it's one I took during the trip that changed my life forever, on a trek in Northern Vietnam. It was days before meeting the man who would change it even more, and I'll never forget how I felt in that moment. Still chokes me up thinking about it.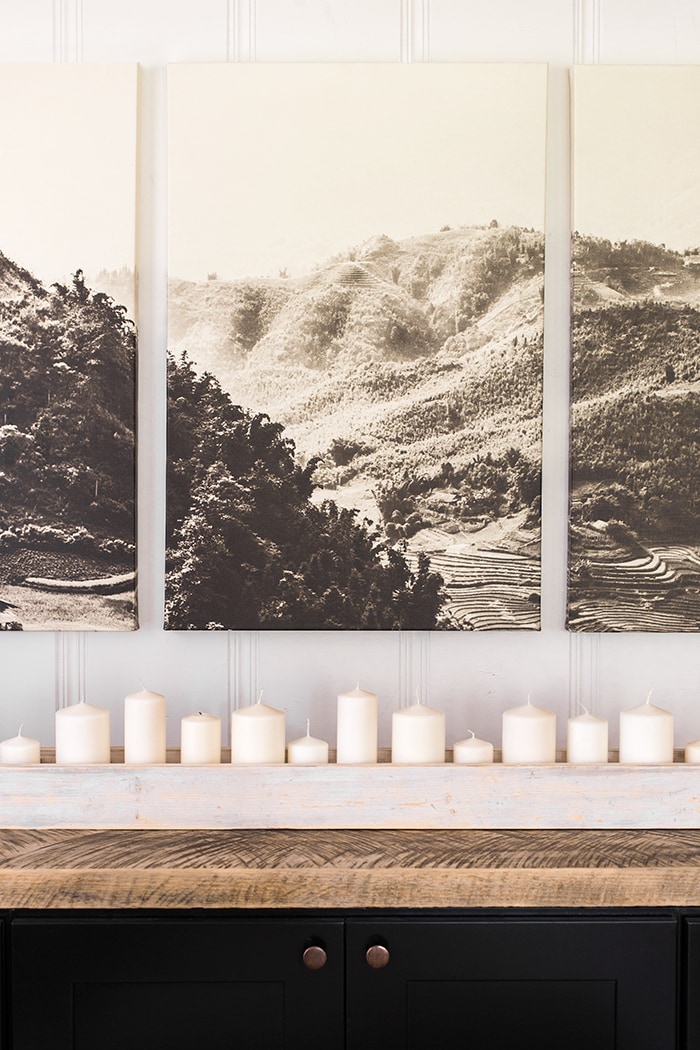 Pin
I've been wanting something physical, beyond digital images filed away on my computer to memorialize that trip, but I'm super picky about my art and haven't found the right way to display it until inspiration struck after browsing through Shutterfly's pages of wall art options.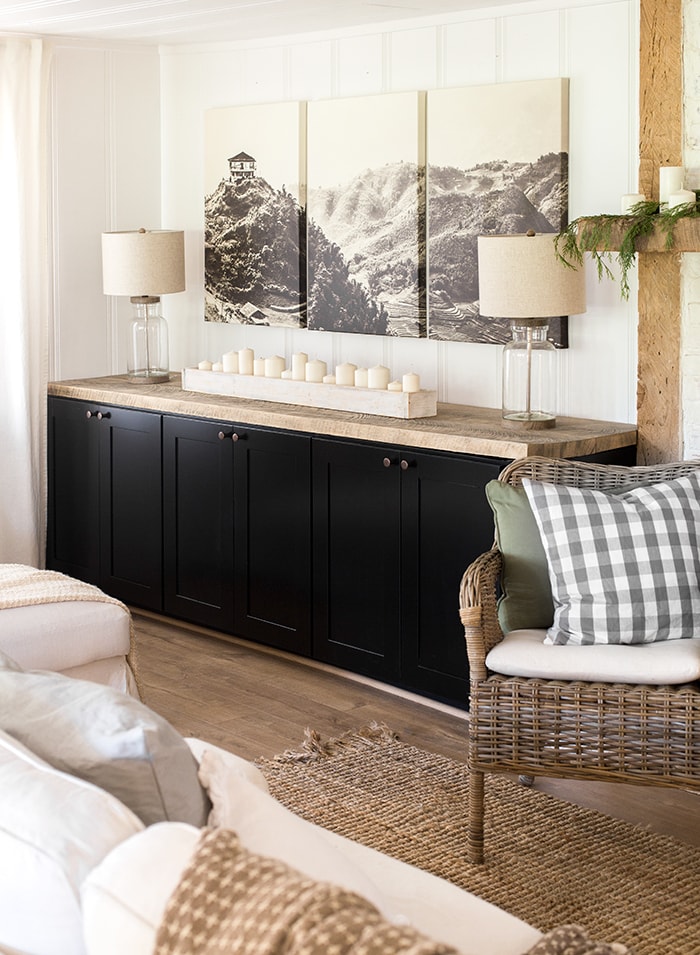 Pin
I could have chosen any number of layout configurations for the canvases, but I'm drawn to large scale art and particularly triptychs (groupings of three).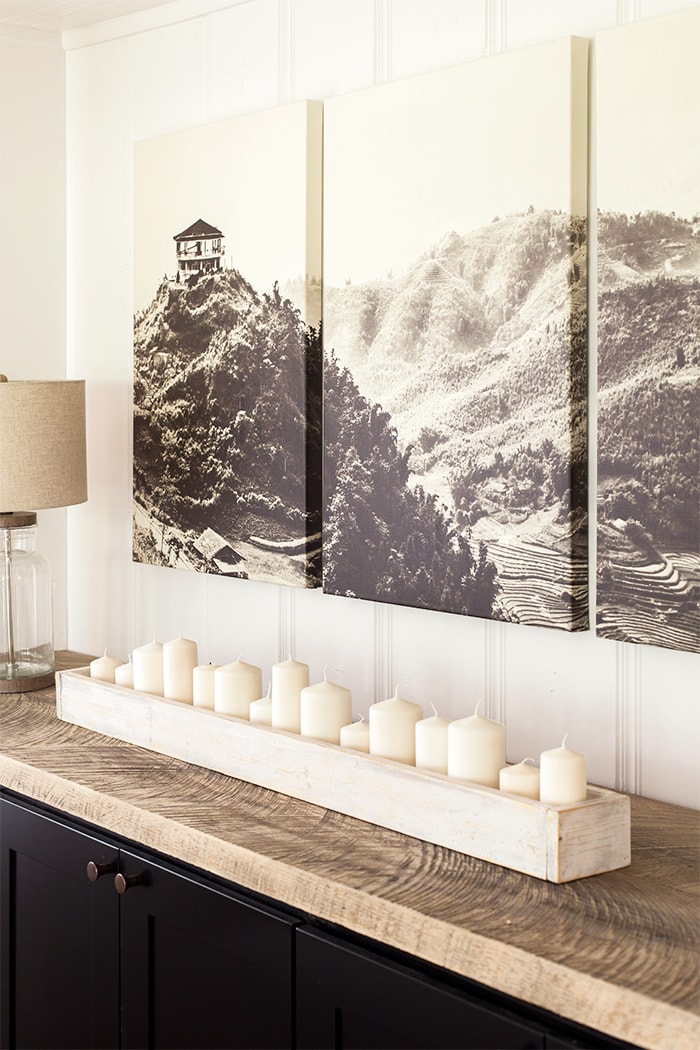 Pin
Luckily, Shutterfly makes it easy by basically doing all the work for you. You just choose the layout you want and upload a photo—it's that simple.
You'll need the original (high resolution image) for best results. I also used Photoshop to desaturate the colors so it's neutral enough to display in any room, and you can bet I'll be reusing these constantly in the future (for staging and personal use).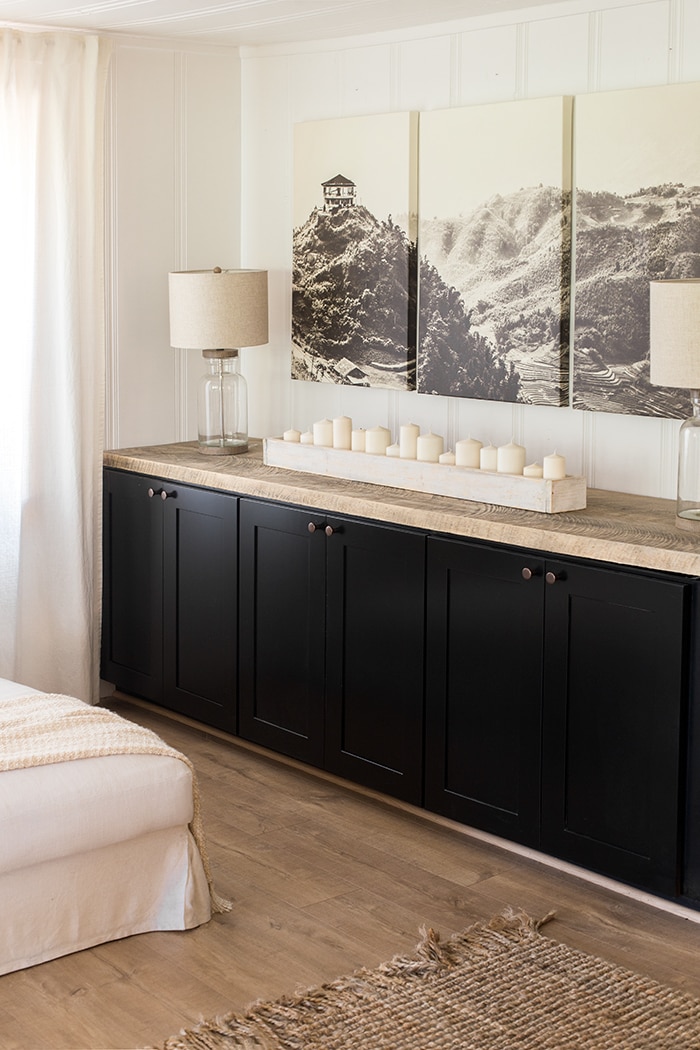 Pin
I went with the largest size—three 24×36" canvases which happened to fill the wall perfectly (if there were no cabinets below and it was a full blank wall, I'd stack another grouping of 3 for the biggest impact).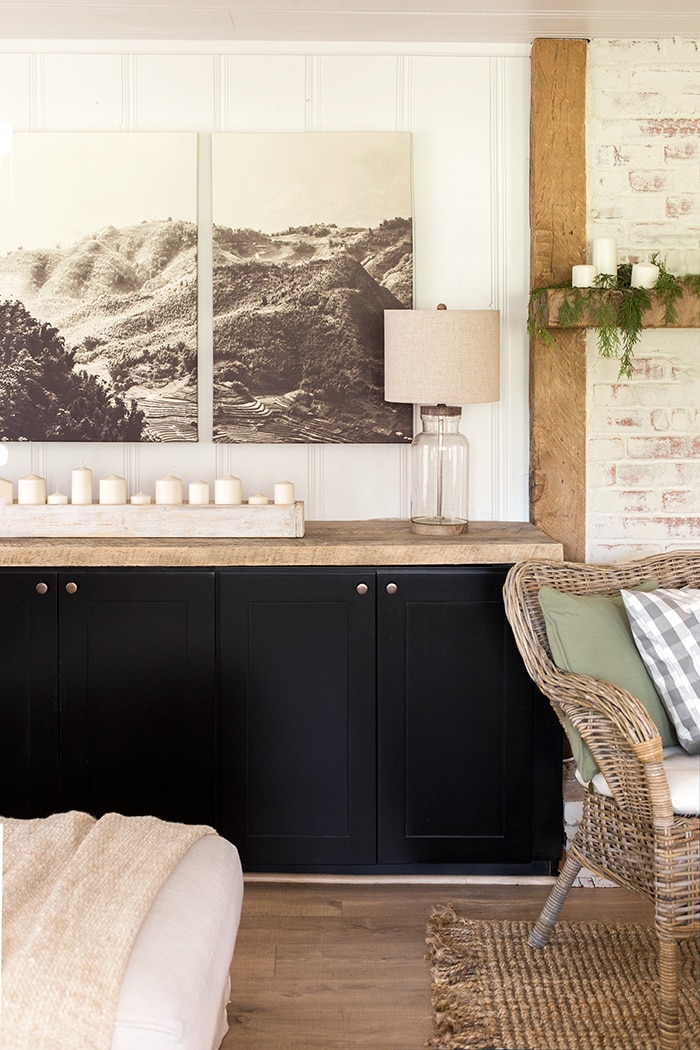 Pin
Thank you, Shutterfly, for allowing me to preserve this memory in such a beautiful way. These canvases are truly my favorite pieces of art I've ever owned.
I was also given the opportunity to design additional items from their personalized gifting line, and realized there's a few special people in my life who would benefit most from a thoughtful, personalized gift. And it just so happens that one has a birthday around the corner and the other two are about to get married.
Enter these custom etched glasses for my hard workin', wine lovin' mama: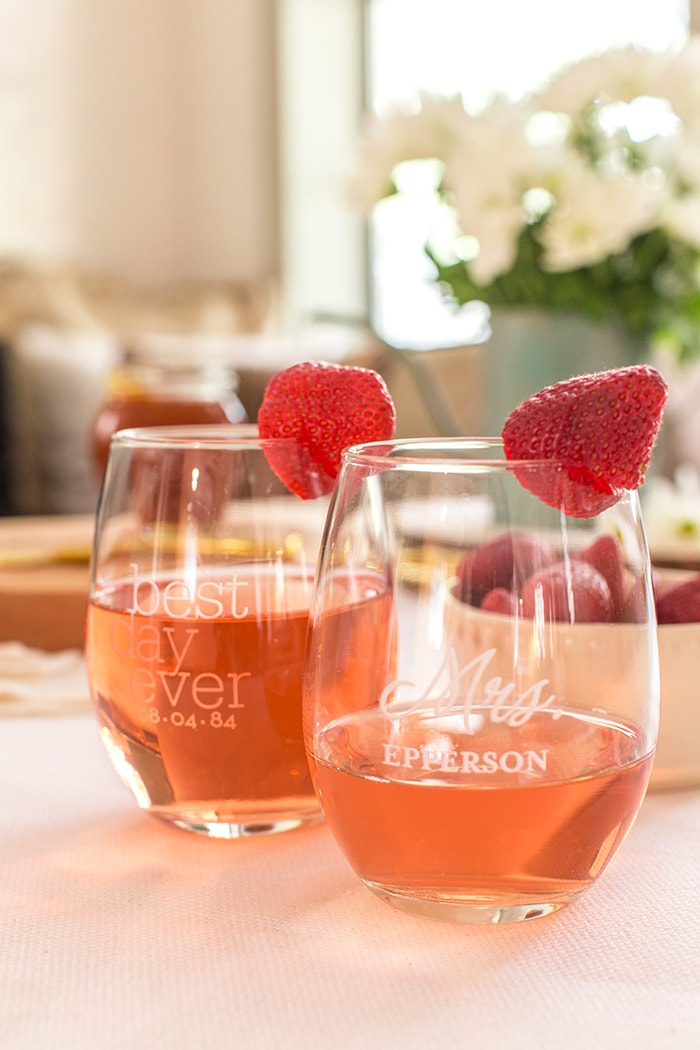 Pin
They had a ton of templates to choose from, so I cheated and let her decide. She chose the "Best Day Ever" and the "Mrs" designs. I even let her pick out a cloth wine bag…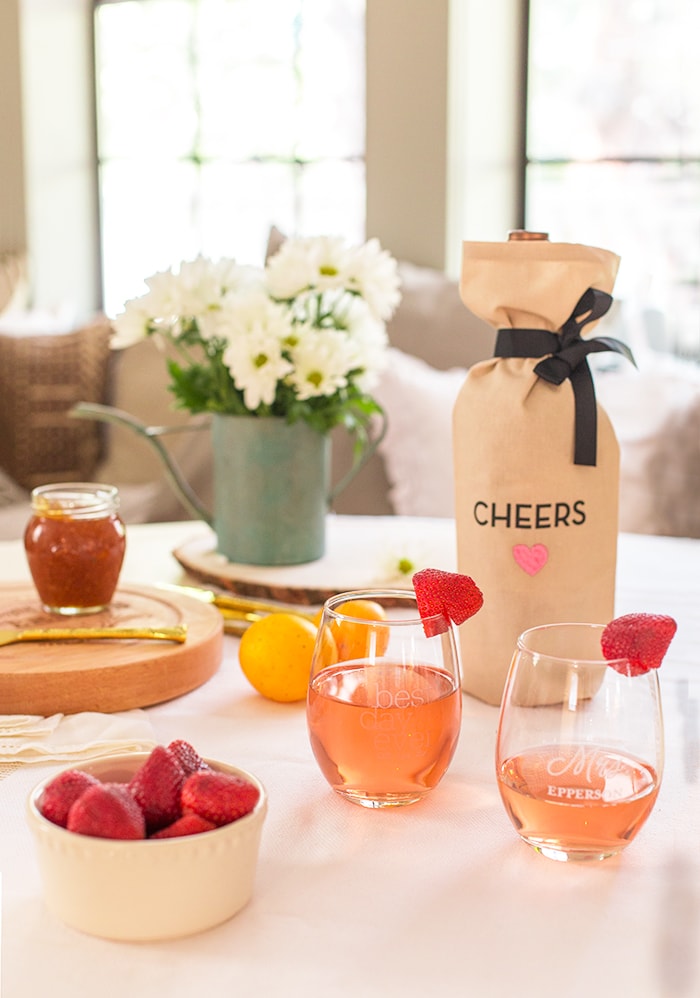 Pin
We had a bit of a warm streak last week, so Spring fever kicked in and I grabbed every pink and white and flowery thing in sight.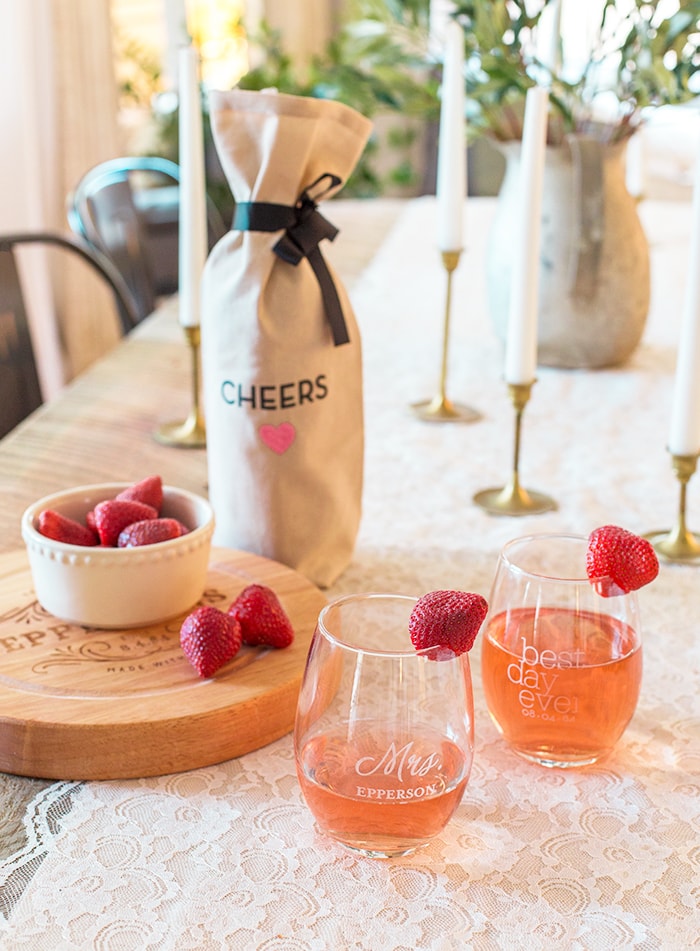 Pin
Moments after this photo was taken I devoured all of the strawberries (and possibly some rosé…)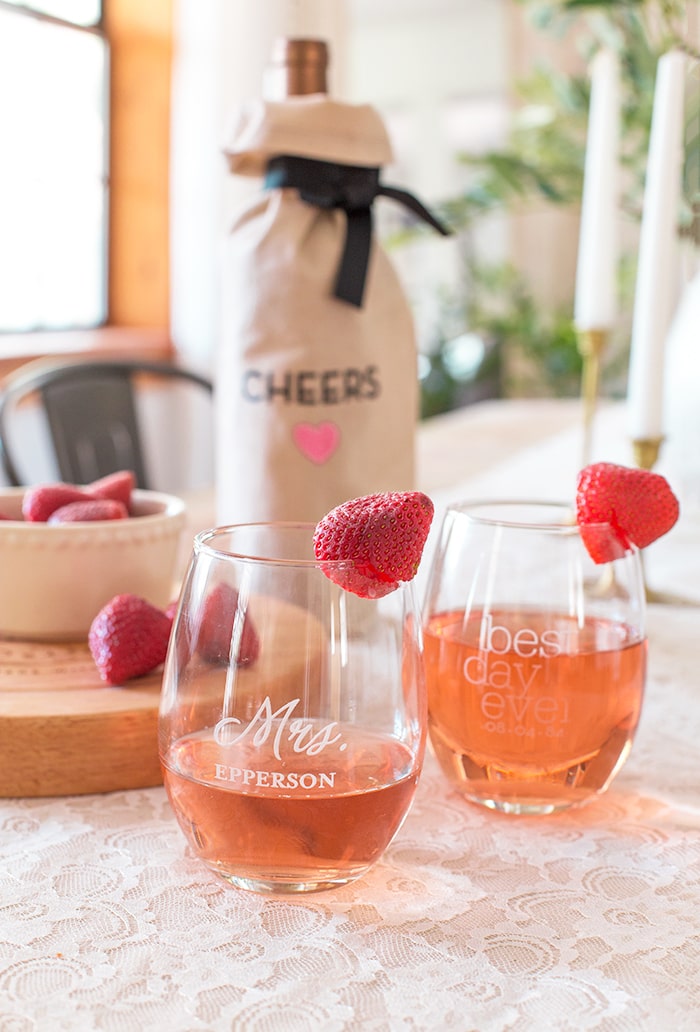 Pin
Being the generous gift giver I am, I also let her choose a cutting board. How cute is this?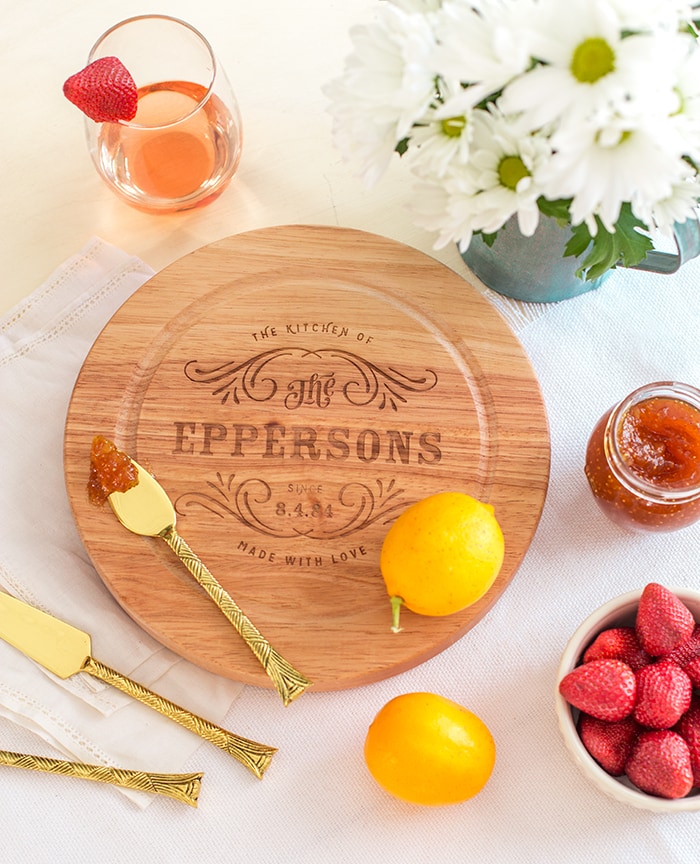 Pin
The design was already made, you just type in the last name + date (and change the font if you'd like) and it arrives to your door, engraved to perfection. They have a handful of templates/sizes/materials to choose from, and I was eyeing the marble style as well, but glad we ended up with this one.
With Mom happy, I set my sights on my sister and soon to be brother in law. (Cristina and Kyle, if you're reading this… stop now!)
They're getting married in June, and I wanted to get them something a little more personal than something off the registry.
As soon as I saw these, I knew they'd absolutely love it.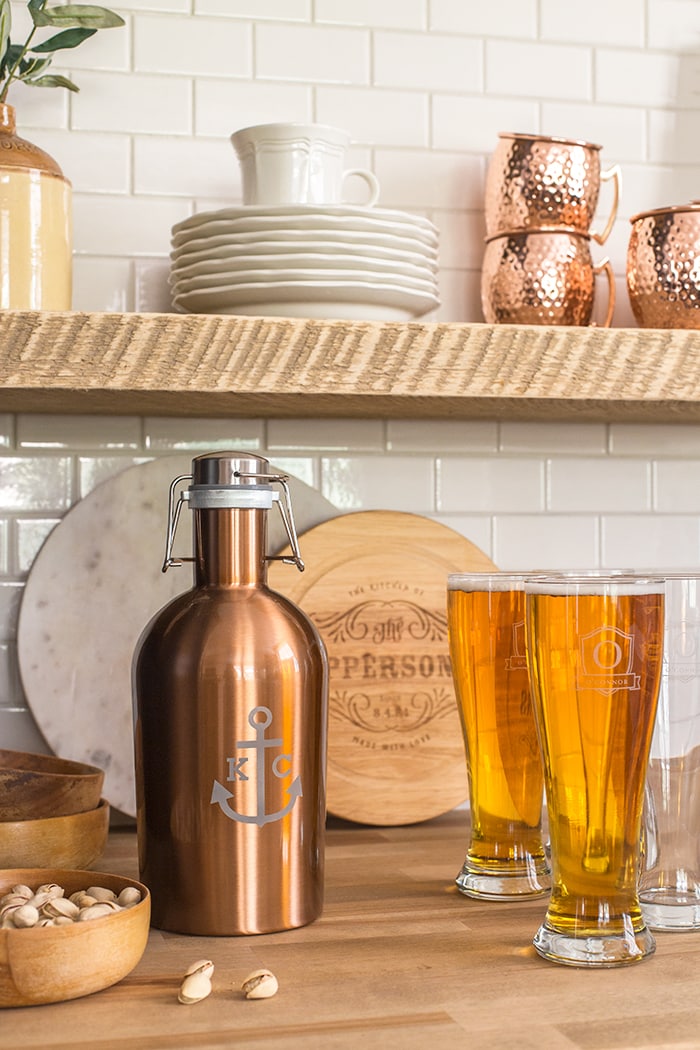 Pin
Kyle is a sailor and something of a beer connoisseur; while Cristina is obsessed with all things nautical and has been slowly making the transition to a beer drinker. And I am hoping they both share my recent obsession with copper.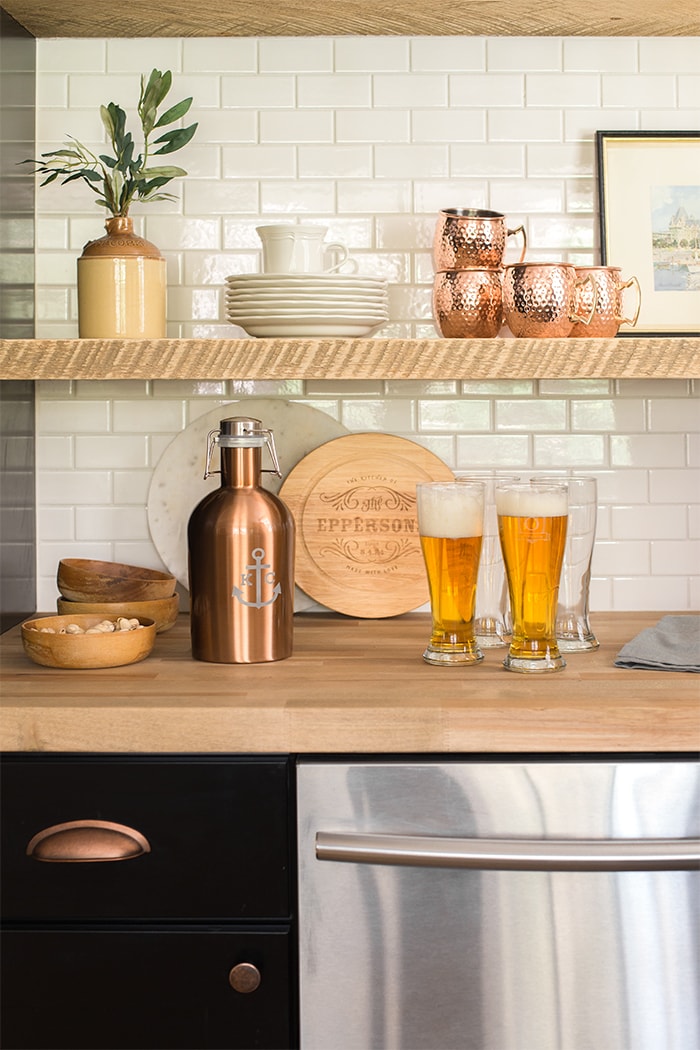 Pin
This personalized growler and etched pilsner set is truly the perfect gift for them, combining their greatest loves.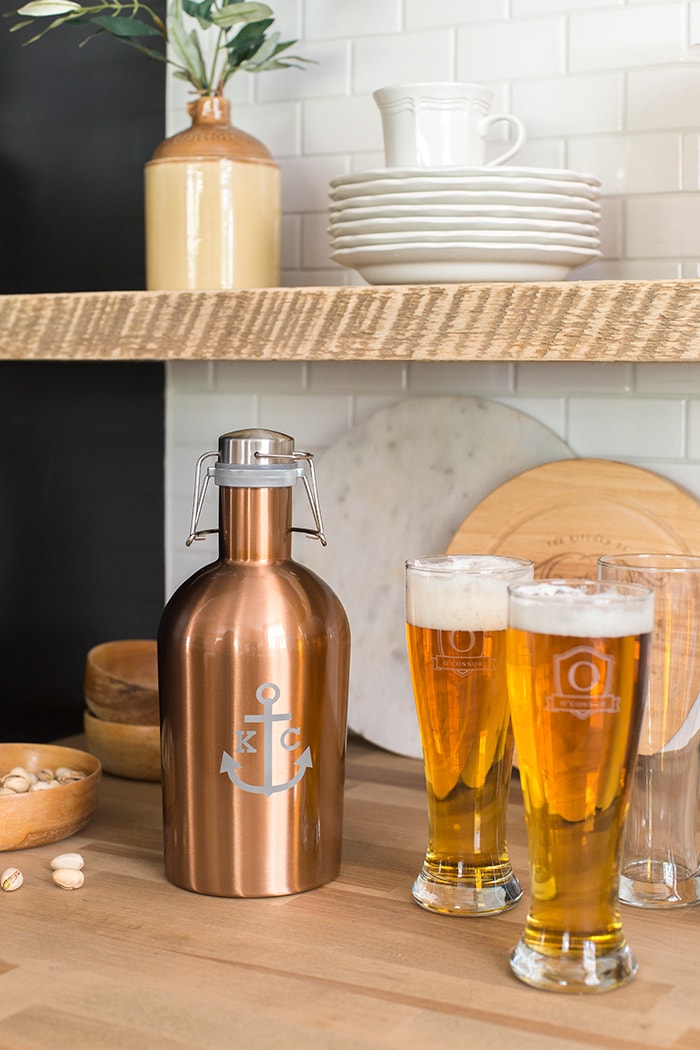 Pin
Just like the wine glasses & cutting board, there's plenty of options and customizations to choose from. You just enter the information on their site and preview it before ordering.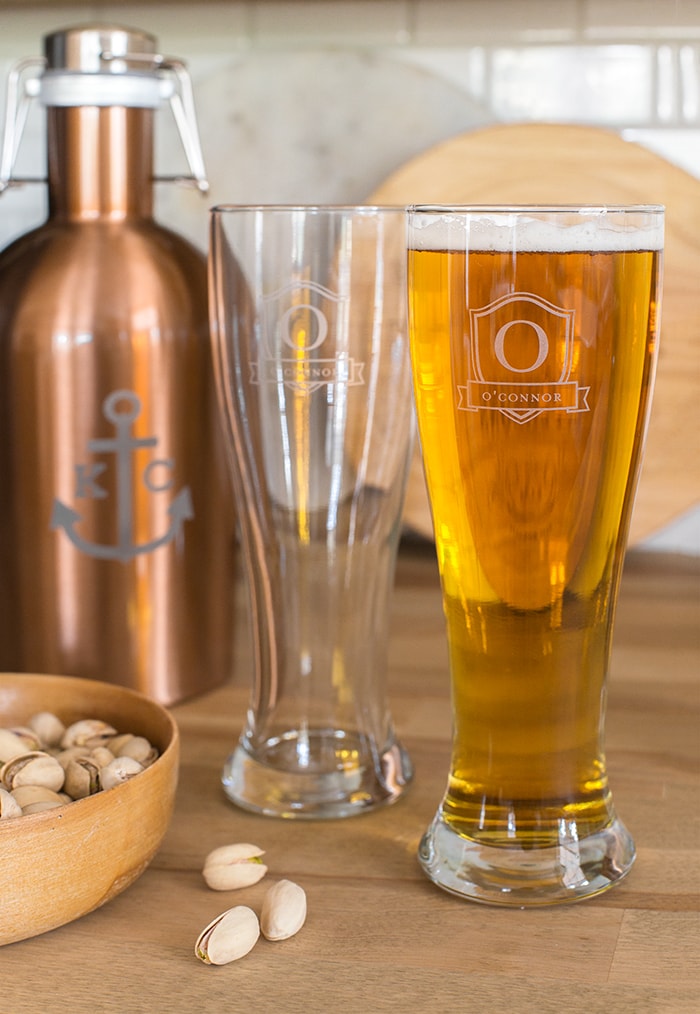 Pin
The back of the growler can also be personalized, so I thought adding their wedding year was a nice touch.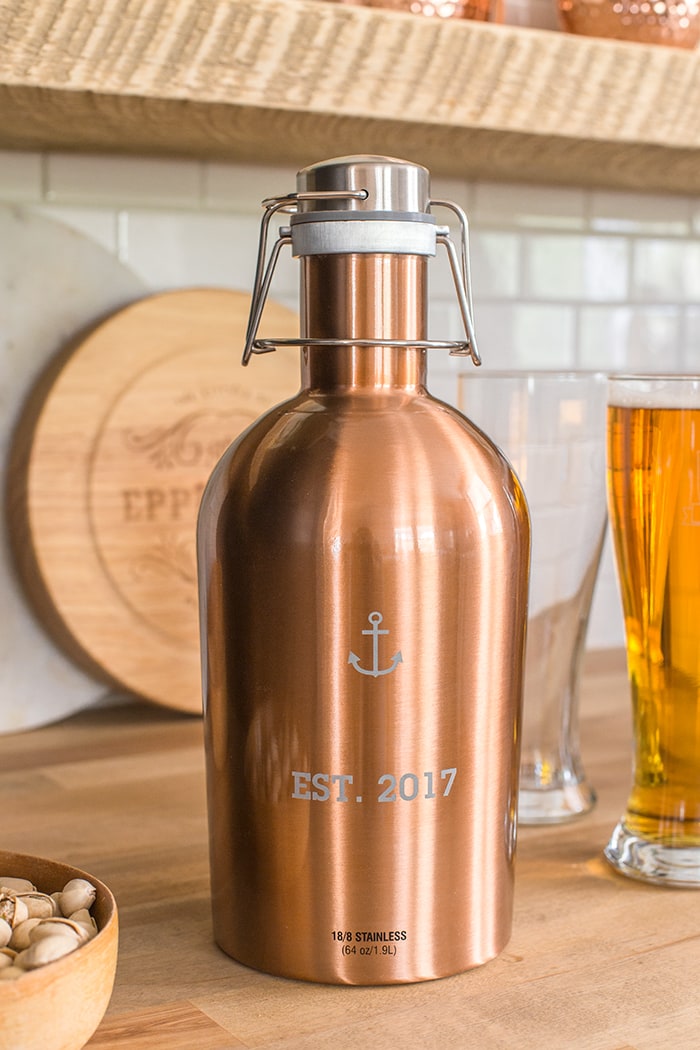 Pin
They even put thought into the packaging. Put a bow on it and you're good to go!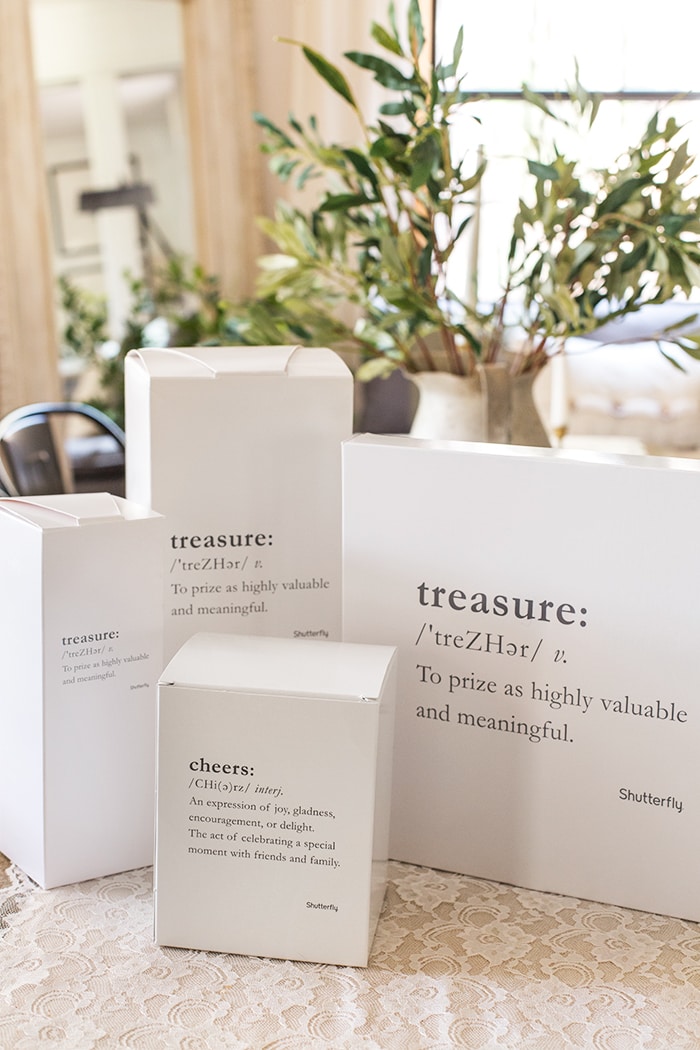 Pin
I've ordered from Shutterfly in the past (photobooks) but they've really stepped up their game in the home décor/gift department. To me, it's the most rewarding to watch someone open a gift that you've put thought and consideration into based on their personality and interests, knowing how much it means to them.
With wedding season/Mother's day/Father's day around the corner, hopefully you've been able to take some ideas or inspiration from this post. Or if nothing else, a few more pretty photos to look at 🙂
Tomorrow I'll be sharing the final house tour and condensing the last month of reveals into one big recap, so stay tuned!
Disclosure: This post is sponsored by Shutterfly. Awaken your space with your vision. Shop Shutterfly Home Decor for personalized home accents that are uniquely you.