It's Bedroom Reveal Week and we're kicking off the festivities with Bedroom #1! Click to watch the Before, During & After transformation: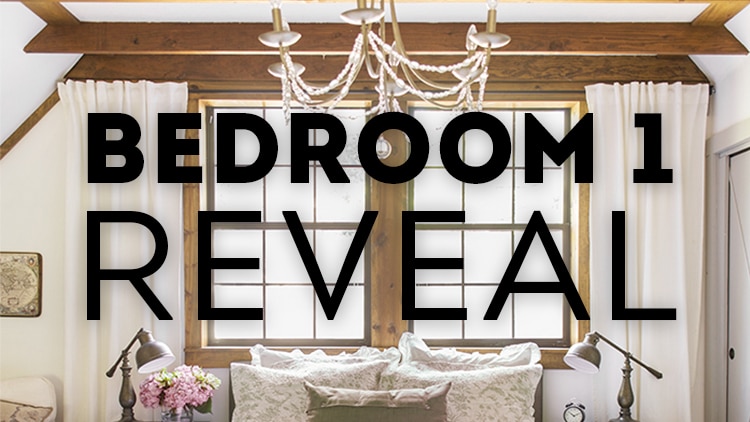 Pin
The largest of all six bedrooms, this one won me over in the end—more than I thought it would, to be honest. There's just something about it… but let's start from the beginning to take it all in: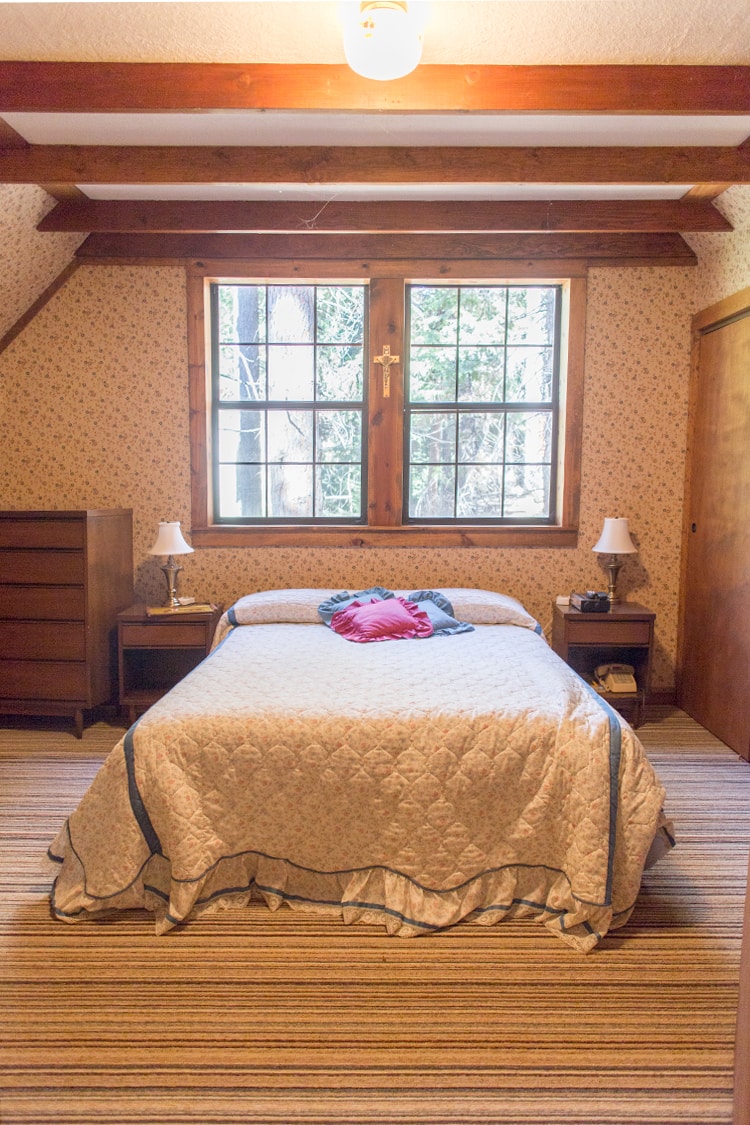 Pin
Aw, it's like going to Grandma's house.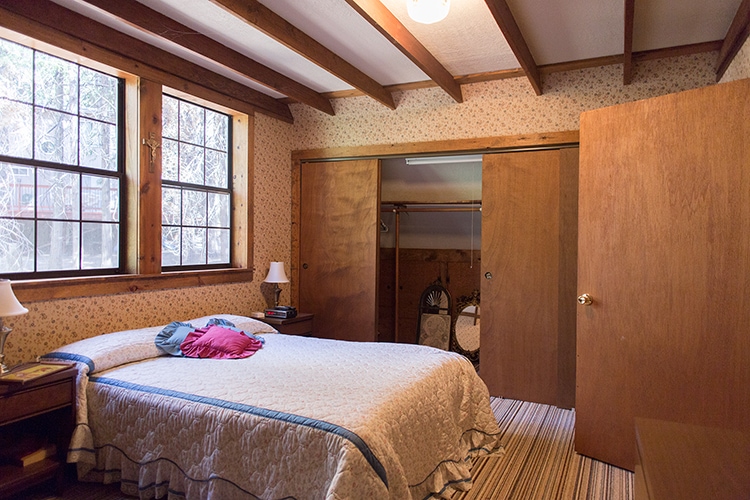 Pin
Down to the floral wallpaper, floral bedding, floral chair, striped carpet and brown wood everywhere.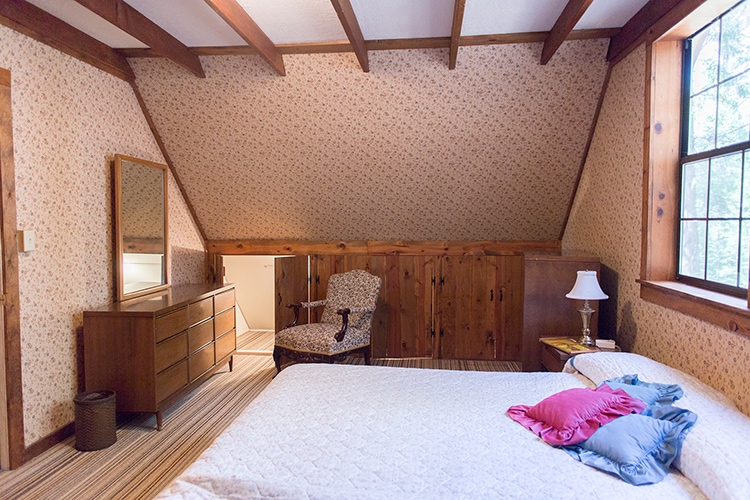 Pin
But that didn't last long. Starting with a DIY door makeover: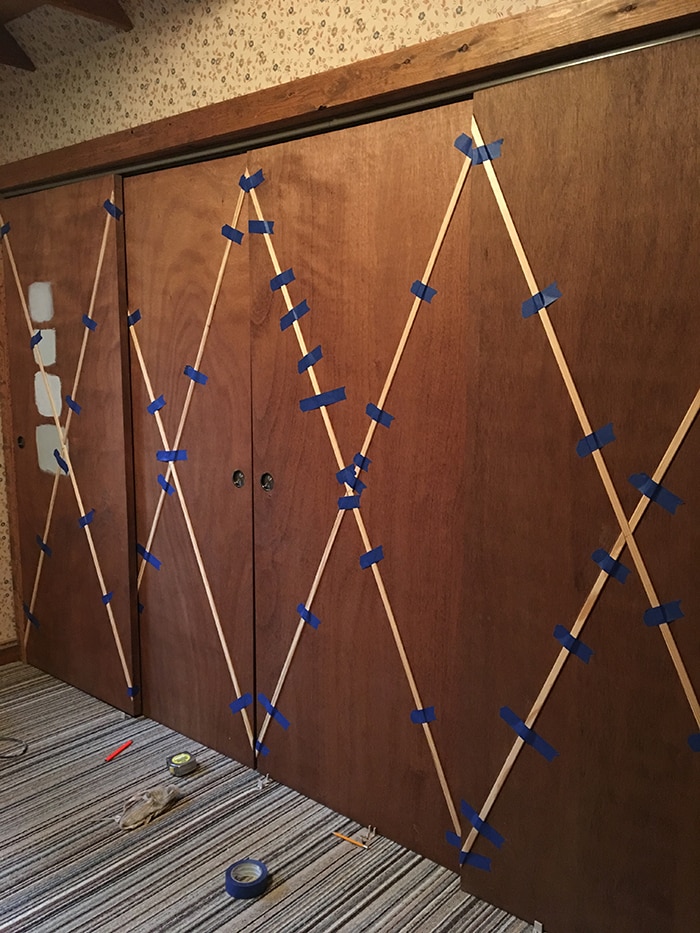 Pin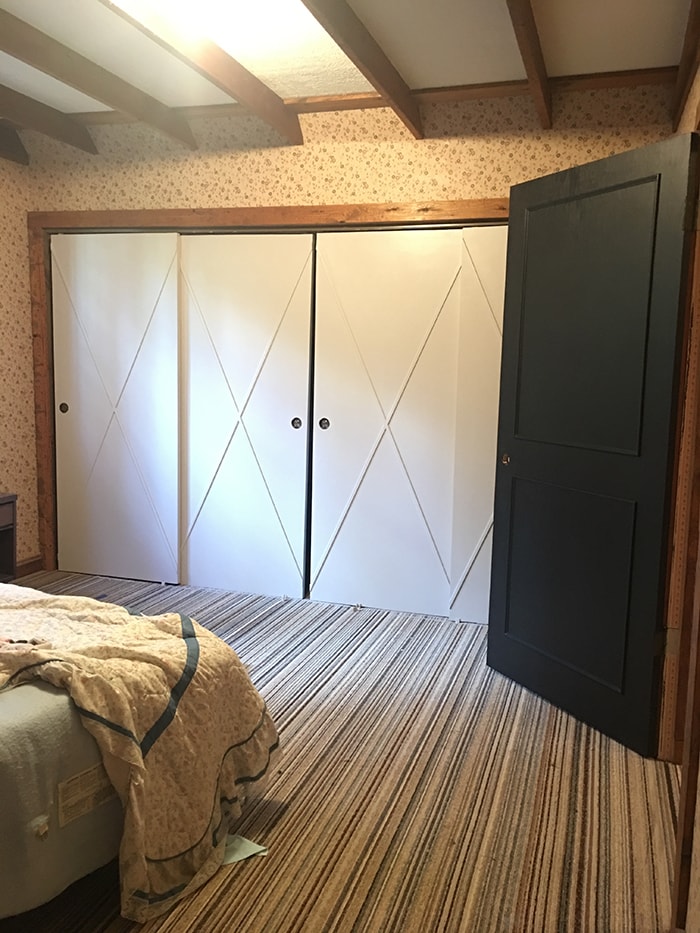 Pin
Then it was goodbye carpet and wallpaper, hello new floors & white walls: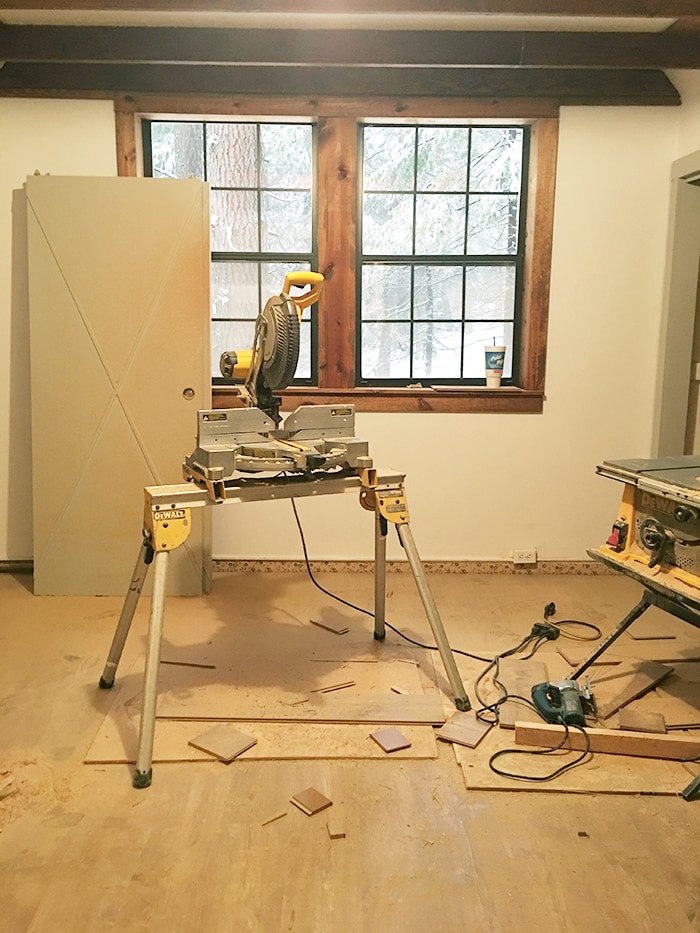 Pin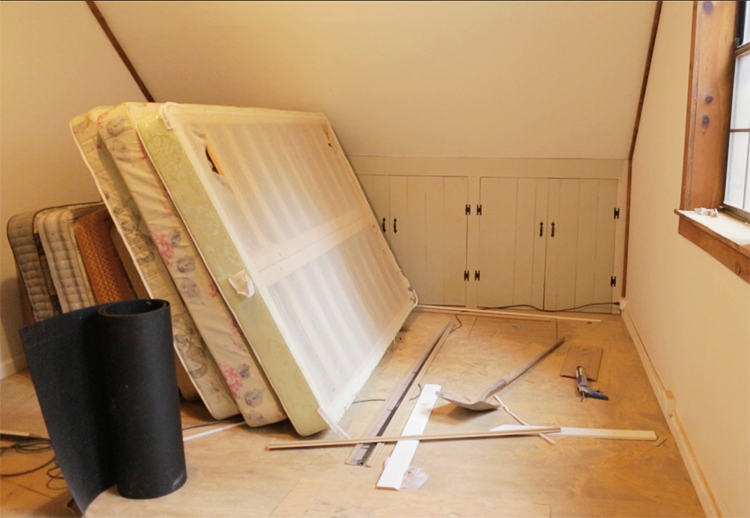 Pin
Floors, paint, a little DIY and accessories were all this room needed to become the relaxing "master suite" it is today…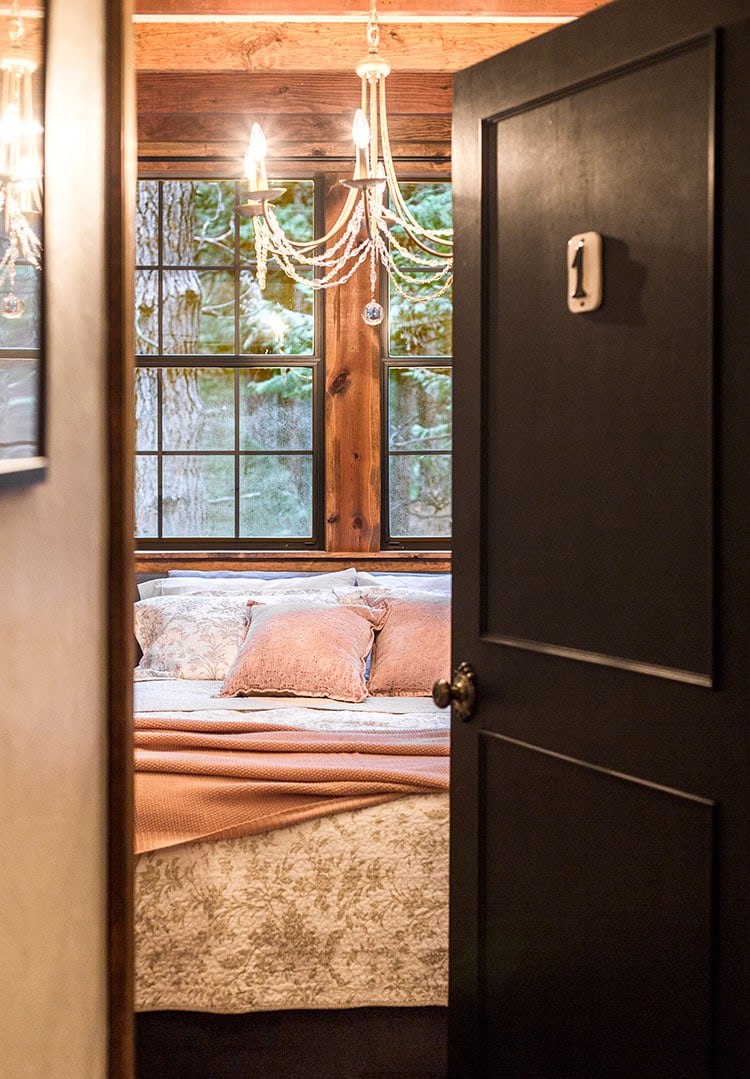 Pin
Welcome to my happy place.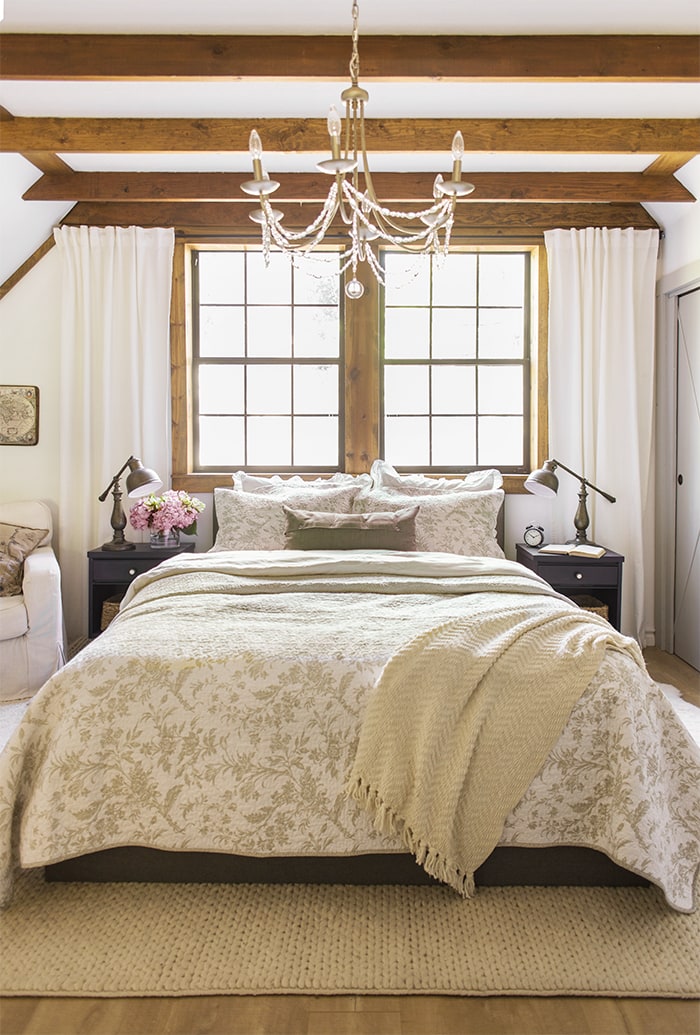 Pin
Thanks to the great bones, it didn't take much to turn these four walls into something special.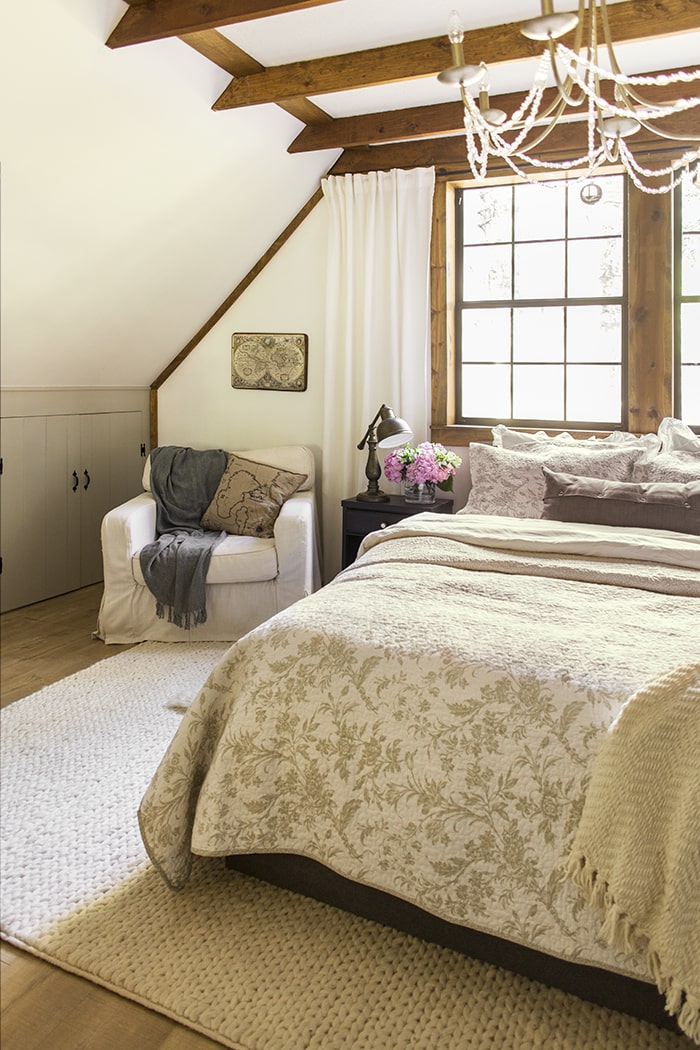 Pin
The wood trim balances the white walls and keeps it feeling warm and cozy without being dark and heavy.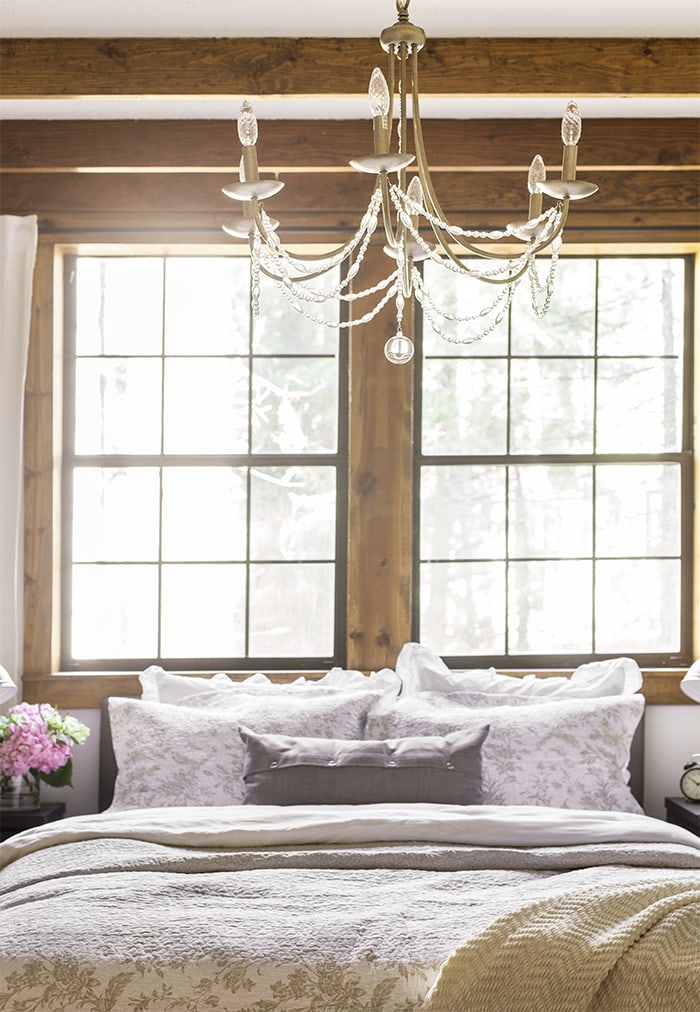 Pin
And by adding a few black accents, it keeps it from feeling washed out.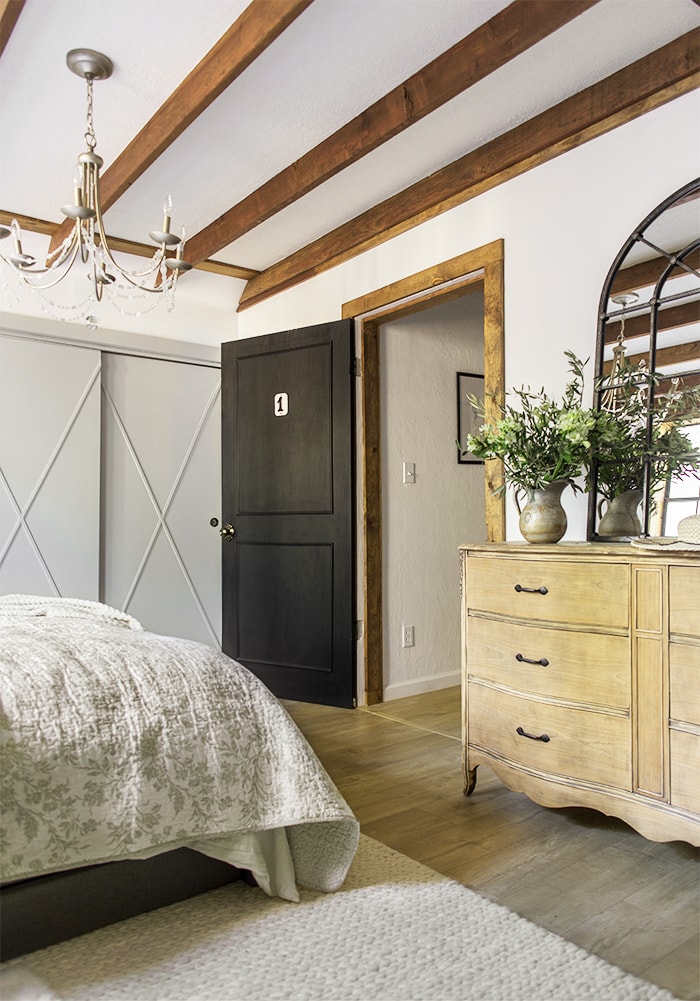 Pin
The brass lamps tie in to the brown wood and other accents in the room as well.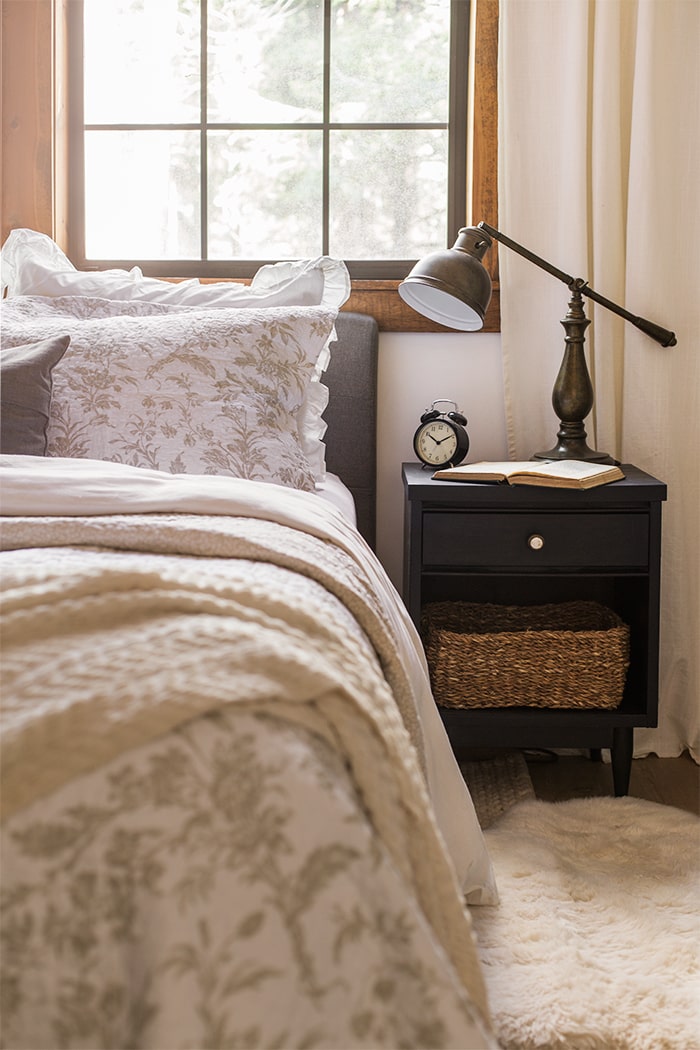 Pin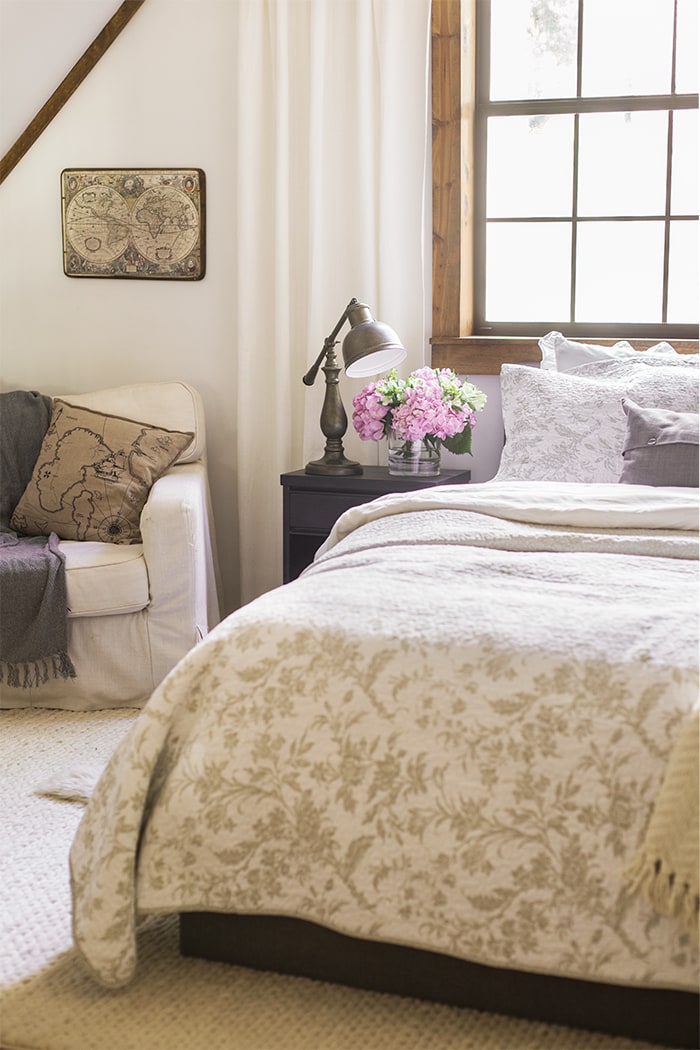 Pin
On the other wall, I placed the dresser I'd bought & refinished for my last home.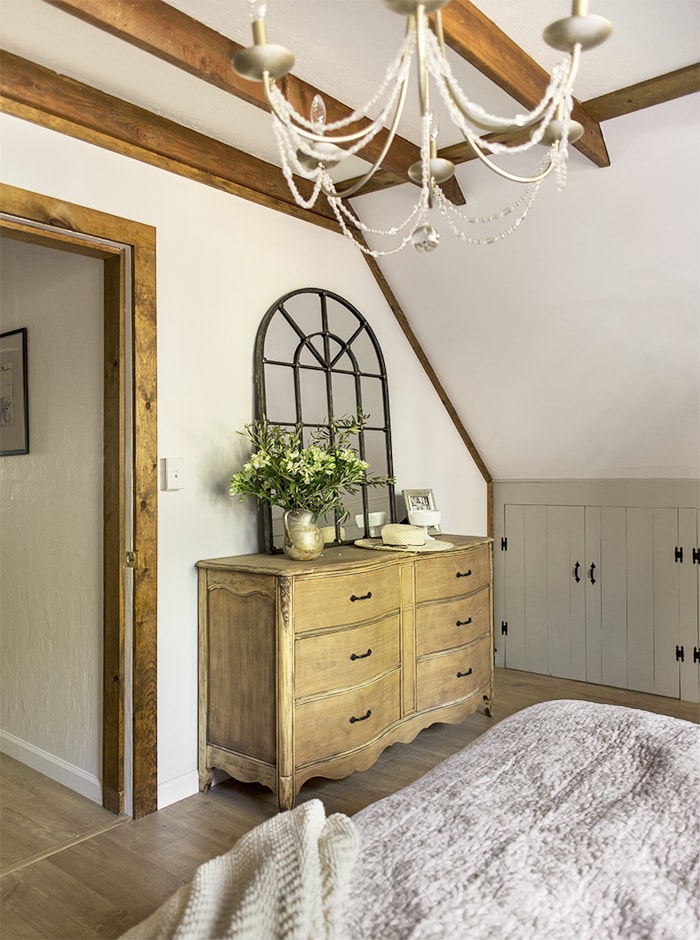 Pin
Can we talk about this mirror? Obsessed. Never giving this baby up.
Pin
Just in case you forget which room you're in 🙂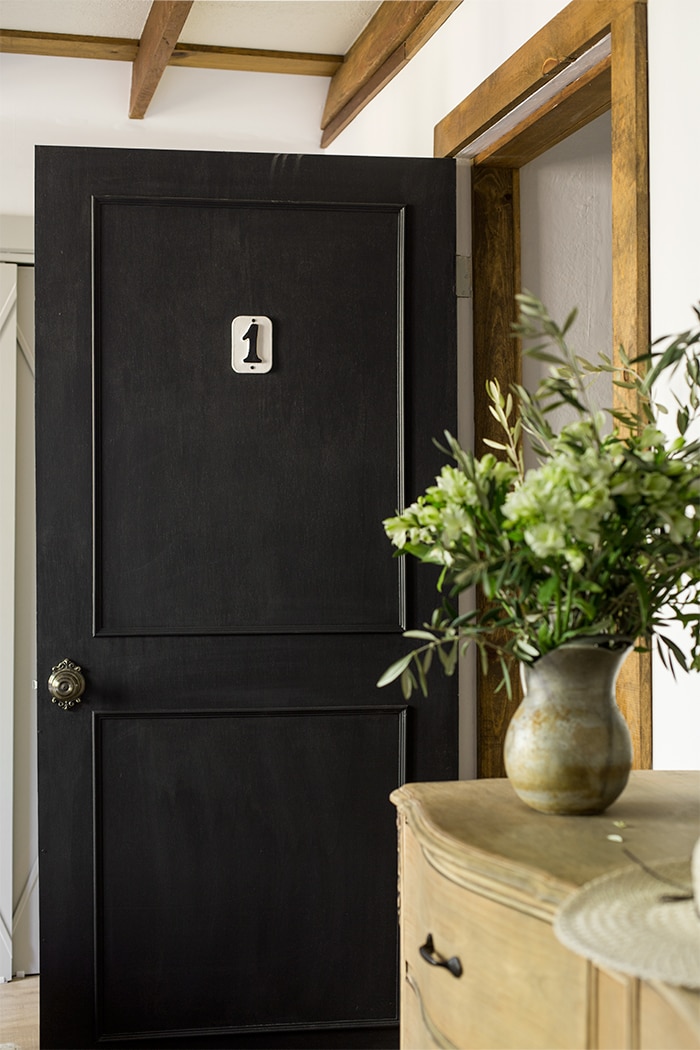 Pin
And here's a million more photos because I couldn't stop taking them and I can't pick favorites.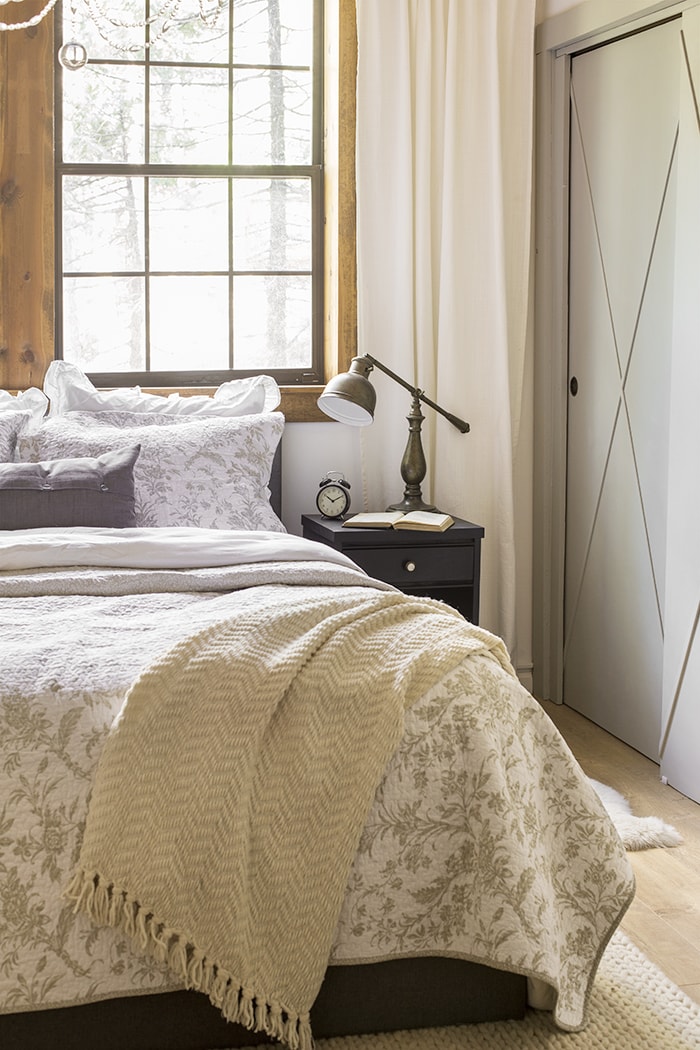 Pin
Thank you Country Living for the lovely hydrangeas!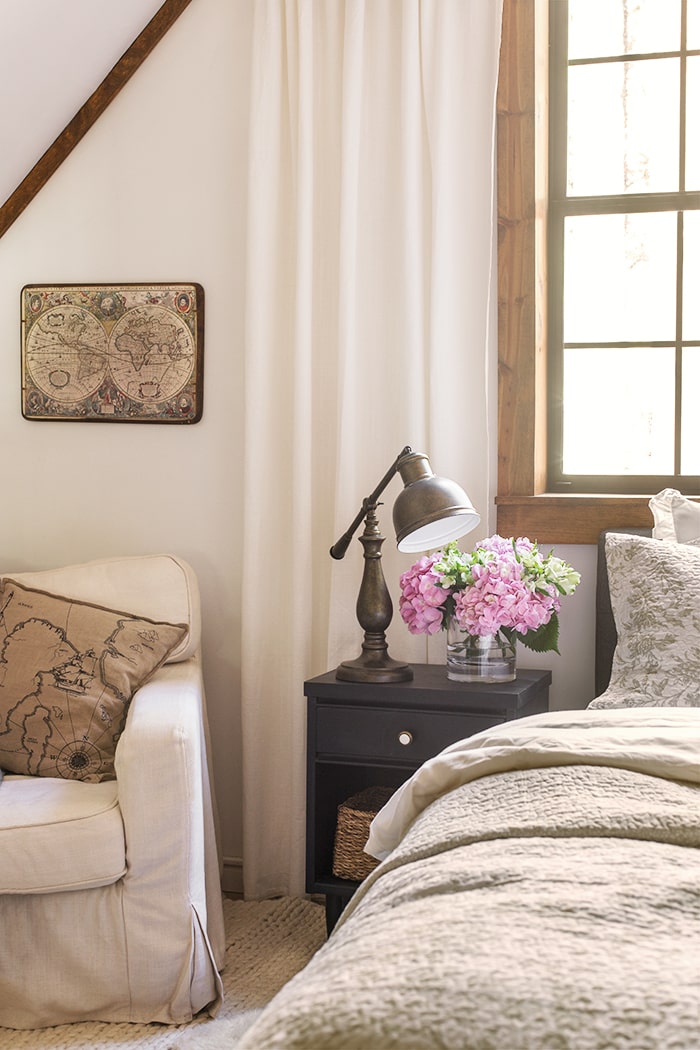 Pin
I still can't believe I found this bed (for free) on the sidewalk in front of my apartment when I was bed shopping for something just like it. Miracles do happen!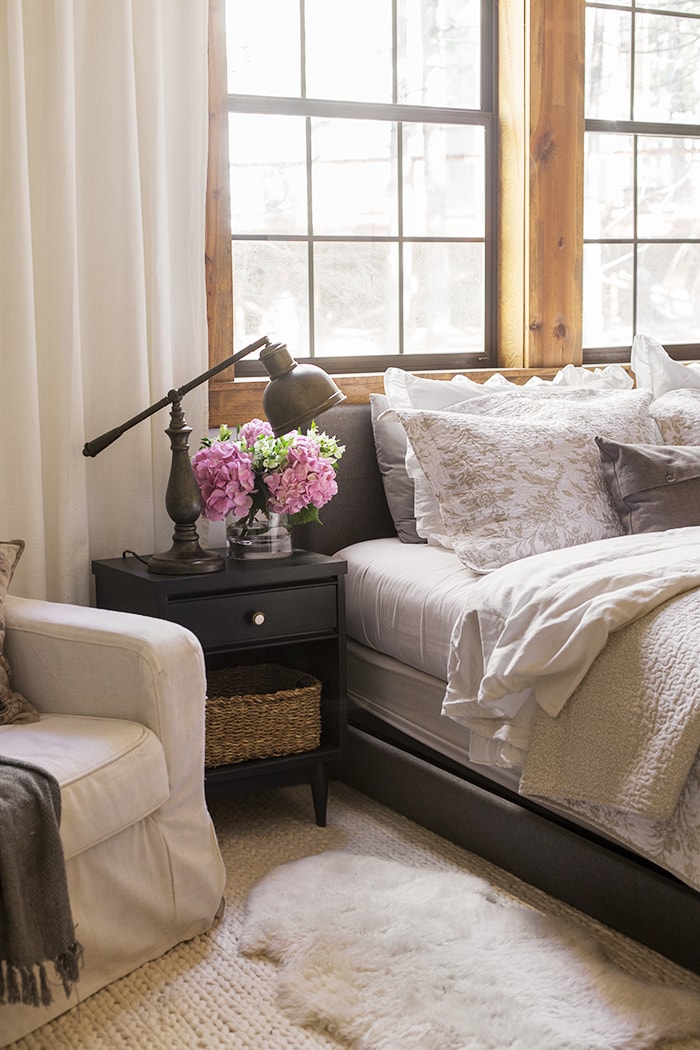 Pin
This bedding was the very first thing I chose for the space. You can never go wrong with a light toile…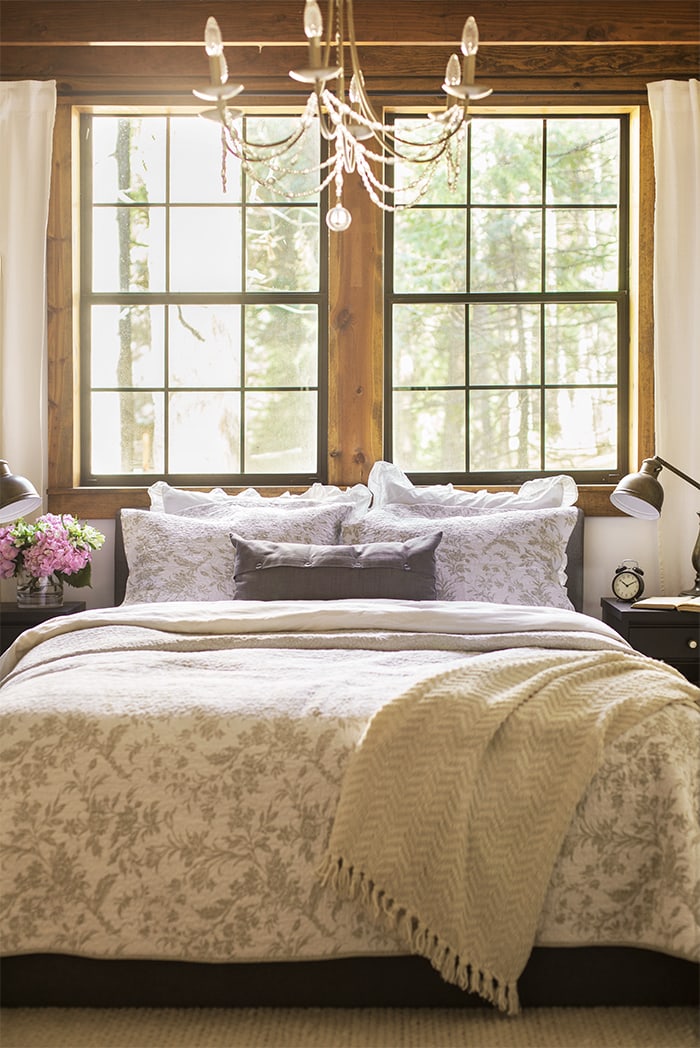 Pin
The quilted texture is a great touch.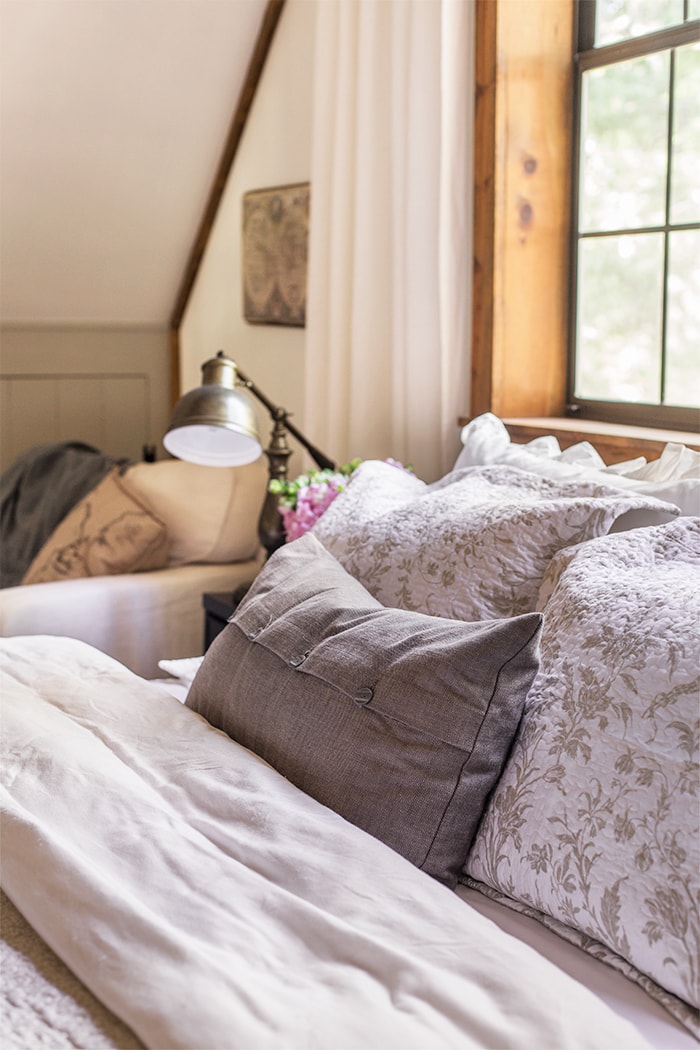 Pin
I mixed it in with these ruffled shams that came with a Crane & Canopy duvet set (which I used in another bedroom). A little romantic touch goes a long way!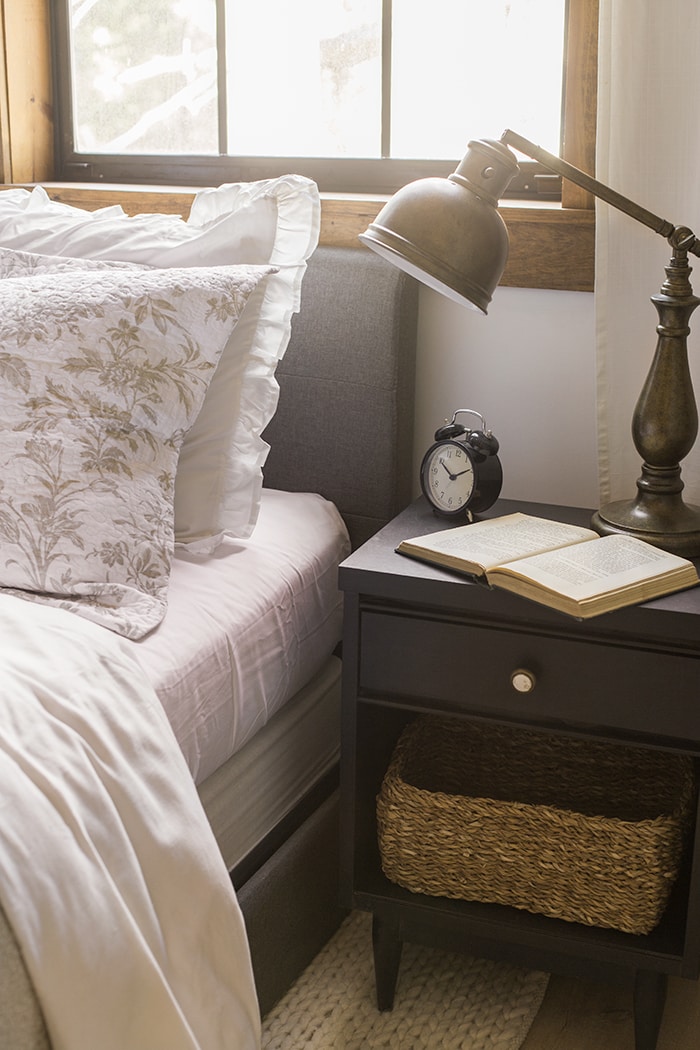 Pin
And this champagne gold crystal chandelier really stepped up the bling factor…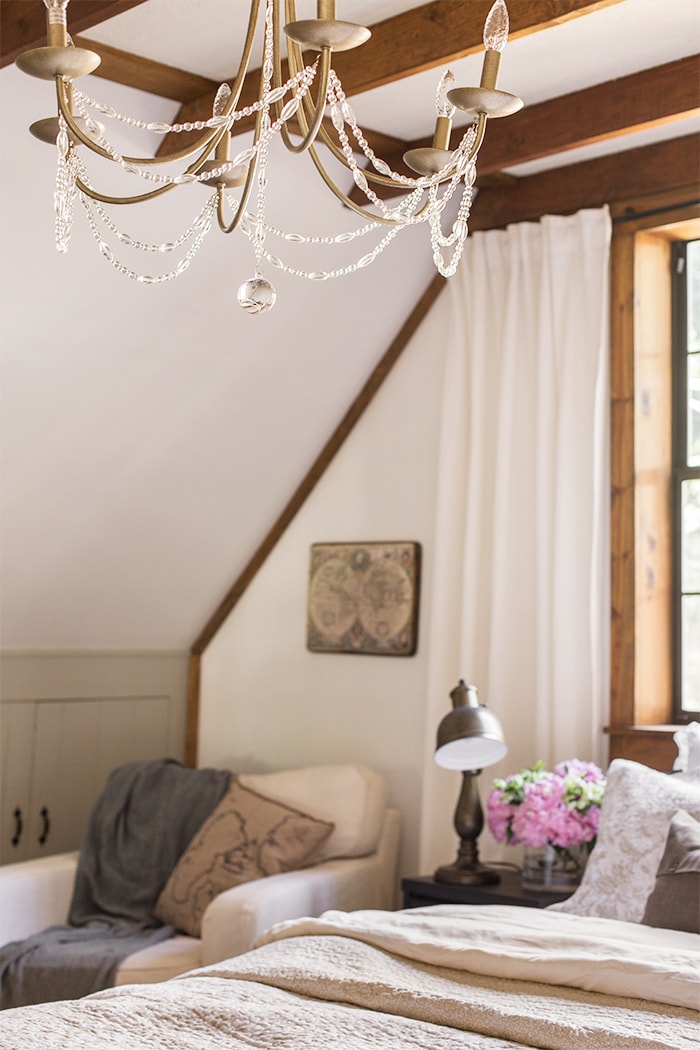 Pin
The trick to a cozy, inviting bed? Layers! I used the old, original mattress and layered on a few comforters plus the quilt to make it extra full and plush. And it has passed the sleep test a few times with flying colors (really soft sheets don't hurt, either!)
Pin
If only I could pick up this bedroom and take it with me for my next house…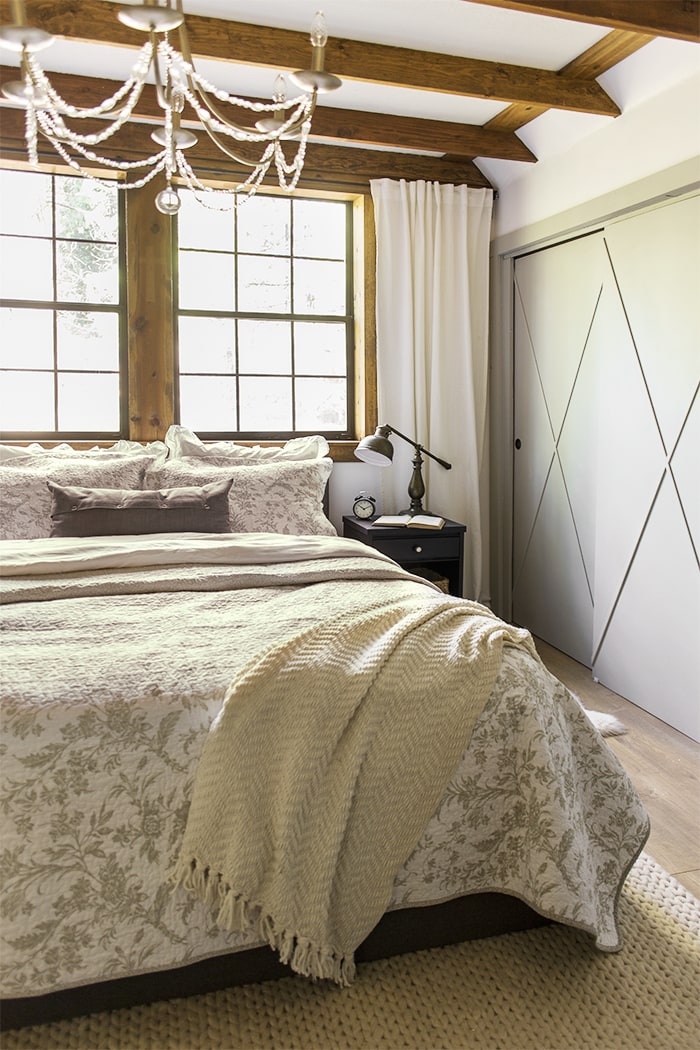 Pin
SOURCES
Wall color: Valspar Bistro White
Gray door color: Valspar Woodlawn Colonial Gray
Black door color: Valspar Cracked Pepper
Pergo Flooring in Scottsdale Oak – discontinued color (Similar here)
Rug
Night stands: came with house (painted in Cracked Pepper)
Chair: Craigslist w/custom Comfort Works slipcover
Accent pillows: Ikea
Throw blankets: already owned
One bedroom down, five to go! Stick around every day this week to see the final reveals, and don't forget to watch today's Before & After video (you can catch up on all of the reveals and weekly progress vlogs here if you've missed any so far!)
See you tomorrow,