It's Room Reveal Day! Crazy to think that I haven't had one of these in seven months… how time flies.
This is one of those areas that became something from nothing. Once an ignored, barely functional pass through space that just needed a bit of planning and a small budget. Today it has been transformed into a functional entryway with plenty of storage—a feature that's impossible not to notice as you walk by.
Phase 1: That 70's laundry room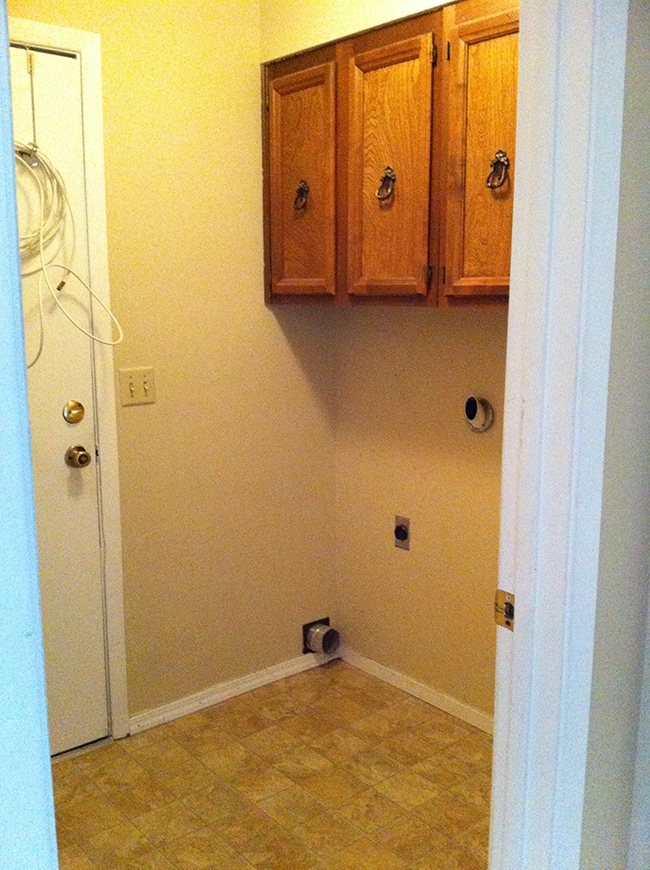 Pin
I don't think it even qualified as a room, but rather an empty wall between two doors for laundry machines. It sucked.
Pin
In fact, it was so cramped that we built a fancy new laundry room downstairs and this space became an oversight—a junk storage closet.
Something had to be done in there before putting the house on the market, so I thought about what the best use of space would be without spending a fortune. The back door leads to the garage which I enter the house from 99% of the time, so I figured a drop zone would be a nice addition, and extra cabinet storage never hurts. The future homeowners may not have a need for a full on studio/office the way I currently have it set up, so I also decided to build a desk nook as a secondary workspace option.
After removing the door to the hallway and retrimming the opening, the garage door was updated with DIY trim and painted with Valspar's Dark Kettle Black.  The walls got a couple coats of Gray Silt, while an Ikea trip resulted in perfectly sized Sektion cabinets and a butcher block to serve as a desktop.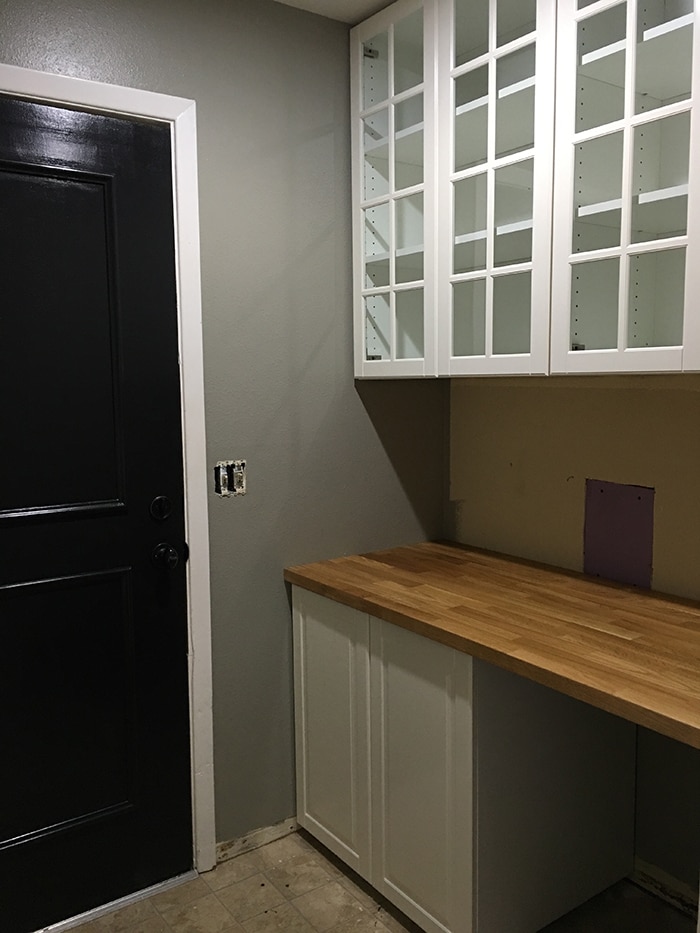 Pin
A DIY fabric wrapped cork board was installed for the backsplash while the floor was tiled in charcoal porcelain: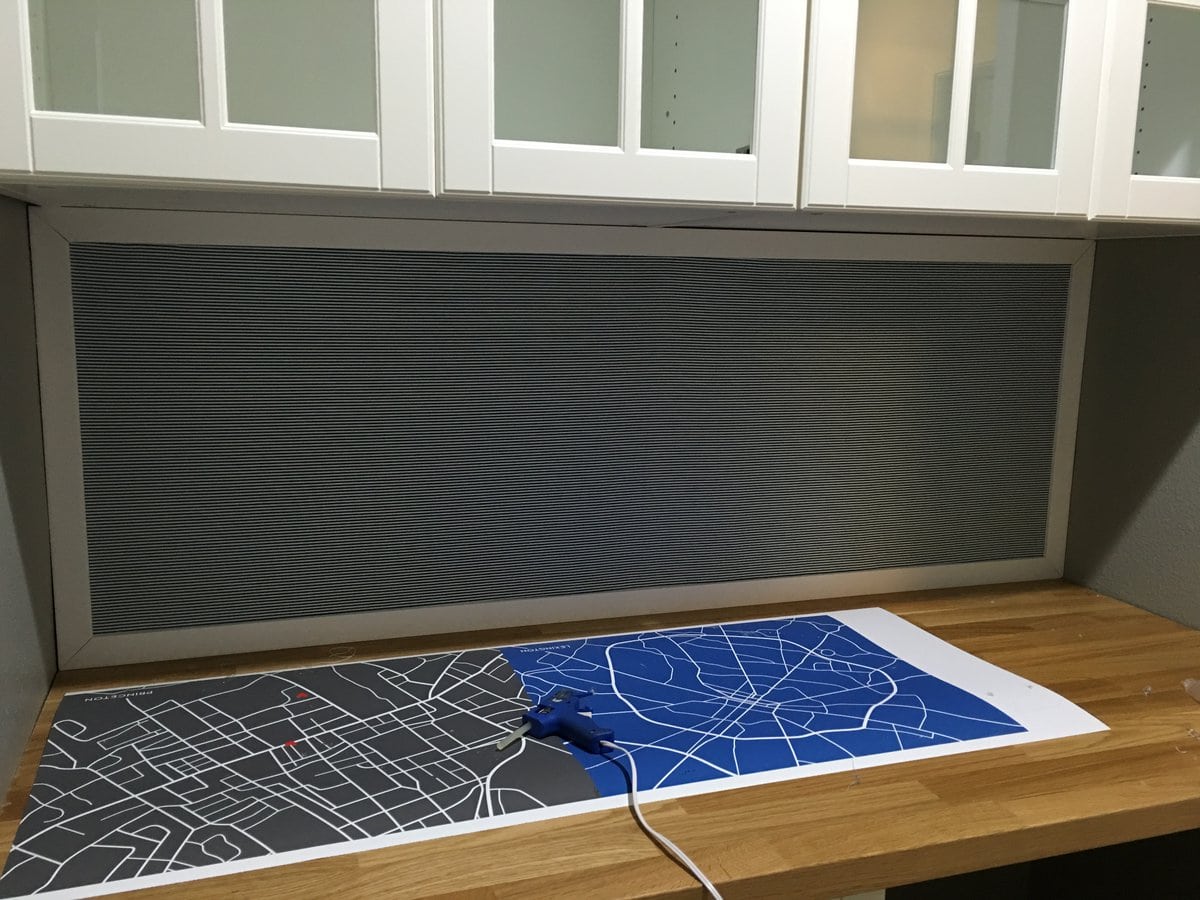 Pin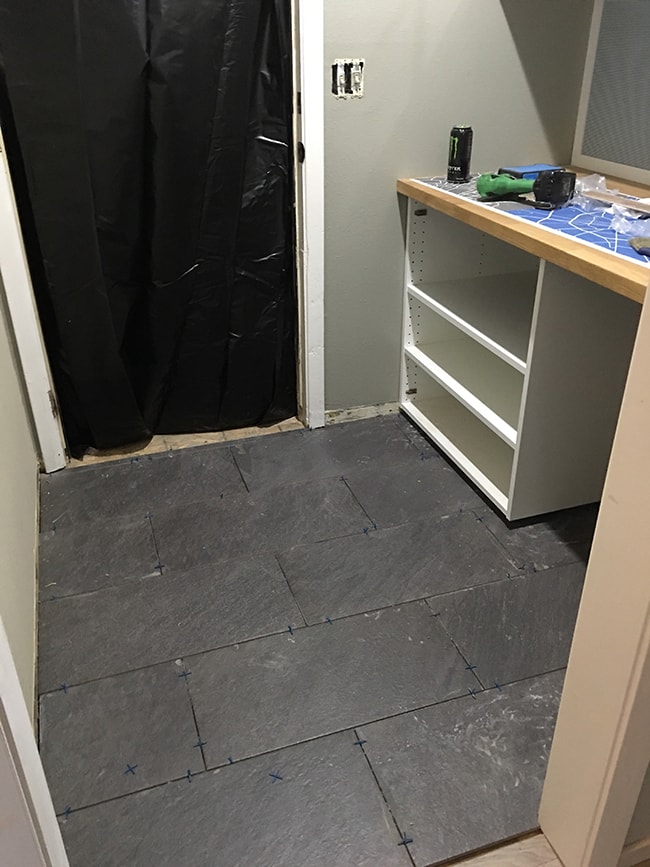 Pin
Last week I added a beadboard wall, new baseboard trim and coat hooks for extra storage…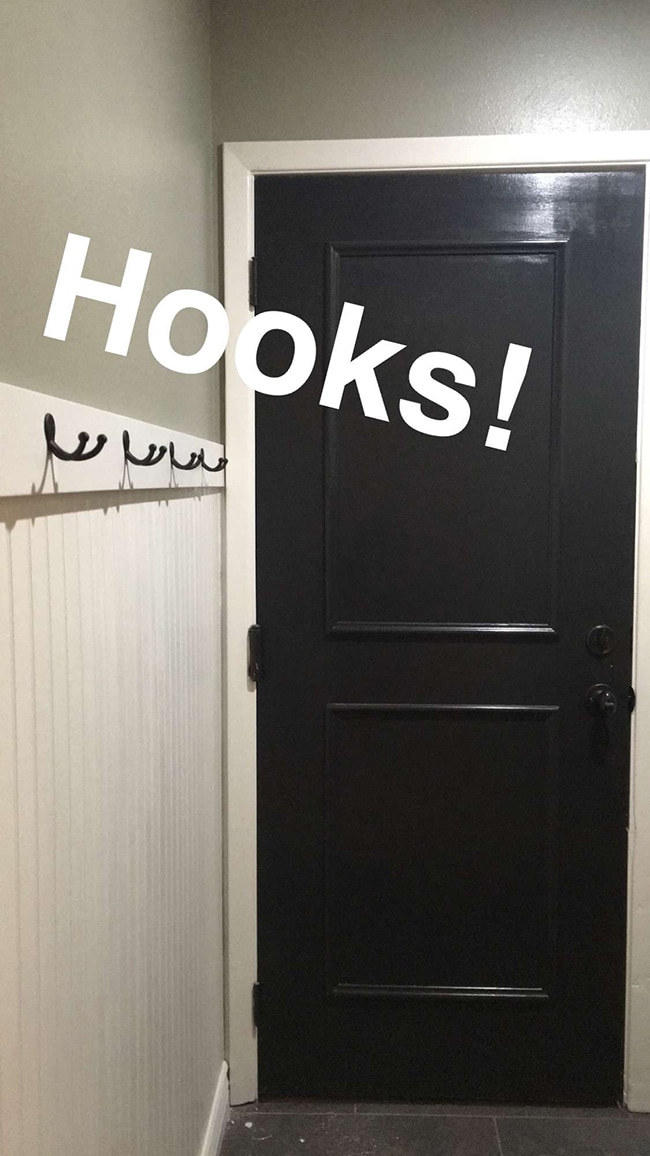 Pin
And the past few days have been spent on the finishing touches & staging—always the best part!
Without further delay… here's the final result of the past four weeks: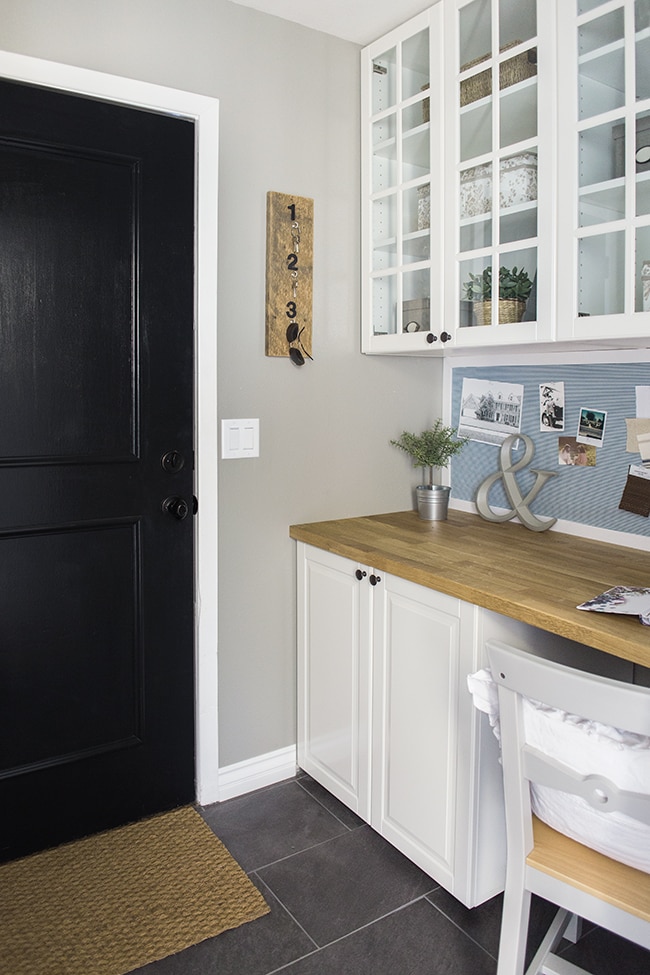 Pin
Doesn't even look like the same space, right?!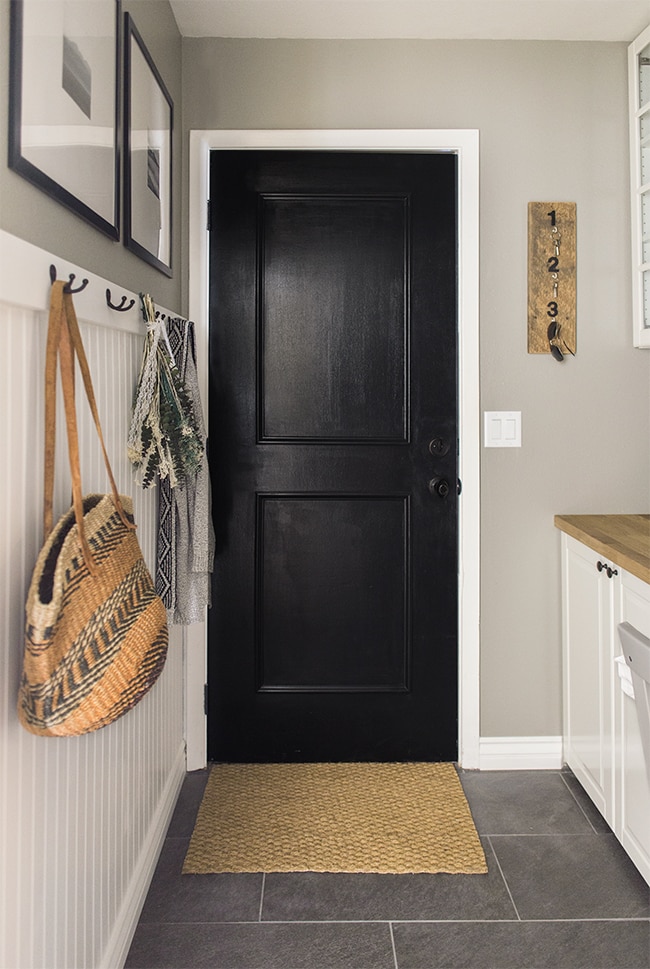 Pin
Nothing like a black door to add a touch of sophistication.
Pin
These glass paneled doors were my third choice (the first two styles were sold out) but it was one of those happy mistakes, because they definitely look more high end and make the room appear larger. And the shelves were fun to decorate!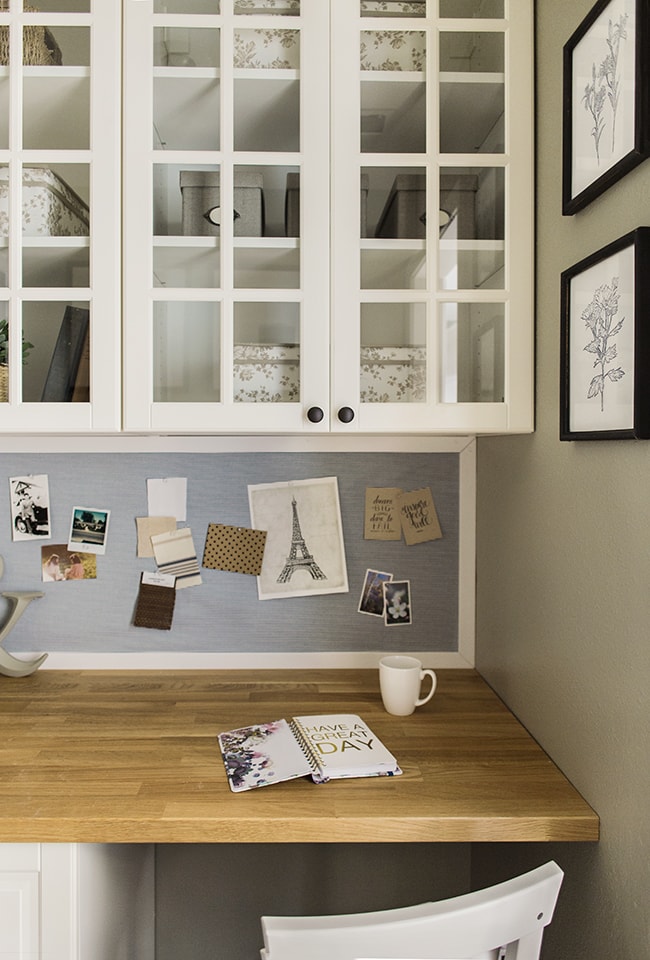 Pin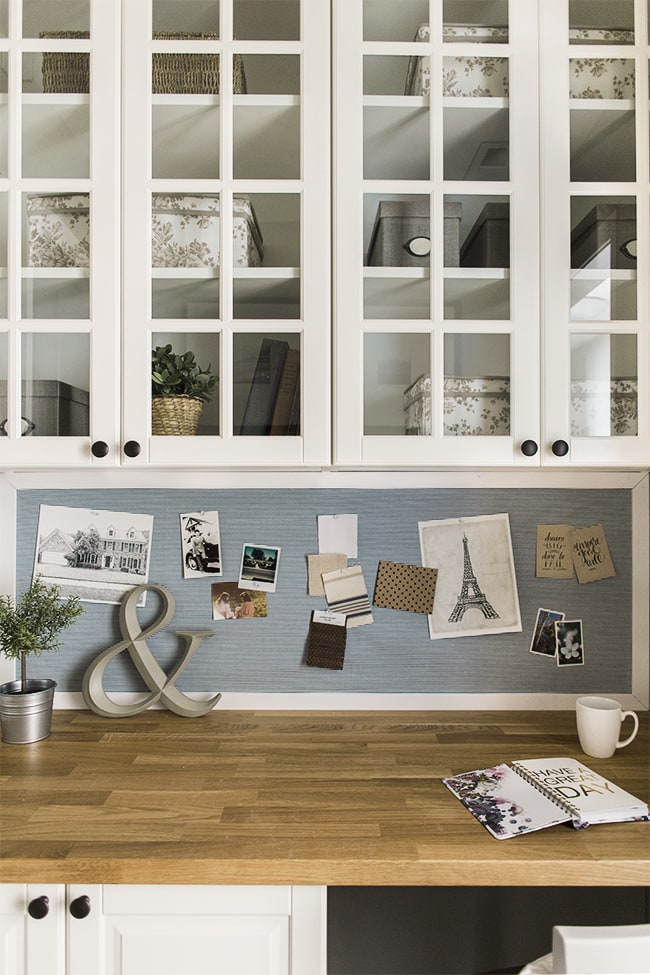 Pin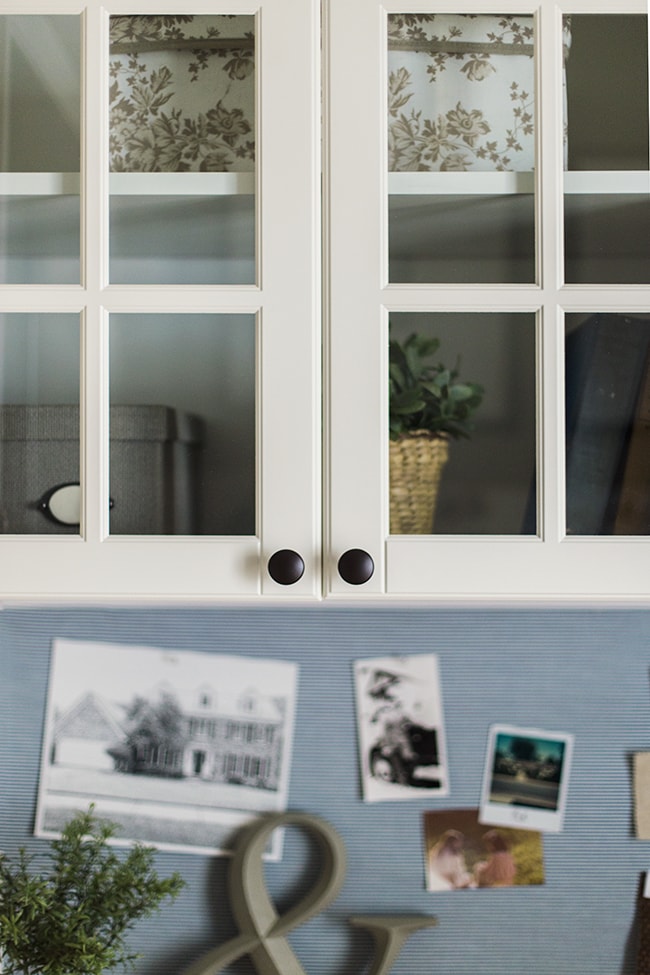 Pin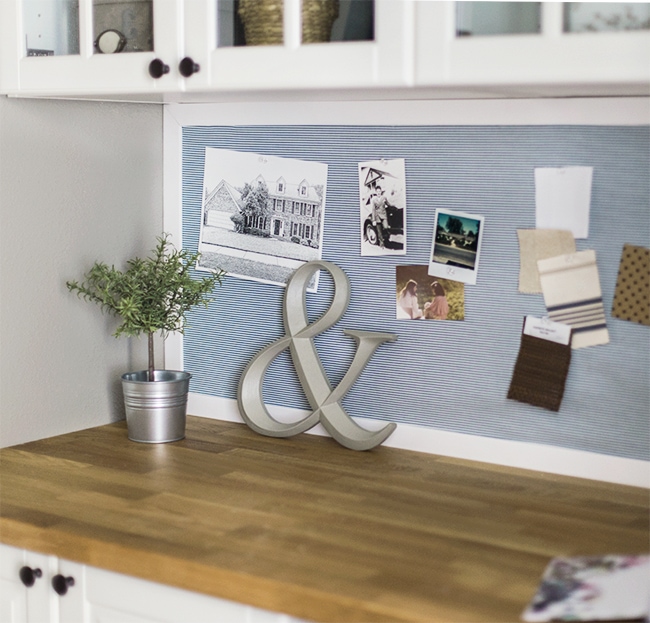 Pin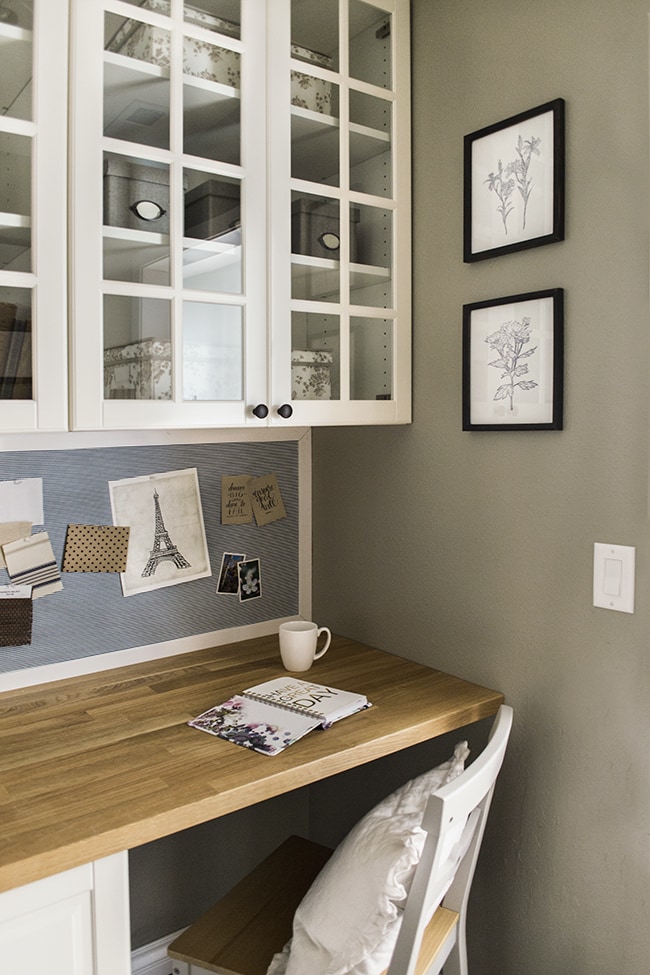 Pin
I picked up these 8×10″ frames for 50 cents each at the flea market last week, spray painted them black and popped a couple of my botanical prints in.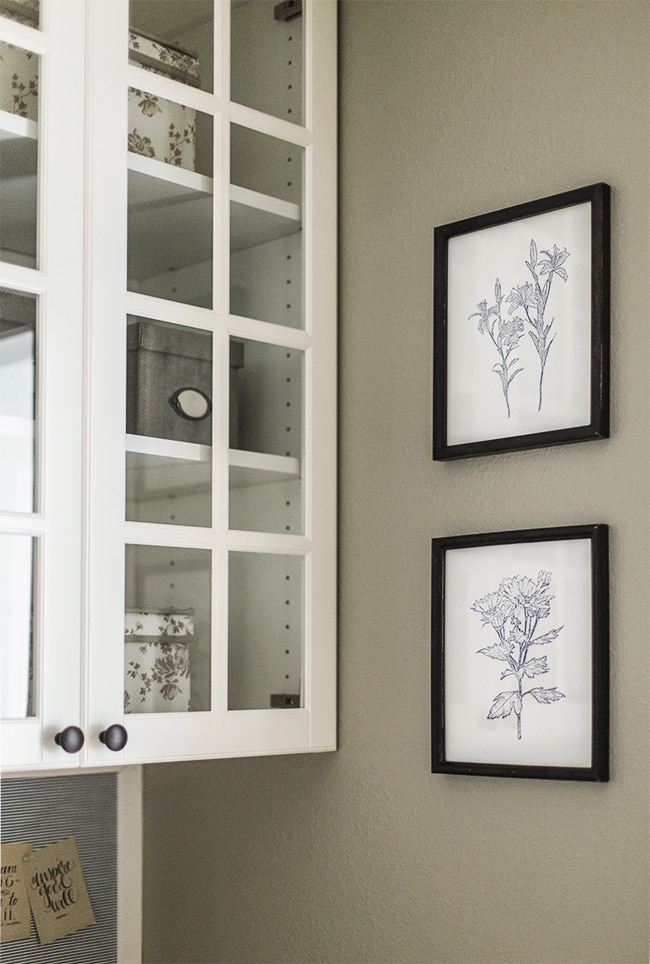 Pin
Love this chair.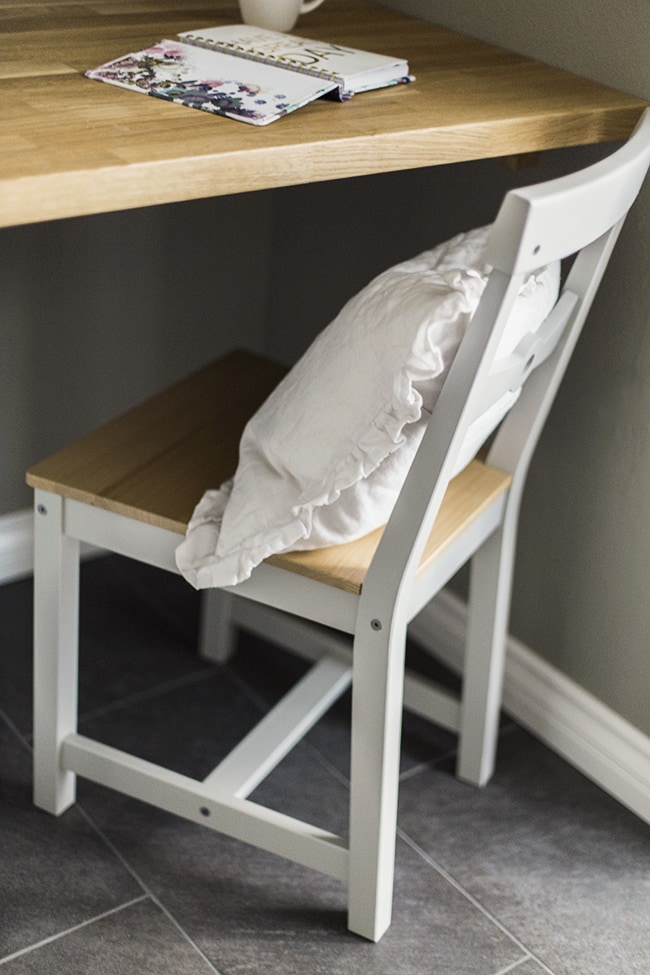 Pin
These are old Nyttja frames with instagram pics from Ikea (no longer available it seems, boo!) that I pulled from storage: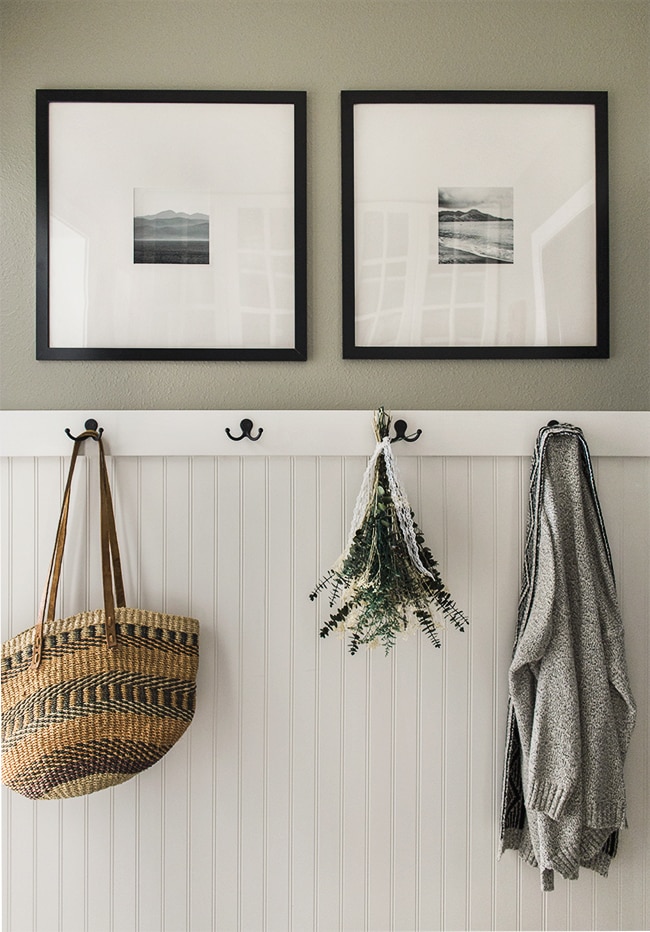 Pin
The hooks are my go-to $1.75 cheapies from Lowe's.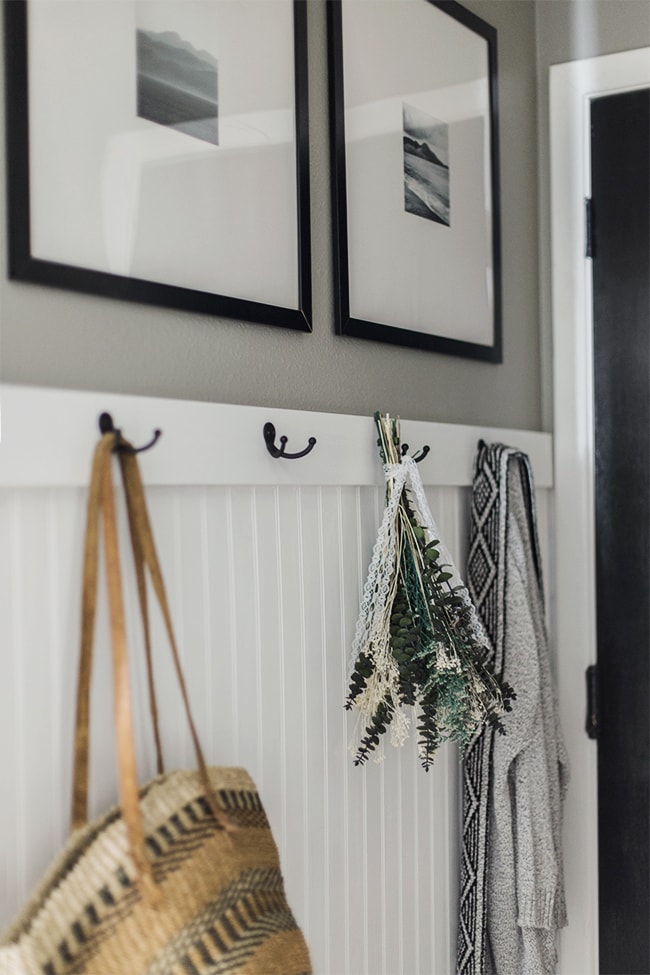 Pin
At the last minute I decided a key hanger was necessary but I didn't want to change out of my pajamas to drive to Lowe's, so I dug around the garage and found a scrap of old wood, some metal numbers and hooks and made this in a few minutes: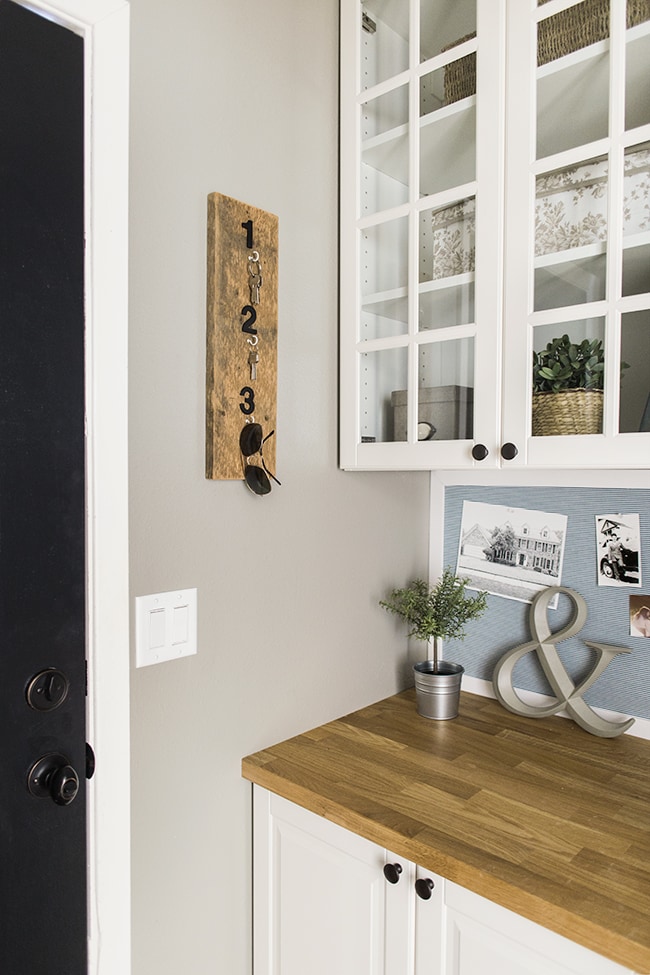 Pin
I bought these brass numbers on Ebay last year for a project but ended up not using them, so after spray painting them black and screwing the board onto the wall, I used hot glue to adhere the numbers to the wood (which is a 6″ lumber yard find that I cut to 20″ tall and sanded). Then I twisted the hooks in by hand and voila… free & functional decor: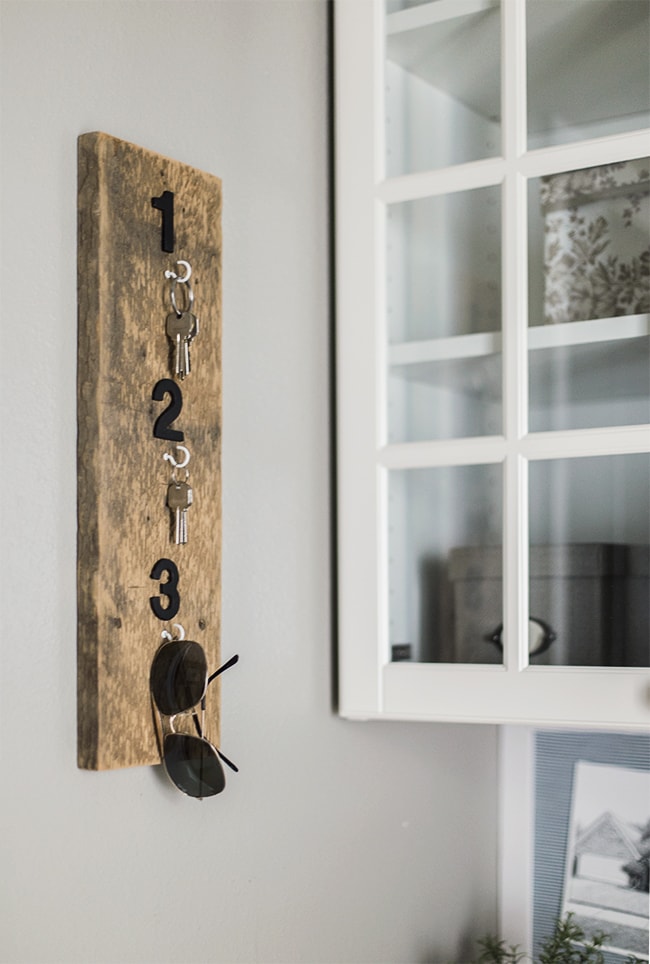 Pin
One room down… just a few more to go!

Pin
Now for the budget breakdown and source list. Luckily I kept track of everything this time around.
Cabinets: IKEA Sektion Bodybn off-white, upper & lower
Cabinet knobs: Ebay
Butcher block: IKEA Karlby
Chair: IKEA Gamleby
Floor tile: Lowe's
Wall hooks: Lowe's
Wall Paint: Valspar Gray Silt
Door Paint: Valspar Dark Kettle Black
Picture frames: Ikea Nyttja, flea market
Pillow: H&M
Cabinet & Desk boxes/decor: Ikea, Hobby Lobby, Target
Budget breakdown:
IKEA: $1005
Beadboard, baseboard & trim: $90
Floor tile: $90
New switches/outlets: $30
Labor: $555
Fortunately I had the paint and decorations on hand already!
Total: $1770
So worth it, right? Especially considering I'll easily see triple, if not quadruple my return when the house sells. It feels great to finally cross something off the list! Now my attention turns back to the master bathroom, along with figuring out a plan to stage the guest room and downstairs.
What do you think of the space? For those of you stuck on what to do with a small space, hopefully this provides some inspiration on ways to make the most out of it!
See you back here next week for the next vlog, and in the meantime feel free to reach out on instagram, snapchat (@ jennasuedesign), facebook & Youtube, or follow my ongoing inspiration on Pinterest. Hope your weekend is warm and relaxing!