Candles, seasonal stems, throw pillows and blankets are what I'd consider my "essential four" items to transition our home into each new season. Fortunately, they're quick and easy changes, and they can also be affordable to update as needed.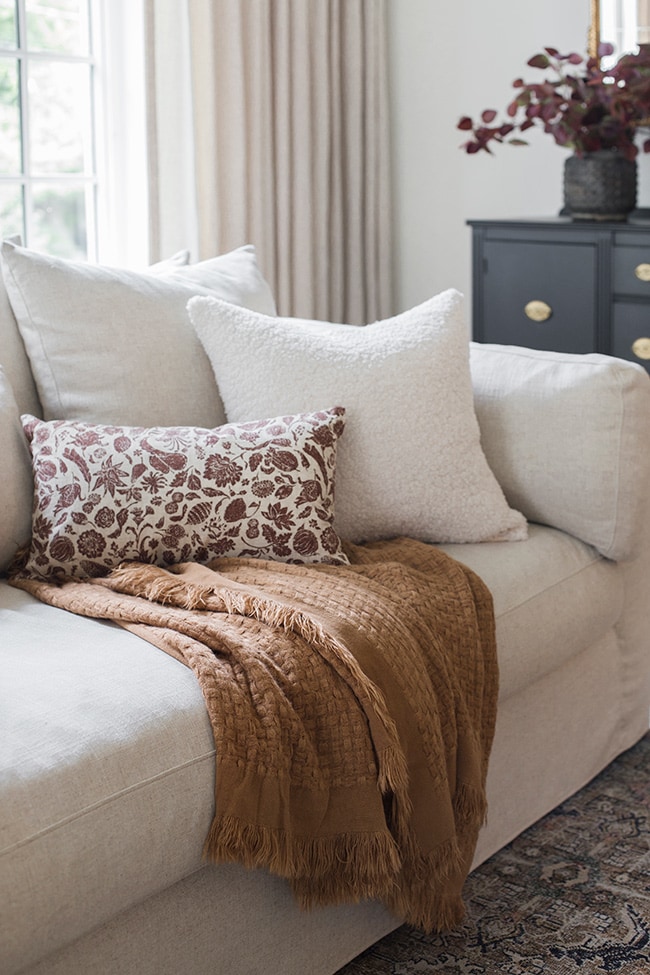 I've shared my fall finds preview, the yummy fall candle I've been burning, a roundup of seasonal stems and today I'm here with 30 budget-friendly throw pillows and blankets to cozy up your home. I bought several of them to test out and share some of my favorite pillow/blanket combinations if you're in need of inspiration. Keep reading to see which ones made my cut, along with a full roundup and links below!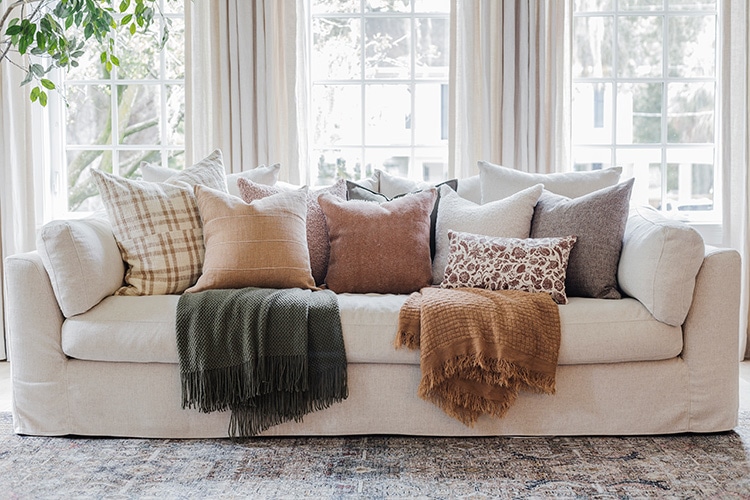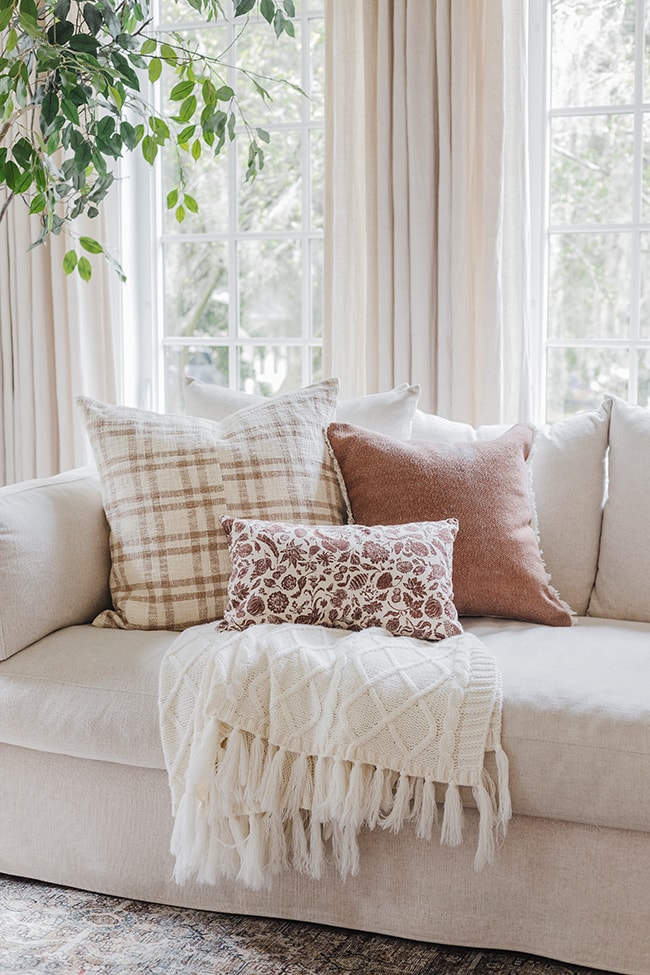 This oversized square plaid pillow turned out to be one of my favorite finds this season. It pairs really well with solid colors and organic patterns (like floral) and the size is good for a larger sofa. The terracotta fringe pillow has a great texture and a really nice muted tone—also in my top 3 favorite pillows. I've had this knit blanket for quite a while now and it's light weight enough & neutral enough for all seasons.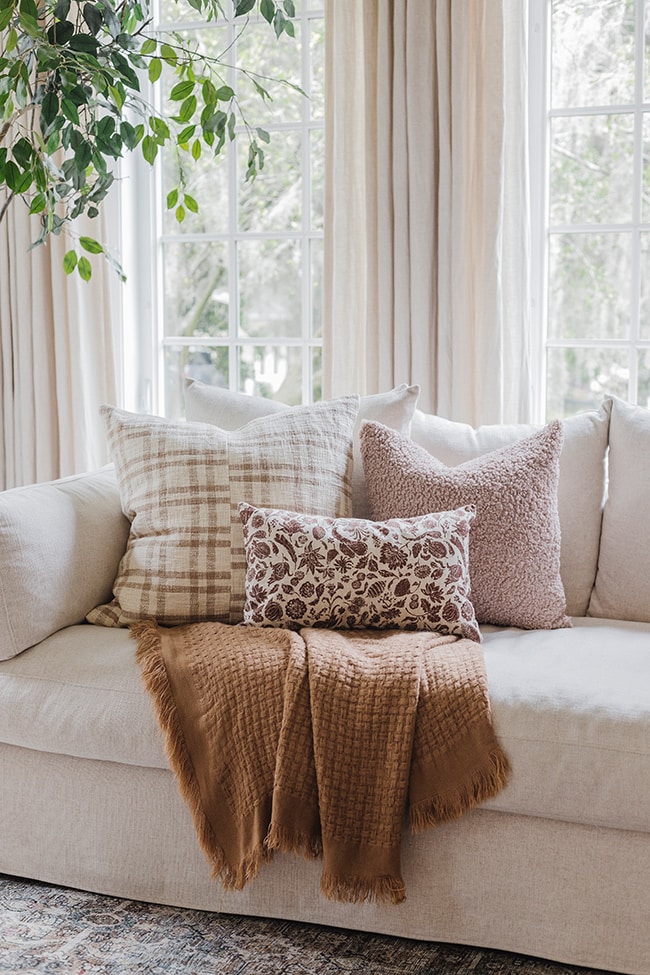 A classic plaid, floral pattern and textured solid is always a winning combination. I found this floral print lumbar to be very versatile and the one I reached for first when styling photos for our fall home tour. The bouclé pillow was a great budget find (I bought it in 3 colors!) and I love the subtle mauve pink tone. I'm also very into waffle weave texture lately and the perfect shade of terracotta-camel brown + fringe detail on this $20 blanket can't be beat.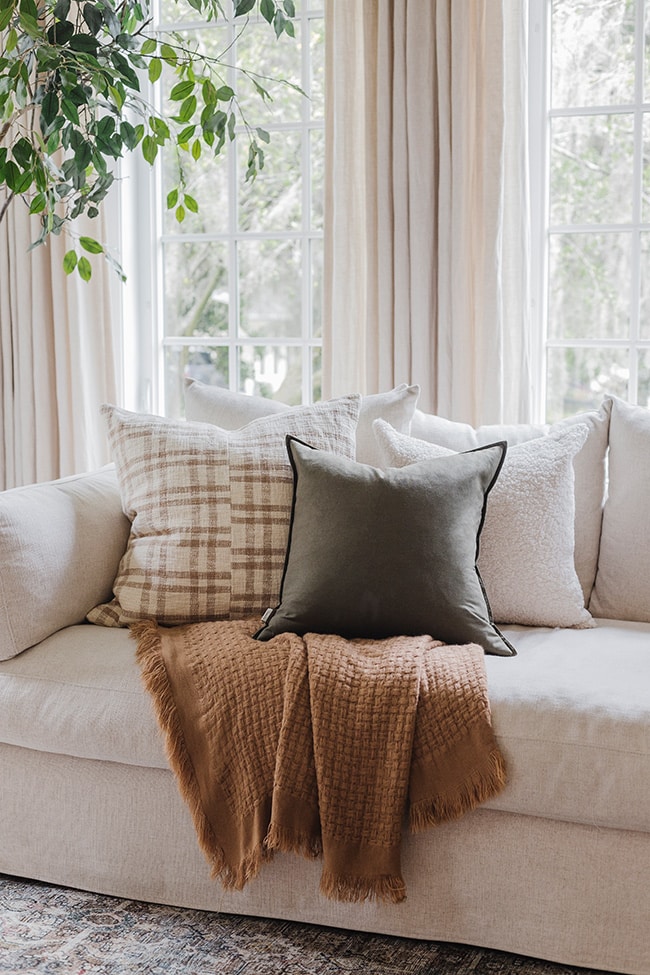 This look is slightly more neutral with only one basic pattern + three earthy colors (camel, ivory and olive green). I'm all about this palette right now and this $11 dark olive green pillow stays in our living room year-round. The cream bouclé is another great neutral that just oozes cozy—it will be great for winter, too!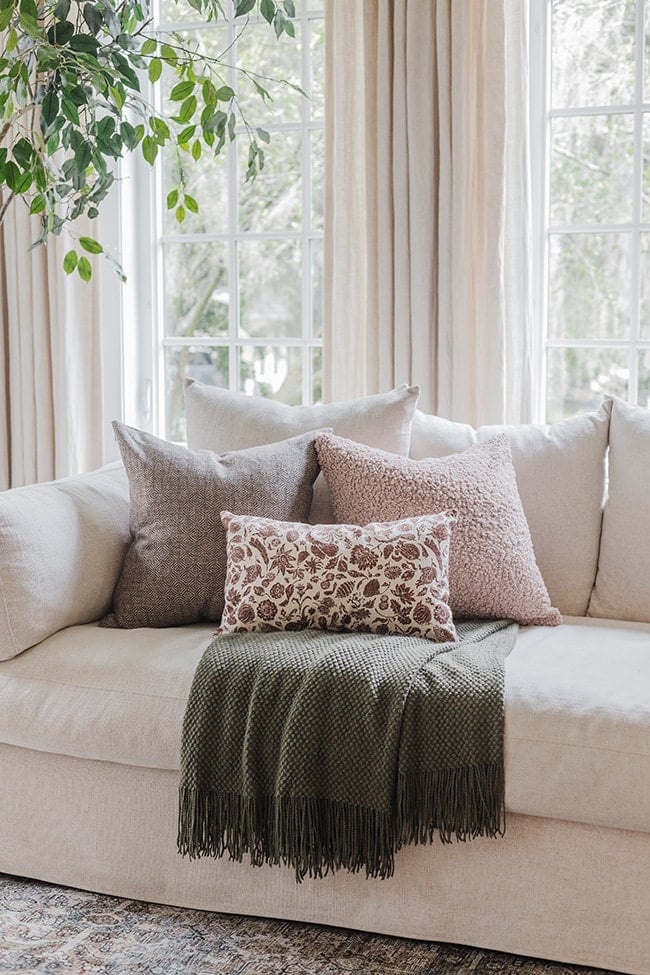 This brown 'burlap linen' woven pillow is another neutral staple I keep out year-round. The fabric is very sturdy, soft and surprisingly good quality for the price. It's available in a handful of colors (including caramel and deep orange which would be lovely for fall—this one is Coffee). Another surprising quality budget find is this knit olive green blanket with fringe detail. I threw it in the washer/dryer and it came out looking good as new. This is another one I'll keep out all year long.
Here's the same bouclé pillow in chocolate (the 20×20″ size shown above is currently sold out). I'm digging the rich dark brown and green tones with the terracotta and burgundy here. This combination really feels like fall!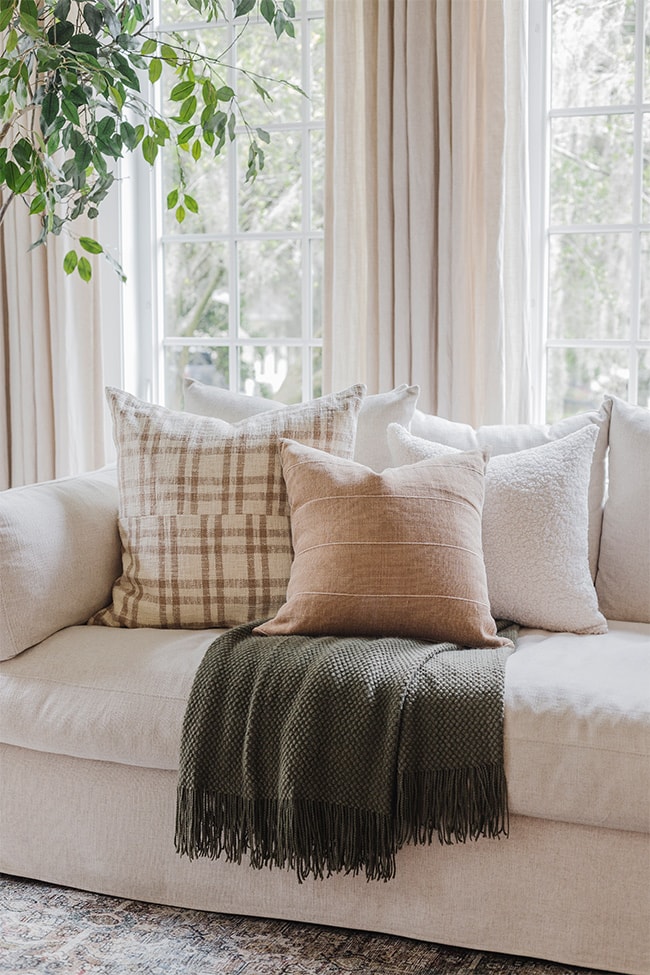 Last but not least, another earthy neutral combination with the addition of this versatile camel linen stripe pillow I've had for a couple years.
Which look is your favorite? There's a constant game of musical pillows/blankets throughout our house because I can't choose just one. Here are 15 of my favorite pillows under $50 this year—I'm guessing some will already be sold out by the time I post this, so get 'em while they're hot!
Click/tap on any pillow to shop directly: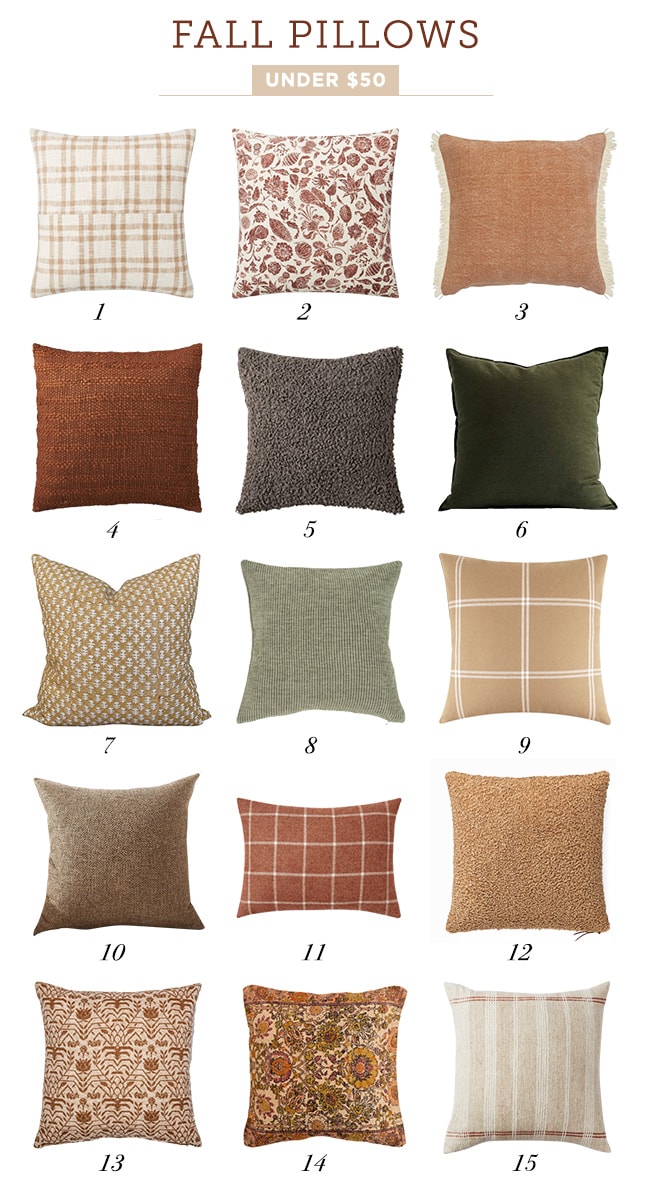 1 / 2 / 3 / 4 / 5 / 6 / 7 / 8 / 9 / 10 / 11 / 12 / 13 / 14 / 15
And here's my roundup of fall-inspired throw blankets under $50. Click/tap on any blanket to shop directly: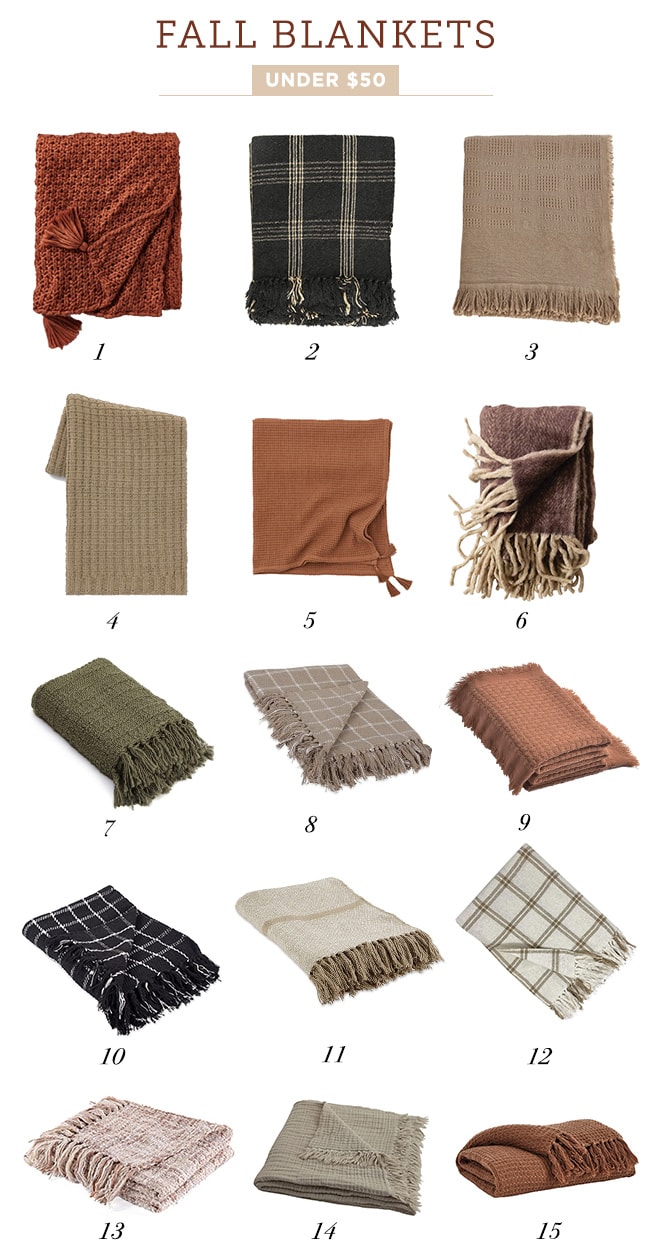 1 / 2 / 3 / 4 / 5 / 6 / 7 / 8 / 9 / 10 / 11 / 12 / 13 / 14 / 15
---
Tomorrow we board a plane to California to spend a few weeks catching up with family and friends, so things will be a bit slower around here for a while—but our Fall Home Tour is scheduled and ready to go for next week! I'll be sharing a whole lot of cozy home inspo here on the blog and on my Instagram over the next month so I hope you're ready for it 😉
Here's to a slow September and a peaceful transition into the new season…