In our house, Dad is the glue that holds us all together. He's a builder, boo-boo fixer, bedtime story reader and baby-shusher, chef, teacher, playmate and so much more. He's certainly earned his title as the #1 Dad in our book, and we can't wait to spoil him this year.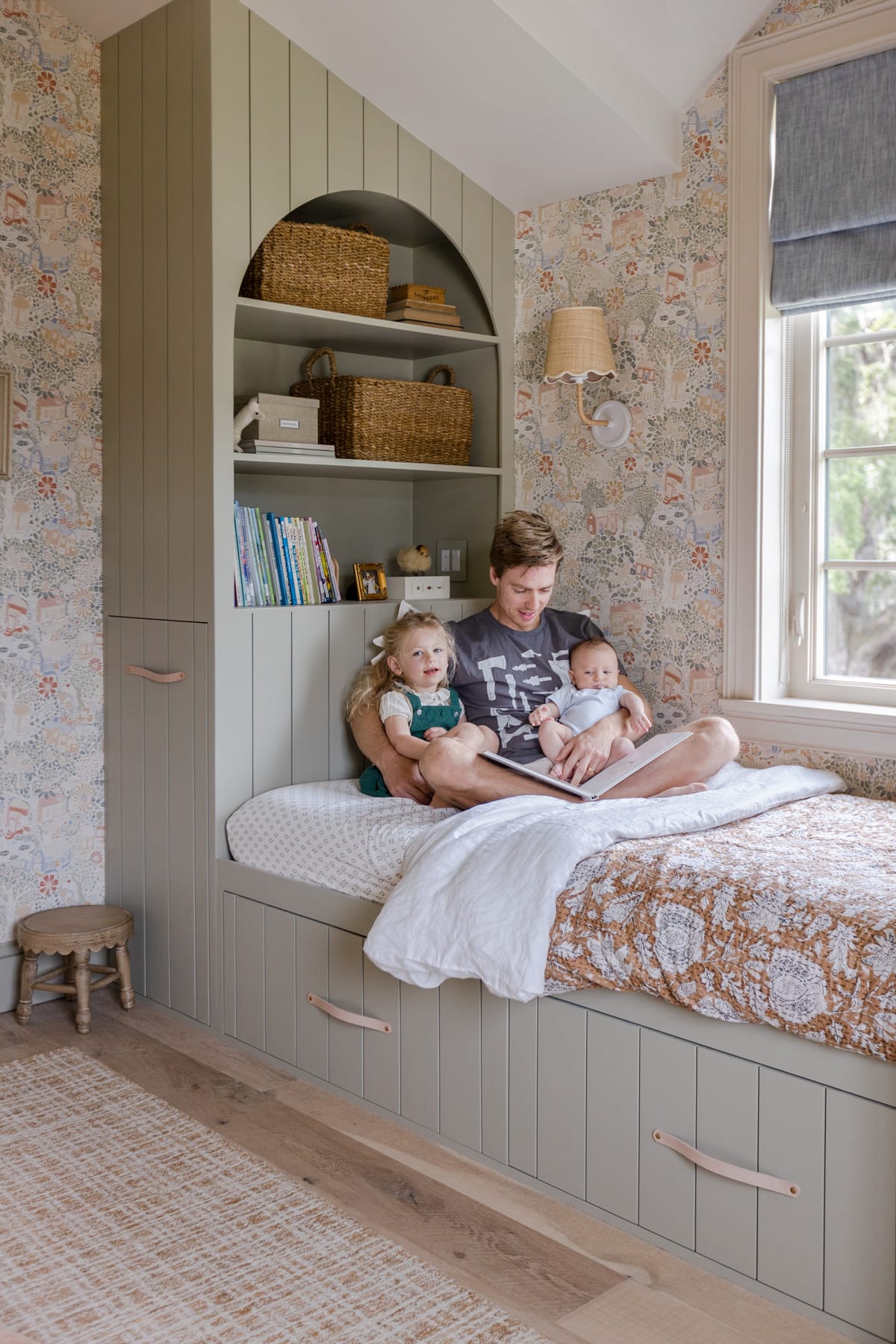 Each year for our annual Father's Day Gift Guide, Lucas rounds up his top picks to share with you. These are items he personally owns, has gifted to our dads or has on his wishlist. They've been pre-screened and approved for the "fun DIY Dad" type, with commentary on why he chose each item below: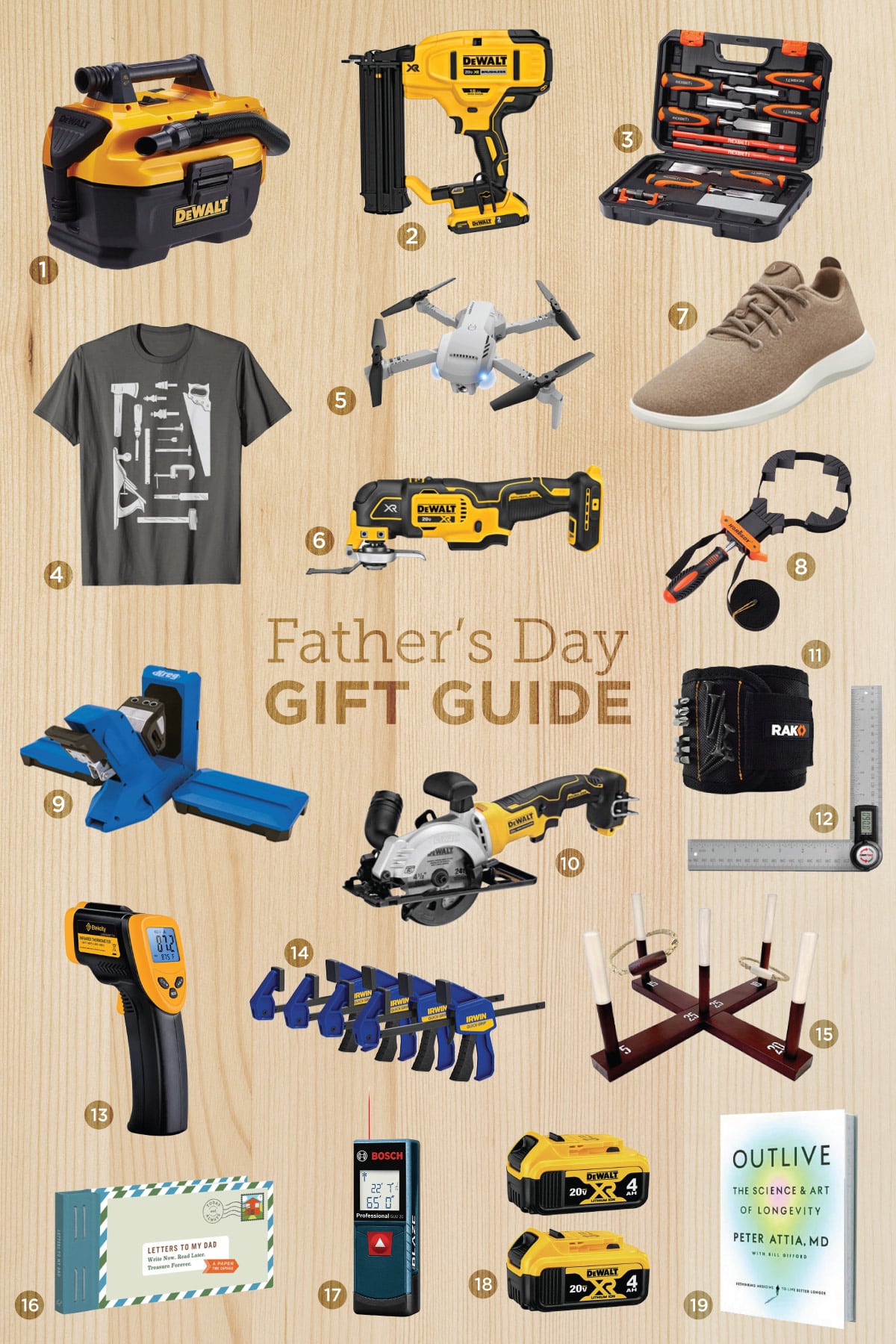 1. Dewalt Cordless Wet/Dry Vacuum // I attach this shop vac to my sander while working inside to avoid clouds of sanding dust. It works like a charm. Very portable but still has plenty of power. I rarely work on a project indoors without this by my side. // 27% off
2. Dewalt Cordless Nailer // If dad still uses a compressor for his finish nailer, this would be a massive upgrade. I struggled with the corded version of a finish nailer for too long, despite the safety issue of the cord getting tangled in my legs while on a ladder. I finally bought this before tackling my ceiling project at Hacienda Hideaway and I kick myself for not doing it sooner. // 19% off
3. Wood Chisel Set // Gone are the days of misplaced, lost and dull chisels. This set is equipped with a carrying case and sharpener, to keep everything organized and in tip top shape. I've been using it quite a lot lately, and think it's a must-have for every woodworker. // 33% off
4. Carpentry Tool Shirt // The latest addition to my growing DIY shirt collection. This soft graphic tee is nice enough to wear outside of the garage too, and would be a hit with anyone who loves woodworking. 
5. Mini Drone with Camera // Back in the day, I flew a pro-level DJI drone to document our travels. This one is a steal for around $50, and a perfect entry-level toy for beginners to enjoy without the fear of breaking expensive equipment. This would be a great way to capture your family adventures this summer! // 49% off
6. Dewalt Oscillating Tool // I recently upgraded to this cordless multi-tool and it's one of my most used tools. If you're looking to eliminate cords, then this one is a must. It can be used for so many applications from drywall, to woodworking, to cutting in small spaces. 
7. Allbirds Wool Runners // I fell in love with these shoes when I wore them during my world travels in 2015. They are amazingly durable and extremely comfortable. Great shoes for lounging around, going on errands, or hiking Machu Picchu 🙂
8. Band Clamp // Clamping something that isn't square can be a nightmare. That's where these band clamps come into play! The straps let you clamp all sorts of shapes when traditional clamps just won't do. // 38% off
9. Kreg Pocket Hole Jig // A must have for furniture and cabinetry builds. We upgraded to this version last year, and it's their best one yet.  It adjusts automatically to different thicknesses of wood and saves a ton of time. If the dad in your life still has an older version, this would be a fantastic upgrade!
10. Dewalt Circular Saw // Perhaps my most used tool these days. This saw cuts to a 2×4 depth and its one-handed operation makes it incredibly user-friendly. It's easy to use and super versatile. 10/10 would recommend. // 19% off
11. Magnetic Wristband // I can't rave about this simple companion enough. Not having to climb down a ladder for more screws or worry about them dropping out of a pocket is so convenient. I've used this on scaffolding, in attics, under sinks—pretty much everywhere. // 26% off
12. Digital Angle Finder // We live in the digital age and so should your angle finder. Getting an exact measurement of an angle has never been easier. // 45% off
13. Infrared Thermometer // We all got used to forehead thermometers during the pandemic, but now Dad can take the temperature of anything in his world with this infrared thermometer. Great for all sorts of applications around the house. // 10% off
14. Quick Grip Clamps // "I can never have too many clamps" – every Dad everywhere // 33% off
15. Ring Toss Game // Bring the family together at your next backyard barbecue with this classic ring toss yard game. It's weather resistant, portable for easy travel, and includes 15+ game variations to test your skills. // 22% off
16. Letters to My Dad // This booklet contains 12 prompts to write down your memories, gratitude and heartfelt sentiments for Dad. This one is great for all ages. A meaningful and thoughtful gift that he'll treasure forever.
17. Laser Distance Measure // Lasers are cool. Dad will love anything with lasers. Combine that with its ability to provide precise measurements from across an entire room, and he'll be captivated by this indispensable tool. // 6% off
18. Dewalt Batteries // If Dad has any cordless Dewalt tools, then these high performance batteries are a must. Your tools will only go as far as your batteries will take you, and he will appreciate having extras on hand to keep projects going with no delays.
19. Outlive: The Science and Art of Longevity // This year, I set a goal to prioritize my health, so that I can physically keep up with the demands of caring for two children and long days of DIY projects. I've listened to a few podcast episodes with Dr. Peter Attia and found them very eye opening. His new book is on my must-read list.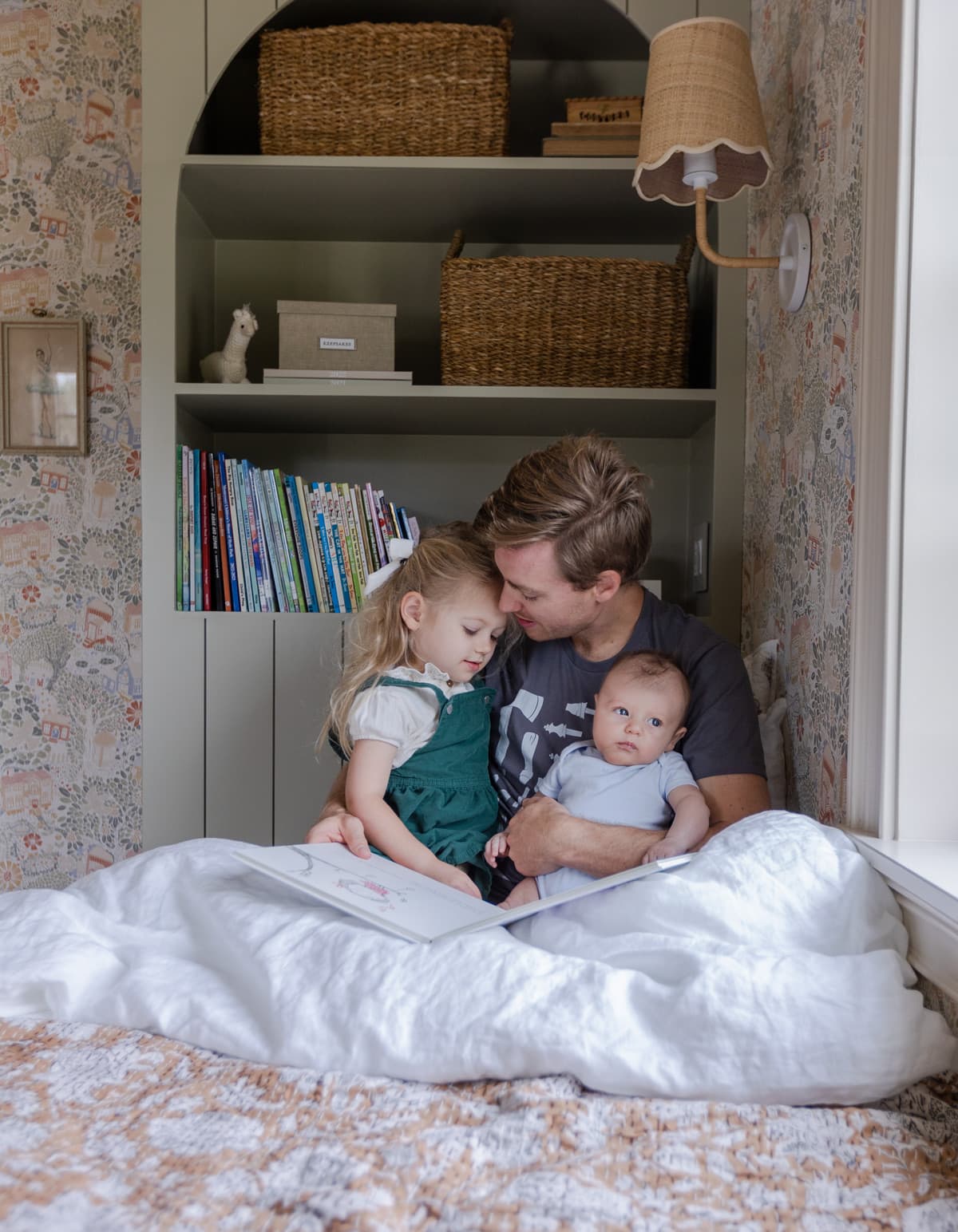 We hope this guide has been helpful for those looking for the perfect gift that Dad will actually use. Cheers to all the hard working, dedicated fathers out there who keep our world spinning!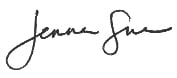 Looking for more gift ideas? Check out these past guides: