I've been waiting for this day ever since we moved into the Heights House 14 months ago!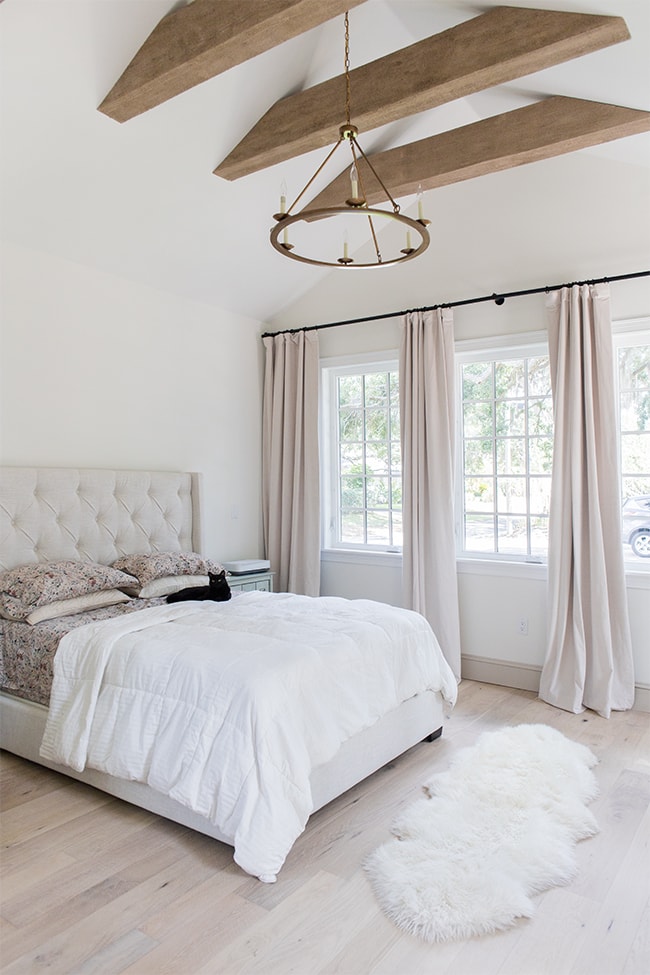 Over the last month I finally pulled it all together with a new bed, rug, artwork and accessories… and it has now taken the lead as my favorite room in the house. Just for fun, let's go way back to when it was still under construction—here's an oldie from January 2019: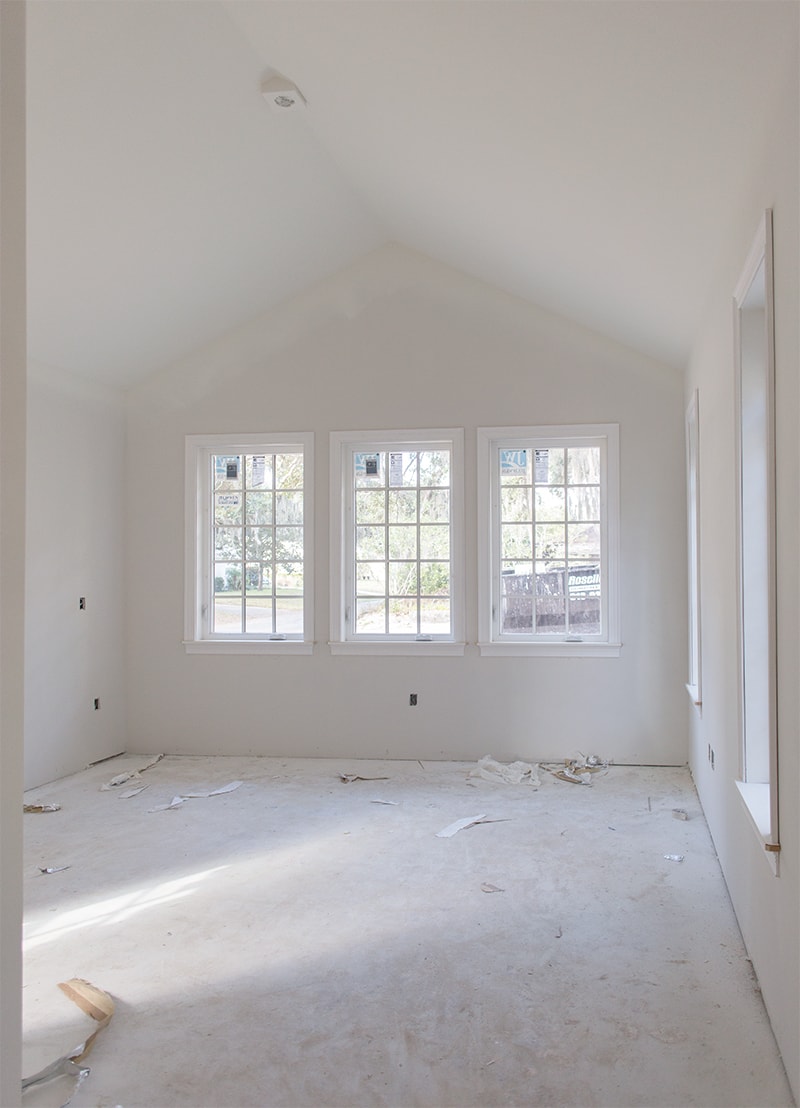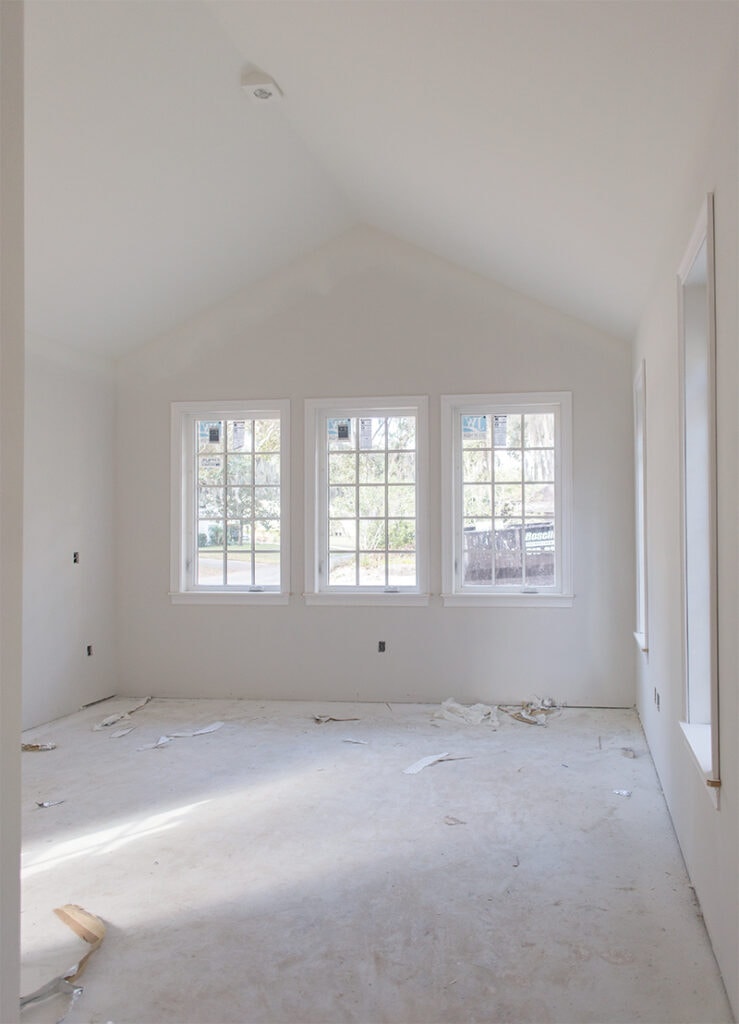 And here's our master oasis today…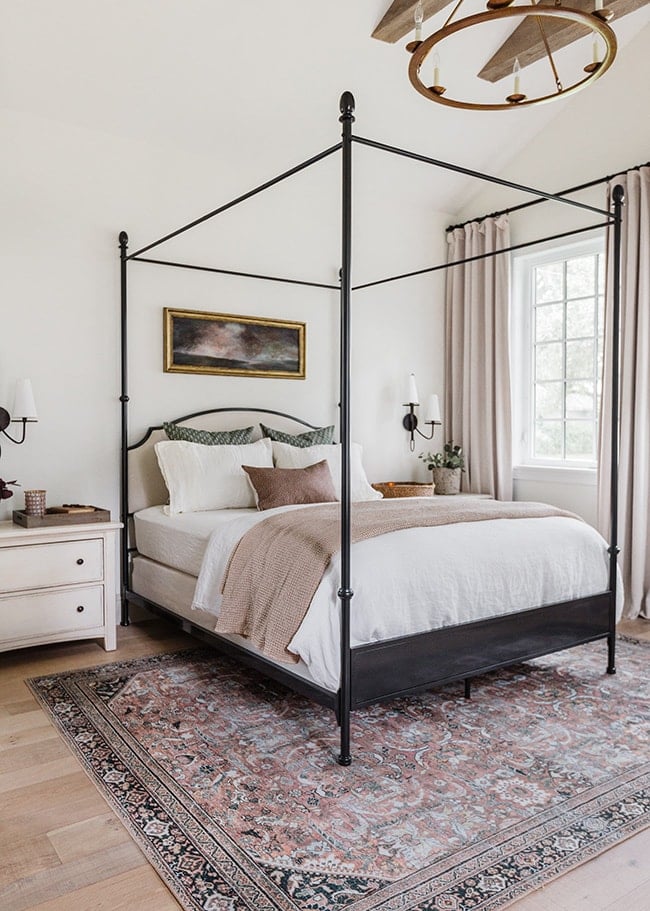 If anyone needs me, I'll just be here in bed for the rest of 2020.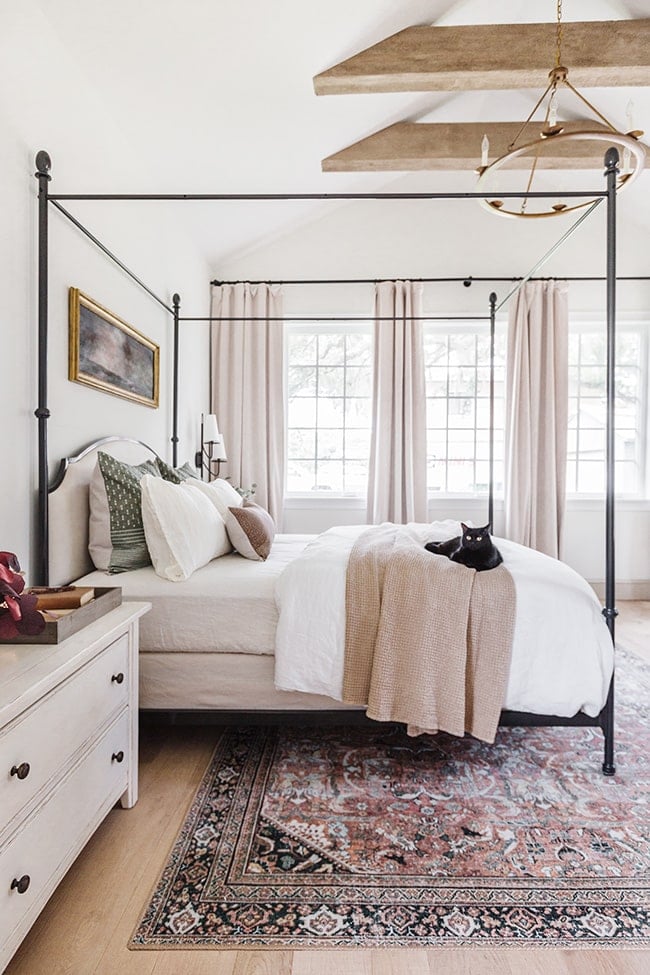 With my cat, of course.
This gorgeous rug was the jumping off point for the color scheme—warm terra-cotta, peach and earth tones.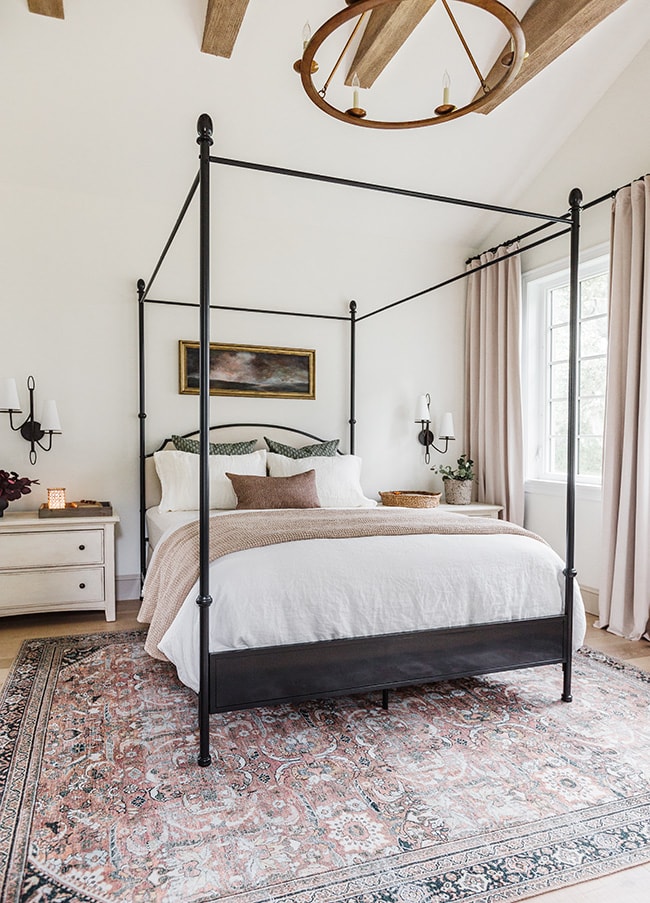 It's the 8×10′ size and there's definitely more color variation than my camera captured—the product photos are an accurate representation. It looks red in these photos but it's really not in person—mostly rust/peach and black, but there's also some beige, olive green, gold and blue. New favorite rug!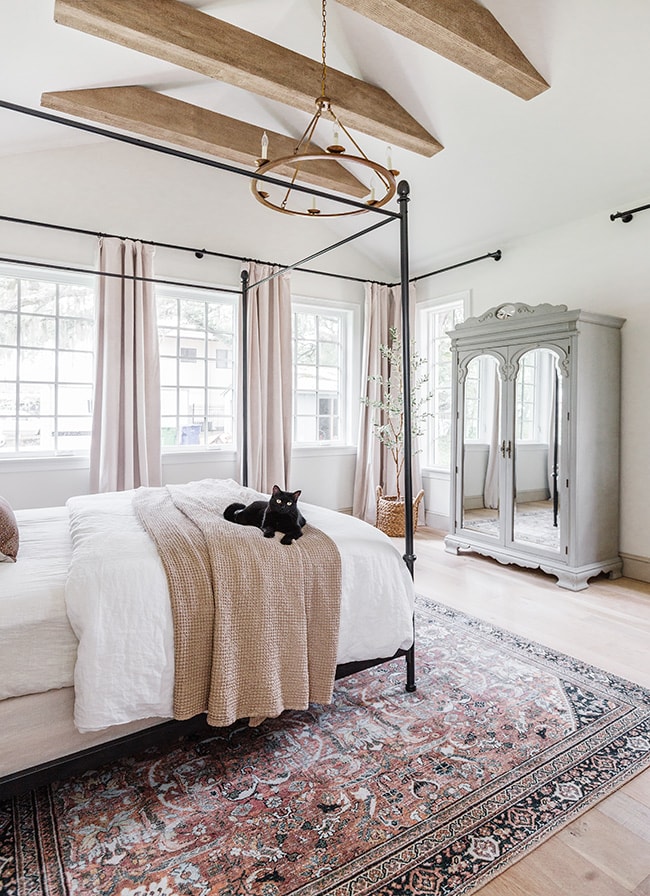 I spent months searching for the perfect canopy bed. I wanted something tall to work with our vaulted ceilings, and this was the tallest I found—and it was pretty affordable too. We're both very happy with the quality!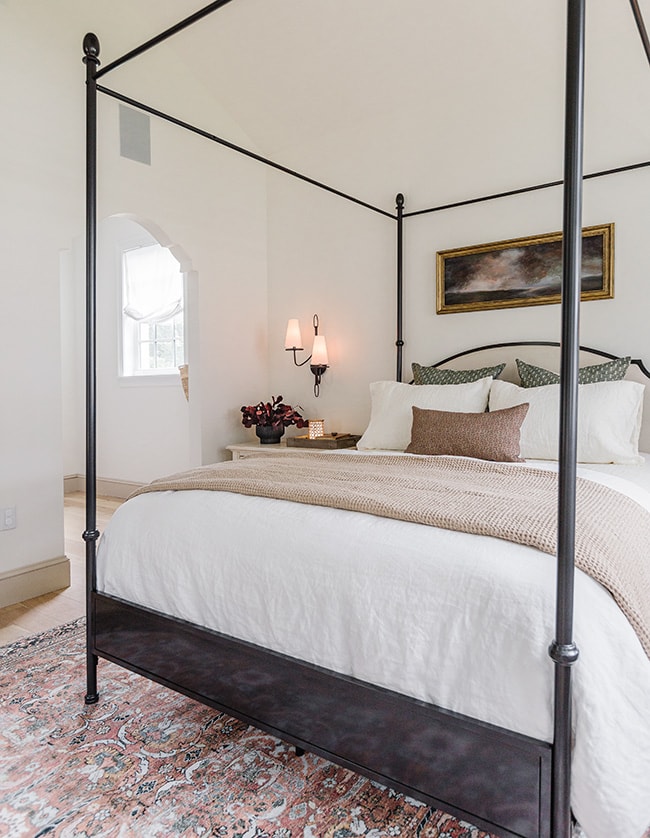 And if you're wondering—the bed is every bit as comfy as it looks (actually, even moreso). Never underestimate the power of quality linens.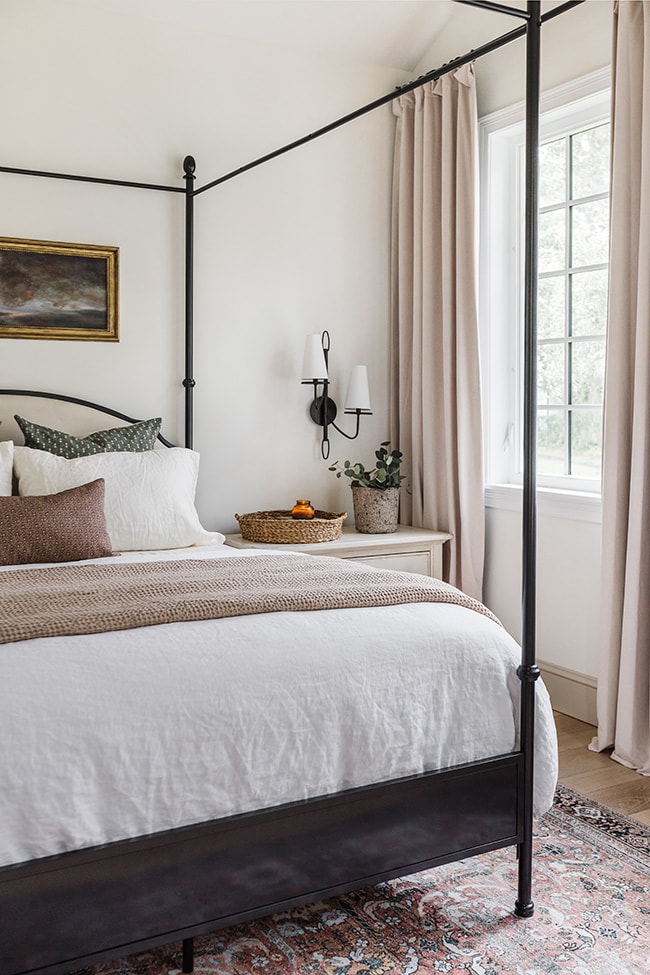 After sleeping in cotton sheets my whole life, I decided it was time to give linen a try. So many people swear by them for their durability/longevity, cooling properties, and hypoallergenic nature. I personally love that perfectly-lived-in look, and most importantly the fact that I never have to iron them!
Magic Linen sent me a set of their stone-washed linen sheets in ivory, and they took our bedding game to the next level. I feel like I'm staying in a fancy hotel every night.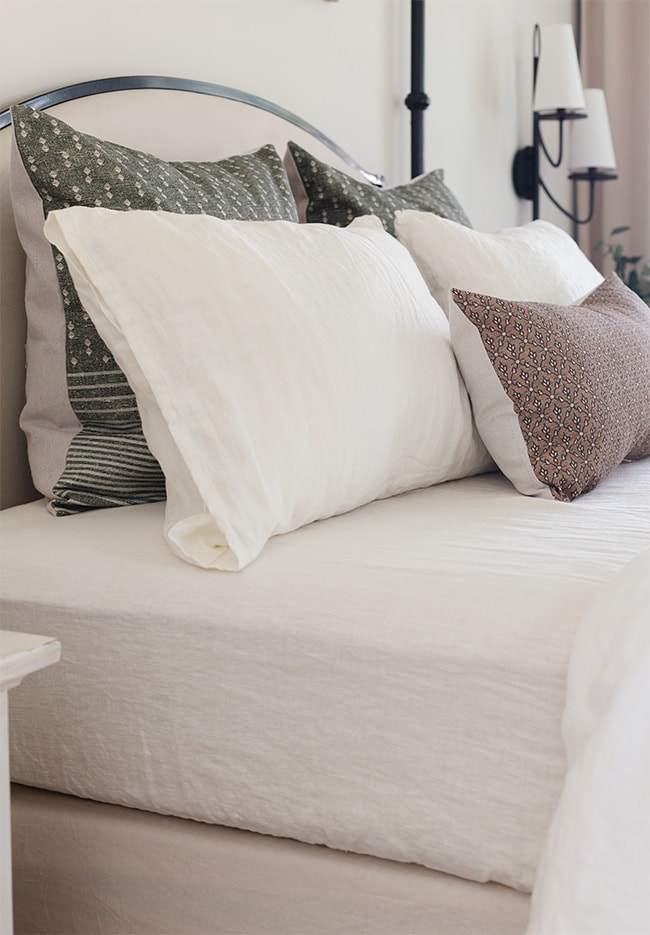 Lucas is normally a hot sleeper and he says he's definitely felt cooler and hasn't sweat at all since switching over, so maybe there's something to that. I'm still trying to make the adjustment from silky smooth cotton to textured linen, but these will also soften over time.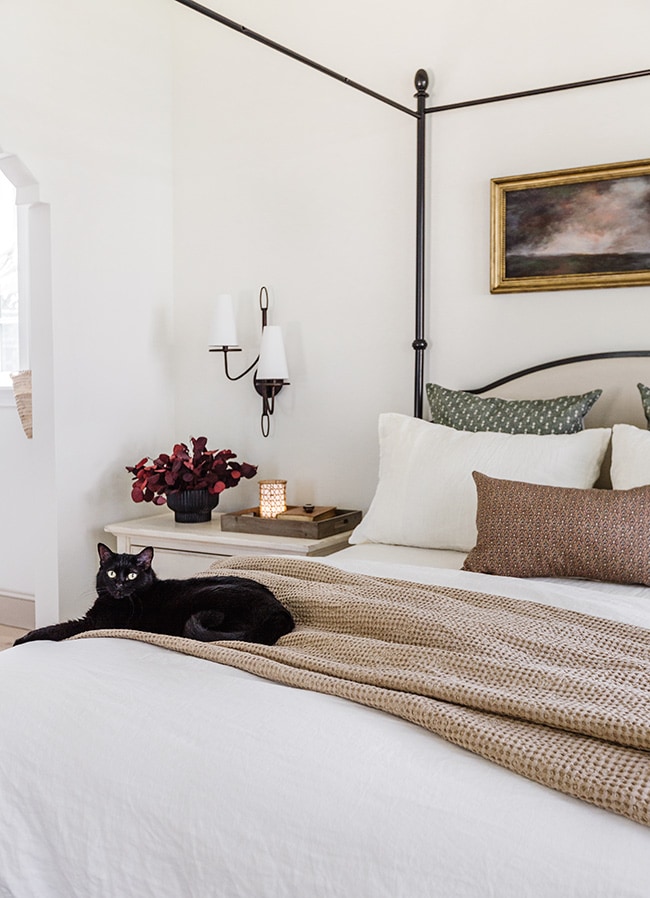 This waffle weave blanket is also from Magic Linen, and I can't get enough of it. Susie agrees.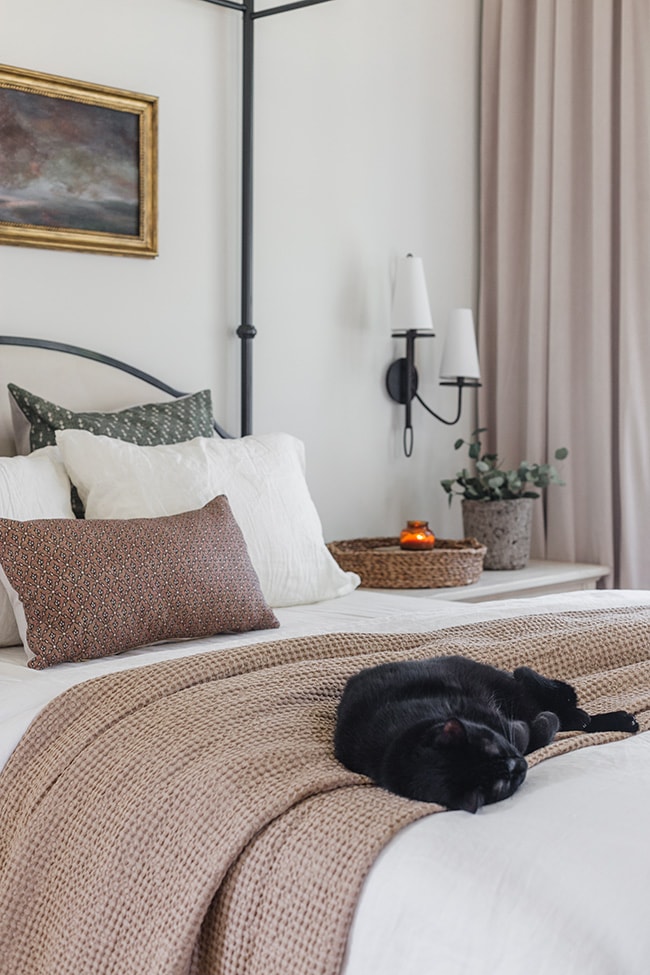 I know you're wondering about the pillows too! These were gifted from Jolie Marche. I chose two 24×24″ pillow covers in olive, and their 14×24″ Beatrice pillow cover.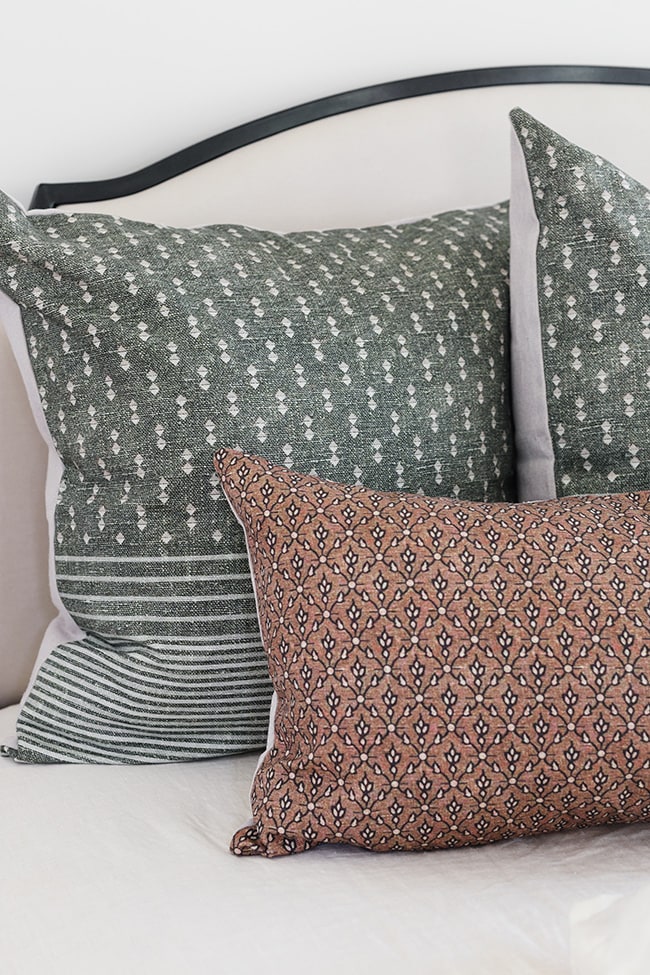 This whole muted earth tone color palette is so dreamy…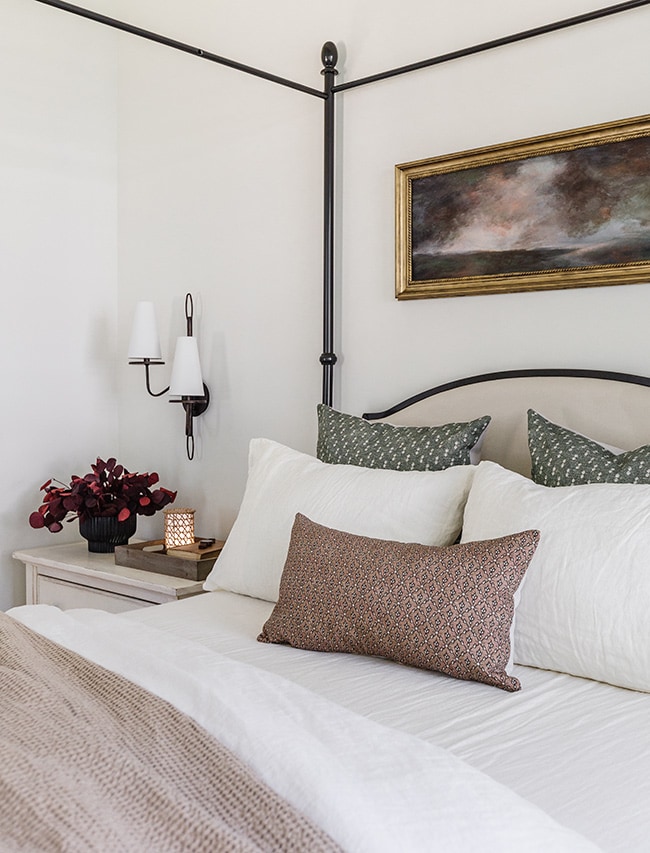 I said I wasn't ready for fall to start, but these colors and cozy textiles are quickly changing my mind. If my design style was a season, it's 100% fall, hands down. Who's with me?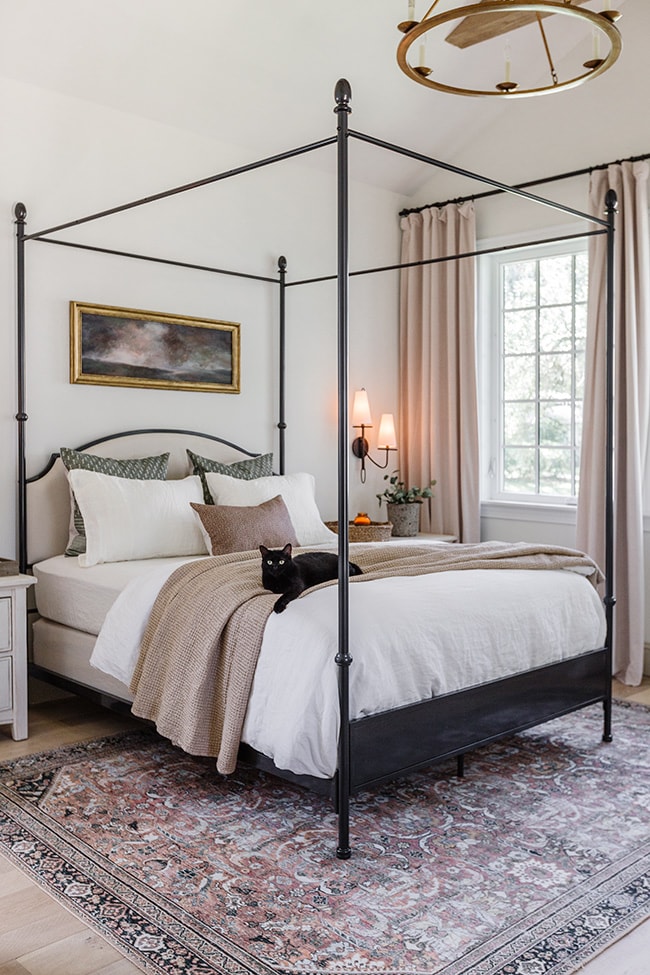 The ivory velvet curtains have been here since Day 1, and they're still going strong.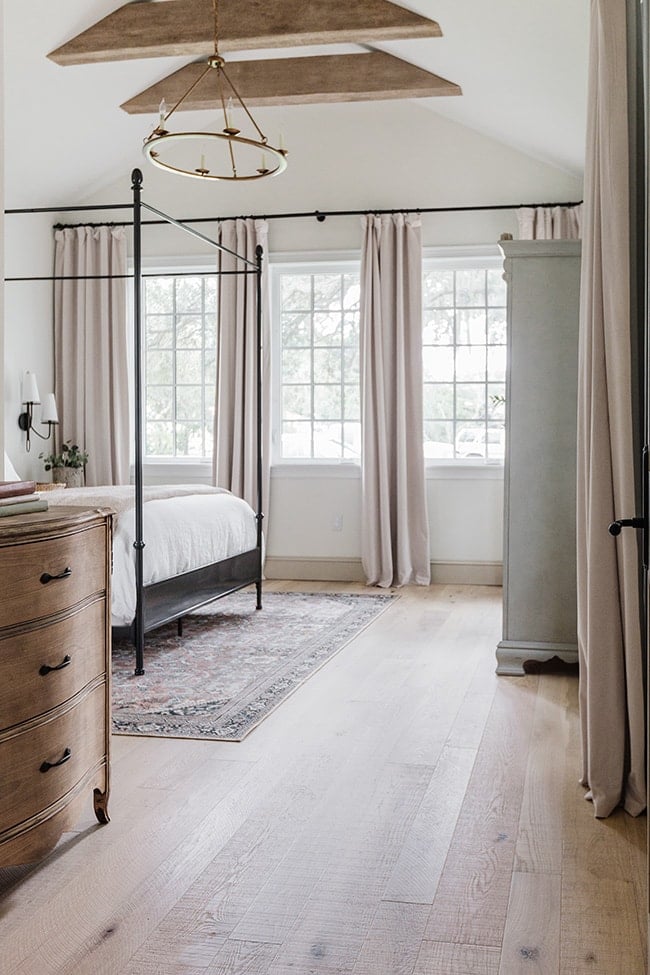 So is this antique dresser I refinished 6+ years ago and brought with me from California.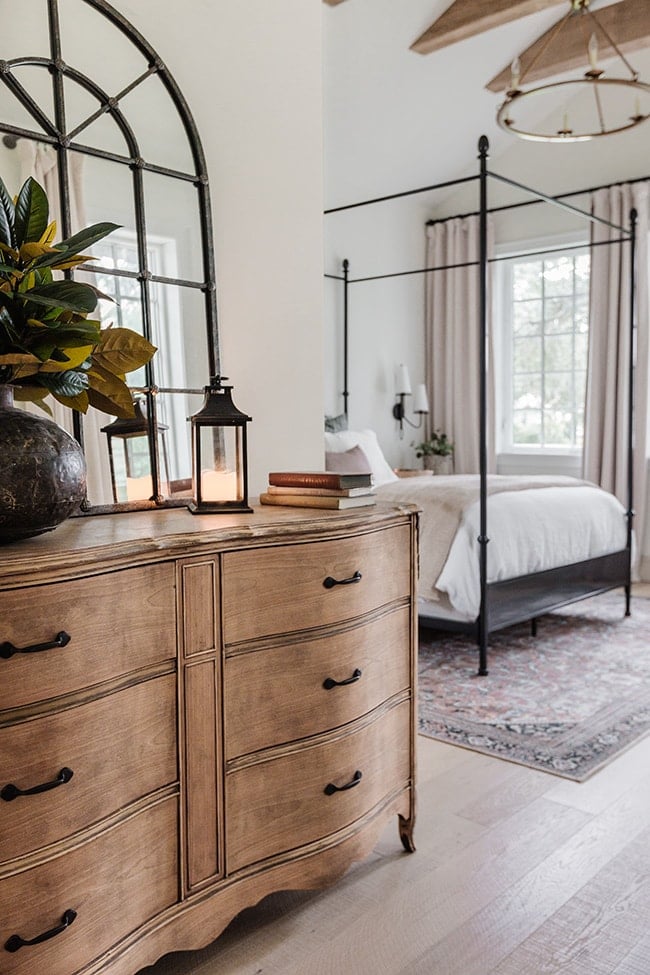 Here's how the entrance looks: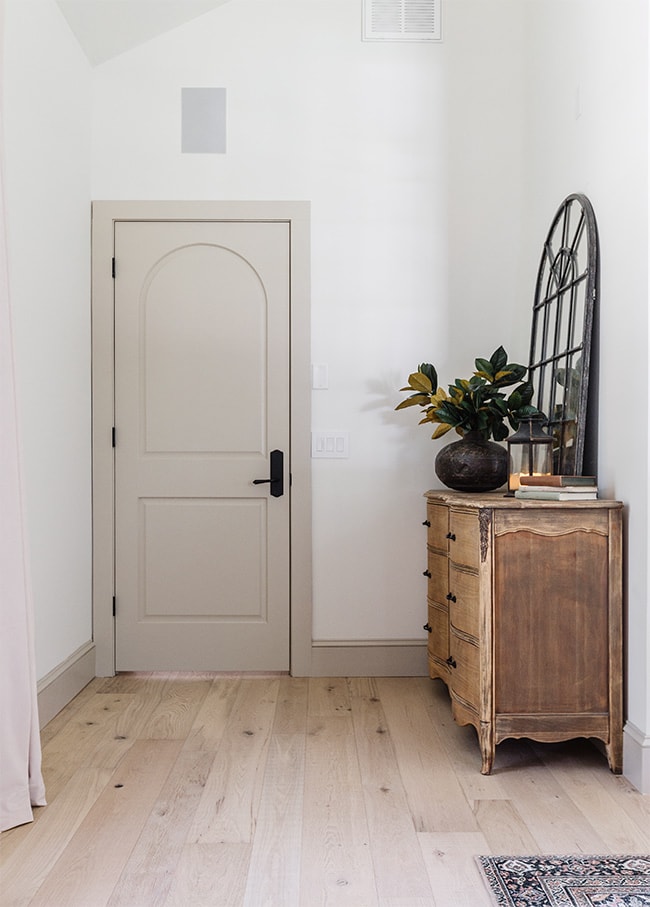 A couple weeks ago I painted my $50 secondhand armoire light gray to break up all the wood tones (I used Maison Blanche's Franciscan Gray and dark brown wax)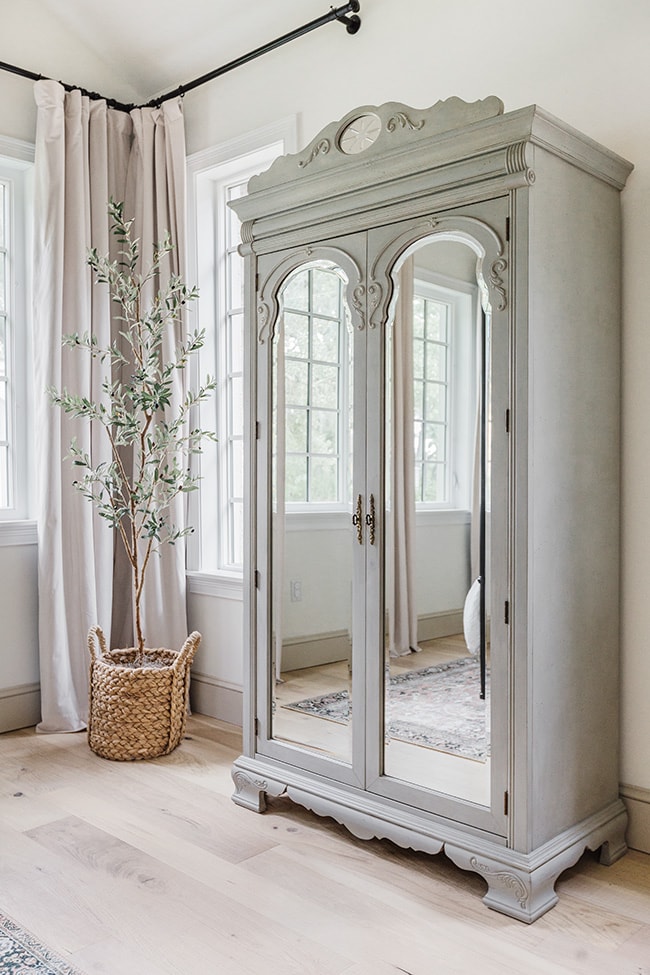 And at the last minute I decided this empty corner needed a tree, so I found the cutest little olive tree that I think even looks more life-like than our living room tree (the ETA says 1-2 months but mine arrived in a week!)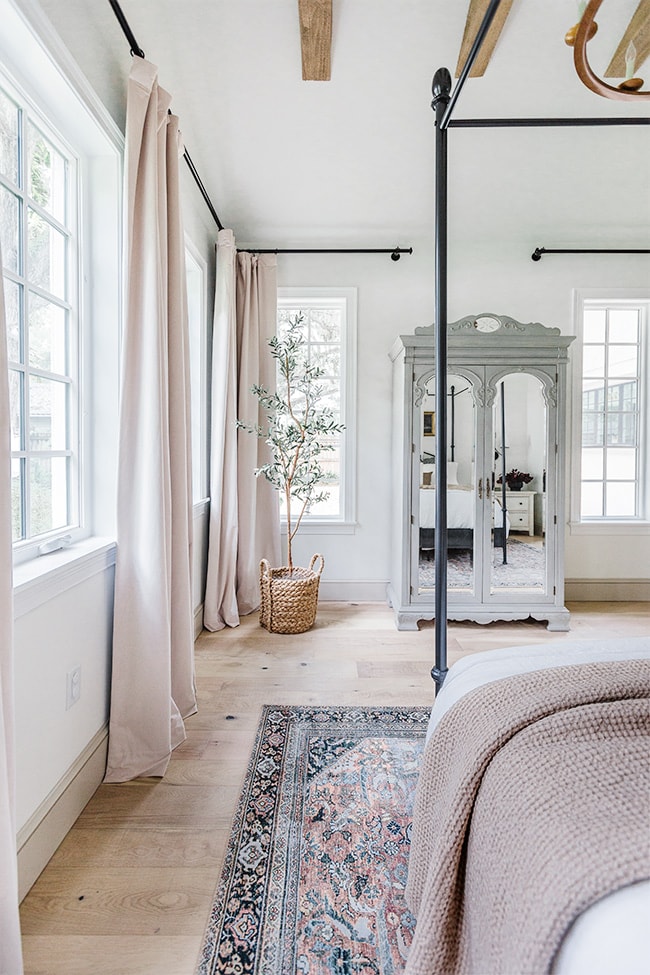 I'm currently in the process of making another hypertufa planter for the tree—have you been watching it on my Instagram stories?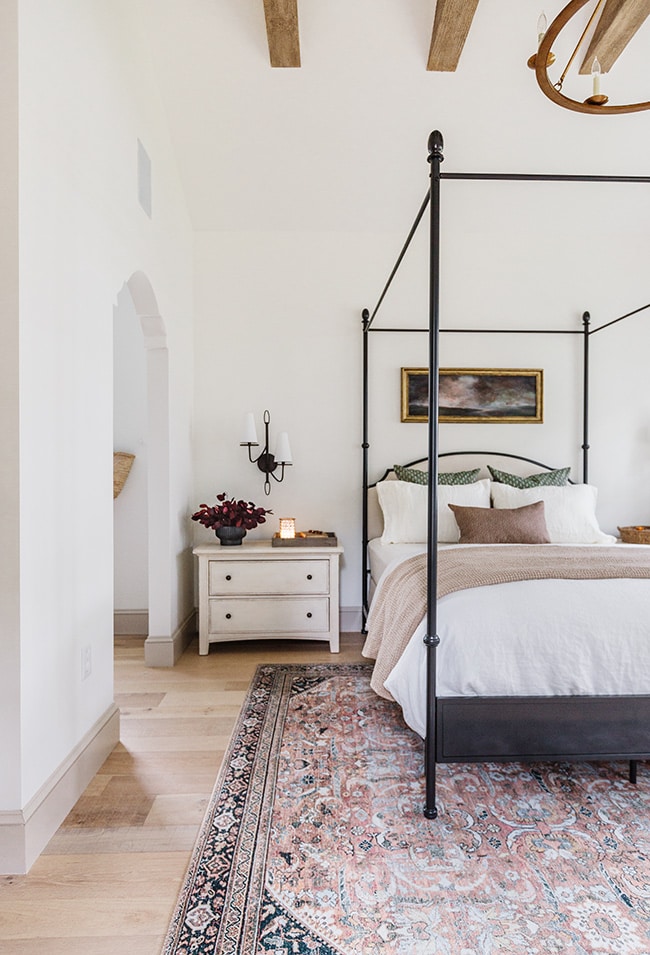 Here's the view from our closet. One day we'll tackle that project (before next year, if we have time!)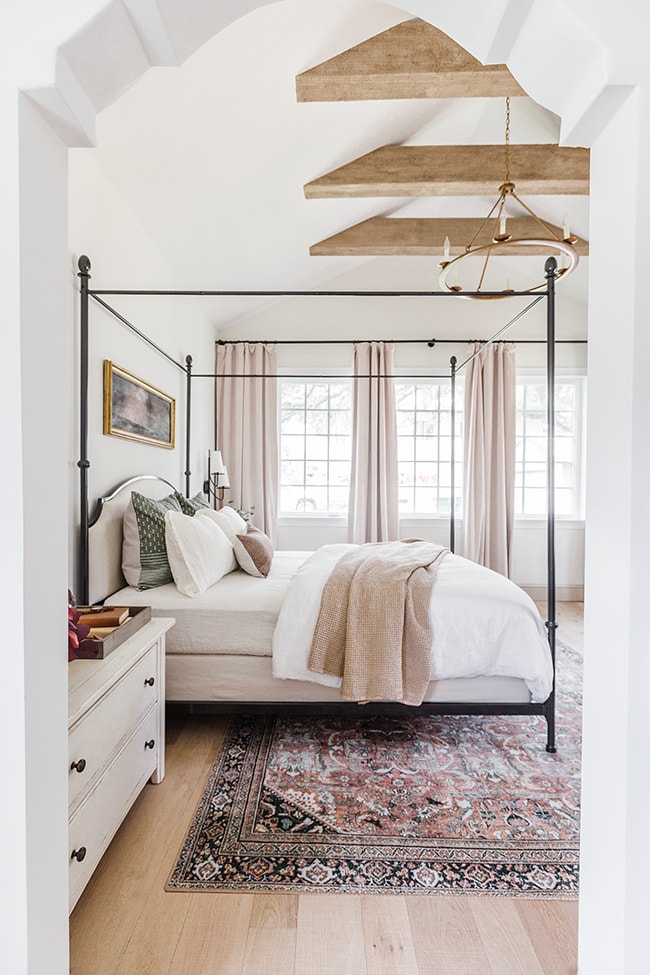 Fall is slowly sneaking into our house, and these preserved red eucalyptus leaves were calling my name…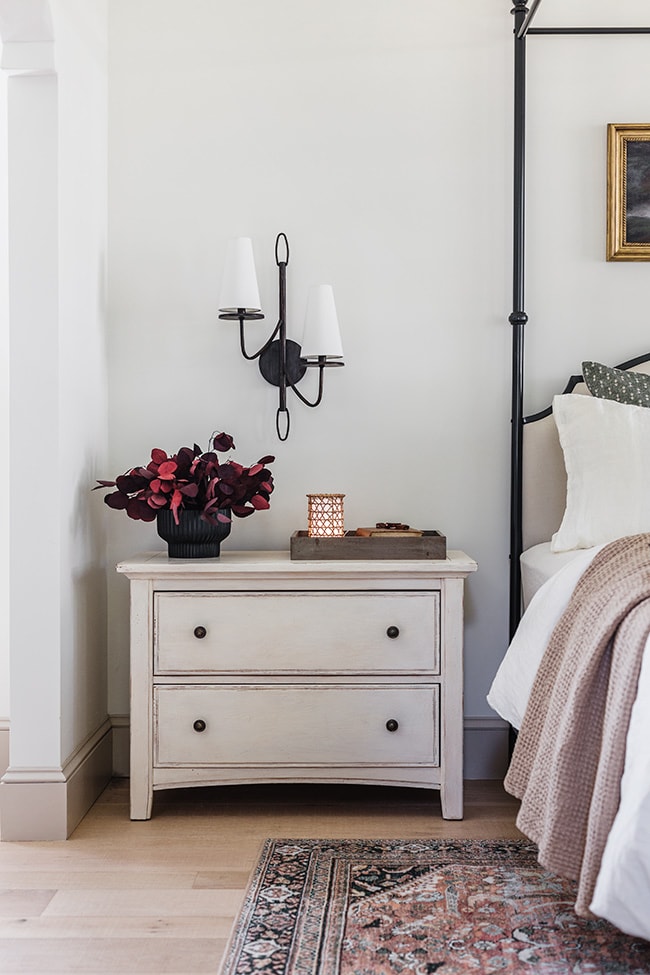 The glow of scented candles and sconces provide the perfect ambiance on a rainy day.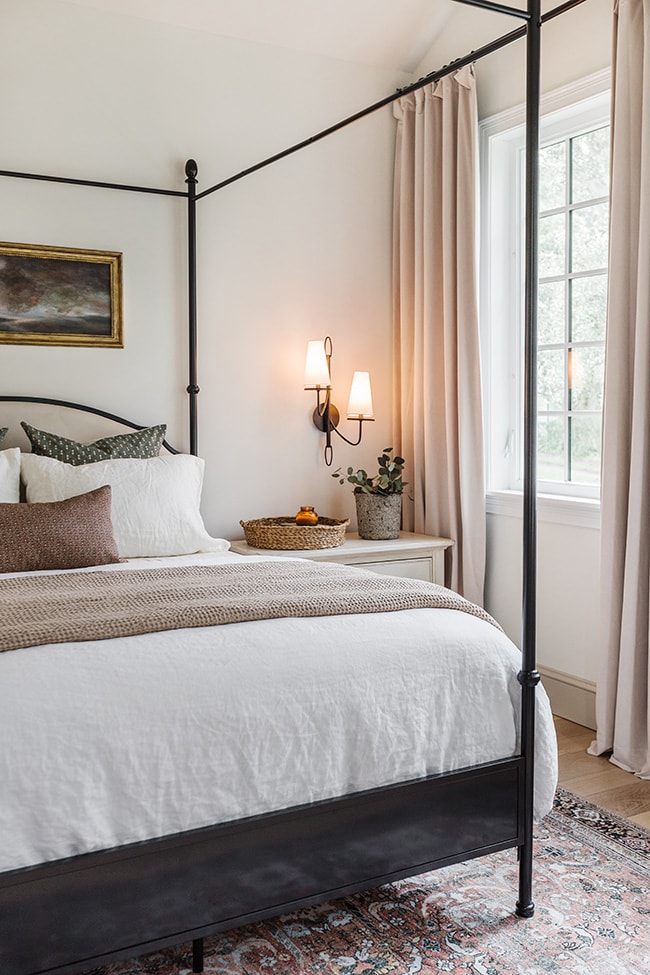 I know we're in the middle of building an office, but I've been perfectly happy working from bed lately.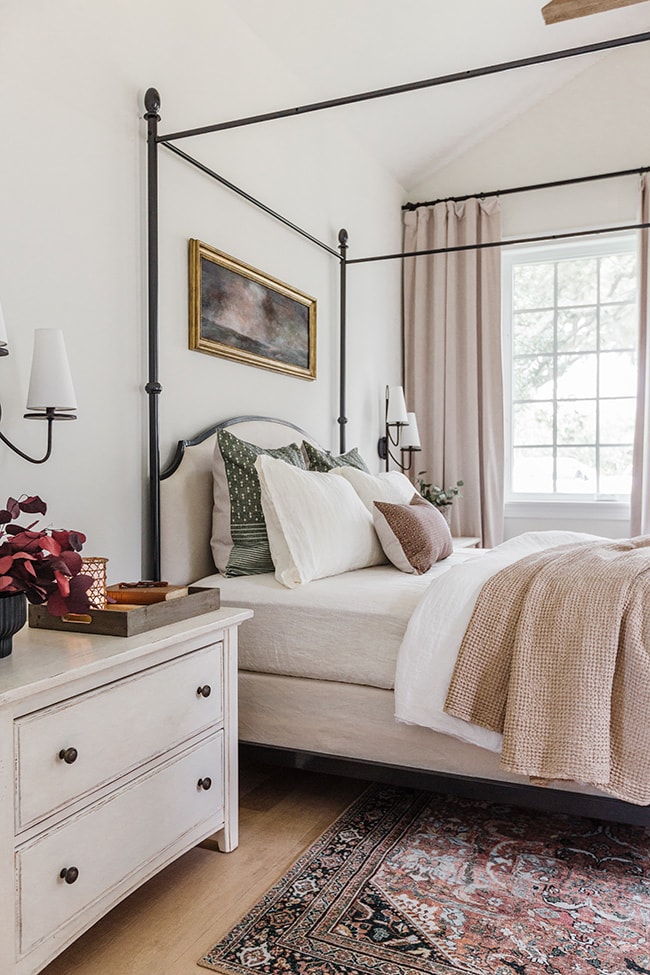 I'm not sure I'll be able to drag myself out of it and go upstairs to work. Can you blame me?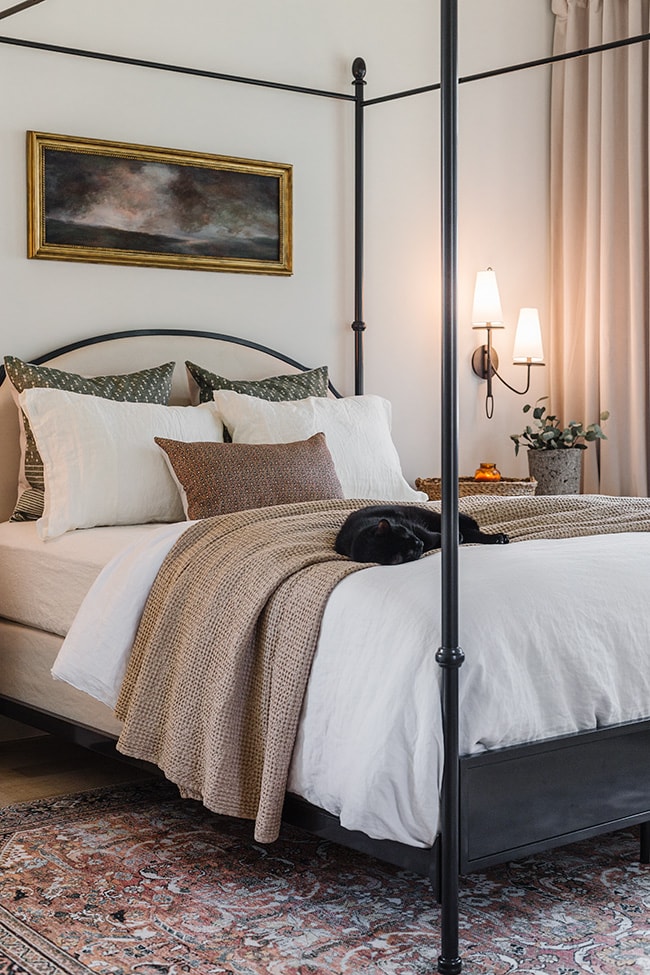 Who else is working from bed these days? Tell me I'm not the only one…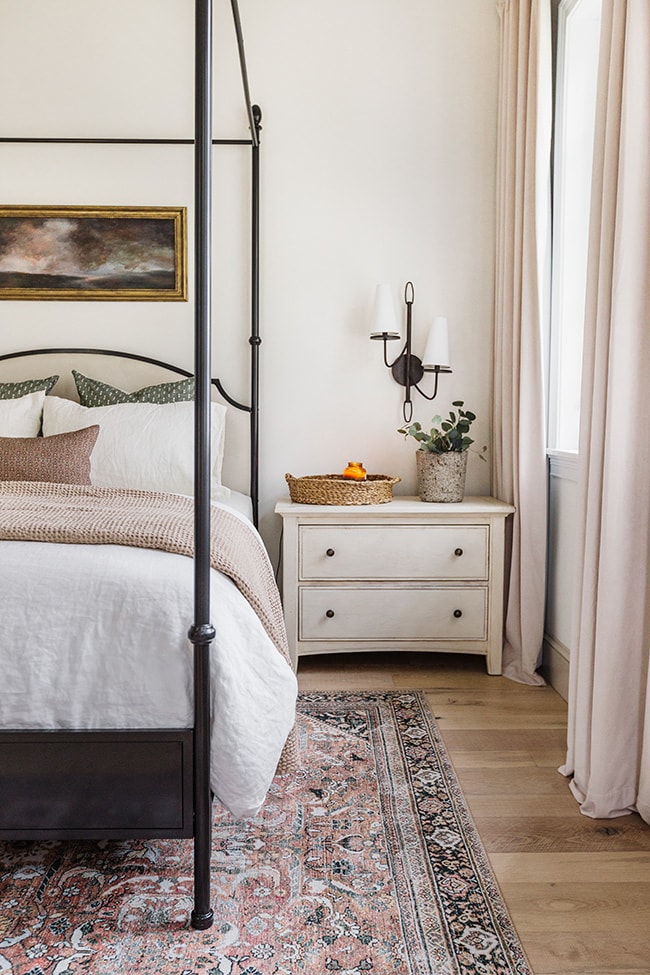 Sources
Walls: SW Alabaster, Trim: SW Accessible beige
Painting: DIY project
Nightstands, dresser and armoire: secondhand
This weekend is a big milestone for our family. Our sweet baby turns one(!) and we have some personal news to share on the blog next week.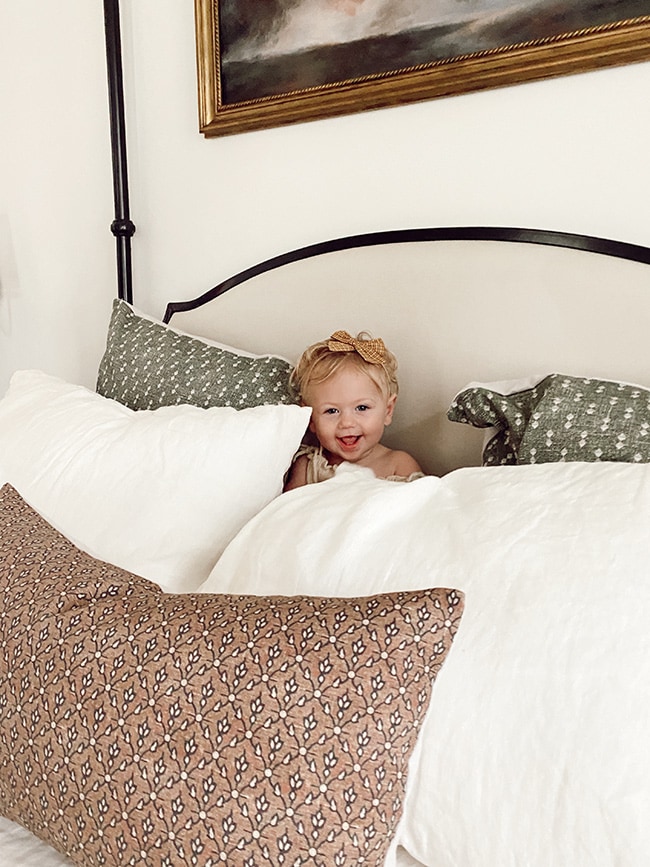 I'll be posting birthday scenes on my Instagram this weekend, so you can follow us there and join the celebration!