As we focus our attention on our Work + Play Room over the next month, it's crunch time to finalize the design plans and details. I've spent countless hours researching and gathering inspiration for the office/workspace layout, which means pinning up a storm!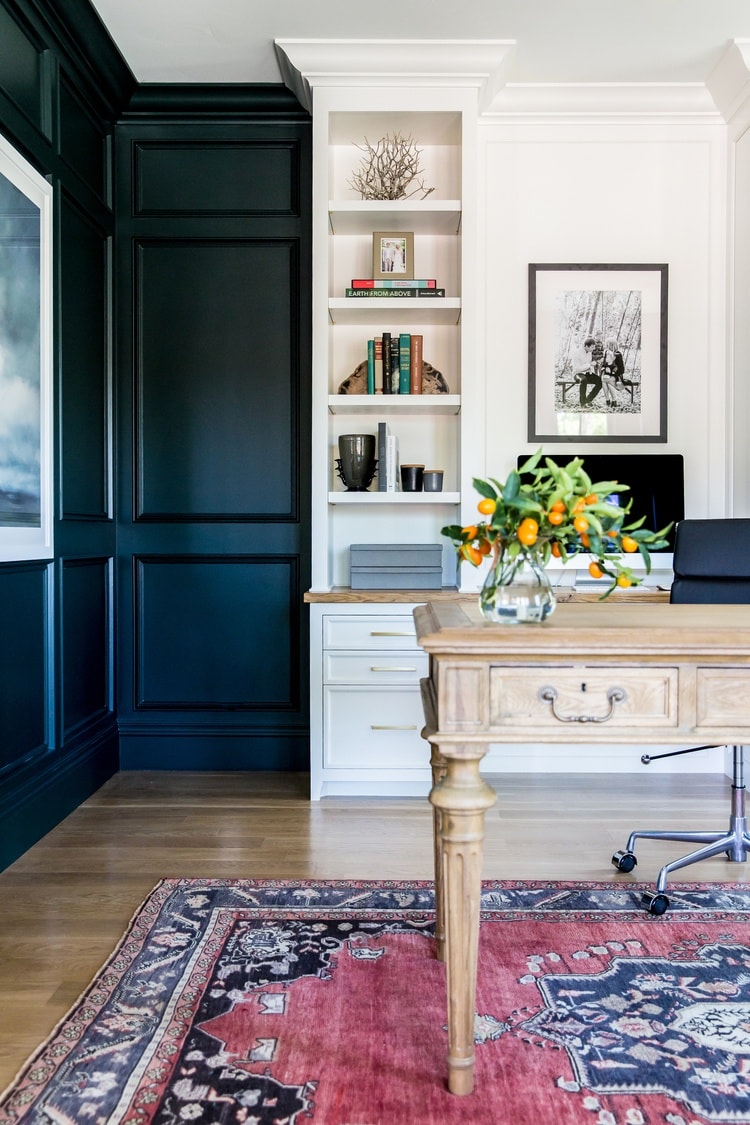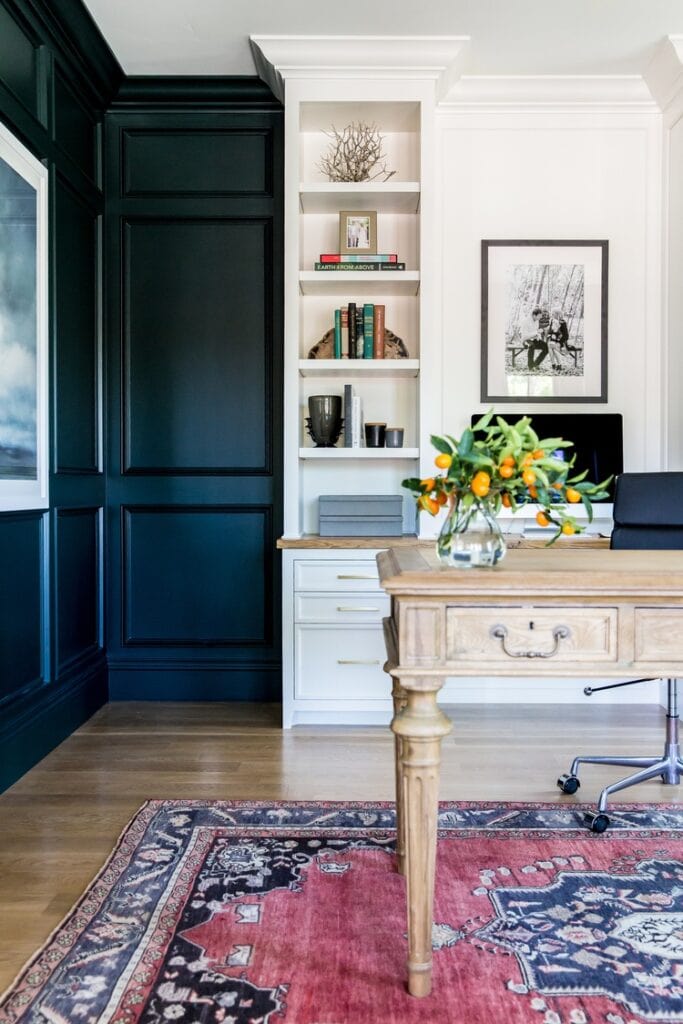 Chances are, you've found yourself working from home over the last several months, and for many this will be a permanent arrangement. How's your workspace situation at home? Do you have a dedicated office, or do you work from your laptop in bed? (ahem, guilty!)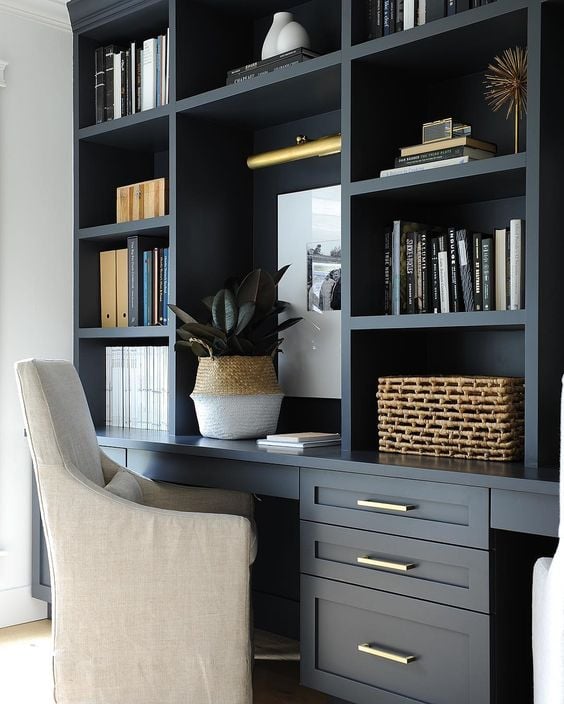 There's endless inspiration out there for every different setup, whether you've got an entire spare room to work with or just a few feet of wall space. Our home offices should be uplifting and encourage productivity, and I've rounded up some of my favorite ways to achieve that, no matter your budget or DIY skill level.
First, let's dream big… who wouldn't love this light-filled room with show-stopping built-in cabinets?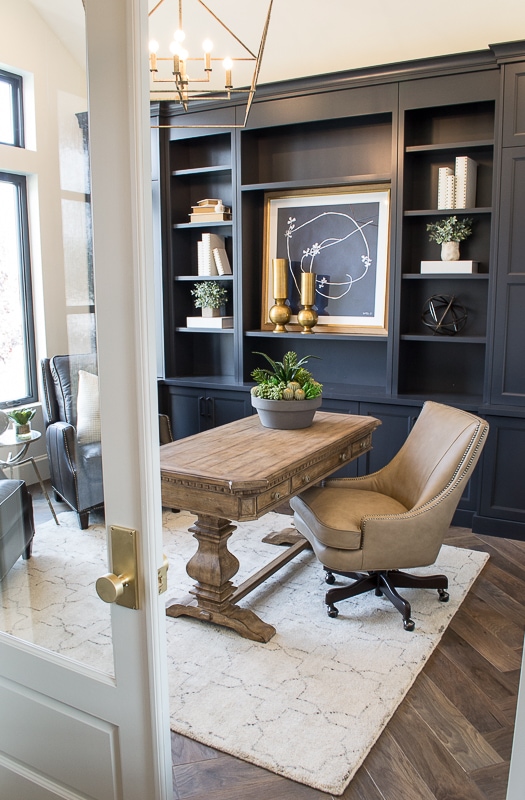 Another argument for dark built-ins in the office. I think they'll win every time (PS this is the inspiration for the large map over our desk!)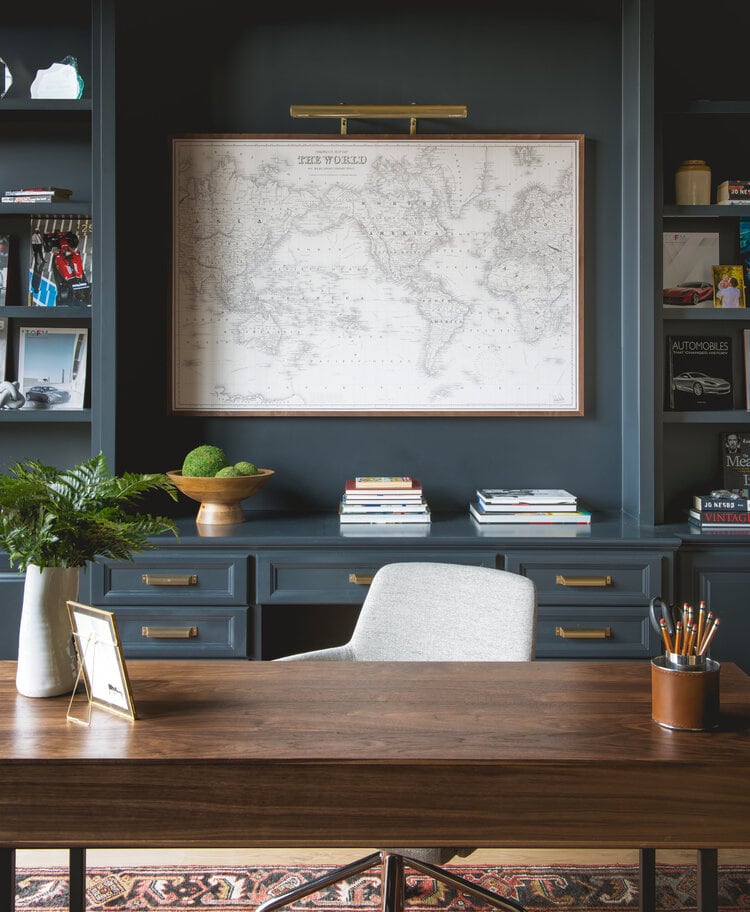 Ahh, that daybed. So convenient for when the afternoon slump hits.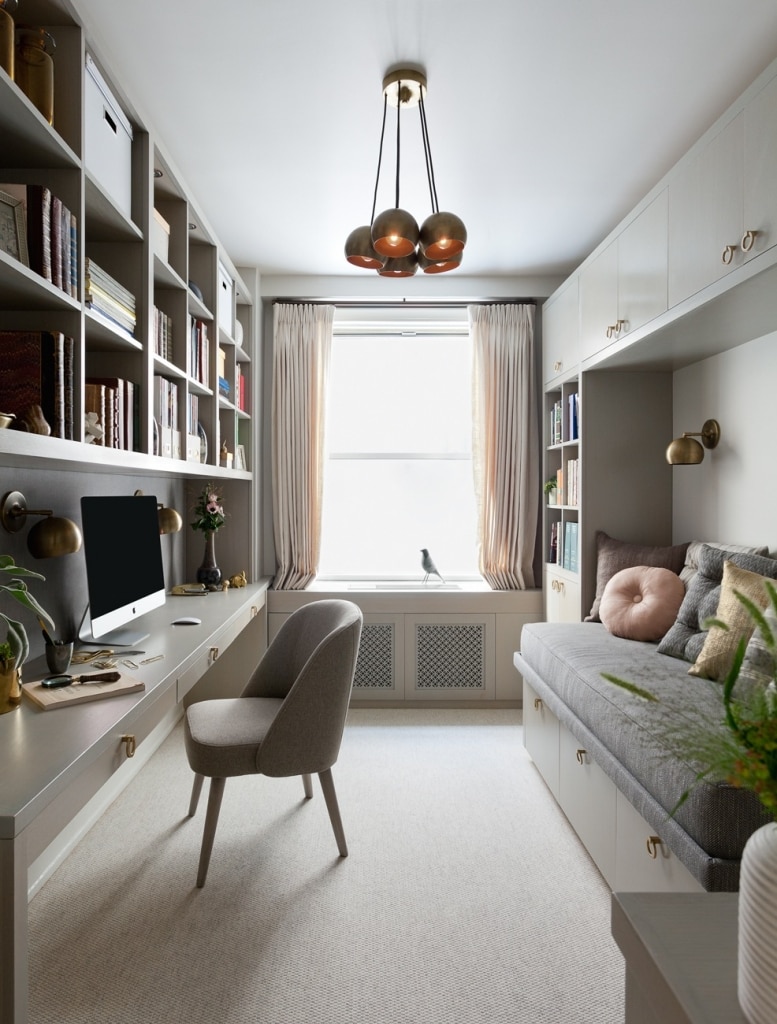 Have a giant closet? Here's an idea: combine your closet and office! It's called the cloffice, and not a bad idea if staring at your shoe collection all day sparks joy.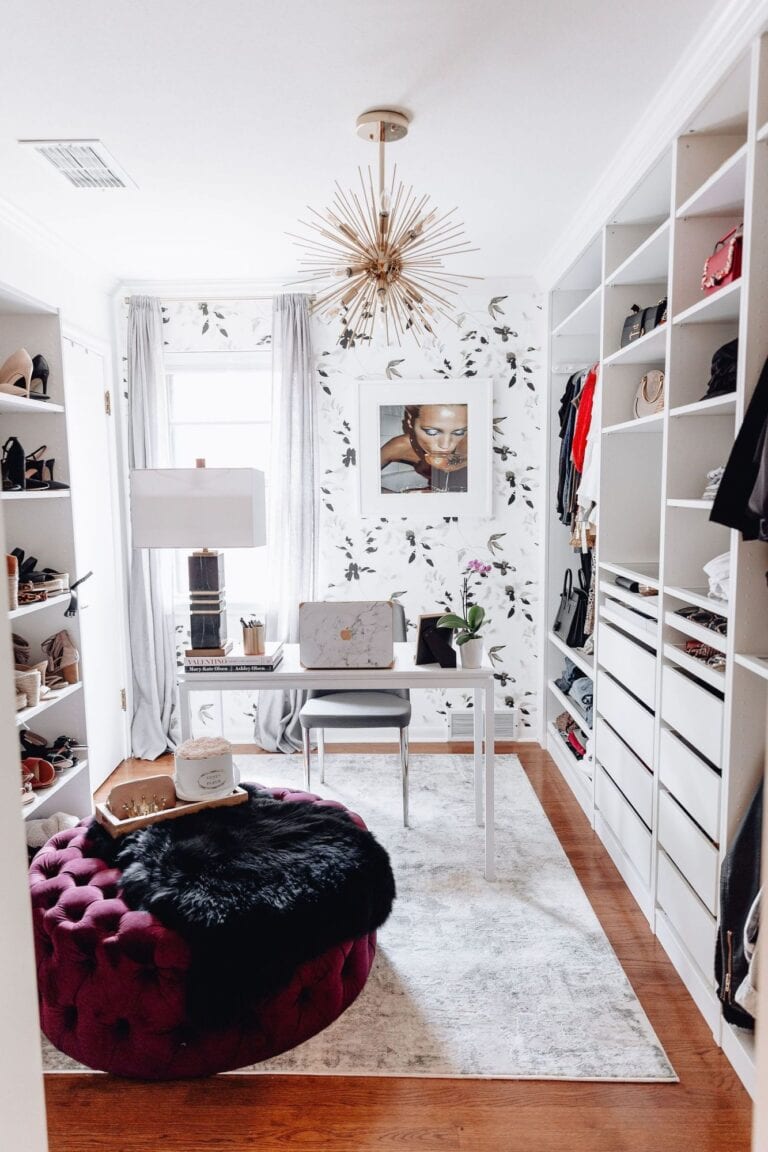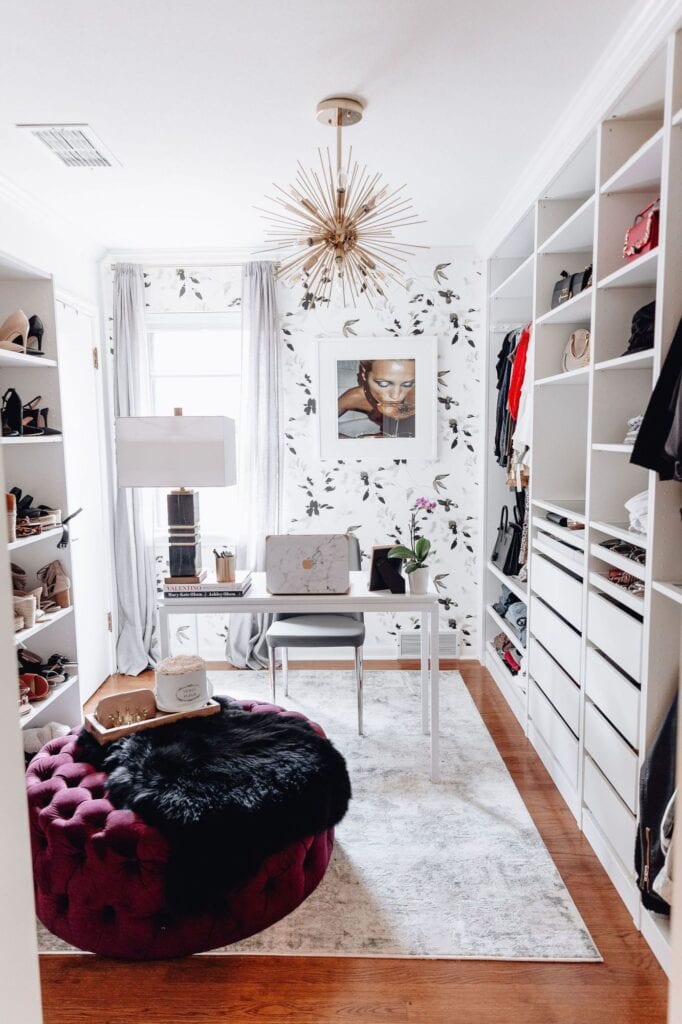 Okay, let's start scaling it back a bit. If you don't have a spare room or tens of thousands to spend on custom cabinetry, these next ideas are for you.
Renovate108 blew me away with their completely custom DIY Ikea/Semihandmade desk. They documented the whole process in their Instagram stories, and I watched closely and took notes for our own Ikea cabinet/desk hack. Not a beginner-level project, but inspiring nonetheless.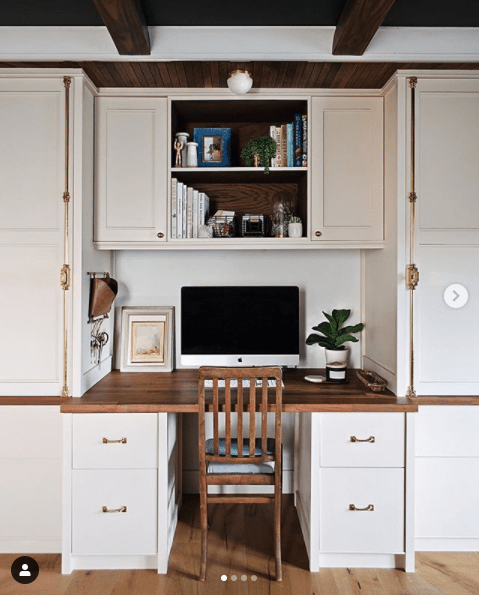 Here's another custom Ikea/Semihandmade DIY from Sarah at Making Joy and Pretty Things. I love the soft sage green and fun pattern from the wallpaper.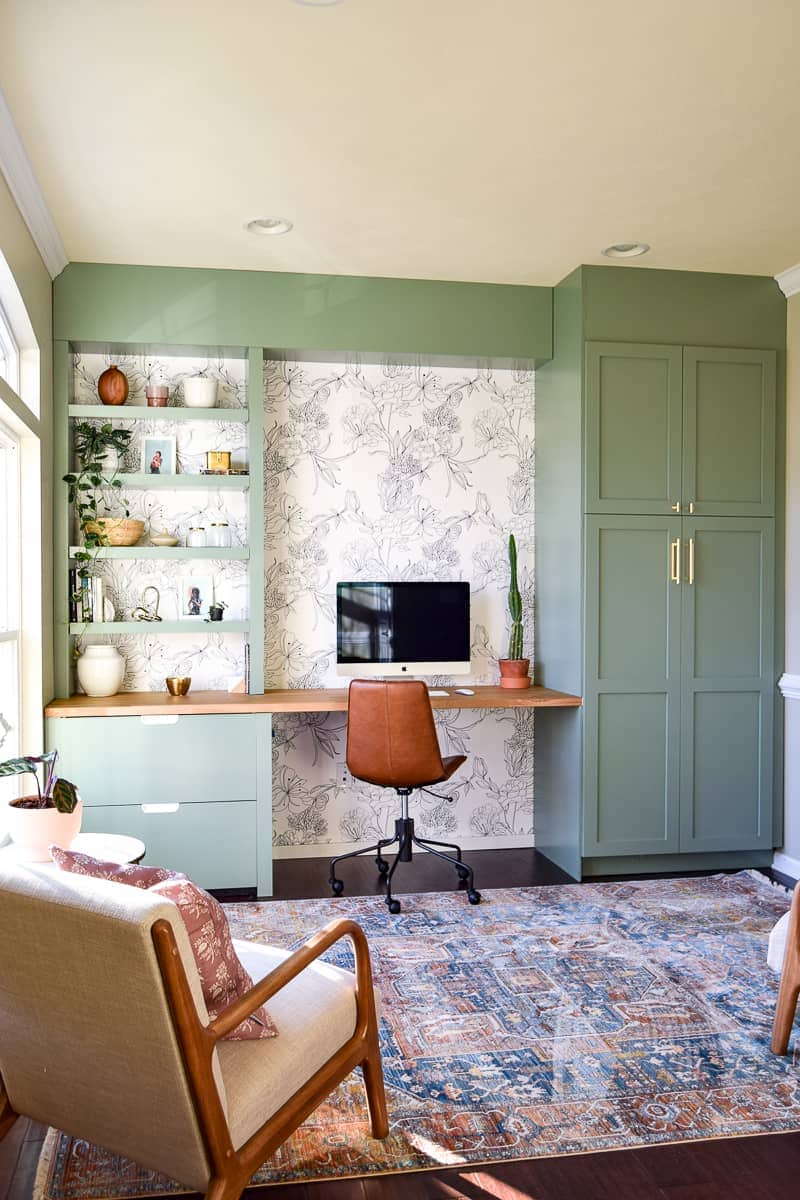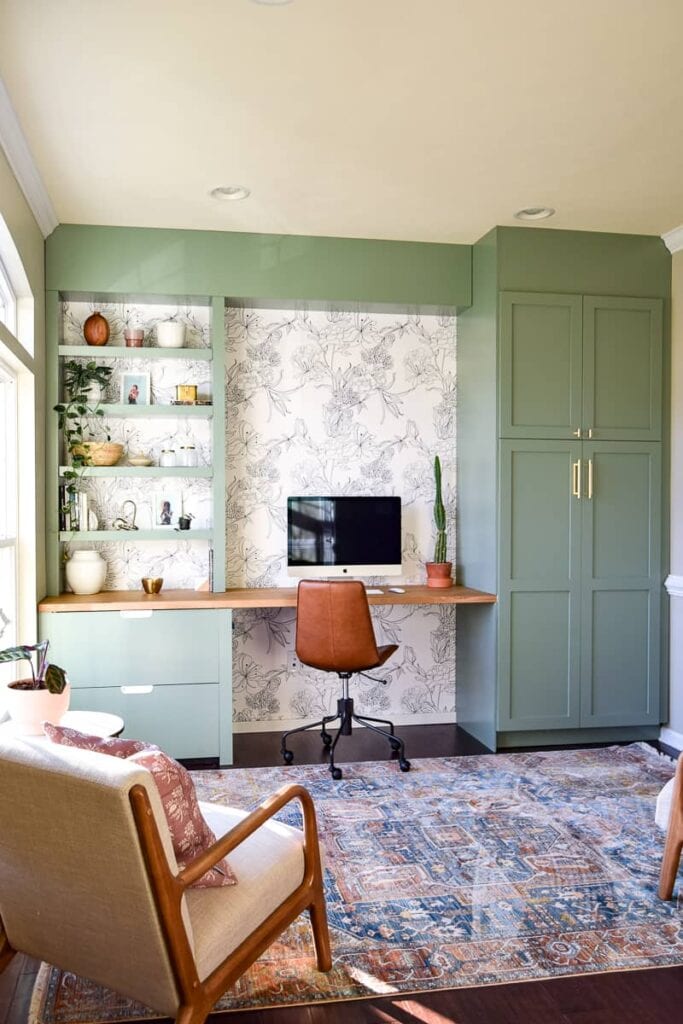 Speaking of green, have you seen this gorgeous makeover from Pennies for a Fortune? It's amazing how transformative vertical shiplap can be. The desk and art ledge were also DIY projects (using painted Ikea cabinets). Small cost, huge impact!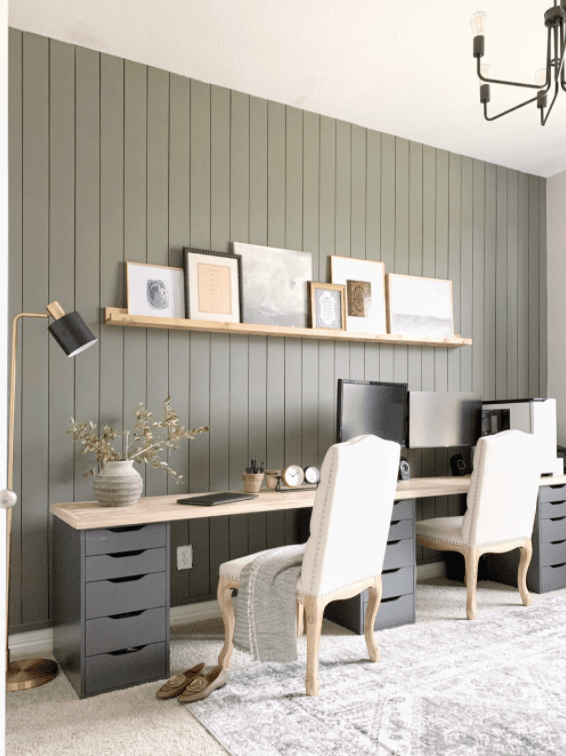 But what if you don't have an entire wall to spare? Well, how about an under-utilized closet? These are my absolute favorite makeovers because you can get so creative in these little spaces, and you can close the doors when not in use so it's a hidden little surprise. I think bold colors and/or fun patterns here are a must. Loving the navy blue in this Before/After from Homemade by Carmona…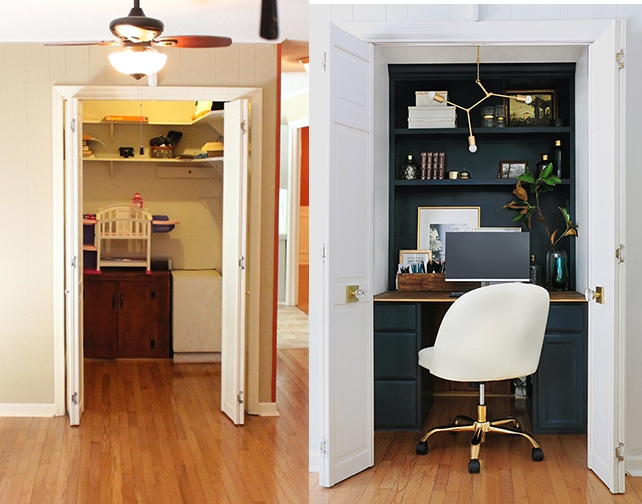 If you can't make a closet work, how about creating a nook in the kitchen? I've always thought these were a good use of space: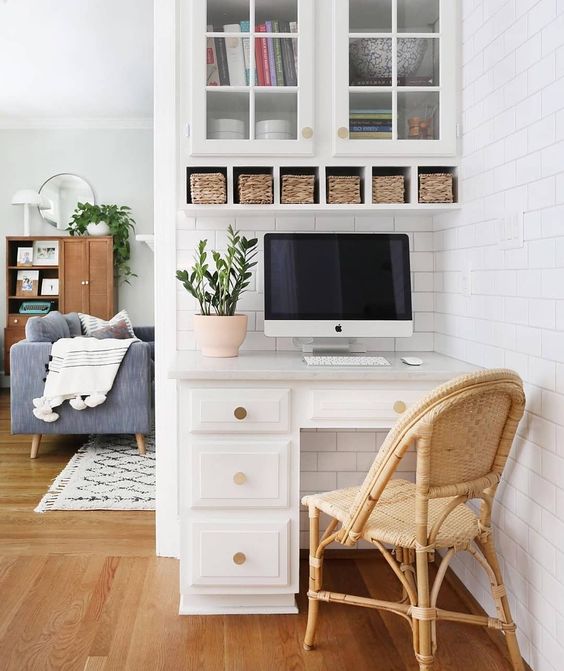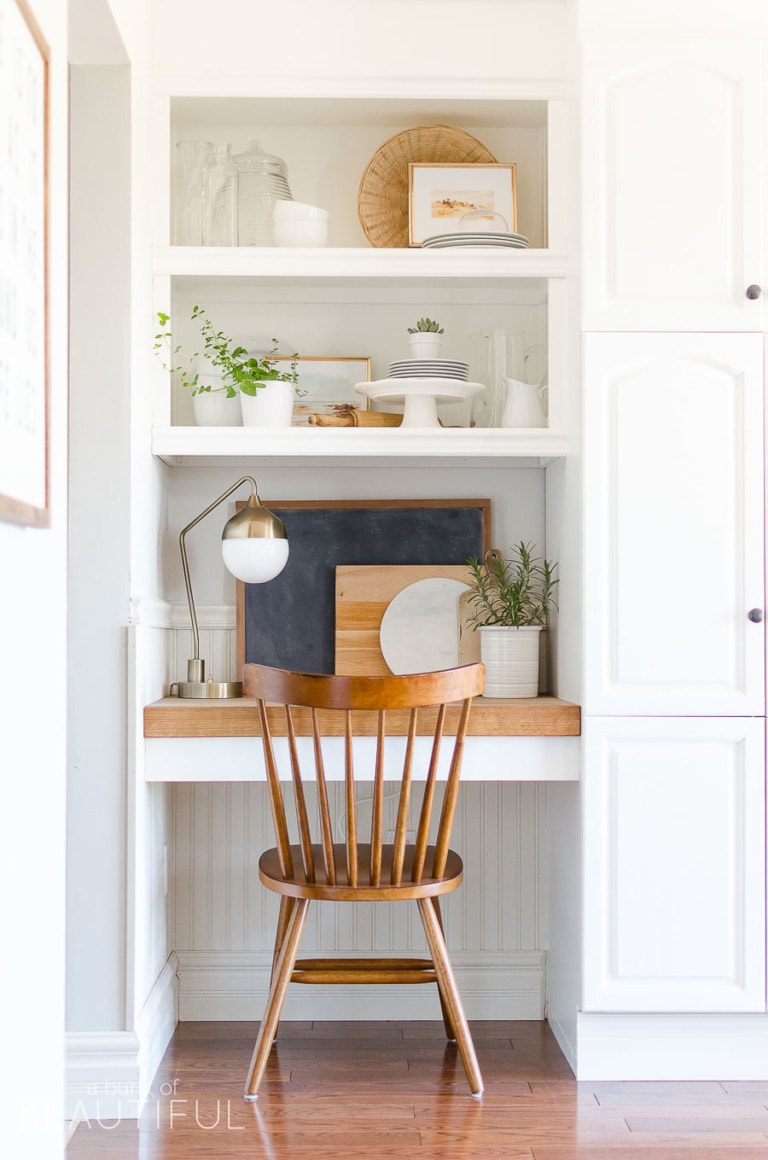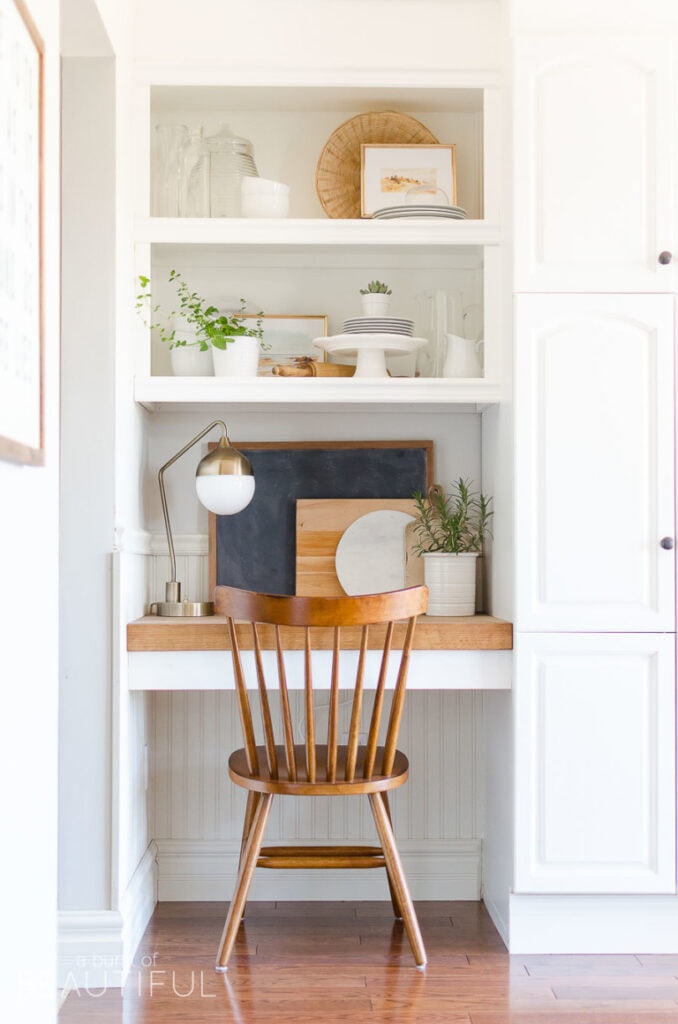 A staircase wall is another creative use of space. The black vertical paneling defines the area and looks so sharp behind the stained wood: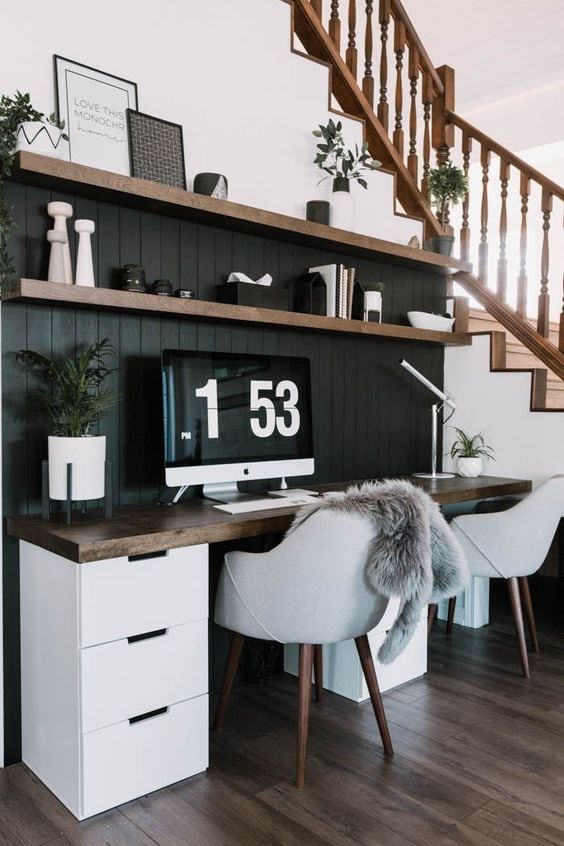 If you can utilize an empty nook under the stairs, even better! This horizontal slat design is so fun:
I thought this was a clever idea for an under-the-stairs closet: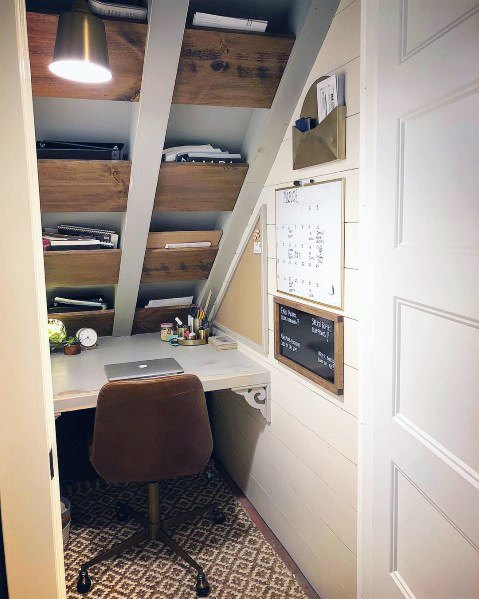 What if all you have is a tiny corner of a room? You can create an office with just a few feet of space! Just grab a pretty vintage desk (FB marketplace, anyone?), comfy chair and light source: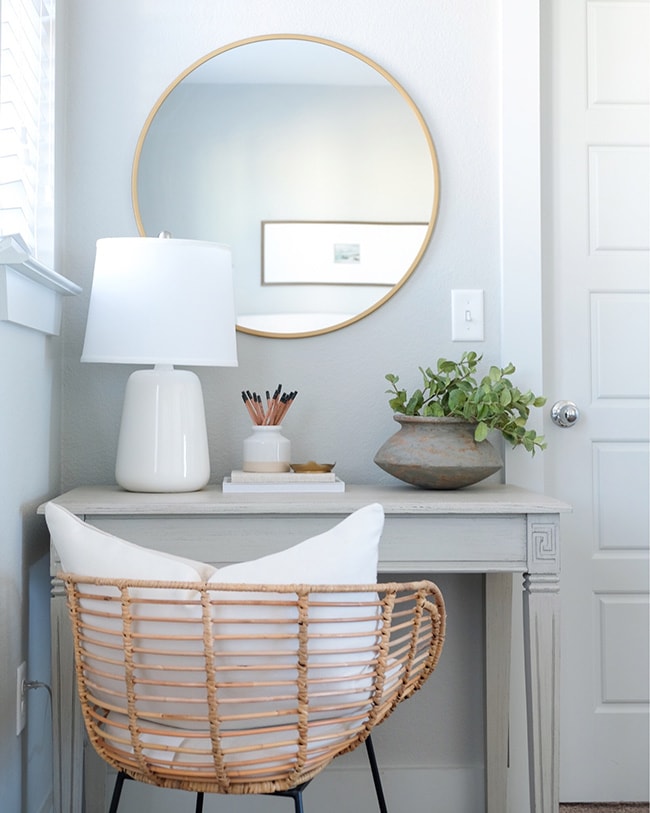 What if you prefer to work in the living room but don't have room for a desk? How about setting up behind the sofa? (you could totally DIY this sofa table!)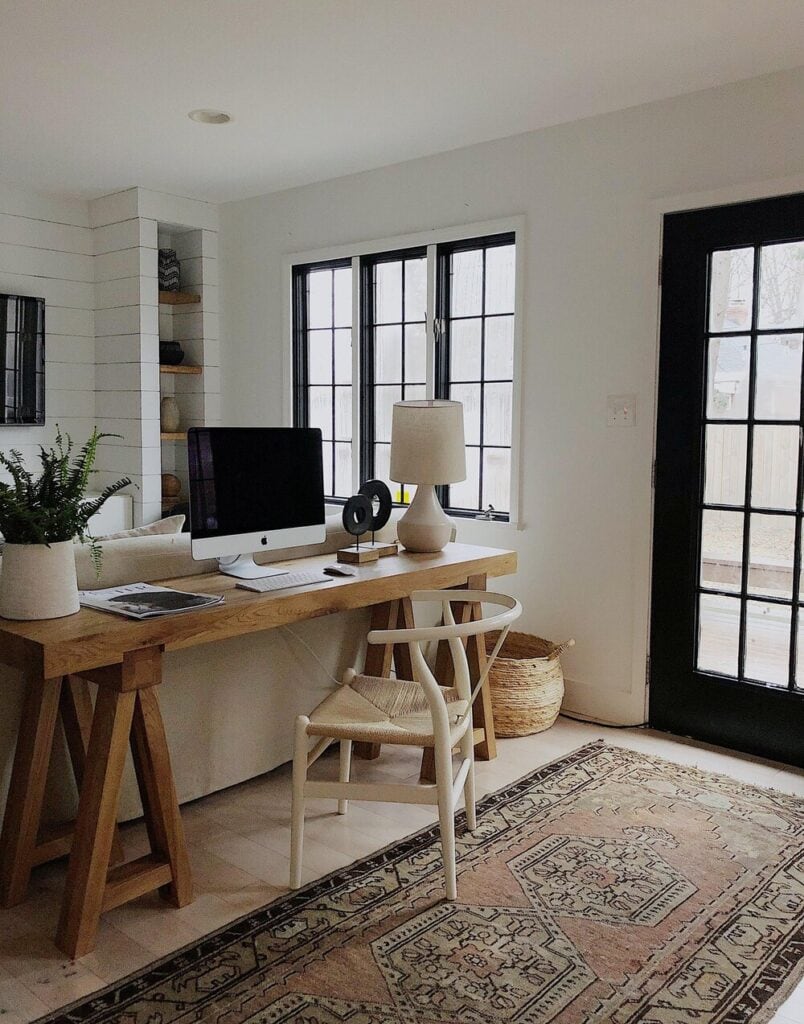 Or would you rather be in the bedroom? I'm a huge fan of multi-purpose desk-nightstands: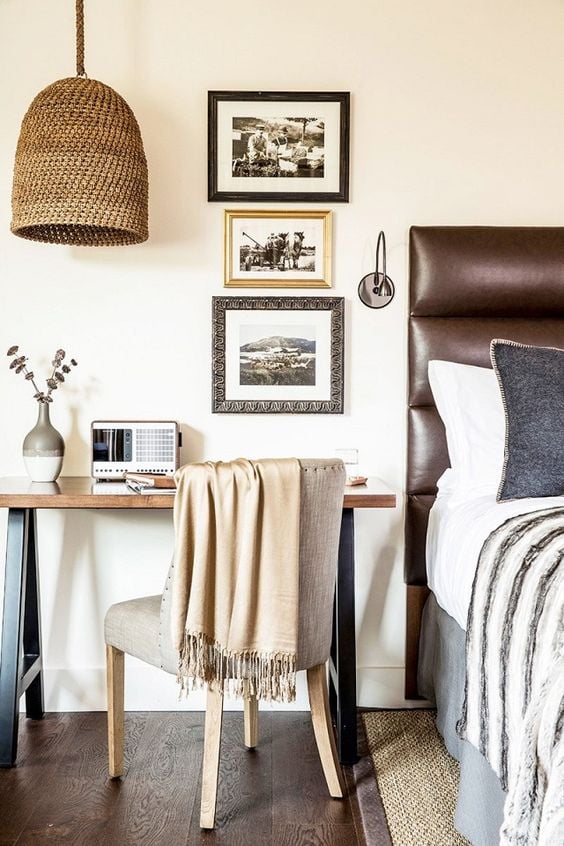 What if you want a workspace you can put away when not in use? Check out this clever pull-out drawer that serves as a desk top. Just slide up a chair and you're in business!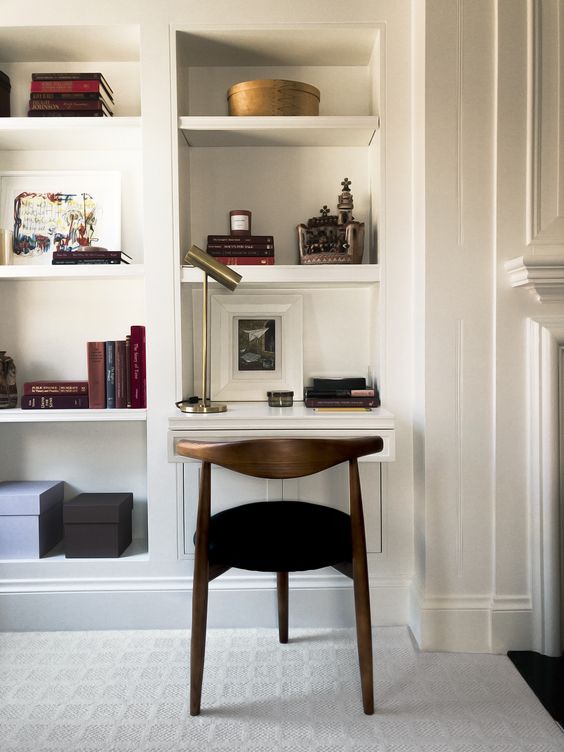 Here's a DIY that's very doable—a wall-mounted desk top that folds down when not in use. You can install this literally anywhere—a light-filled room with a cozy bed nook sure isn't a bad spot!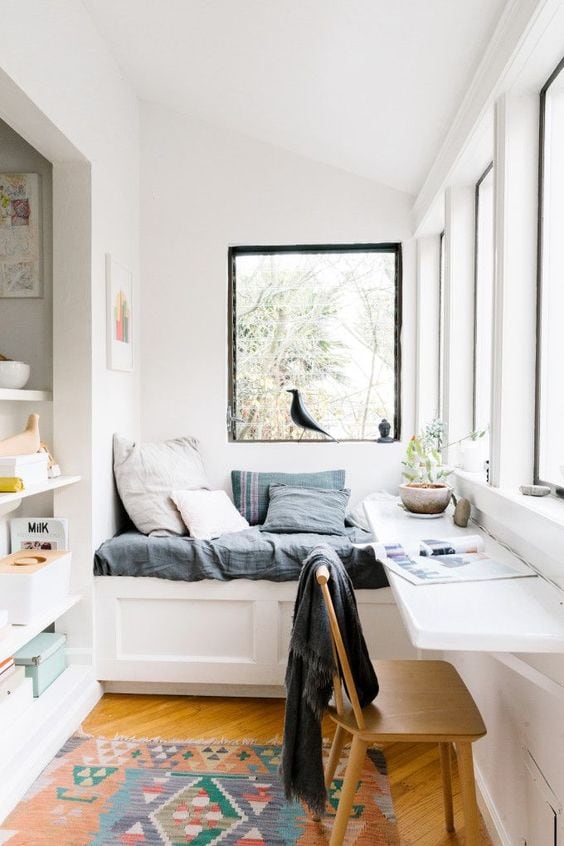 Hopefully these sparked an idea or two to implement in your own home office, no matter what that looks like for you. For us, it's currently looking like this…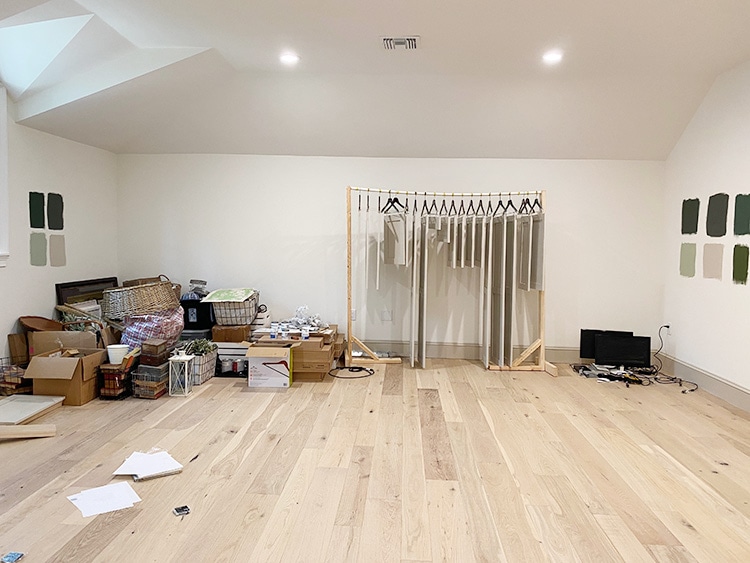 We painted the cabinet doors (as seen hanging above, more on that later) and chose paint colors… but that's about it. Our Ikea cabinets are still out of stock and that has been holding us up, but there's also many small design decisions that have yet to be made. One of them is our desk chair.
My search began a few days ago and I quickly went down a rabbit hole, changing my mind several times. During this process I managed to find quite a few nice (budget!) options, and figured I'd share them with you if you're also on the hunt (and to help me decide!) At first I was certain I wanted a wicker chair, like this: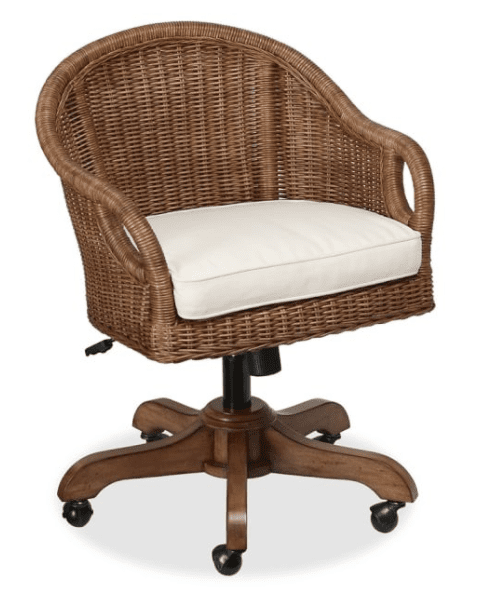 But this one is $600 from Pottery Barn and of course that's not happening. Then I found this one from World Market and it was perfect…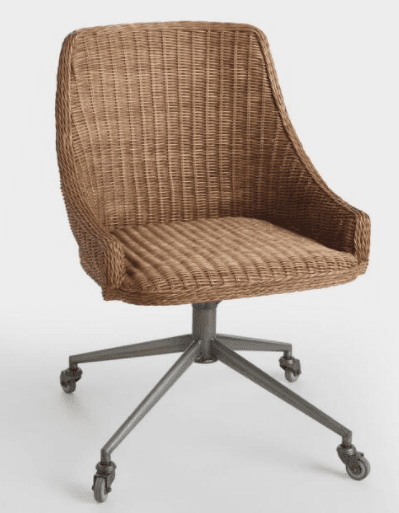 …but it's no longer available! And that is literally the only wicker/rattan/woven desk chair under $300 in the world. I searched every page of Google (but if you know of one hiding out there, let me know!)
So then I thought, well, does it have to roll and swivel? I've worked from home full time since 2011 and never had a rolling desk chair. Stationery cushioned chairs have been just fine with me. Once you open up that door, there's a plethora of options. Here's a few other wicker chairs I began to consider…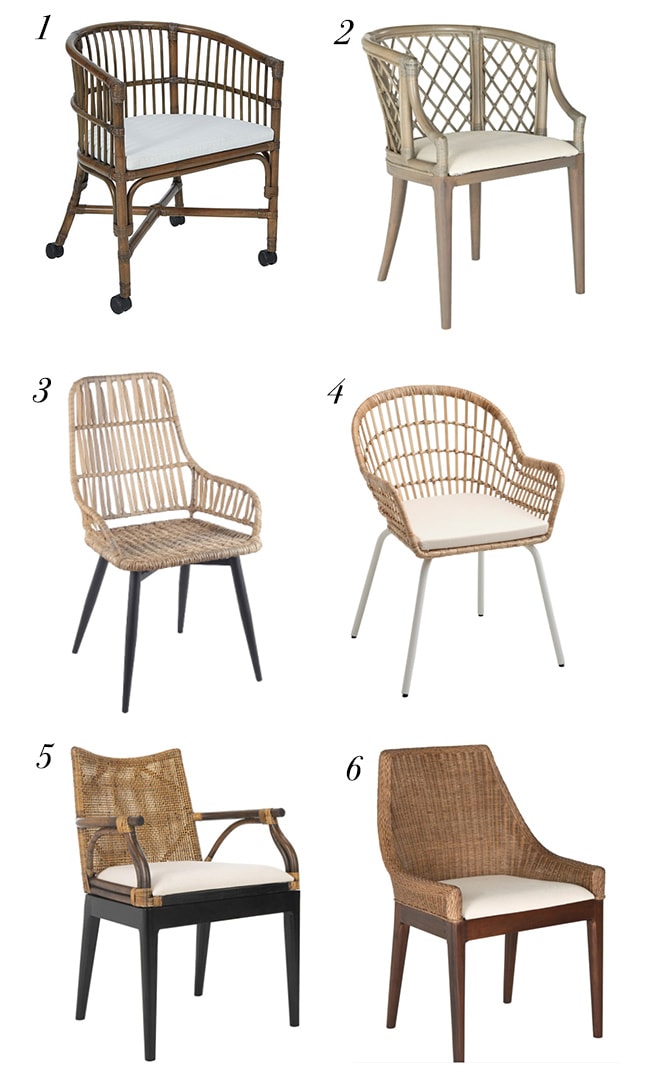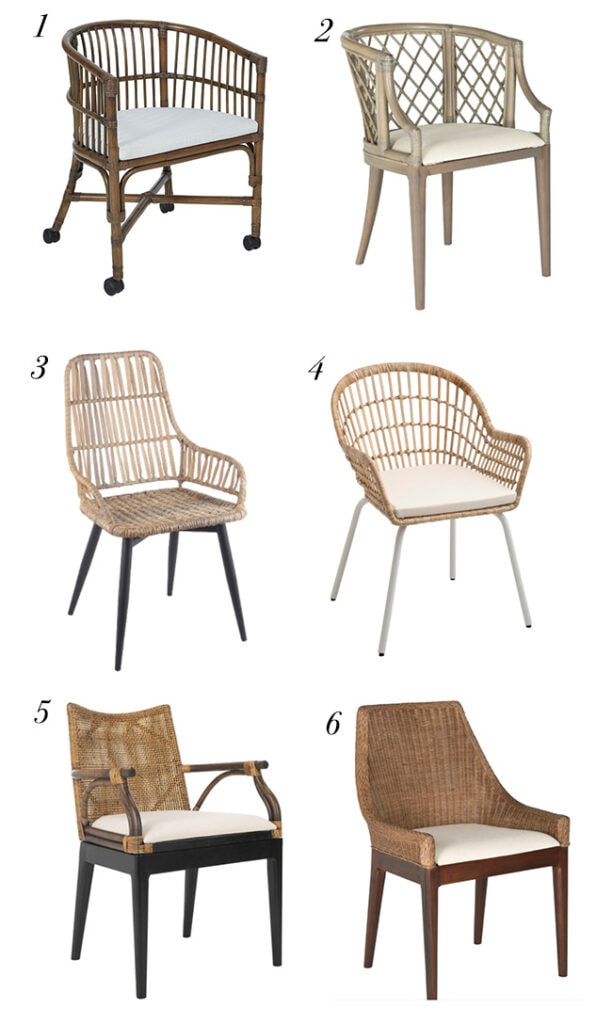 Okay, I wasn't actually considering this because of the price, but I had to put it on the list because it does roll and would be pretty awesome if you have the budget!
This chair just went out of stock, but it looks nice.
If the wicker chair idea wasn't going to work out, I might as well see what other rolling desk chairs are out there. Turns out, there's a lot! I could create about 100 different roundups for each category, but I was drawn to earthy green and set out to find the best budget options…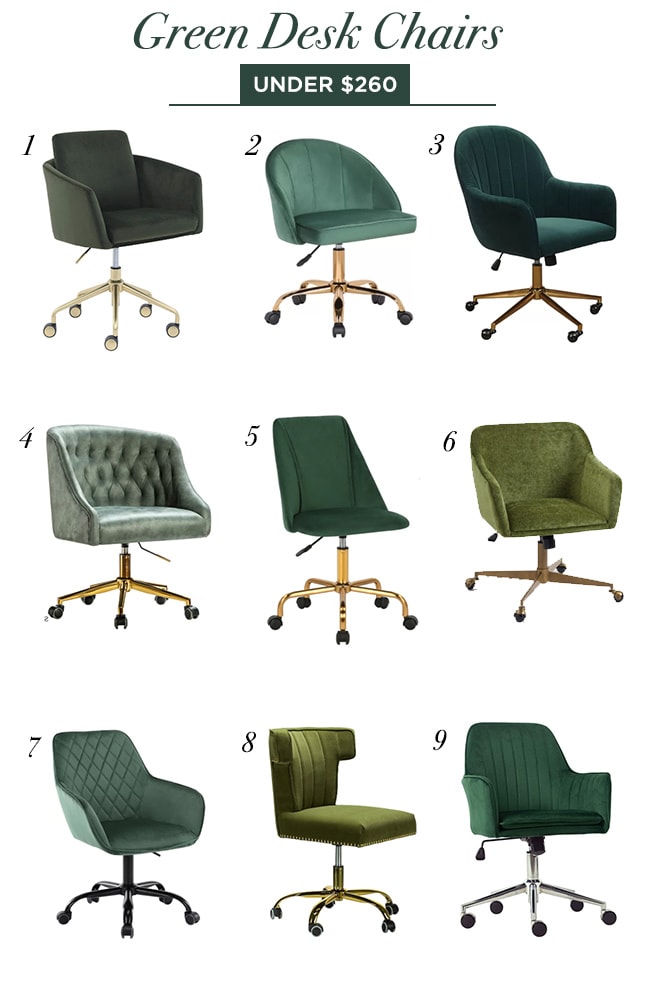 The most expensive on this list but I think this was my favorite—it just went out of stock so hopefully it comes back soon!
I would gold Rub n Buff the legs on this one.
Yep, I would Rub n Buff the legs here too.
Naturally, I came across just as many non-rolling/swivel green velvet chairs and had to include a few for consideration…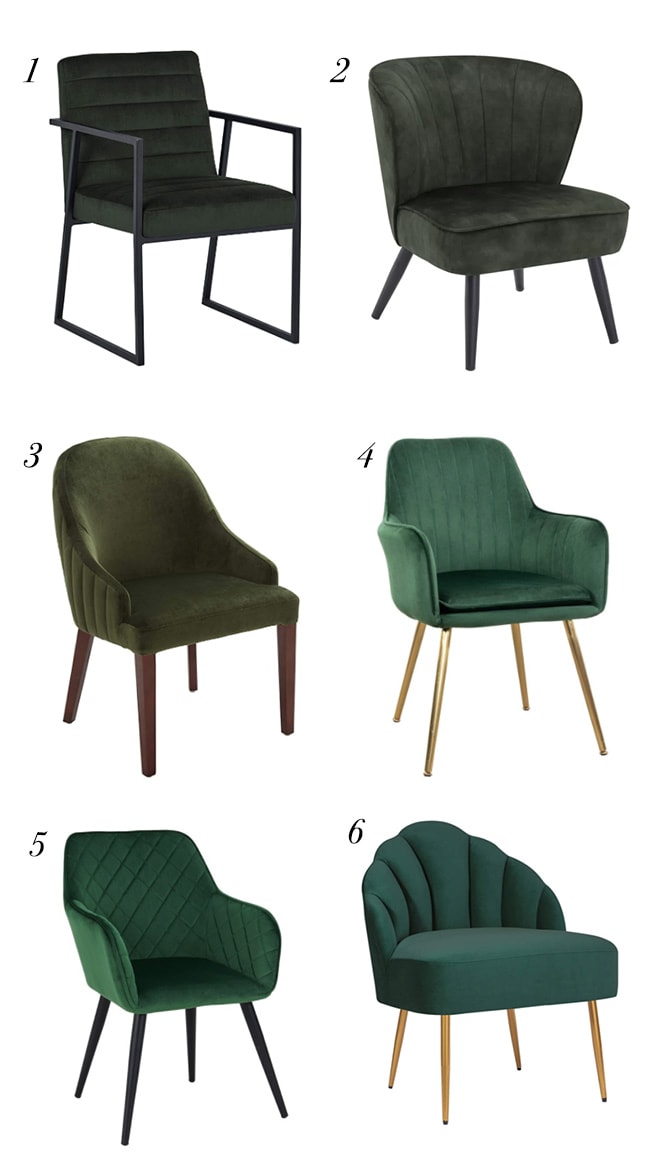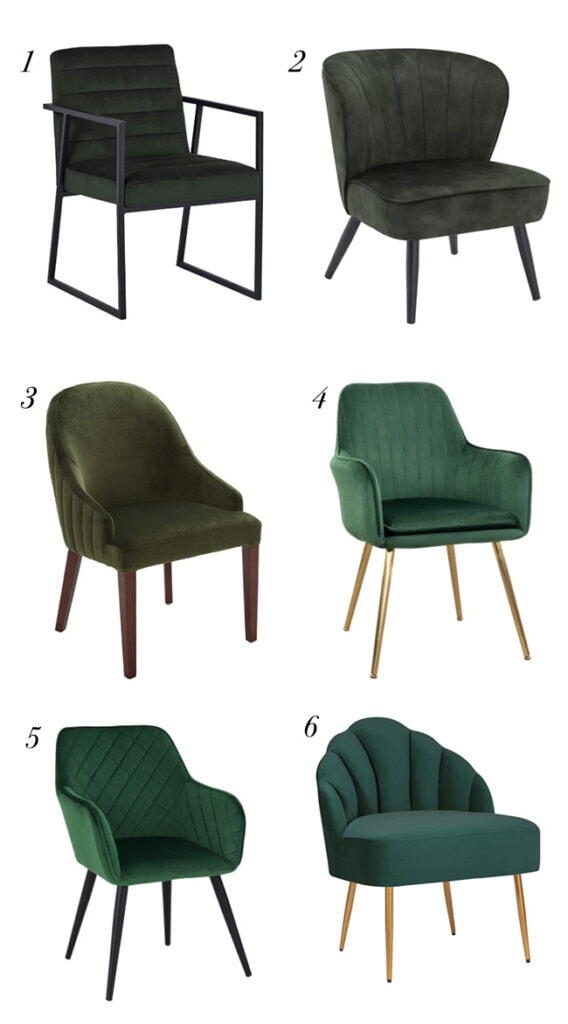 From this list I'm leaning towards #3. It has 5 star reviews, I love the olive green tone, and there's a customer photo in the reviews so I know exactly what I'm getting (plus free returns if it doesn't work out).
But then I got a wild hair. What if I did something different—something unexpected? A bold color, interesting texture or fun pattern? I don't want to compete with the mural wall, but this desk will be on the opposite side of the room so they won't be near each other. A classic pattern (stripe, plaid, houndstooth) in a dark color to contrast from the light desk wall led me to these (more affordable!) candidates: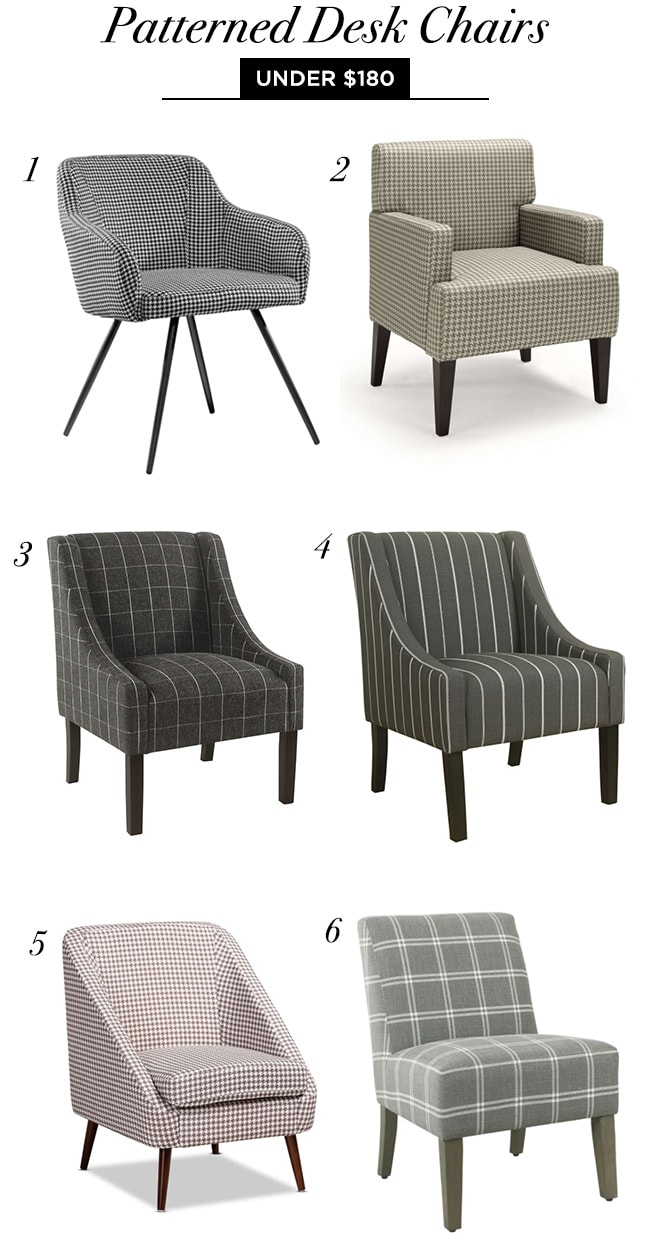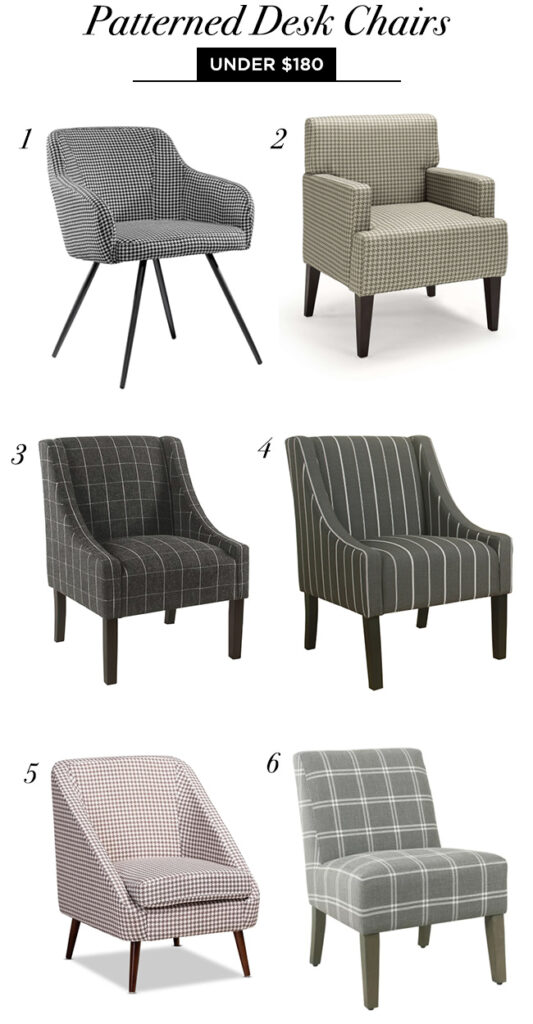 2. Parlour Scotty Houndstooth Accent Chair, $146
Do you have a favorite out of those? I'm leaning towards #3… I'm a sucker for black + white pinstripe plaid. What's you opinion on desk chairs in general—are casters and a swivel required for you? What about armrests? Seat cushion? Looking at all of the home office inspo, it's clear that there's no one-size-fits-all approach. Comfort is my only requirement… although I'll probably still end up working on my laptop in bed because it's the most comfortable place on earth 😉
Today we're starting on our DIY wainscoting which will be a multi-day process with both of us working and watching a baby, but I hope to have it painted and photographed for next week's blog post (if I'm a day or two late… you'll know why!) I'll be sharing live updates over on my Instagram, so follow me there for all the sneak peeks before the reveal!