You've seen our kitchen a lot on this blog, but have you ever wondered what's inside those drawers and cabinets? Today I'm opening up our doors to show you just how we keep everything organized. Come take the tour!
We worked with Lowe's to design our kitchen three years ago, and chose Kraftmaid cabinets (in mushroom, now discontinued)—you can find more details in this Kitchen Reveal post. Many of Kraftmaid's built-in cabinet storage options were included in our design, but we also left a few drawers empty so we could add our own later.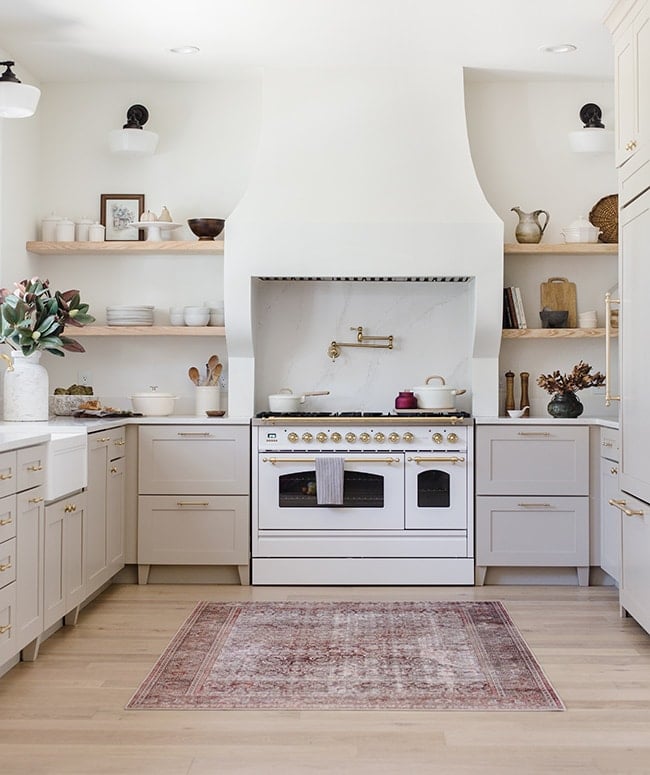 Last year, I finally got around to organizing our spice drawer, under-the-sink cabinet, and junk drawers—you can see more in my kitchen organization ideas post.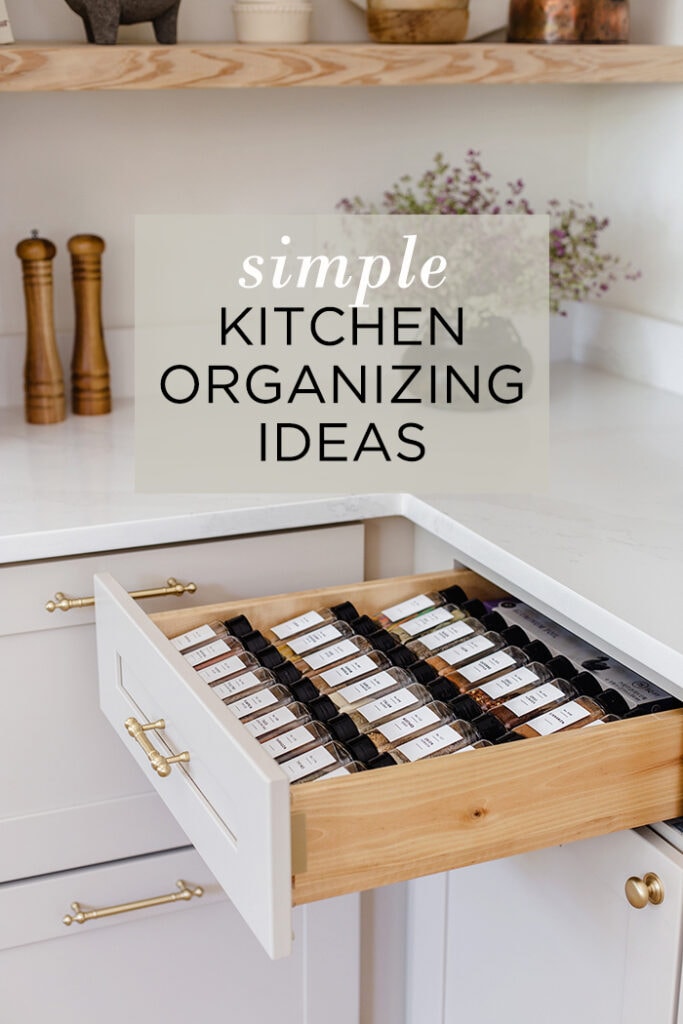 In the spirit of January, I thought it would be fun to share a tour for anyone else looking to tackle kitchen organization this month. I'll be opening up every drawer/door, sharing the storage solution we used (and the cost/where to purchase) PLUS a lower-budget alternative.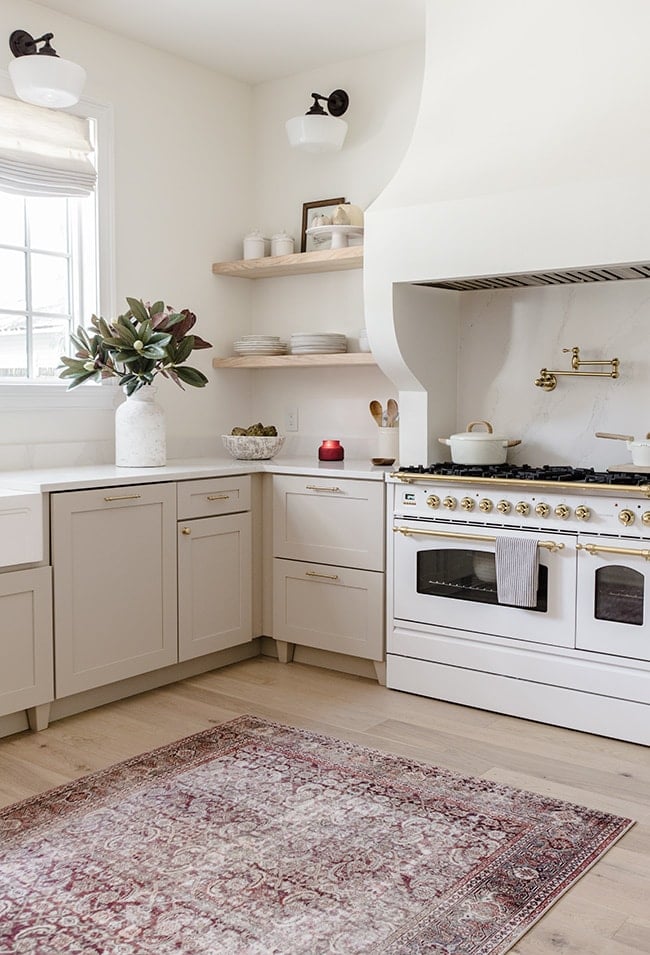 FYI: I don't recall the exact details but Lowe's was running a sale when we ordered the cabinets (I believe it was 20 or 30% off) so the prices I've quoted below reflect that discount. PS—I just checked and they're currently offering up to 30% off kitchen cabinets!
Small appliance and Drinkware hutch
This is one of my favorite kitchen features because it's unexpected, unique AND hides our appliances & drinkware!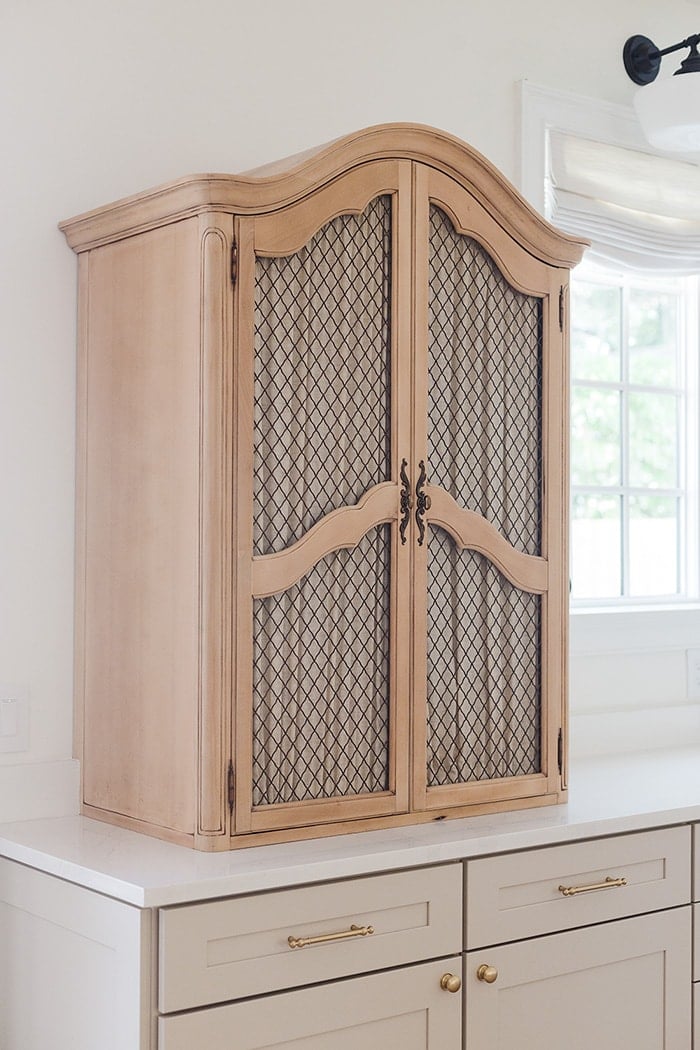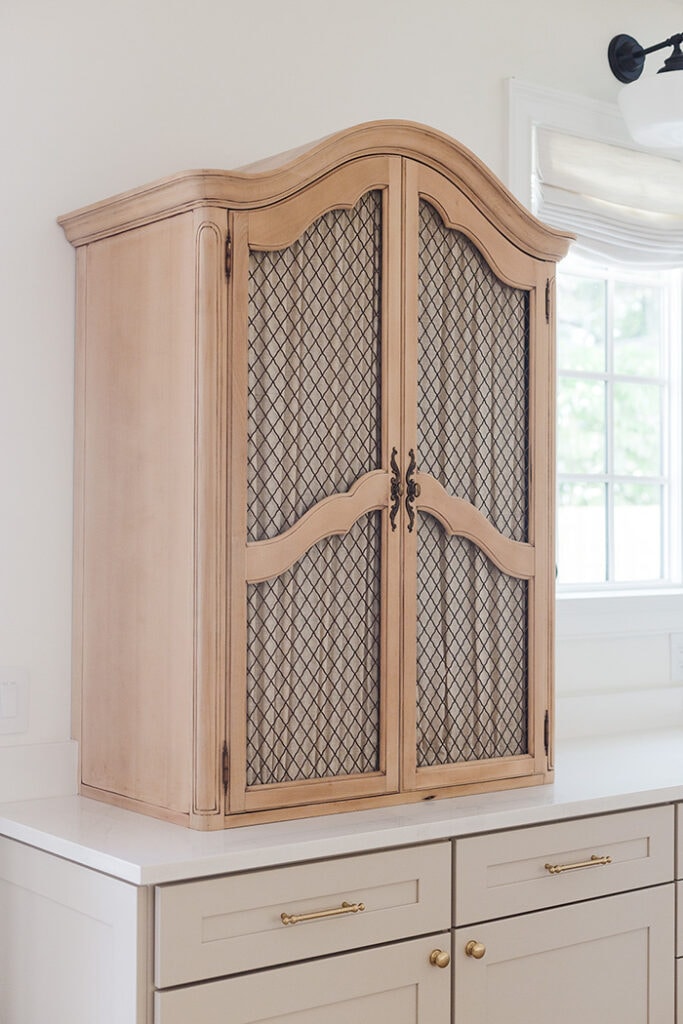 I found this vintage hutch secondhand online (I think it was around $50?), removed the top portion and sanded it down to bare wood. It was the perfect size to hold our microwave, toaster, cups/barware, and drink shelf on top. It also has a drawer where we keep our mugs and coffee.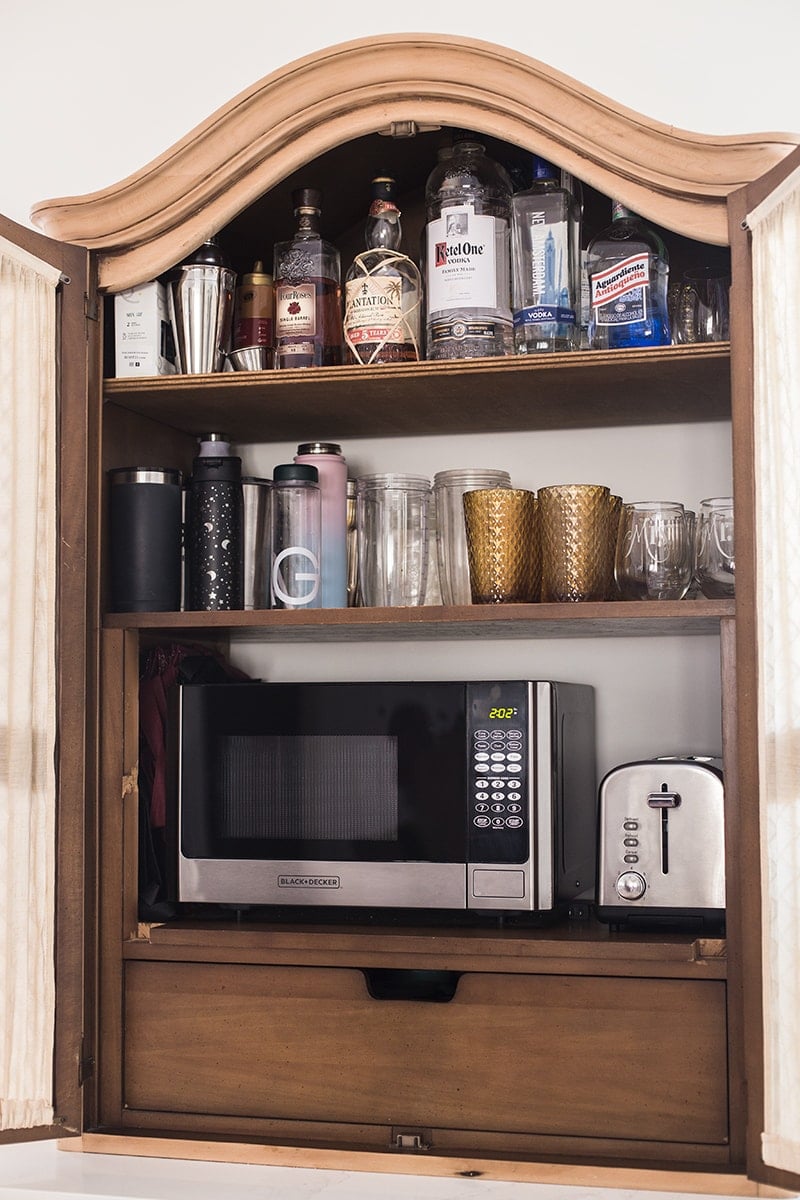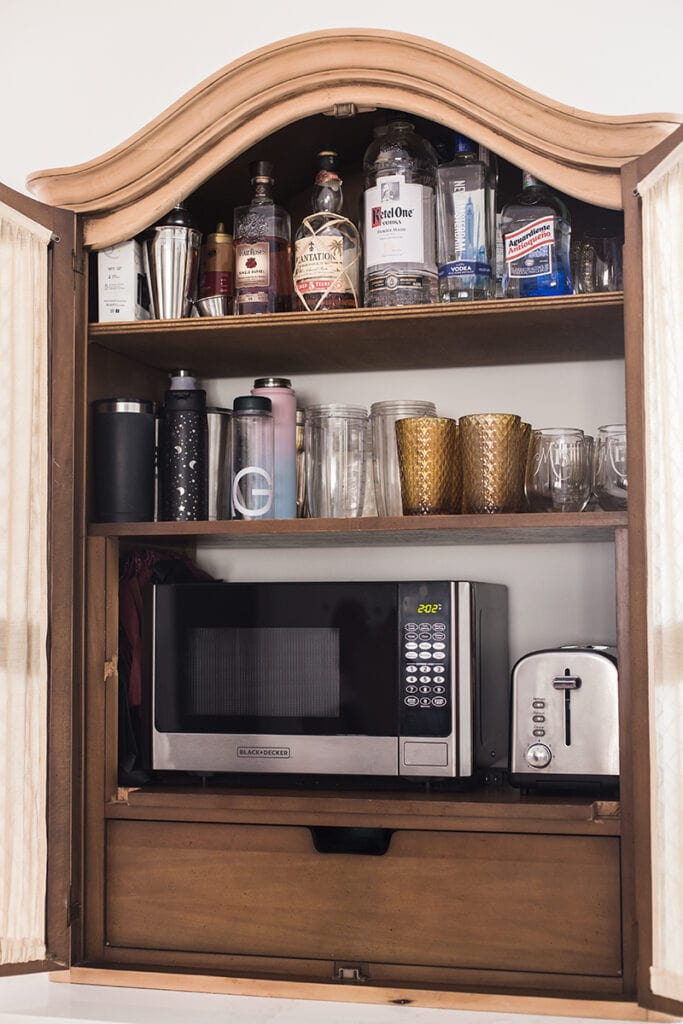 If you're looking for a low cost alternative to upper cabinets that will add a ton of character to your kitchen, this is a great solution!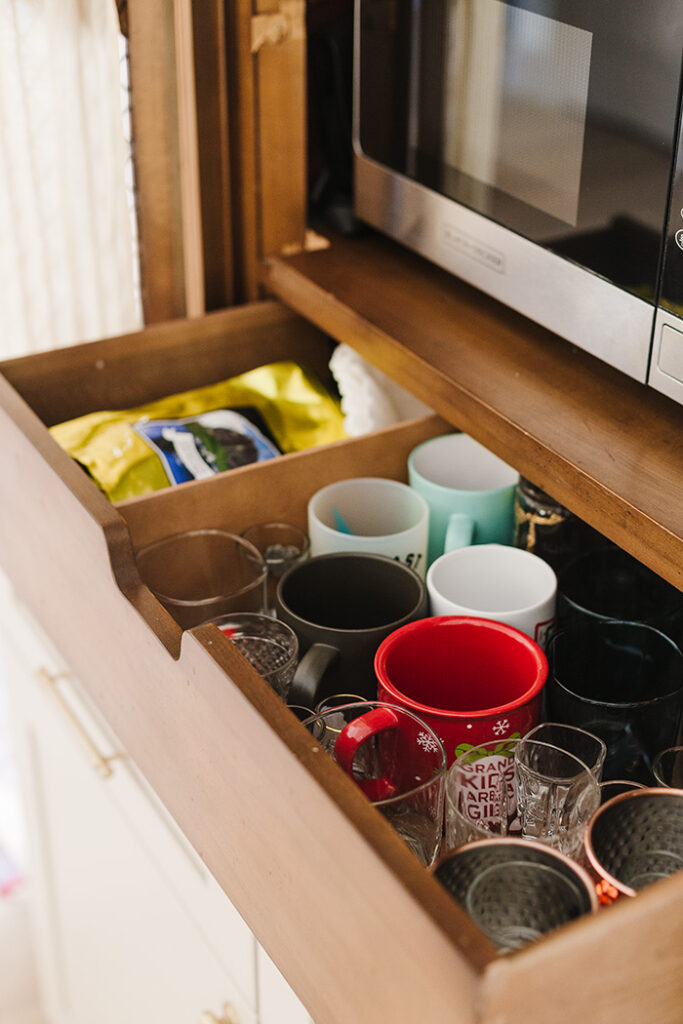 Junk drawer organization
These are probably our most frequently used drawers, and they've managed to stay organized with these bamboo tray sets! In the left drawer we keep our small household tools, sunglasses, masks, portable chargers and speakers: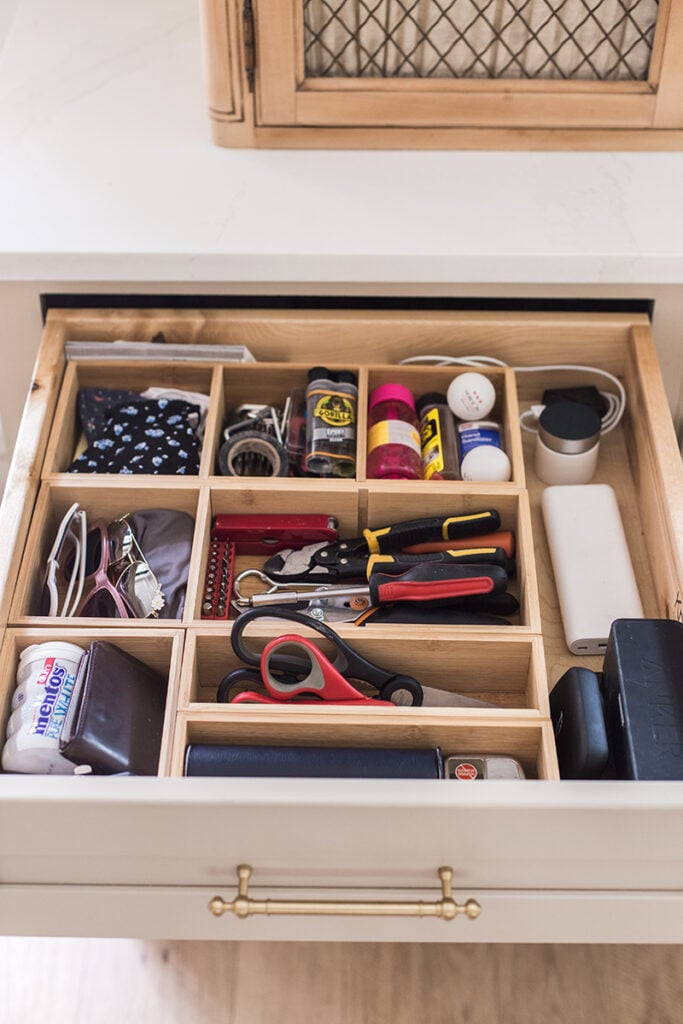 I also bought this slightly different tray set to have more configuration options between the drawers. The right drawer holds pens, flashlights, batteries, keys, chargers, tape, etc. The arrangement has changed slightly depending on our storage needs.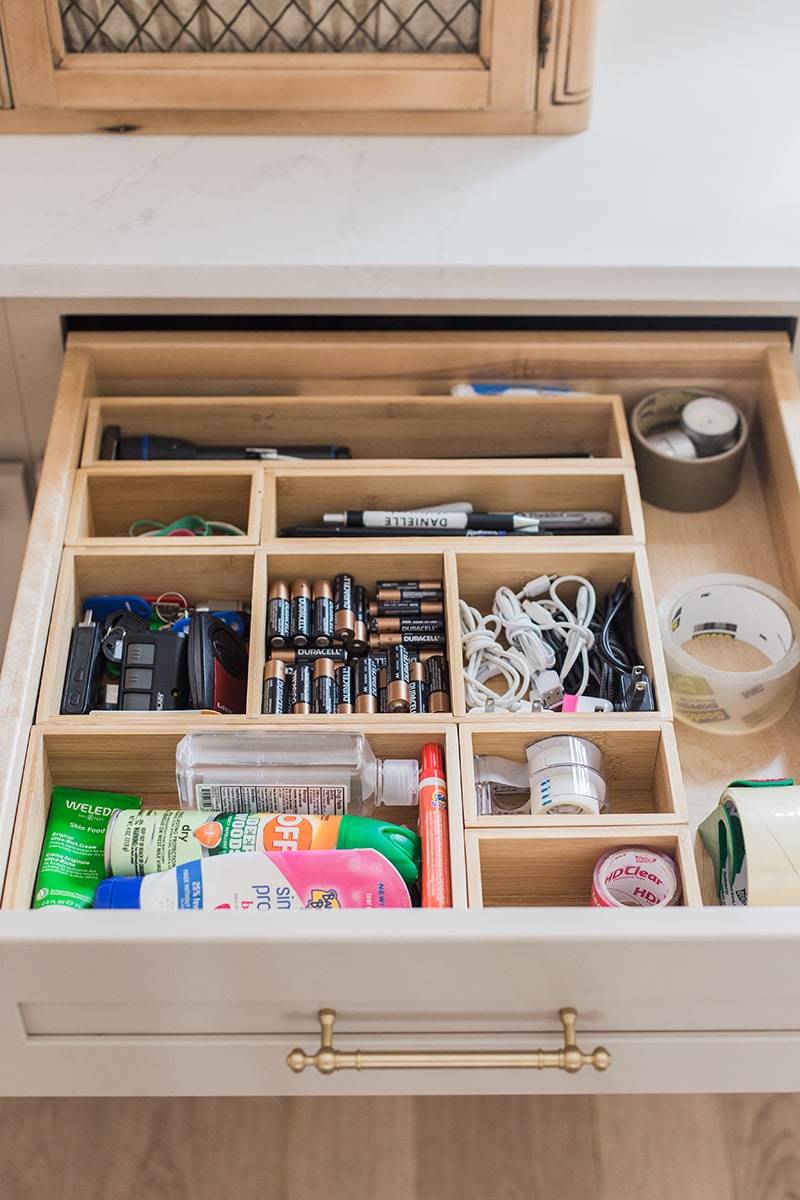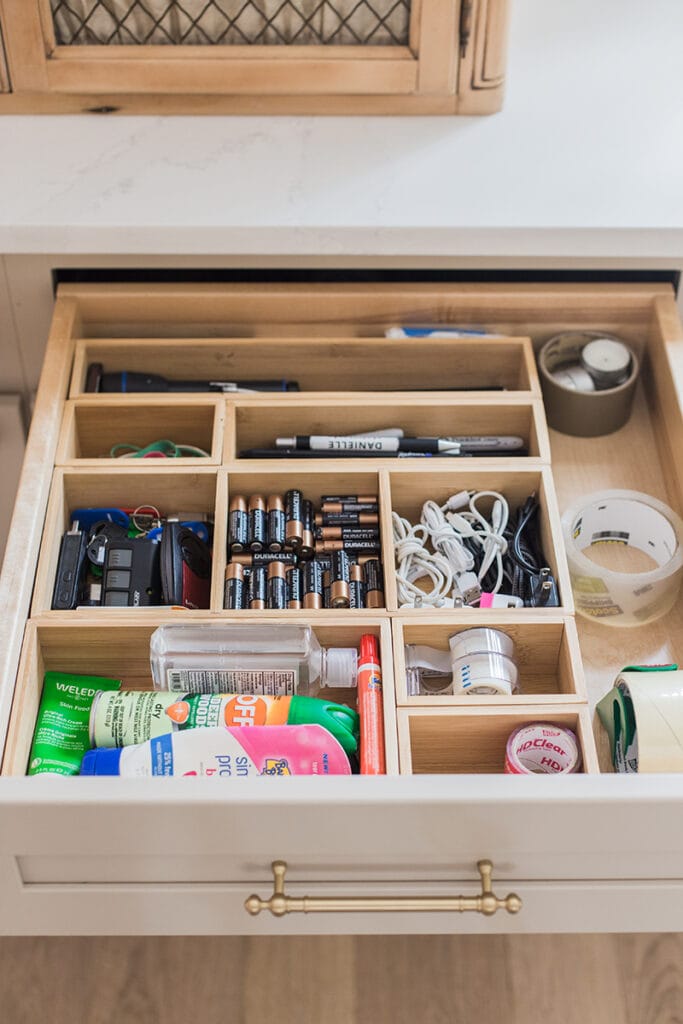 I chose these sets because the wood matches our maple wood drawers, so it has a clean and cohesive look.
Pull out cabinet drawers
Underneath our junk drawers, we have two 24″ cabinets, each with two adjustable pull out drawers. Interior drawers are a must-have for me—they make it super easy to access everything!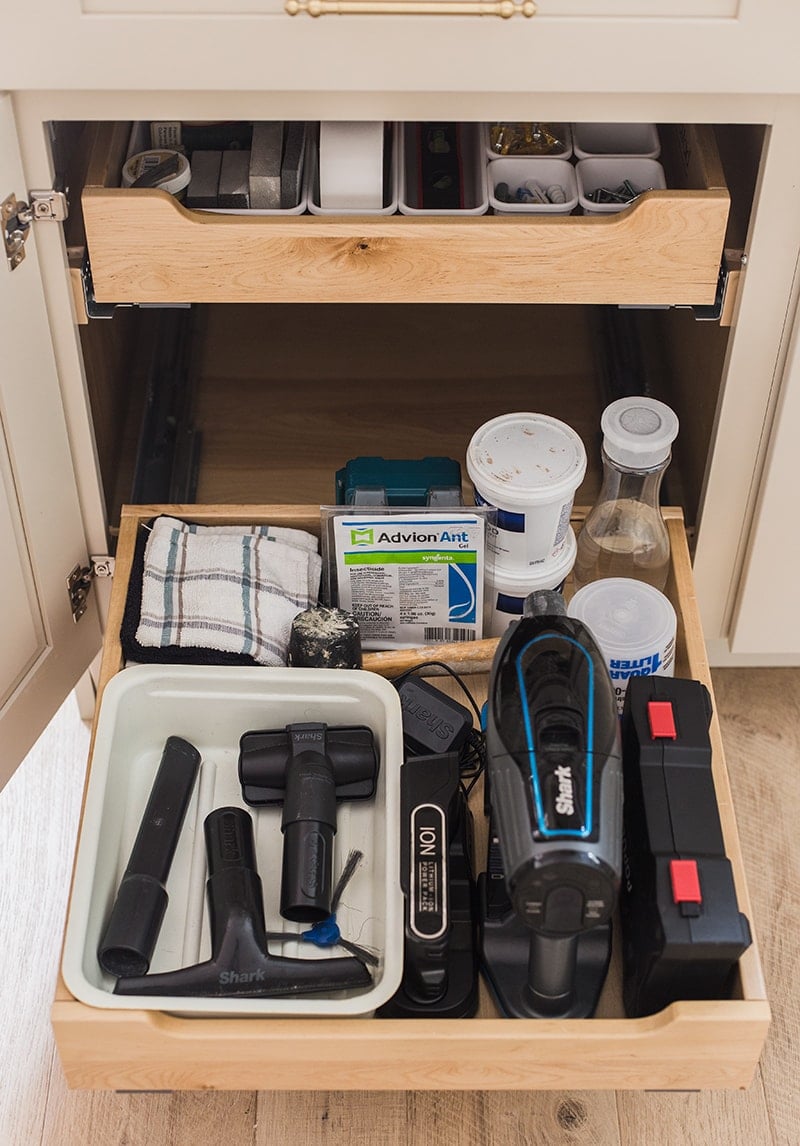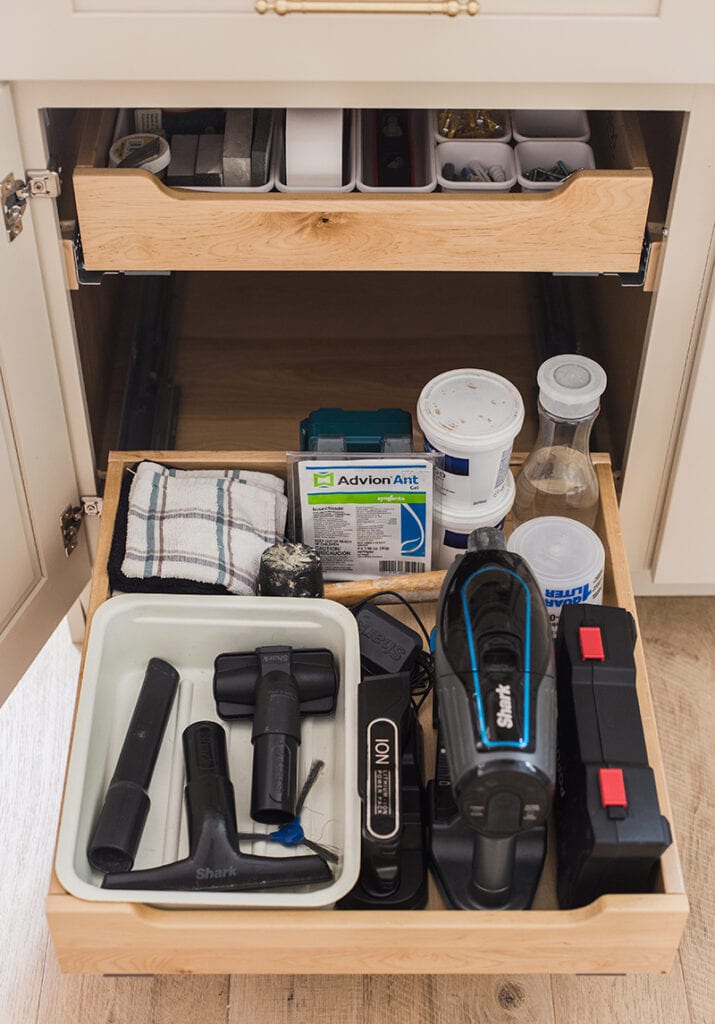 On the bottom tray, we keep our hand vacuum with attachments and miscellaneous household supplies. For the top drawer, I found these inexpensive tray organizers to corral our smaller household parts like painting supplies, hooks, screws, anchors and nails.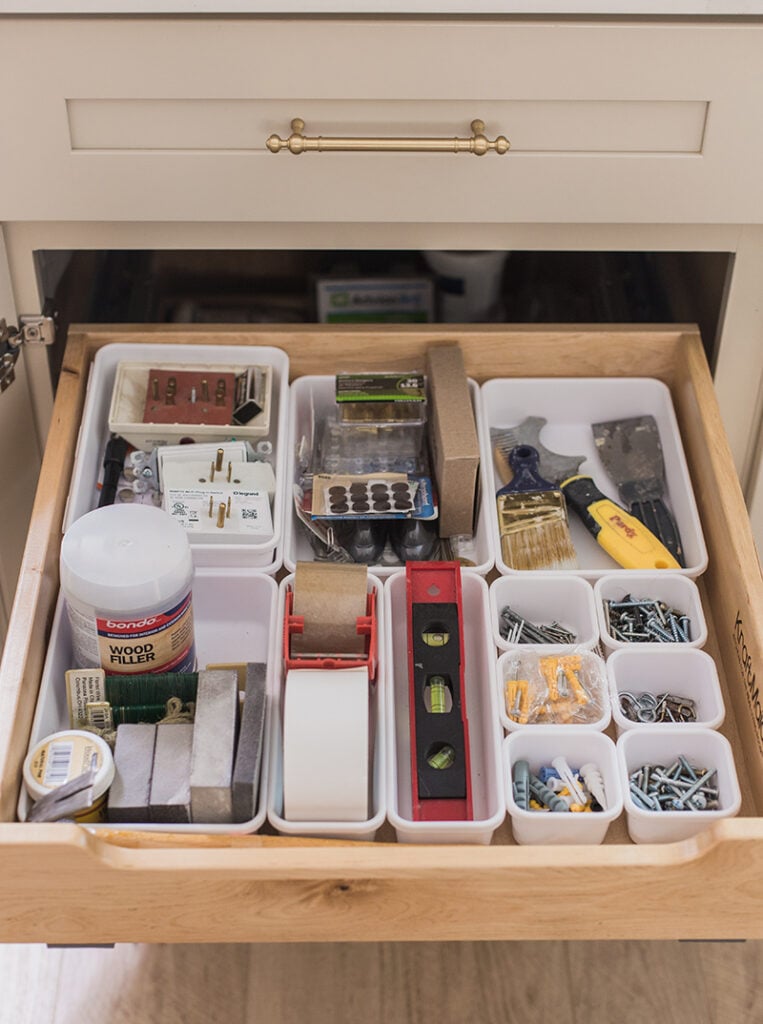 The next cabinet over holds our small appliances on the bottom tray (instant pot, blender, kettle, spiralizer):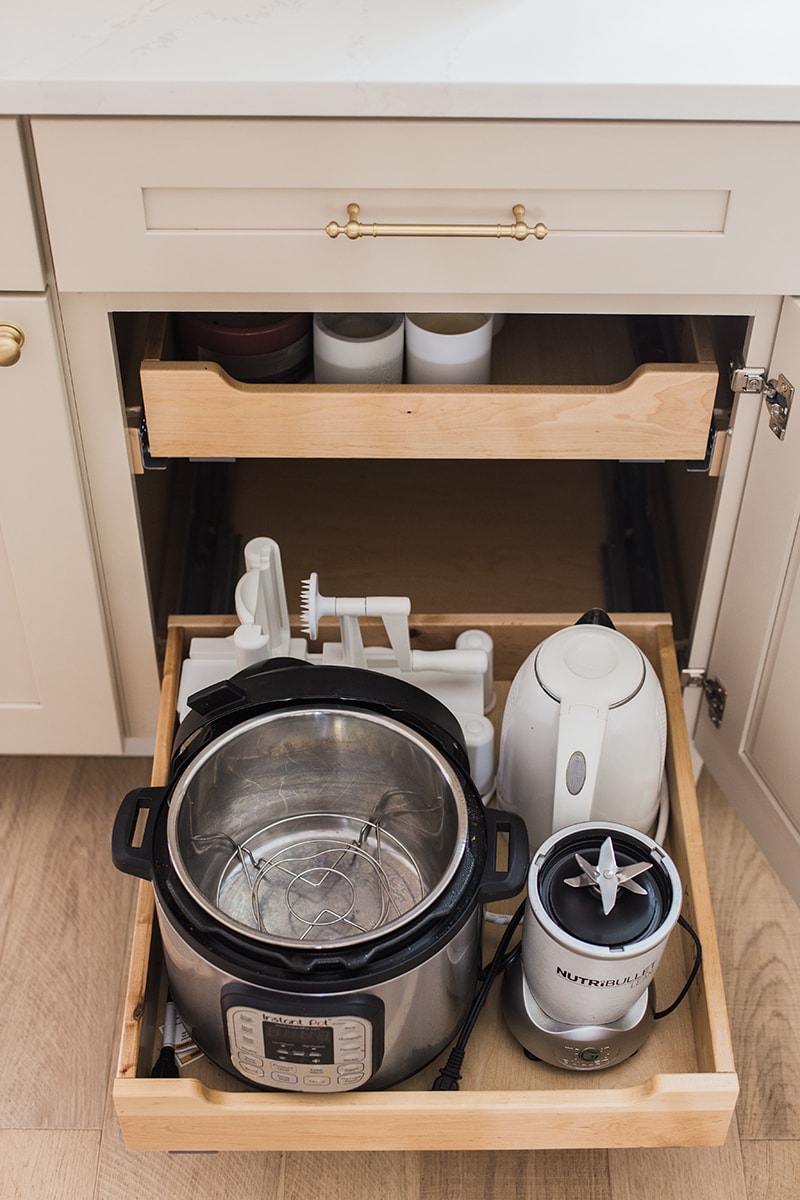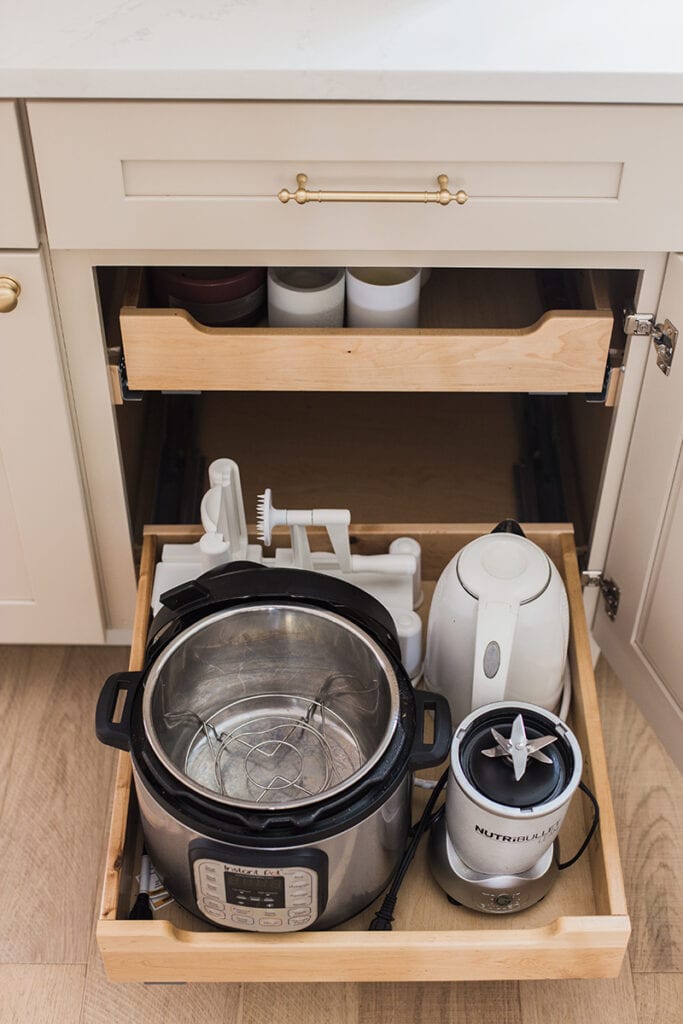 The top drawer continues to evolve as our needs change, but right now it holds our handheld kitchen gadgets (mandolin, coffee grinder, hand blender) plus an assortment of candles I burn often.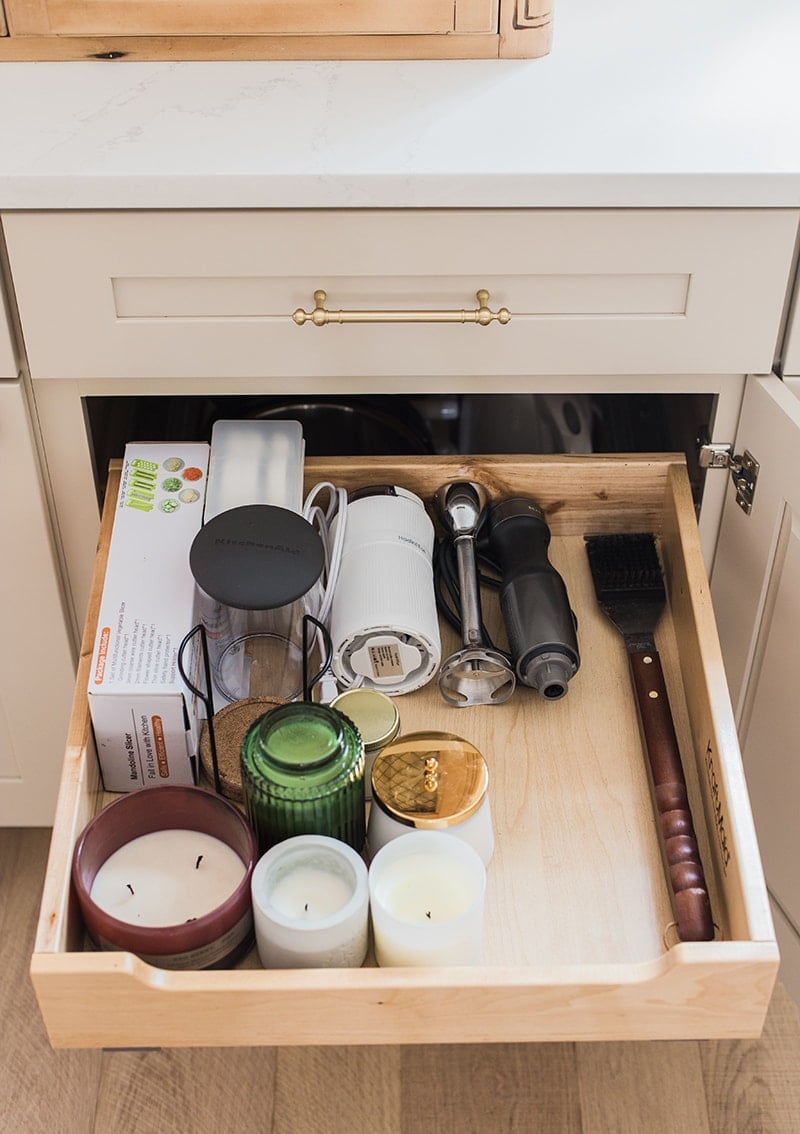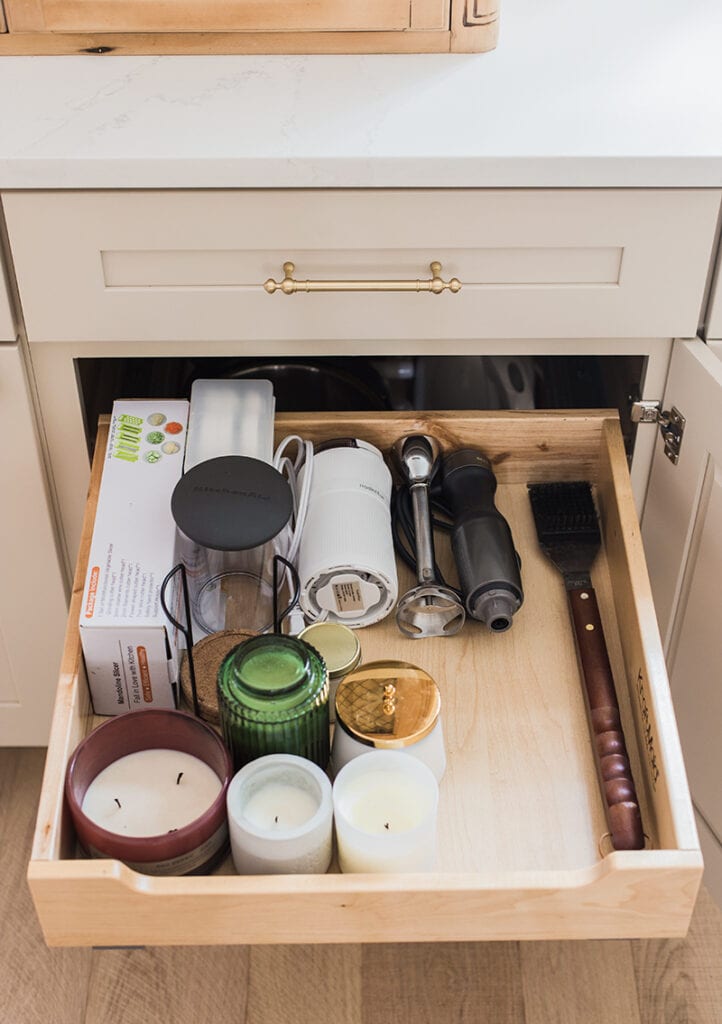 The four Kraftmaid drawers cost us $492, but I found a lower cost alternative below:
Tiered utensil pullout
The next drawer over has a really great feature. Here's our everyday silverware: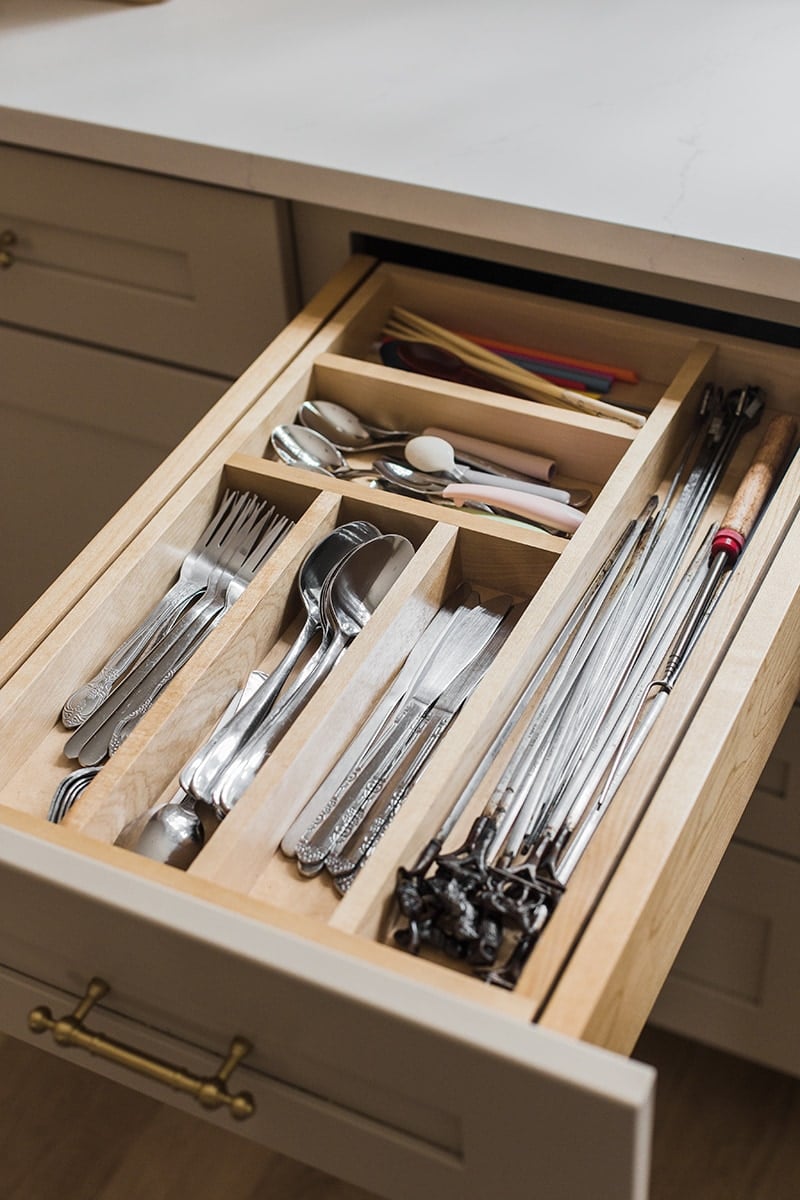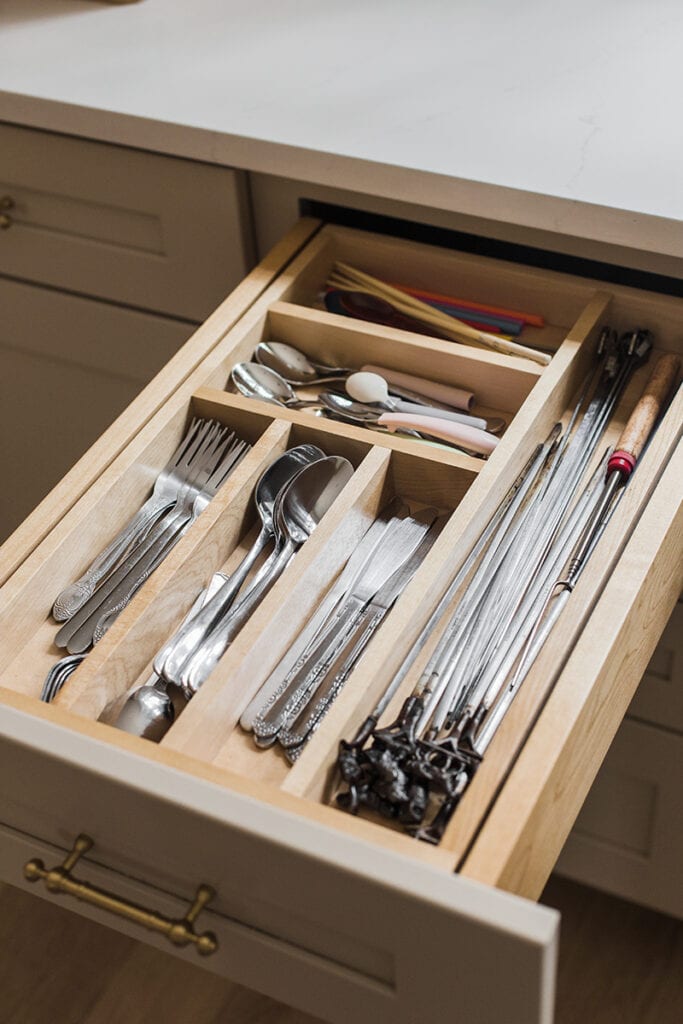 With a hidden second layer for special occasion flatware—pretty cool, right?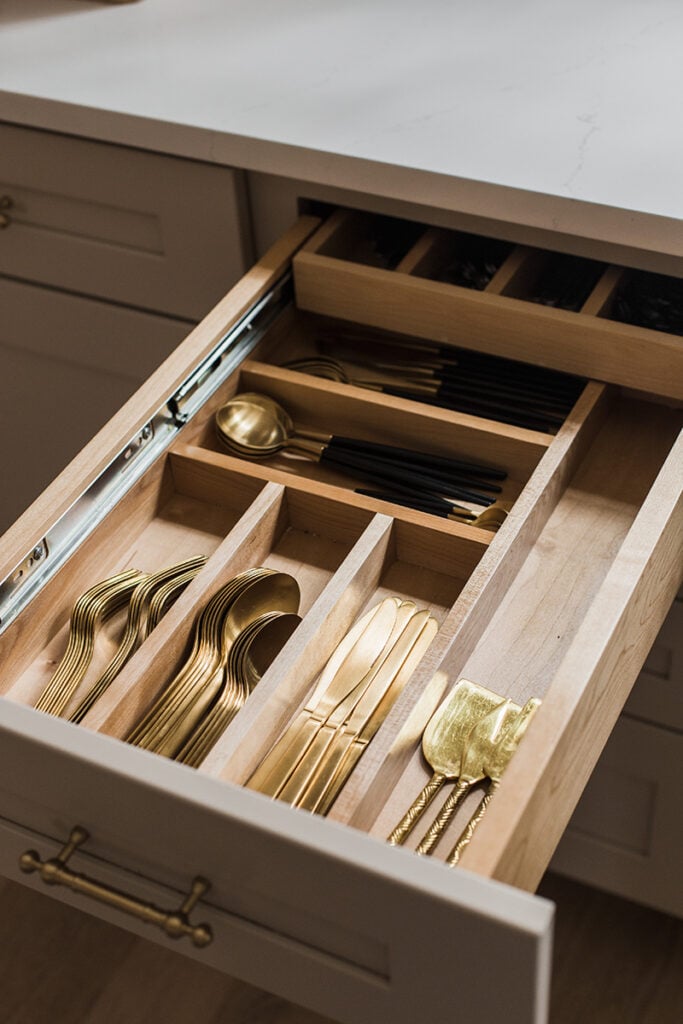 This tiered cutlery pullout ran us $187 and I believe Rev-a-Shelf is the only supplier of these, but I did find this stationery double tiered utensil organizer: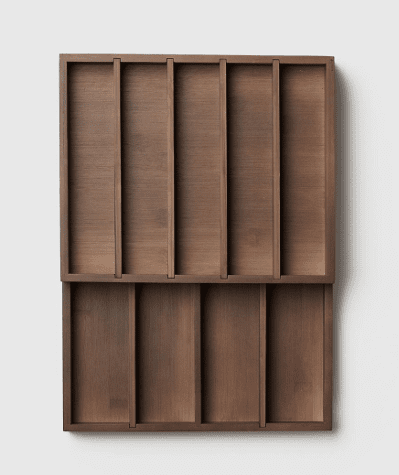 18″ Cabinet Drawers
The next three drawers don't have any extra organizers but they work just fine for our needs. Here you'll find our kitchen towels, followed by Esme's bibs/plates/cups:
The bottom drawer has become Esme's activity center. She hangs out with us in the kitchen a lot while we're cooking, so there are coloring supplies, puzzles and small toys she can take out and put back as she pleases.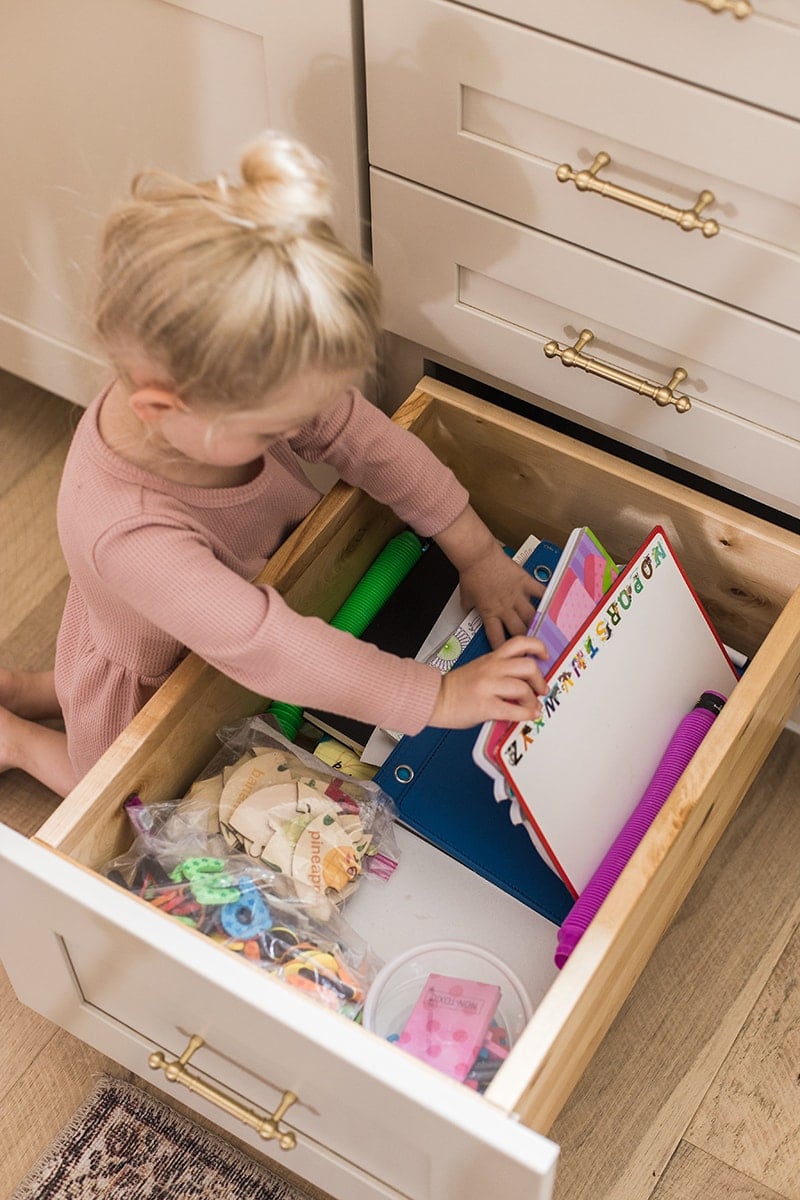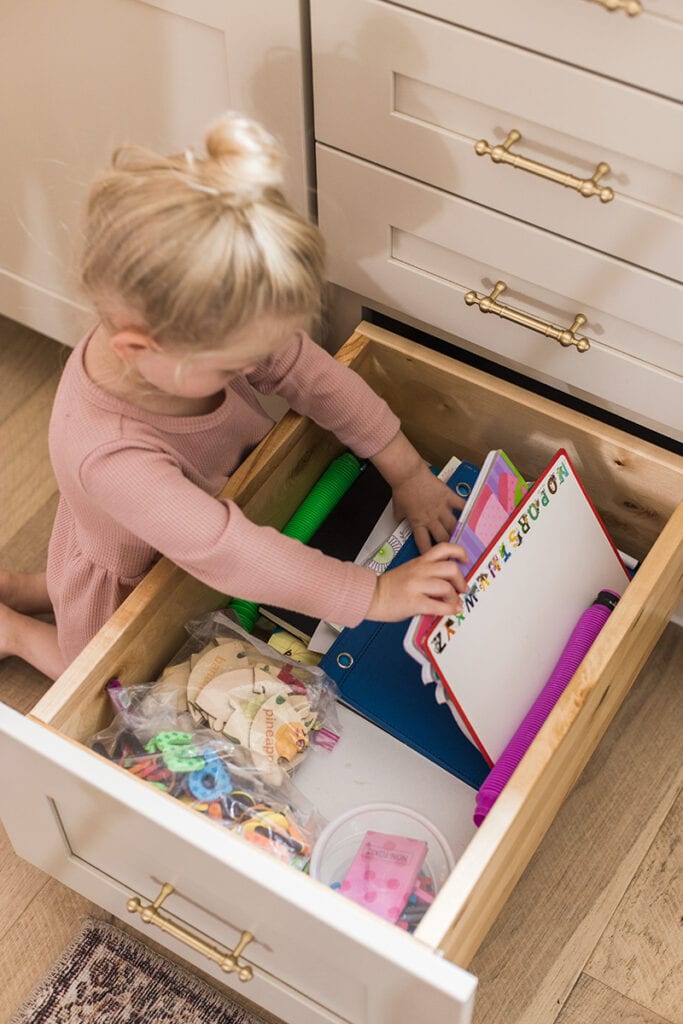 Knife block drawer
We included a knife block drawer with our kitchen order, but there was only a single row without enough slots. When I was looking up affordable options for this post, I spotted this one and it arrived this morning—just in time to take a photo!
This knife block utilizes the space much better and is definitely worth the $40, IMO (you can see our original knife block in the video tour).
We also added a hidden pull out cutting board above the knife block—we honestly forget it's even there but it's a nice feature if you're low on cutting board storage!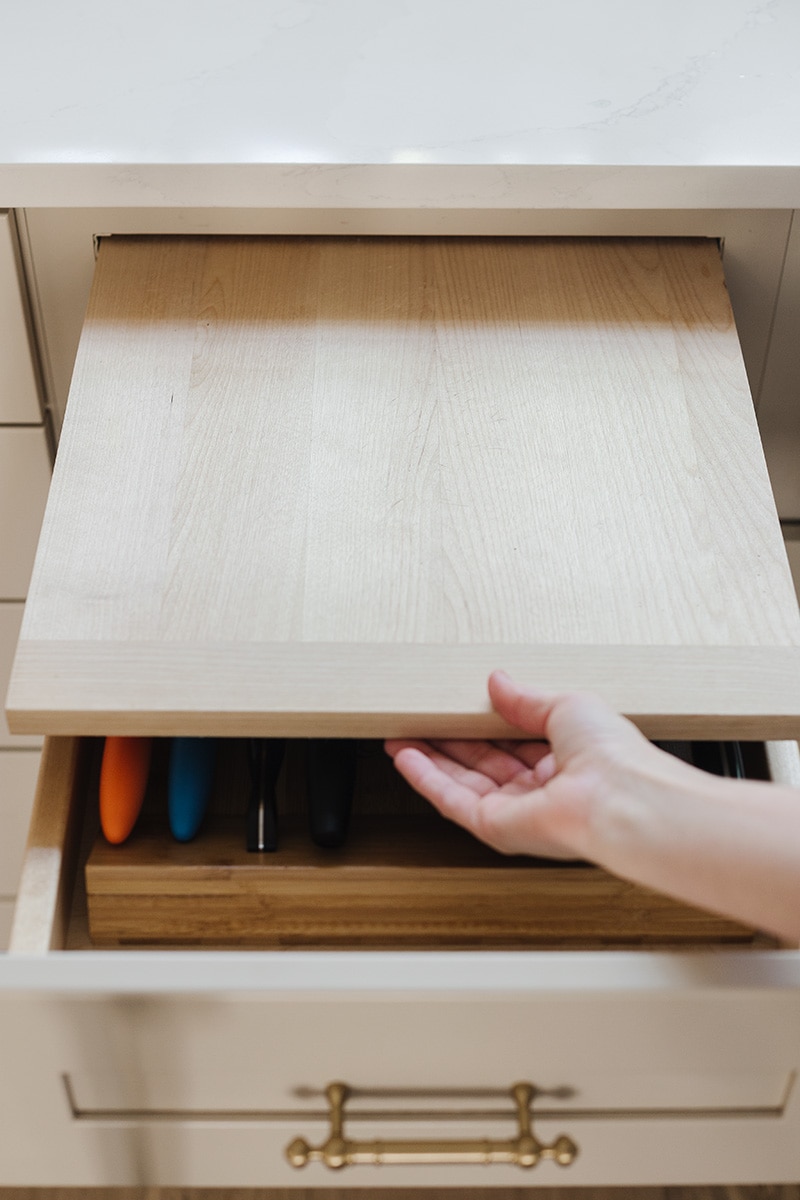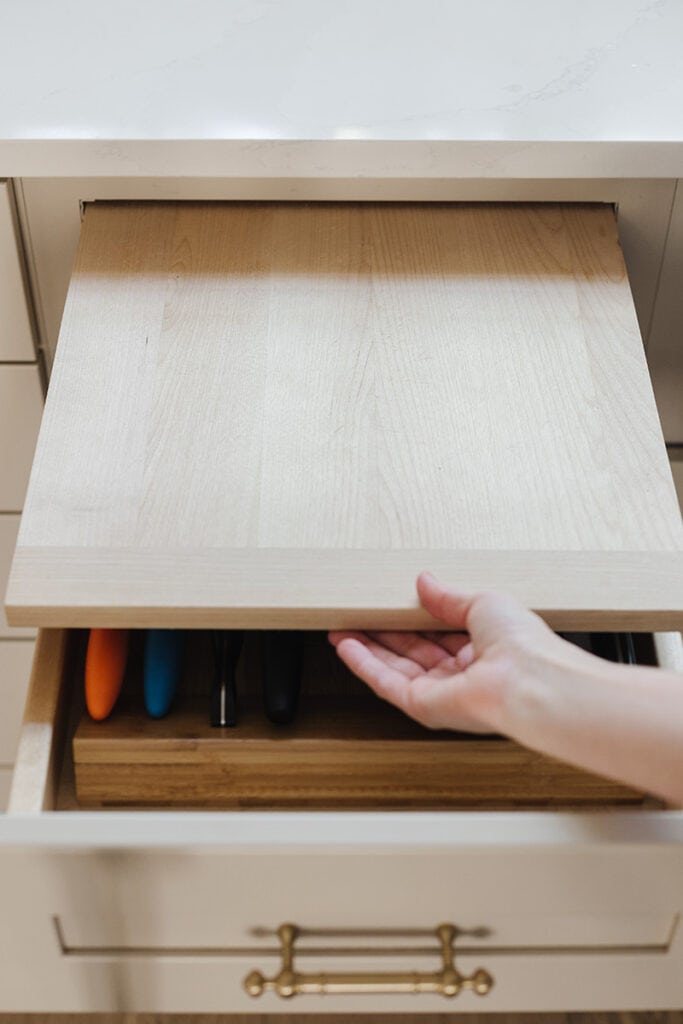 Pull out trash drawer
An integrated pull out trash drawer was a non-negotiable for us. We love having a larger capacity trash & recycling right next to the sink, and it blends in seamlessly with our cabinetry.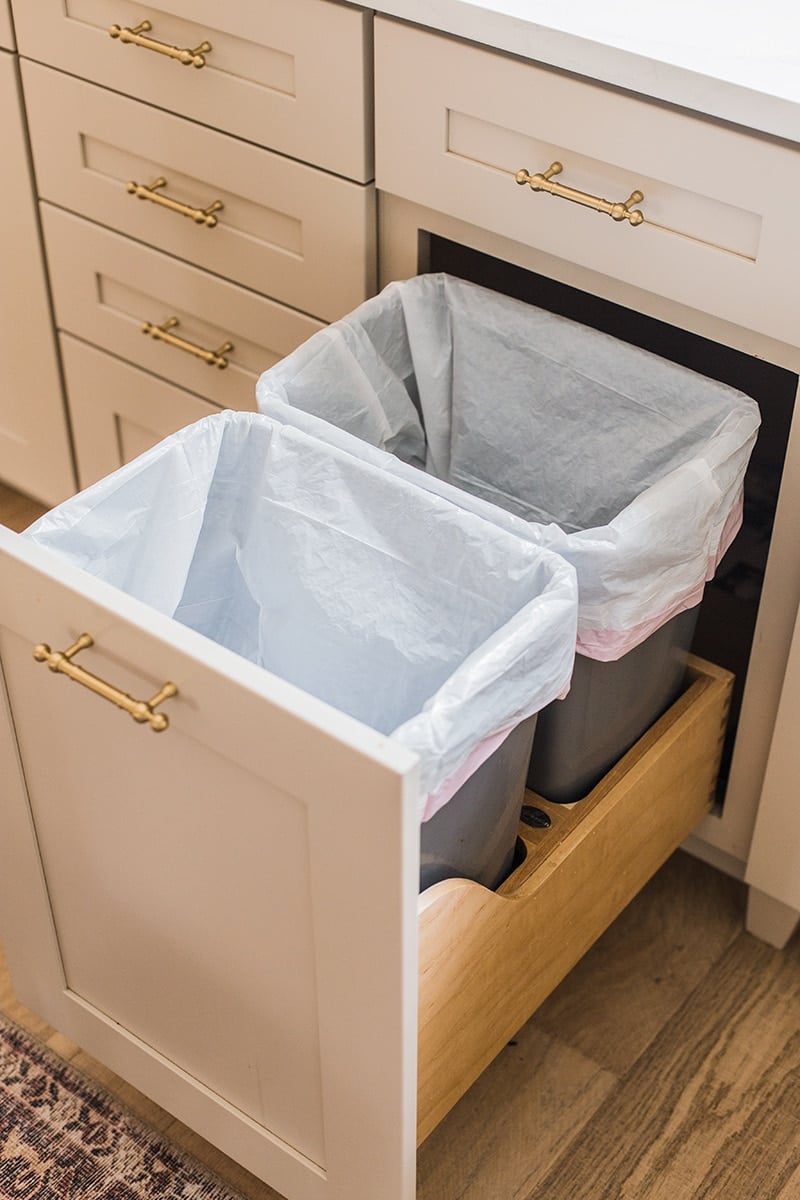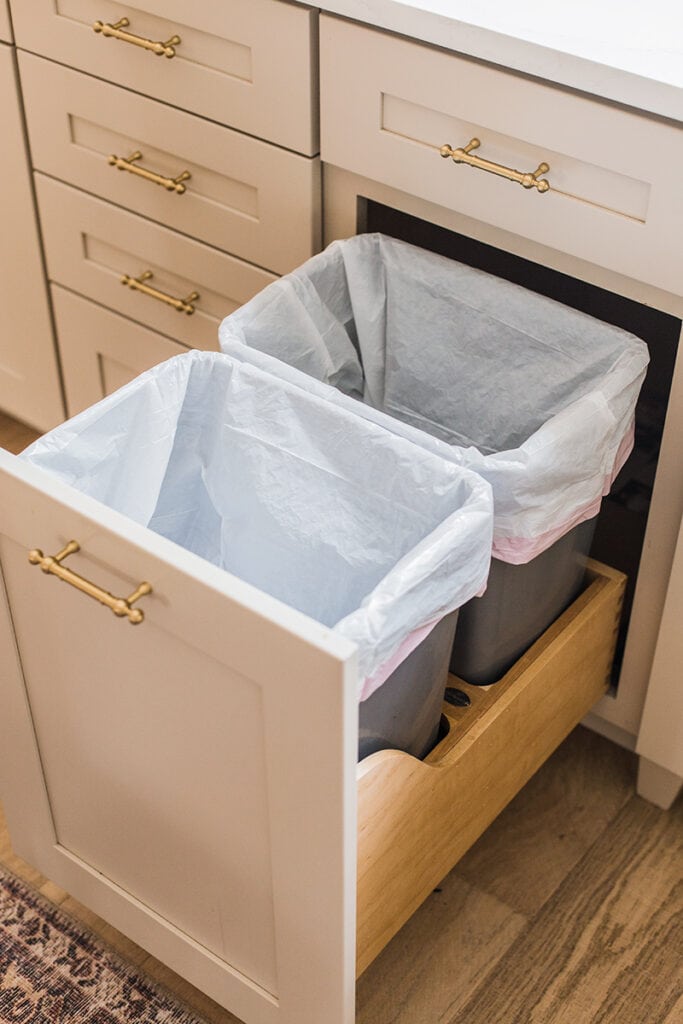 This set up cost $316 through Kraftmaid, but here's a lower cost integrated option below: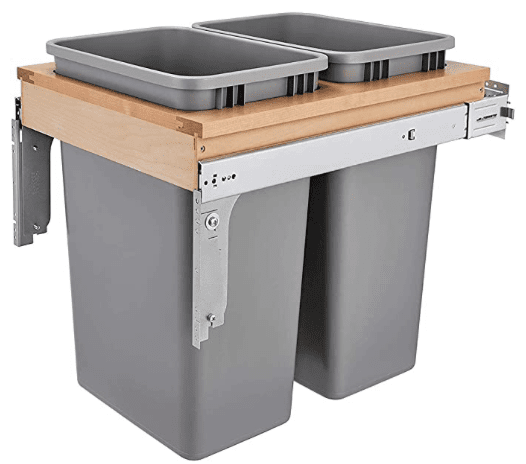 Under the sink pull out shelves
These pull out shelves are one of the most useful budget storage solutions in our kitchen. They fit around the sink plumbing perfectly, and the second tier on top is perfect for smaller items.
This particular system was the best deal I've found, and they also work for bathroom sinks too!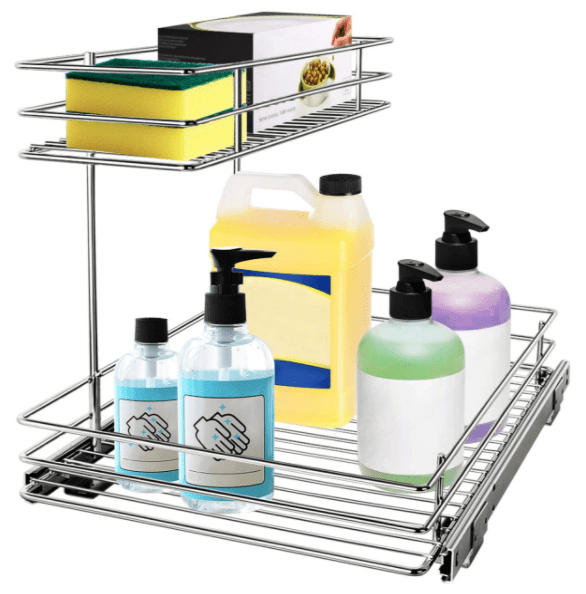 Integrated dishwasher
I prefer using a panel-ready dishwasher when the budget allows—it just looks so clean! We've been happy with our Bosch 800 series (discontinued).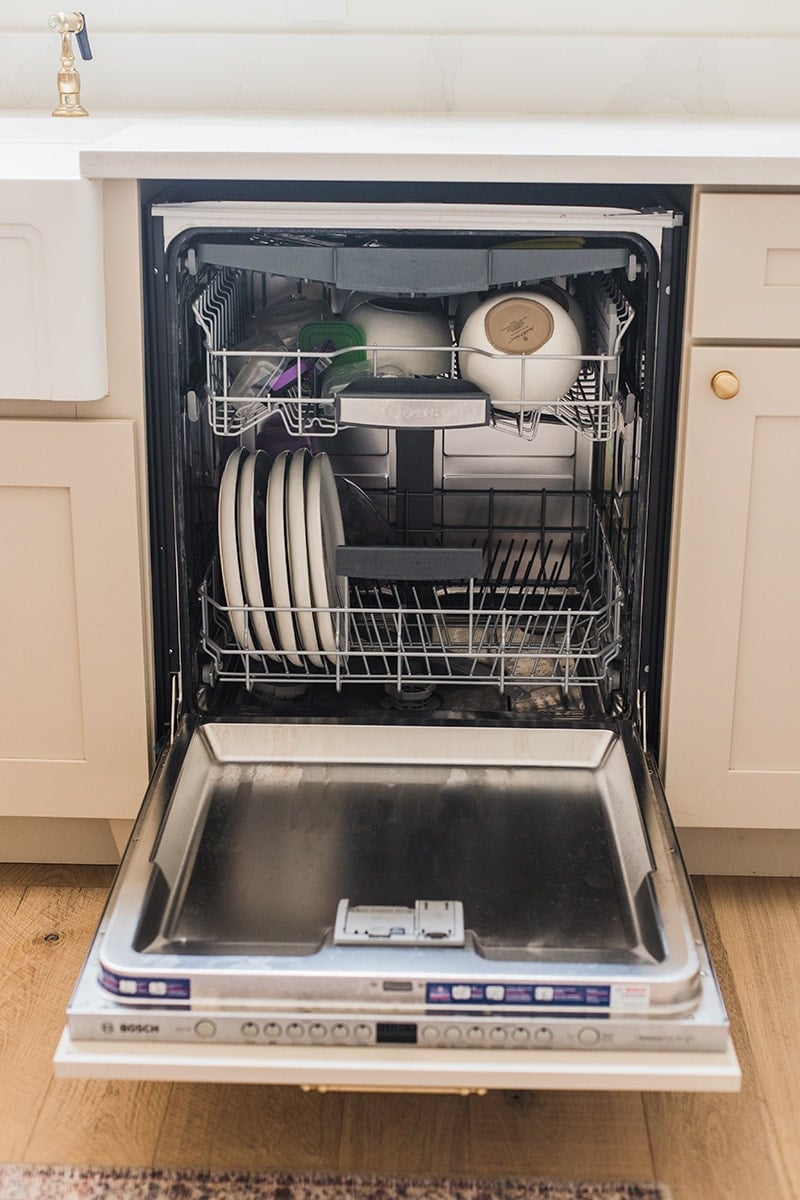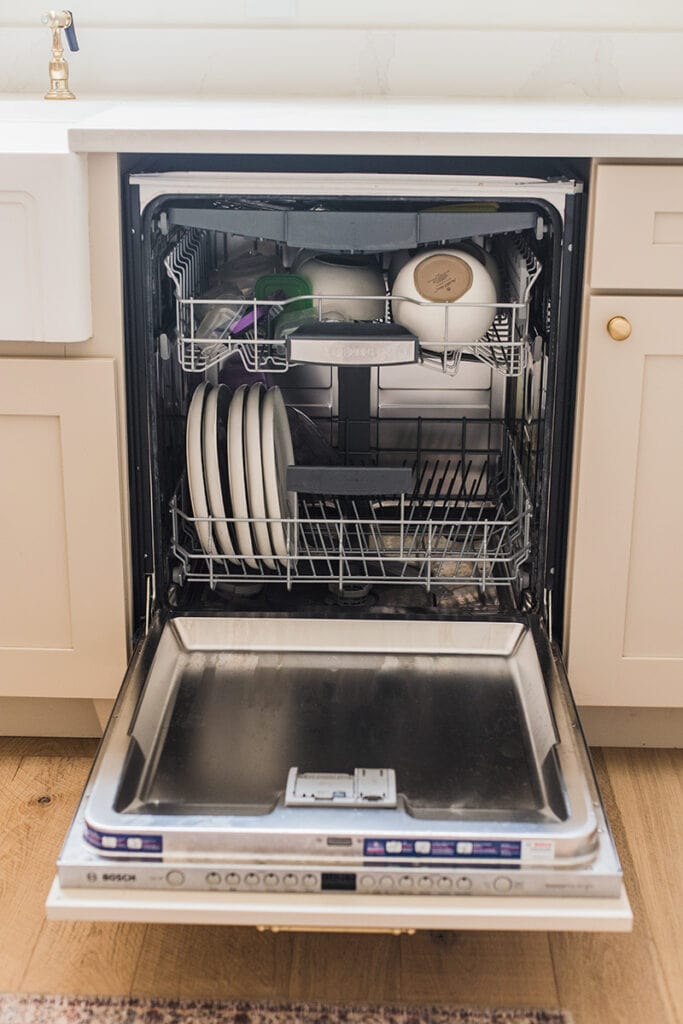 Left corner cabinet organization
The top drawer of our corner cabinet is nothing fancy, though it gets the job done (we really need to upgrade our old mismatched tupperware!)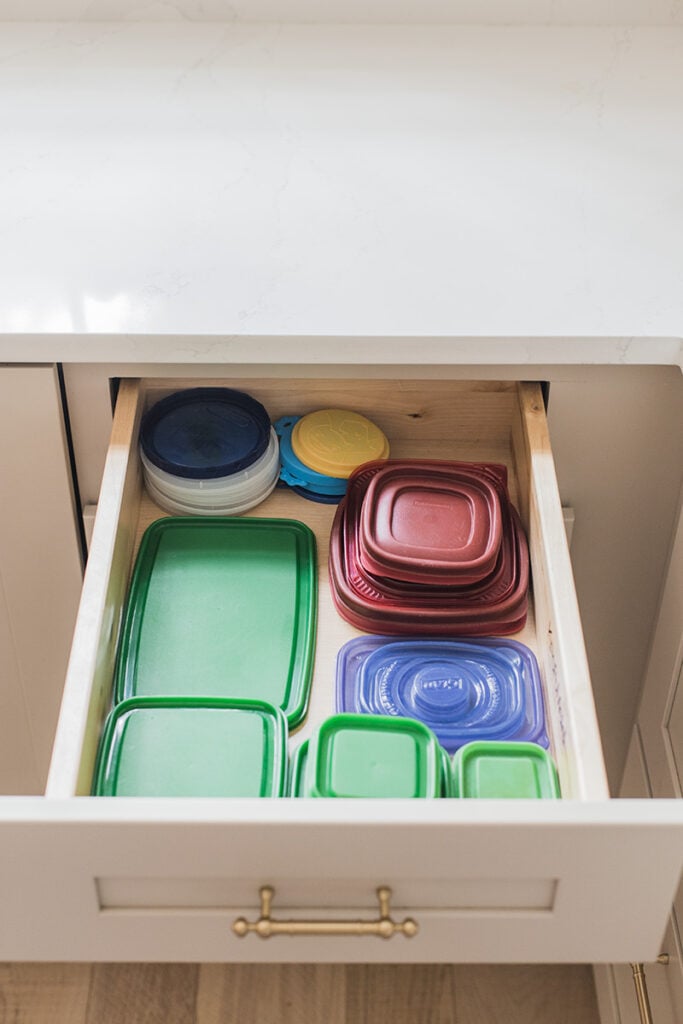 In the cabinet below, we opted for multi-shelf blind corner cabinet pull outs. First, this drawer section slides out (it holds our tupperware and picnic supplies):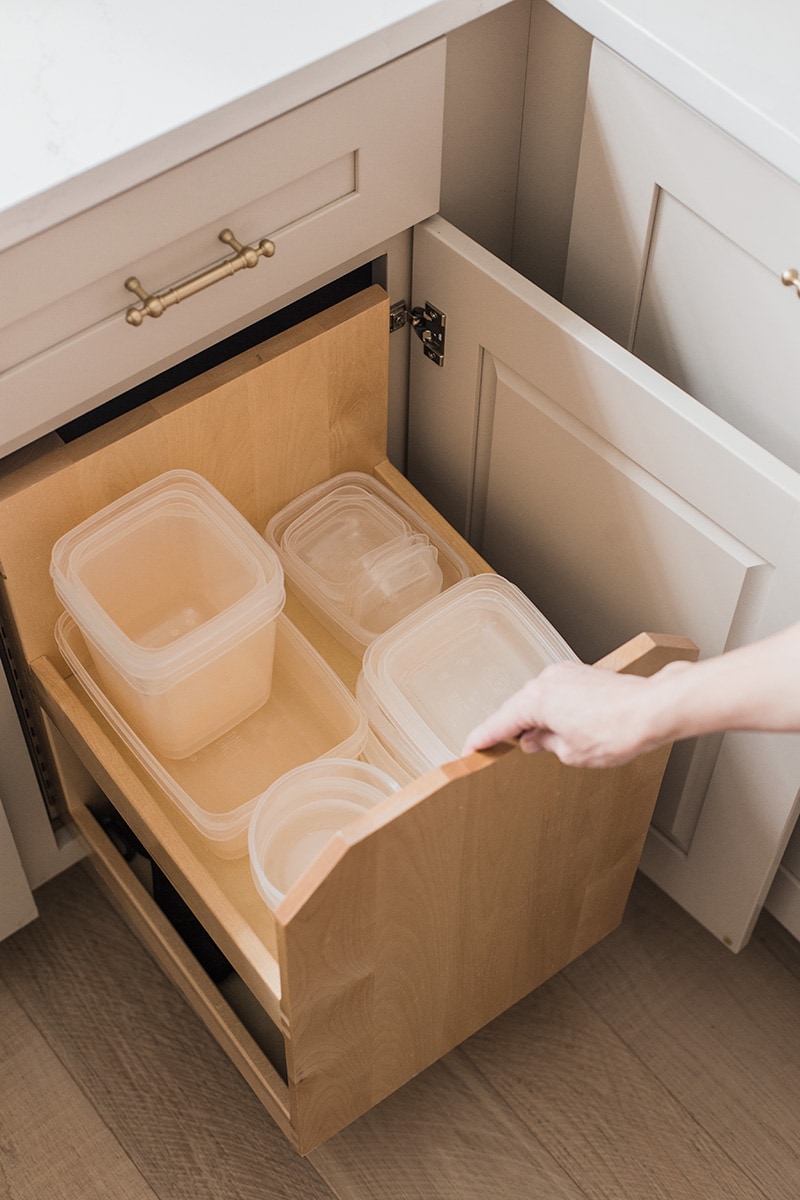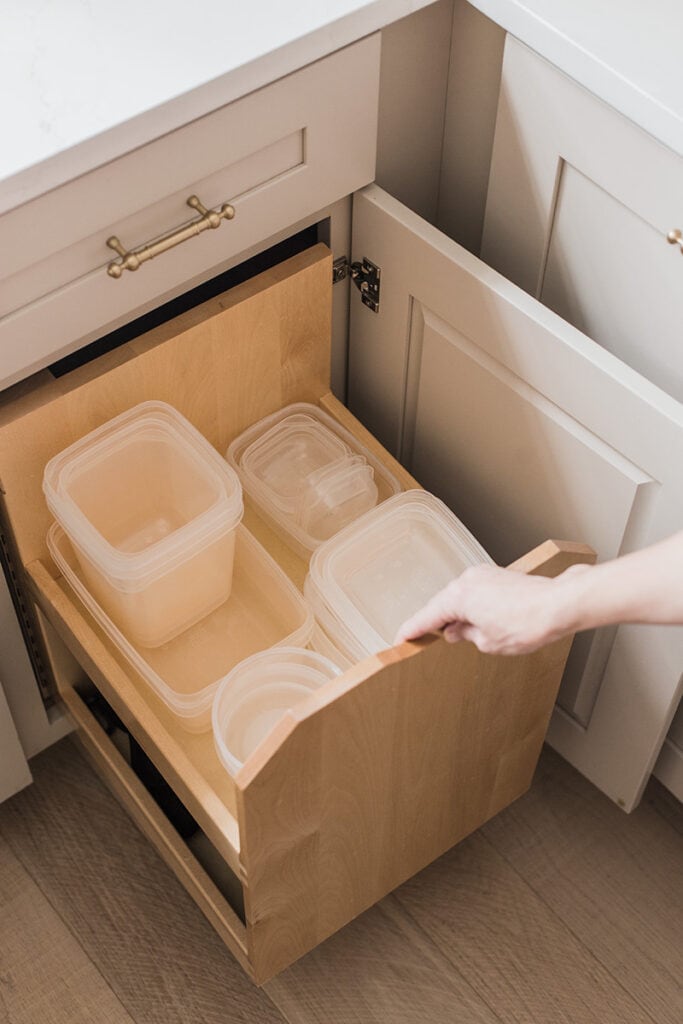 Then, it rotates to the side and we have access to two more sliding drawers. Here we keep our reusable plates/cups/silverware, and table linens on the bottom: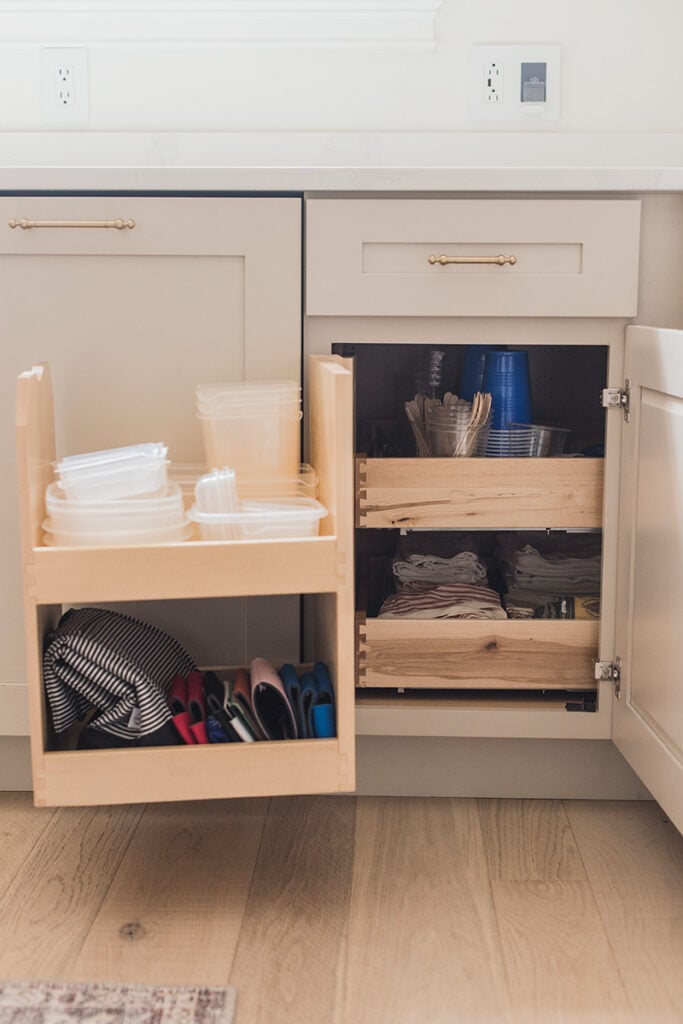 I wasn't able to track down this exact system, but ours ran us $792. Blind corner cabinet organizers don't come cheap, but here's a similar Rev-a-Shelf system: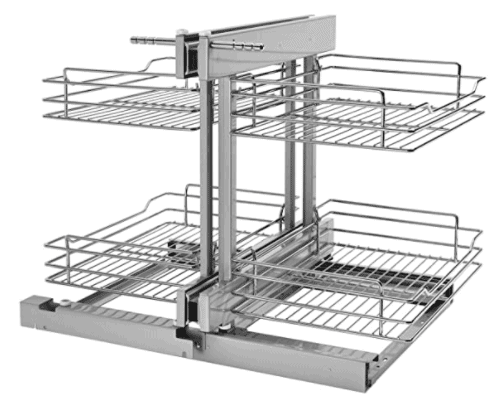 24″ Deep Drawers
I'm a big fan of using drawers in kitchens instead of door cabinets. They're easier to access and more efficient, which is why we chose two deep drawer cabinets surrounding our stove.
The top left drawer holds our pots…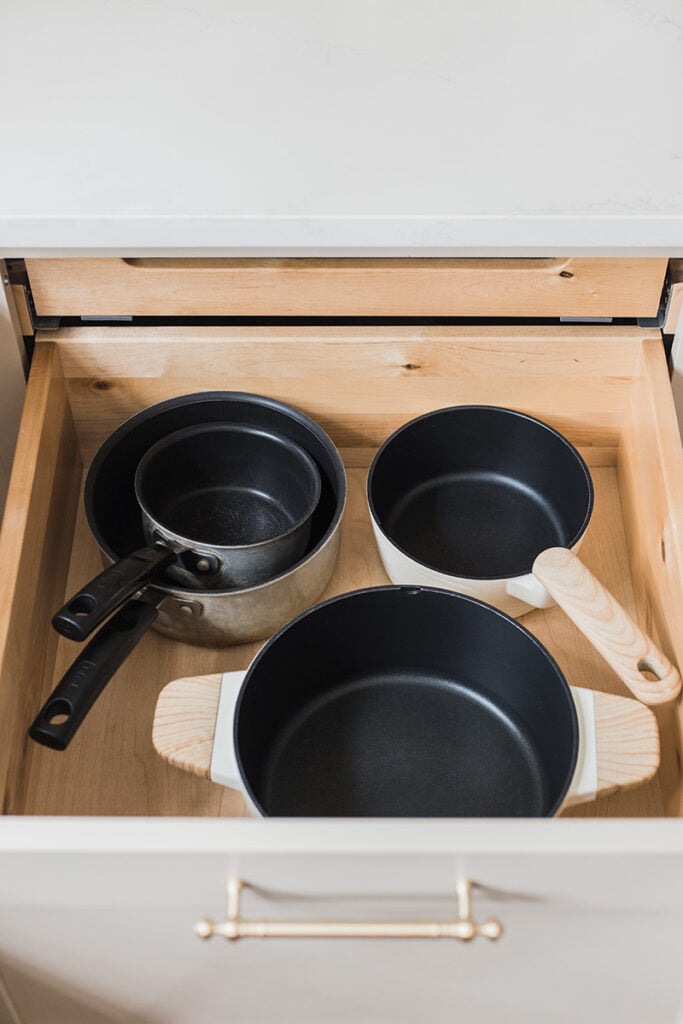 And then, surprise! A hidden tray pullout for our oven mitts, trivets and rubber spatulas: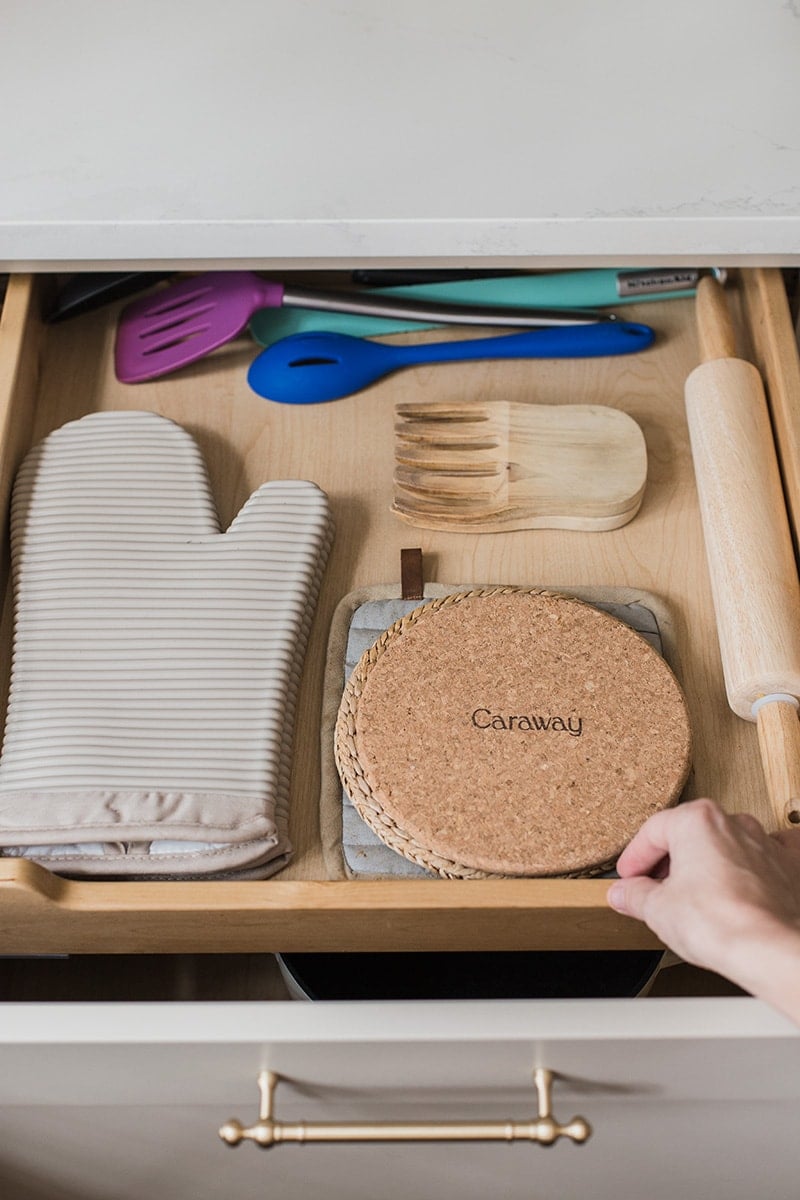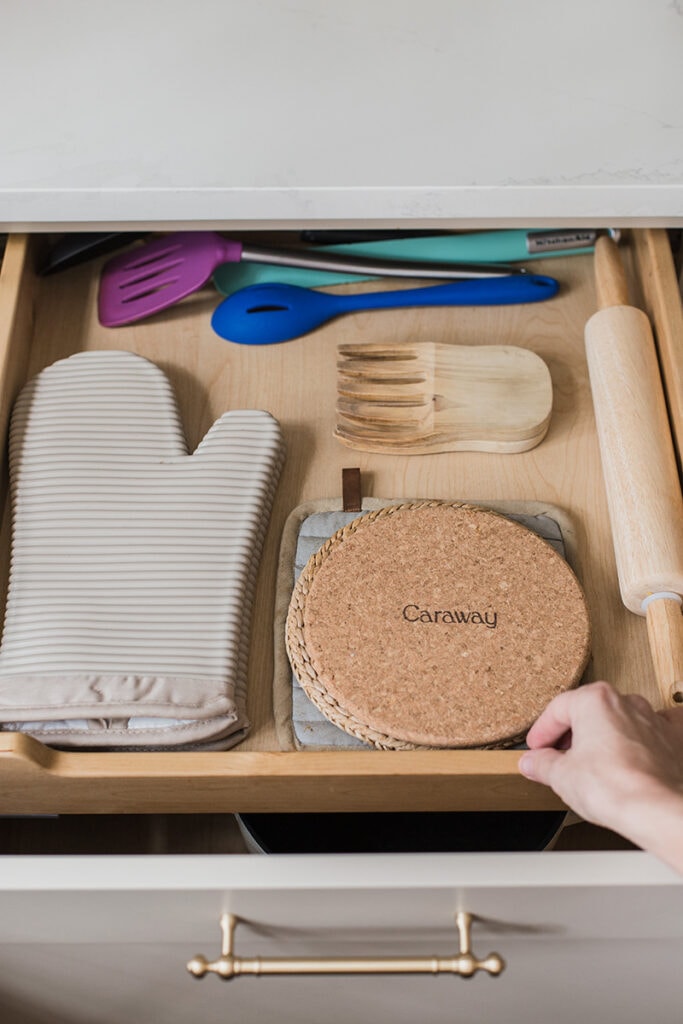 The bottom left drawer has removable dividers to store our pot and pan lids: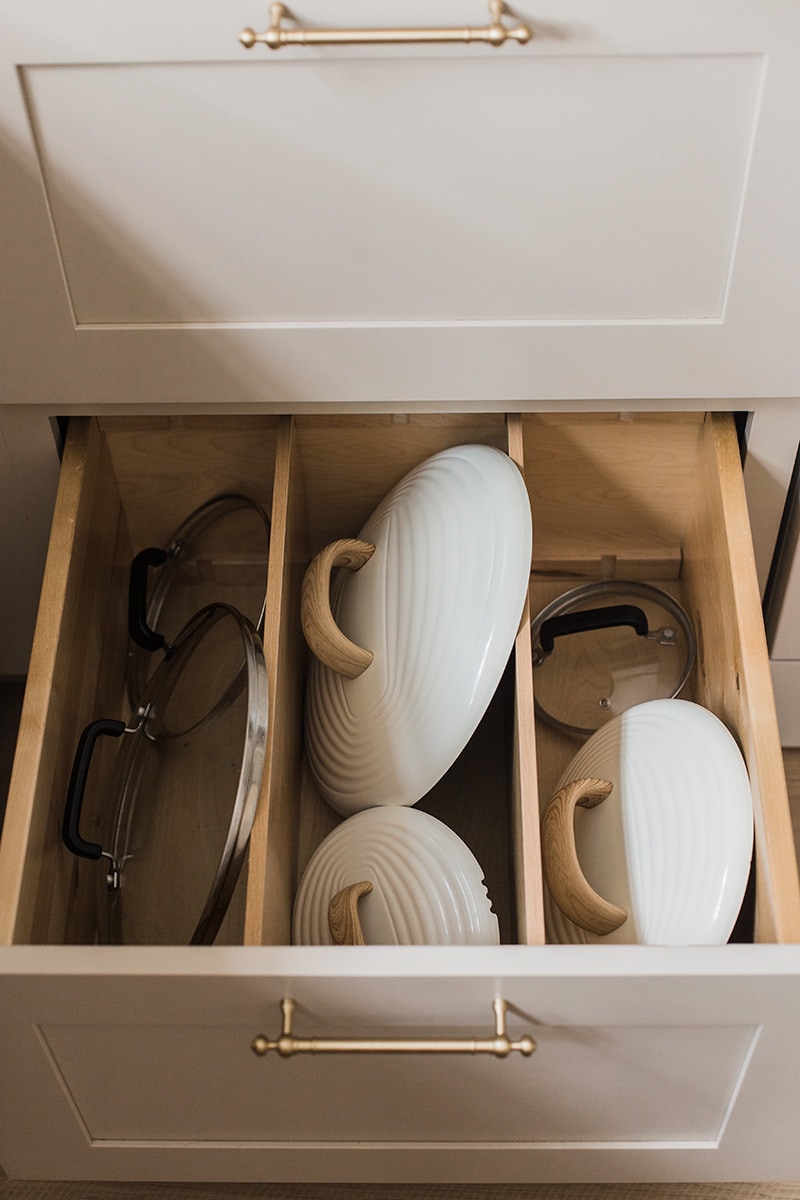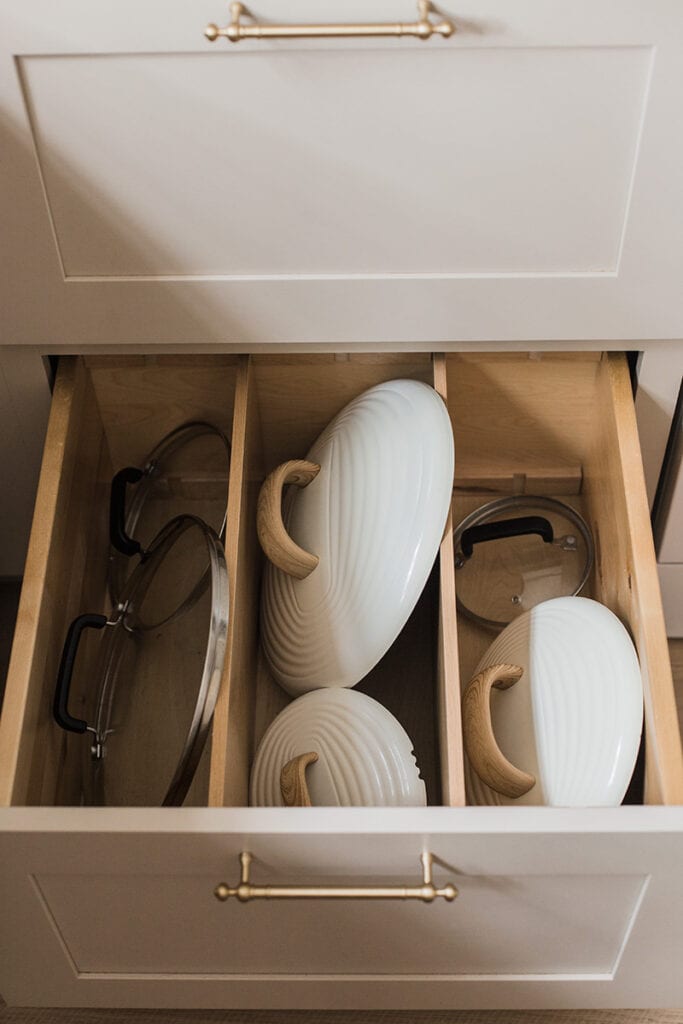 On the right side of the stove, our pans and measuring cups are in the top drawer: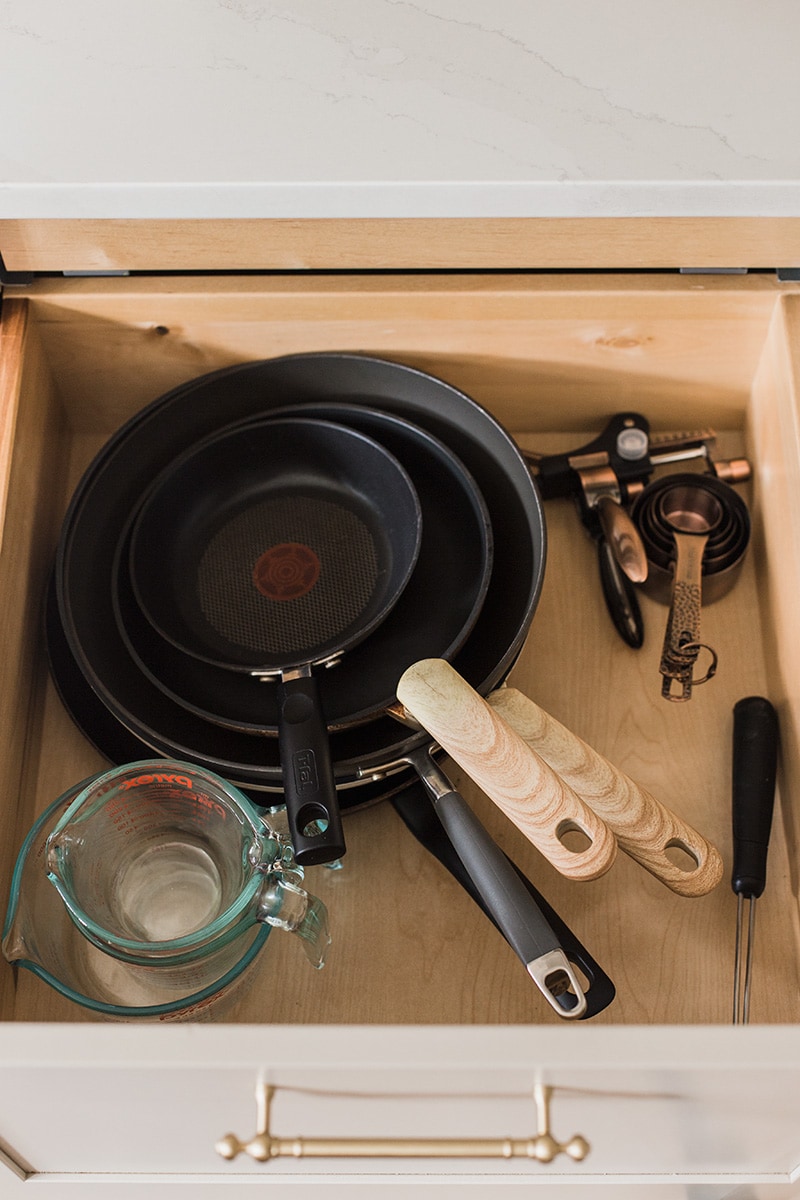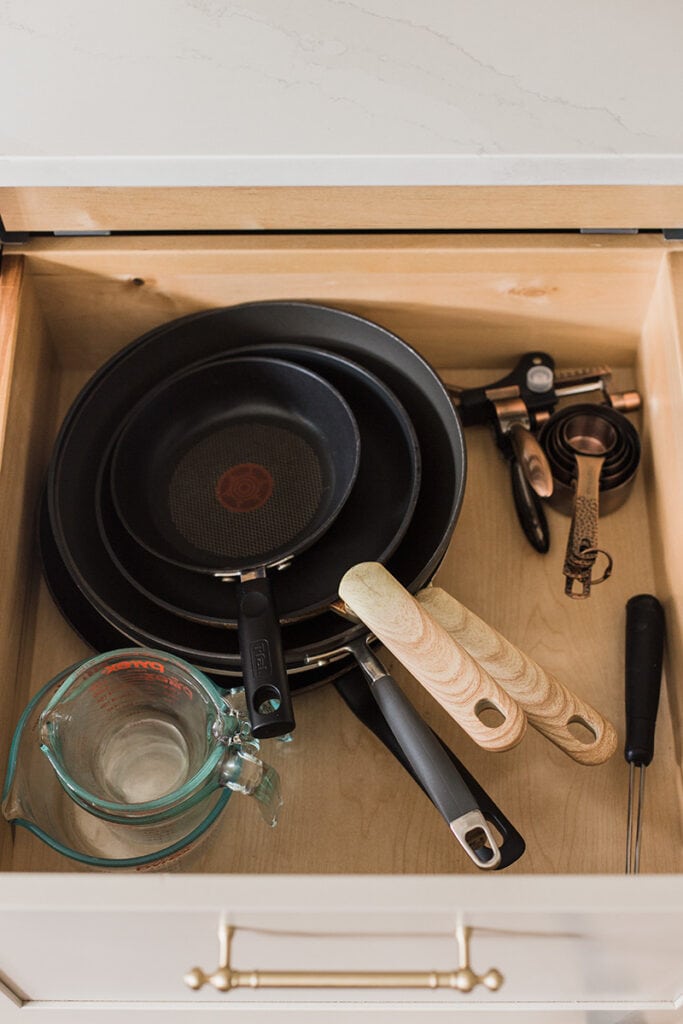 And then, surprise again! Another pull out tray for our kitchen gadgets. We chose a diagonal layout to maximize the storage space: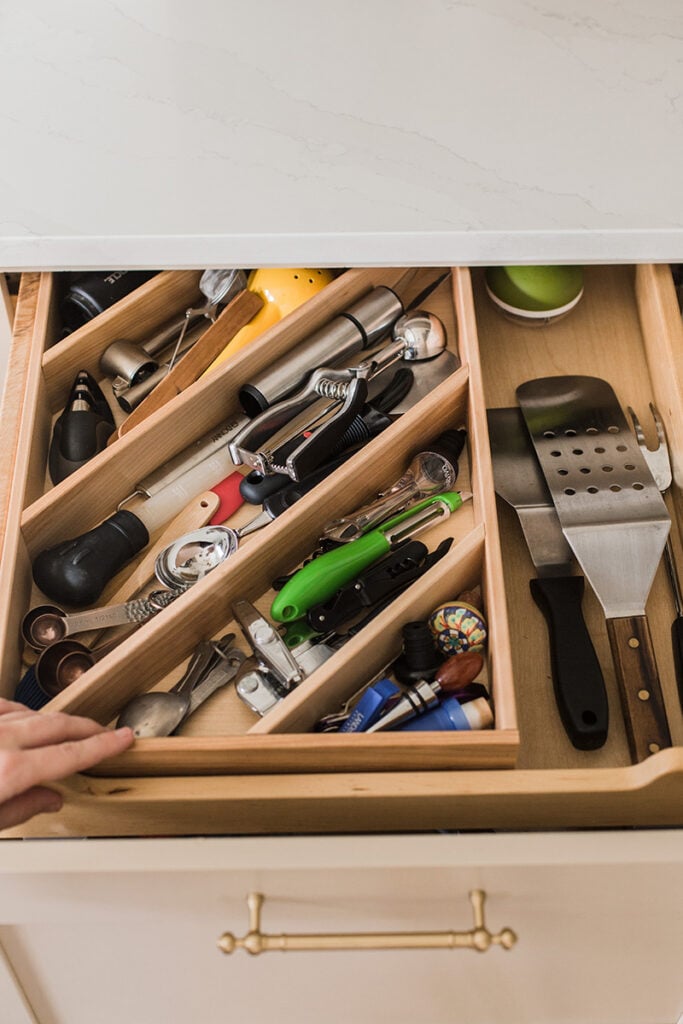 In the bottom right drawer we keep our mixing bowls, colanders and cookie cutters.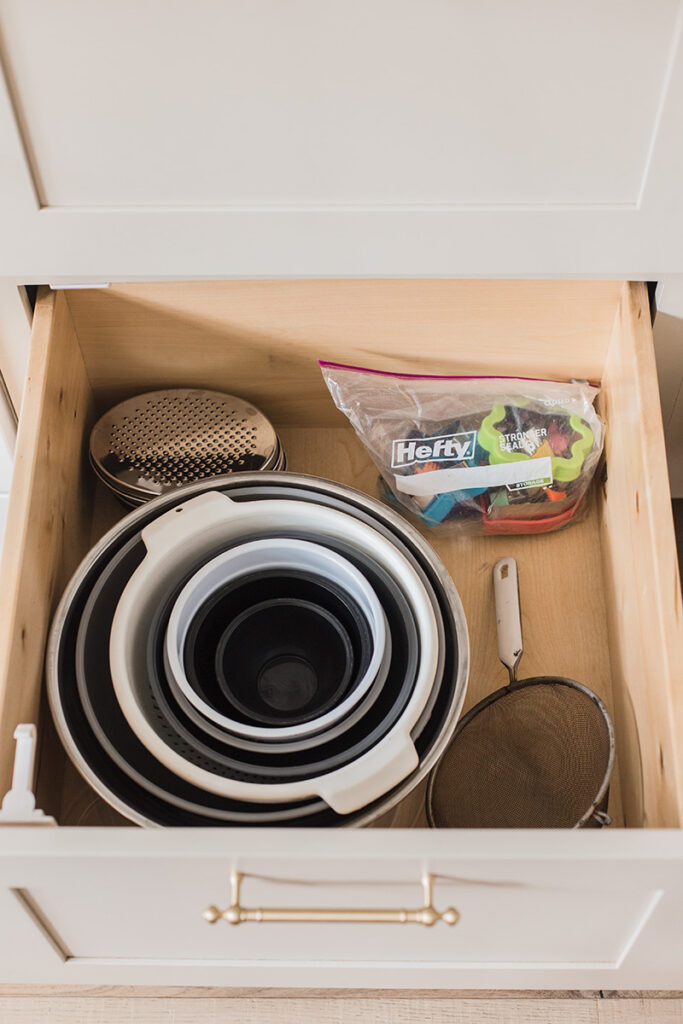 We've been really happy with this setup, and I've been converted to deep drawers in future kitchens for life.
Our diagonal utensil tray cost $69, but here's an inexpensive option below: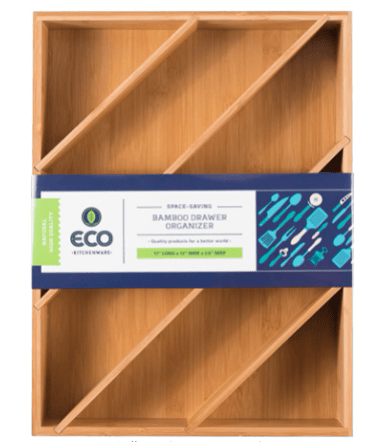 Spice drawer organization
This drawer wins the "most beautiful" award…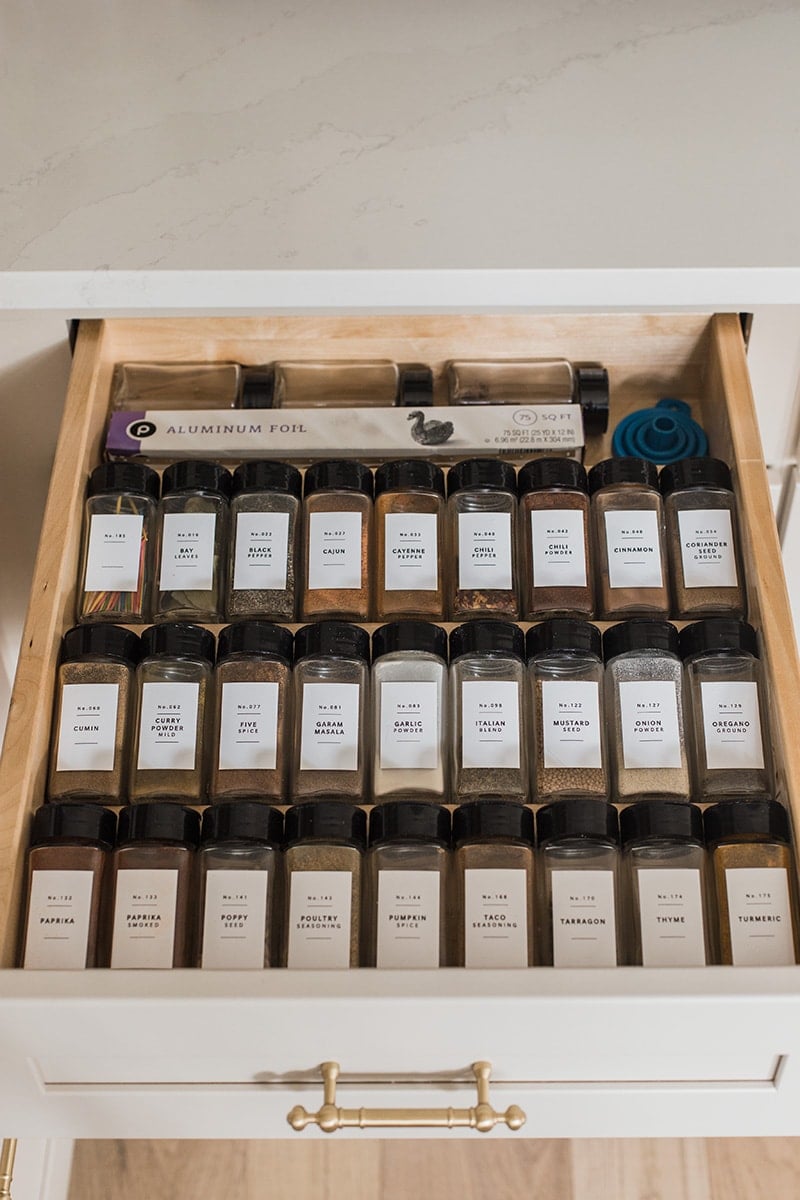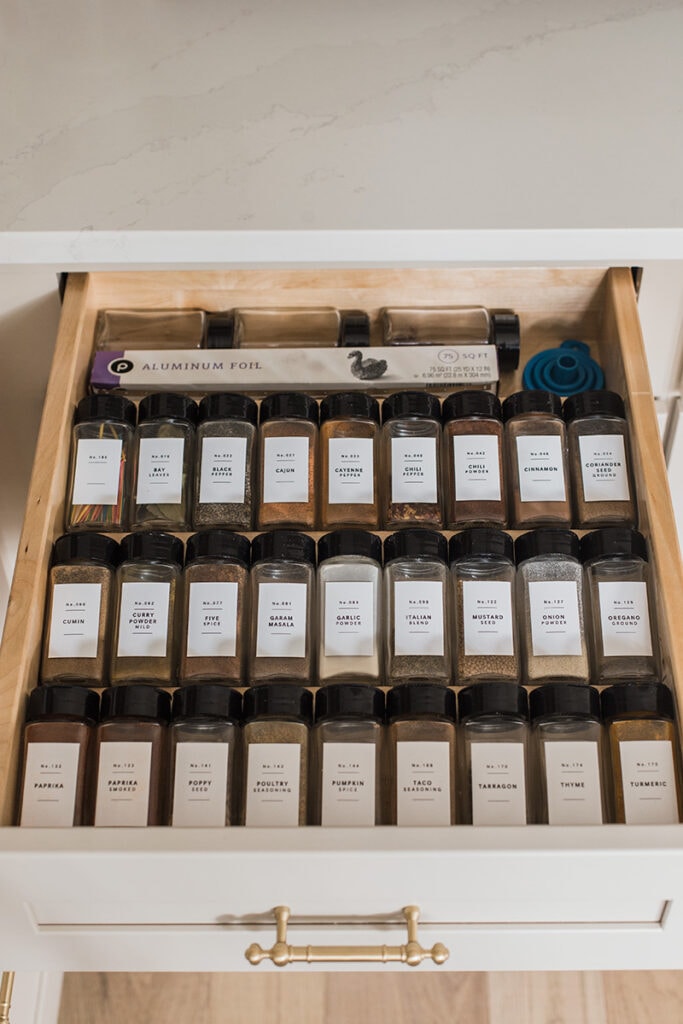 I shared more details in my kitchen organization ideas post last year, so make sure to check that out! It still makes me happy every time I open this drawer.
Here are some inexpensive options to make your own spice drawer:
Just to the right, we have a narrow drawer that fits our plastic wrap/bags and chip clips: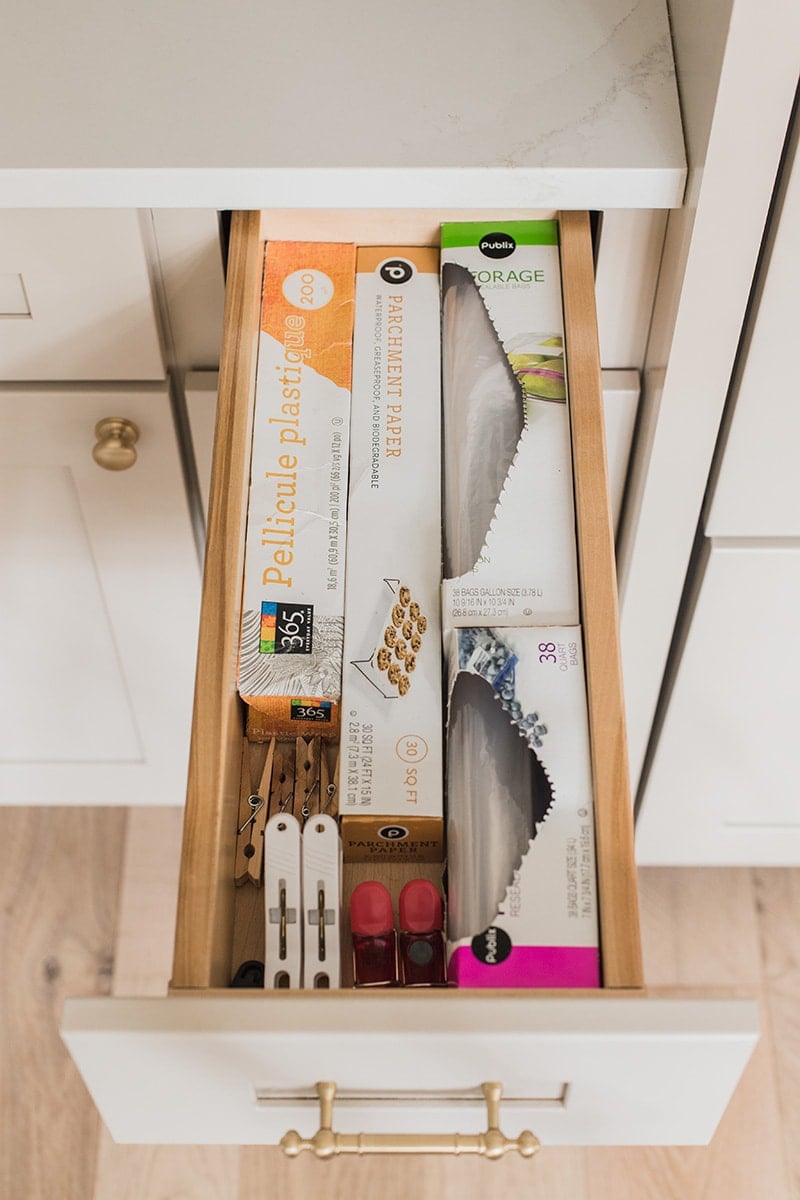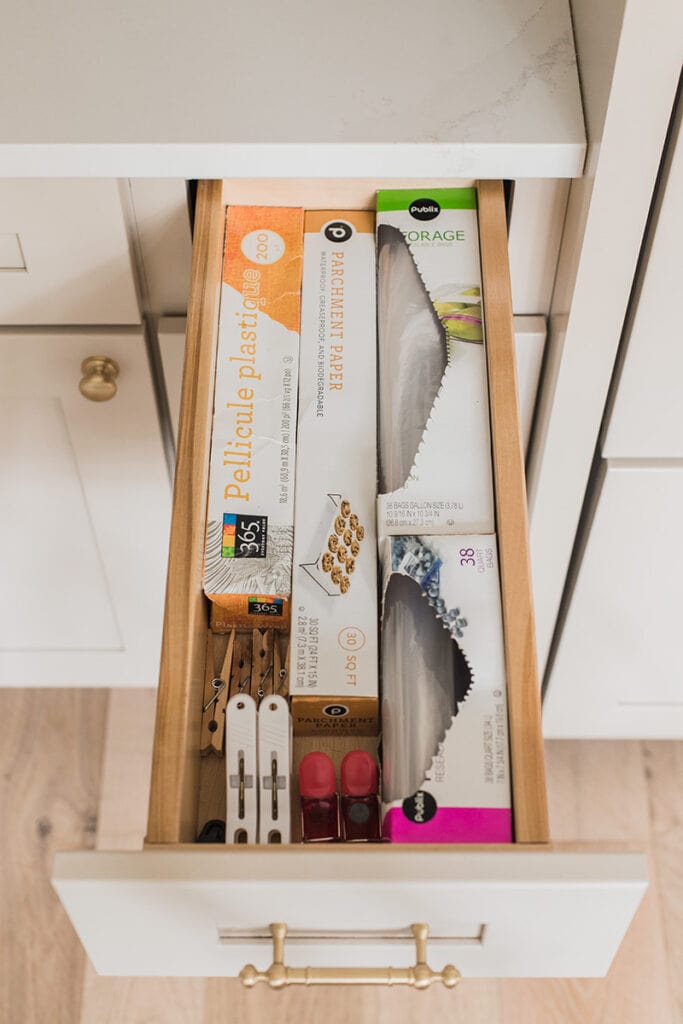 Right blind corner cabinet organization
For this corner cabinet, we used a different storage solution—a two-tiered shelf pull out: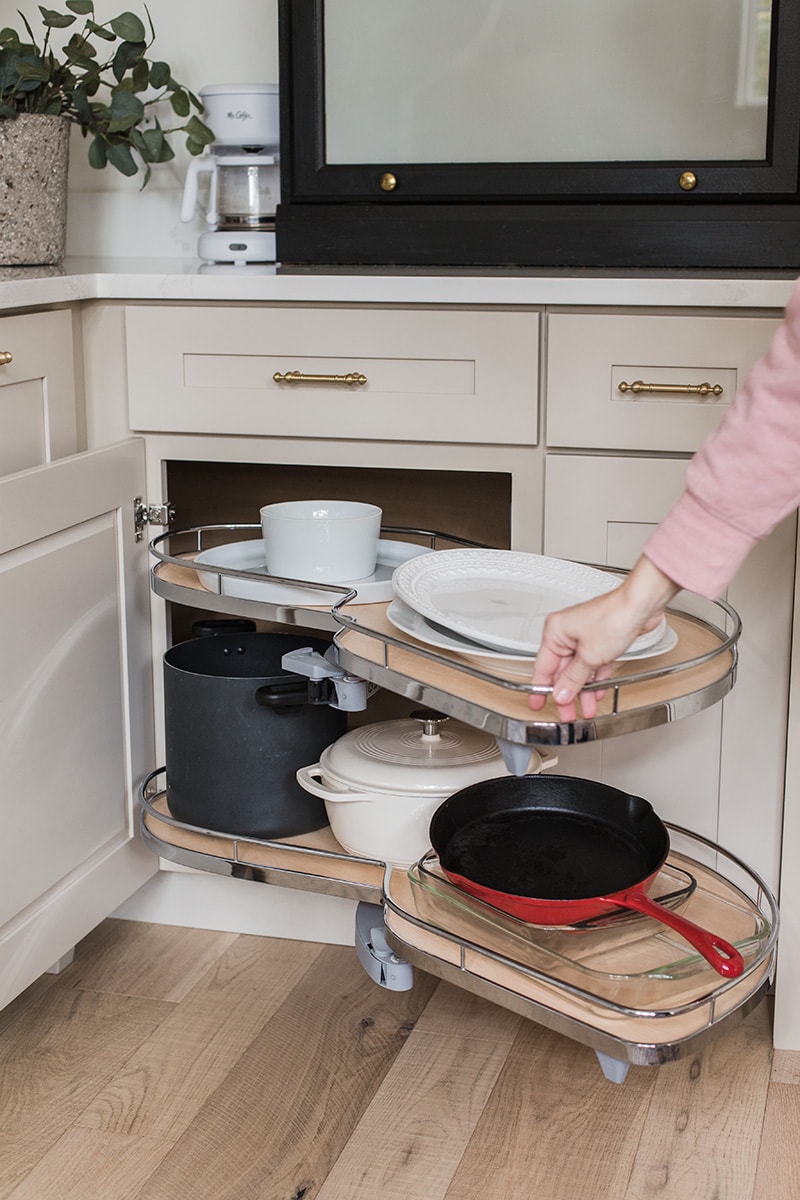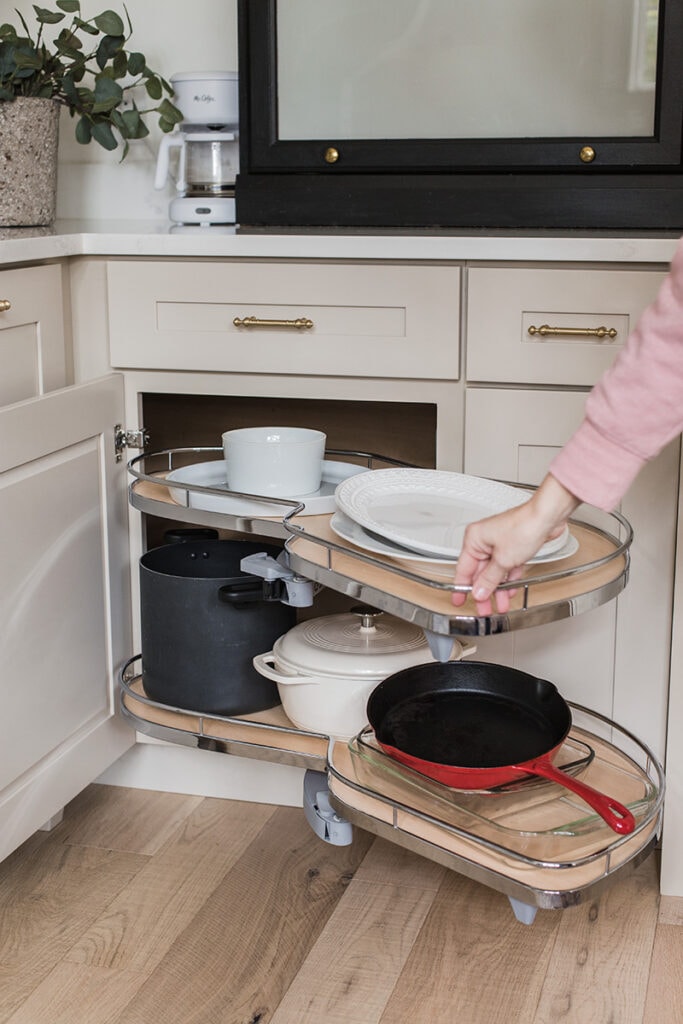 These are perfect for easy access to larger/heavier items like our stock pot, dutch oven, casserole dishes and platters. This organizer ran us $850 (but it's currently on sale for $672!)
Here's a similar option for only $270: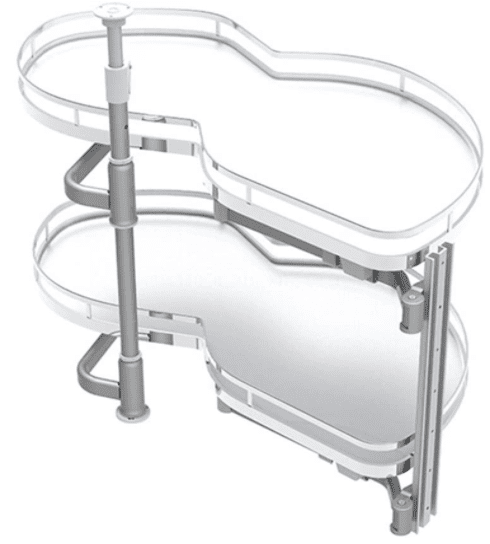 Our last base cabinet is just wide enough for our pans and cutting boards. They're divided with a wood partition and it hasn't been any trouble to slide them in and out (we also have a flat storage drawer built into our stove).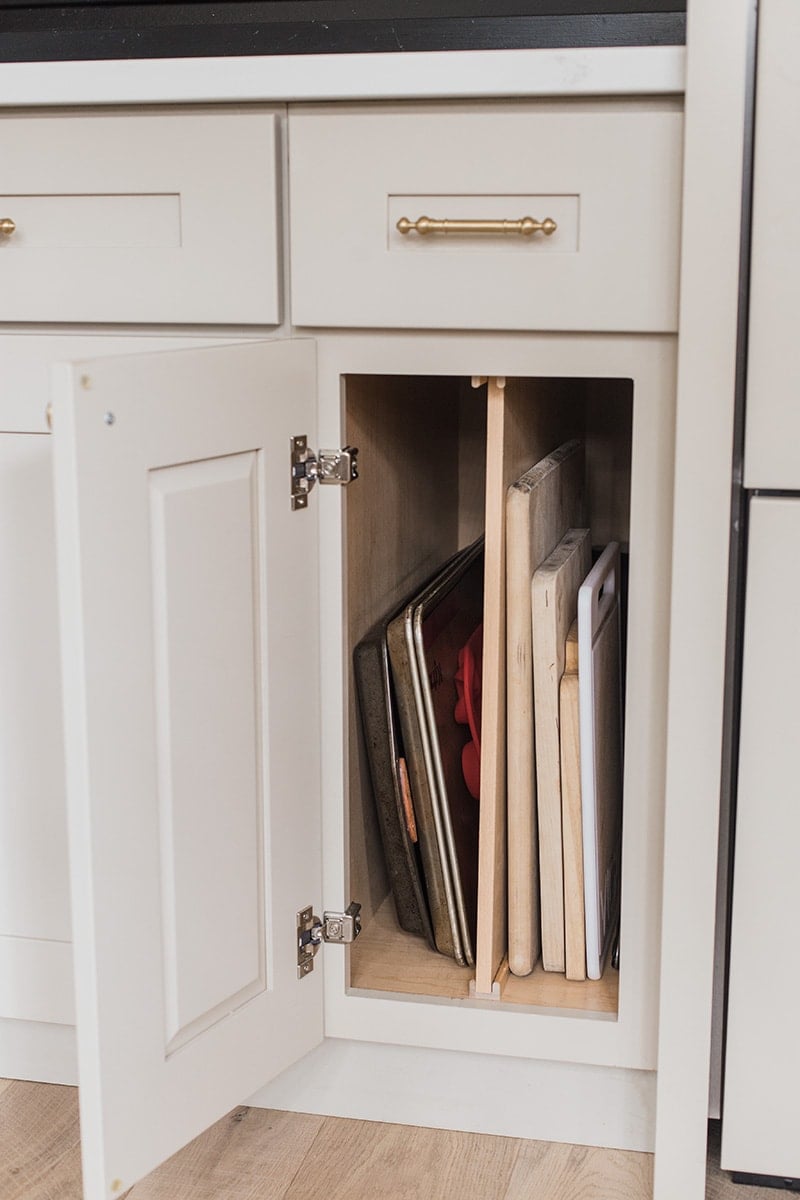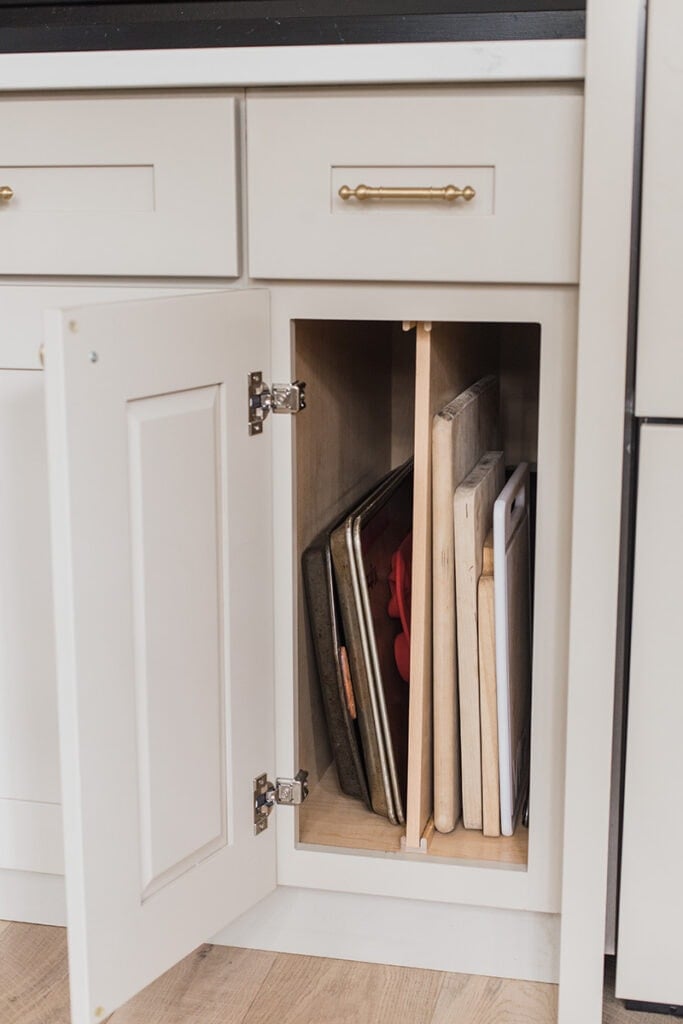 Open shelving
I opted against upper cabinets to help our kitchen feel larger and more open—it's only 12.5′ wide so not a very big space (not wide enough to comfortably fit an island). Our bowls and plates are kept on a lower shelf making them easy to access, and this has been very convenient (plus, they're nice to look at!)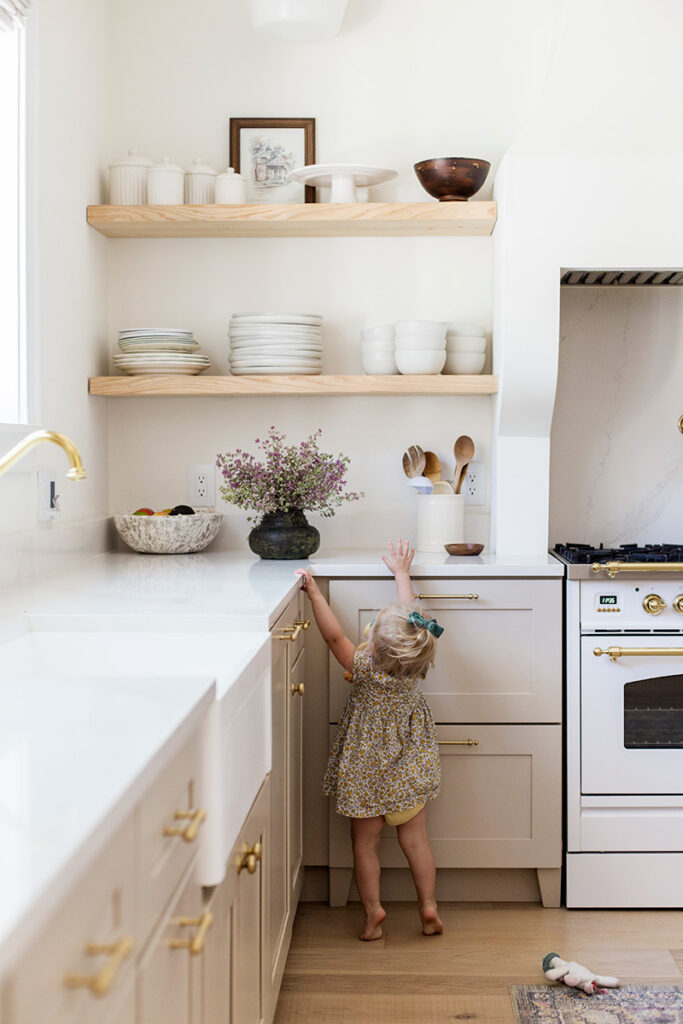 Pantry organization
Rather than adding an upper cabinet, I wanted to find something unique and unexpected (like our vintage hutch) for our dry food storage. Enter this barrister bookcase I scored secondhand online, then refinished and frosted the glass: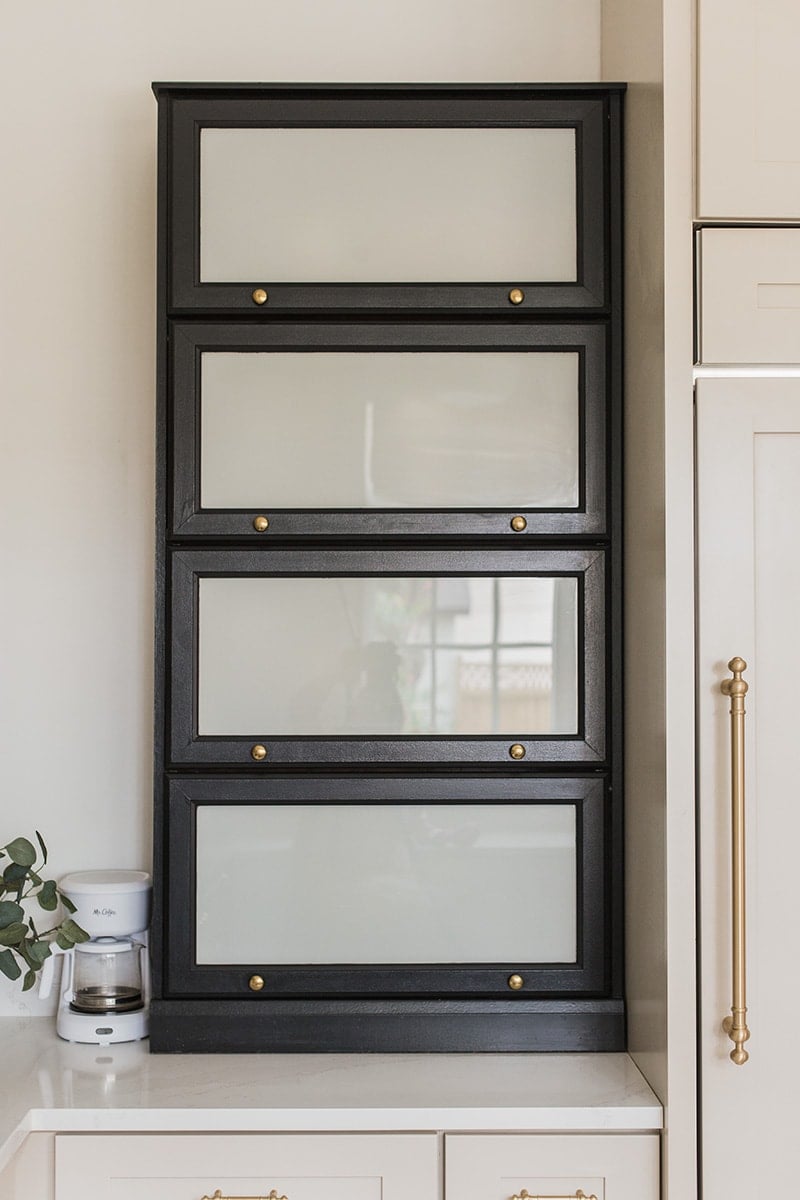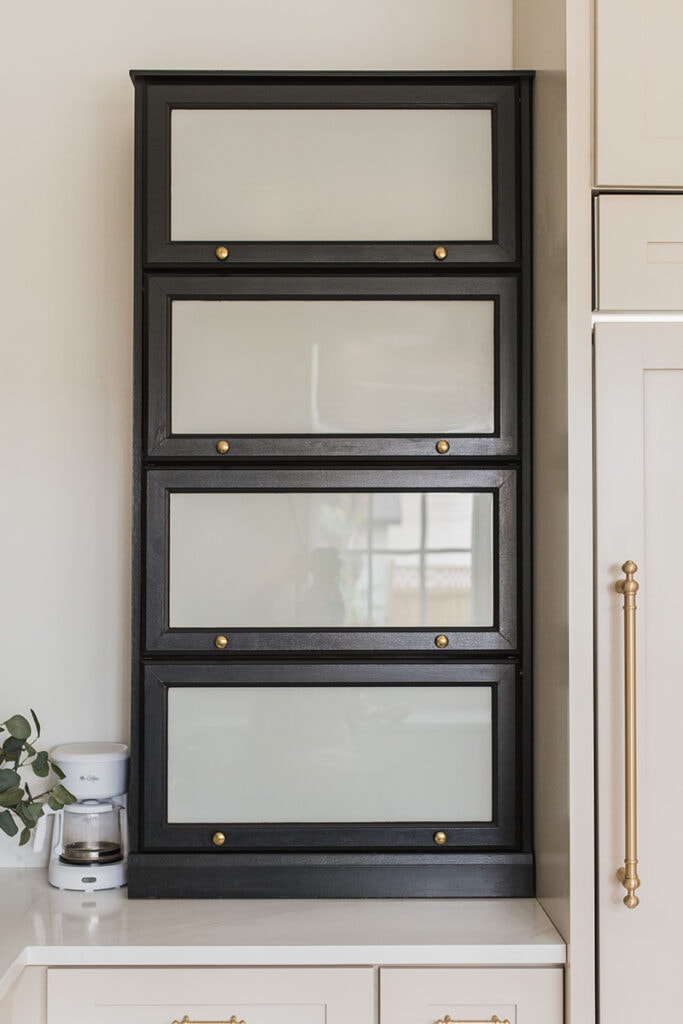 It's tucked away in the corner next to our fridge so you don't see it too often in my photos: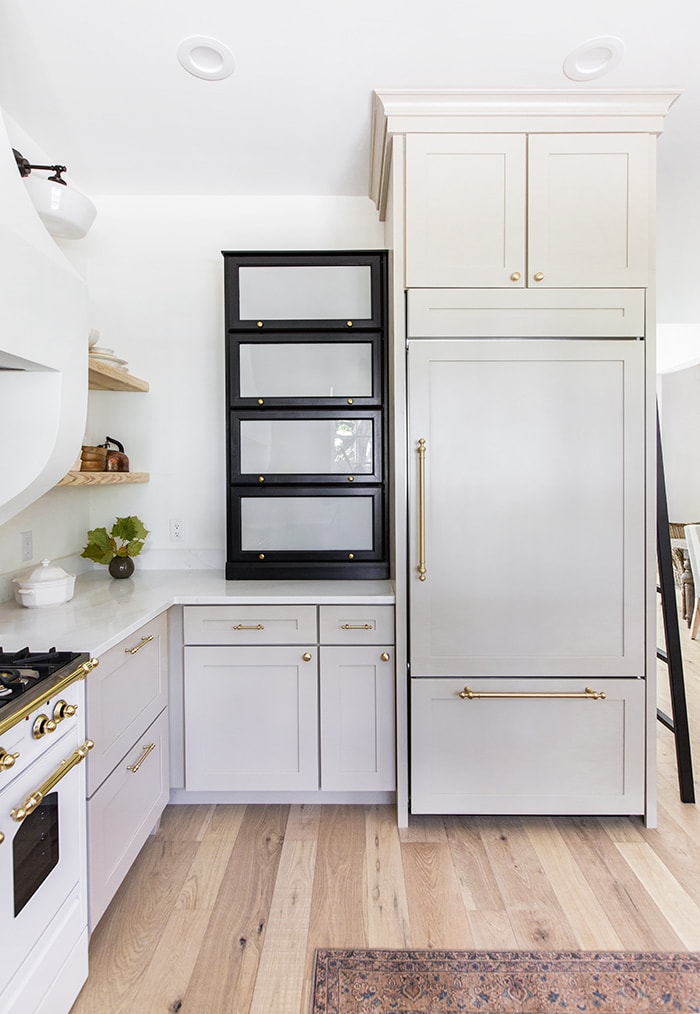 I organized the inside last year, and shared all the details about the storage solutions I used in this post.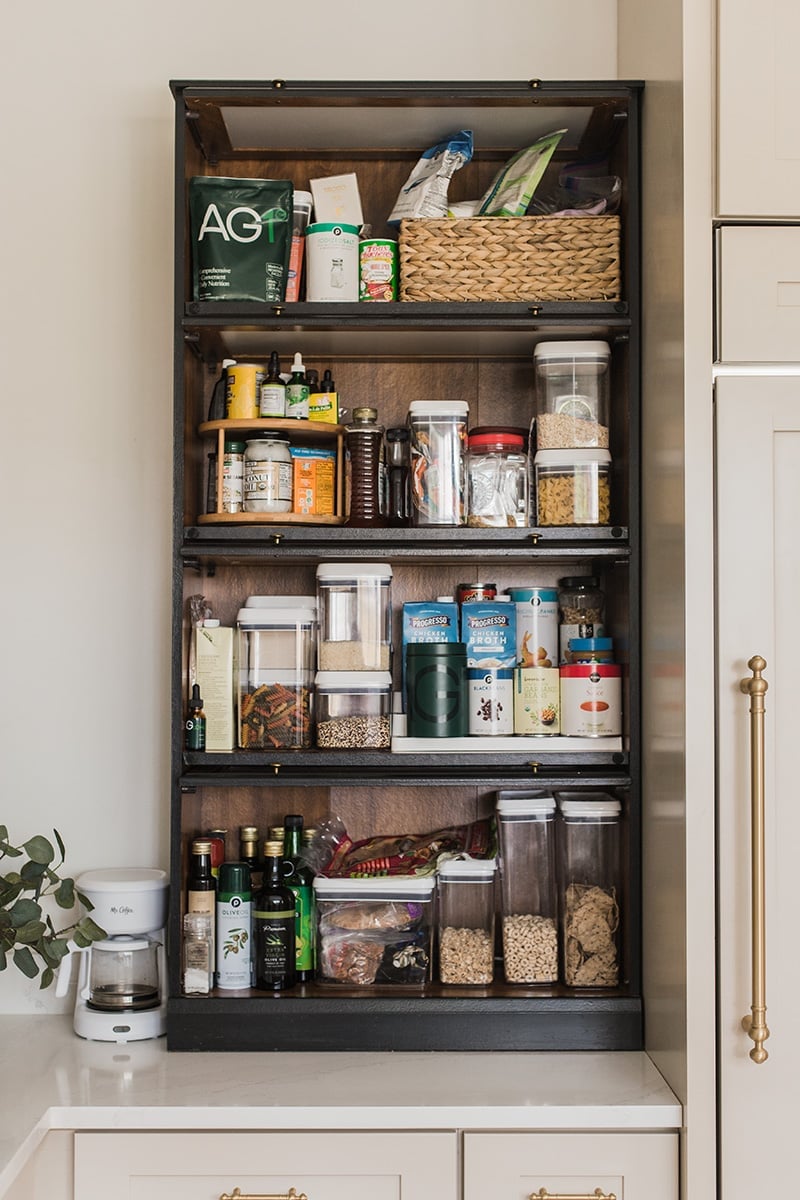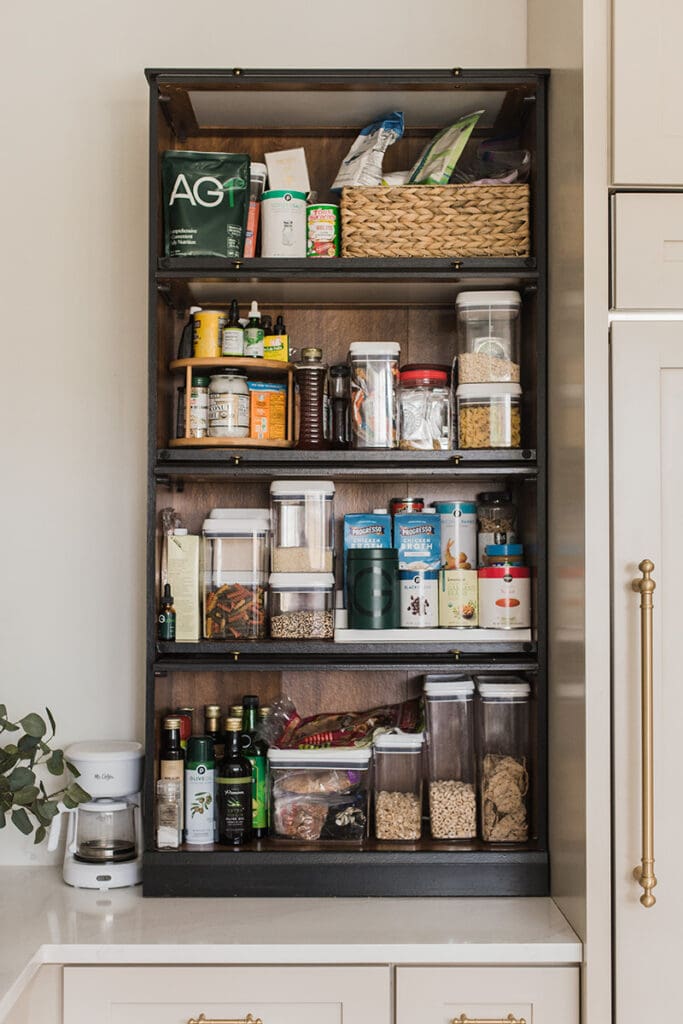 We've accumulated more pantry items since then and it's getting too crowded, but we're about to add pantry storage in our laundry room (on the other side of that wall) so that will help.
Above the fridge storage and wine cabinet
We have two cabinets above our fridge—one has less frequently used items like a food processor, pitchers and kitchen tools…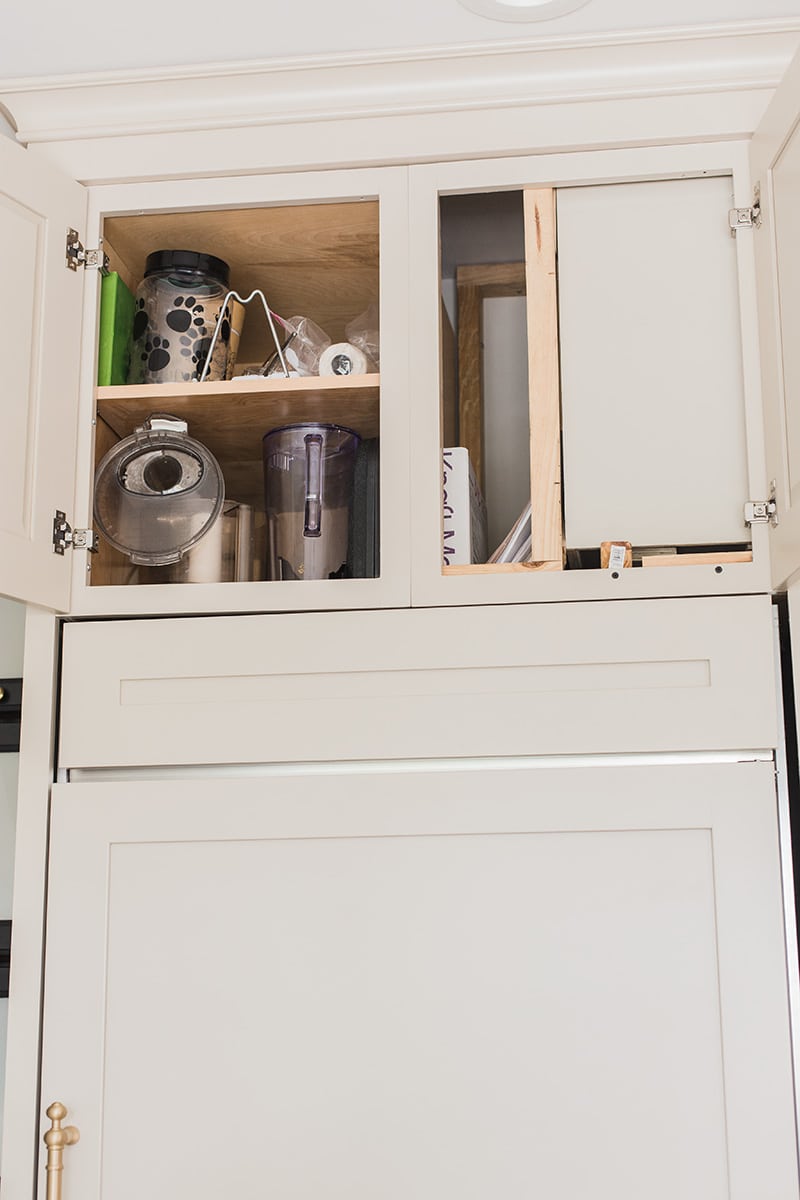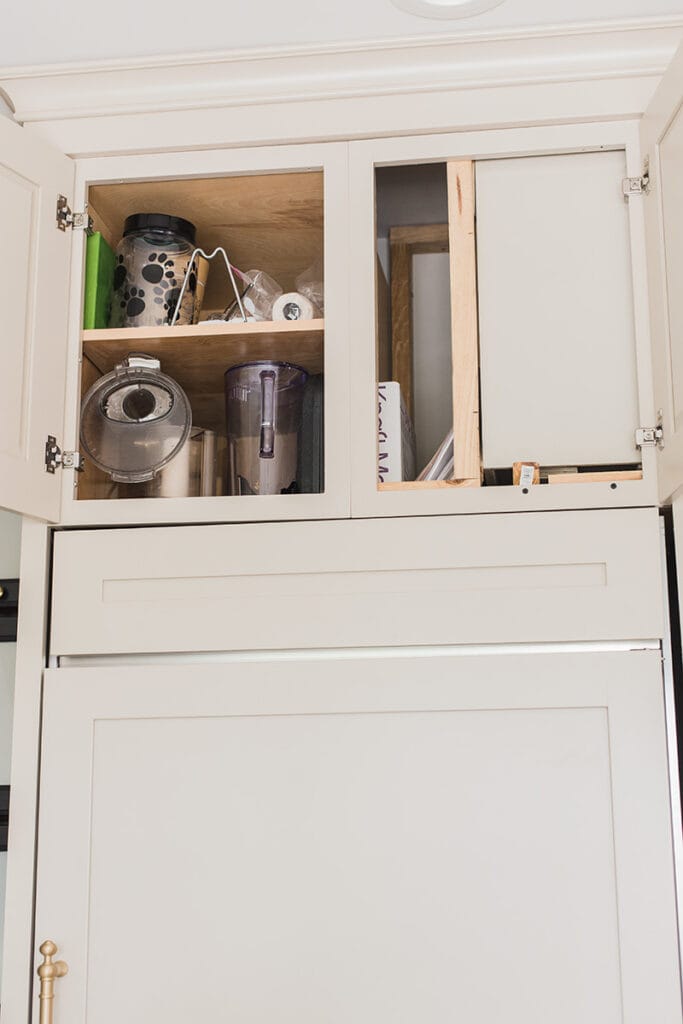 And the other cabinet opens to the side and holds our wine. Lucas built these shelves out of fridge panels and I love the way they turned out!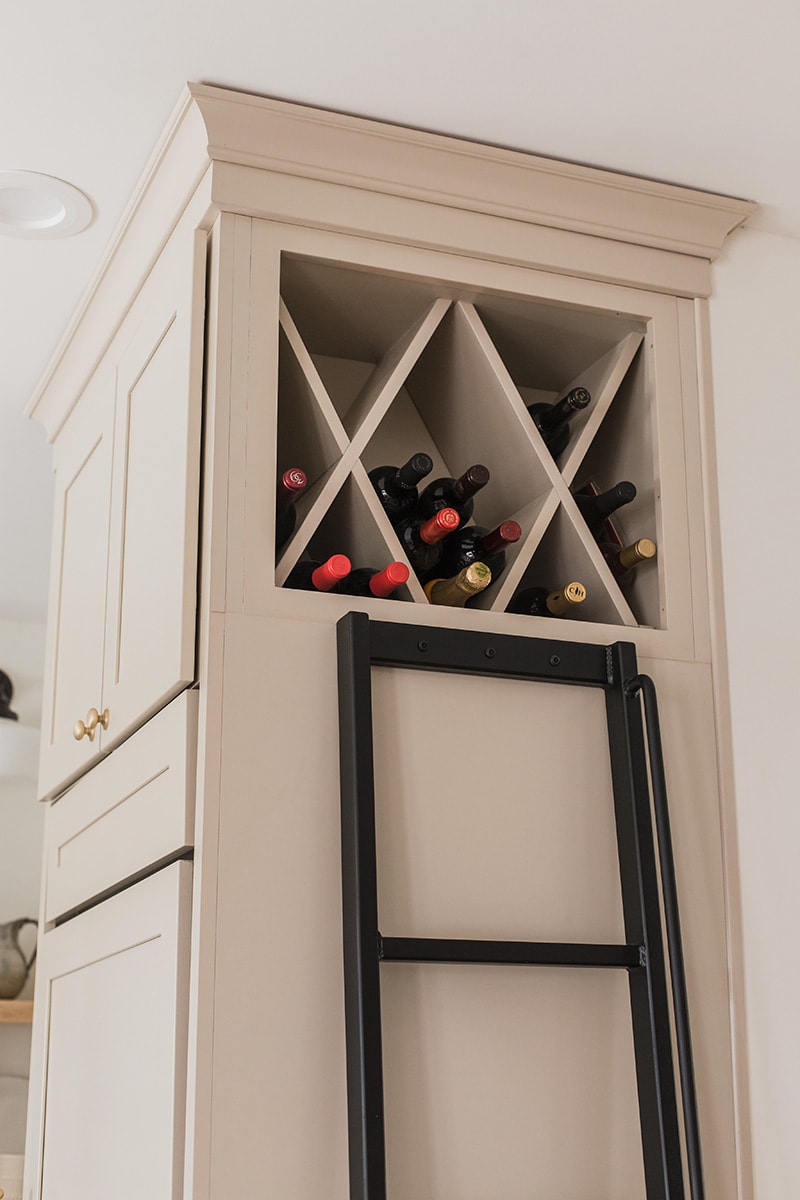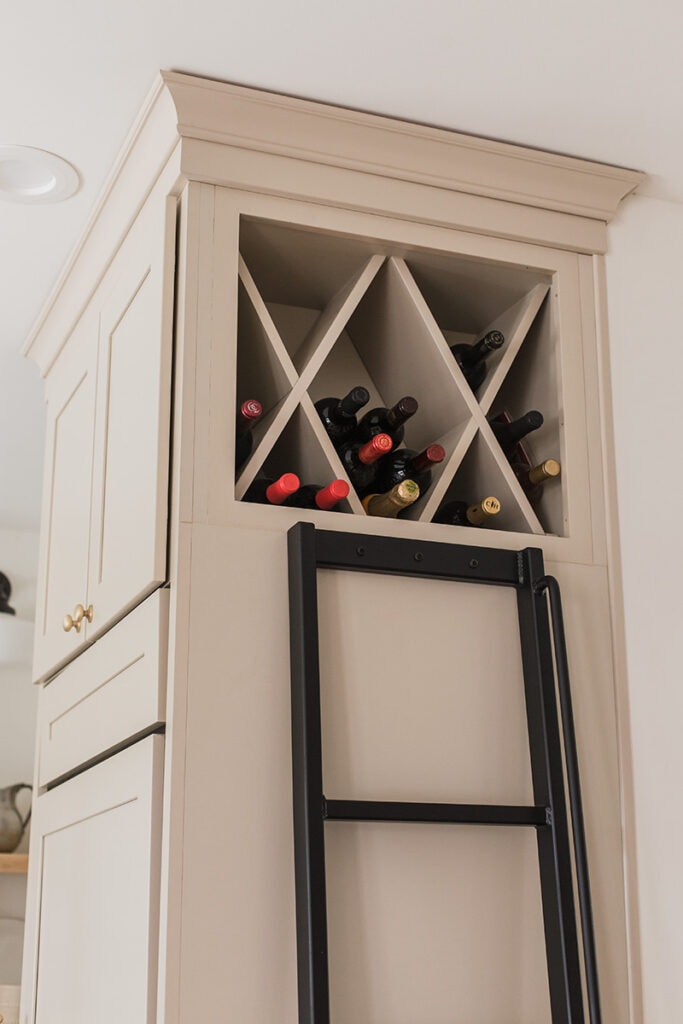 We had the ladder custom made by a local metal fabricator. It was a splurge, but such a fun feature and one of my favorite parts of our kitchen.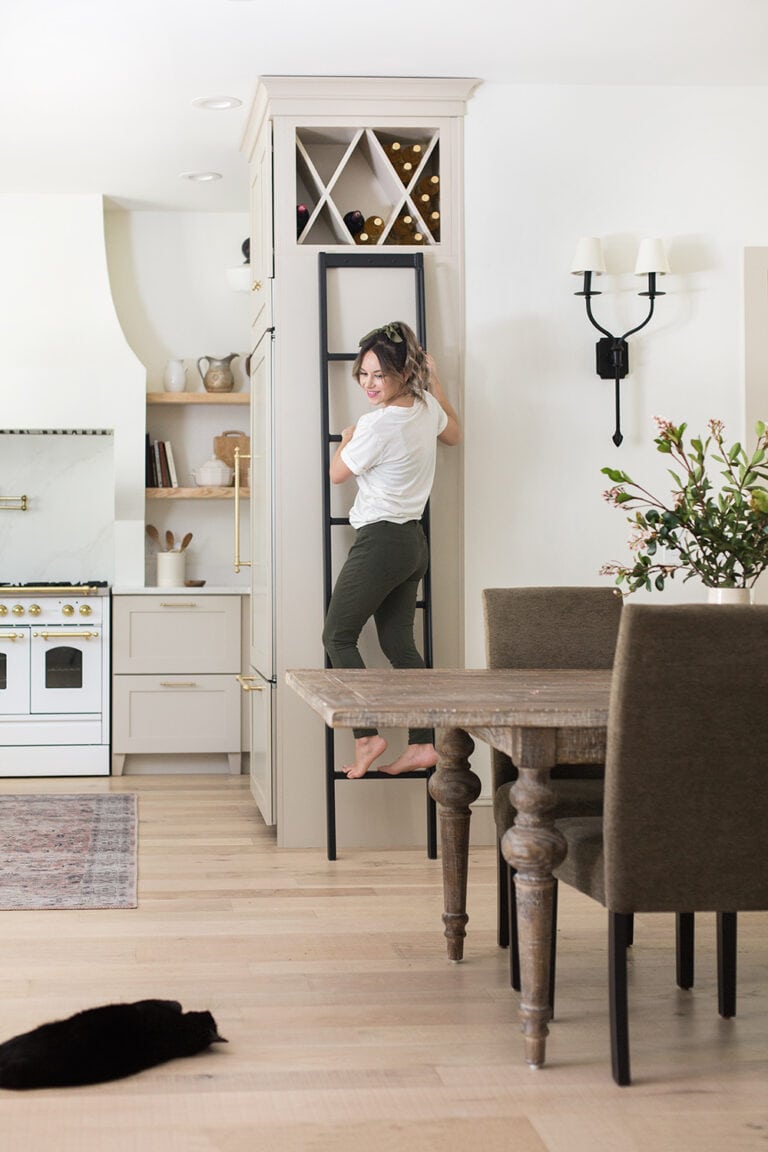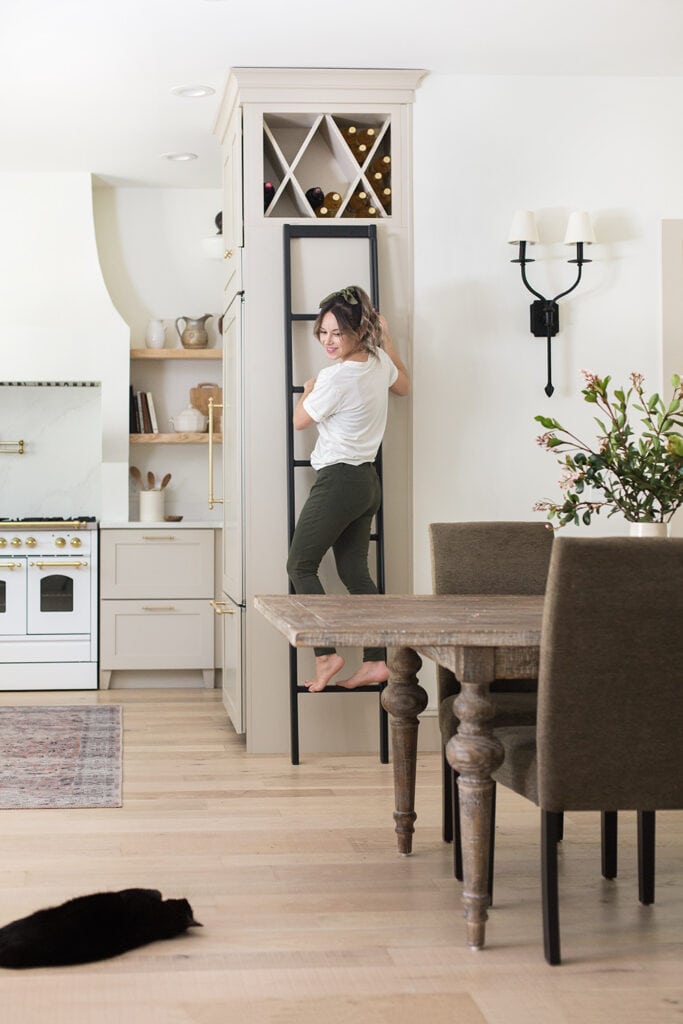 Whew, that should cover everything! Any questions? I went back through our Lowe's kitchen estimate and the total cost of the cabinet organizers came to just over $3k. The entire total for the cabinets was $12k, so our interior organizers made up 1/4th of the total cost (this was after the sale discount).
I only spent a few hundred on the organizers I added later on, so you can definitely save a lot by doing a little research and shopping online. I hope this post provided some ideas and helpful links if you're also in January-organizing-mode.
Stay tuned for a fun Q&A next week!