After hitting rock bottom last week, I was desperate for a nice, calm, disaster-free weekend where I could focus on the fun stuff, like painting and moving furniture around. When you show up to a construction site that looks like the set of Hoarders every week, you start to lose hope that it will ever get done… Watch today's episode to see what happened:
So the situation on Friday afternoon looked much like the previous Friday, except with a lot more paint.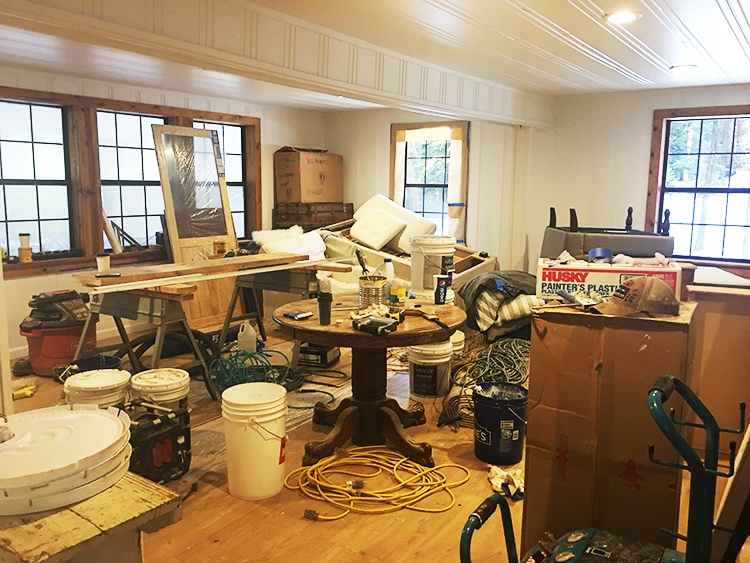 Pin
I was thrilled to see the painters prepping after weeks of rain and snow. We had a 5 day break between storms, and knowing this was our one and only opportunity to get it done, my team jumped right into action.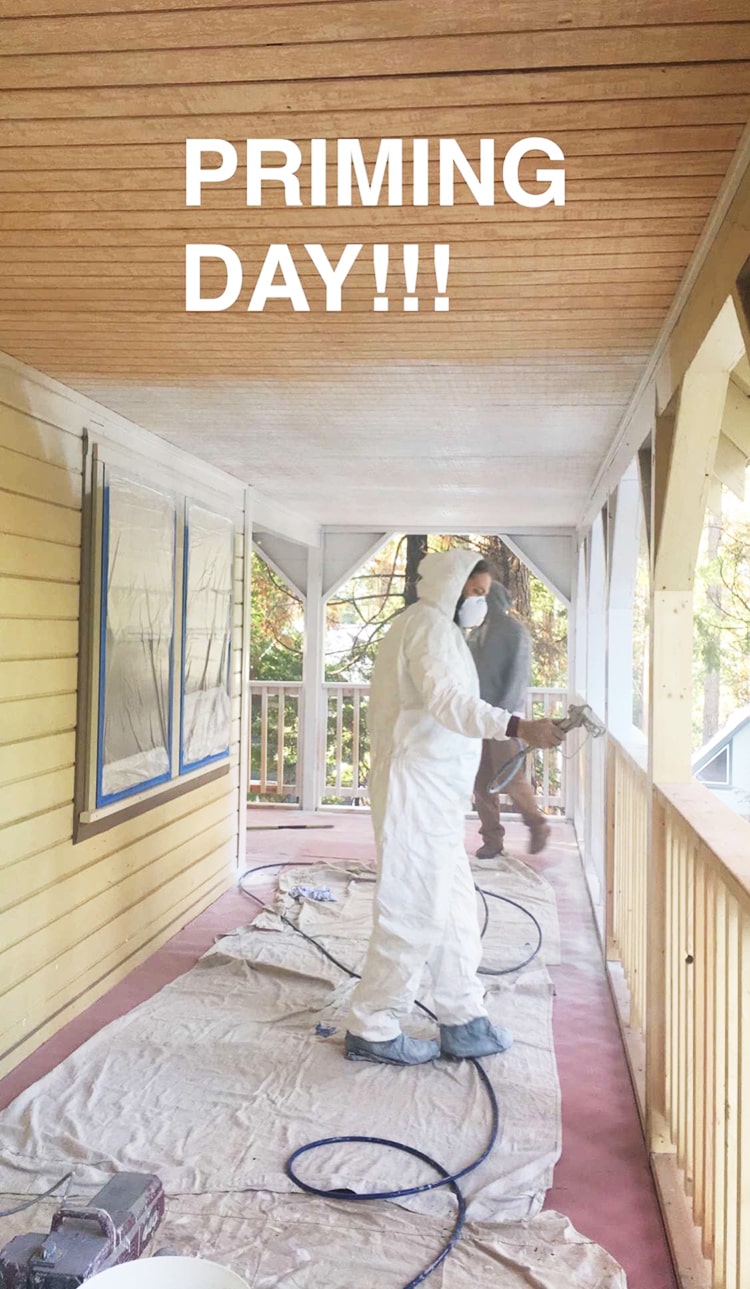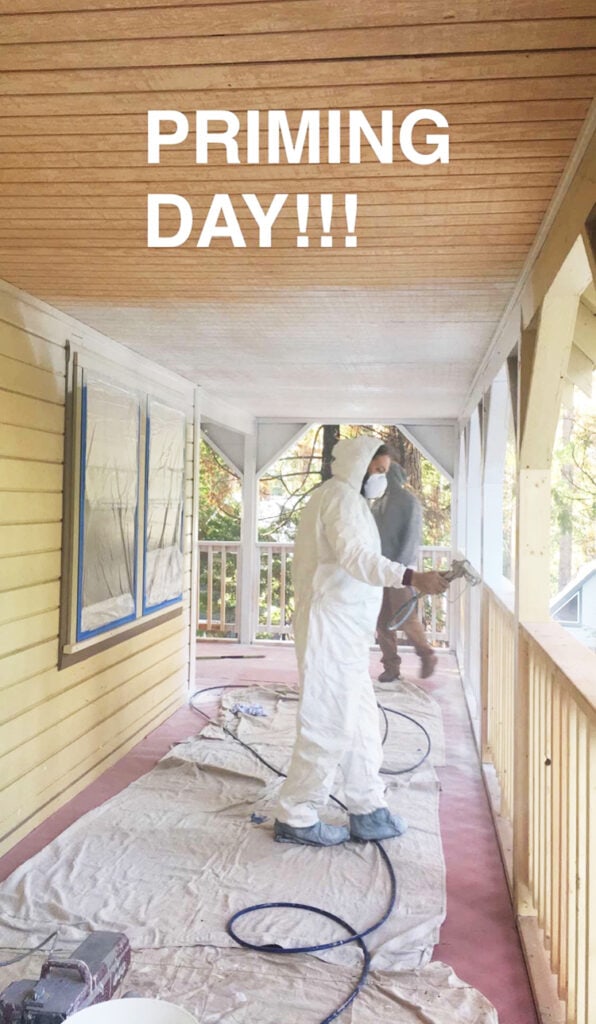 Pin
Goodbye yellow house!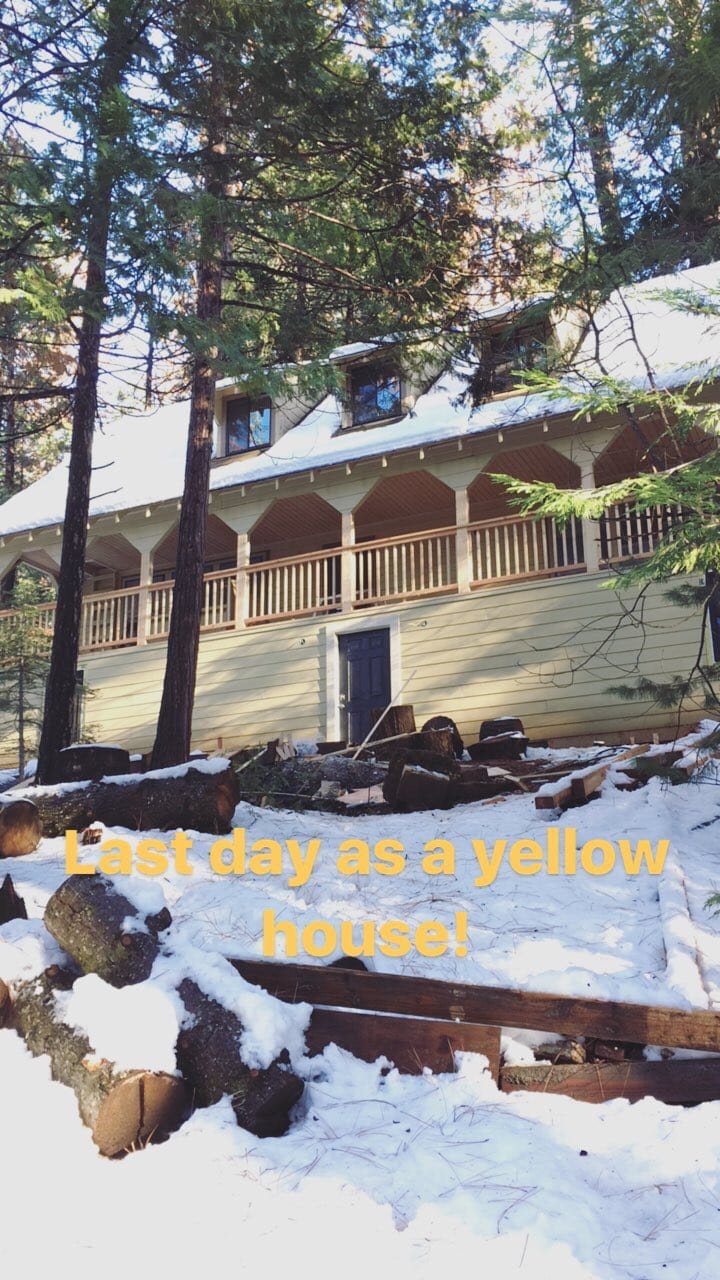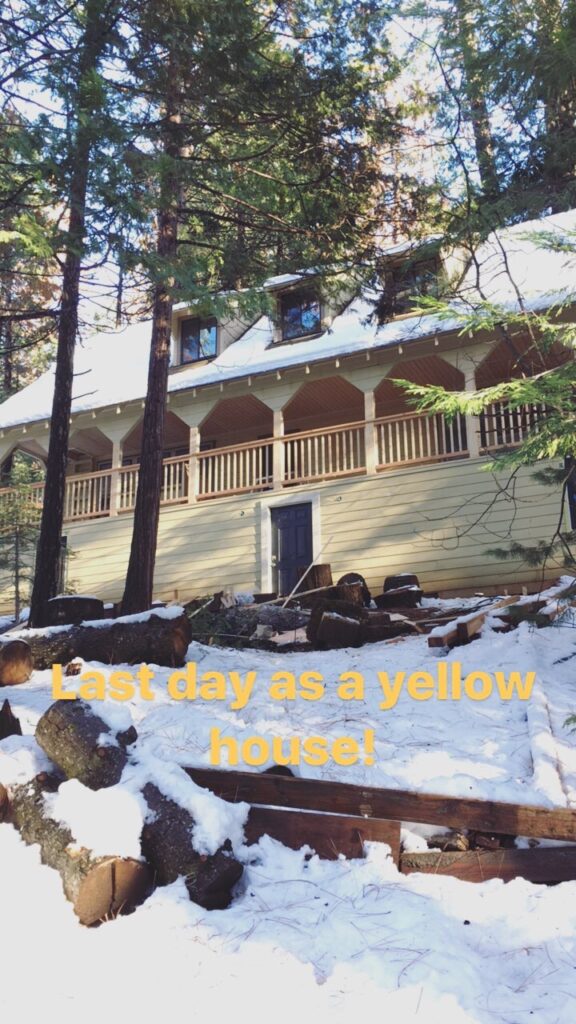 Pin
Here are the final exterior color selections:

Pin
The siding/body will be Woodlawn Colonial gray, the trim & railing will be Bistro White, and the accents will be Cracked Pepper. I'll add black shutters on the two lower windows, and the window frames themselves are all black, along with black lanterns and adirondack chairs on the front porch. Sidenote: The white is a pure bright white, and the black is a rich black even though they appear muted in the photo. These are the same colors as I used throughout the interior on the walls, doors and trim (except the interior is all eggshell and the exterior has its own exterior formula).
The original porch had drywall on the ceiling (who does that?) which fell off last week with all of the rain/moisture, so they replaced it with wood siding. I absolutely LOVE it.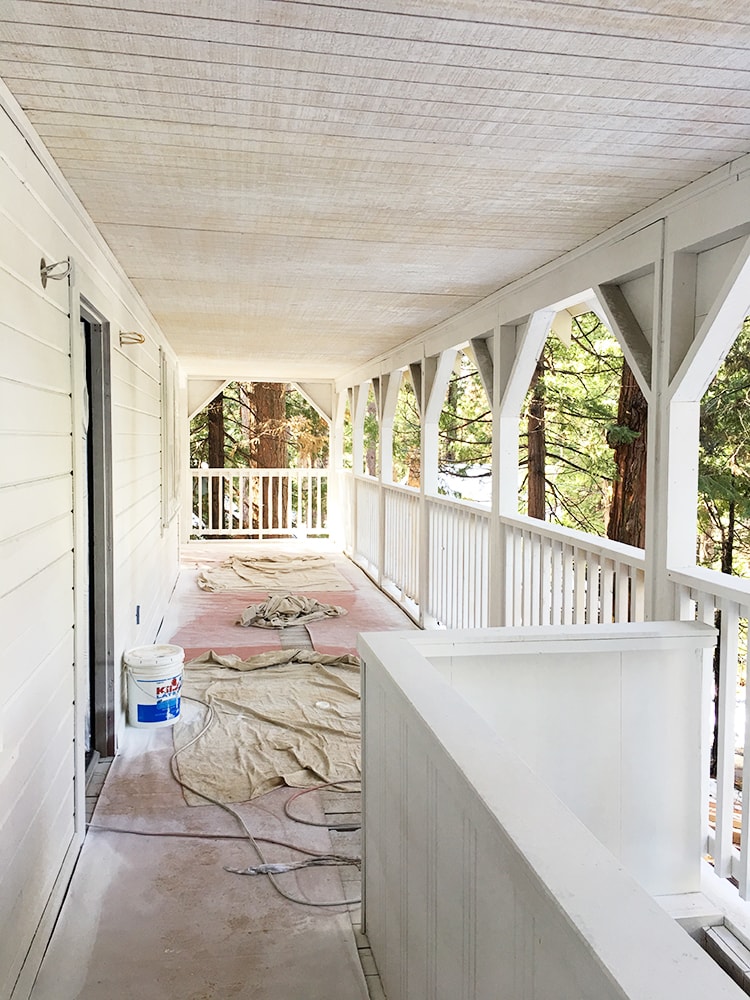 Pin
And the flooring is all original wood planks which will be refinished and sealed.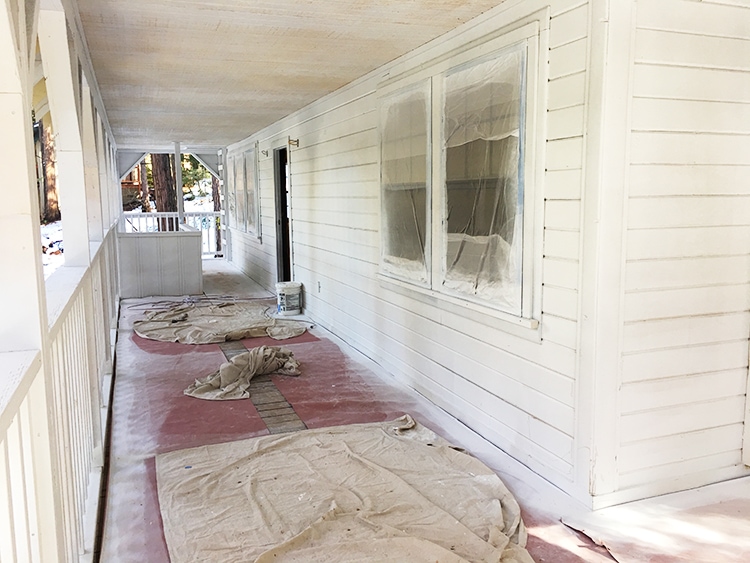 Pin
The porch is an L shape, and wraps around to the side behind the kitchen: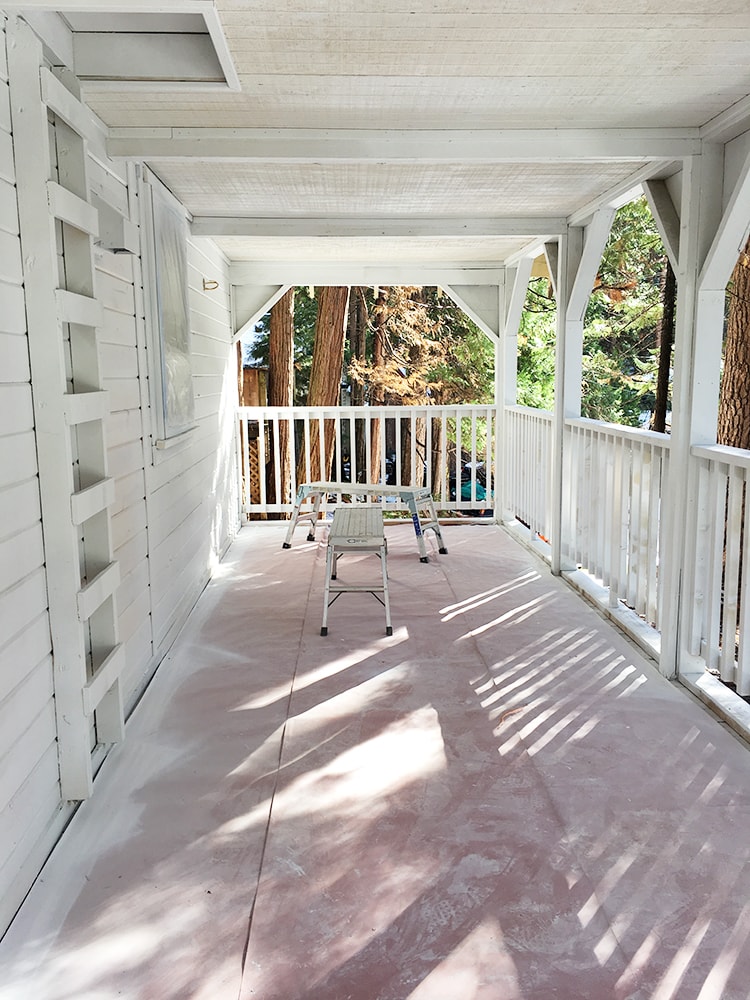 Pin
Can you just imagine this spot on a warm summer day, surrounded by trees… ahhh…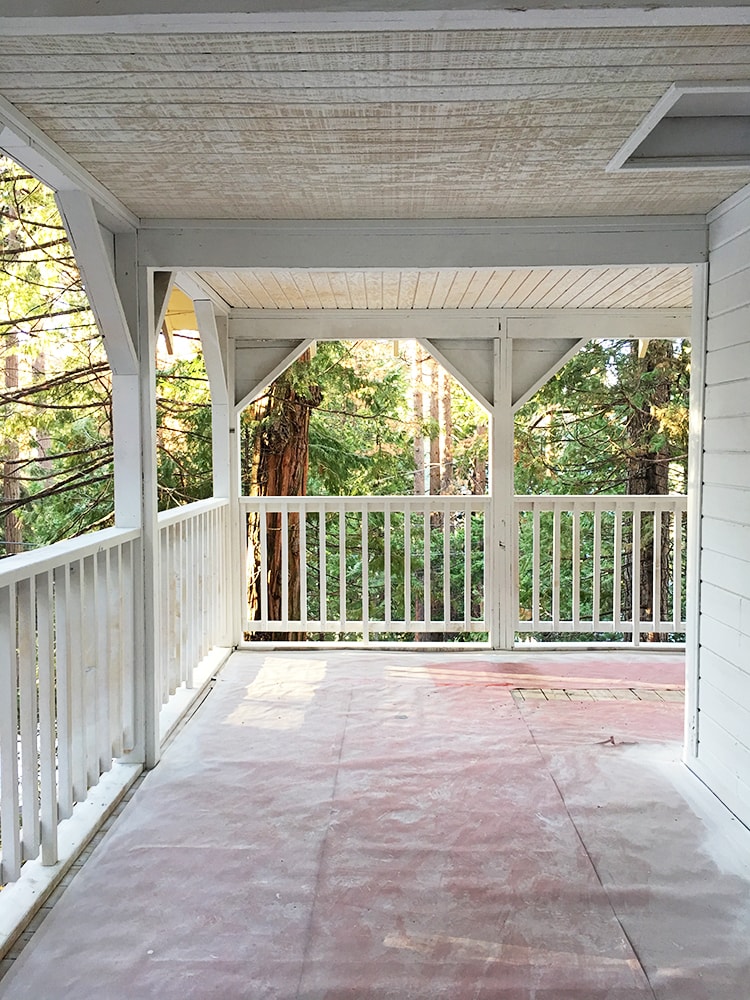 Pin
I'm just a little jealous of whoever gets to wake up to this view every day.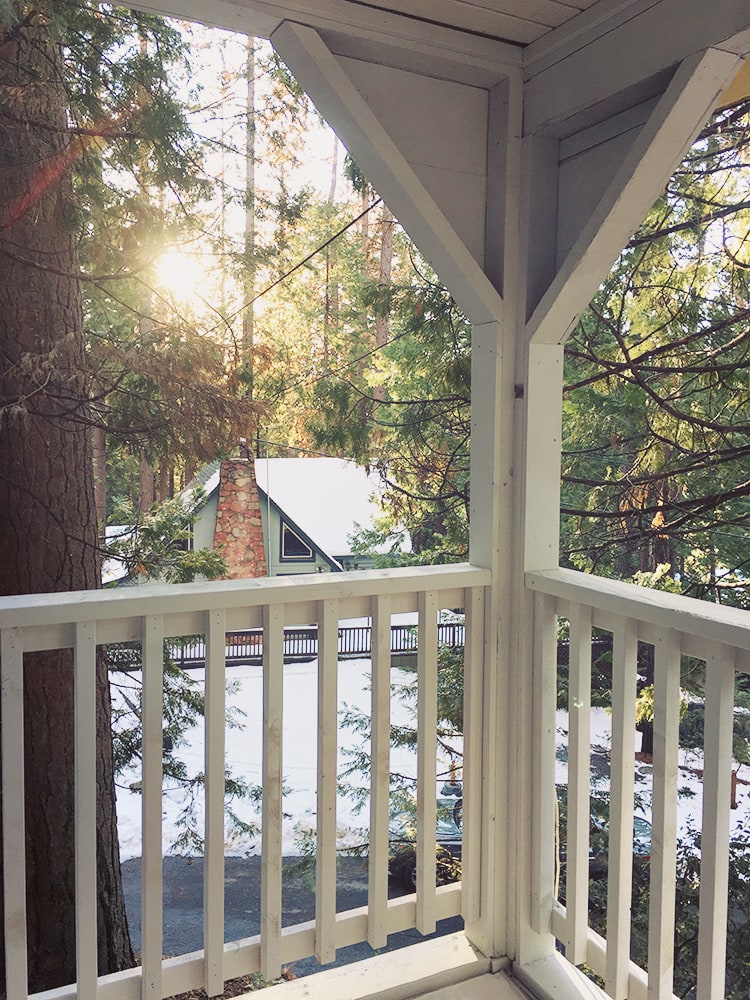 Pin
As I type this on Tuesday afternoon, the house is still being painted but is scheduled to be done before the next storm on Wednesday. I don't have any update photos which is driving me a little crazy, but here's how it looks mid-primed:
Pin
So white! Glad I didn't opt for all white—it's a bit too stark. Especially in winter.
Alright, moving along! As always, I'll be jumping around all over the place. First, the kitchen.
Due to lack of time, I decided to have my contractor (Brandon) handle the staining/sealing of the countertops. I mentioned my plans in the last post but hadn't fully committed to a sealer, and when I showed up on Friday, Brandon had began testing some stains/sealers on a scrap piece. He was using Howard butcher block conditioner, which is the same stuff the counter manufacturer had recommended to me (and it's food grade!)
He had experimented with a gray stain which ended up being too gray for me, then I we tested the Minwax Weathered Oak and it was the closest match to the floors. Once the conditioner dried, it ended up being a bit of a darker/richer shade than the natural butcher block, which I am happy with.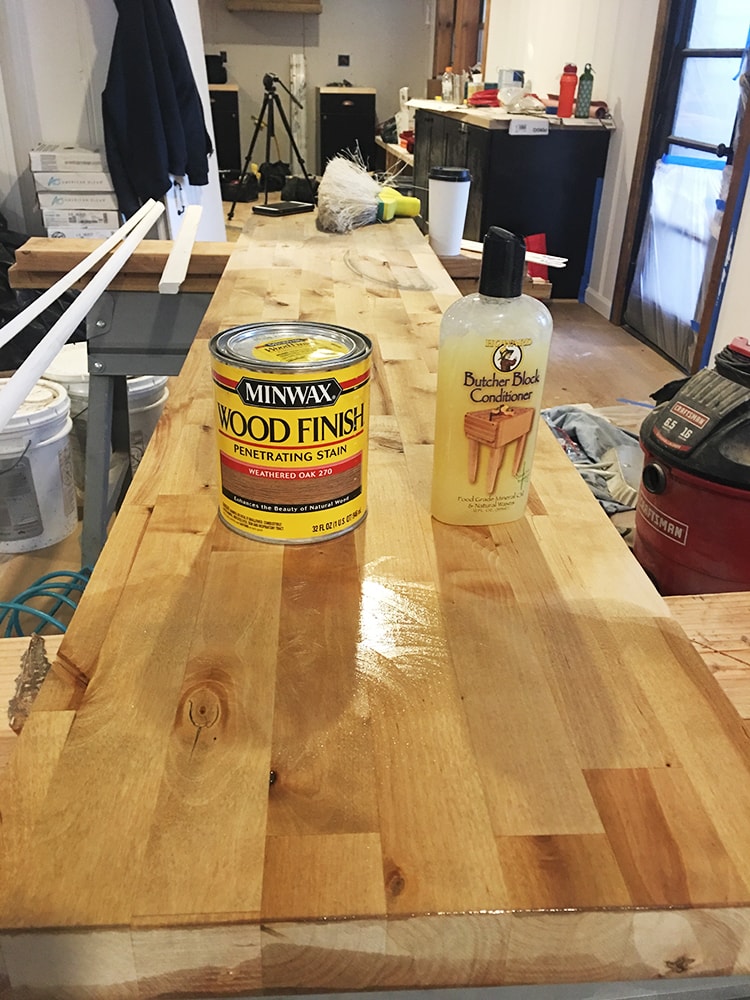 Pin
So the plan is to layer on wood conditioner (this is absolutely necessary for an even stain, trust me!), two coats of Minwax Weathered Oak, and a couple coats of the butcher block conditioner. This is all supposed to happen within the next few days so I should have photos of the finished results in the next post.
Now that the window seat bench is built, I dragged my table over to test the layout: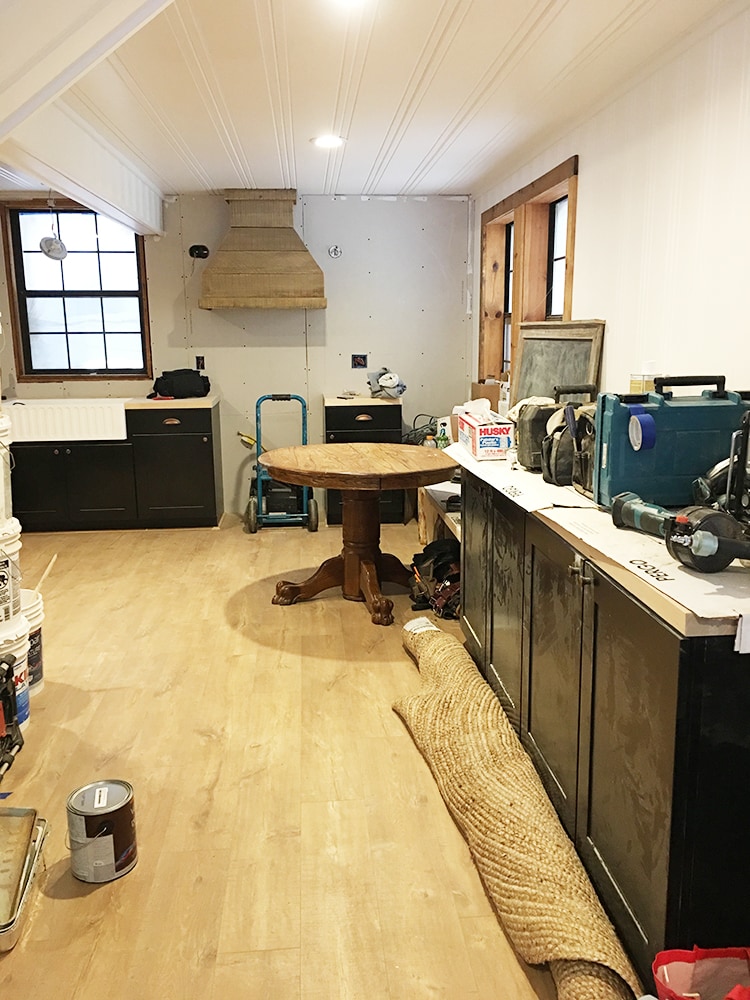 Pin
The purpose of the table is to provide a casual eat in/dining space as an alternative to the more formal dining table, and also extra work space. I have a few stools to set around which won't take up too much space visually. The jury is still out on whether or not I'll keep it there… it doesn't feel too crowded right now but I'll have to see once it all comes together. The beauty of this all is that it doesn't actually have to be functional since it's just for staging. Whoever buys the house can do whatever works best for them 🙂
In the last post you got to see as the floating shelves went in… and here they are: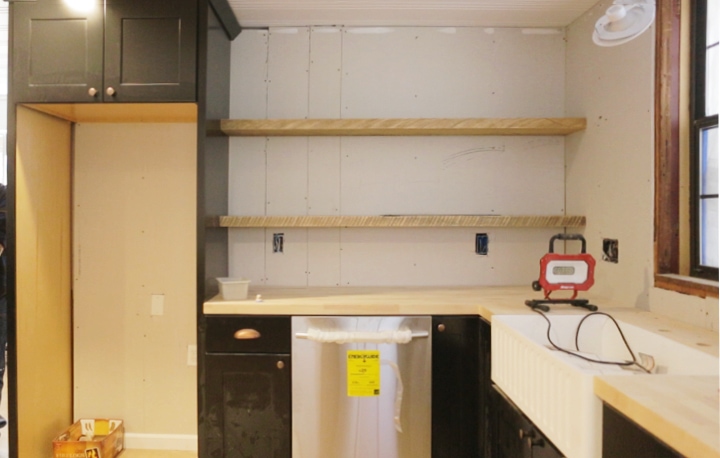 Pin
Love love love. Thank you Silicate Studio for making this so easy! Can't wait to break open my box of kitchen supplies and start decorating!
Now for the living/dining area. When I first bought the house, this was set up as a living space with randomly placed furniture: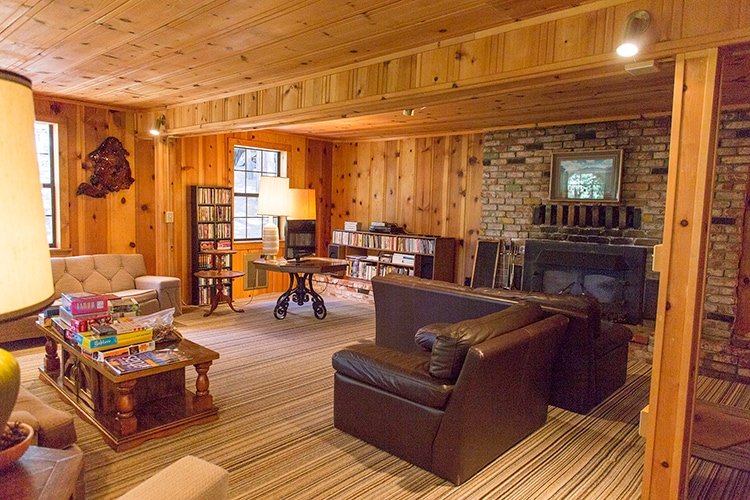 Pin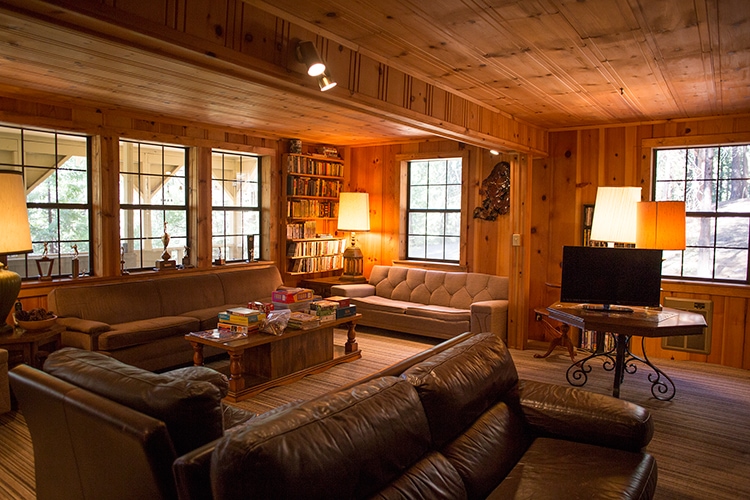 Pin
I think a large gathering table is essential for a family style vacation home like this, so I split the room in two and designated one area for dining.
I haven't built the table yet (plan to do this with reclaimed lumber & Ikea trestle legs), but these saw horses were the perfect stand-in: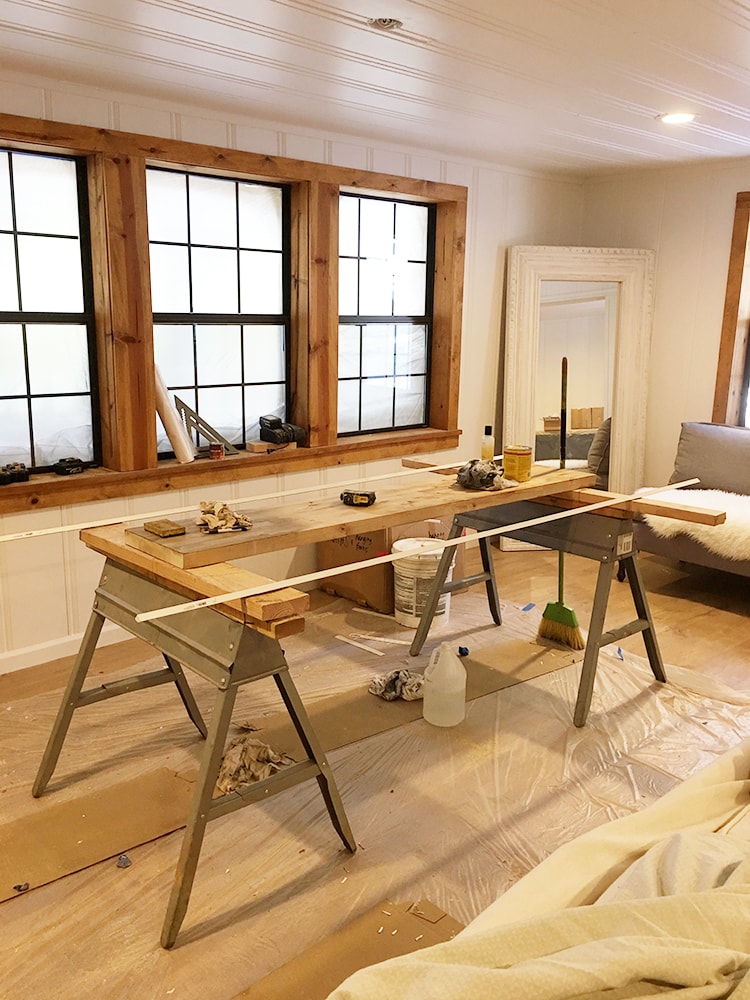 Pin
And Oh My… this Kichler chandelier from Lowe's has exceeded all of my expectations: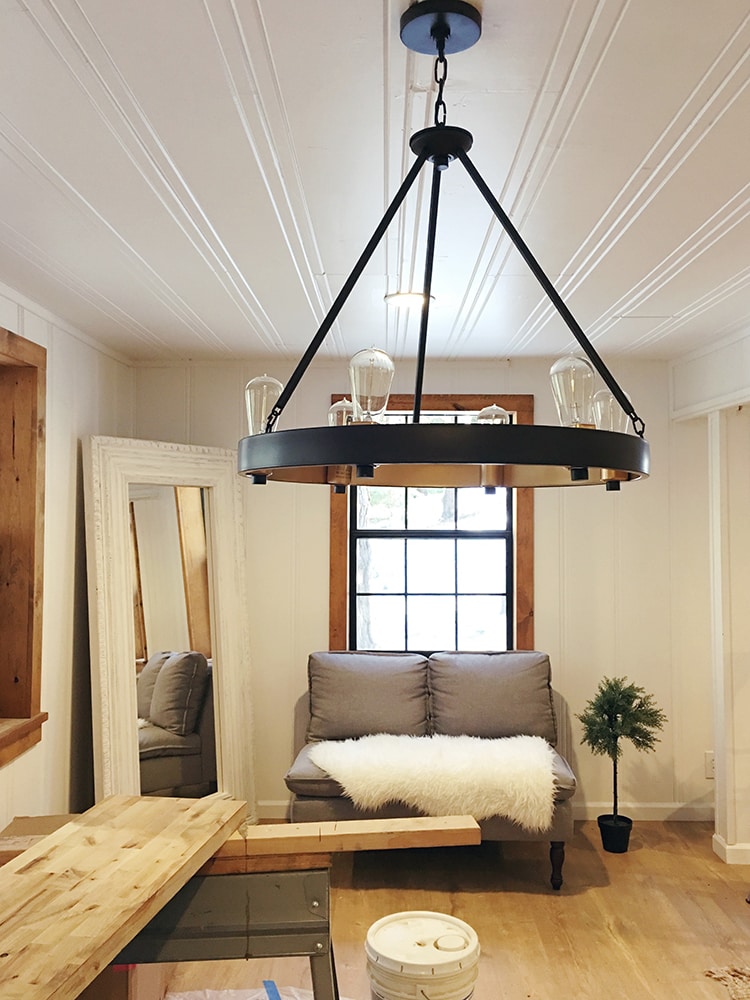 Pin
I'm in love with every bit of it… the round shape to break up all the hard lines, the fun vintage style bulbs, and my favorite part…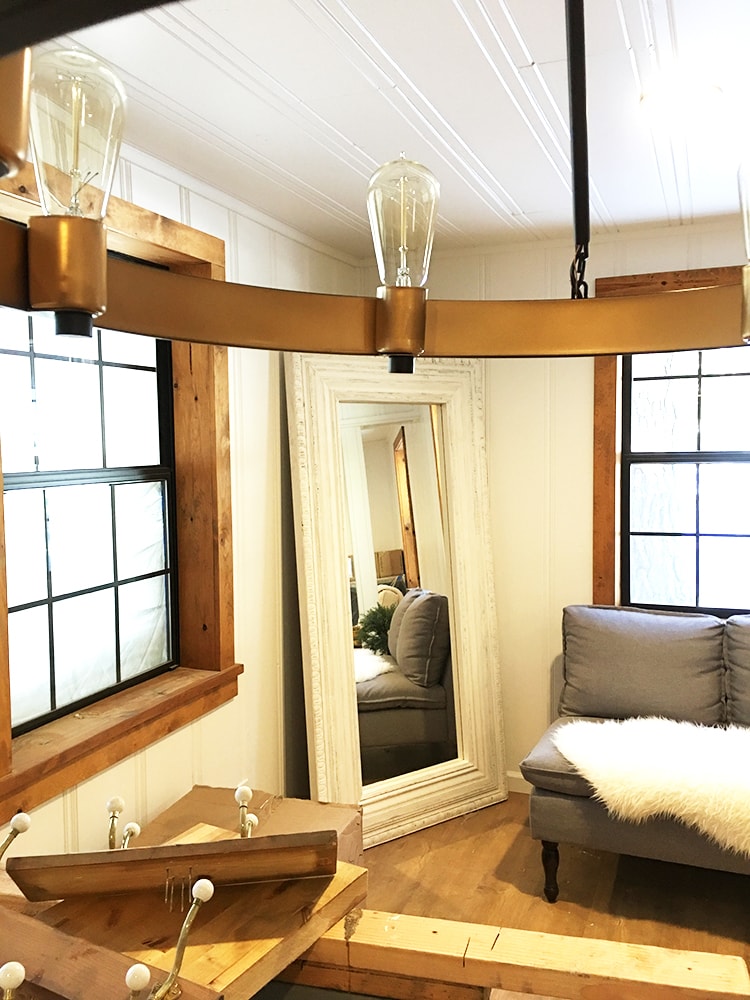 Pin
It's gold on the inside! It's absolutely perfect for this space. I almost went with this wood/black model instead but I am so glad I stuck with this one (it's $80 cheaper too… score!) No joke, this chandelier was the highlight of my weekend.
I spent Saturday morning moving all of the boxes/furniture into the bedrooms and working on living room arrangements. FINALLY SOMETHING FUN AND STRESS FREE!
It was like a big puzzle, trying to come up with the best configuration with the pieces I had, but I think we've finally got it…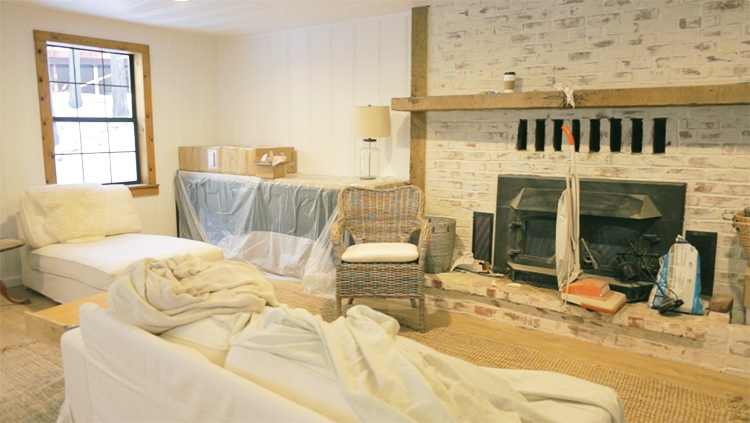 Pin
The couch will face the fireplace, and opposite that will be two wicker chairs (Ikea Byholma) flanking the fireplace (the second will be where the ladder is below)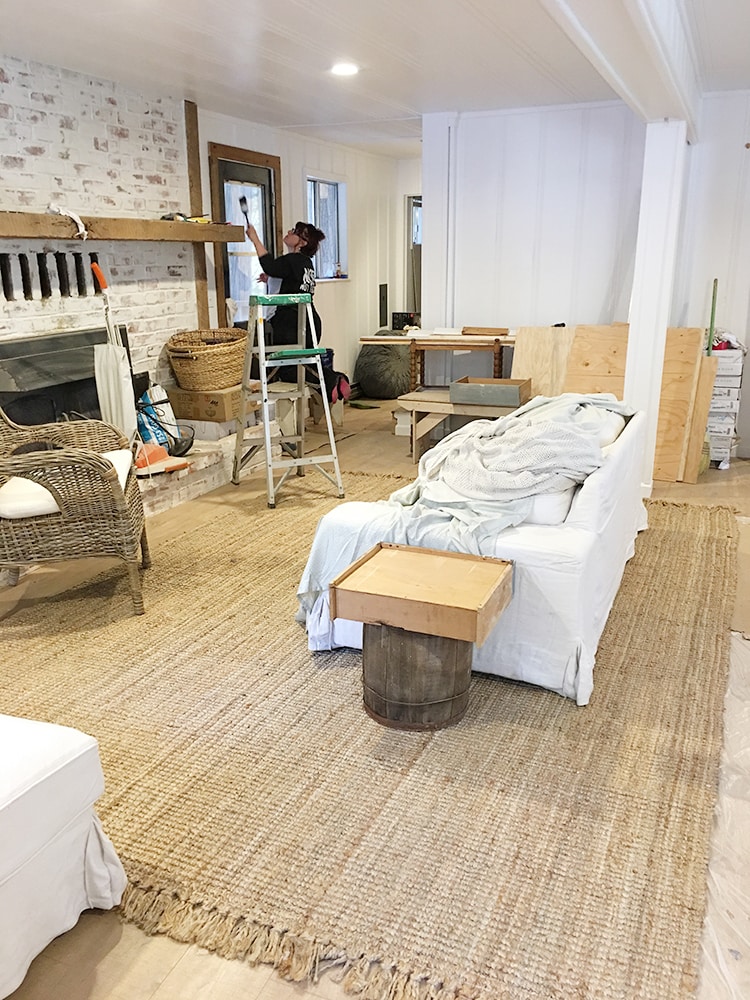 Pin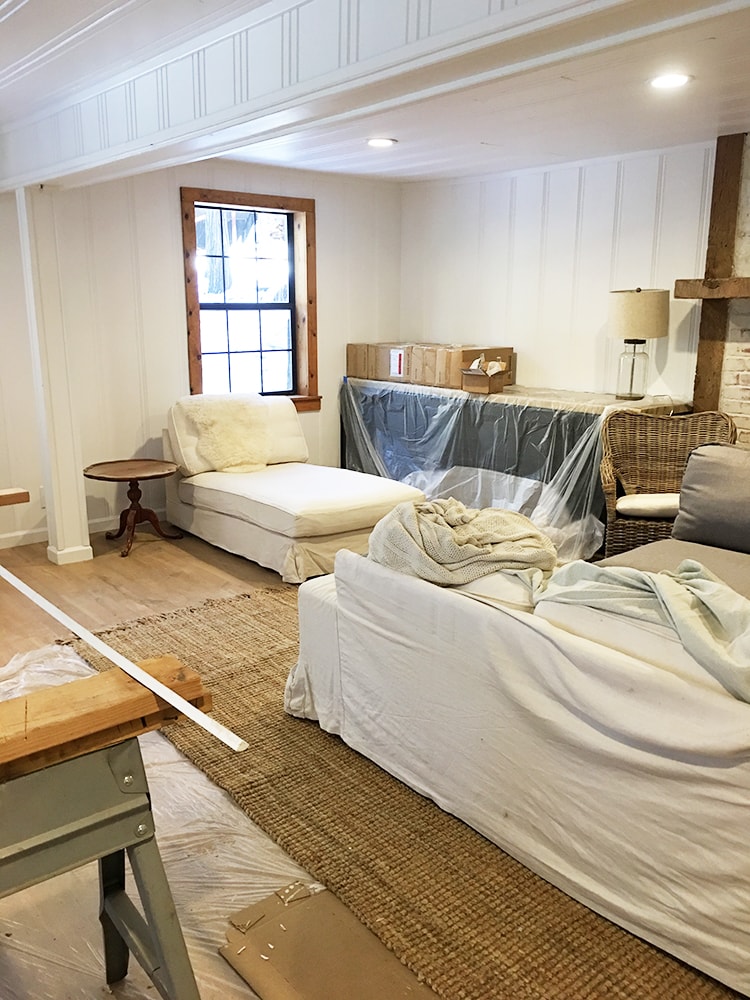 Pin
The Ikea chaise will be facing them, under the window next to the cabinets…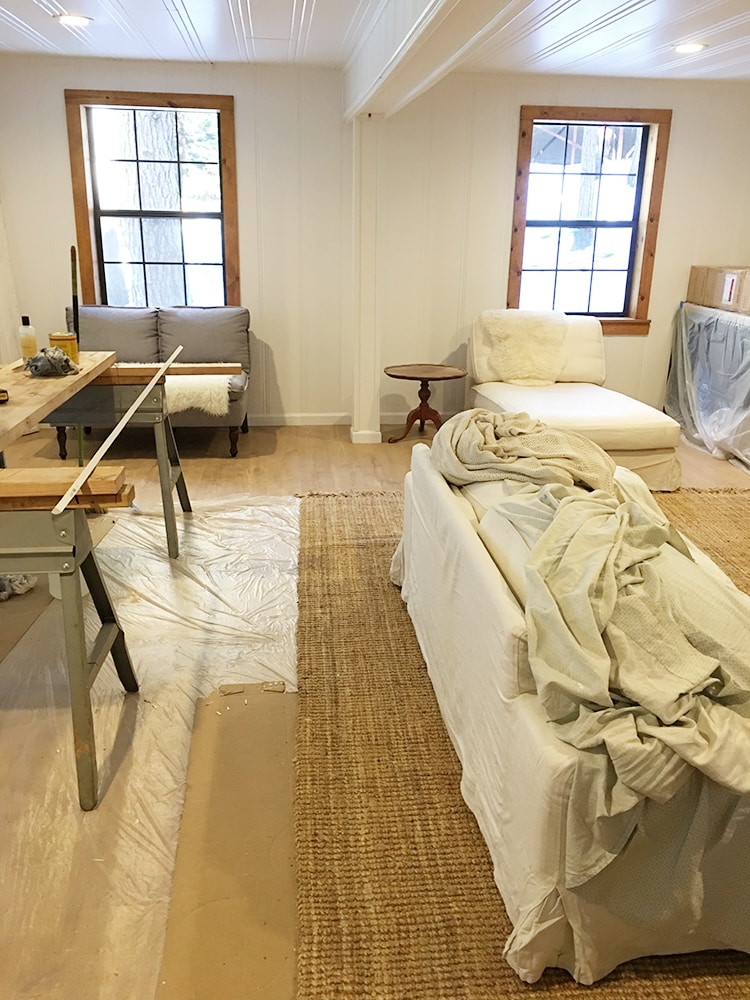 Pin
And the gray settee will sit on the dining room side, under the window as it's own separate reading/lounge nook: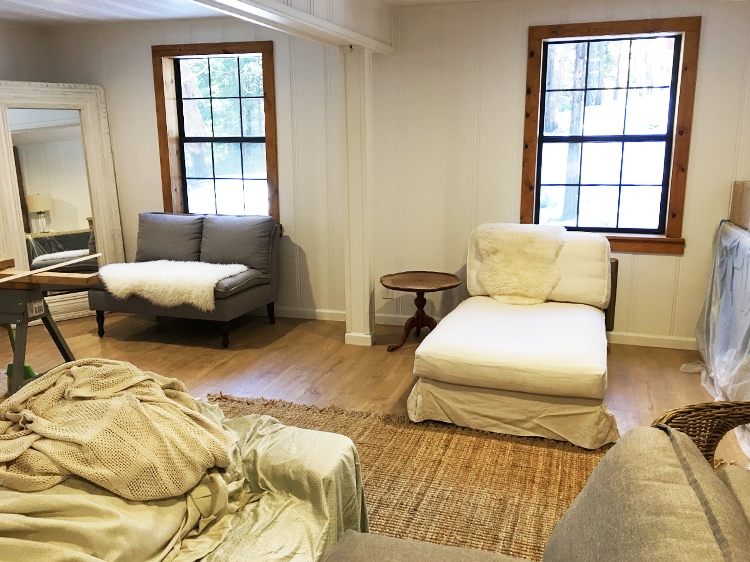 Pin
If any of this doesn't make sense to you, please reserve your judgment until the end because there's a lot left to do in here. We're talking curtains, lamps, tables, furniture makeovers, wall decor, accessories, etc etc. It will look completely different than it does now.
After coming up with a plan for the living room, a huge weight was lifted off my shoulders but I couldn't relax too much, because there's still this bathroom downstairs…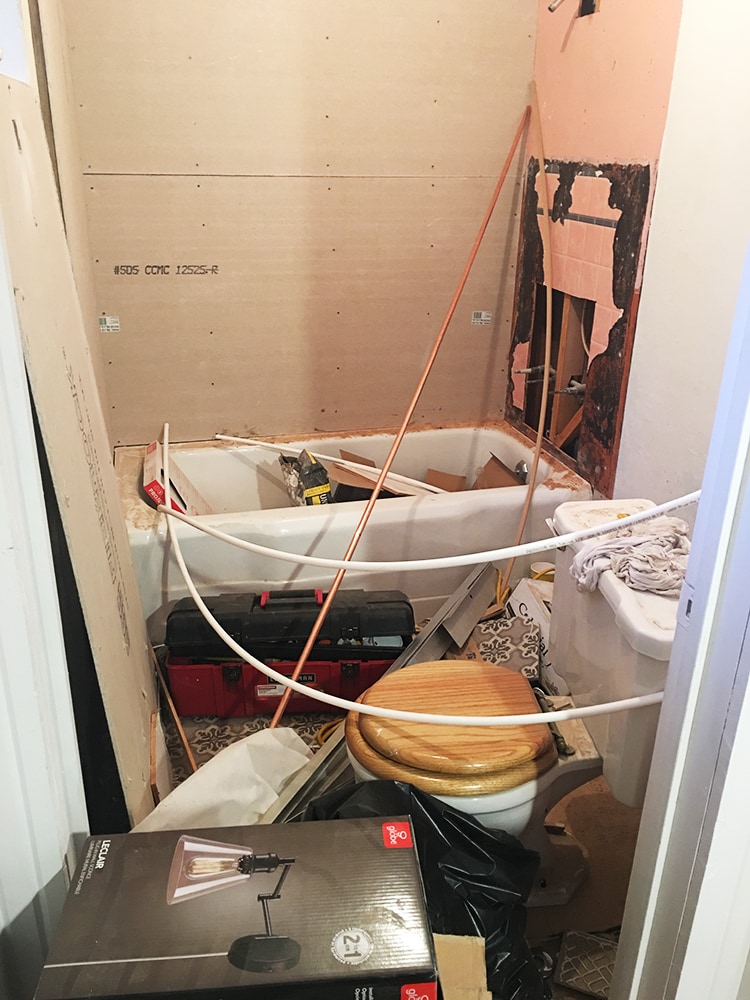 Pin
We certainly have the most work to do in here. Slightly nervous about this one.
My electrician was at least able to get the lighting started…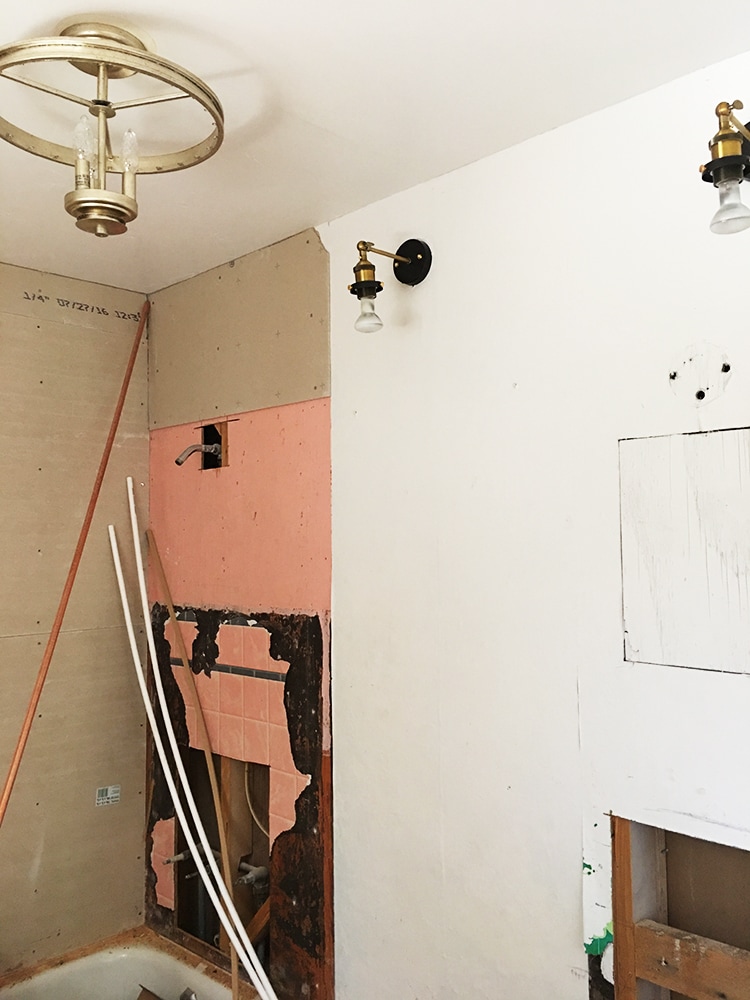 Pin
We've got a pretty crystal chandelier and two sconces which will hang above an extra wide mirror. Shower tile is supposed to begin (and hopefully finish!) this week… I have a feeling this will be one of those rooms where the paint is barely dry on Open House day.
Now let's head upstairs. Wood floors, finally!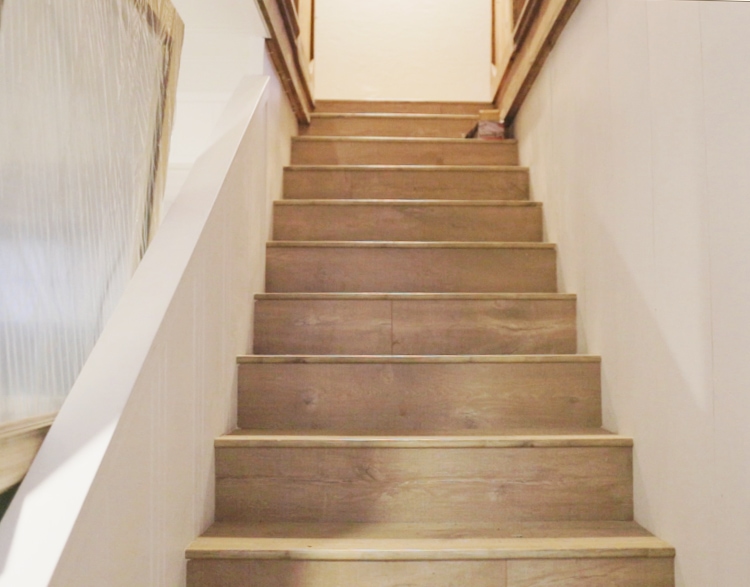 Pin
Lucas drove up to help and we spent the weekend playing musical beds, shuffling them around from room to room trying to figure out the best setup. Now, bedrooms may seem like least amount of work but when it comes time to decorate/stage, there's a lot that goes into it. We're talking rugs, bed frames, head boards, box spring/mattresses, bed skirts, sheets, pillowcases, pillows, comforters, quilts, night stands, lighting, window treatments and decor for SIX different bedrooms, and seven beds total. That amounts to a ton of line items to plan out and coordinate. It's a process.
Let's start with Bedroom #1, and a Before photo just for fun.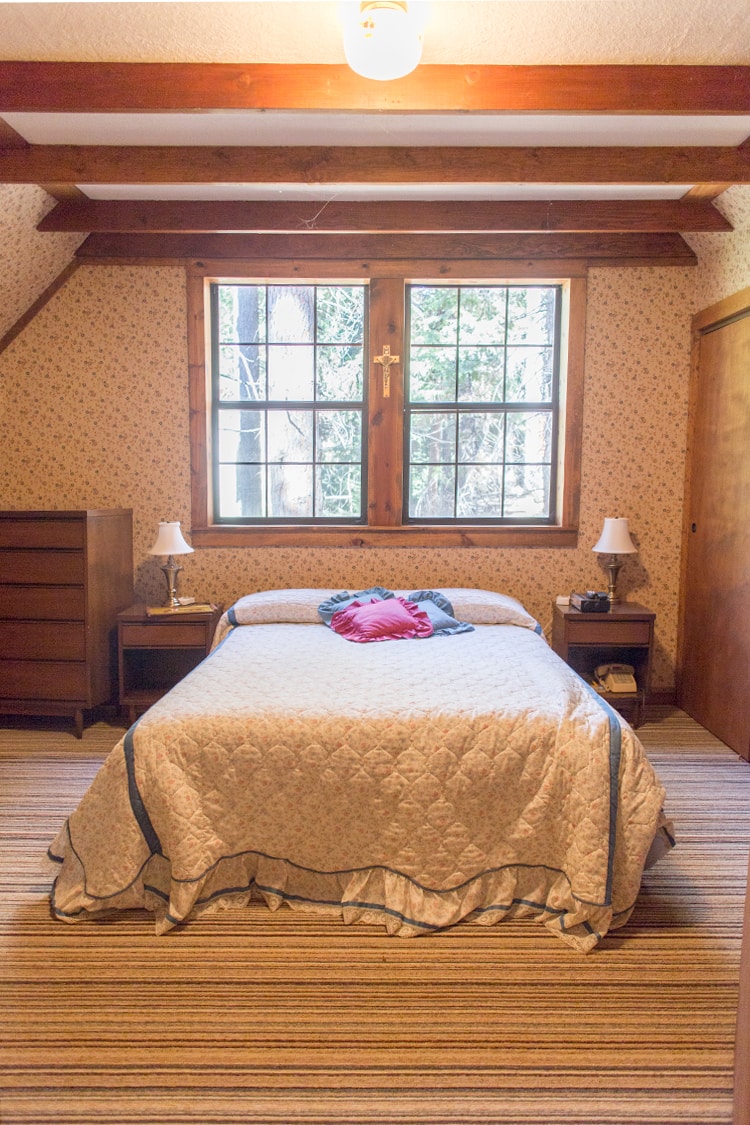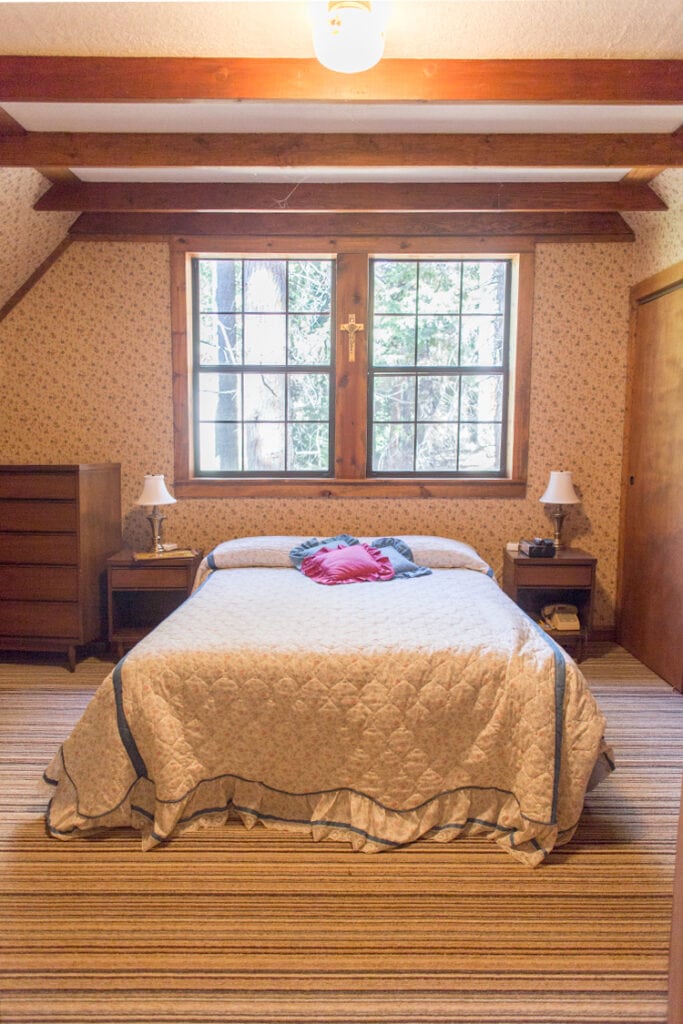 Pin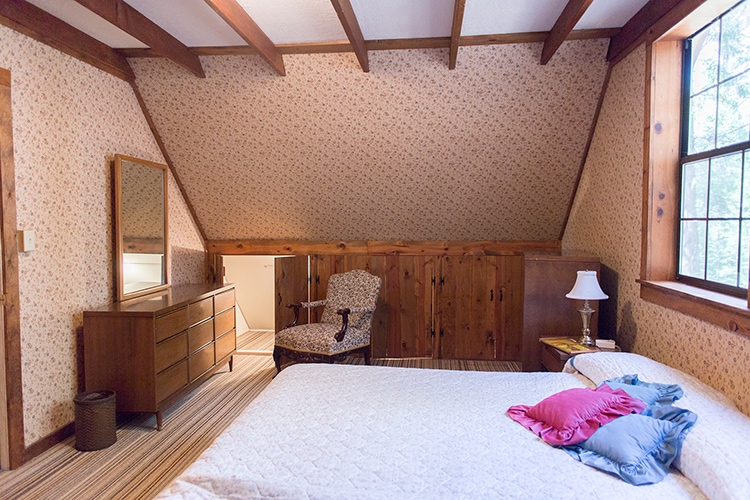 Pin
I reused the bed and gave the night stands a quick makeover, and here we are now: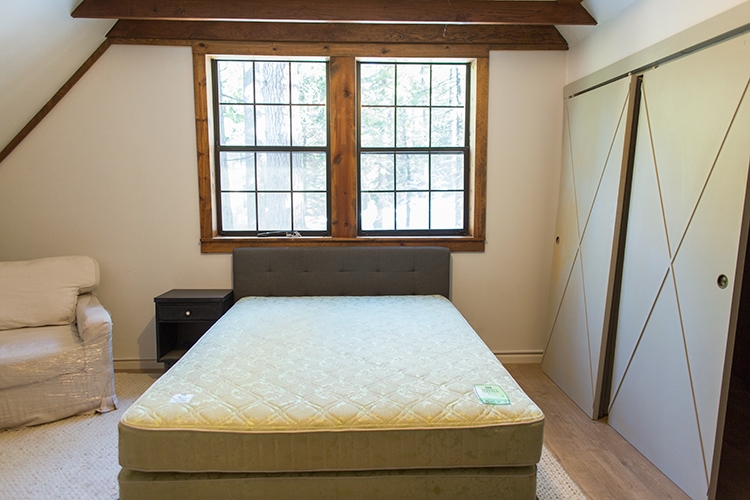 Pin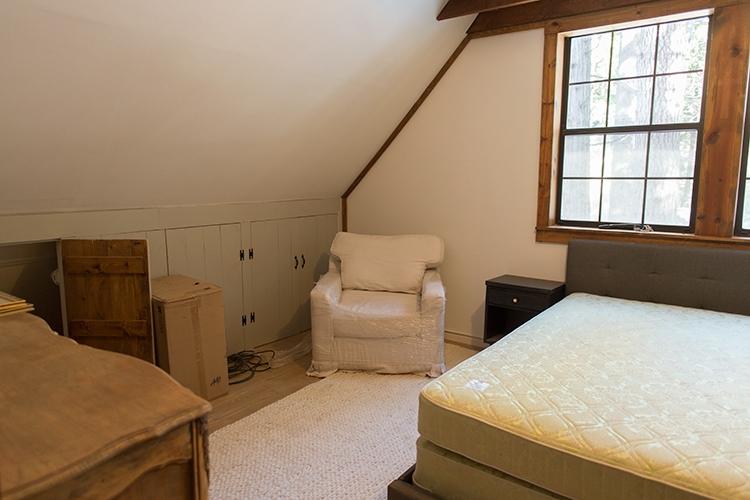 Pin
Still have to do the bedding, add curtains, fix the closet doors, potentially switch out the rug, install the chandelier, lamps, accessories, etc. But so far this is the closest room to being finished.
Next up, Bedroom #2: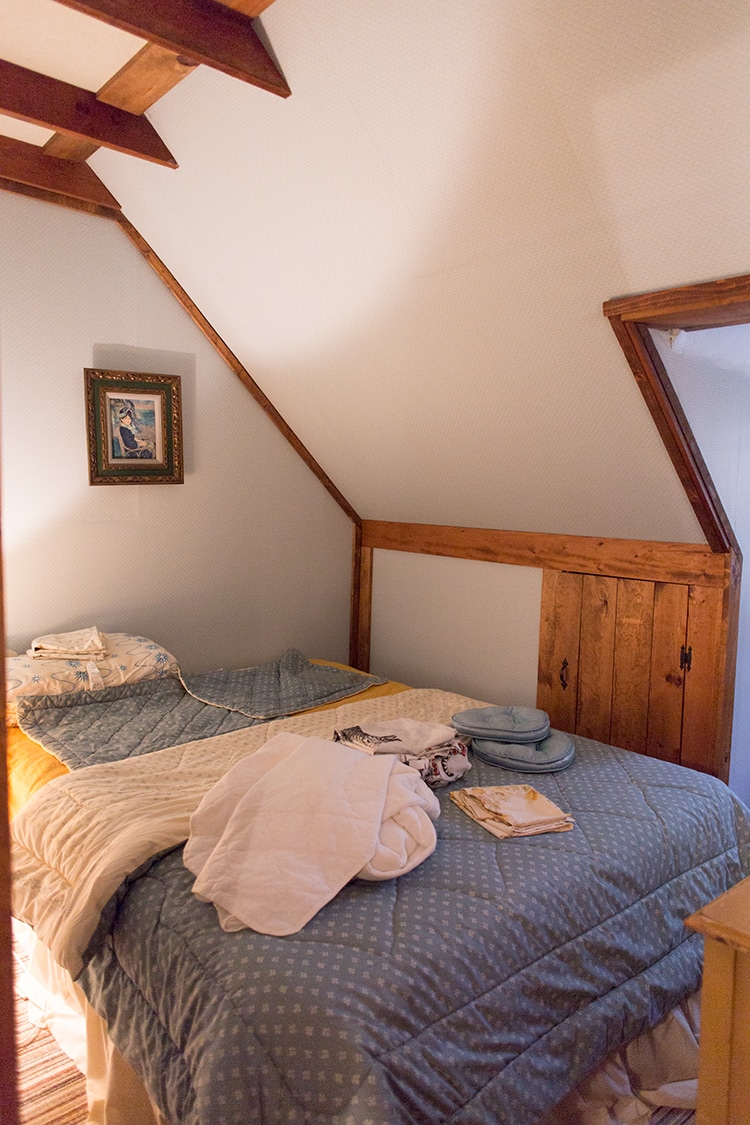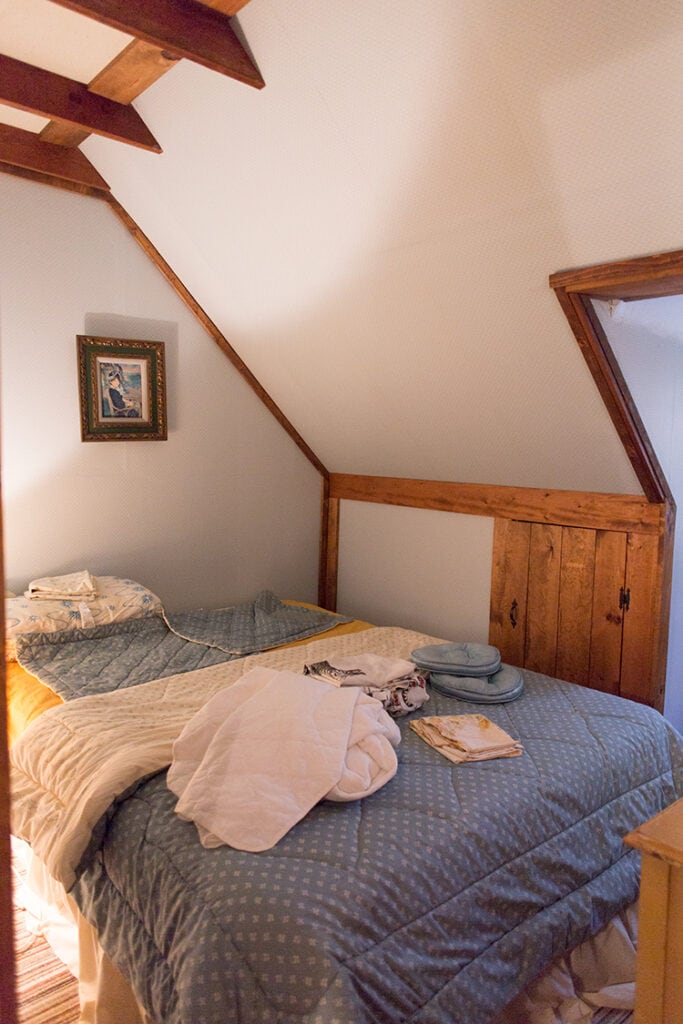 Pin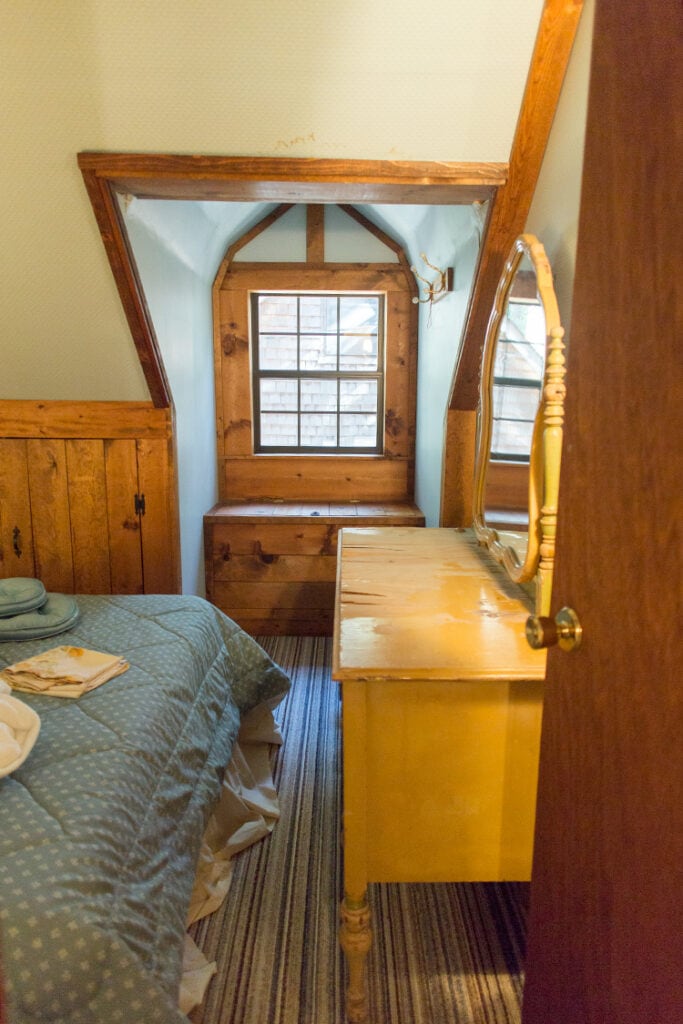 Pin
And how it looks now…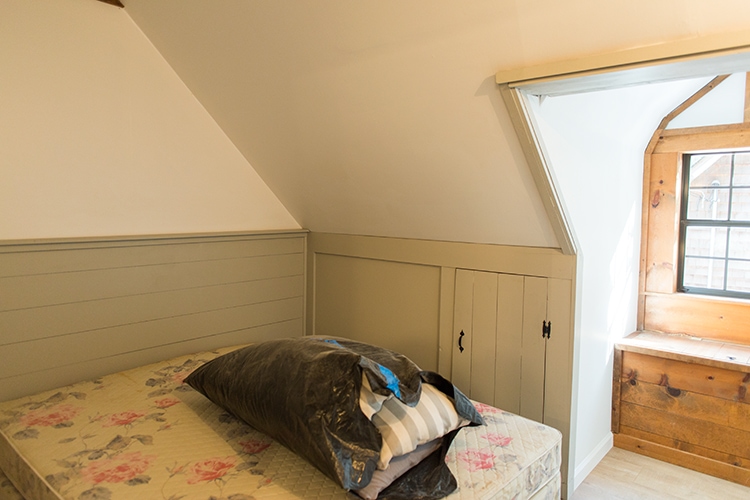 Pin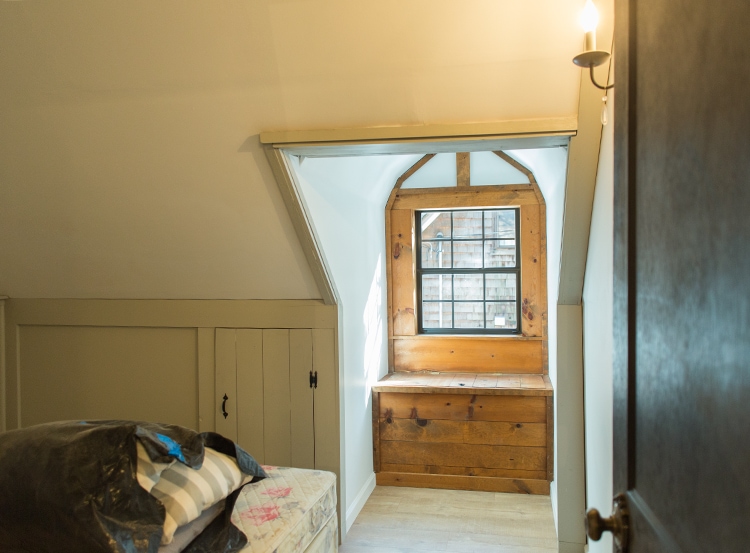 Pin
I added the shiplap wall, painted the trim gray and put the bed back in. Still have to add bedding and decor/accessories—this one shouldn't take too long.
Bedroom #3: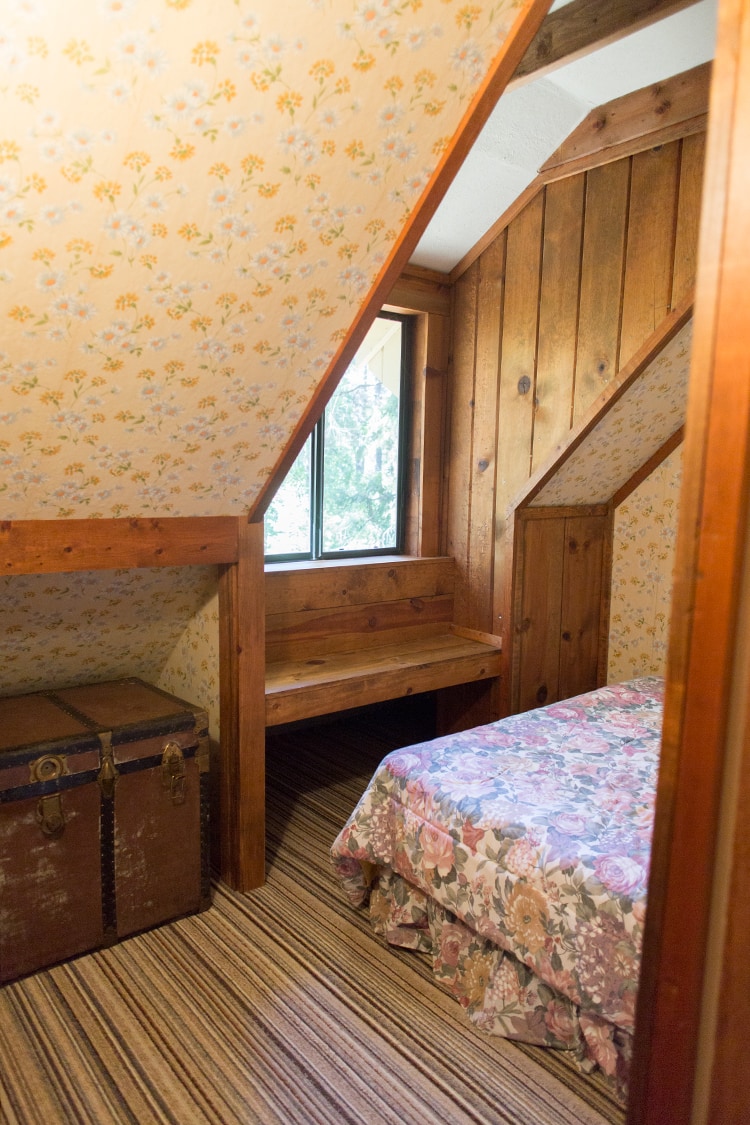 Pin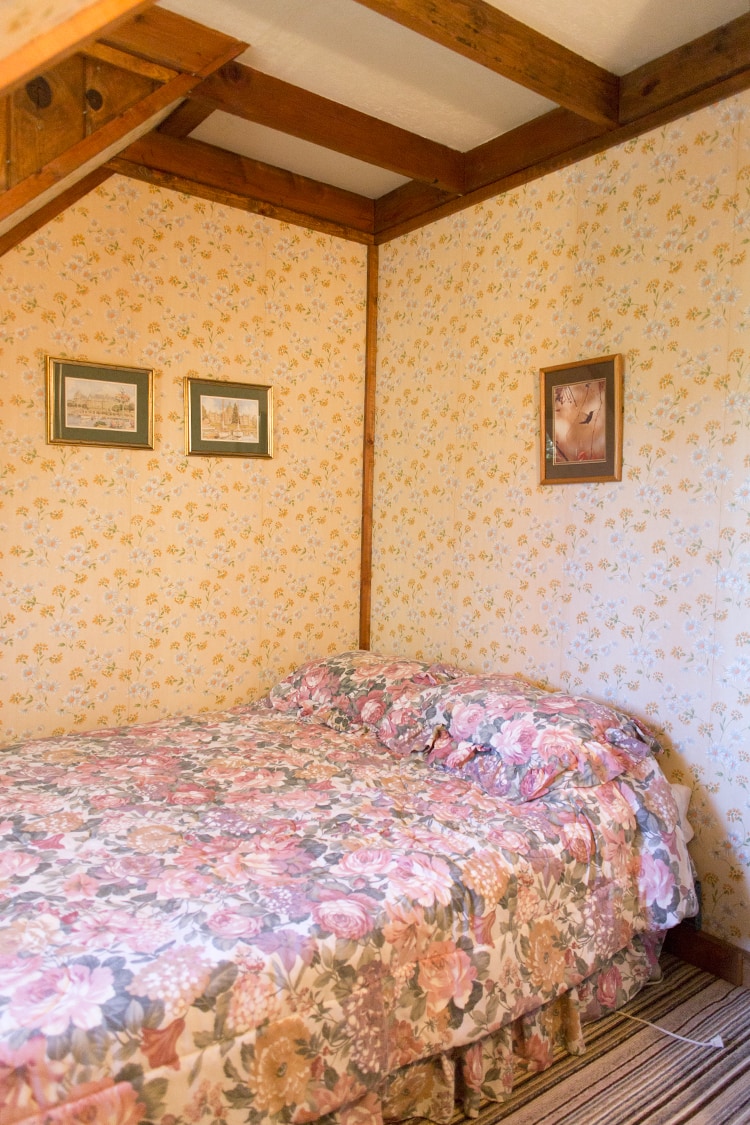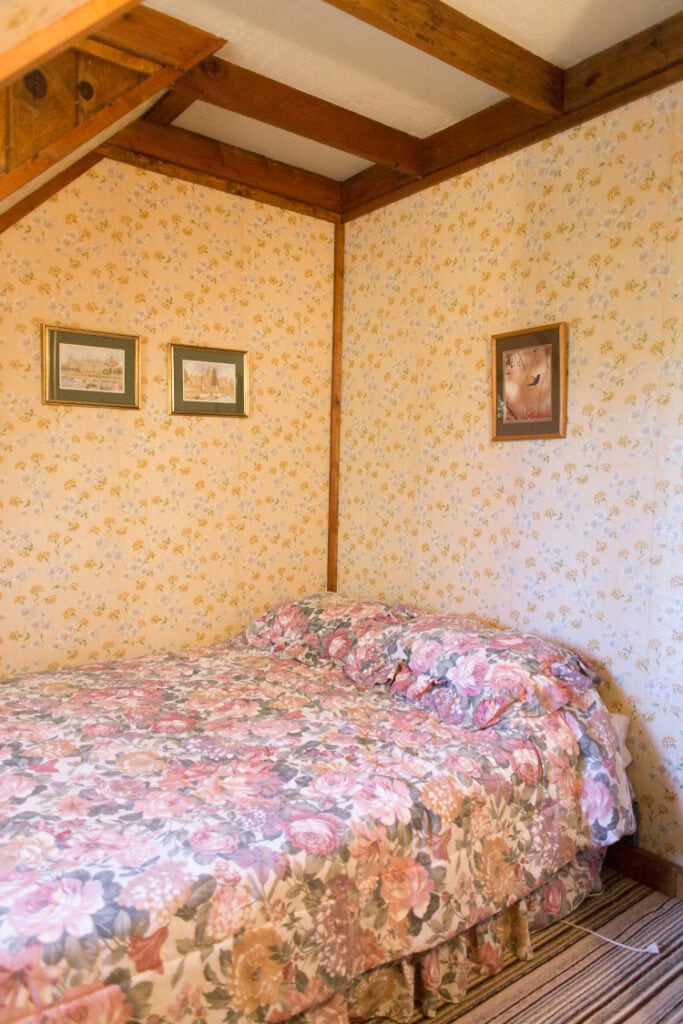 Pin
This is my stenciled room. I ditched the queen bed and plan to put a smaller daybed in here to open up the space.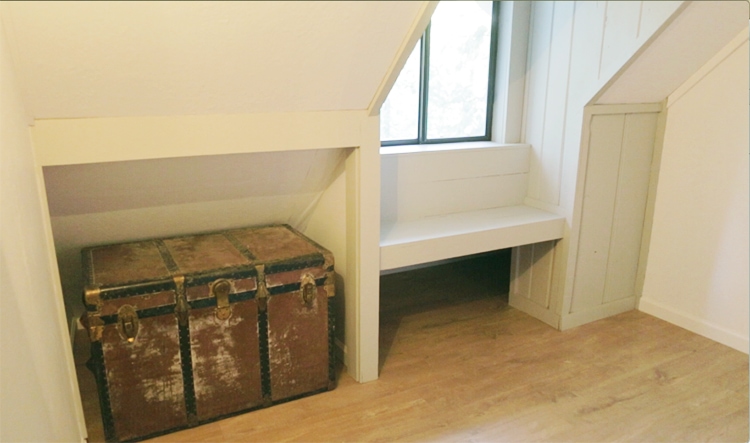 Pin
And apparently I neglected to take any actual photos (there's video in today's episode) so this is old, but the trim pieces in the corner have been painted white along with new white baseboards: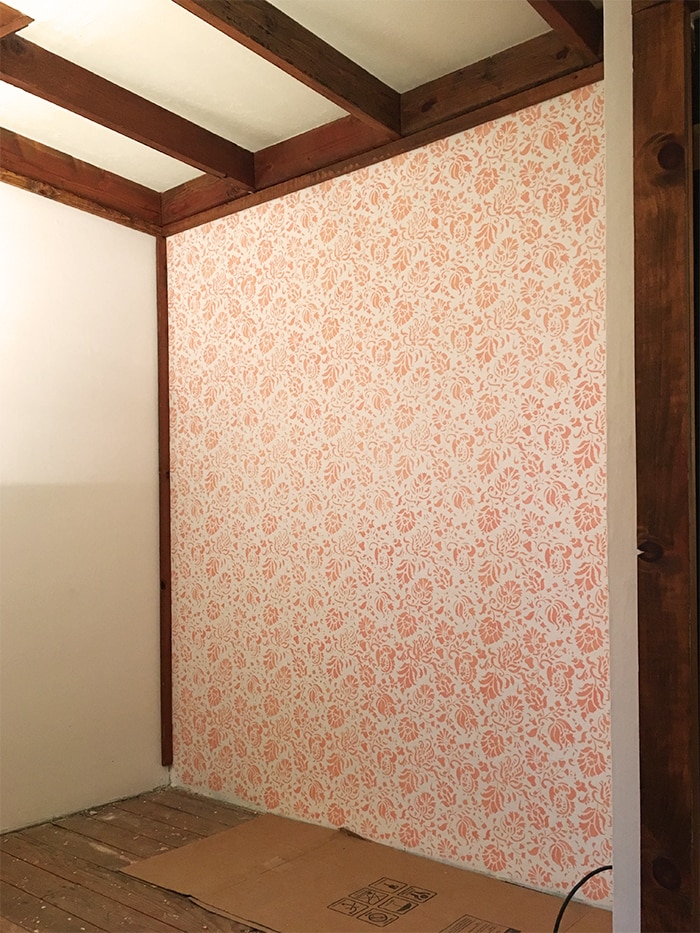 Pin
Now for the littlest of them all, Bedroom #4: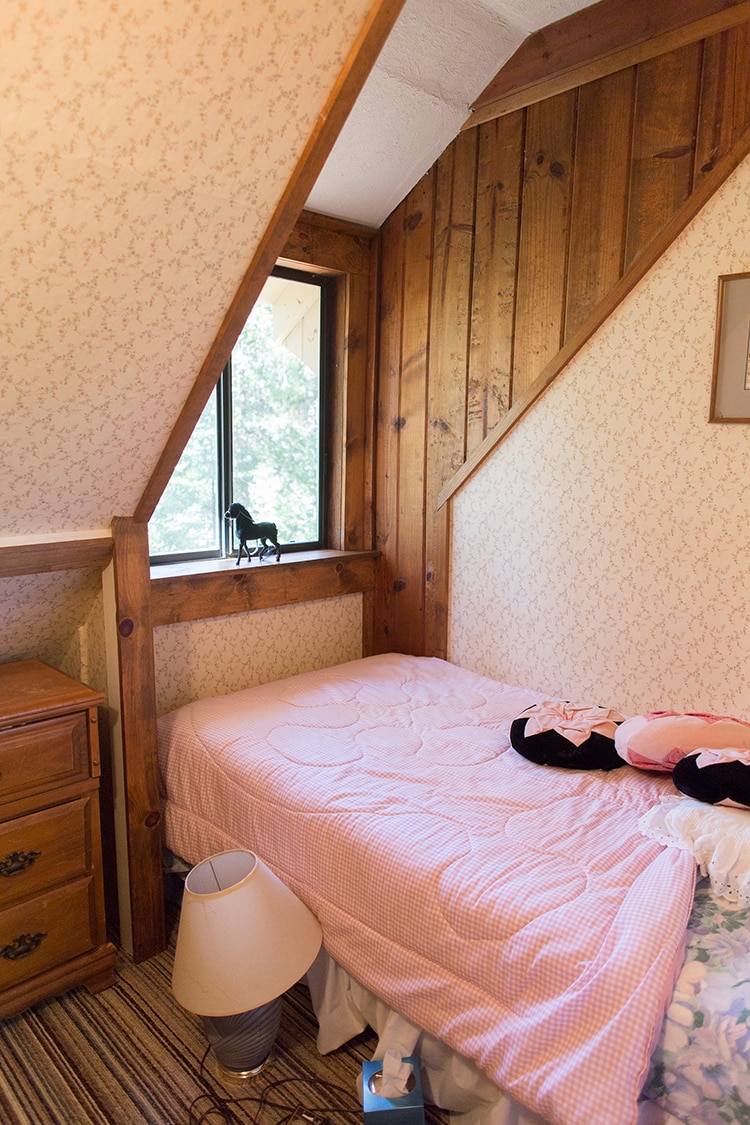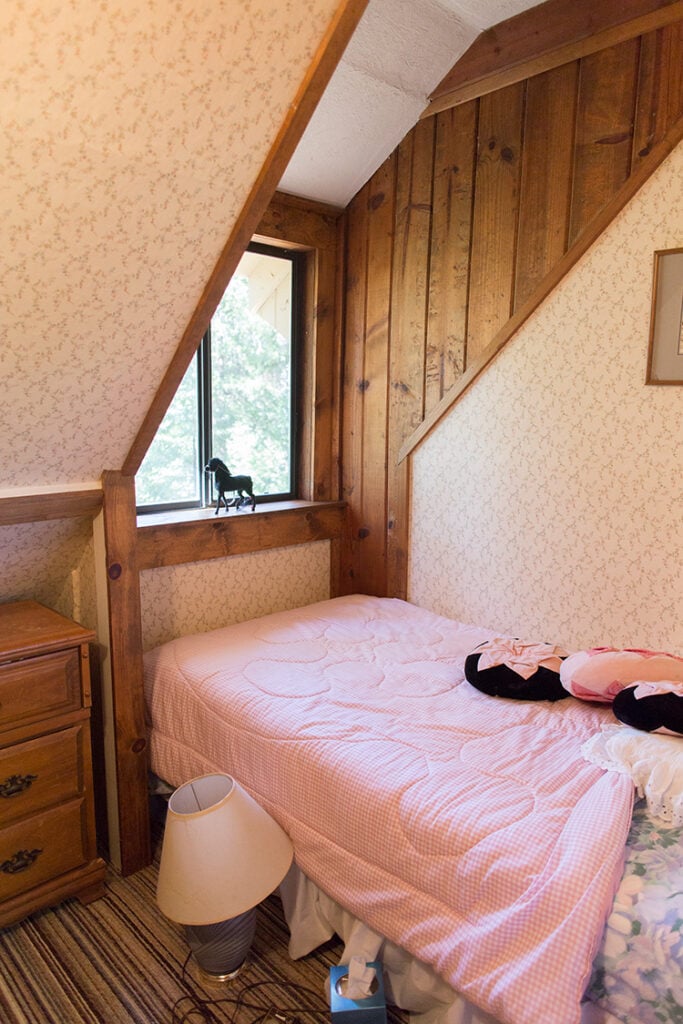 Pin
I'm really excited about the bedding and color palette I have planned for this one: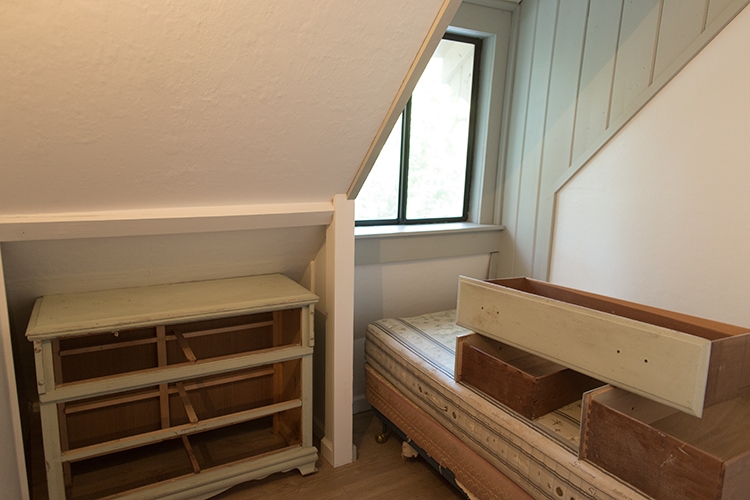 Pin
And Bedroom #5: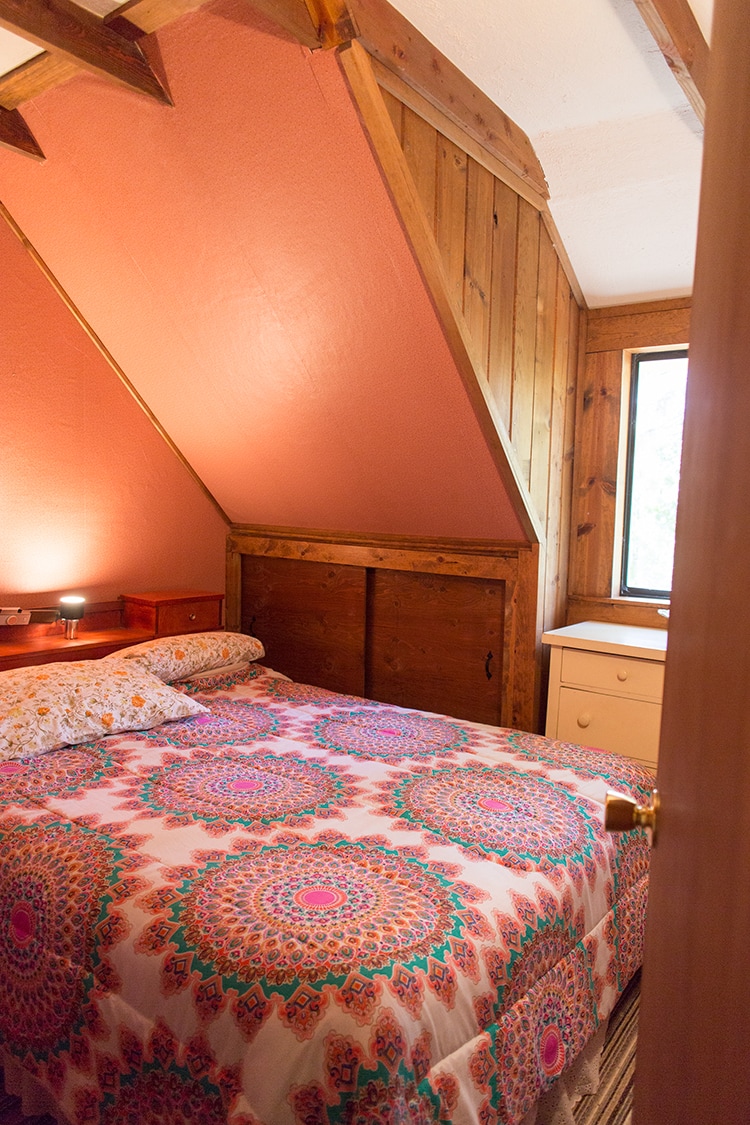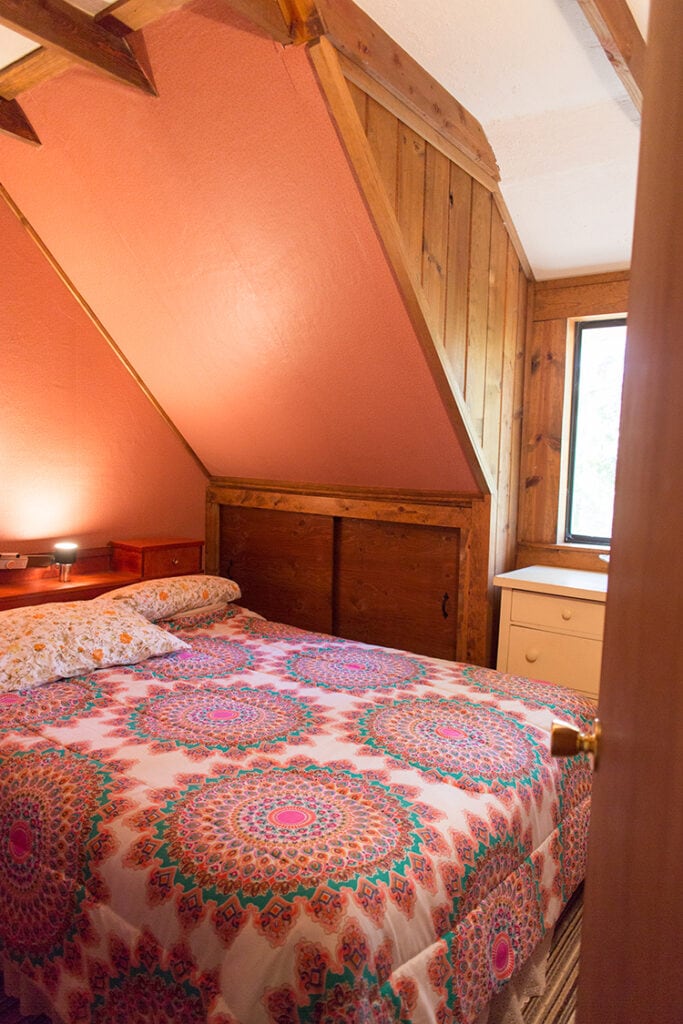 Pin
Lucas assembled the queen bed (from Wayfair) so next up is a dresser makeover, plus bedding/decor/touch up paint/lighting (you can see much more of this room in the video!)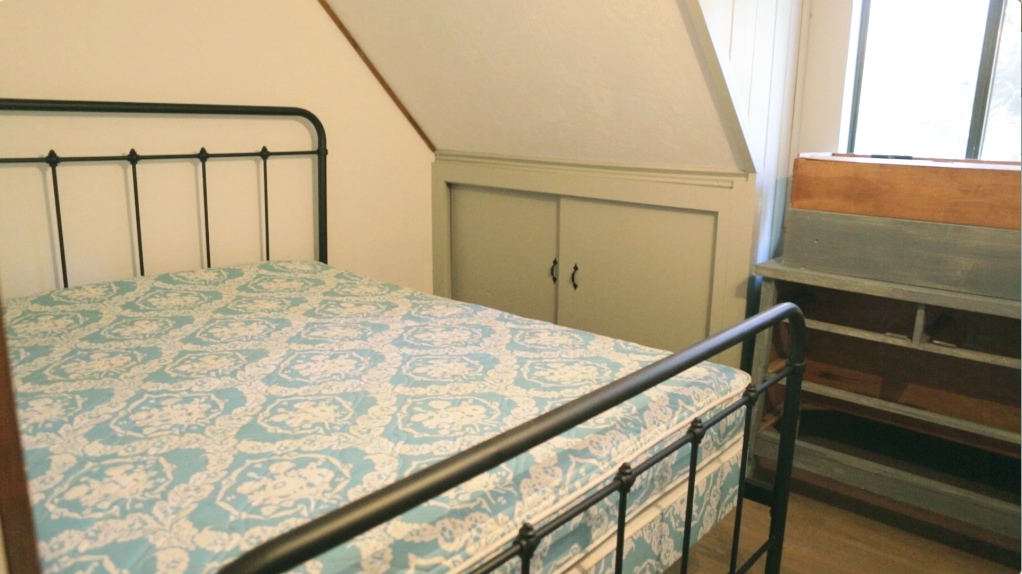 Pin
And finally, Bedroom #6: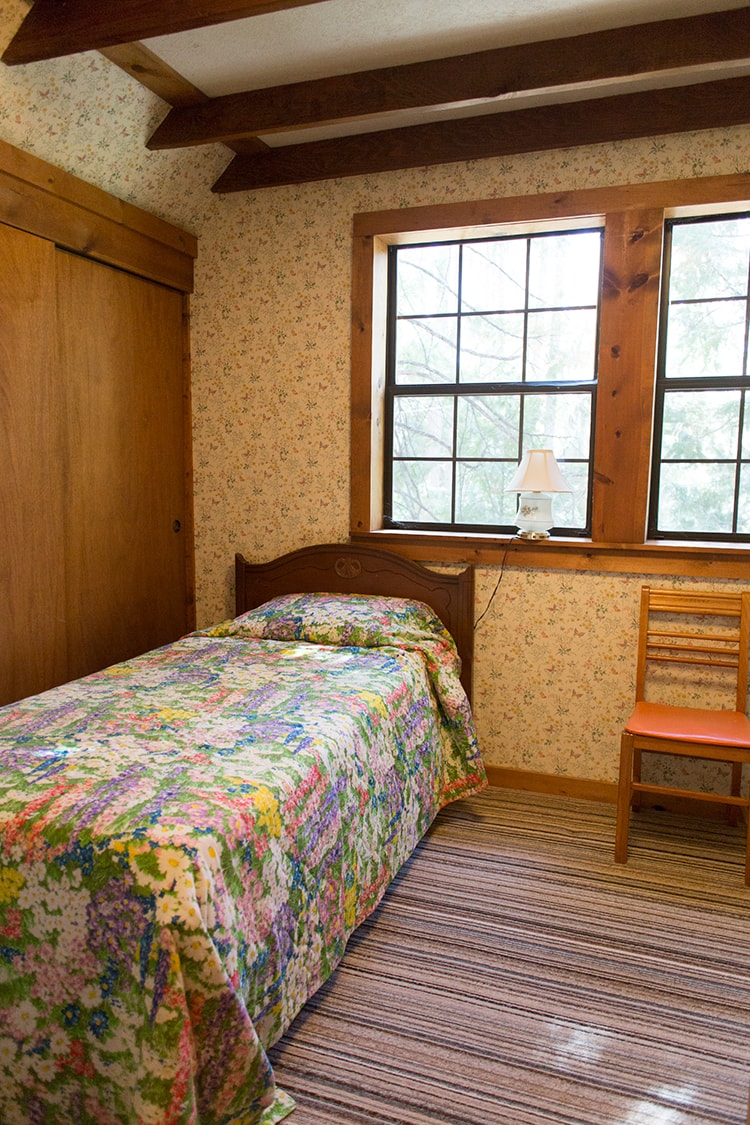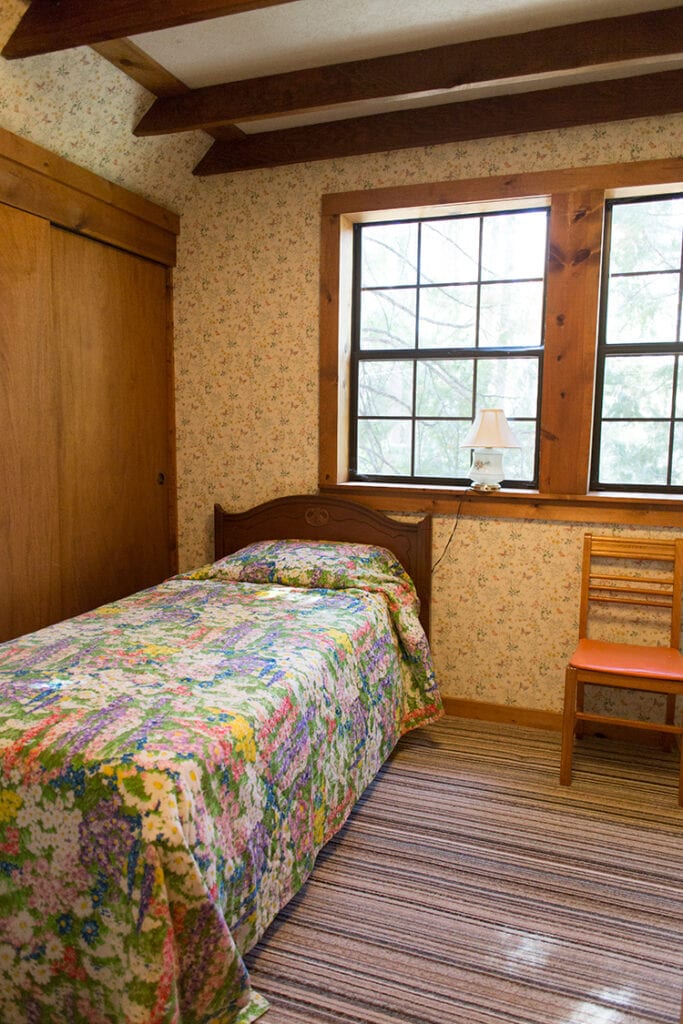 Pin
Pin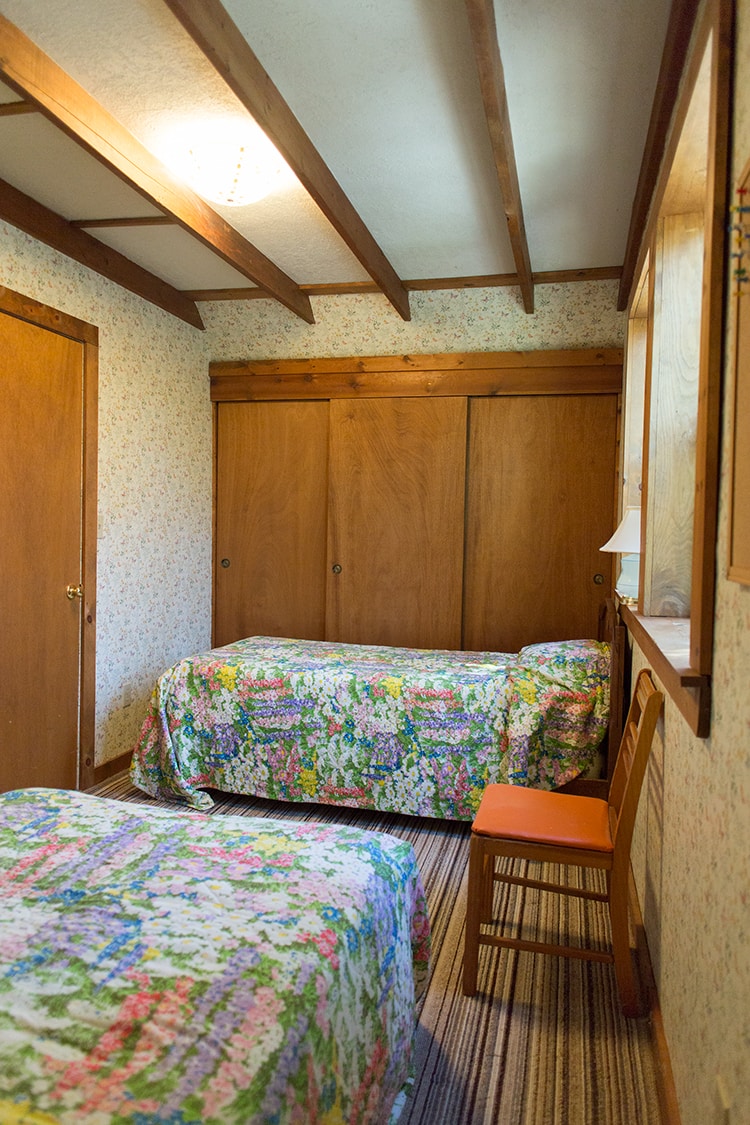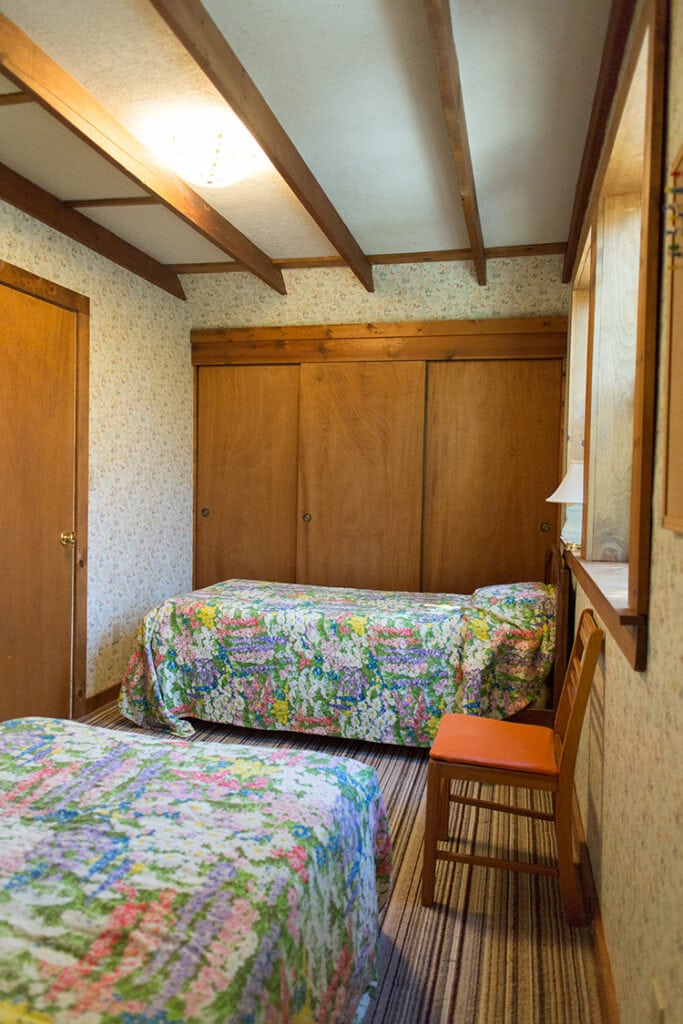 Pin
This is where my saddest moment of the weekend took place.
I inherited those two twin beds, and you can't see it in the original photos but they were the cutest things with matching footboards and all. I reversed the door swing so that I could change up the layout and place them next to each other, like so: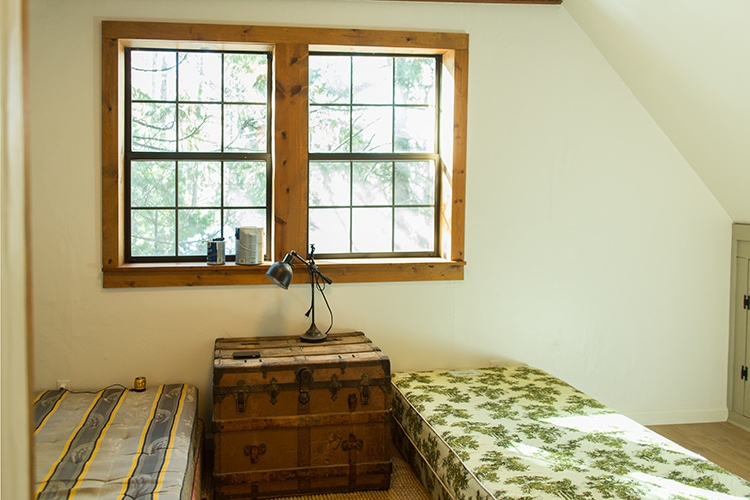 Pin
I sketched it all out, ordered matching bedding and planned to give the beds a painted makeover. Unfortunately, when I went to gather the pieces, this happened…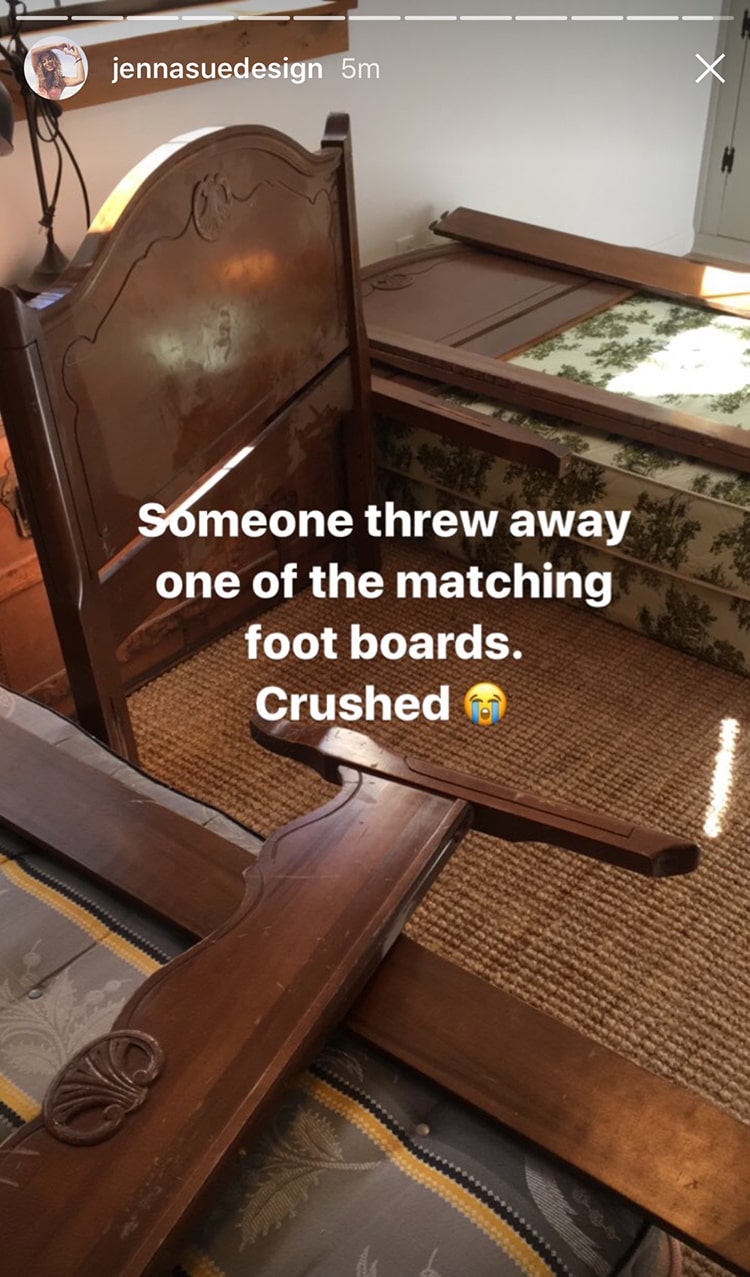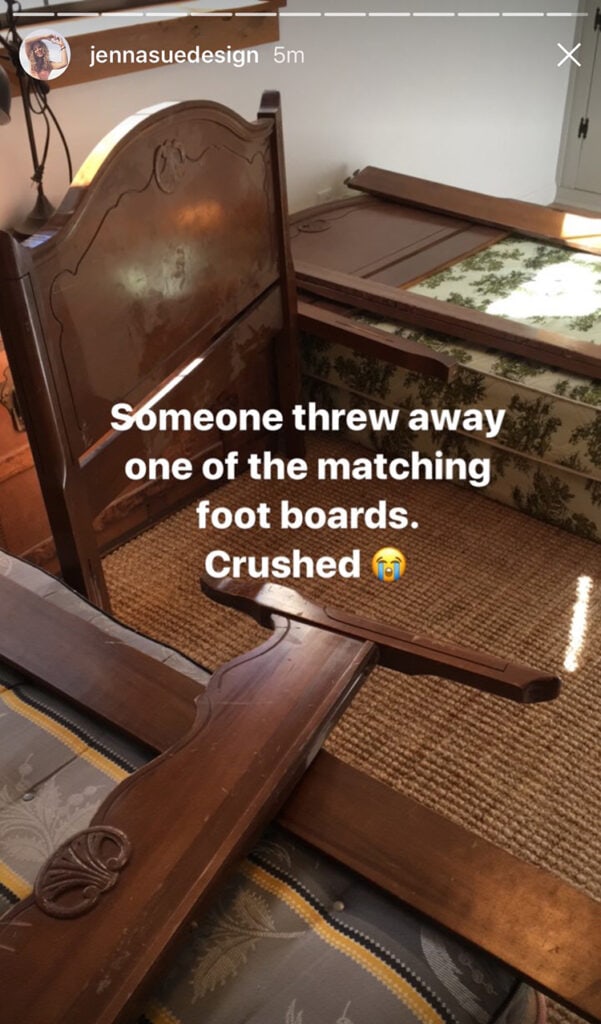 Pin
Honestly I'm surprised more things haven't gone missing given the constant state of disorganization number of people coming through the house, but I was so looking forward to this bedroom setup and after an hour of searching underneath the house through the remaining piles of rubble and debris, I had to give up and find another alternative. Which is much harder to do on a very limited timeline and budget.
The new plan is to use only the headboards (they'll just be propped against the wall).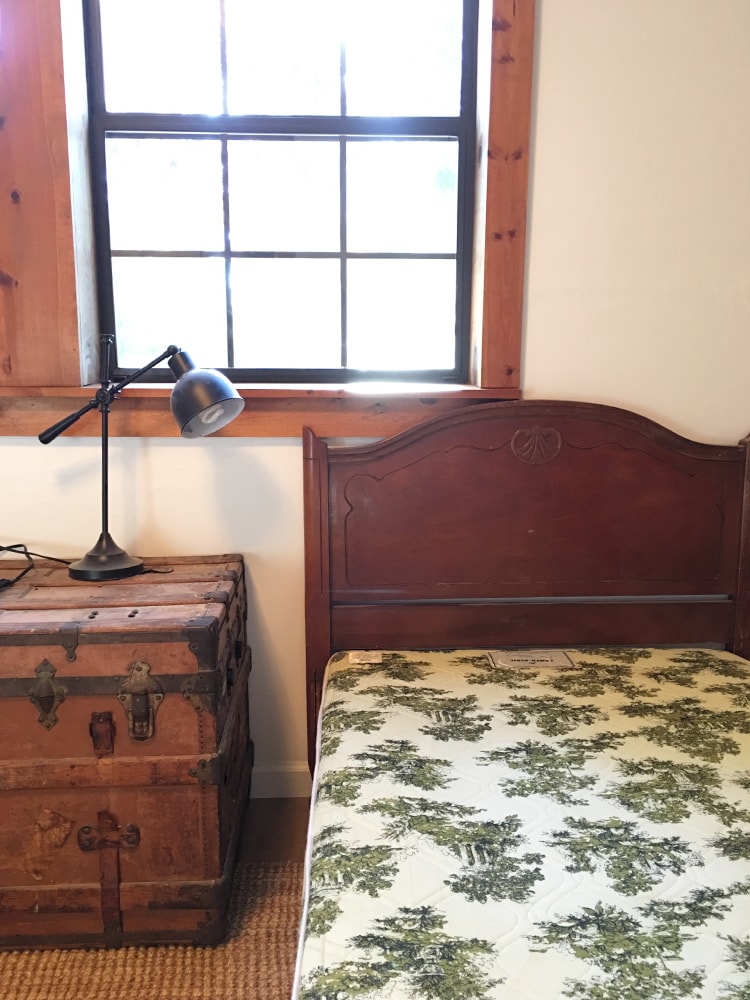 Pin
It also means that now I have to buy two twin bed frames and bedskirts (since the old beds eliminated the need for that). Oh well, the flip goes on.
On to some happier news… my favorite room in the house is nearing the finish line!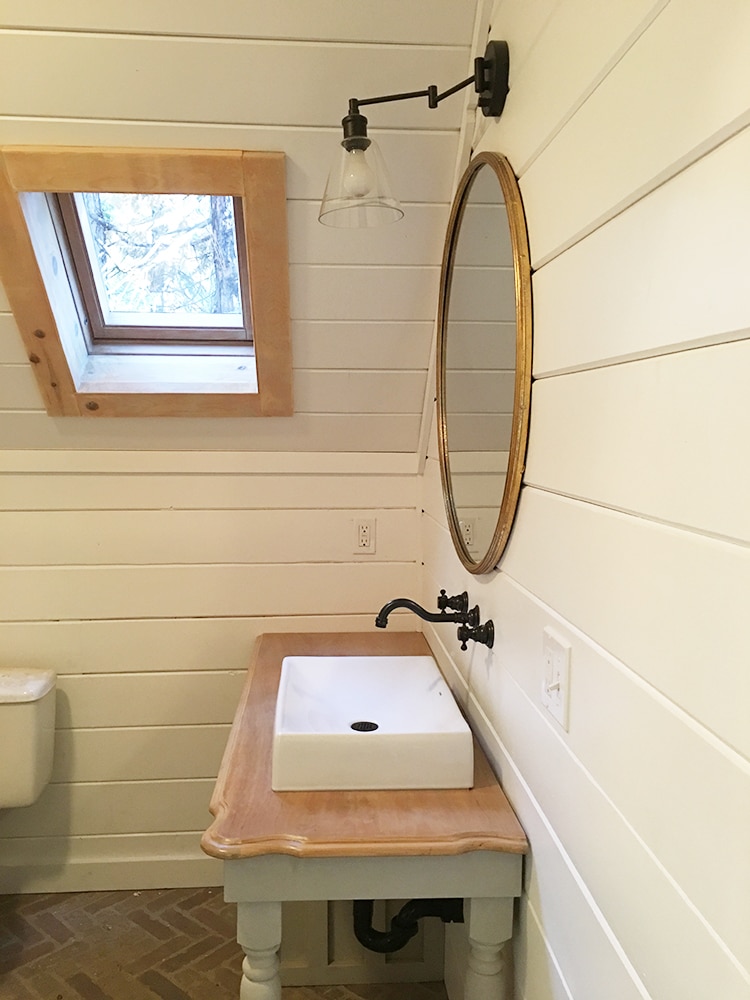 Pin
We finally hung this gold beauty (perfect fit, right? Whew! Only $140 and going out of stock fast, btw):
Pin
And I hung this mirror I scored at Restore (and refinished) above the tub…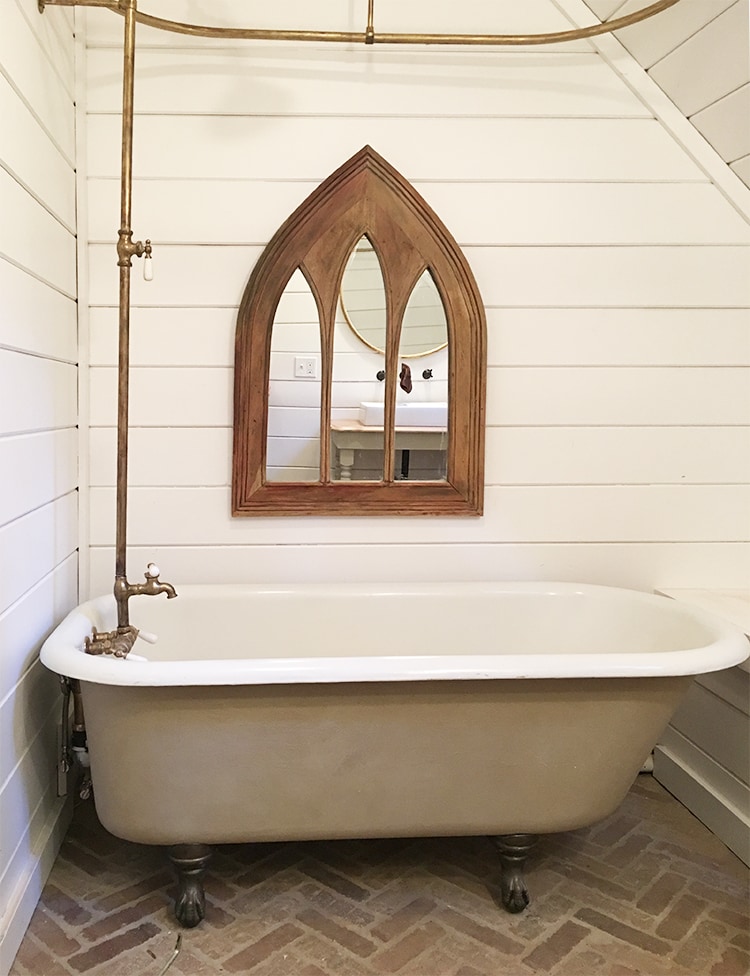 Pin
Picture soft white gauze curtains, a little wooden footstool with soap and a fringed turkish towel draped over the tub… can you see why this is my favorite room?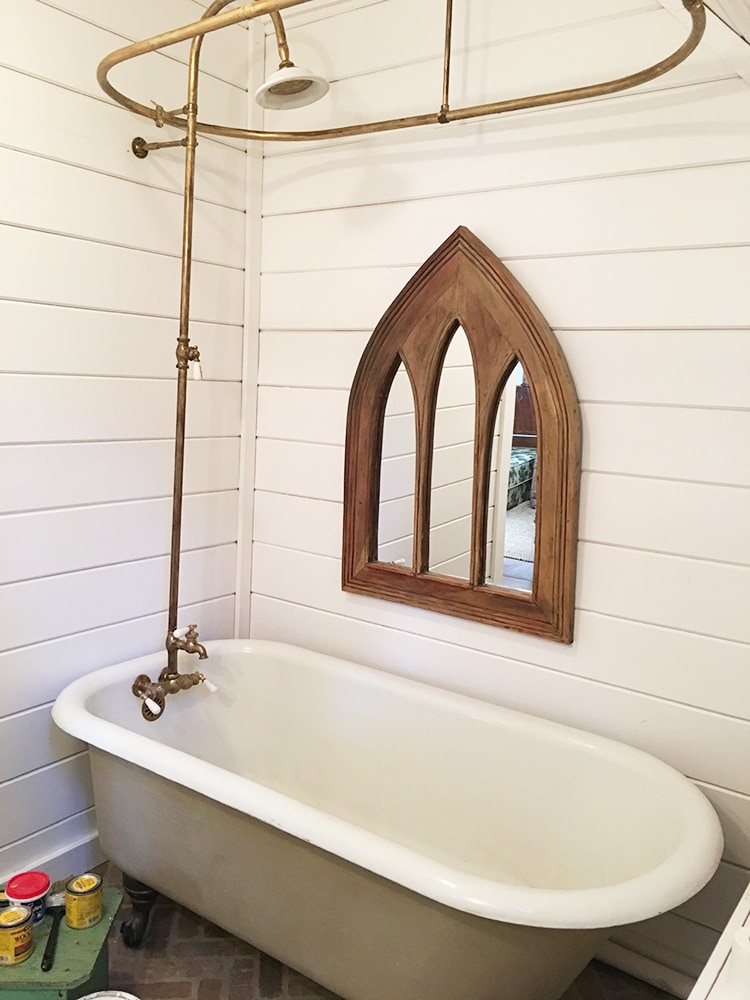 Pin
All that's left to do in here is one last piece of trim, a white toilet seat and accessorizing. Is it weird that I get goosebumps just visualizing the end result? If that's wrong, I don't wanna be right.
Well friends… that brings us to the big announcement. This is something that was not known or planned beforehand, it came up just a couple months ago and has added a whole new element to this project.
In less than three weeks, Country Living magazine is coming to shoot the house for their May issue!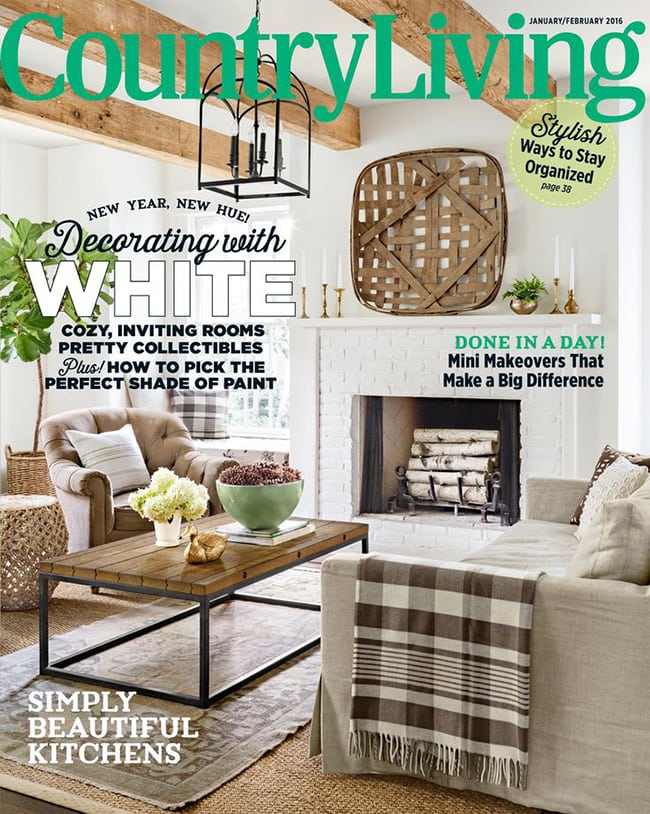 Pin
Suddenly this is much more than just a flip… the budget has been pretty much thrown out the window and I've got to make sure every detail is well thought out and at magazine design standards. The editor has placed faith in me, without seeing the house or even knowing my plans, to pull off the renovation & design of an entire home worthy of a full spread in a few months. No pressure.
But I love a good challenge—and while the weather and luck may not always be on my side, I will find a way to make it all work. I've got this 😉
More progress & projects on the way, including several furniture makeovers next weekend (if we can get through this snowstorm!). Find me on instagram, snapchat and facebook where I'll be updating as frequently as possible, and asking for your input to pull this all together in time! Lots more on the way…
Disclosure: Some of the products listed were provided via sponsorship—all of which I selected and fully approve of.