It's about time, right? This reno has been 90% complete since, oh, Thanksgiving or so… but I finally finished that last 10% yesterday and now it's ready for the world to see!
As always, I'll start with the befores.
This bathroom was a real piece of work, let me tell you.
It's split into two small rooms: the shower/toilet area, and the vanity/sink area.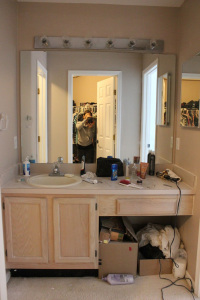 Excuse the mess, we had just moved in here
It had the same white washed oak cabinets and beige formica countertops as the kitchen, and the old guest bath… they must have gotten a group discount.
And oh, the almond tile again… why???
Gotta have the matching almond toilet. Oh, same crusty white tile as the old kitchen.
But they opted for carpet in the vanity/sink room.
Make a note of that medicine cabinet for the 'after' pictures.
The view from the closet.
Back in November we decided to get this project started, and I put together a mood board (are they still calling it that?):
The look I was going for was coastal-modern-rustic-spa.
Once that was settled, we began ripping it out and putting it back together the right way:
I'll just skip through all the in between phases and get to the good stuff… I present to you, our completed master bathroom!
Building these frames for the mirrors was the last 10%, by the way. I'll do a quick writeup on that process laster in the week.
These lights are my favorite thing ever.
We converted the medicine cabinet to a recessed box. I built a shelf out of scrap wood and found these perfectly fitting vases (at Michael's) to store our bathroom essentials.
I slipped a couple flat seagrass baskets (also found at Michael's) underneath the floating vanity, and Brad installed LED lighting underneath.
I built this textured wood piece from lumber scraps. It's stained to match the mirror frames and recessed box shelf.
Moving onto the shower room….
To save money, we simply reglazed the tile from almond to a bright white for around $600 (it was $1200 to do both this room and the guest bath).
We found this clean and modern ORB shower set on Ebay for around $130.
Ahh… love me some long rain showers.
I found this shower bench at Macy's for $90. It was a perfect fit.
We swapped out the old beige toilet for a white dual flush version:
Then I installed a couple floating shelves (Lowe's) and topped them with more seagrass baskets (Walmart)
No renovation would be complete without Brad's in ceiling speakers and recessed LED dimmable lighting. There's one speaker in each room. And the crown molding was the final touch.
And there you have it.
I actually tried to keep a list this time to calculate our costs. Some of these are accurate to the cent, some are approximate… and I'm sure I've left some things off. Here goes…
Tile: $927.32  From a local retailer called the Floor Club. Floor tile: Bambu "Grigio", Glass/Marble accent tile: Eclipse "Eternity"
Tile installation: $477
Shower tile reglazing: $600
Vanity/Sinks/Mirrors (without frame): $910 Ebay
Vanity Lights/Bulbs: $152 agtstores.com
Toilet/plumbing: $239
Ceiling & accent lighting: $169
Speakers: $50
Drywall: $145
Paint: $34 Behr's Reflecting Pool
Sink Faucet/Drains: $153.61
Shelves: $53.42 Lowe;s
ORB accessories: $51.29 Ebay
Drawer pulls: $30 Ebay
White square vases: $15 Michaels
Baskets: $30 Michaels
Towels: $10
Wood shelf divider: $10
Shower bench: $90 Macy's
Shower fixtures: $130 Ebay (no longer listed)
Wood art: $30
Crown Molding: $40
Total: $4436-ish… so even with the rough estimates and probability that I'm missing some things, I think it's still safe to say that this is another under 5k reno. Woohoo! I'm actually surprised the number came in so low… probably because this project has just been dragging on for-ever.
Be back tomorrow to announce the hand stamped necklace winner!