Thank you all so much for the sweet comment's on Friday's reveal post! It's a shame I won't get to enjoy this bathroom for very long… but it's all about the journey along the way, right? 🙂
When planning this renovation, I didn't have a set budget in mind—but as with every improvement I make, I always do what I can to achieve the maximum impact while being as resourceful as possible—and this room was no exception.
As expected, the vast majority of money was spent on labor. I didn't do the tile work or plumbing myself so that added up really fast. With everything else going on though, it was something I was willing to hire out to save my sanity and stay on deadline.
Let's dive right in, shall we?
Barn door hardware: Ebay (handle from Lowe's, spray painted black, and door was a DIY—click for the tutorial) I've bought three of these hardware sets and absolutely love them.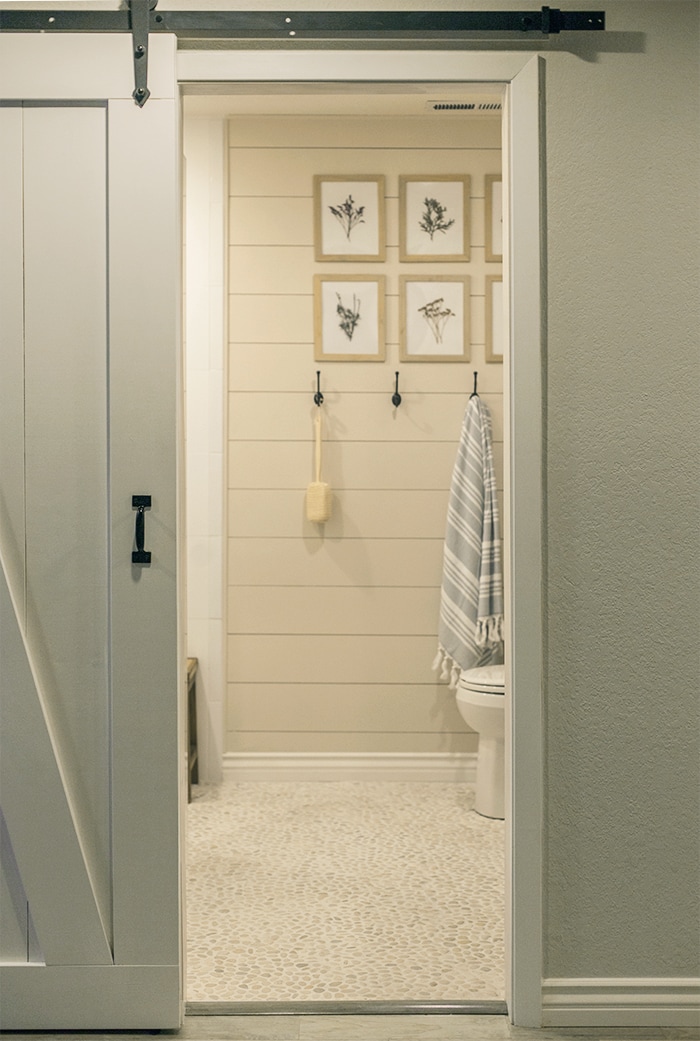 Pin
Wall color: Valspar's Coconut Milk in satin (from their signature line) Barn door & trim color is Kelly Moore's Swiss Coffee color matched in Valspar.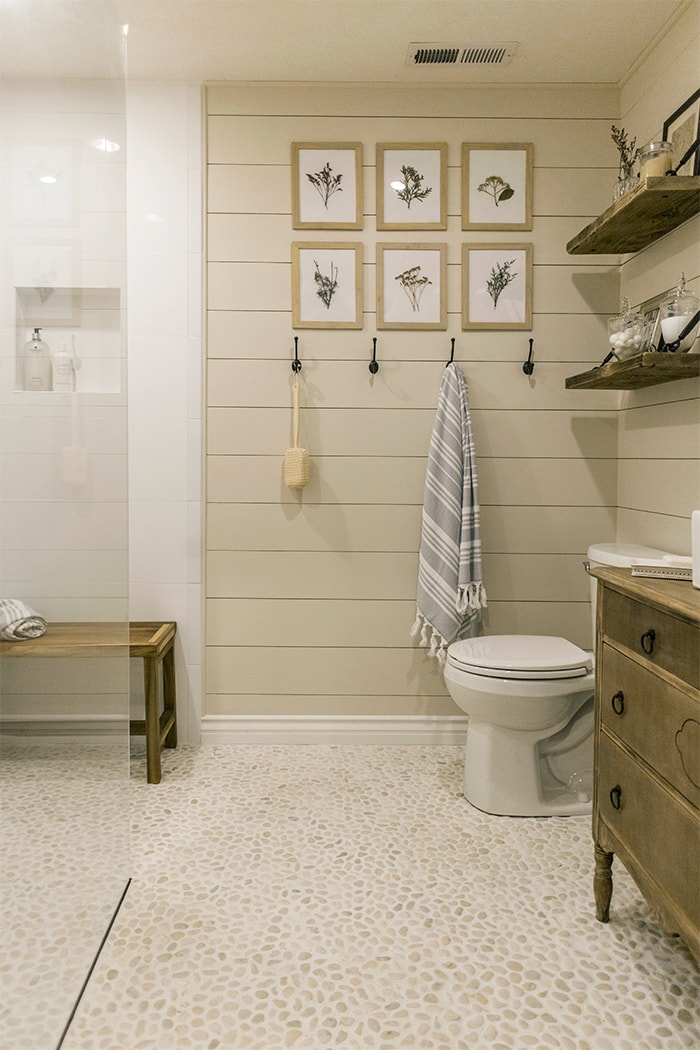 Pin
I've always raved about the quality of Valspar Signature and this time is no exception! I selected the wall color from the stones and I think it was a pretty perfect match.
Vanity: Refinished dresser from a local thrift store (tutorial here)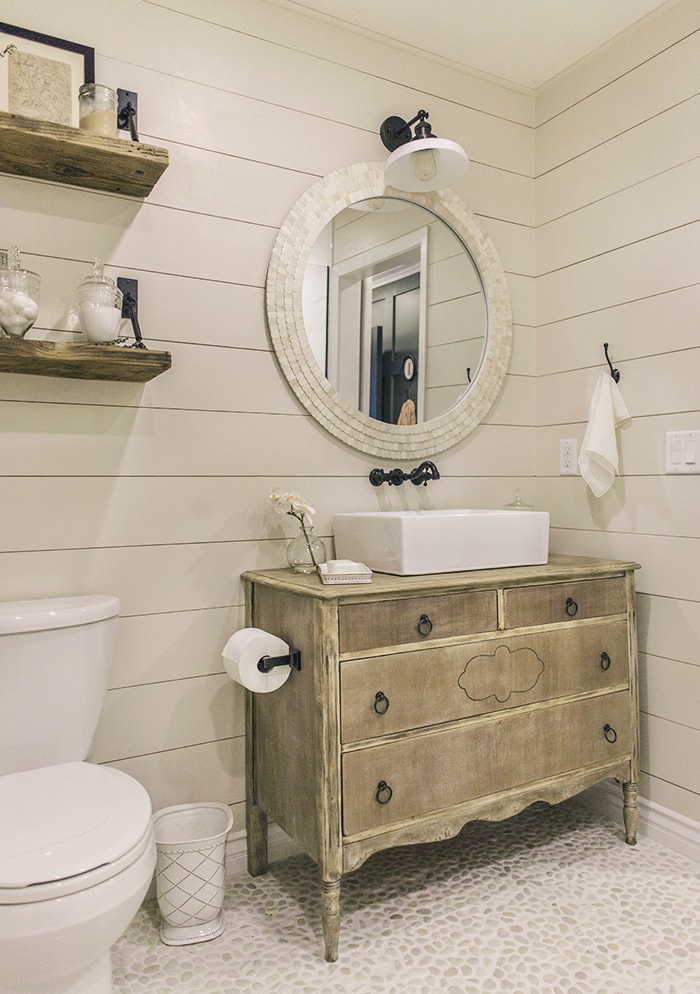 Pin
Ring knobs: Ebay
Sconce light: Discontinued, similar here (only $30!)
Mirror: Discontinued, similar here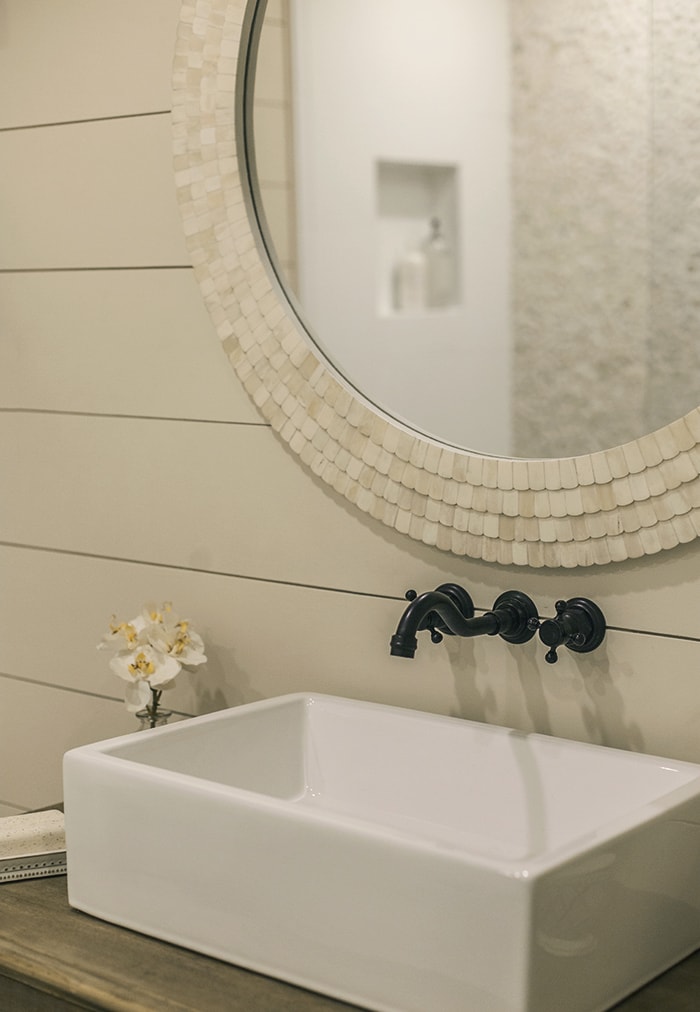 Pin
Sink faucet: Ebay (I have the same one in gold in my guest bath, love these!)
Sink: Wayfair
ORB TP holder: Ebay
Orchid: Birch Lane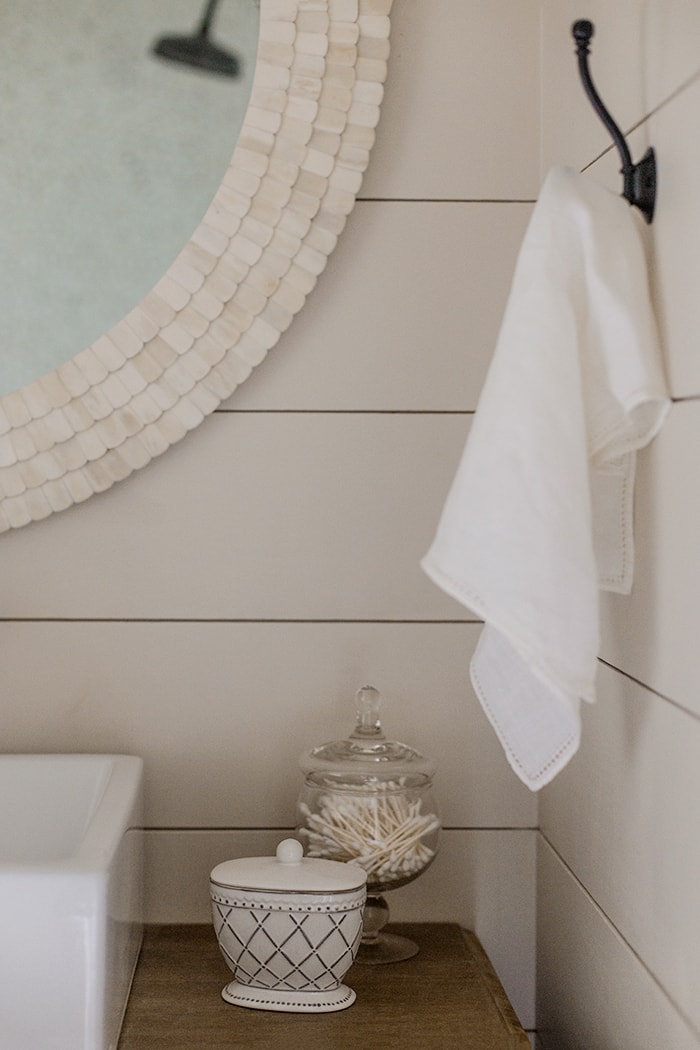 Pin
Soap tray, wastebin and jar set: Birch Lane
Apothecary canisters: Birch Lane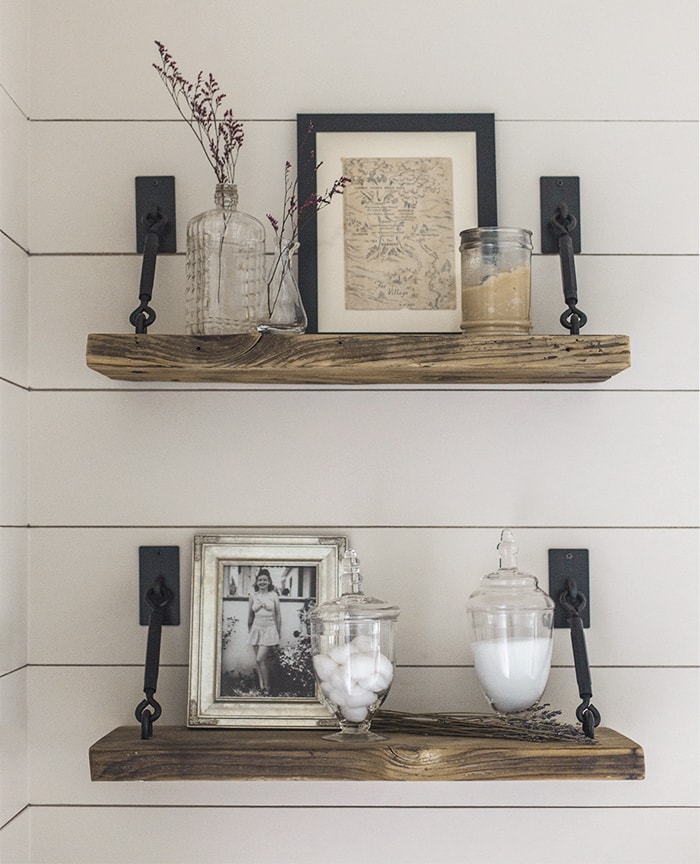 Pin
Turnbuckle shelf brackets: Silicate Studio (these come in multiple finishes—aren't they awesome?)
Wood: Found in garage, no stain or finish used!
Frames, bottles, dried flowers: Pulled from storage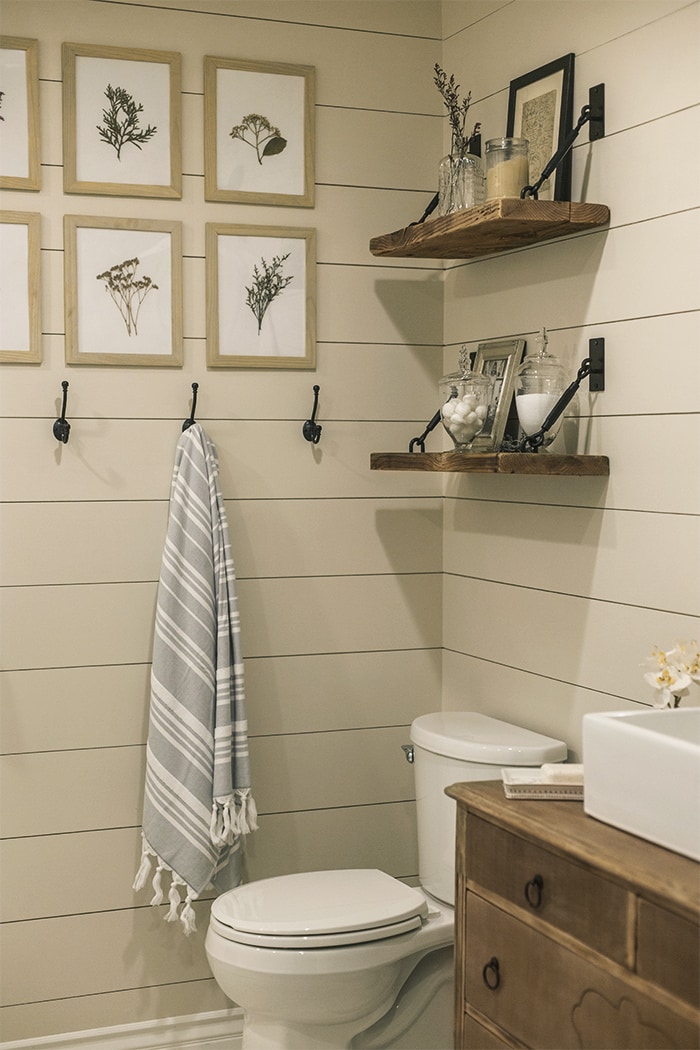 Pin
Hooks: Lowe's
Wall frames & art: Old from Ikea, DIY
Toilet: Lowe's
Towels: Similar here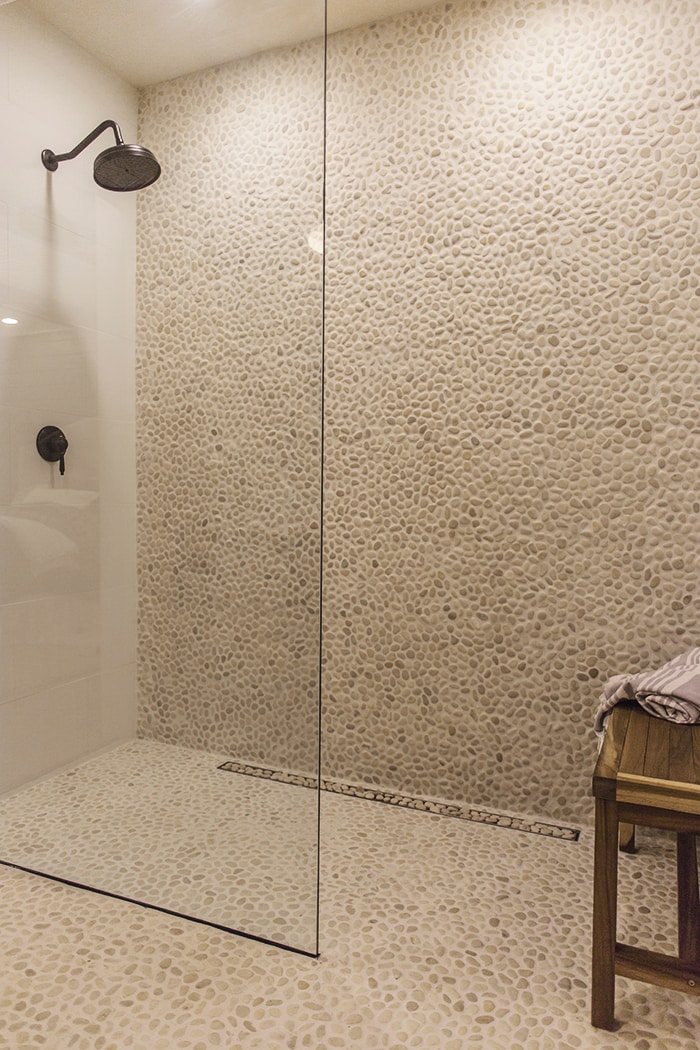 Pin
Teak bench: Wayfair
Shower head/faucet: Ebay
Glass shower panel: NorCal Glass (local)
Linear drain: Ebay
White ceramic tile: Imperial Bianco 12×24″ and coordinating 2×12″ bullnose from The Tile Shop
Pebble tile: 12×12″ Small White from The Tile Shop
Without a doubt, the pebble tile is the star of the show and I designed the room to make sure they were the focus. I loved working with The Tile Shop and allowing them to help me sort out all of the details to make the process as painless as possible (read all about that in my tile post), and because of that they have my stamp of approval and recommendation to you guys. And, If you're planning a bathroom remodel—good news! They've given me a 15% discount to pass along to my readers…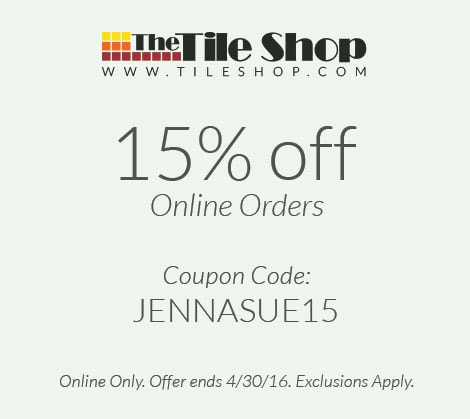 Pin
It expires at the end of the month so don't put it off! I know I'll be using them again for future remodels 🙂
Now for the budget! As mentioned earlier, hiring out took up a huge chunk and my contractor costs came to just over $5,000. That includes demolition, drywall & patching, electrical, plumbing and all of the tile over the course of around two months.
Materials were around $1600 and accessories came in at around $600 thanks to bargain shopping at thrift stores, Ebay, pulling items from storage and sponsored discounts. The grand total came in right around $7200.
Even if I don't get to live here for much longer, someone else will get to love this space soon. It was worth every penny and hour spent.

Pin
I hope this post provides some inspiration for your next bathroom remodel, or at least to understand my process a bit more. If there's any other questions, let me know in the comments!
This is my last bathroom for now, but I still have a guest room and downstairs before & after to show you! Those will be coming soon. In the meantime, catch me on instagram, facebook, twitter and snapchat (@ jennasuedesign) where I share bits of my home & life each day… have a fabulous week!