Day 201: Merzouga Desert, Morocco
Six days into our Moroccan adventure, we were ready to escape the bustle of the city  and venture out to the edge of the Sahara.
We arranged a three day, two night desert excursion with a final destination of Marrakech.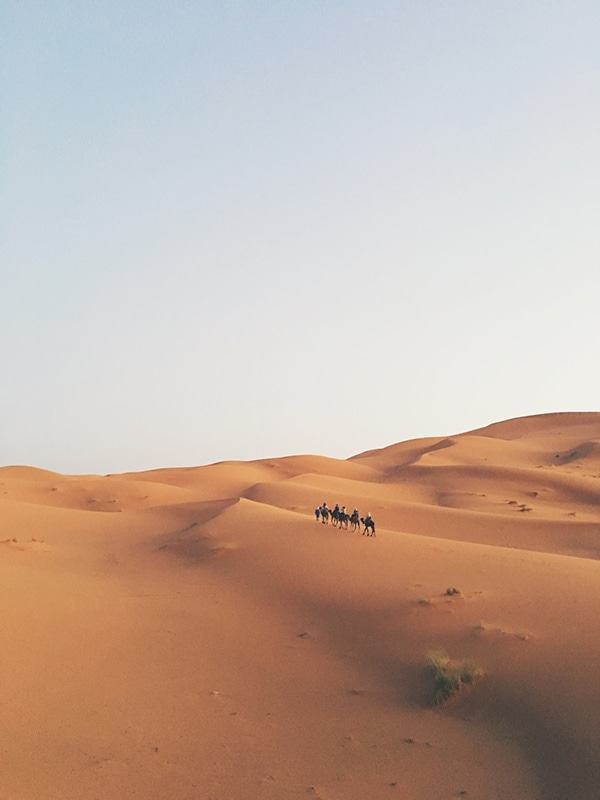 Pin
A van picked us up from our riad at dawn and we loaded our bags, not sure what to expect from this "tour". No one had asked for our names, there was no company name or paperwork, and the only information we had was from a guy who drew a picture of camels and squiggly lines on a piece of paper. This is how most things are operated in many developing countries though—it's all very informal and casual. You learn to go with the flow after a while.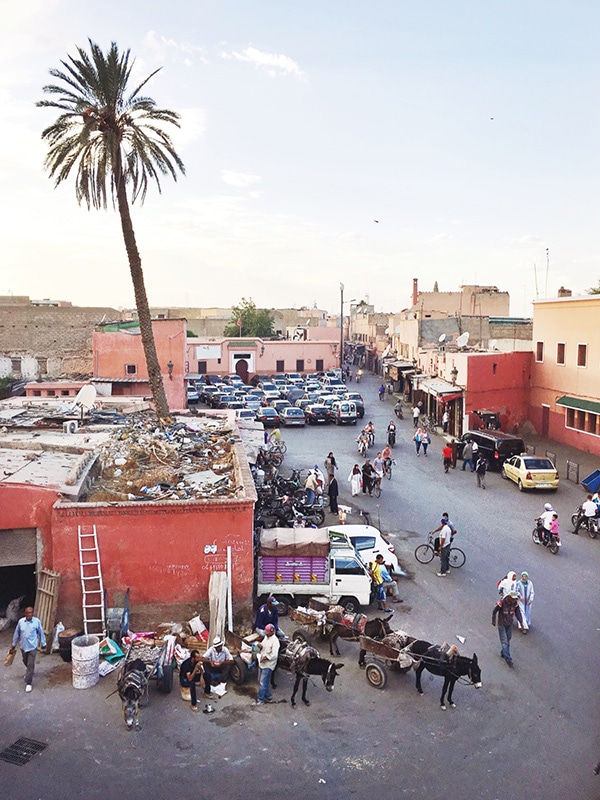 Pin
Thirty minutes went by as we sat in front of a building, our driver becoming increasingly frustrated, yelling at people on the phone and in the street in Arabic. A young Moroccan man, who we assumed was working with the driver, sat silent in the front seat.
Eventually after circling around the city for an hour and picking up another couple, we were on our way!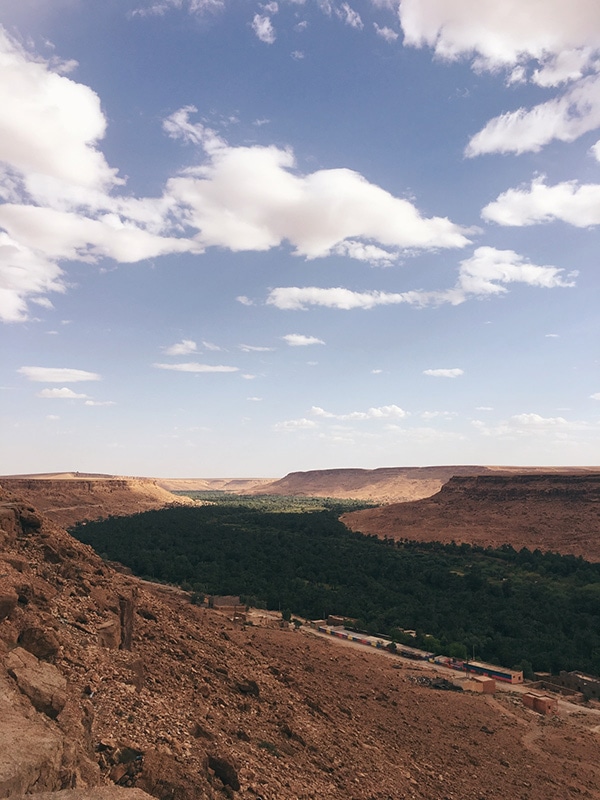 Pin
On the outskirts of town, the driver pulled over once more on the side of the road. A petite, white haired lady climbed inside the van, rocking camo leggings with her hands and arms covered in tattoos. She appeared to be between 60-70 years of age, and told us she was from Germany as she squeezed in the back seat alongside Lucas and I.
We exchanged a few words about our recent visit to Munich, but the conversation was brief due to the language barrier. Then she stated she was here visiting her boyfriends family, and pointed to the Moroccan kid in the front. Not wanting to sound skeptical, I replied politely while wondering if "boyfriend" had multiple meanings in German.
Turns out she really did mean boyfriend, and that was confirmed when we slept next to them in the tent that night. Proof that love really does have no boundary!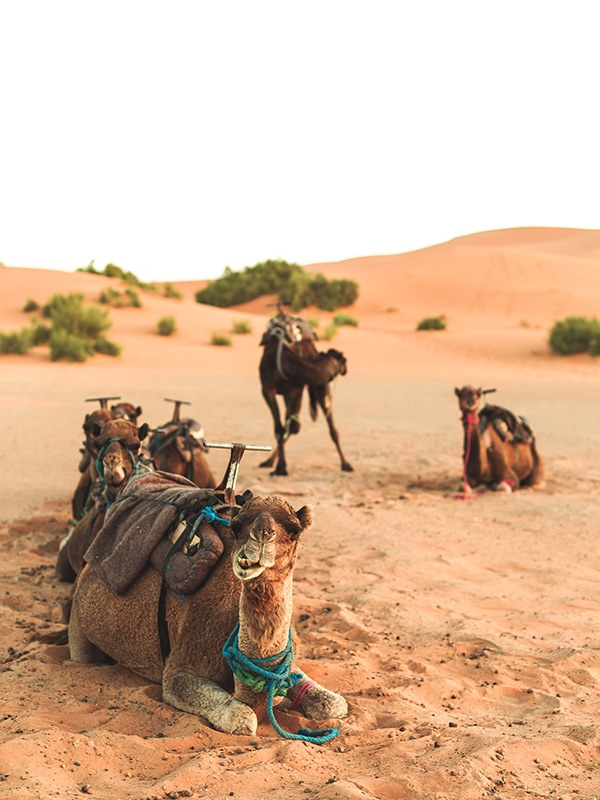 Pin
The journey to the desert was a long one, punctuated by a break for lunch on the side of an empty highway. Morocco is known for its beautiful details, and you'll find them no matter where you go. The building could have doubled as a palace, with intricate painted moldings and a crystal chandelier I couldn't stop gawking at. Only in Morocco will you get design inspiration for your future child's nursery at a highway rest stop.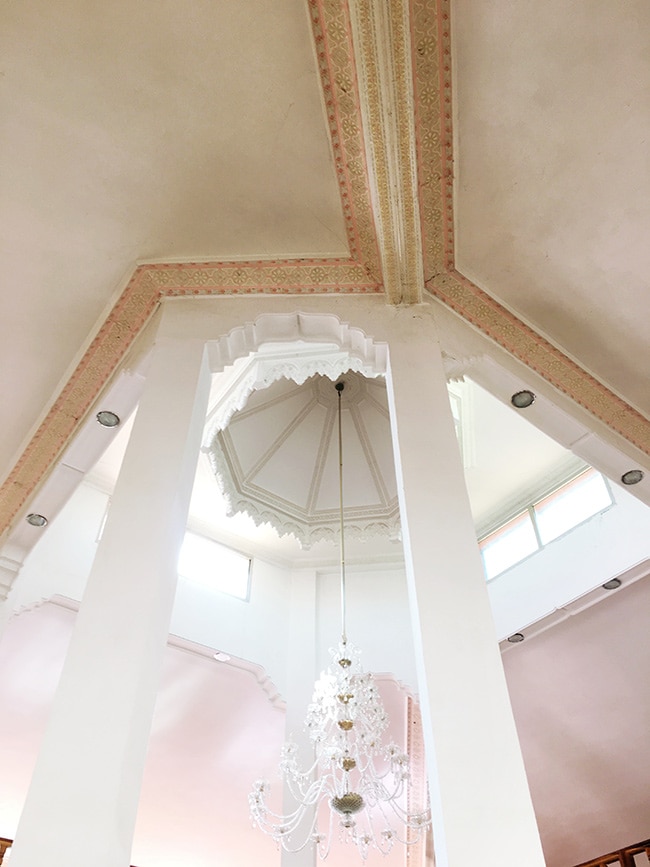 Pin
Design inspiration aside, the drive was quite beautiful too. So much of Morocco is covered in canyons and rivers, with valleys of lush palm trees. Some towns felt almost like Las Vegas resorts.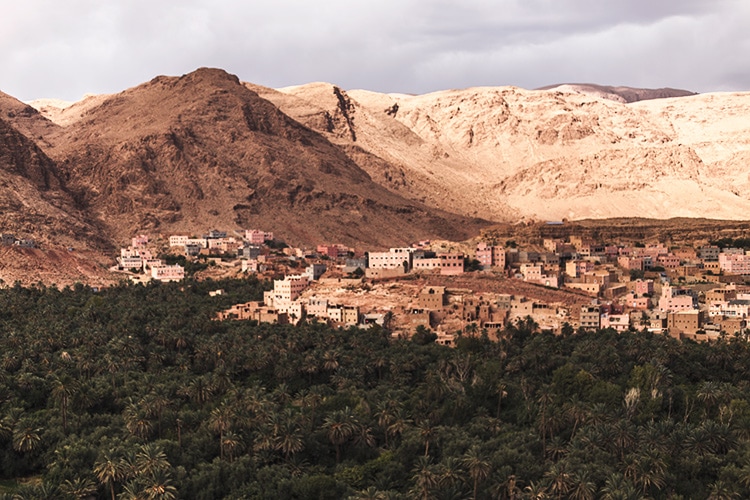 Pin
With plenty of eye candy out of the window, eight hours of being sandwiched in the backseat of a van went by surprisingly fast.
We arrived at a town with instructions to transfer into another van with a new driver. At this point we had two hours left until sunset, and had been promised an hour long journey by camel to our tent site before sunset. We didn't seem to be anywhere near our destination, and to make matters worse, the clouds and wind had began to pick up.
With no way to find out the plan, we shrugged it off and watched the weather shift outside the window. Sheets of rain and sand flew past our car, blanketing it and turning the sky orange. It was quite amazing to watch, actually.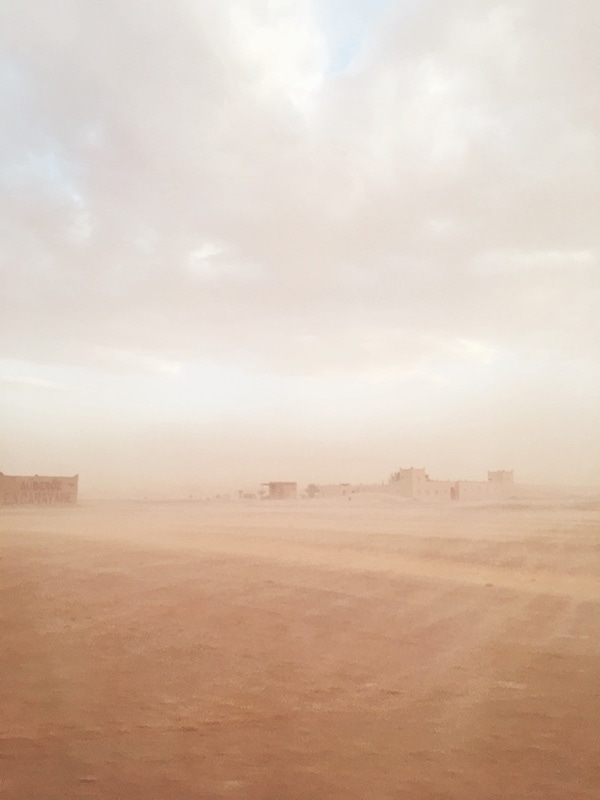 Pin
For an hour we went full speed off-roading into the desert, nothing around us visible except the hazy silhouette of distant palms. Finally, we pulled up to a large clay complex with six camels resting outside.
Sunset was fast approaching, and we grew anxious as nearly another hour went by with no explanation.
At seven o'clock, just as the days last light fell below the horizon, we climbed aboard our camels and headed into the dunes.
Pin
Twilight quickly gave way to darkness, and soon we the only thing we could see was the bright Milky Way above us. I gripped the handle tight with each wobbly step as the sand sank beneath Coco the Camel, reassuring her that she was doing an excellent job given the working conditions.
Another sandstorm rolled through and pelted my skin as my scarf came unraveled, leaving my face and neck exposed. At one point our guide, who was aided by only the light from a phone, stopped us and turned around after nearly walking off the edge of a steep dune.
An hour after we'd left, we finally saw the lights of our camp and safely settled in for the night.
There we joined a larger group and gathered around the fire as our guides cooked dinner. We feasted on chicken tajine, shared travel stories and joined in on the drums as they played traditional Moroccan music. After dinner we climbed the sand dunes and watched shooting stars trail across the Milky Way. The day had gone by in the blink of an eye, but it was still the most memorable experience of our time in Morocco.
Day 202: Ouarzazate
The next morning we awoke while it was still dark, and wandered into the desert for the best sunrise vantage point. I chased down a group of camels for video shots while Lucas took a time lapse of the sun rising behind the dunes.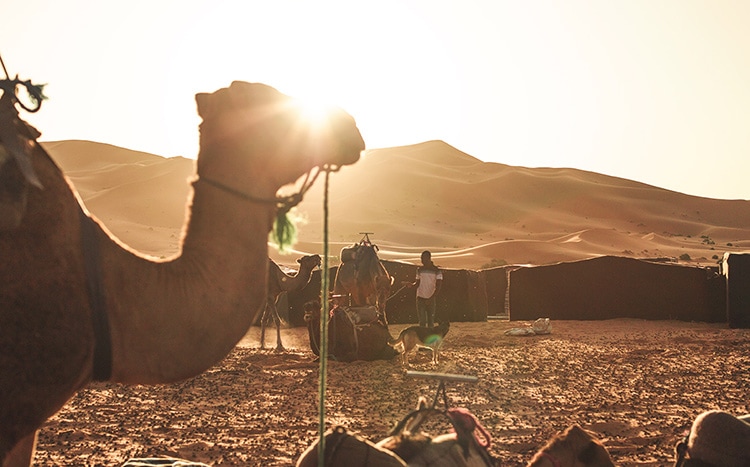 Pin
The rest of our group slowly emerged from the tent and just like that, we were back on our camels to begin our return voyage.
Pin
The sun becomes very strong, very quickly in this part of the world. My eyes were dry and tired from squinting, and I made sure to wrap my shoulders to avoid being burned. In October it's bearable, but I can only imagine how intense it would have been a couple months ago. Can't say I'd recommend visiting during the summer!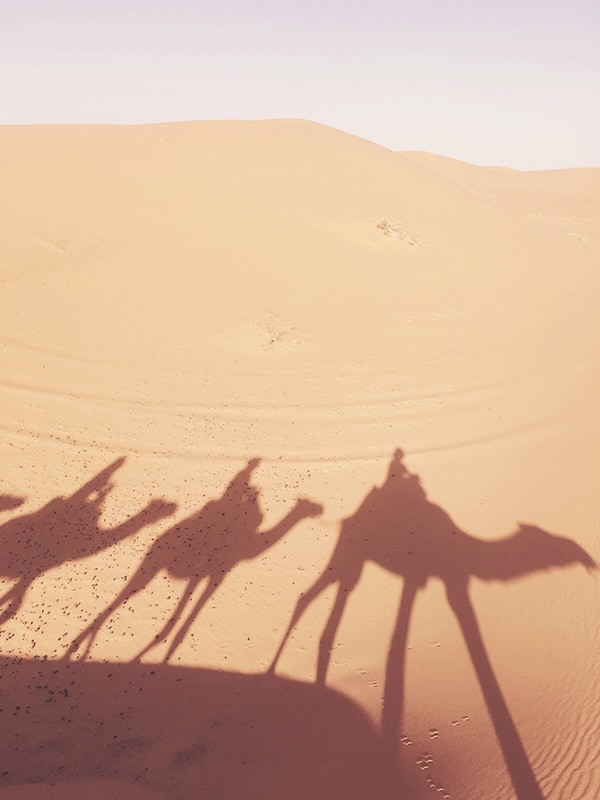 Pin
As we were disembarking from our camels, we heard a loud thud and looked back to find the German lady on the ground, moaning in pain. She had fallen off her camel and it didn't look good. Her young boyfriend, still silent and stoic, kneeled at her side while the other camels were ushered away. We all stood around in concern as employees called for help and 911. She was later airlifted to the hospital—hopefully without any serious injury.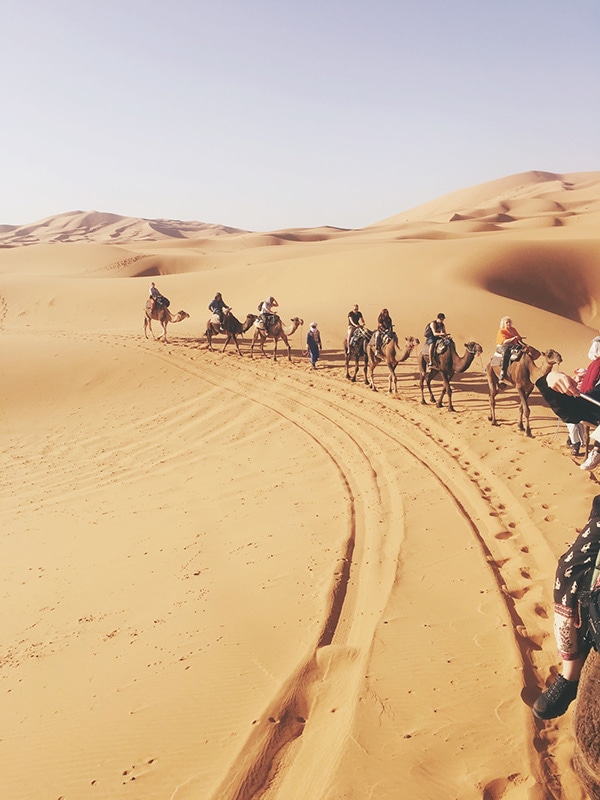 Pin
Now halfway through our tour, we began the long drive towards Marrakech. The scenery through the Atlas Mountains was even more beautiful.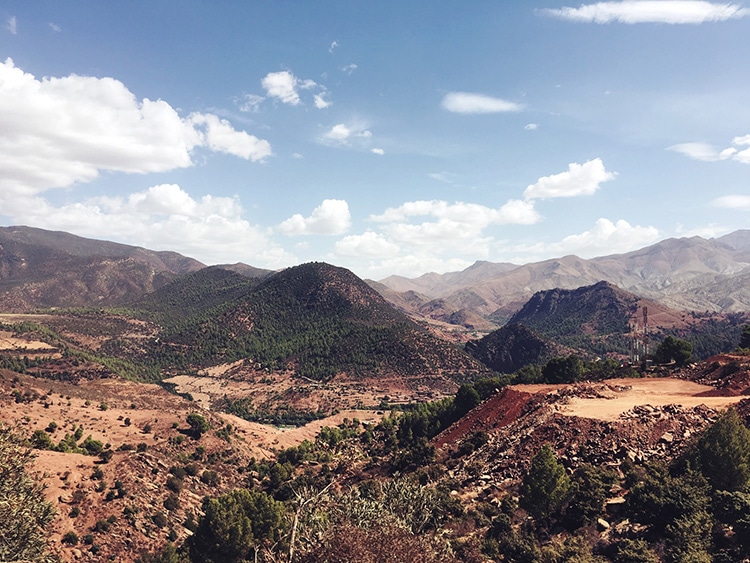 Pin
We stopped at a river gorge, and at Aït Ben Haddou—a UNESCO world heritage site made famous by appearances in films and shows like Gladiator and Game of Thrones.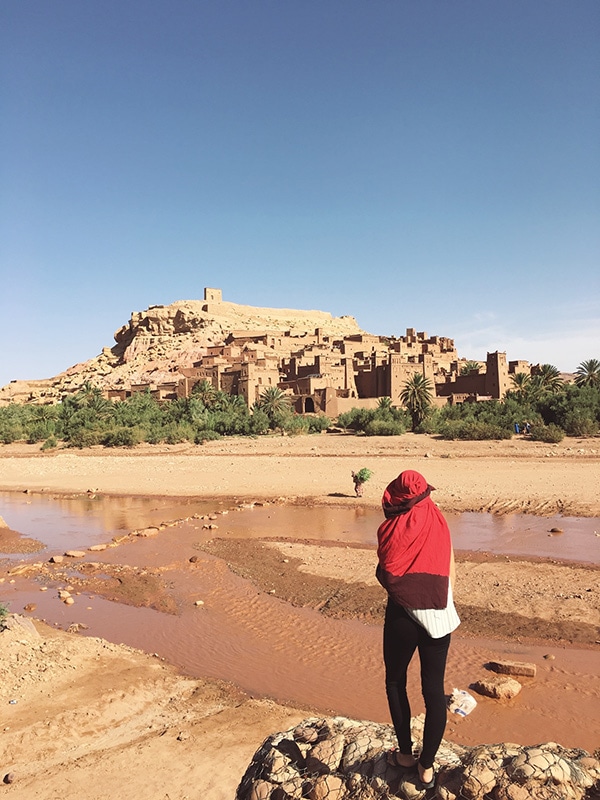 Pin
I was surprised by the similarities of every village we passed between Fez and Marrakech. Most consisted of simple orange clay buildings, unlike the elaborately carved and tiled riads found in the larger cities. But here you really can't judge a book by its cover, as most buildings are plain on the outside but covered in unique and colorful decor inside.
A prime example is this low budget motel we stayed in the night before Marrakech. We were literally the only guests, and were served a generous buffet for dinner and breakfast. I'm not sure how these places stay in business!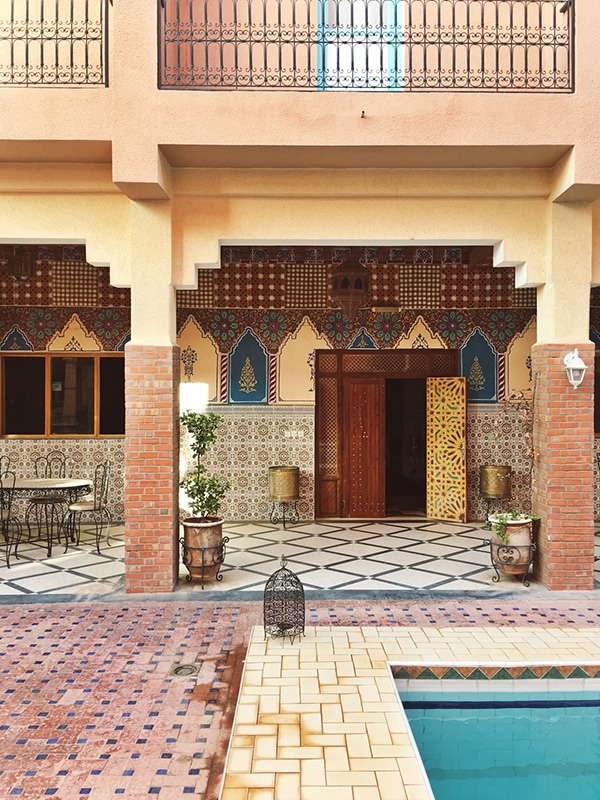 Pin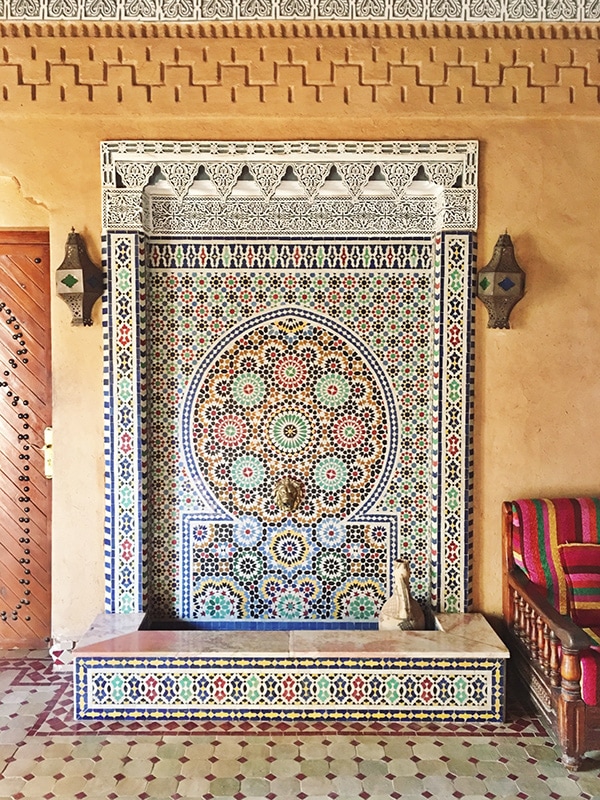 Pin
Day 203-207: Marrakech
After three long days of travel, we had finally made it to Marrakech.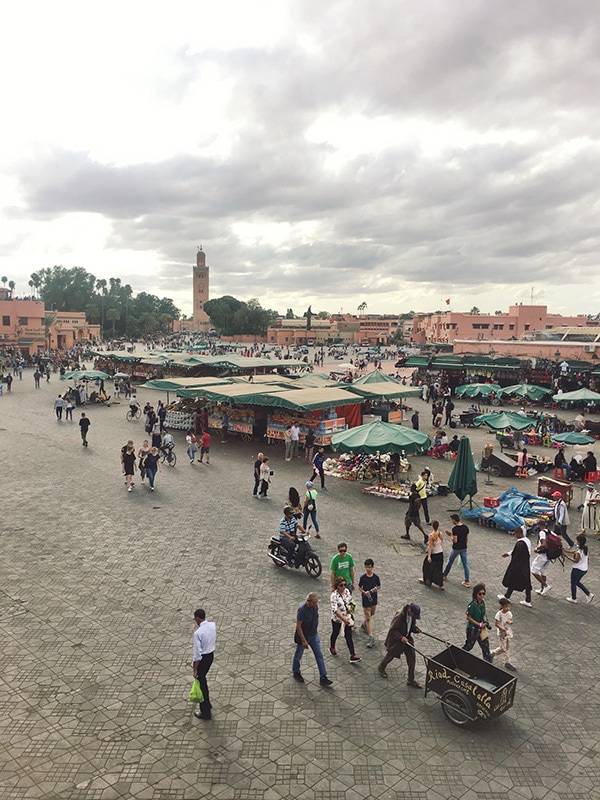 Pin
We were struck instantly by the heat—much warmer than even the desert—and the volume of people, sounds and action swirling around us. Fruit stands and miscellaneous car parts and garbage scattered about in the streets; donkeys and motorbikes and cars honking at each other while converging and swerving around pedestrians; locals yelling over each other and dragging carts of construction material and handfuls of dead chickens.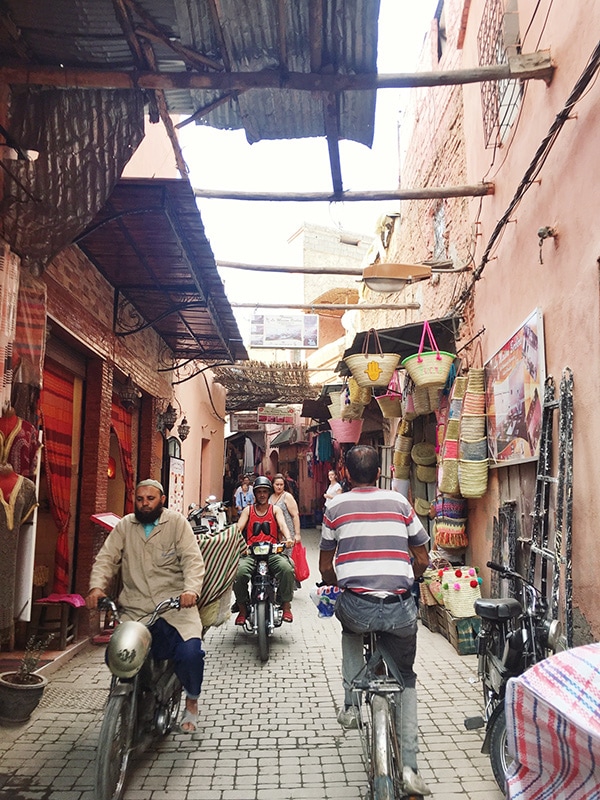 Pin
The scene here reminded us a bit of the chaos in Vietnam (although not quite that crazy). If you really want to see Moroccan life, come to the Medina of Marrakech.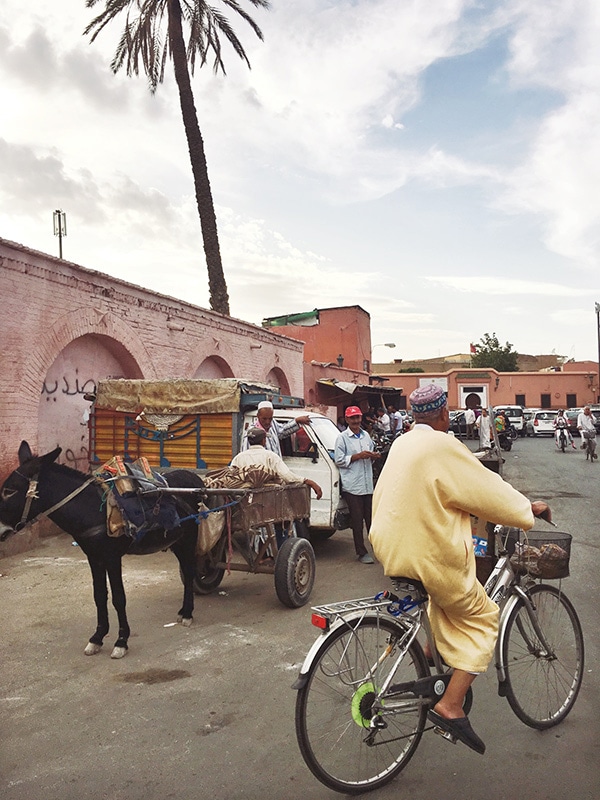 Pin
After dropping our bags off at our riad, located in a nameless alleyway amongst local residents, we made our way down to the famous Jemaa El Fna square.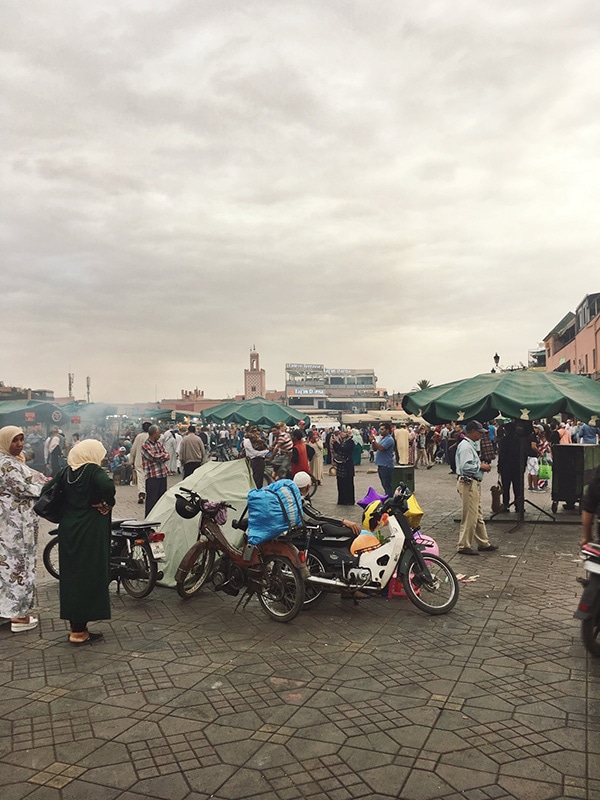 Pin
Our Moroccan shopping spree had been done in Fez, and we were still trying to get over the outrageous shipping cost to send it home. The plan in Marrakech was just to observe.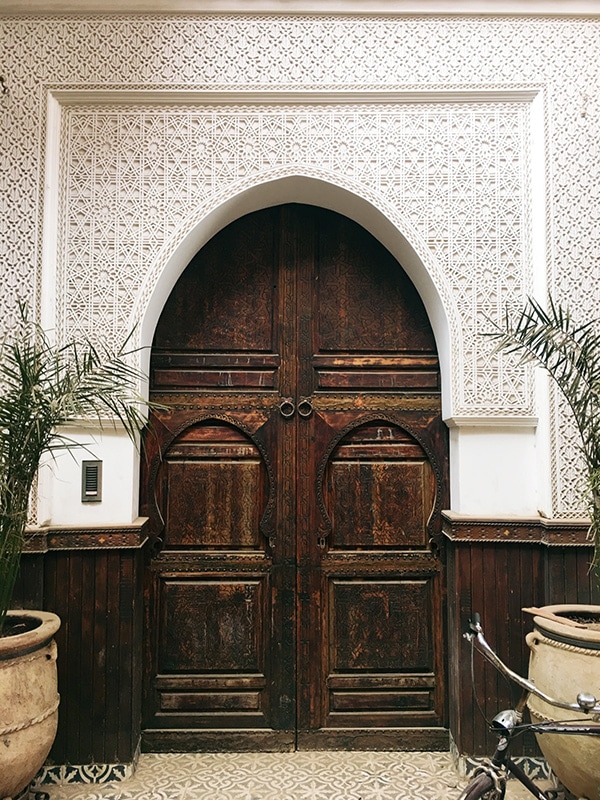 Pin
Until I saw the pom poms. Beautifully patterned blankets and pillowcases in every size and color. These are what I had been looking for, and they were nowhere to be found in Fez. "What if we just shipped one more small box home?" I asked Lucas with my best puppy dog face.
Pin
One small box turned into 3 blankets, 4 pillow covers, a tablecloth, soaps and spices. And another $90 to ship $200 worth of souvenirs. What can I say, I'm powerless over pom poms.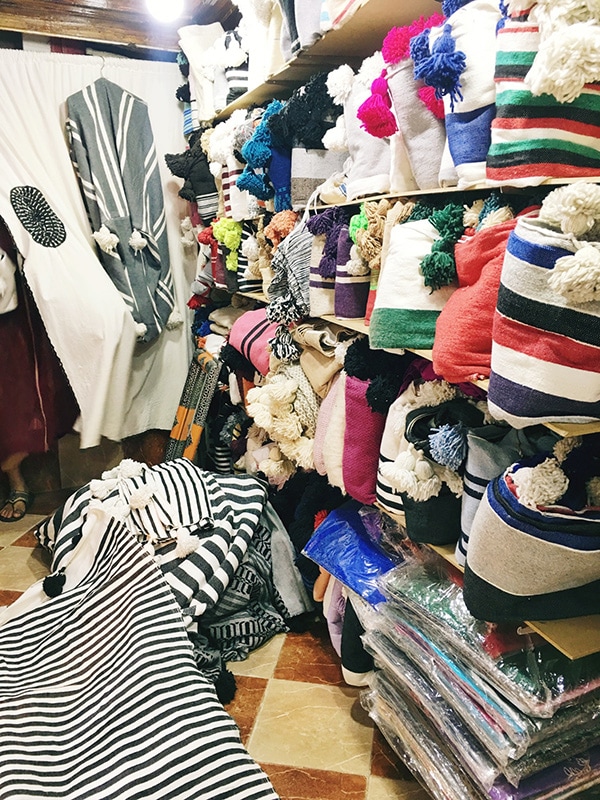 Pin
Apart from great shopping, Marrakech is prime for wandering the Medina and taking in your surroundings. In the square, there's snake charmers and musical performers, monkeys on leashes and henna artists. There's rows of fresh juice stands and pop up barbecue tents every evening. At night the heart of the city comes alive, beating with the energy of animated locals and tourists diverting their attention in every direction. No trip to Morocco would be complete without a visit to Marrakech.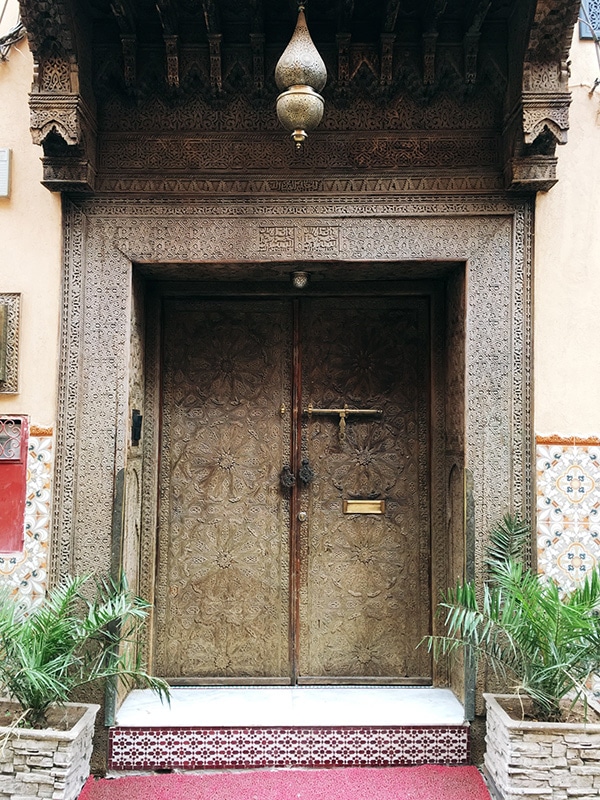 Pin
Our last few days in Morocco were spent logging miles through the Medina, getting our fill of foods and last minute shopping, and taking refuge in the quiet courtyard of our riad.
It's hard two believe it's only been two weeks since we stepped foot in this country, now that we've settled into a familiar routine within a new community.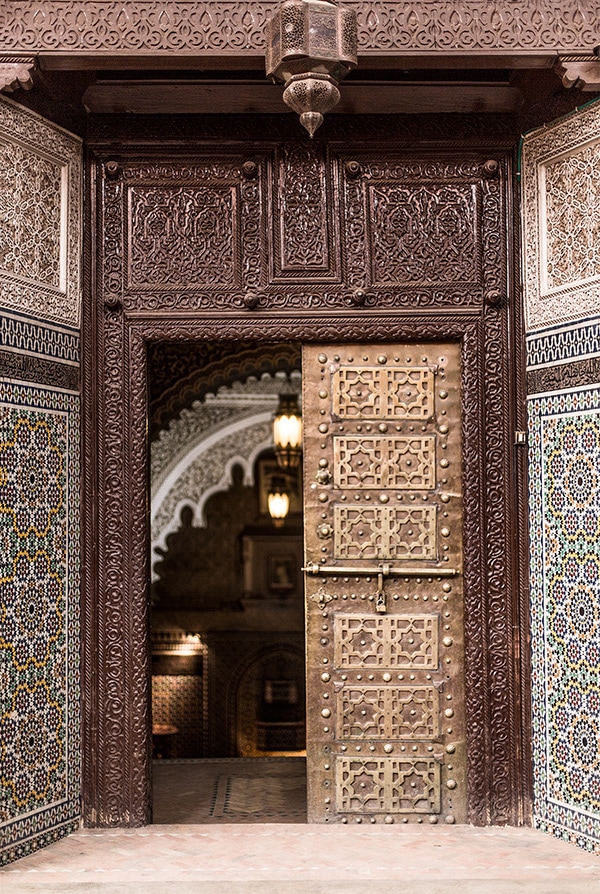 Pin
In one month our round-the-world journey will come to an end, and we've saved the biggest culture shock for last: Sri Lanka and India.
By the time this is published, we'll have already been navigating our way through Sri Lanka for a few days—hopefully our bodies are surviving the transition… find out what we're up to at the moment over on my Instagram stories!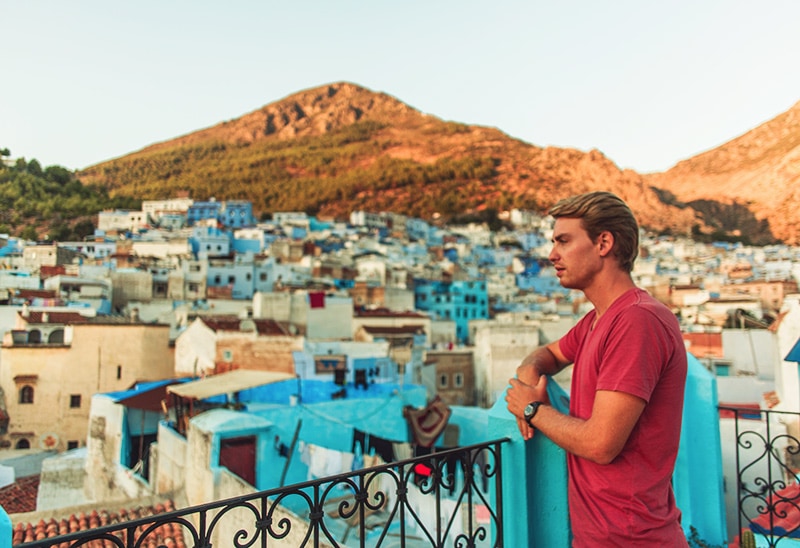 Pin
Soon I'll be able to share our video for Morocco, and this one will be quite different than past films. We're looking forward to trying out this new format and hope you guys enjoy seeing a different style as well!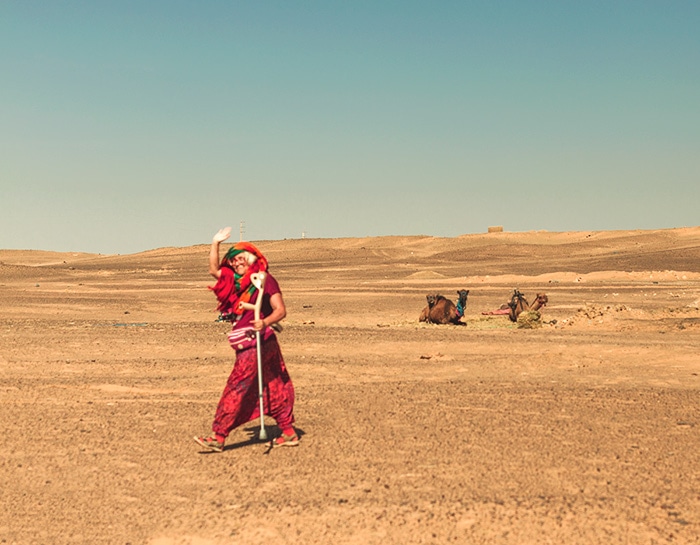 Pin
More on that soon…