Day 209: Colombo, Sri Lanka
Getting to Sri Lanka from Morocco was no simple task—from the moment we left our riad in Marrakech it would be another 43 hours until we stepped inside our hostel in Colombo.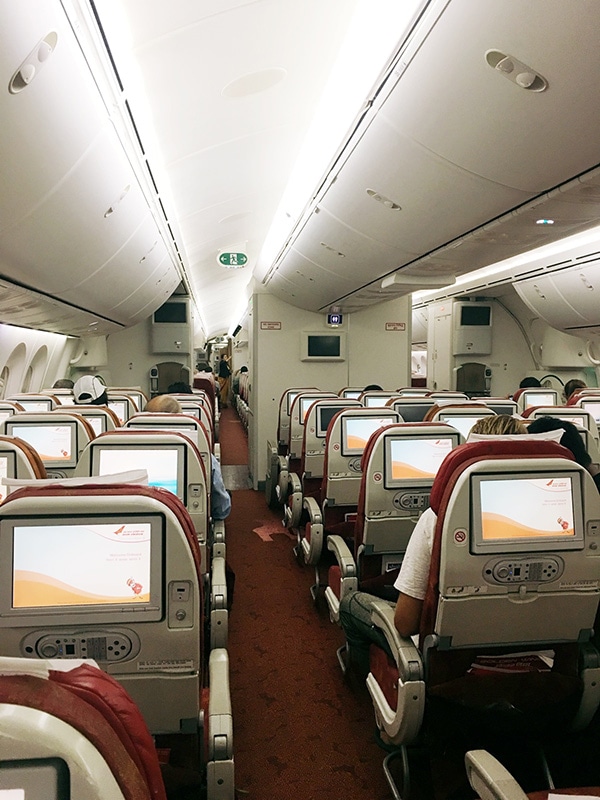 Pin
The travel process began with an overnight train to Tangier, a half day at the airport followed by a flight to Spain, another layover followed by a redeye to Delhi, then a third layover with a third flight to Colombo, ending with a three hour taxi to our hostel. It was our longest travel day(s) on record, and left us borderline exhausted but equally as excited to be in a new country.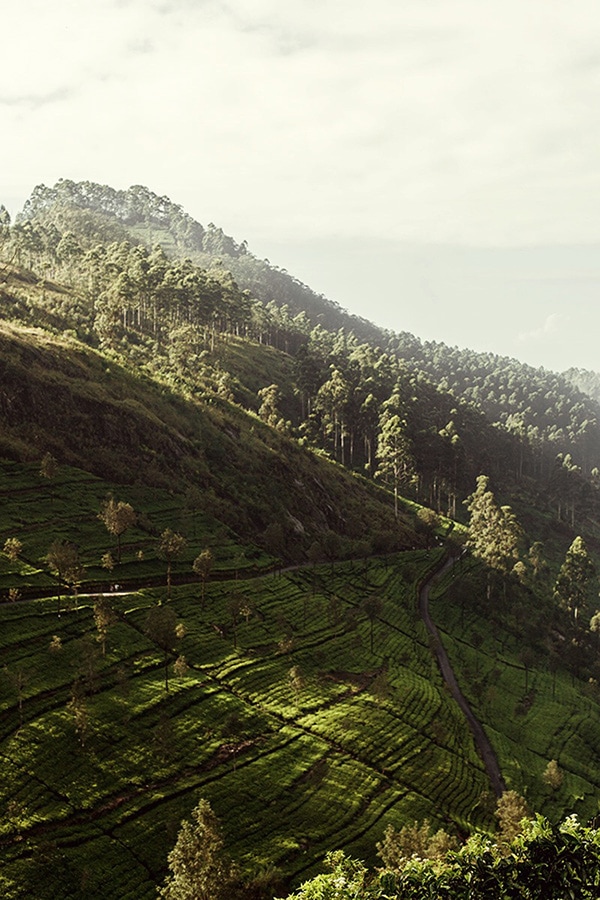 Pin
As soon as we stepped off the plane in Sri Lanka, that familiar wet and humid Asian air filled our lungs. Palm tree jungles as far as the eye can see, smoky skies from burning trash and the putter of tuk tuks racing through the streets. I'm immediately taken back to my Southeast Asian backpacking days, and a wave of nostalgia washes over me. This is my happy place.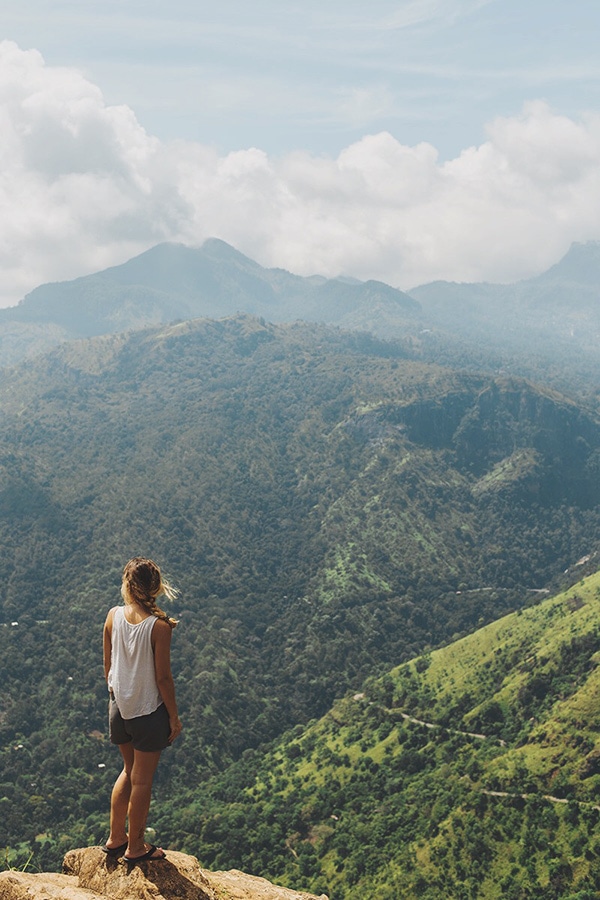 Pin
Almost exactly two years ago, Lucas and I met in Vietnam, and the striking similarities here in Sri Lanka sparked fond old memories for us. It's amazing how much your environment dictates your experiences and ultimately your entire life (and this is why travel is so important!)
Day 210-211: Kandy, Sri Lanka
With only one week before our flight up to India, time was limited so we only spent one night in Colombo before heading inland to the mountains.
We had the option of renting a private car/driver for the week at $45/day, but we wanted to experience Sri Lanka as the locals do—so instead we opted to take the train.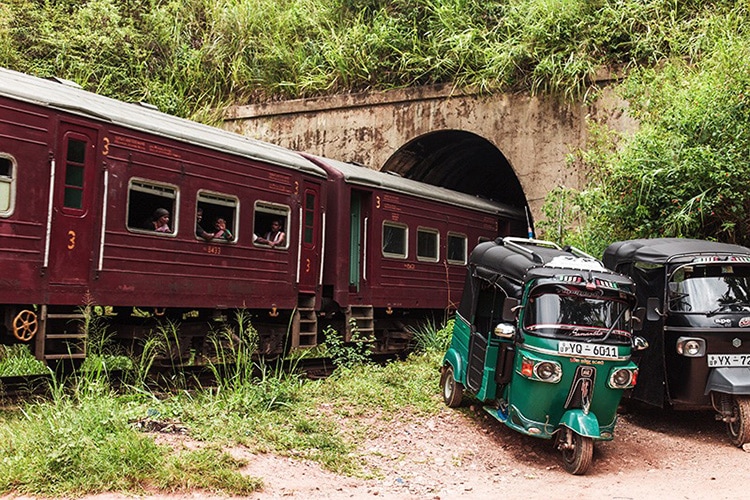 Pin
The trains here are famous for being quite the spectacle, and we wanted to experience it firsthand.
The first and second class reserved seats are always sold out months in advance, so we ended up in the free for all section. As our 12:00 train arrived, every seat had been claimed before we even had a chance to grab our backpacks.
Sri Lankans are ruthless—when the train pulls up, they're throwing their bags and their babies through the window to get a seat as it's still moving. We stood no chance.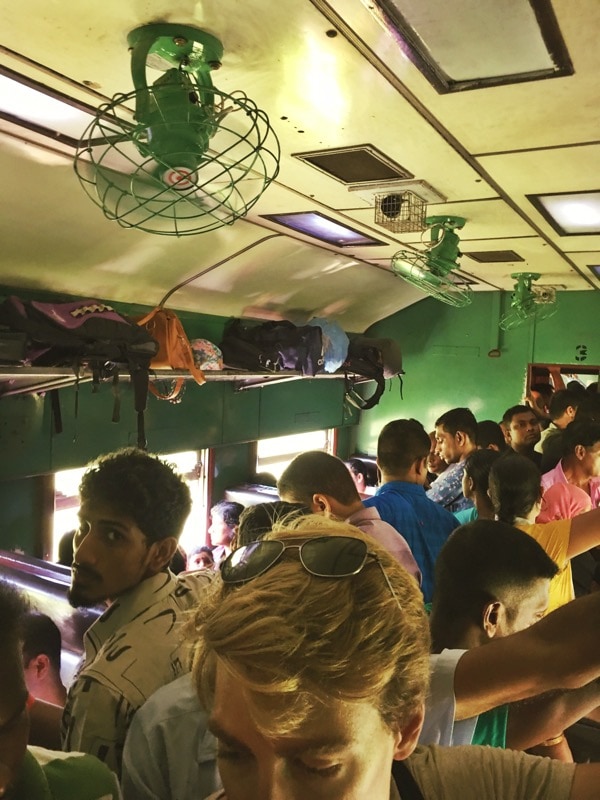 Pin
Debating on whether to wait three hours for the next one, we push our way to the back and get cozy with the locals. The train cars are crammed with as many people as they can fit, including bodies hanging off the train—which turns out to be the most coveted spots for the breathing air and views.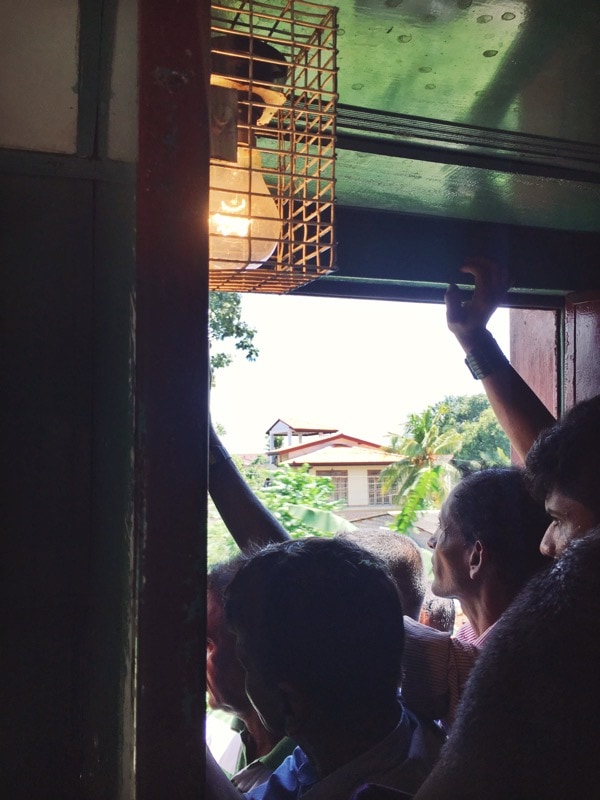 Pin
Lucas was practically sitting in this woman's lap while I had some guys' arm pits on either side of my head and for two hours we can't move an inch. Finally, someone in the seat beside us jumps off and we're able to grab their seat and witness miles of jungle landscape rolling past us for the remaining two hours.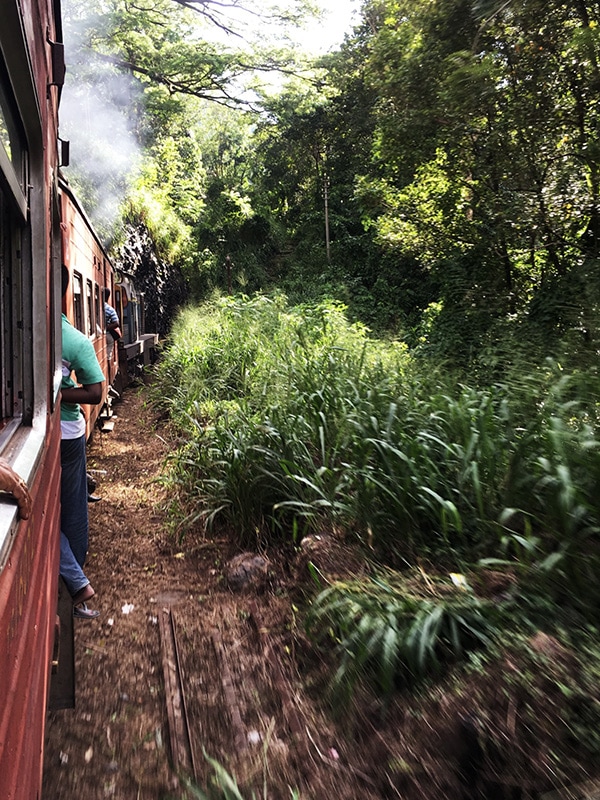 Pin
At $1 per train ticket, you really can't complain.
Before nightfall we arrive in Kandy, a charming little town on a lake and the hub for the center of the country.
It was here that we got our first real taste of Sri Lankan food—as delicious as it was cheap! Full meals cost around $2 on average, and our favorite dish was kottu (a stir fried mix of cabbage, veggies, bread and spices). From street food to restaurants to home cooked dinners, there wasn't a meal we didn't completely devour (and nope, we didn't get sick once!)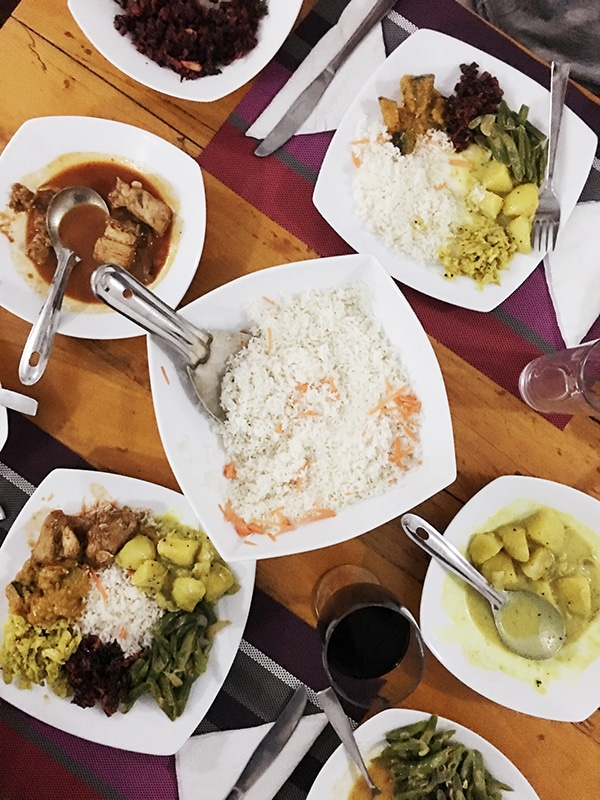 Pin
Day 212-213: Ella, Sri Lanka
After just one full day in Kandy, it was already time to move on. We'd heard great things about Ella, a mountain town seven hours south, so we booked a Homestay there for the following night.
Not wanting to be stuck standing in a train for hours, we went to the bus station to see our options. This proved to be impossible, as the bus "station" was merely a line of snack vendors and hundreds of locals fighting for elbow room on a podium as unmarked buses with blaring horns squeezed past the madness. There was no one on duty and no signs in English, so we gave up and found a tour agency in a hotel.
Reluctantly, we handed over $60 for first class train tickets (later finding out its illegal for them to buy/mark up/resell) but a guaranteed seat for such a long journey was worth the cost to us.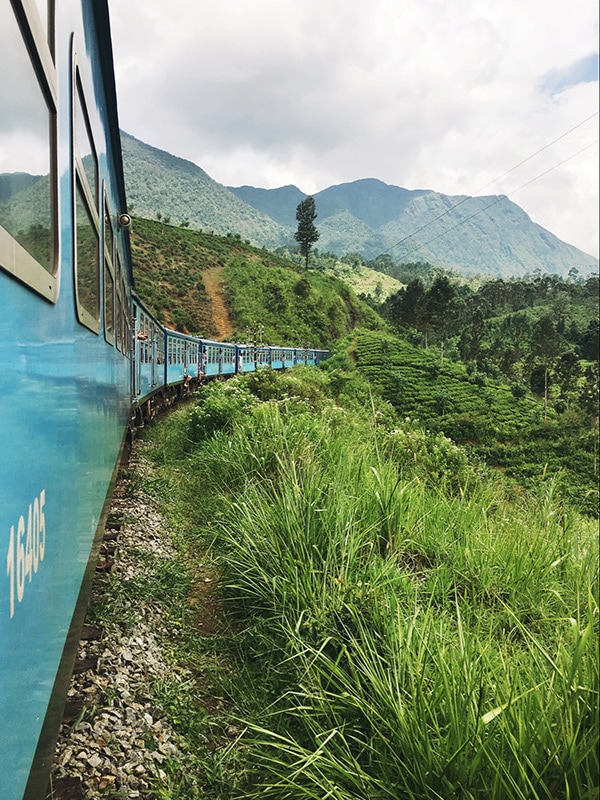 Pin
The train ride from Kandy to Ella is touted as one of the most scenic in the world. We settled into our seats, quickly realizing that they weren't even necessary as we found ourselves hanging off the doorway most of the time.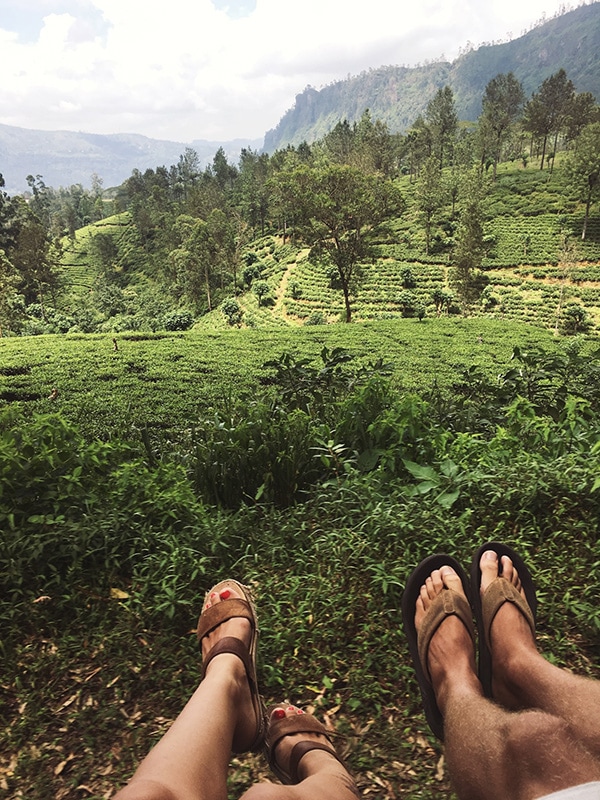 Pin
Those seven hours flew by fast with plenty of breathtaking views to admire. It's really a must-do if you find yourself in Sri Lanka!
That afternoon we arrived in Ella, and settled into this beautiful homestay we'd found for $25/night. At that price, it wasn't the cheapest option available, but the view from our balcony made it worth every penny.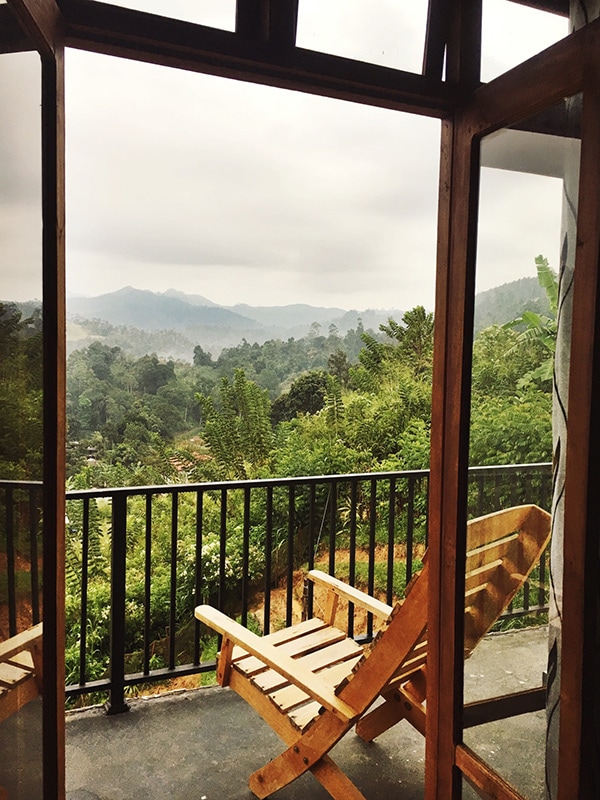 Pin
Just before sunset a double rainbow appeared, then the sky turned pink and the fog started to roll in. Birds and insects began chirping all around us, there were flashes of lightning and thunder and then monks begin chanting in the distance, filling the valley with their echoes.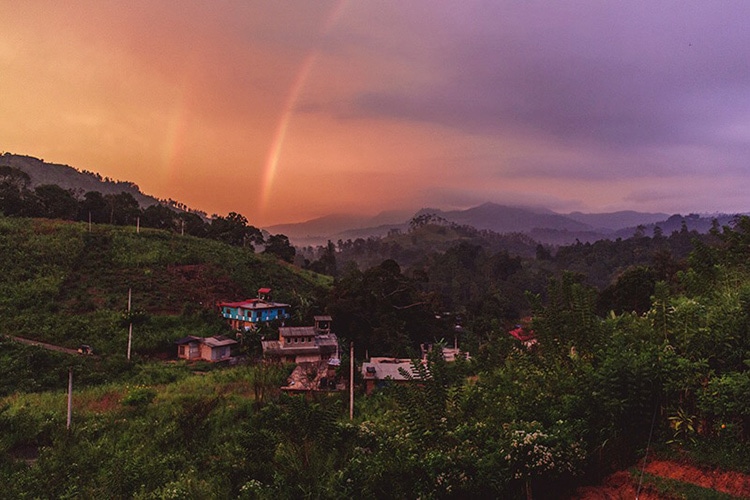 Pin
It was one of those speechless and truly memorable moments that will stand out on this entire trip.
The next day we hired a tuk tuk to take us around. Our first stop was a Buddhist temple inside of a cave.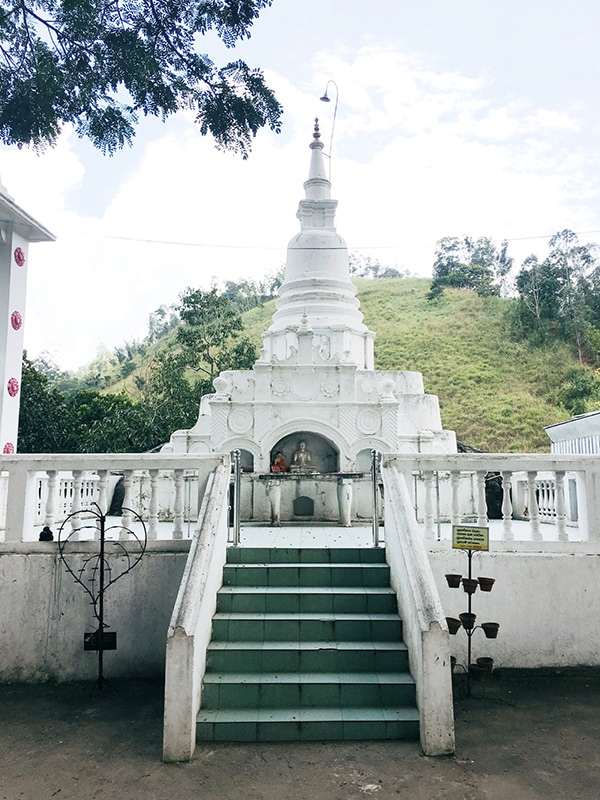 Pin
Afterwards we watched the train pass over the picturesque Nine Arch Bridge.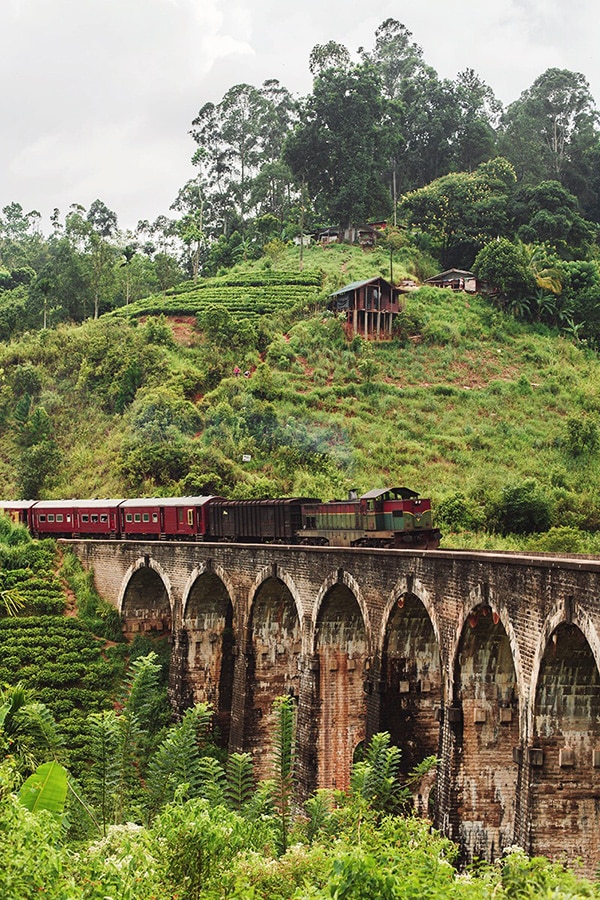 Pin
From there we drove out to Rawana Ella Falls, a popular spot for locals to bathe and wash their hair.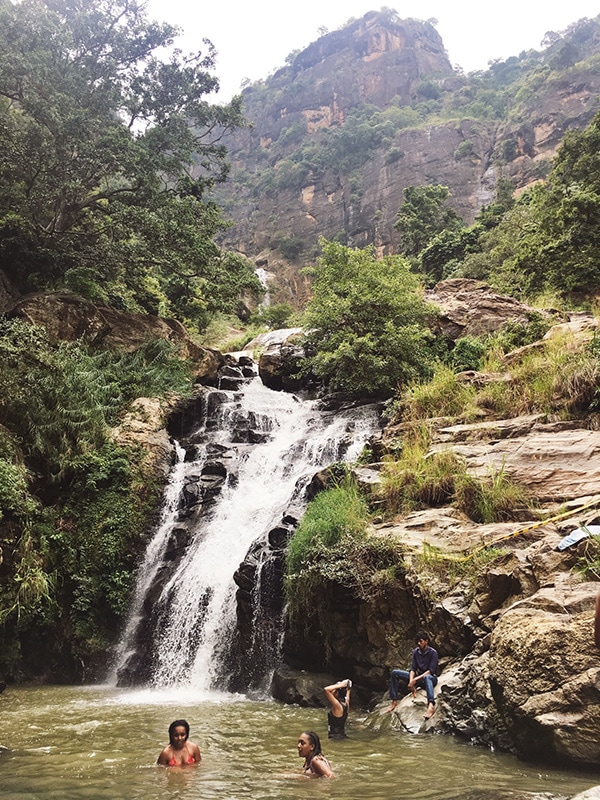 Pin
A group of monkey mamas and their babies were playing in the street, and we yelled for our driver to stop so we could snap a photo. Just look at those sweet faces!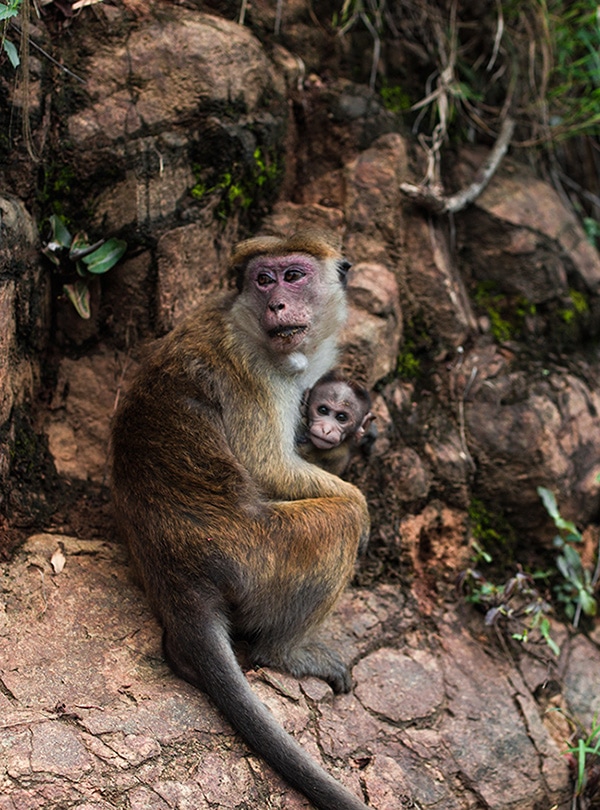 Pin
Every afternoon, like clockwork, it downpours during monsoon season. Our day in the outdoors was cut short so we waited out the storm under a cafe, drinking local tea and devouring kottu. While this weather means we don't get to spend as much time exploring and seeing the country, it's also so nice to just be able to relax in bed and listen to the storm. It feels like we're constantly on the move and filling our day with activities, so the downtime in Sri Lanka was savored.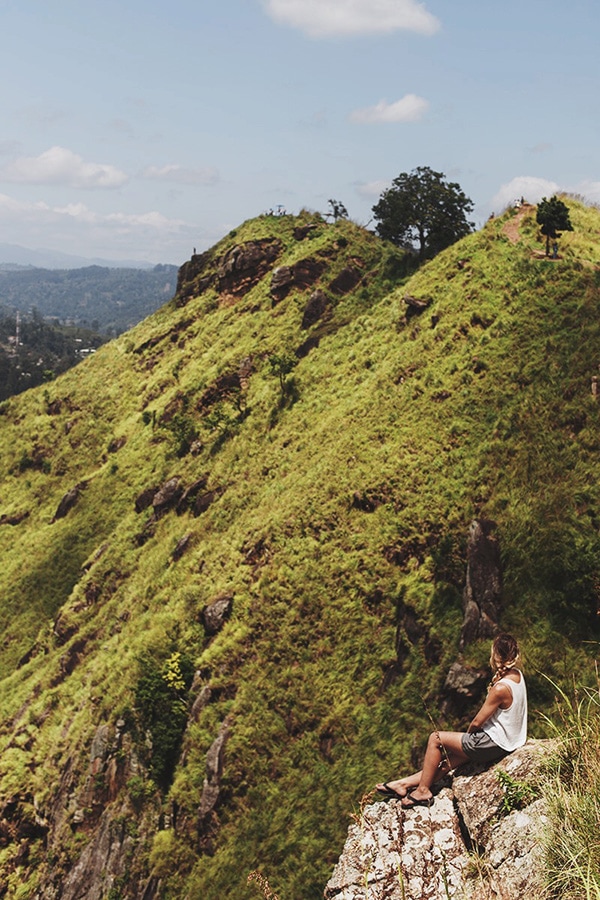 Pin
The next morning we went on a quick hike to Little Adams Peak—a mountain ridge with sweeping views of Ella Rock, distant waterfalls and the surrounding forest.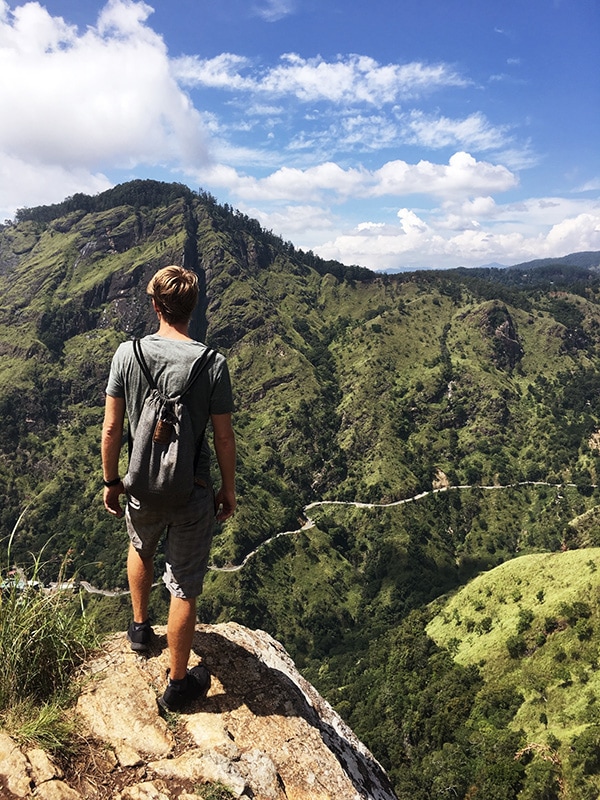 Pin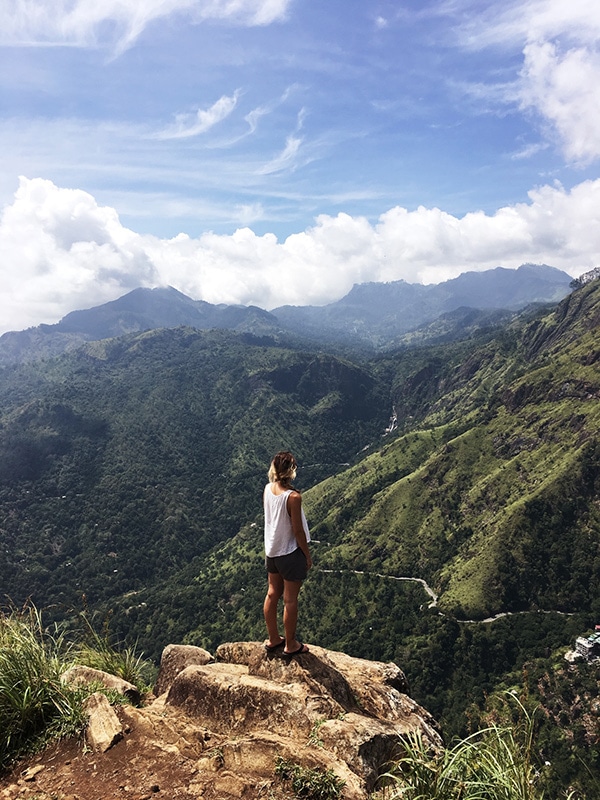 Pin
Buddhist shrines and pups greeted us at the top.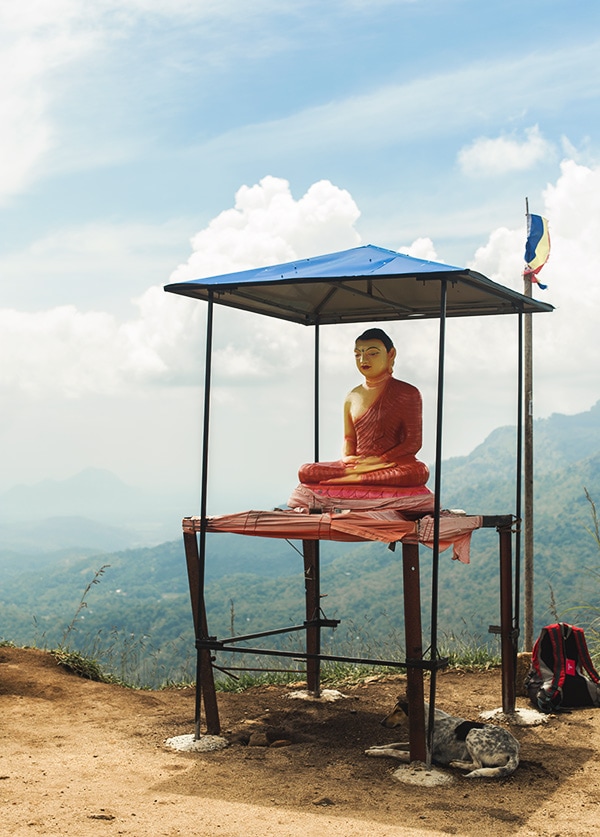 Pin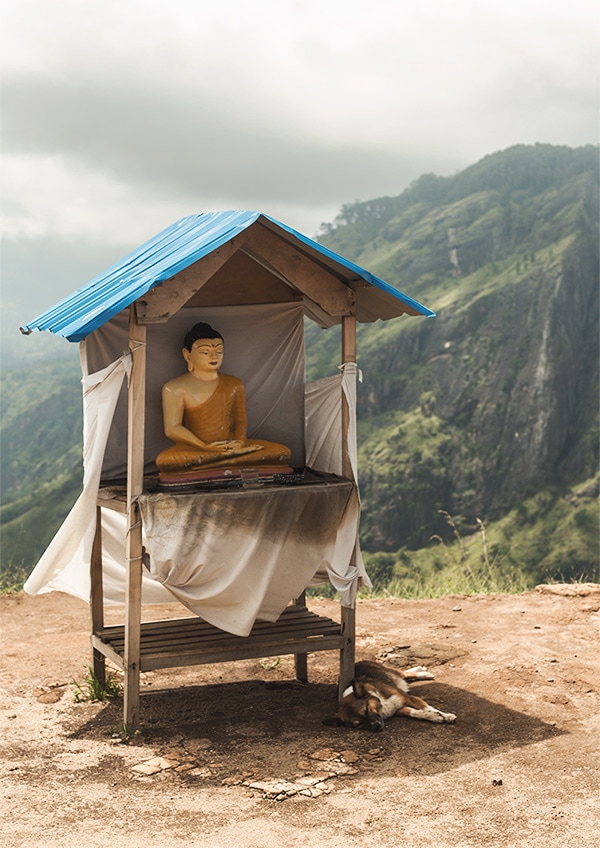 Pin
Just before the afternoon storm hit, we caught a ride to our final destination of Haputale.
Day 214-215: Haputale, Sri Lanka
We're greeted by our host, Ikka, and brought inside— it's a small and modest home to a family of four, who share a bedroom and one small bathroom with no light and a hole in the wall for air. Ikka informed us that the power was out, and would be back on within a couple hours.
We carried our bags to a dark and damp bedroom, painted in bright colors with a ceiling that had seen better days. The air is cold and we layer on what little clothing we carry to keep warm. (Excuse the fuzzy screen shots, but this gives you an idea…)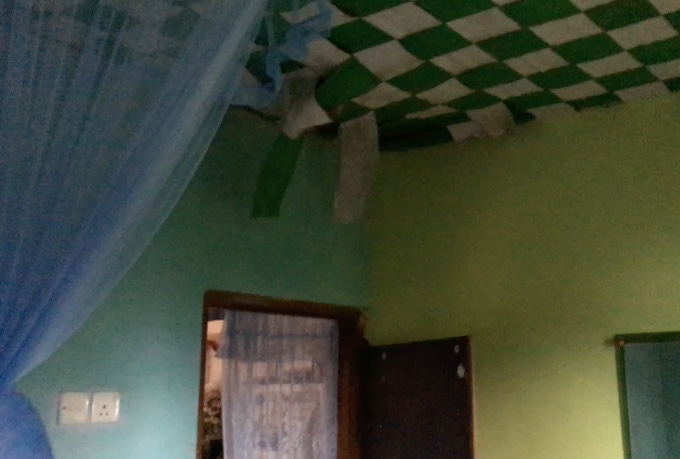 Pin
Hours pass with no sign of electricity, and we have dinner by candlelight prepared by Ikka's wife and served by his cute children. Later that night we huddle together on a rock hard mattress underneath a mosquito net for protection, covered in damp clothing and blankets. Coming from our previous homestay that felt like luxury, we had to laugh at our current situation and think of it as a fun glamping trip in the jungle. At $8/night, we were still getting a bargain, and getting to stay with a local family and experience real Sri Lankan village life was icing on the cake.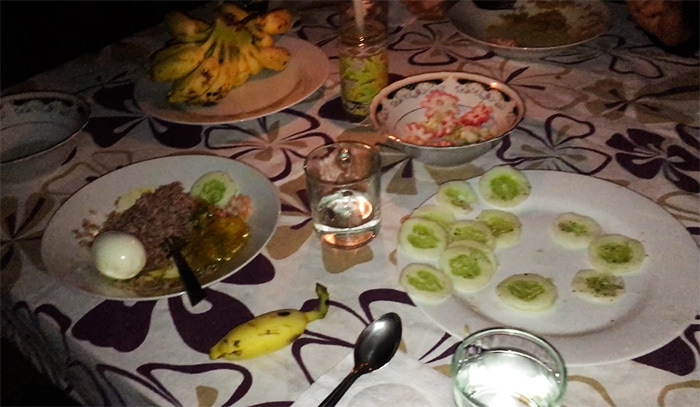 Pin
By the next day, the power hasn't returned and all of our devices are nearly dead. We're assured it would only be a matter of hours, and flag down a local bus to start our last day of adventure in Sri Lanka.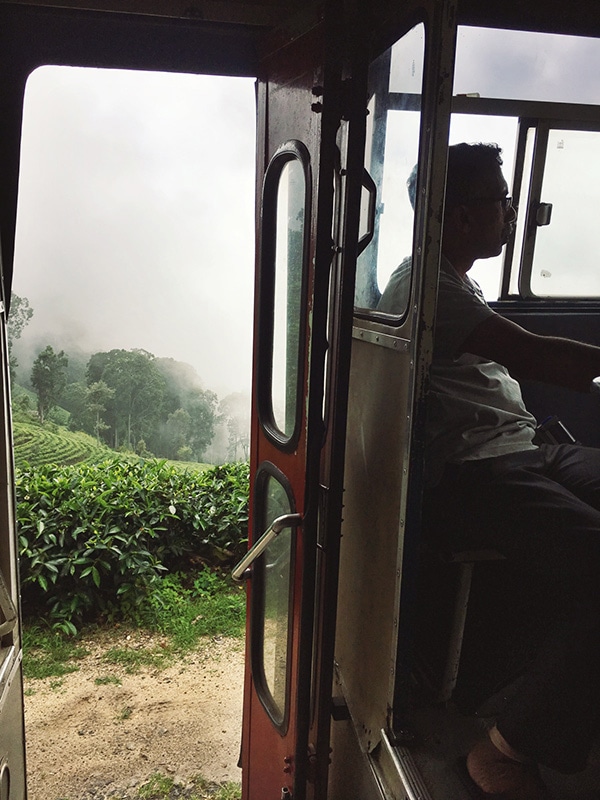 Pin
Haputale is known for its tea plantations, and perhaps the most scenic is at the Lipton Factory. Seven kilometers of winding pathways takes you to the top of a mountain ridge with 360° views. Unfortunately for us it was cloudy that morning, so we weren't able to see much from the top, but the long walk through the plantation made up for it.
Pin
We leisurely strolled through rolling hills, waterfalls and small villages, stopping to admire and take photos of the scenery. We passed cows, tuk tuks and friendly workers gathering tea leaves who smiled and waved at us.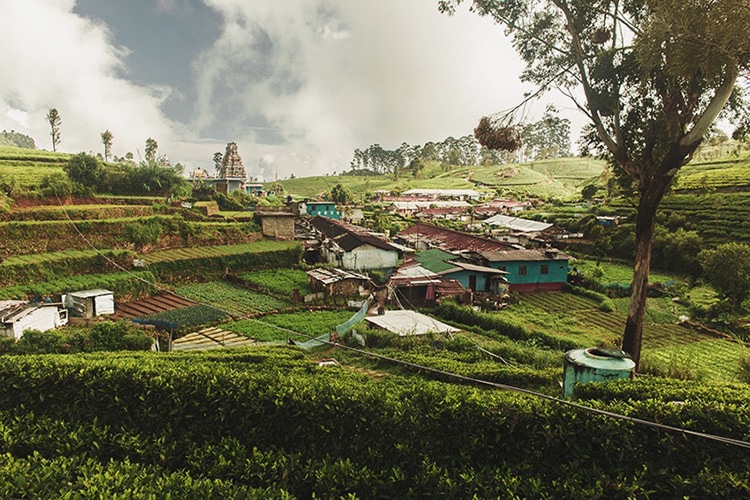 Pin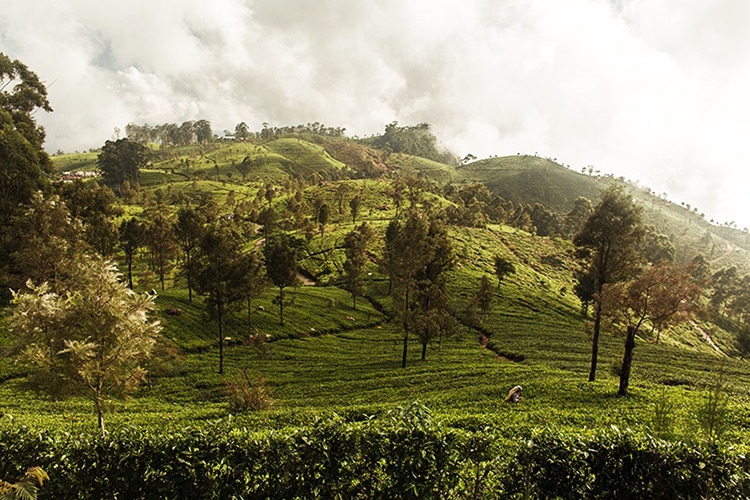 Pin
At the bottom of the valley is a large tea factory built by Lipton in the 1800's. We took a tour and learned about the process of black and green tea production, and enjoyed a cup over conversation with a local while waiting for the bus.
Pin
Back at our homestay, the power still had not returned, so we continued to wait patiently as the monsoon passed and the sky grew dark. We hadn't showered in days, all of our electronics were dead and we needed to check into our flight and book a hotel for the following day. Desperate, we grabbed our bags and ran down the hill in the rain, searching for somewhere to go. Fortunately, another homestay (with electricity) was able to take us in for the night, and we were finally able to reconnect with the world and calm my frantic mothers' nerves.
Pin
A happy ending to a memorable week in this friendly little island nation. You'll always find an adventure in Sri Lanka!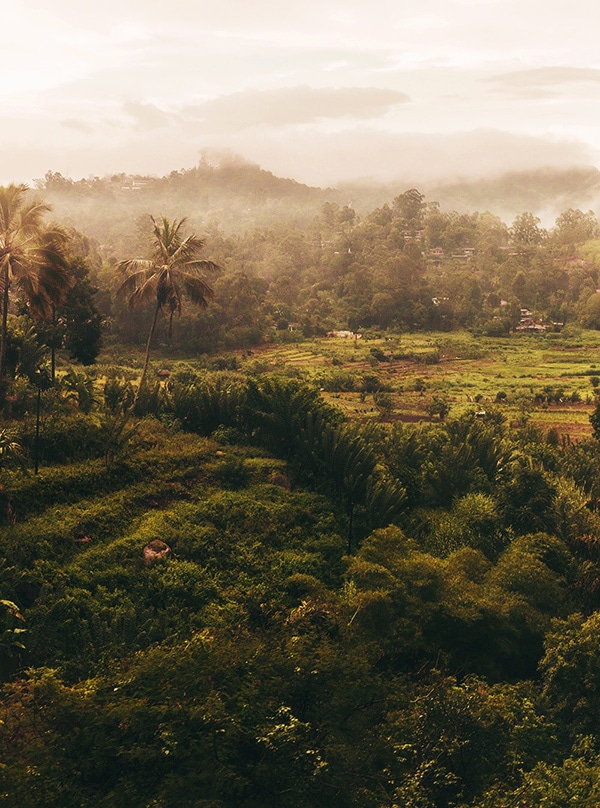 Pin
As I write this, we're nearly a week into our last destination of India, trying to navigate our way through the chaos. There's so much to take in, and I'm sharing moments of it over on my Instagram stories. Find me there and see how life is lived on the other side of the world!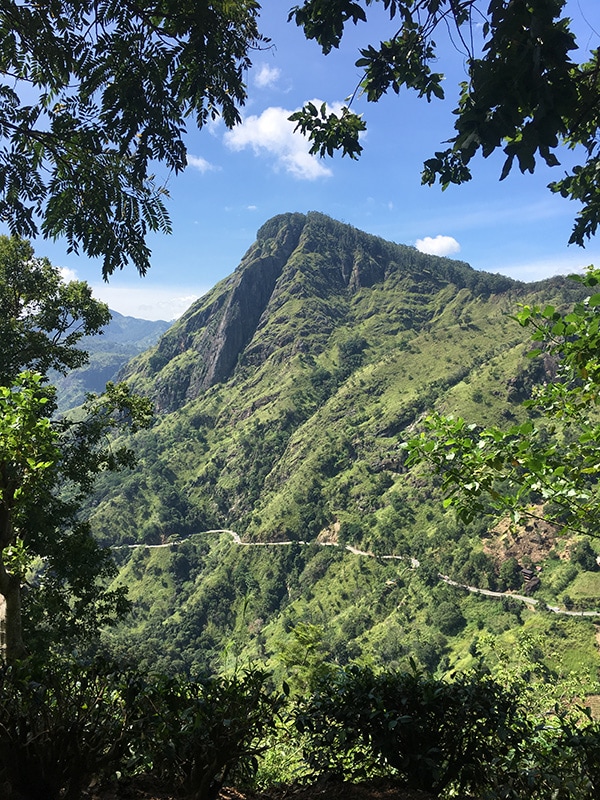 Pin
PS: Morocco video coming in just a few days!