First came the holiday table inspiration, then the DIY floral centerpiece, and now it's time to see how it all came together! Come on in and be our guest…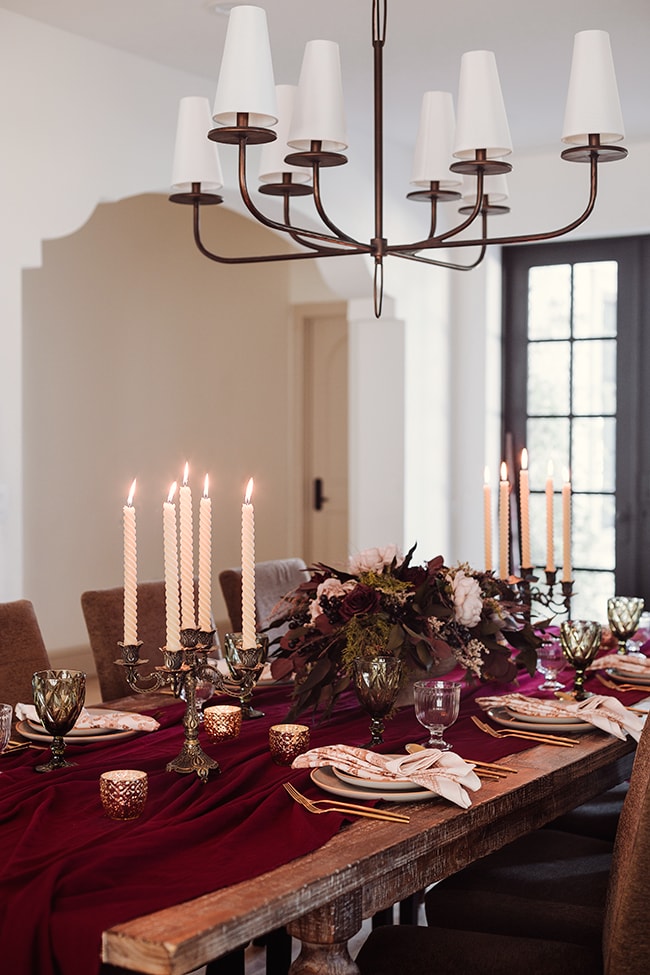 After the centerpiece tutorial, the final pieces arrived to complete our tablescape. Can you spot the new additions?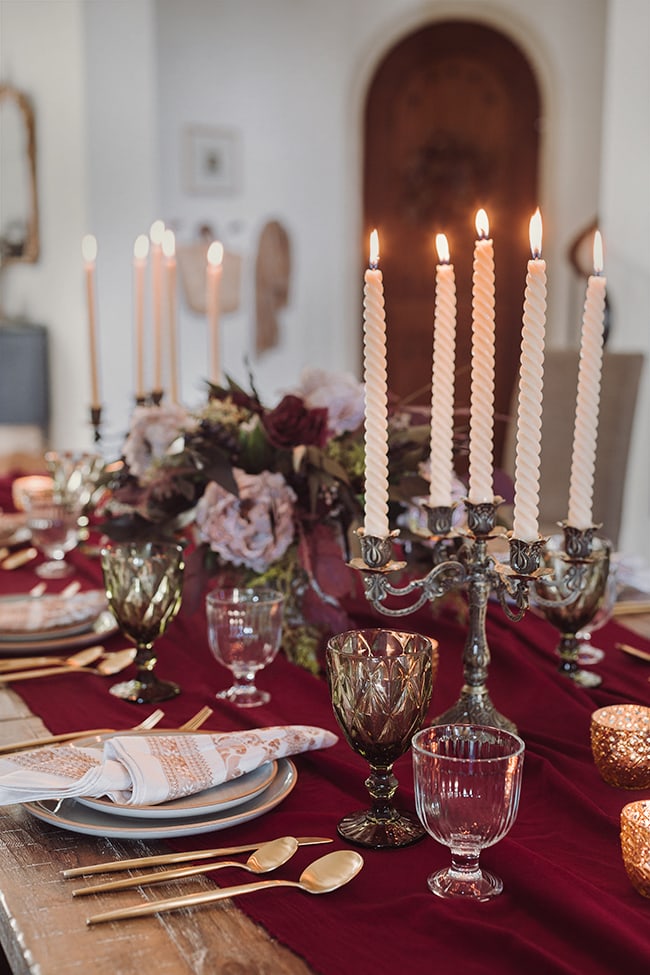 I searched the internet high and low for 5-arm brass/gold candelabras and it turns out there are next to none at a reasonable price point. I had a very specific look in mind and spent way too many hours looking. Finally, I found these in bronze (only $27!) and ordered two.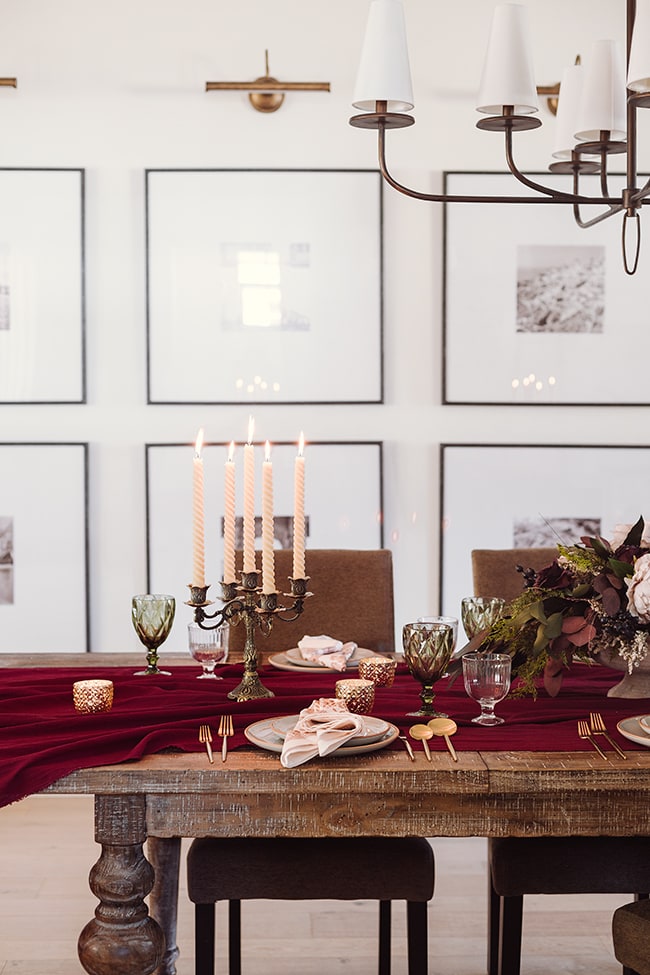 I think these candelabras are extremely practical as well, since they take up very little table space and the flames are up high and out of the way. You don't have to worry about a bunch of individual candlesticks to accidentally knock over when you pass the gravy (I'm very paranoid about this!)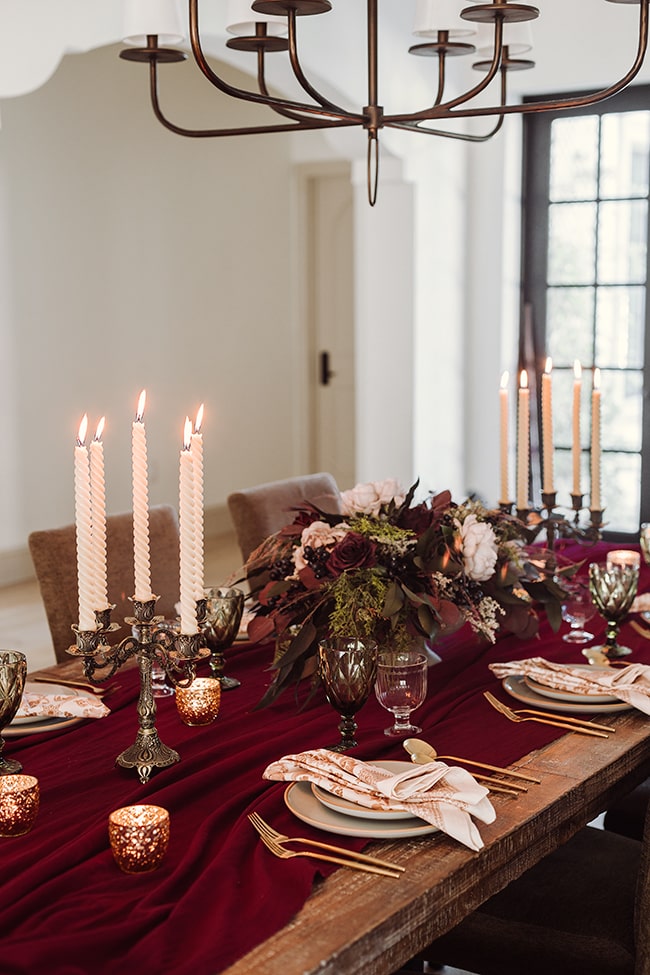 This tablescape is inspired one of my favorite Disney movies of all time—Beauty and the Beast, which I recently introduced Esmé to. Needless to say, the soundtrack has been on repeat in our house lately and I've had the most fun reliving my childhood dreams of Belle in her castle.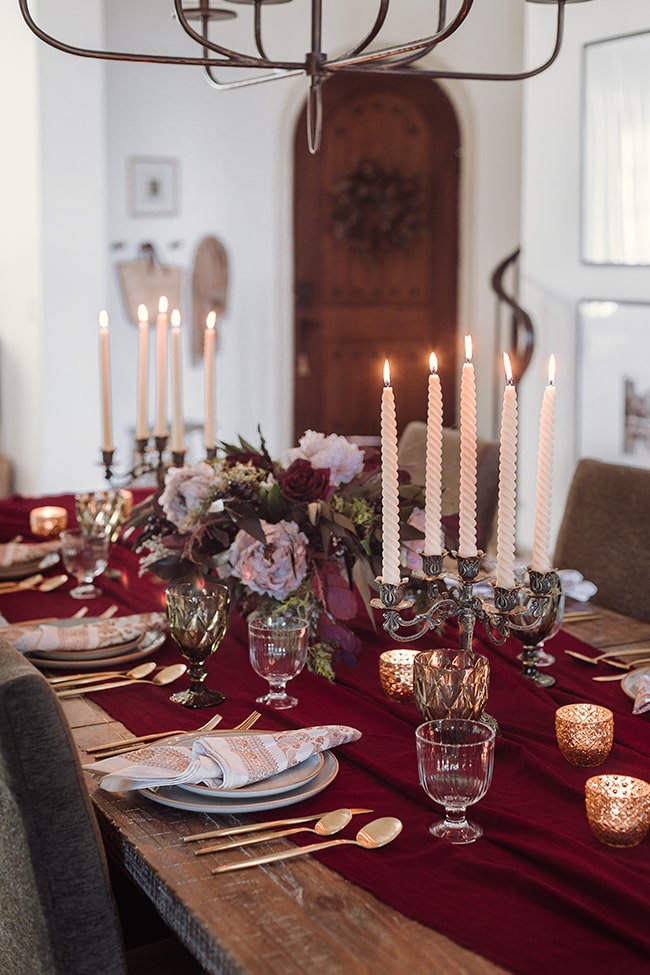 My imagination and nostalgia has always been strong, and it has grown even more now that I want to share the magic with my little girl. I predict some elaborate themed birthday parties in our future…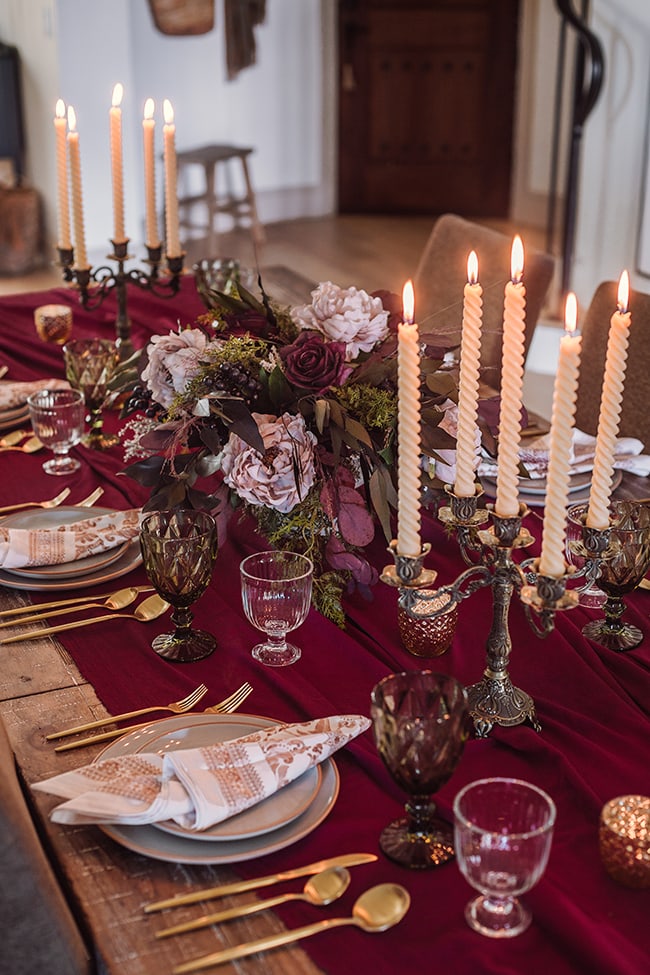 The twist taper candles are vintage and secondhand (but I linked a very affordable similar option in this roundup post). These beautiful dinner napkins were out of stock when I found them, but worth delaying this shoot for…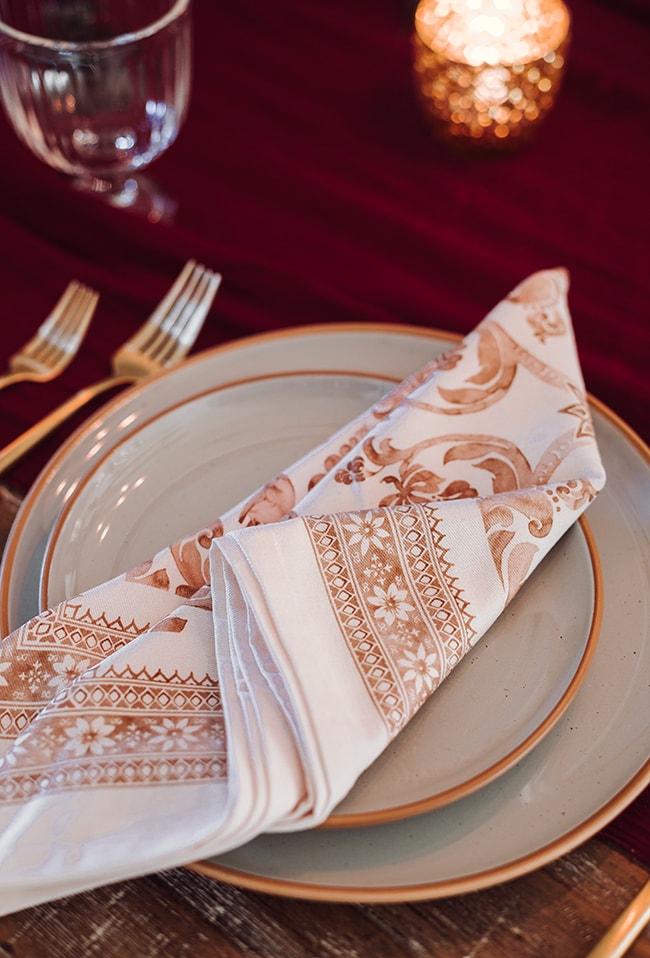 These were also love at first sight, and I couldn't find any alternatives that came close. The hand painted damask floral pattern is so lovely, and I think it works well for both Thanksgiving and Christmas (and even all year long).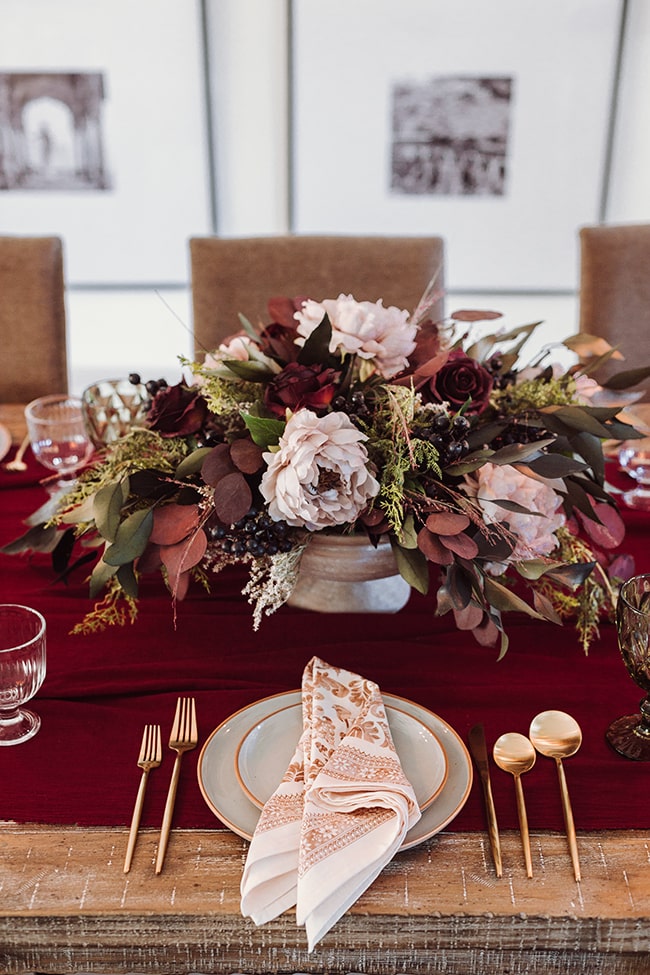 The centerpiece is still looking perfectly fresh two weeks later, thanks to faux and preserved florals! We'll keep it out for a dinner party we're hosting this weekend, and using it again for Thanksgiving. It's the gift that keeps on giving.
Those green glass goblets are another standout find for me this year. They're so elegant yet sturdy and high quality. They're also on sale right now, and I'm considering buying a few more sets to keep for our guests at the Hacienda Hideaway.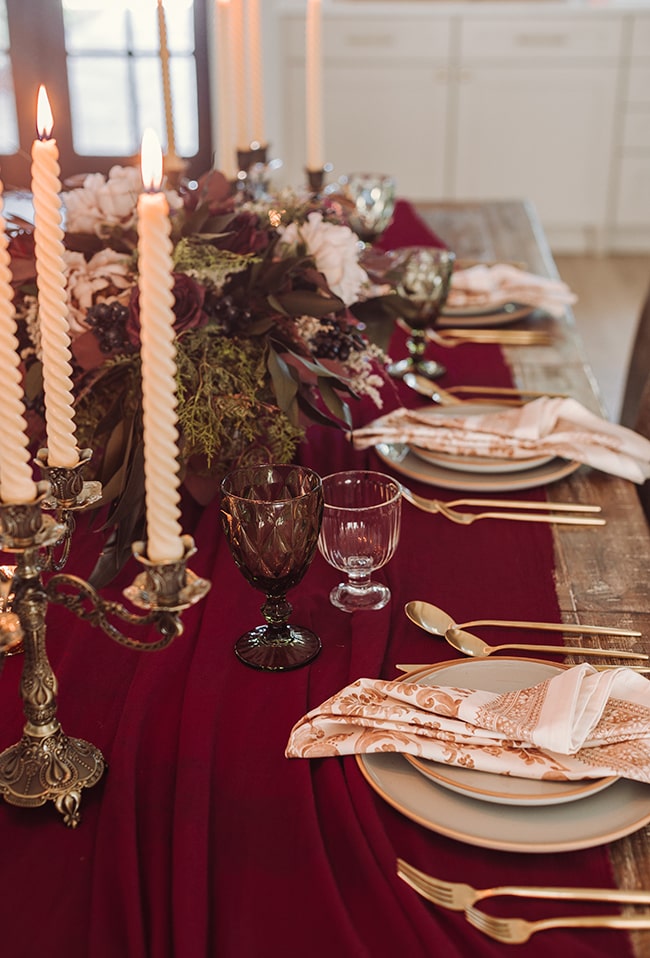 I might also stock up on these earl gray ceramic plates. They're supposed to be scratch-resistant (and of course microwave/dishwasher safe) so they should hold up well to heavy use in a vacation rental.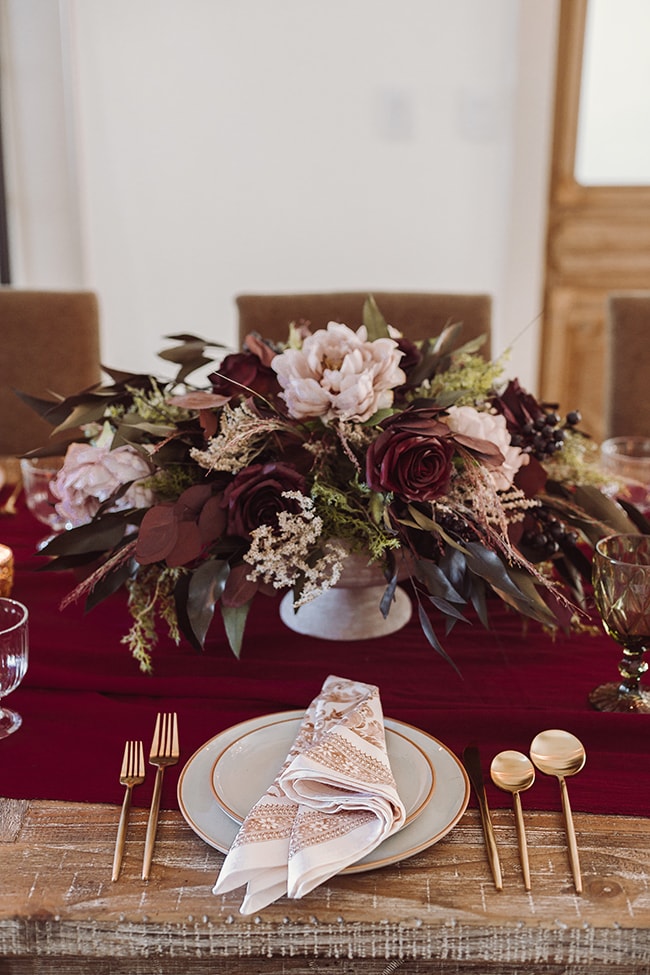 The gold flatware will be reserved for special occasions only. These come in rose gold and matte black too, and were the best option I found at that price point.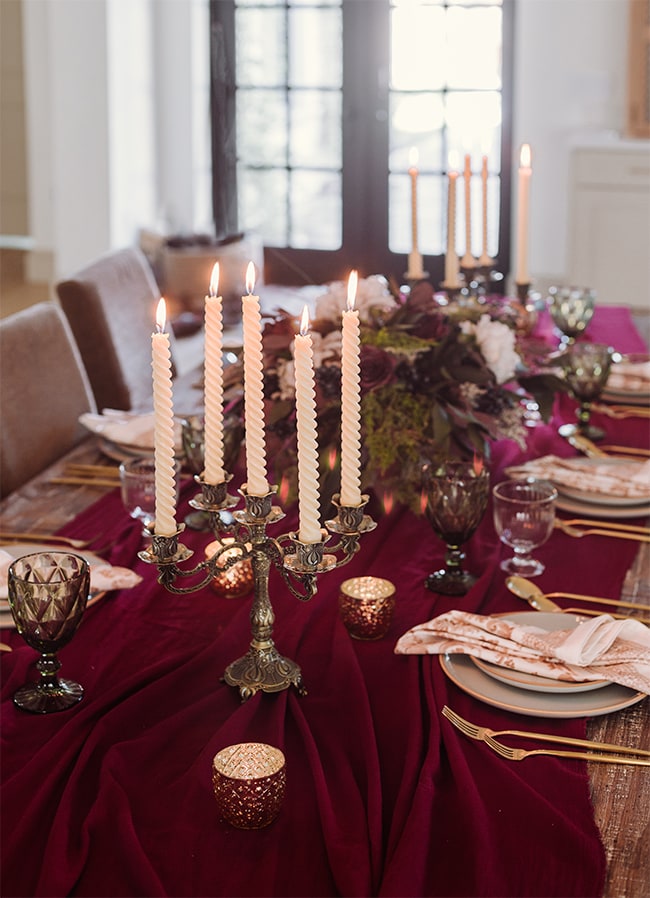 Everything else on the table you can find linked in the Roundup post if you missed it. And all of our dining room sources are linked on my Dining Room Sources page.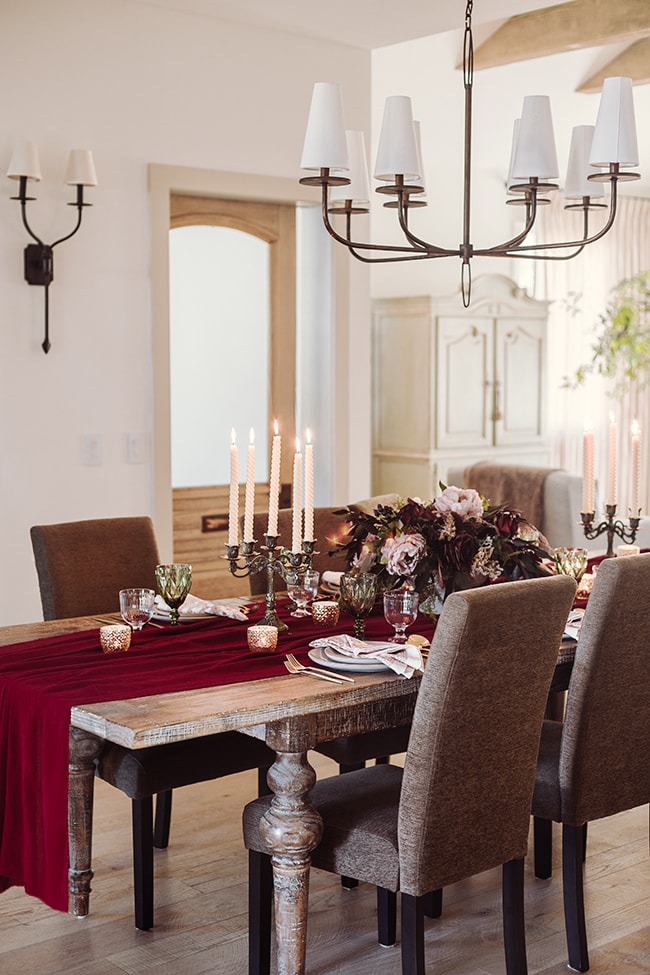 Now that the holiday season is upon us, I'll be switching to Christmas-mode soon and will share it all with you here on the blog. We plan to enjoy autumn for a couple more weeks though before unpacking the tree and garlands…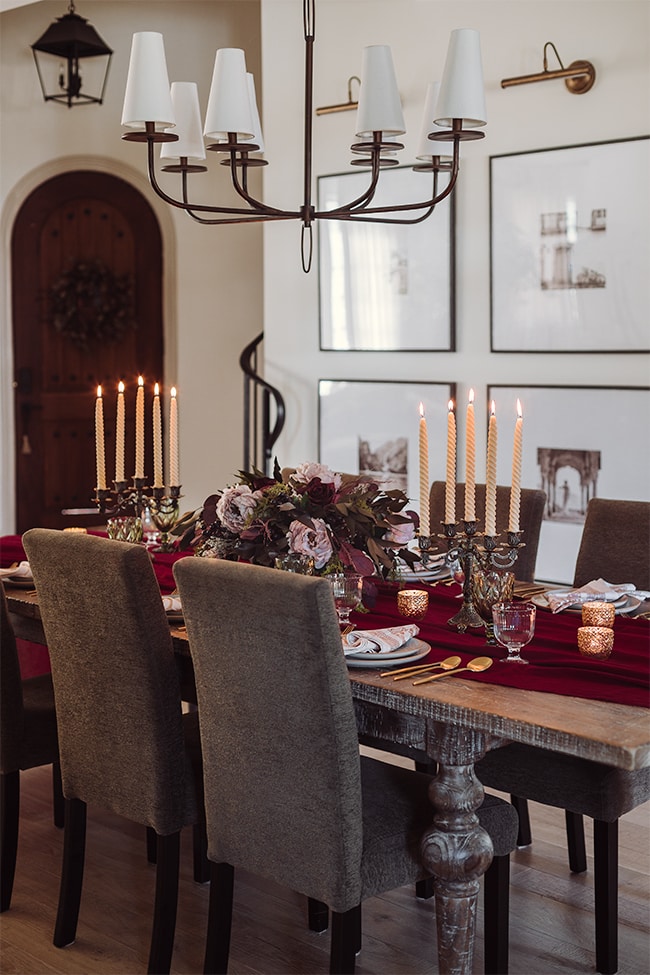 But first—it's the Hacienda Hideaway update we've all been waiting for. Stay tuned for the most ambitious DIY undertaking you've ever seen on this blog… starting in my Instagram stories tomorrow!