This post is part of a paid collaboration with Lowe's Home Improvement. All opinions are my own.
Today I can finally share the very first tiling project at the Heights House! We've been stuck in the drywall stage for what seems like forever, so it feels great to get some of the finish work started.
Before I dive into the details—join me on a tour of the bathroom before we started, our date night tile-hunting at Lowe's, the tile installation and finished results!
A few weeks ago I shared the full Guest Bathroom Design Plan of 'bold luxury on a budget':

Pin
The goal is to finish this space in just a few weeks, and we sure have our work cut out for us!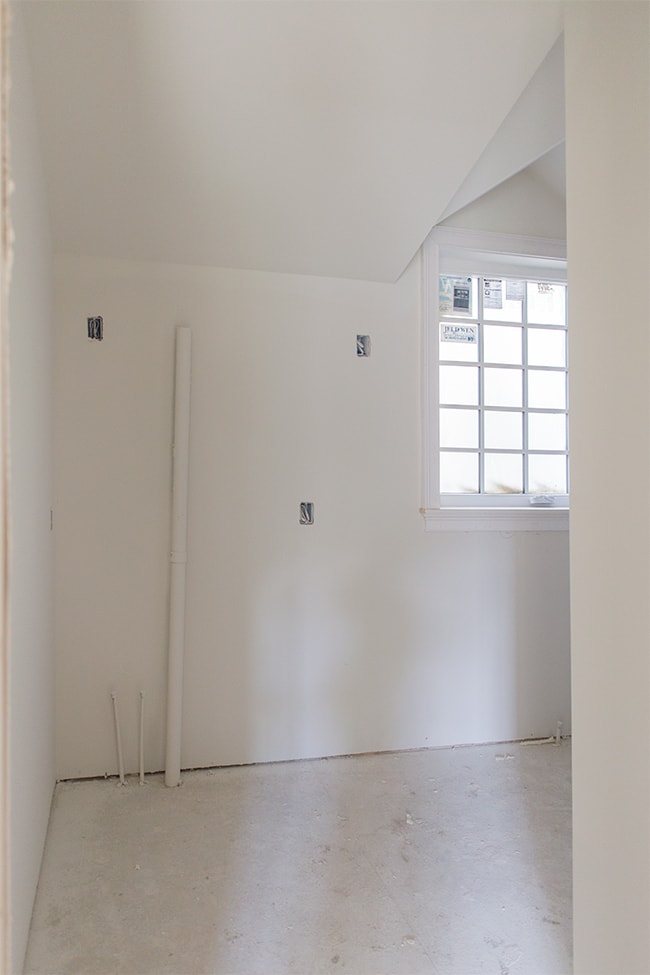 Pin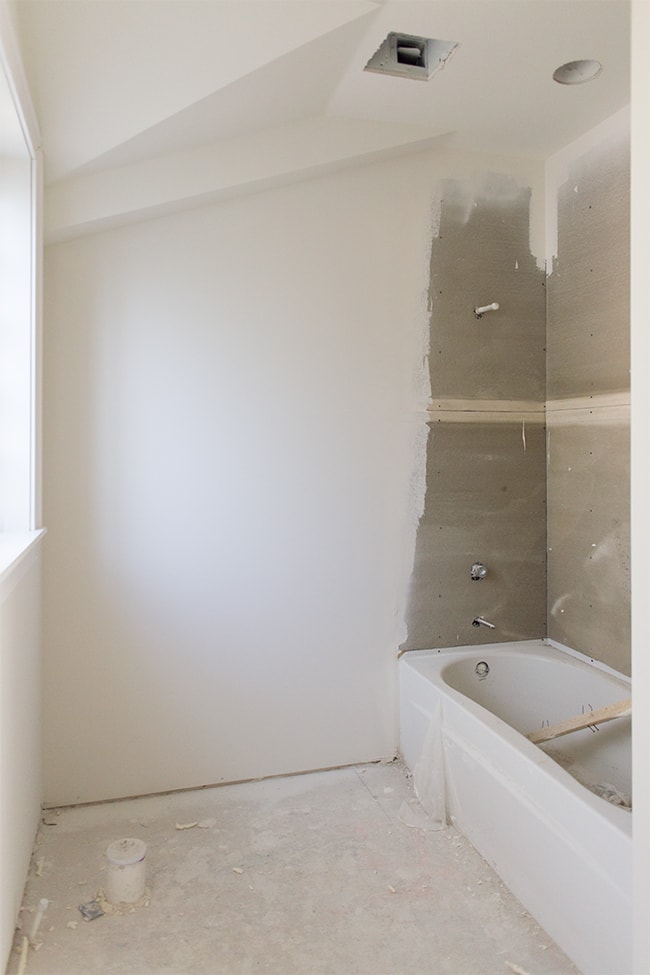 Pin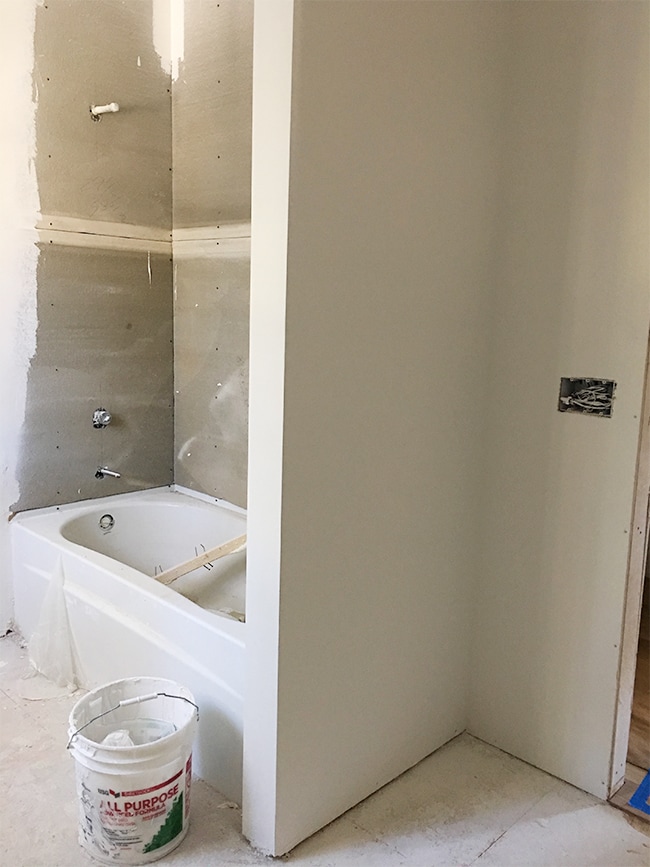 Pin
The first project to tackle was tiling the shower, and I talked about the design process and my decision for this tile in the last post. Since we're using a patterned/textured tile on the floor, it was best to keep the tile simple, and glossy white to offset the black walls. The timeless, sophisticated theme of the bathroom called for a simple and classic shape like subway.
There are endless options when it comes to tile nowadays, and most importantly there's so many great affordable options, so Lucas and I decided to check them out in person at our favorite Friday date night spot.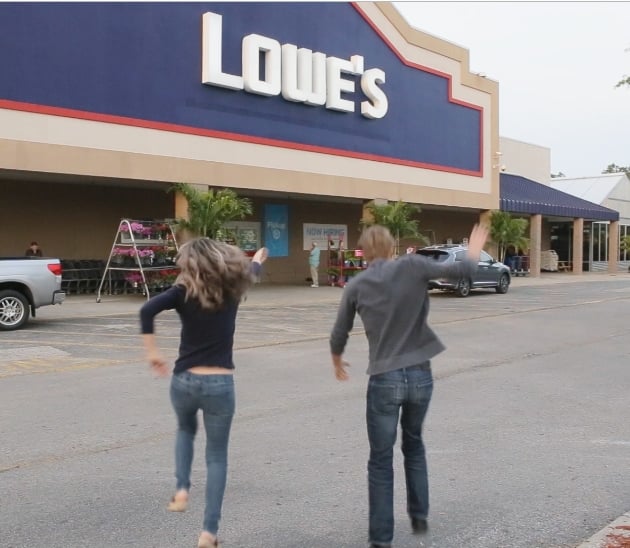 So many pretty distractions! But I had to stay focused on the mission: simple, white, classic, affordable.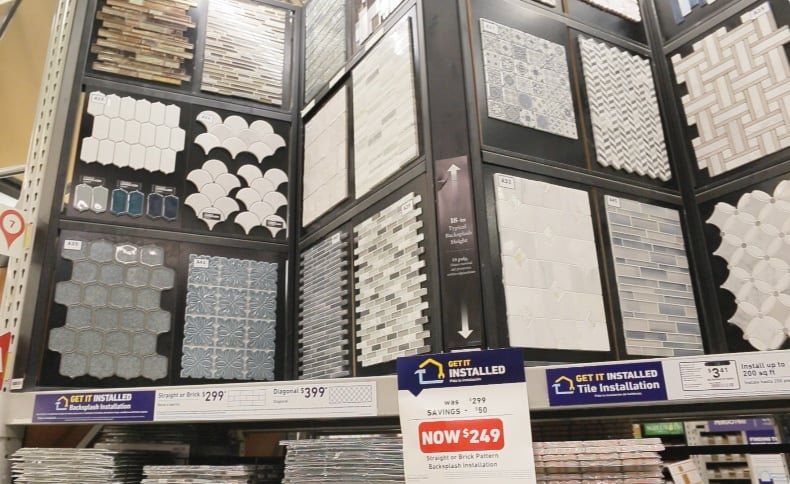 Pin
I spotted these fun lantern shape mosaic tiles months ago and have them on my shortlist of "someday" tiles, but the price was a bit out of budget for this particular project.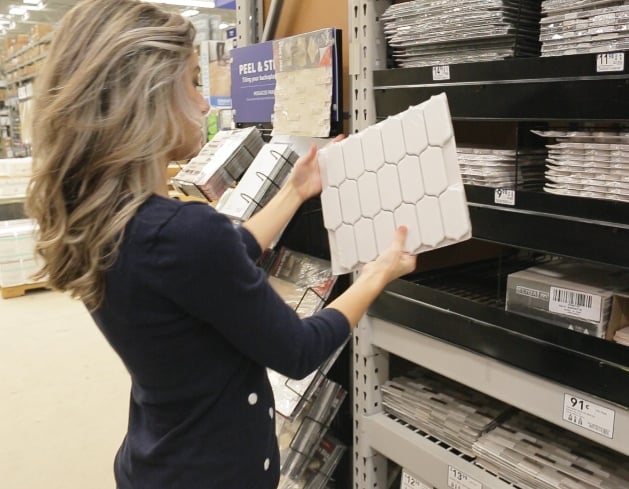 Pin
This marble white + blue tile caught my attention, and while it wasn't simple enough for this design, I'm definitely bookmarking it for the future! My love for diamonds runs deep.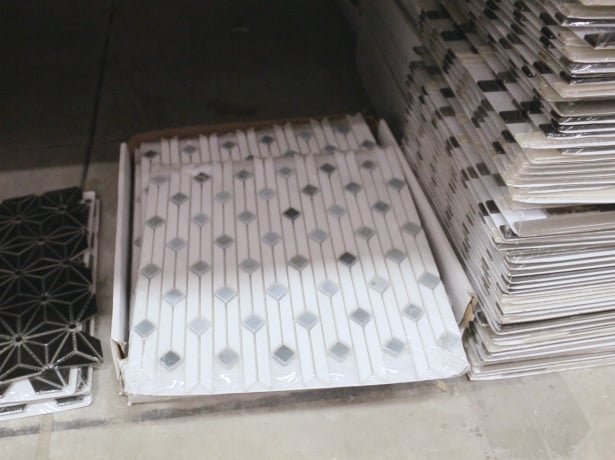 Pin
I went to look it up online and just had to share—they just dropped the price by 75%! Killer deal for marble… I wish I had a project to use this on.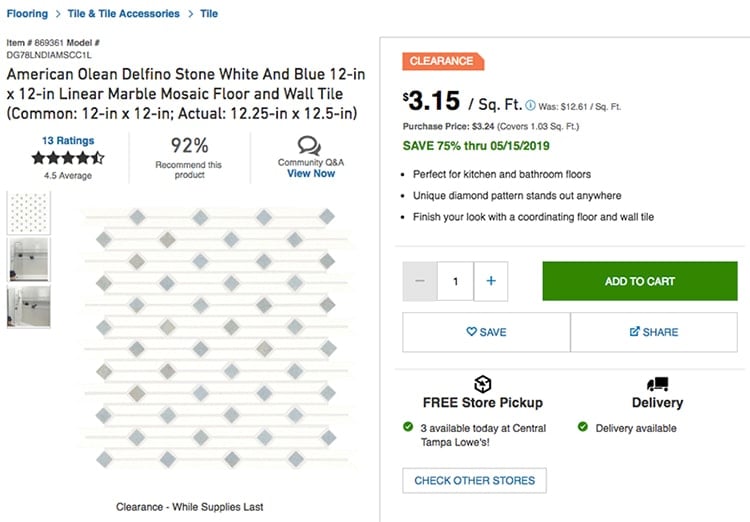 Pin
Further down the aisle was the subway tile, and there was no shortage of styles (<- so many rhymes in that sentence).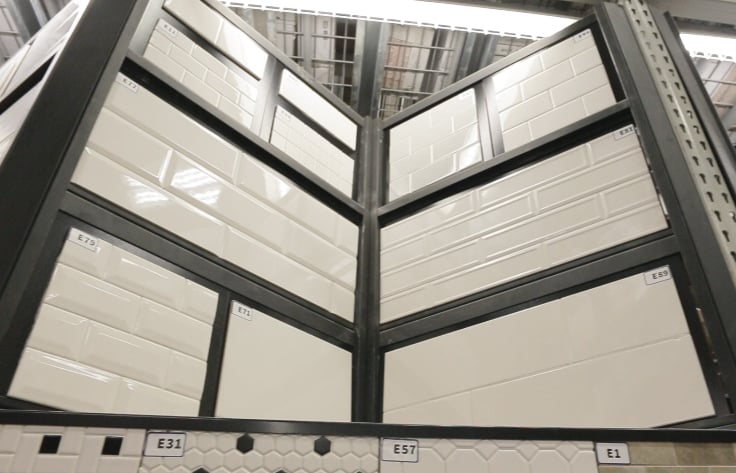 Pin
One of them jumped out at me immediately—can you guess which one?
If you guessed the middle right, you're correct! Beveled subway tile is common but this particular design with the outlined edge was unique. And the long skinny shape gives it a clean, modern feel.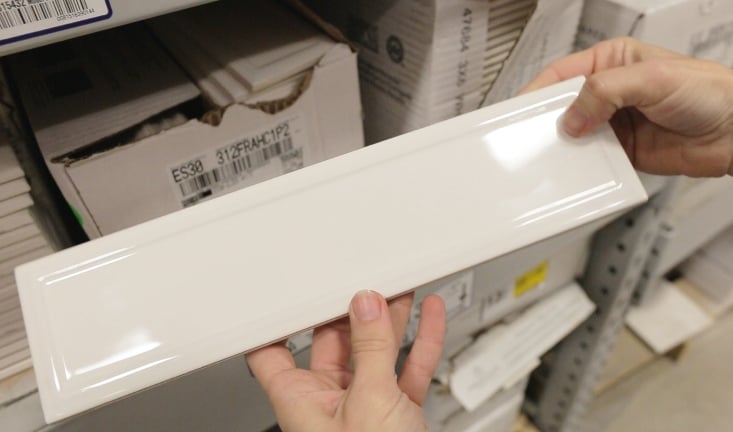 Pin
And after seeing the price, it was game over. I'll take them all!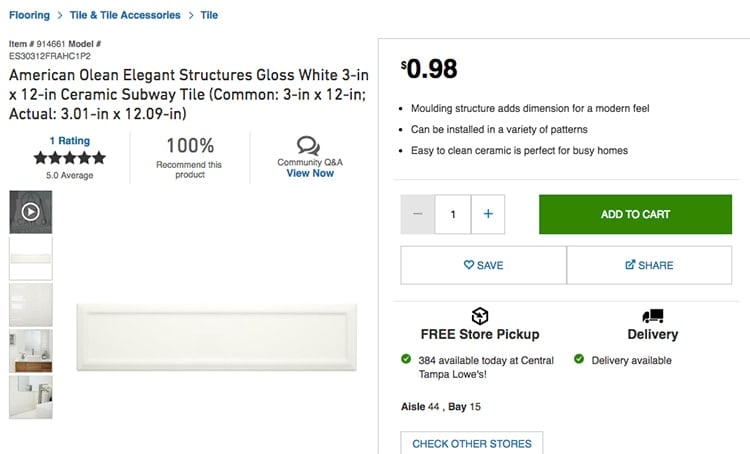 Pin
Fortunately Lowe's had plenty in stock, so we loaded up our cart and called it a successful date night.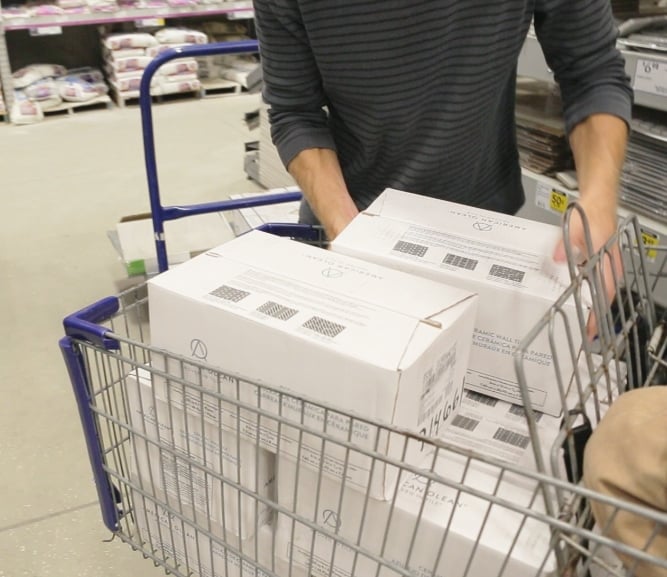 Pin
Now, it was time to figure out the tile arrangement. Most of us default to your traditional staggered subway tile, which I've done many times (tutorial here, here and here) and love—you can't go wrong with a classic!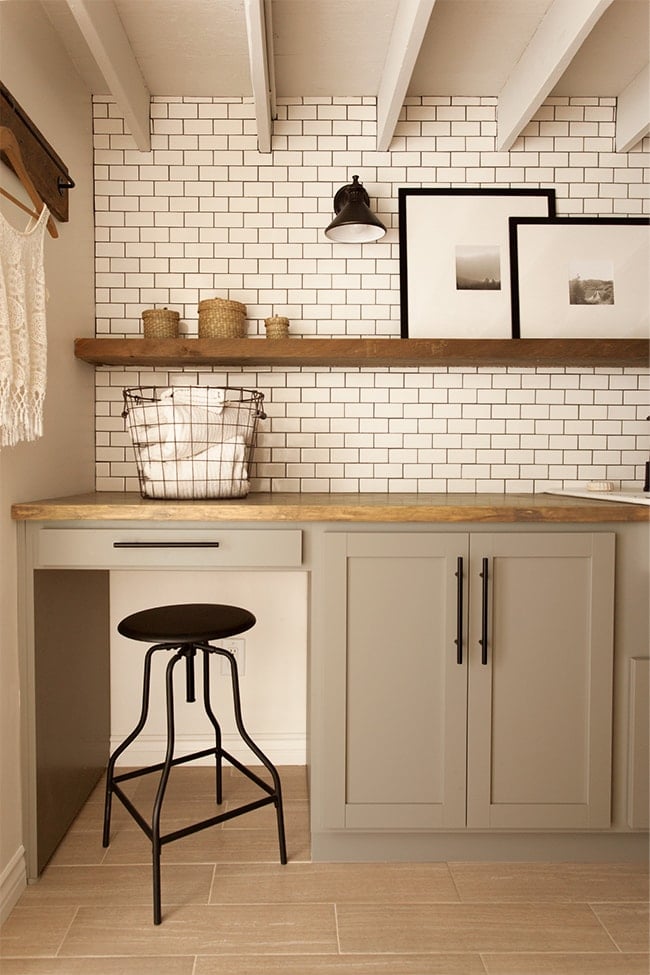 Pin
But this time, I wanted to try something new. My friends, are you aware of just how many different arrangements are possible? Here's just a few, c/o A Beautiful Mess…

Pin
And a few more, if you really wanna get fancy…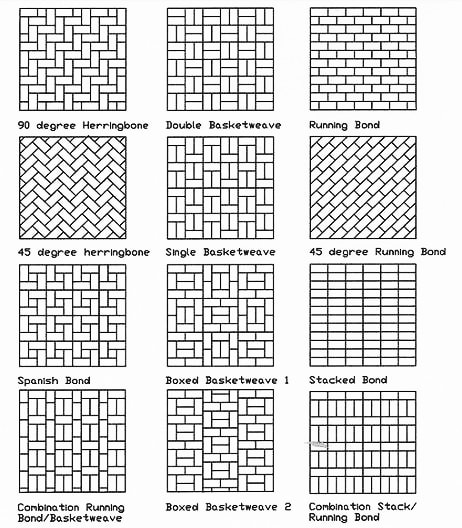 While some of those more intricate layouts could be really interesting in the right space, I still wanted to keep things simple, with just a little something special. The stack bond look has been popping up on my radar lately, and I'm liking what I see.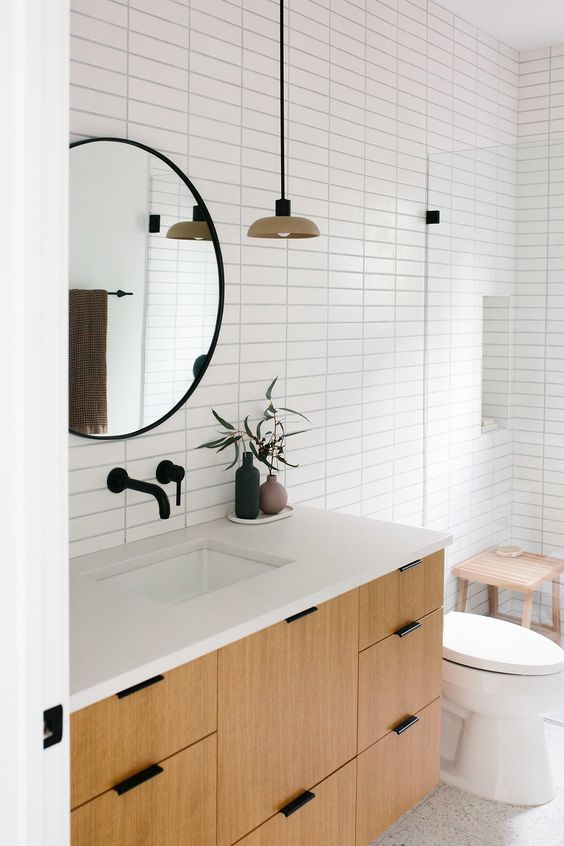 The tile I chose already had a unique design feature with the outlined edge, so there was no need to use an intricate layout to make it interesting. For this same reason, I opted for white grout, to emphasize the overall texture rather than the shapes of the individual tiles.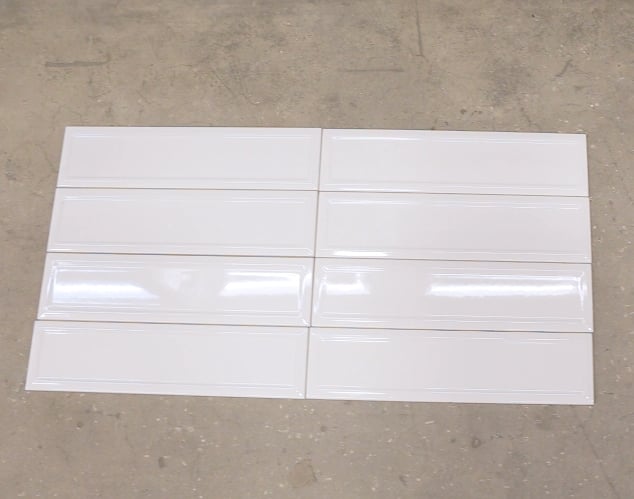 Pin
Our installer suggested skipping the spacers as these tiles already have a built in bevel the edges to allow for grout. I agreed and think it looks much cleaner this way.
Now for the fun part—installation! It was extra fun for me because this time I didn't have to do any of the work (well, aside from placing a few tiles). Our time is running out to complete this house and fortunately, our builder has his guys lined up to get it all done.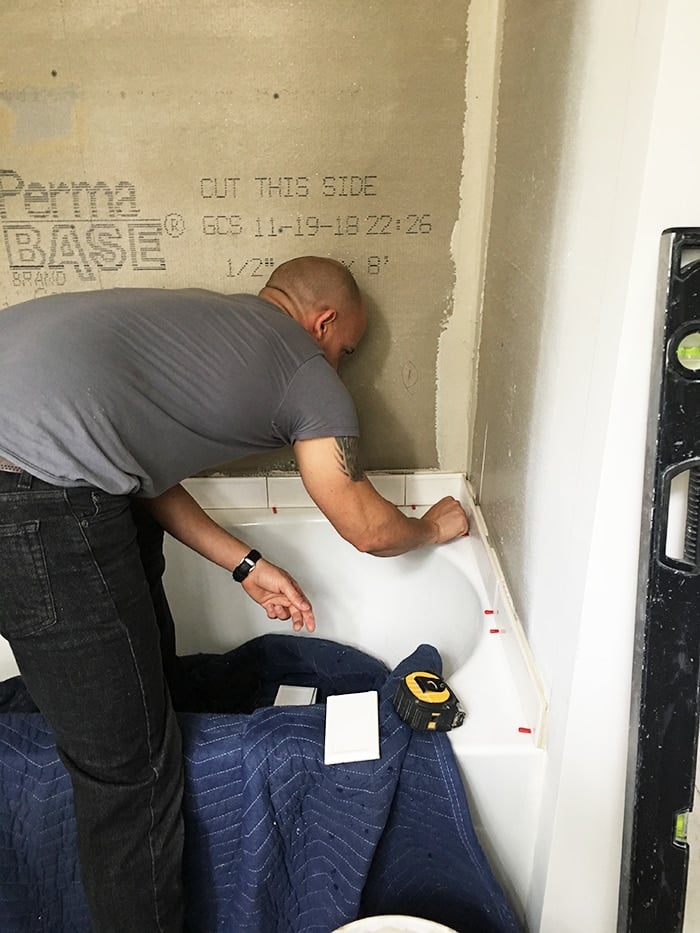 Pin
It's always fun to watch a skilled craftsman do his thing. Lucas and I combined would have no chance to work even half as fast or as precise.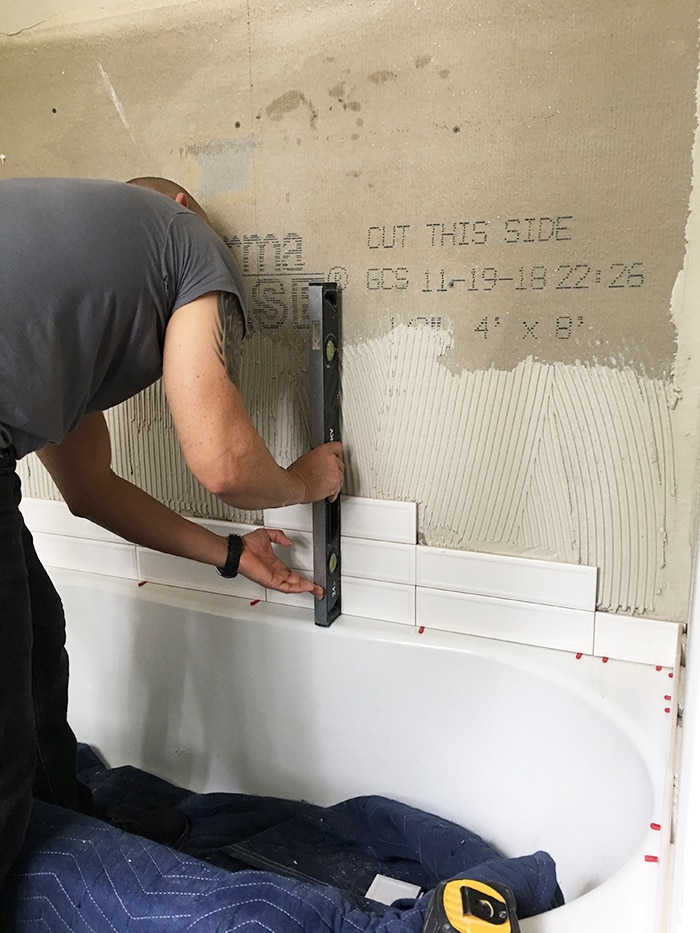 Pin
We had a decision to make about where to start and end the tile, and took our installers suggestion of starting on a center line at the back wall and "wrapping" the tile around the corners.
Pin
This would create symmetry overall, and also allow for a finished edge along the two walls, which is important since we plan to line that edge with painted trim.
About 7 hours of tiling later…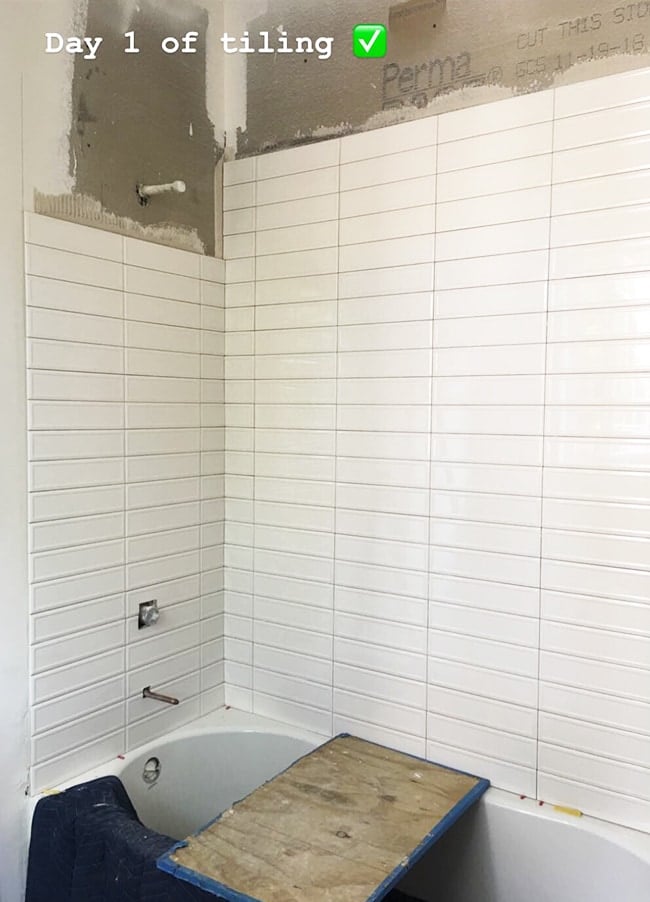 Pin
And by the next afternoon, the tile setting was complete.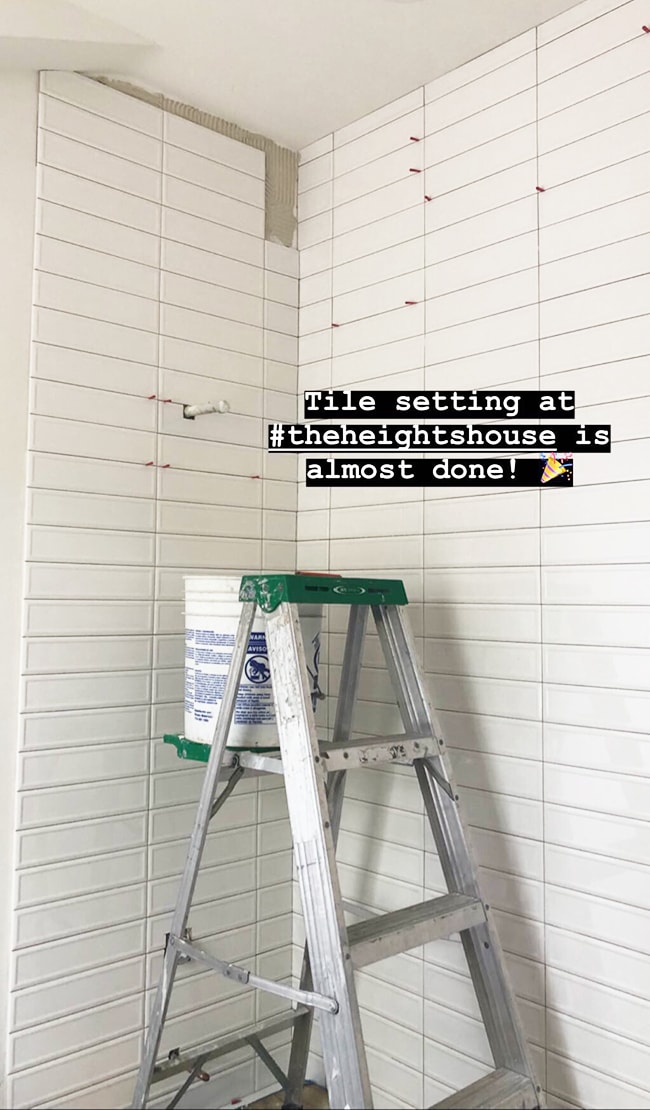 Pin
And finally, grout. We used Mapei's Keracolor in 'Avalanche' (the brightest white they offer).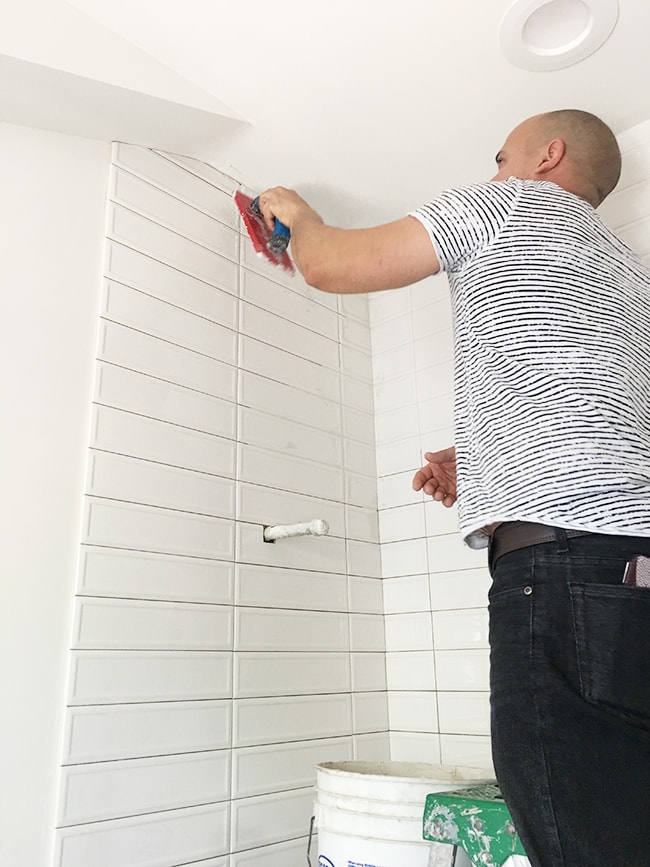 Pin
So satisfying to watch!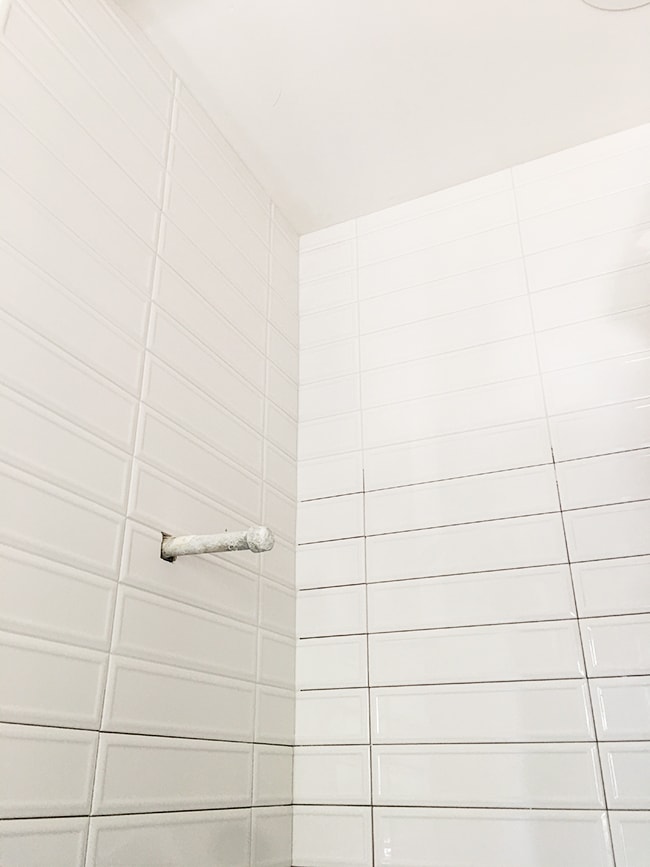 Pin
The white grout allows the tiles to blend together almost seamlessly, so from a distance it reads as an overall subtle texture.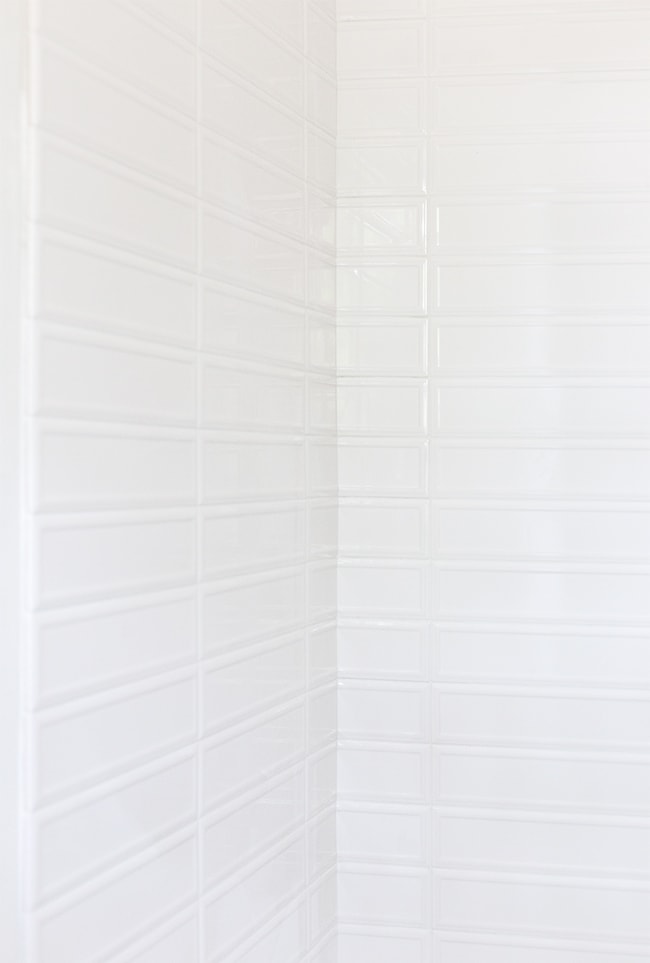 Pin
I love the simplicity of the design, and the fact that you don't see this same setup every day (or ever!) We bought (almost) 8 full boxes and ended up returning a box and a half, so this project came in at around just $300 for the tile (with the 5% discount using my Lowe's card).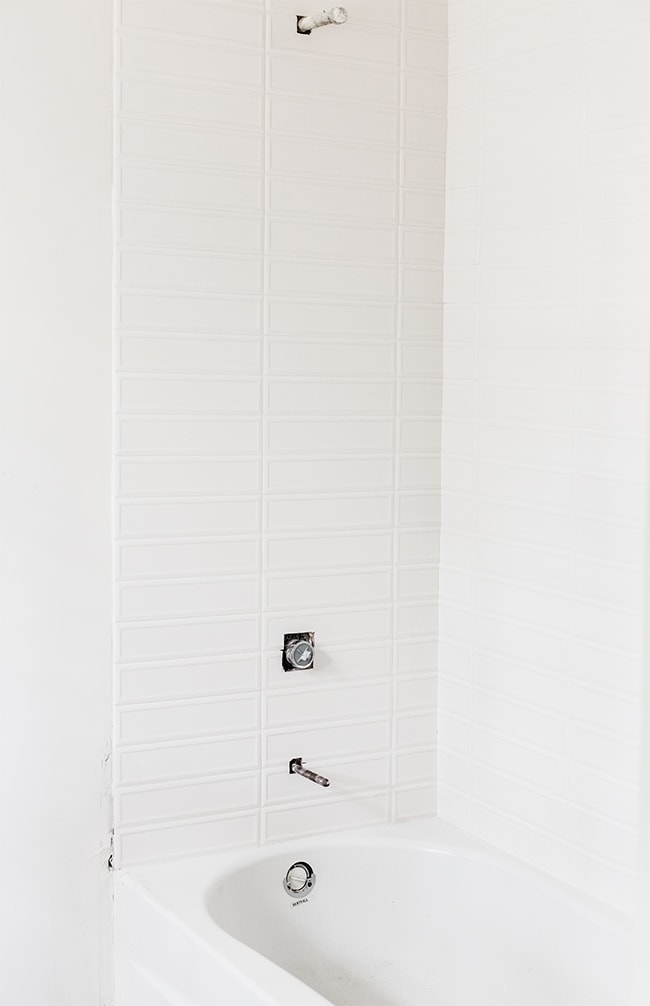 Pin
The room is a lifeless bright white box now, but deep black walls are lurking right around the corner…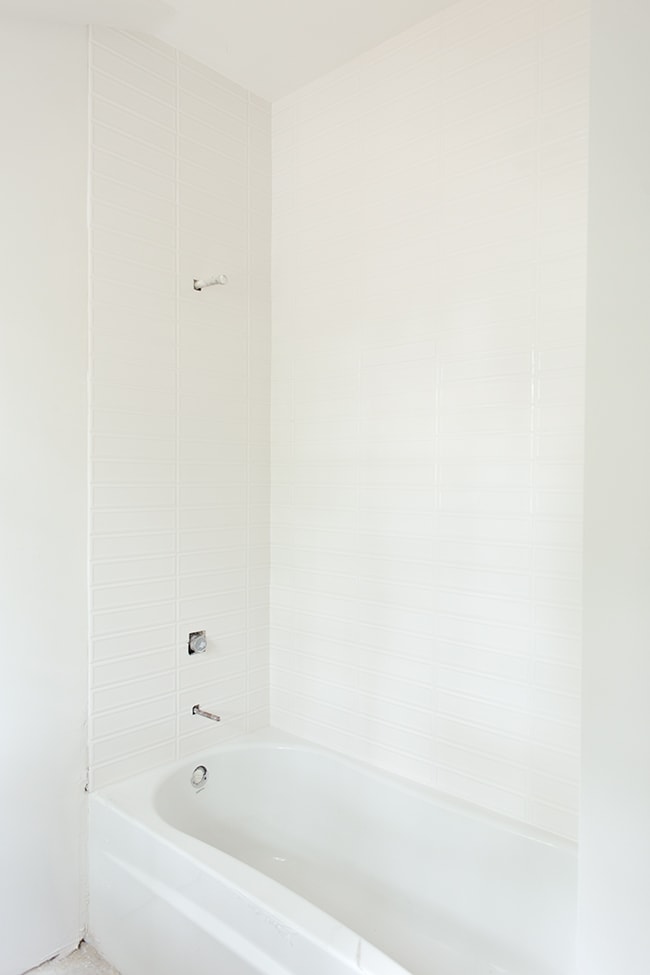 Pin
That's our next project to tackle in here, and I'll be documenting and sharing the DIY in real time over on my Instagram stories, so make sure to follow along if you aren't yet! I've been posting lots of progress updates lately as we've been working on multiple projects at once, trying to (finally) get this house move-in ready. Inching towards being able to share some pretty "After" photos… very soon, my friends! Until next week,