UPDATE: Don't miss Part 2 of this makeover, a One Year later update and Two Years later update!
Today is the culmination of months of labor intensive, physically and mentally exhausting work (but as always… worth the effort!)

We started this project back in February, when the yard looked like this: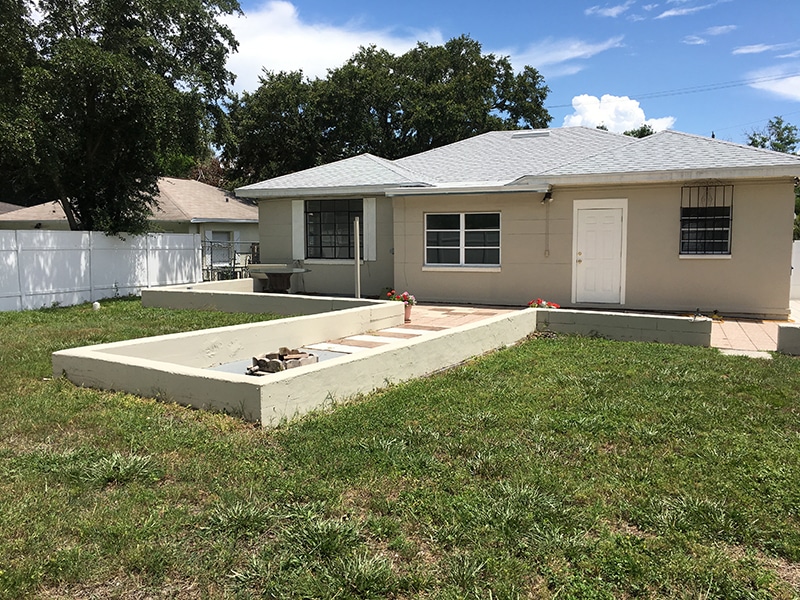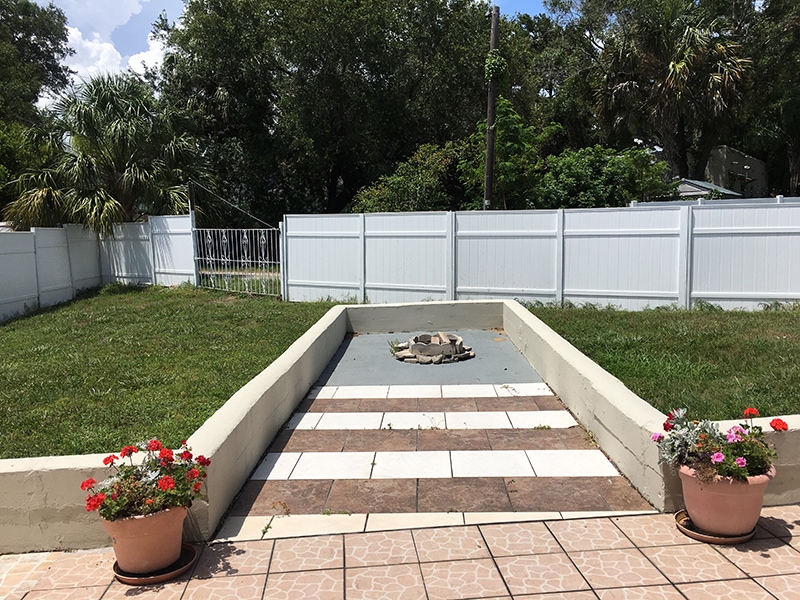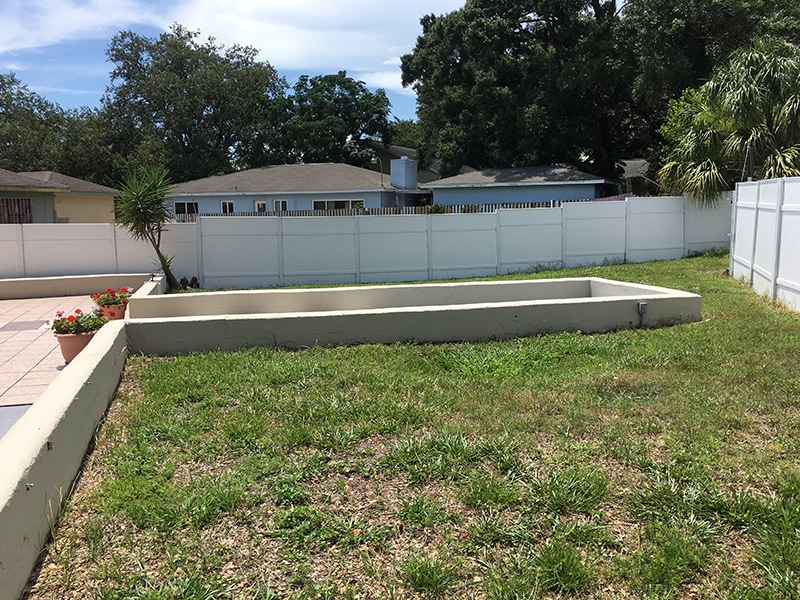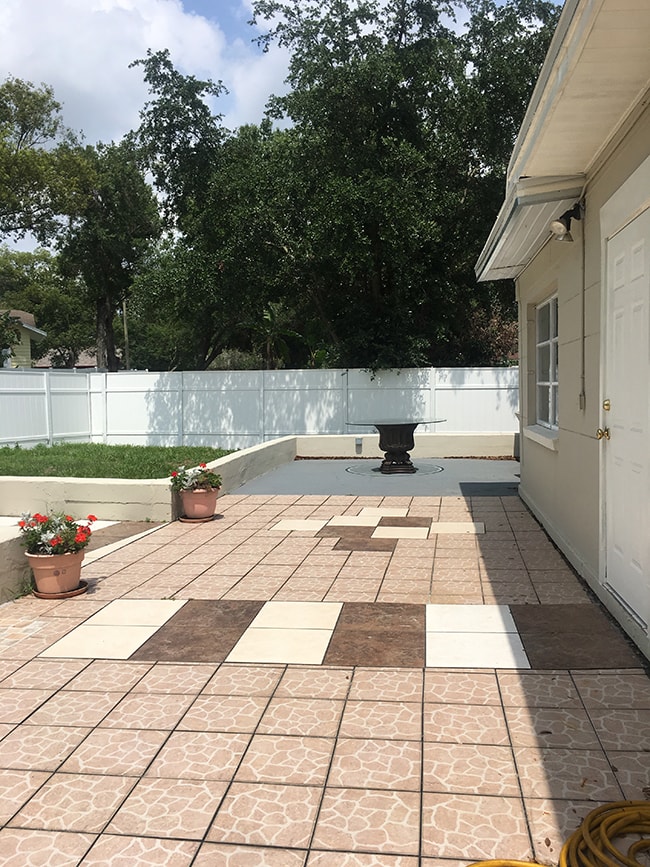 Knocking down the concrete landing and building a DIY gravel fire pit area was the first order of business.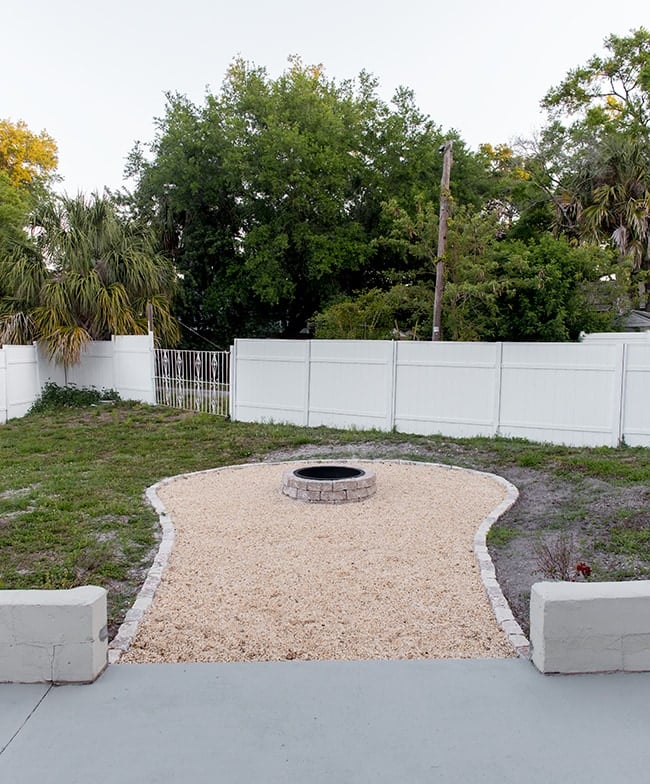 After removing the old mismatched tile and pressure washing the concrete, the 27-hour stenciling saga ensued: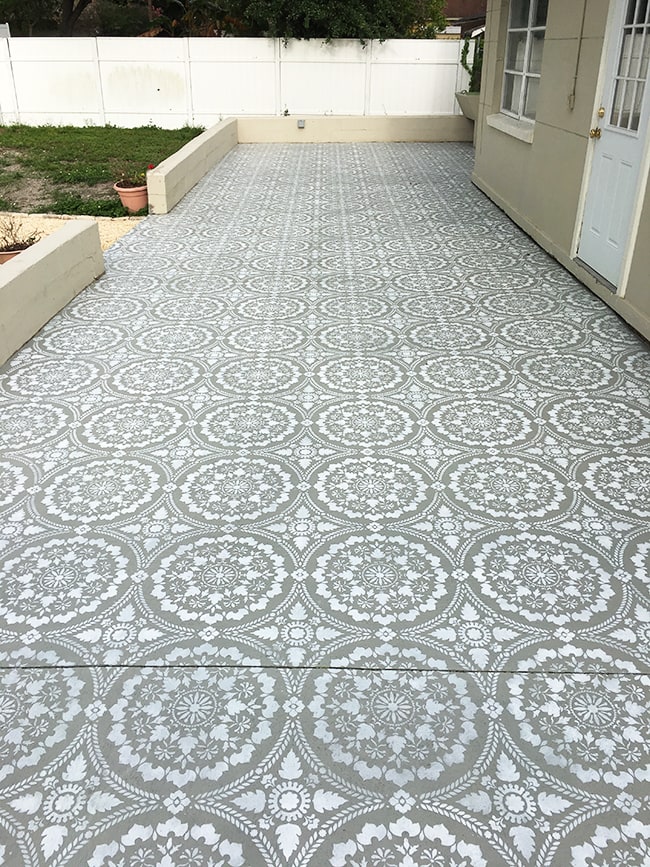 Then we built DIY string light planters, along with simple wood shutters, landscaping and paint touchups.
And finally—my favorite part—decorating! Last week we assembled all the furniture and added the finishing touches. I dreamed up a 'Modern Boho Garden Oasis' months ago, using classic black and white grounded by warm neutrals, a statement pattern, florals lots of greenery.

And here's how it turned out!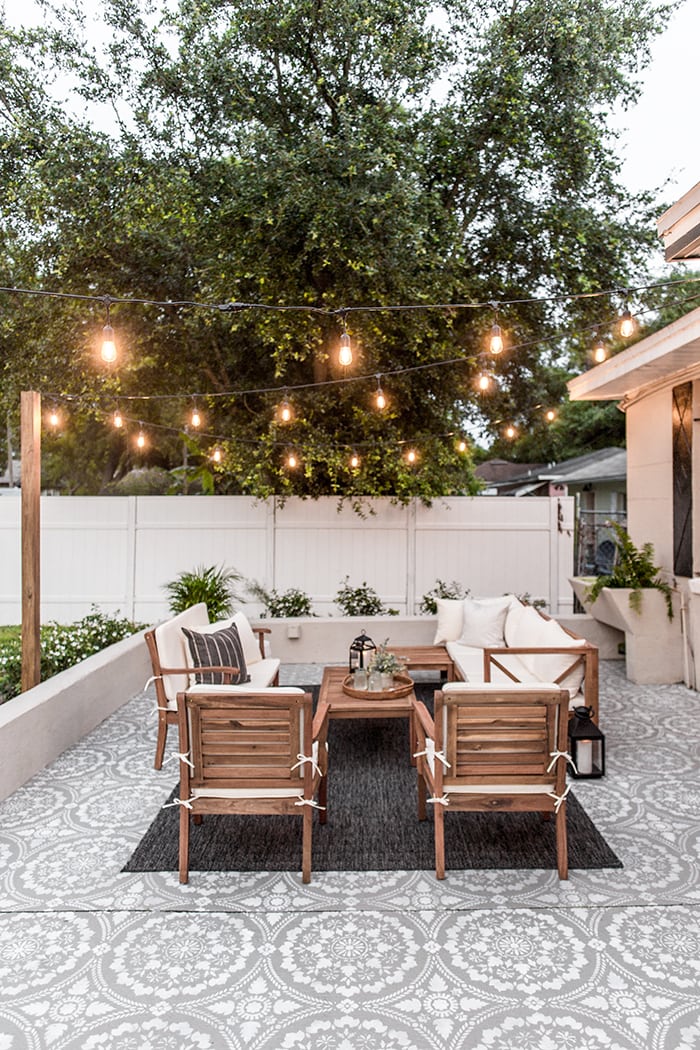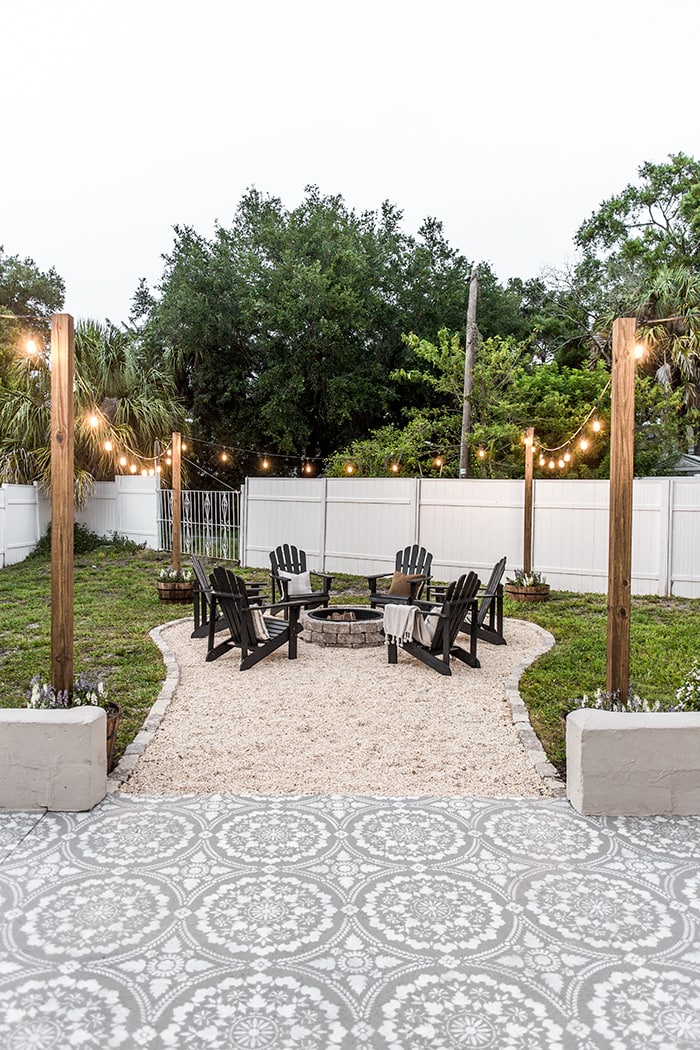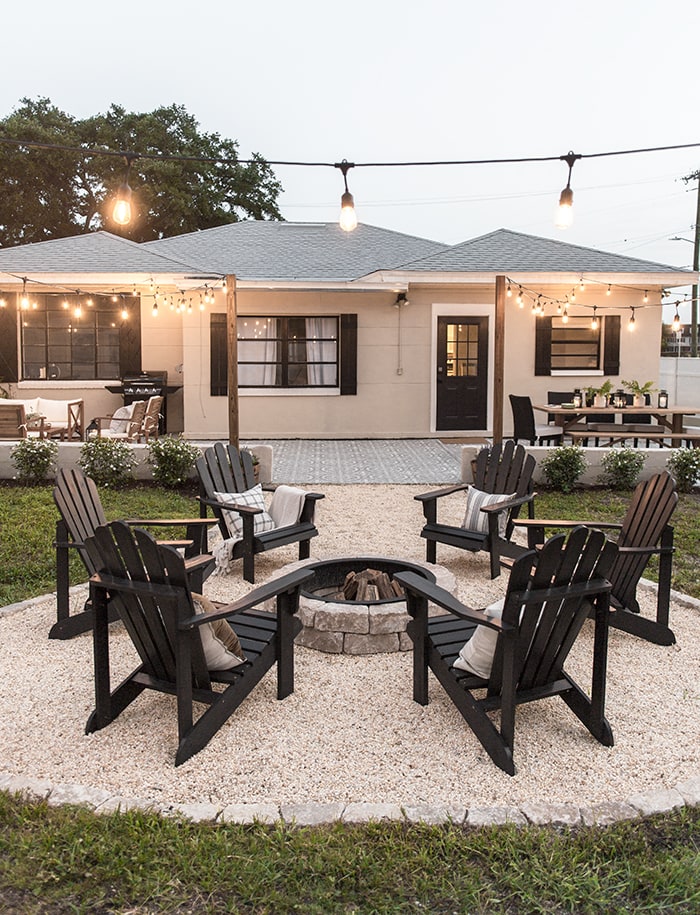 The backyard is divided into three different zones—a conversation/lounge area, a dining space, and fire pit seating.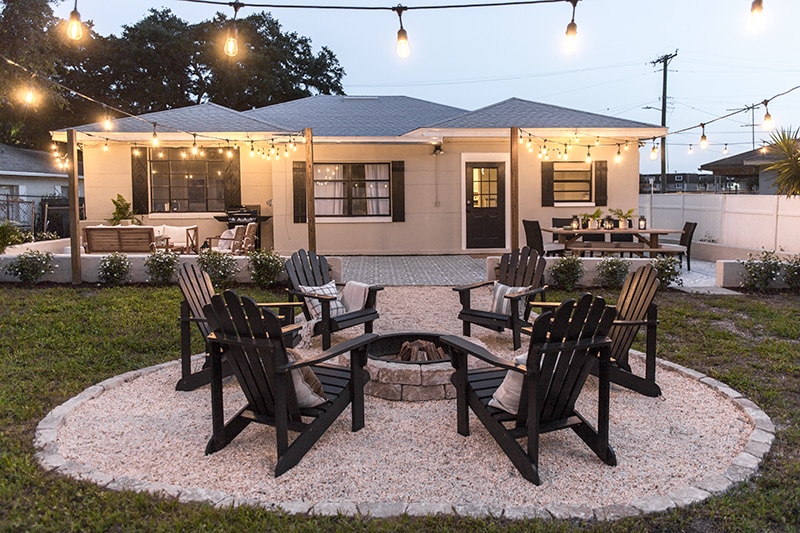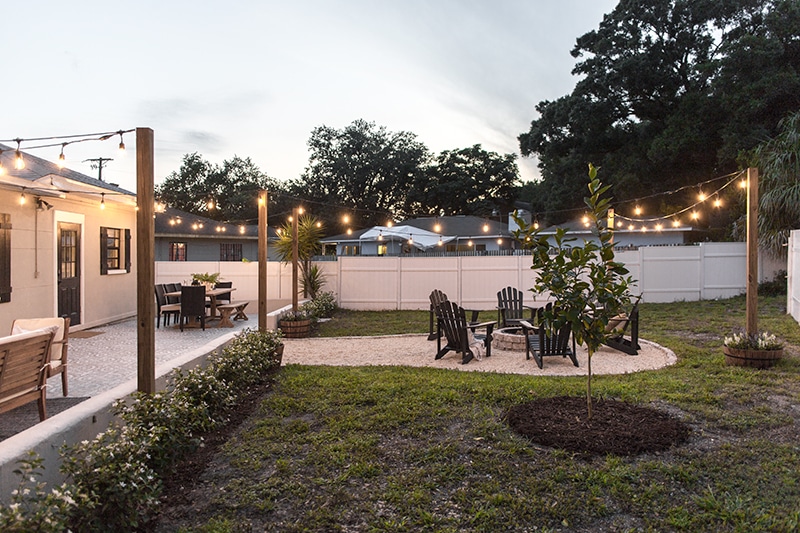 First, let's step into the lounge spot…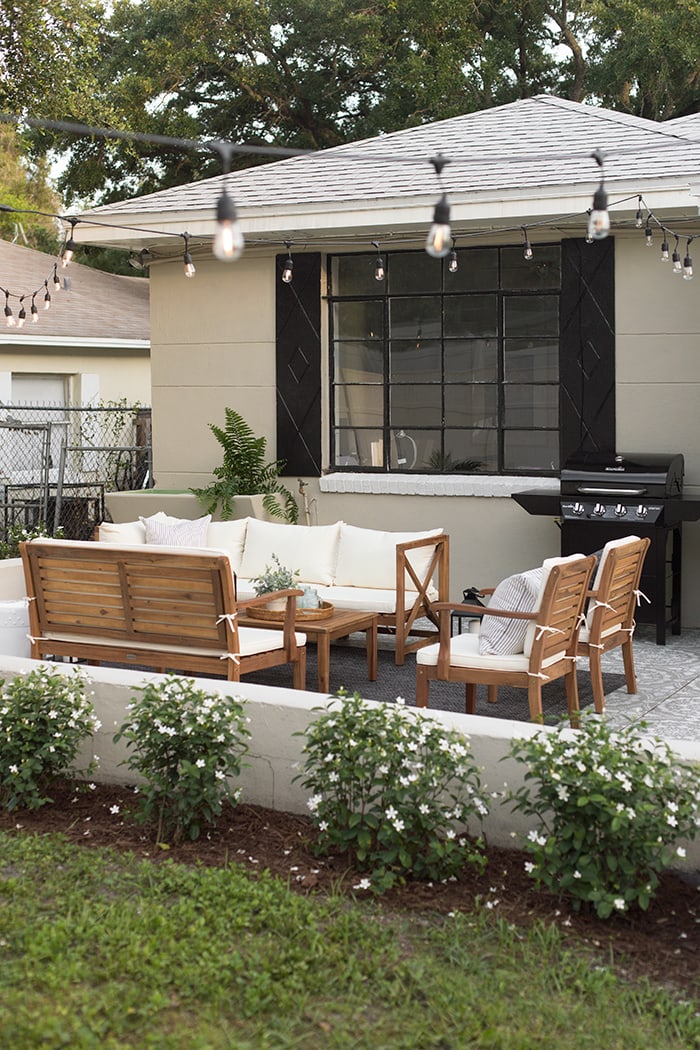 With this future vacation rental home expected to house up to ten guests, I needed to maximize the seating area, so I combined two coordinating patio sets.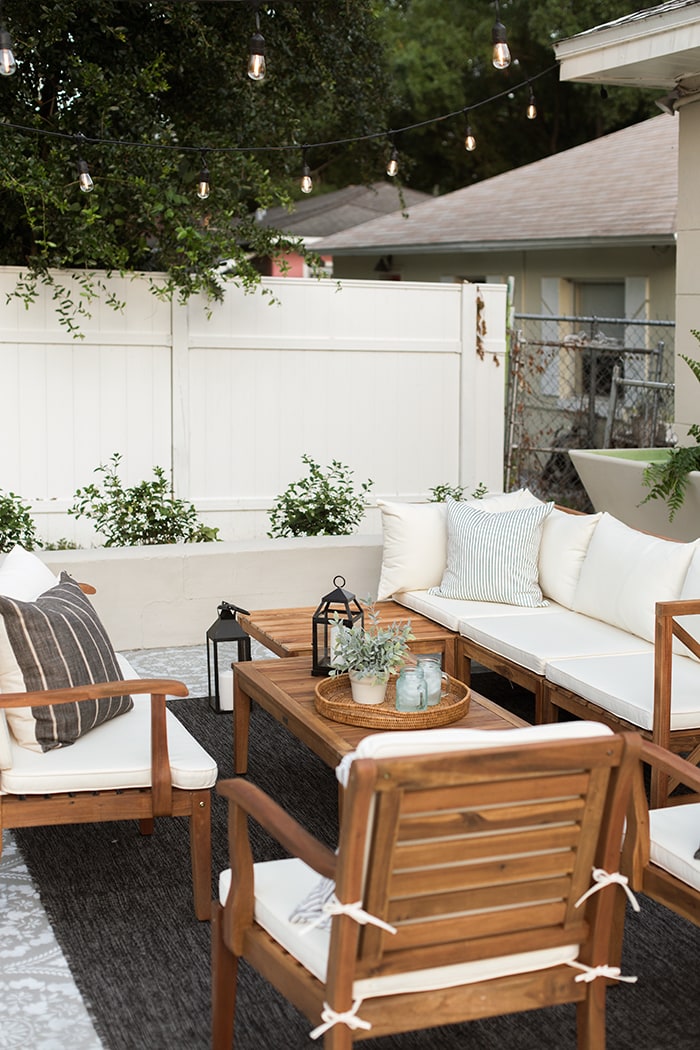 I waited for a Spring outdoor sale and scored both at 30% off.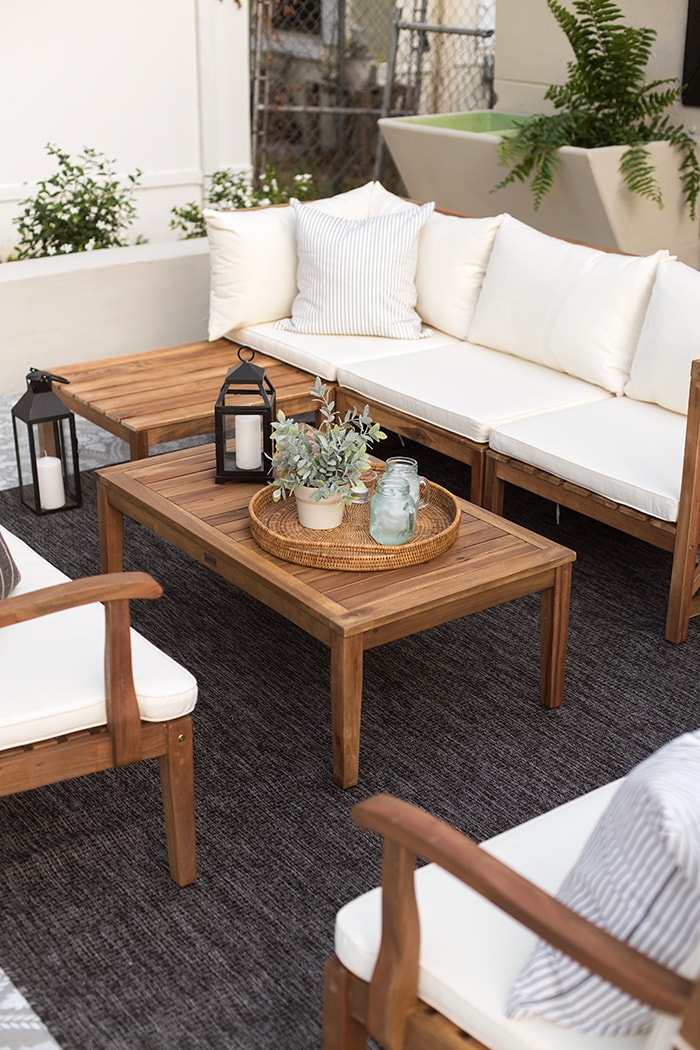 This modular sectional by Safavieh is the anchor piece, and I love that it can be configured in many different ways to accommodate a variety of layouts and patio sizes.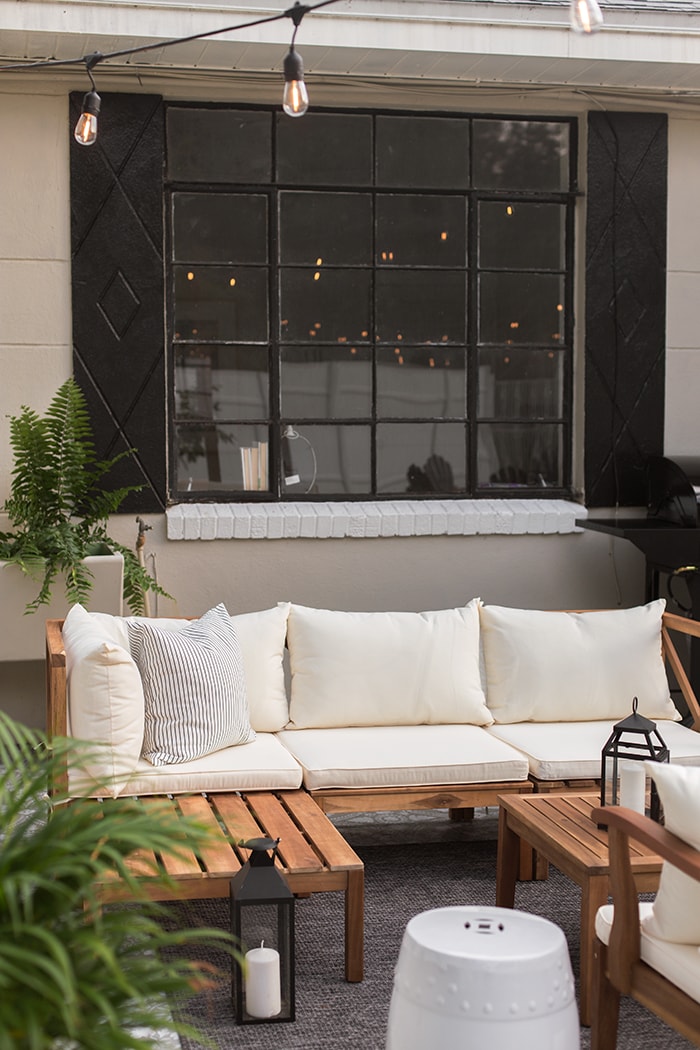 I also found this coordinating 4-piece set that included a loveseat, two chairs and coffee table.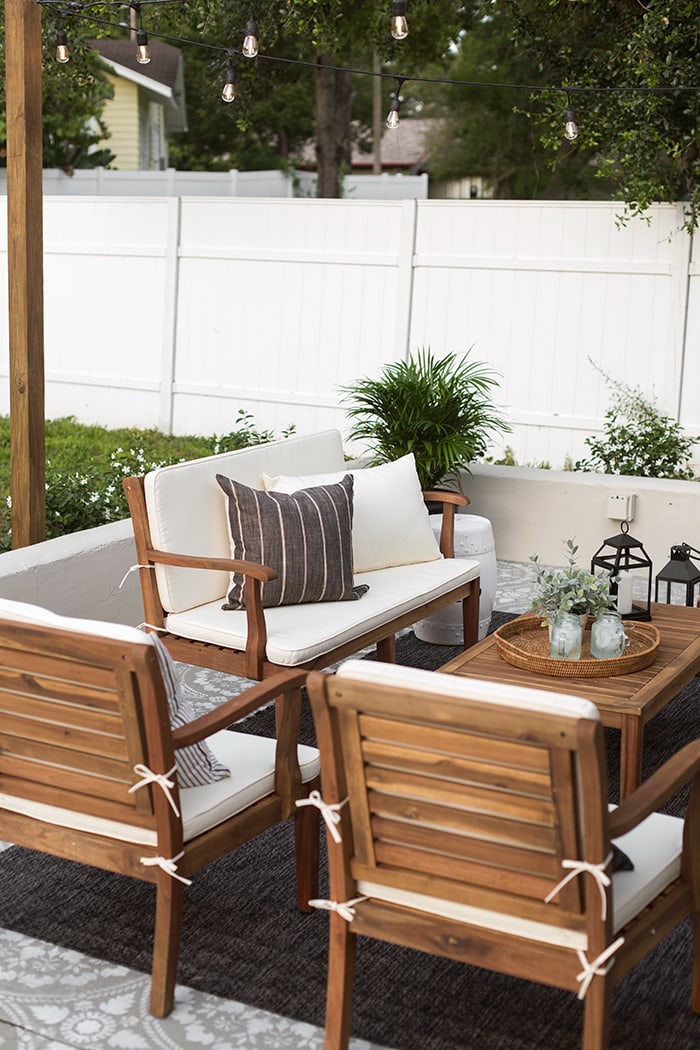 The furniture is made from acacia wood which is weather resistant and durable for outdoor use.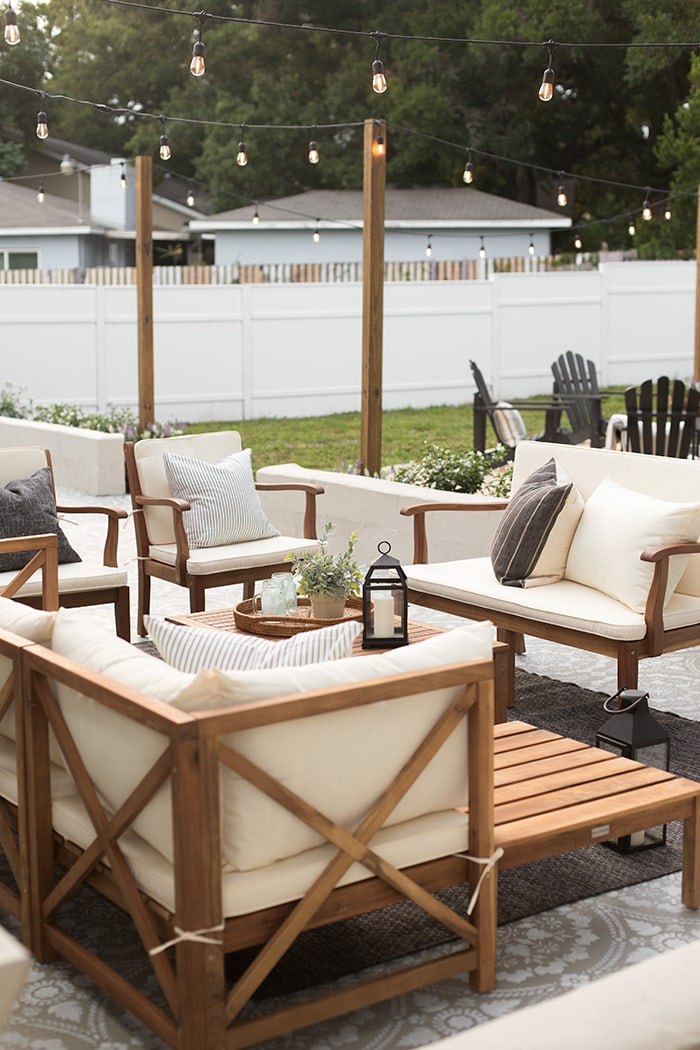 The cushions are double sided and have removable covers in a water resistant fabric—which is a huge selling point since they'll be getting a lot of wear!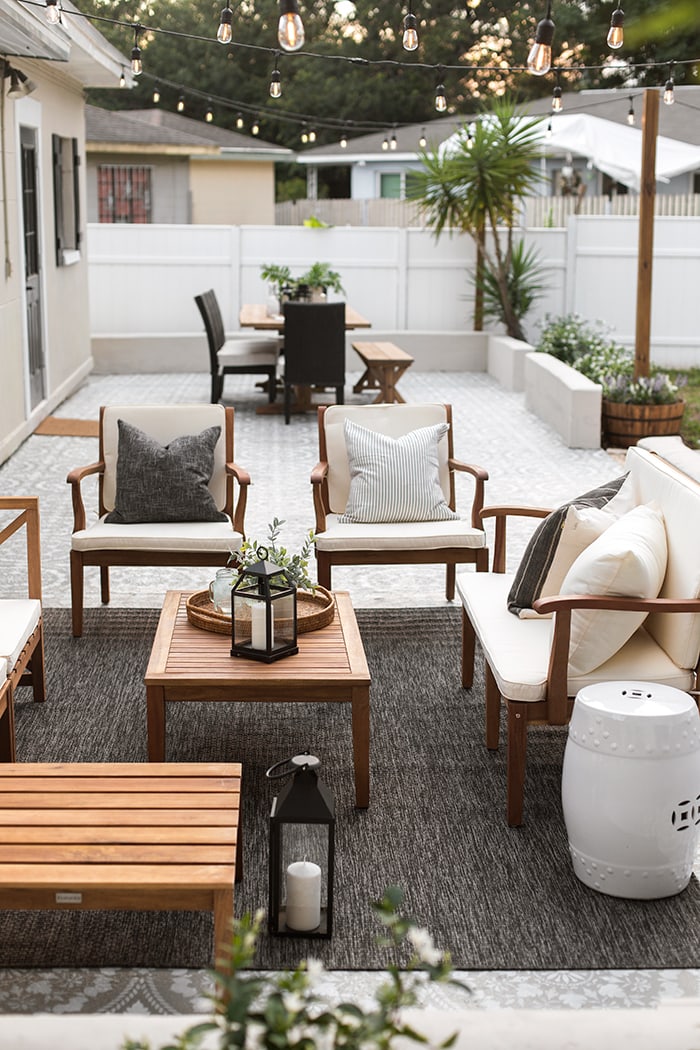 I chose a solid black 7×10′ woven outdoor rug which provides texture, but doesn't compete with the stenciled patio.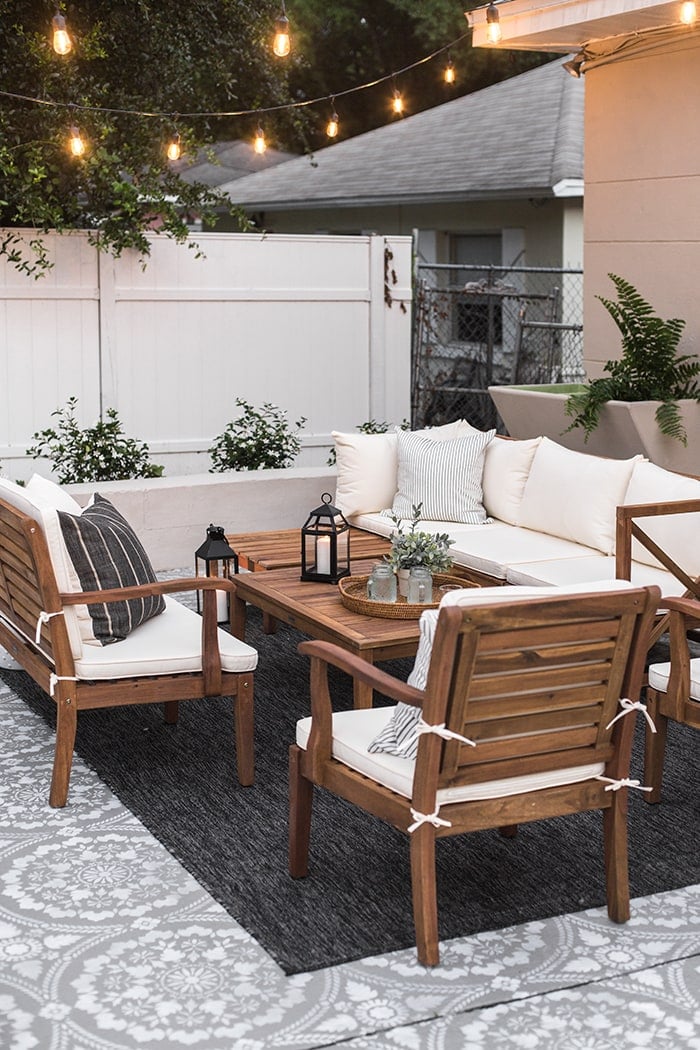 I can't speak on the comfort/quality/longevity yet as we haven't had a chance to sit down and enjoy them (and it has been pouring every day since taking these photos!) but we plan on throwing a dinner party here in the very near future… as soon as we have a free night (ha!)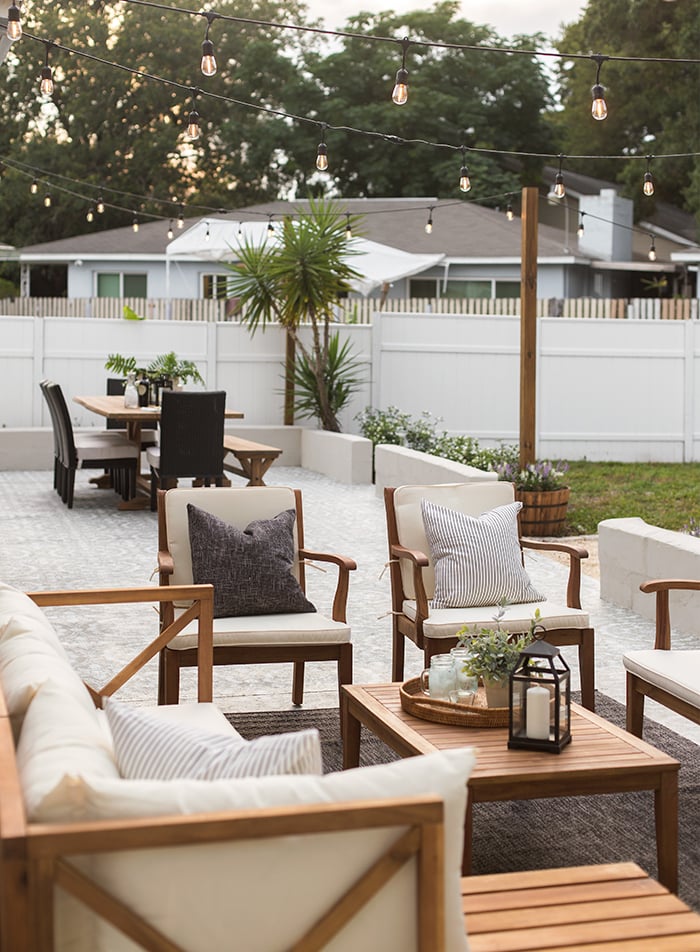 And speaking of summer gatherings, every good party needs a barbecue! We haven't had a grill in nearly a year so we were beyond excited to finally bring one home.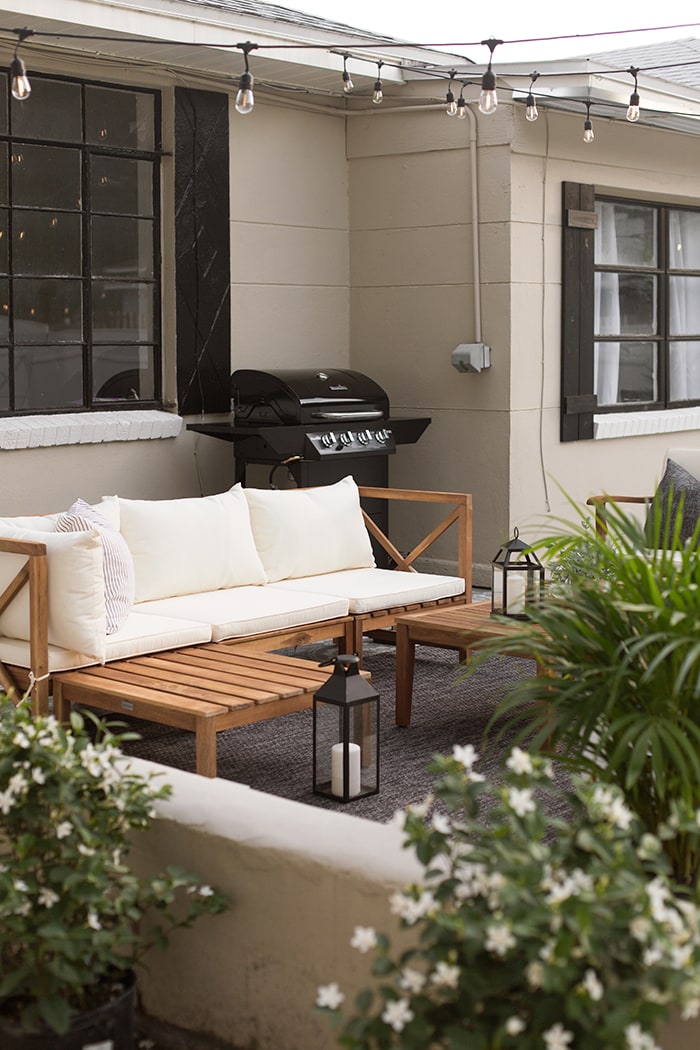 We went with a simple and affordable Char-Broil propane grill with solid ratings (it's $30 off right now!)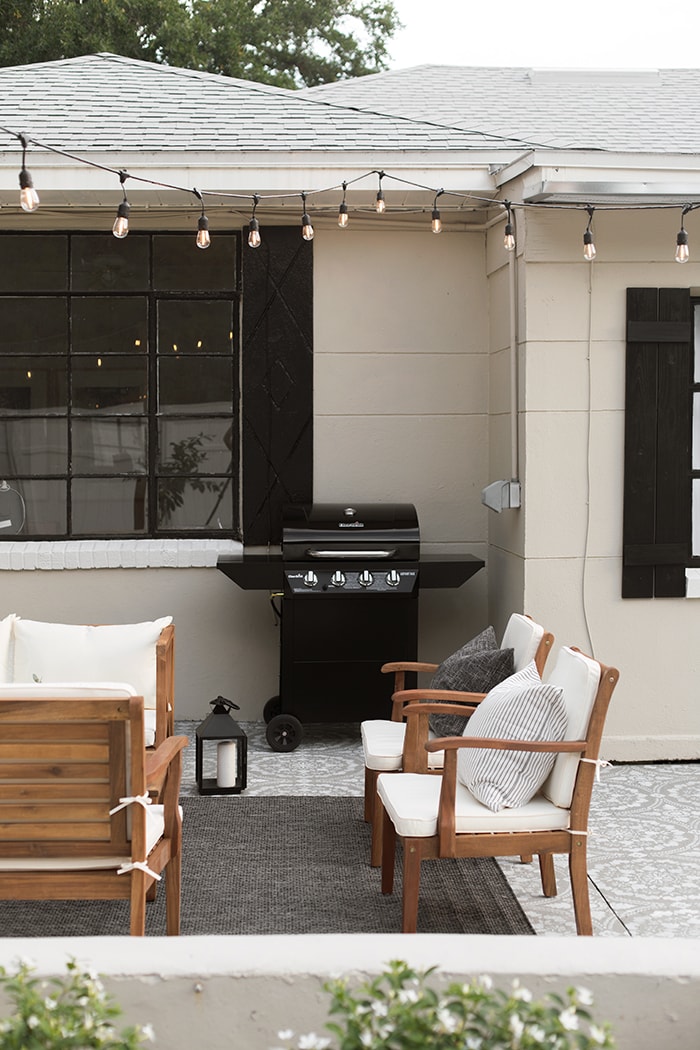 A few days ago we fired it up for the first time—grilled chicken sandwiches all summer long! (that's all I've been craving this pregnancy…)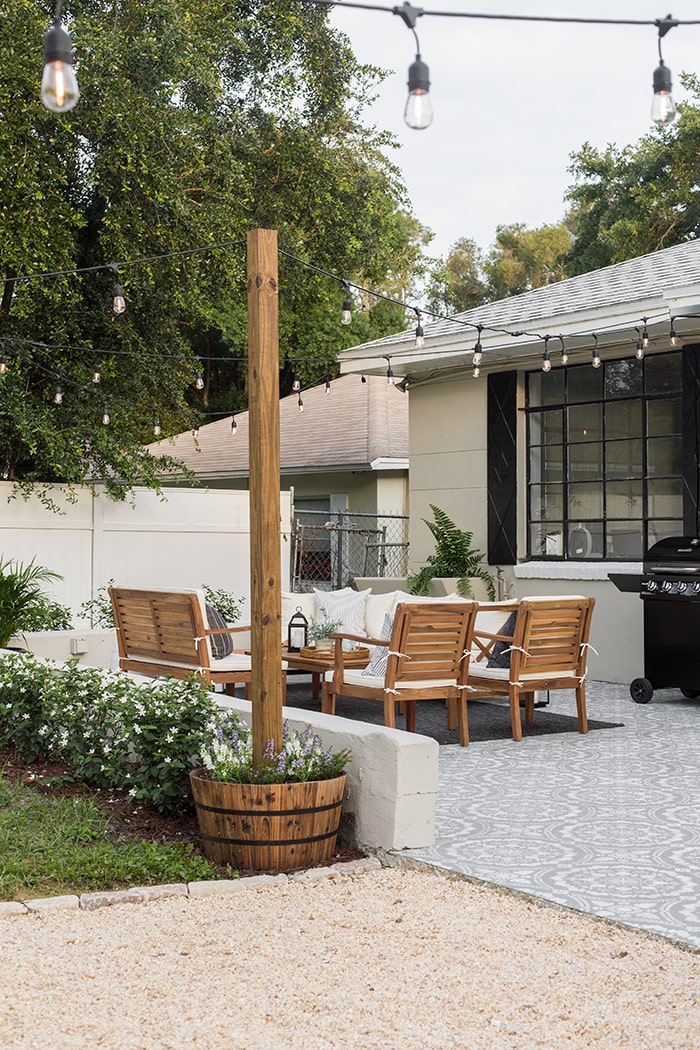 Let's take a little stroll down to the fire pit…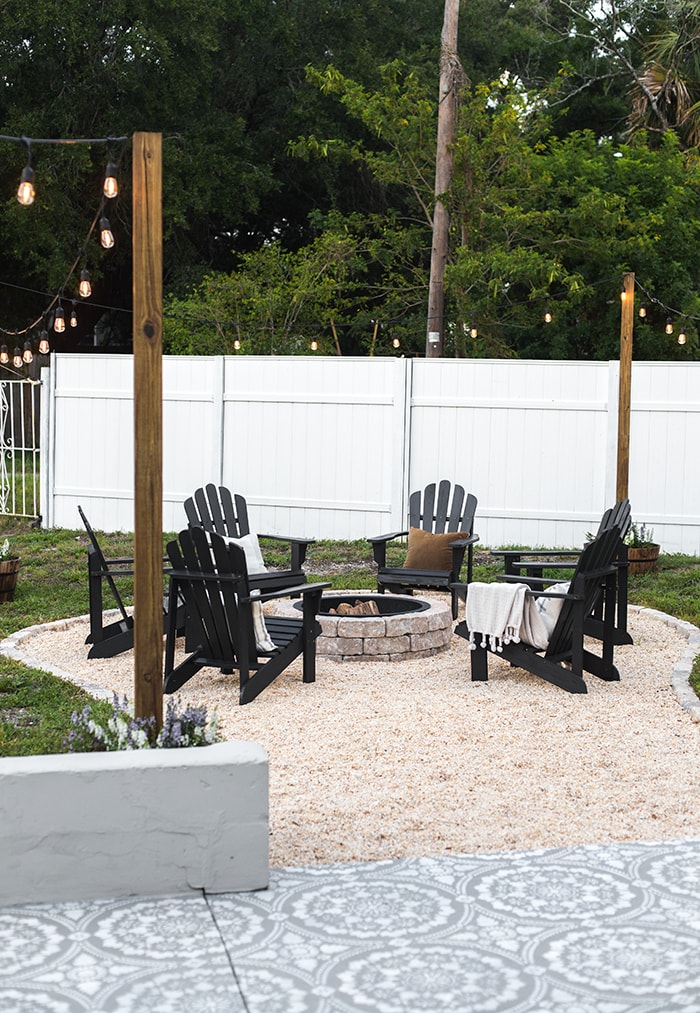 Arguably the toughest part of this renovation (that concrete pad was a beast to jackhammer), but now we have a usable, functional space in the yard!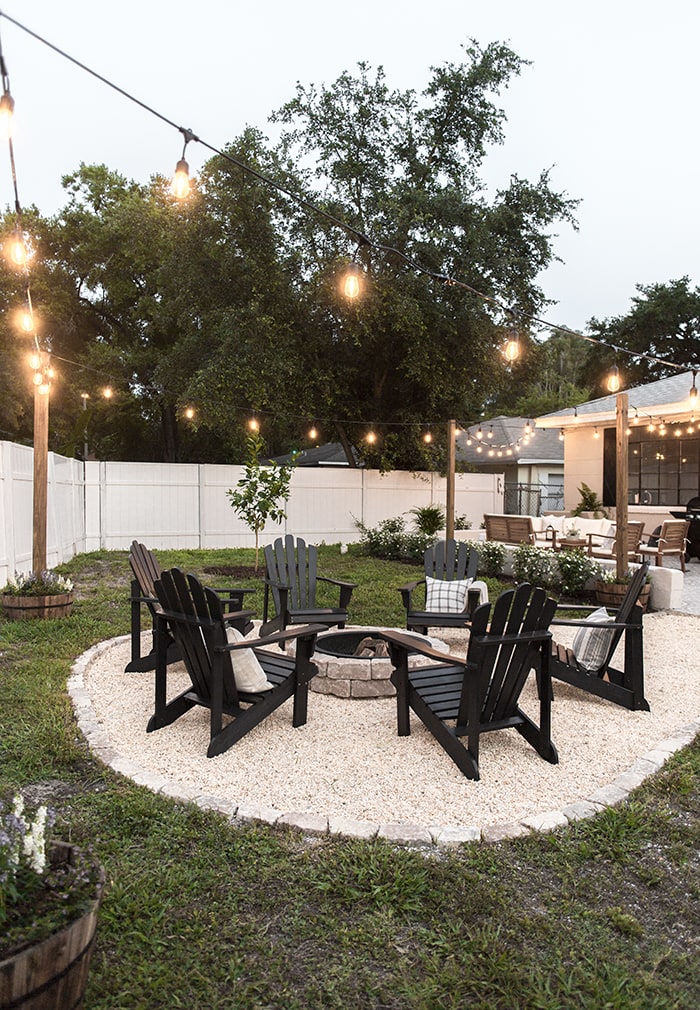 I ordered six of these cedar adirondack chairs, and after a day of debating, decided to paint them black to coordinate with the rest of the decor.
I used Valspar's Cracked Pepper (to match all of our other exterior accents) and it didn't take as long to paint as I thought—just a few hours total.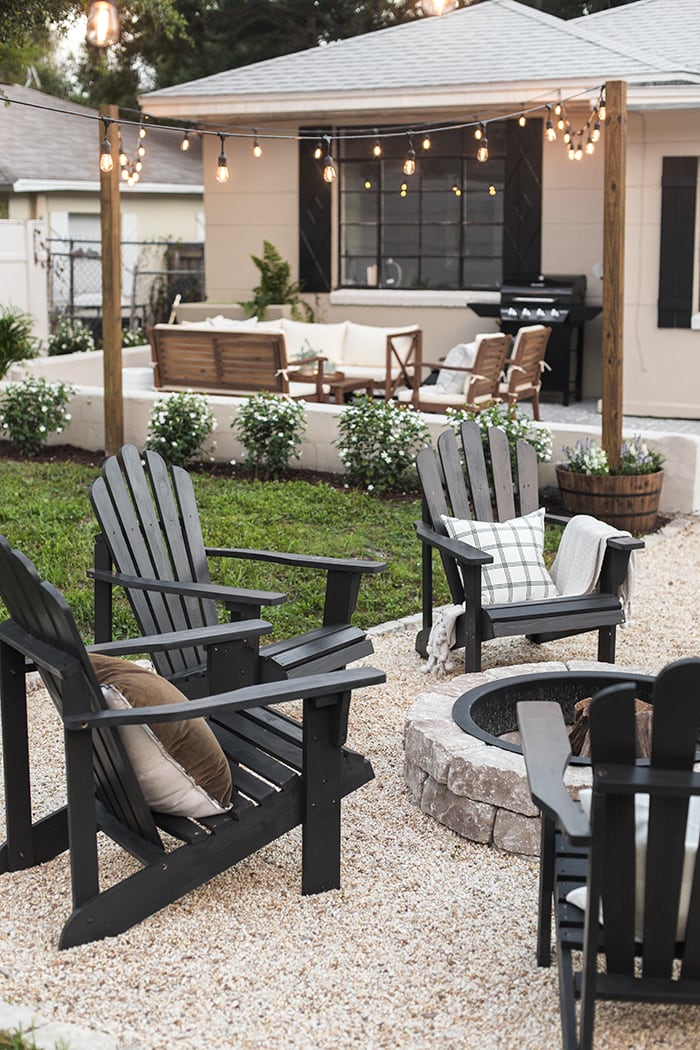 I think they look so sharp against the greenery and light gravel.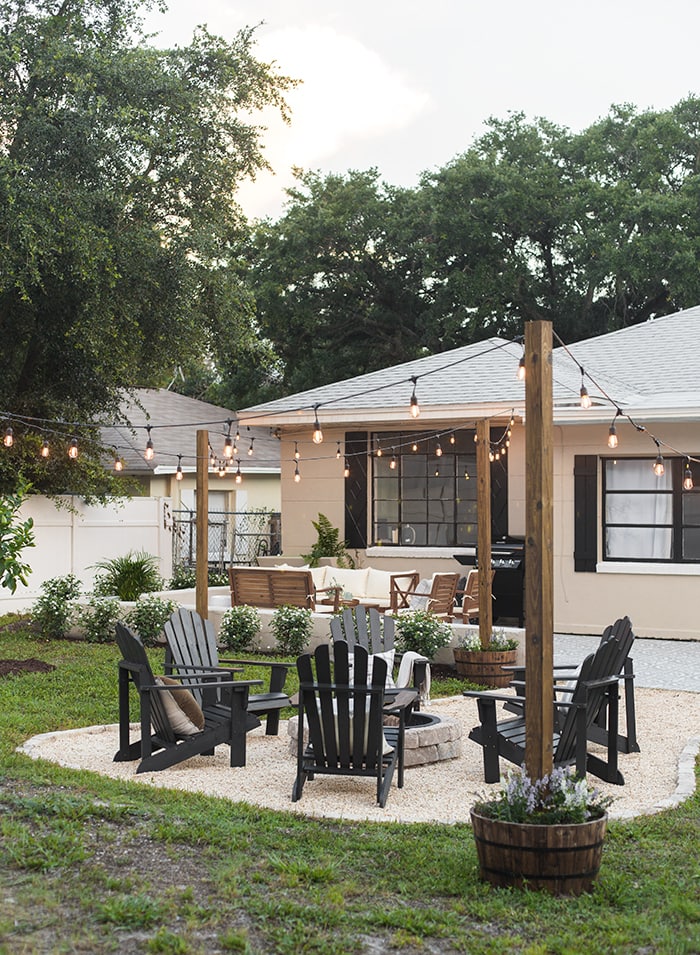 The stone fire pit was a kit we purchased a while back from Lowe's—had to be the easiest thing we did during this renovation!
And then there's the LED string lights, which brings the yard to life and pulls all the spaces together (also 20% off through tomorrow!)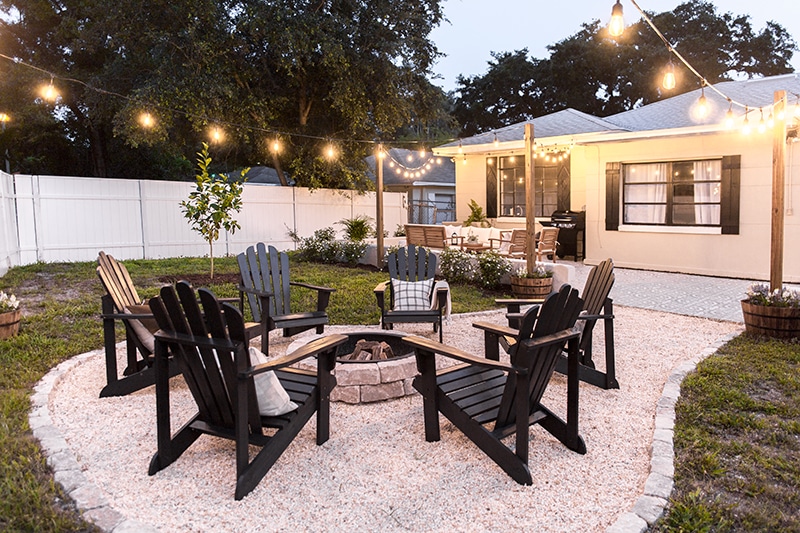 Right now they're just connected via an extension cord on the side of the house, but we plan to hardwire them in and add a switch near the door.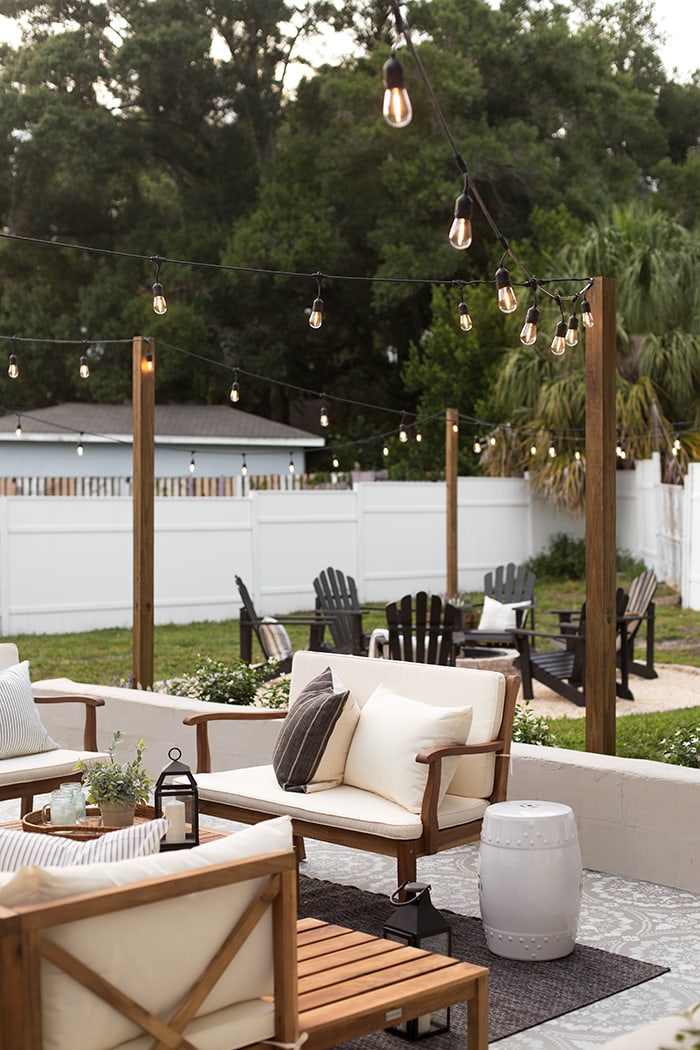 This yard is truly magic when the sun goes down…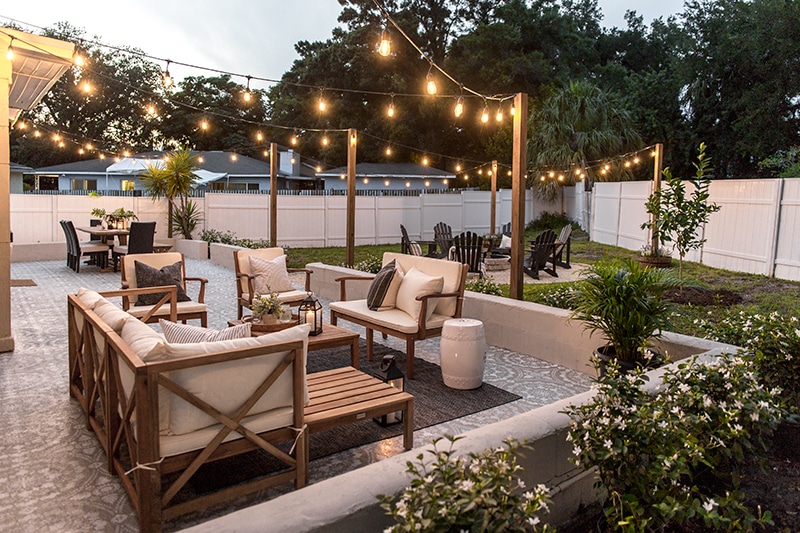 It may not be my most picture-perfect, high end designer style reveal. It's still a modest house in a modest neighborhood, with grass that hasn't grown in yet and old cracked stucco.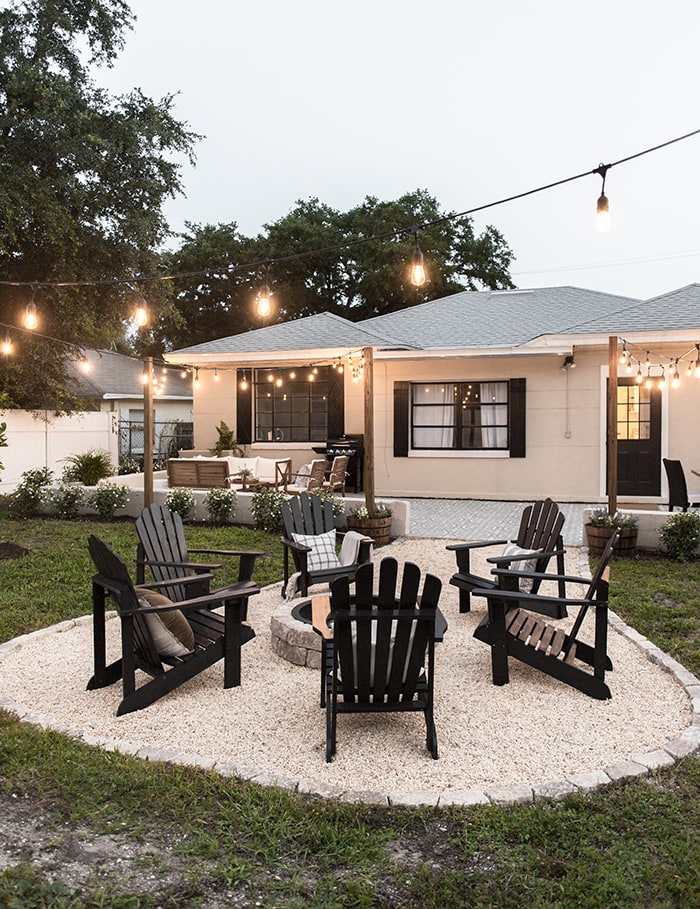 But we've racked up more hours and put more energy and sweat into this project than any other. We learned new tools and techniques, faced new challenges head on, and stepped into the unchartered waters of landscaping—all on a DIY'ers budget.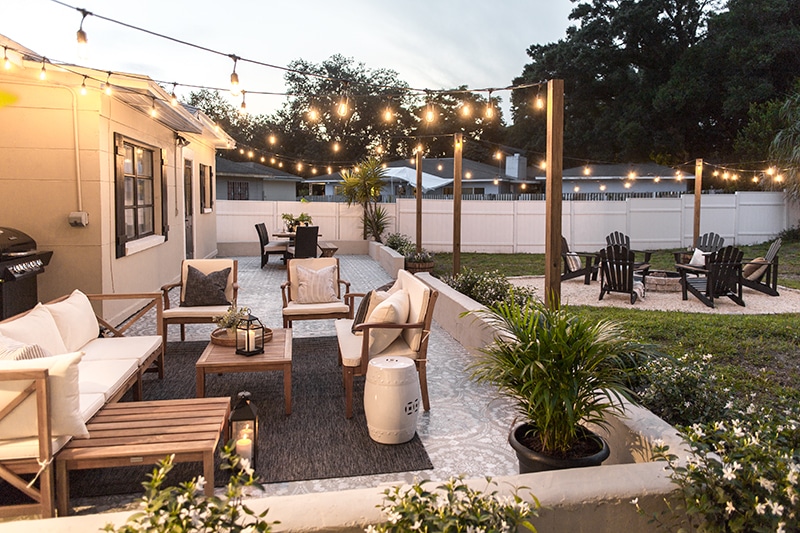 For that, I'm just as proud of this Before + After as anything else we've done—maybe even a little more.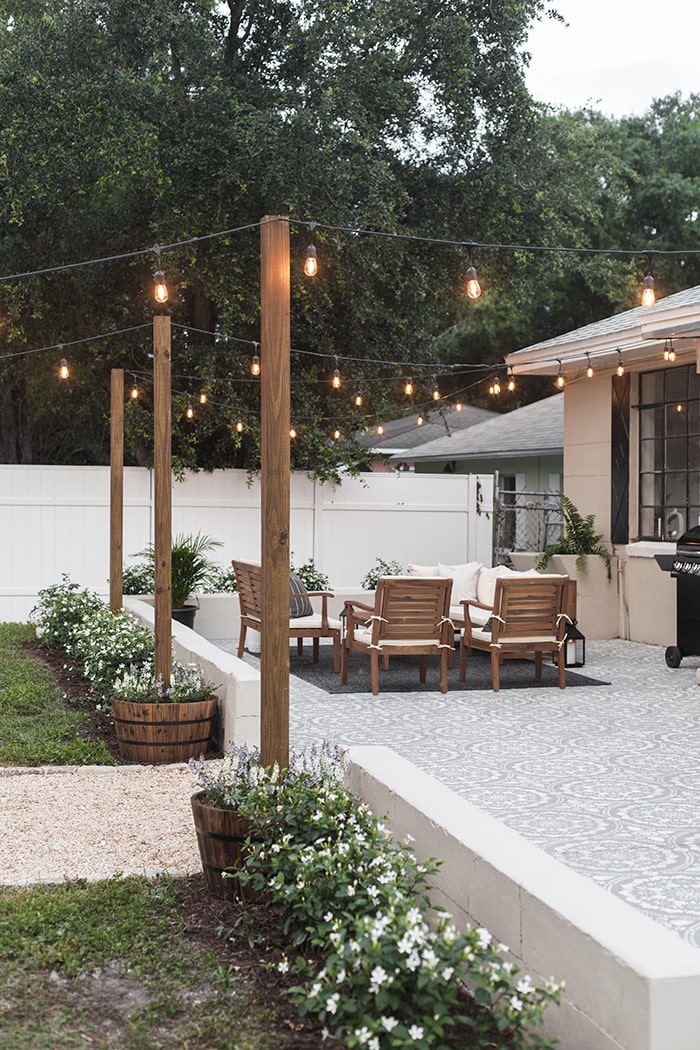 There's nothing like dreaming up, creating and finally getting to step into a space that you want to stay in for hours—which is not an easy feat when it's 90° with 90% humidity and you're being eaten alive by mosquitos… welcome to Florida summers 😉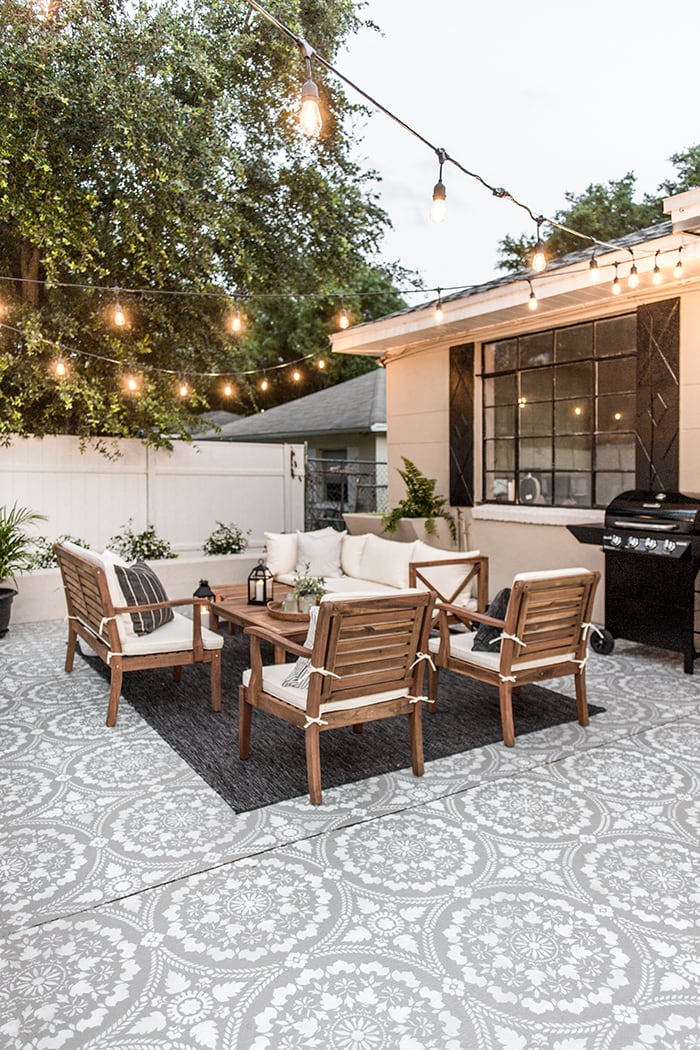 You may be wondering about the dining area that we haven't talked about yet…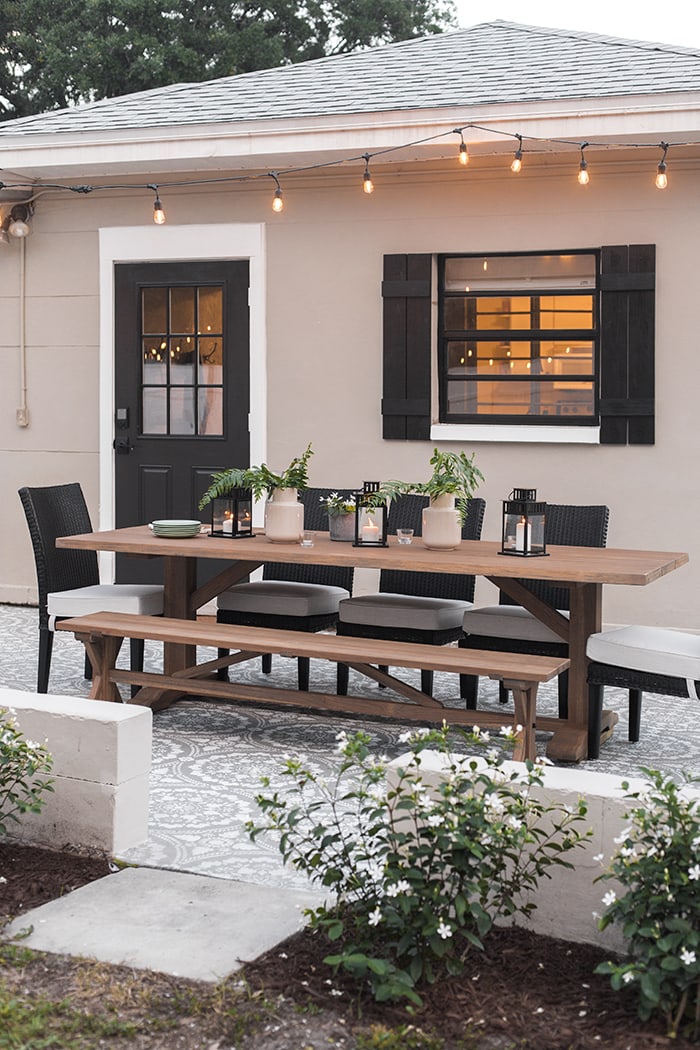 Hang tight, all the details for this part will be posted here on the blog in two days!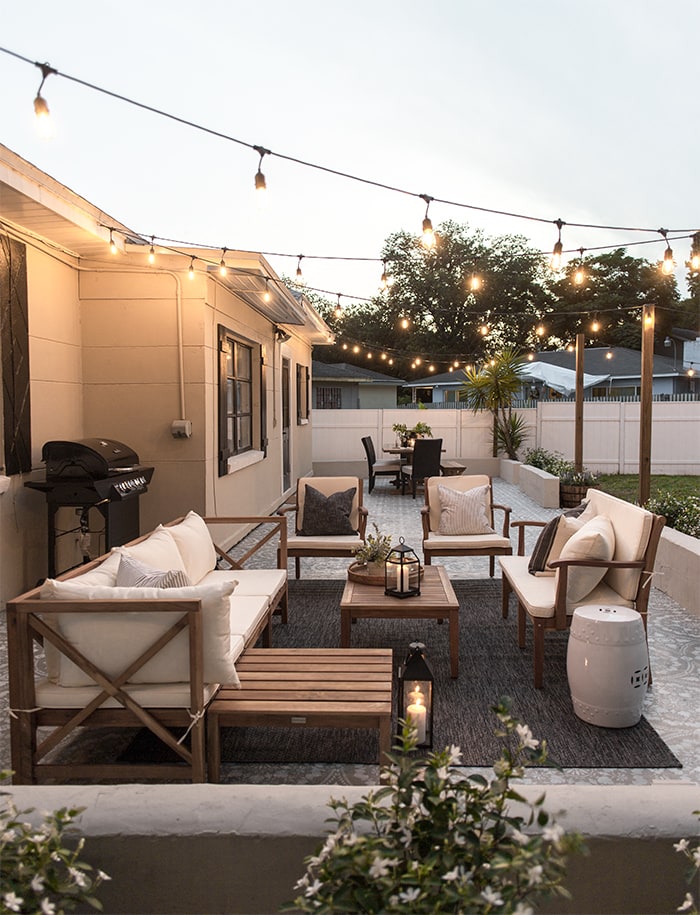 For now, this party must come to an end. I know, I don't want to leave either…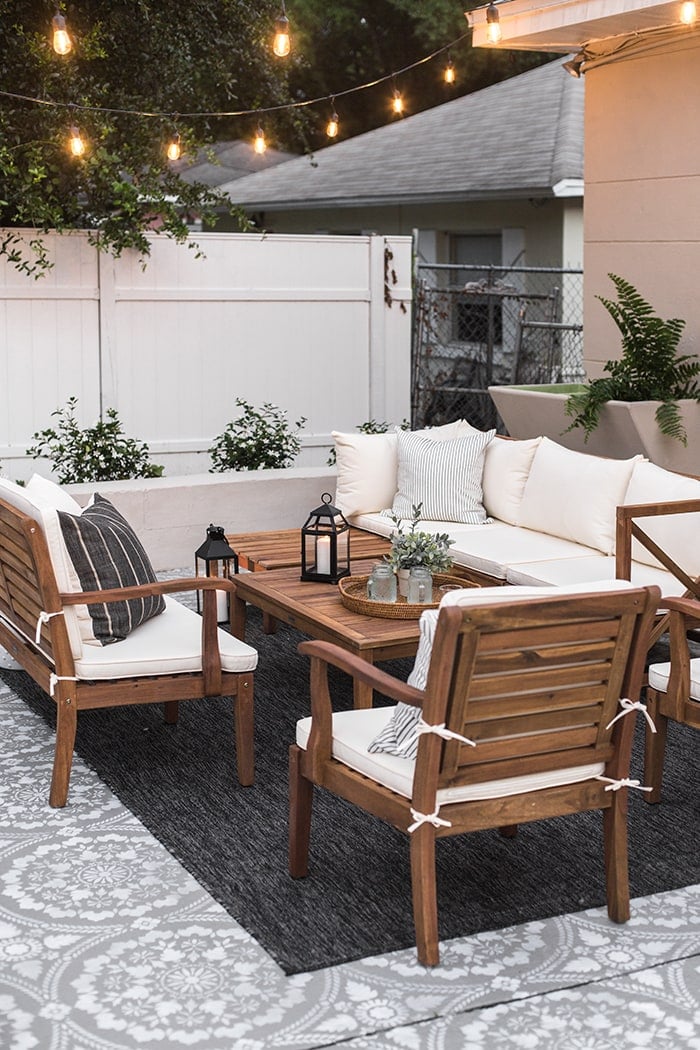 Lucky for you, you can rent this place and stay as long as you'd like as soon as it's finished 😉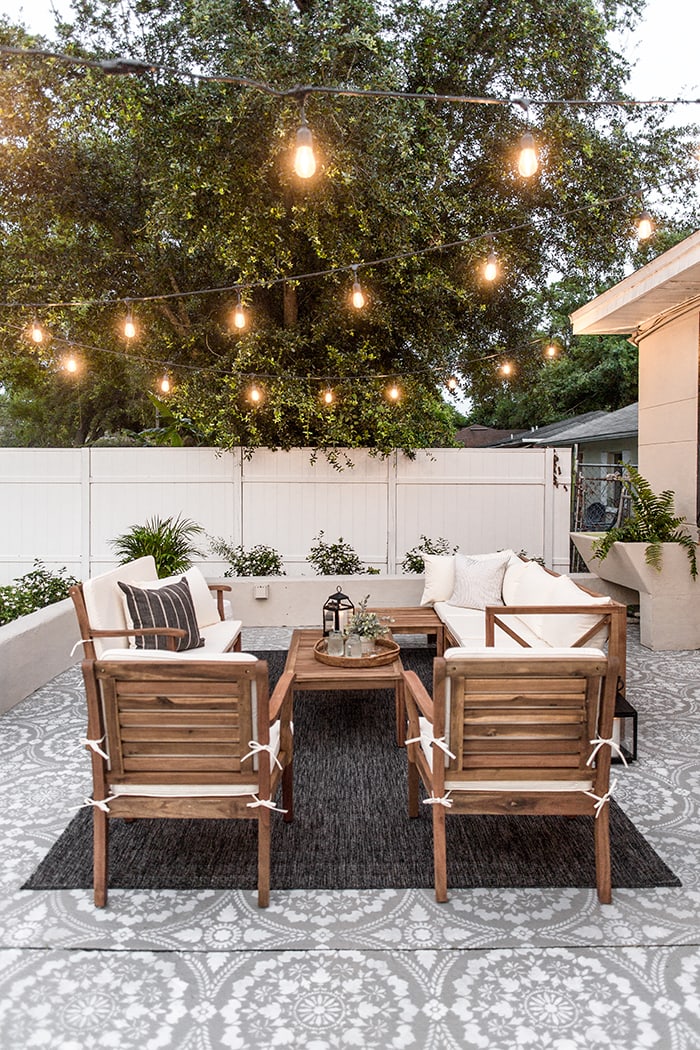 Sources
All Backyard Posts