After days, weeks and months of planning… I'm finally ready to share what we've got in store for the Hacienda Hideaway Kitchen!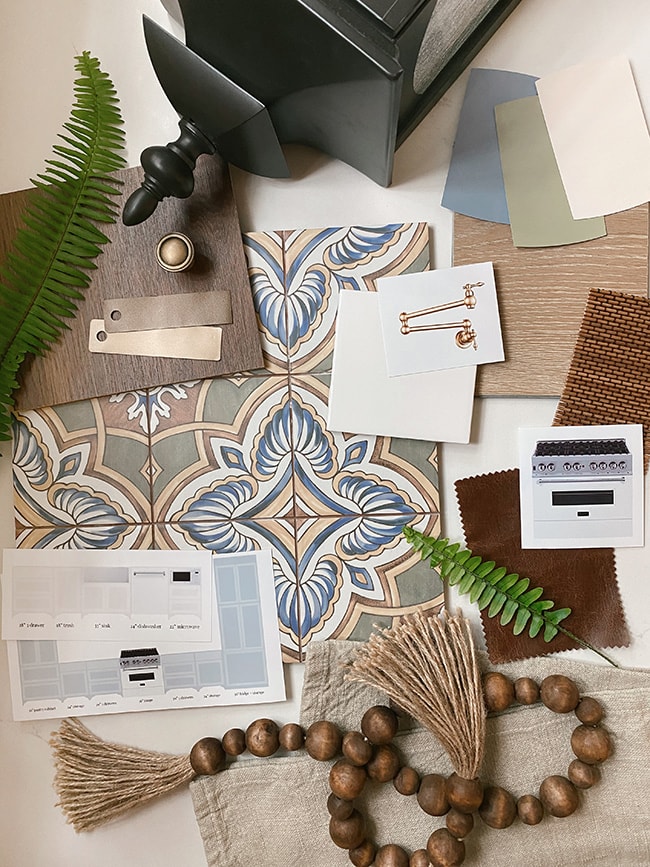 We've got a lot to cover today, so let's dive right in…
Current kitchen
Here's how it looked when we bought the house: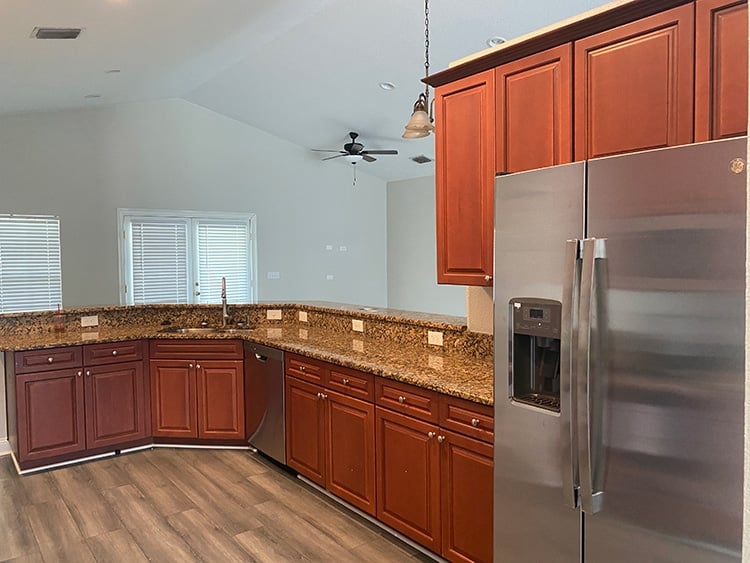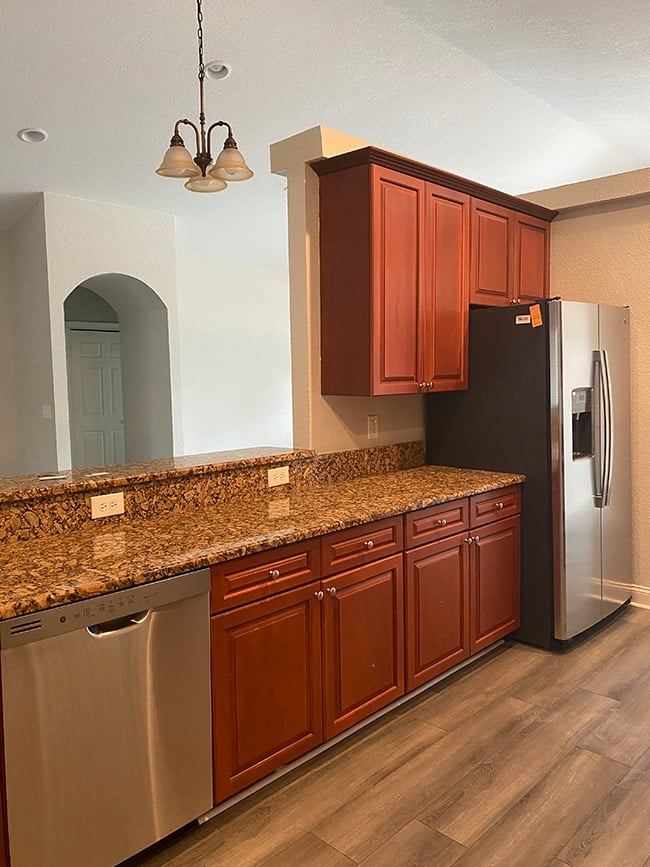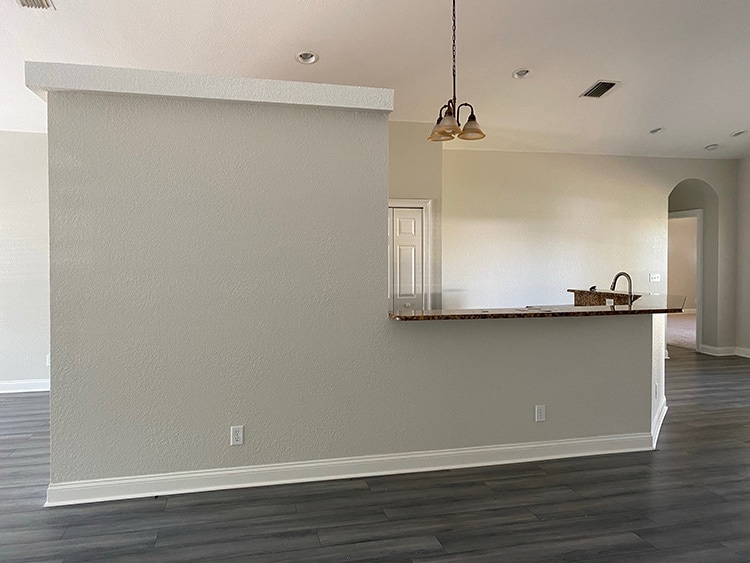 Knowing we were going to completely reconfigure the layout, we immediately sold everything in the kitchen and the buyers also removed the materials. Lucas finished off the wall demo.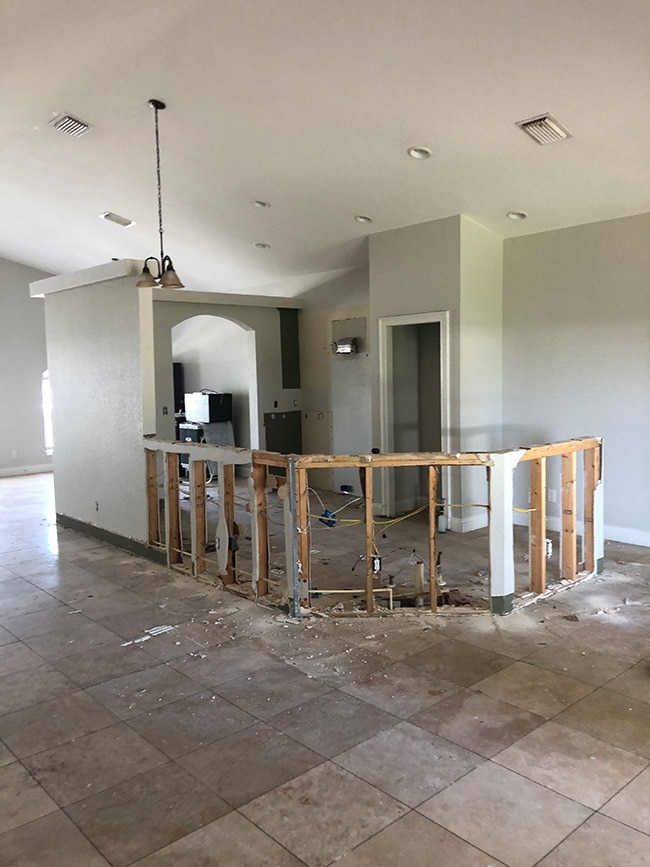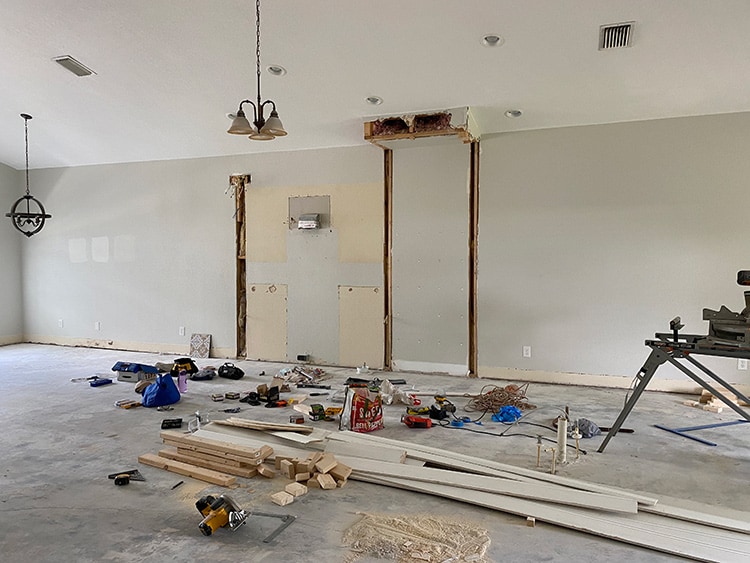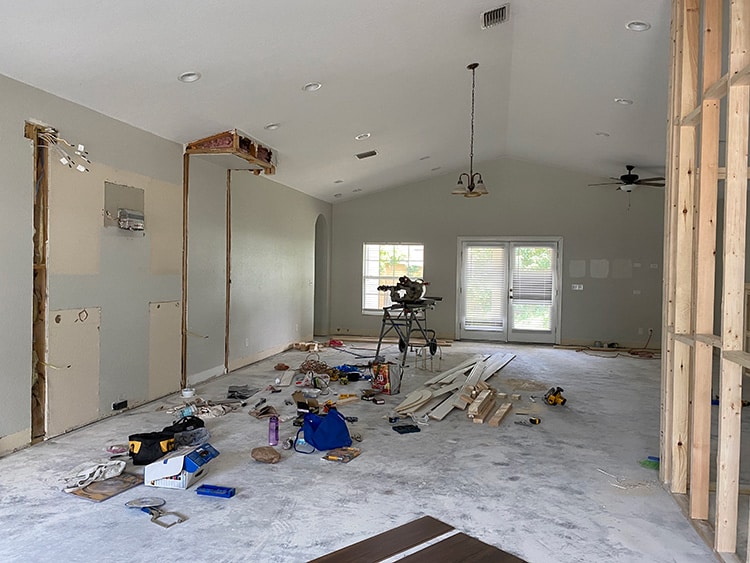 And as you may recall, the next big project was the DIY range hood Lucas completed a couple weeks ago: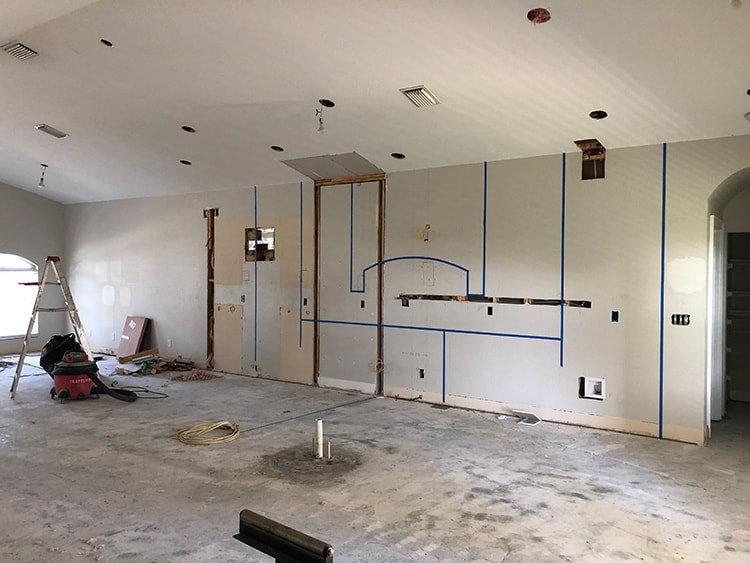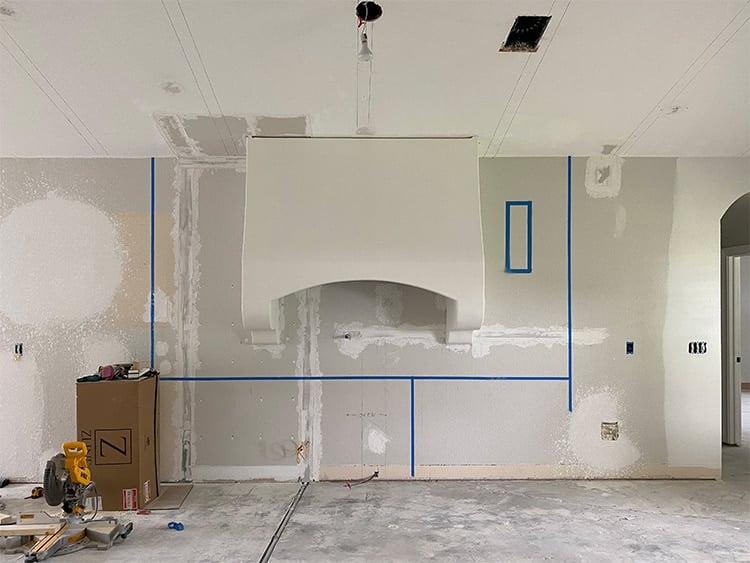 And that brings us to the design plan…
Inspiration
If you follow me on Pinterest, you may have noticed I've been pinning up a storm of kitchen ideas for the last few months.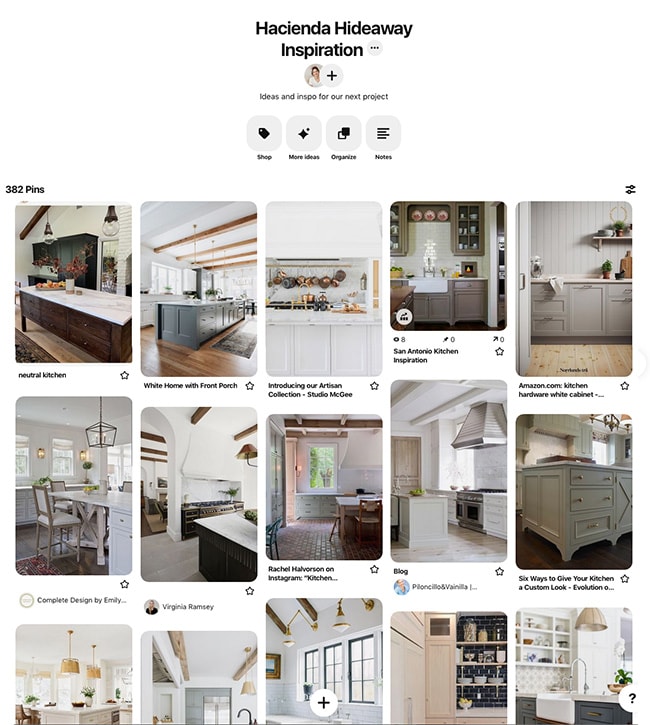 Pinterest is my favorite way to find and collect ideas when designing any new space, and I'll be sharing some examples that we'll be implementing into our kitchen. Here are the noteworthy design elements:
Dark wood ceiling beams
European Oak floors
Oversized venetian plaster hood (we will be adding the plaster soon)
Painted Spanish backsplash tile
Custom inset cabinetry
Large island w/counter seating
White quartz countertops
Unlacquered brass fixtures/hardware (maybe)
White range + dishwasher
Open shelving
Wall mounted pot racks
Now let's do a deep dive into each category…
Design + Layout
Before I get any further, let me clarify that everything in this post is subject to change. We're still in the very beginning stages of this renovation, and there's a lot of moving parts (especially since this kitchen is open to the living room and dining room). Kitchen planning definitely requires flexibility and backup plans!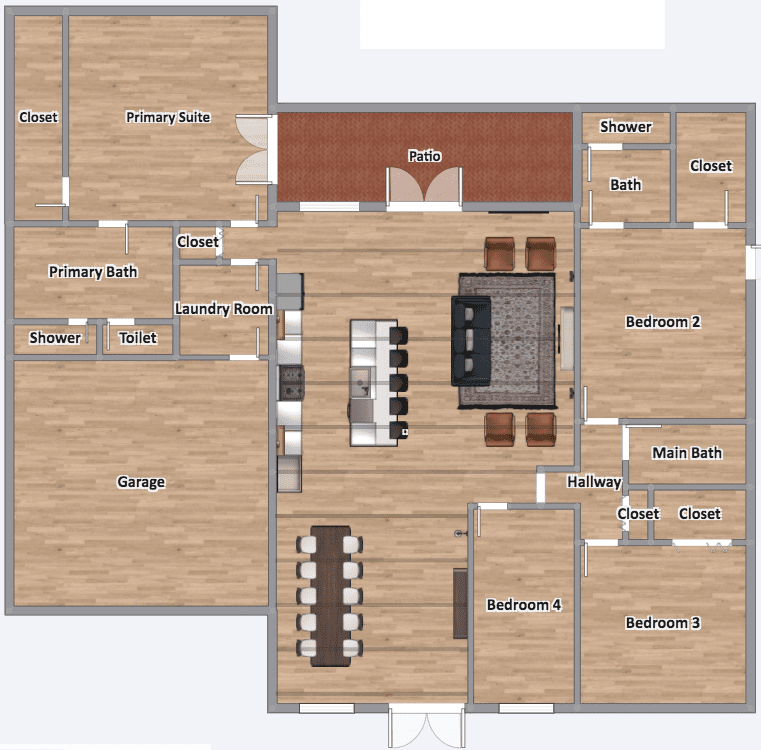 Here's a floor plan of the house so you can see where the kitchen lives. It's in the center of the home, in what we're calling the "great room"—the open area foyer/dining, kitchen and living room. PS—I made this in Homestyler, which is a free but limited design software.
Here's a simplified mood board I started with to get a sense of how the design elements worked together…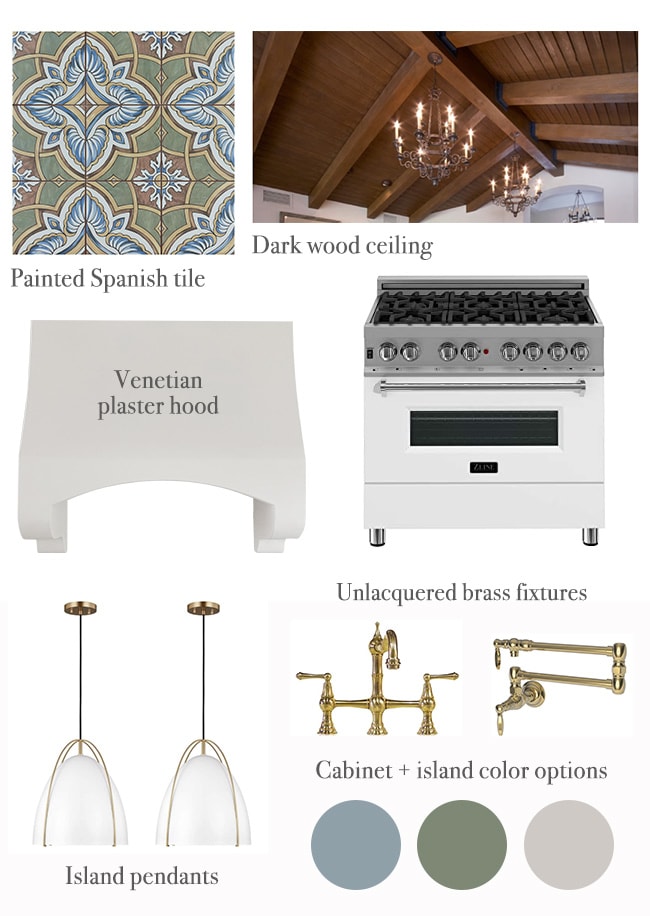 And here's the cabinet layout we decided on (main wall + island):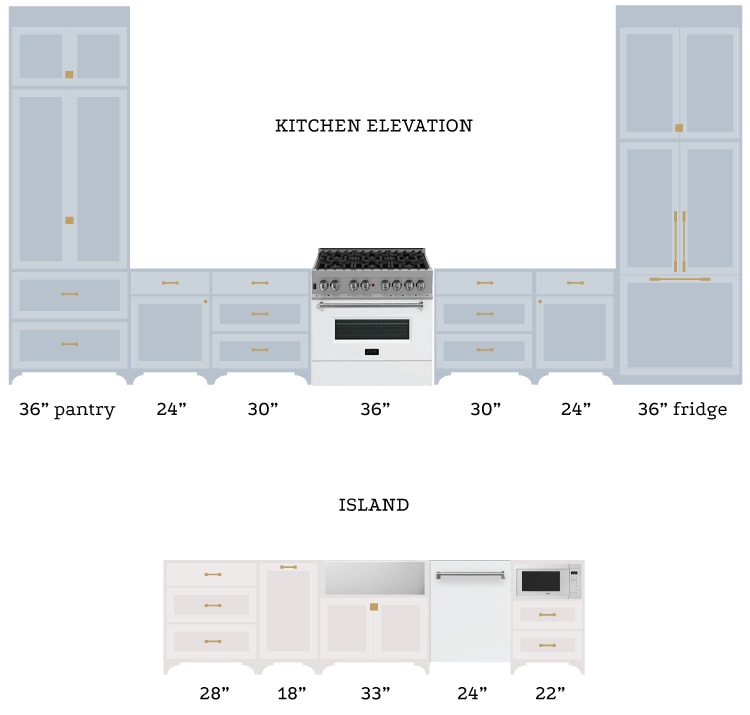 Before moving on, I'd love your thoughts on the cabinet arrangement/layout. Originally we planned to have the sink closer to the left side of the island, so it would land in between the fridge and stove and form a "work triangle". But then I decided that might look strange to have it off center, with everything else in the kitchen perfectly symmetrical. And now I'm wondering if it would be too crowded to have the sink directly opposite the stove? We'd have just under 4′ of space between them: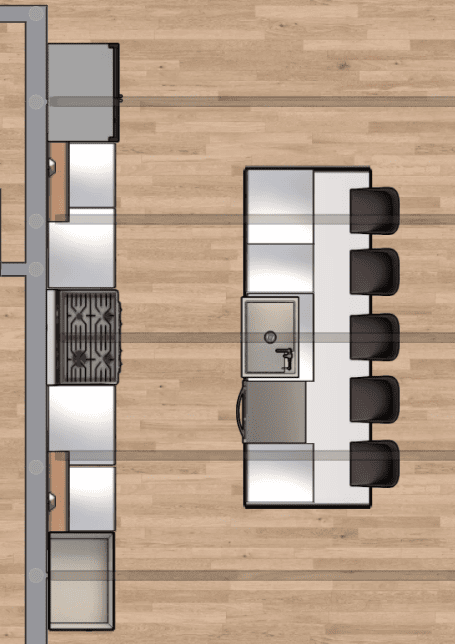 Has anyone else been in a similar situation—any thoughts?
Finally, a rough Photoshop mockup of the main wall (the brown squares along the top indicate the beam placement):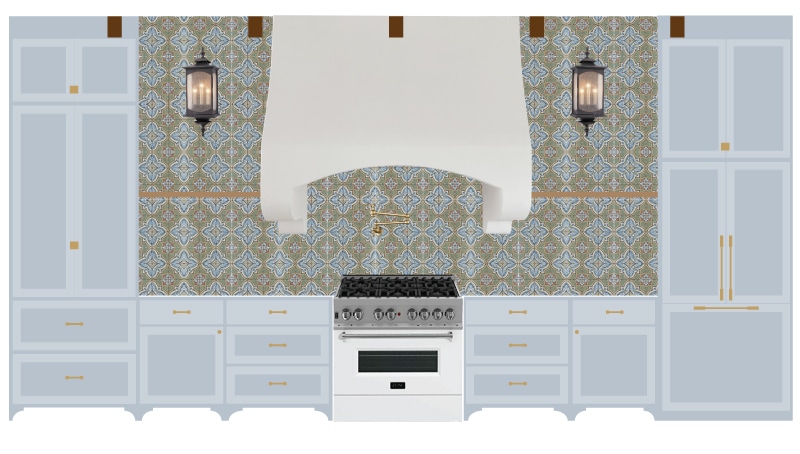 Let's break it all down…
Cabinetry
In order to keep costs down (don't forget, this is a rental) and get the custom look we were after, we figured we had two options: Ikea cabinets + custom doors, or build our own cabinets from scratch. Obviously Ikea would be the easiest route, but I don't love that you can see the white boxes behind the doors and their pull-out trash cabinet is absolute garbage (pun intended?). This is what we did for our Riverside Retreat kitchen (using painted Ikea doors) and overall we're still happy with it, but some parts do feel a little cheap and I worry about the durability with the heavy wear and tear vacation rentals get.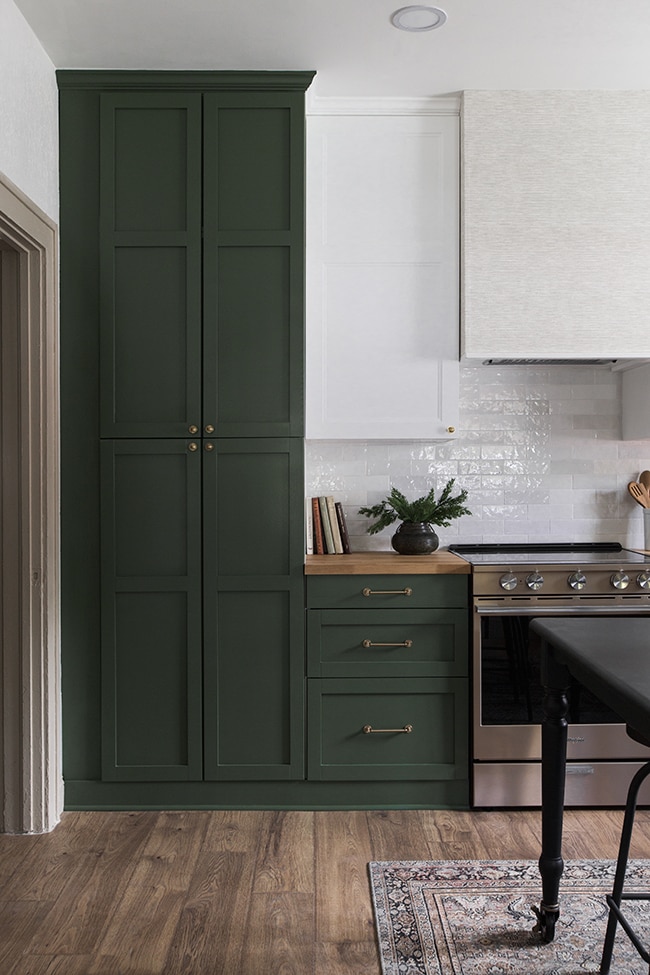 Lucas has been excited about the challenge of building his own cabinets from scratch, and I've been wanting to try inset-style cabinets, so we have officially decided to build our own. I'm honestly pretty nervous about this decision, knowing how precise everything has to be (especially inset cabinetry!) and remembering what a headache our DIY closet cabinets were. But after witnessing the impressive DIY fireplace and DIY range hood, I've got faith Lucas can pull it off. It just might take us a year to finish 😉
Are you on team inset cabinets?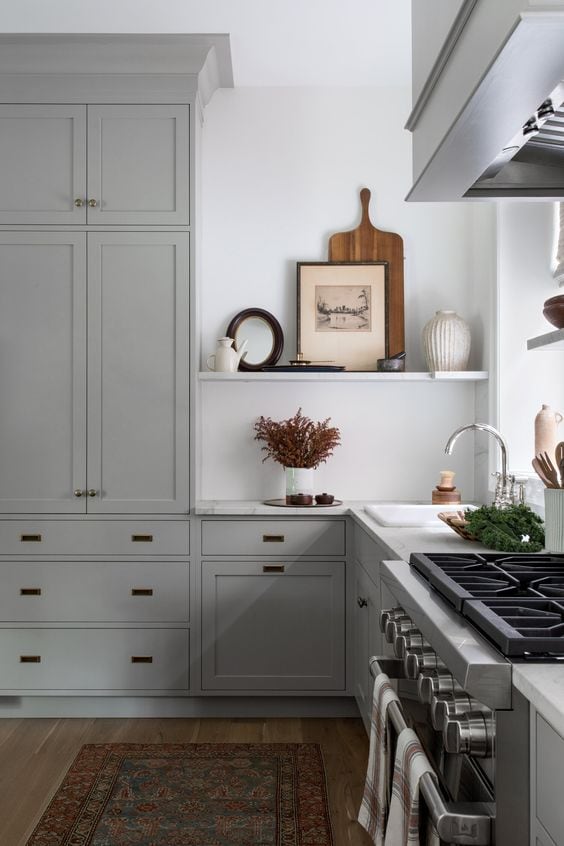 One detail I'm most excited about is adding custom feet to the cabinets. How beautiful is this?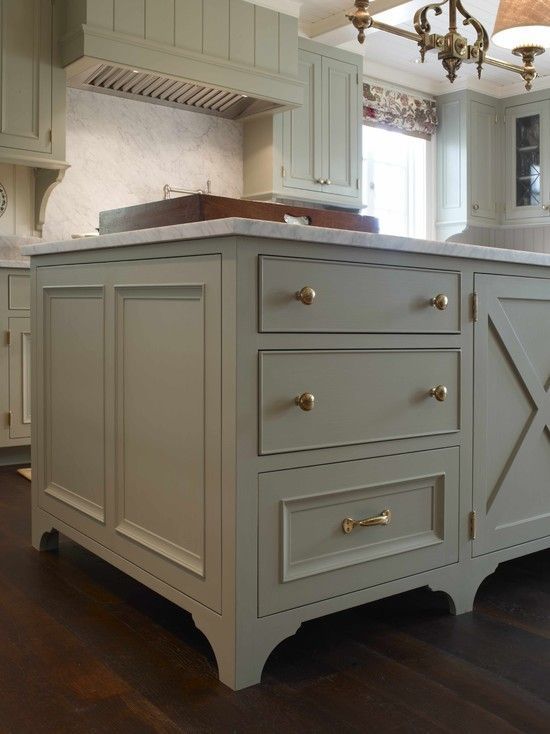 This kitchen is one of my favorites on the internet right now. Stunning sage inset cabinets, simple brass hardware, custom feet detail…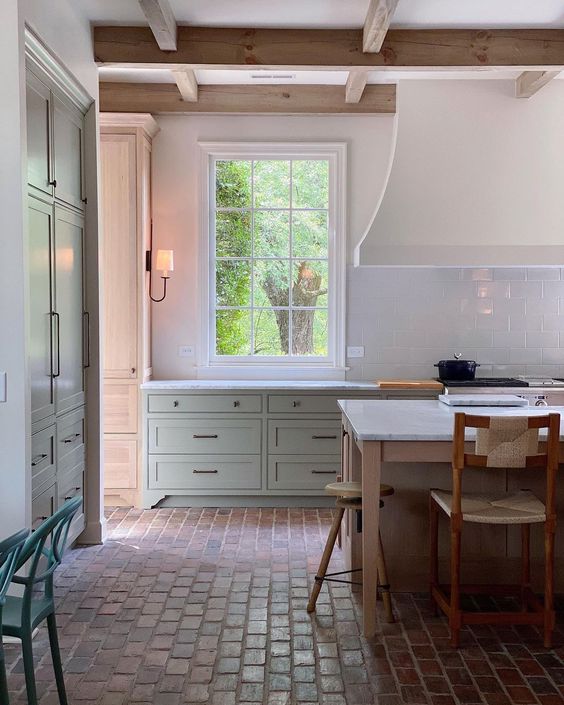 As far as color, right now I'm leaning towards a muted slate blue on the main wall, similar to this:
The island will be painted a creamy off-white, like this: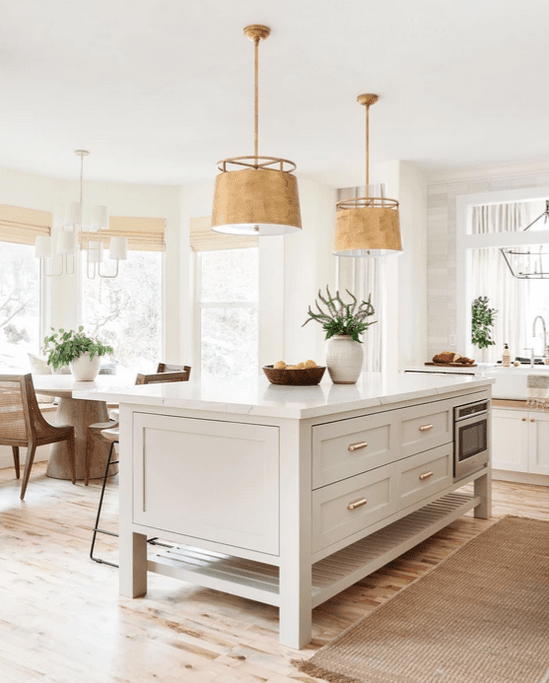 I haven't even started looking into specific colors yet—that will come after the cabinets are built and I can test a bunch of swatches in the room.
DIY kitchen cabinets—a good idea, or are we setting ourselves up for failure? It's not too late to change our minds ?
Surfaces
Let's talk about all the surfaces in this kitchen. The big one will be our dark wood beam + plank ceiling (currently going up as I type!) I haven't been able to find many examples of this in a kitchen, but here's one to give you an idea…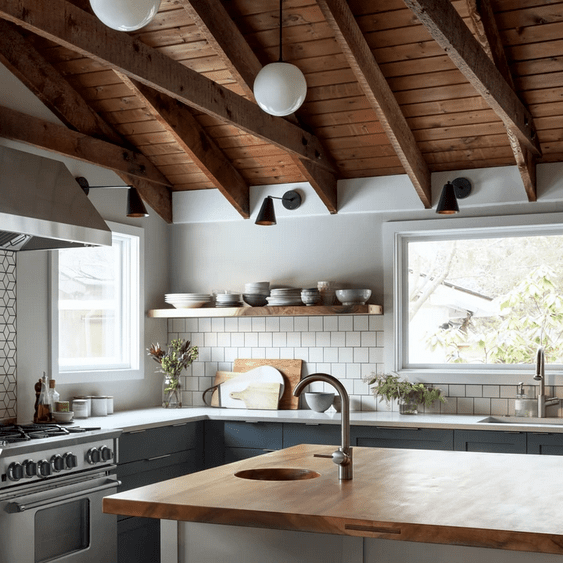 The ceiling is going to completely set the tone of the kitchen/great room and give it that authentic Spanish-style look. I'll share alllll of those details once we're done… but here's a sneak peek I shared in my Instagram stories yesterday!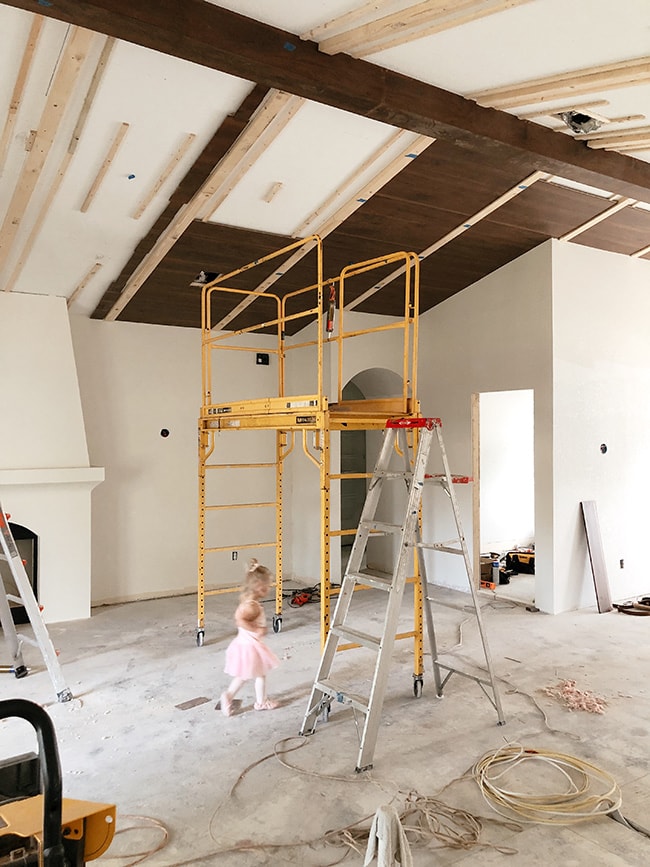 If you remember from June's progress update, we're building beams and slats from this flooring: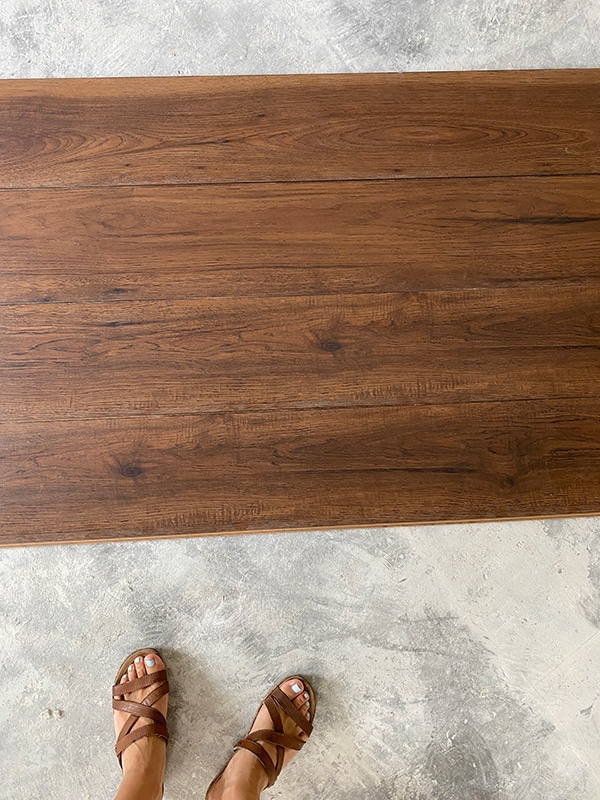 I also shared our flooring options in that post, and we landed on Raintree Floors Aspen Estates First Flurry (those should be delivered this month!):
The focal point of this kitchen (apart from the range hood) will be the backsplash tile. How gorgeous is this?!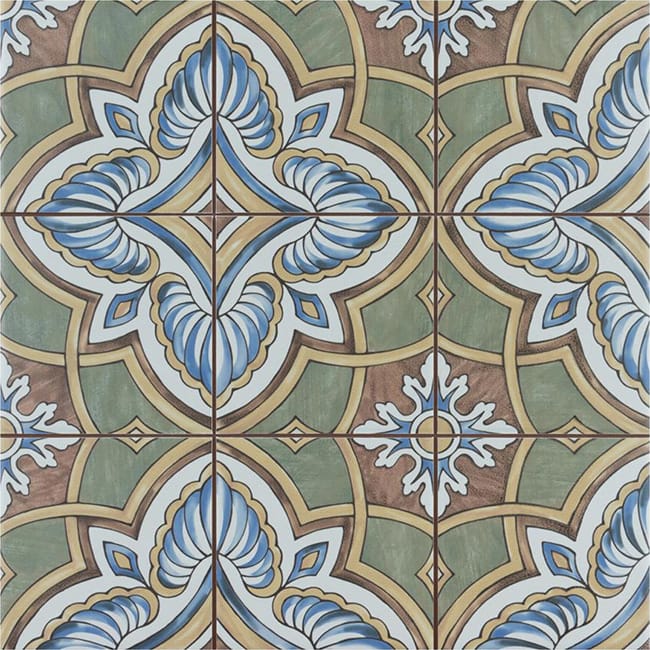 It's the Merola Tile Harmonia Grove and I knew it was "the one" as soon as I saw it. It was the only thing I decided on right away for this kitchen!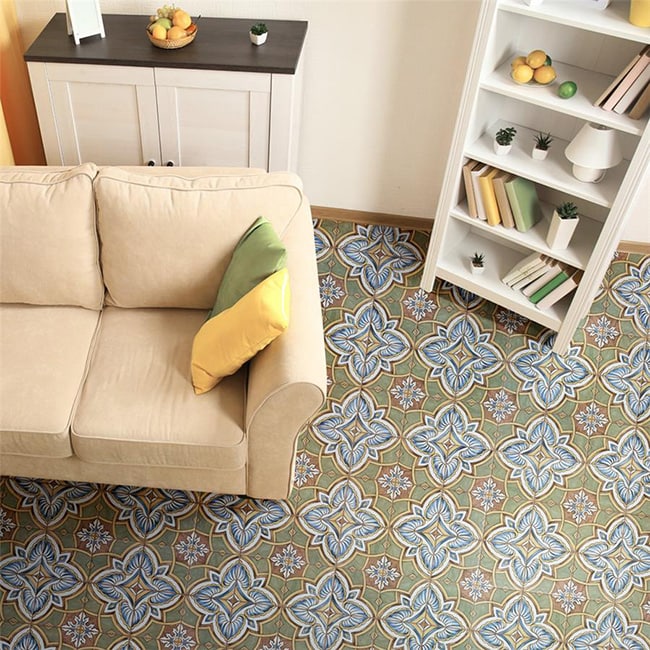 I can't get enough of the colors, the pattern and hand-painted Spanish design. Just so good.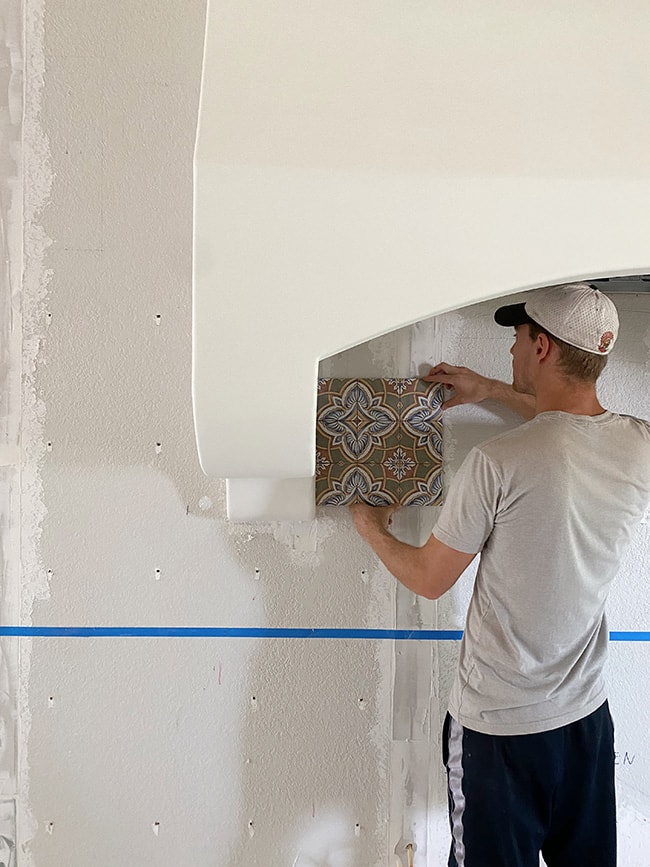 Because of all of the focal points and contrasting materials/textures in the room, I'm keeping the countertops super simple and solid white—most likely quartz, but nothing has been finalized yet.
Appliances
The appliances are the only things that have been purchased so far (and already delivered!) I knew I wanted a white dual fuel range, so I researched every last option and found ZLINE to be the most affordable with great reviews: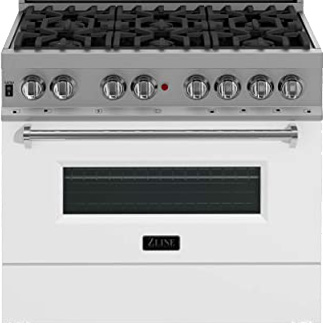 I chose their 36″ white matte DuraSnow range, which is fingerprint and smudge resistant. I almost went with a 48″, but in the end decided it was overkill for a vacation rental and a kitchen this size, not worth the extra cost, and the additional 12″ of counter space would be more useful. You can find this range (in other colors too) sold at many retailers online such as Lowe's, Walmart and Rustic Kitchen & Bath.
I also decided on their matching white matte dishwasher with top controls, room for 20 place settings with an adjustable top rack, and only 40 decibels (also sold at major retailers like Lowe's, Home Depot and Appliances Connection):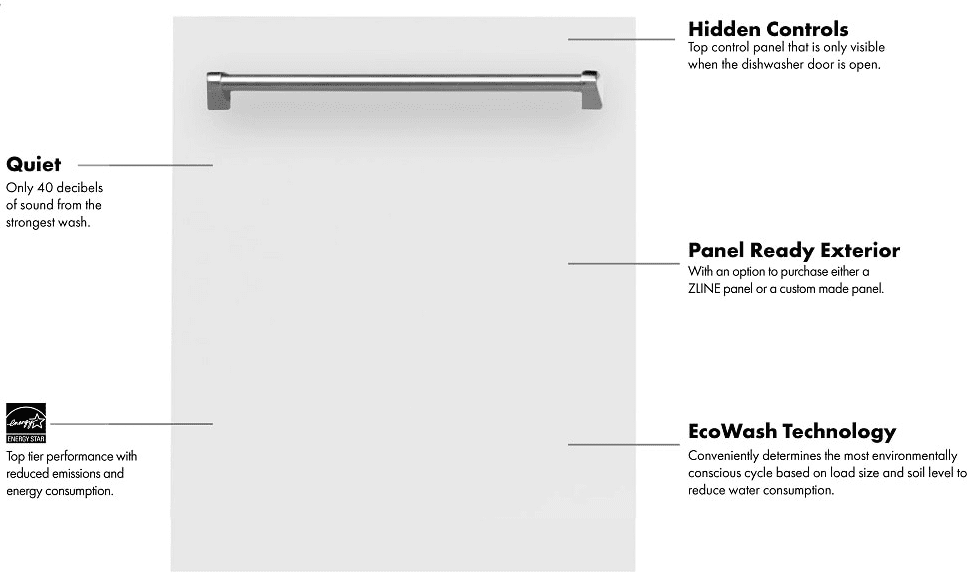 I'm currently searching for a 36″ panel-ready fridge that doesn't cost a fortune (I don't think it exists) as I'd much prefer the fridge to blend in with the cabinets. I'll also get a white microwave which will sit in an open cubby on the island on the far right.
The last appliance we ordered is already installed—woohoo! It's the ZLINE 34×18″ range hood insert (you can see more about the build process in this post, and order the insert online here):
Fixtures & Hardware
In last week's post I shared a little peek at the first fixture I bought for the room, as you may recall…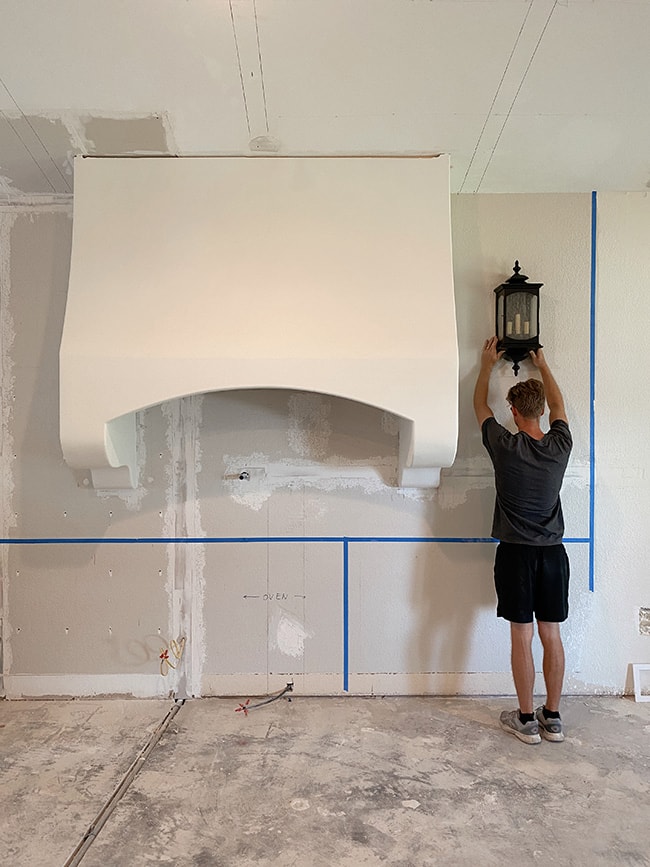 Can't wait to make these bronze and see them against the tile! I pretty much knew right away that these lanterns were the right choice, but I'm all over the board when it comes to pendant lights above the island. The original plan was actually not to have pendant lights at all because I was going to use a chandelier in the living room, but changed my mind.
I've got about 20 contenders on my short list, but currently this one is at the top (we'd be installing two):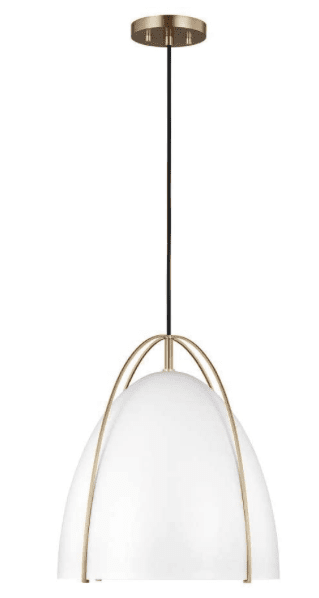 Would anyone be interested to see the others I found in a budget pendant roundup blog post?
Next up—faucets. This is another decision I've gone back and forth with because my heart wants unlacquered brass everything, but my practical self keeps reminding me this is a rental. I had honestly given up on the idea… until I came across this faucet that is oddly more affordable than almost every other similar faucet in the standard finishes: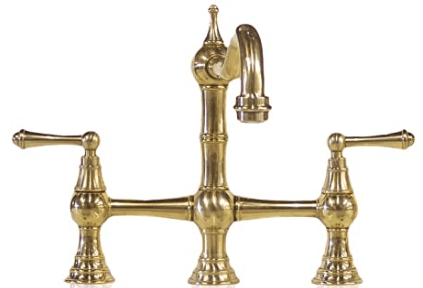 I hesitate to even share this because there's only 10 left and I'm scared it's going to go out of stock, but this one is by far the most affordable nice unlacquered brass faucets I've been able to source. Just promise me you won't buy it… k?? (PS, you can also find a very affordable option here without a side sprayer)
I may have found a great deal on the kitchen faucet, but there is a serious lack of unlacquered brass pot fillers (why?? I just don't understand) and the best price I was able to find (by a mile) is this one at $546: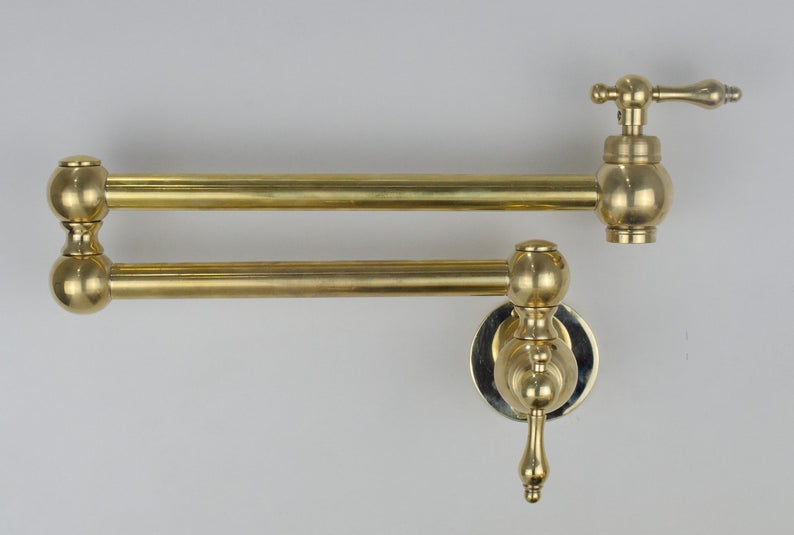 I considered buying an 'antique brass' look-a-like for half the cost but at the end of the day, I think it's worth splurging to have fixtures that match—especially since they'll be so close to each other.
UPDATE as of 8/17: I just read this post on Emily Henderson's blog warning about how high-maintenance unlacquered brass is. Well, that would certainly change things! High maintenance and vacation rentals do not mix. Who has thoughts/experiences they can share on this topic?
One thing I was pleasantly surprised to find (and the reason I'm okay with spending a little more on the faucets) was relatively affordable unlacquered brass cabinet hardware. I spent hours searching every corner of the internet, and because raw brass is a universal finish, it doesn't have to be the same brand/manufacturer. I haven't finalized anything yet, but here are a handful of raw brass options (they all have the same finish in person, despite the product photo differences):
You can easily spend $50+ on one unlacquered brass cabinet knob, but I was able to find several under $20 which makes it very doable for this kitchen without a ton of cabinets.
That also brings me to another question I have for you—what are your thoughts on cabinet latches? I haven't used them myself but I love the way they look and really want to incorporate them. My only concern is that with this being a rental, items are often abused and not used properly. I can see people not taking the extra step to turn a latch if it's not automatic—and that also includes the cleaners. Do these latches require any extra effort/time to close, or are they pretty fool-proof? Drop your opinions in the comments below!
Accessories + Decor
I came across something pretty amazing that is an absolute game changer for this kitchen, and every kitchen moving forward. Have you seen these pop-up outlets?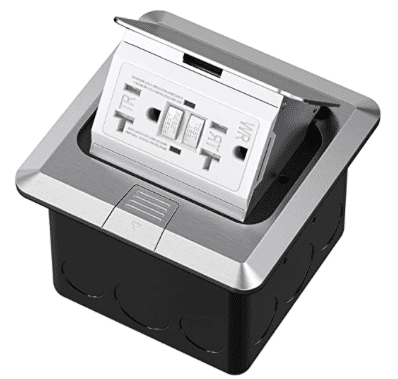 You install them in your counters instead of your backsplash—which is critical for this kitchen because there's no way on earth I'm defacing the beautiful painted tile backsplash with outlet boxes.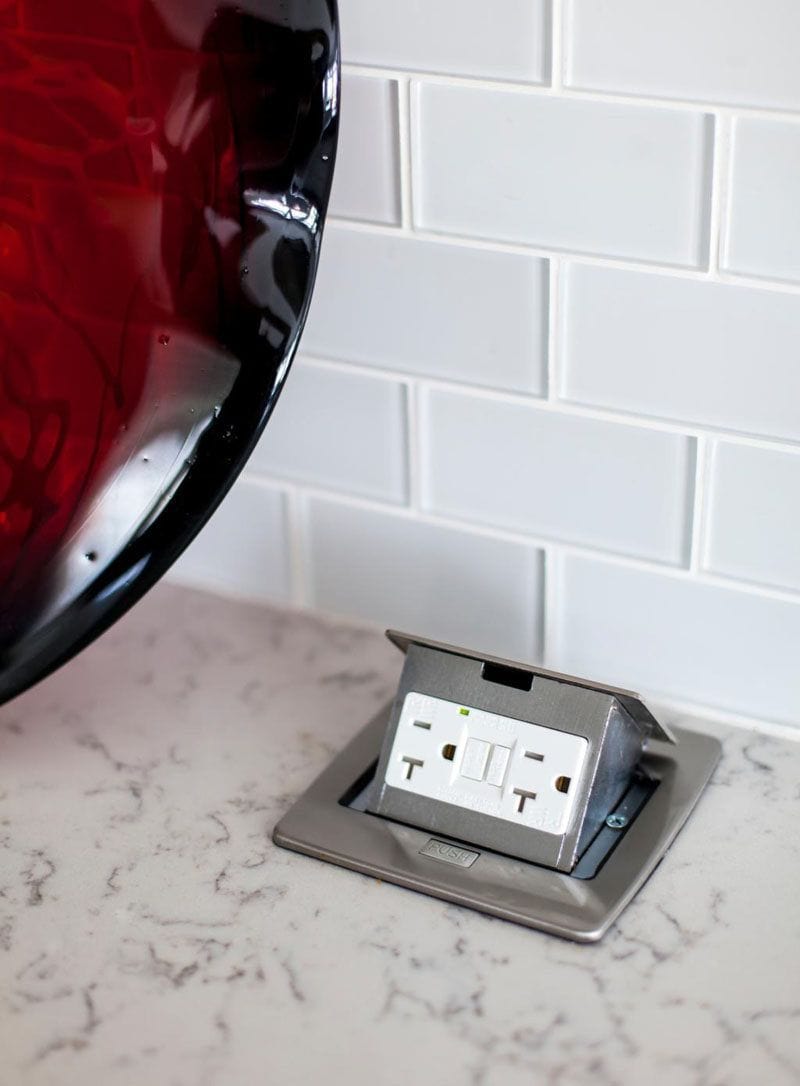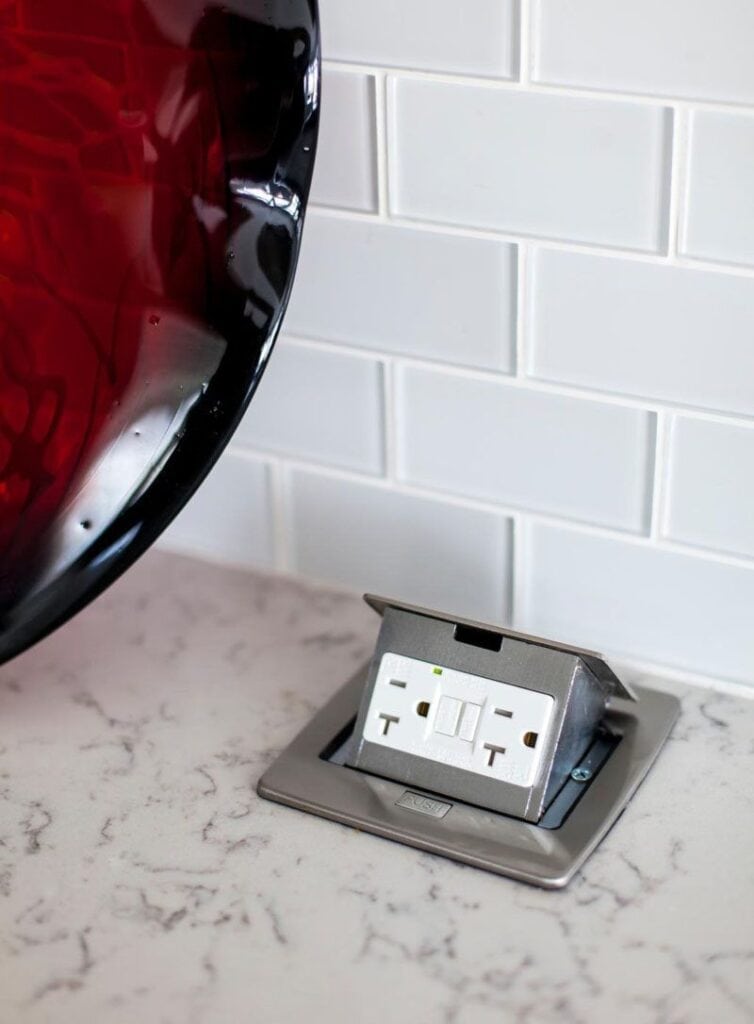 I know they're sold in different colors so I'll have to do some research and order them in white, but this has to be my favorite a-ha moment of this entire kitchen renovation. It's a life-altering discovery, folks!
Another detail I'm giddy about is the decision to add wall mounted rails, like this: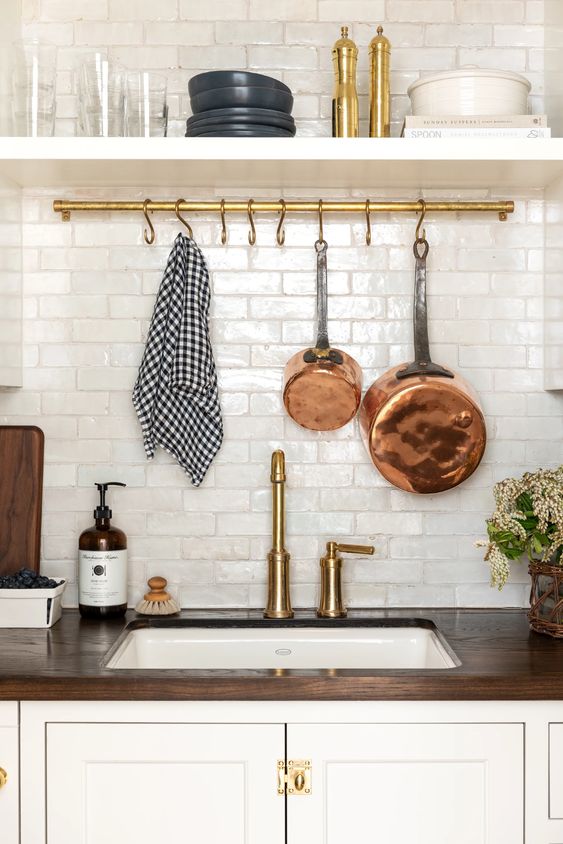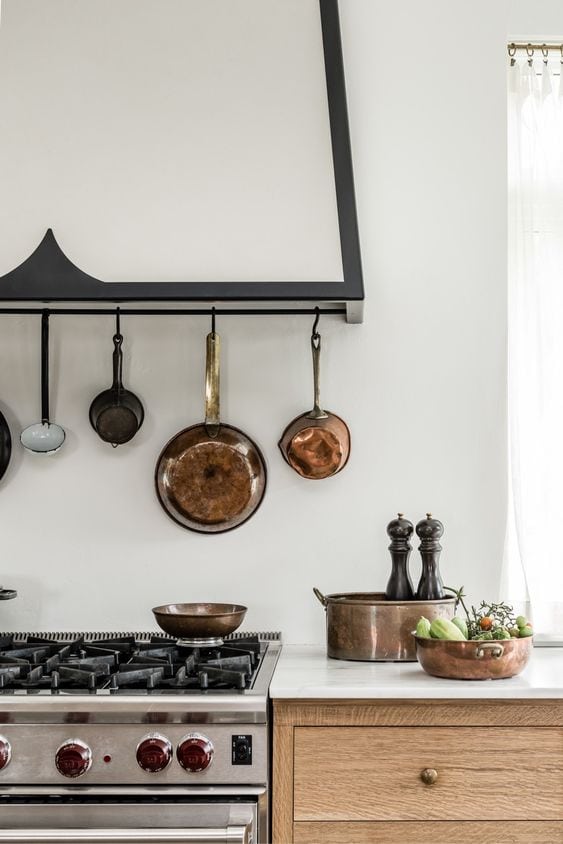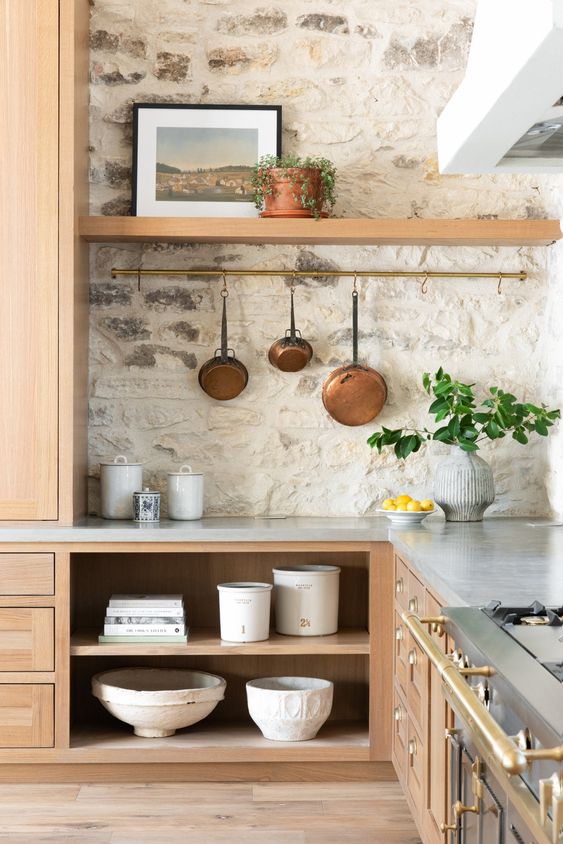 Such a charming little detail, don't you think? I'll be adding one underneath each open shelf (flanking the range hood)—most likely using these inexpensive rails from Ikea and giving them a copper/gold patina to match the lanterns.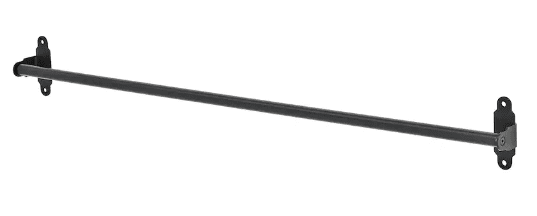 Okay friends… last decision to discuss (for now). The search for counter height chairs for the island has begun, and I am all over the place with ideas. Currently trying to decide between leather and some sort of woven/wicker/rattan material. The final call will honestly depend on what I choose for the dining room chairs, since those will be just a few feet away from the island so they can't clash. My biggest limitation is budget—we'll be needing five seats, so I don't want to spend more than $200-ish per chair.
Here are some options I'm looking at (these aren't necessarily the final contenders, I'm still searching!)
I probably won't make this decision until closer to the end of the kitchen renovation. Any favorites of the bunch, or other options I should look at?
Alrighty… I think I've covered enough for one post. This renovation is going to happen slowly over the next several months, so there will be plenty more to share! Any questions so far? Anything in particular you want to see discussed in more detail? I'm all ears! In the meantime, make sure to follow me on Instagram for all of the real-time updates and DIY progress…