I thought it would be fun to try something new and share scenes from our home during my favorite time of the day—the evening!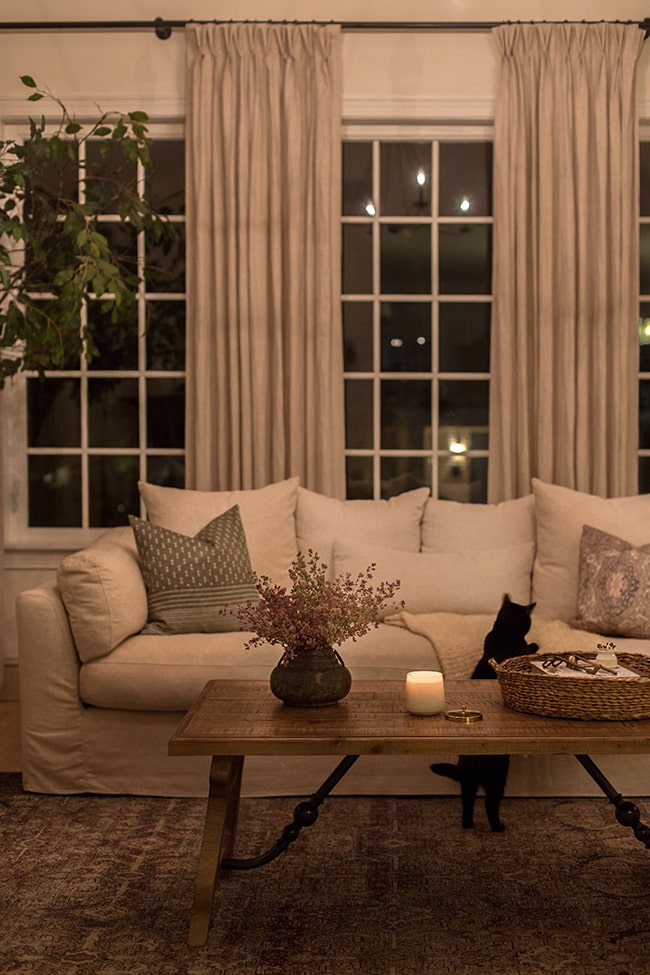 There's a reason you rarely see interior photos taken at night, and 'lights on' are a photography faux pas—artificial lighting completely distorts colors and casts harsh shadows—certainly not an ideal or accurate representation. But, there's also something cozy and romantic about warm candlelight and dark rooms, and it's really interesting to see how spaces transform without any natural light.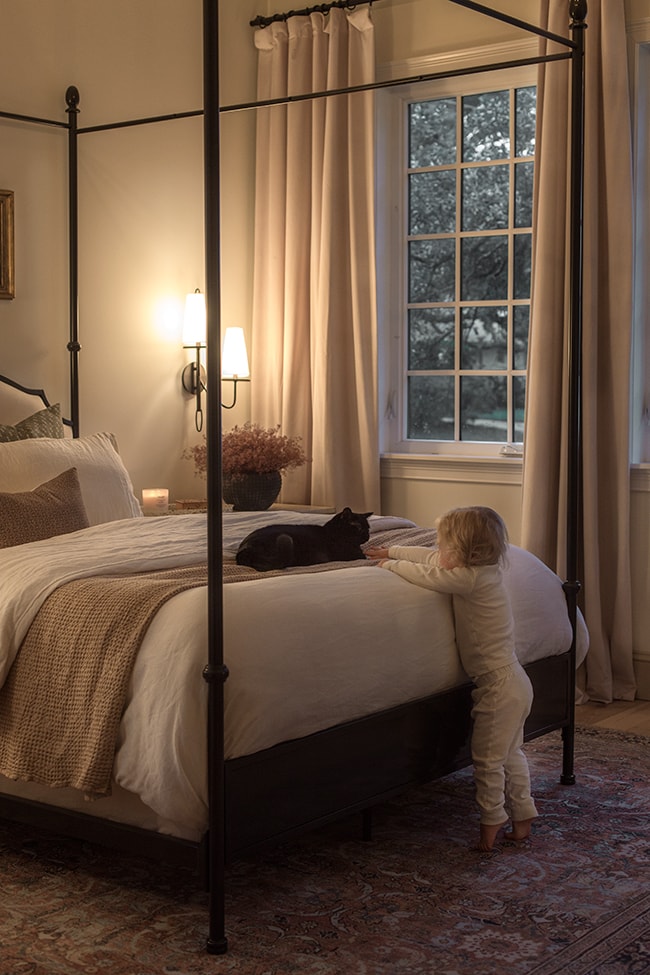 I planned to take just a few photos of each room and ended up with about 300, edited down to 60, so I'm splitting this tour up into two posts. These were a beast to edit and took me two full days. So much color correcting and trying to even out the lighting as best as I could—definitely not something I'm used to, as I shoot in natural light only. So, I really hope you like them and all this work was worth it! 😉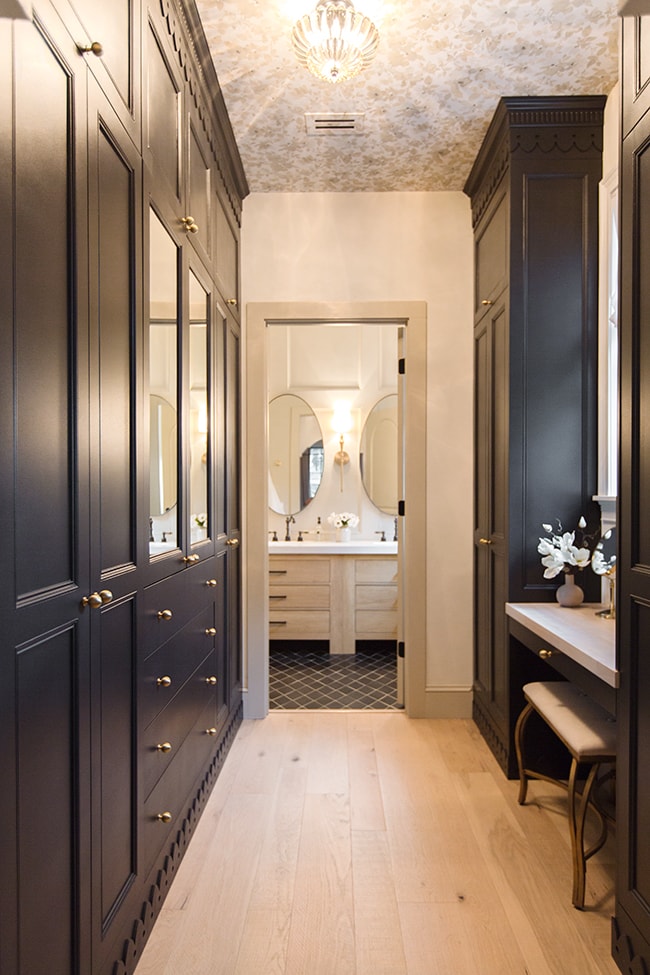 Without further ado, let's begin in the living room…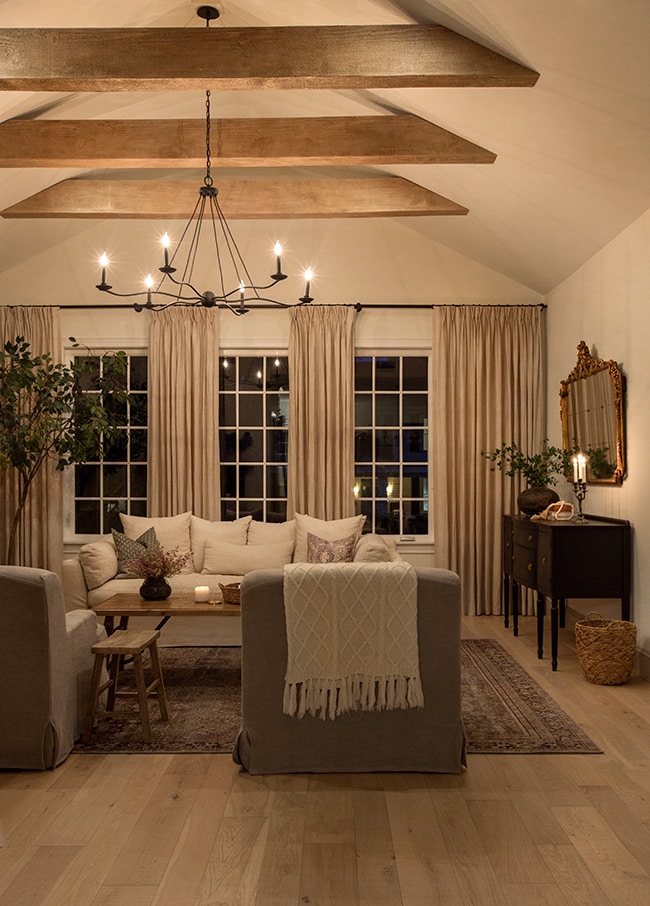 We have two main sources of light here—our chandelier and recessed ceiling lights.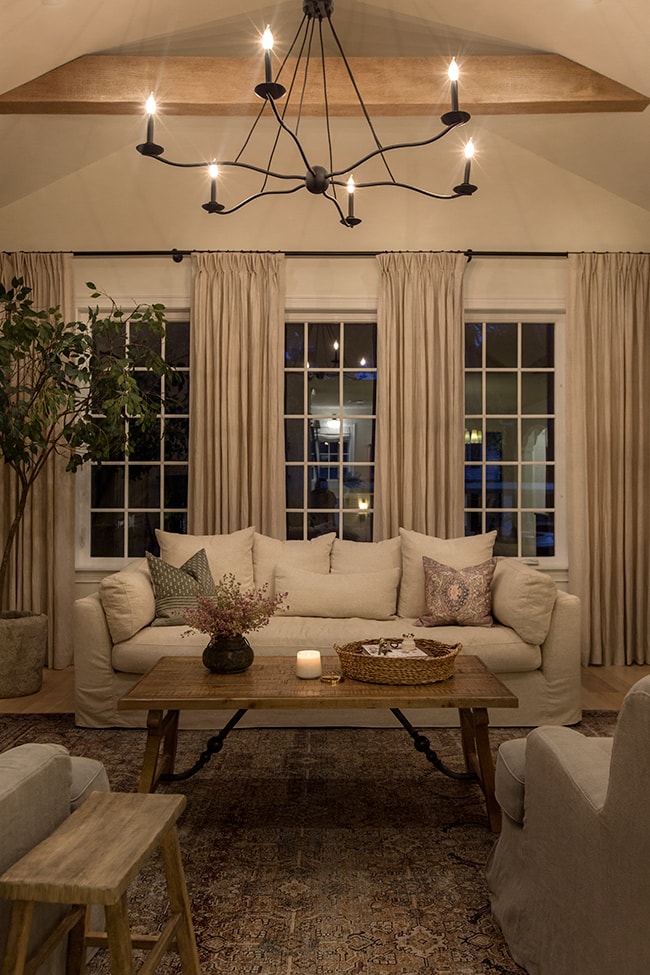 The chandelier has incandescent candelabra bulbs and the recessed lights are LED—both 2700k. I cannot stress the importance of kelvin temperature enough!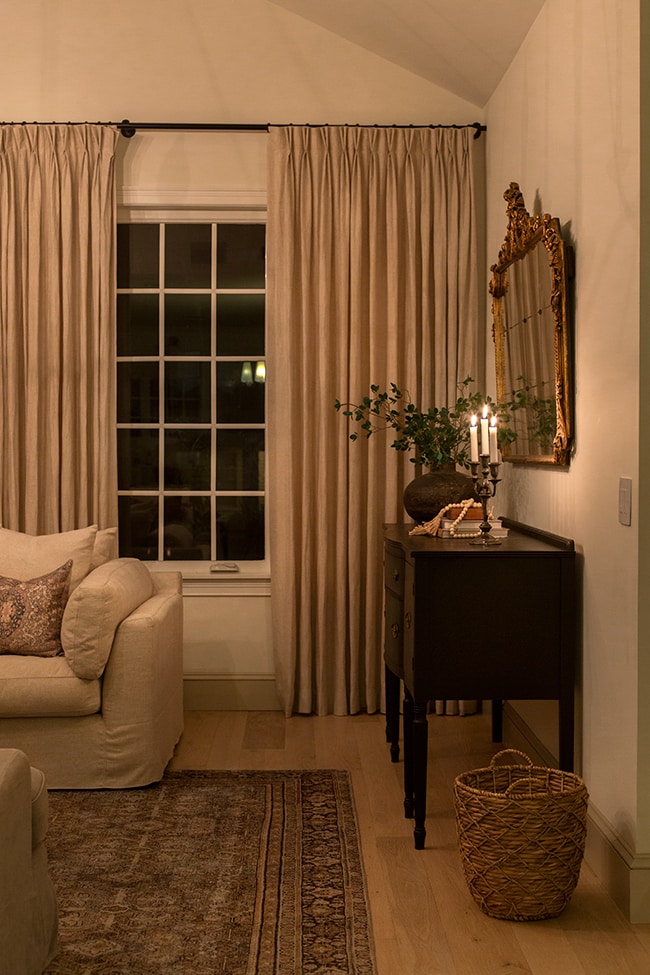 In our house, we use 2700k throughout for a warm glow that gives you a feeling of comfort and calm (it's scientifically proven to impact your mood!). 3000k is another popular option and I think that's fine during the day, but too harsh in the evening.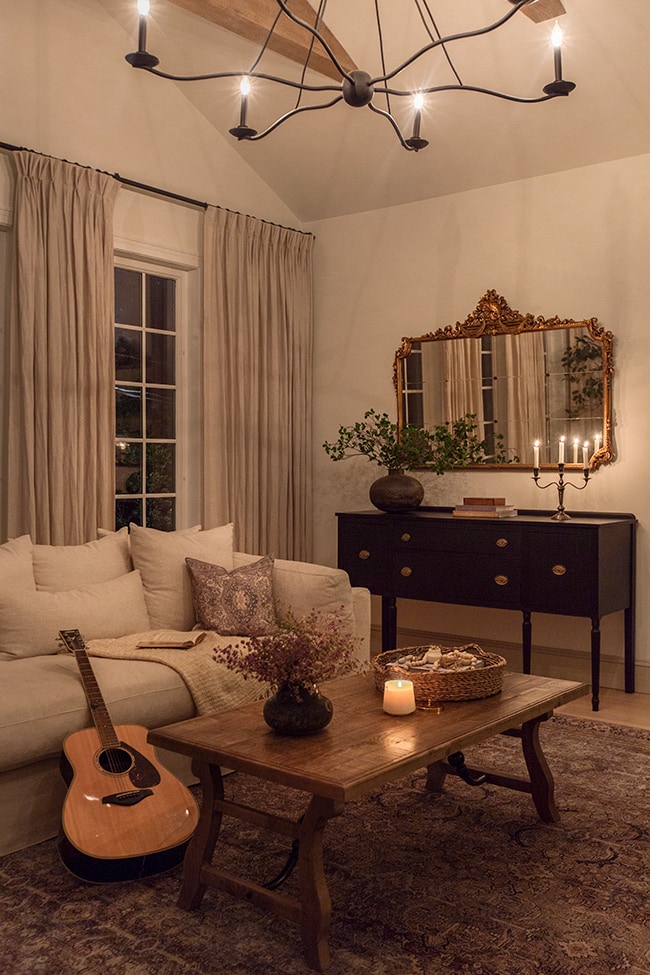 We installed these recessed lights, which I highly recommend as you can adjust the color temperature with the touch of a button. They were originally set to 3000k, and we later changed them all to 2700k after comparing them to our incandescent bulbs which felt much more relaxing.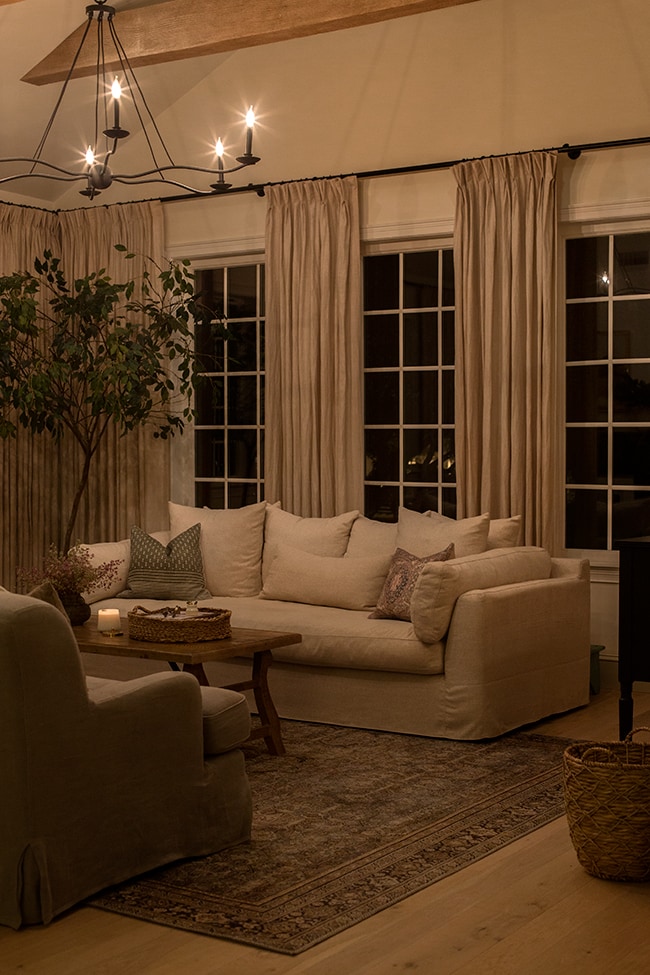 Our lights are also installed on smart dimmers, which I believe is nearly as important as color temperature. Mood lighting is everything, and the quickest way to ruin the mood is with lights that are too bright.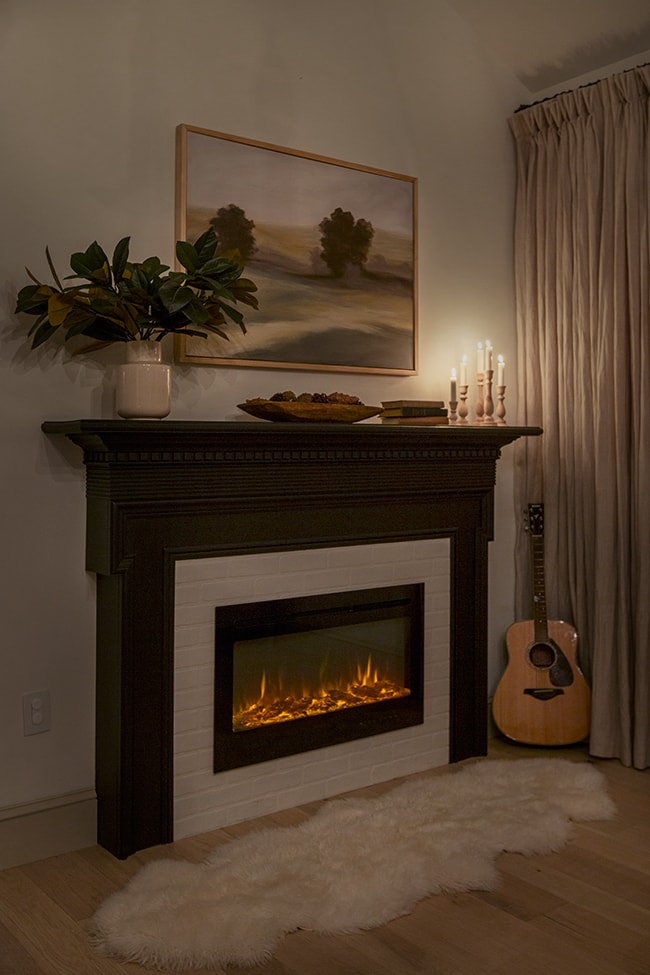 Alternatively, you can also simply replace your existing bulbs with smart bulbs, so you can dim and adjust the color temperature anywhere from your phone. Isn't technology great?!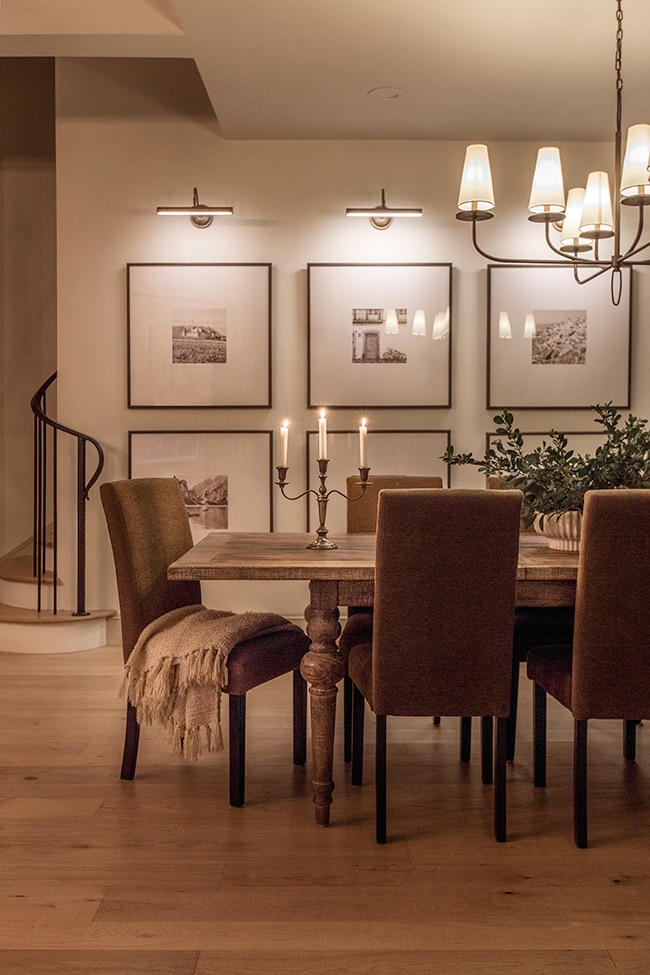 Our dining room is at the center of our home, connecting the living room to the kitchen.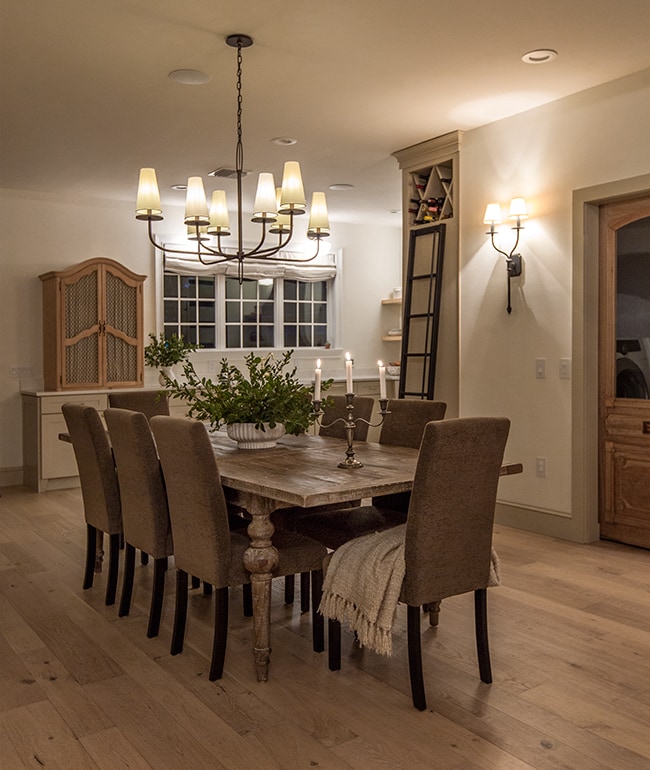 We have four sources of lighting here: recessed lights, a chandelier, picture lights and wall sconce. To be quite honest, we pretty much only ever use the chandelier.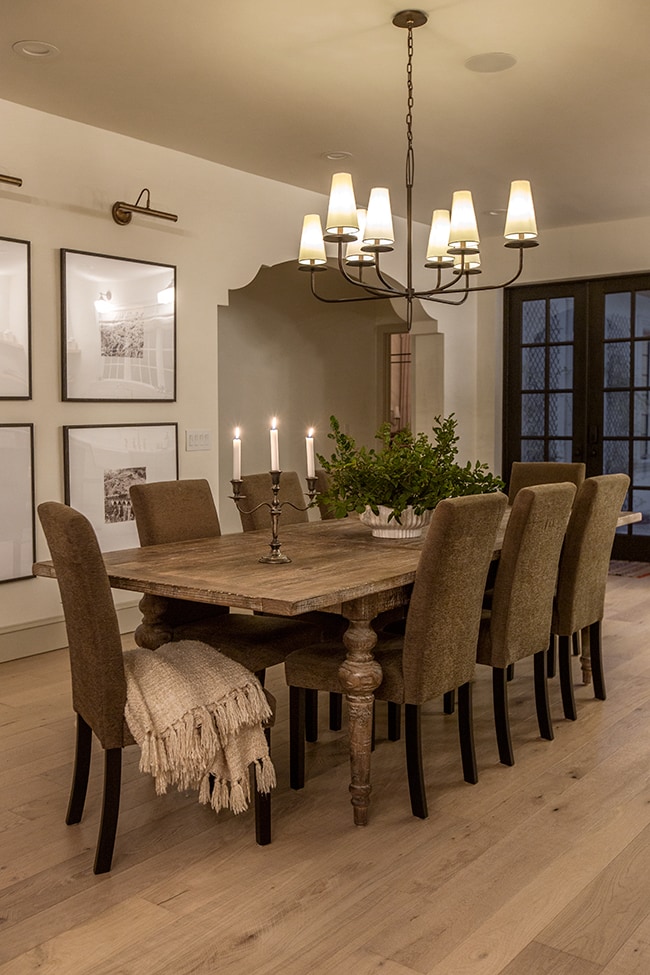 The range of light it provides (via smart dimmer) suits our needs in any situation. And occasionally we'll break out the candlelight for special occasions 🙂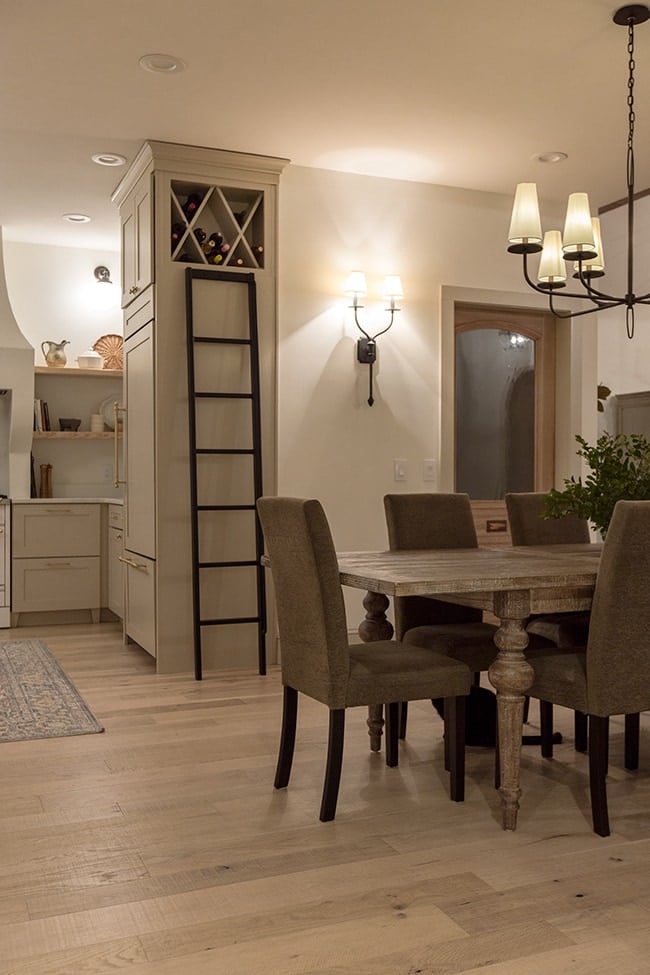 Over in the kitchen, we have the same recessed lights plus four wall sconces.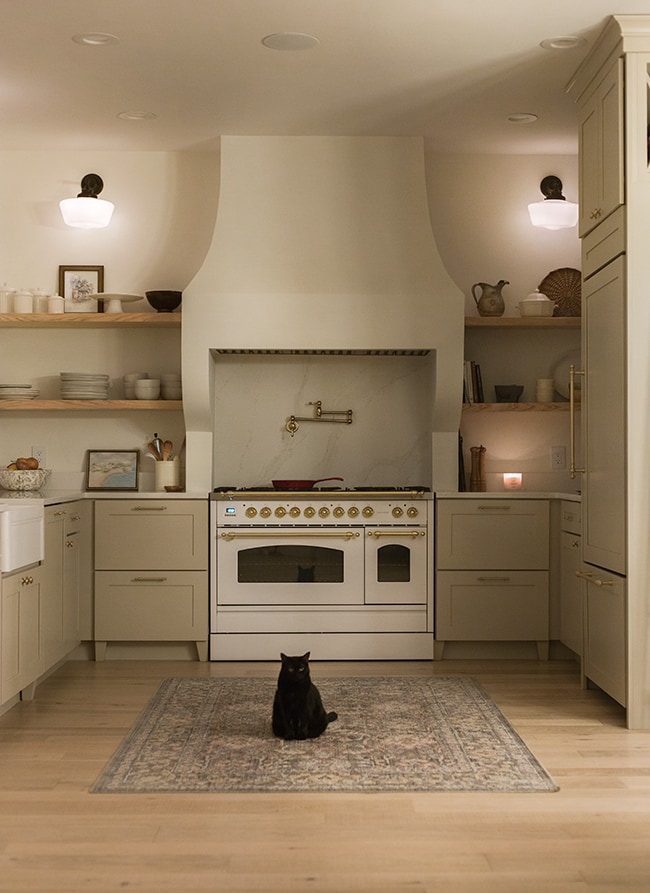 The sconces are usually enough light for us, but sometimes we'll flip on the ceiling lights if we really need to see what we're doing.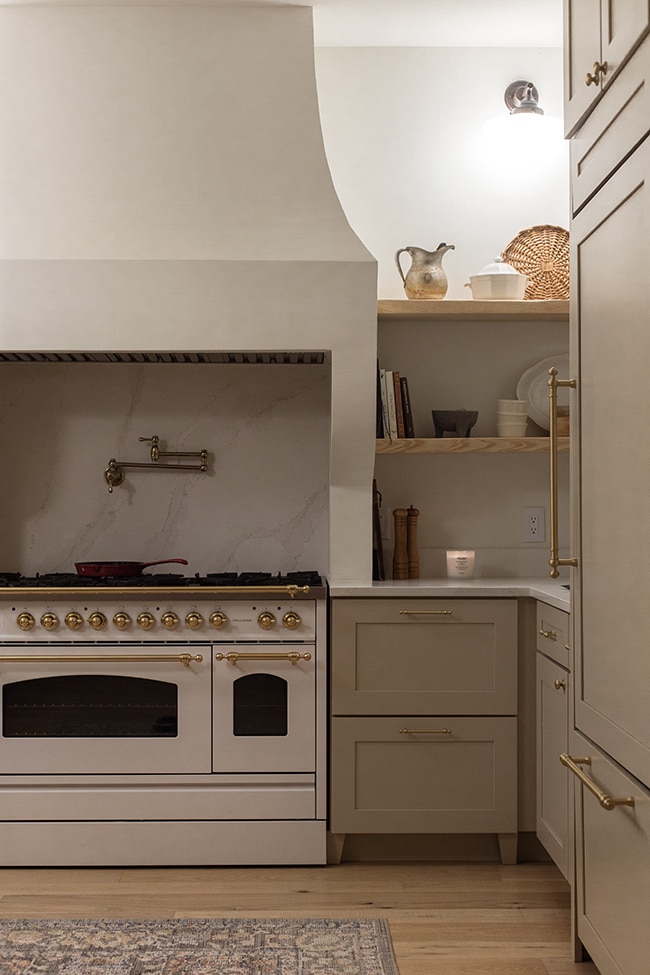 I kept the recessed lights off for these shots because the bright light and harsh shadows make for some really awful photos.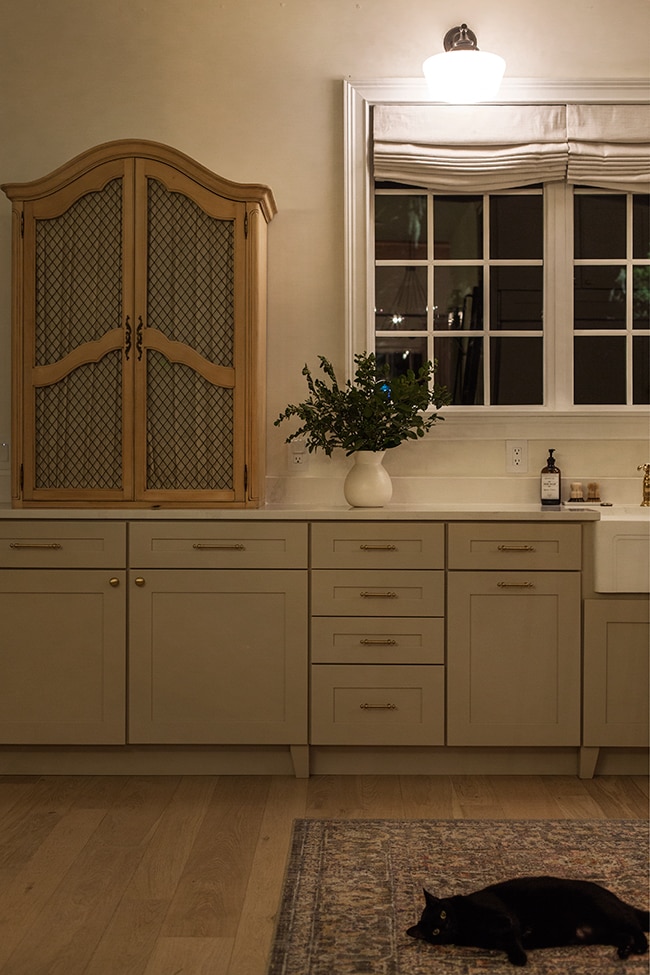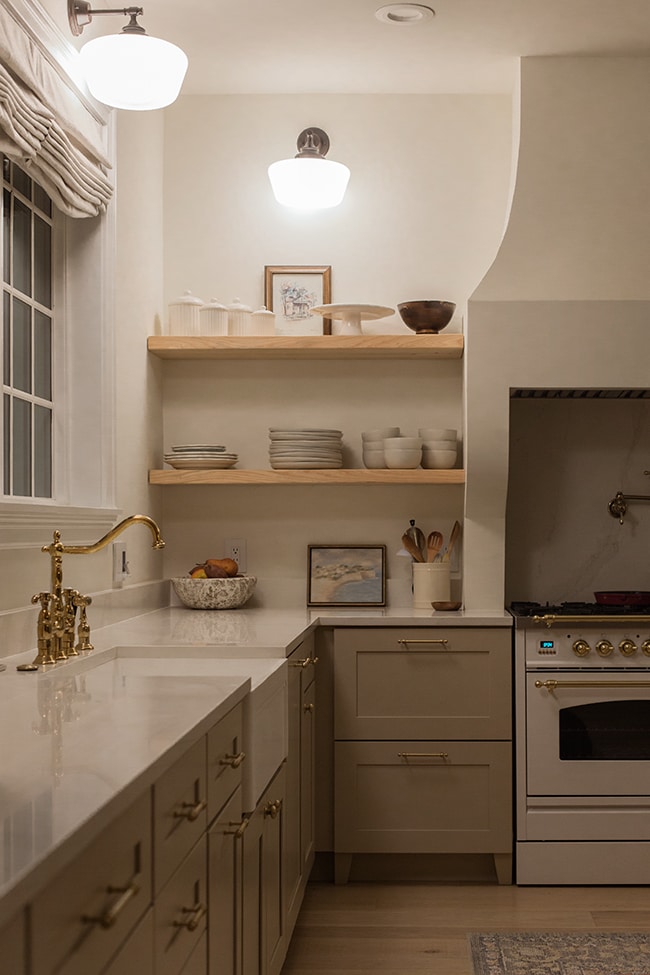 Candlelight, especially at night, is always a good idea.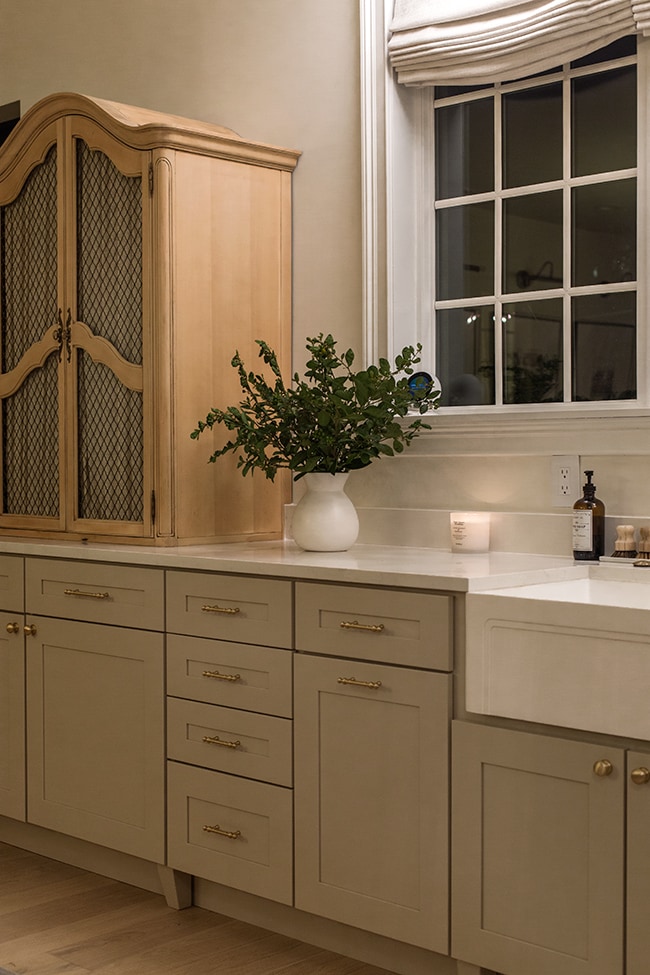 Across the hallway from our kitchen you'll find our powder bath (can you spy our Eufy? That's where he sleeps at night :))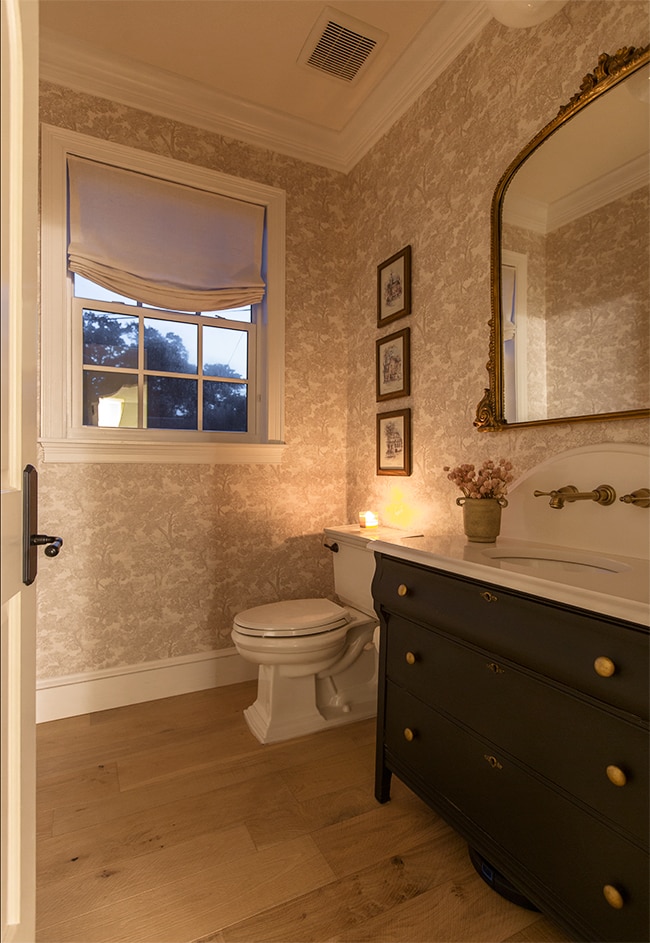 I just bought this set of solar landscape lights for our pathway after testing them out at the Riverside Retreat (and quickly realized we needed more—another set is on the way!)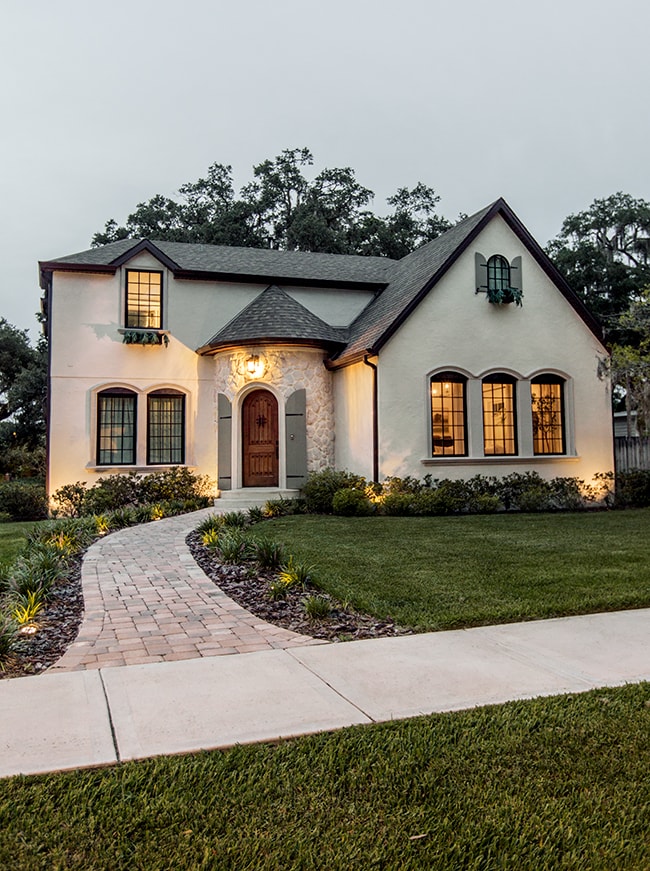 And finally, our backyard at dusk. Our giant live oak provides too much shade for solar lights, so I think we're going to bite the bullet next year and have hardwired landscape lights installed (as part of a major backyard renovation—stay tuned!)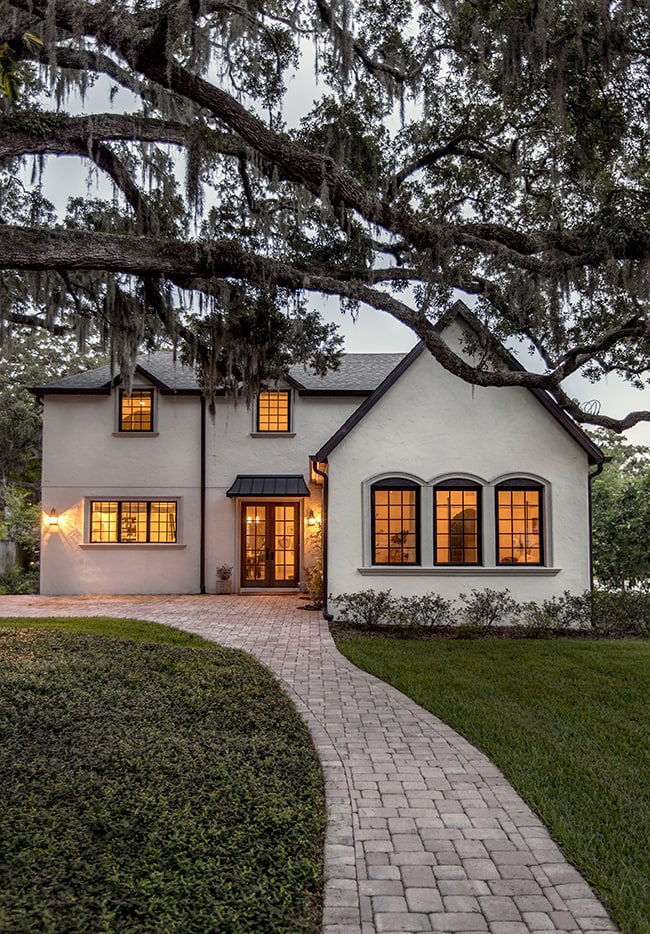 Okay friends, that's it for now! Come back tomorrow to see our bedroom, closet, nursery, two main bathrooms and playroom all lit up at night. If you're curious about sources for any room, you can find them all on my Sources page.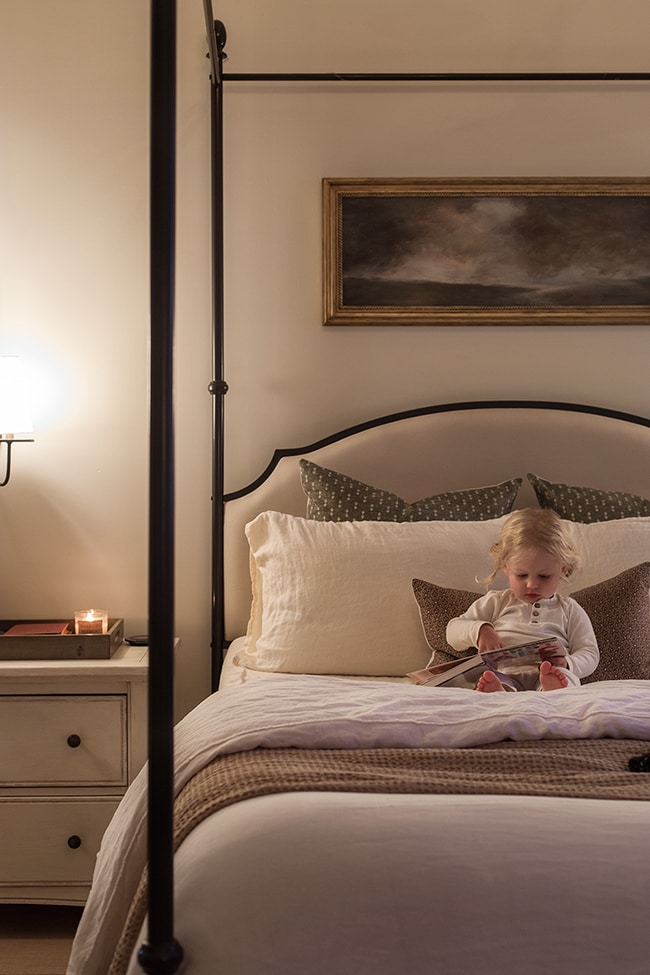 Let me know what you think of the night tour so far in the comments! Do you have a favorite photo? And would you like to see more night shots of rooms in the future, or do you prefer bright and natural light?