If you're considering limewash paint for your next DIY project, this post has got you covered! Keep reading to find out how we transformed our walls with this subtle and sophisticated old-world technique.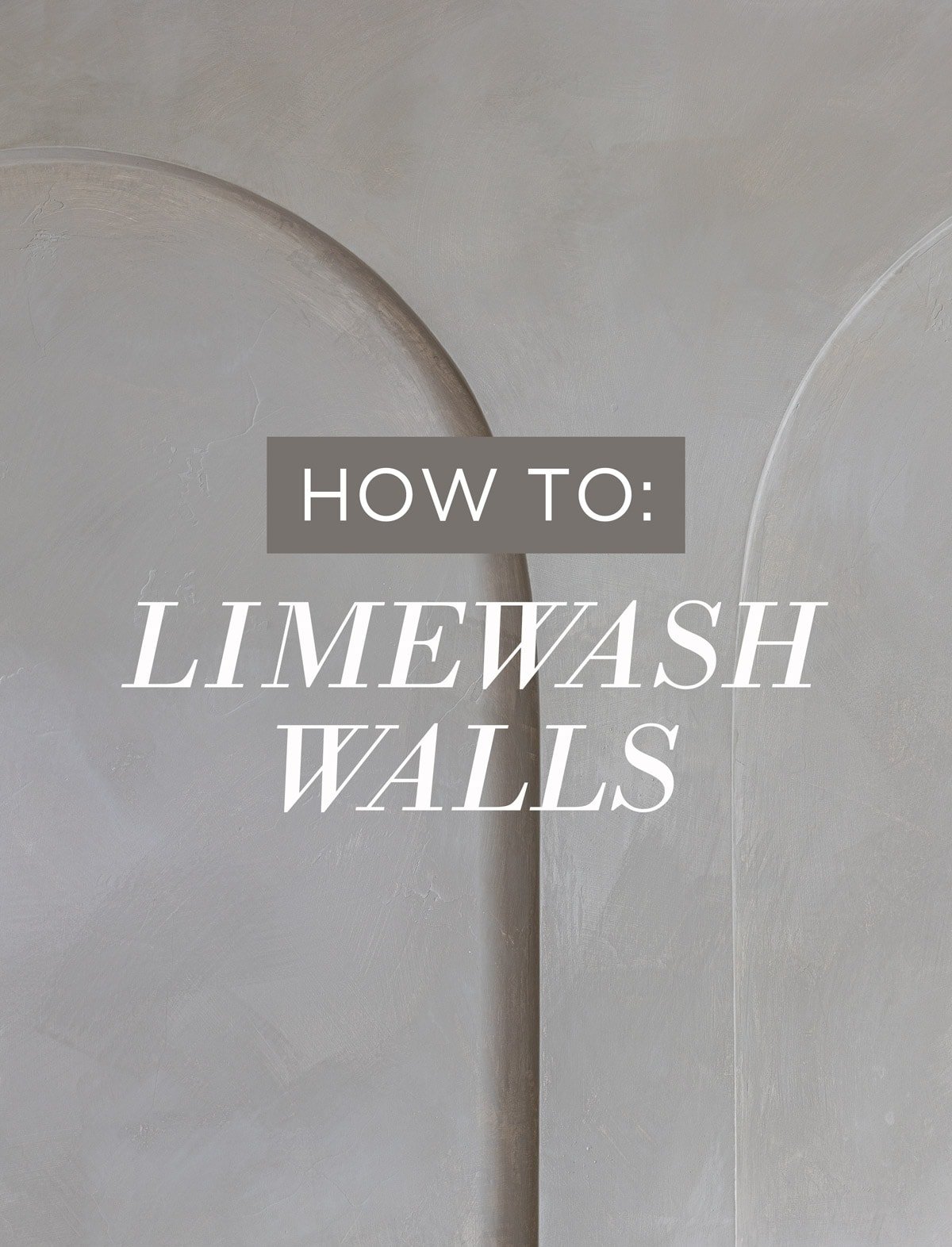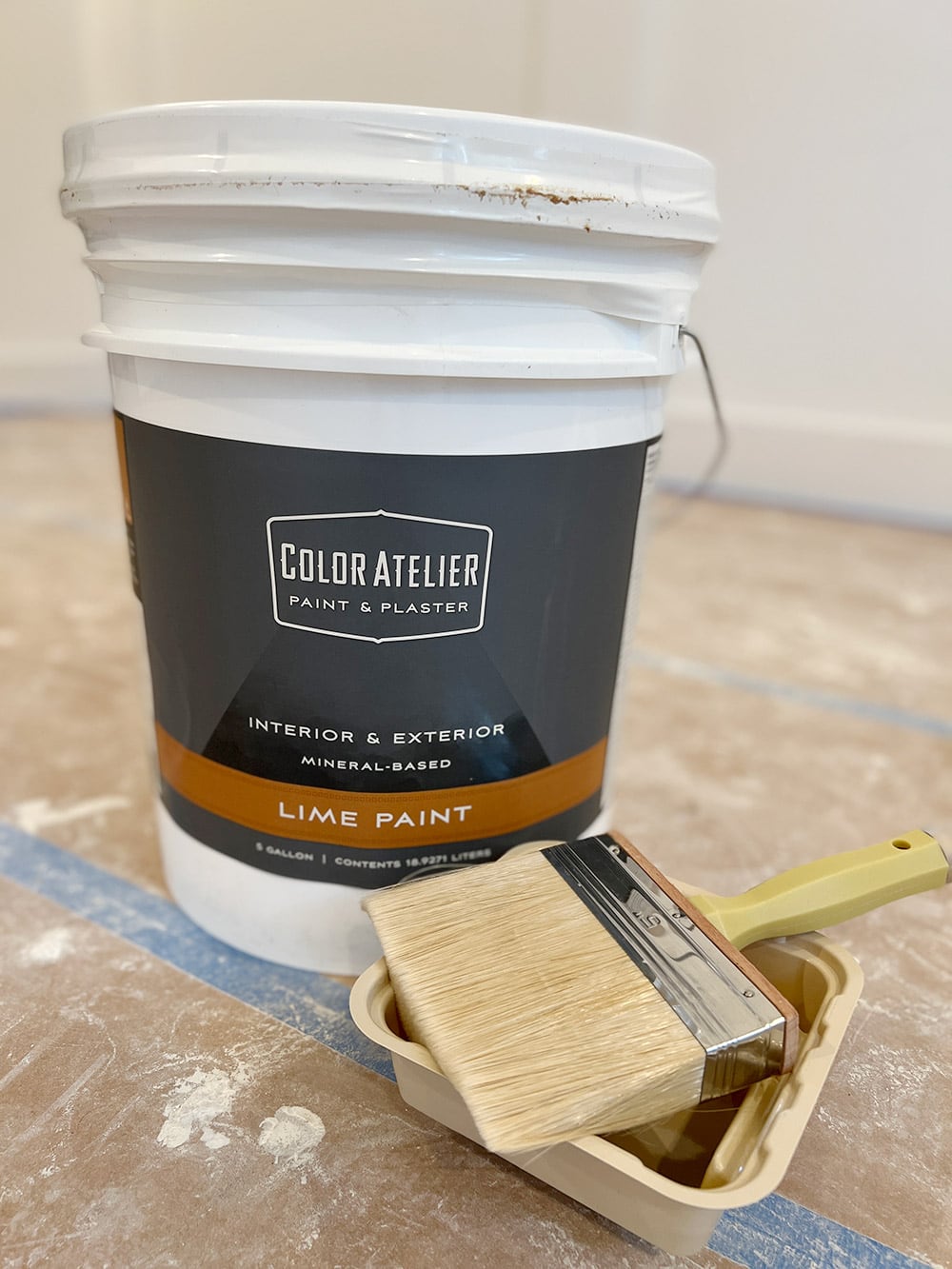 Prepping walls for Limewash
Limewash paint can be applied directly over breathable surfaces such as brick, cement, stucco and plaster. Previously painted surfaces should be primed first for best results. Limewash can be applied on smooth or textured walls, but we decided it was worth it to skim coat our textured walls first to create a smooth and even canvas. We then used Color Atelier's Mineral Primer, per their recommendation.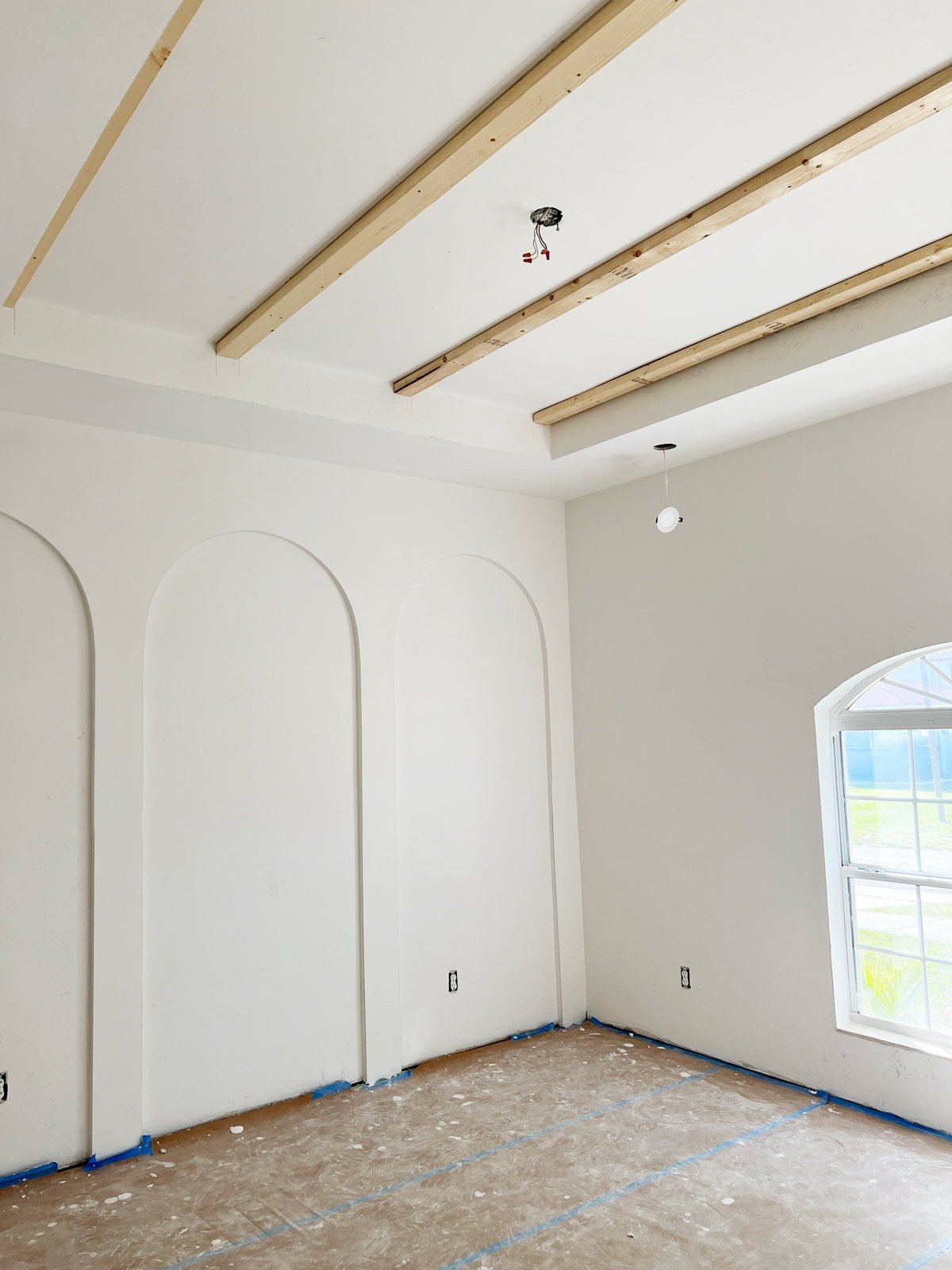 FYI: You can see how limewash looks on textured walls in this post from I Spy DIY.
How to Limewash walls
There are different approaches to applying limewash, and no one "right way" to do it. Fortunately, it's easy to work with and pretty forgiving.
After watching several YouTube videos, we decided to start on one side of the room and quickly work our way around the room to keep a 'wet edge' and avoid overlapping dry areas.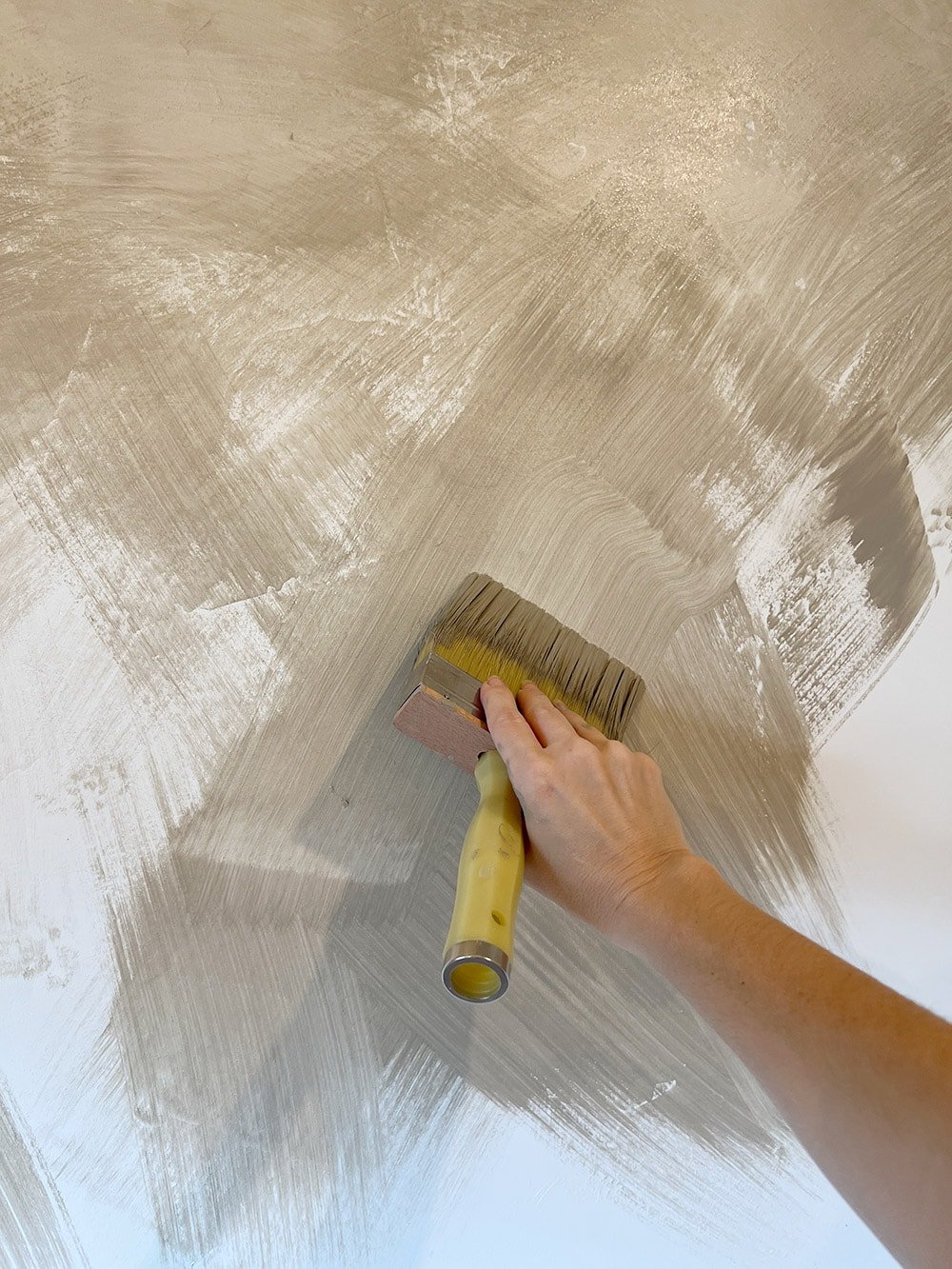 Using a block brush, create random and multi-directional strokes, working your way outwards from the center. Some people like to create several large 'clouds' and blend them together, while others use short strokes and work from one side to the other.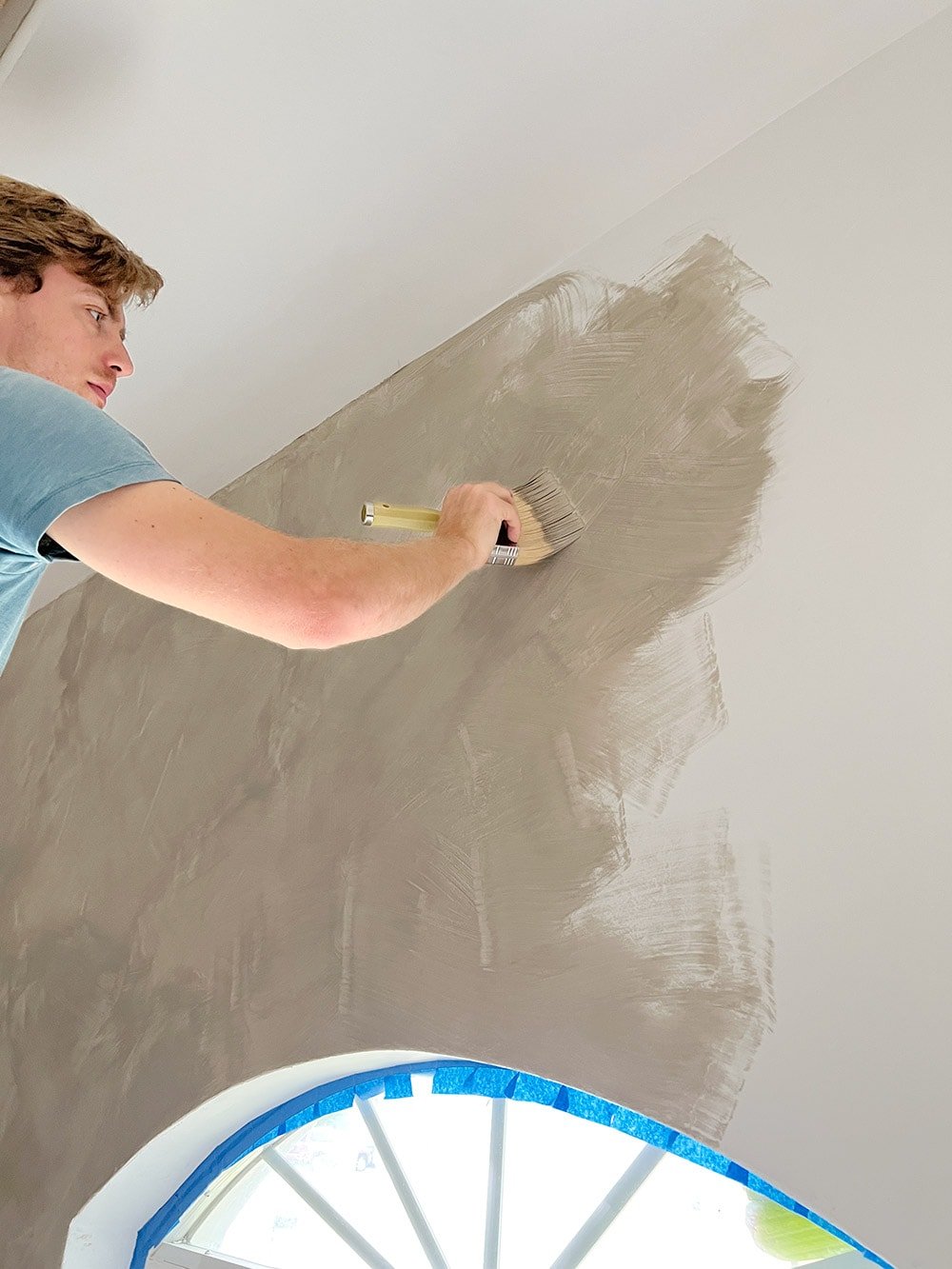 We tried a combination of different techniques, using medium-sized strokes as well as curved motions, which was my favorite. It creates more organic movement and a cloud-like appearance.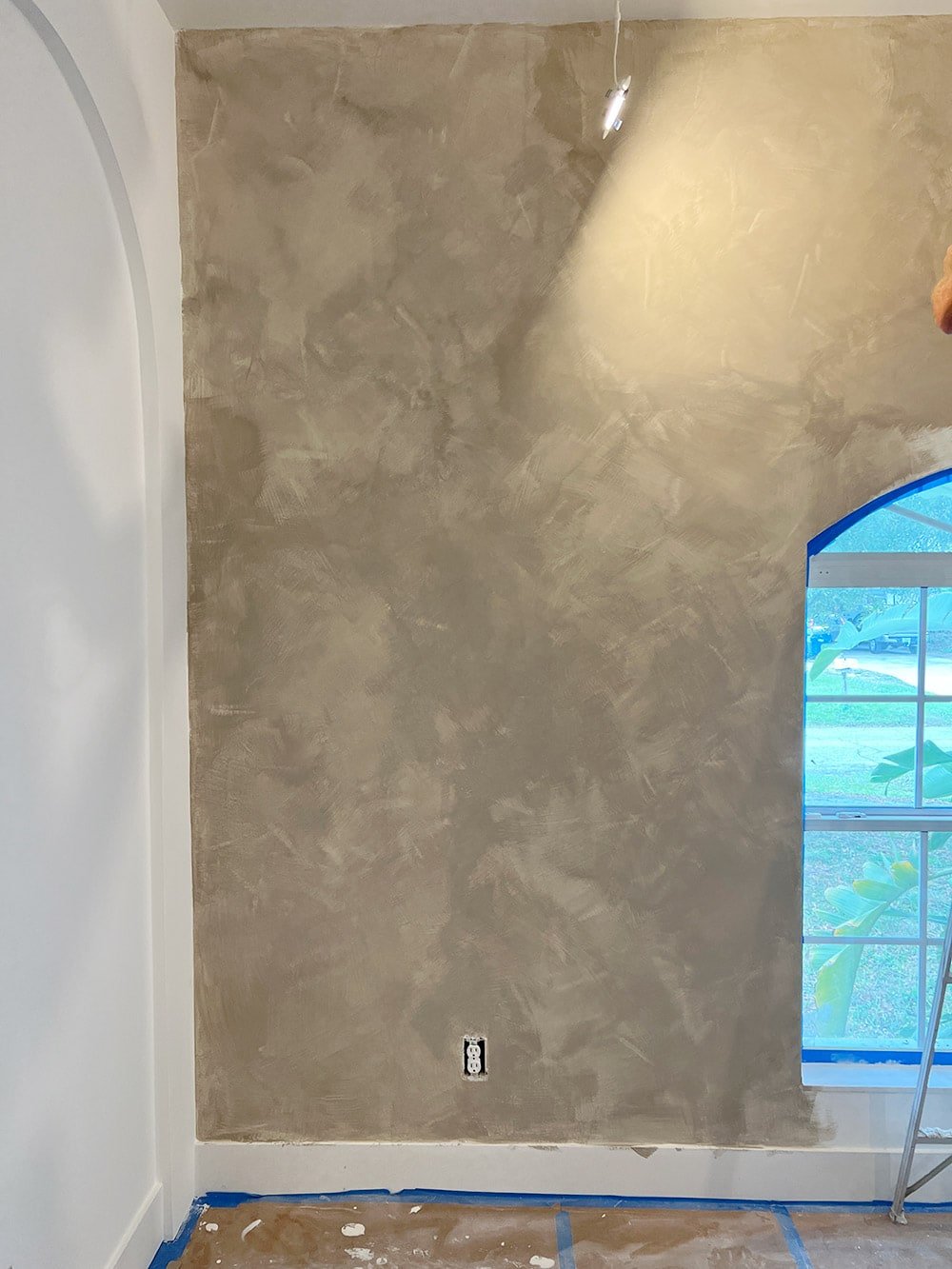 Limewash applies quite easily—definitely faster (and more fun!) than regular paint. We finished the first coat on this entire wall in 30 minutes.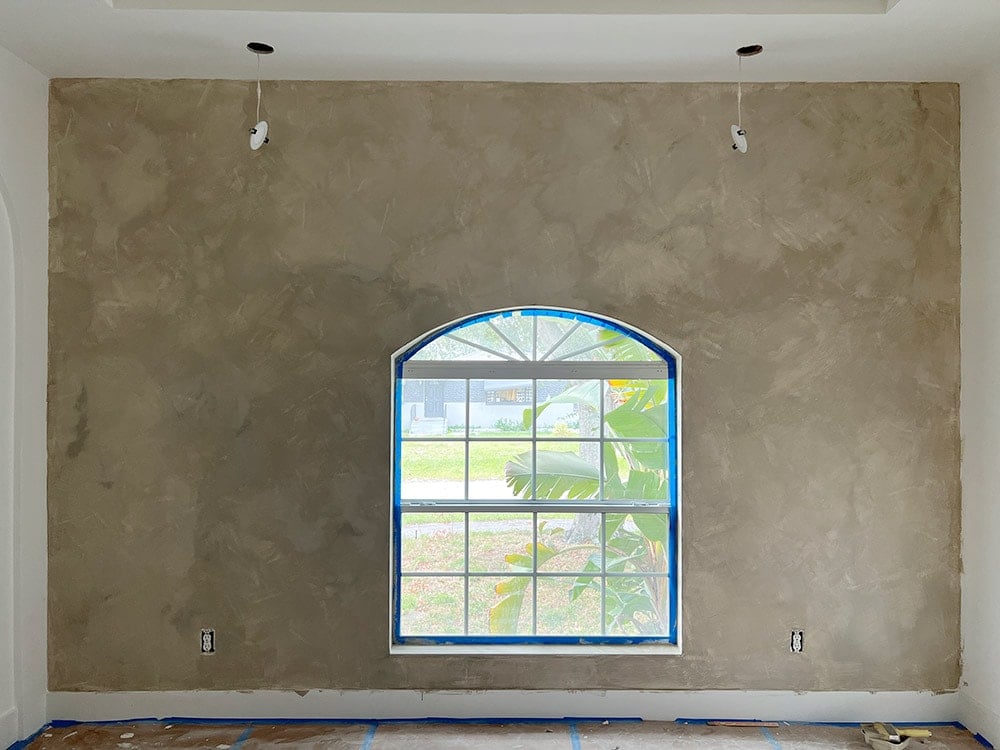 When starting on a new wall, use your brush to carefully cut in along the edge and smooth outwards. You want to be careful to avoid leaving brush marks on the adjacent wall, as that will be harder to fix later.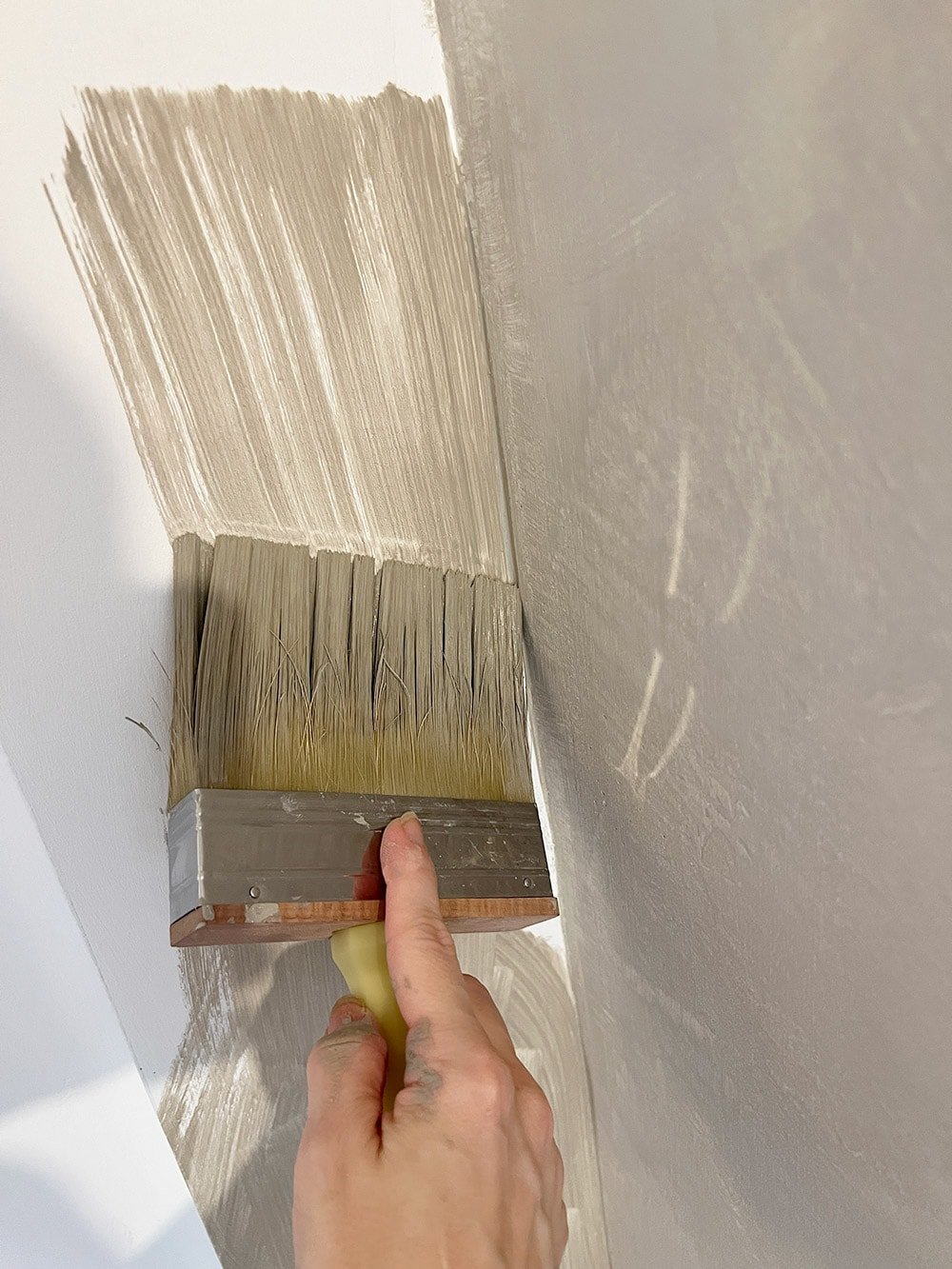 You want to avoid touching up the wall after it has dried, as those areas will dry darker. We overlapped in some spots and those areas were noticeable after it had dried.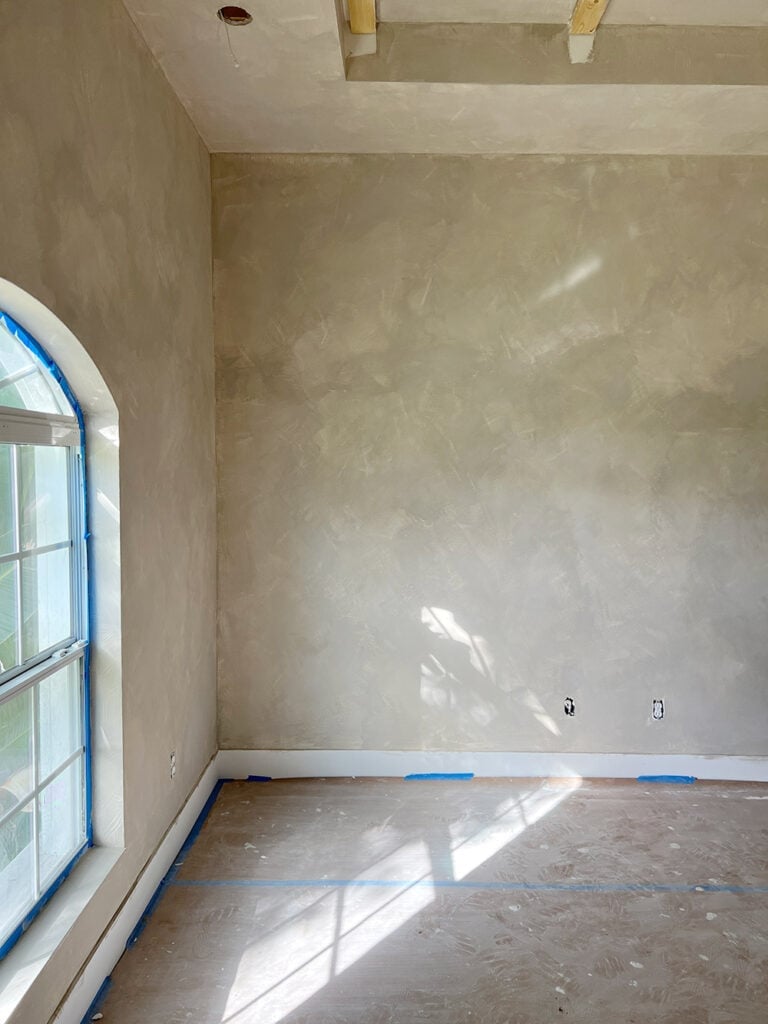 Limewash will become lighter as it dries, and since it's quite thin, it won't cover the entire wall on the first coat (at least on a smooth primed wall). It will look like a hot mess at first, but don't worry! That's what the second coat is for.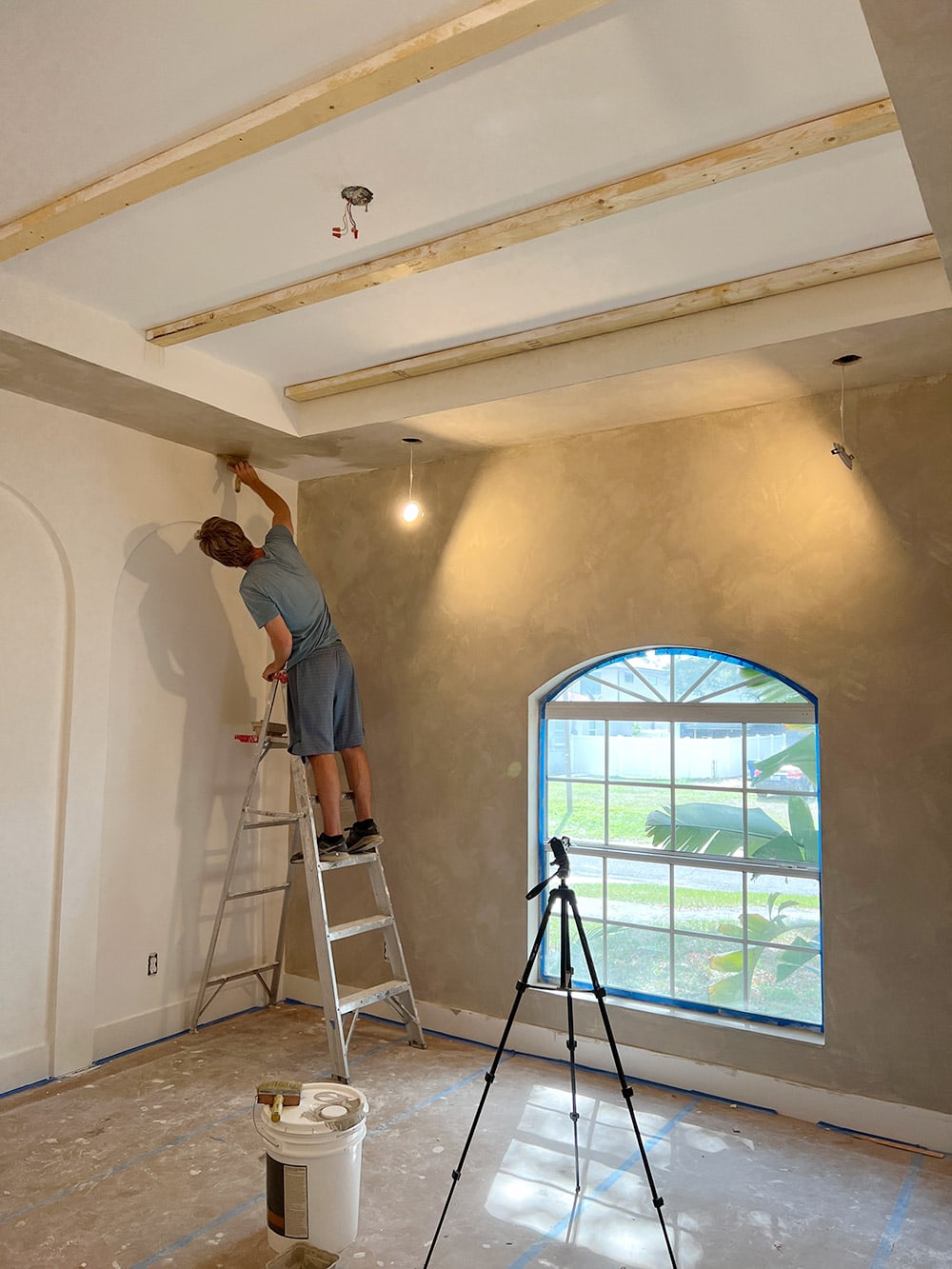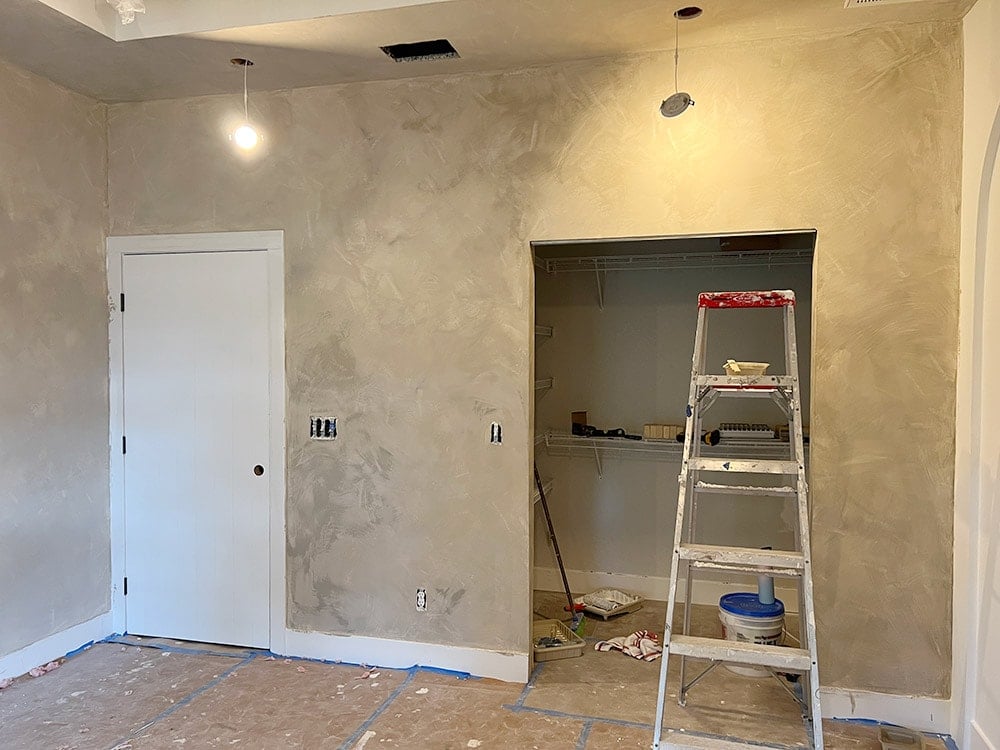 We also limewashed the ceiling because I thought the room would feel more intentional and finished (and cozier!) I'm glad we did.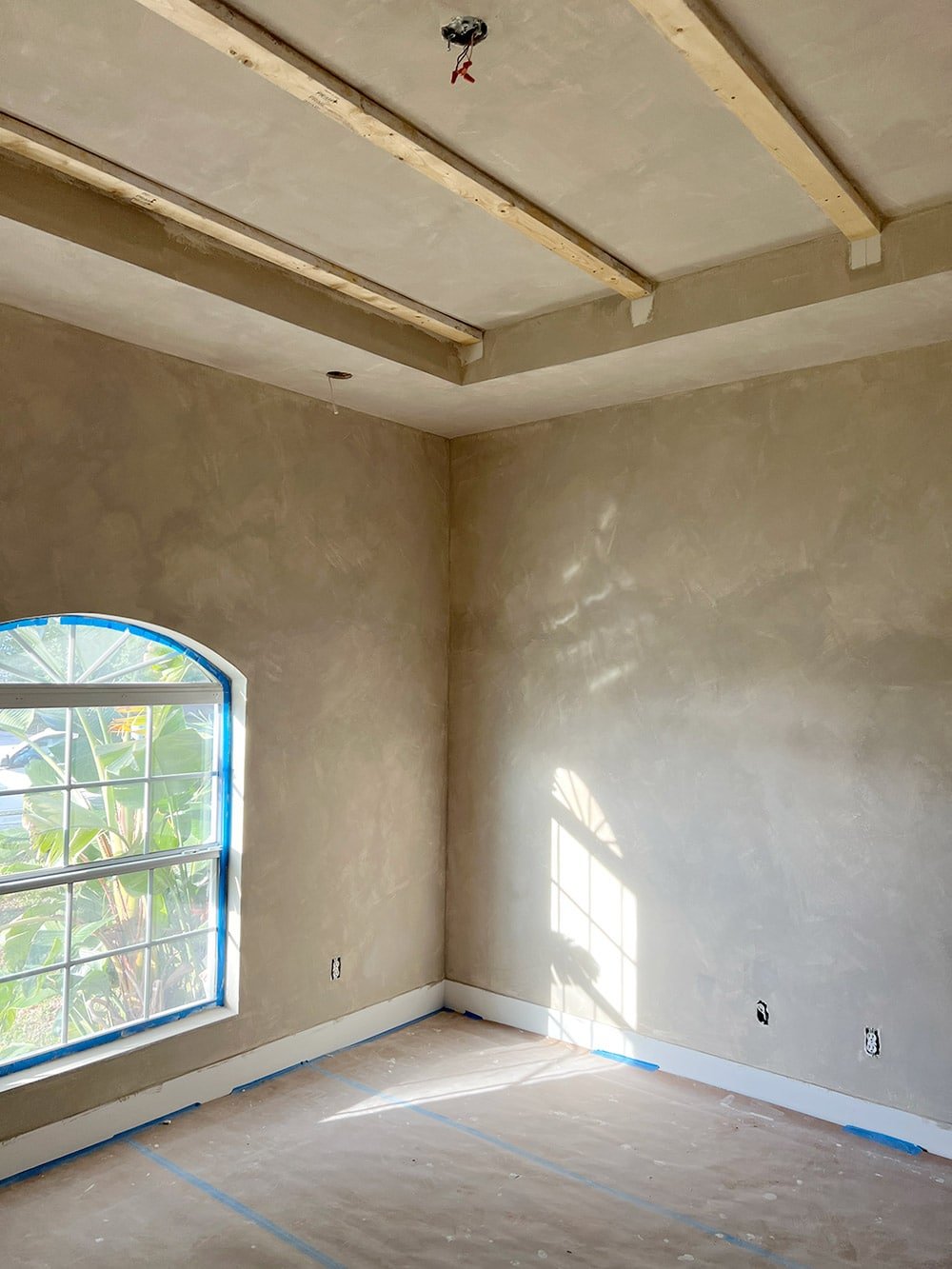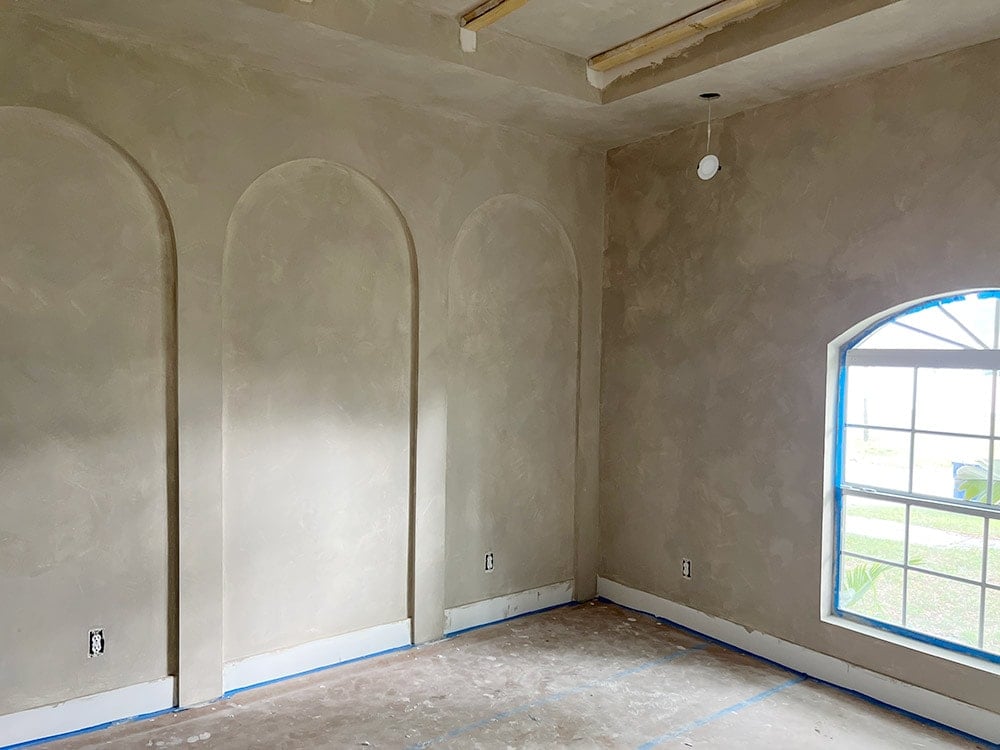 Applying a second coat of limewash
Typically, two coats of limewash is all you need—but you can always add a third if you aren't happy with the results.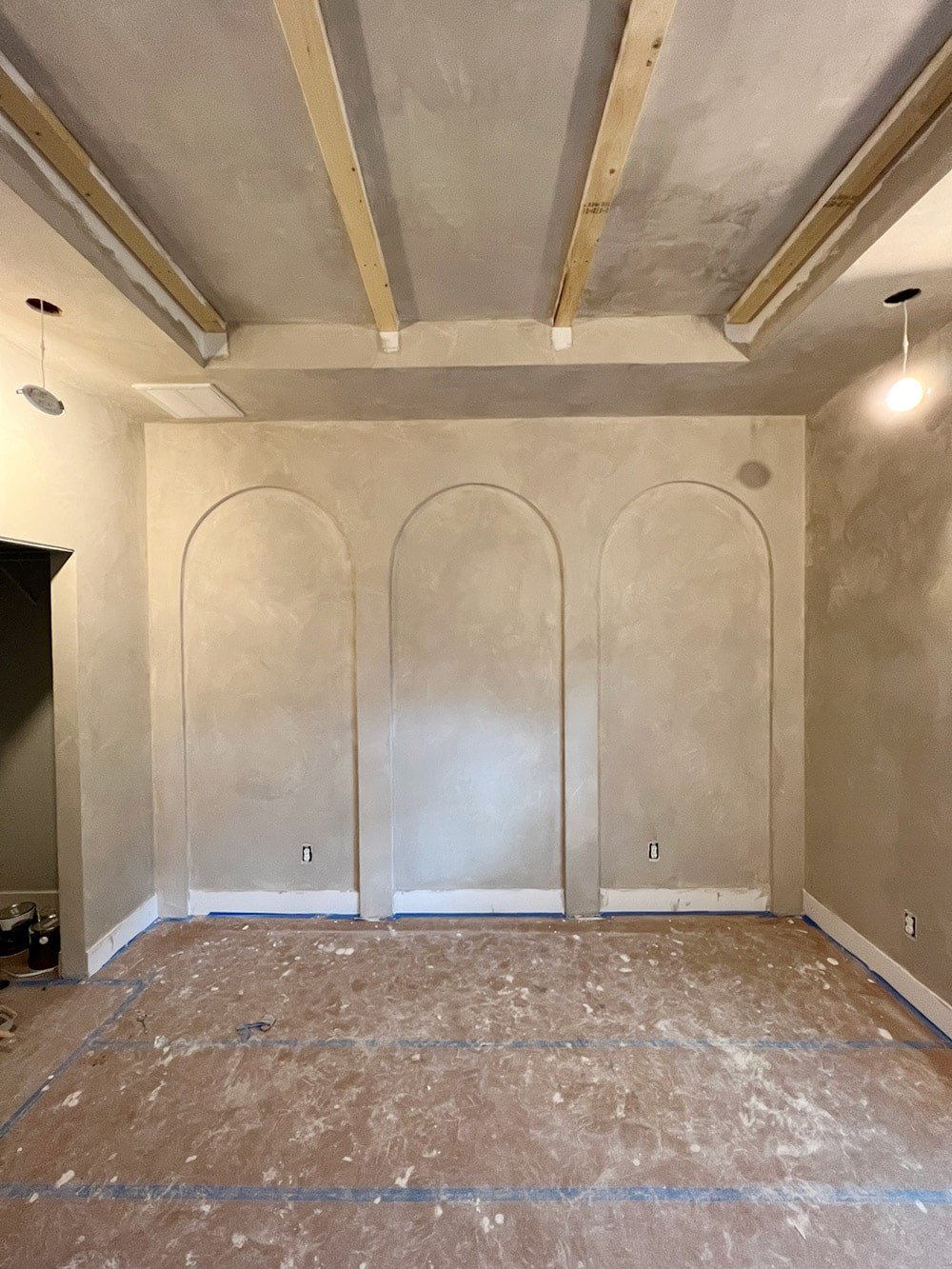 I was a little nervous after watching the first coat dry, but fortunately the second coat changed everything.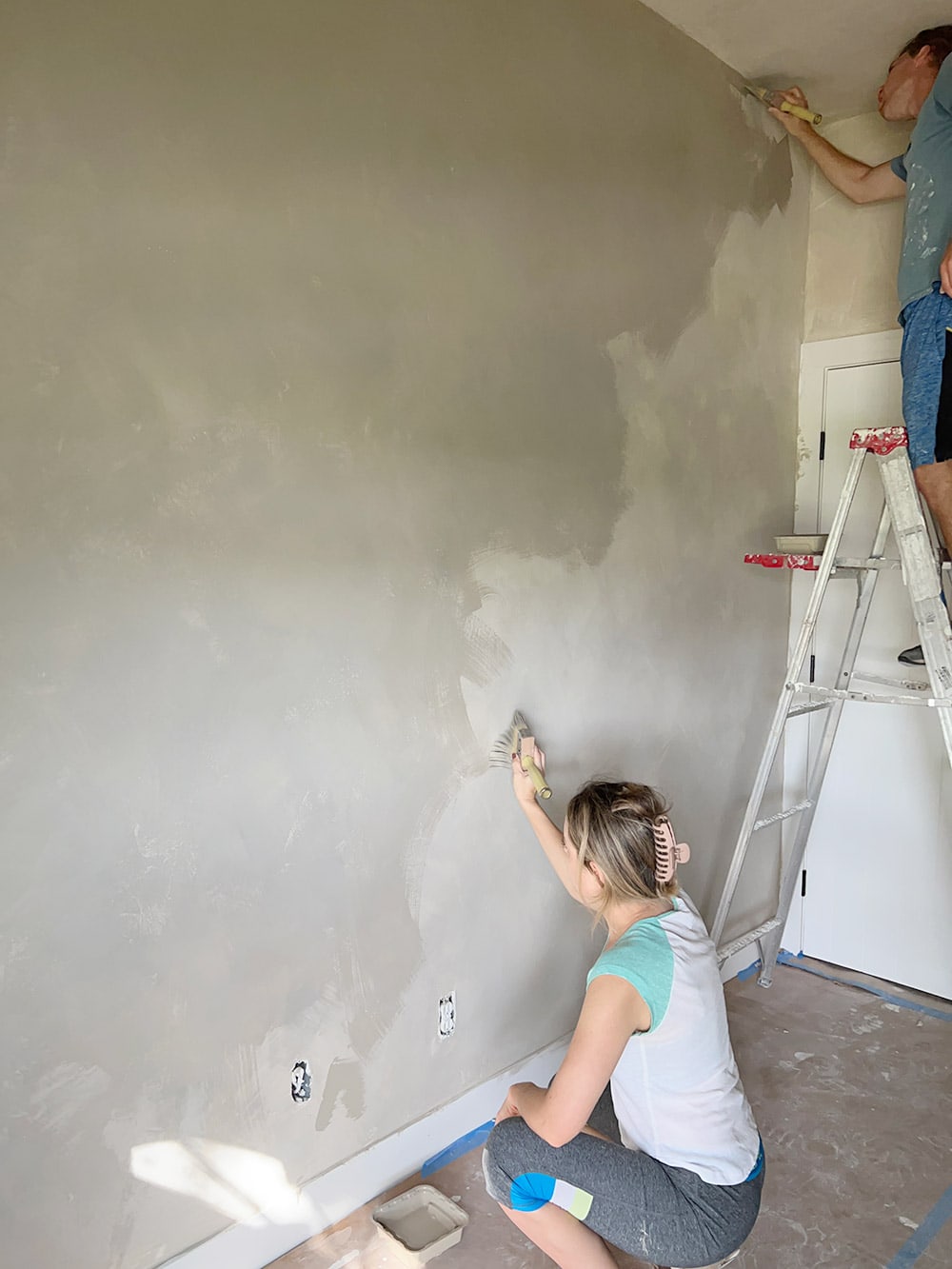 The coverage was much better on the second coat, and we applied it relatively thick to make sure none of the underlying wall showed through.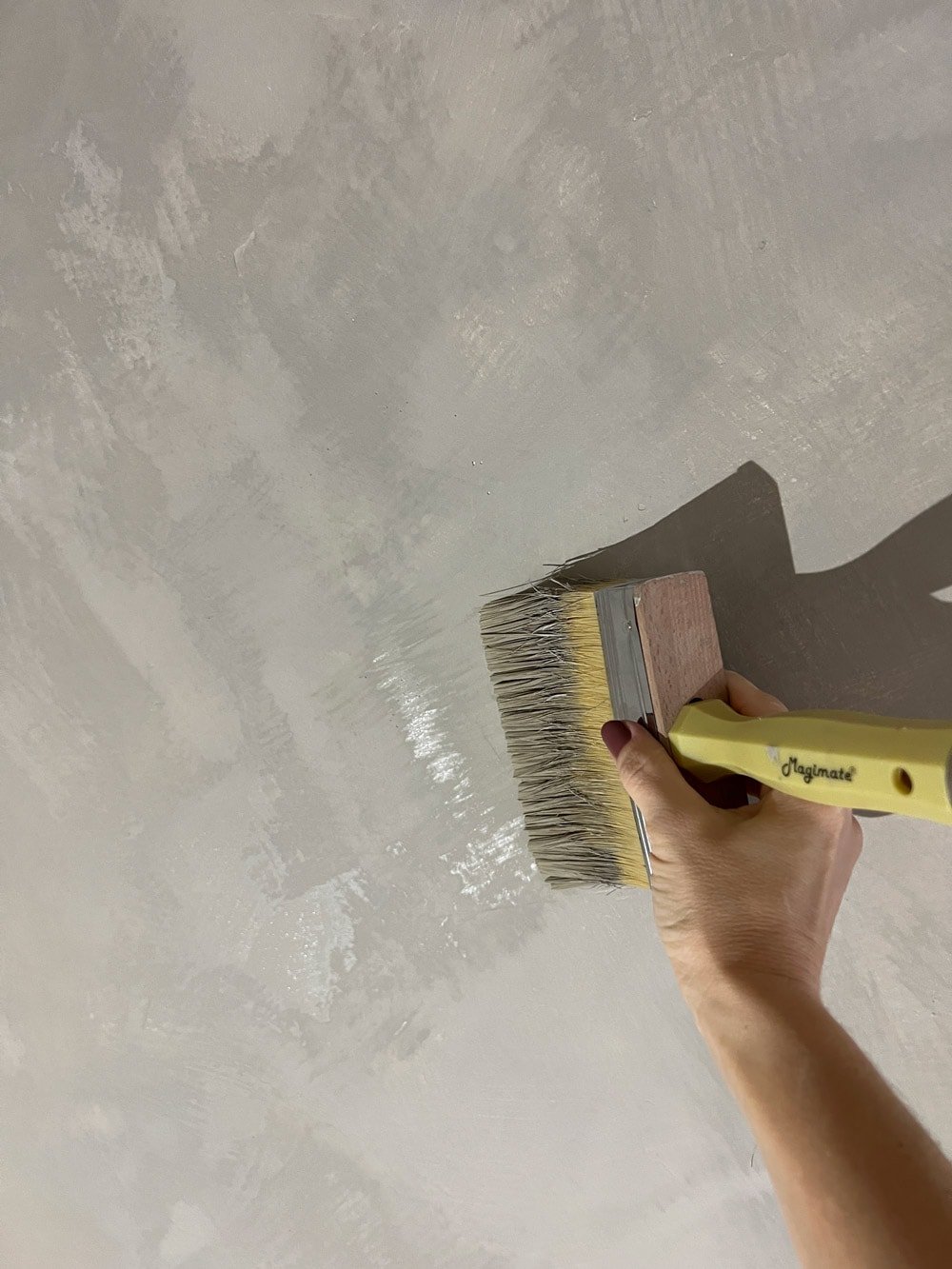 It immediately went from bad-paint-job, to soft and subtle. Exactly what I had hoped for!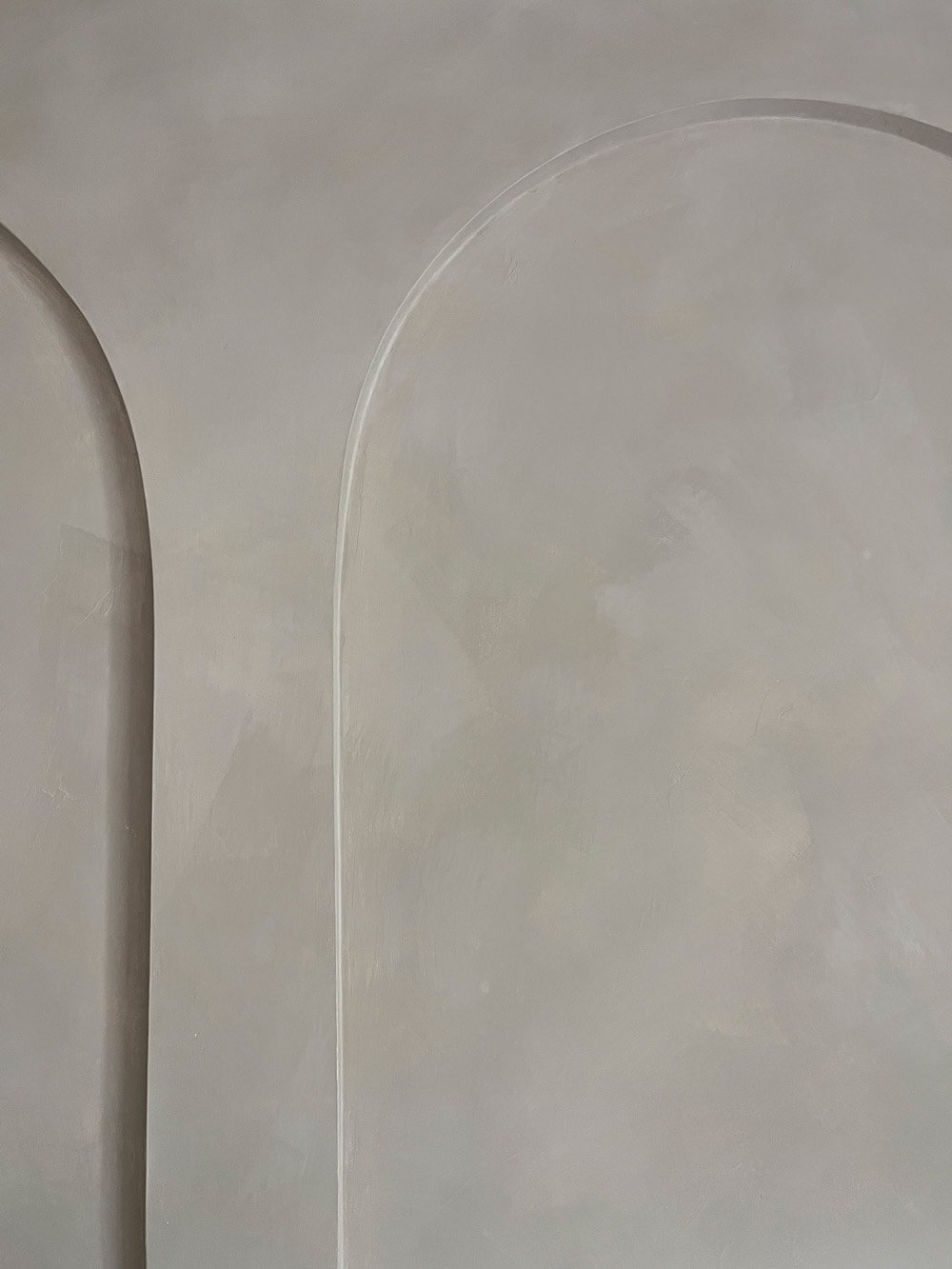 If you prefer a subtler look, the key is to coat the wall completely and blend well. Be careful for areas with thinner coverage and visible brush strokes. It's important to have a quality brush with finer bristles.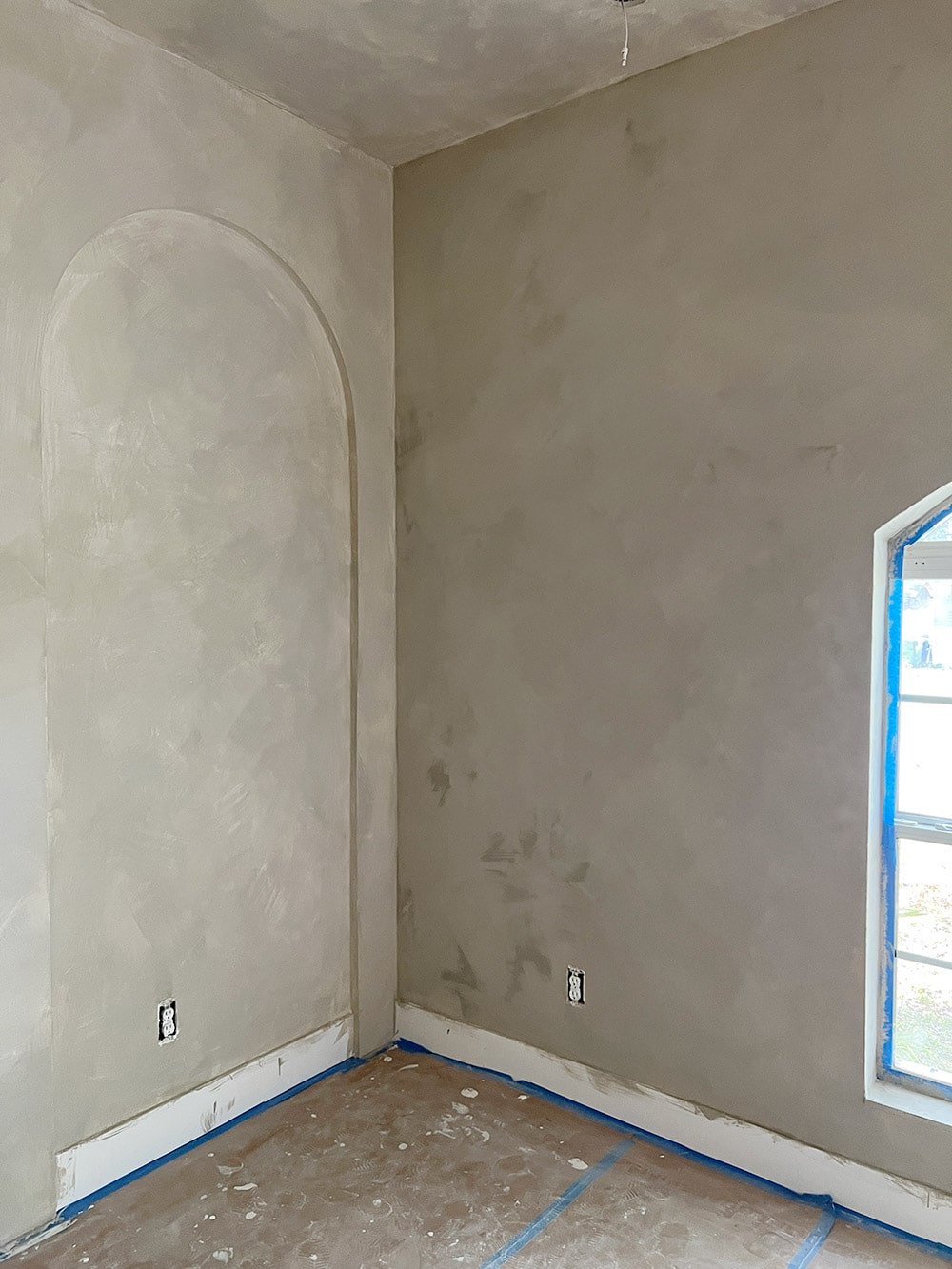 We covered the entire room—ceiling included, to make it feel more finished and 'cave-like'. We also primed and limewashed the switch plates, AC vents and lights so they wouldn't stand out as much.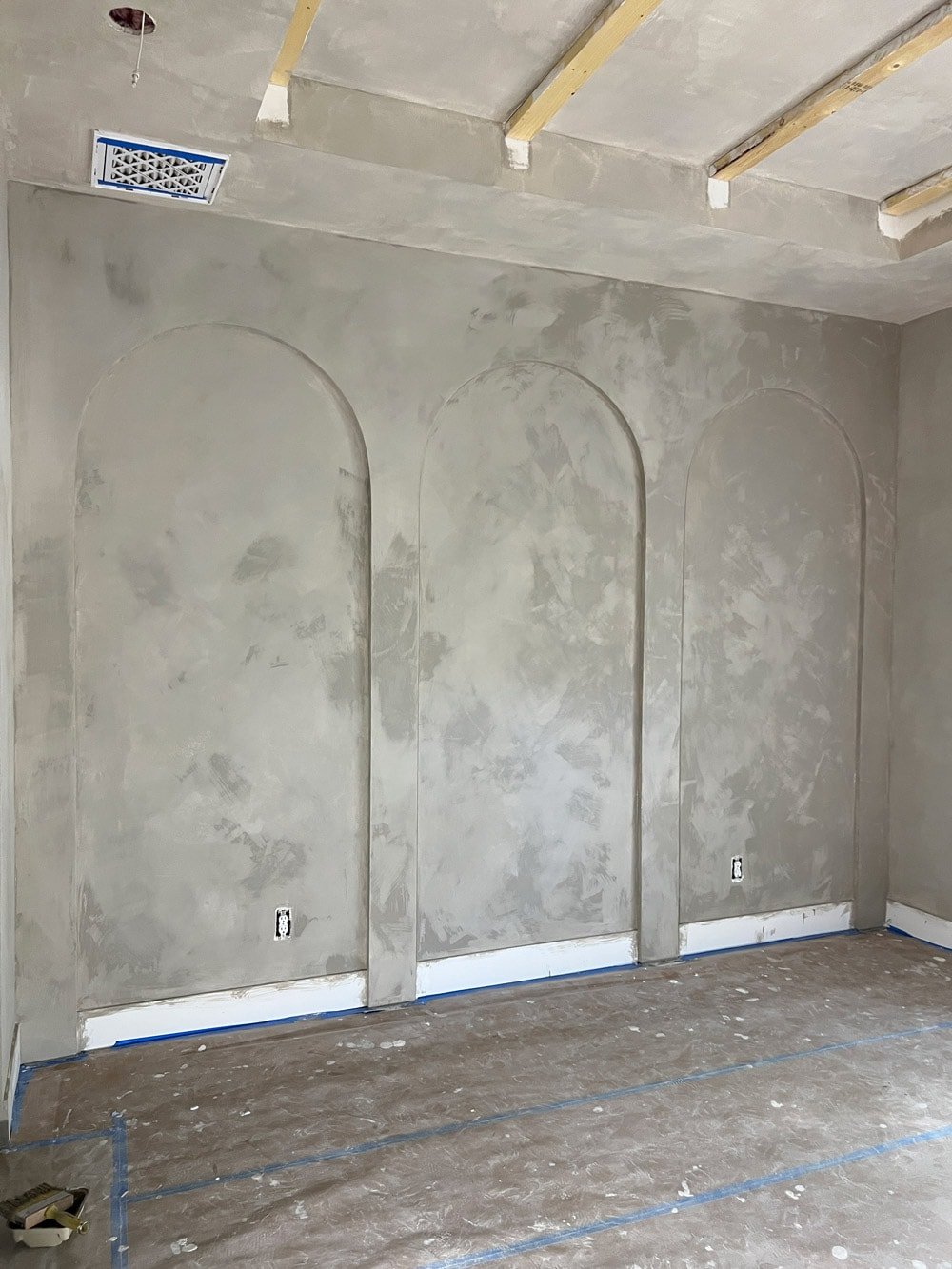 Finally, I painted the doors and trim in a tone-on-tone contrasting color: Sherwin Williams Moth Wing. Lucas gave the old bifold doors a makeover using our DIY Plank door technique.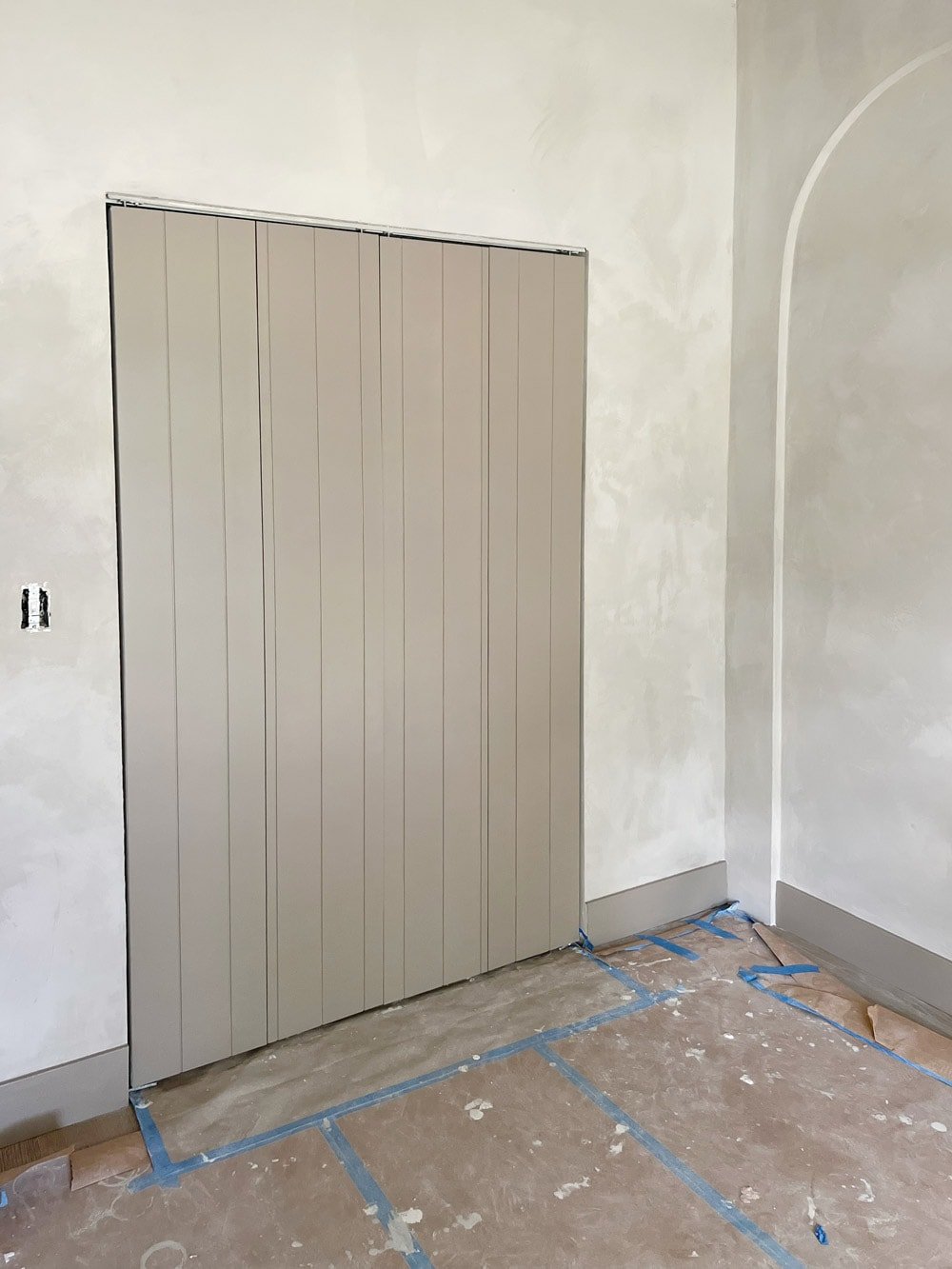 Limewash Bedroom Reveal
Here's how it turned out!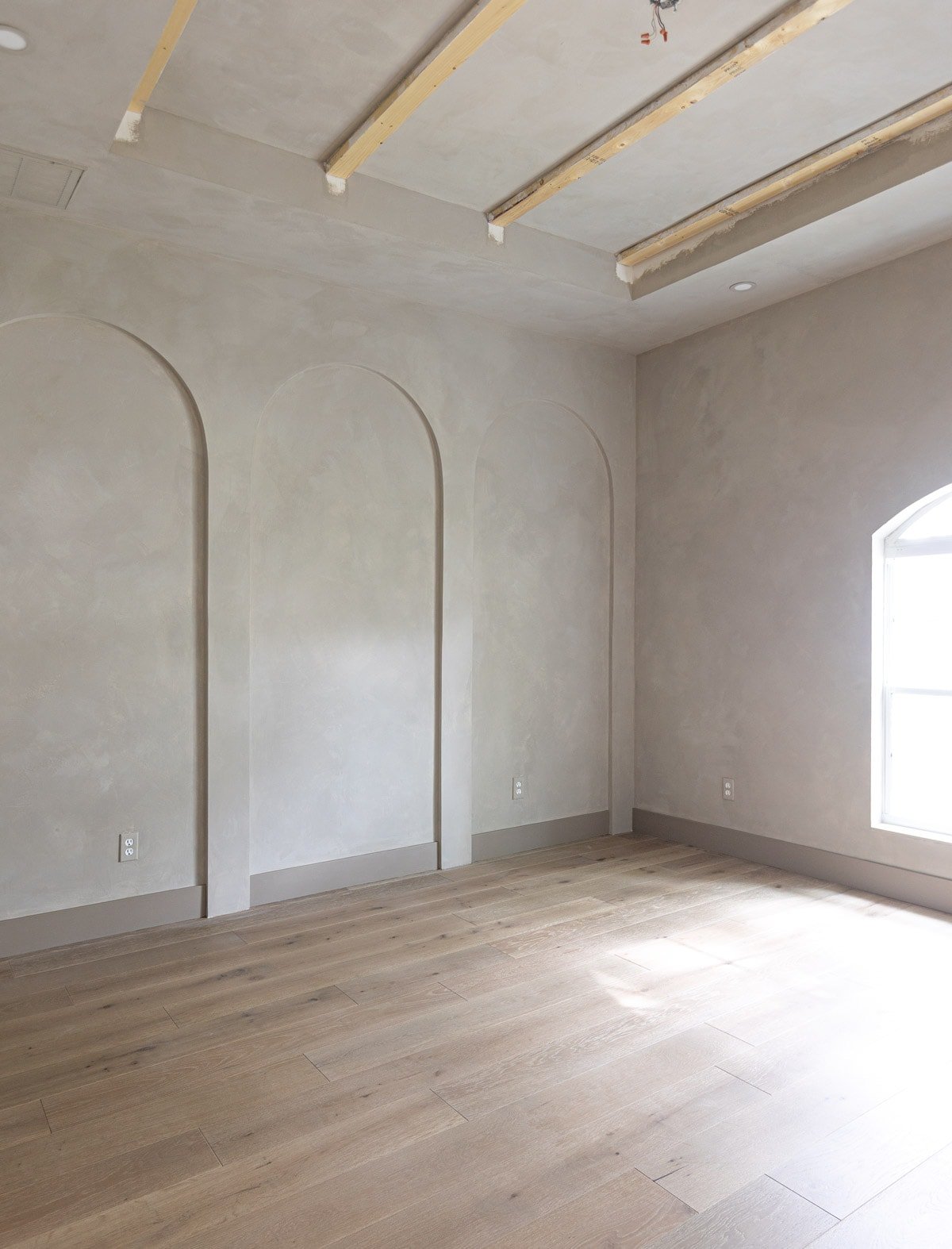 I ended up buying WAY too much limewash… we only used about a gallon of our 5 gallon bucket! Guess we need to find another room (or four) to use it in 😉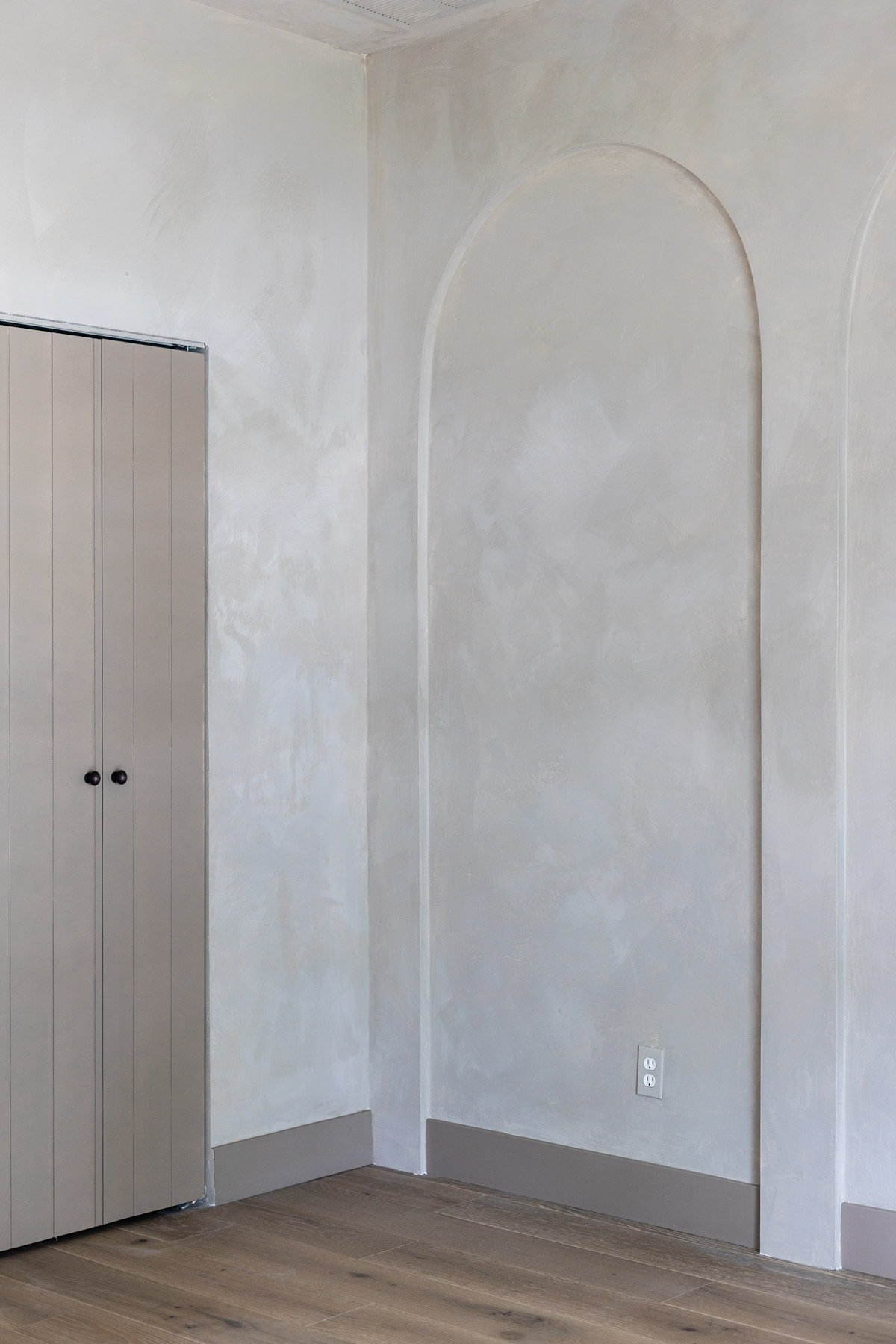 After Thanksgiving we'll start on the DIY ceiling beams, which will be the last project before furnishing this space.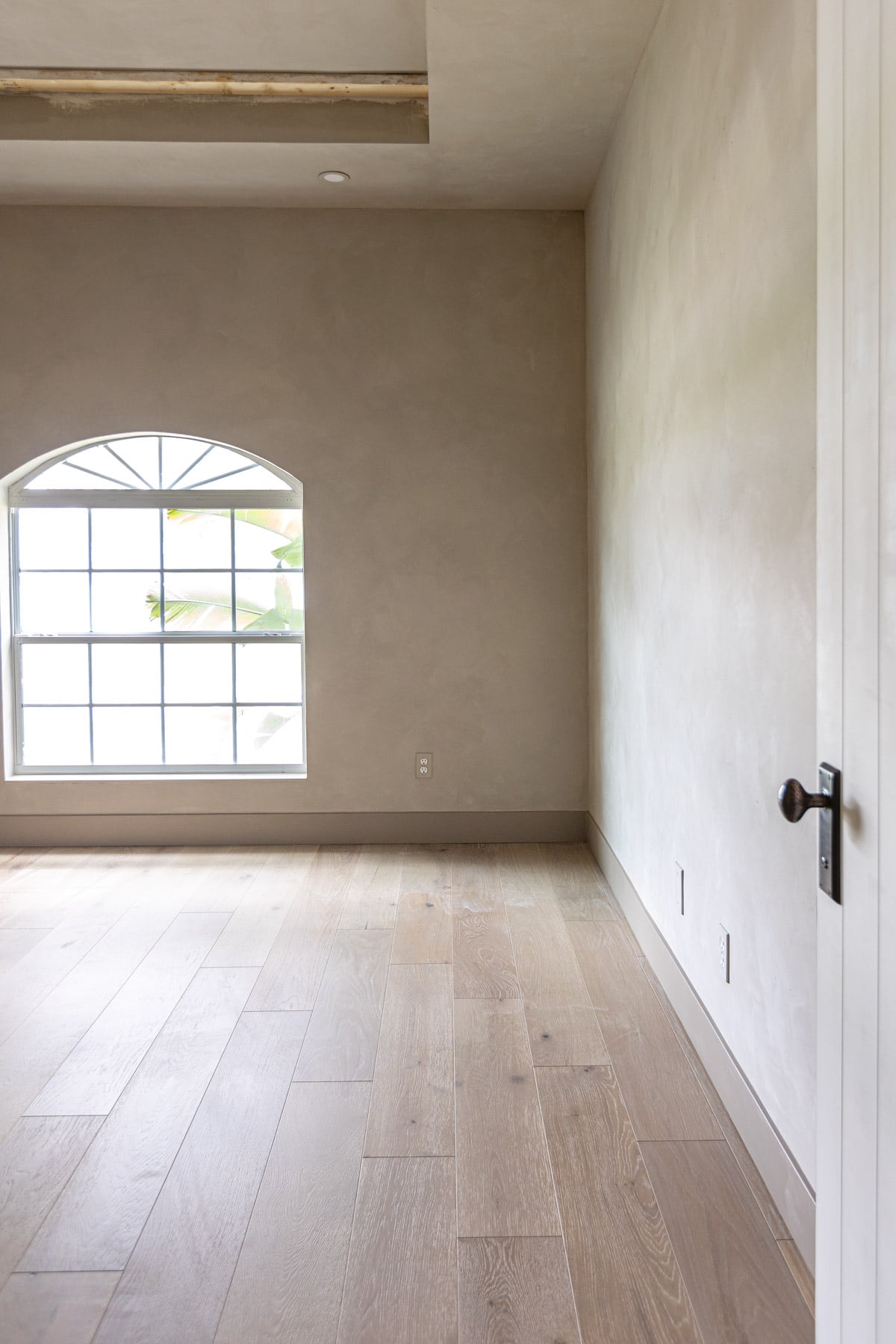 I cannot wait to watch this room come to life over the next few weeks!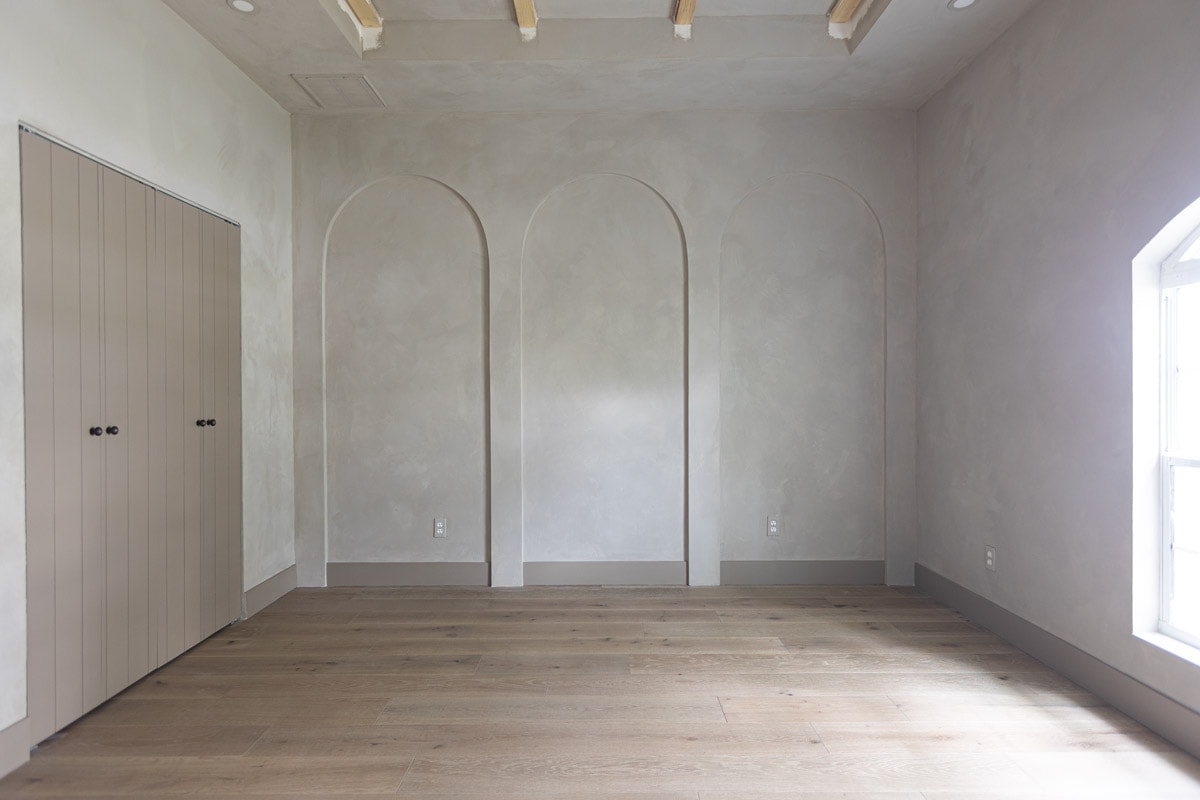 Q&A
What is limewash?
The painting technique actually dates back to the Roman empire and is traditionally created from limestone that's been crushed, burned, and mixed with water to make a lime putty, which is then colored with natural pigments.
What are the benefits of limewash?
Limewash is a cost-effective and beginner-friendly way to add rich dimension and depth to your walls. It's quick and easy to apply, non toxic and eco-friendly. You can use it on many surfaces including smooth or textured walls, in showers/bathrooms (with a sealer), interior or exterior, and it's available in any color you can dream of.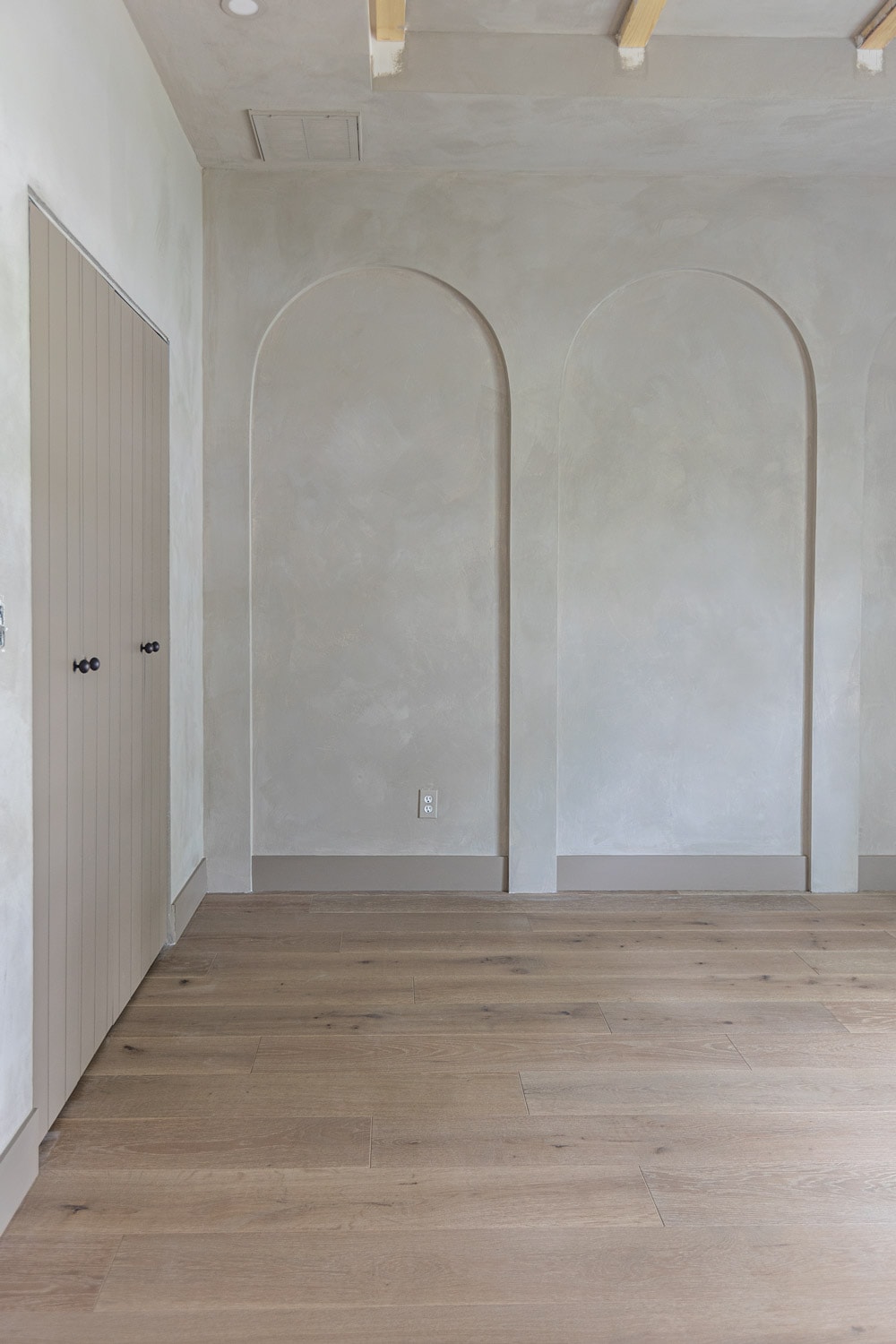 Pin
How is limewash different from Venetian Plaster or Roman Clay? 
Limewash has a consistency of watered-down paint (similar to whole milk). It applies easily with a large brush, and leaves walls with a suede patina finish.

Both Venetian Plaster and roman clay are much thicker, and applied with a putty knife or trowel. They're best used on smooth surfaces, and create a stone-like appearance that can be matte or polished.
How do you clean limewashed walls?
A gentle wipe-down with mild soap and warm water is recommended. You do have to take extra care not to overdo it, as this natural substrate doesn't cure and harden like latex paint. However, the organic movement and color variation lends itself to concealing any stains/dirt quite well. If too much limewash is removed, you can lightly re-coat the area with a diluted mix and feather it out to blend.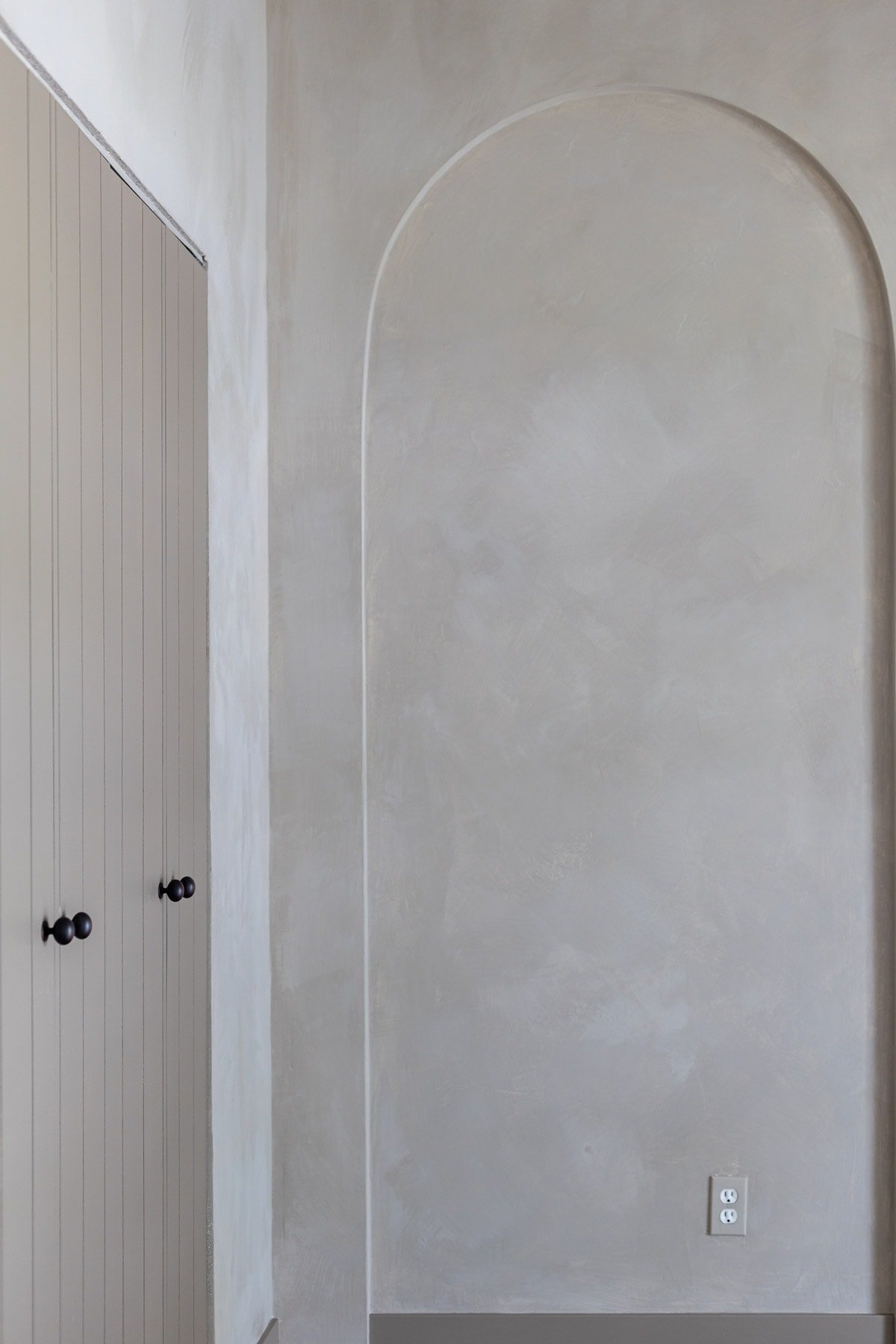 Pin
Do you need to seal limewash walls?
Not necessarily. For higher traffic areas like kitchens and bathrooms, a clear matte sealer is a good idea to protect the finish and make it wipeable. I opted to skip this for our guest bedroom.
Can you paint over limewash?
Yes! Limewash doesn't add any texture to your walls, and you can easily repaint them in the future. Just make sure to use a water-based primer first.
Which limewash should I use?
There are several companies who manufacture lime wash or "lime paint" products. Portola Paints, Romabio, Color Atelier, JH Wall Paints and Vasari are some of the more recognizable brands available in the US. Any of these reputable brands are fine choices—take a look at their gallery/customer photos and read through their FAQ before deciding.

I chose Color Atelier after studying examples of their product in real life on their IG, finding the right color, and because I waited until the last minute and it was quick and easy to purchase 😉 You can order directly from their website, but it was more affordable on Amazon after shipping.
Fun holiday content coming up next 🙂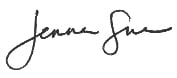 Like this tutorial? Check out these other DIY projects: